In the historical moment we find ourselves in, we cannot avoid thinking about how much the world is changing and how much more and more we find ourselves having to fight for what we believe in.
We want to continue talking about what we always talk about; we want to continue to recommend to our beauty community (and not only) products and people to follow, which can be of inspiration. If representing diversity has always been natural for us, now we want to emphasize it. We have always been of the idea that to normalize diversity, we should stop talking about it, it must not be or become a trend. Still, at this moment, we want to do our part, even more, to be a voice that, unfortunately, still today, it must be heard in all possible ways.
And what does The Italian Rêve believe in? The Italian Rêve believes that all people should be represented and that in the past, representation didn't reflect reality. We want to talk more and more about people who are not measured by a meter, by their color or by their number of followers. We want to create a place where there are no compromises or constant comparisons; and we want to talk to people who have a voice – who are wonderfully different from each other, from us, from you – with the ability to self-expression and a desire to change the world with their ideas.
We like to think we can give voice to all those who believe in real beauty, a beauty that is continuously evolving.
So, we couldn't but launch this new Beauty project with an agency that embodies diversity, an agency like JAG Models. And they are the only ones in the world to do so, truthfully, in their New York offices. Their philosophy is called the "No Assholes Policy" and their mission is rooted in the principles of kindness, compassion, hard work and accepting every individual in the world for who s/he is: "As long as they are healthy we will never ask them to gain or lose weight. We celebrate them for what they bring to the table."
So, let's try together to expand and reconsider the idea of ​​beauty, an ever-evolving word.
And, as JAG Models say, "Be you."
Model Gabi is all about an-hour long pampering routine, drinking A LOT of water, and telling herself "I love you" every day. She knows very well how important it is to feel good both inside and outside, and here's what she told us about her must-haves and the steps that she follows to take care of herself.
Here are all the "Equals in Diversity" interviews: Lainey, Jordan, Lotte, Nya, Evonique, Ali, Raven.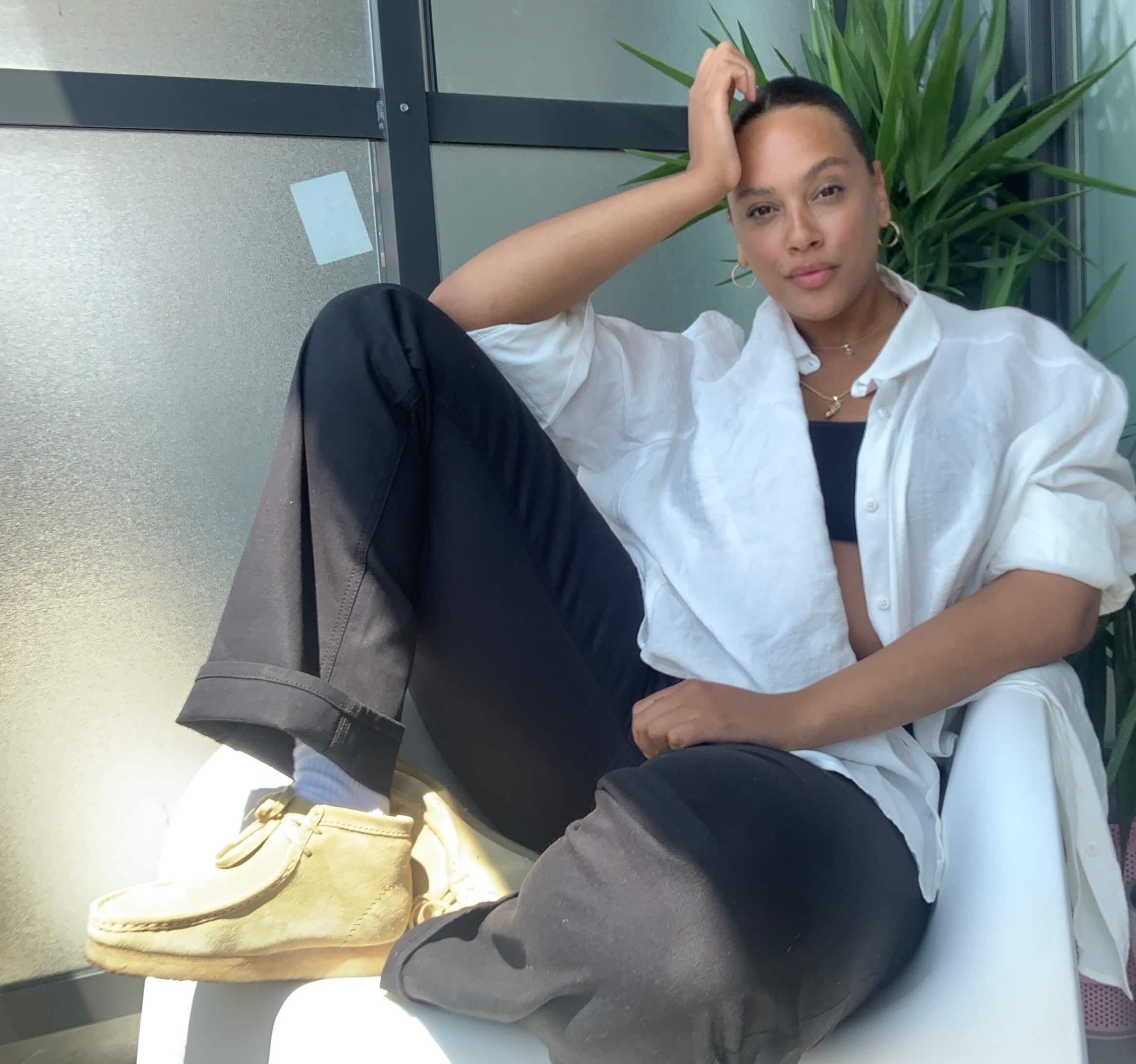 How has the quarantine been treating you?
Quarantine has had its ups and downs, I was extremely depressed the first month, lonely and scared. I stopped self-loathing and put my own life into perspective. I needed to learn that through these difficult times I cannot dwell on the past or simply look at this as a "me" problem.
We are in a horrible global catastrophe TOGETHER, I am ready to look at the brighter picture, my family, friends, colleagues are healthy and for that I am grateful.
What's your first thought when you wake up in the morning these days and realize you cannot go by as usual?
I've been in quarantine since March, at first, my morning thoughts were self-loathing, now I've accepted that this is the new way of living, I usually now wake up with the conviction of getting the most out of my day and a nice long stretch.
What keeps you in bed?
My warm blanket.
What makes you wake up?
My partner's work alarm at 5:00 am, it's right when the sun rises so I never go back to sleep, it's crazy thinking how many rises I've missed sleeping in.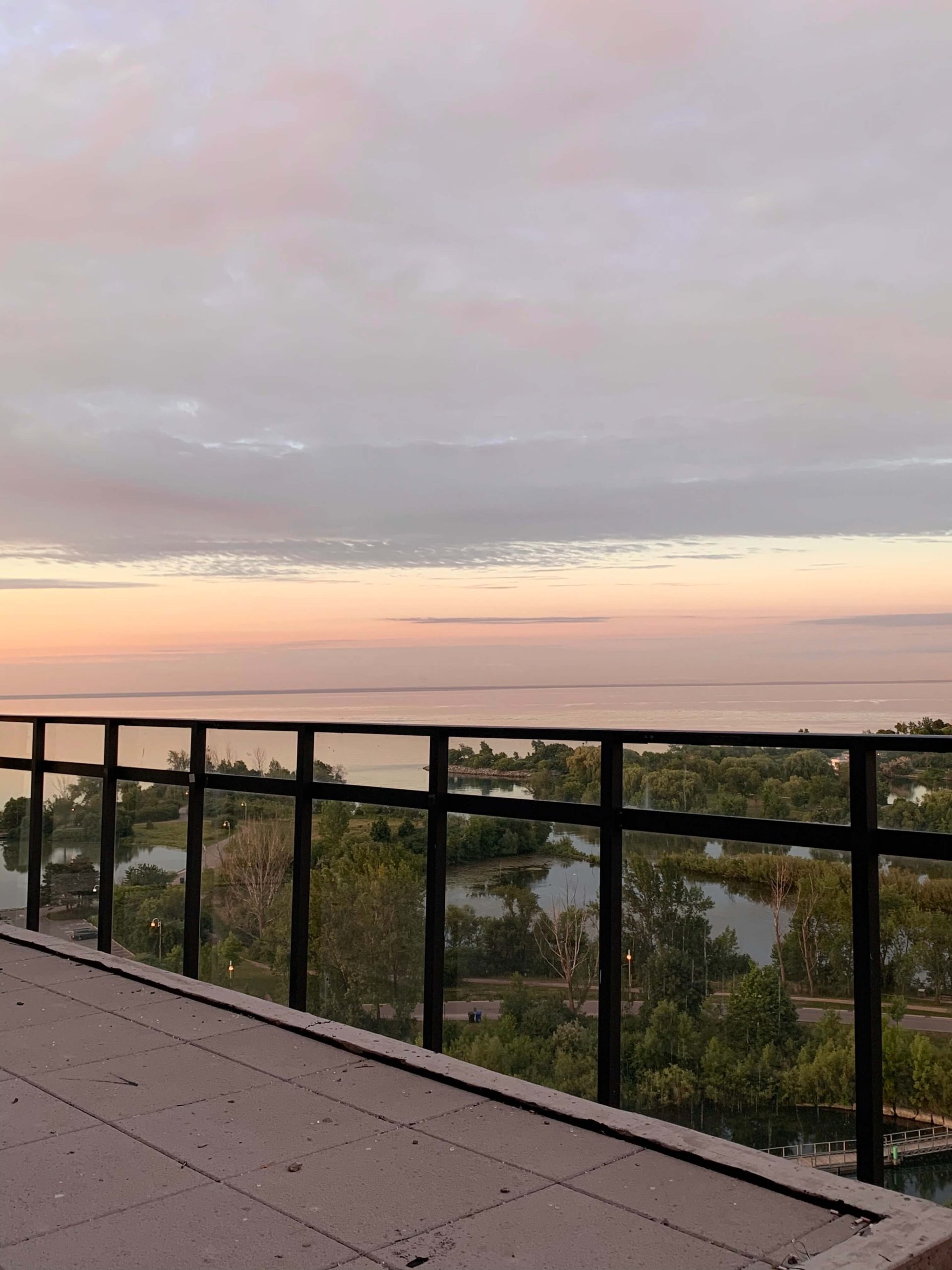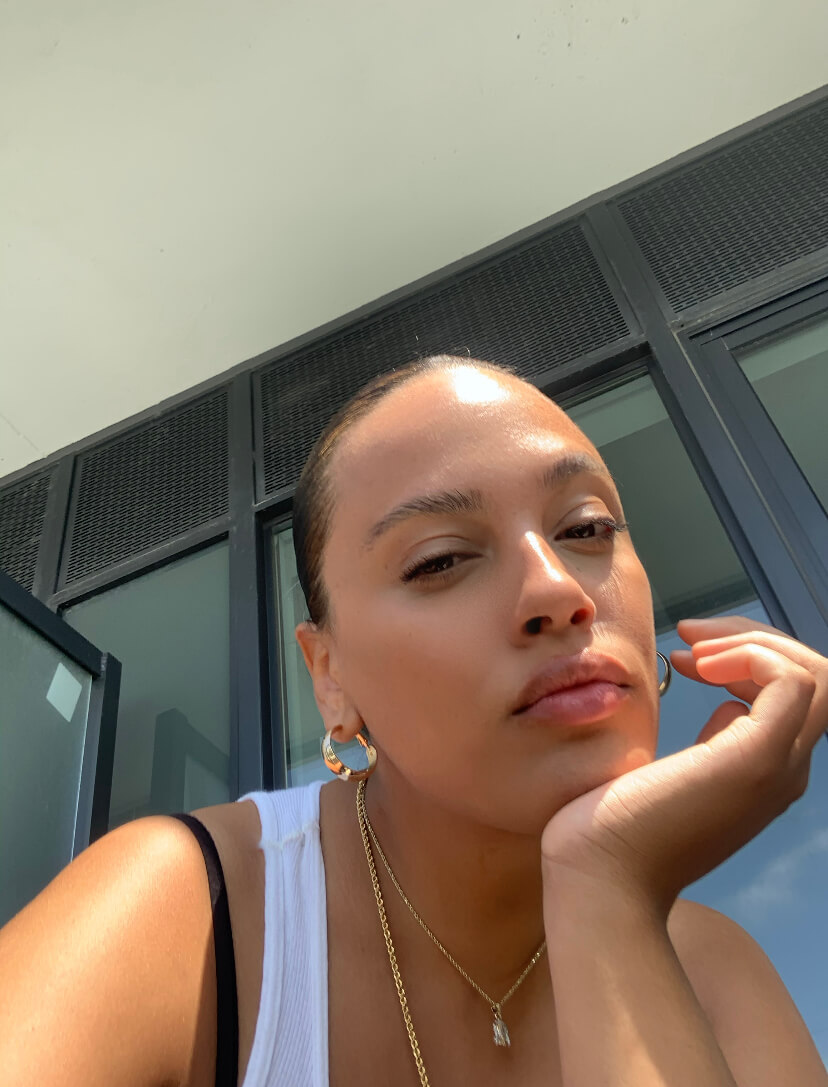 What's the first product that touches your skin in the morning?
My amethyst roller straight from the freezer and a spritz of Avene water; it's so cooling and instantly wakes me up, and it also helps with my puffy under eyes.
What's your favorite meal nowadays? Do you have a favorite food for your skin?
My partner and I have become regular at-home food network chefs! Since having so much time on our hands we have been making all of our meals from scratch whipping up our pre- quarantine restaurant favorites fresh pizzas and pasta, it's definitely a treat. My favorite food for my skin is WATER for sure but even sweeter watermelon!
We definitely have more time to dedicate to ourselves: tell us step by step what are the products and techniques you are using for that extra pamper time?
My pampering starts from the inside and progresses into an hour-long process, I start my day with taking my tart cherry and Tumeric vitamins (great for joint pain) along with a huge glass of water.
I start with a spritz of Avene thermal water, then I move on with my amethyst face roller straight from the freezer. It helps depuff my skin and opens up my pores.
I cover my hair in coconut oil and begin to make my facemask/ scrub using a baking soda and lemon emulsion, it foams on the skin and softly dries, I clean it off with a hot towel and wash the excess face mask off with Kate Somerville's EradiKate Acne Cleanser. 
Next is my favorite face moisturizer, Chanel hydra beauty cream. It feels very light but keeps my skin hydrated all day, followed by my glossier bubble wrap eye and lip cream. It's meant for plumping and hydration and it does NOT fail by far my favorite.
Lastly, I finish with another spritz of avene water (I can't get enough), a spritz of my whiskey noir fragrance, my favorite vanilla lip mask from Laneige, and my Supergoop SPF 50 sunscreen that comes in a "glow stick" leaving my face so glowy and protected.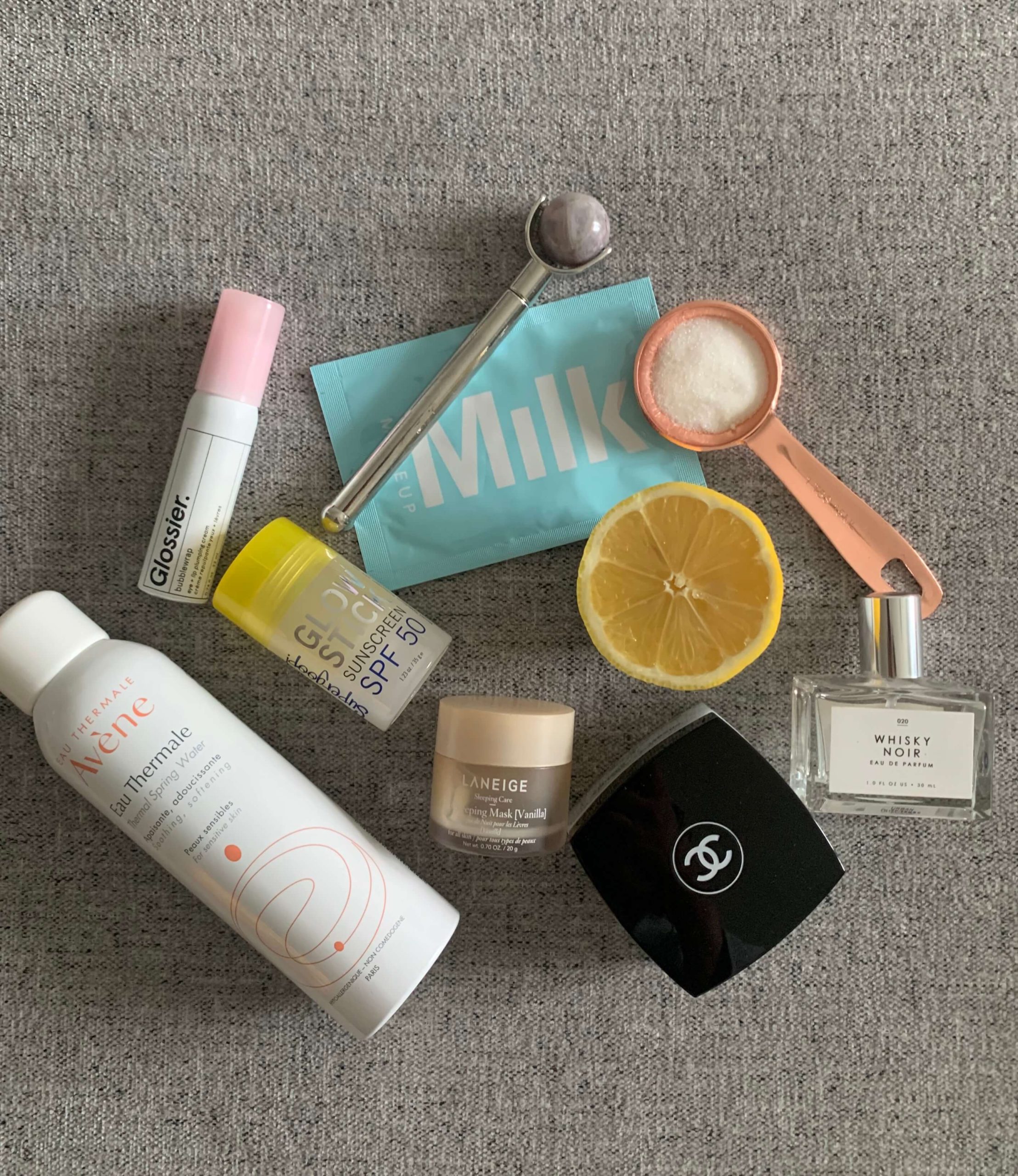 "My pampering starts from the inside and progresses into an hour-long process."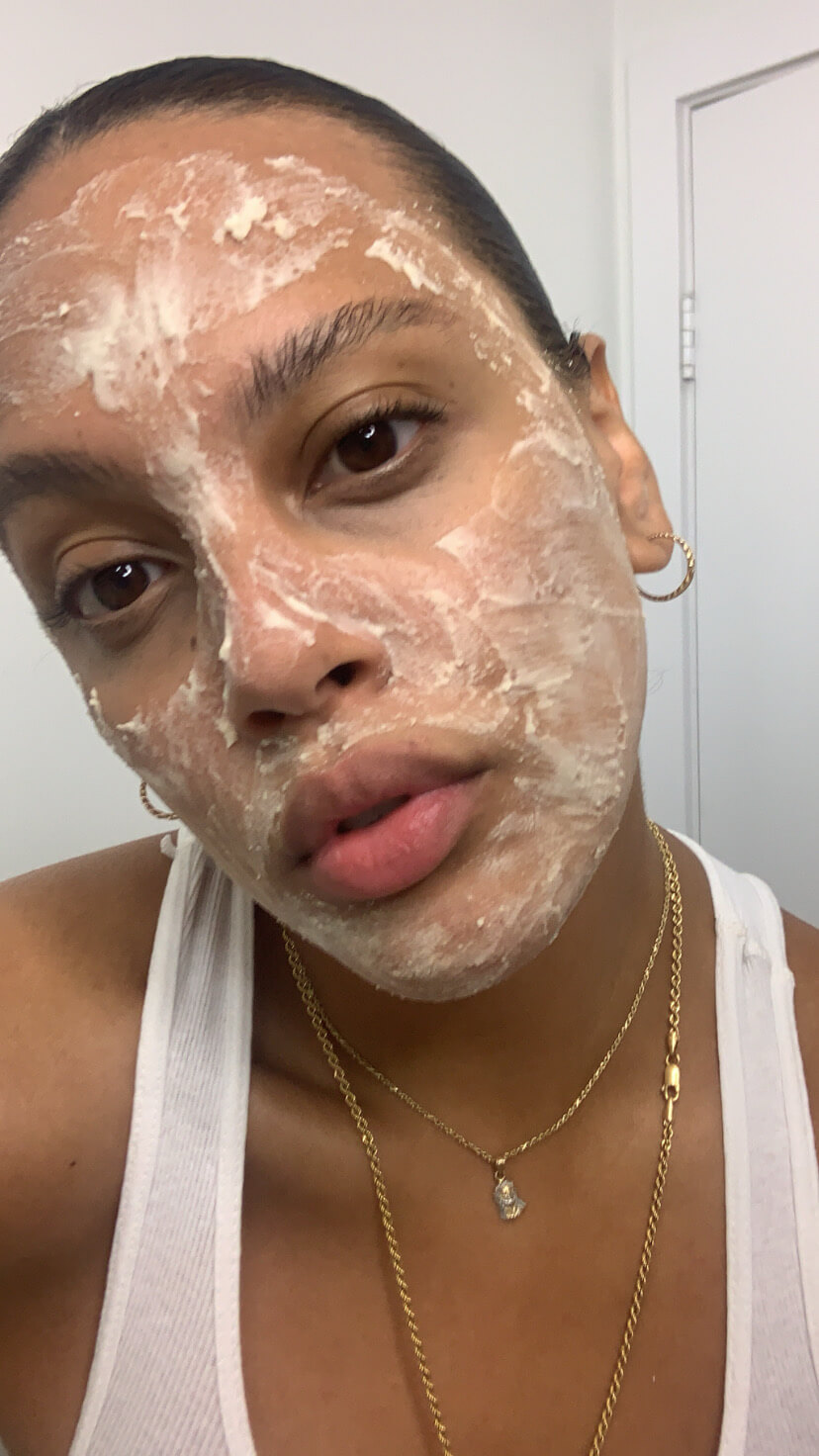 How do you practice beauty from the inside out?
Every morning I take my vitamins as well as a HUGE glass of water, It immediately puts hydration back into my body after sleeping and gives me a boost of energy. I love leafy green veggies, they are packed with vitamins, minerals, and good fiber. I try to eat some every day, I was making cucumber water at one point just to get my intake throughout the day. Another great tip when starting from the inside would be using my mind and saying daily affirmations to myself, no one loves you more than you.
Hair mask: are you a fan? If yes, what are you sinking your hair in?
LOVE. I'm a number 1 fan, I do hair masks at least once a week to help with hydrating my curls and keeping my blonde vibrant, I slather my hair in coconut oil and follow it up with a hair thickening mask C/O my local hair store. I also started rice water rinse every other week for a protein boost and hair growth.
How are you practicing self-care? What are you doing to combat anxiety during this time?
I built a morning routine that I stick to every day, wake up, make iced coffee, light a candle, pray, meditate and set small goals for the day even if it's as small as telling myself
 

"I love you".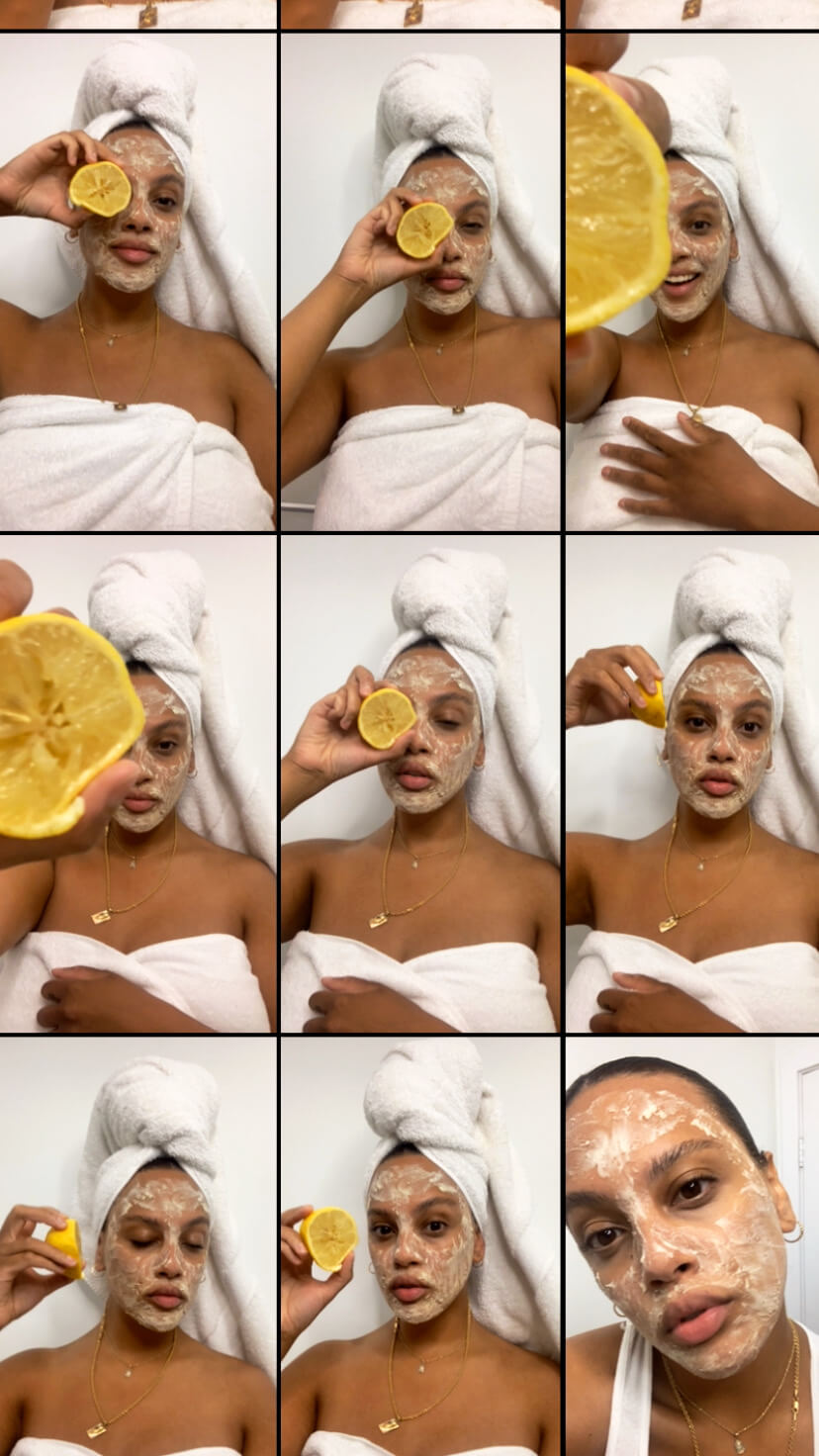 The beauty stuff on your nightstand?
My Laneige vanilla lip balm, amethyst face roller, and my Glossier hand cream.
What's the skincare tool you are using the most these days and why?
Definitely my face roller. I've probably mentioned it a million times but I love it!
Are you playing around with makeup?
YES, the more colored eyeliner the better, the more shapes the better, I've strayed away from the typical black and brown one line above the lid routine and have been dipping in bright colors and unique ways to do "art" on my eyes.
Current top favorite makeup brands?
Fenty and Glossier.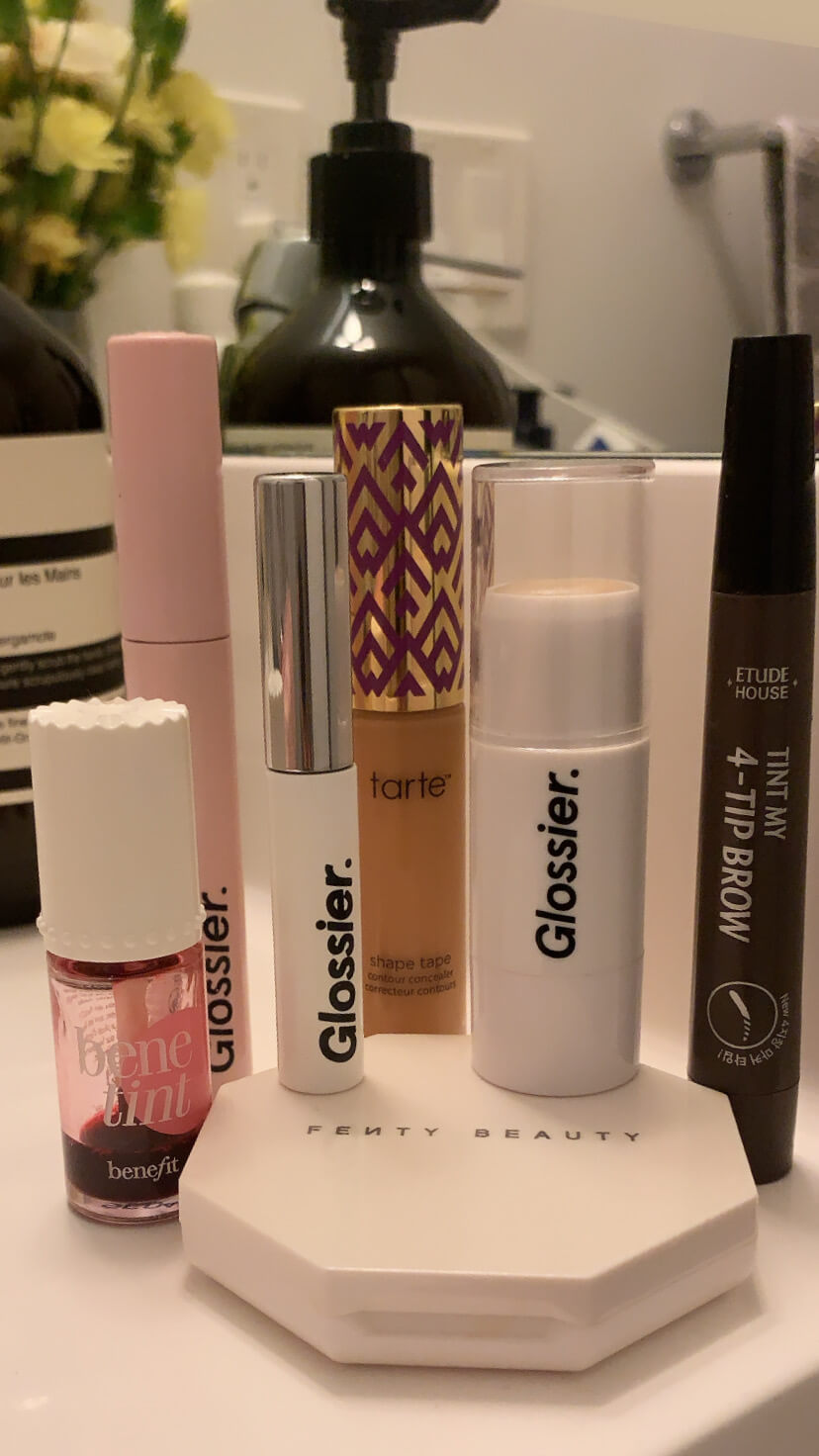 "The more colored eyeliner the better."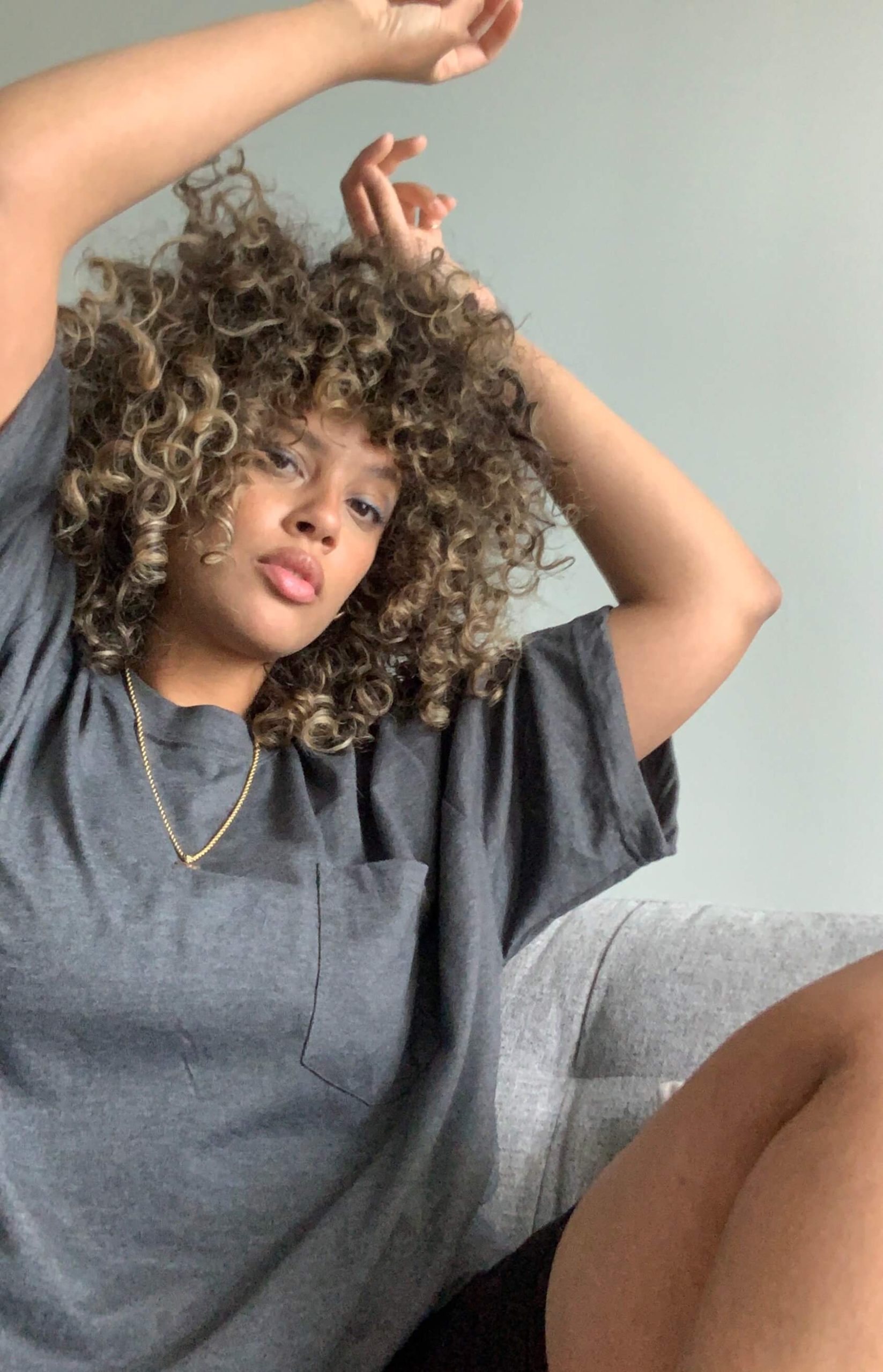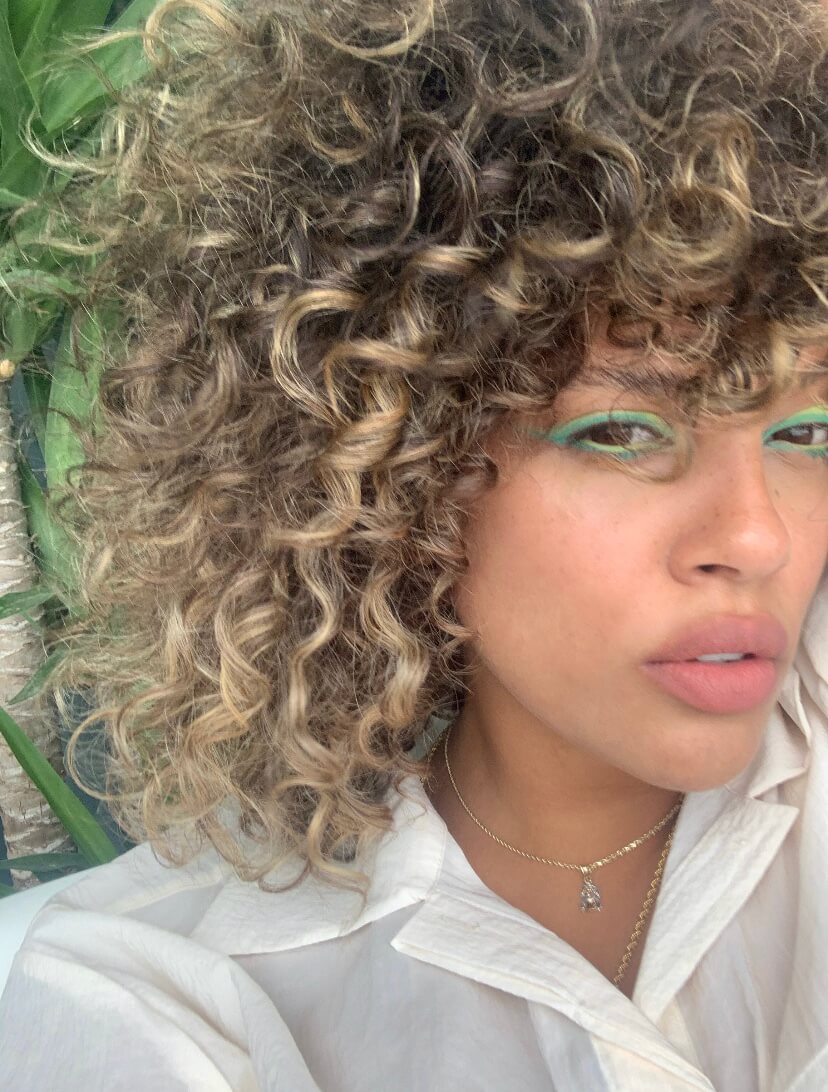 The last product to which you said "no"?
Powder foundation, it's so cakey and heavy on me.
The last product to which you said "yes"?
Milk Cosmetics Cooling Water Eye Patches are so cute aesthetically and I love how cool they make my under eyes feel. 
Your SPF of choice for staying in?
Supergoop SPF 50 glow stick.
Are you a fan of night masks? If yes, what are your favorite ones?
No, too heavy for me.
These days, there is a lot of time to think: If you could invent a skincare product that isn't' on the market yet, what would it be?
One that doesn't make me break out and one great for ALL skin tones and colors no EXCEPTIONS.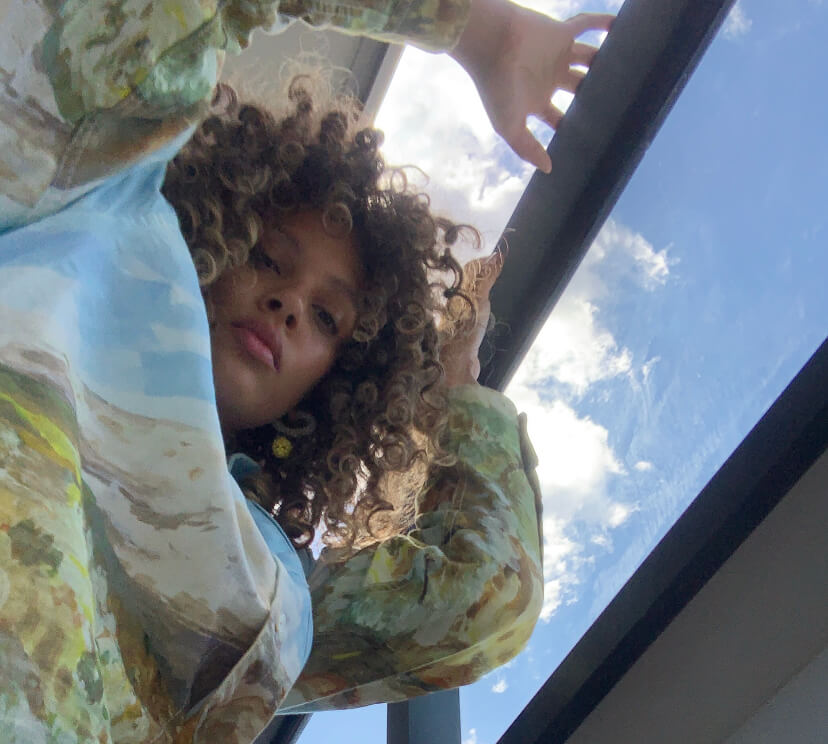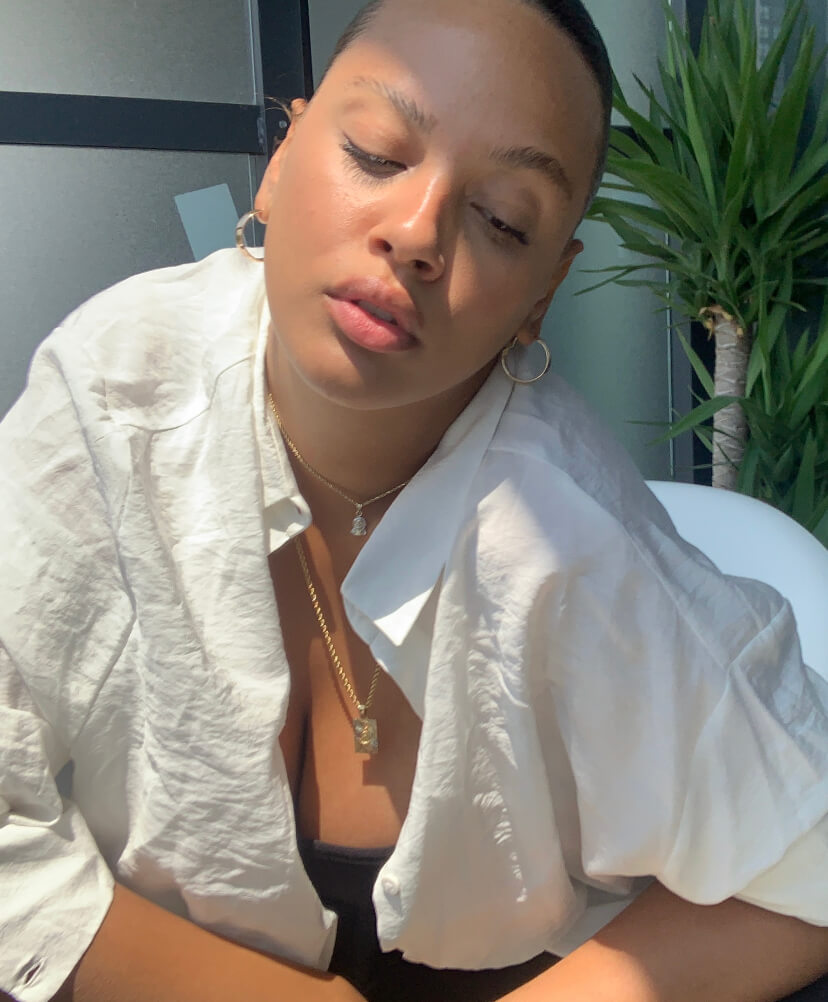 What do you do for your skin that is not strictly linked with skincare products?
I drink plenty of water, take my vitamins and simply just let it breathe, having no makeup days.
What's something new we can expect from you after quarantine is over?
You can expect newfound confidence and a new zest for life. During quarantine, I started my own lifestyle brand called Hillside. I plan to expand my design and create content that inspires me. 
Is there a book you are currently reading?
"The next person you meet in heaven" by Mitch Albom.
What is the last thing that made you smile?
Talking to my mom about hypothetical vacations we will take post quarantine.