In the historical moment we find ourselves in, we cannot avoid thinking about how much the world is changing and how much more and more we find ourselves having to fight for what we believe in.
We want to continue talking about what we always talk about; we want to continue to recommend to our beauty community (and not only) products and people to follow, which can be of inspiration. If representing diversity has always been natural for us, now we want to emphasize it. We have always been of the idea that to normalize diversity, we should stop talking about it, it must not be or become a trend. Still, at this moment, we want to do our part, even more, to be a voice that, unfortunately, still today, it must be heard in all possible ways.
And what does The Italian Rêve believe in? The Italian Rêve believes that all people should be represented and that in the past, representation didn't reflect reality. We want to talk more and more about people who are not measured by a meter, by their color or by their number of followers. We want to create a place where there are no compromises or constant comparisons; and we want to talk to people who have a voice – who are wonderfully different from each other, from us, from you – with the ability to self-expression and a desire to change the world with their ideas.
We like to think we can give voice to all those who believe in real beauty, a beauty that is continuously evolving.
So, we couldn't but launch this new Beauty project with an agency that embodies diversity, an agency like JAG Models. And they are the only ones in the world to do so, truthfully, in their New York offices. Their philosophy is called the "No Assholes Policy" and their mission is rooted in the principles of kindness, compassion, hard work and accepting every individual in the world for who s/he is: "As long as they are healthy we will never ask them to gain or lose weight. We celebrate them for what they bring to the table."
So, let's try together to expand and reconsider the idea of ​​beauty, an ever-evolving word.
And, as JAG Models say, "Be you."
Making every day productive, practicing makeup, and knowing your worth: model Raven Landis told us about how she spent quarantine, her skincare routine (included her big love for the jade roller), and how she escapes from anxiety. Without forgetting, of course, to take a moment of indulgence with the Chicken MBP sandwich with no Mozzarella from Mendocino Farms!
Here are all the "Equals in Diversity" interviews: Lainey, Jordan, Lotte, Nya, Evonique, Ali.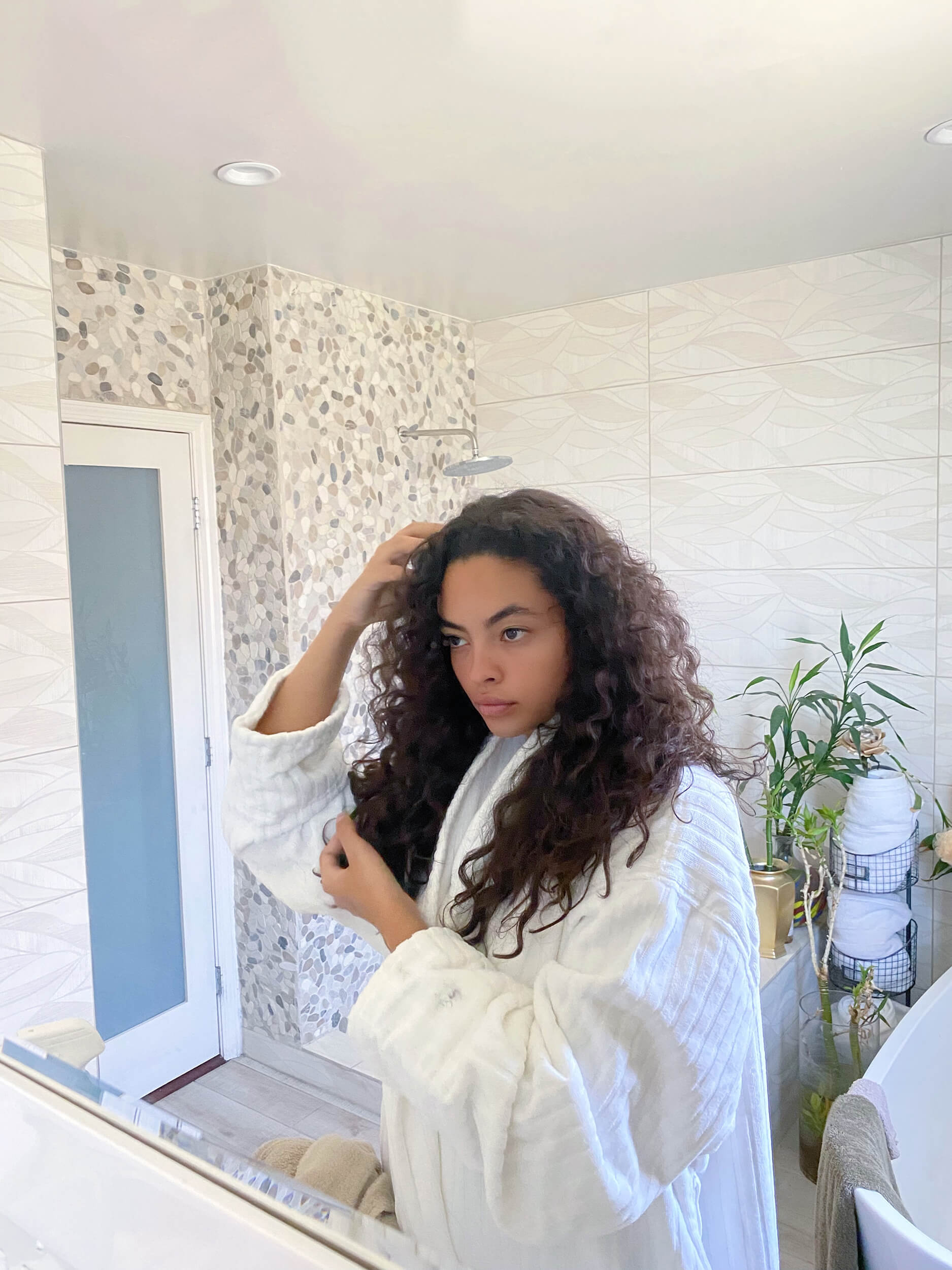 How has the quarantine been treating you?
I honestly was really enjoying it for the first few months, although the thought of an airborne virus is terrifying. It was really great to spend some time indoors with all my loved ones; something I don't get to do often. Now after 5 months, I'm antsy to get back to work, and to our everyday lives.
What's your first thought when you wake up in the morning these days and realize you cannot go by as usual? 
"Can I wake up from this nightmare already?" 
What keeps you in bed? 
My Boyfriend, Music, and Tiktok… LOL 
What makes you wake up? 
The feeling of making my day as productive as possible.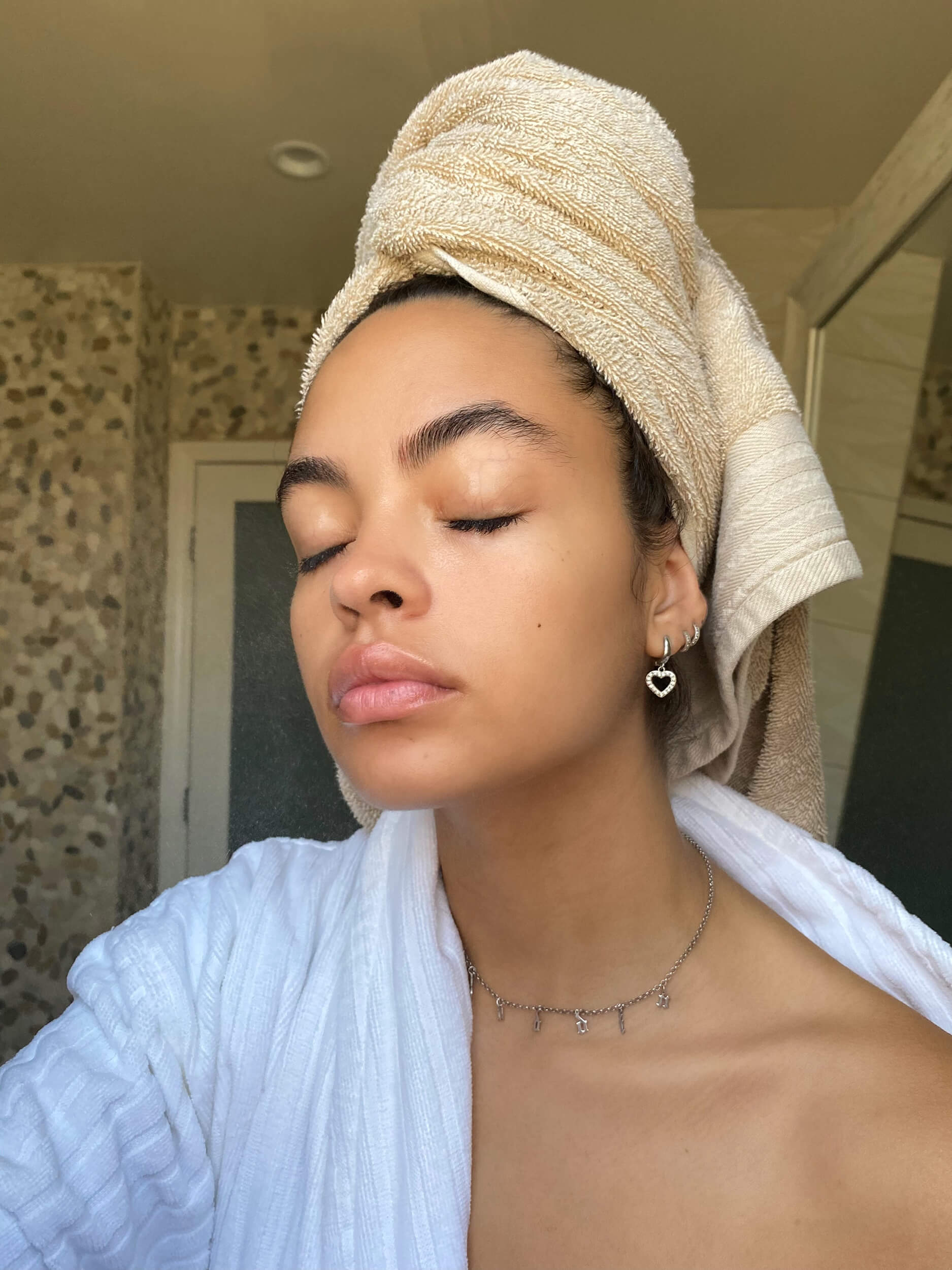 What's the first product that touches your skin in the morning?
Ginger Sheet Mask, WAKE ME UP!!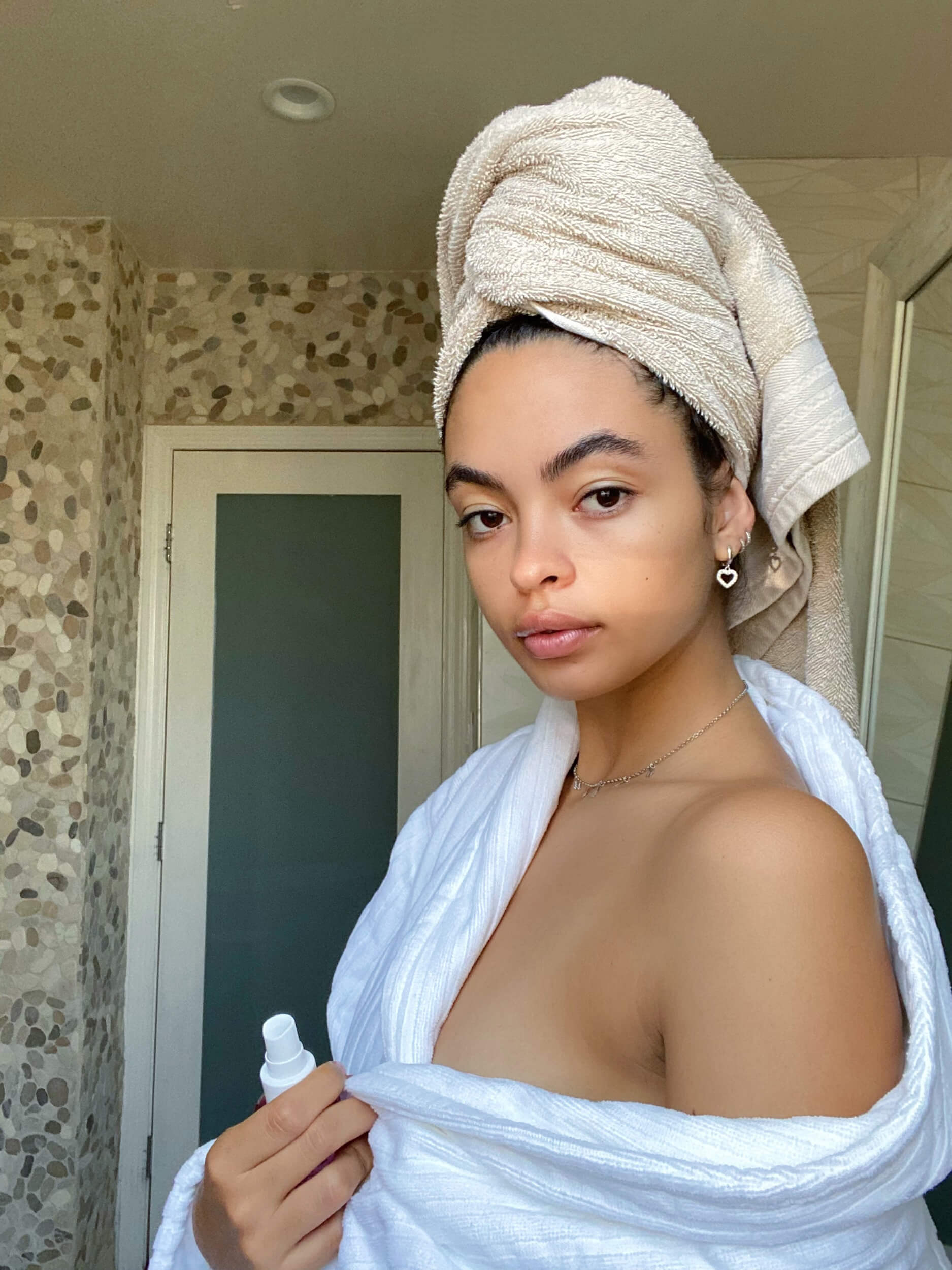 What's your favorite meal nowadays? Do you have a favorite food for your skin? 
Chicken MBP sandwich with no Mozzarella from Mendocino Farms. I ordered it at least twice a week for dinner. As random as it sounds Tomatoes are my favorite food for my skin! They are packed with Vitamin C and contain all the major Carotenoids. I try to add them to almost every meal. 
We definitely have more time to dedicate to ourselves: tell us step by step what are the products and techniques you are using for that extra pamper time?
I always start with my Kylie Skin face wash

Kylie Skin Vanilla Milk Toner 

Make sure the eyebrows are plucked and pretty! 

LIP SCRUB TIME!! I use the Fenty beauty scrub stick

Lastly, use my Jade Roller for about 5 mins.
Short, and sweet!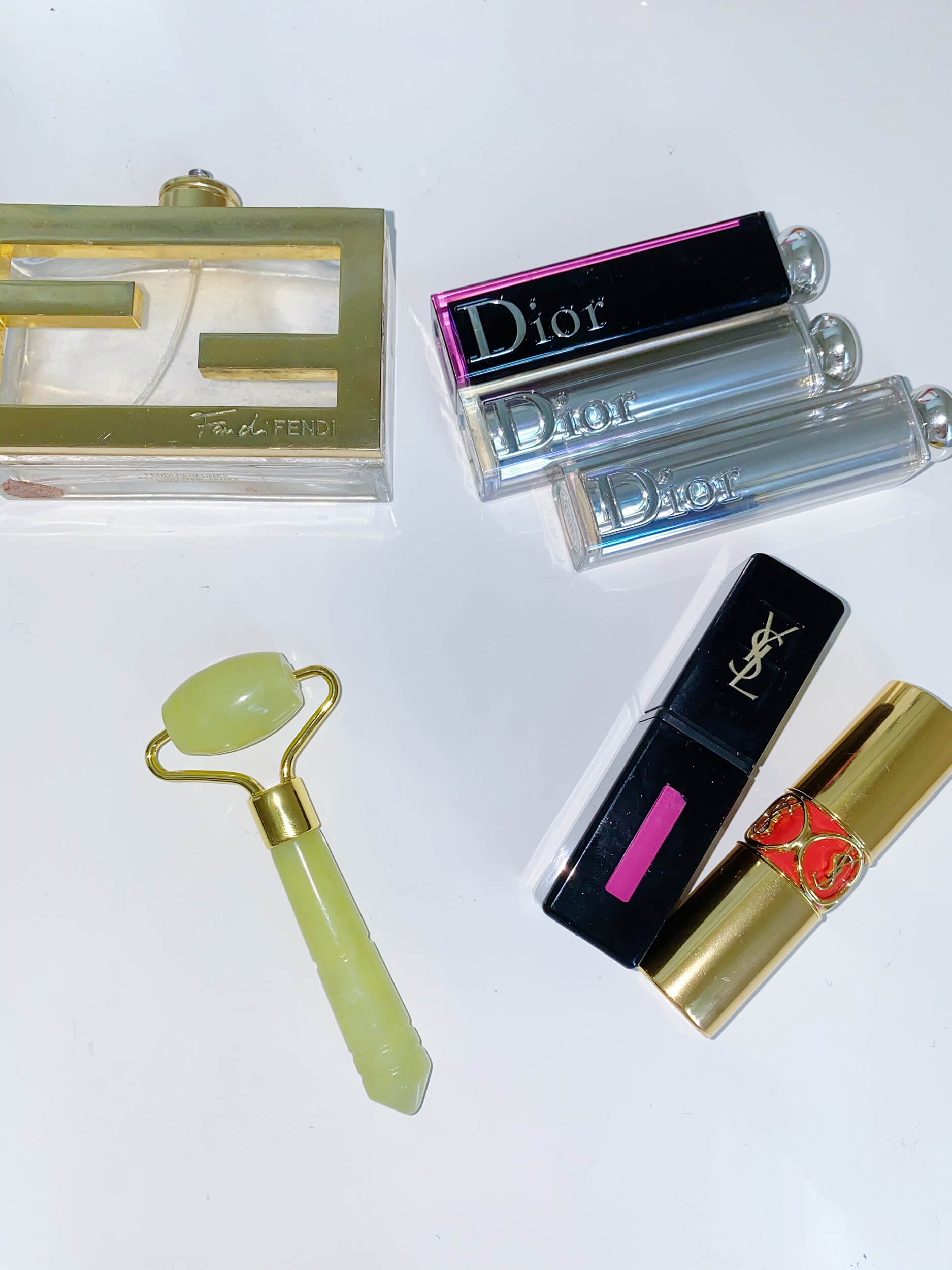 How do you practice beauty from the inside out?
Confidence is key like everyone says, but the steps that help you become confident are most important. One way is by exercise, not for the way I look but for the way it makes me feel. Another way which in my opinion is the most important way is, knowing your worth. Nothing can possibly make you more confident than knowing the strength, power, and importance of oneself.  
Hair mask: are you a fan? If yes, what are you sinking your hair in? 
DEFINITELY, homemade of course. My Favorite is a mixture of avocados, olive oil, organic honey, pure avocado oil, and organic unsweetened coconut milk. 
How are you practicing self-care? What are you doing to combat anxiety during this time?
I've struggled with anxiety for a few years, and it's taken me a very long time to learn how to cope with it. During these crazy times the overwhelming feelings; I haven't figured out a way to combat my anxiety. My escape is working out. Nothing too intense just jumping rope or running on the treadmill it really puts my mind at ease.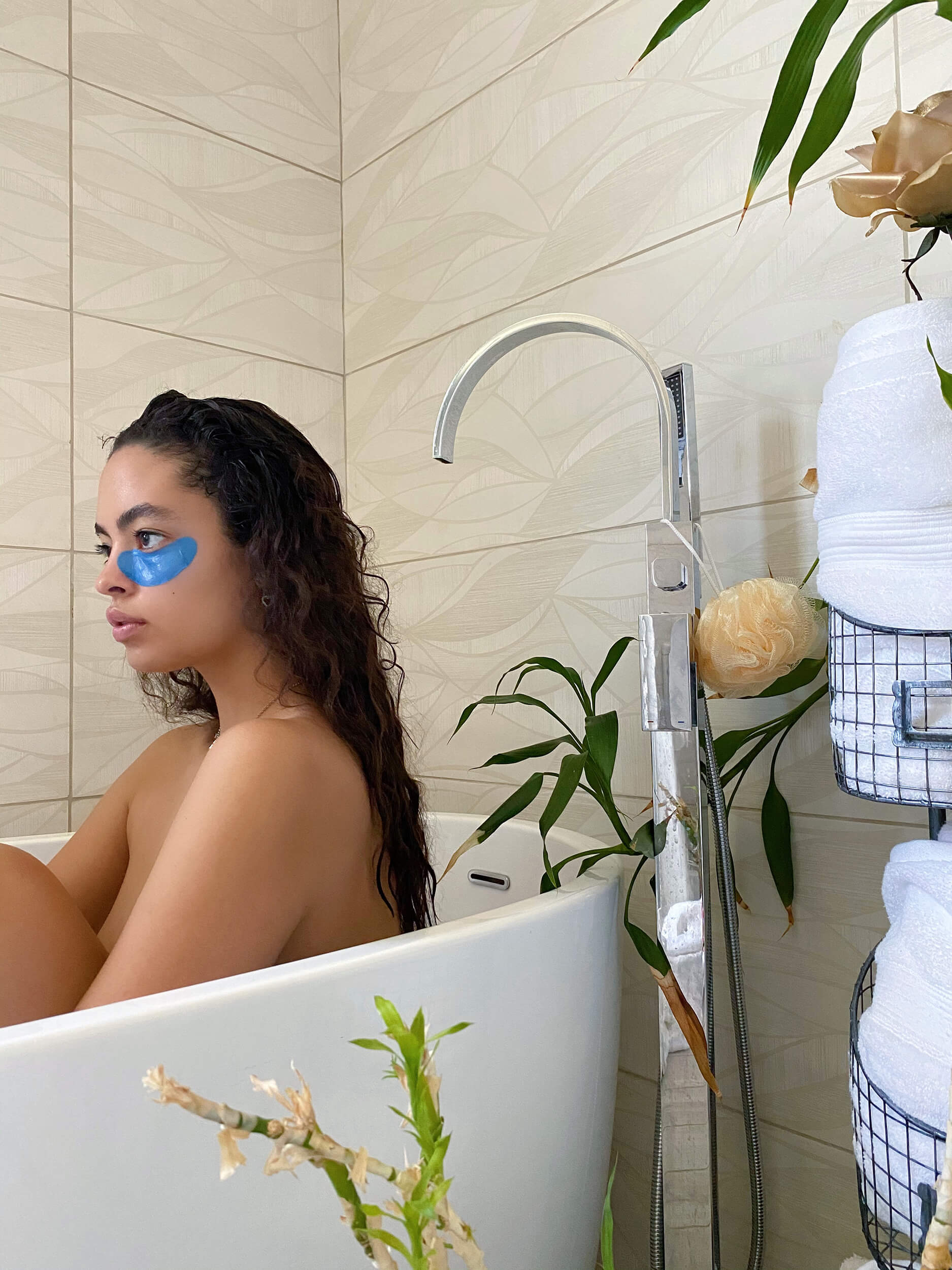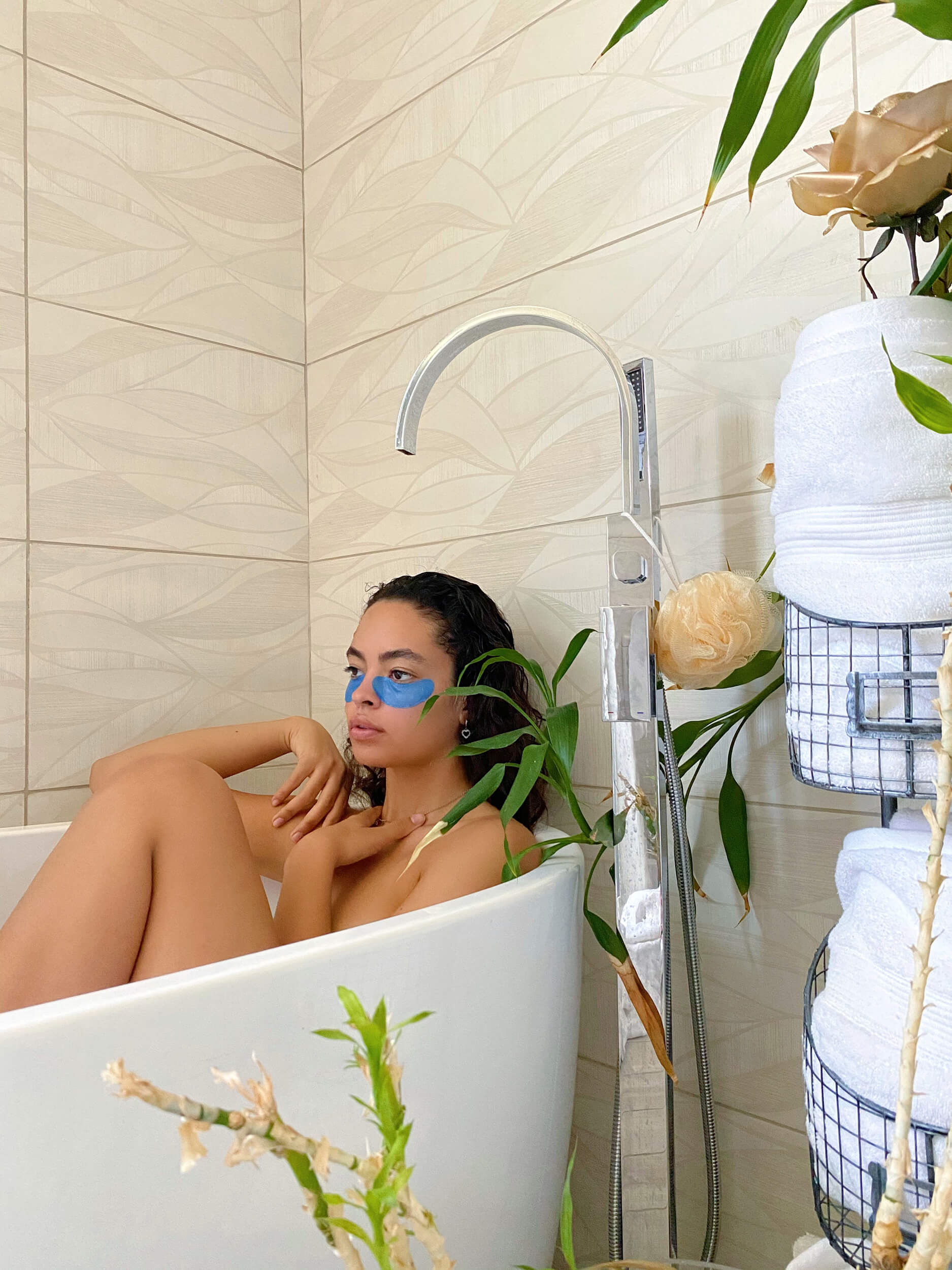 The beauty stuff on your nightstand? 
Jade Roller, Dior and YSL lipstick, and all my favorite perfumes. 
What's the skincare tool you are using the most these days and why?  
My Mini Jade face Roller, it helps depuff my skin and relax my facial muscles. It also encourages lymphatic drainage which helps boost the skin's natural detoxing process.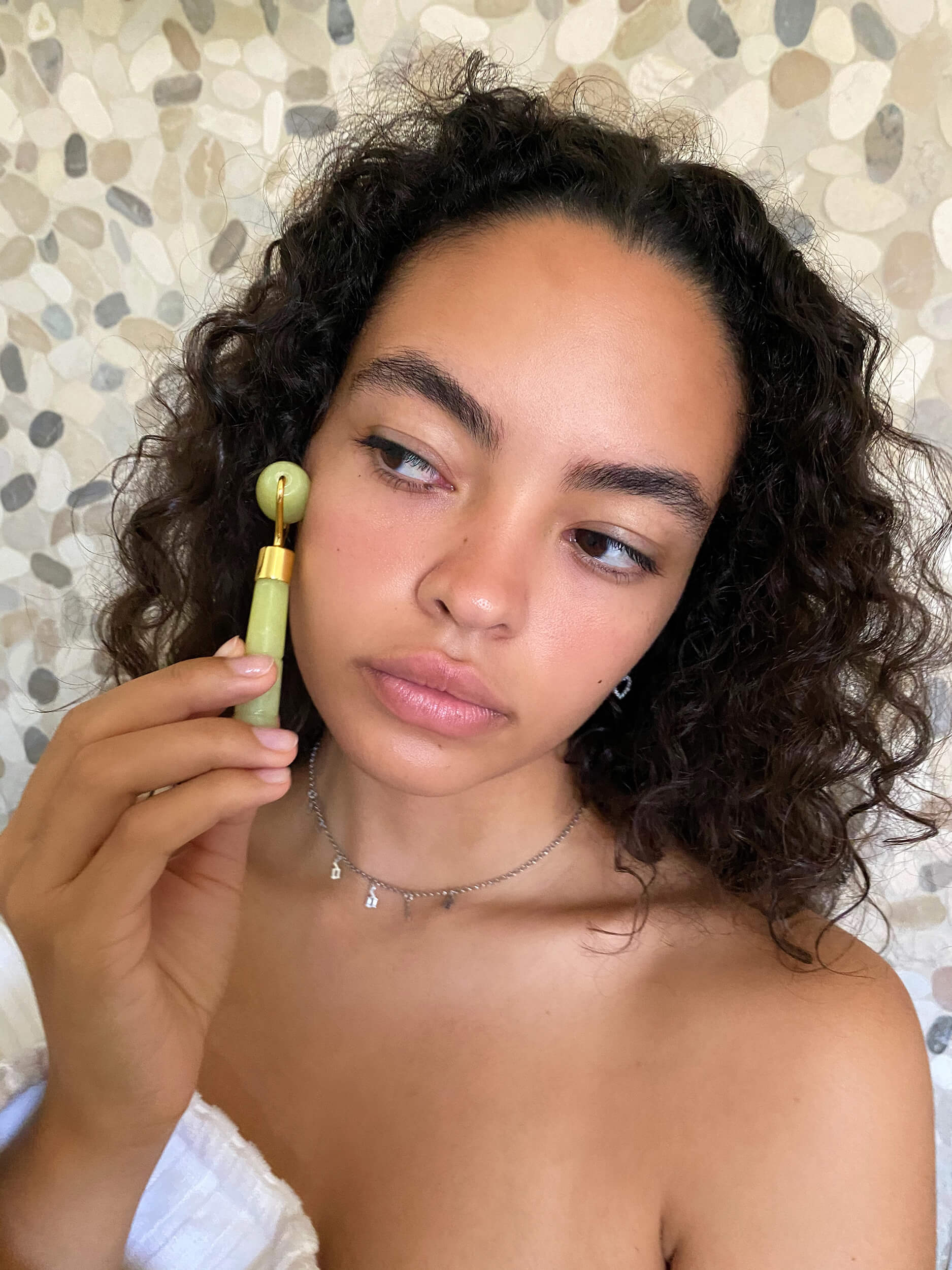 Are you playing around with makeup?
I've never really good at makeup on myself, so during quarantine makeup has been the number one thing I've been practicing!
Current top favorite makeup brands?
Fenty Beauty, Anastasia BH, and Kylie cosmetics. 
The last product to which you said "no"? 
Non-Vegan Makeup wipes.
The last product to which you said "yes"? 
Anything by Iman Cosmetics. Black-owned makeup brand!! 
Your SPF of choice for staying in?
COOLA organic water mist sunscreen.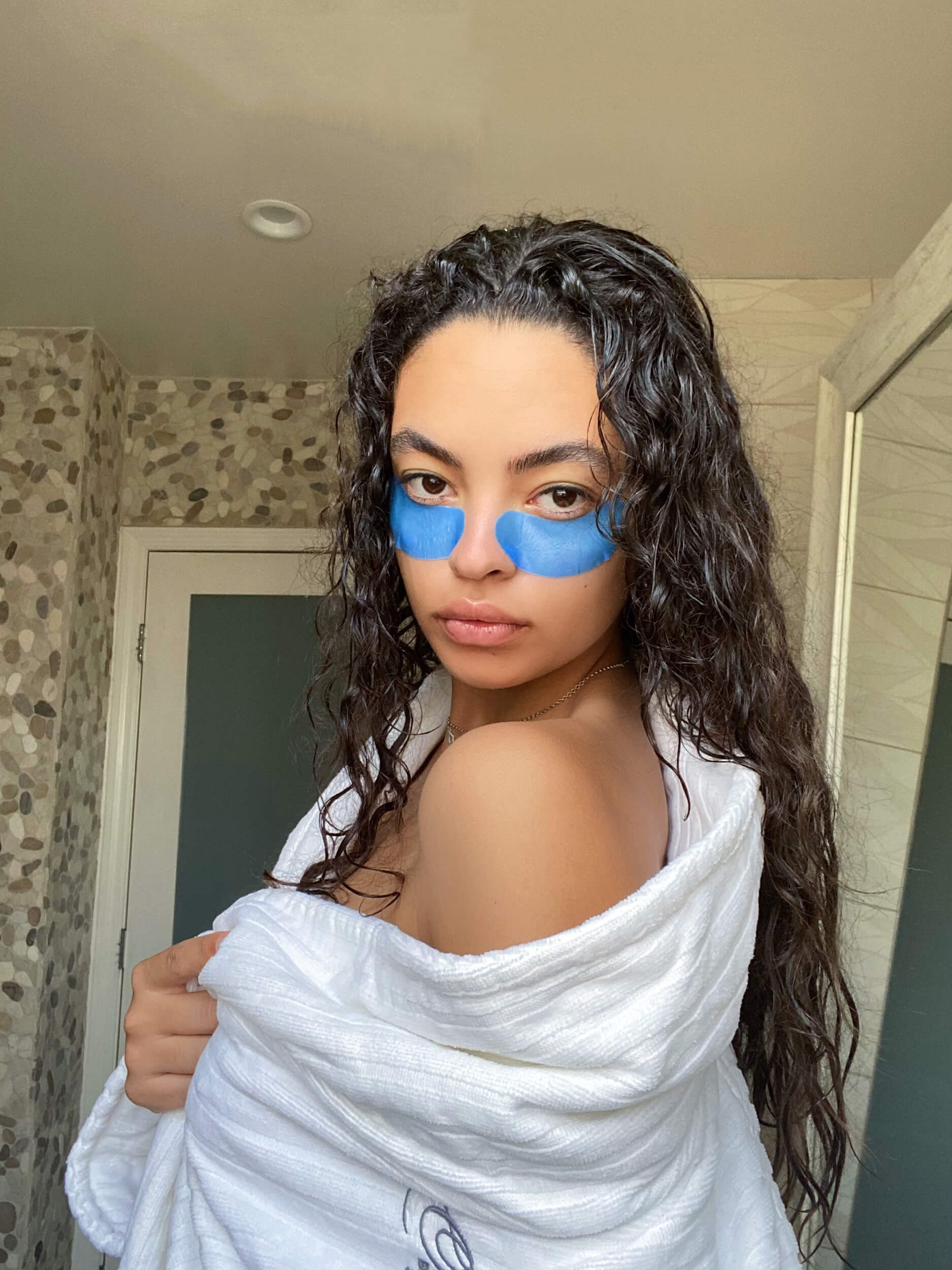 Are you a fan of night masks? If yes, what are your favorite ones?
I've never tried on before, but I don't think I'd want a product on my face for that long of a time. 
These days, there is a lot of time to think: If you could invent a skincare product that isn't' on the market yet, what would it be?  
A vegan skin cream that instantly gets rid of a sunburn. Within a day.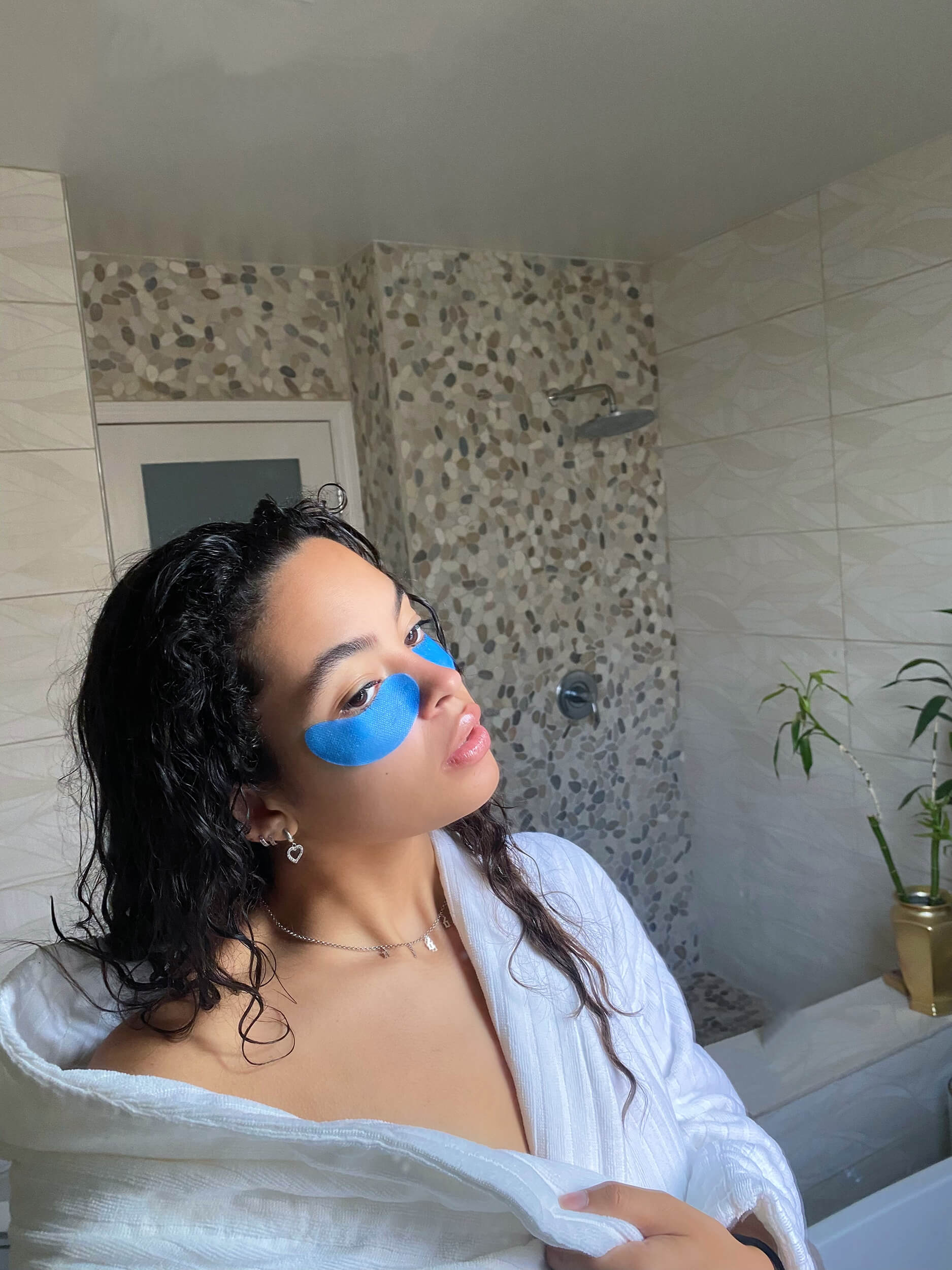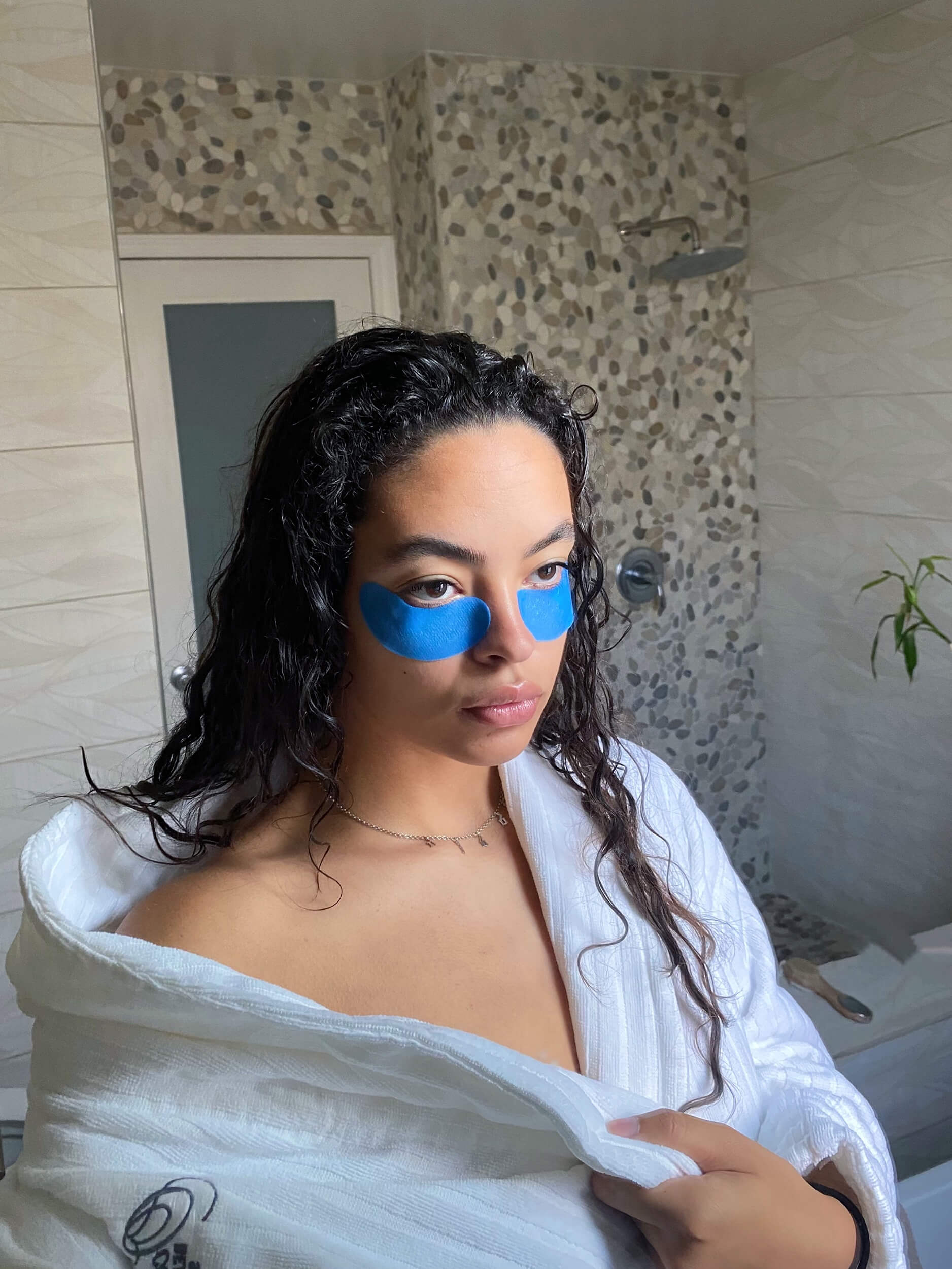 What do you do for your skin that is not strictly linked with skincare products?
Try my hardest not to touch it!!! If I need to I make sure my hands have just been washed. 
What's something new we can expect from you after quarantine is over?
Live in the moment, Make every day productive, calling and checking up on loved ones every second I get. Life is too precious to let days be wasted. Hopefully being able to travel for modeling so I can experience different cultures.
Is there a book you are currently reading?
"Between the World and Me" by Ta-Nehisi Coates. My second time reading it.
What is the last thing that made you smile?
Calling my grandpa that I haven't been able to see in 5 months because of this pandemic.