In the historical moment we find ourselves in, we cannot avoid thinking about how much the world is changing and how much more and more we find ourselves having to fight for what we believe in.
We want to continue talking about what we always talk about; we want to continue to recommend to our beauty community (and not only) products and people to follow, which can be of inspiration. If representing diversity has always been natural for us, now we want to emphasize it. We have always been of the idea that to normalize diversity, we should stop talking about it, it must not be or become a trend. Still, at this moment, we want to do our part, even more, to be a voice that, unfortunately, still today, it must be heard in all possible ways.
And what does The Italian Rêve believe in? The Italian Rêve believes that all people should be represented and that in the past, representation didn't reflect reality. We want to talk more and more about people who are not measured by a meter, by their color or by their number of followers. We want to create a place where there are no compromises or constant comparisons; and we want to talk to people who have a voice – who are wonderfully different from each other, from us, from you – with the ability to self-expression and a desire to change the world with their ideas.
We like to think we can give voice to all those who believe in real beauty, a beauty that is continuously evolving.
So, we couldn't but launch this new Beauty project with an agency that embodies diversity, an agency like JAG Models. And they are the only ones in the world to do so, truthfully, in their New York offices. Their philosophy is called the "No Assholes Policy" and their mission is rooted in the principles of kindness, compassion, hard work and accepting every individual in the world for who s/he is: "As long as they are healthy we will never ask them to gain or lose weight. We celebrate them for what they bring to the table."
So, let's try together to expand and reconsider the idea of ​​beauty, an ever-evolving word.
And, as JAG Models say, "Be you."
By taking everything day by day, model Mnatalla has found a new balance in her life, made of long walks, a lot of books, and natural home remedies, without forgetting the importance of skincare (With a couple of must-haves that we love too). Here's what she told us about her beauty steps and favorite brands and products!
Here are all the "Equals in Diversity" interviews: Lainey, Jordan, Lotte, Nya, Evonique, Ali, Raven, Gabi.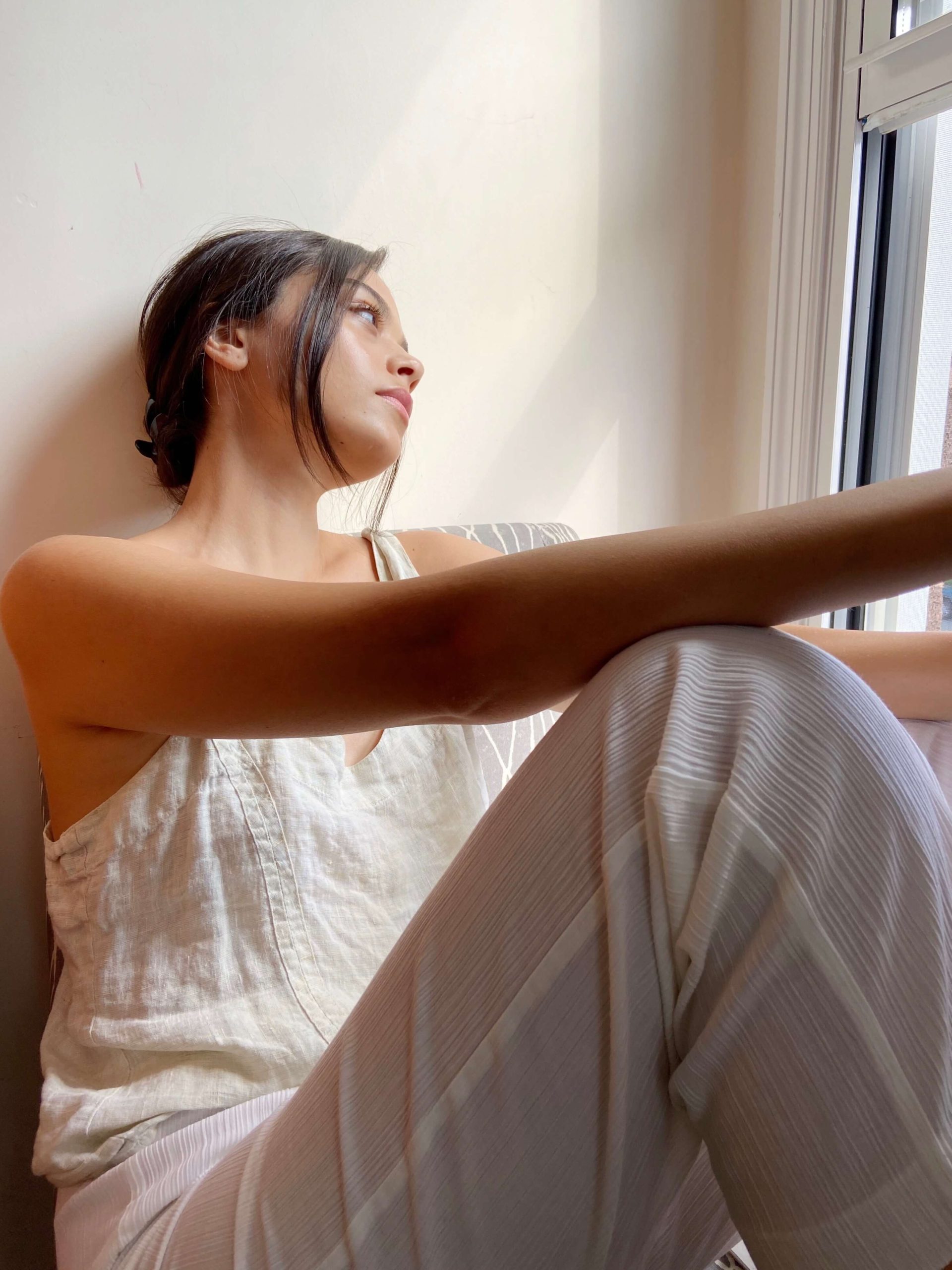 How has the quarantine been treating you?
Overall I'd say alright! I'm shifting my focus on taking care of myself and instead of worrying about the future, I'm trying to take everything day by day.
What's your first thought when you wake up in the morning these days and realize you cannot go by as usual?
It's so important for me to say a little prayer as soon as I wake up. It centers my thoughts and has me thinking of what I'm grateful for. It's so easy to ignore your blessings and focus on the negatives, especially during hard times, so praying brings me back to the right headspace.
What keeps you in bed?
A good book. I can lay in bed and read for hours!
What makes you wake up?
Mystery! Not knowing what each day will hold for me excites me.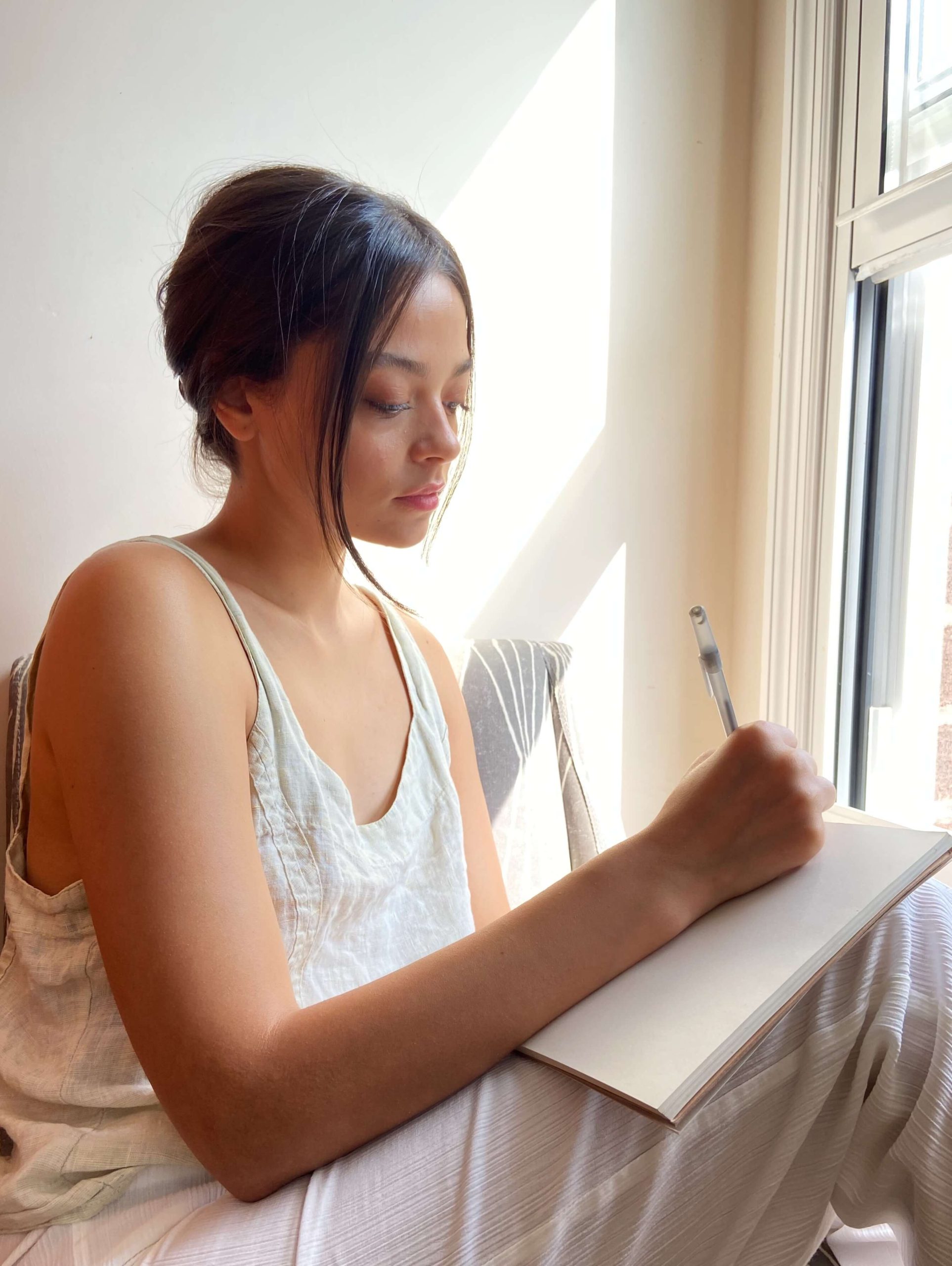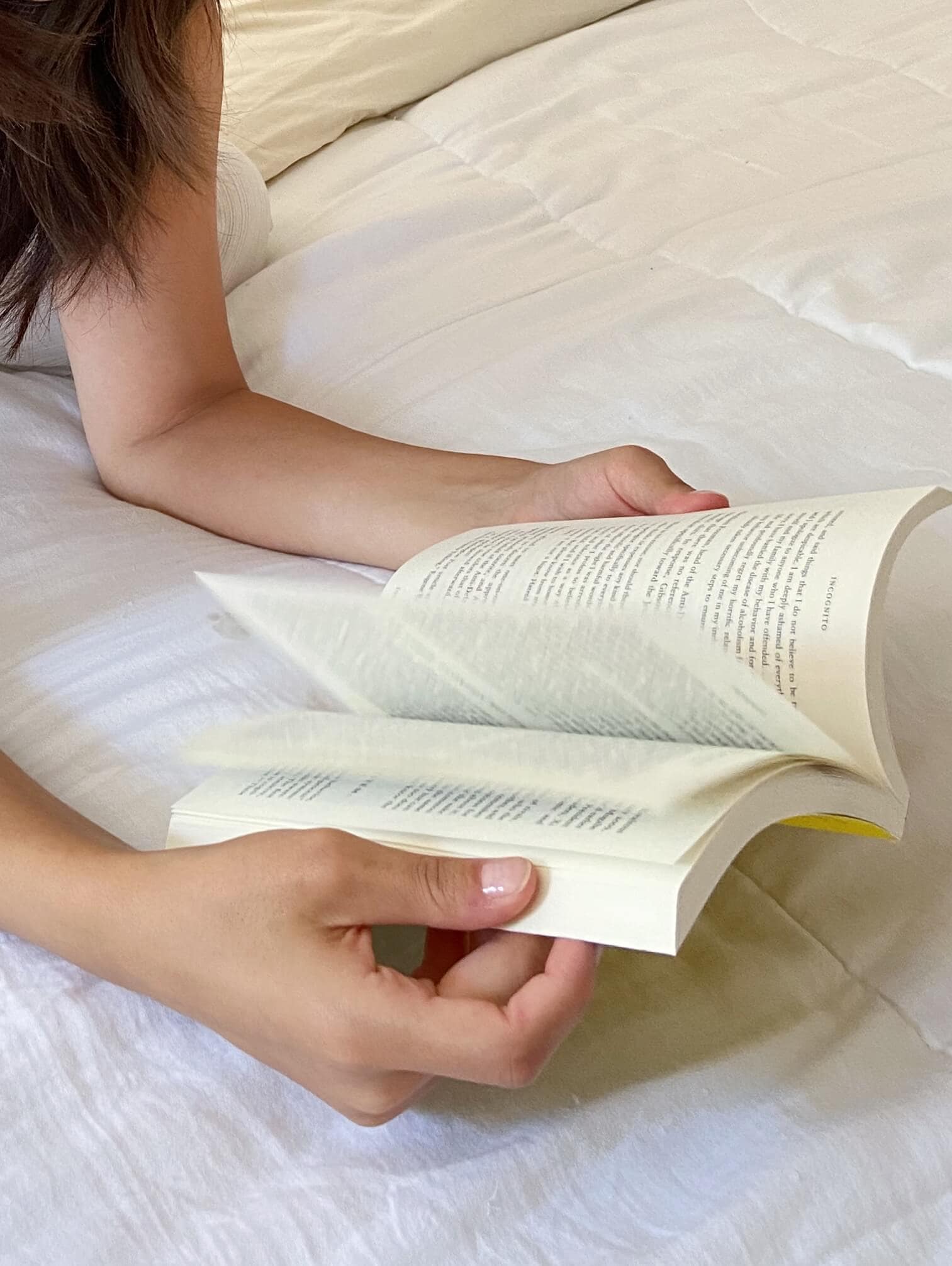 What's the first product that touches your skin in the morning?
Right after I splash cold water on my face, I'll apply my Peter Thomas Roth Cucumber De-Tox Hydra-Gel Eye Patches. My puffy morning eyes love them.
What's your favorite meal nowadays? Do you have a favorite food for your skin?
I love avocado on toast with hummus and hot sauce! It's been my recent go-to because it's light yet super filling. As far as food for skin, I try to eat a lot of colorful fruits.
We definitely have more time to dedicate to ourselves: tell us step by step what are the products and techniques you are using for that extra pamper time?
I'm taking the time to try new natural home remedies. My favorite has been this avocado, honey, and lemon mask, which leaves my skin feeling amazing. I've been giving myself face and scalp massages and even though I don't see immediate results, it just feels nice to go the extra mile!
How do you practice beauty from the inside out?
I try to be kind and mindful every single day. Surface beauty fades quickly without a pure heart. It sounds cliche but the most beautiful people to me are the ones who care for others.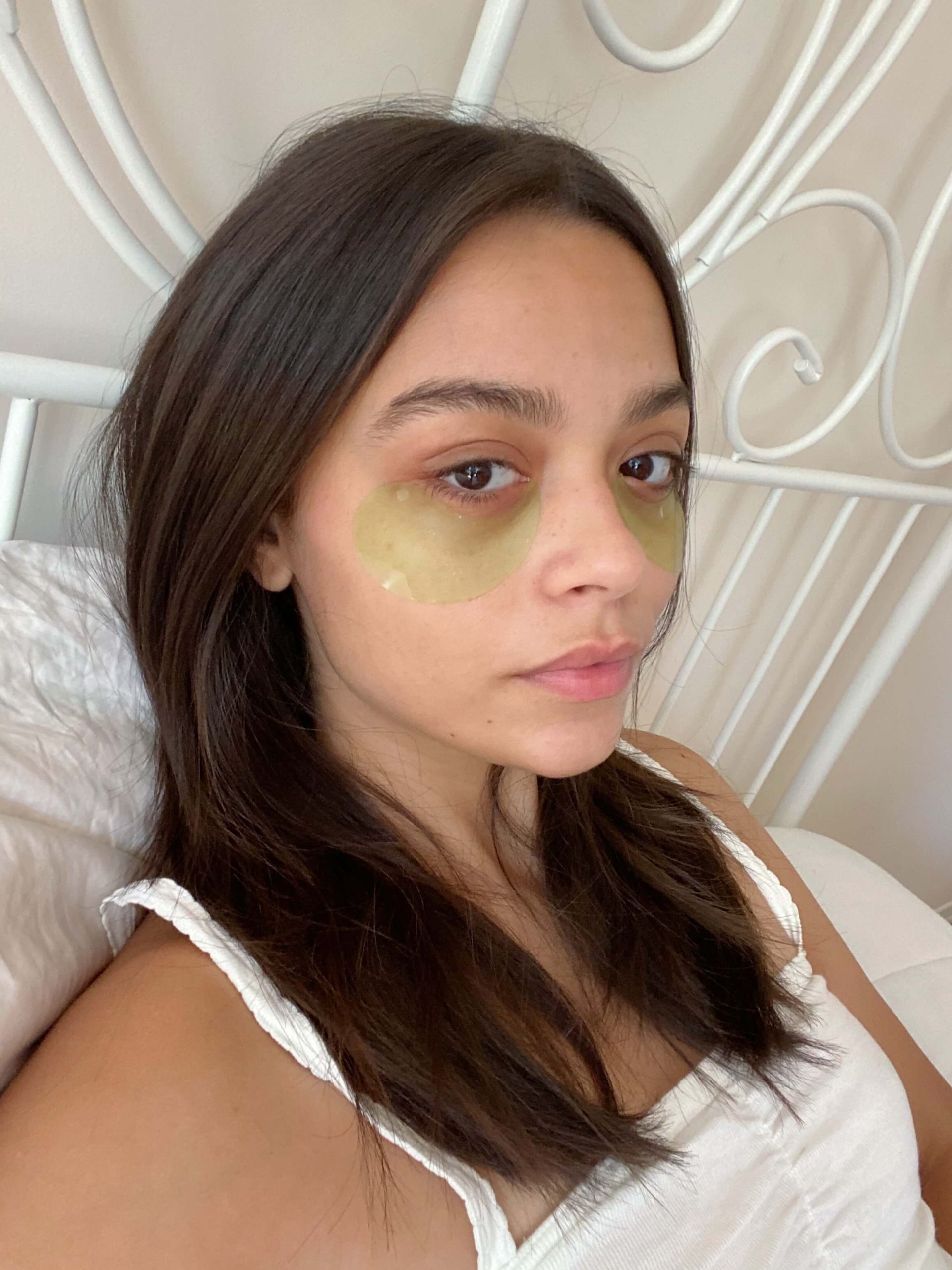 "I try to be kind and mindful every single day. Surface beauty fades quickly without a pure heart."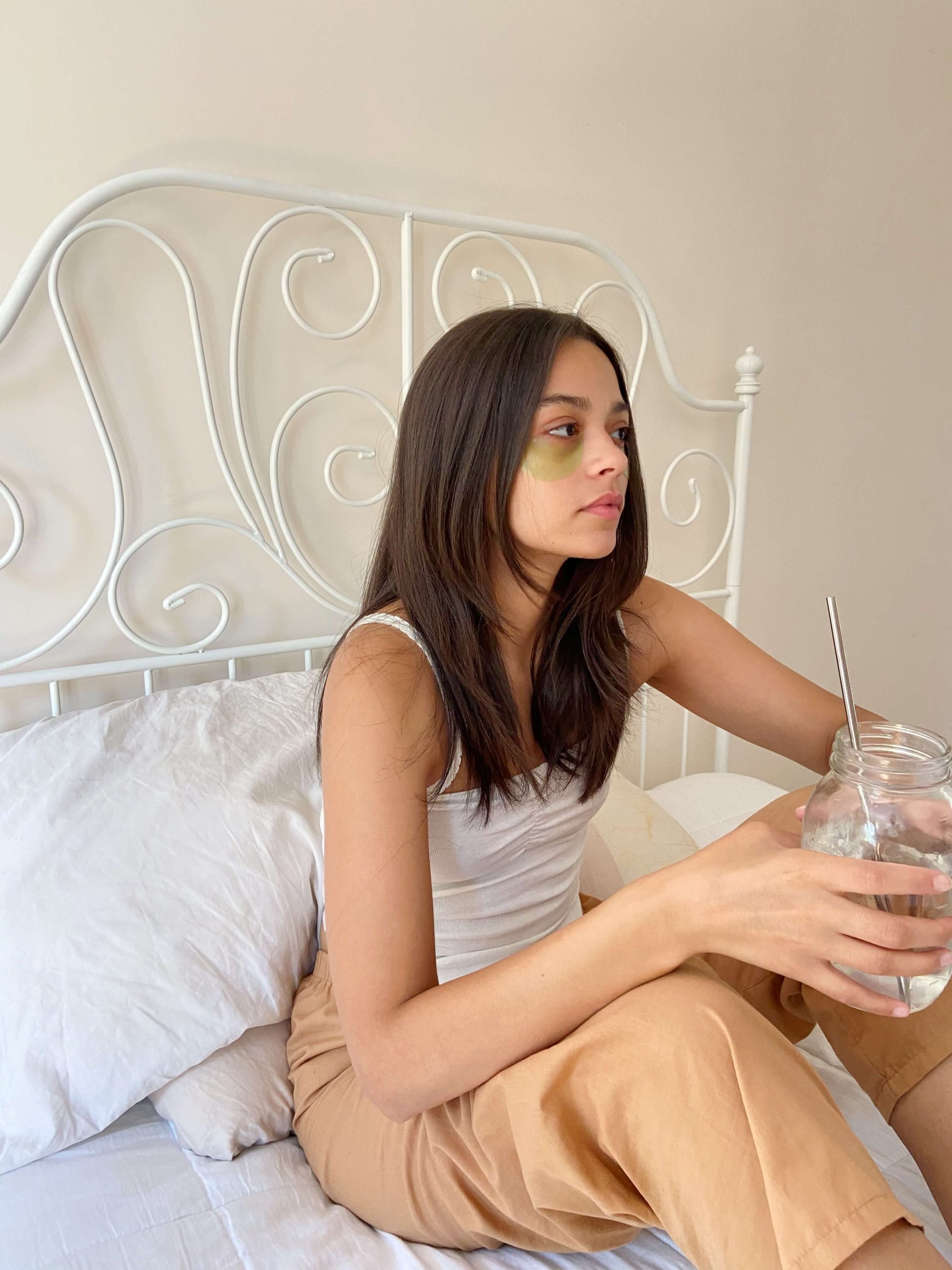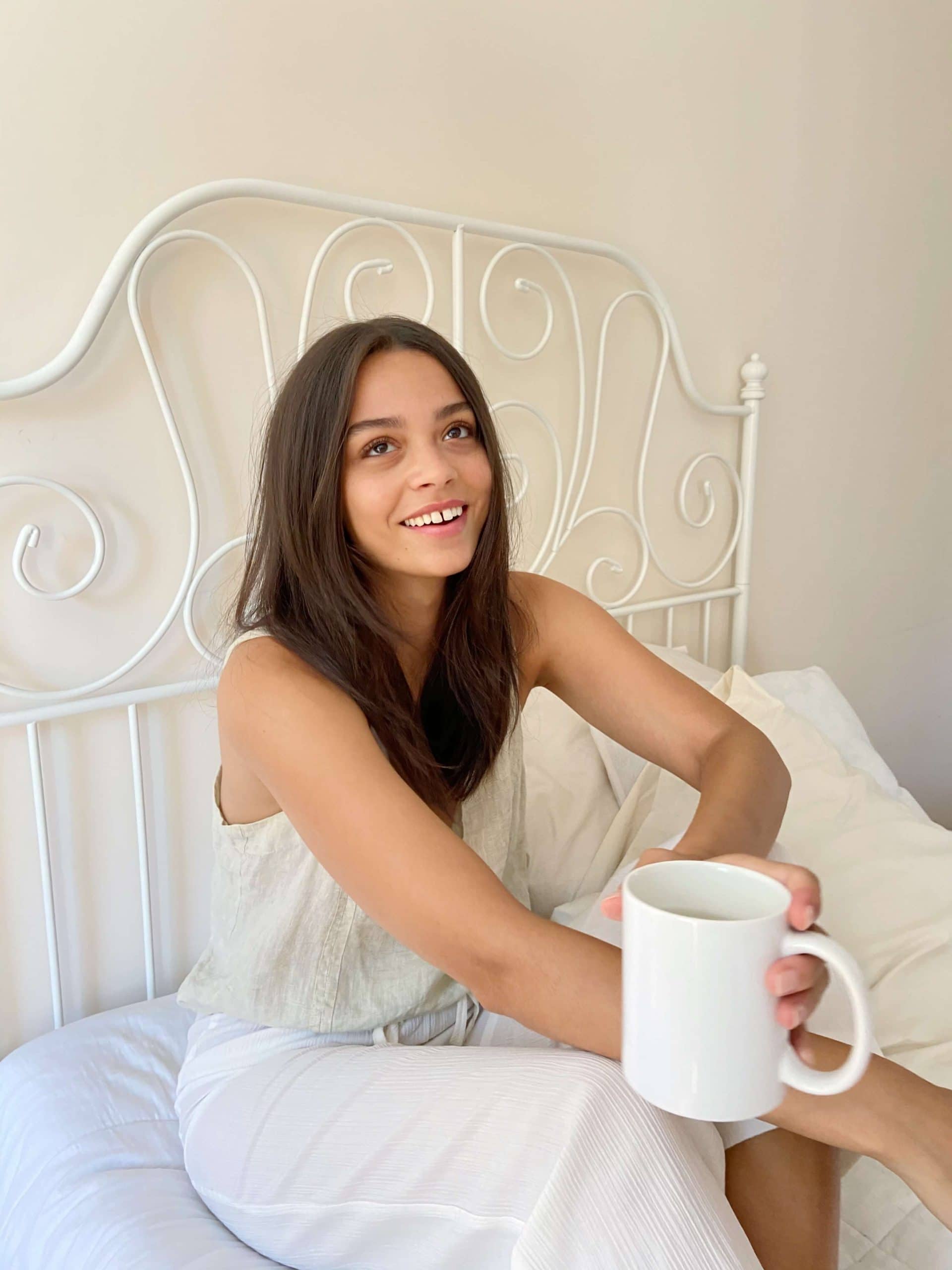 Hair mask: are you a fan? If yes, what are you sinking your hair in?
YES! I swear by olive oil hair masks, I'm Arab and olive oil is a huge ingredient for us so naturally, it's been a key product for me from a very young age.
How are you practicing self-care? What are you doing to combat anxiety during this time?
Going for walks has saved me during this time. Just breathing in the fresh air and listening to good music have been able to take my mind off the stress for a bit. It's also been really important for me to unplug and stay away from social media, I think that's the biggest act of self-care for me.
The beauty stuff on your nightstand?
Weleda Skin Food! I talk about it all the time because it helped my crazy dry skin… It's so hydrating and smells great! Also, Glossier's birthday balm for my lips.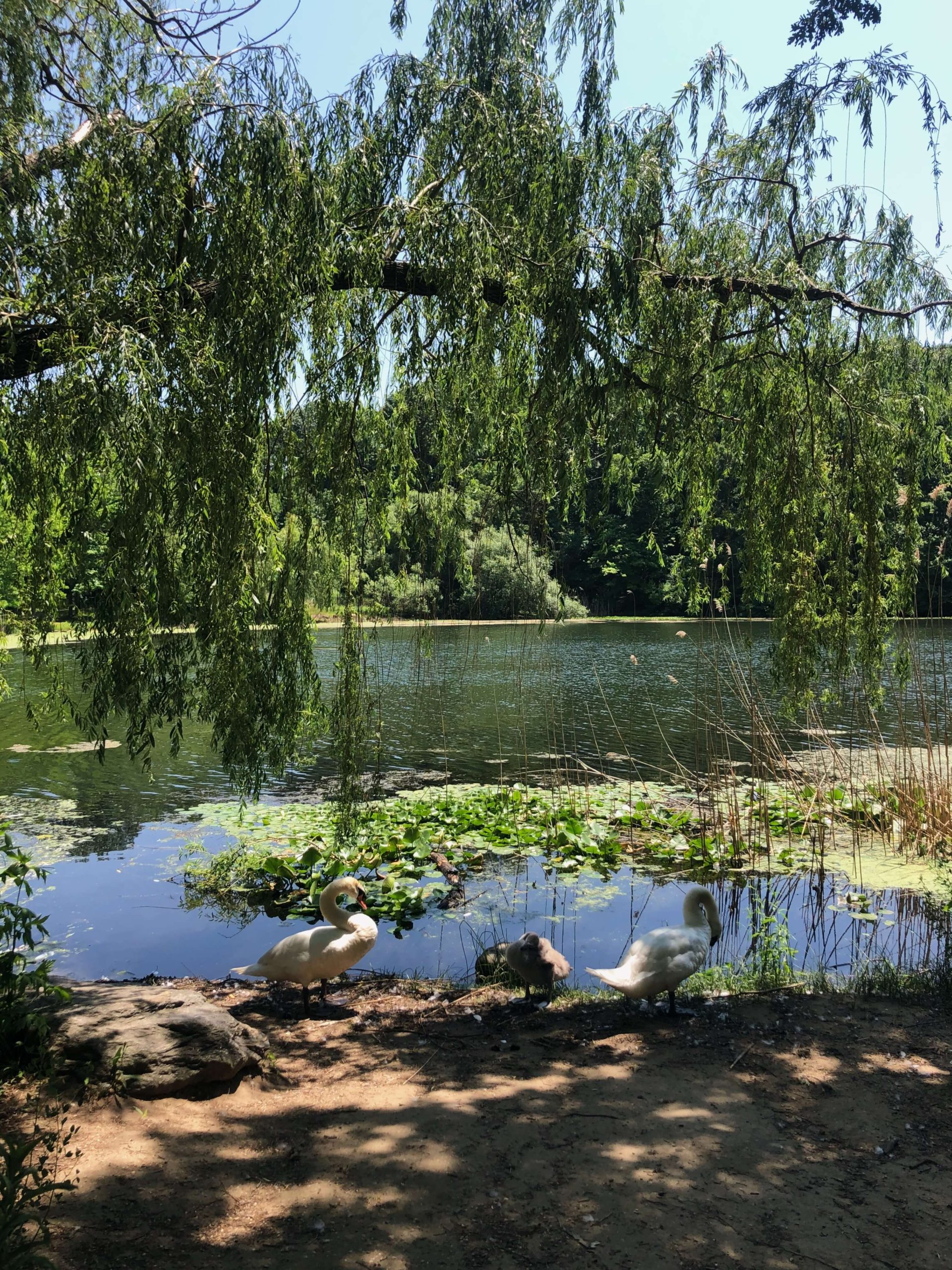 "Just breathing in the fresh air and listening to good music have been able to take my mind off the stress for a bit."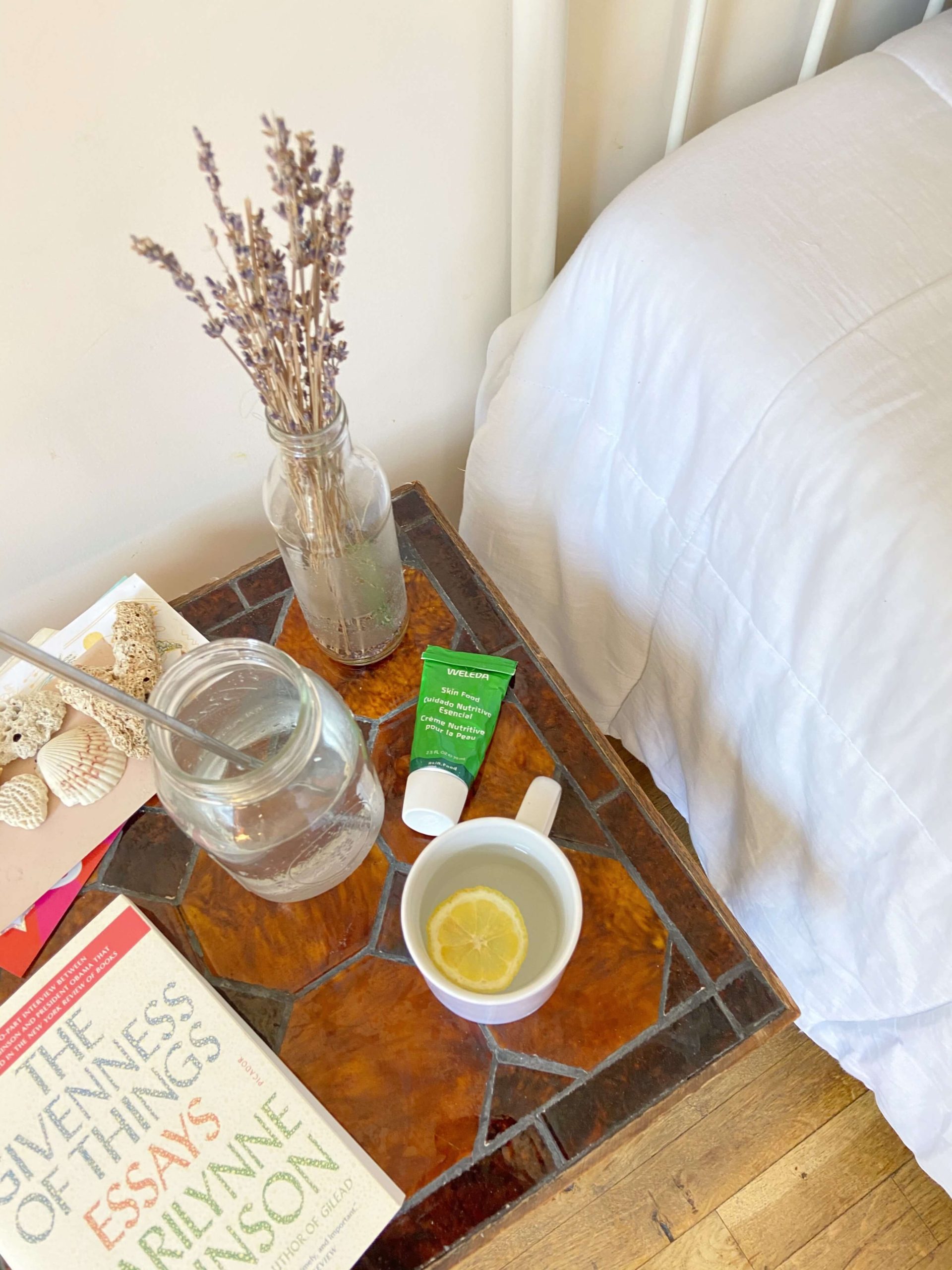 What's the skincare tool you are using the most these days and why?
Gua sha! I was pretty late to this trend but it helps reduce any inflammation in my face.
Are you playing around with makeup?
I'm usually pretty bare-faced when I'm not working. But I've been loving the colorful eyeliner look. I also really like a clean face with a bold lipgloss. Dior glosses are the best in my opinion.
Current top favorite makeup brands?
Marc Jacobs Beauty, Glossier, Milk Makeup.
The last product to which you said "no"?
La Roche Posse Moisturizer. I wanted to love it so badly but it broke my skin out immediately.
The last product to which you said "yes"?
Eminence Clear Skin Probiotic Moisturizer, definitely a new holy grail product for me.
Your SPF of choice for staying in?
Supergoop Unseen SPF 40! Light but does the job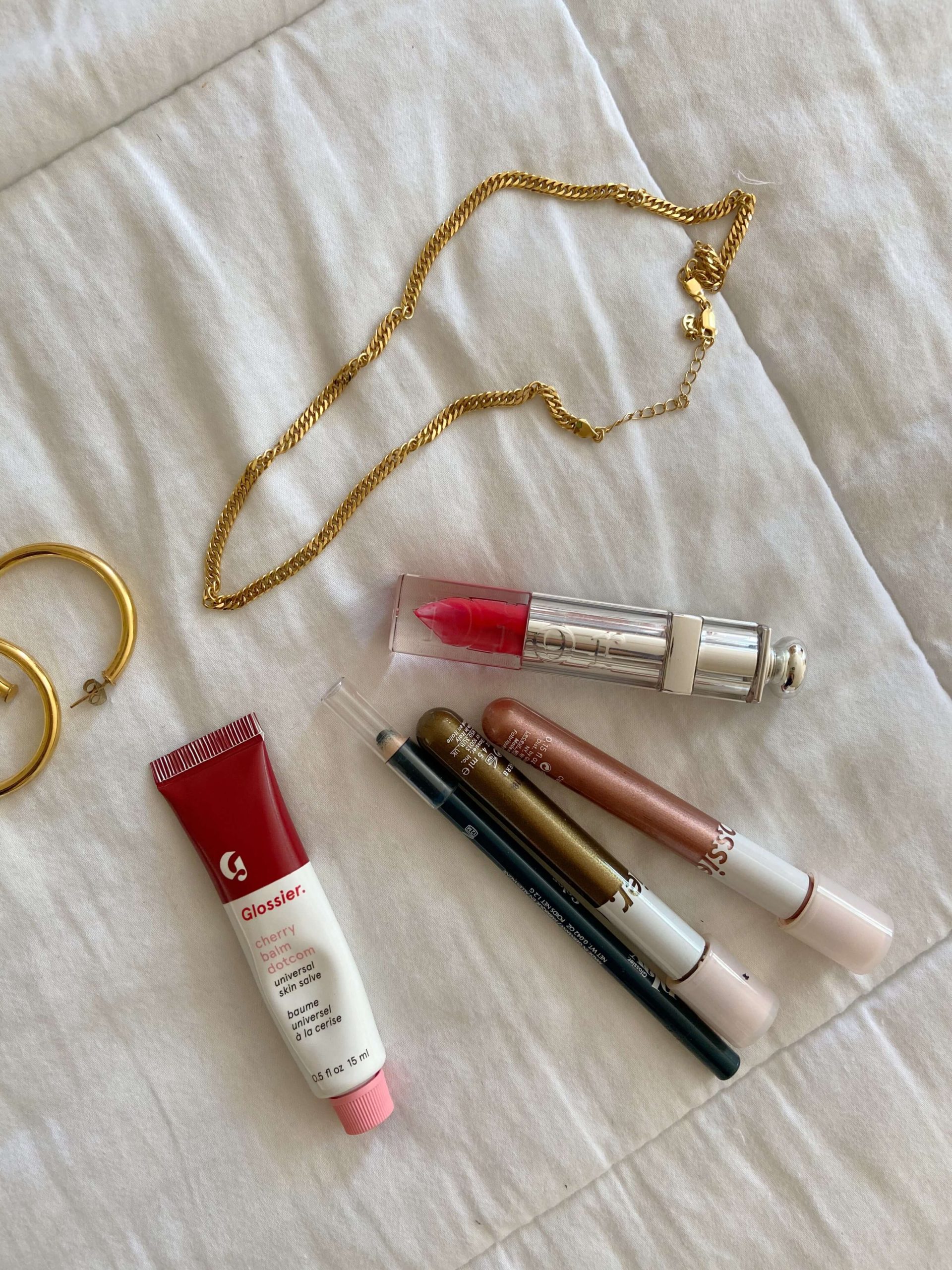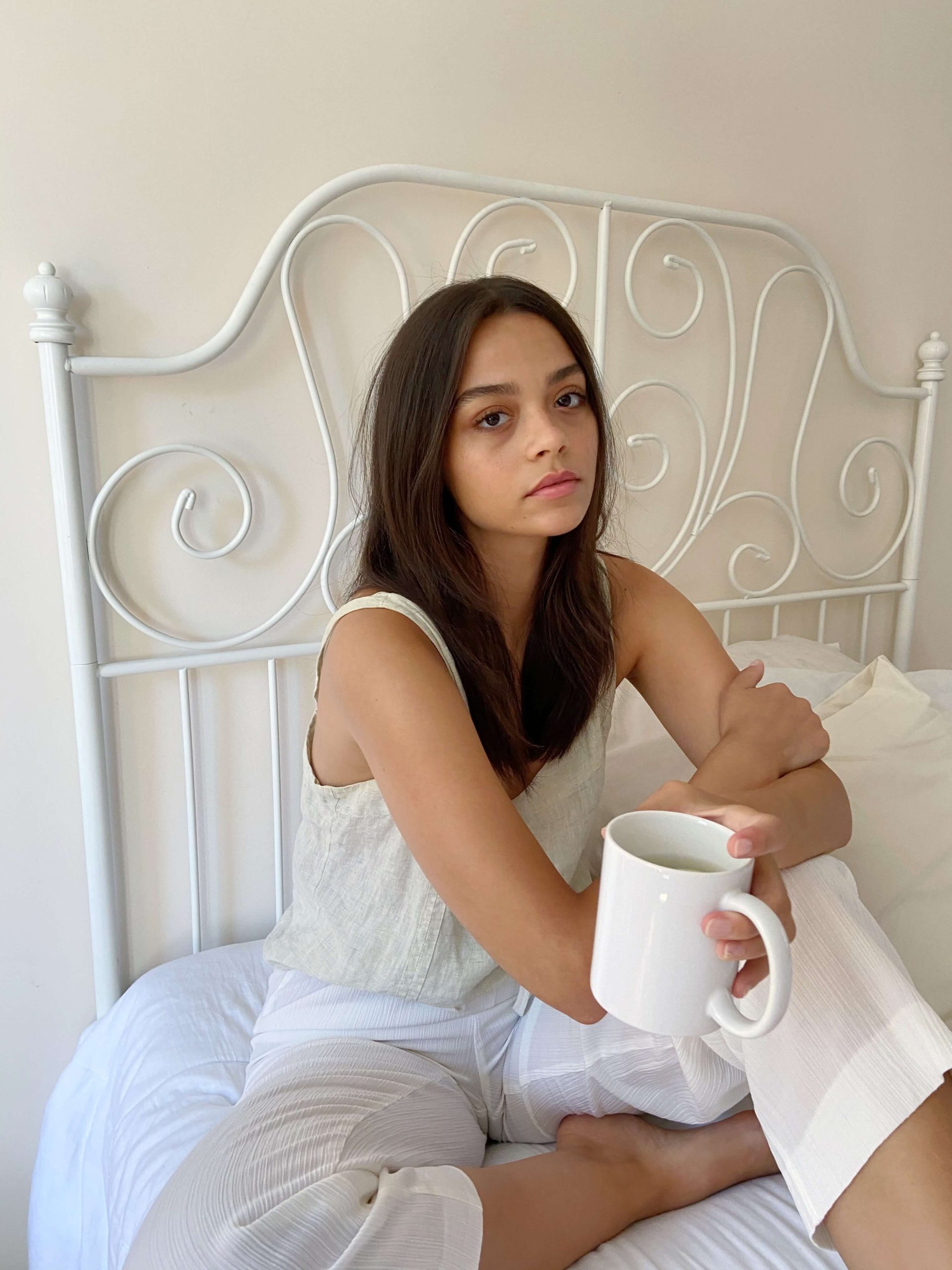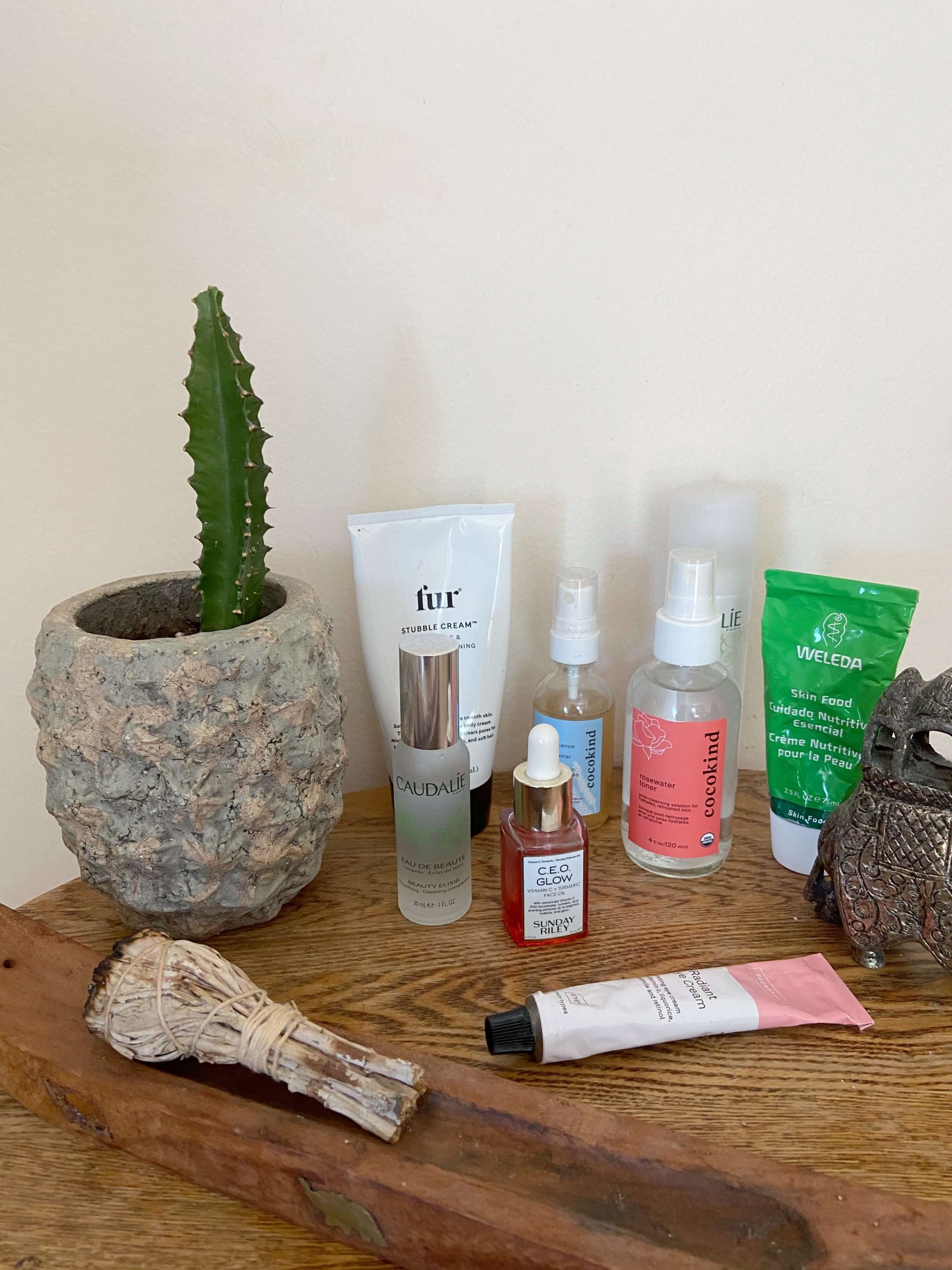 Are you a fan of night masks? If yes, what are your favorite ones?
My current favorite is the Laneige Water Sleeping Mask. I use it overnight twice a week.
These days, there is a lot of time to think: If you could invent a skincare product that isn't' on the market yet, what would it be?
I wish someone would create makeup remover wipes that aren't drying! I don't think I've ever used a cleansing wipe that didn't immediately dry my skin out.
What do you do for your skin that is not strictly linked with skincare products?
Warm water with lemon slices every morning, staying hydrated throughout the day and vitamins!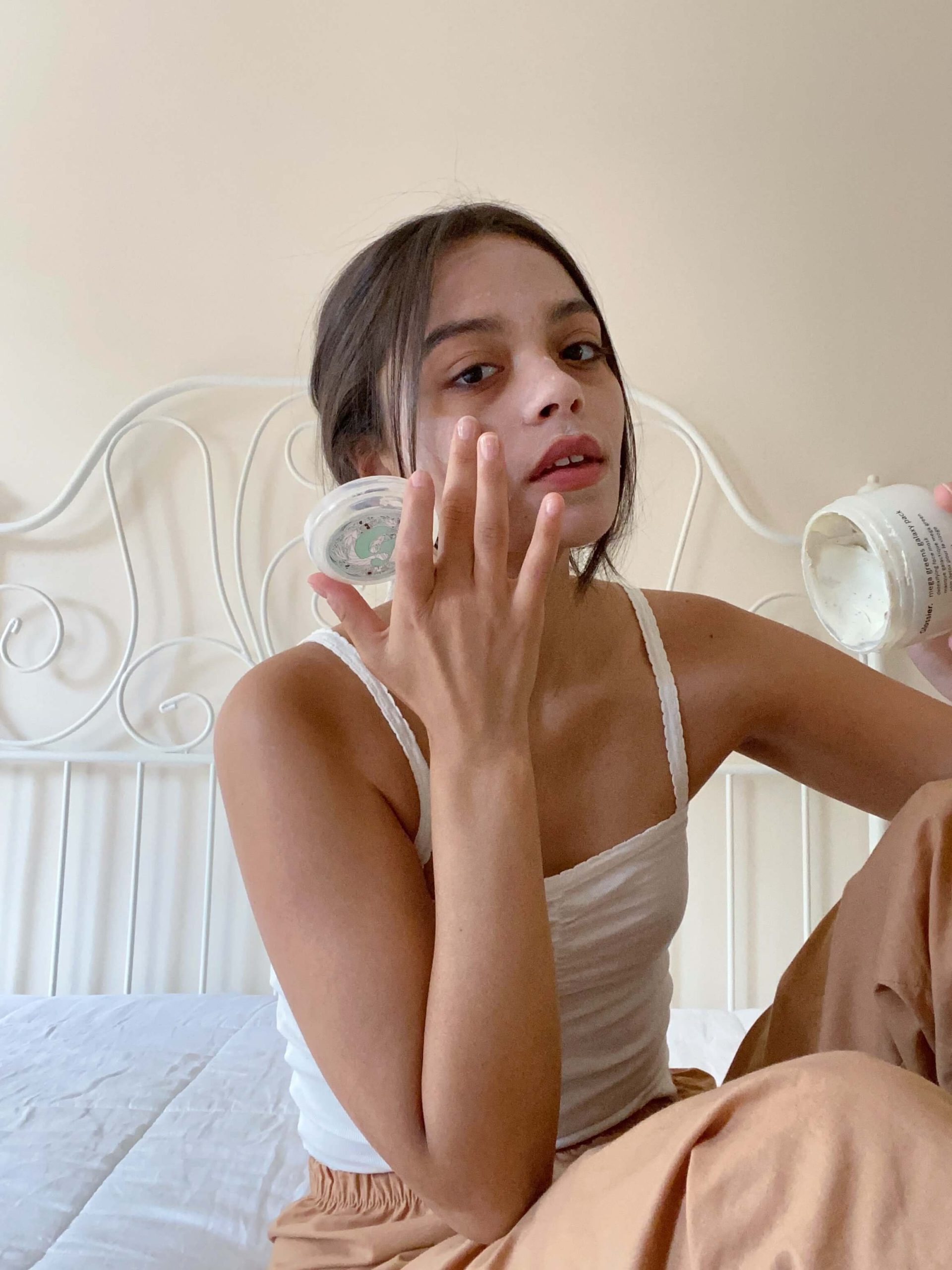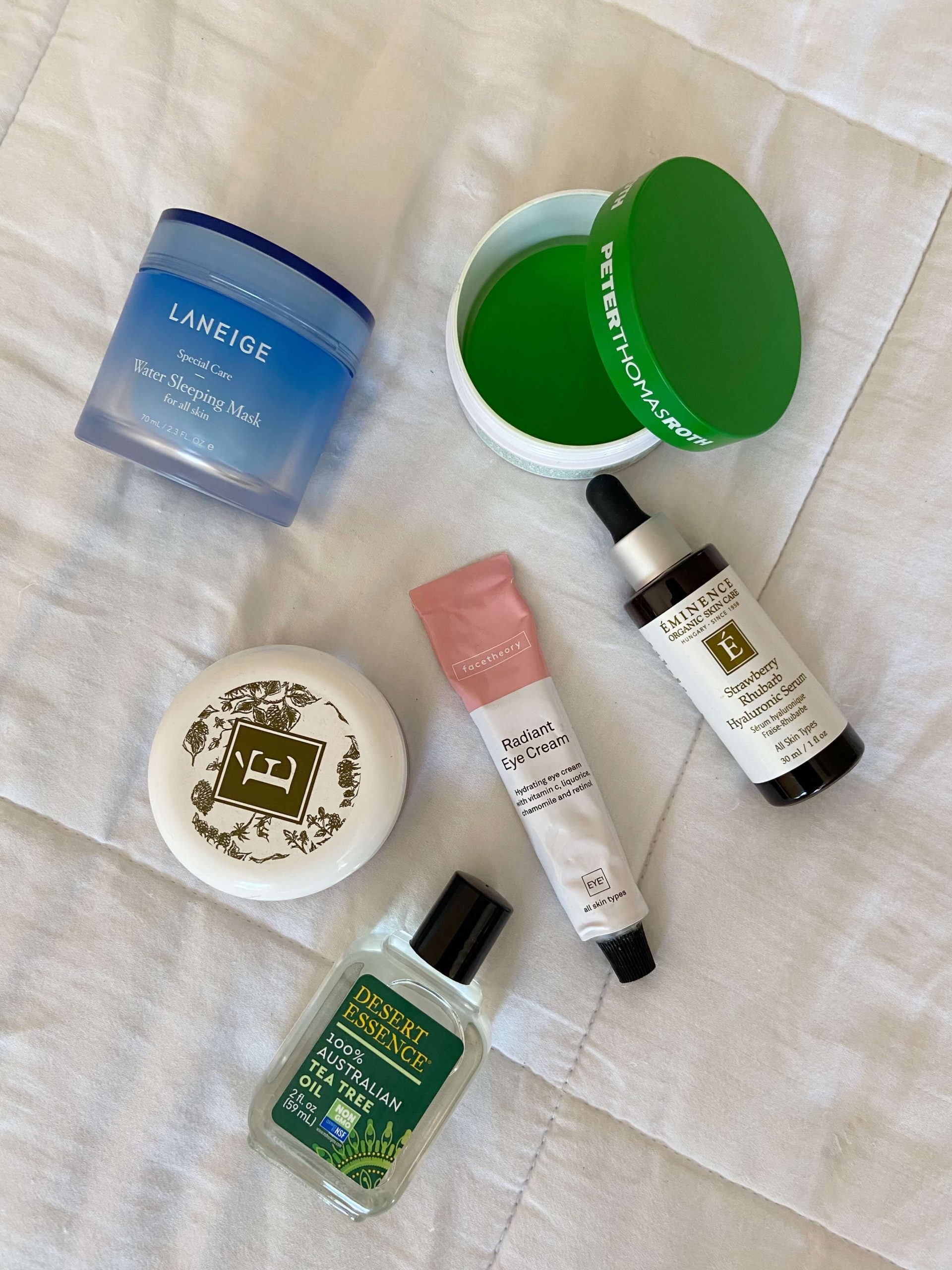 "My current favorite is the Laneige Water Sleeping Mask. I use it overnight twice a week."
What's something new we can expect from you after quarantine is over?
A refreshed outlook and drive to work harder and do better for my community. I'm really excited to be more active in causes that I believe in.
Is there a book you are currently reading?
I like to read a non-fiction book while I read a fictional novel; the best of both worlds! So I'm finishing up "Conversations with Friends" by Sally Rooney. She's one of my new favorite writers, her work is so easy to read. And for my non-fiction book, I'm reading "Incognito" by David Engleman. It's all about the depths of our subconscious minds. Highly recommend!
What is the last thing that made you smile?
A catch-up phone call with one of my best friends.