The holidays are (unfortunately) over. Are winter and low temperatures putting a strain on your hair? We made a recap of the best natural products for your winter-proof hair.
Why is it better to start using natural products?
All certified organic and vegan products are created with natural and dermo-compatible ingredients for our skin and hair, which are no longer subjected to those aggressive and potentially health-threatening chemicals usually contained in traditional products and, in the long run, they can irritate the scalp and damage the hair.
Natural products are free of substances such as parabens, petrolatum, and silicones, synthetic compounds that are included in cosmetics to improve their performance. Silicones, for example, create a waterproof sheath that makes our hair smooth and split ends-free, but over time they can deeply damage our hair, preventing it from accessing nourishment and making it weaker and subject to breakage and flaking.
At first, it might seem a bit strange to change your routine, as without all those chemicals present in industrial haircare you probably won't notice an immediate effect, but don't panic: the benefits will appear after the first two weeks and your hair will thank you!
Light & Volume Hyaluronic Acid Shampoo, L'Erbolario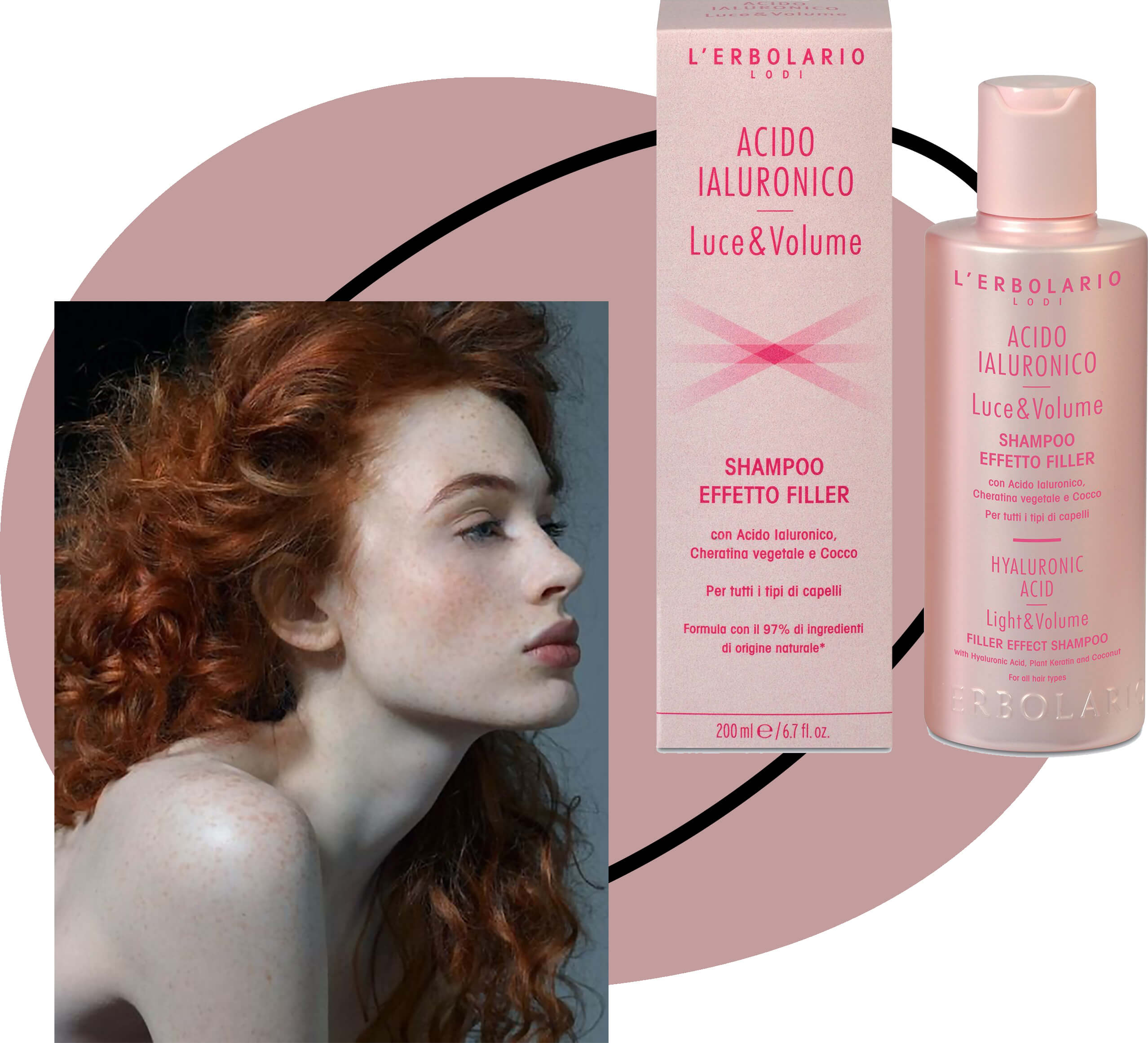 It's almost impossible to remember to moisturize your hair with hair masks to be kept on for hours in this period, as we are always in a hurry. However, you might have noticed that your hair has become dry and brittle.
The Luce & Volume by L'Erbolario shampoo, with its vegetable keratin extracts, consisting of the same amino acids contained in our hair + hyaluronic acid which, thanks to its ability to retain moisture, gives intense hydration, is the perfect product to repair dehydration of your hair in just a few minutes.
Cream and Strawberry Restructuring Mask, Alkemilla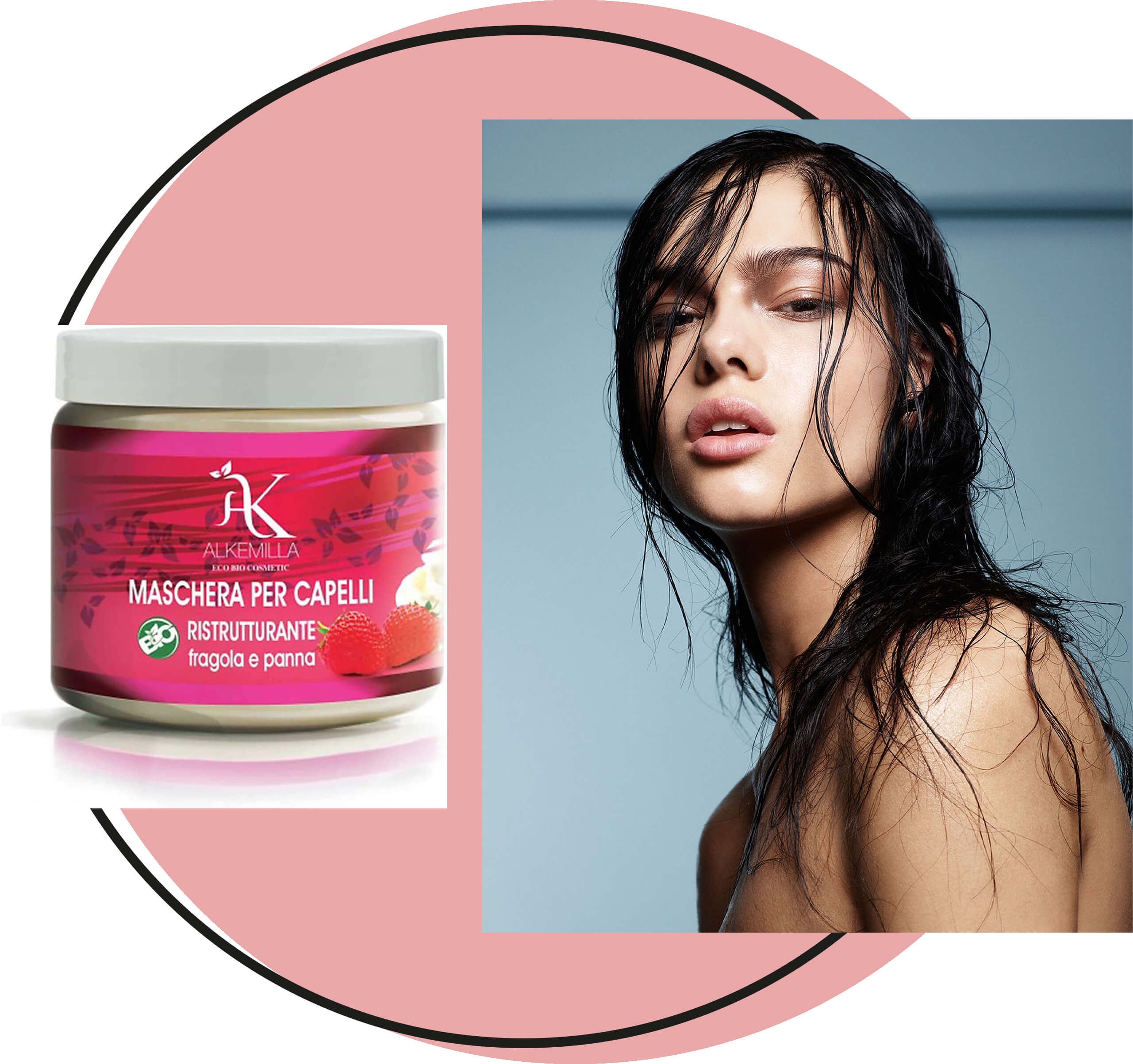 Do you know what heaven smells like? It's a smell we can make you have directly in your hair! In addition to this, this cream and strawberry mask by Alkemilla will bring your dry and brittle hair back to life, leaving a scent that will hardly make you go unnoticed. Created with hydrolyzed soy proteins, which moisturize and protect hair thanks to their film-forming action and create a protective film on the edges of the cuticle and at the fracture points + Shea Butter, Almond Oil, Linseed Oil, and Cocoa Butter, which work together to repair our hair thanks to a mix of antioxidants such as vitamin E and phytosterols, this mask will undoubtedly be your emergency treatment for fabulous hair!
You can apply it to each post shampoo wash for 15 minutes, rinse it and finally proceed with the conditioner (remember that the correct order for haircare is always shampoo, mask, and conditioner last), or on damp hair for an hour, if you need deeper nourishment.
Moringa & Sunflower Balm, La Saponaria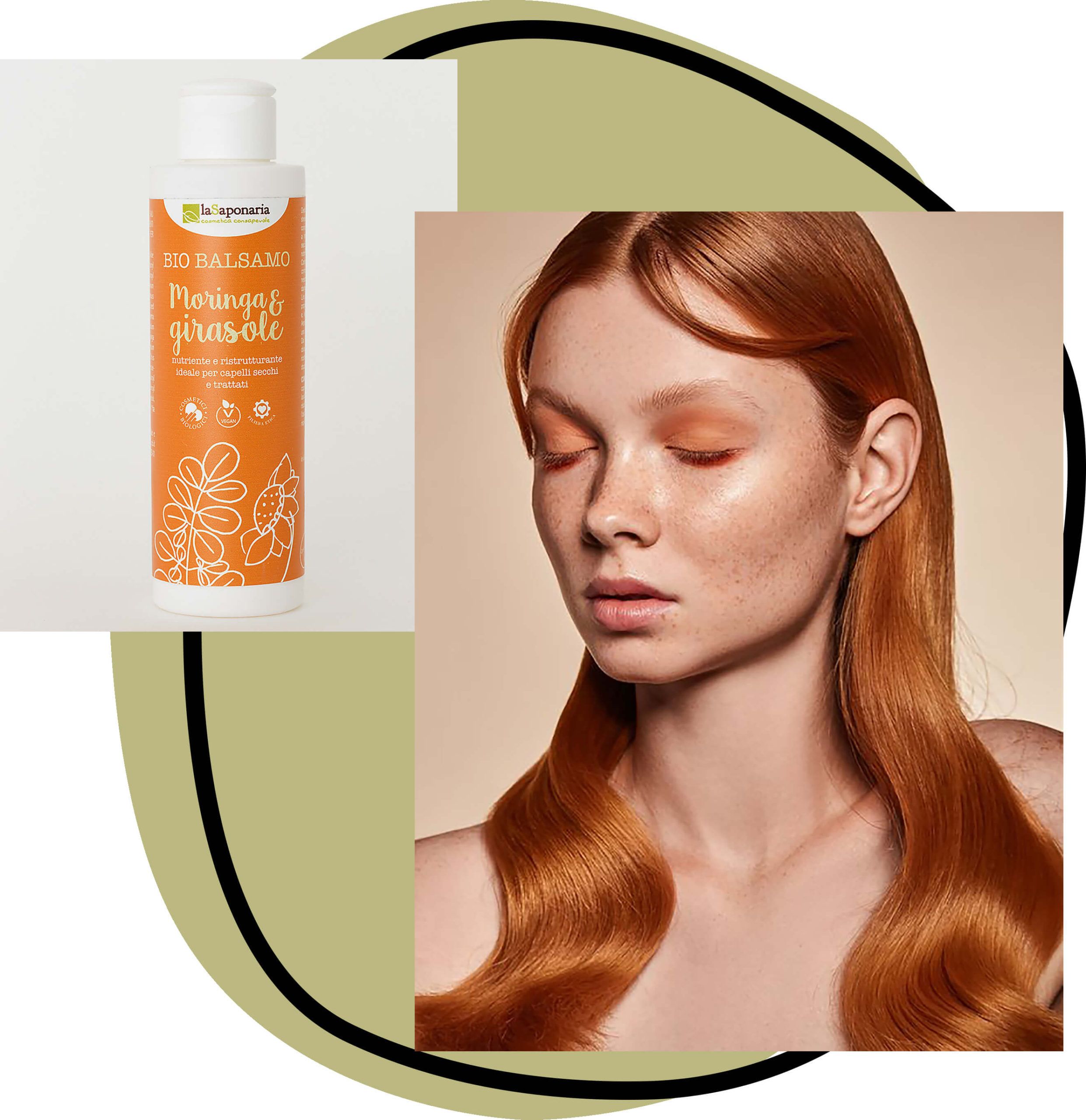 Among all the organic hair conditioners we have tried so far, the Moringa & Girasole by La Saponaria is certainly our favorite: delicate and moisturizing, it is also suitable for the most sensitive skin and, with its nourishing and restructuring properties, it is the perfect product to eliminate split ends and frizzy hair, as well as to deeply moisturize hair thanks to the extracts of flax, sunflower, and moringa that act as nourishing and restructuring elements. Leave it on for a few minutes before rinsing and enjoy the sensation of softness: we assure you that it will do magic with the lengths, without weighing down the scalp.
Moreover, its fruity scent given by the mix of sweet Sicilian orange and ylang ylang will make you instantly fall in love with it!
Ps: We also like it as a substitute for shampoo on those days when we feel we have particularly dry hair. Use it as a normal shampoo, dilute it with water and then proceed with the usual mask and conditioner routine (maybe use a different conditioner to enhance the effect).
Blueberry Shine Mask, Alkemilla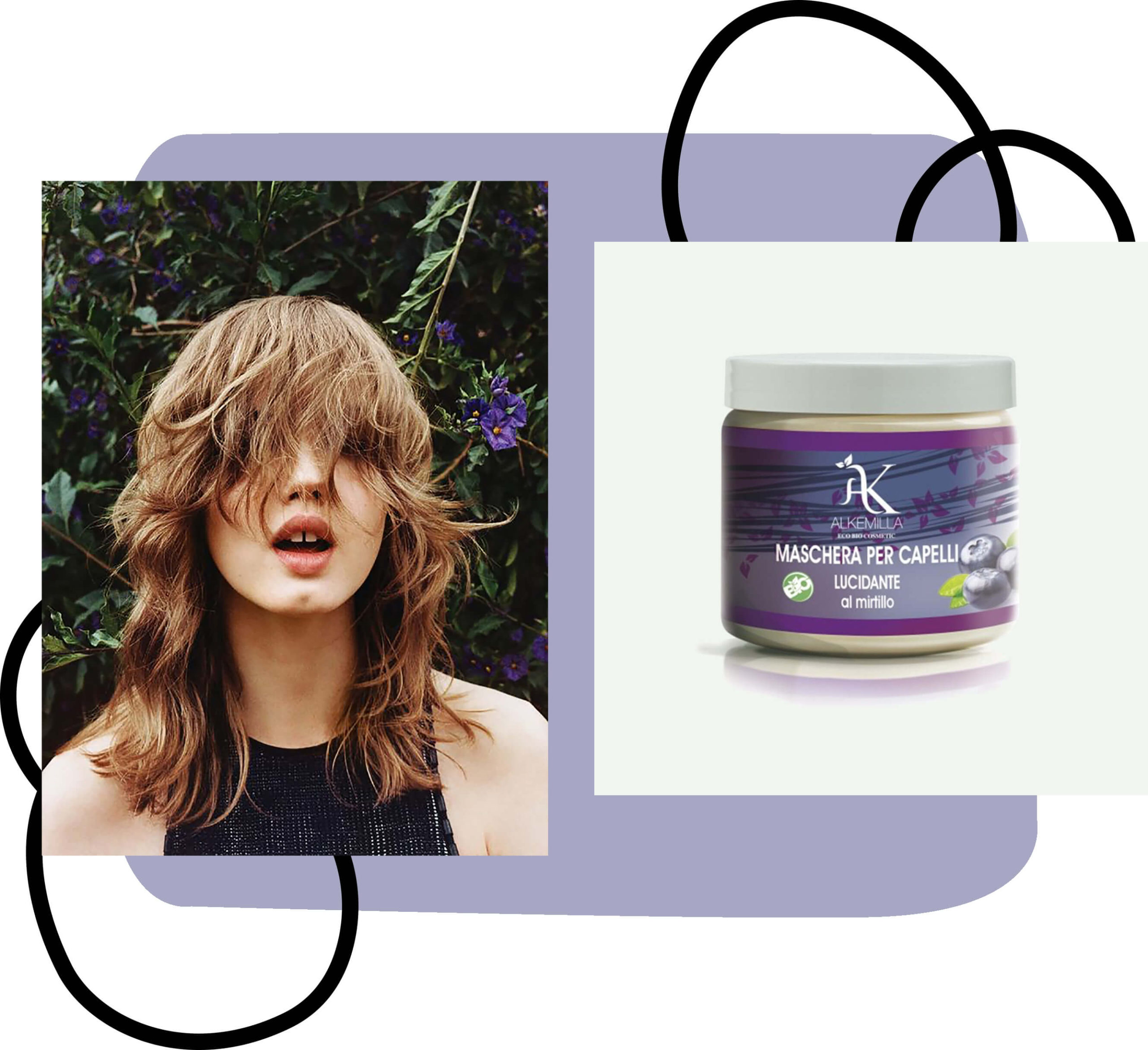 This mask is the little sister of the cream and strawberry mask: the blueberry mask is ideal for those who need a boost of shine and brilliance. Its formula is based on blueberry extracts which, thanks to its high antioxidant power prevents aging + Chamomile, Lemon, and Nettle, and is designed to give light to your hair, as well as perform a detangling and moisturizing action thanks to the Almond oil and Shea butter. Some advice? Use the two masks every other time after you wash your hair, to get a balanced treatment according to the different needs of your hair.
Centifolia no-rinse detangling lotion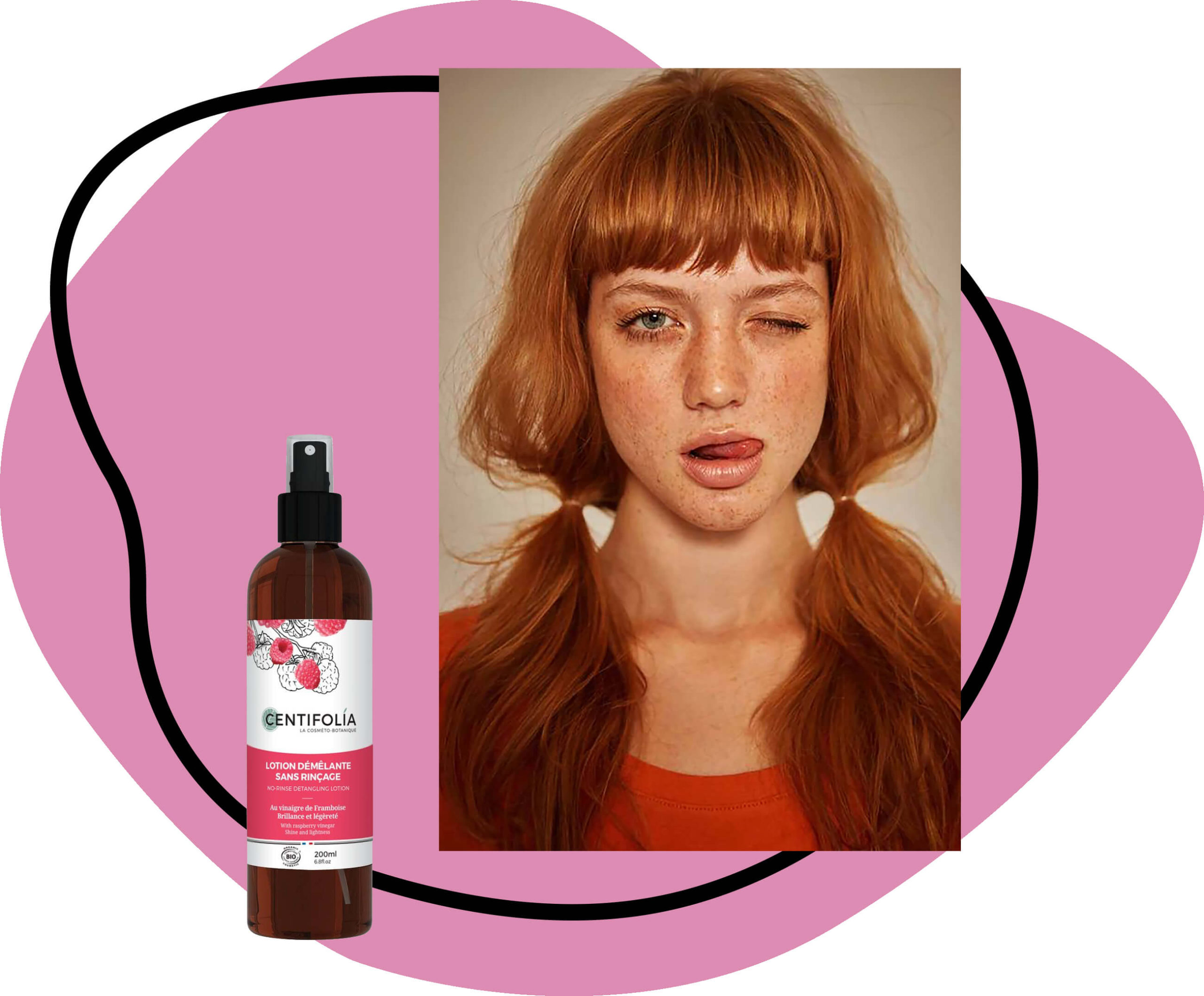 This Centifolia detangling leave-in spray based on raspberry vinegar and aloe vera juice are all you need at the end of the wash to restore the natural ph of your hair which, due to the calcareous water and the heat and constant residues left behind from the various applications of shampoo and conditioner, it needs to be brought back to its nature, based on about 4.0 ph. Spray it on damp hair lengths and proceed with drying: your hair will immediately be softer and shinier, ready for styling.
Liquid crystals, Gyada Cosmetics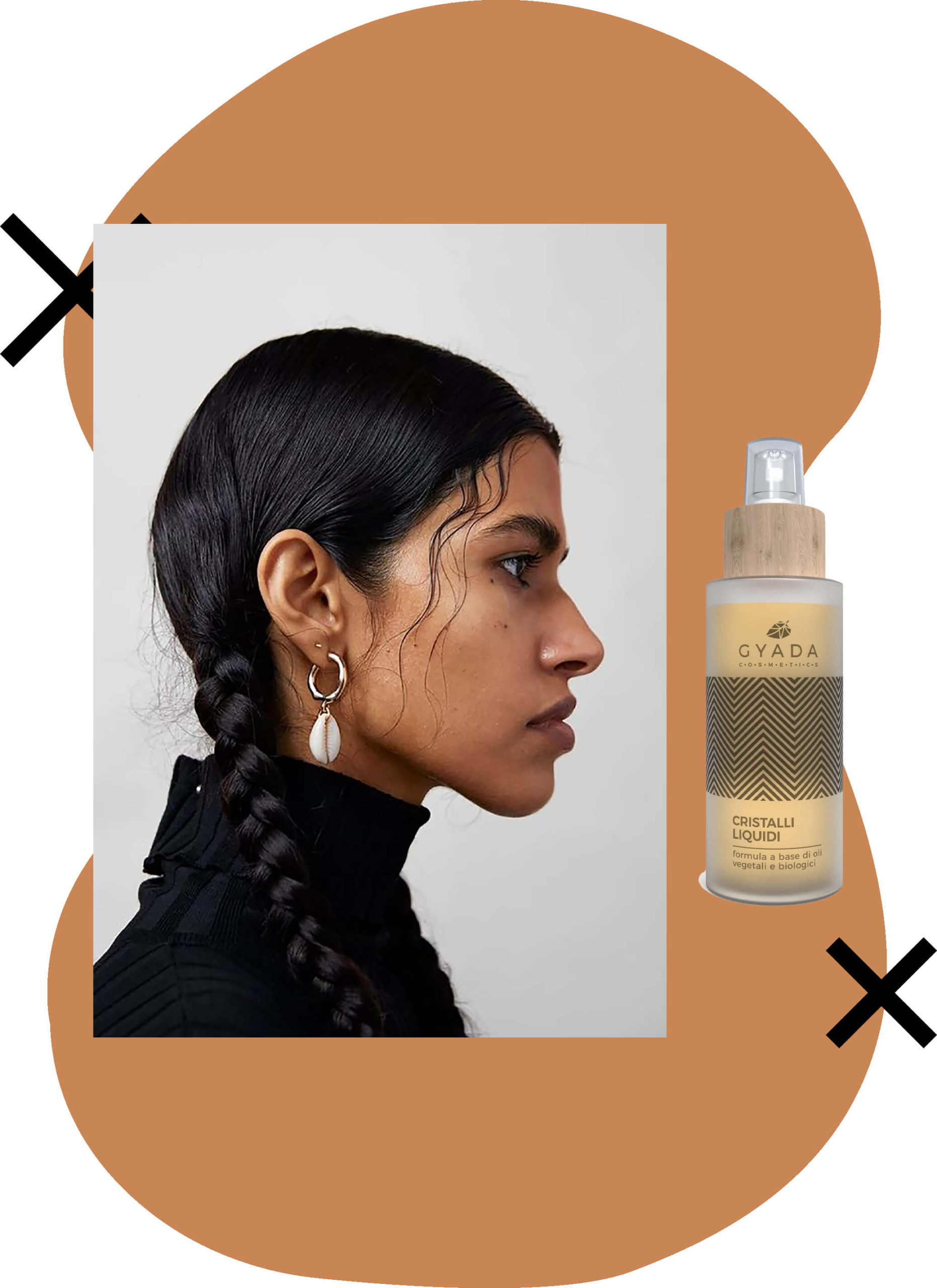 Liquid crystals are a treatment aimed at enhancing the brilliance of the hair and restoring its shine: unlike other products, which enter the hair structure, the crystals are deposited on the capillary fibers on the surface along the entire hair shaft, polishing and smoothing it as if we had just left the hairdresser. Until recently, it was challenging to find crystals that did not contain silicones or parabens on the market: the liquid crystals of Gyada Cosmetics, on the other hand, with their mix of pure vegetable oils of flax, almonds, and grapeseed, are the ideal product to make hair go back to shine naturally and to eliminate the frizz that we fear so much in case of rain and humidity. Distribute a few drops on dry hair if you want a real glowy or damp effect to facilitate styling, and that's it!
Stimulating Lotion Against Hair Loss with Olive Leaves, Maternatura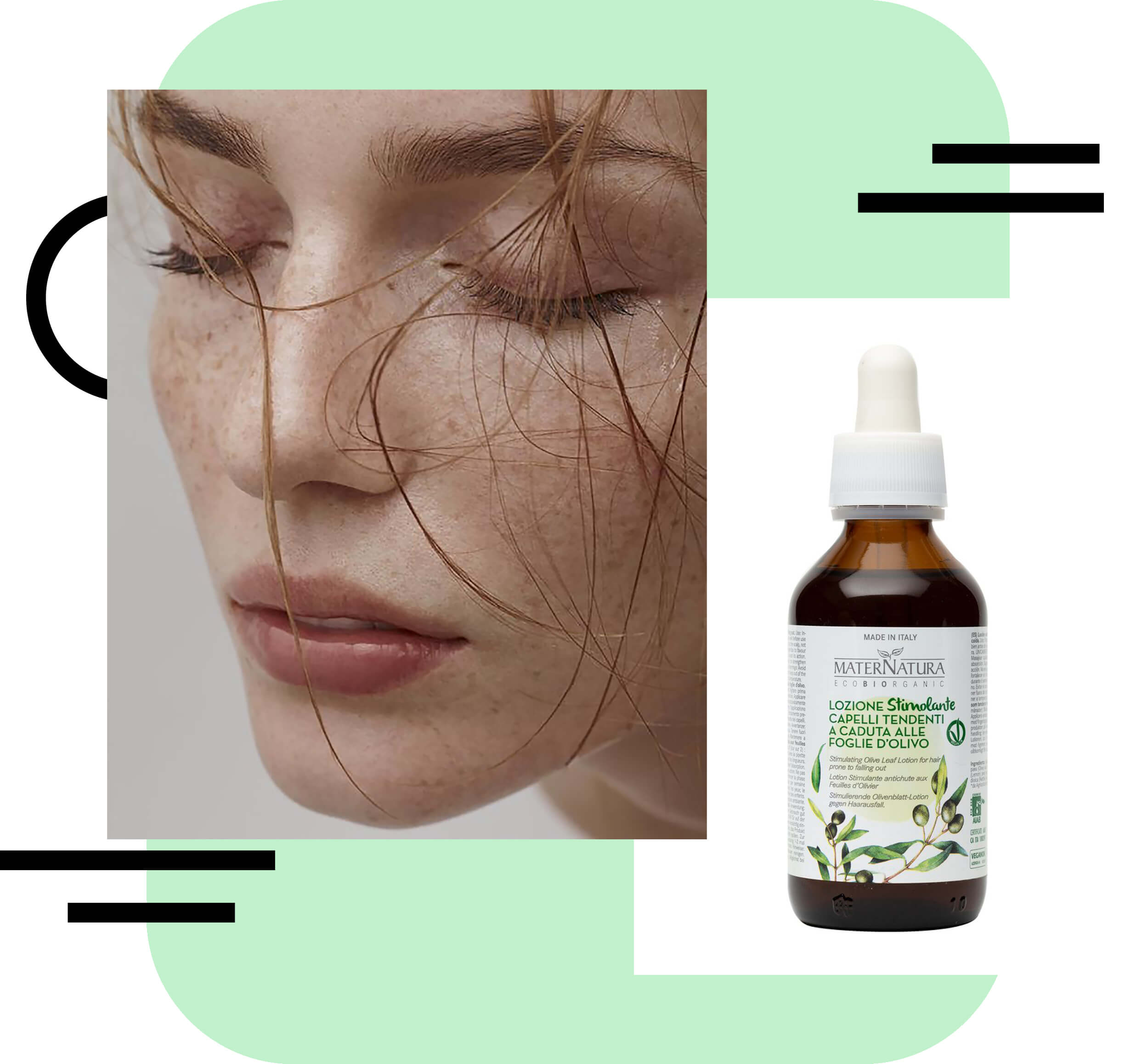 Unhappy hair that breaks and falls out more than usual due to stress? Don't worry: we have a solution for you! This stimulating lotion for hair prone to falling out by Maternatura will be your salvation, according to Beauty Editor: formulated with olive leaves, it fights oxidative stress, reactivates the functions of the scalp, improving its microcirculation by increasing the supply of oxygen, and it boosts the multiplication of the follicles and fights premature aging of the hair, counteracting its fall which can be hereditary, hormonal or temporary. Apply it on the scalp (not on the lengths!) for three months every other day for an intensive treatment, or once a week for six weeks. You can also apply it once or twice a year for preventive treatment, then massage with your fingers to promote absorption.
Damage Remedy Daily Hair Repair, Aveda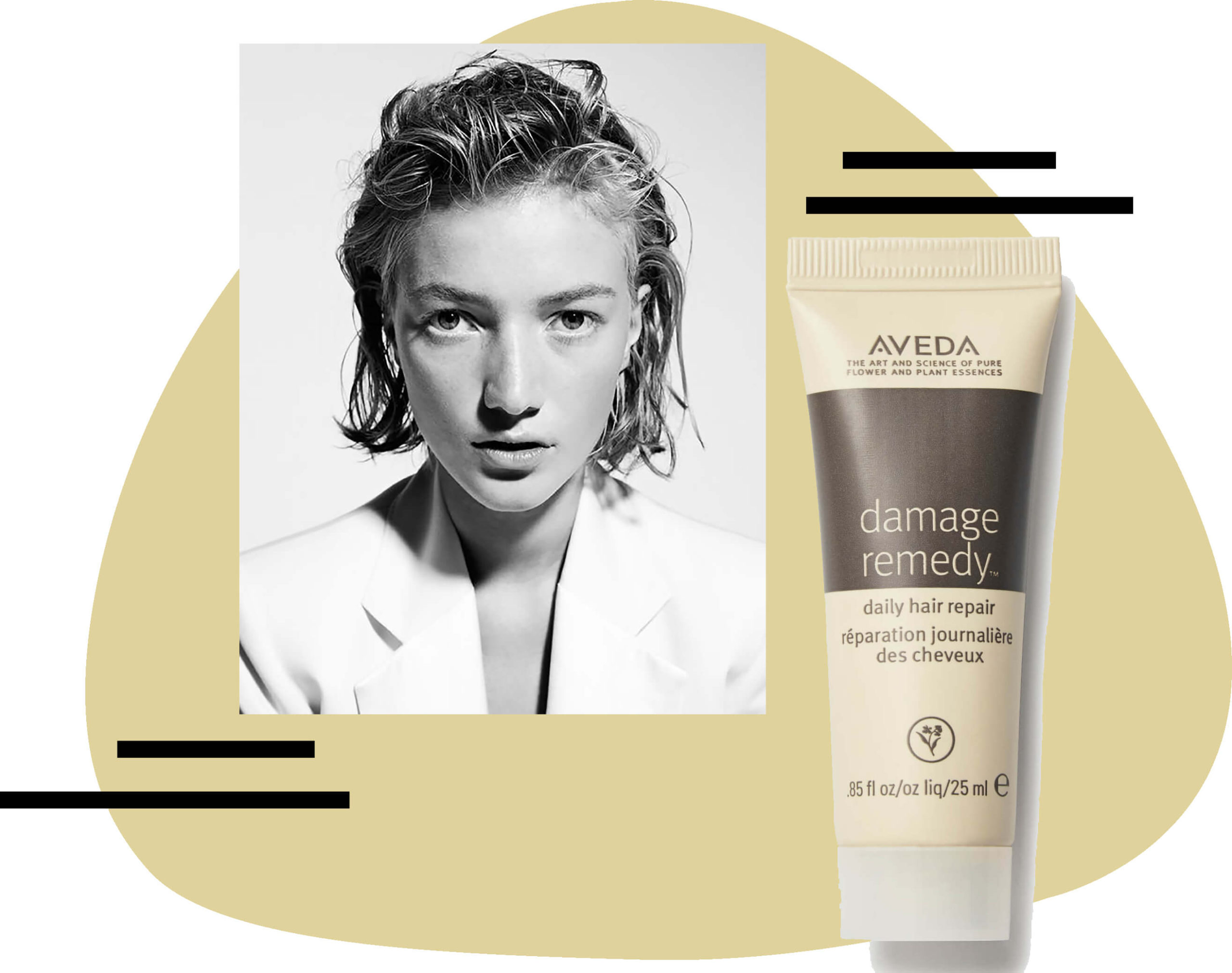 Damage Remedy Daily Hair Repair is a creamy leave-in treatment with 98% naturally derived ingredients (plants and minerals that do not contain oil or water), including a blend of quinoa proteins, macadamia oil, and soy, which help soften and nourish the hair, perfect for those who need to repair their damaged hair (the name says it all).
After washing your hair, distribute it on the lengths before drying and proceed with the fold or if you prefer, you can use it daily for an enhanced effect by applying it to dry lengths in the days after washing.
It also works as an excellent thermal protector, helping protect the hair from heat up to 230 °.
VANILLA ELIXIR, Brightening and perfume hair serum, Pomélo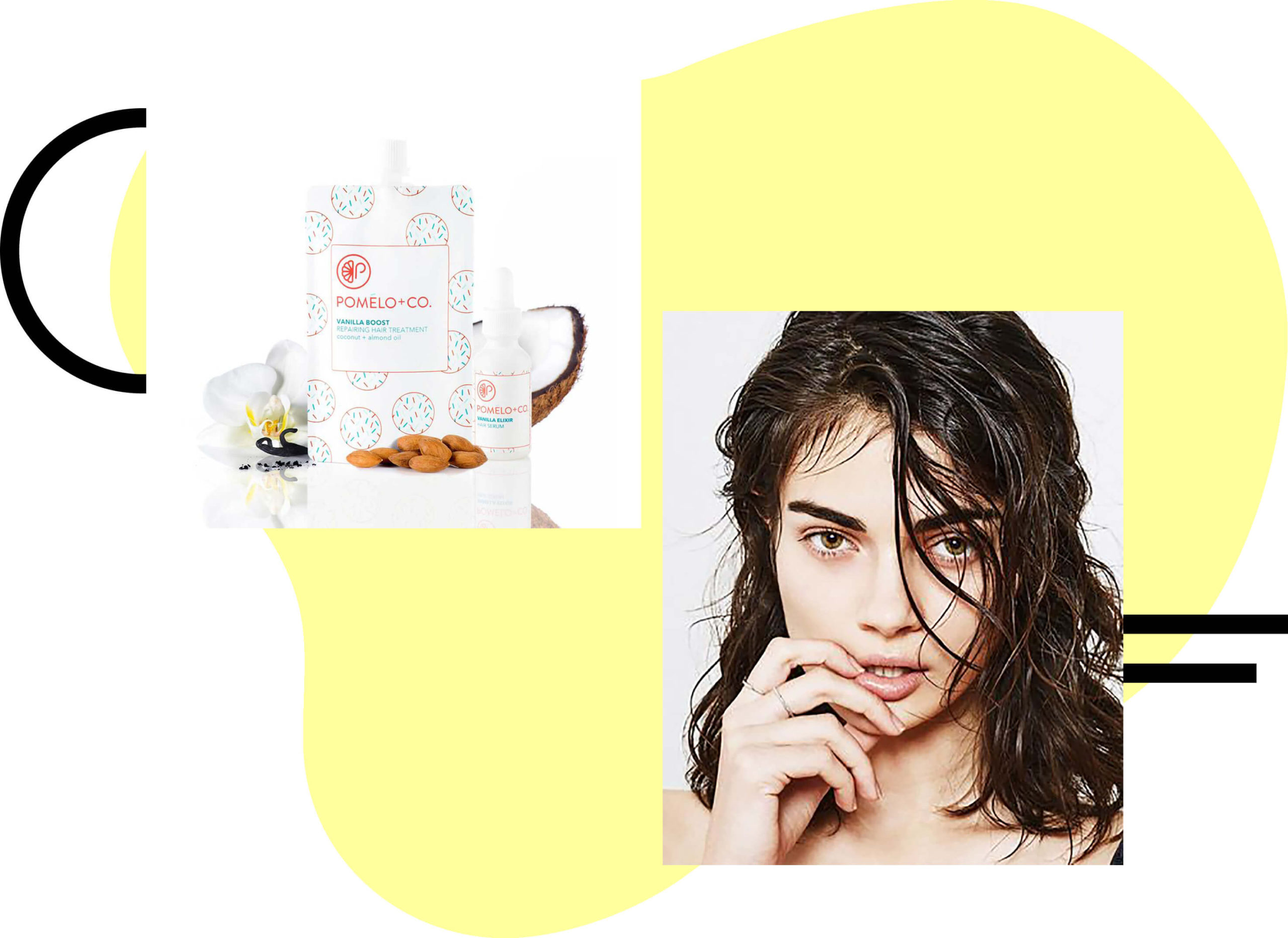 The best ally to bring your hair back to life? The serum!
As in skincare products, even haircare serums quickly and deeply penetrate the hair structure and contain concentrated and fatty ingredients. Vanilla Elixir by Pomélo is a super silky oil that nourishes hair without greasing – finally, a product that we can use without fear. You can also apply both of them on wet hair to eliminate frizz, and on dry hair that needs constant hydration and some refresh on the go.
Formulated with grape seed oil, which contains polyphenols that fight hair aging + Omega 3 fatty acids and collagen that work to keep them strong and healthy, and sweet almond oil, which stimulates growth as well as being a powerful ally against hair loss, this is the serum that we all want to have.
Warm three drops of serum up in your hands and distribute it over the entire length and ends for a boost of hydration. What's the part we like best? The vanilla fragrance (which is not too intense) lasts all day!