Dare to dream, make it happen, break all the rules: Charlotte Tilbury is the iconic brand that started a revolutionary journey to challenge the status quo of the beauty industry and elevated itself to a cornerstone of the industry.
Let's discover it together!
Pills of History
This brand doesn't need any introduction, but we'll try and follow the history of Charlotte Tilbury: her past in Ibiza, where she met Mary Greenwell, the global success as a makeup artist and the creation of the Charlotte Tilbury beauty brand, up to the days of the "Amal Clooney: Wedding Makeup" video and the success of her Youtube Channel which counts, to this day, 796.000 followers. Every little step has brought Charlotte to the Olympus of beauty, being one of the most sought-after names in the Industry, and having founded a brand many, many makeup artists swore by. 
Charlotte Tilbury has been the life-changing brand for a lot of beauty addicts who, discovering the enormous quality of Charlotte Tilbury's products have also discovered a new way to do makeup and now they swear by it. With an English background (she was born in London) and a great passion for beauty since she was very young and living in Ibiza, Charlotte has started her journey in beauty with passion and curiosity.
She transformed this passion into a flourishing career by attending the Glauca Rossi School of Makeup in London and, later, assisting makeup artist Mary Greenwell, who she first met in Ibiza. Before founding her own brand, Charlotte worked as Creative Director for several beauty companies, among which Armani, Alexander McQueen and Tom Ford, and she's created a large number of covers for Vogue.
Her expertise and her talent as a makeup artist turned Charlotte into one of the most sought-after makeup artists in the industry, just like now her line is an absolute icon.
The Charlotte Tilbury beauty range launched in the UK in September 2013 with a London-based office with a record-breaking debut and is now available in most countries and on a near-global online distribution. 
The Mission of the Brand
Glamour, beauty and quality that is always top-notch: Charlotte Tilbury has accustomed us to great products, often grouped in mesmerizing "full looks" such as "The Supermodel Look" or "The Queen of Glow Look," shiny campaigns and interesting "how-to" video on YouTube breaking out the secrets of Charlotte's art. 
The iconic Pillow Talk lipstick will give people, according to Charlotte's words, "the best lips of their lives:" every product in Charlotte Tilbury's shelves is a love letter to beauty and a promise that even if only a little bit, a touch of makeup has the power to make us feel better, stronger, more sophisticated. Through ground-breaking products, Charlotte Tilbury as a brand aims to bring out the outer and inner beauty of its customers. Charlotte, in an interview with Byrdie, talked about the power of Makeup and how it impacted her life when she was a teenager — changing the perspective people had of her almost overnight when she started wearing mascara. 
She said, "Makeup can give you the confidence to change your job, move abroad, get a pay raise, get that man you've always wanted." Makeup can literally give us the confidence boost we need on a certain day, to feel at our best and to go the extra mile.
Our Favorite Charlotte Tilbury products: The Shining Stars
Charlotte's Magic Cream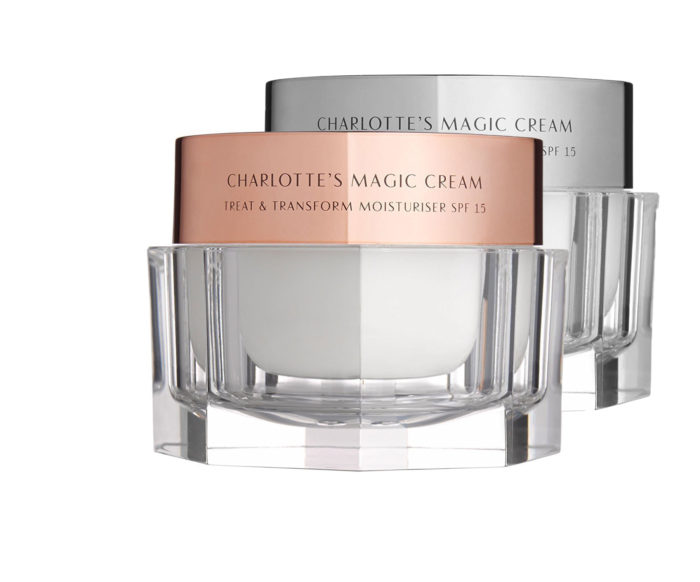 Charlotte's award-winning instant turnaround moisturizer! It cushions your skin in moisture for a hydrated, plumper looking complexion! It's formulated with a magic matrix of oils, called "Magic 8" of supercharged skincare ingredients and SPF15 to flood your complexion with moisture and transform the appearance of tired, dull skin into a glowing, dewy, plumper-looking canvas!
Airbrush Flawless Foundation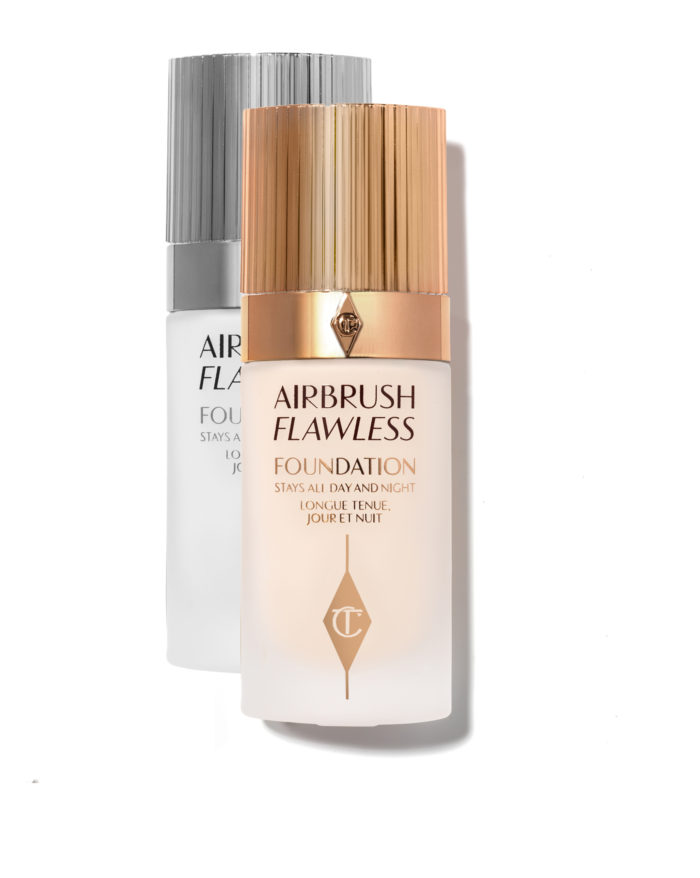 A beautiful and lightweight foundation that is enriched with potent skincare ingredients, for a flawless and poreless complexion and a boost of confidence!
Some of the benefits of the formula are that it significantly reduces the appearance of wrinkles by up to 22% after a week of use, protects from pollution and blurs every imperfection and makes the skin look flawless, photo-proof all day!
Hollywood Flawless Filter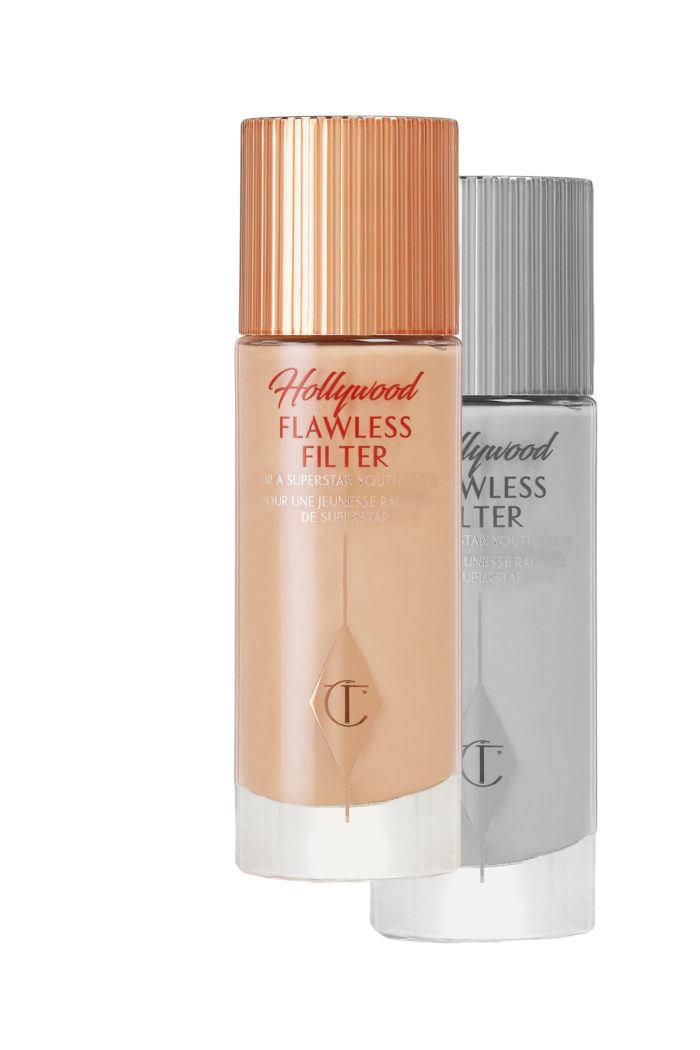 The Hollywood Flawless Filter is a veil of radiance and color: a featherlight customizable complexion booster with the versatility of a primer, the glow of a highlighter, and blurring the skin for the best photoshop-effect you could ask for!
The Glossy Oil in the formula moisturizes while the Porcelain Flower Extract brightens the skin for a soft-focus, radiant skin!
Airbrush Bronzer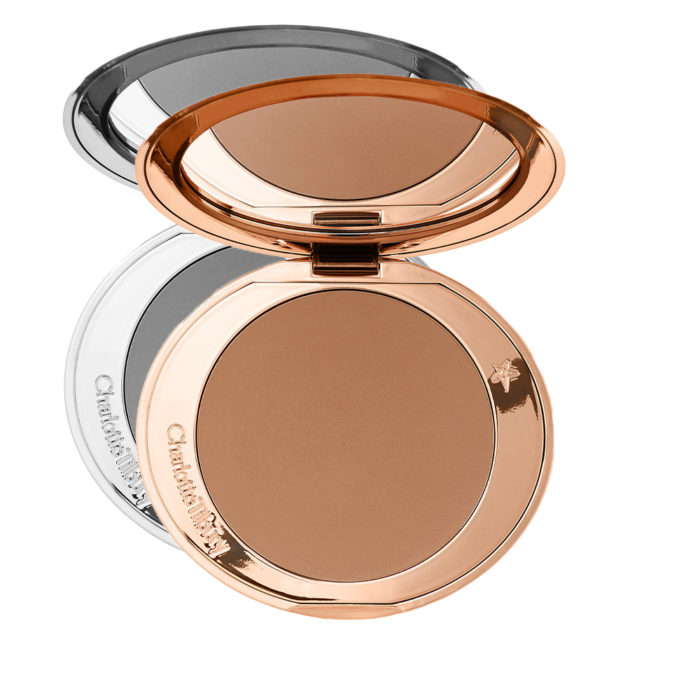 A matte bronzer that is super easy to use but with absolute results: a hyaluronic-acid infused bronzer for the face and body, to smooth the complexion and chisel the face for the ultimate sun-kissed look! Inspired by the technology of the Airbrush Flawless Finish powder, this bronzer gives us a sun-kissed look while smoothing pores and with a comfortable, thinner-than-air feeling on the skin.
Matte Revolution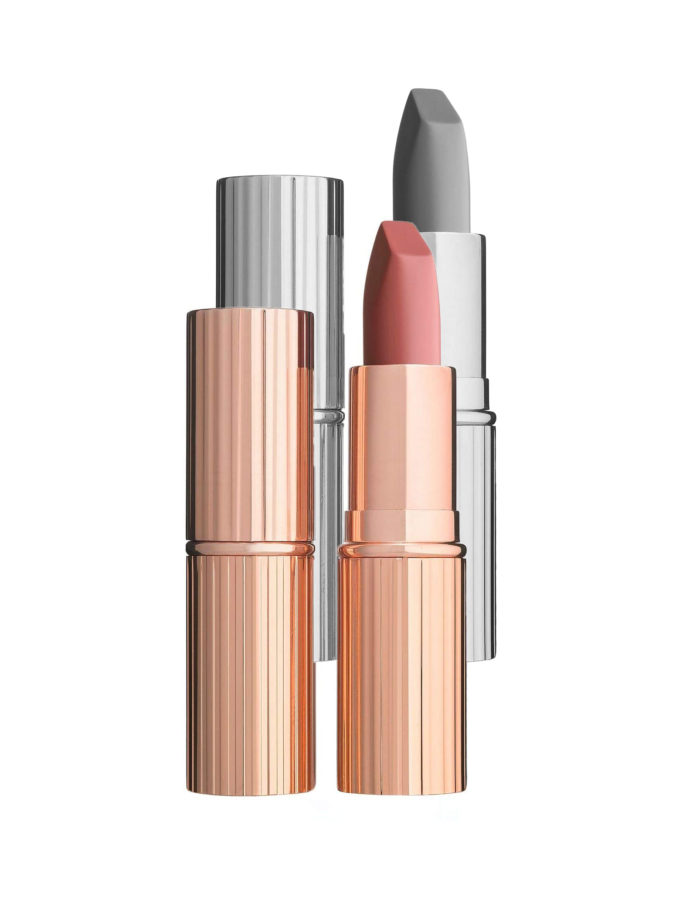 A matte lipstick available in 24 shades, among which we find the iconic Pillow Talk, that is just perfect for every taste: the lushest nude lipstick ever for the perfect pout.
We love its feeling on the lips, creamy and velvety but not heavy, and the long staying power. The formula is thought for every age and complexion and is enriched with nourishing orchid extracts, plus light-reflecting pigments.
Eyes to mesmerize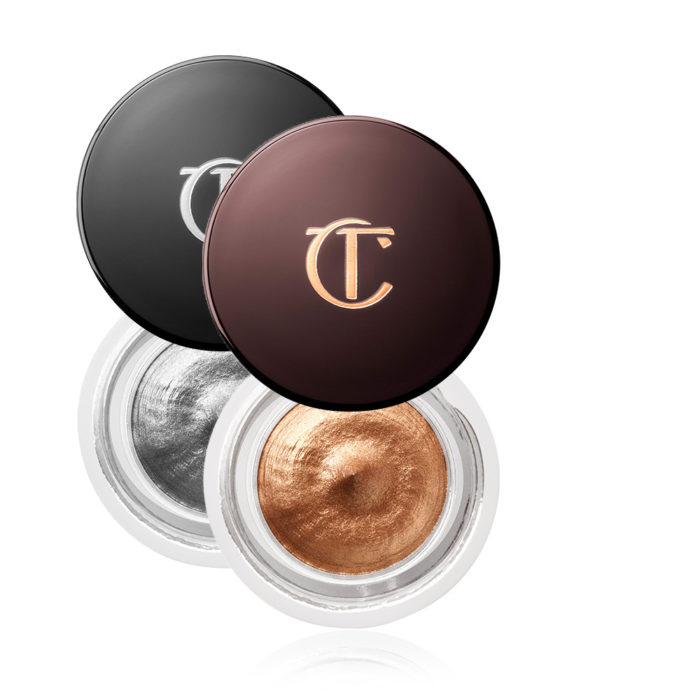 An easy to apply, life-changing eyeshadow that is extra gentle on the delicate skin of the lid, also thanks to the Vitamin E that hydrates & provides antioxidant protection from free radicals. Happy eyes for a stunning sunset look: an eye potion in a pot, for six colors that adapt to every skin tone and every necessity, from the warm rose gold to the deeper chocolate bronze shade!
The water-infused formula has a cooling effect too, so the eye always looks well-rested and radiant.
Airbrush Flawless Finish
Finely-milled pigments with smoothing, pore-blurring, and enhancing powers make this product an absolute icon in the beauty world, in and out of catwalks.
This successful finishing powder offers the ultimate soft-focus effect: it works on giving radiance to the skin but while blurring away every imperfection and helping prevent any shiny or oily patch on the skin. We love how featherlight it feels on the skin!
Lip Cheat in Pillow Talk Original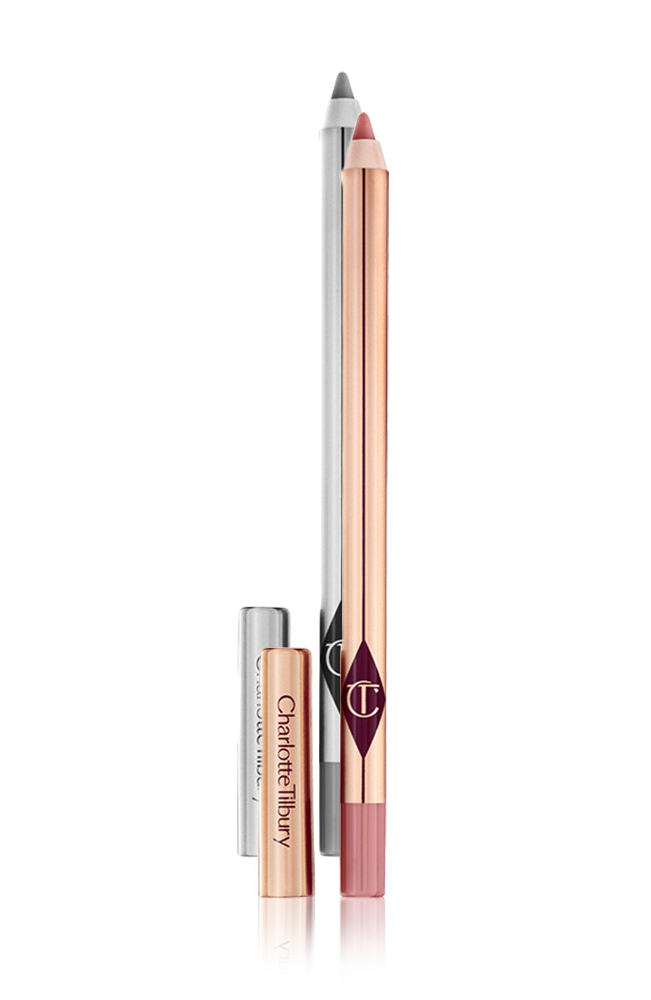 A nude-pink lip liner that is not only coveted and a backstage beauty secret, but it also generated one of the most famous beauty lines ever! Lip Cheat in Pillow Talk is this incredible waterproof, velvety lip liner that grants us a barely-there nude shade that flatters all skin tones, creating fuller and dreamy lips for the perfect base of natural look! 
Glowgasm: Beauty Light Wand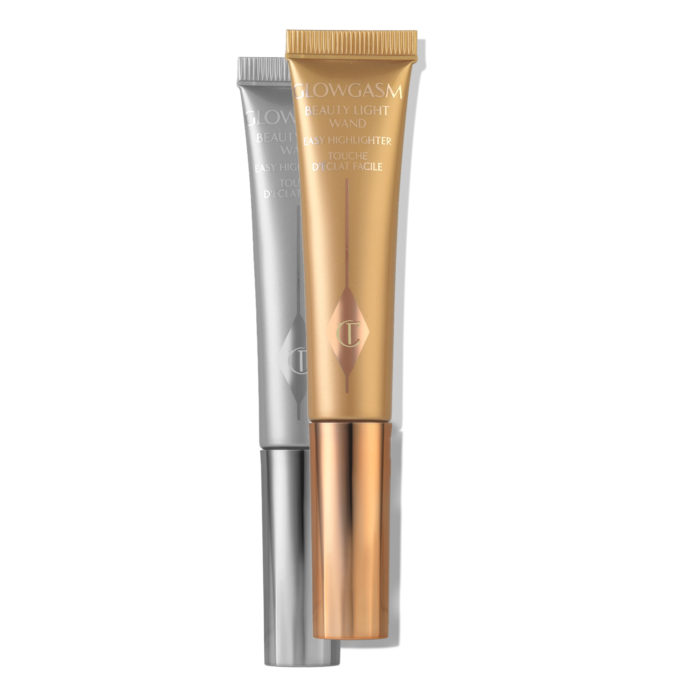 A life-changing, red-carpet approved magical highlighter blush that we love! The formula adds a veil of color but also working as a soft-focus and adding an incredible radiance to the skin. We love how versatile it is, but also how comfy and light it feels on the skin: our secret wand for an incredible highlight that makes us feel like Hollywood divas.
Celestial Eyes in Pillow Talk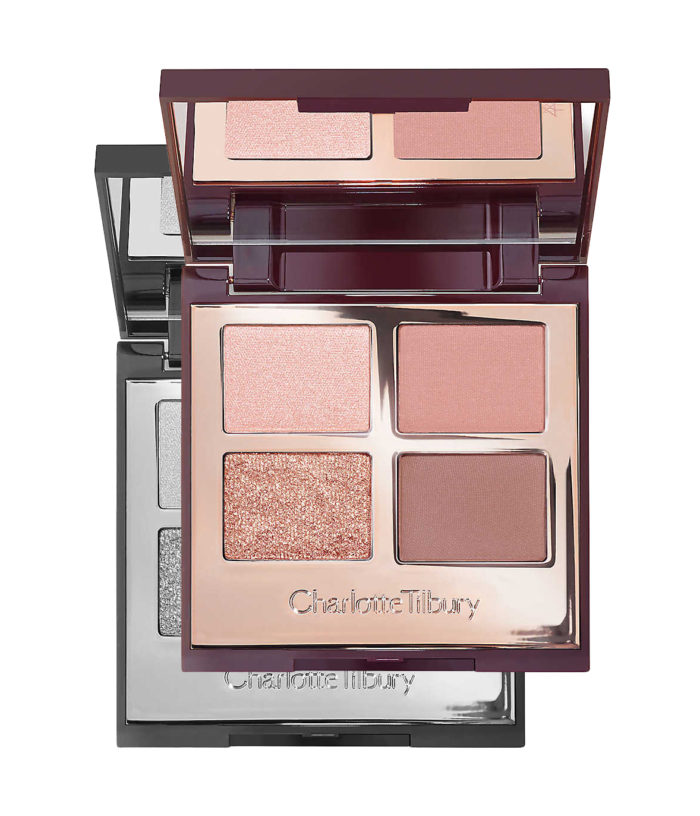 Pillow Talk eyeshadow palette has made us fall in love with a different kind of pink look every day: a romantic, sophisticated and radiant eyeshadow palette for every necessity and complexion.
The iconic Pillow Talk quad palette consists of four shimmer and matte shades, featuring champagne pink, matte dusky rose, soft matte brown and a rose gold sparkle.