"If it didn't happen on Instagram, it didn't happen."
That's what we read on the Winky Lux Website and it is true indeed, in the era of selfies and social media and the boom of the beauty industry.
 In this, Winky Lux seems to have found the perfect balance between efficiency, heart-stealing trends and a vast range of choice, both product-wise and color-wise.
We looked into the history of this brand, infused with modern and pop vibes.
_______________
Pills of History: The Ultimate Capsule Lipstick
_______________
New York City 2016: entrepreneur Natalie Mackey founded Winky Lux with her partner Nathan Newman. Both with a background in marketing, with Natalie focusing on Fashion, together they managed to give life to a new beauty brand, immediately appealing to the younger generations and Millennials for both textures and prices.
The Design was inspired by Damien Hirst's 'Pill' Collection, while the production goal is to keep up with the trends at a fast pace, always offering new collections. The production is kept as fast and efficient as possible, in order to capture all the influences on Social Media (from the rainbow eyebrows to the matcha-flavored balm, one of their must-haves since March 2018).
Now, Winky Lux believes in the power of immersive experiences involving makeup, offering not only physical stores and pop up shops worldwide, but real (Instagram approved and like-grabbing) beauty experiences in hot spots such as LA, Chicago, and New York.
_______________
The Mission (and Social-oriented Vision) Behind the Brand
_______________
Quick, up-to-date, creative and keeping close with the pace of the latest trends on social media: these are the things that make Winky Lux a unique star in the sky of beauty.
With a keen interest for everything social, Winky Lux brings luxurious and always new products to a drugstore price, and for a straightforward reason: young girls (and boys!) surely buy more makeup nowadays, but they also have a lot of expenses, more than past generations did, from the student loan to the difficulty to find a high-remunerative job as fresh graduates.
According to Natalie, beauty should be uncomplicated and affordable, and that's not something that the current brands are always able to offer. With a funky design, colorful patterns and like-grabbing products, 100% cruelty-free and often natural, Winky Lux is, without doubt, the hero brand of Generation K and Z!
_______________
Our Favorite Winky Lux Products: The Shining Stars!
_______________
Flower Balm
The Flower Balm was (and still is) a huge trend: great lip balms that look like a transparent jelly with a beautiful chrysanthemum inside but then, when you wear them, they turn into a colored lipstick, with a flattering and unique shade of pink for every lip.
Definitely a must-have!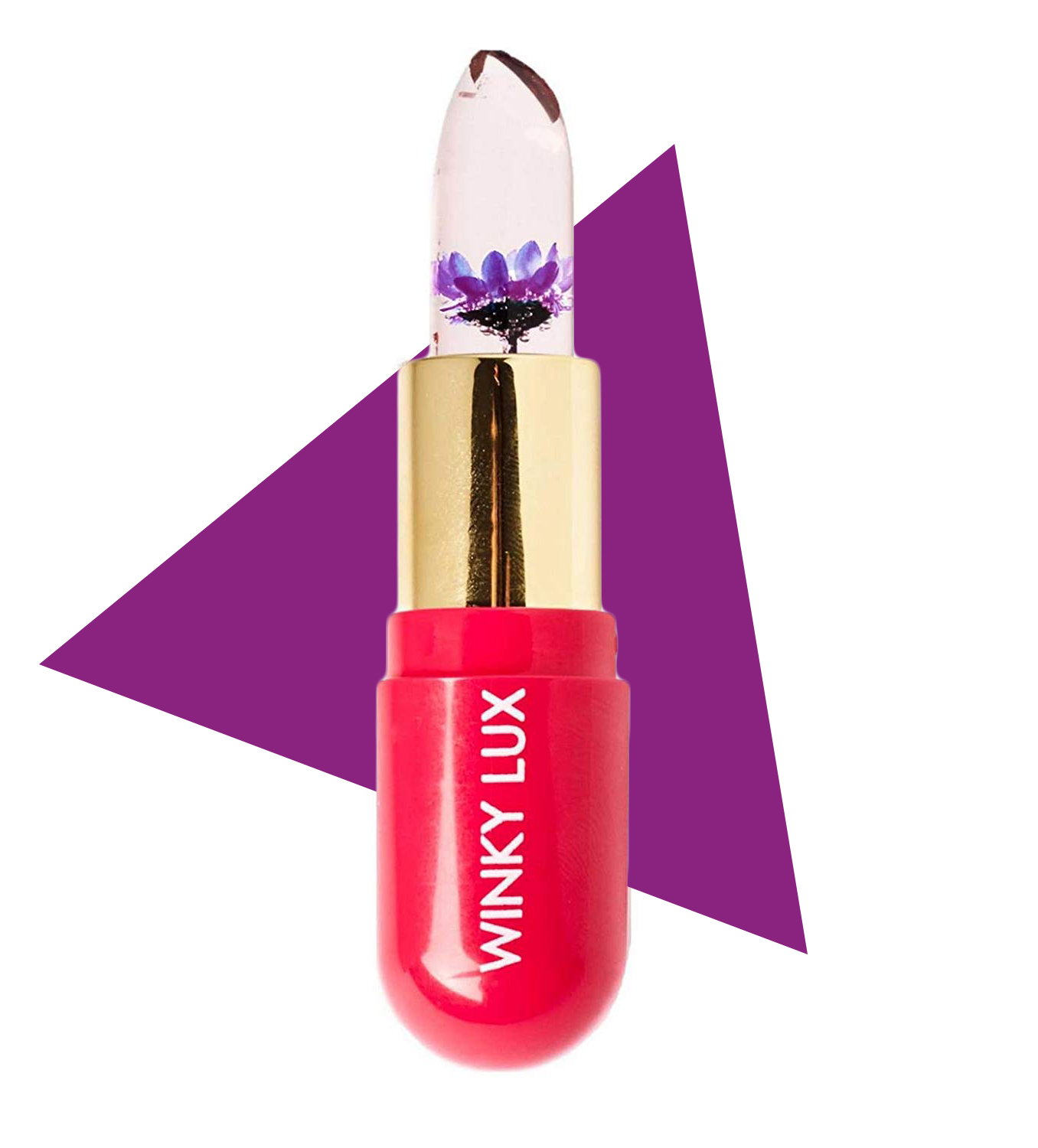 Matcha Balm
One of the absolute best sellers and a major trend on Instagram, this pastel green lip balm completely changed the rule of beauty Instagramming last March. It's like a little Holy Graal of lip balms, and you better get yourself one!
Mermaid Kitten Palette
With mesmerizing blue shades and pearlescent and shimmery finishes, this palette is perfect for eye-catching makeups. Nine rich and comfortable colors to get in touch with your inner mermaid!
Steal My Heart Lipstick
A subdued flush, pink orangey or red, perfect for the good-girl-inspired, natural everyday look.
The heart-shaped stick is lovely, matching the romantic and dreamy vibes of the shades perfectly, for a pout with just the right hint of pink.
Peeper Perfect Under-eye Concealer
Cruelty and paraben free, this pretty under eye concealer not only has excellent coverage but it also flawlessly fits in your purse. Perfect for last-time touch ups!
Glimmer pH Balm in Rose
Diva? Check. Deliciously millennial with a rose gold hue? Check. Loved on Instagram? Check. This pill-shaped lip balm is the ultimate ally for a subdued shine and a moisturized lip.
Purrfect Pout
Not only on Youtube: cats are ruling the online world right now, so why not go for a double-shaded lipstick with a soft texture and a cute kitty engraved on the inside?
The Jojoba oil and vitamin E make it extremely comfortable, while the sheer finish is flattering to every complexion!
Whipped Cream Face Primer
One of the absolute best sellers of the brand, this luxurious primer feels light and comfortable on the skin, maximizing the result of every piece of makeup layered on top of it.
The delicate pink of the packaging is pretty, but the effect is stunning!