"Our race is human, our people are free, our language is color. Everyone is welcome to our beautiful tribe."
This is the truth of Uoma Beauty: a brand that, true to its name (which means beautiful) spreads beauty and positivity around the world, opening the door for color and inclusivity with a spectacular range of shades and empowering statements.
Pills of History
This rebellious, inclusive and unique brand was founded in April 2019 by Nigerian born, LA & London based Sharon Chuter, formerly with L'Oréal and LVMH and with a long history within the beauty industry.
But who is Sharon Chuter? 
Listed by WWD as one of the 50 most forward-thinking executives who's shaping the future of the beauty industry, Sharon Chuter is an empowering businesswoman of Nigerian descent, a beauty expert and a rebel with a cause.
When she realized that Beauty was not at all inclusiveness-oriented, Sharon got rightfully frustrated with the limited and limiting range of shades and decided to go off the well-beaten path to redefine the rules of inclusivity and diversity.
As a well-respected name in the beauty industry and seasoned executive, who's never stopped in her mission of making beauty more inclusive and supportive of all women, Sharon has had a career which has turned her into an expert of the beauty world and its mechanisms. Before founding her brand, Chuter worked with major beauty brands; among them, Revlon, L'Oréal and most recently Benefit Cosmetics.
In her role as creative director of Uoma Beauty, Sharon wanted to change things and shake the beauty world up. She didn't take any shortcut and didn't settle for anything but the best in the process of creating a brand that is forward-thinking, radical and uncompromising.
As it may be noticed in the collections and in the product range of Uoma Beauty, Chuter's Afro heritage plays an important role in her products (which have names such as Afro.Dis.Iac Liquid Eyeliner) and she also infuses it with fierce modernity to create a truly fresh aesthetic. The result is a brand that not only is empowering for all women but is also a new kind of aesthetic that is completely unique and differentiates Uoma from other recently launched brands.
The collection of nothing less than 108 beauty products covers every part of a beauty routine and offers some groundbreaking innovation, instant payoff, always looking to the different needs of every skin, shade, and formula-wise.
"We have 51 shades of foundation and they're customized for the needs of the skin," Chuter said speaking of her range of foundation. "A woman with very pale skin might have hypersensitivity, but a woman with brown skin will more likely have pigmentation issues. It's not just about the shade but the formula as well."
The Mission of the Brand
At this point, you may be wondering how Uoma is pronounced. It is, in fact, pronounced "Oma", or uh-mah, and it means "beautiful." The brand is very bold and outspoken as to its idea of beauty, one that is surely modern and empowering but sadly still not that common in a standard-driven society, and proudly declares that: "beauty happens when you decide to be yourself."
With its colorful aesthetic, the huge range of shades and the unicity-oriented communication that empowers the person and enhances its unique beauty, Uoma re-writes the rules of inclusivity and diversity to create a world of beauty that can truly represent everyone, without afterthoughts. The brand has very clear ideas concerning the positivity it wants to spread, and here are the main pillars on which Uoma has based its products, its communication and its mission.
First of all, they stress the importance of self-expression, stating that: "authentic beauty is the ultimate form of self-expression."
Then, as we can see from the packaging and advertising, colorful living is a rule in this brand, which is not intimidated by popping splashes of colors: "we celebrate life in all its vibrancy & color;" The African Pride is another important part of not only the CEO but of the brand: "we are not African because we are in Africa, we are African because Africa is in us."
Also, the Uoma family is first and foremost an Empowering Tribe: "a confident woman inspires those around her – empowered women, empower others." As one of the main and most stressed ideas of the brand, inclusivity follows suit: "every person deserves to walk into the Beauty Hall and feel inspired and included."
Finally, the idea of Beautiful rebellion closes the circle, encouraging people to hold their head high and to wear their interpretation of beauty with pride: "We must be bold and outspoken to challenge outdated conventions."
With an eye on the always raising bar of the beauty world, the products are safe for the skin, formulated without parabens, talc or D5.  Moreover, Uoma Beauty can swear by its sweet little mascotte, the Pomeranian Leo the Chief Entertainment Officer (LEO the CEO), that all their products are 100% cruelty-free and that their Our Say What?! Foundation, Double Take Contour Stick, Stay Woke Concealer, and Afro.Dis.Iac Eyeliner are fully vegan.
Our favorite Uoma Products: The Shining Stars
Say What?! Foundation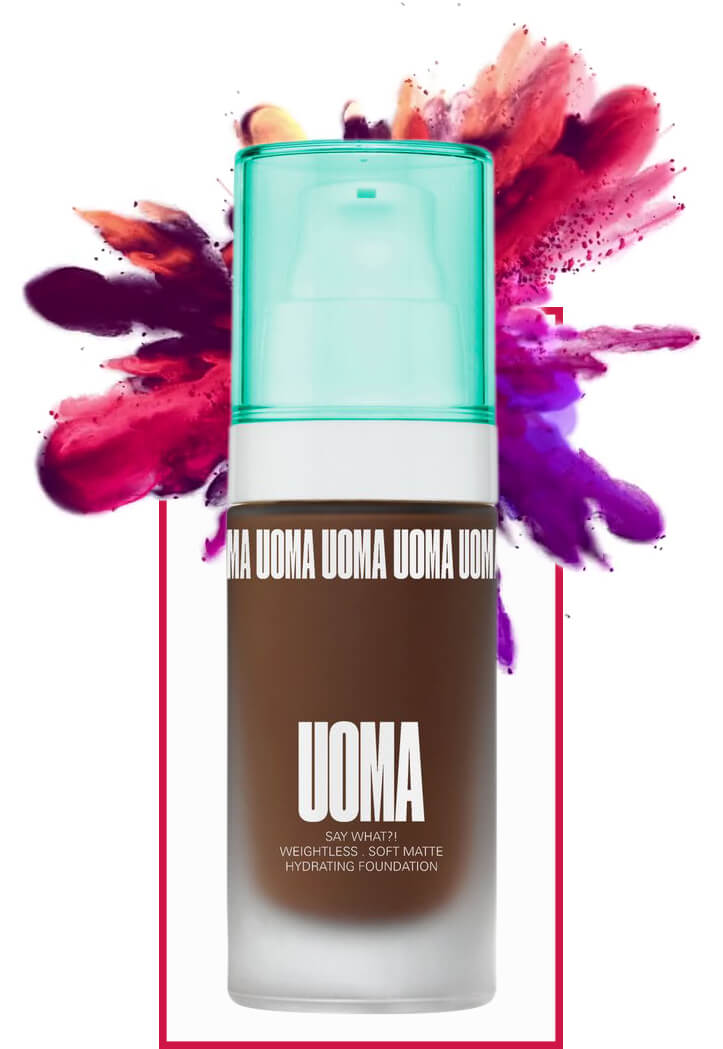 Foundation just got personal with what is called: "The most radical foundation ever made!"
This product is available in 6 different formulas aimed at taking proper care of every Skin Kins (the brand's name for different skin color groups)! Available in 51 shades, this product has a weightless, long-lasting matte finish with adjustable coverage, and it is infused with biomimicry pigments that think like your skin to give that flawless finish and blurred effect.
The blurring technology minimizes the look of pores, softens fine lines and leaves you with a flawless base.
Stay Woke Concealer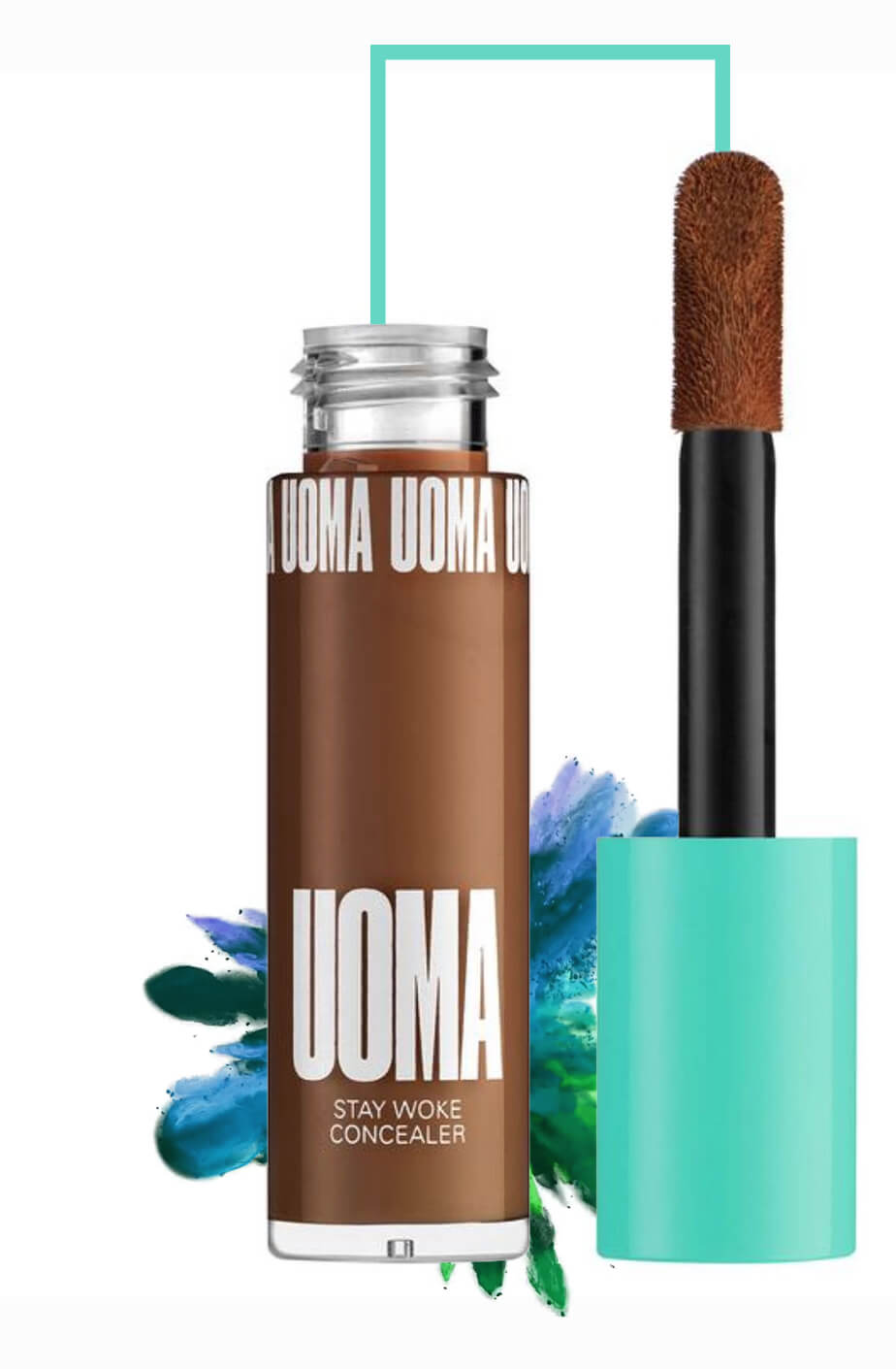 Your beauty sleep in a bottle!
This creamy and long-lasting concealer available in 17 shades is your all-day solution to a flawless complexion, enhancing skin beauty with a product that covers everything without a cakey effect. A full-coverage, lightweight, satin radiance concealer, that goes on seamlessly with a smooth texture to instantly conceal imperfections.
Double Take Contour Stick
A double-ended contour and highlight stick, available in 6 shades, to strobe and sculpt.
 On one end, the creamy highlighter stick makes the skin radiant: it's easy to blend and with a buildable formula that allows you to choose how much you're going to sparkle. Also, it's infused with lychee extract, with antioxidant and hydrating properties.
On the other hand, we have a silicone-free, melt-on-contact pigment stick with exceptional coverage. Made with 28% naturally derived ingredients and 30% pure pigments, this long-lasting formula creates a smooth, lightweight layer with a matte finish.
Badass icon matte lipstick


 Make the ultimate lip statement with the concentrated, highly pigmented Beauty Badass Icon Matte Lipstick, named after girlbosses and with bold but wearable colors.
Just one layer for beautifully vibrant lips, rocking every look with a touch of self-confidence. Wild mango butter is added to the formula to restore the beauty of dry, chapped and thirsty lips, allowing you to have matte lips without the drying effect.
Black Magic metallic Lipstick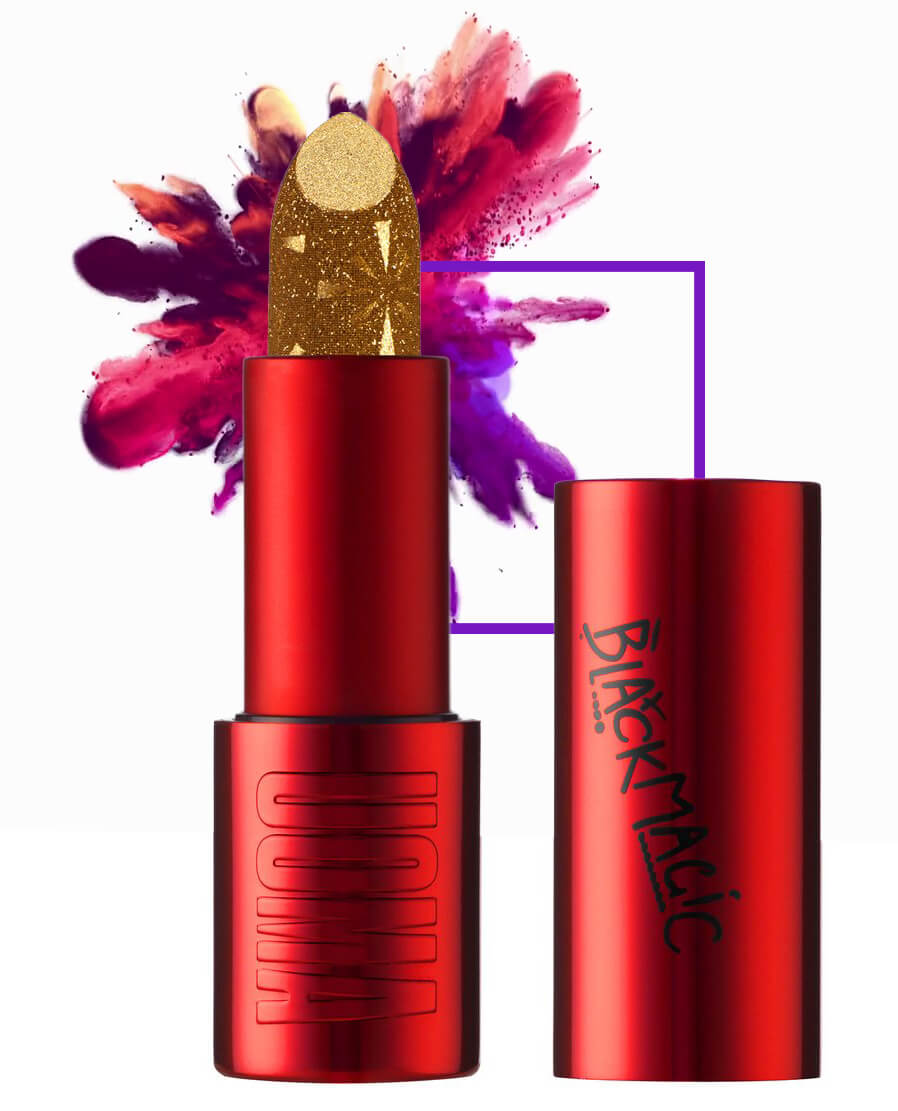 Six iridescent veils, from bold gold to deep purple, that flash like loose glitter and give the lips a multi-dimensional shine: perfect for a day out or a party, these lipsticks will make sure that you leave a mark, and leave your audience spellbound.
Cruelty-free, safe and infused with Brazil nut oil to moisturize and nourish lips with essential minerals and vitamins, this magic is real.
Afro.Dis.Iac Liquid Eyeliner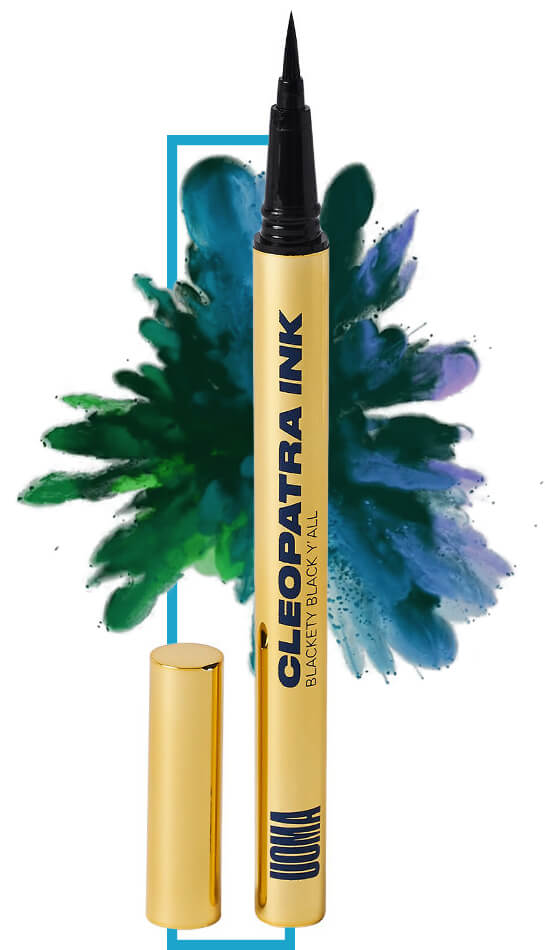 A smooth trait for an eyeliner that is defiantly black and highly precise.
This long-lasting, water-resistant Liquid Eyeliner in marker form is also easy to use, thanks to the precision marker, and the color is weightless and applies with smooth precision: no matter if you are going for a cat flick or for a graphic look, this eyeliner may become your closest friend and ally. High purity carbon black guarantees dramatic and bold color, all in a vegan and cruelty-free formula, while the long-lasting color doesn't smudge and stays all day.