Pills of History
You may have seen it recently on the shelves: LANEIGE is the South Korean brand that, with its pastel packaging and savvy formulas, has taken over the beauty accounts and is currently living a golden age (also thanks to its must-have lip mask). However, this brand goes back a long way: LANEIGE was founded in 1994 by Amore Pacific, the largest cosmetic company in South Korea, with the very first stores opening in China in 2002.
The Korean brand created a successful and ever-growing net of selling points and contacts that spreads through Asia, Canada and the US (where it launched in 2014) and then moved to Europe, launching its first store in Russia.
Since the very beginning, LANEIGE promoted a vision a confident and energetic modern-day woman through its spokesperson and ambassadors, and through social media channels the brand is engaged in an ever-growing campaign of awareness for the importance of taking care of your skin (through the many advantages of moisturizing, mainly, as it's seen in the "Be Waterful" brand campaign) to always look and feel your best. To achieve this kind of confidence and perfect skin, LANEIGE offers real and exciting results thanks to the combined effort of its cutting-edge Water Science and mineral sources (such as magnesium, manganese, and zinc) as well as botanical and natural ones, from green tea and yeast to clay and salicylic acid.
Since 2007, LANEIGE has expanded its lines of products with the LANEIGE Premium Makeup Line and a gentleman-focused line as well, LANEIGE Homme.
 Fun fact, despite being an Asian Brand to the core and deeply rooted in South Korean beauty expertise, the name actually comes from the French word "La Neige" which means "snow." 
The mission of the brand
With endless steps, through moisturizing and a lot of exciting products to pamper and balance the skin, it's safe to say that the Korean routine has achieved the status of Goddess of Insta-worthy skincare routines. LANEIGE aims to offer at least one product for every need of the skin and for every step of the (very long) way to Asian skincare-perfection.
This brand believes that everyone has a sparkling charm of confidence, an inner and personal beauty that lets you shine through and through, no matter the situation: that is the Sparkling Beauty LANEIGE pursues. 
In over two decades of research, LANEIGE has developed its own technology: Water Science, optimum water to address each skin concern. Hydro Ionized Mineral Water presents a quicker and deeper absorption for better overall hydration and re-balancing the skin, while the Moisture Wrap technology offers an 8-hours time-release moisturizing layer. According to the brand's technology, hydration is the key to a vibrant and beautiful complexion that transcends time. Their products can preserve the perfect natural layer on the skin that we have at birth, which locks-in moisture: even though this barrier is bound to lose its strength with time, which is the essential cause of skin damage, a through moisturizing and nourishing regime can preserve a splendid looking complexion, blurring pores as well and helping our face look healthy and bright.
At the same time, Mint Water reduces excessive sebum while offering greater pore care. Another technology is the Mint Water & Pine Extractare, used for pore Blurring & Oil Control, while the Ultimate Radiance & Sparkling Coat™ complex is pivotal for achieving a happy and radiant skin, fighting dullness and a stressed-looking complexion.
Every complex and formula is subsequently matched with potent ingredients balanced to address every skin concern, to create a personalized and perfectly efficient skincare routine that improves the health of our face and boosts our natural beauty.
Our favorite LANEIGE Products: The Shining Stars
Water Sleeping Mask
An overnight, moisture-recharging gel mask that quickly absorbs while you rest for deep hydration, enriched with Sleep-Tox, a purification technology to help calm skin and repair it from daily damage. Antioxidant-rich Hunza Apricot and Evening Primrose work throughout the night to purify fatigued skin while the Calming Sleepscent (infused with orange flower, rose, and sandalwood) soothe and comfort. Pivotal for healthy skin, apricot and evening primrose extracts brighten and detox, but it's the Mineral Water that truly makes the difference, delivering intense doses of moisture to stressed, parched faces.
A world-wide, all-skin-friendly iconic mask that changes the game for our complexion. 
Lip Sleeping Mask
This mask has a softening balm texture that closely adheres to the lip, providing extreme hydration while vitamin C and antioxidants enrich the formula. Its Berry Mix Complex™ offers a sweet and fragrant blend of raspberry, strawberry, cranberry, and blueberry extracts to soothe the skin and promote a naturally plump, supple look while the Moisture Wrap™ technology boasts hyaluronic acid and minerals.
Wear it before bedtime for a soft pout and be ready for kissable, healthy lips!
Water Bank Hydro Essence
The LANEIGE laboratories created this essence with highly concentrated Green Mineral Water, infused with vitamin-rich kale, watercress and Beet to provide intense hydration: the skin will appear healthier and more glowy thanks to the moisturizing effect. The light and fast-absorbing texture feels comfortable on the face, and we use it in combo with the Water Bank moisturizer to upgrade its benefits.
Water Bank Eye Gel
Extra and fast-acting hydration for a refreshing and quick-absorbing awakener, a real all-night of sleep in a pot. Micro-sized particles of Hydro Ionized Mineral Water deeply penetrate the gentle eye area, preventing dryness and protecting from external aggressors while the quinoa extract, olive oil, and moisture-balancing tillandsia reveal a fresher, more radiant appearance.
Ideal to be pat around the delicate under-eye area to awaken that sparkly gaze that every one of us possesses, but that sometimes we're too tired to flaunt.
BB Cushion Hydra Radiance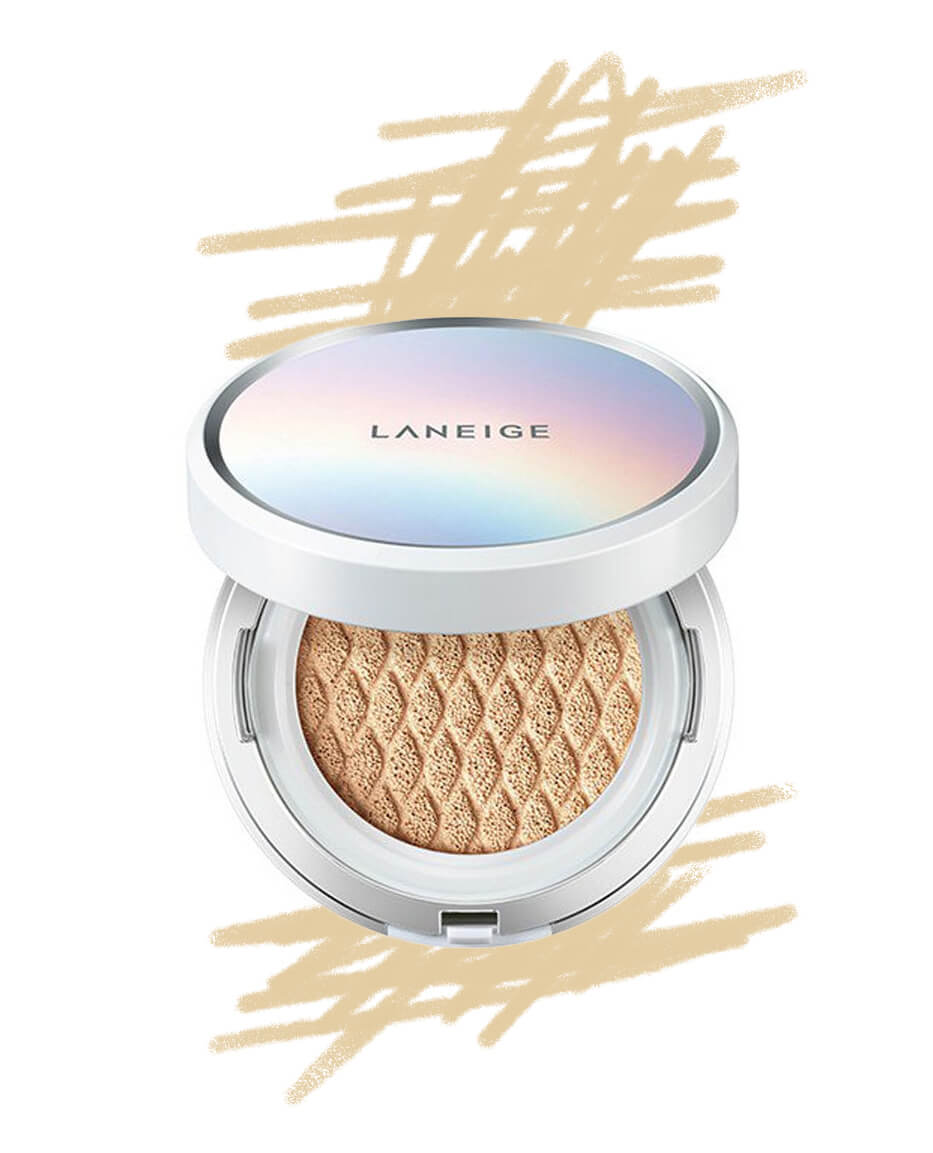 A radiance-enhancing and extra hydrating version of LANEIGE's must-have BB Cushion, this product instantly brightens the skin in a practical, purse-friendly packaging.
The Broad Spectrum SPF 50 protects against UVA/UVB rays while the Exclusive Melacrusher™ brightening technology creates a luminous finish. The pay-off is amazing and allows you to forget the risk of any cakey-effect, thanks to the pigments, infused with micro-pearls and moisturizer to ensure long-lasting hydration to the skin without clogging the pores.
Lavender Water Sleeping Mask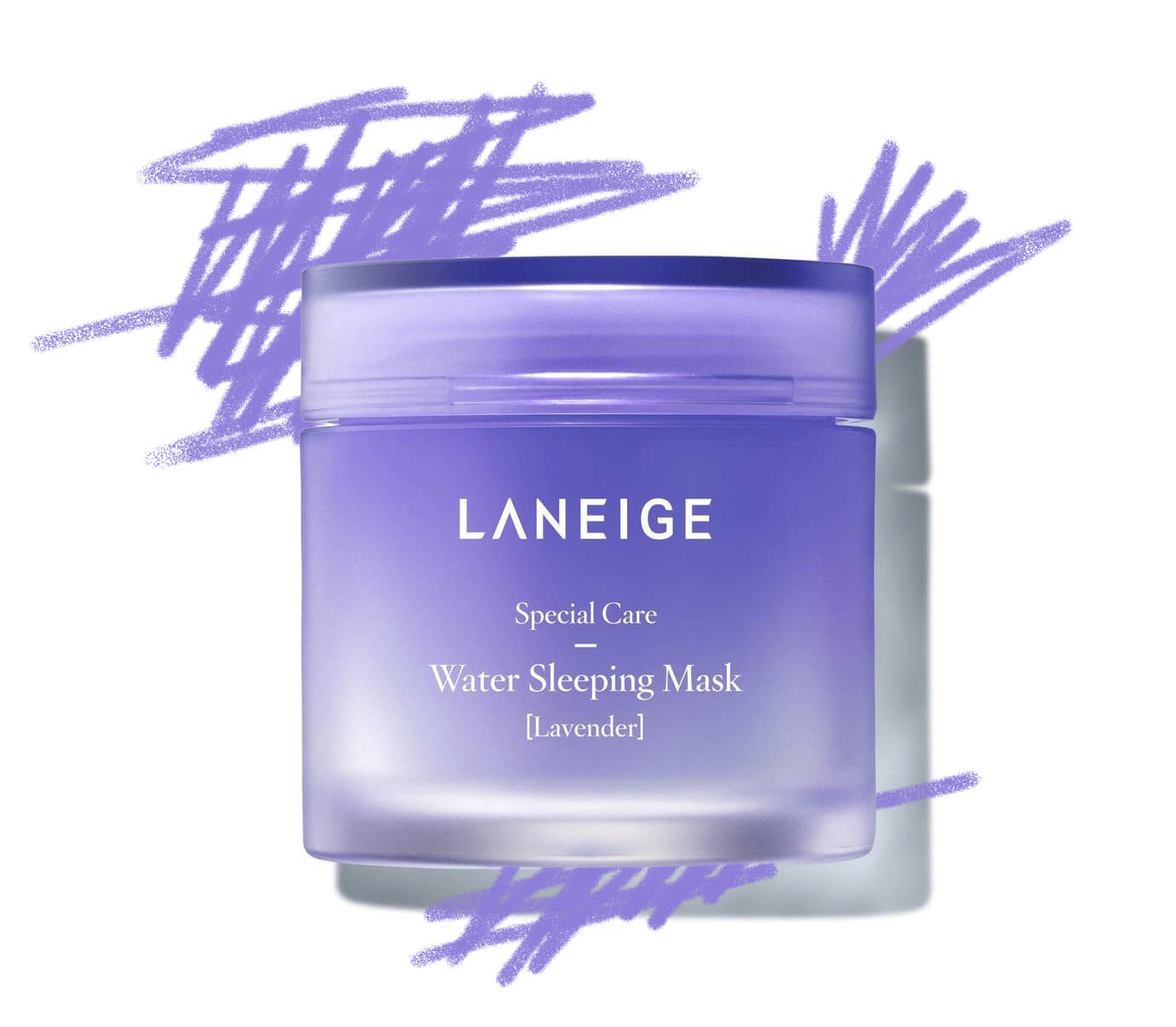 This limited edition, Lavender-scented version of the cult-favorite water sleeping mask is what we call for after a long, stressful day at work: hydrating and relaxing, this purple beauty is an SOS care for stressed, dehydrated body and soul. The sleeping mask doesn't need presentations, being simply a must-have: the Hydro Ionized Mineral Water™ floods skin with moisture while Hunza Apricot and Evening Primrose Extract help brighten and purify. The extra kick? The soothing a lavender scent helps our dreams be as flawless as our appearance.
Cream Skin Toner & Moisturizer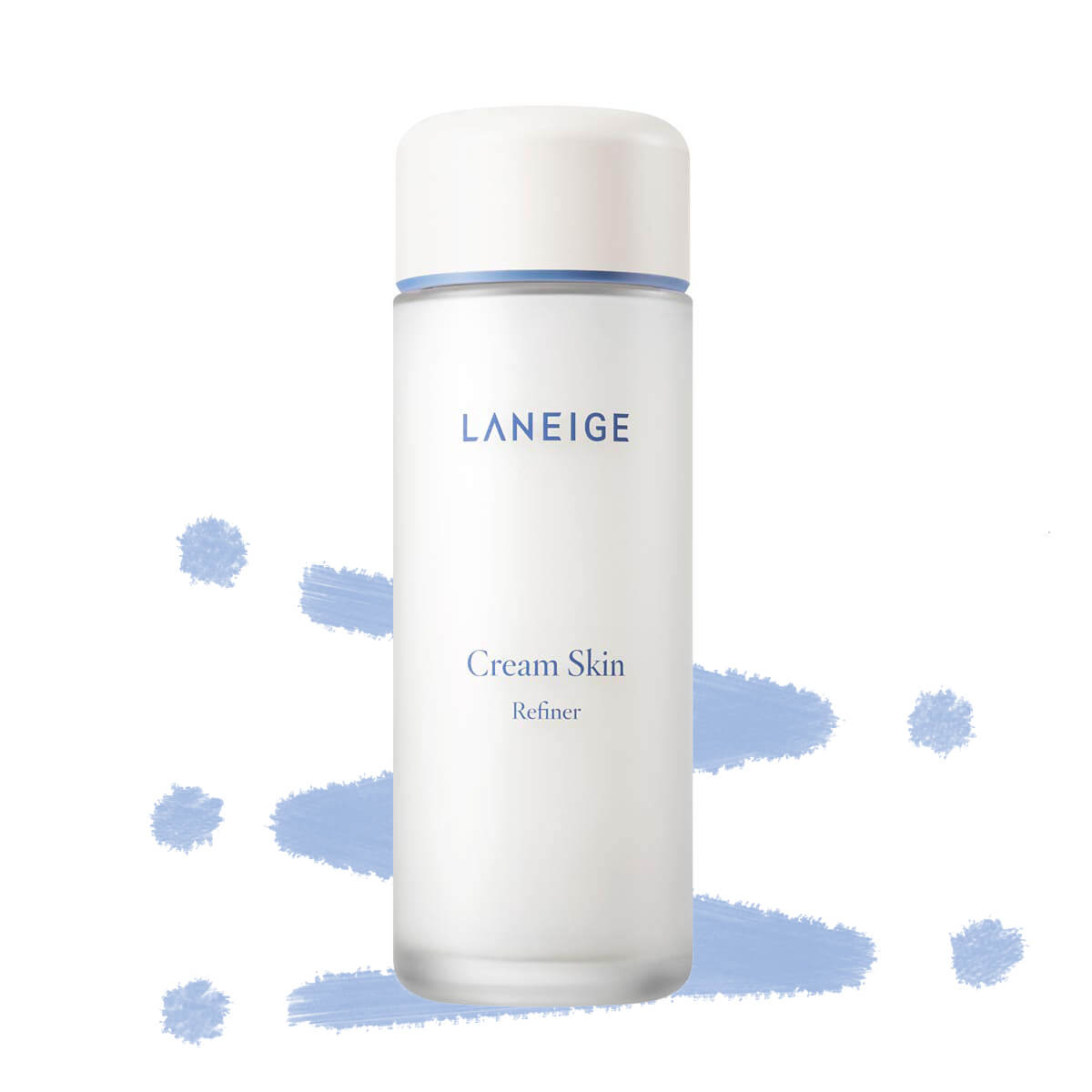 An absolute novelty and an innovative 2-in-1 hybrid, this is a must-try product that preps and softens like a toner and hydrates the skin acting as a moisturizer: it assures maximum hydration benefits in one simple step, while not being heavy on the face and leaving it deliciously radiant, purified and hydrated.