Sometimes, what keeps us glued to the big screen often has more to do with what the characters are wearing than what the movie is telling us. From Cher's (Clueless) killer closet to Holly Golightly's Tiffany-worthy gems to the show-stopping dazzle of Baz Luhrmann's "Moulin Rouge" or "The Great Gatsby", to visually astonishing "Single Man" by Tom Ford to the fun "Mean Girls" these films have one thing in common: they're all Gone With the Wind fabulous.
 A SINGLE MAN
Directed by Tom Ford, this movie (the first one made by the designer) sees Colin Firth and Julianne Moore in a 60's style. Colin featured white Oxford Shirt, brown suit, thick-framed glasses, tie-bar and black shoes while Julianne Moore was a splendor with coiffed hair, black bold eyeliner and her long black and white famous dress.
The photography itself a continuous research of aesthetics.
FUNNY FACE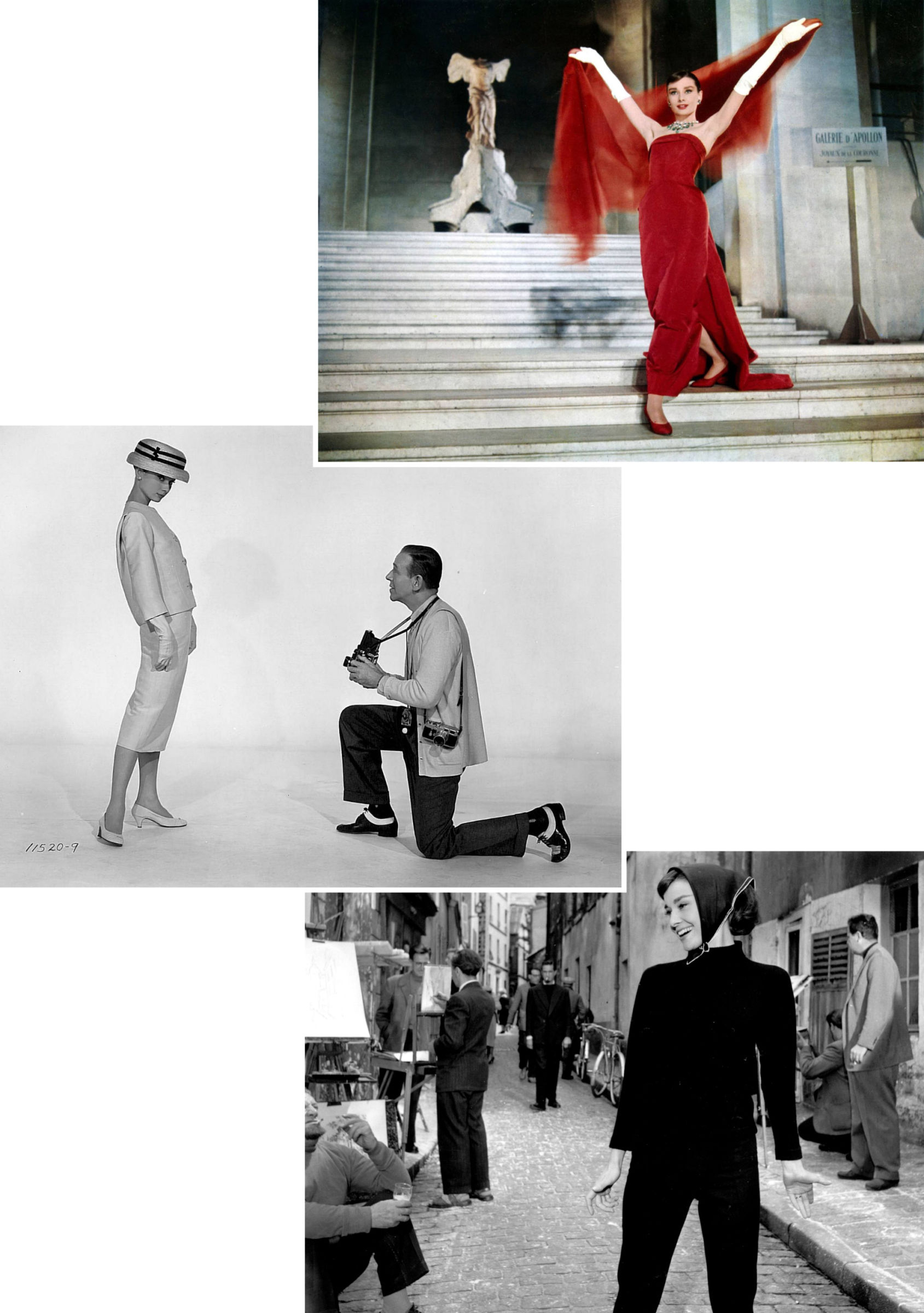 The Guardian called it "a movie in love with fashion". Most of the costumes for the film were designed by the legendary Edith Head, but "Funny Face"'s crowning glory is a collection of custom-designed gowns by Hubert de Givenchy.
BLACK SWAN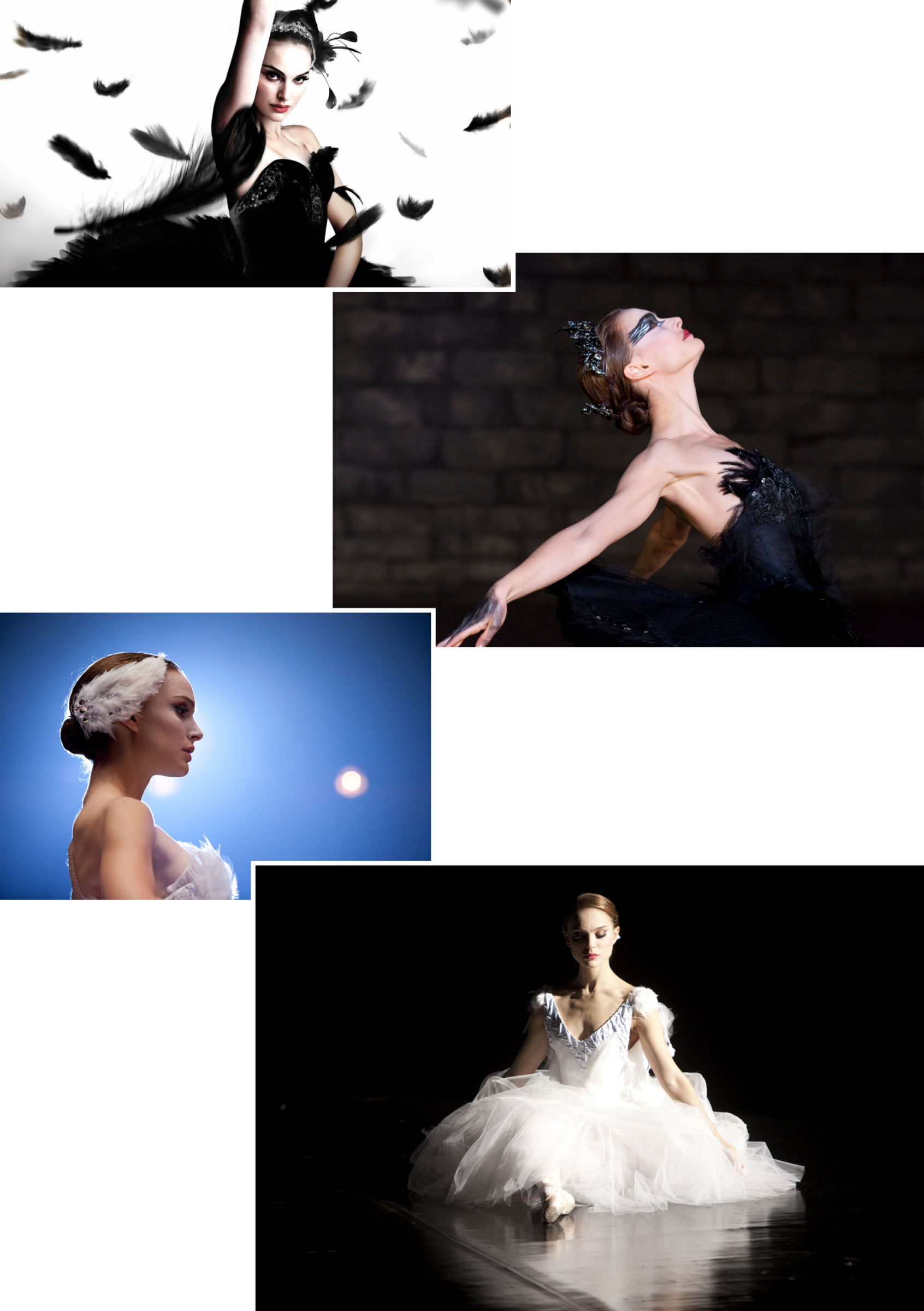 The dresses for the prima ballerina are made with plumes and noir gossamer tulle by designers like J. Mendel and Oscar de la Renta. Also the high fashion brand Rodarte was a great protagonist, achieving global success with this film and touching for the first time in the film world. The clothes themselves immediately become protagonists on the stage.
BREAKFAST AT TIFFANY'S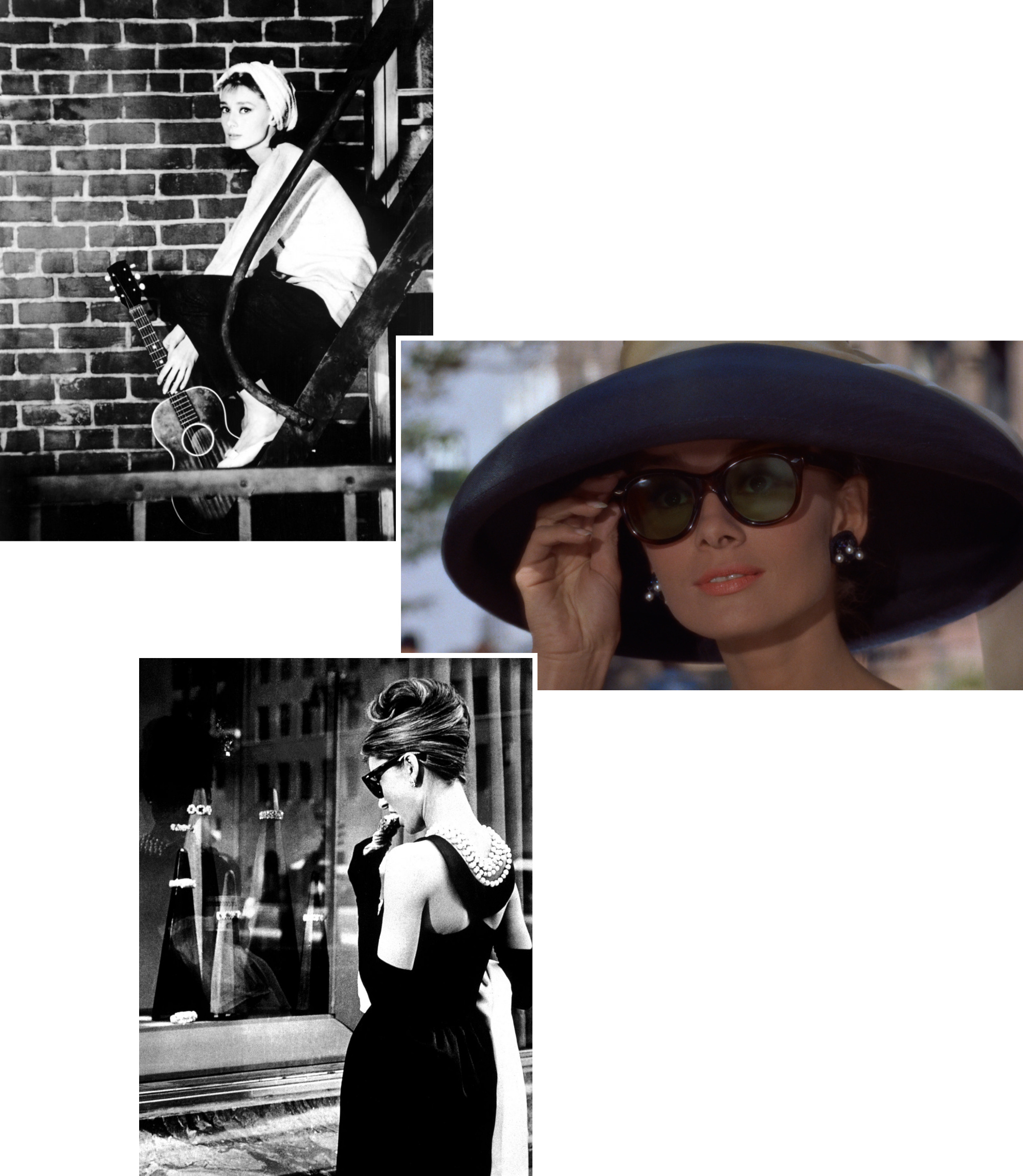 The 1961 Truman Capote adaptation turned eating a pastry while window-shopping into a whimsical rite of passage and is forever synonymous with the British actress. The dresses were unforgettable.
CLUELESS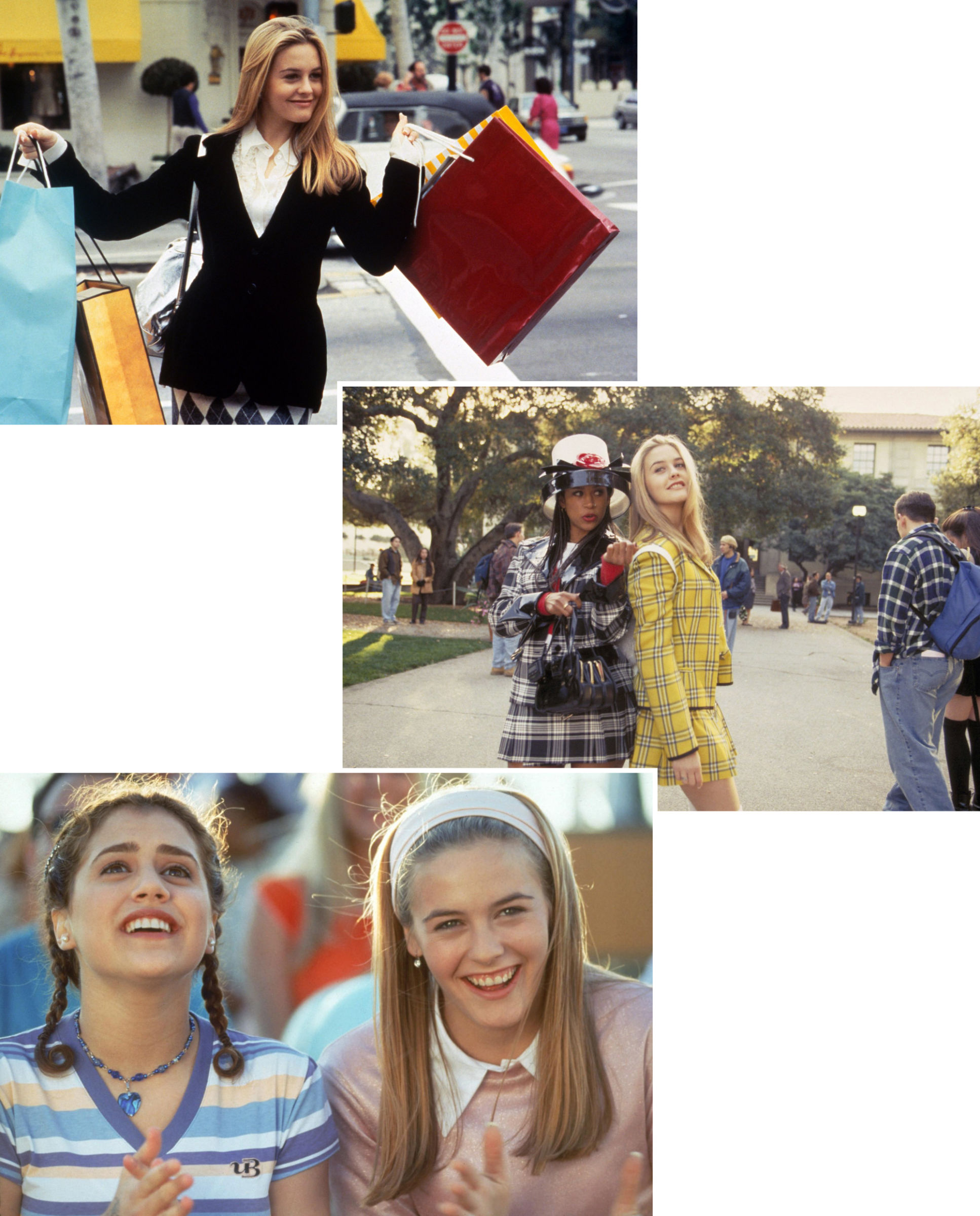 With the help of her super technologically advanced closet, Cher was always matched to perfection. Case in point: her yellow plaid separates.
MARIE ANTOINETTE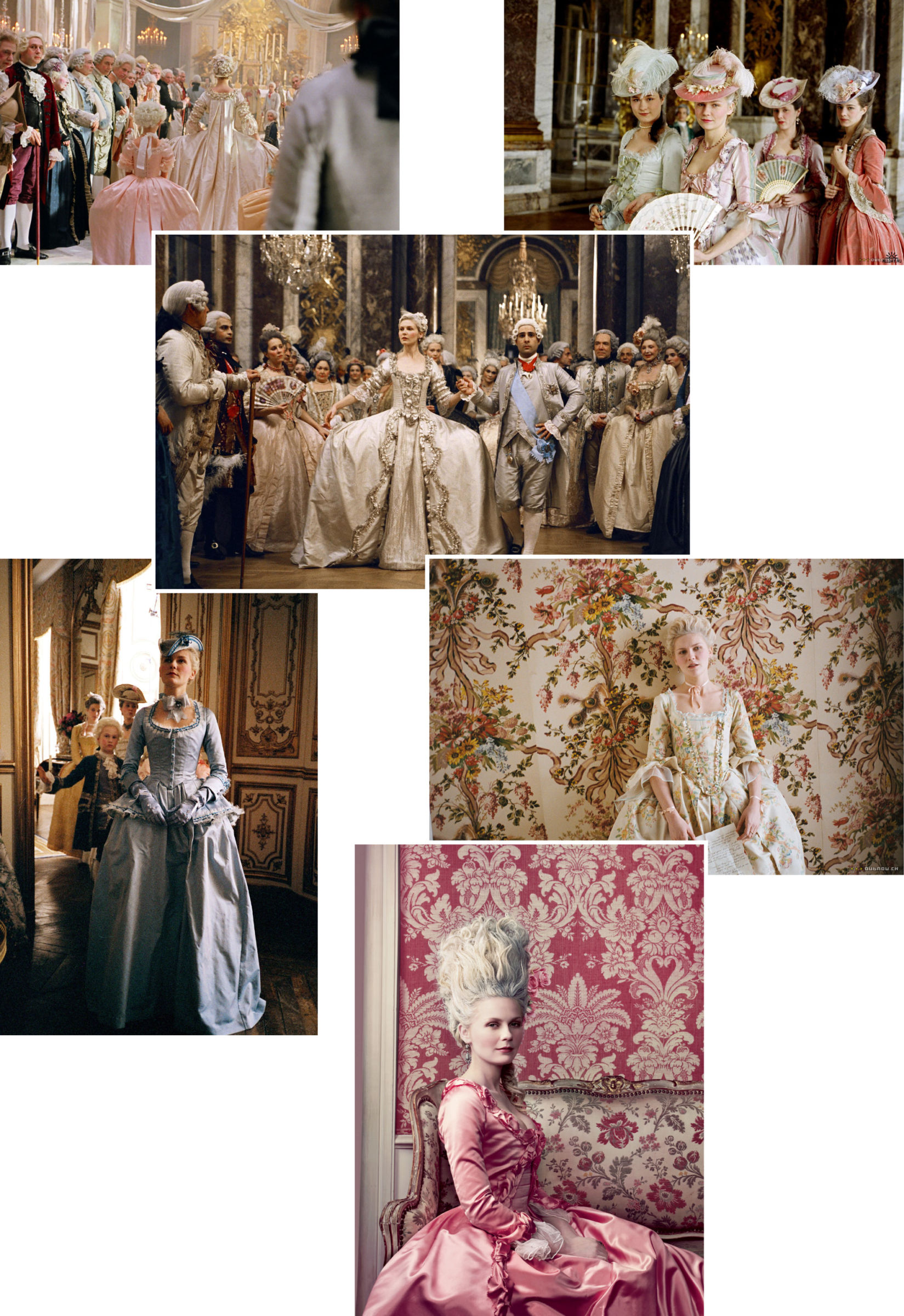 Lavish gowns, jewels, furniture, and all sorts of luxurious, expensive items fit only for the royalty of France. Marie Antoinette represents the epitome of beauty, luxury, and grandeur when it comes to style and fashion. Kirsten was the perfect Marie Antoinette with her hundreds of marvelous dresses designed by Milena Canonero, who won the Oscar as best costumes.
GONE WITH THE WIND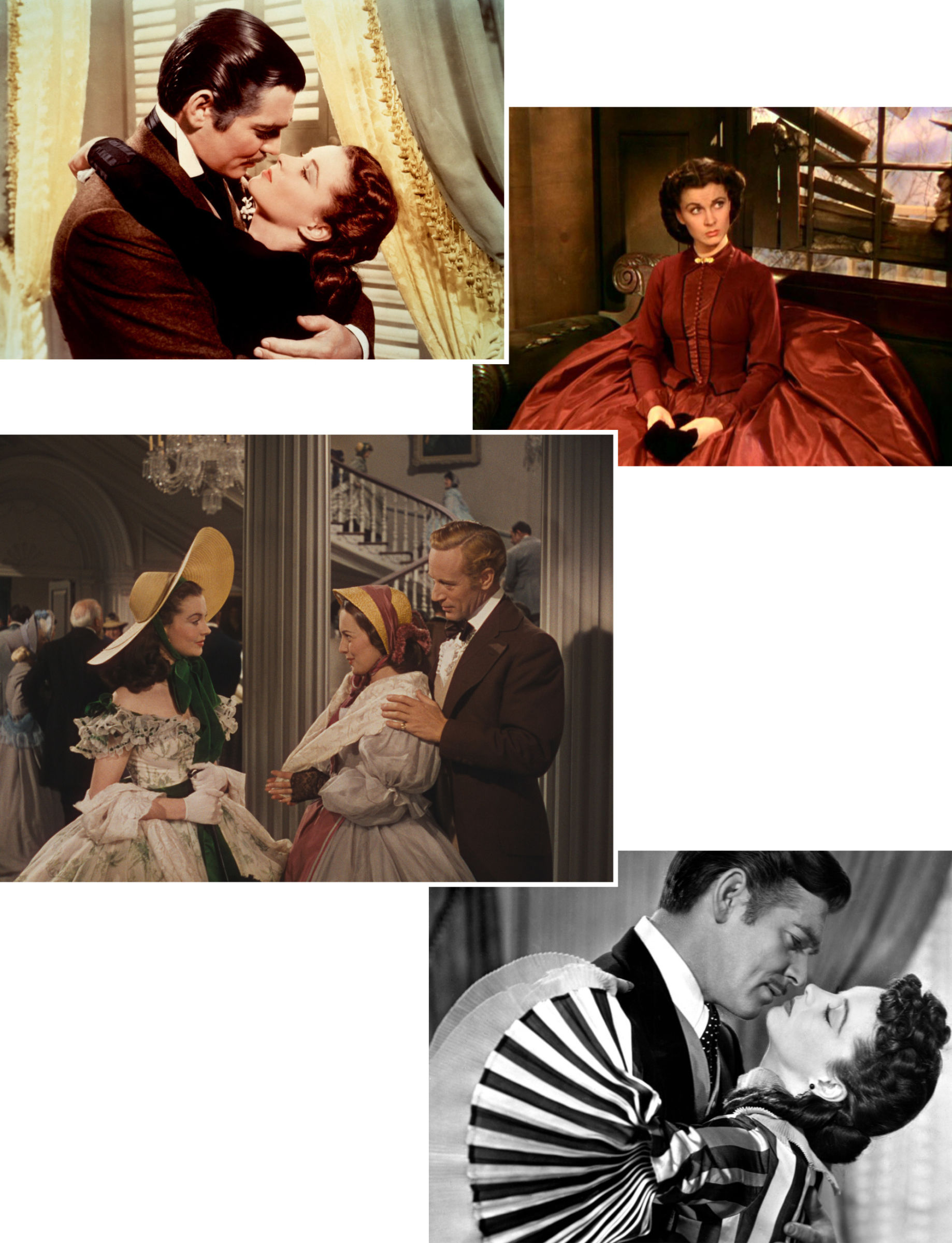 From the curtain dress, a symbol of Scarlett's will to survive, to the other giant gowns, "Gone with the wind" will always be remembered also as a classic movie for the true fans of costume design and fashion.
REAR WINDOW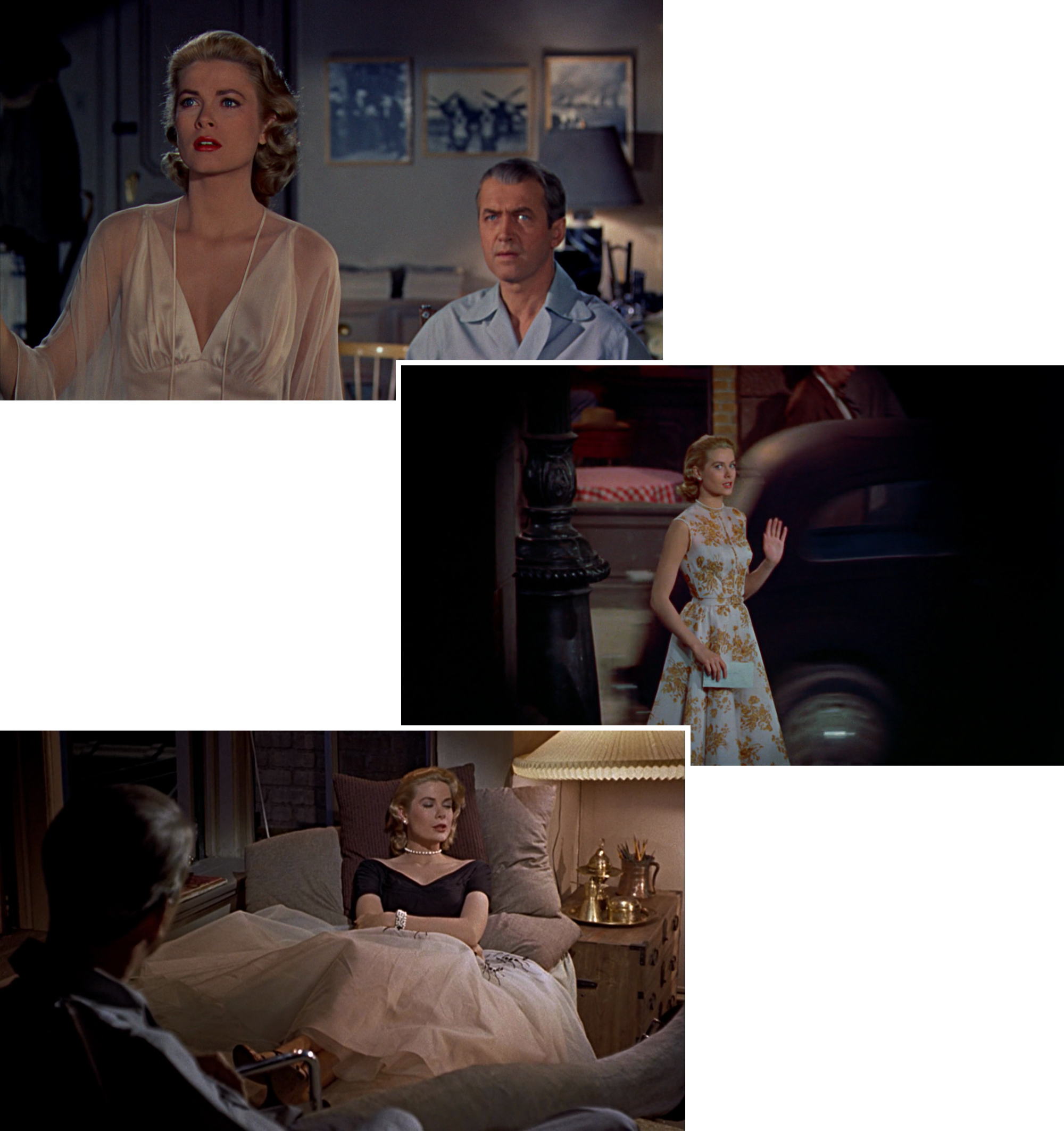 Alfred Hitchcock's movie "Rear Window" (1954) is not only a masterwork of suspense it's also something of a fashion show with Grace Kelly and Lisa Freemont trotting out one gorgeous summer ensemble after another. If the pearl necklace and tasteful make-up didn't immediately connote class and wealth, then Lisa's description of her beautiful dress being "straight off the Paris plane" gets the message across.
ATONEMENT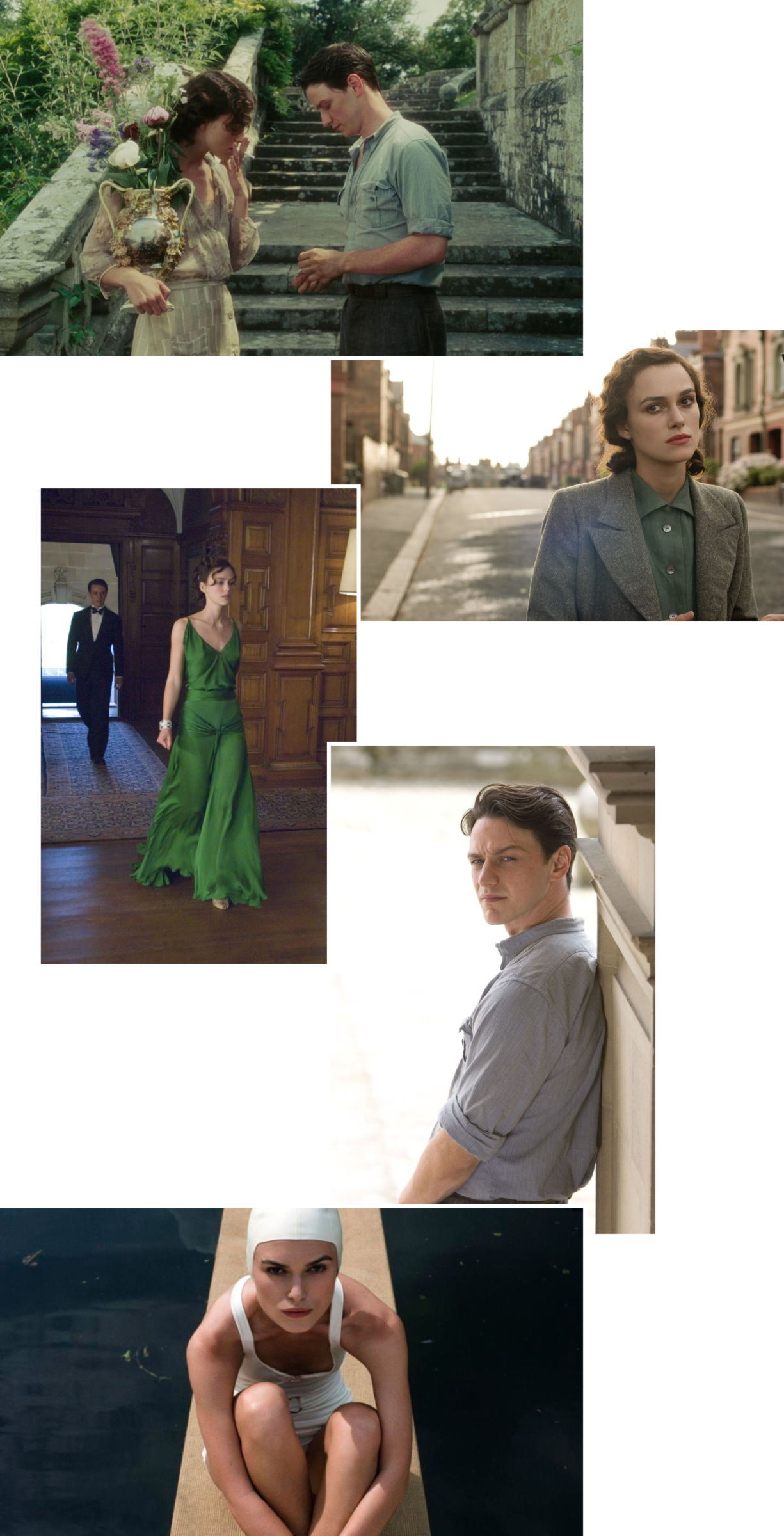 This emerald green dress from Atonement could be the most famous item of clothing on film in the last decade. In fact, rather surprisingly, it was recently voted "Best Costume of All Time" by Sky Movies and readers of In Style. This long, slinky evening gown placed in the mid-1930s to early 40s is an extraordinary achievement.
Costume designer Jacqueline Durran created the dress from scratch. Her intention being to steer away from the "scruffy, slumpy and bumpy" style typically adopted by upper-middle-class families during the period and create something of utmost couture instead.
SABRINA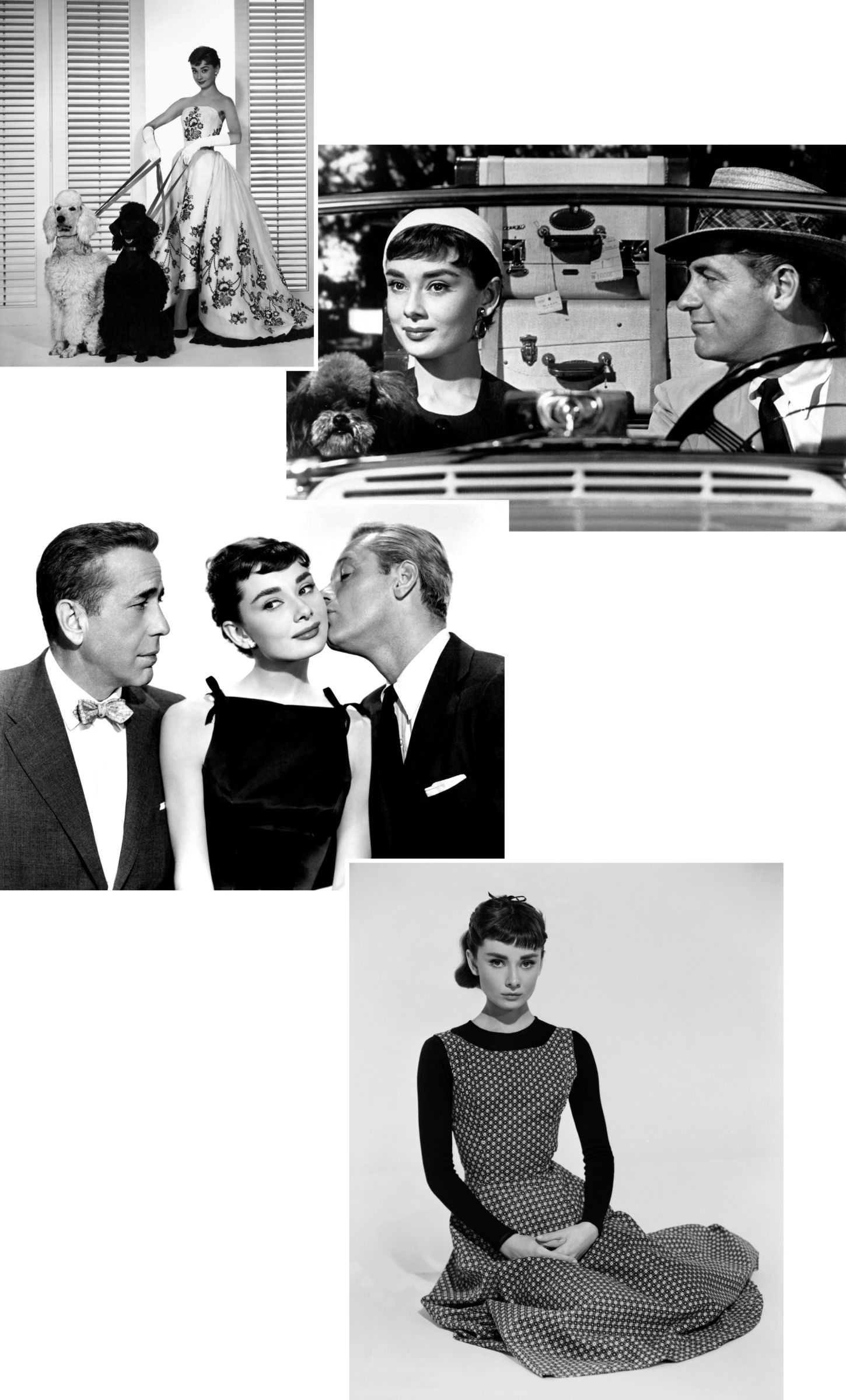 Edith Head, the wardrobe supervisor for the film, had prepared sheets of drawings on which she and Audrey could sketch the dresses together. And the result was just astonishing.
THE GREAT GATSBY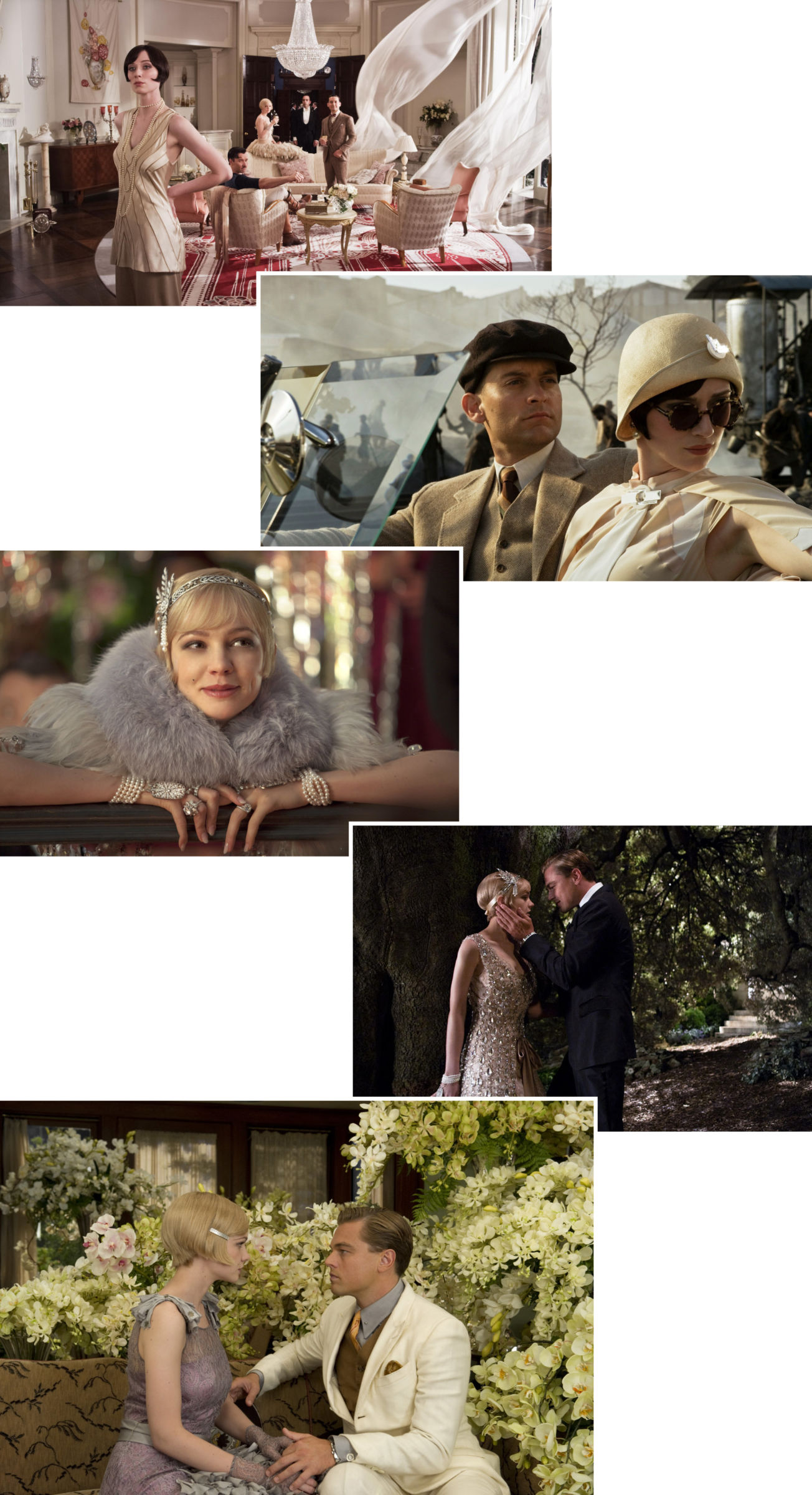 For The Great Gatsby, Catherine Martin served as producer, production designer, and costume designer. That's a lot of work on any film but, on a movie like this one, it was truly a colossal undertaking. Some of the film's party scenes had close to 300 extras on set, each one outfitted in his or her own unique costume. Indeed Brooks Brothers supplied 1,200 pieces in total. Miuccia Prada helped out on the women's side, designing 40 background dresses as well as some of Daisy's costumes.
SEX AND THE CITY 1&2
Halston Heritage collection, Chanel, Manolo Blahnik shoes, Vera Wang, MYKITA and Holly Fulton are all brands that we find on the two movies. And we should not forget about the wedding dresses and the astonishing colorful outfits for the Moroccan set.
ANNIE HALL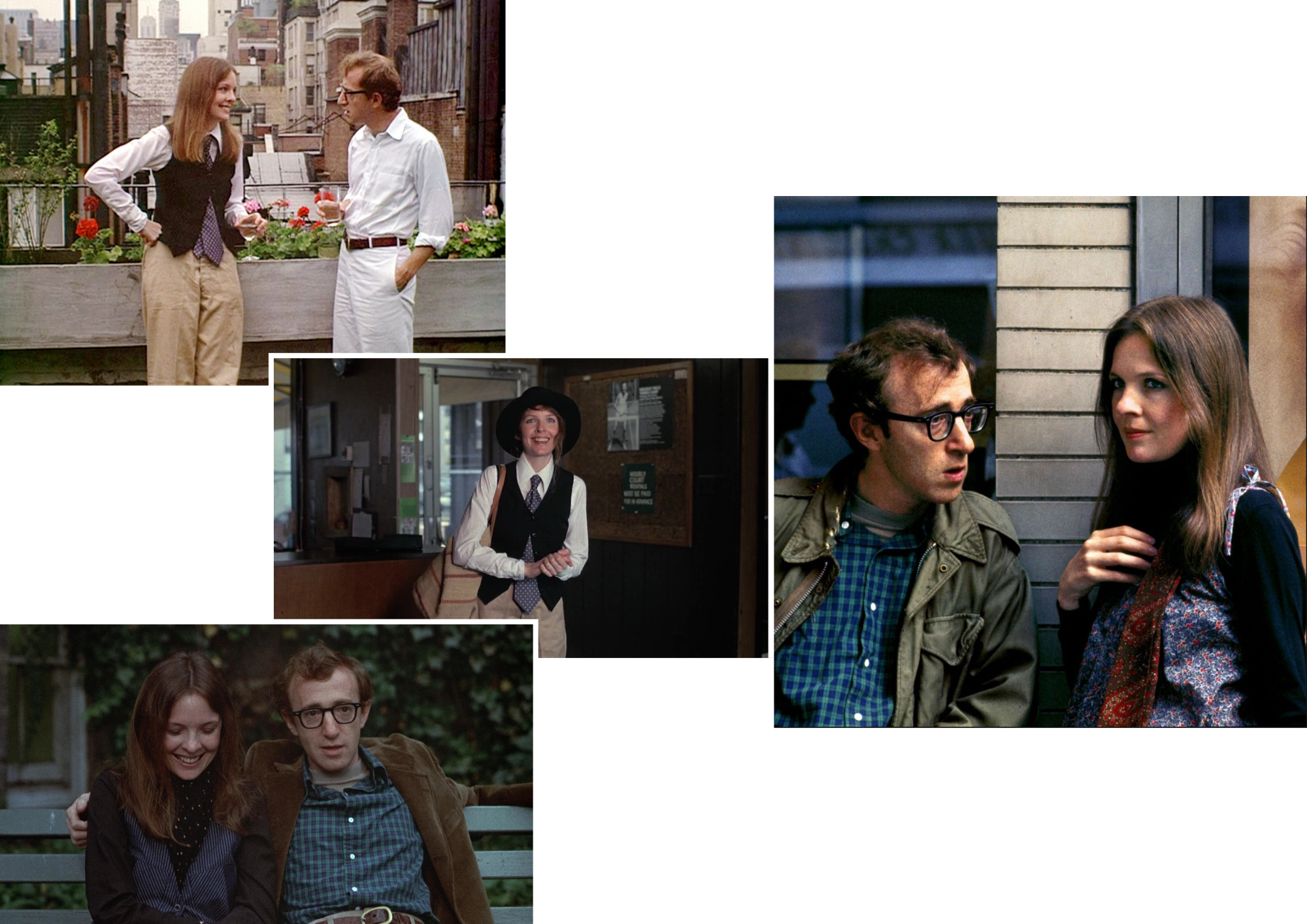 When Annie Hall came out in a men's button-down shirt and tie, a black hat, very loose khakis, and a Ralph Lauren tuxedo vest, the fashion world quickly went mad. The movie's costume designer Ruth Morley worked with Diane Keaton to create her character's iconic look, which was based on the actress's own personal style.
SHAKESPEARE IN LOVE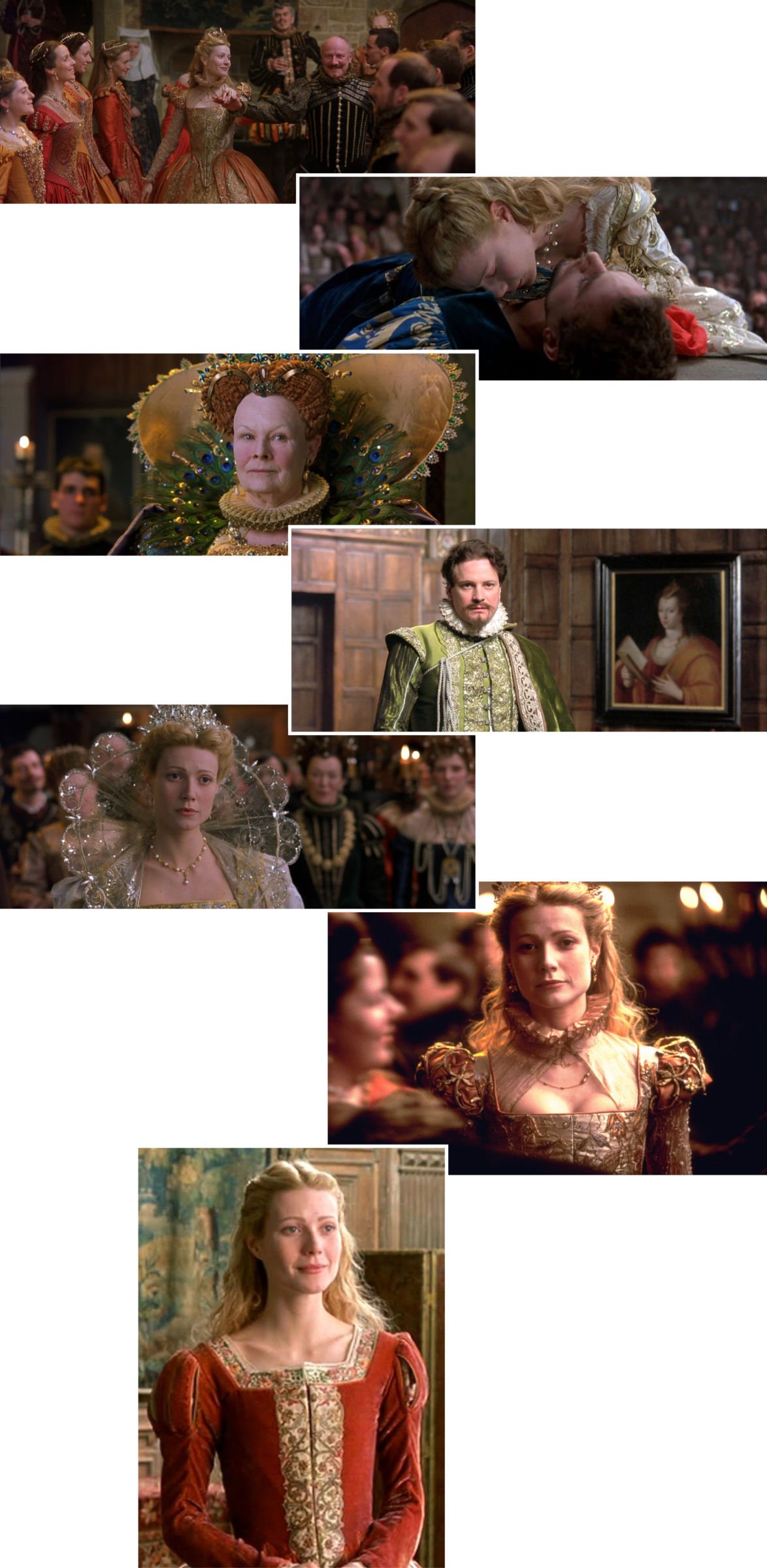 Sandy Powell won the Oscar for best costumes for this movie, where lavish and precious dresses followed Gwyneth Paltrow and Judy Dench for their Oscars for the movie.
THE DEVIL WEARS PRADA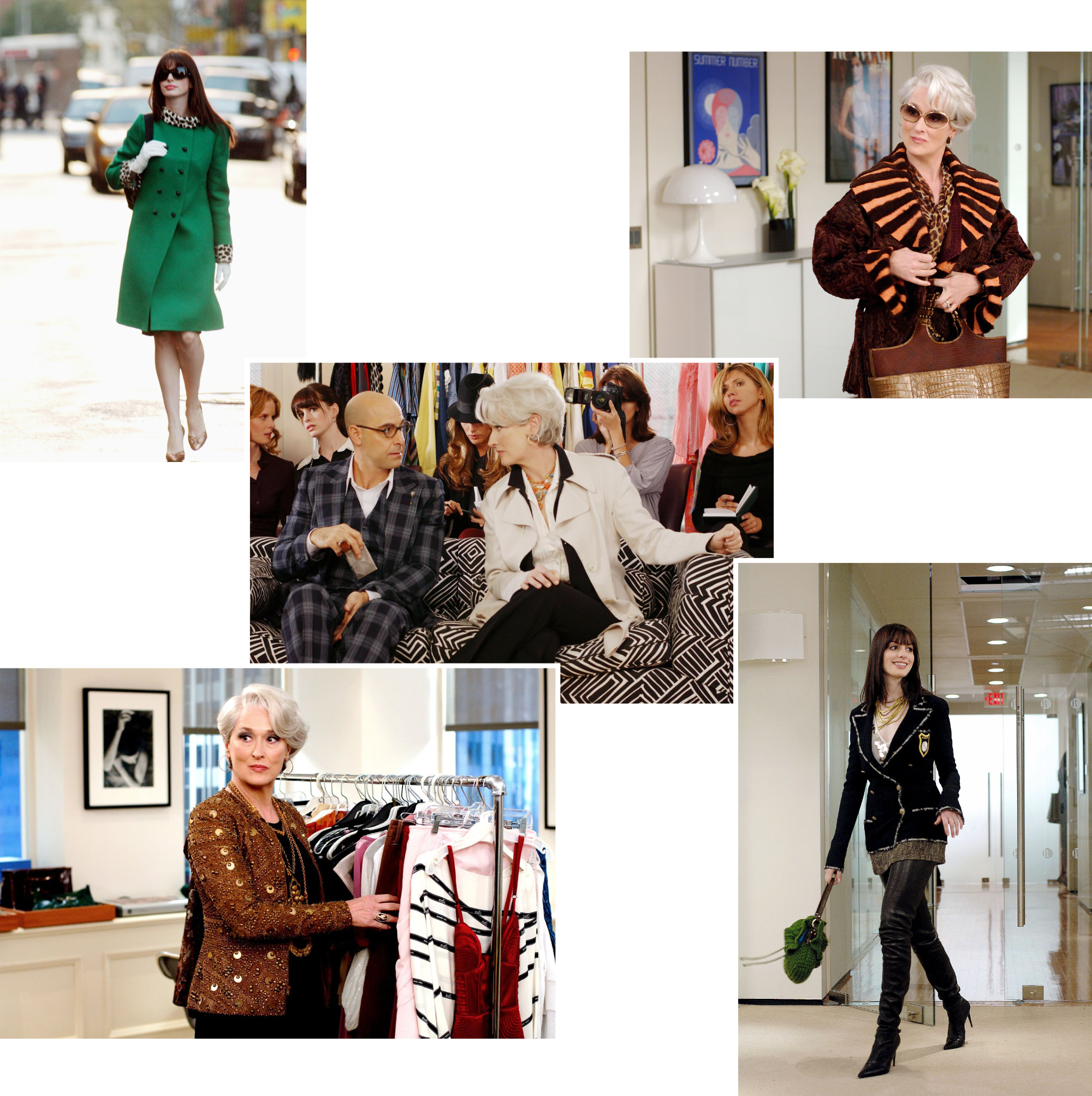 The movie celebrated its 10th-anniversary in 2016 and all magazines celebrated it with the rediscovery of all the best and unforgettable dresses worn by Meryl Streep, Anne Hathaway and Emily Blunt. What a movie!
ANNA KARENINA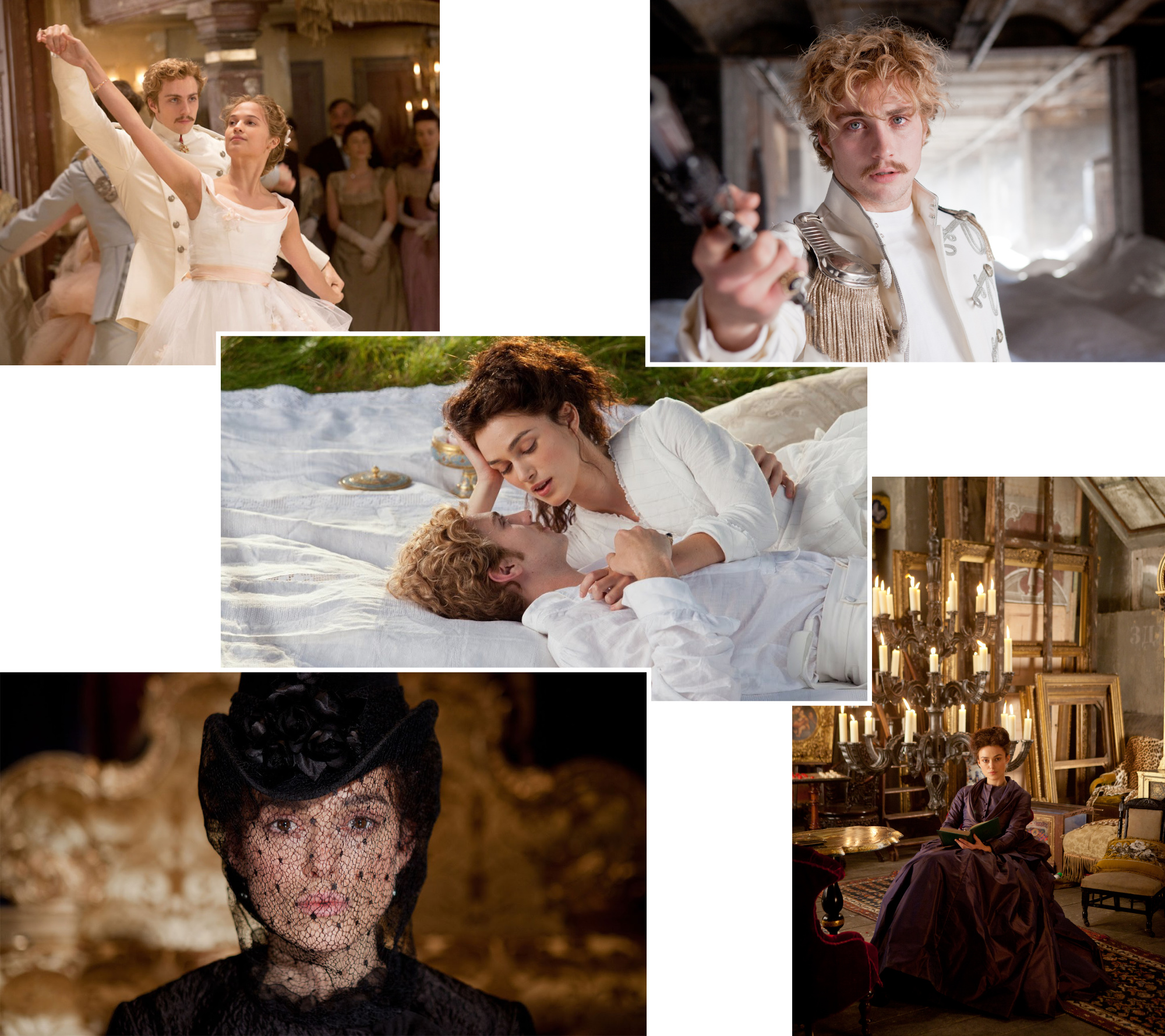 Jacqueline Durran has worked with Joe Wright several times in the past and with considerable success, Oscar-nominated for her costume design on "Pride and Prejudice" and "Atonement." For "Anna Karenina", Wright wanted Durran to concentrate on the silhouette rather than surface detail: "As the Russian aristocrats were obsessed with French culture in the 19th century, we came up with the idea of tweaking it a bit and using the heyday of couture from the 1950s to emphasize Anna's modern streak. That really helped Keira understand Anna" he said to "The Guardian."
HOW TO MARRY A MILLIONAIRE
Lauren Bacall, Betty Grable and Marylin Monroe, these three names alone would be sufficient to understand why you find this movie in the list, plus the work of costume designer William Travilla and it's a given.
THE DUCHESS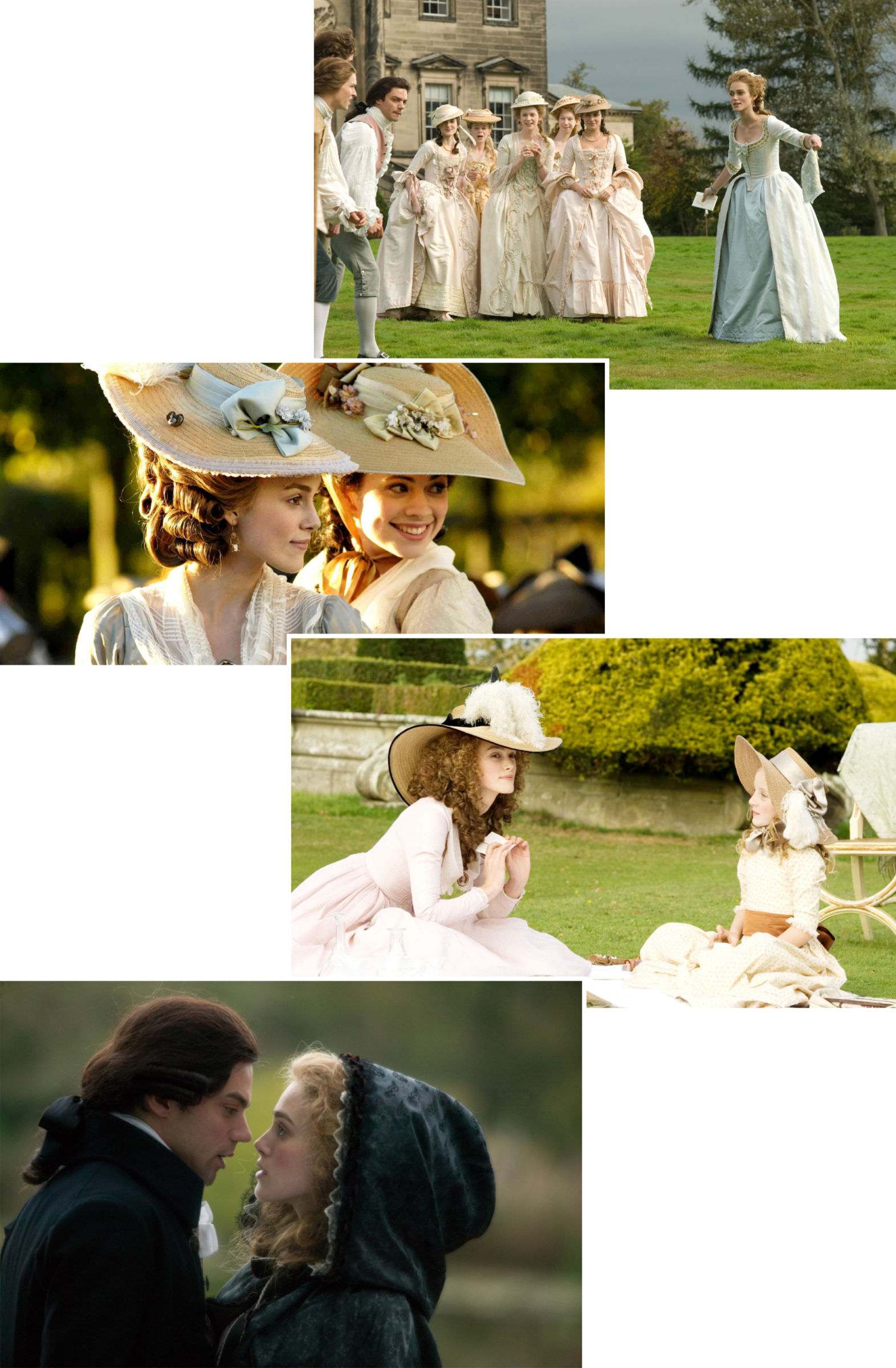 Georgiana Cavendish, Duchess of Devonshire was the British fashion icon of the 18th century; her fashion style, extravagant wigs and lifestyle were the objects of Saul Dibb's 2008 film, The Duchess, masterfully played by Keira Knightley. The perfectly recreated costumes allowed costume designer Micheal O'Connor to win the Academy Award for Best Costume Design.
THE DANISH GIRL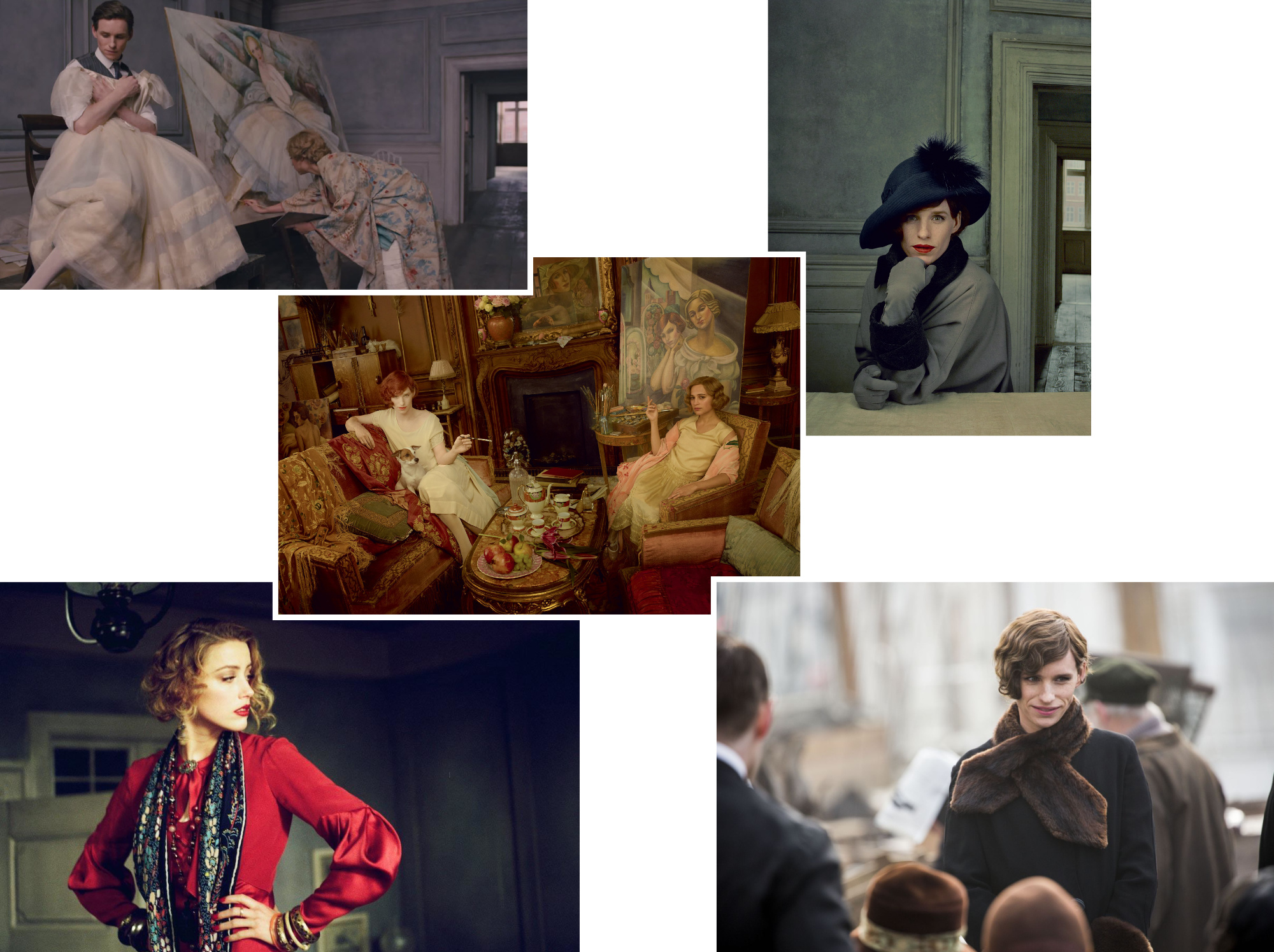 From close-fitting suits of stiff, thick wools to a theatrical gown made of rich, draping fabrics, and all in between, costume designer Paco Delgado accompanied Einar/Lili (Eddie Redmayne) through his journey. The designer not only represented the souls of the characters but also the early 1920s Denmark fashion style, a Country that was shifting from the Edwardian rigidity to looser and freer designs.
MY FAIR LADY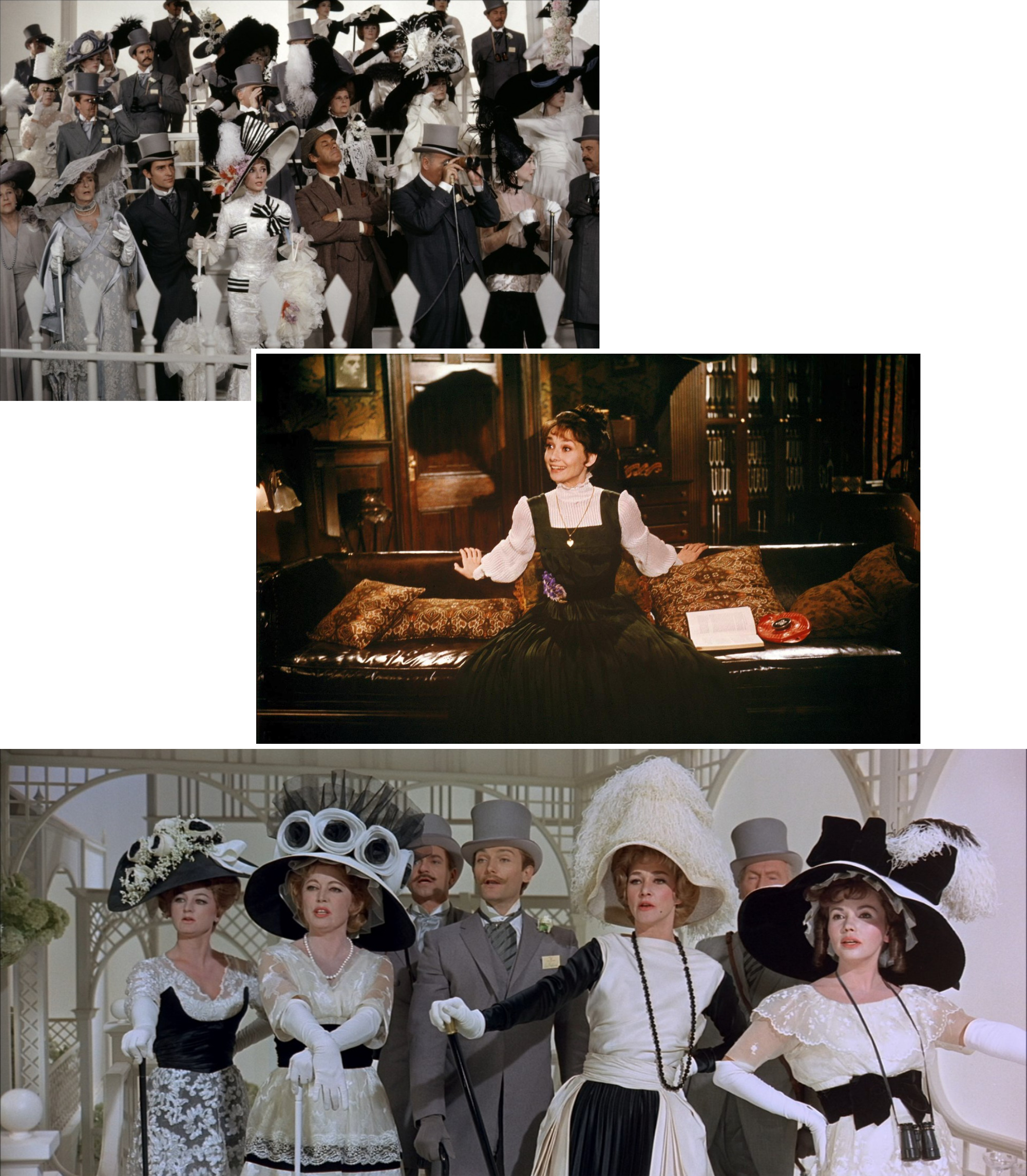 It's not a coincidence if this is the 3rd film from the list played by Audrey Hepburn (she'd sure deserve a list on her own). Costume designer Cecil Beaton won his second Oscar and he's the creator of probably the most famous garment ever made for a motion picture: the Ascot dress and hat, which was sold to auction in 2011 for an incredible $3.7 million.
NOCTURNAL ANIMALS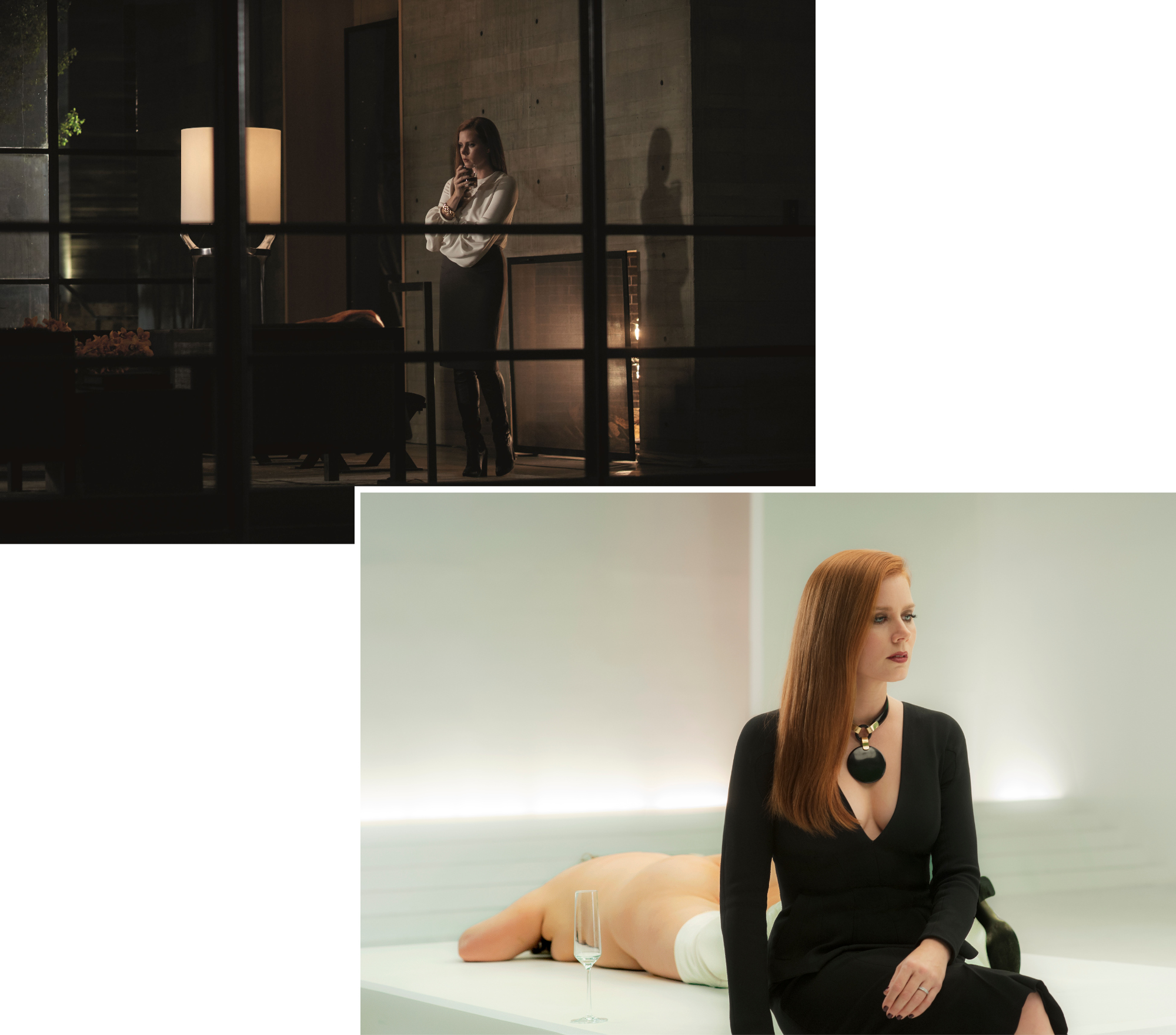 "I don't work with Tom Ford the fashion designer," says costume designer Arianne Phillips (also the designer for Ford's first picture, "A Single Man") "I work with Tom Ford the movie director." And Tom Ford's items are nowhere to be found in Susan's (Amy Adams) wardrobe, the designer asked himself for this to be the case. But always according to Phillips, he did made his atelier available to her while creating the outfits for Adams. The designs, styles, and colors are perfectly merged with the script, and if you pay attention they tell you more than you might think.
LA LA LAND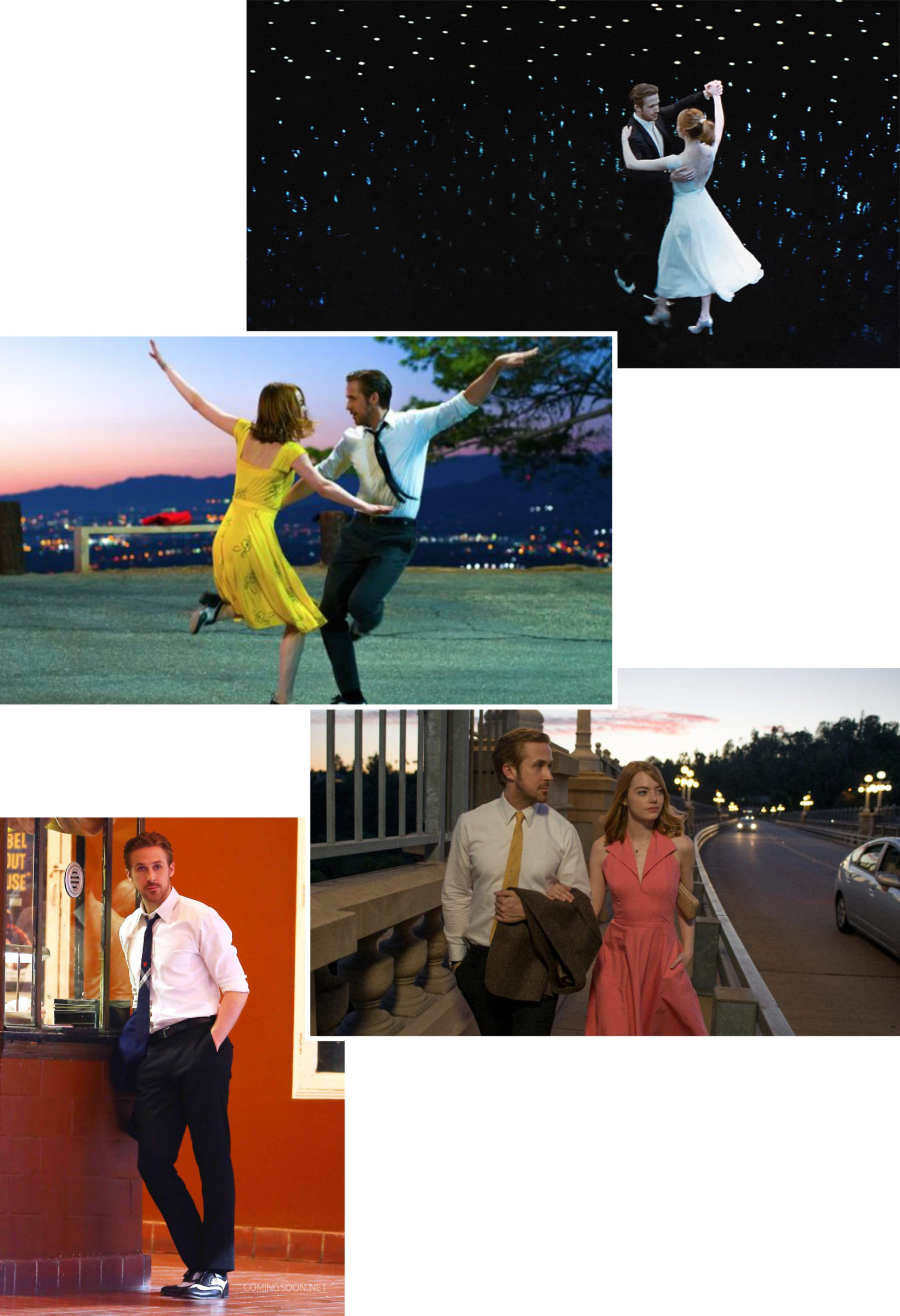 Costume designer Mary Zophres did a perfect job in confusing us, the retro realistic outfits brought us back to the Hollywood Golden Age (along with every other aspect of the film), it was only the cellphones and hybrid cars that kicked us back to present times.
"I wanted women in the audience to be wooed by Ryan, and the men to feel romantic about Emma," said Zophres and, of course, everything had to be fitted to be danced in!
PERSONAL SHOPPER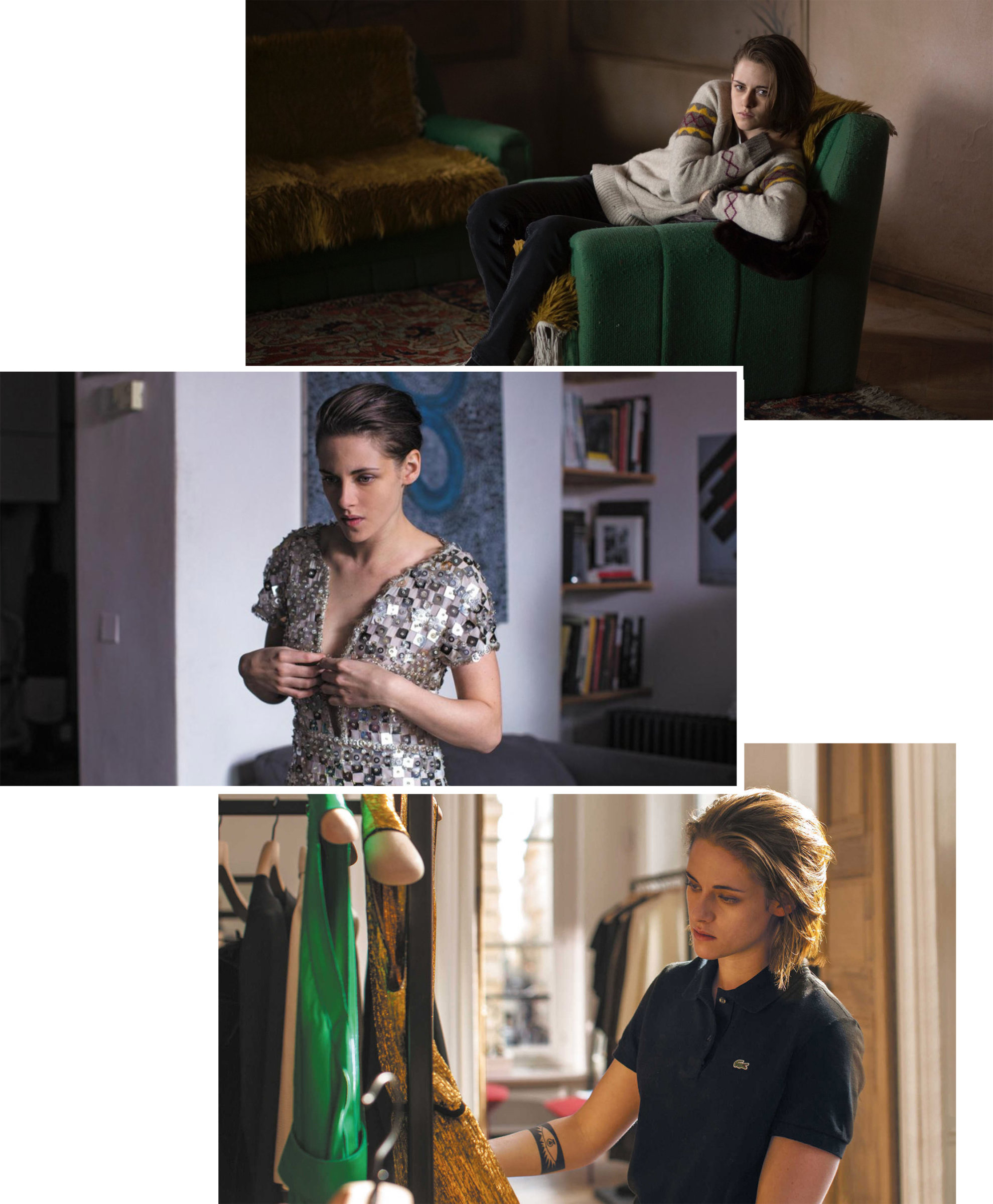 Don't let the title fool you, it ain't all about fashion: actually, it is a psychological thriller, yet it didn't stop costume designer Jürgen Doering to express all his talent. He had previously worked with Kristen Stewart in "Clouds of Sils Maria" so he knew how to work with her with both casual and elegant outfits: from a Fair Isle sweater in one scene to a metallic Chanel gown in another, anyone?
Maureen (Kristen Stewart) doesn't like her job and, when she is not trying on clothes for her client, she wears modest and informal outfits, which match the underlying dark mood of the film. On that, the designer said, "She doesn't like her job, I took that into account. She's feeling bad, and she's missing her brother, so [those clothes] create a big contrast between the designer dresses she tries on."
BROOKLYN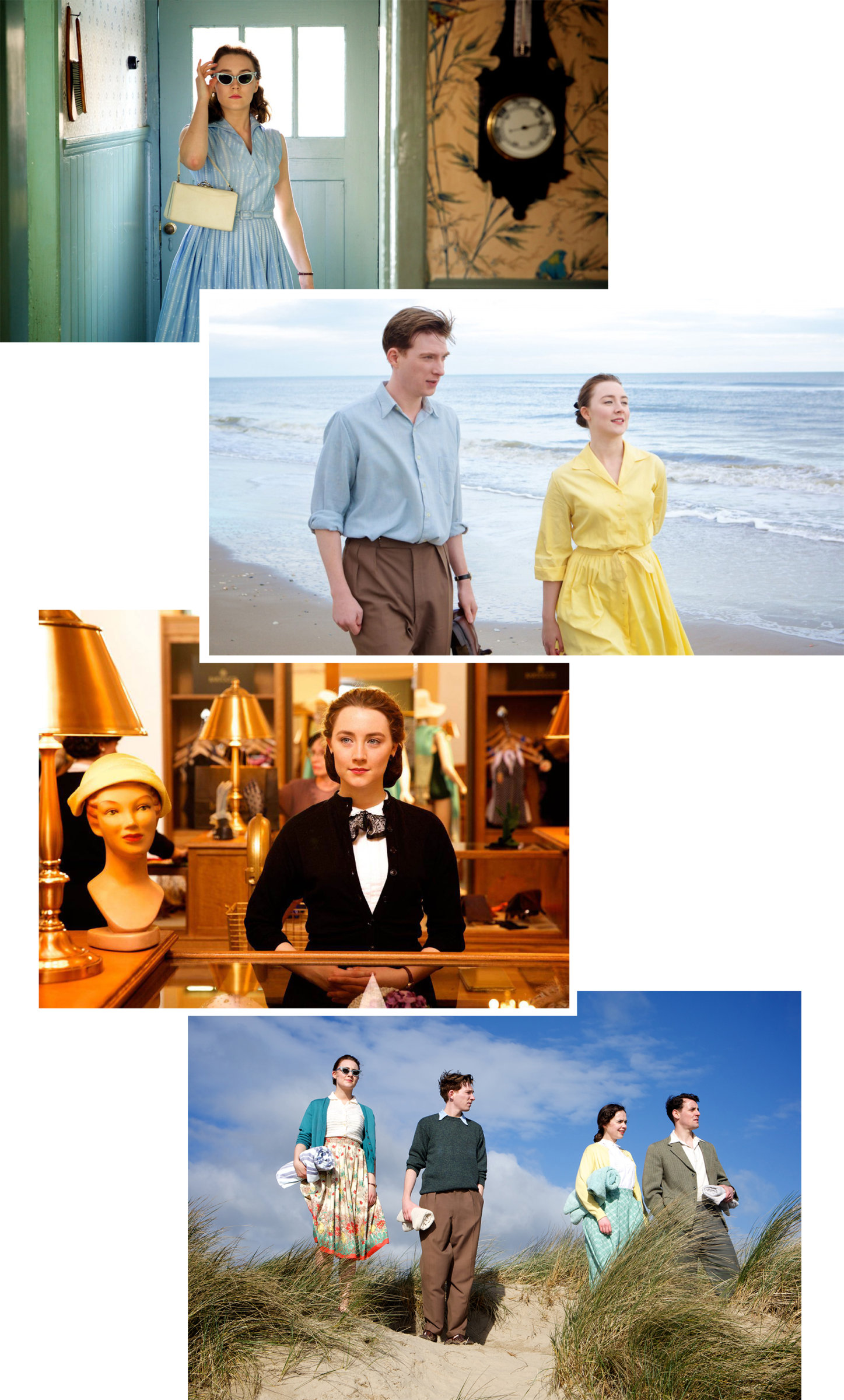 The story of Eilis Lacey, as portrayed beautifully by Saoirse Ronan in "Brooklyn," is the story of someone letting go of an old life and choosing to build a new one from the ground up.
The green of Ireland follows Eilis to the States on her coat and it's very present at the beginning since it symbolizes her longing for home, but then something changes and through the color and the clothes we see her building a new life. Odile Dicks-Mireaux, the costume designer, on capturing the look and feel of post-war Ireland said, "In Ireland, a lot of people were wearing things that were five years old — particularly the older women. I wanted to do real clothes, not sentimental. People in Ireland had nice clothes at that time, but not a lot of them."
JACKIE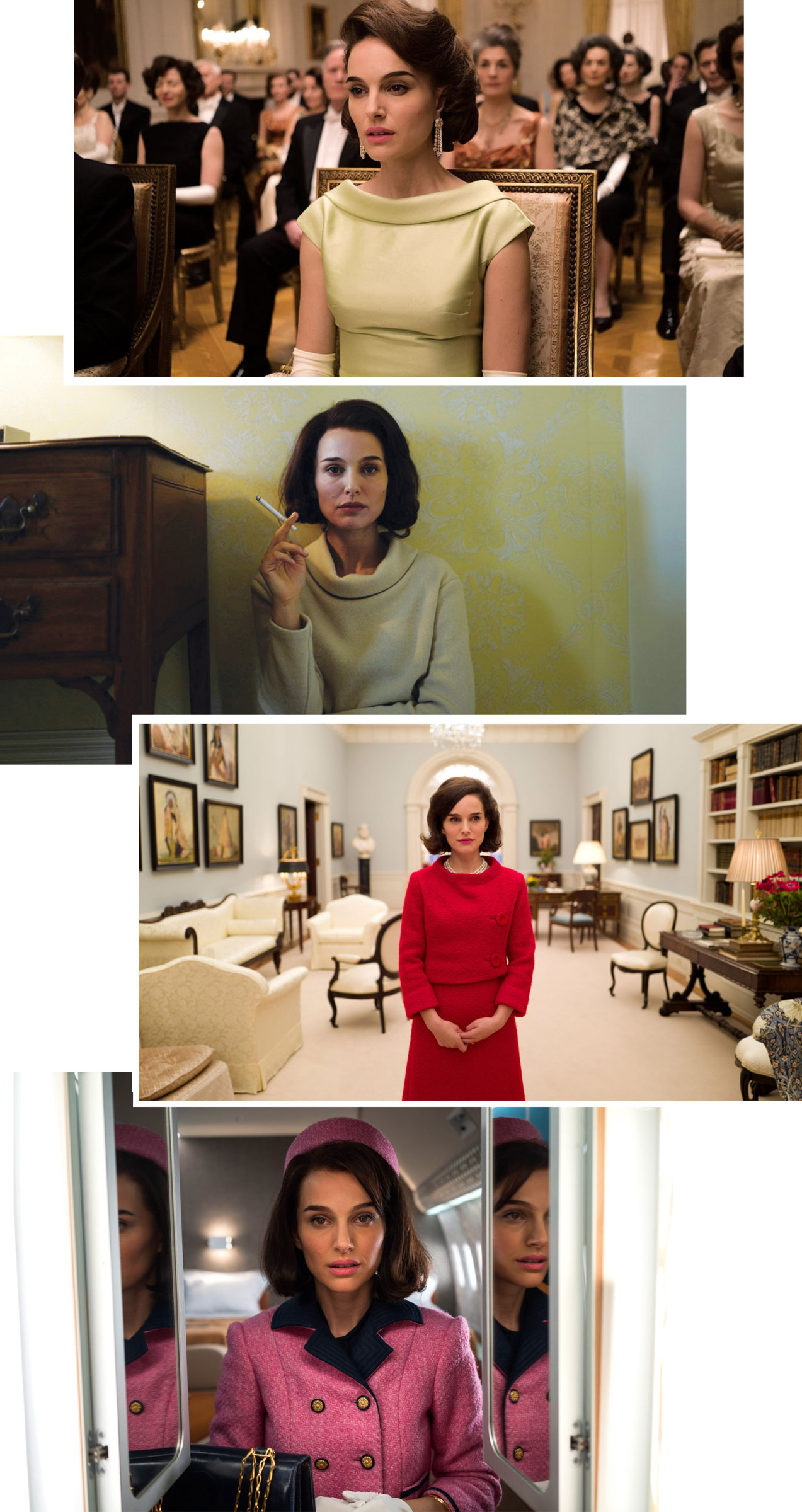 Chapeau! to Madeline Fontaine for the way she recreated the iconic style of Jacqueline Kennedy for Natalie Portman. Nobody can deny that when we first saw the image of the Academy Award-winning actress we thought she looked exactly the same.
On her work, Fontaine said, "For me, she was more than an icon of fashion. She was an ambassador of elegance. There's a lot of credit about this period…there was so much to choose from. We just had to make an idea of it and to go make it from there."
To make it as real as possible, the costume designer got the fabric for the drapes straight from the same French factories Kennedy shopped at and the buttons for the suit were sent directly from Chanel. The French Maison couldn't but help Fontaine recreate some of the most iconic outfits.
PHANTOM THREAD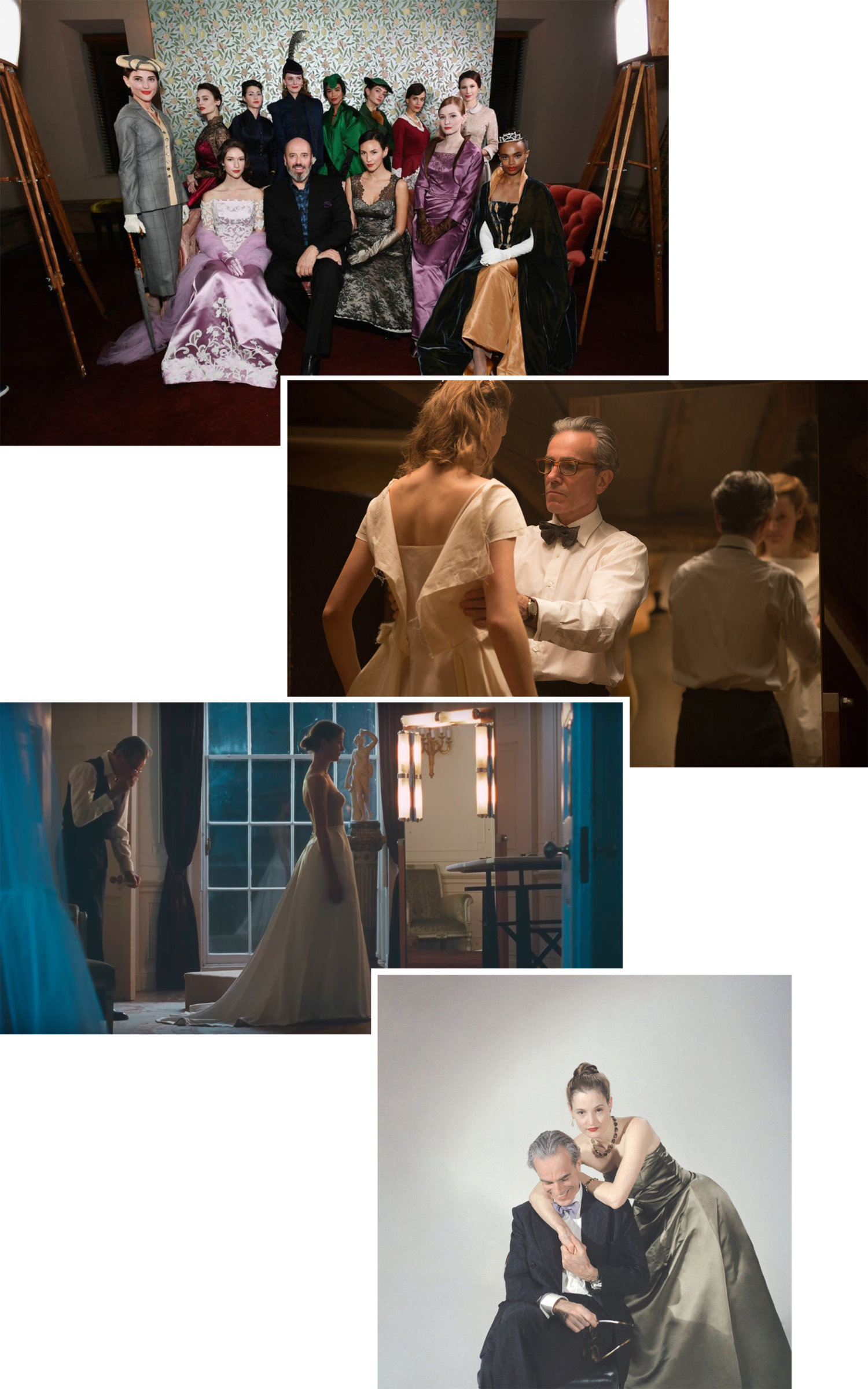 Two things come to mind right away when thinking about this film: first, it was the last ever film of Daniel Day-Lewis (he is now retired, we are still crying about this) and secondly, the incredible costumes designed by Mark Bridges, who took home the Academy Award for Best Costume Design. Besides the final result, what catches the attention of the audience is the process of creation, the craft of a dress: both Bridges and Paul Thomas Anderson, the director, had the opportunity to study the garments on display at the Victoria and Albert Museum [in London] to recreate at best the fashion scene of London in the 50s.
Last but not least, Daniel Day-Lewis who is known to go to extreme length to get into character studied and learnt everything about being a couturier. Yet it wasn't his first time doing something fashion-related, in one of his many hiatus from acting he spent some time in Florence learning the art of Italian shoemaking.
THE BEGUILED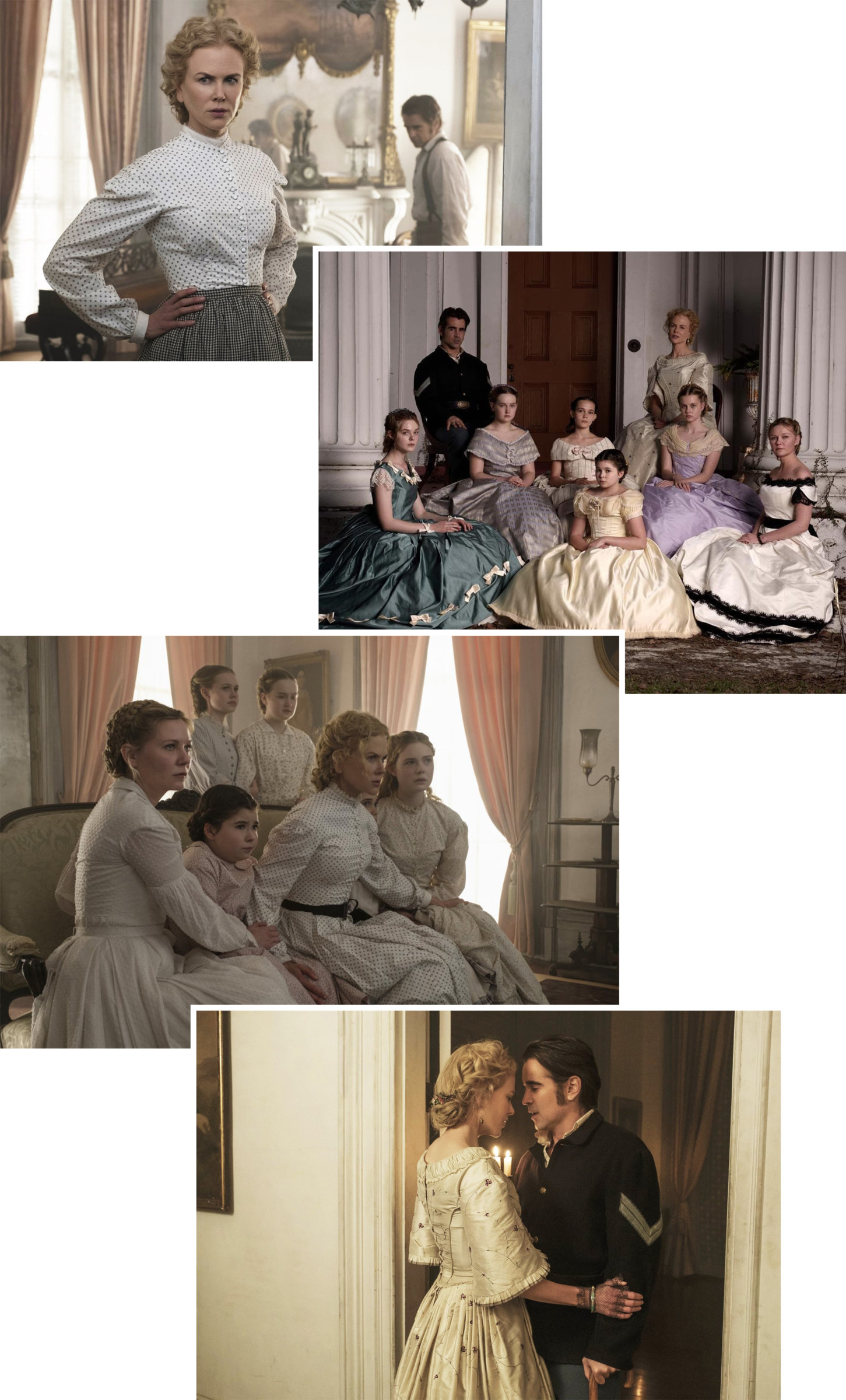 We all know the attention that director Sofia Coppola puts into every detail, after "Marie Antoinette" she returned to the period costume drama genre with the remake of the 1971 film "The Beguiled." On the film, set during the American Civil War era, the costume designer Stacey Battat worked closely with production designer Anne Ross and Coppola in order to make everything coherent and cohesive. For her research, Battat said, "I went to the Metropolitan Museum of Art, and I looked through their fabric swatch books from that time frame, and I also looked at the clothes that they have in the Costume Institute from the era. I looked at a lot of books, including one about manners." The costumes served also as a means to help the actresses get to know their characters and background stories. For instance, she declared, "I wanted Miss Martha (Nicole Kidman) to feel stern and like she was in charge, because she was the head of the household, so I chose to use more streamlined silhouettes on her."
OCEAN'S 8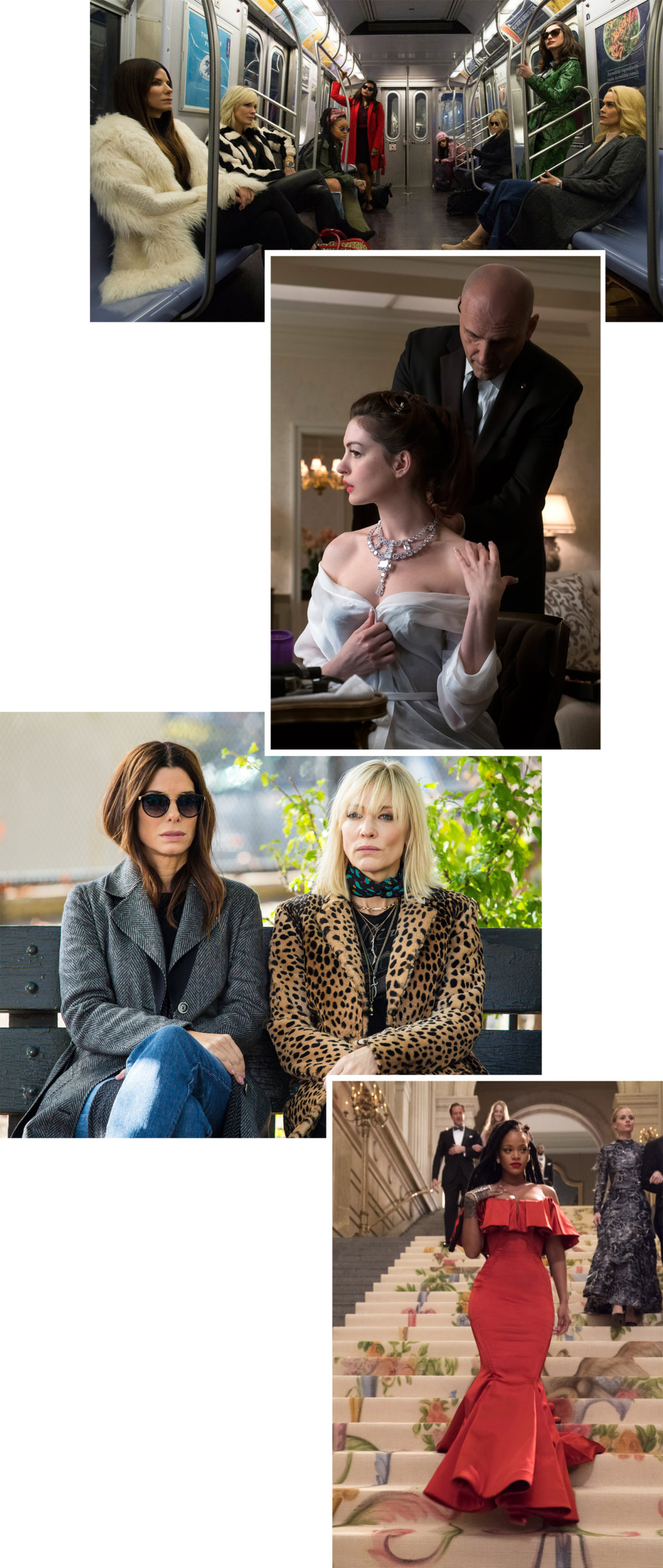 A heist at the Met Gala? "Ocean's 8" was bound to have some kick-ass fashionable outfits…and it didn't disappoint!
Costume designer Sarah Edwards to dress the cast composed by Cate Blanchett, Sandra Bullock, Anne Hathaway alongside Mindy Kaling, Sarah Paulson, Awkwafina, Rihanna and Helena Bonham Carter said she couldn't just pick any clothes, she needed authentic gowns. And she did have some help from the fashion world (when Cartier comes calling to get "cast" into the movie you know you have it big): the crew wore archive Givenchy (Blanchett), Alberta Ferretti (Bullock), Zac Posen (Rihanna), Valentino (Hathaway), Dolce & Gabbana (Bonham Carter), Naeem Khan (Kaling), Prada (Paulson) and Jonathan Simkhai (Awkwafina).
KINGSMAN I & II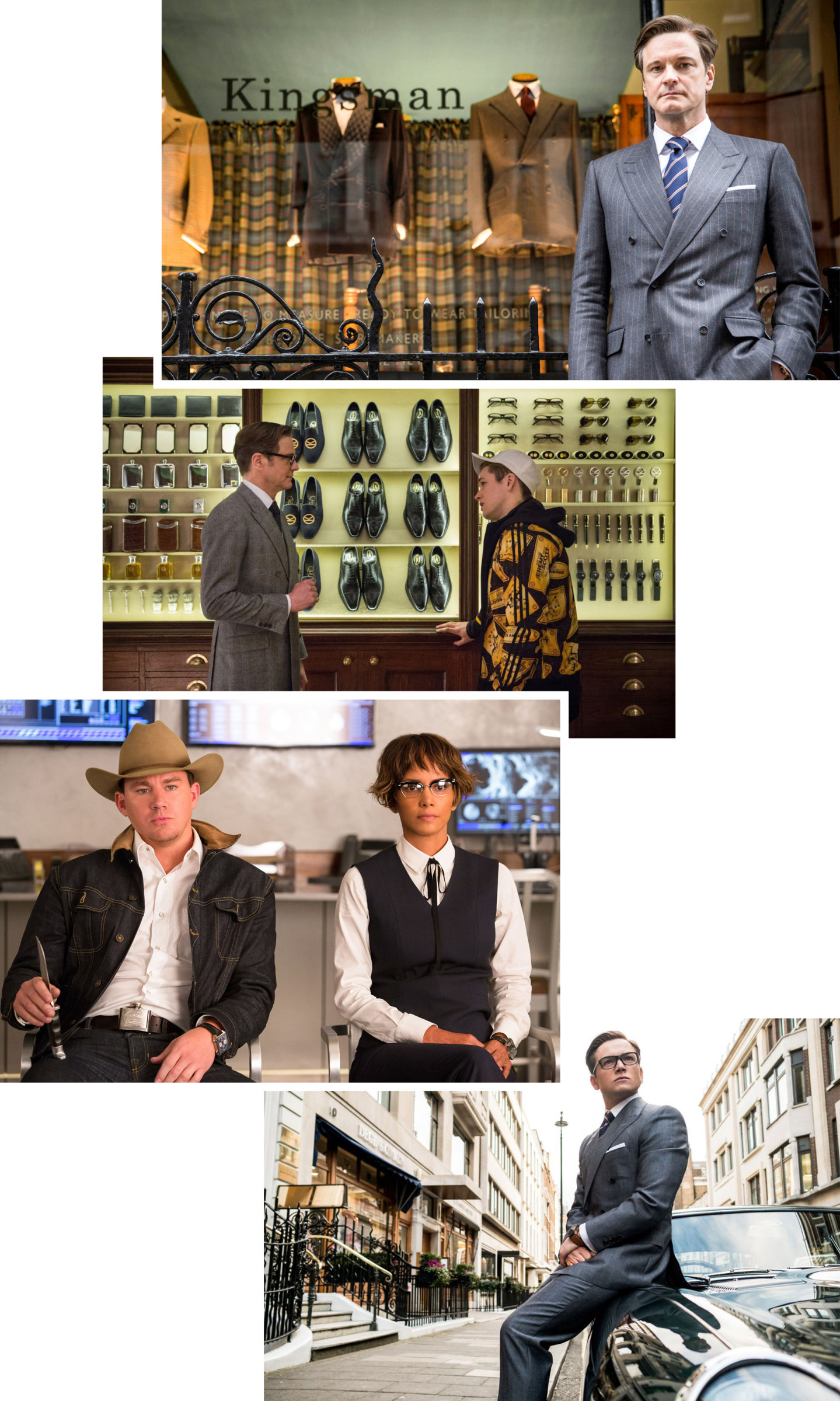 There is nothing better than English tailor-made suits unless you count Colin Firth and Taron Egerton pulling them off magnificently!
Arianne Phillips, the costume designer, did such a fine job that she also designed a "Kingsman" inspired collection for the web retailer Mr. Porter.
CRAZY RICH ASIANS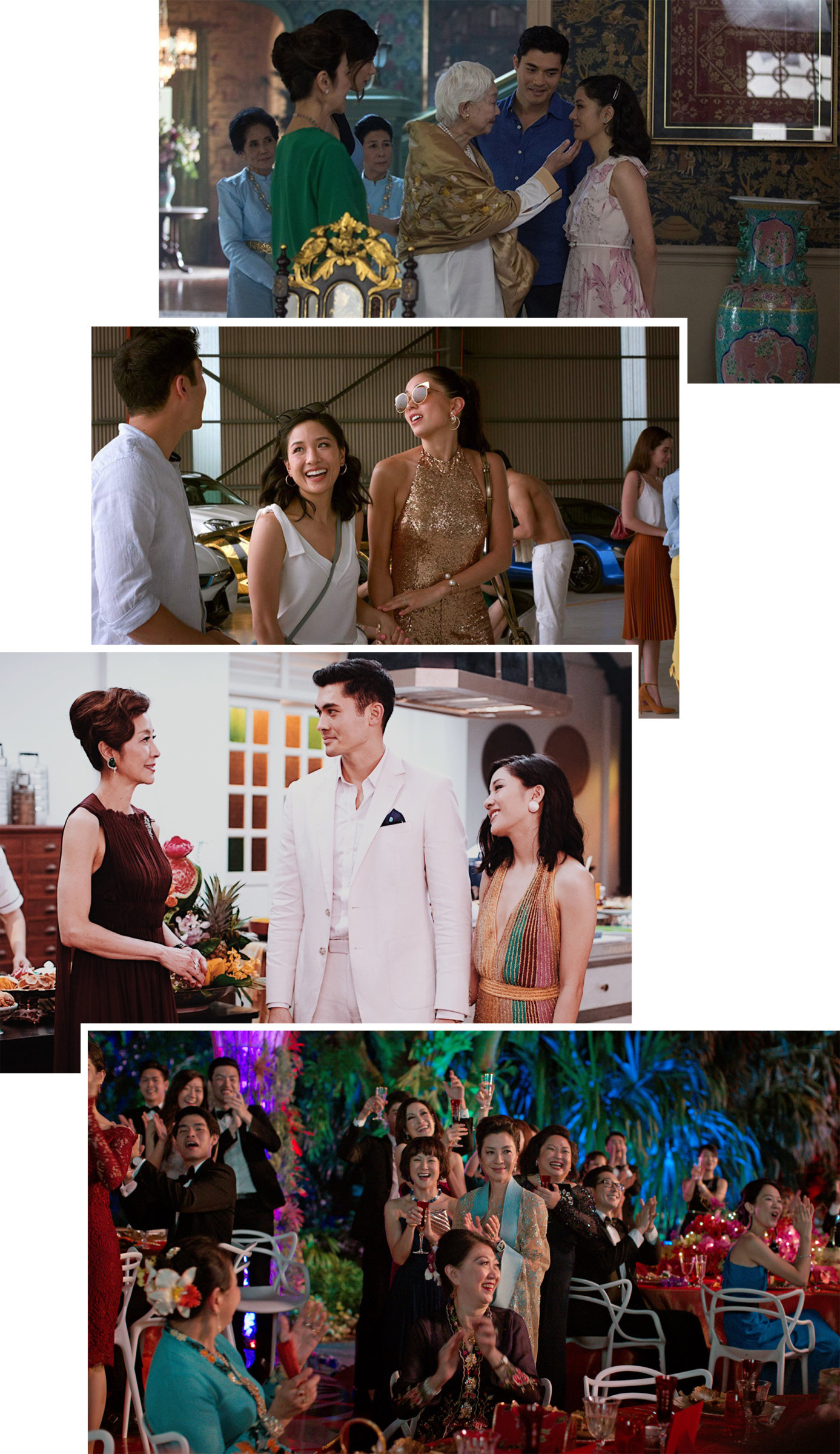 It's the most recent Hollywood phenomenon, everybody is talking about it, and everybody is also talking about its costumes: Mary Vogt did an incredible work in recreating a stylish high-society wardrobe, choosing brands such as Elie Saab, Dior, Ralph Lauren and Chloé. She also enlisted stylist Andrea Wong, former editor-in-chief of Elle Malaysia as the senior buyer for the film.
If you want to know more about the film and its protagonists, see here our interviews with actresses Jing Lusi and Janice Koh.
A SIMPLE FAVOR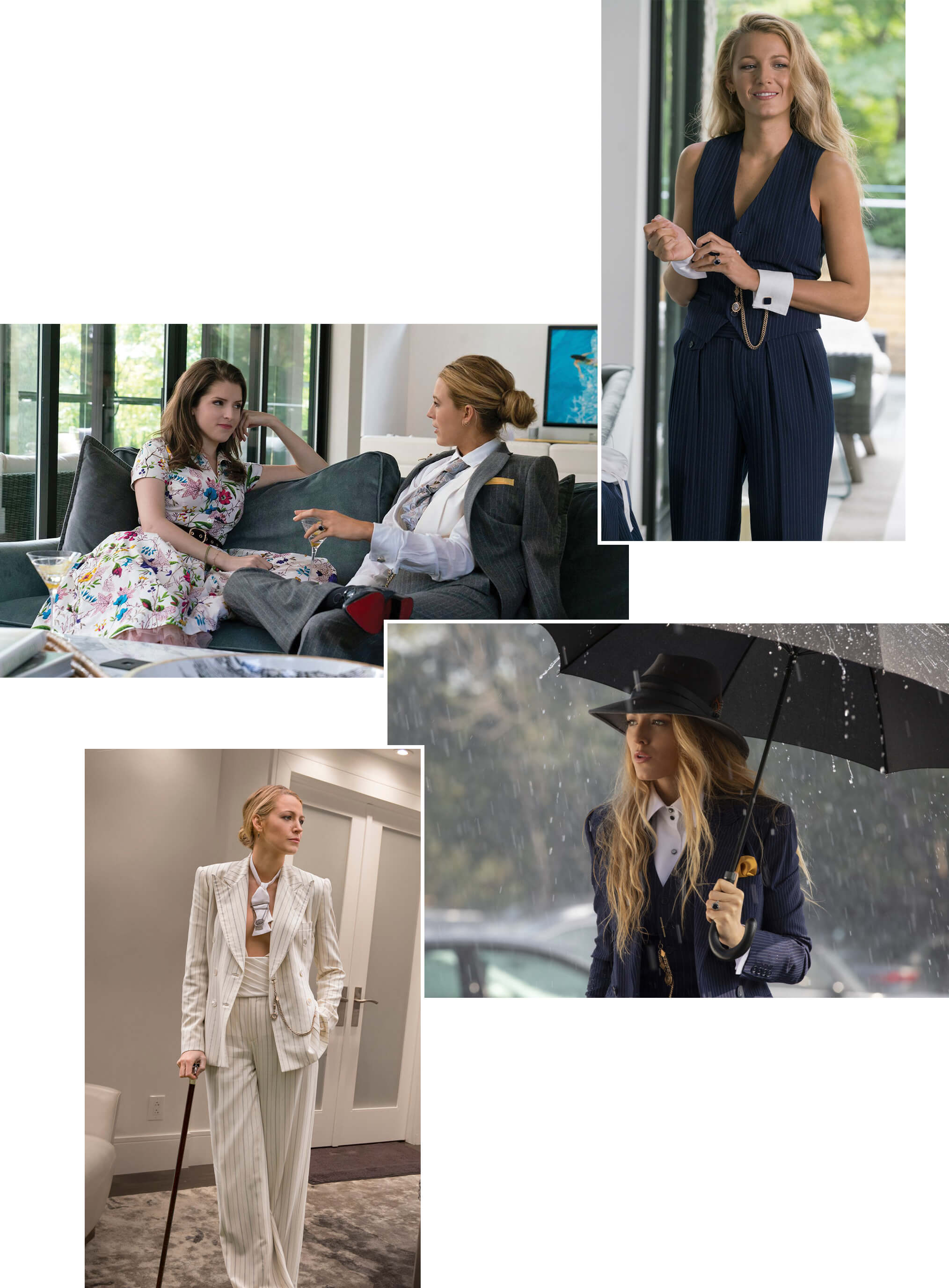 Blake Lively, after her interpretation of the most glamourous Upper-East Side's girl in "Gossip Girl," astonished us once again with the fashion taste in "A Simple Favor." Her character, Emily, is a fashion PR with many secrets but with many remarkable looks as well!
Costume designer Renée Ehrlich Kalfus was inspired by movies from the '80s like "Flashdance" and had to dive into Ralph Lauren's archive to put together the powerful suits worn by Blake during the movie. A little curiosity: the only scene where Emily is wearing a dress is the final one, the others are all about male-inspired suits!
THE FAVOURITE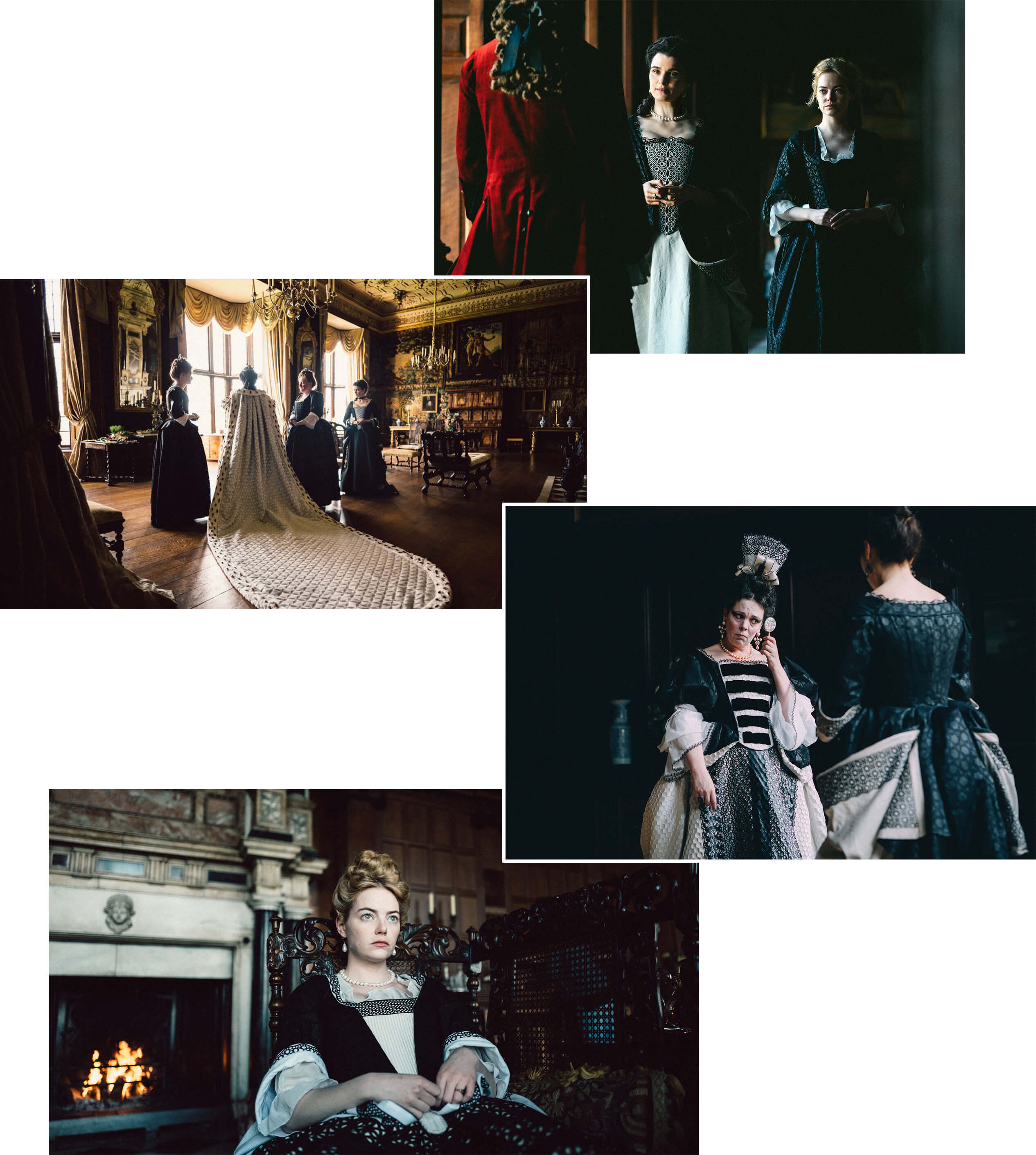 It was clear since its debut at the Venice Film Festival that "The Favourite" would have been considered an astonishing period-movie, not only its story and the incredible performance given by the cast but also for the makeup and fashion.
Even if the clothes of the female leads are almost all about a black-and-white palette, they are full of incredible details that say something about who is wearing them. The mastermind behind these dresses is nonetheless that Sandy Powell, who won the Oscar three times over her career for her creations!
If you want to discover more about this movie, check out our interviews with Nadia Stacey (makeup artist) and Deborah Davis (screenwriter).
ALADDIN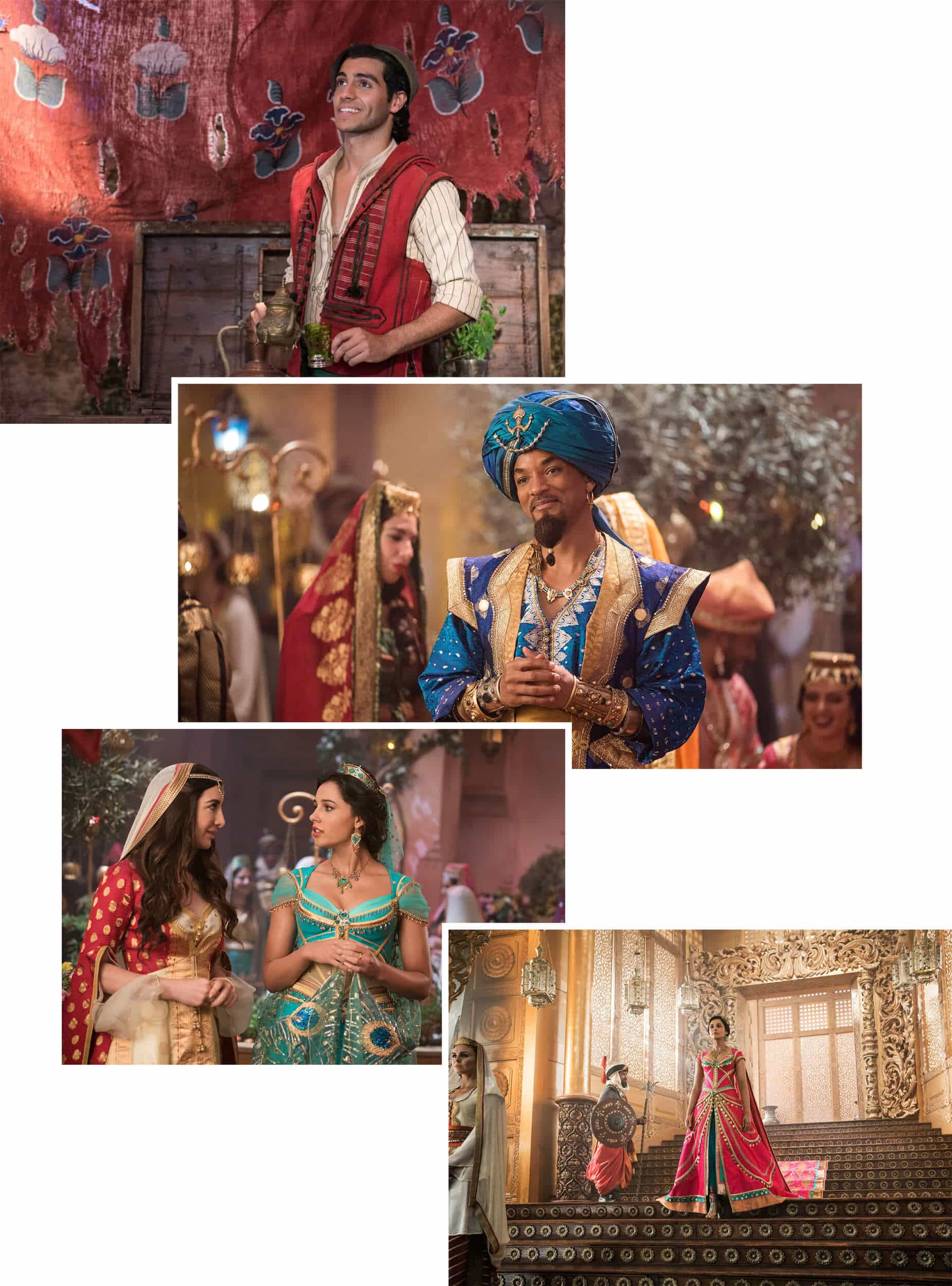 In the live-action adaptation of the homonymous Disney animated movie (1992), the costumes created by Michael Wilkinson celebrate Arabic culture, and they were made with fabrics from the Middle East, Turkey and Africa. In this triumph of bright colors, elaborate details and precious ornaments, Jasmine's looks stand out as a representation of her strong, intelligent personality and her desire for freedom.
LITTLE WOMEN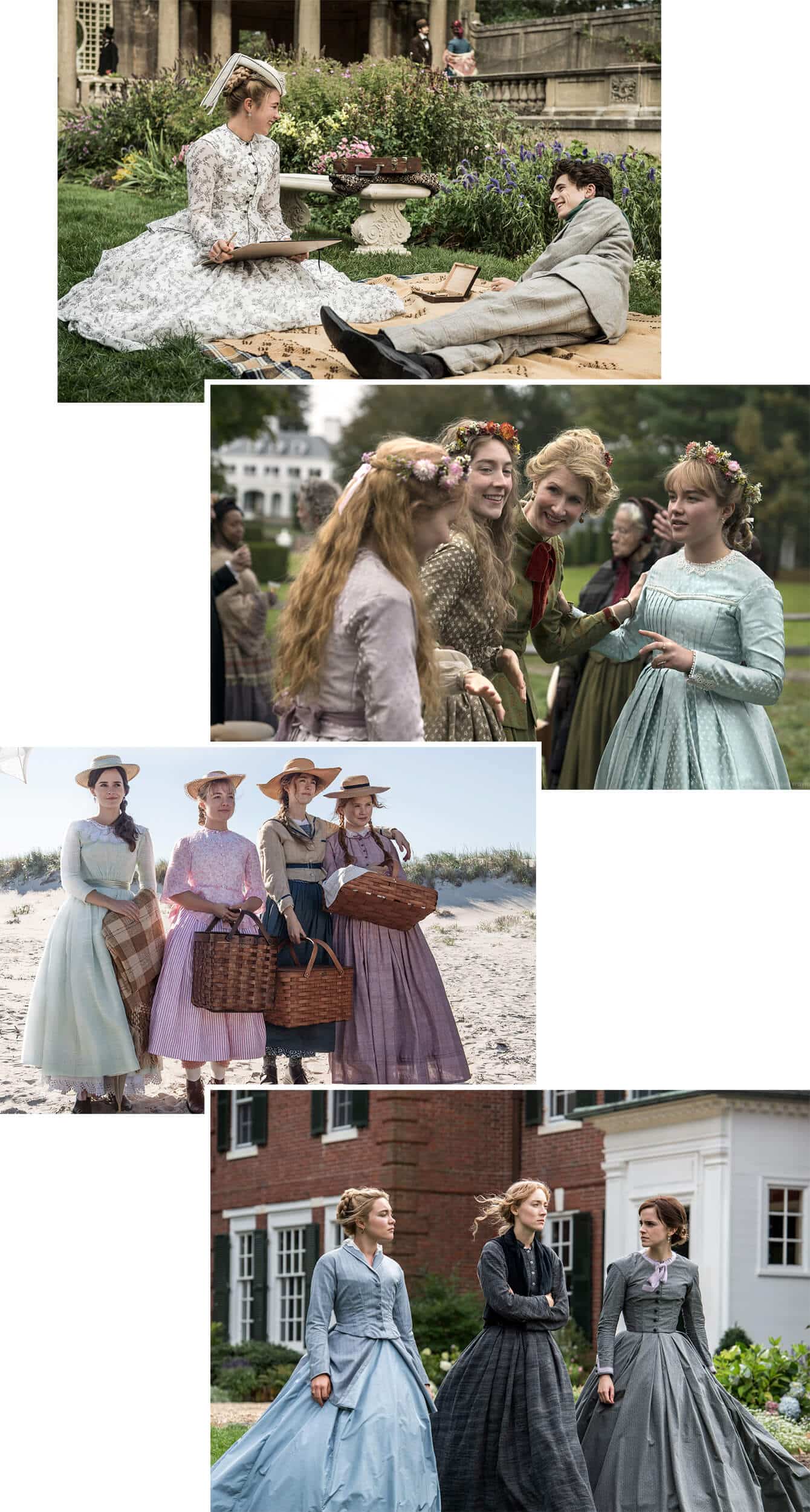 Jaqueline Durran won for best costumes at the 2020 Oscars and it couldn't have been otherwise! Thanks to the mix of different styles, she managed to make vintage clothes desirable even to a modern audience. To create the costumes, Jacqueline did not see the previous adaptations of the novel, but she only relied on the vision of director Greta Gerwig, spending time with her looking through the collections of Victorian photographs. She also associated a color to each sister: Jo is characterized by red flashes, Meg by green and lilac shades, Beth by pink tones and Amy by blue.
DOWNTOWN ABBEY

Vintage dresses, attention to colors and more than perfect details. The costumes created by Anna Robbins for this movie took us back to the late 1920s and they are the result of intense research made by the costume designer, who went several times to the Victoria and Albert Museum to study the paintings of clothing and the archives of those times. To express the historic change is Lady Mary, who embodies the stereotype of the aristocratic and businesswoman, free to show off a masculine look at work as well as a very elegant outfit at dinner with the British royal family.
EMMA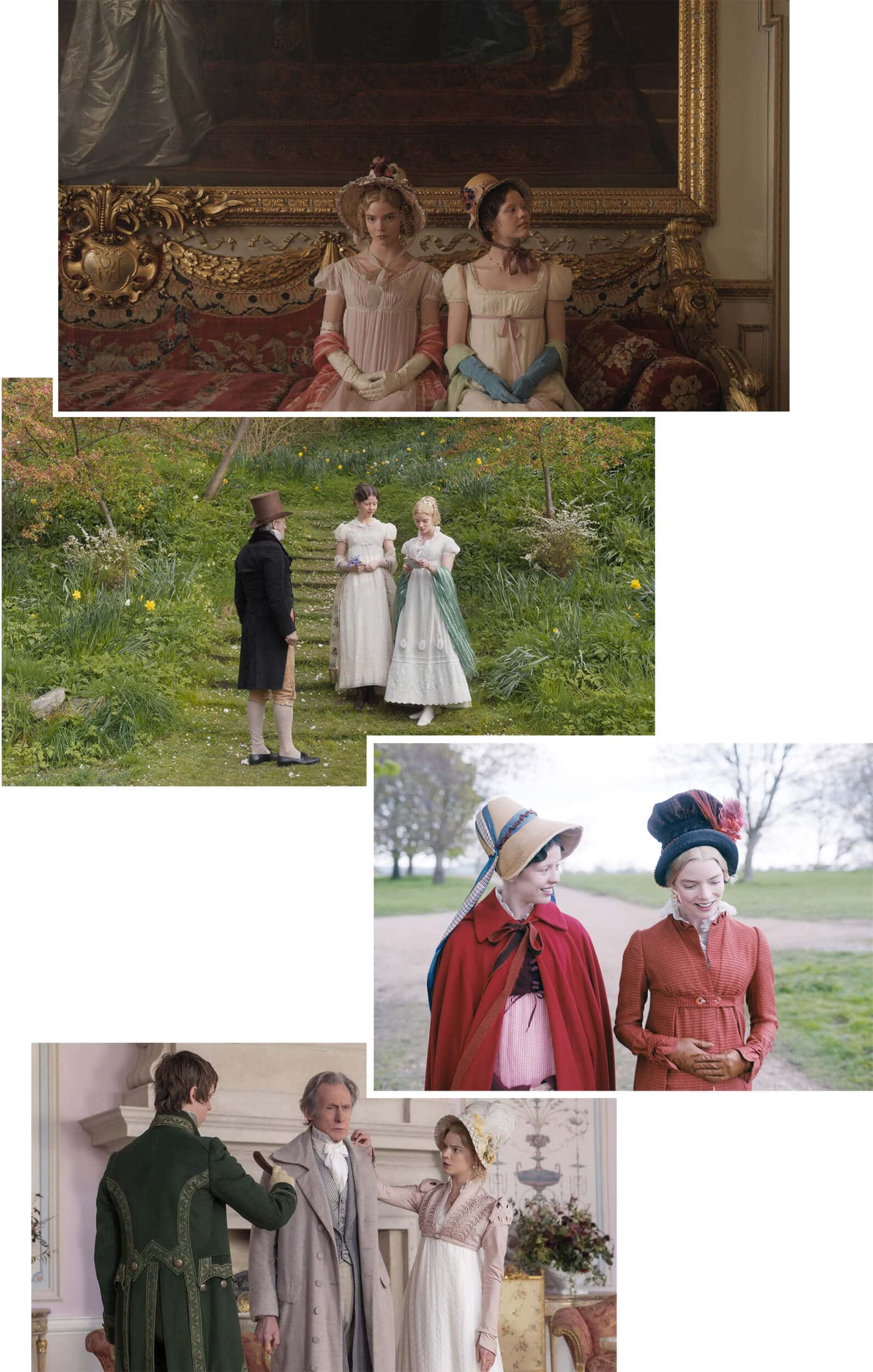 Autumn de Wilde has created a visually gorgeous film, a riot of beauty underlined by the detailed costumes in full Regency style curated by Alexandra Byrne. Through the vibrant colors and style choices of Emma, George, Harriet and the other protagonists, we understand many aspects of their personality and evolution. To make sure the result was visually perfect, the costume designer worked alongside the set designers to ensure that furniture and wallpaper were matched to or in perfect contrast with the dresses.
ONCE UPON A TIME IN HOLLYWOOD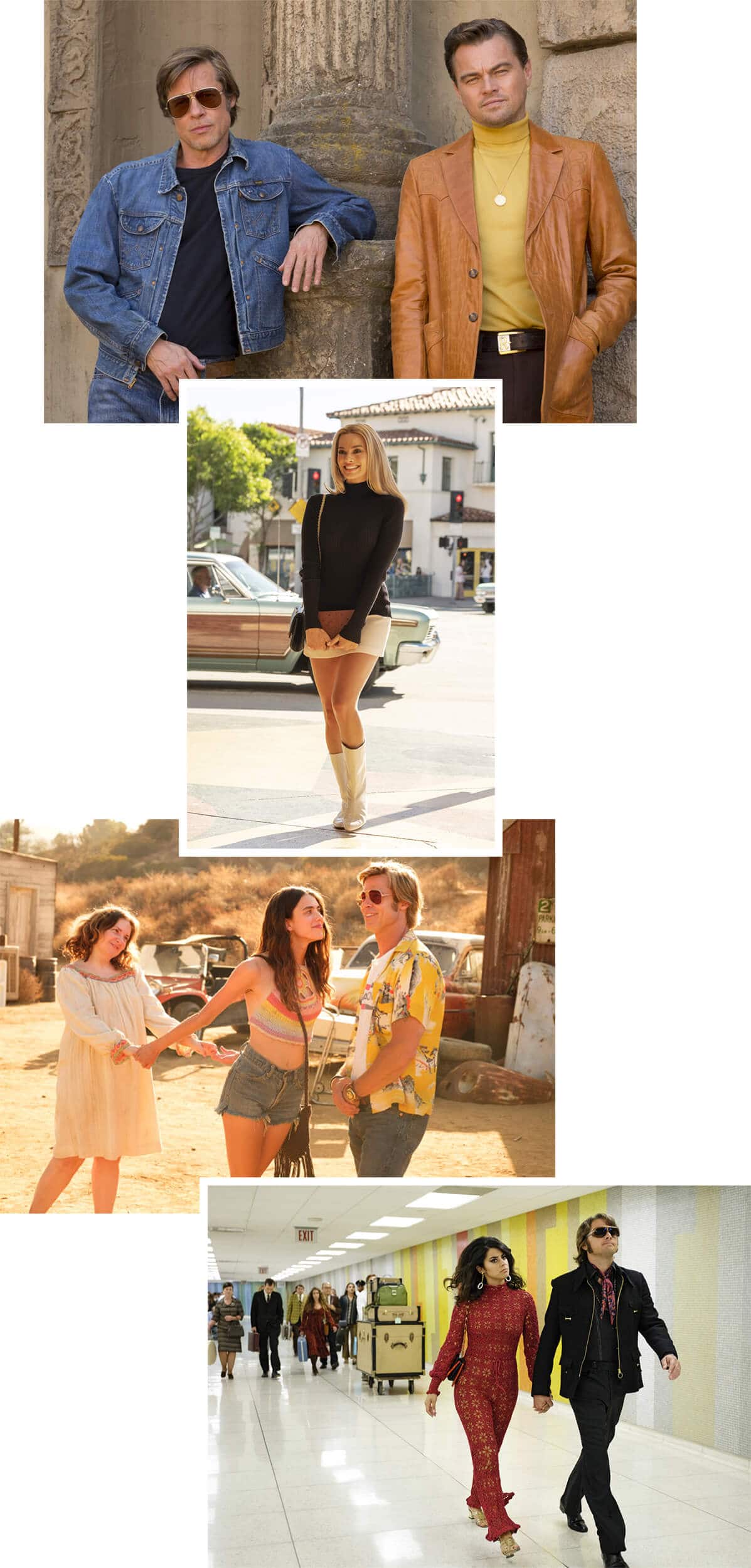 Arianne Phillips, who collaborated for the first time with Quentin Tarantino, used her costumes to help to recreate the atmosphere of 1969 Los Angeles. She put great attention to detail and gave the protagonists of the film small "talismans" that emphasized their personality: the belt with the letter "R" worn by Rick, for example, suggests that he is a self-centered character. Cliff's Hawaiian shirt is a must of Tarantino's movies, while Sharon Tate's dresses are inspired by the actual ones of the actress, with accessories belonging to the actress, given to Arianne by Sharon's sister, Deborah.