Here we go, the time has come.
Close your eyes.
Take a deep breath.
Reopen your eyes and, at the same time, open the doors of your closet: today, you have promised yourself to put into practice that sustainable change that you have been meditating on for some time now, due to all the speeches that are made and that you've heard on this subject, and you do not intend to stop until you will do it all.
It is not necessary to be so strict with oneself: just like Rome, which was not built in a day, it may take some time to get to the aspired result, but what matters is to begin, motivated by the desire to be part of the sustainable fashion movement starting with such a simple daily gesture, that is, dressing up.
Apparently. Because what we decide to buy and wear has an impact not only on us, but on the whole planet: now, there is no need to panic, thinking that you got everything wrong, and make the mistake of throwing away every single item in your wardrobe. For a sustainable breakthrough, just pay attention to some essential steps and try and be aware of what you are buying and using. Do I need it? When was the last time I put it on? These are just some of the questions that characterize our journey to get a sustainable wardrobe.
We have, therefore, decided to answer these questions through a practical guide on how to build a sustainable wardrobe and what are the must–have clothes, without ever forgetting that the most sustainable piece of clothing is the one that is already in our wardrobe. Let's begin!
The sustainable wardrobe: analysis of what we already have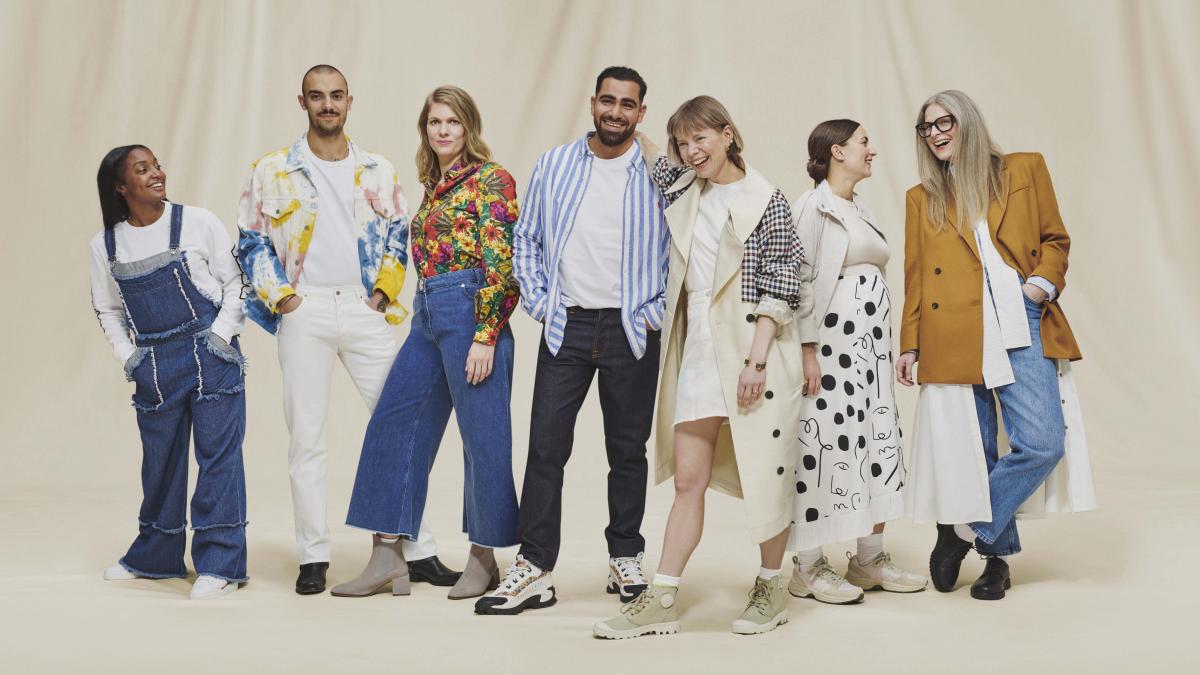 #1 "Do I know what's inside my wardrobe?"
It is important to be aware of what you have before possibly evaluating what is missing: that's why you should organize decluttering days in which you take everything out of your closets, dividing clothing and accessories by category, and understanding your actual needs. In doing so, maybe, you will finally find that scarf that you thought you had lost, or you will find a pair of denim that you've never worn, still with the label attached… This process of awareness and the related wardrobe organization (it is advisable to always have everything at hand and keep the clothes of different categories separated practically, also according to the frequency of use) should be done with each change of season, to remember what you have and to avoid unnecessary purchases (and confusion)!
#2 "This look doesn't convince me that much…"
If you're pondering this while staring at a skirt and t-shirt that you usually match in the same outfit all the time, why don't you pair that more particular top with it, to give a twist to a standard look? It is important to be able to create different outfits using the pieces of clothing already in our wardrobe, changing colors, patterns, and accessories according to the occasion. Keyword: creativity! Who knows that, in doing so, you will not give a twist to your style as well.
#3 "I don't like this anymore, where do I take it?"
When you rearrange your wardrobe, try everything, especially those things you haven't put on for a long time: if you just don't fit them anymore or don't like them, you can donate them. Do not throw them in the garbage, or they will end up in landfills or incinerated, and they cannot be recycled! Many shops have bins where you can bring used clothes that will then be recycled; moreover, you can always give everything to friends, acquaintances or associations, and communities that may need it. If they are fine pieces, take them to luxury stores for evaluation. But most importantly, it's 2021 and second-hand apps are the order of the day: Vestiaire Collective, Depop, Vinted, are just some of the platforms where you can list your clothes (in good condition) and earn something from their selling!
#4 "It has a hole!"
Tears, holes, missing buttons, hem and outs to be redone or clothes to be fixed: these are all easy-to-repair interventions that, with a small investment, give new life to what we already own. Just take it all to a specialized store, and the problem will be solved. If you are then attracted to crochet and/or sewing machines, why not trying to repair it yourself by following tutorials on YouTube (or listening to the advice of grandams, who will surely know what to do and what to avoid)?
#5 "Let's talk about washing clothes instead, what should I or shouldn't I do?"
We all know that delicate fabrics should be washed by hand and, when setting the washing machine, you must pay attention to the label, following the reference instructions for the different materials. The better we wash them, the less we will have to wash them as well: let's not forget that the washing machine and dryer have a significant impact on the environment. As a result, it is not necessary to wash denim every day, also because in doing so, you would ruin them. If they are special clothes (such as lace pieces or underwear), always use the appropriate washing machine bags: lastly, spread everything carefully to avoid the signs of the clothespins and iron as little as possible, and that's good news for many of you, we know it.
The sustainable wardrobe: analysis of a thoughtful shopping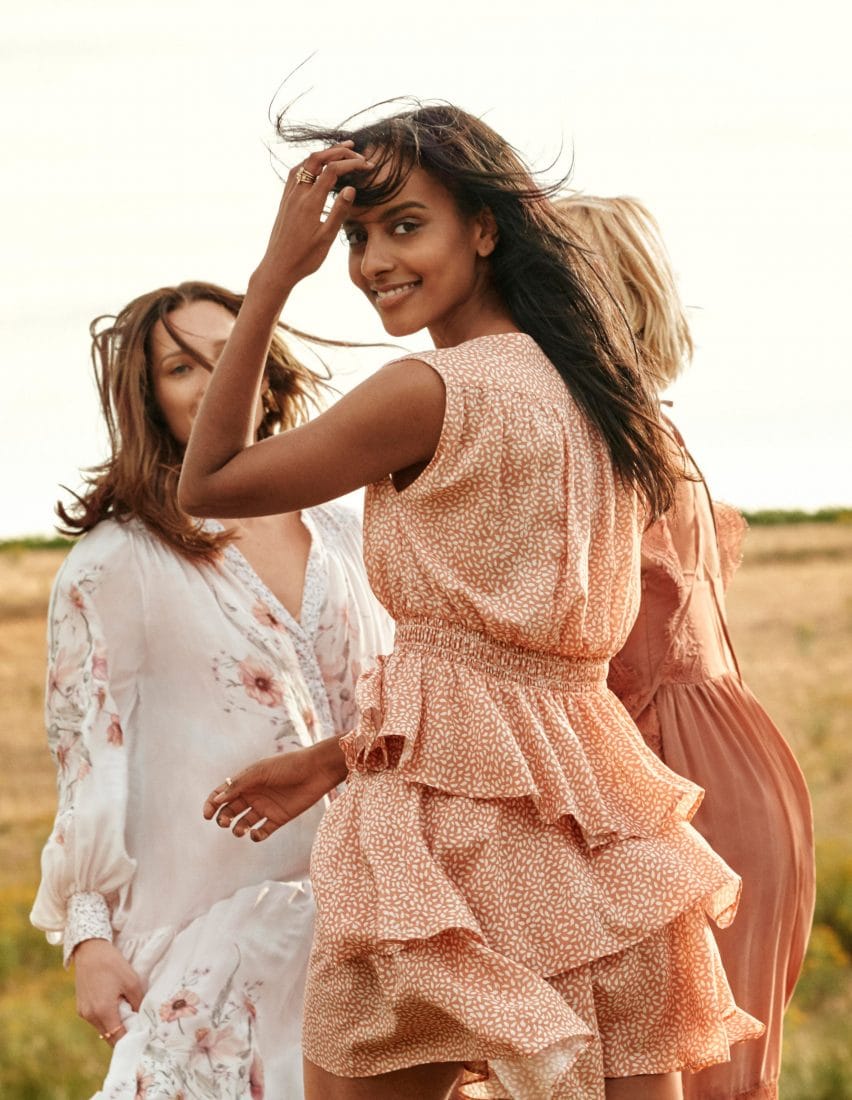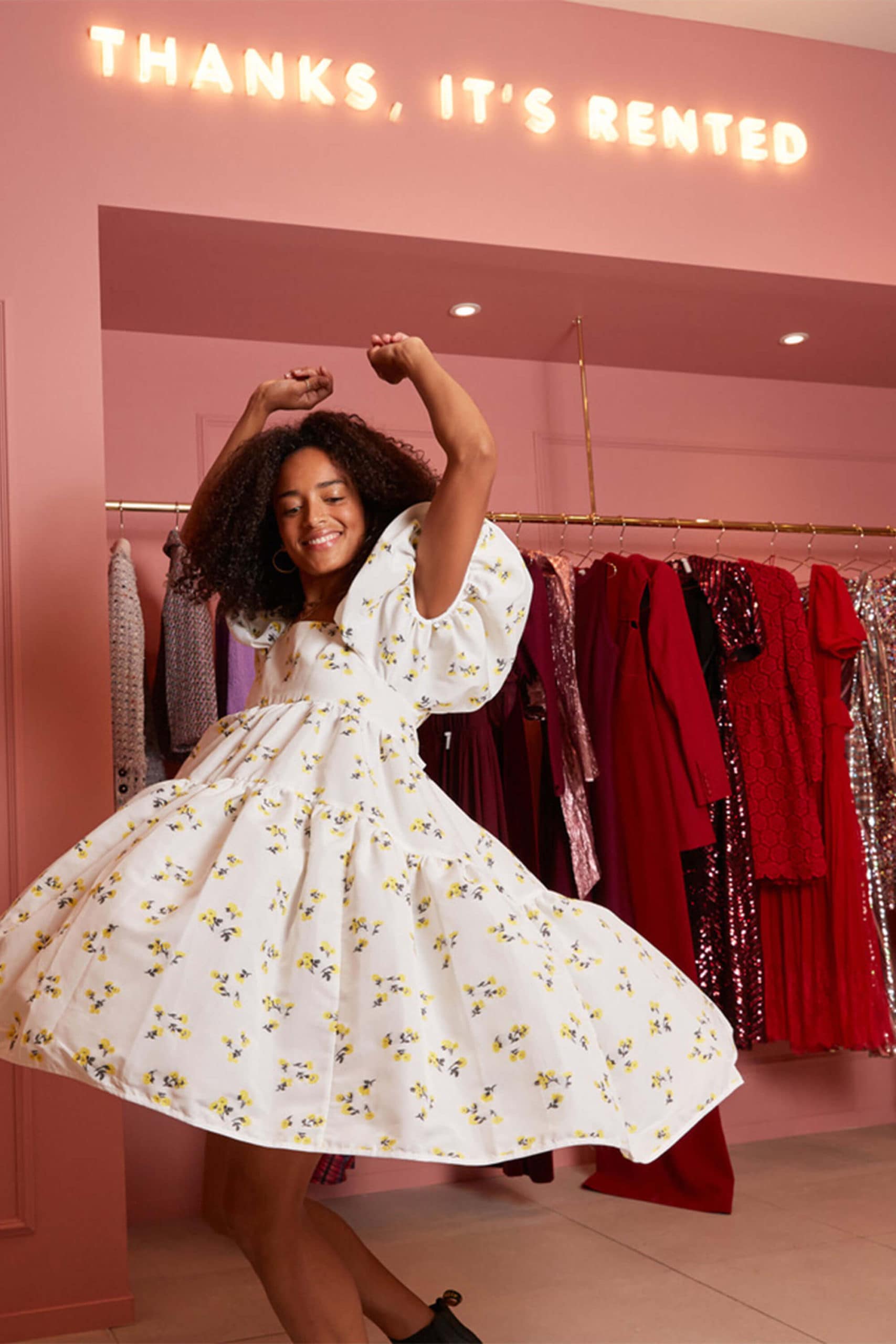 #1 "Do I need it?"
Following the mantra of sustainability pioneer Vivienne Westwood, when you go shopping, it's very important to keep this in mind: buy less and better. Now read it again. Learn it by heart. Okay, we can move on. First, it is good to choose what to buy and where: does it make sense to buy a tank top that costs 1 euro and that will be ruined after two washes, which we cannot reuse next year because it follows a trend and which has certainly been produced without taking into account environmental standards and the respect workers? No, no, no. Rather, we invest in dresses that we love, with good materials, and that we can wear for a long time. In this way, we will do good to our wallets, to people, and the planet. Oh, you don't need 6 plain white t-shirts: of course, it's an essential garment, but there's a limit to everything, trust us.
#2 "I like this, but is it a good quality?"
First of all, it is good to know where we are buying: if it is a fast-fashion brand, are we sure that it does not adopt greenwashing practices to make its clothes appear sustainable when, instead, they exploit resources and labor? Is there certain transparency behind the production process? Information is a must-have when it comes to shopping. That means keeping up to date with the brand's production practices, commitment to the environment and workforce, and the marketing choices it makes. Plus, it is advisable to always carefully read the label. It is not easy, it takes time in the beginning, but it is a fundamental step to be able to better evaluate what is quality and what is not.
#3 "Wait, what do I match it with?"
Is this a dress you'd only put once or just for this season? That you don't know how to match with what you already have in your wardrobe? You are not sure how it looks on you? Then maybe it's better to leave it in the store. Your shopping must be guided by your actual needs, keeping in mind your style and the wearability of a dress or accessory, to make sure that it can last for a long time. Bearing in mind that, according to the #30wear, each dress should be worn at least 30 times to be considered sustainable. It may sound like a little time span, but if you think about it carefully, it's not at all!
#4 "But this is all synthetic, and it has micro-fiber…"
Which means it will spoil soon and that it could even irritate the skin. So, try to buy pieces of clothing made with organic and ecological fabrics (they are always indicated on the labels), which you will immediately recognize for their quality. These are easily recyclable, while micro-fibers contribute to ocean pollution. Also, be careful that they are cruelty–free, there are plenty of alternatives. And then, can we talk about the beauty of a garment that lasts longer over time?
#5 "Which stores can I go to, avoiding the usual chains?"
The answer, in most cases, is the vintage and second-hand ones! Here, you can find real timeless goodies that will make your look truly unique, also when it comes to accessories. Vintage stores have solutions for all budgets, from the 1970s shorts to the limited-edition luxury bag, making them the perfect shopping destination. Have you ever had a look at the local artisan shops and those small neighborhood shops? They are worth a try! And, if you are a tech enthusiast, go back to point #3 in the previous paragraph to discover those apps that make second-hand shopping accessible to everyone, but just everyone.
#6 "You know what? I can make it handmade."
Recently, thanks to the pandemic, we have resumed tools such as crochet, knitting needles, and sewing machines: many have challenged themselves in making handmade clothes, just as it used to be done a while ago, also with the awareness that this choice has a reduced environmental impact. Tutorials on YouTube are countless, as well as references on social media: this is the right time to make that colorful bucket hair that you have always wanted and that you can customize to make it even more unique!
The sustainable wardrobe: analysis of must-have clothes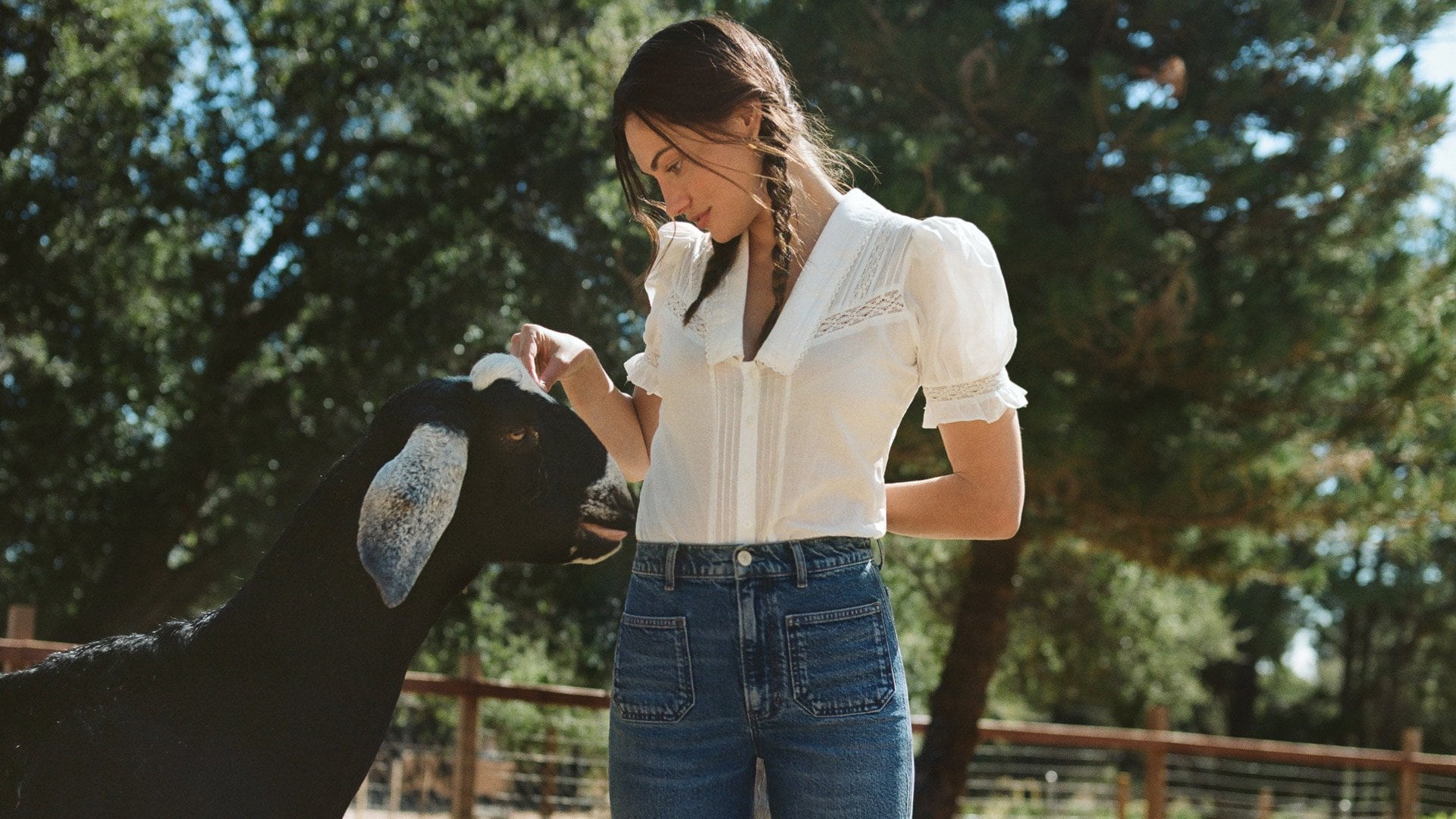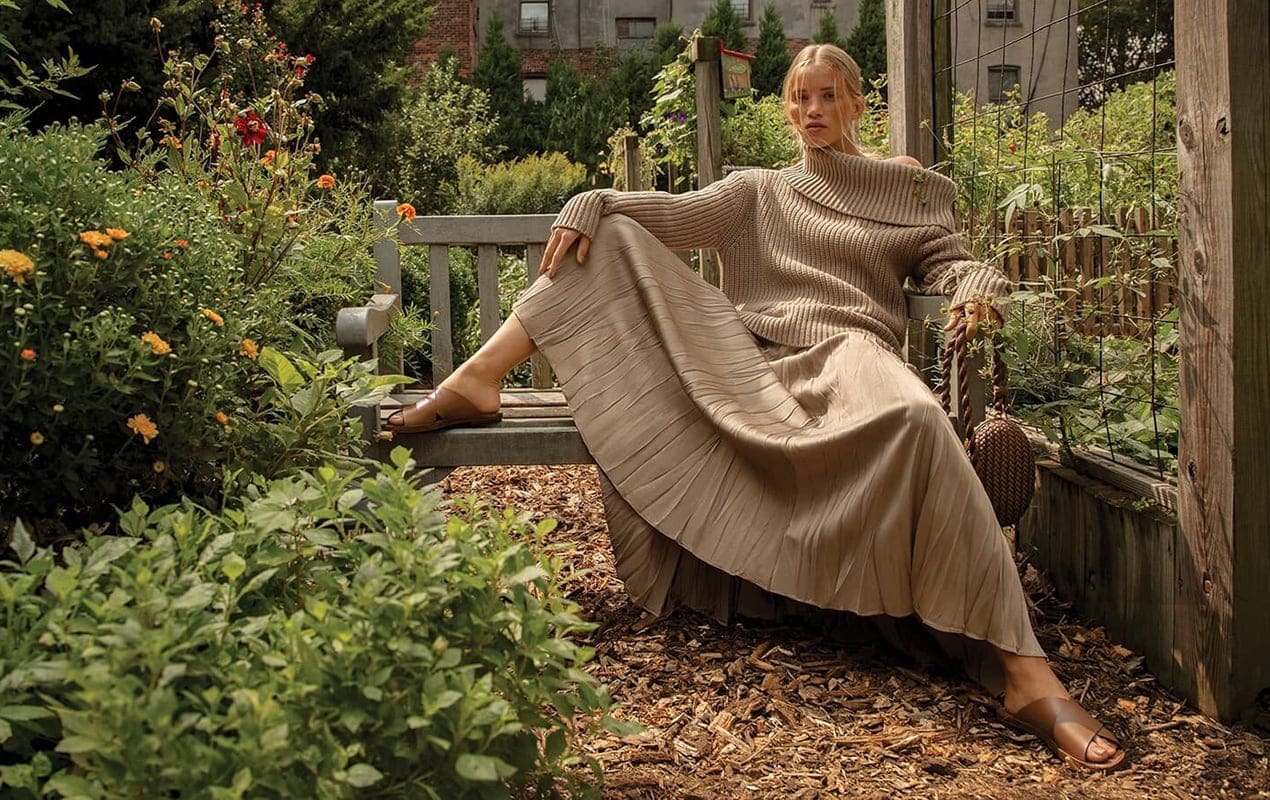 #1 "It must fit me right, and I have to feel good about it, is it correct?"
Exactly. After evaluating brands, materials, certifications, cost per wear (that is, the cost of a piece of clothing for each use), and have made sure that you know how to combine it with something you already own, you find yourself with a dress still in your hand that is not only sustainable but that you like both for how it makes you look and for the smile you make in the mirror when you wear it. Only clothes that lead to this reaction are those in which it is worth investing: if you are convinced today, you will still be tomorrow, and the next day, and so on.
#2 "Basic is trivial, everyone knows it…"
Then everyone is wrong! The basic clothes are the must-haves that last over time, with which we feel good, and which represent our aesthetics. But above all, nothing prevents us from being creative in choosing them: if you are a fan of striped t-shirts, go for models with different colors! If you like bon-ton clothes instead, then maybe it doesn't make much sense to buy a model with studs and dizzying slits, right?
#3 "So, what can't be missing in my closet?"
While knowing that everything that we can find in a sustainable wardrobe must meet our taste and needs, some must-have clothes know no season or trend and can be easily adapted to any individual style. Here they are:
White shirt and white t-shirt: for formal occasions and every day, they look good on every occasion. If of excellent workmanship and quality, they last a long time and give life to more causal or structured looks: from jeans to skirts, from over-size models to more structured ones, with visible embroidery or not, they never go out of style.
THE bag: the one you have always wanted, and that is an investment, that you will know that you will never stop loving and that you can use in different moments, even over the years. It often represents a luxury model and, in this case, our piece of advice is to go to vintage stores, full of treasures just waiting to be discovered!
Denim: opt for models made sustainably to be sure that they resist more during washing and that they last over time. When in doubt, vintage and second-hand shops are the destinations to buy the timeless Levi's! Long or short, tight or over, high or low waist, they are perhaps the most versatile garment ever.
Trench coat: perfect for mid-seasons and for when it rains (although there are even heavier models), it is a timeless must that comes in many models, to meet everyone's tastes. The reference par excellence is Burberry, and here too, you already know which stores to head to for purchase, right?
Blazer: to wear all year round, both casually and formally, it comes in many kinds and is good for everyone regardless of the occasion or personal taste. It is also one of those items that can most easily be found in the wardrobe of parents or grandparents to "borrow." Indefinitely, of course.
White sneakers: comfortable and practical, nowadays there are so many sneaker models made with vegan and eco-sustainable materials that you have no excuse for not making a well-thought purchase!

 

A denim or leather jacket: whether you are more comfortable with a denim total look or leather jacket (we talk strictly about faux leather), one or the other are the solutions for you! Perfect for mid-seasons, available in both simple and creative models, they are a timeless fashion statement.
Oversize sweater: made with sustainable materials, which keep warm for a long time, an oversize sweater is the perfect solution to face winter in a relaxed way. Here, too, it is better to opt for a basic model, with the colors that suit you best and that can be easily combined, for a never-ending feeling of softness.