How to combine delicacy and modernity with a sprinkle of fantasy? The jewelry label founded by Sabrina Dehoff represents this perfect combination. After obtaining a degree in Fashion Womenswear Design at the London Royal College of the Arts, Sabrina worked as a designer assistant for several important brands.
In 2006 she decided to launch her first jewelry collection "Little Helpers", following her biggest passion. Characterized by simple and modern cuts but always animated by a fantasy and cheerful twist, the pieces take inspiration from all kind of creative expression with a particular focus on German art and culture, which are the designer's roots.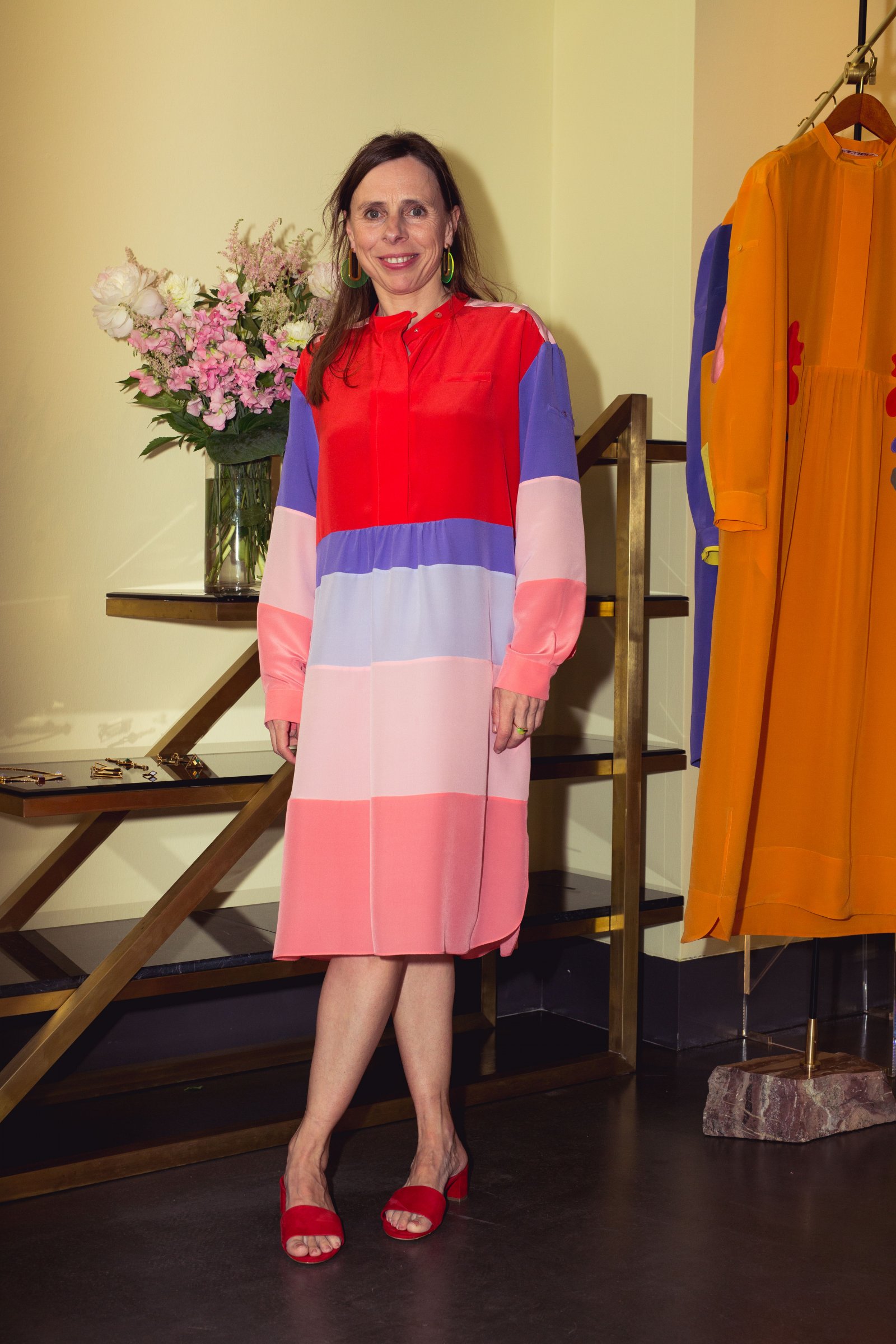 Present in more than 70 stores around the world, director of a craftsman studio in the south of Germany and founder of an e-commerce website, Sabrina reached an international success boosting of customers such as Beyoncè, Taylor Swift, Halle Berry, Charlize Theron, Taylor Tomasi, Martina Gedeck and many others. Another important achievement is that she was voted in the list of the best 10 Jewelry Designers of the world by Die Welt Online's Luxury Guide.
 Let's see how this brilliant European designer tells us her own story and reveals the concept behind the 10th year Anniversary Collection.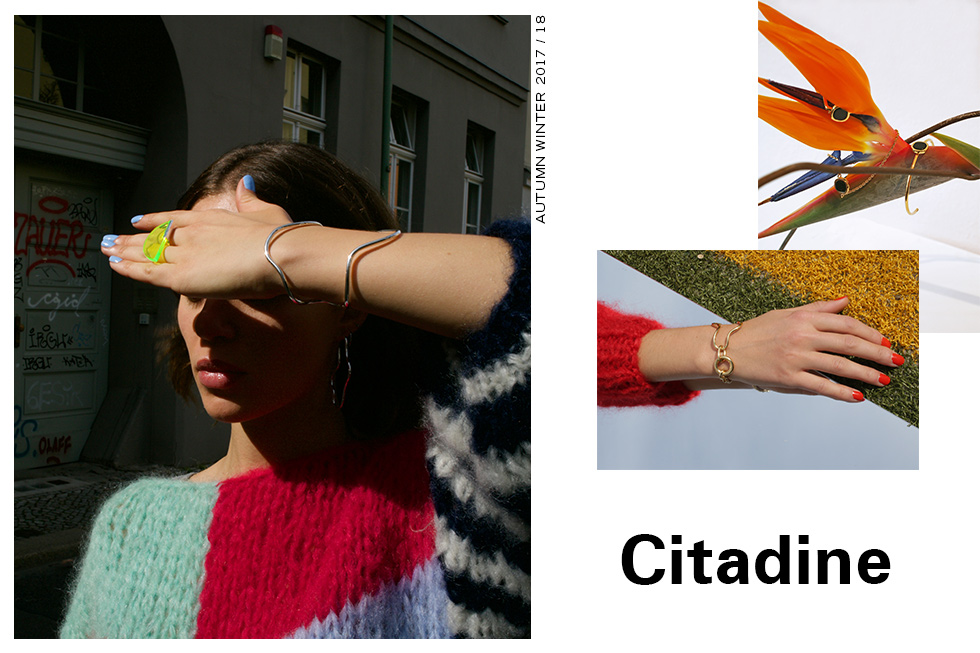 _______
  How did your passion for fashion and jewelry start and what is your academic background?
_______
I am a trained Fashion Womenswear Designer, I graduated with an MA at the Royal College of Art in London. My passion for fashion and jewelry started in my childhood surrounded by fashionable, strong women in my family. My mom used to be a florist and at my grandmother used to sew and at my grandmother's house there were always fittings for my aunts,  my sister and me including. Where there were always discussions about the latest fashion. So I started designing and sewing my first clothes as a teenager.  For me, clothes are very much linked to the beauty and pride of being a woman!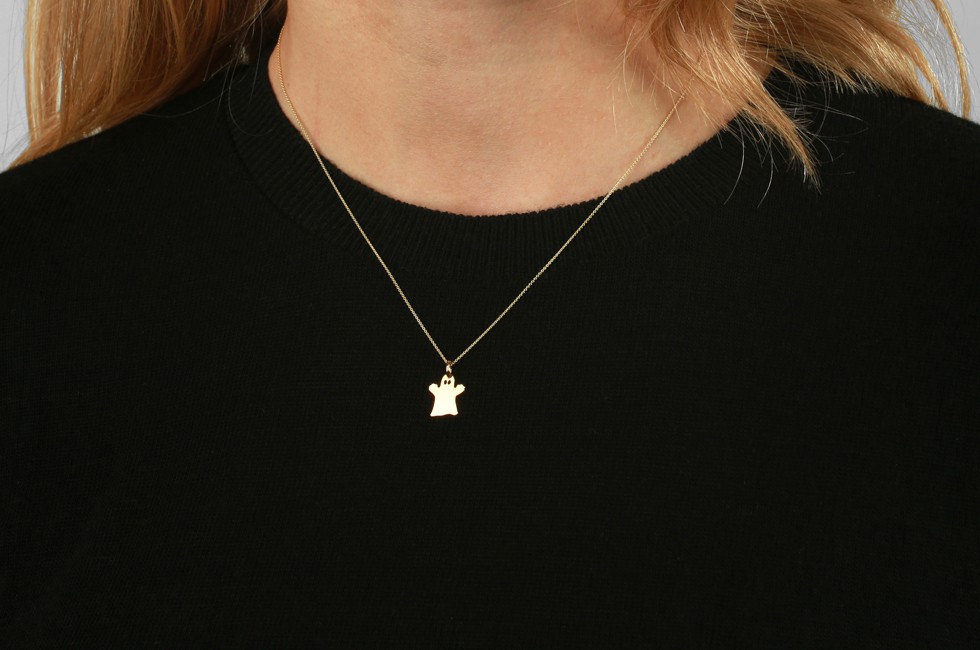 ________
           How much building your own fashion consultancy company has helped you in managing your rand?
_______
Well, every step in my career, like my studies in London, my working years in Paris and my consultancy work, was not only an important experience, but it all had a big impact on my work and the appreciation for design and in particular, the craftsmanship. With my first own company VonRot I learned the first steps of being a designer, and a business woman too. Consulting for various companies and brands gave me lots of insights in different companies operations and structures and I learned to be flexible and respond to different needs. I like this challenge of grasping what it is all about and spinning on many ideas!
_______
            Your first collection (2006) is named "Little Helpers". Why this name?
_______
The"Little Helpers" were little embroidered pendants made out of leather. Little tokens and good luck charms and therefore, these were little helpers for everyday positive vibes and protection.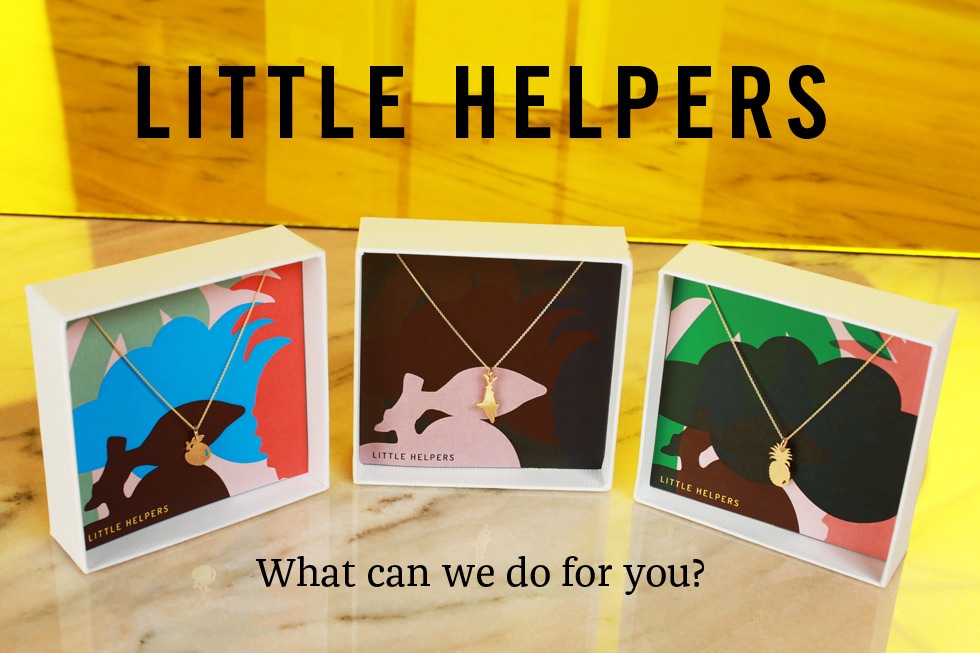 _______
          Your label has a very unique style: it's cheerful, modern and delicate at the same time. How did you find balance between those elements and what is the thing that makes you recognizable?
_______
Thank you! I guess designing has very much to do with ones own aesthetics and personal style. I design what I like best and what intruiges and excites me. I try to balance different elements within my collection and it is a bit like orchestrating different players like color, forms, material, textures and so on, to create a nice melody, which is lighthearted, but not too sweet, elegant, but modern, cool, but not cold and with some crescendo!
_______
        How would you define your personal style? And how much it influences your jewelry line?
_______
As I said before both collections are very connected and very much alike. I like wearing colors, I like simple and modern cuts, more loose than fitted. I like it relaxed, from feminine to sporty and sometimes a bit special. My jewelry line plays with the same elements.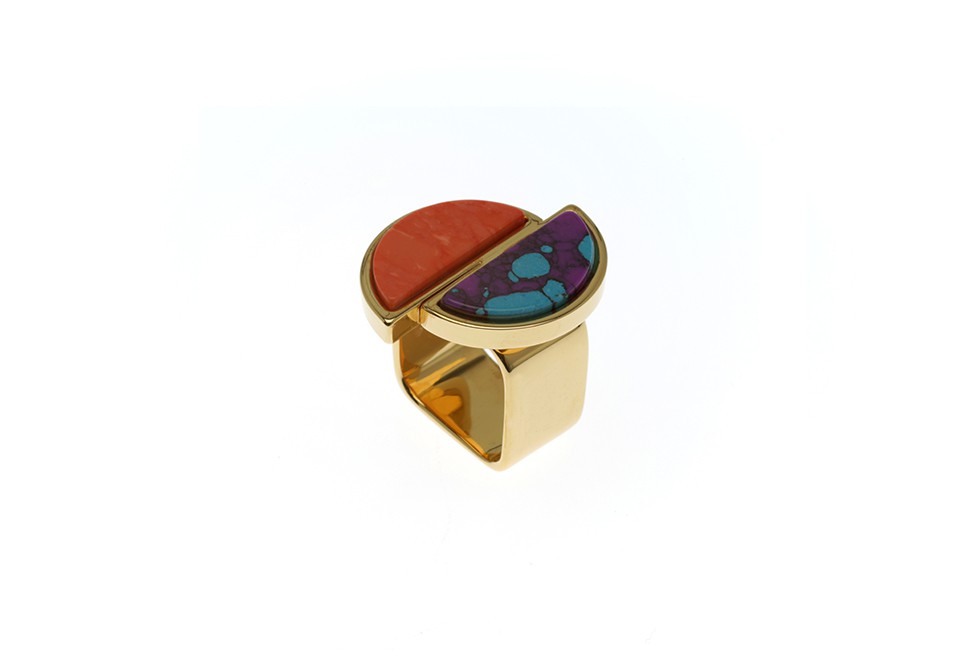 ________
         Your clients are Beyonce, Charlize Theron, Taylor Swift and many others. But who is the woman who wear your pieces?
_______
Women of all ages, who are positively self aware about themselves, who are strong and humorous and with a soft spot for my kind of jewelry 🙂
________
          How living in different Countries has influenced your style and designs?
_______
I loved my studies in London and my working years in Paris and just by living in those two different cities and seeing how fashion can be part of culture and at the same time a serious business, I felt very enriched and empowered. In Germany, I used to feel either smiled at for my ambitions, in a sense: yes, just dream on… or as a funny, peculiar person. My roots are German, so I think there is quite a lot of German  art and culture in my aesthetics, but the design ethics, the craftsmanship and the understanding of fashion as a global business is very much influenced by my years in London and Paris and by working internationally with many different people world wide.
_______
         Do you feel influenced and inspired by art, cinema, and history? If yes, can you tell us about them?
_______
Yes, very much so. I am fascinated by all sorts of creative expressions. I am an admirer and a dreamer and I can get very affected and inspired by many things high and low, beautiful and ugly.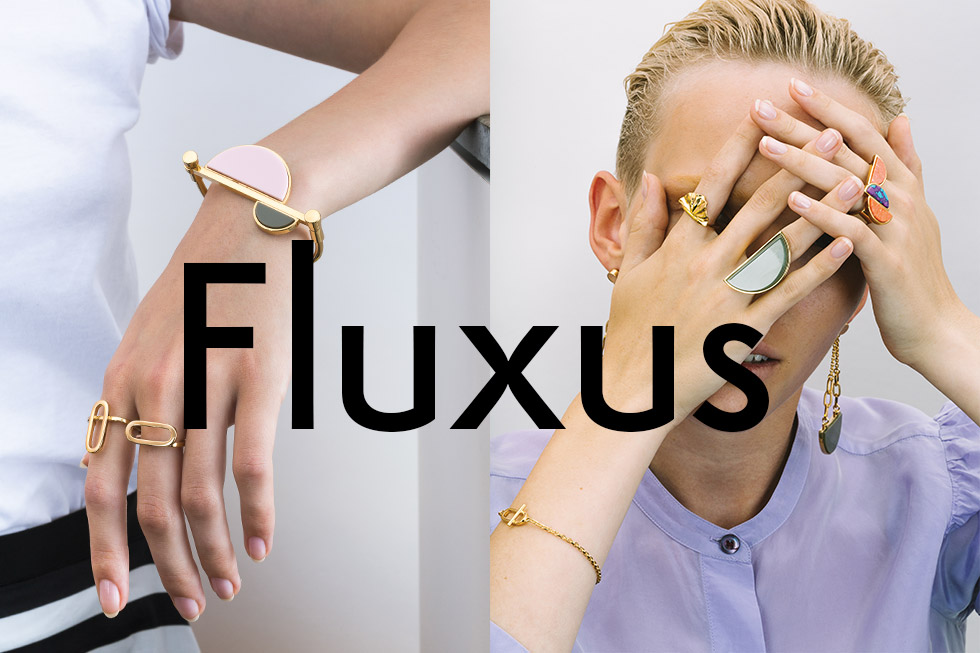 _______
             For every season you develop a different theme. Can you describe with one adjective those three:
_______
"Under Influence" engrossed, "Hocus Pocus" tricky, "Fluxus"? artsy.
_______
      Can you describe indeed the concept behind the 10 year Anniversary Collection?
_______
The concept behind the 10 year anniversary was very much a "now more than ever" attitude. I felt like I needed to revolt a bit against the general negativity and pessimism due to all things happening around us and particularly in the fashion business, where it is somewhat straining and difficult to keep your head up as a small brand. So I felt like I needed to turn this into another powerful and positive attitude for myself. Ja, Oui, yes is for me the expression for this postive rebellion and it worked. With the start of my new brand, concept and store "Dehoff Studio" I feel liberated and much more connected to my creative roots and with renewed energy!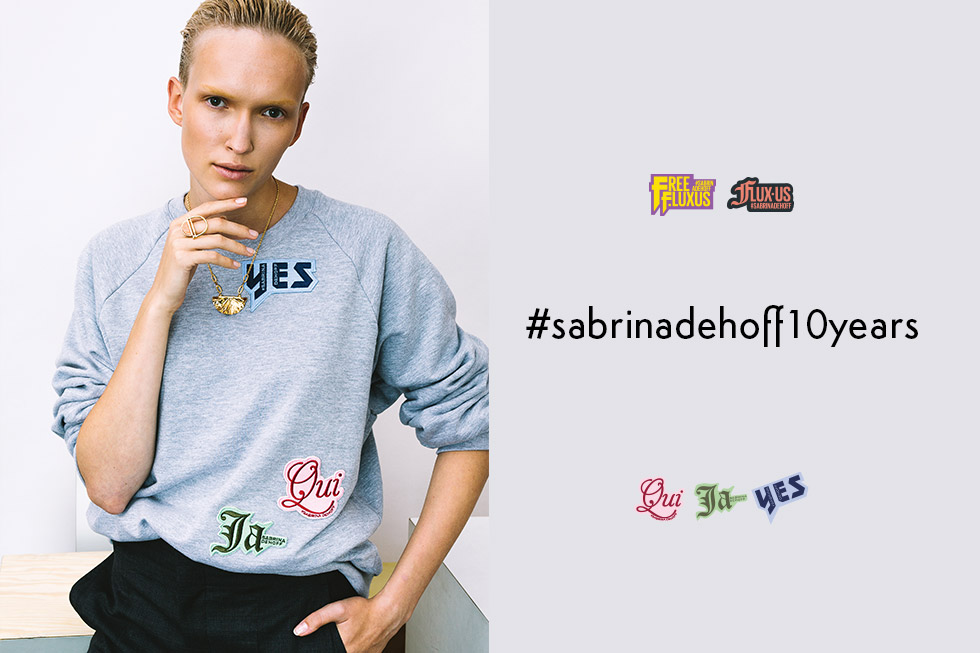 _______
         What is your dream for your label 'Sabrina Dehoff'?
_______
With Sabrina Dehoff I achieved quite a lot in the last 10 years. For the next 10 years my dreams are very much linked to the new concept of Dehoff Studio, where it is mainly about limited editions and one of a kind pieces. I am back to designing dresses and I love it. My dreams are to be able to work creatively without boundaries in various fields, to work with other designers and artists. I hope to make people happy with my designs. Further, I have a mission, an urge for wanting people to understand the beauty of craftsmanship and design and that it is a merit that should be cherished. That fashion is not any arbitrary nor a disposable item, but a very thought through and full hearted work, with many people involved who took care in making it for those customers who will care to have this piece.
_______
    Can you tell us "the story" of this piece? (the one for the editorial)
_______
The neon colored earrings Berlin 2 are from the just released aw 17/18 collection called "Citadine"(townswoman) and is about the strength and attitude of women connected to the culture and liberty of city life. The large neon hoop earrings are reminiscent of the 90s in Berlin and its former punk attitude. Worn by anyone these earrings look incredibly cool and alluring.