Creativity, experience, tradition and innovation are nothing without a fundamental ingredient: humanity.
The one that pushes us to do more and more and be better. And what we can find in every creation by Norbert Stumpfl, Executive Design Director of Brioni: whether it is a tailor-made suit, a creation for royalty or Hollywood stars, or even a fragrance, in everything it does the absolute respect for the heritage of the maison transpires along with the desire to create a new idea of well-being, in line with modernity. In a simple way but, precisely for this reason, also very difficult to obtain.
On the occasion of the presentation of the new Eau de Parfum Essentiel, the 100% natural fragrance created in collaboration with the master perfumer Michel Almairac, who's originally from Grasse, giving life to a powerful and multifaceted perfume, we sat down with Norbert to talk about the path that led to this creation, sustainability and continuous experimentation. But we also talked about knowing how to keep enhancing our main quality: being human.
Modern yet traditional, relevant, smart, sustainable, and stylish: how has the Brioni man changed during these last years? What's his identikit nowadays?
What you just said is something I think about on a daily basis. When I arrived, I had a feeling that the Brioni man had one facet: he was a successful businessman, in a beautiful suit, shirt and tie. This is something that's still true today, it's what Brioni is well-known for, but I wanted to give him a little bit more depth, the feeling that he's not only a businessman. This businessman talks about family and friends and opens up talking about the weekends and what they would like to do: I wanted to give the Brioni man a whole universe, a lifestyle. I feel that it's quite modern now, so I wanted to communicate that he's on an equal level compared to the other men. You feel comfortable but you also experience the present, that's what I wanted to bring to it. 
When it comes to creating a new collection or product, how does the tailoring expertise of Brioni meet the sustainable standards to reach the "joy of slow luxury"?

That's really important because everything we do is inspired by our daily heritage, which means that we're taking extreme care of what we're doing. I want to create a wardrobe that you can build up over a long time, something that you keep and that grows with you, that doesn't empower the wearer, which is very important; I want the wardrobe to almost be invisible, I want the person to shine, I don't want to do things that are too loud. This is my job: to make the man more modern, and luxurious, and to create this feeling of tailoring expertise, taking the time to select the fabrics, I want a checkered that's made by hand – you know, normally checkered is made in two hours, ours take 19 hours, it's a whole other world, and if people say it's expensive, I say that it should be much more expensive. It's an old way of working, but I think it's also the most modern way of working because we create something that can last for a very long time.
For me, this is sustainability and also respect for raw materials. We've been working a lot with Kering, we have many projects in the line-up, using wools from farmlands that don't have too many sheep. These kinds of productions could go on for centuries, we don't over-explore them, all of our producers are going in the same direction, thus making sure that this can continue forever, to pay the right price for the materials, to take care of the people.
It's a feeling of well-being that I want to be everywhere, whatever we're doing, and this is the most modern way of existing for them. We happen to be in this position to influence people and to make sure that we're going to provide direction. That's the vital point to me.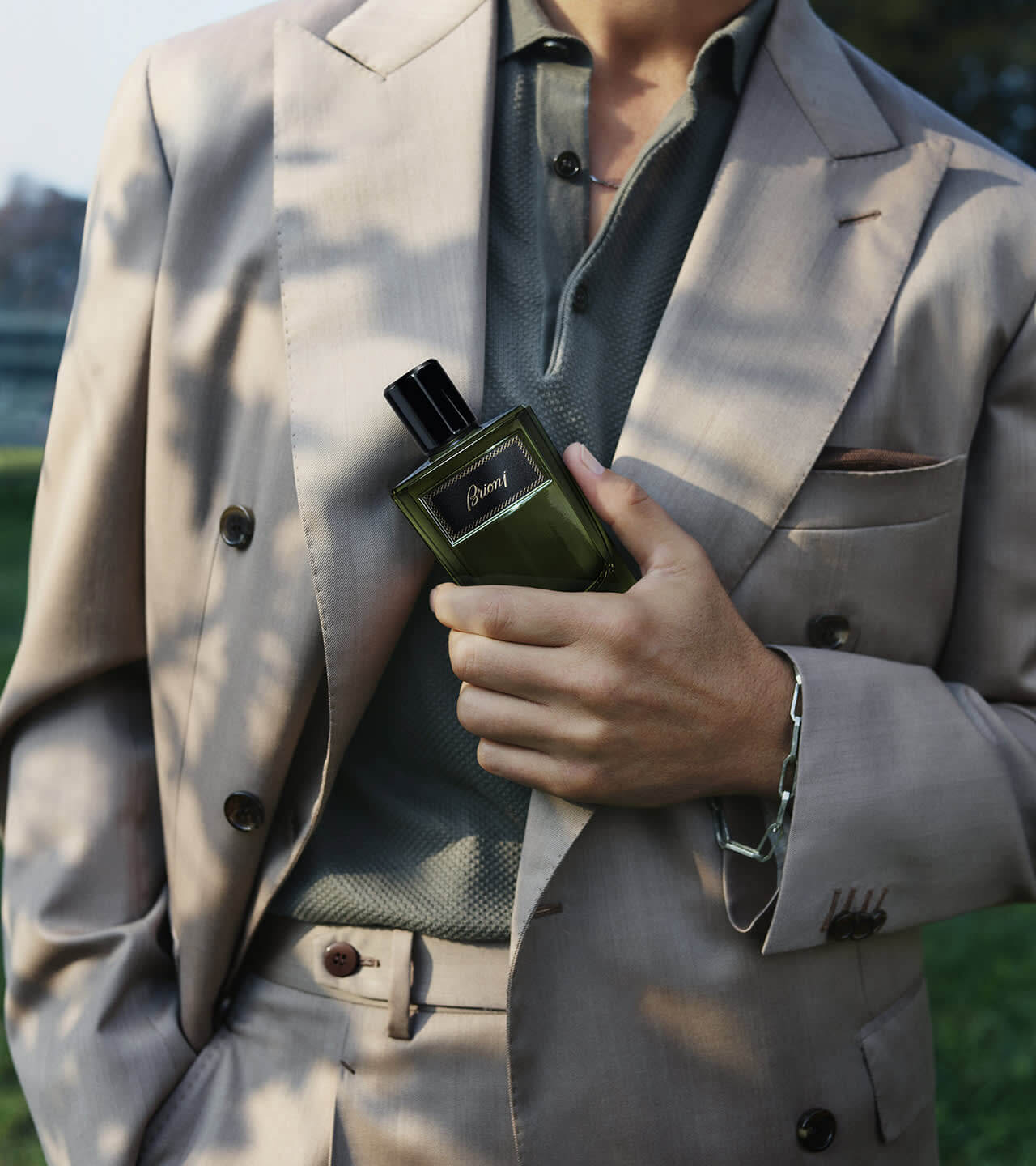 Brioni is also about the "human touch" and a strong connection with both artisans and talents, between past and future. How do you balance this aspect into your work?

I always look for talent and I always look for craftsmanship. I try to work with people who are really good at what they're doing. I've worked with Michel [Almairac], who has a long experience in the field of perfume making, and despite having worked with different people, I had a feeling about him straight away because, at this level, you don't have to prove yourself anything anymore, but you just want to do the best you can. It was kind of funny because Michel has a similar philosophy to mine, that is you take a good ingredient and use the technique you learned after years and years of doing the same things. You come to a point where you just want to do simple things, but simplicity is the most difficult thing to achieve because you cannot hide anything away. All the special effects, all the smoked mirrors, it must be gone. This is important to me. 
You've talked about a "very gentle approach to modernization": how do you translate it into your creative process?

I think Brioni still has a pocket of tailoring and craft, but it's also getting this modern feeling, and using modern techniques as well. When you look at the perfume bottle, for example, some techniques are used that you couldn't do five years ago; I've always wanted to bring the traditional with the ultra-modern, but you should not see that, it should disappear. With the fabrics, we go lighter and lighter for instance, or use techniques that we were not able to use before, for our knitwear, for example, we're using super modern machinery now, the finest luxury yards, so there's always this contrast between modernity and tradition that I want to bring into the collections. 
"Our Eau de Parfum Essentiel is a modern, natural-origin fragrance. A powerful, unexpected and reassuring scent," that's what we read on Brioni's website. What are the story and the inspiration behind that new fragrance?

It's almost a desire to show different facets of our Brioni man. The first one was more a business-oriented perfume that you can wear during the day, then we have Intense, which is for the evening, then Éclat, which is very fresh and a summer perfume, while this one is more natural, inspired by a walk through the woods. I've grown up in the Austrian countryside, and getting in touch with nature is something that I've always liked. For 25 years now, I've been living in very big cities, from New York to Paris to London and now I'm living in Rome; in Rome, I still have this contact with nature because it has a lot of green areas, but when I lived in New York, I missed that, so I wanted to create a perfume that could recreate the smells I've grown up around. I remember the roses at my grandmother's house, next to a sun-drenched wall, and smelling them makes me feel goosebumps, or running through the woods with my brothers as children, so the musky and earthy smells. It's fun to create a perfume that can make us relive these experiences we've lived, both Michel and I, as he's lived in the south of France, which is a very green area, as well.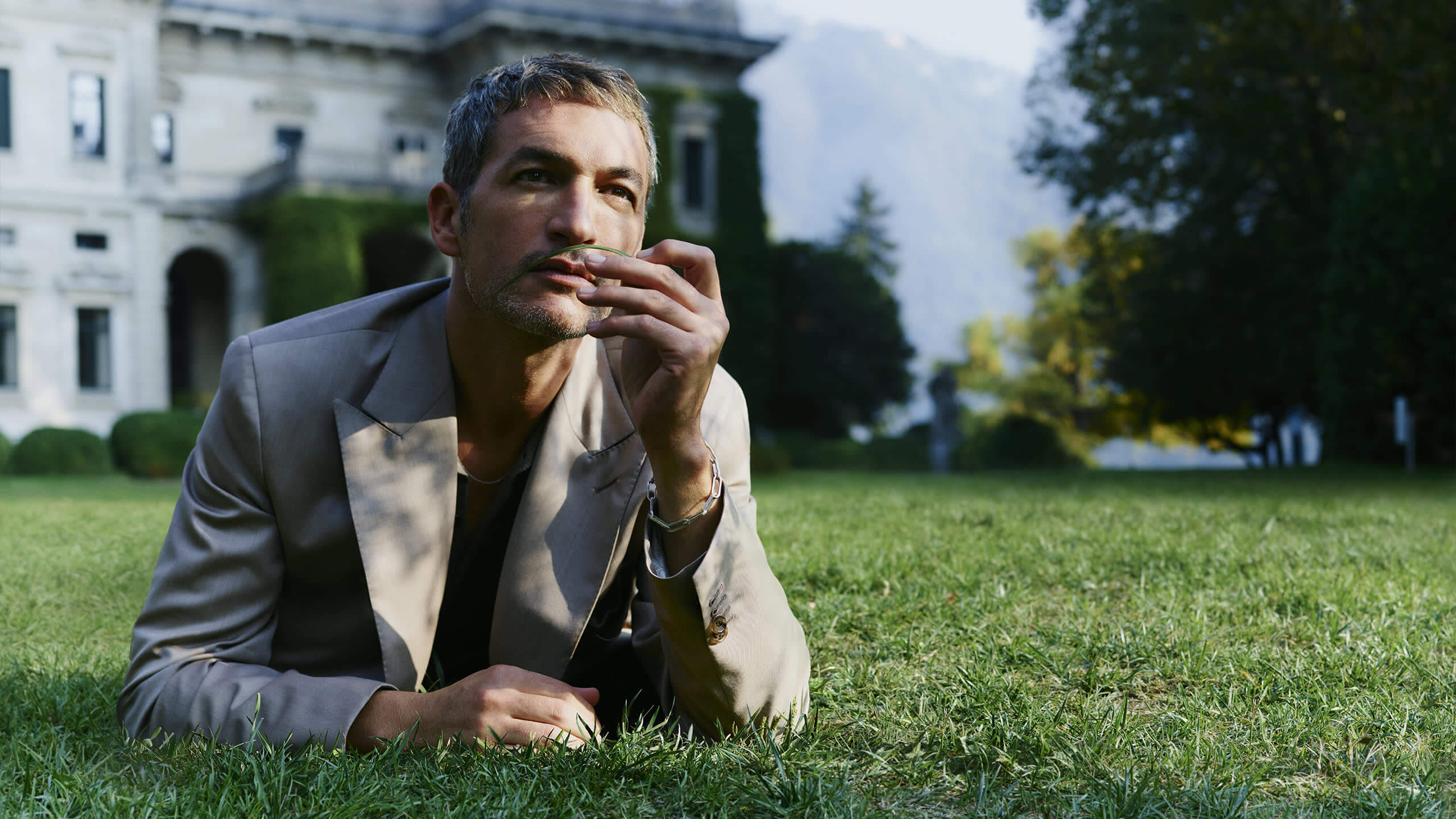 "

You come to a point where you just want to do simple things, but simplicity is the most difficult thing to achieve because you cannot hide anything away. All the special effects, all the smoked mirrors, it must be gone."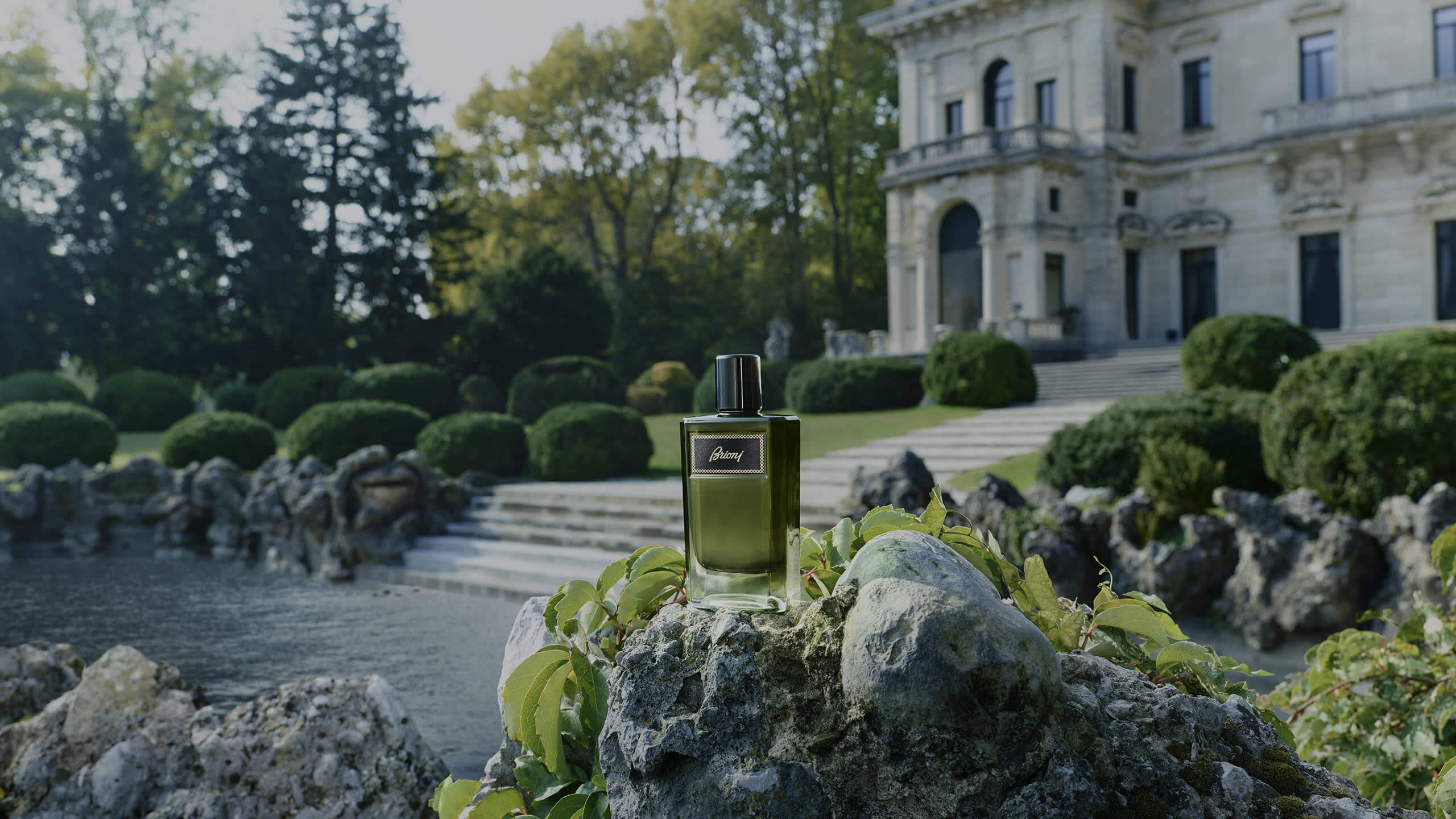 How did you carry on the research regarding the fragrance?

It's a collaboration between Michel and me. We talked about what it could be and there was a lot of testing for this perfume, we worked on it for almost two years. It was difficult because it's all made with natural ingredients, so it was almost like going back to the perfumery of the 19th century; with his technique, it was also a challenge for him because sometimes it's easy to stabilize natural ingredients with men-made ones to balance it out, but using natural ingredients was a challenge for him, he had never done it before, he knows the history of perfume but this thing had not really been done before. So, ever there we're cutting-edge because we're doing something from the past that's becoming modern again. It was like looking back to the past and finding the good things and trying to get people to go in this direction with us to create something which is up to date. We're very proud of this fragrance because it has this sparkling opening but then it gets really soft and enveloping, it's not a one-way smell, it's really moving and in developing, it surprises you, so it's only what nature can give you, like the smell of beautiful flowers you're surrounded with – this perfume tries to emulate that. 
What's the 'living' signature you would associate with Brioni if you could?

You know, Michel understands all the facets of the Brioni man: in all our perfumes, there's tonka bean, which is a special ingredient with some amount of significance because in some cultures, if you put a tonka bean in your bed, it means that you will be surrounded by happiness. So, it's all these little anecdotes that bring a bit of daily life into the fragrance, it makes you feel relaxed and adds something without forcing it, it just enhances your personality.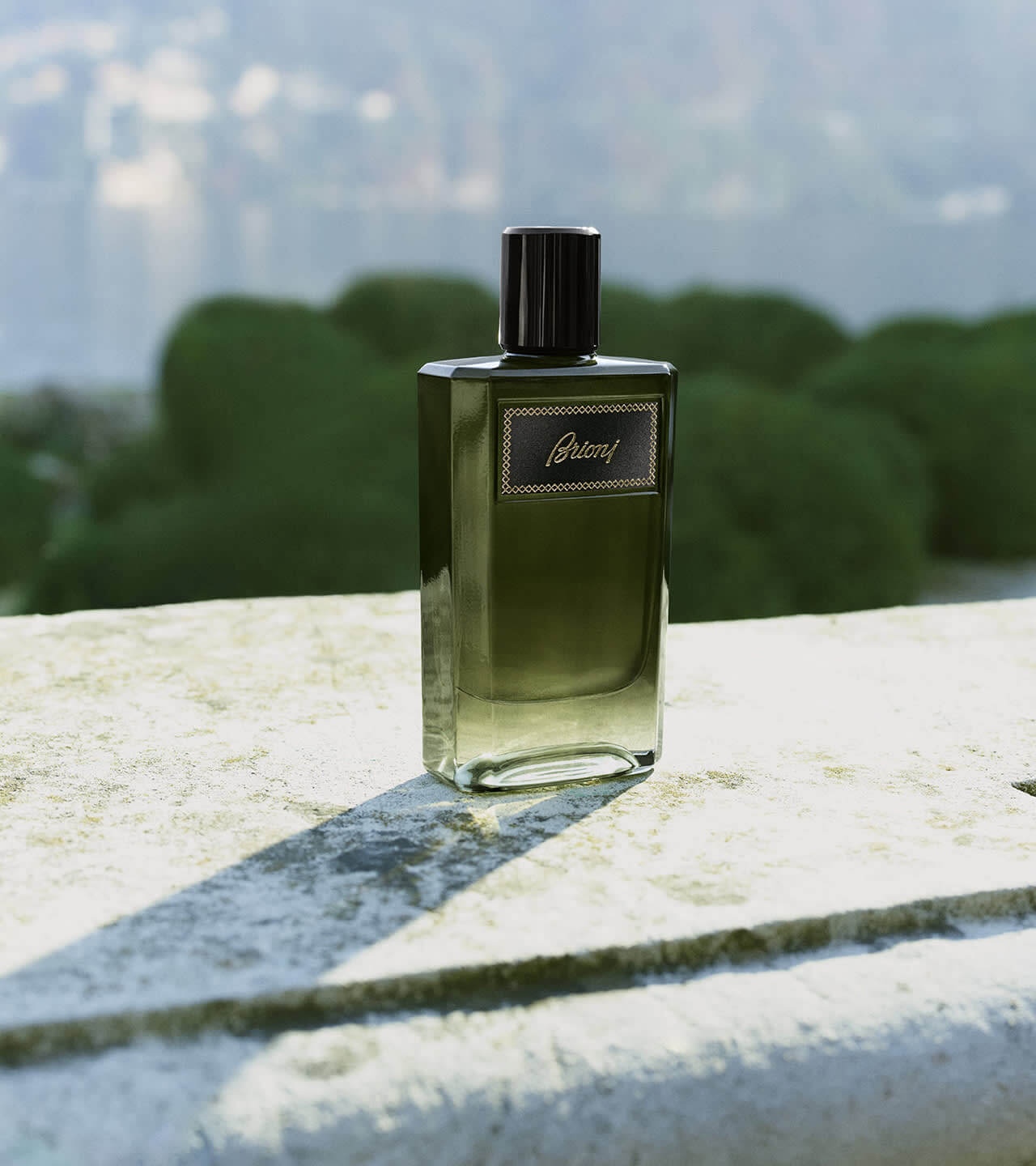 What's the part of your job that makes you more excited about it?

For me, it's the creation, it's so beautiful, to be able to work with craftsmen that are so talented, and create something together. I almost get tears in my eyes. We have a project and we struggle because it's difficult, it's a lot of back and forth, but then the final product is amazing. Then, when you see it on the red carpet, it's extreme progress what we achieved, all together. I've been working with the Queen, I've been working with princesses, and Hollywood actors and actresses, although my Austrian background is very normal, and meeting Brad Pitt and Jude Law has been incredible! People on this level are so nice to meet and inspirational.
But to go back to your question, it's the creation, seeing something go from an idea to something somebody is wearing and that somebody thanking me, saying they feel good in my creations. In those cases, I feel the urge to share it with my tailors, which makes me super happy. It's a very slow process because we are very gentle, we're not a "prick fashion fit", it's more like a flow. 
What was the last thing you discovered about yourself?

When I grew up in Austria, I was very much on my own, I was a little bit shy, always in the background, and I almost felt like an outsider, so now, feeling that people like what I do feels very nice. 
What will we find in the future of Brioni?
I think you will find just a continuation of what's been done. We aim to show it to as many people as possible, to look and find and always dig deeper and maybe find the most incredible materials where I get goosebumps. I want to share this with my clients, to keep this research growing and breaking between tradition and what's possible now, and creating a future Brioni, which is very human, someone you feel like you can come close to. He or she is wearing incredible clothes, but it's all about that.