Illustrator, interior designer, creative director, fashion lover, artist and a mother. These and much more things represent Ana Strumpf, who lives in San Paolo (Brasil) and lived for many years in New York, where her sense of style has grown the most being influenced by the city itself. However, she was born with it. Her family is composed by all creative mind and she grew up in an artistic environment.
Her illustration work brought her to collaborate with brand such as i-Blues, Clinique, Diana Von Fustenberg, Walt Disney, Vogue and with her famous Re.Cover project, she became a starter of a new fashion illustration. Re.Cover consist on working on fashion magazine covers, drawing on top of images created by World Fashion's greatest names. Ana re-gives life to the ultimate fashion symbol giving new colors, frames and shapes. Her interior design work is outstanding, she put together so many elements and palettes of colors that seems to be drawn from her hands.
We had the pleasure of interviewing Ana, asking her about her inspirations, new project and life as a true #GirlBoss.
______
When did you start to be interested in fashion illustrations?
______
As for the pictorial art and design, since I was born my family has always encouraged me, we are a family with an artistic vein so I always loved to draw. As a child, when I was 2-3 years old, I said that I wanted to be a painter and so I always drew and when I was 12 years old I had an older friend, daughter of my parents' friends, who was studying fashion design, and I was fascinated from that art and I got closer to the fashion world until I started to study fashion.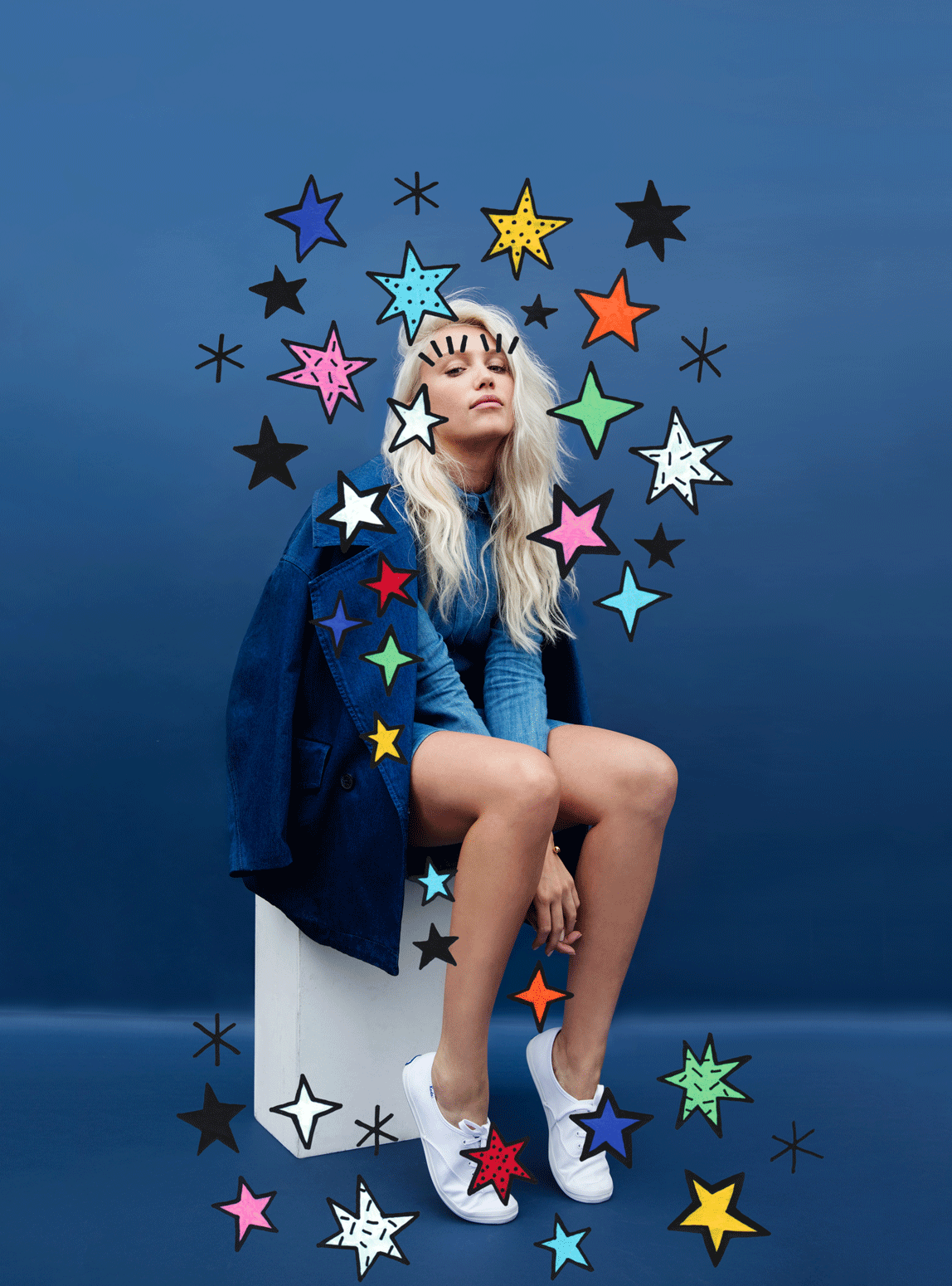 I have a background. My family comes from the world of architecture, my parents had a tapestry shop so there was always this passion for art but the one for fashion is something I have acquired.
That's why I decided to attend the Fashion University and specialization courses in fashion design but I would never have imagined to live thanks to my illustrations. My way to get here was organic, nothing was thought.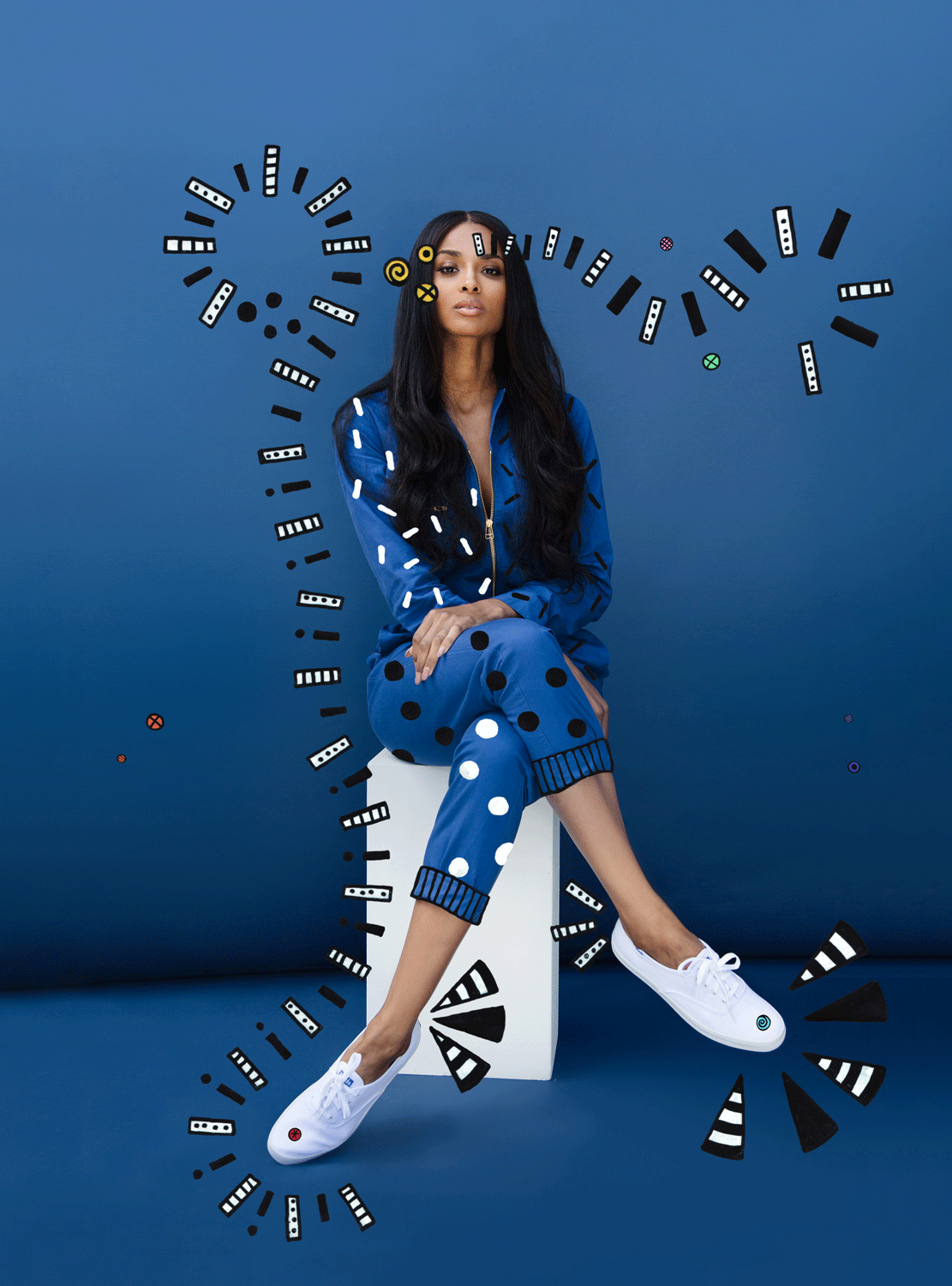 ______
An artist from the past or present who inspires you.
______
From the past my inspiration is Matisse, he is my favorite because of his way of mixing colors, prints and scenarios. Two artists from the present who I adore are American, one is called Jonas Wood and the other is Brian Calvin (Insta: Nowhereboogie).
______
Your style is constantly changing and there is always something new. Have you ever felt stuck and if yes, how do you find inspiration?
______
I do not know if my style is always changing but for sure it is always evolving. It's something I care about, addressing new challenges that motivate me. During several occasions, it happened to me to feel stuck, it's always like that, I think that for the 90% you crack your head and for the rest 10% is inspiration. The creative moments are rare, difficult and wonderful. But generally, I stare at the blank page, I keep doing something over and over again until an incredible inspiration pops up in my mind. But it really takes a lot of work.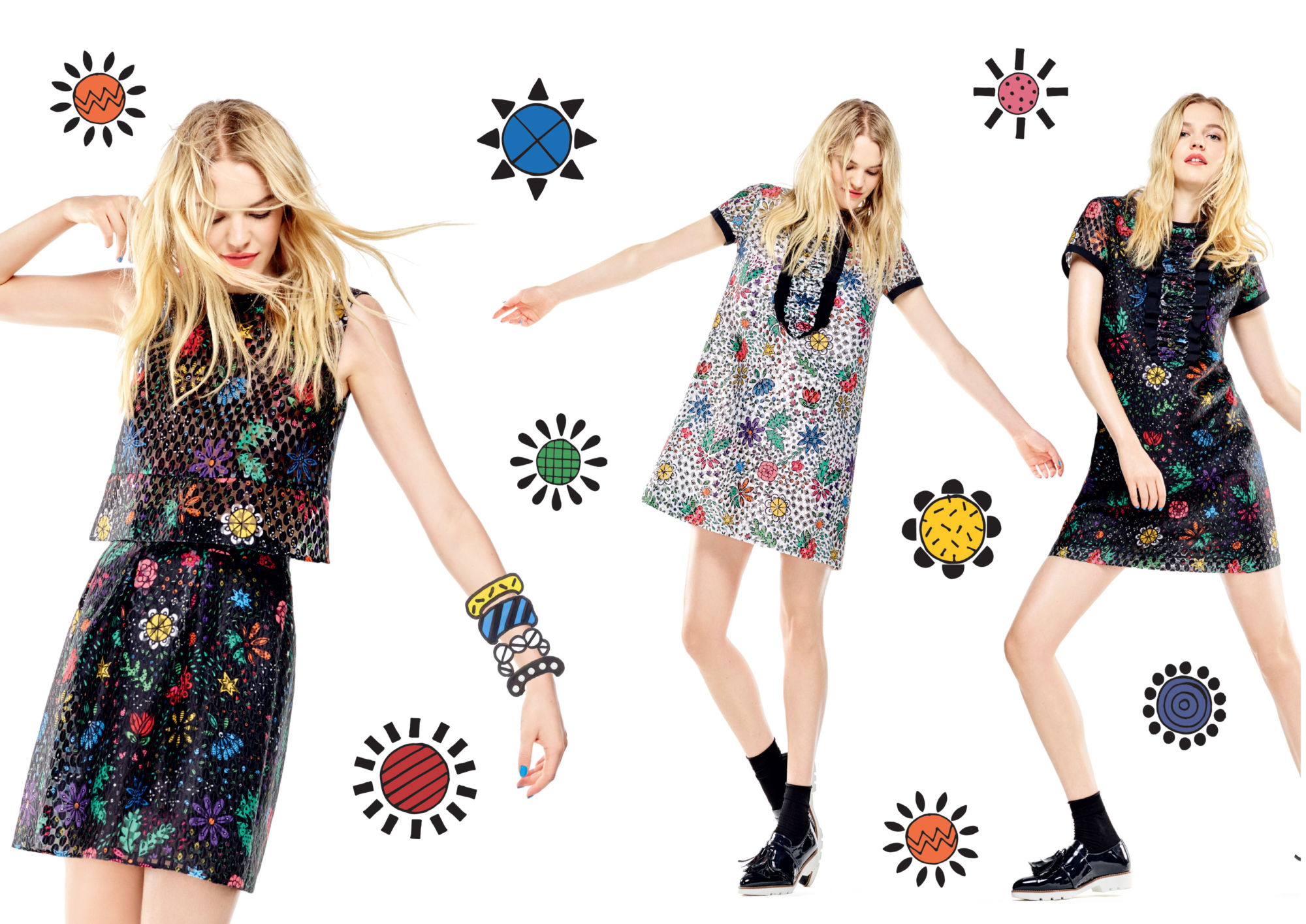 ______
What if inspiration comes out of your studio?
______
Generally, I take notes on my iPhone. I do that almost anywhere, whether you are traveling or you are out for work. In fact I am the only one who can understand what is written in my iPhone.
______
How do you balance everything you do: work, family, travel?
______
It is not easy because in my work there is an aspect, that I adore, which provides many facets. I work with illustration and inside illustration there are several projects that include scenography, product design, decorations. I work for Vogue Brazil, I have a monthly program on the Internet so my work is definitely multitasking.
Moreover, even my life since I became a mother of two 4-year-old twins is now "improving"; I love being a mom but there is a lot of work to do with two children. Of course, I want to be the best mother possible but I always think that I am the worse, so let's say that I love doing all of this but sometimes I do not feel neither a good mother or a good artist nor a nice wife, nor a good friend. But then I think I am lucky because I can do all this and I have a chance to do everything I am doing. So, what I generally do in order to not go crazy is to create a sort of routine since I do not have one.
My job is not: "I go out and work, I do what I have to do and I go away", every day is madness. I have a thousand things to do so I try to do a routine.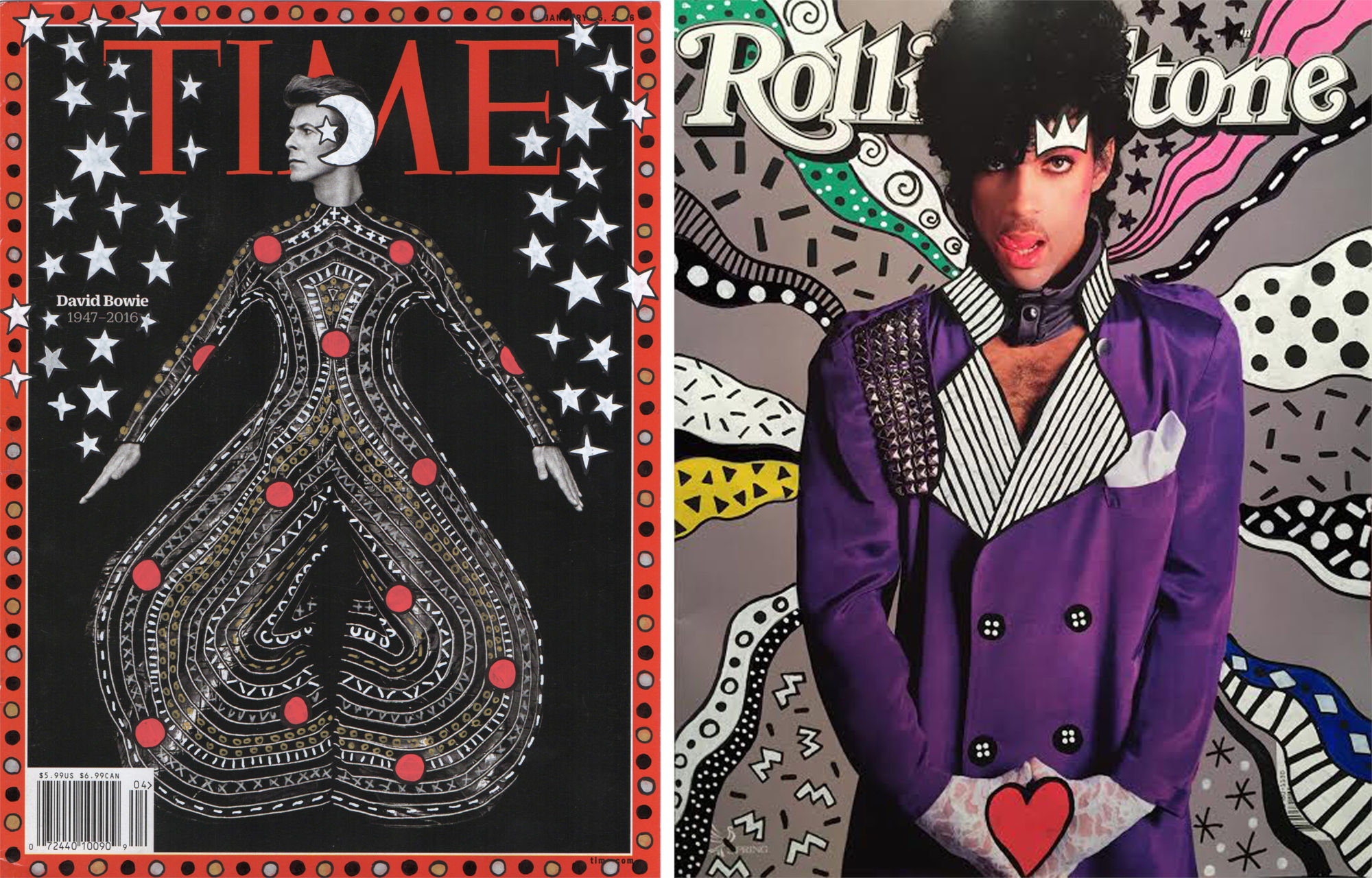 Every day I wake up and I go to the gym, I have breakfast with my kids, I do some personal things, lunch with the kids then I take them to school. In the afternoon I have time to focus on my work. And then in the evening I go back to dinner and stay with the boys again. Here's one thing I don't do anymore: going out in the evening, I went out a lot, I went clubbing with friends but unfortunately I cannot do everything and now it is rare for me going out in the evening.
______
How much does your family influence and inspire your work?
______
A lot. I feel very close to my family. For instance, my parents live in my same building and they are really close especially after the birth of the twins. As grandparents they are very present in our lives and we travel together every weekend.
I have always worked with my parents, my mother is an architect, together we make interior design projects. I had a store from 2003 to 2009 that was called Garimpo, where I recycled old fabrics from my parents' store. They called me to do this project because they had a lot of old fabrics and they didn't know what to do with them so they asked me to develop with them this project and that was the start of "Garimpo". There were unique pieces of fashion and decorations made with these recycled fabrics. The experience lasted 6 years and gave me a lot of satisfaction, my mother directed the creative part and my father the administrative part. They have always been very friends of my friends, combining family and friendship.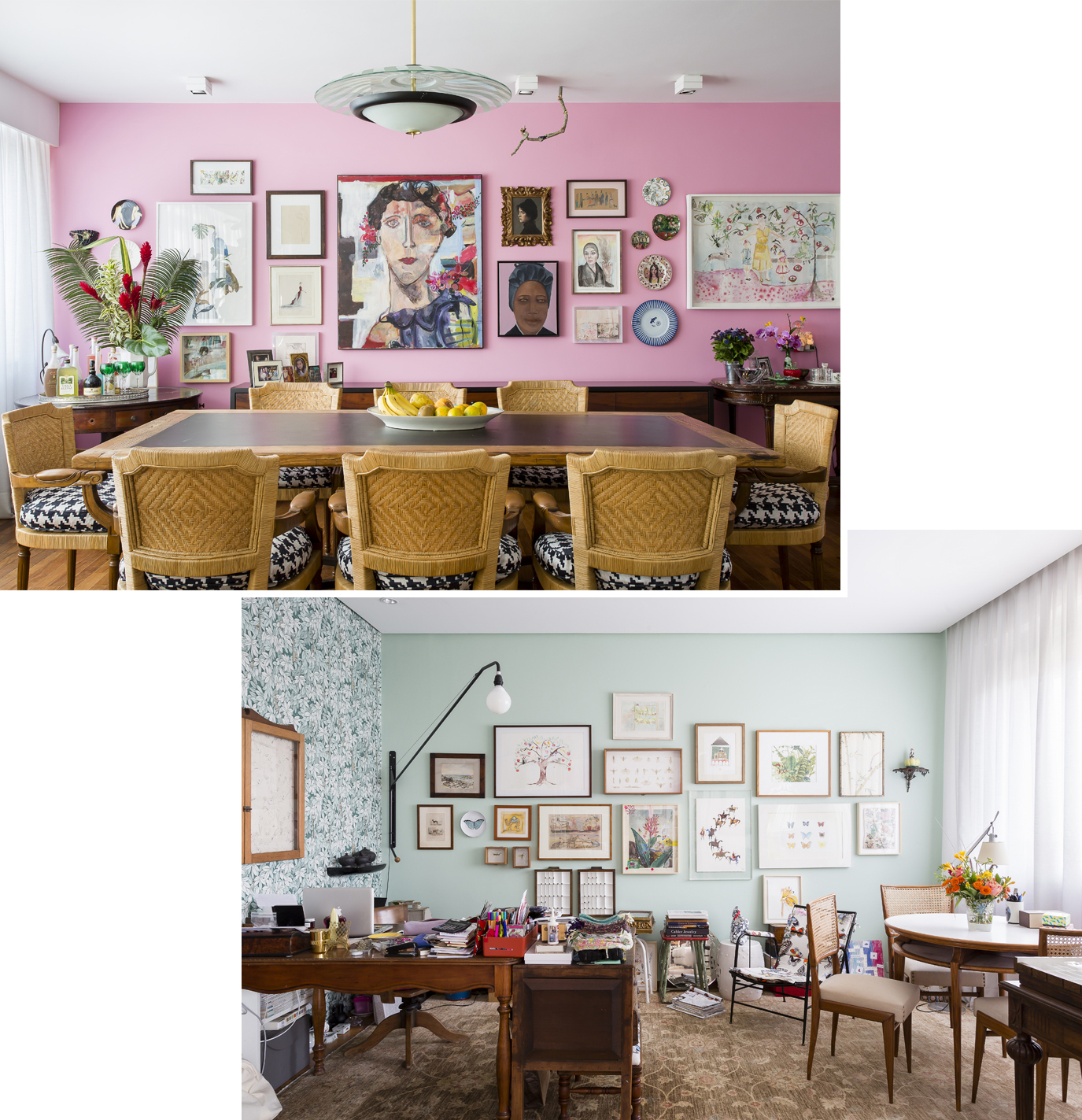 So my mother is a source of inspiration for me, both my parents have taught me a lot and have always pushed me to meet new artists, to visit museums and to study music; I am lucky to have always had a family that has encouraged me.
And now that I have two children I remain enchanted by their imagination and their universe and consequently they are a source of inspiration as well just for the mere fact of being children.
And friends of course. I've always been a very friendly person and today I have several friends who give me ideas, who I admire, who are artists, creatives. So here it is, all united and mixed together.
______
You lived in New York and now you have returned to St. Paul: what is "the beautiful and the Ugliest thing" in New York and Sao Paulo?
______
This is easy, the best part of New York is the city itself, there is all the best of fashion, art and music. Finding yourself in New York is finding yourself where everything happens. It is a city that I have always felt bound to, both when I went for travels and then when I lived there. And I also love street life.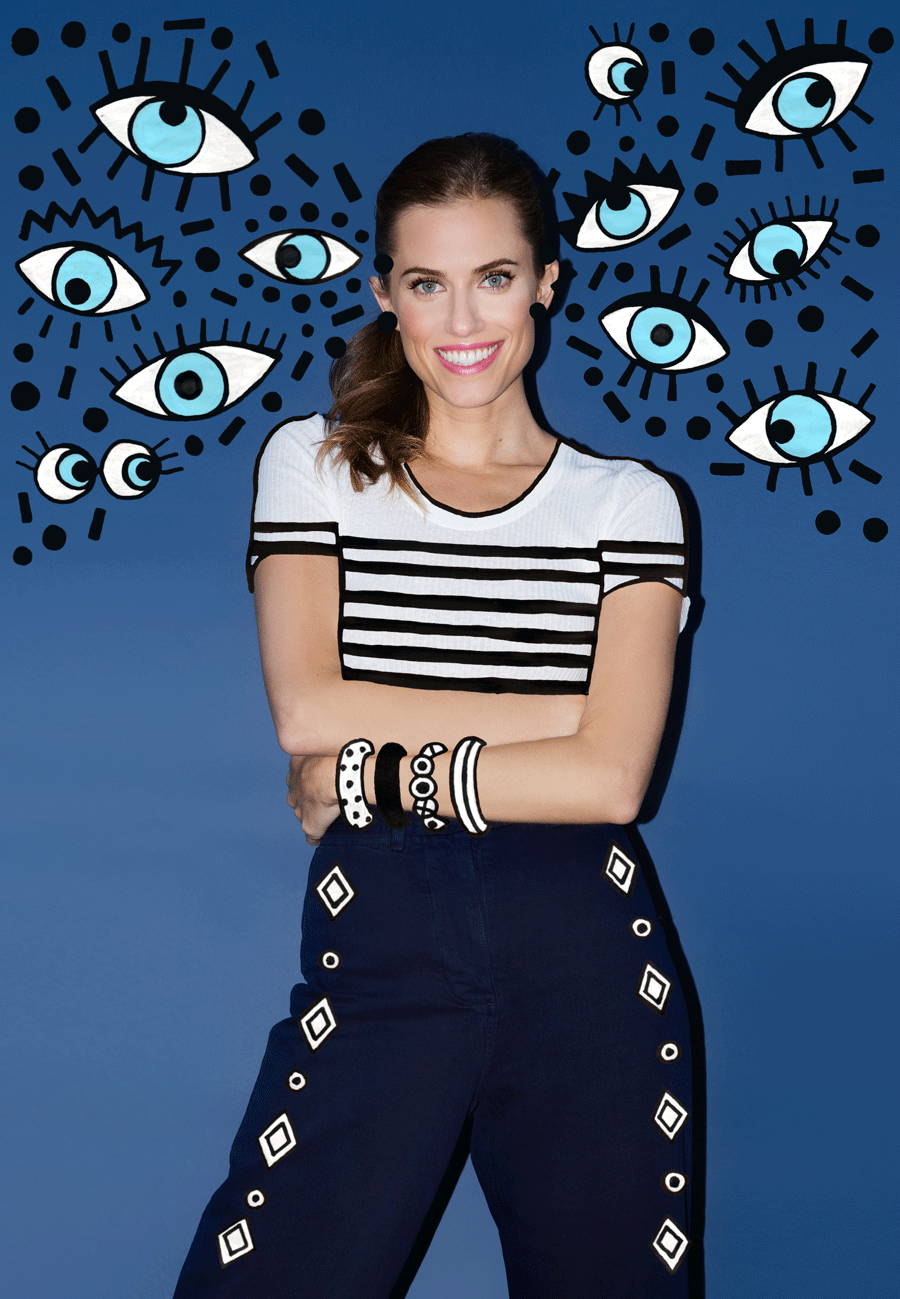 The worse aspect of NYC is the winter and also the summer and the dirt. As for Sao Paulo the best part are my friends and my family and the art scene, even if we don't have the same tools here. It is good that the world today is globalized but it is difficult to live in Brazil, which is a third world country; through difficulties, Brazilians learn to be creative, especially those people who live in Sao Paulo which is an incredible metropolis and therefore there is an exciting artistic scene that I admire.
The worse part is traffic and violence, not as much as they say but there is, and you learn to live with it.
______
If you have to go to another country with your family where would you go?
______
At the moment I do not think to move again, hopefully I would return to NYC but in another context; my husband and I lived in a very small apartment, I would go back to make the "adult" life. When we lived there I was a student. I also love Los Angeles because my husband is a director and I love that city. In Europe, traveling with imagination, because I have the German passport, I have been in Berlin and I loved it, same thing for Paris and also Milan.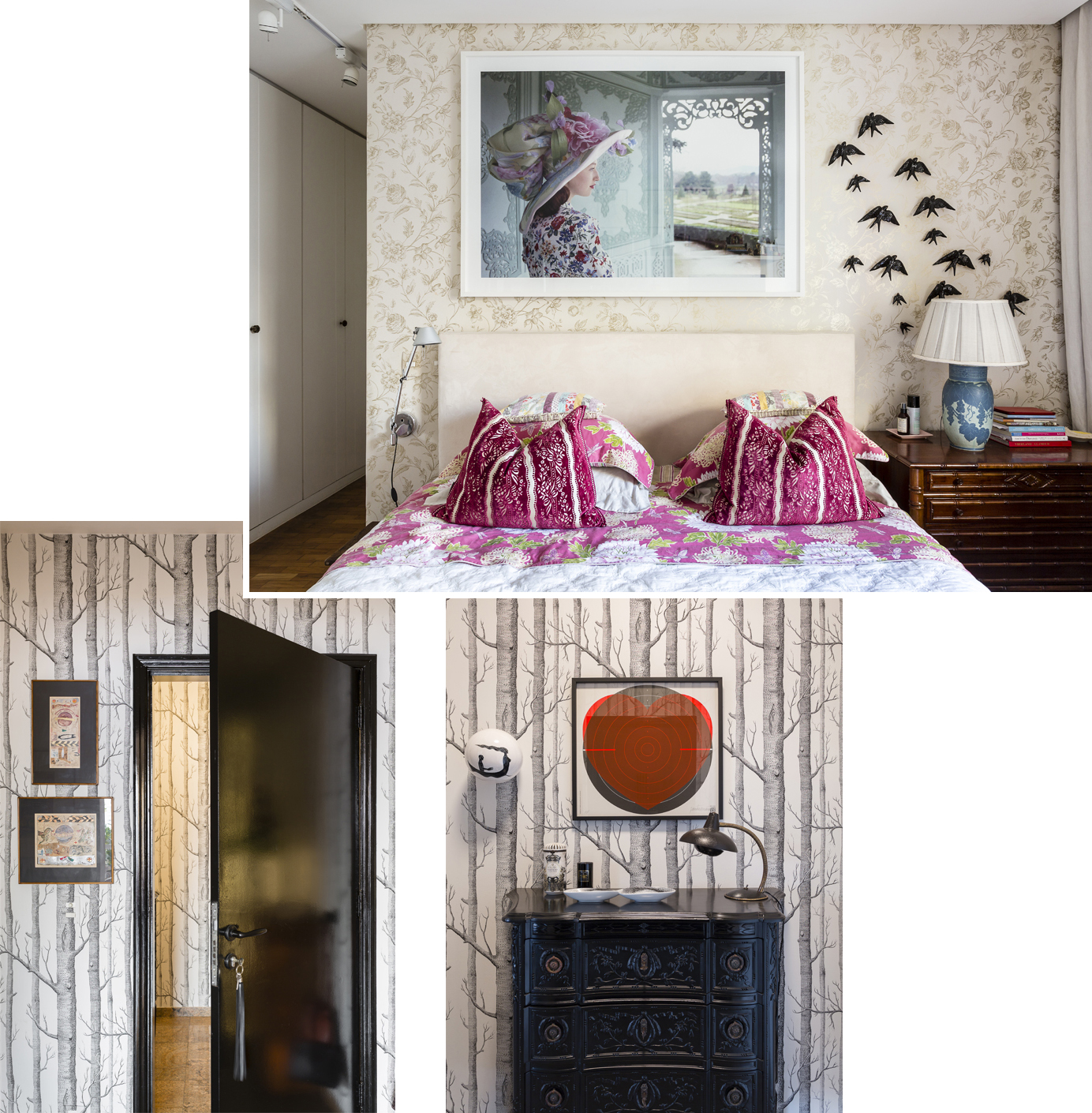 We are talking about fantasies but if I have to move I would definitely choose a capital where there is access to everything I like such as art, fashion, decoration and design. I wouldn't go in the countryside.
______
When is that Re. Cover became reality? Is there any cover you prefer compared to the others?
______
I was living in NYC, I went there in 2010 because my husband won a scholarship to make a master in cinema at the Columbia University. I had just closed my shop in Sao Paulo, yet we were not married, he told me "Should we go to NY?" And I said "Ok come on", so I accepted the challenge and I tried to reinvent myself and I began to do interior design work mainly for Brazilians who lived there. I have always worked with decoration but doing interior design was a new thing for me; I started almost for fun and it ended up becoming my job.
Also, I have always liked to draw and I have also done several courses (including one at the Parsons Design School) and at the time I was doing several meetings on Skype because I still had some work pending in Brazil and during these hours on Skype I drew, like doodling (scribbled). On the phone and through all these "scribbles" a cover appeared and I noticed that I liked what I was doing and I started posting the covers on Instagram , people began to put likes to it and I began to do it a little more seriously and then they called me to do an exhibition in Sao Paulo in a gallery and it was beautiful.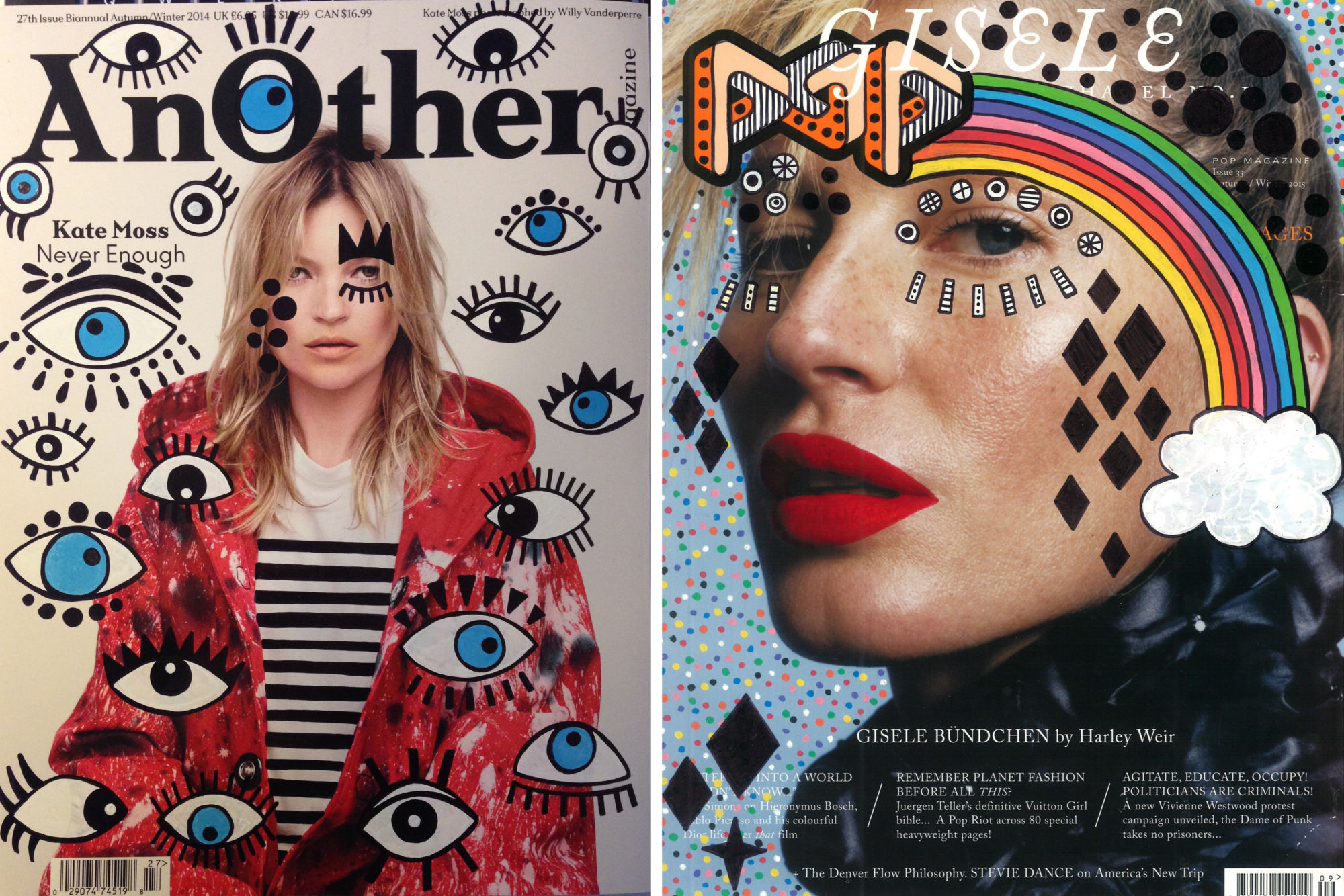 Furthermore, I started sending the covers to American blogs like "Honestly What The Fuck" and they began to write posts and since that time other magazines and other media have begun to call me for collaborations with them and that's how all started, and I can say today that I live by doing the illustrator and the artist and I always joke saying that my 13 years old dream has been realized but I would never have imagined I could live with my designs.
Every year I ask "will this be the year in which people continue to enjoy what I do or will be the year when they'll say they do not like it anymore?" As for the covers one of my favorites is one of the very first I draw, but mostly it is the first I have sold and it is of AnOther with Michelle Williams on the cover with a heart on the sweatshirt, I also like one of Vogue Italia with Gigi Hadid.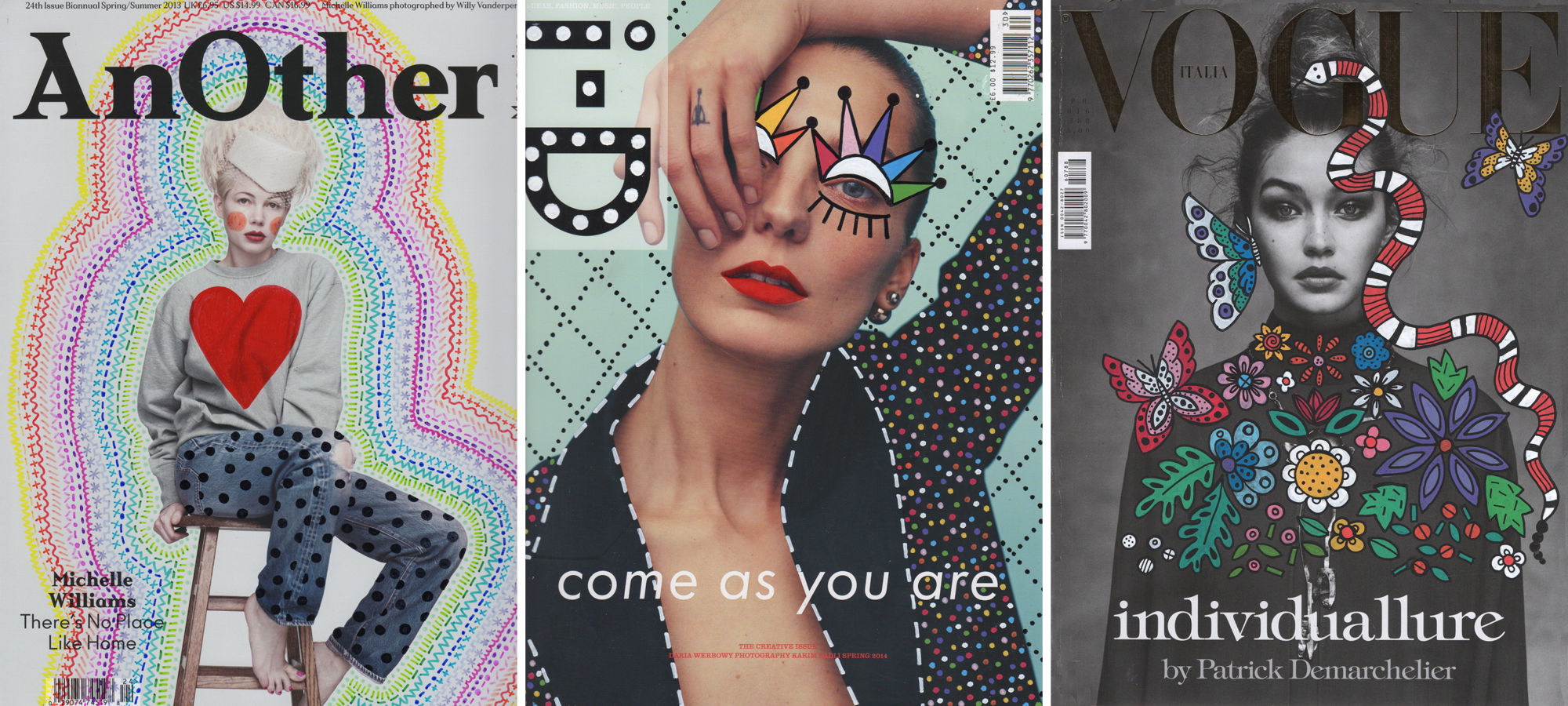 ______
Fashion and interior design, how do they coexist and how do they relate?
______
As I said, interior design and product and architecture are things that I bring in. My mom is an architect and my father had a home textile store. It is something that I have always liked, I am the only one among the brothers who have continued a profession linked to those of my parents. While the passion for fashion has born little by little. To be honest, everything to me is creation, everything has a creative side.
______
How do you balance your style with what the customer wants?
______
[Laughs] It is difficult, I think it is important to remember that every time that you are in front of a customer it is for a job commissioned. I have to be faithful to myself but at the same time I am working for a client so I have to understand his universe and therefore I have to balance things, always trying to find the way to leave everyone satisfied.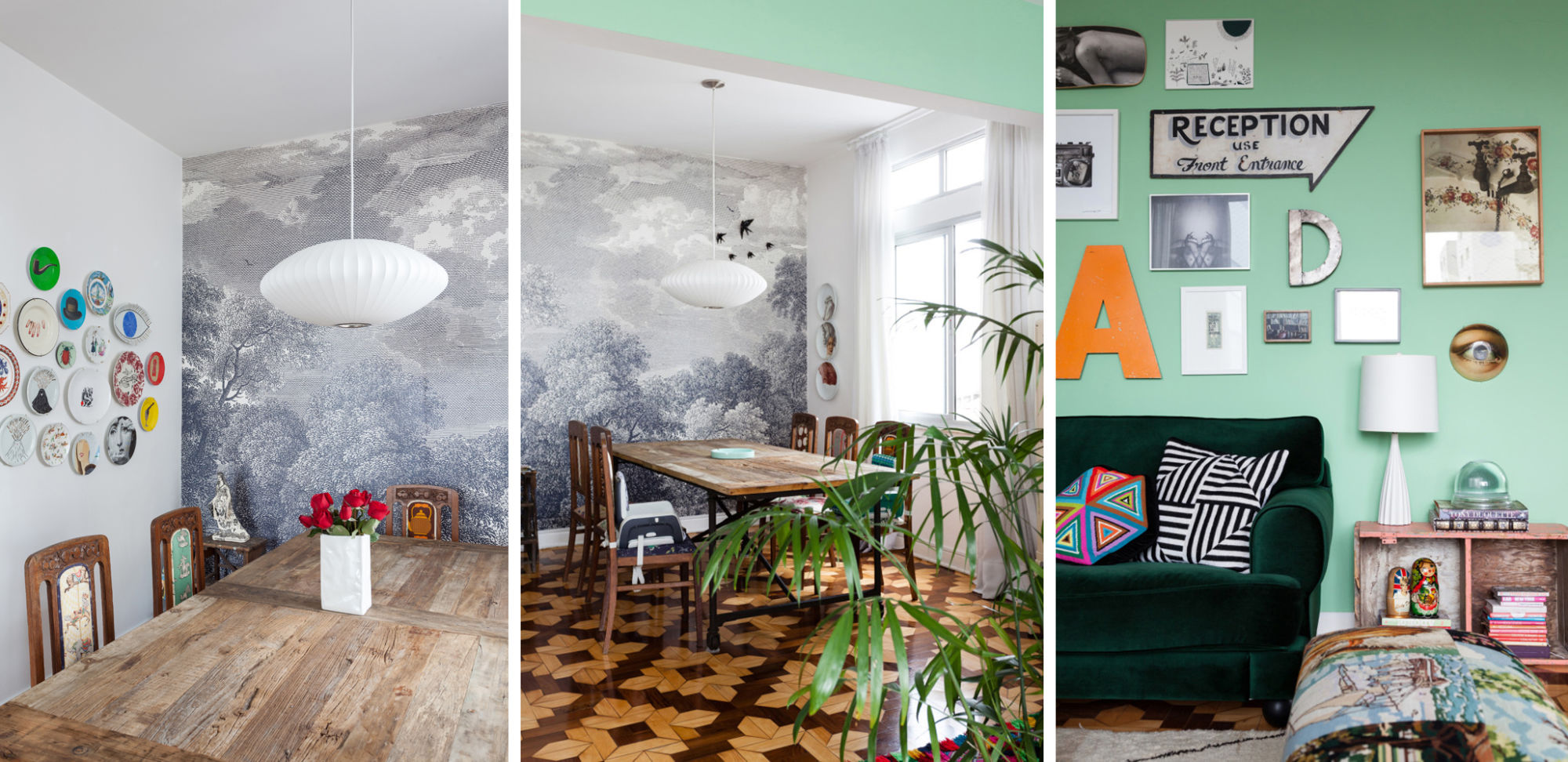 But I did some work that I regret or that I did not like, but it is part of the game and you always learn from it, and now I think it is very important to know how to say "no", to know how to choose the most beautiful and what you think is the best and not only to earn money. Having been able to say no was very important to me.
______
Can you tell us something about one of your future projects?
______
I cannot say the name of the brand but I am making a capsule collection for the packaging of a brand of make up and another for a brand of perfumes. They are both international brands and here in Brazil I am making a collection for a brand of candles and another one for home decor for children.
______
What advice can you give to young artists who are trying to chase their dreams?
______
My advice is that sometimes you don't have to try too much, sometimes it is better to stop and watch what life is giving you and not what you would want to have, because sometimes life gives us things and we let them pass. I think this has been my case with the covers because I could have thought of the covers as a cute and funny thing without any future.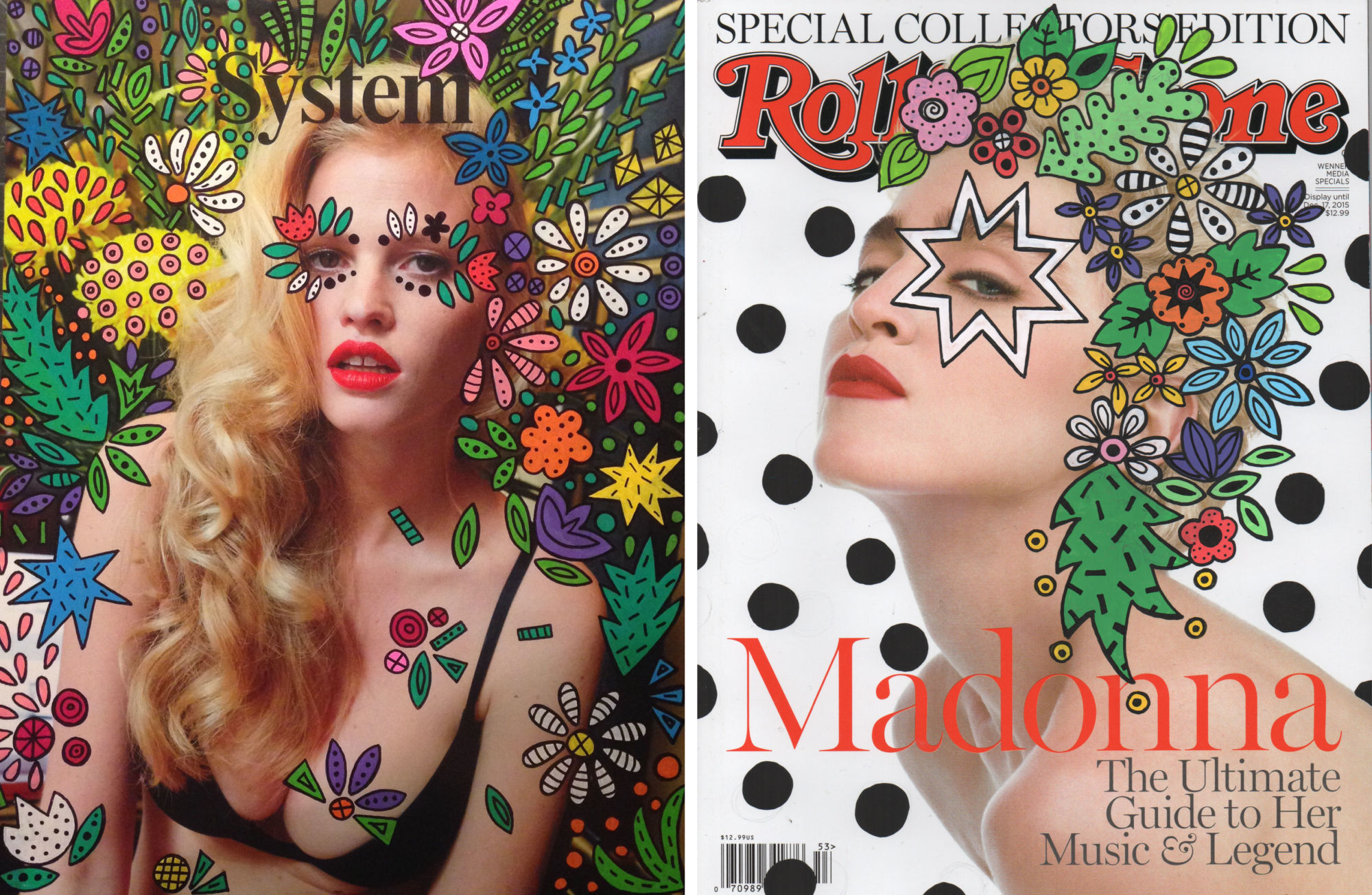 Instead I took the opportunity and today we are here to talk about this. The other thing that I think is important for an artist is to draw, paint or whatever, but at the same time take some free time because for me, for example, ideas come while I'm traveling.
______
What is your dream job and what is your dream project?
______
My dream is to always know how to reinvent myself, to be able to reinvent my style and to continue working as I am working now. So, I do not have a great goal but I wish I could continue like this, doing beautiful things, reinventing myself inside my universe and being able to collaborate with brands that I adore. Not only brands but also people.
I hope to do projects with other creative people.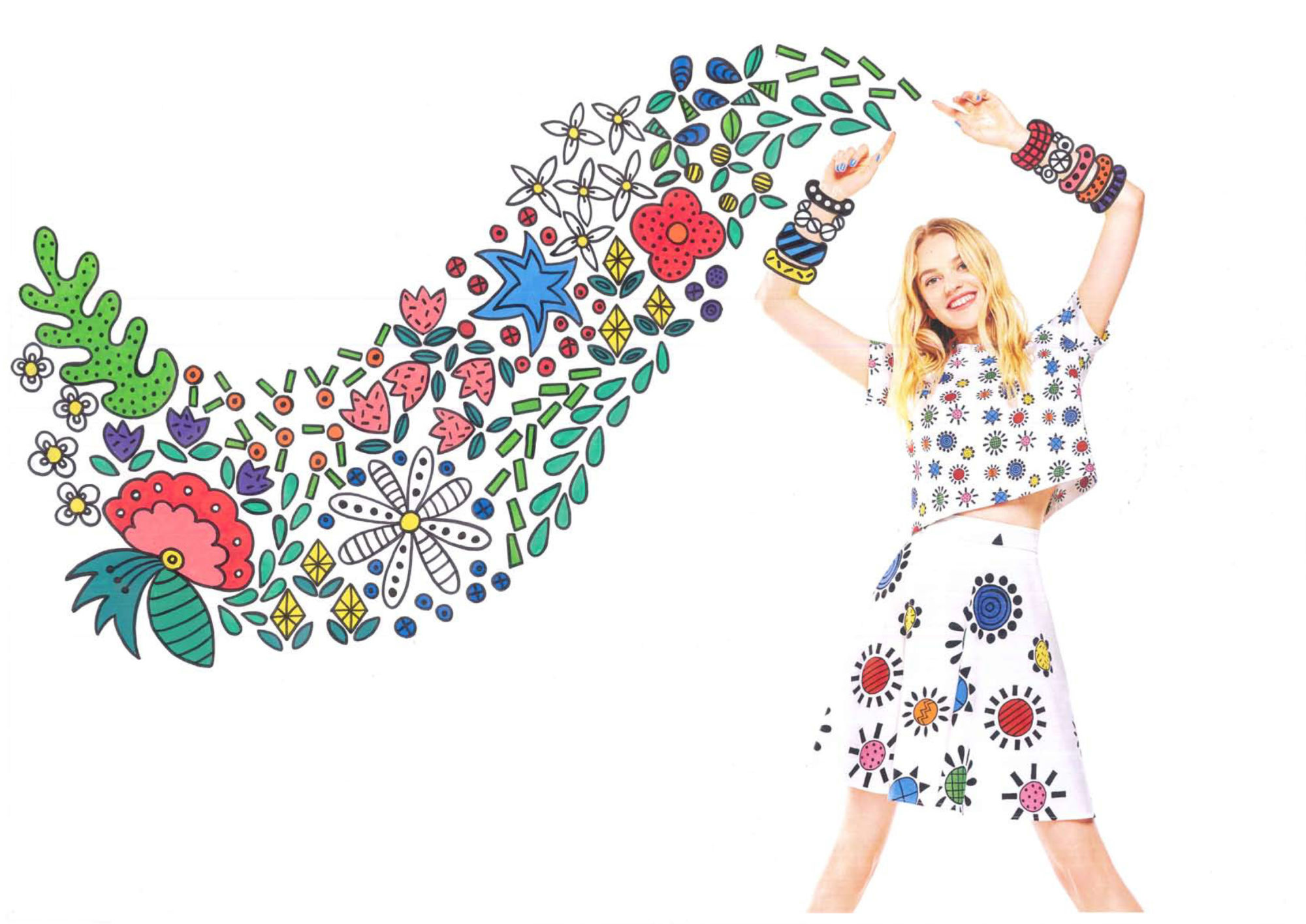 I think a dream I have is to spend one or two months in a beautiful place where I can "create" all day without having to think about anything else or about what others think, because it is true that I say that I like and I want to work with other brands and do many collaborations, but this implies so much pressure, and since I am a little anxious, sometimes I feel stressed. For this reason, you have to learn to know how to say no. That's why I would like the idea of a creative retreat and who knows what might come out from such experience!