A crack that overlooks the world of Yoga, meditation and wellbeing: this is the door opened by Here After, a brand that offers limited edition Essential Oils which, since the beginning of time, are a kind of product that makes us feel better inside and outside, favoring not only external beauty but also on the inside.


"We try to be balanced people, people who live well.
Open people who don't need walls.
I have to make others see and know myself for who I am."
Pills of History
Here After is a brand focused on essential oils founded by Alice Manfroni, stylist and Fashion Director of the SoapOpera magazine.
The brand deals with inner and outer wellbeing thanks to a range of 7 essential oils that not only generate a delicious fragrance but also benefit the find with several ways of application, which can be suited for our everyday routine, from the bath to direct application on the skin.
Working by the hectic environment of Milan, where is indeed normal to jump from one appointment to another without a chill moment or a second to breathe, is never easy. Therefore, Alice started attending a Yoga course and cultivating her interest in everything spiritual: thus, grew her involvement in the psyche and in the importance of a life that doesn't only focus on the beauty and balance of the exterior, of the body and face, but also on the interior.
These were Alice's words in an interview with SoapOpera," I met a gentleman who has an herbalist company and, together, we decided to start Here After, a collection that comes from me in name and packaging but that was born with him, who is a fellow yoga practitioner, traveler, and lover of nature."
On that occasion, the founder also revealed that the two moons designed on the brand's logo derive from her interest in esotericism and alchemy (even given that, just like a modern alchemist, Alice "played" with fragrances and formulas, creating a line that is not only beneficial, but that also reflects her view on life).
A real must-have range of products that can change our routine, since every oil is designed to achieve a harmonious balance between aromatherapy and meditation, in order to ensure the wellbeing of body and mind. At the moment, it's possible to visit the brand's Instagram account for beautiful photos and info on the products: @here.after.
The Misson of the Brand
For Alice, taking care of the person inside and outside is very important: it's impossible to love ourselves if we do not expand our horizons and deepen our mind, trying to communicate with the needs of the spirit as much as we do for those of the exterior.
The link between essential oil and Yoga has always been tight, and it is necessary to understand that the Here After oils open dialogue between body and mind and that every different formula serves to relax and get deeply in touch with ourselves, which is also the primary goal of every meditative practice. Among the first dictates of the brand, there is, in fact: "Never forget to love yourself, appreciate yourself and take care of yourself."
For seven oils, there are seven benefits, seven actions that help to rebalance the inner wellbeing of those who use these oils in their routine. This is also possible thanks to the aroma-therapeutic properties of the ingredients used, which are entirely natural and finely combined (Alice has in fact participated in the choice of mixtures, and the products are solely limited editions precisely to reflect the possible changes in the founder's life and knowledge).
Why seven oils? Initially, Seven was a random number in the preparations, but it also has an essential spiritual recognition (seven is considered to be a "magic" number in many cultures, representing, in fact, the seven days of creation and the seven chakras, among other things) but also the seven names of the spirit in the dictates of Rudolf Steiner.
Steiner, an Austrian esoteric and theosophist, has carried out several studies — mainly between the second half of the nineteenth and early twentieth century— according to which every person is made up of seven constitutive principles. Also, according to Steiner, there are seven further senses besides the five that are canonically considered: the meaning of life, of movement, of warmth, of balance, of thought, of words and the self of others.
Here After's mission is to push wide open the doors to an inner journey, which develops through the sense of smell and opens up a world of beauty and self-acceptance, because happiness is listening and loving each other.
Our Favorite Here After Products: The Shining Stars
Eilodon
Jasmine and ylang-ylang help fight insomnia and fatigue, giving a sense of peace that is warm and cuddly like an embrace. This product is perfect to smell wherever you are, or dab some drops on the face in the evening, before going to sleep.

Psyche
Psyche is the ideal energizer that can help us before a busy day (especially during seasonal changes). With myrtle and black pepper, it facilitates the decongestion, making it more comfortable to breathe, and is an excellent tonic, stimulating good humor.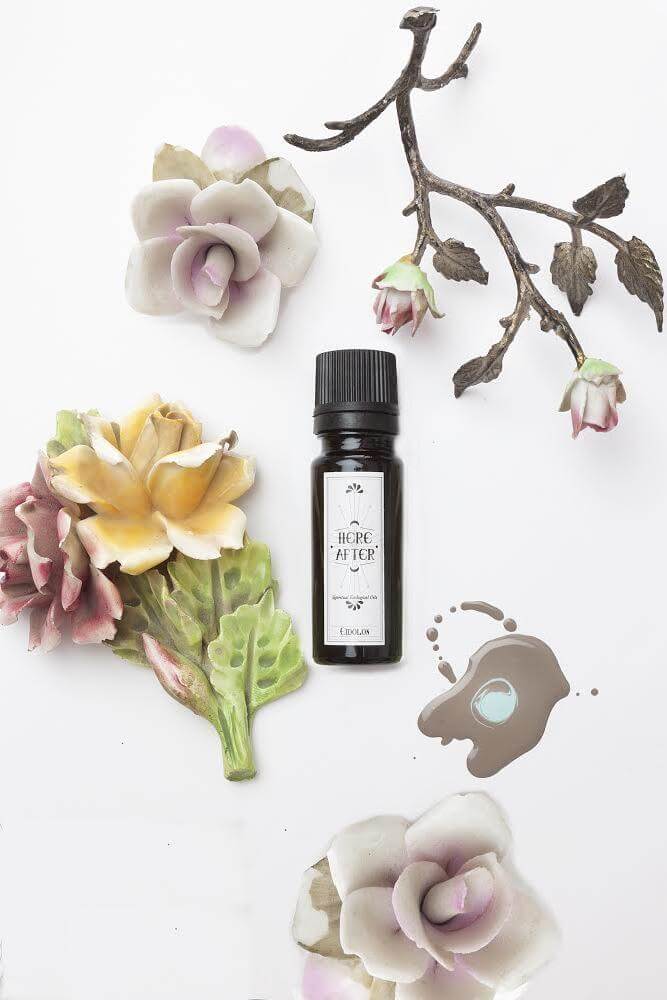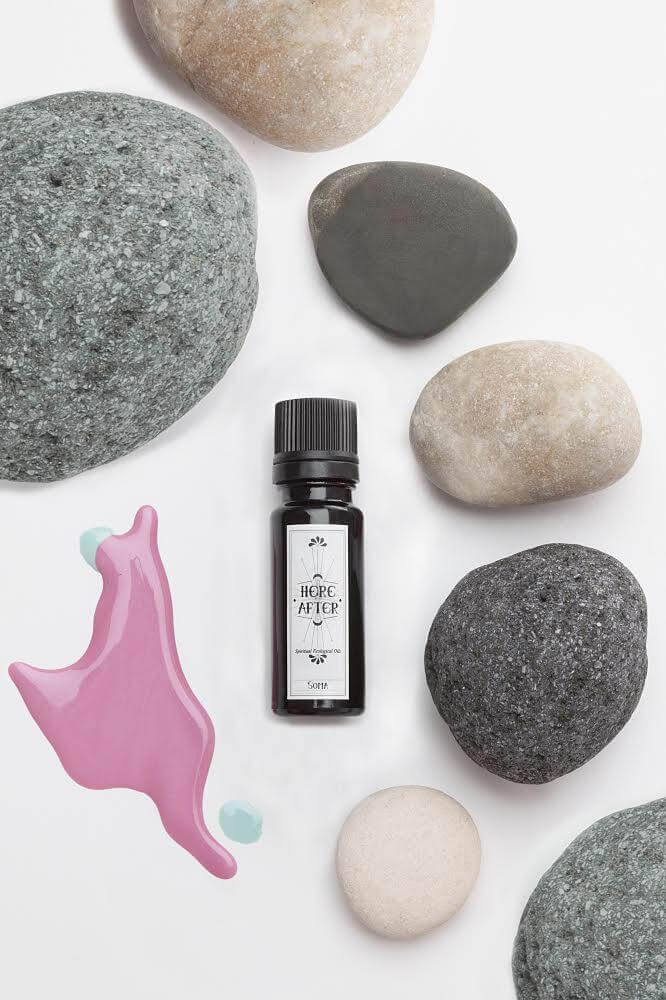 Phasma
Thanks to lavender and lemongrass, a few drops tapped on the temples fight stress and neurosis. This oil is a real relaxing therapy after a day of work, and it's perfect for washing away any stifled tension. Ideal to smell, to apply and massage on the temples and wrists, or to use in the bathroom.
Soma
Do you feel a bit oppressed? Do you need to breathe? The solution is Soma, which promotes a relaxed breathing pattern with rosemary and eucalyptus, also excellent for encouraging meditation and muscle relaxation.
Dianoia
A dichotomy of rose and violet scents and essences, in which the violet helps to contrast physical pain — such as headaches or muscle cramps—, while the rose gives a sweet fresh fragrance, ideal for the summer.
Nus
Based mostly on Patchouli essence, the enveloping scent of this oil smooths and rocks the heart rhythm and helps achieve an overall sense of serenity. Perfect for a long bath or to be smelled.
Ochema
A sweet encounter of Linden honey and vanilla that can be diluted with a few drops of milk in the bathtub, to promote relaxation and to finally pull the plug after a long day or during a relaxing weekend: Ochema will rock your sweet dreams.