Bakel is an Italian cosmetic company based in Udine and founded by Raffaella Gregoris, whose mission is to offer products with formulas that are 100% made by active ingredients, eliminating unnecessary ingredients with a 100% guarantee of skin benefits.
For this reason, and many more, we have chosen to talk about Bakel in our new Get To Know The Beauty, to let you know more about the history and mission of this brand and the products we love, or that we are looking forward to trying!
___________
Pills of History
___________
Successful chemist and well known in the industry for her innovative ideas, Raffaella Gregoris has been able to leave behind traditional statements to revolutionize the way cosmetics are understood and to redefine the concept of self-care. It was 2008.
With an unparalleled experience behind her, Raffaella created her brand, Bakel, and her first products are 6 fluids: in a short time, the brand raises to success and is appreciated for two main reasons: the purity of its formulas and, obviously, the results.
Raffaella Gregoris said, "It's not easy to explain how I replace the different substances, because each of our formulas goes through a long process of development, stability studies and endless passages that led me to find the balance of every single formulation".
The process to arrive at these formulations and how she managed to treat the active ingredients is a fascinating matter: "regarding the percentage of active ingredients, for each active component there is an optimal percentage to obtain the best efficacy, and it's not necessarily always the highest one. For example, if the % of vitamin A in a product was too high, it would become toxic. If we put an excessively high % of pure hyaluronic acid – not the aqueous solution -, we would reduce its effectiveness and absorption. In short, for every active ingredient, we try to use the optimal percentage to reach maximum effectiveness. At the same time, I must not forget that Bakel is made solely of active ingredients and, therefore, I use a 'cocktail' of substances in which every single element that represents an asset brings a benefit to the skin".
In just ten years, Bakel has become a solid reality, finding a wide net of support also on an international level. The packaging stands out for its elegant essentiality, which reaffirms the brand's reason why and is found in a contemporary and simple truth: "Less is more," a creed we always try to stand by. For this reason, too, we love the brand.
___________
The Mission of the Brand
___________
No compromises: the basic concept about this brand is the total subtraction of useless ingredients, every single one of them, including only natural and biotechnological ingredients with a specific function for the skin. In the formula, only a few super selected and top quality ingredients can be found (in the INCI you will read, for example, 15 ingredients = 15 benefits).
This brand uses essential and pure formulas that are good for the skin because they are effective and not aggressive, so pure and delicate that they are included in a special packaging that protects their integrity. Moreover, all face and body preparations are easily absorbed in a few movements, something much appreciated by all lovers of skincare: the ingredients must penetrate the skin to get results and these really do, so the skin never gets greasy or glossy.
Bakel products are functional: they can even be applied to delicate areas such as the eyelid. Yes, they are multitasking: you know how we love all the products that have this property and, skincare-wise, very few people can do that. Another point in favor of practicality? The products are indicated x H24.
Bakel also owns exceptional certifications such as Cruelty-Free, Vegan, Kosher, Gluten Free, nickel and heavy metal tested.
___________
Our Favorite Bakel Products: The Shining Stars!


___________
BLOSSOM ICE – Instant Treatment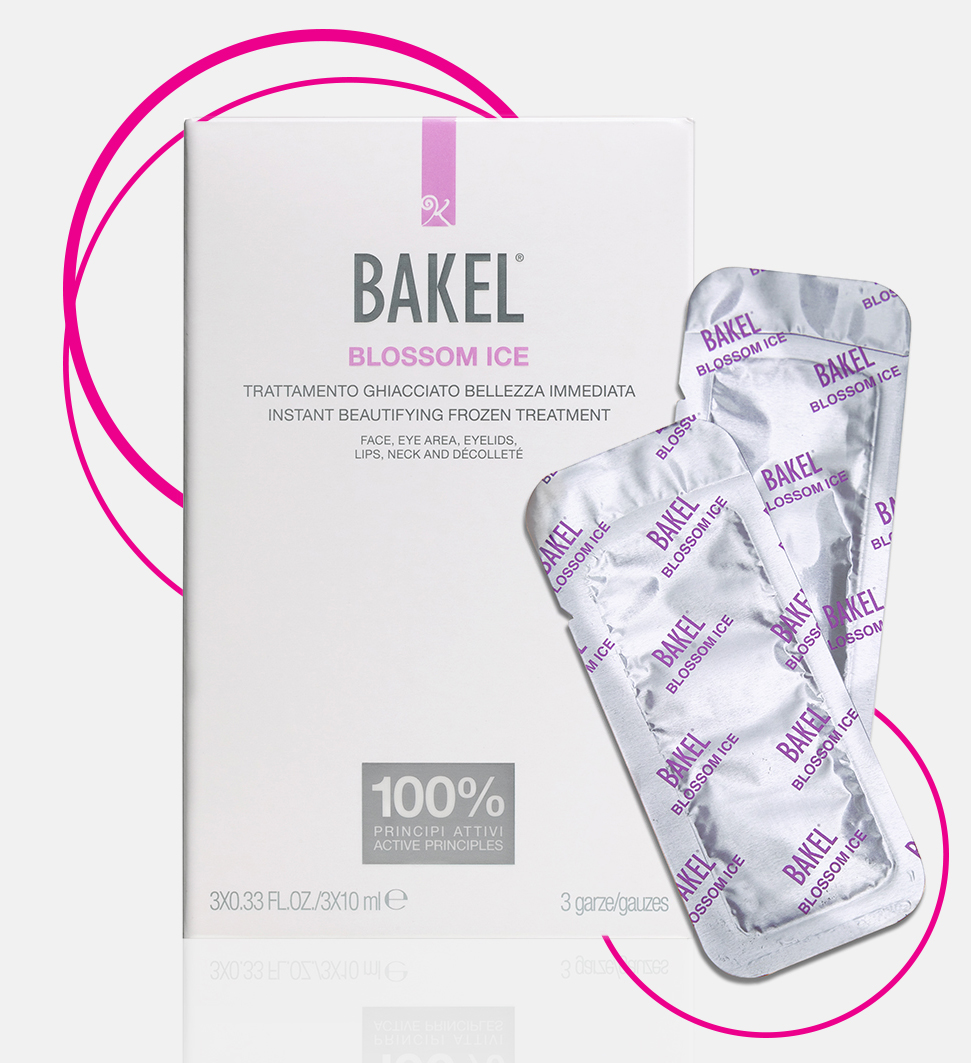 An anti-aging face ritual, with a soothing, cooling, and emollient result. 11 ingredients, 100% active ingredients, and 0% useless substances: this is Bakel Blossom Ice. This product works an intense toning, decongestant, moisturizing and soothing action thanks to the White Lily water, the extract of Rosehip and the Elderberry oil, which are matched with the anti-wrinkle action of Tetrapeptide of biotechnological origin. This synergy is enhanced by the skin-icing action which, cooling the skin, causes a rapid succession of vasoconstriction and vasodilation, stimulating global oxygenation and promoting metabolism on a cellular level. Also, due to its refreshing properties, Blossom Ice is perfect for the upcoming summer!
JALURONIC – Deep Hydration Serum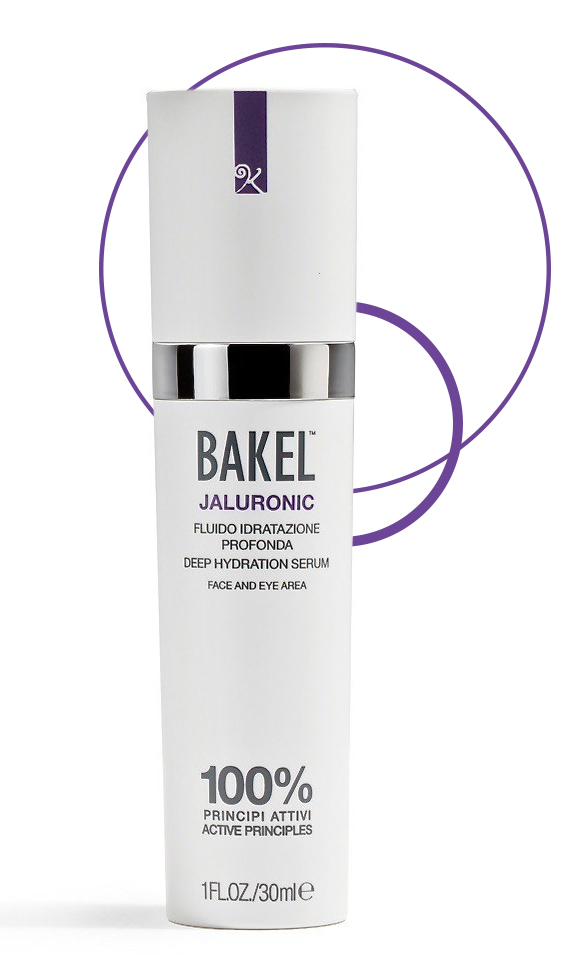 An innovative serum containing hyaluronic acid in pure form with low molecular weight, therefore with excellent penetration properties. It ensures and restores an ideal level of skin hydration, activating an immediate lifting effect. This product gives the skin a visible glow, and it will become a must-have for those who love a naturally radiant complexion.

COLLAGEN – Firming Serum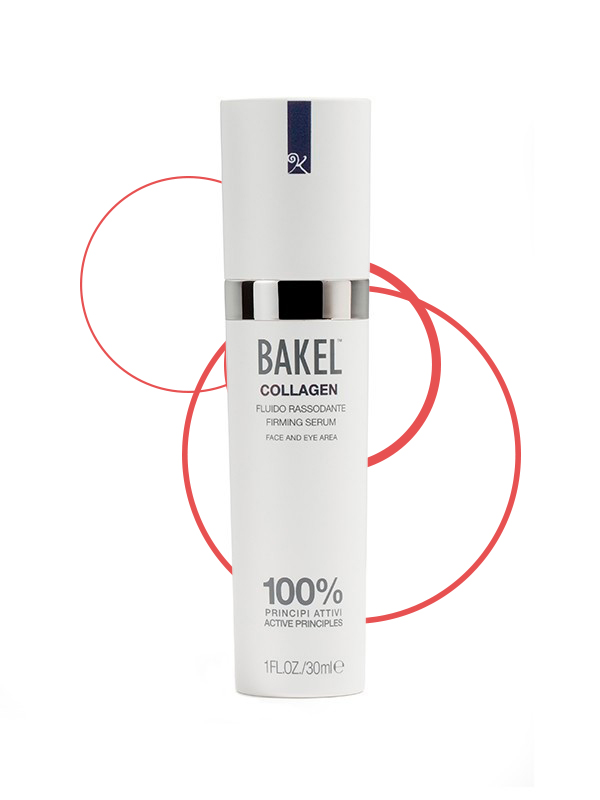 It is an innovative serum that contains biotechnological collagen, a substance with a high elasticizing and firming effect; vitamin B5 that has a soothing and regenerating function; and vegetable glycerin, which has a significant moisturizing action. When used on mature skin, this serum helps restore tone and volume.
EVEN – Renewing Serum
This serum contains malic acid, mandelic acid, tartaric acid, and salicylic acid, which, in synergy, activate a process of skin renewal and accelerate cell turnover. After a few days of application, the skin looks smoother and uniform. It also has a sebum-balancing action, reduces skin thickening and effectively prevents blackheads, imperfections, and impurities, granting a simply perfect skin.
GENTLE WASH – Soothing Cleansing Gel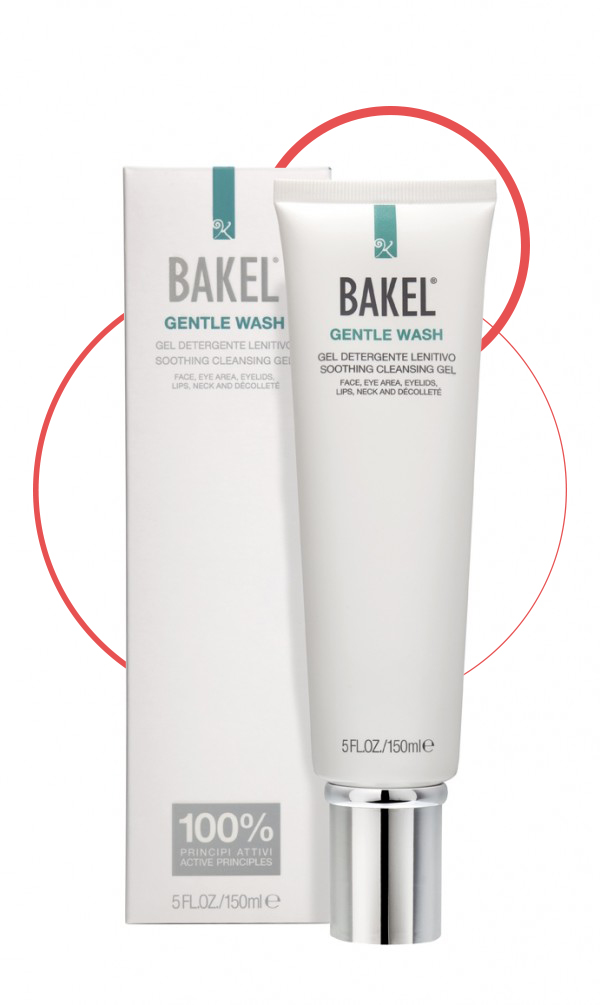 We love Gentle Wash because it's an ultra-gentle cleanser based on aloe vera juice, which has a natural soothing and anti-aging action and prepares the skin to receive further treatments effectively; moreover, the vegetable sourced washing agent respects the physiological pH and preserves the hydrolipidic film of our skin. The perfect makeup remover and cleanser that doesn't dry the skin, on the contrary: it soothes and respects it.

PURE PEEL – Exfoliating Face Mask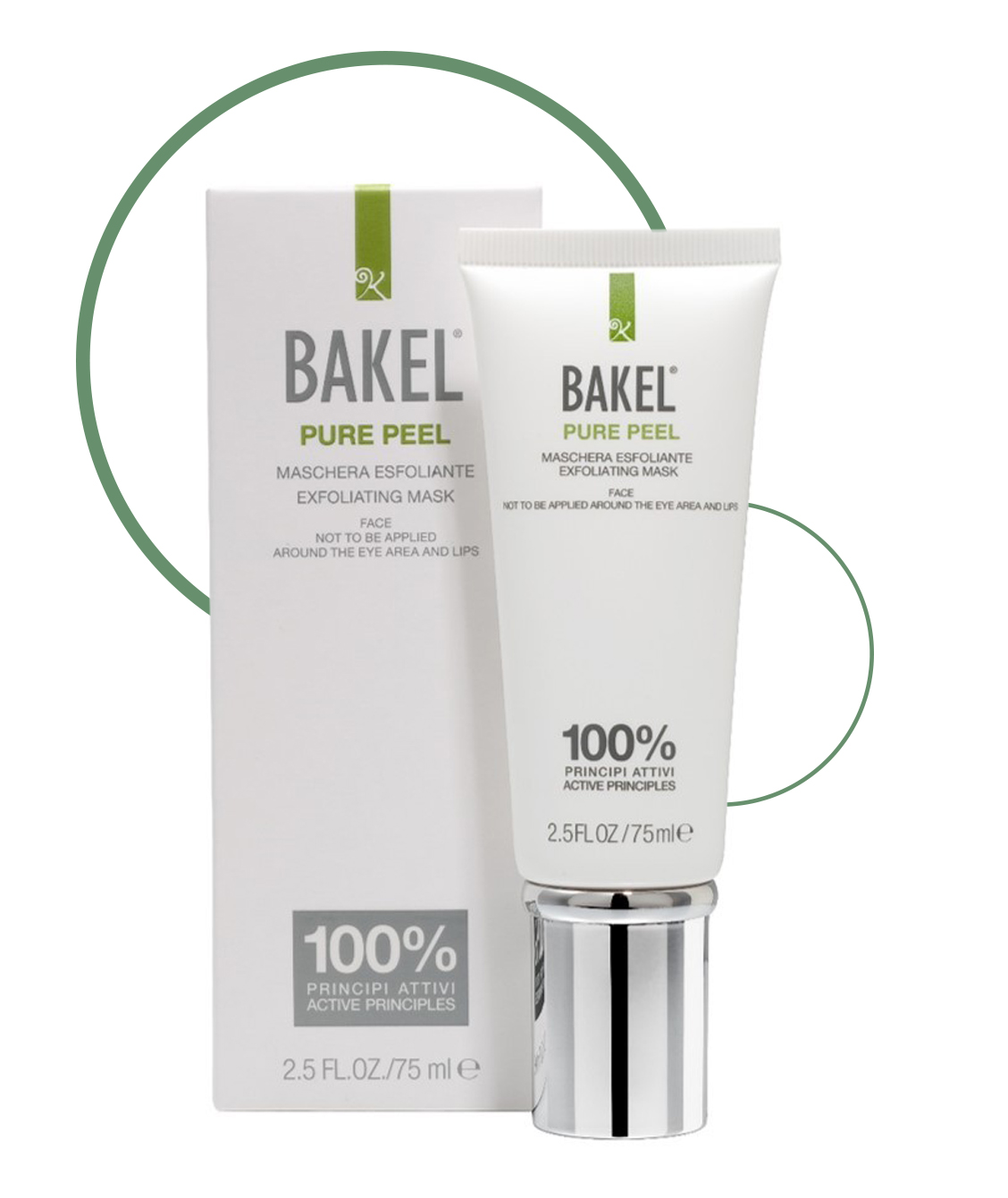 This mask is simply unique: an exfoliating action in a gel texture with a combination of salicylic acid, citric acid, and other natural acids. This complex eliminates the dead-cells layer and accelerates cellular turnover. From the very first application, the skin is smoother, even and more radiant, while superficial wrinkles are reduced.
Just apply a uniform layer of this mask once a week on face, neck and décolleté and leave on for a maximum of 5 minutes to discover a revitalized skin.
PURE ACT WATER – Rapid Make-Up Remover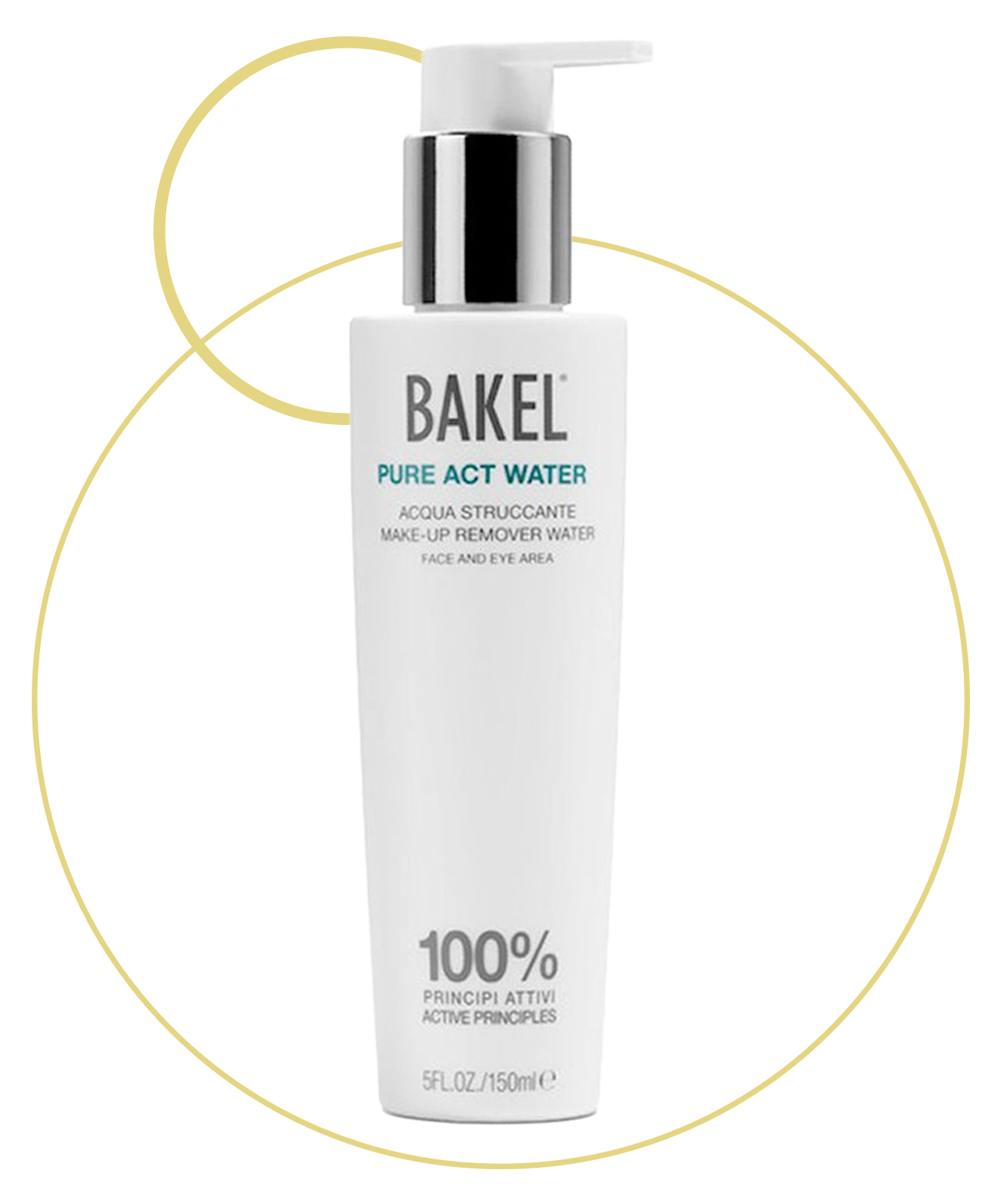 The Pure Act Water makeup remover meets our need to quickly remove makeup without compromising the natural protection of the skin. Thanks to its rosa centifolia distilled water and a mix of hydrating vegetable sugars, it gently removes the make-up, protecting the skin's natural hydrolipidic film.