The Artist
 Valeria Ferreira.
What
 Red Carpet Look for Maria Bakalova X Amfar 2021.
When
Cannes Film Festival 2021.
Inspiration
My main inspiration for Maria's Amfar makeup look was Marilyn Monroe's iconic beauty  and those magical old Hollywood times. Maria wore an Armani gown carefully selected by the great Jessica Paster. The dress had a very "corseted" tailoring and was screaming for a bold statement, like a dark matte ruby lip. Maria and her vanilla velvety skin can carry it so well!
"Both Byron ( hairstylist) and I wanted to evoke old Hollywood glam. Keeping it super feminine and sophisticated – slightly retro – but still soft and ingenue".
The Must-Haves

– A liquid rose gold eye tint by Armani Beauty
– The Pat McGrath Palette
– The Zoeva Wing Eyeliner brush
– The Shiseido curlers
– The Yves Saint-Lurent Faux Cils mascara
The Skin
For this look you need a really good concealer, like the Armani power fabric concealer, and a great blotting powder. I love Fenty's Pro Filt'r Loose Powder you can 'bake' safely and achieve a great finish with it.
"You need beauty blender sponges to get that skin feeling and looking velvety. They are magical!"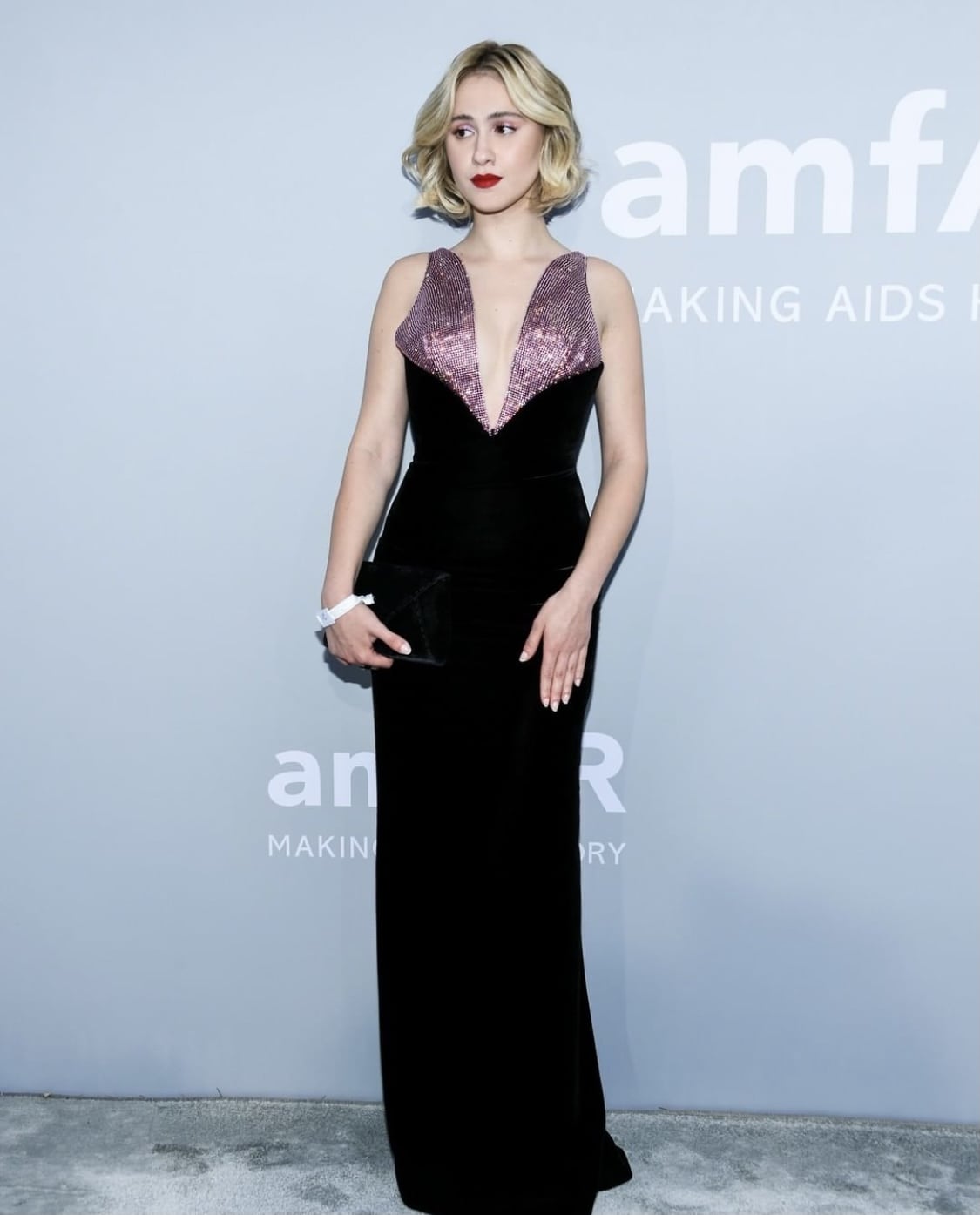 The Cheeks
I actually contoured quite a lot – even though it looks soft I did sculpt thoroughly – really bringing out Maria's bone structure and gorgeous features. The key when working on pale skin is to find a contour product that blends well and creates shadow rather than darkness – if that makes sense?
I love the Charlotte Tilbury fair contour gel – it's a very unique Taupe-y shade that looks super natural on alabaster skin tones.
For the apple of the cheeks, I wanted a touch of rose/ dusty pink on the cheeks but a shade that would disappear into the contour and still keep that porcelain feel to the skin. I love the Illamasqua blusher quad – the pale pink is adorable and perfect on Maria's complexion.
The Eyes
Maria's dress had a rose gold swarowski neckline and I wanted the shine and sparkle from it to reflect on the eyes. I blended a liquid rose gold eye tint by Armani Beauty all over the moving lid first and then I set and dramatised the effect with a Pat McGrath metallic pink shadow. I think it's on the Mothership II palette. I wanted to elongate the eyes, but I didn't want to harden the expression, so I created a very subtle wing liner with a powder eyeshadow in a mauvey brown also in the Pat McGrath palette. Best liner brush for elongating eyes: Zoeva Wing Eyeliner brush.
Lashes had to be airy and feminine, soft and delicate. We super-curled the lashes with the Shiseido curlers and added a very soft layer of Yves Saint-Lurent Faux Cils mascara.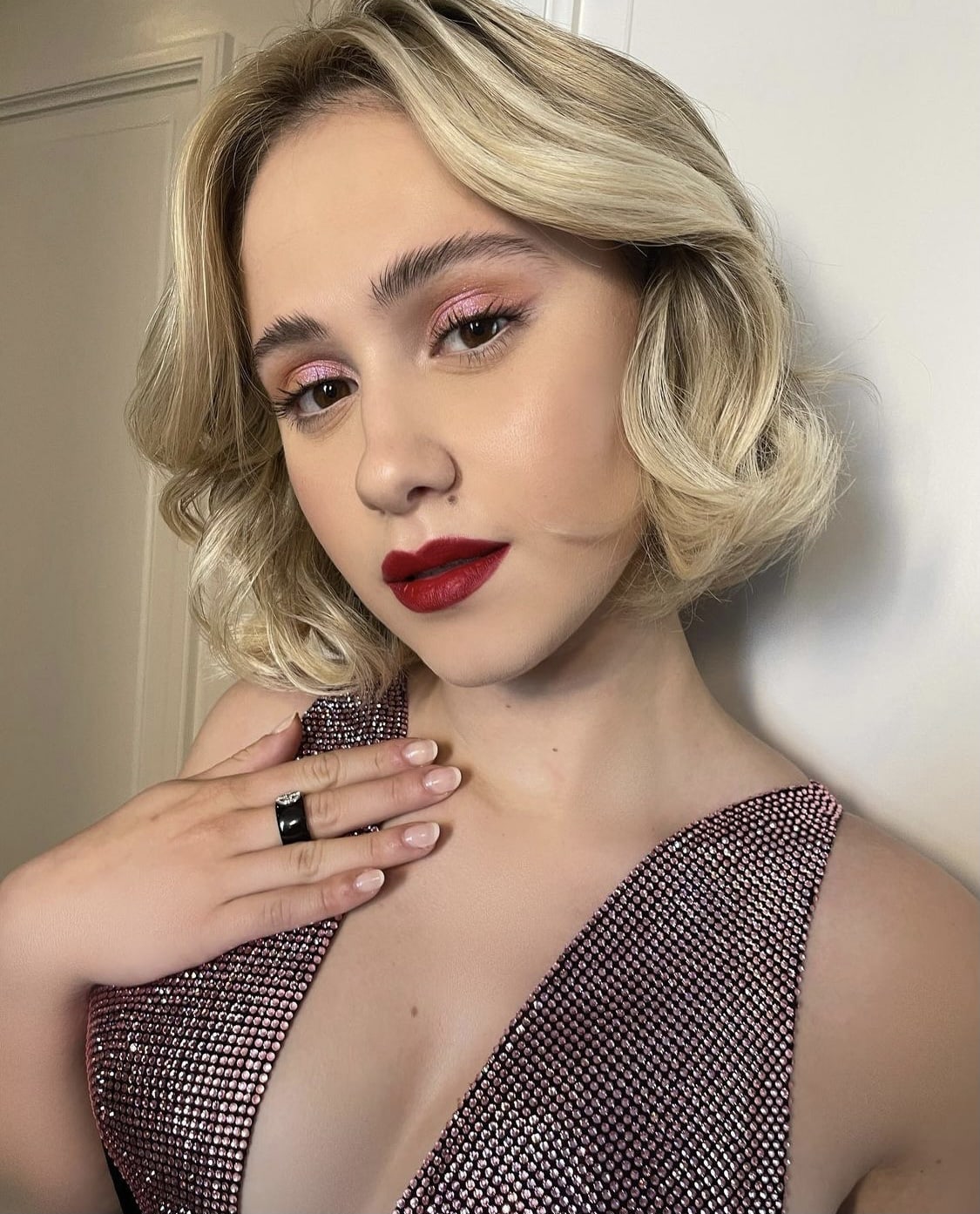 The Lips
For the lip – if you are doing a red- you want a 24hr lipstick when you are doing red carpet. It needs to stay put, it needs to look perfect all through the evening! The Armani Maestro range is truly phenomenal. I use a darker ruby tone lip liner to ombré a little, then a vibrant matte red in the middle to create dimension. Many shades of perfect reds to choose from this range.
Your Beauty Secret to Share
Waterproof eyebases! They create the best canvas to work on and give you incredible longevity in extreme weather conditions…
What do you do when you feel like you need a creative boost?
I ALWAYS look at nature. It is my biggest source of inspiration and happy place.
What does "feeling comfortable in your skin" mean to you, related also to your work?
Personally, feeling comfortable in your own skin means feeling confident. Embracing who you truly are with your strengths and weaknesses and accepting not everyone will like you – which is totally fine and normal! Believing in your vision despite trends and following your instincts, these I believe is what gives character and uniqueness to someone's work.