From homemade performances and home videos to Matteo Rovere and the RAI television stage, Chiara Marchiori has told us everything about her first steps.
The imprinting that is just about seconds and the feeling of sharing which becomes a great opportunity are only two of a series of staples of an actress who's very determined, rational or instinctive "in the right place at the right time".
On the occasion of the Premio Kinéo award ceremony, the "young revelation" of the year opened up about the huge joy that comes from winning, and the huge joy that comes from cinema. From a chat about reckless experiences on set and noble missions in Ukraine, we've instantly recognized Claudia's genuine spirit, of an actress who's devoted to any mission in which she firmly believes, ready to cry those happy tears hiding in the best of moments.
What's your first cinema memory?
My first cinema experiment originates between the walls of my house, with my sisters. Back then, all we needed was a cardboard box to build a television, a microphone, and our parent's clothes, and we were ready to present weather forecast information to the public!
When I was in elementary school, after class, my friends and I would meet to film the movie we'd decided to make. We would write the script and then decide who would play whom, and film everything with a small camera. That first movie was called "Il destino è dietro l'angolo" (fate is behind the corner), the DVD should still be hidden in one of my drawers full of memorabilia.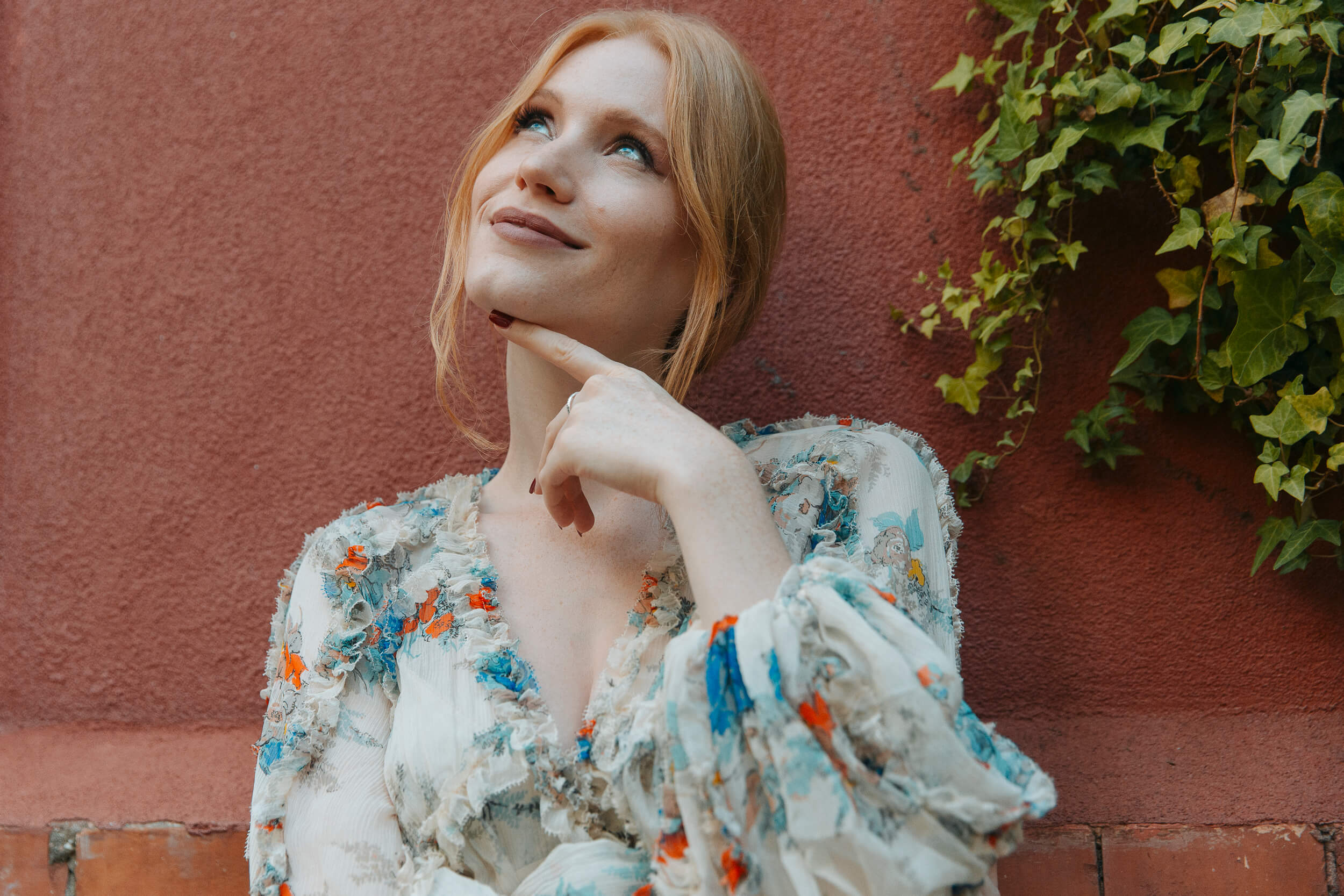 We've seen you in "Romulus" by Matteo Rovere, and in the TV dramas "Che Dio ci aiuti 6", "Un passo dal Cielo", "La sposa". What is it that makes you say yes to a project?
Usually, the imprinting happens in a matter of seconds, as soon as I read the scene that they assign me for the audition. When the words that I read flow and run through me, I feel a feeling of familiarity and resonance, in that moment I feel like I can serve the character because in the right place at the right time.
They often say that wearing someone else's shoes helps us get a better knowledge of ourselves. Did you discover anything new about yourself while on your acting journey?
When you're wearing other people's shoes, you discover you're not the only one to have weaknesses and fears. Sometimes, we focus on our problems and forget about what's surrounding us: the world with its infinite opportunities. Thanks to this job, I've discovered and learned that I'm not alone, that there's always someone who can understand or see me.
And that it's nice to be fragile and scared, too.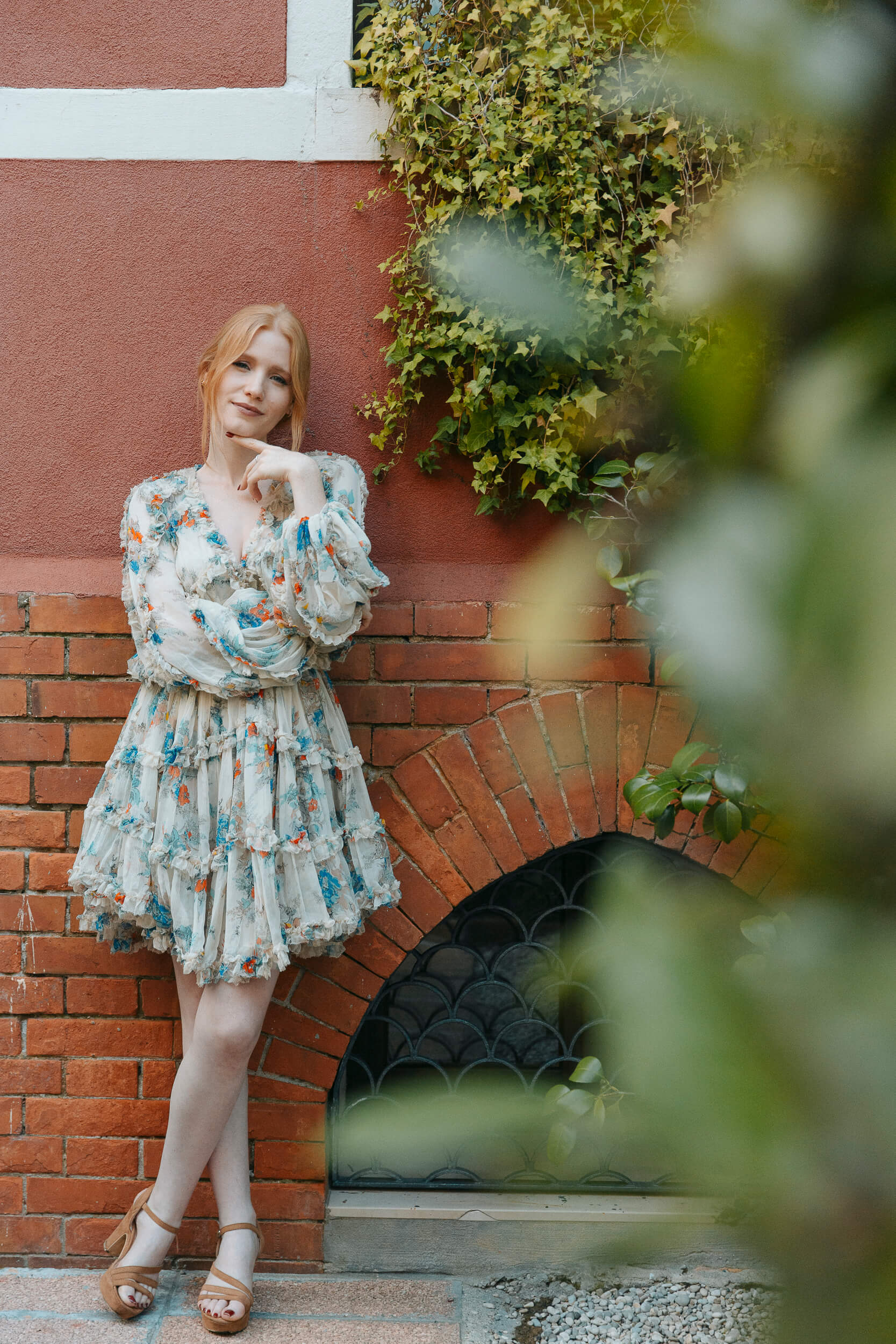 "Sometimes, we focus on our problems and forget about what's surrounding us: the world with its infinite opportunities."
When working on your characters, are you more rational or instinctive?
I'm both.
Beforehand, there's a great rational and technical job, I delve into the study of my script, of my character's biography, and try and give things a more tangible shape. Then, I let emotions, intuitions, and feelings run through me. When I've worked on both the rational and instinctive parts, only then I'm ready to bring my character to the set.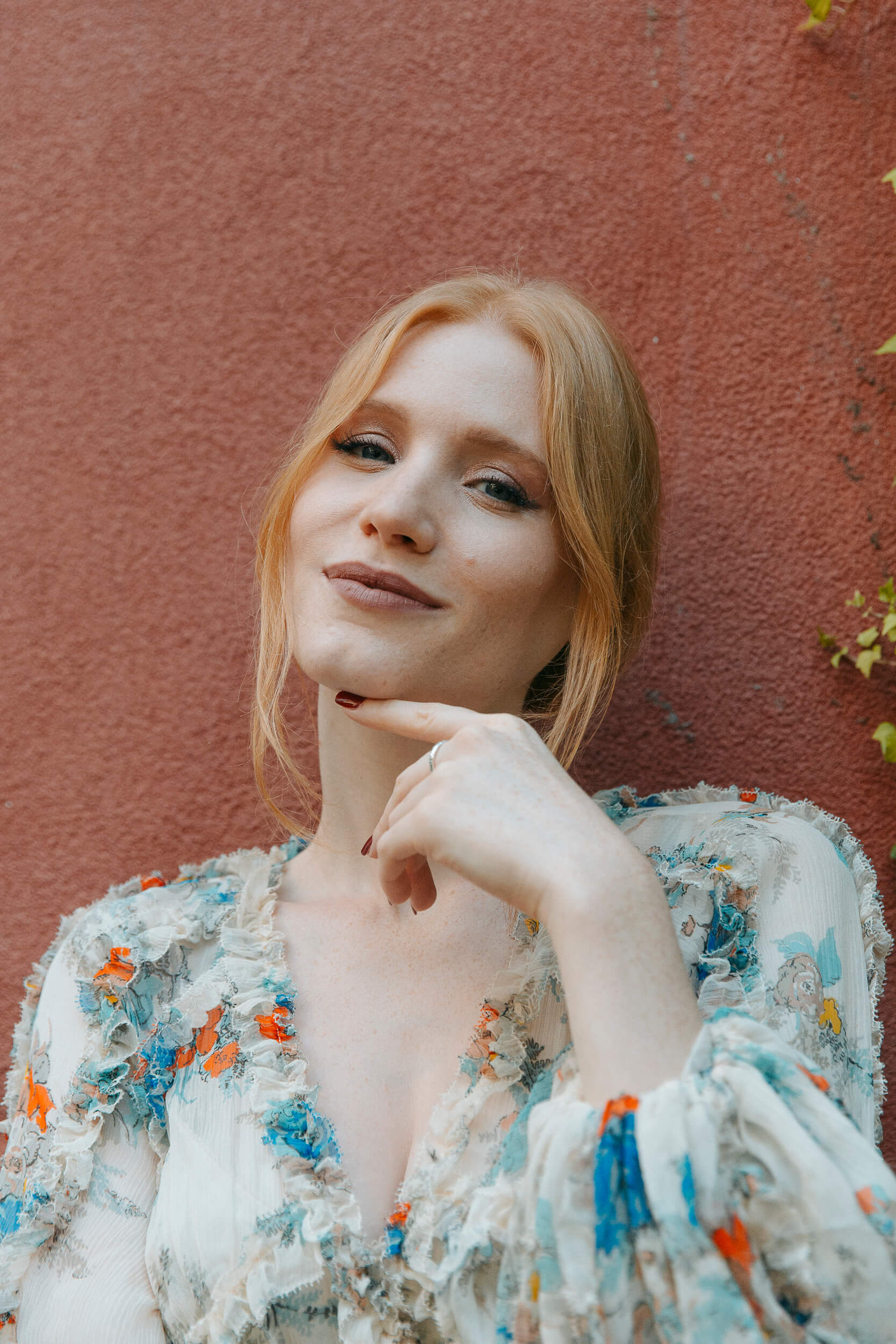 What does the Kinéo award represent for you?
It represents the unexpected that comes and reminds me that I'm walking on the right path. It represents the gratitude that I feel towards my job and the people who believe in me, like Daniele Orazi, my agent, who, in such an important moment for me, took my hand and squeezed it until we were on the red carpet, saying: "Go, this is your moment!". It represents trust in others and in the future.
It's a good omen, and if I'm wrong, I'll just enjoy it now!
What's the worst and the best piece of advice they've ever given you?
The worst was: "If you don't have this attitude, you will never make it".
The best one was: "Do what makes you feel good".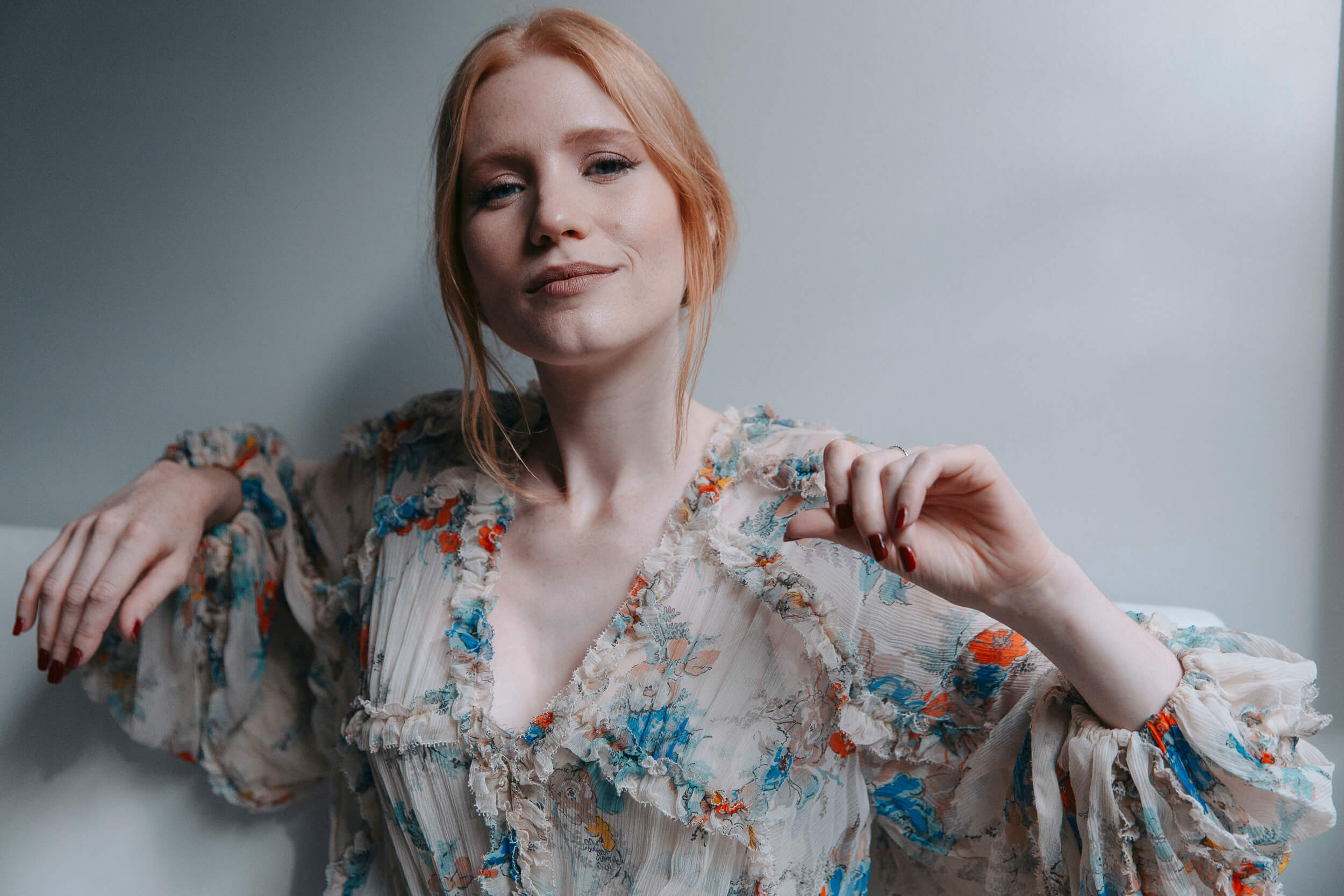 "Go, this is your moment!"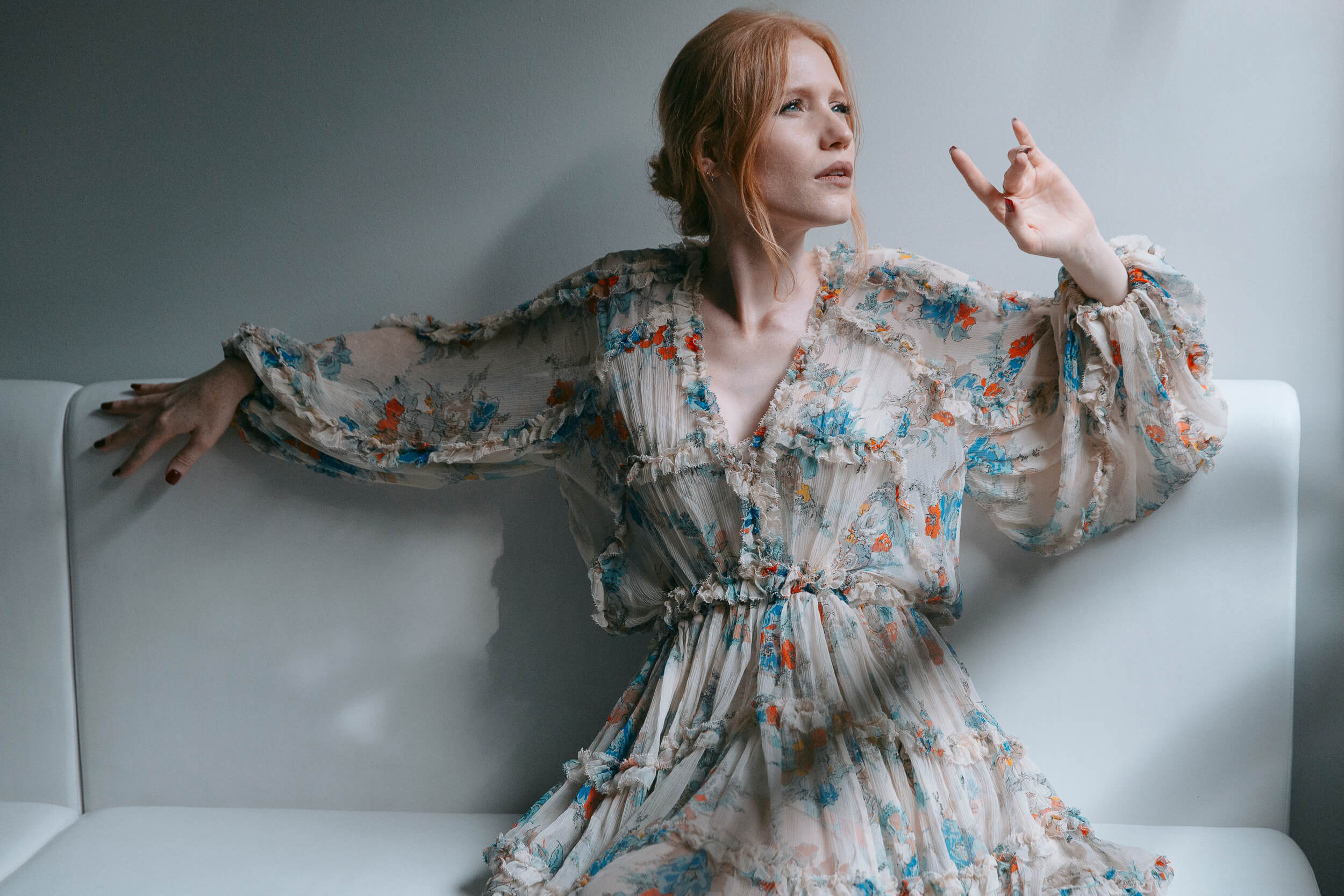 You're one of the "young revelations" of the year: what's the most significant revelation of your life, as of today?
I think that there's "the revelation" in every one of us, it takes courage to expose ourselves, express our ideas, and allow ourselves to be who we really are. Precisely working on myself, I realized that I can't be liked by everyone, but when I do, it happens totally, freely, and intensely because I'm liked for who I am, with my perks and my flaws!
Your must-have on set.
I always have with me an item that has a connection with the character. Every time, I choose it carefully, it's unique and has the function to connect me with the soul of the character, with their depth, dreams, failures, passions, and fears. I hide this little object somewhere in the costume I'm wearing, I need it and it helps me as an emotional guide.
However, the most precious thing I keep with me is the love, presence, and support of my friends and people who are important to me.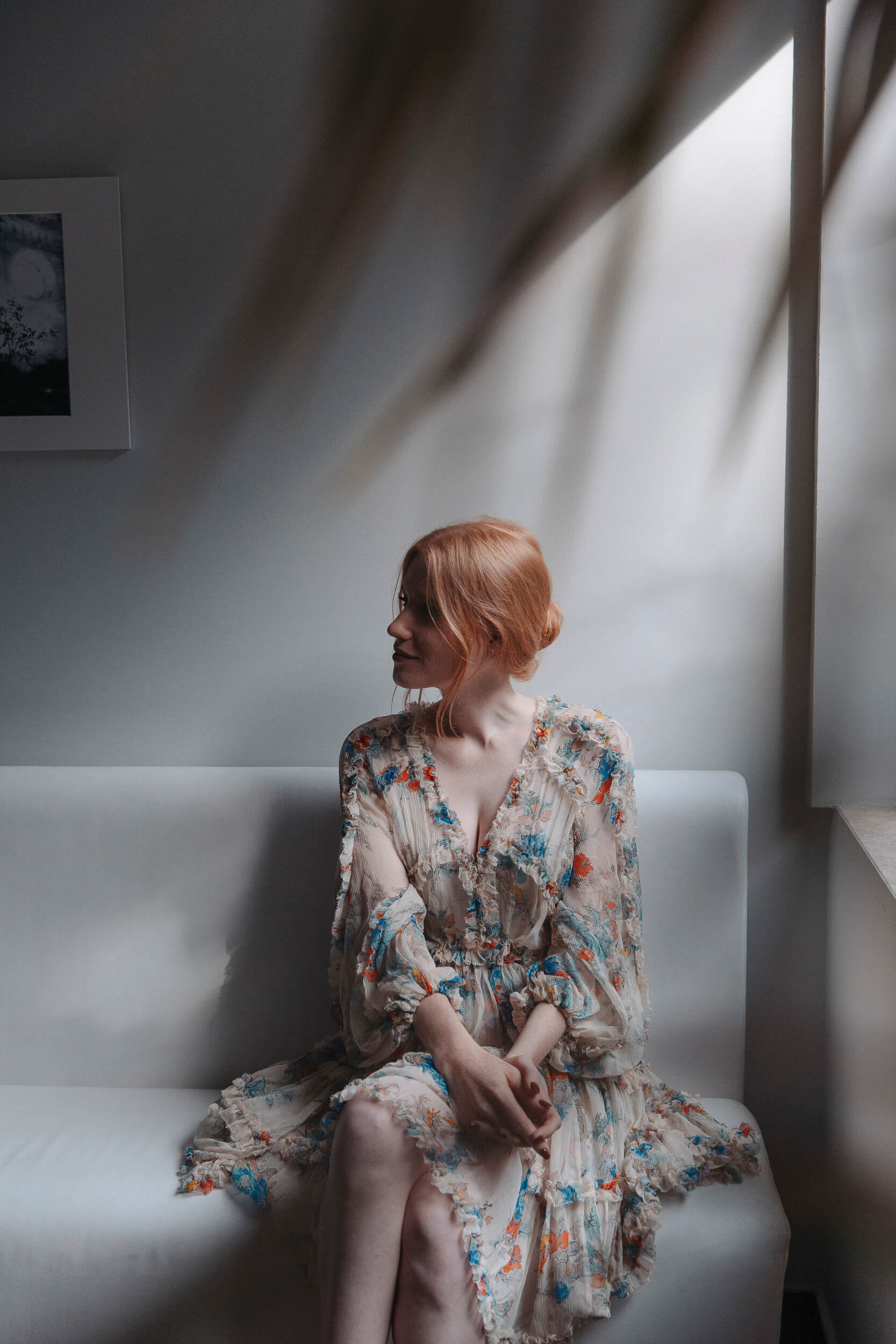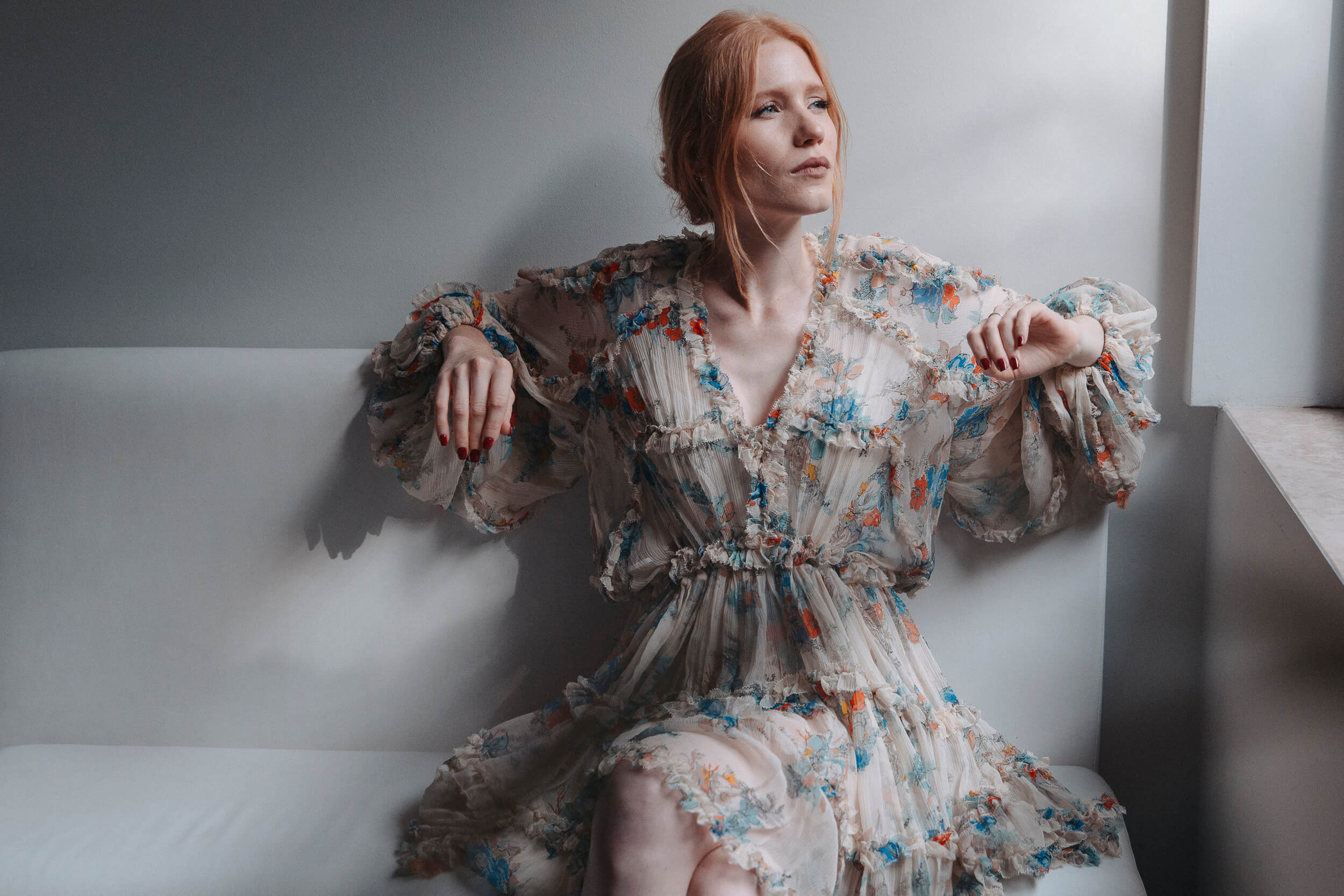 What's the bravest thing you've ever done?
A brave and fun experience I've had was on my latest set, the one of "Il nostro generale". I had the chance to drive a vintage car, so I decided that I wanted to film the scene of the assault myself, in the place of my stuntwoman. I have to admit, I'm a bit reckless, how could I not try? The thing is, I was a bit emotional, and I didn't remember how to drive, although I have a driving license. In that case, the bravest one was Sergio Castellitto, who played Carlo Alberto Dalla Chiesa, who was in the passenger seat and reminded me when I had to brake, but always with a smile!
But the absolute bravest thing I've ever done, I think, happened this year: I traveled to Ukraine during the war for a mission. Last minute, a volunteer quit, so I offered to take their place, packed my things, and the following day, together with Margherone fa cose, Sogno nel cassetto and Giro nel sociale associations, we brought medicines, clothes, toys, and smile to Kosiv, a fraction of Ivano- Frankivs'k. It was a strong and essential experience.
Now, I'm ready for the next mission!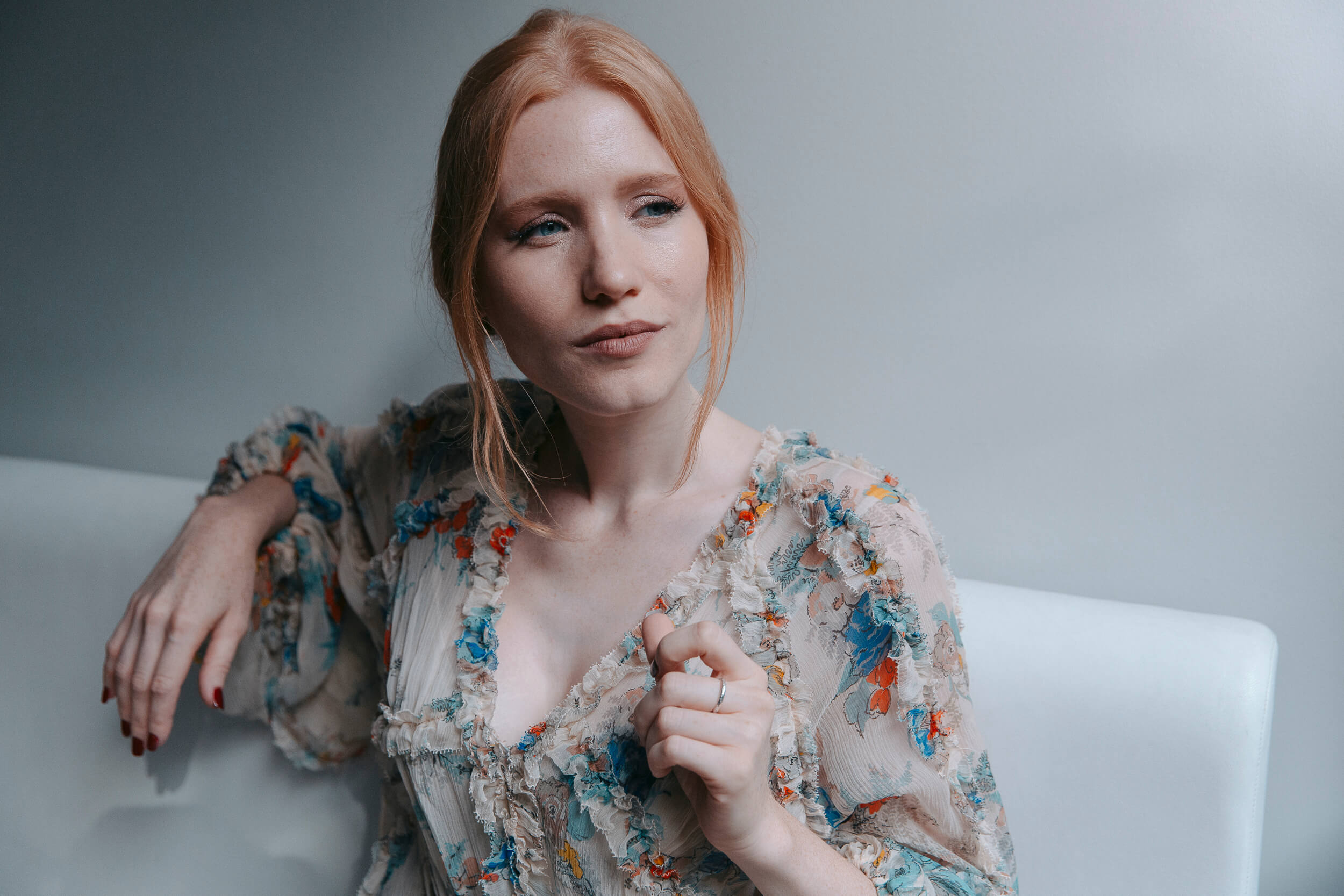 "I'm a bit reckless, how could I not try?"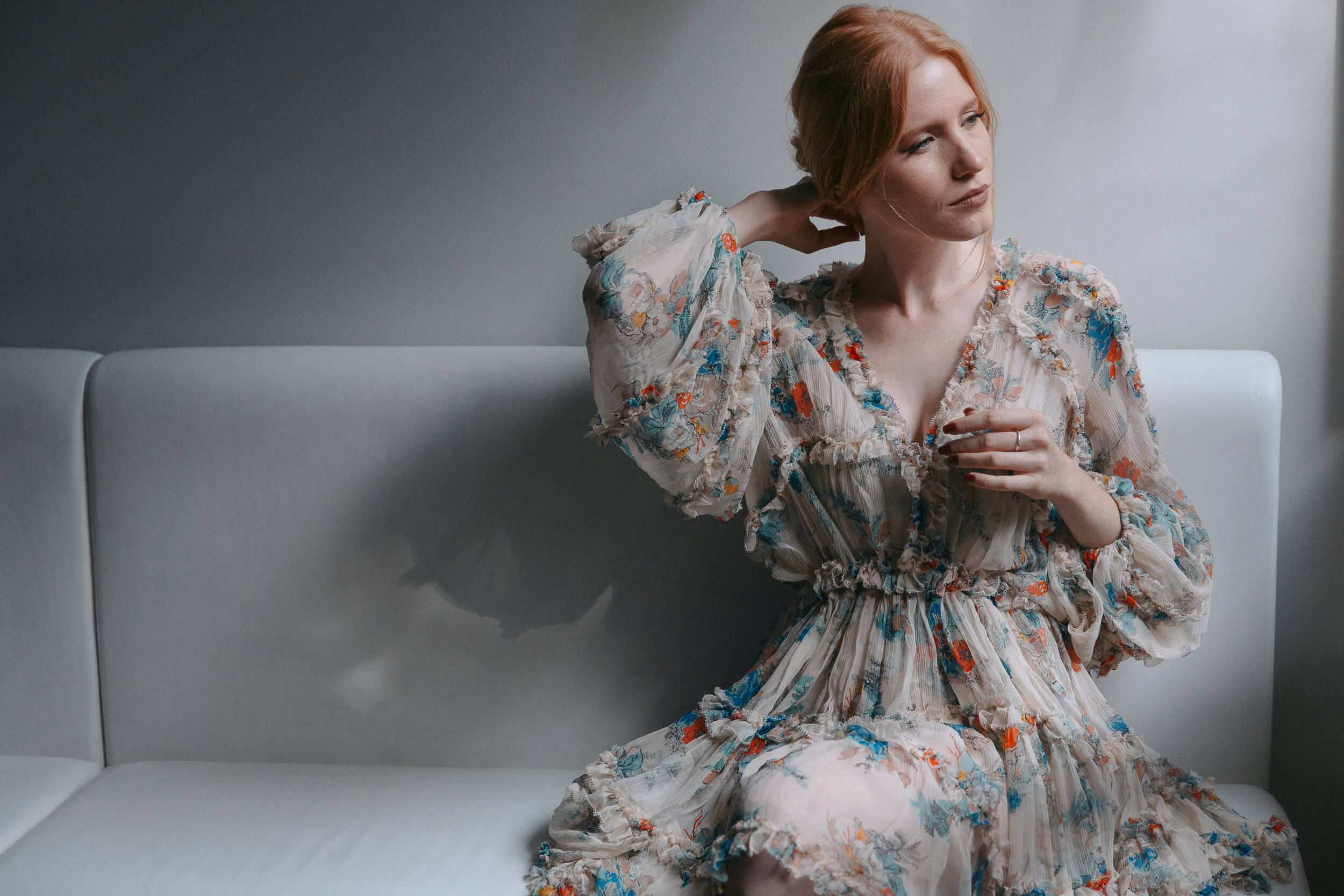 What are you afraid of?
Sometimes I feel like I'm scared of death, other times the thought of it makes me curious. I'm more scared of failures and disappointments in relationships.
Your biggest act of rebellion?
I think it's the effort I put in overcoming all my failures, closed doors, and the many Nos I'm told, shouting to the word a very loud "YES!".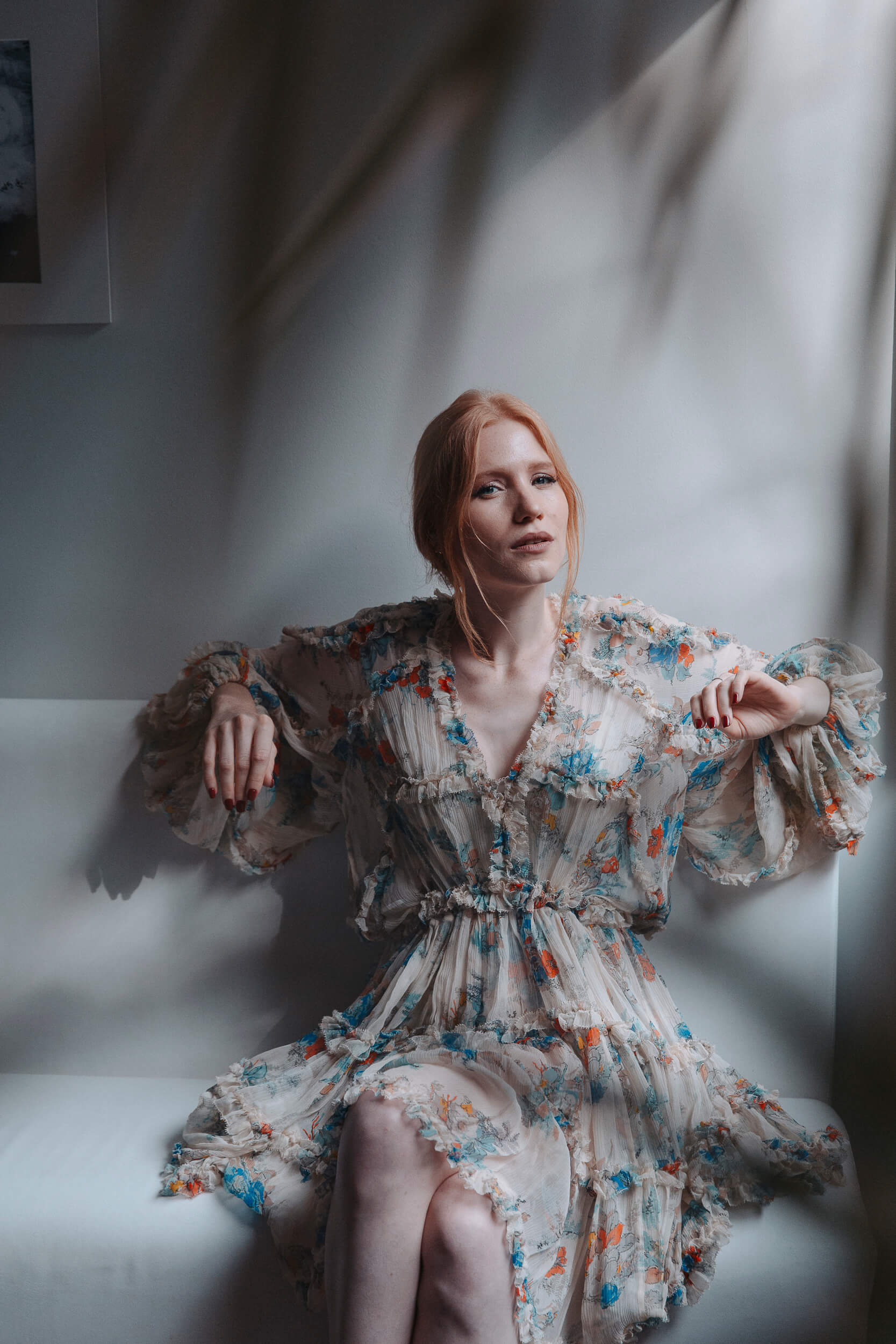 What does it mean to you to feel comfortable in your own skin?
I don't know, I'm trying to find out. Sometimes, I feel more comfortable in the roles I play.
What stories do you dream to tell?
Someday, I'd like to be brave enough to tell my own story, as a screenwriter and director. But, as of now, I'm still a chicken!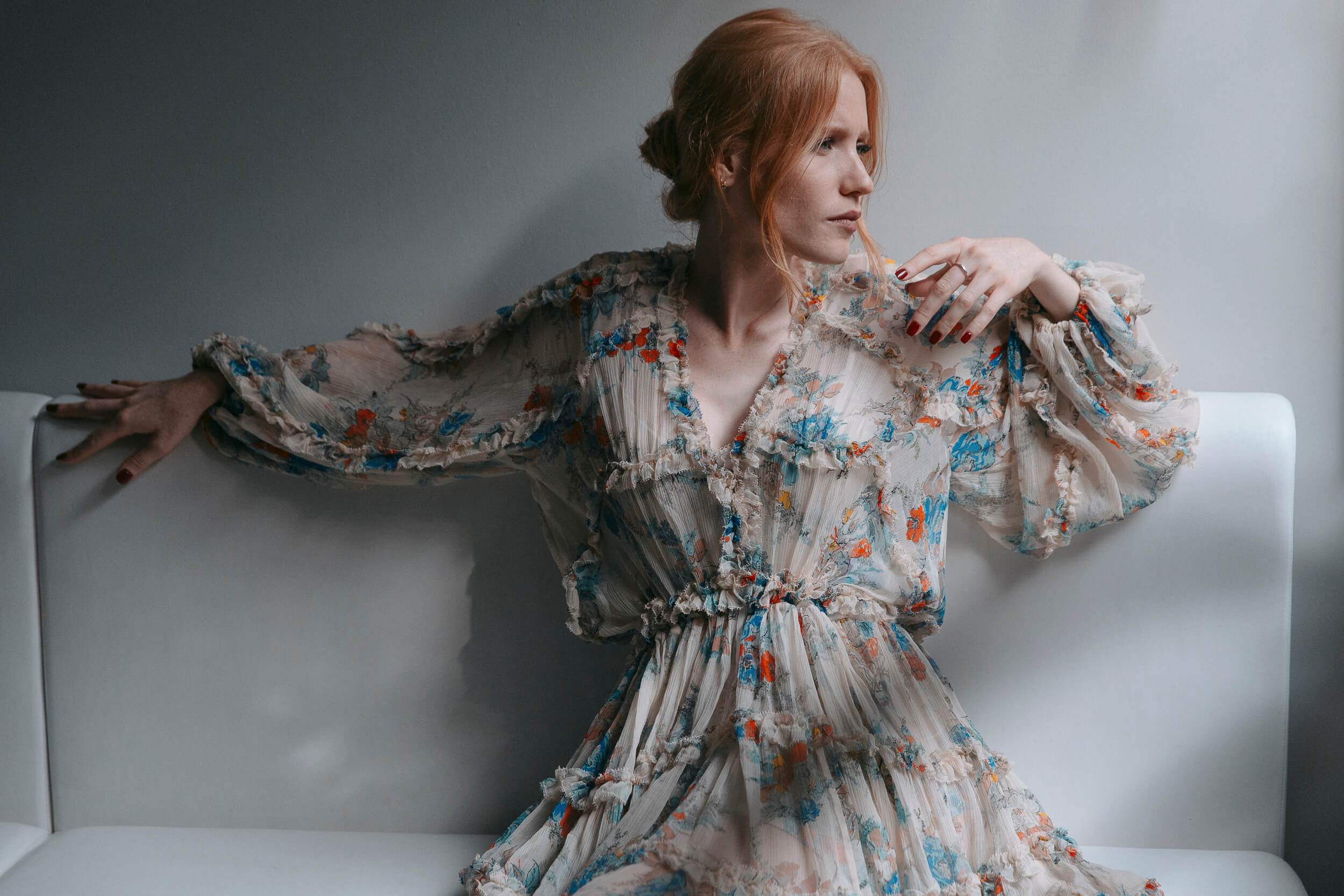 The latest thing or the person who made you smile?
It's been unexpected, it's arrived as fall arrives during the warm days of September.
Autumn is my favorite season, it's just like me, it rains melancholy but its colors are warm. It came to make me smile as a new season does.
Reading the words that I've just written is making me smile too, they can sound a bit sad, but I'm romantic, and sometimes even the best moments have tears.
Your happy place?
The sky, especially at sunset.