When Kanya looks at the world through her camera, the world changes. It fills with warmth, emotions, art, beauty, all elements that Kanya manages to capture and share, with an almost vintage soul, yet always modern.
For us, Kanya Iwana, filmmaker, photographer and founder of KI Studio – one of the most creative studios in Los Angeles – left aside her camera for a few hours to be captured by ours, and to share with us, and with you, her world made of inspiration, artistic collaborations, and authenticity – a key element of true beauty.
Kanya also told us about her favorite beauty products, her passion for lipsticks (and Glossier), and her first beauty epic-fail which hasn't happened yet. Everything has been told and shared through our eyes while looking at hers.
What is your earliest beauty memory?
I was a ballet dancer for 15 years, so I've started playing with stage makeup since I was in first grade. We'd do the most extreme makeup look — red lips, powdered face, pink cheeks. I remember it being so fun and therapeutic, like painting.
What's the first thing you do when you wake up? And the last one when you go to bed?
When I wake up I immediately look to my 2-year-old and my husband to make sure they're alive, and then I drink water… sometimes. Before I go to bed, I make sure I have that bottle of water next to me.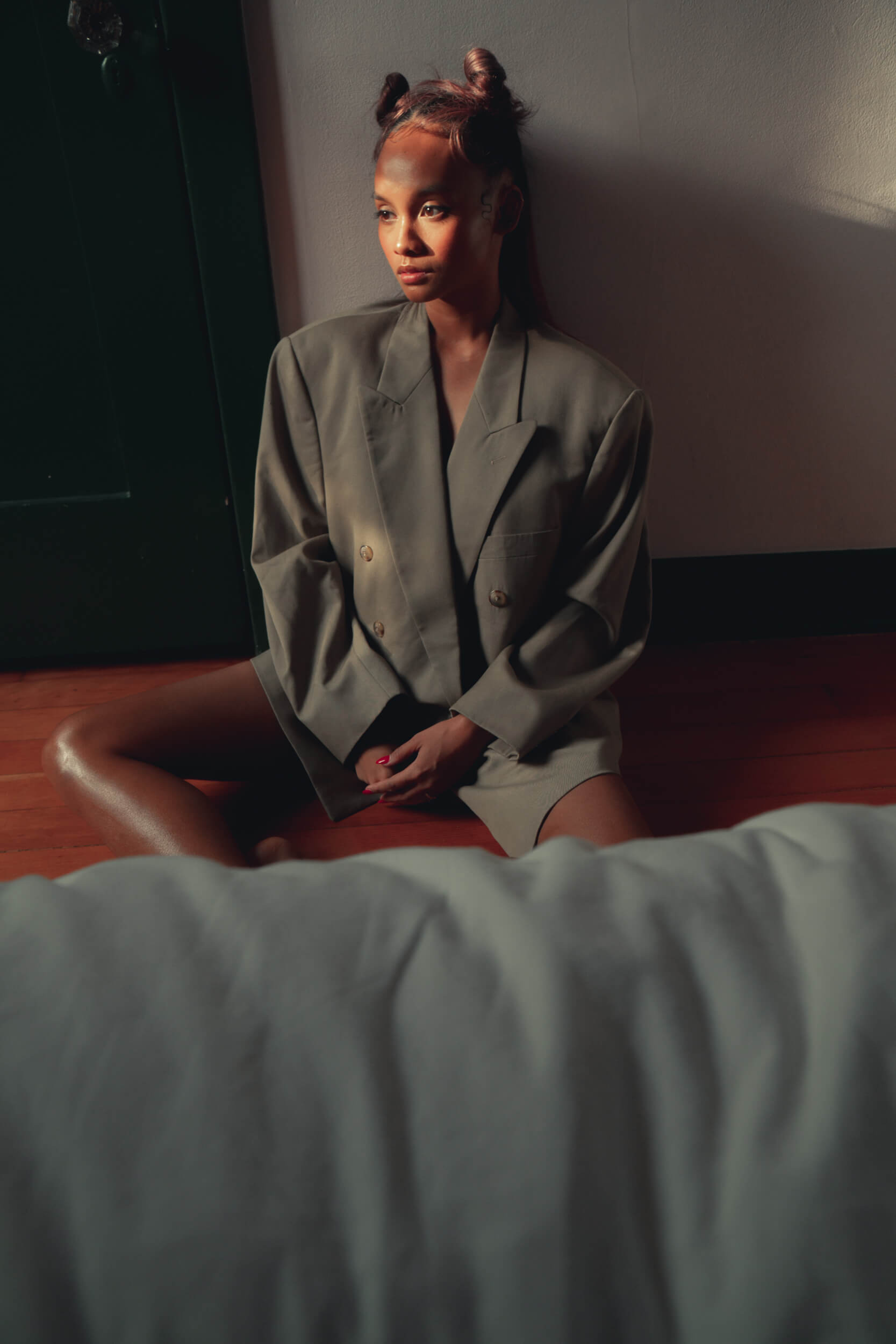 "I remember it being so fun and therapeutic,
like painting."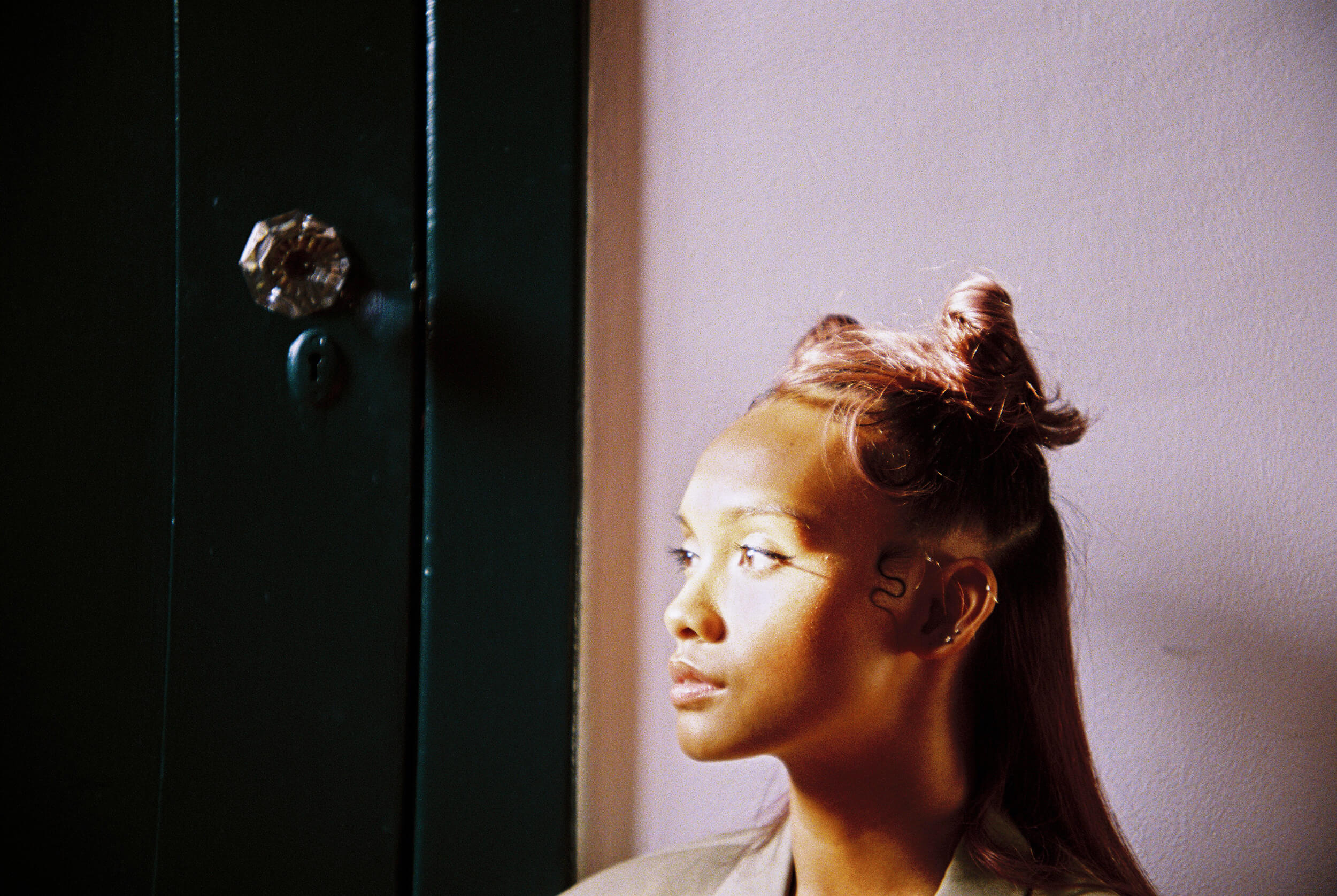 What is your current skincare routine and what's the ingredient you look for the most in your products?
I have dry skin. So I swear by Weleda's Skin Food, and I mix it with Noto Botanic's serum, and I lather it all over my face in the morning. I don't currently look for anything but I avoid anything water-based.
Being a filmmaker and photographer, while also working in the beauty industry, is there any beauty secret you've learned through the years that you can spill to us?
There's a lot of techniques here and there that I've learned, but the true secret really is that beauty comes from within. If you haven't learned to love yourself then everything's going to look bad. It takes time, but it's never too late to start the process.
What is your favorite facial at home/mask? 
 I love the collagen under-eye masks. I'm not picky about the brand right now.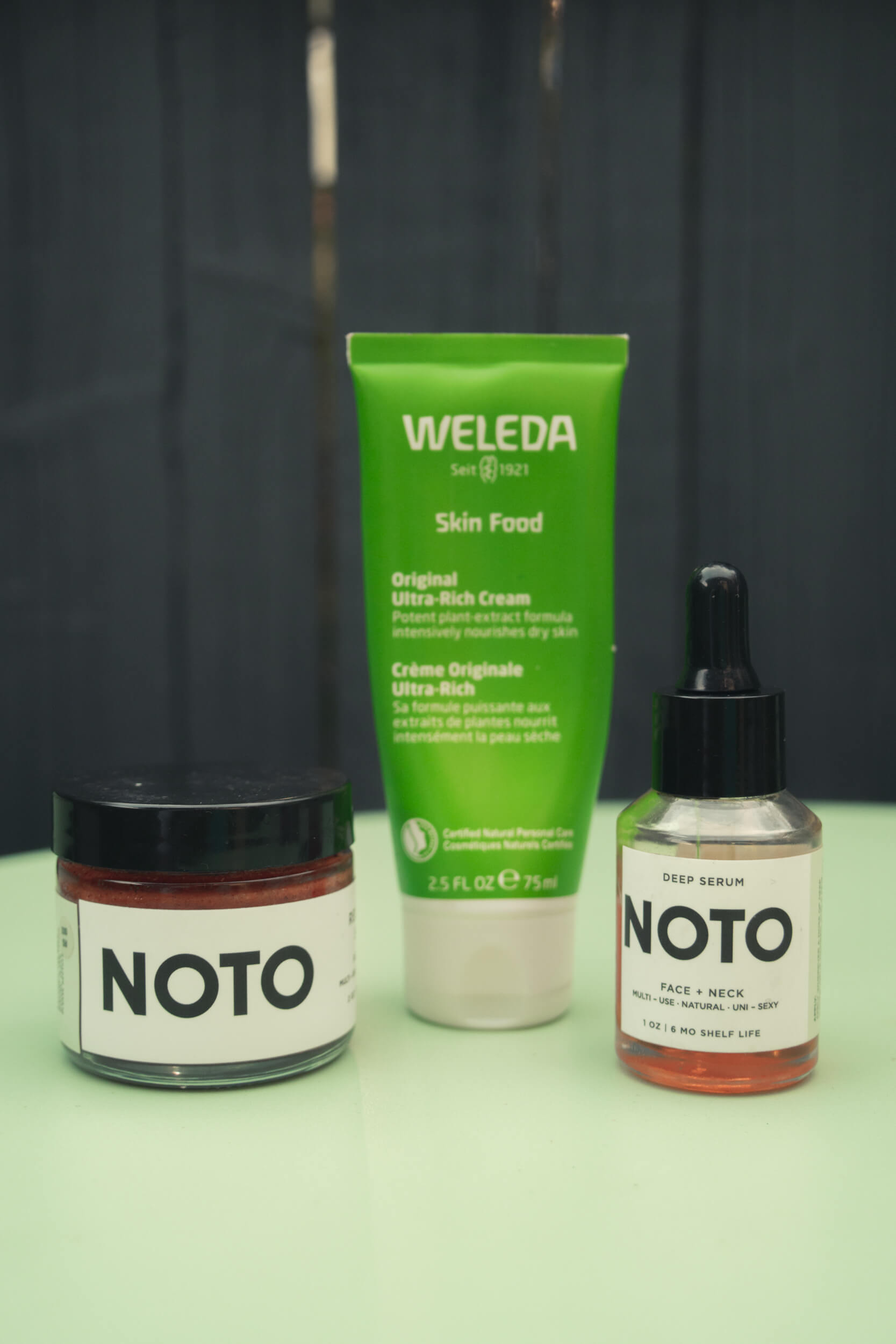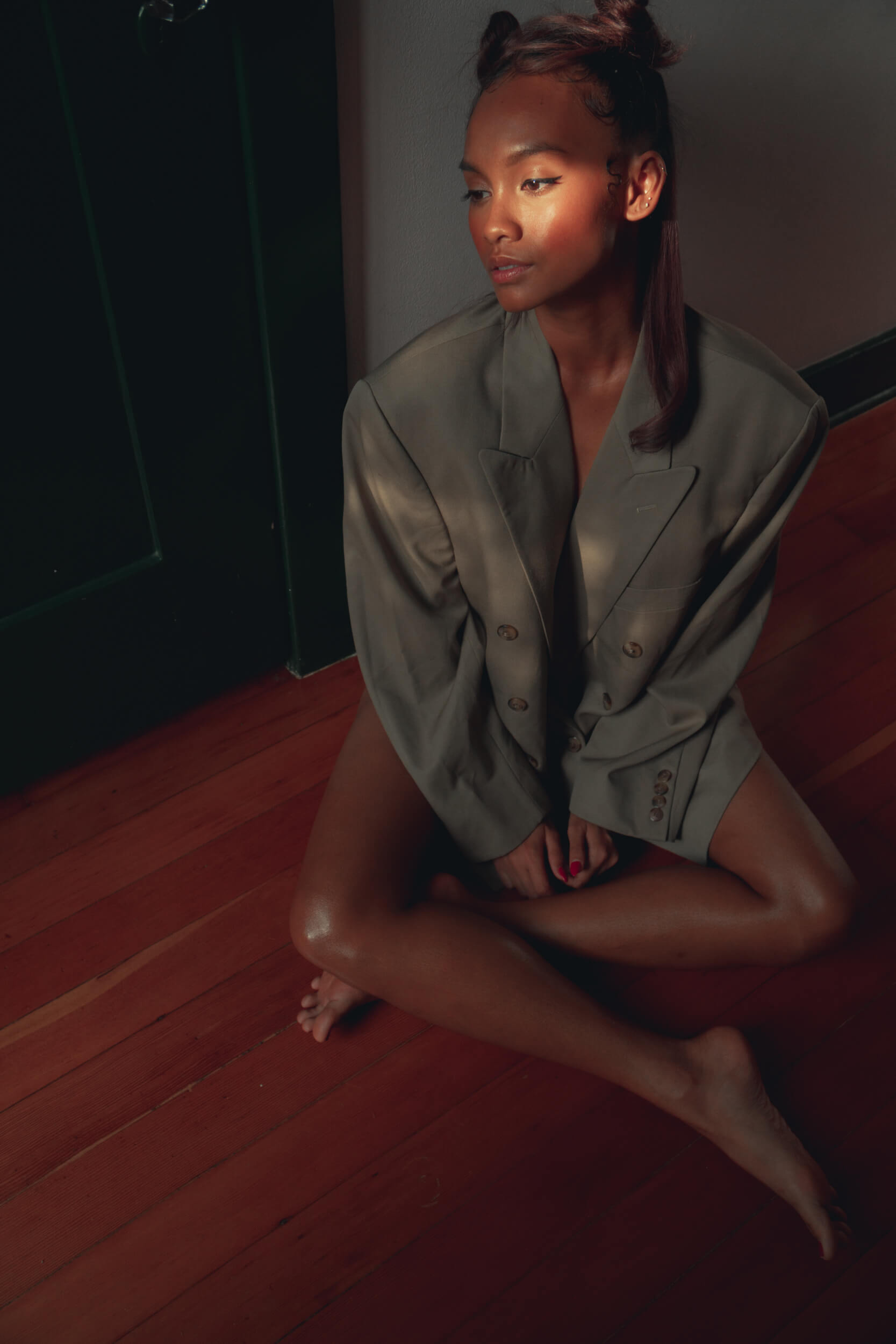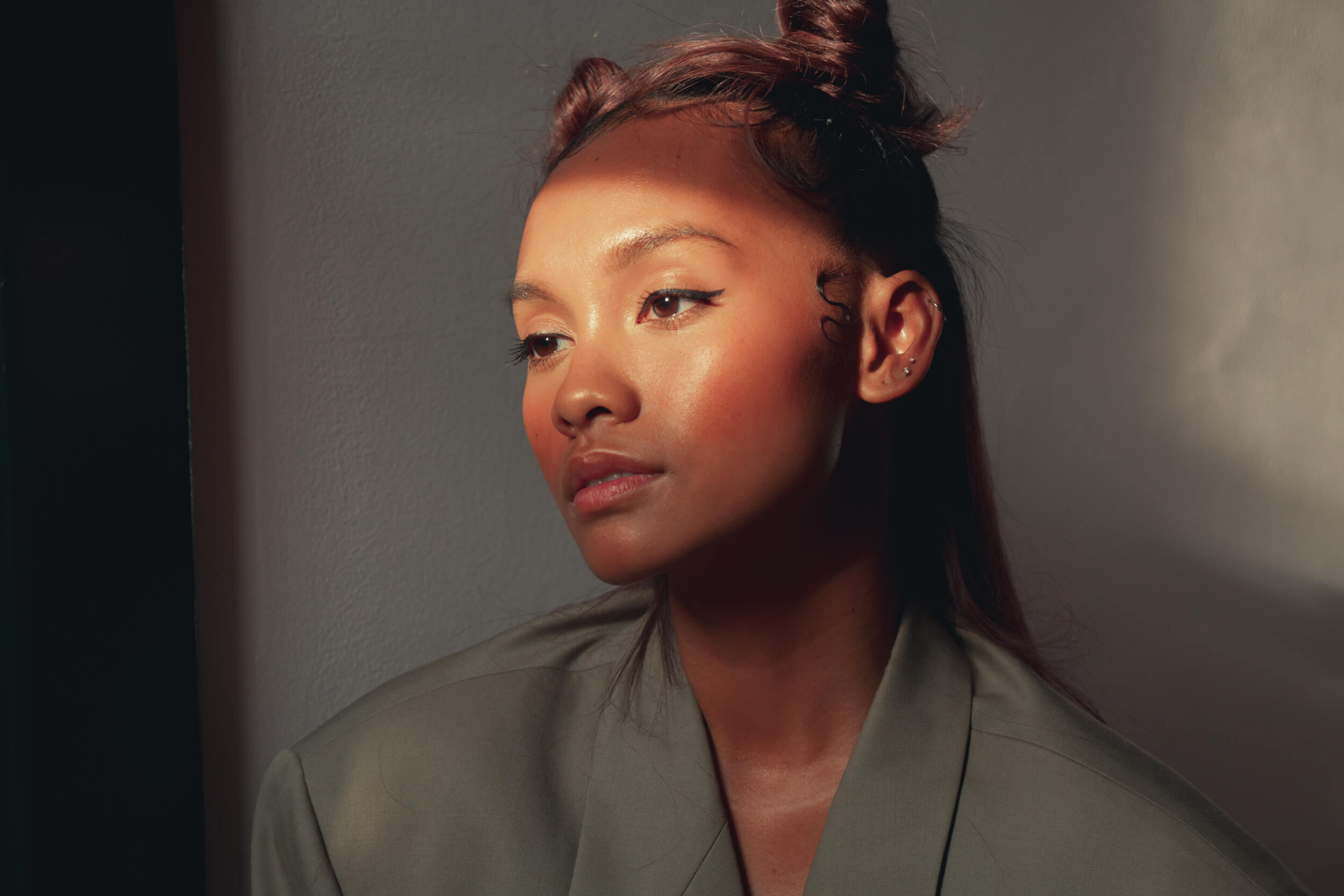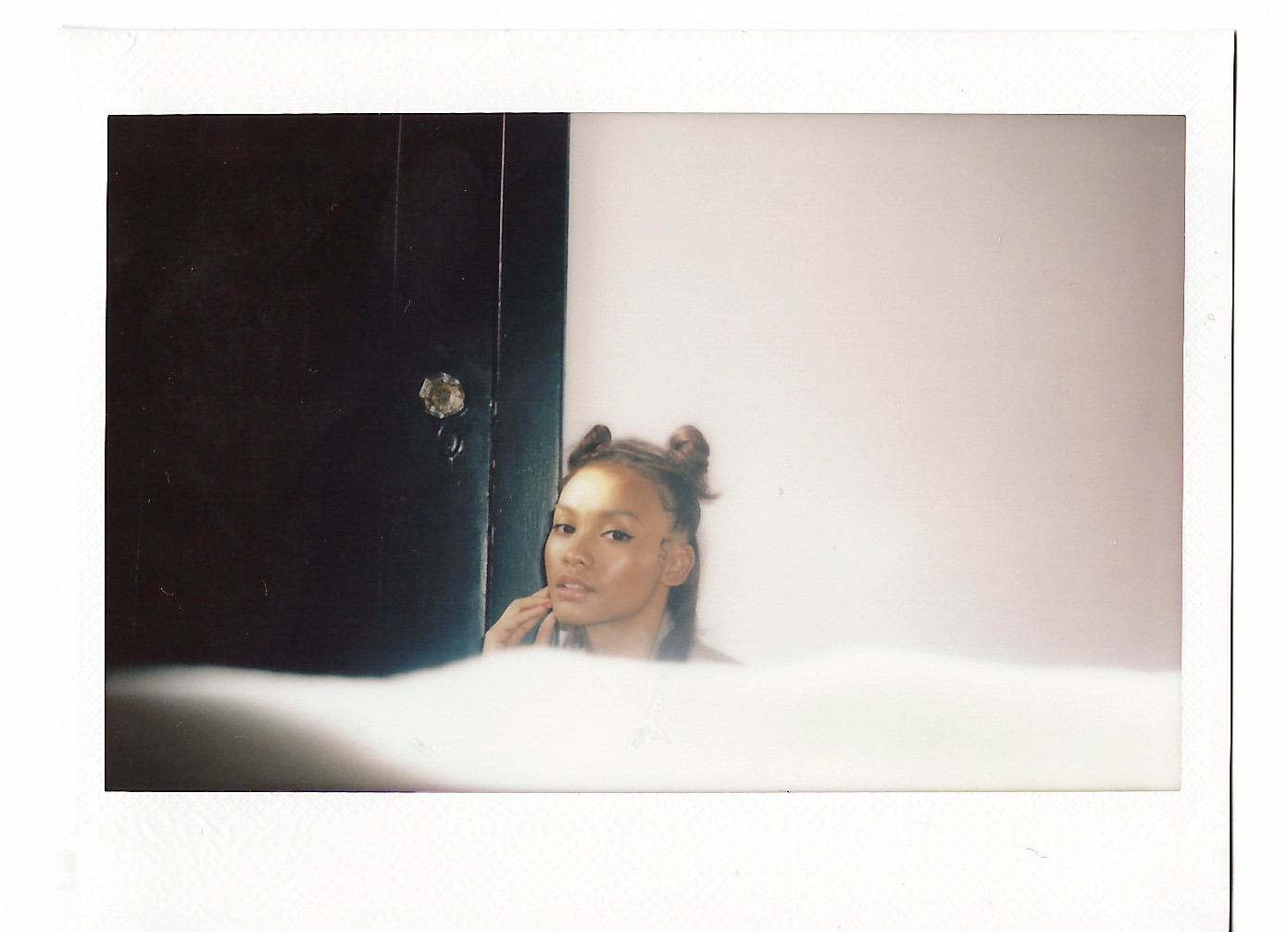 What does "feeling comfortable in your own skin" mean for you? 
Believing, truly believing that you are a unique individual.
What it's in your makeup bag lately and what are your "holy grail products"?
 I love La Mer's lip volumizer and the Fenty bronzer!
What's the book on your nightstand?
 I hate reading. BUT, I love podcasts. And currently love "Binge Mode" and just listen to it over and over again. I'm a total nerd.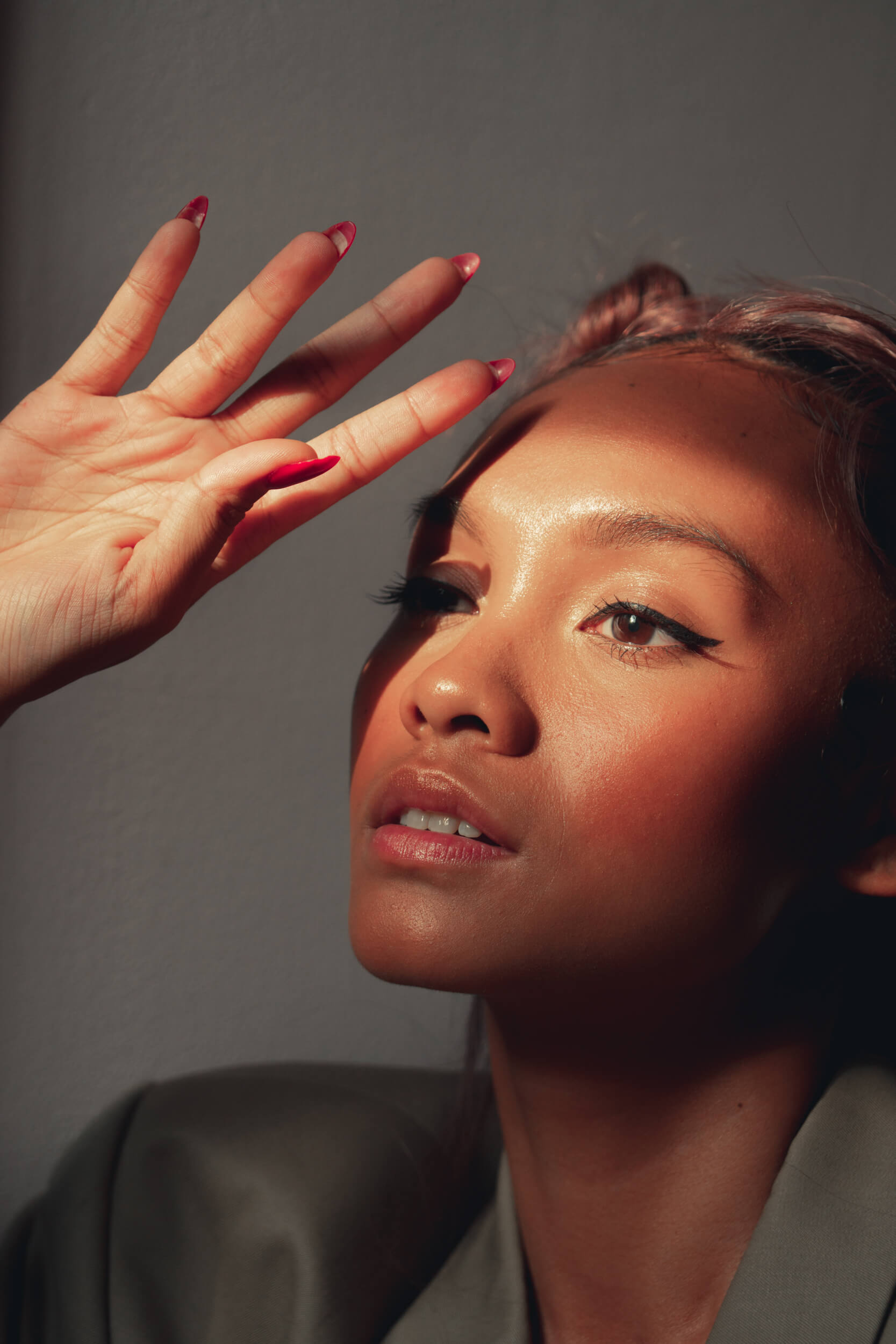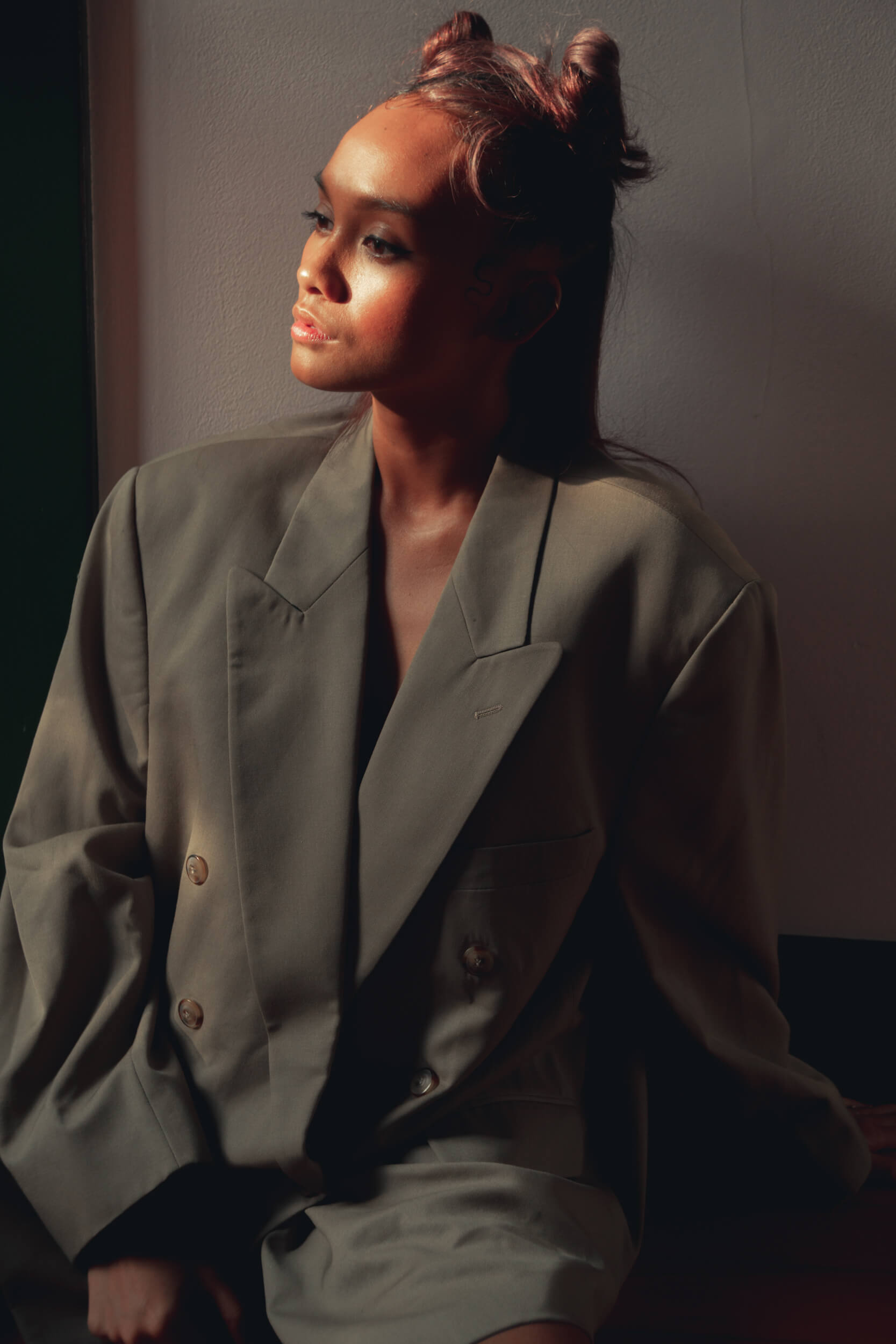 What makes you laugh?
My daughter trying to form her cute little sentences. Also, me trading inappropriate jokes with my husband. 
How does music, photography, and filmmaking intertwine for you with beauty, in your everyday life?
I have photography and video clients in the beauty industry, so there's always a conversation around it. I also love to create personal projects or editorial that are beauty-heavy, using very high-fashion and elevated looks. I'm attracted to colors, so a beauty palette is so enticing.
What's your process when it comes to your work?
The first step is to just be open and allow that space for collaboration, so then it creates a really great energy for you, the model, the makeup artist, the stylist, or whoever you are collaborating with. Just really create things that make you feel good: if one day you are shooting, filming, or creating something and the energy around you is not right, then how are you gonna feel good about the product? You are going to look back and think, "I didn't really have a good time on set this day: I came in with like bad energy, and she kind of came in complaining," but if you all in synchronicity have a good vibe, it's really gonna show through your work and you're gonna be a lot more proud about it.
"Create things that make you feel good"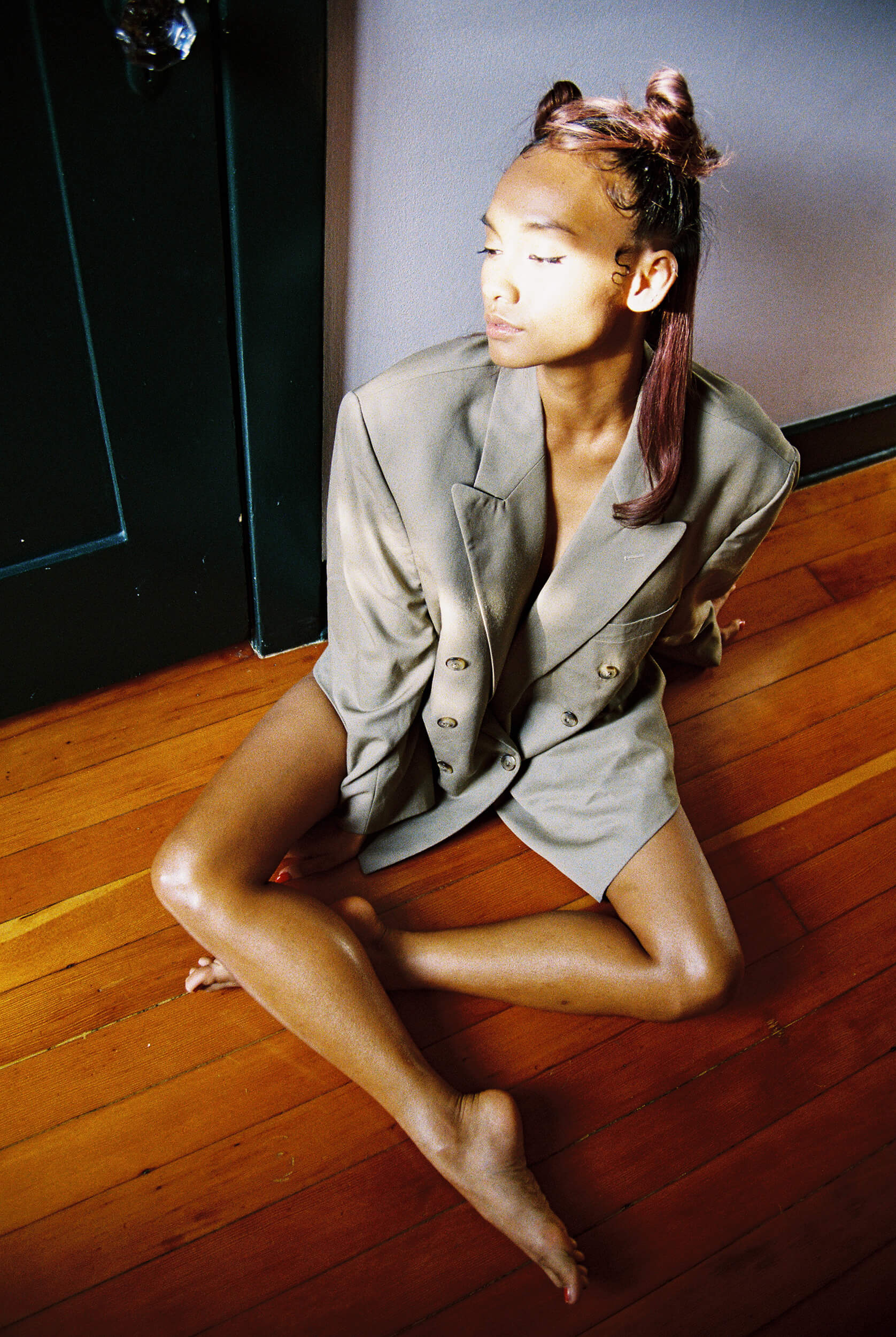 What's your go-to look? 
A lazy, dewy, bronzy look. 
Bath or shower? 
Shower, for sure!
Favorite hairstyling product and/or tool.
Olaplex number 3 and their hair oil. 
Favorite body lotion. 
 I keep altering, but right now loving Glossier's Body Hero. I also use Skin Food on drier parts.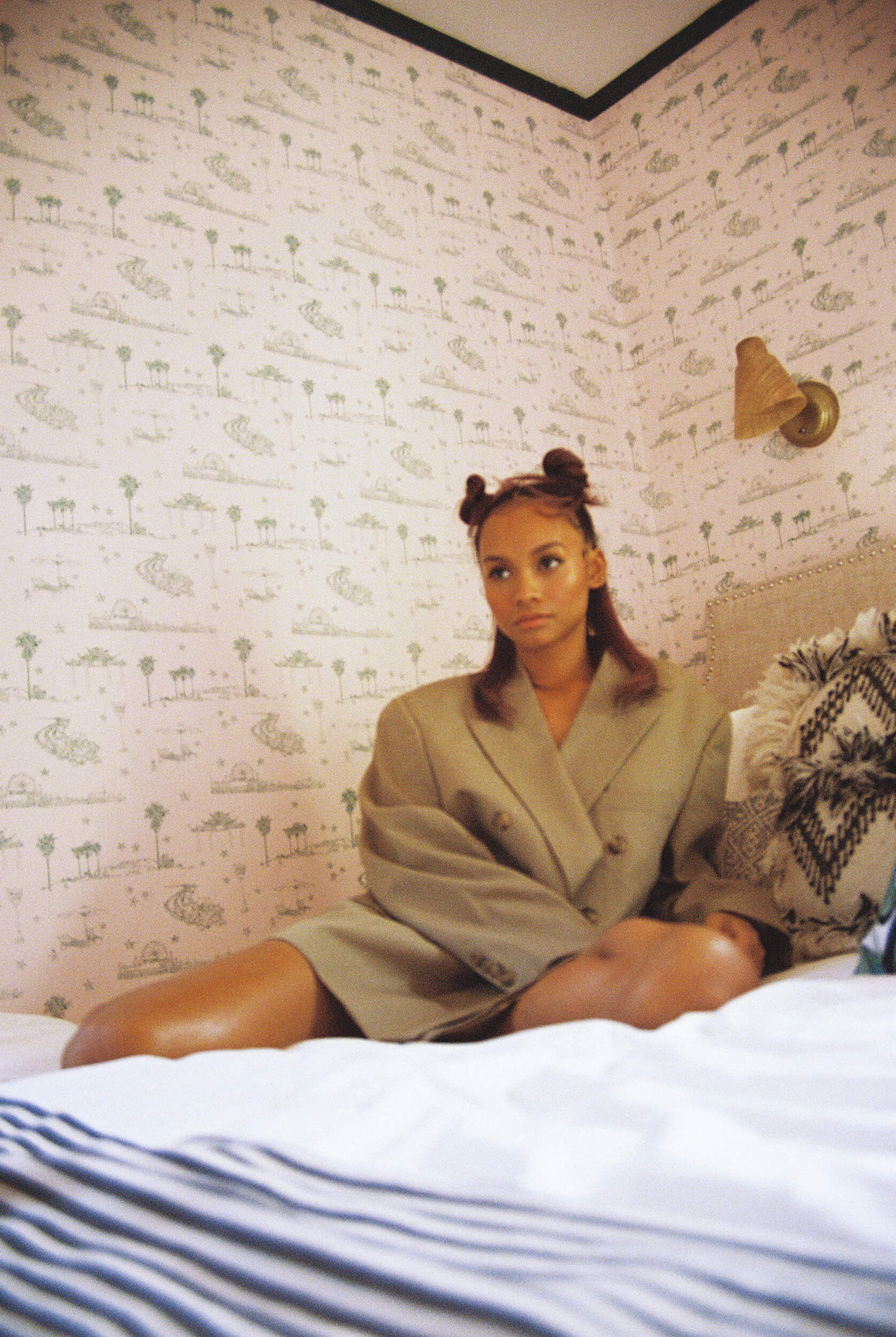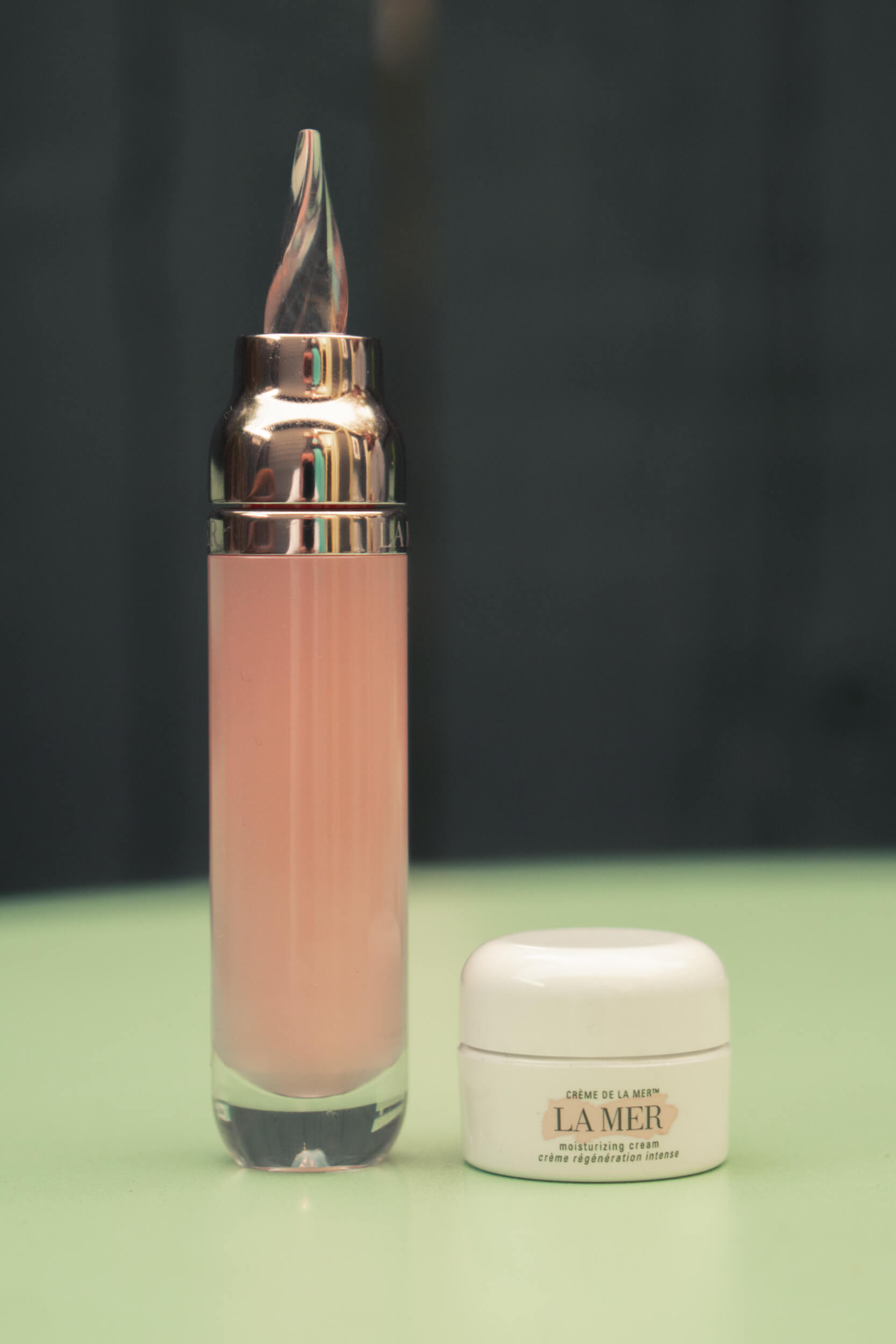 Favorite Fragrance.
Anine Bing's Savage Rose and Gucci Bloom.
What was your first beauty product obsession? 
I'm a sucker for Glossier, honestly. I have a lot of their products in my bag. I don't think I was ever obsessed, but I've been using Cloud Paint since its release and haven't gotten bored by it.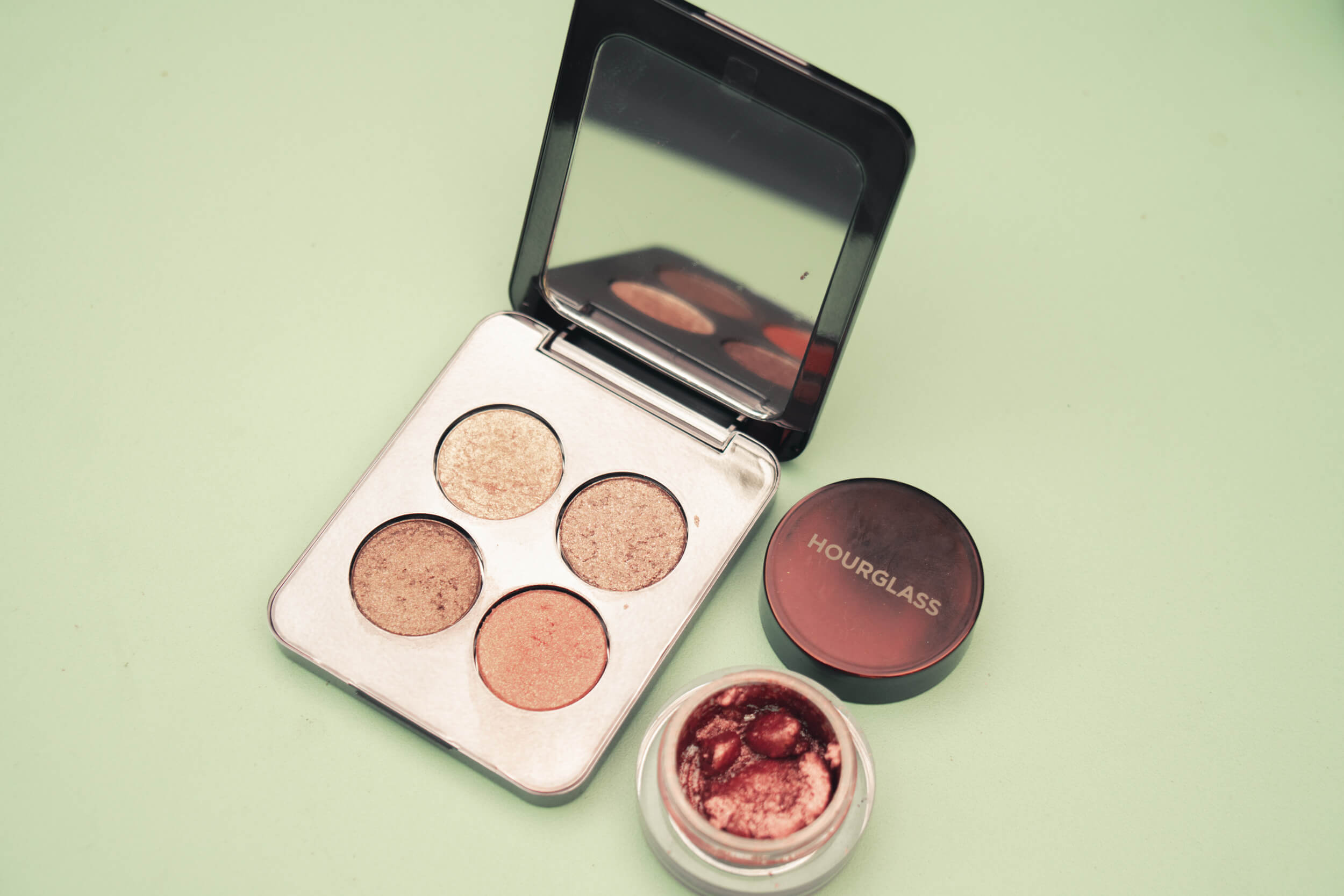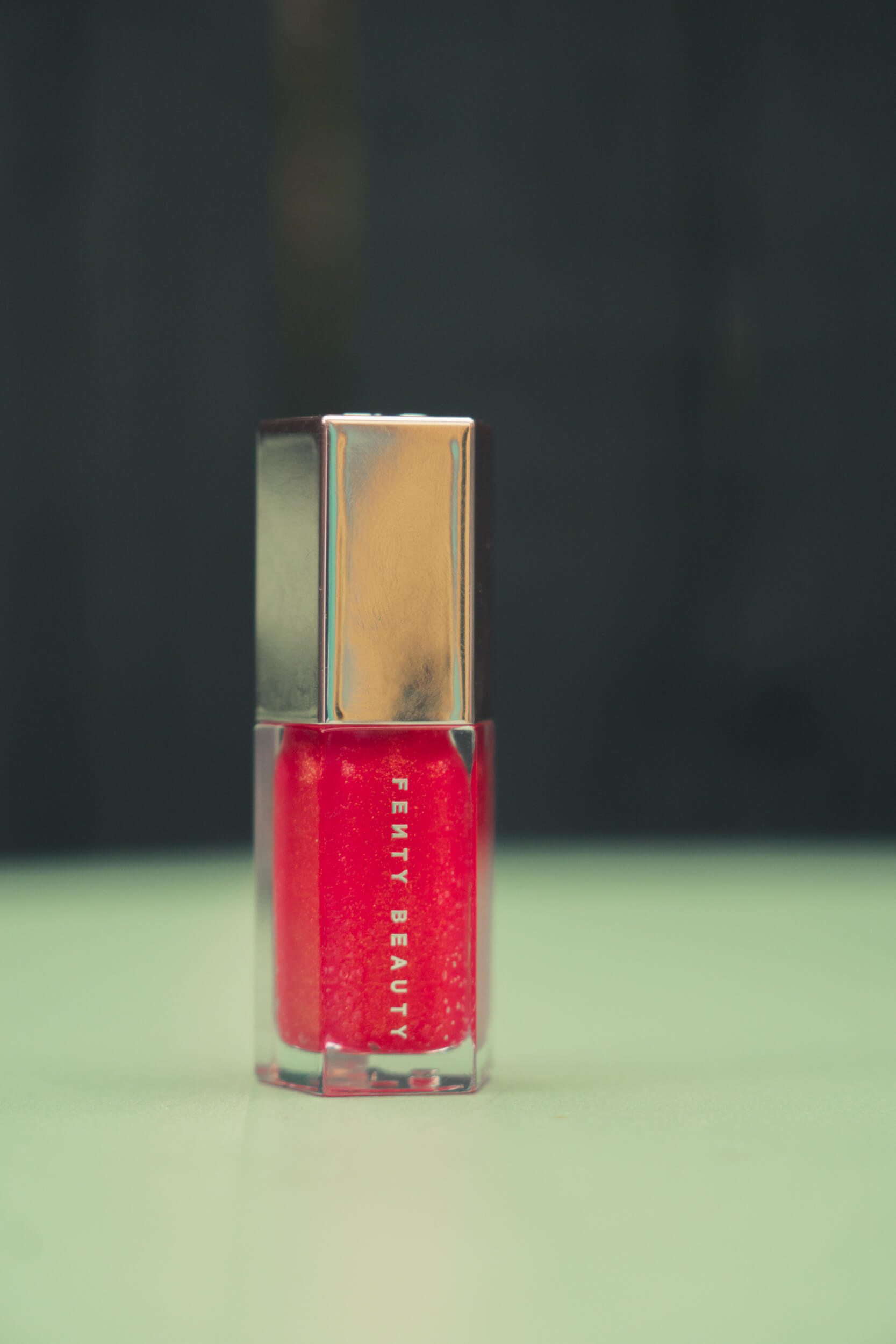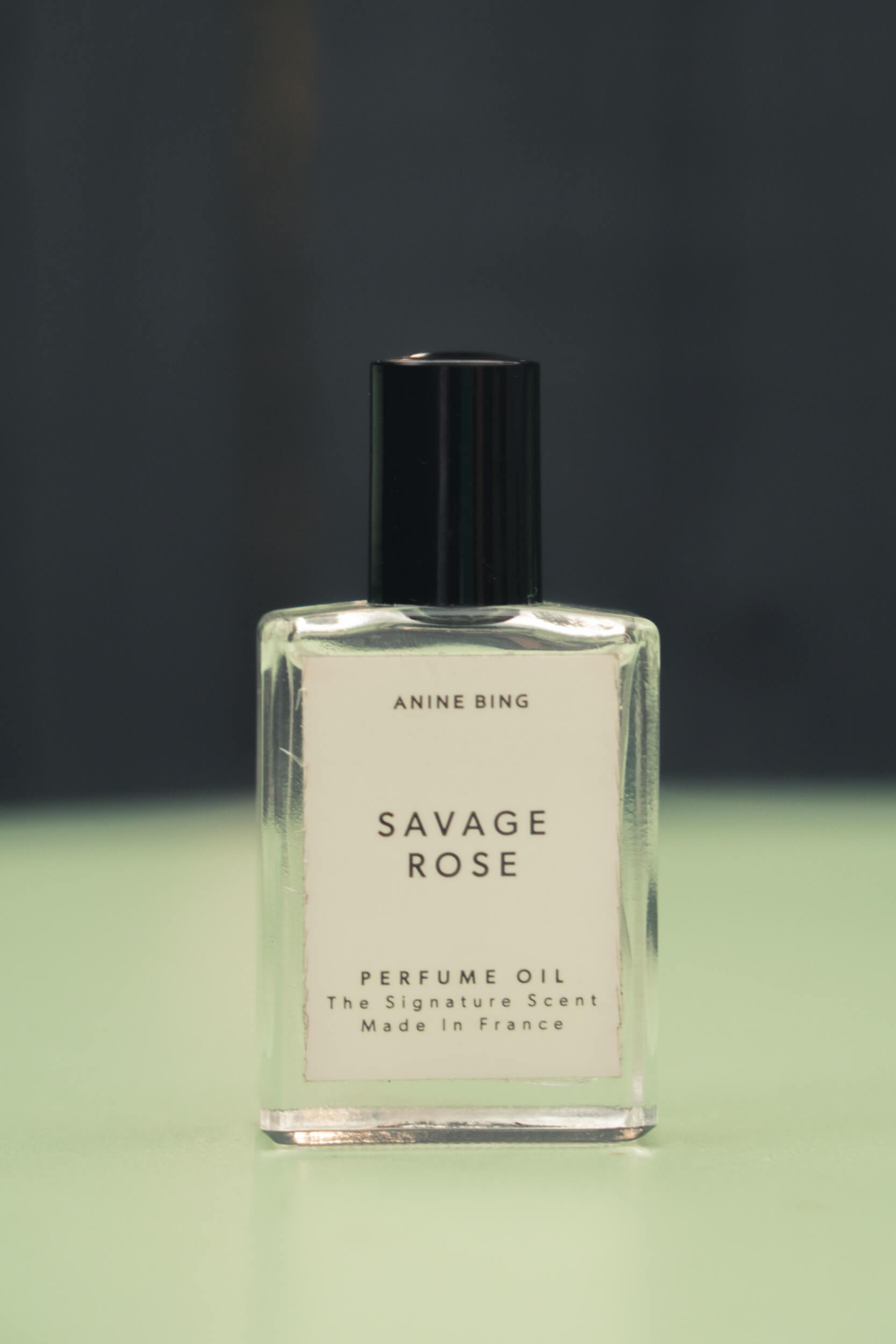 Top item currently at the top of your beauty wish list.
Roén has a cool eye palette coming out and I got my eyes on it. I also would love to try out more shades from Gucci Beauty's satin lipsticks. 
What do you have too many of?
Lipstick… which is funny based on my previous answer. I don't wear them enough and have almost every shade. Also I find the packaging of lipstick really beautiful to my eye and to photograph.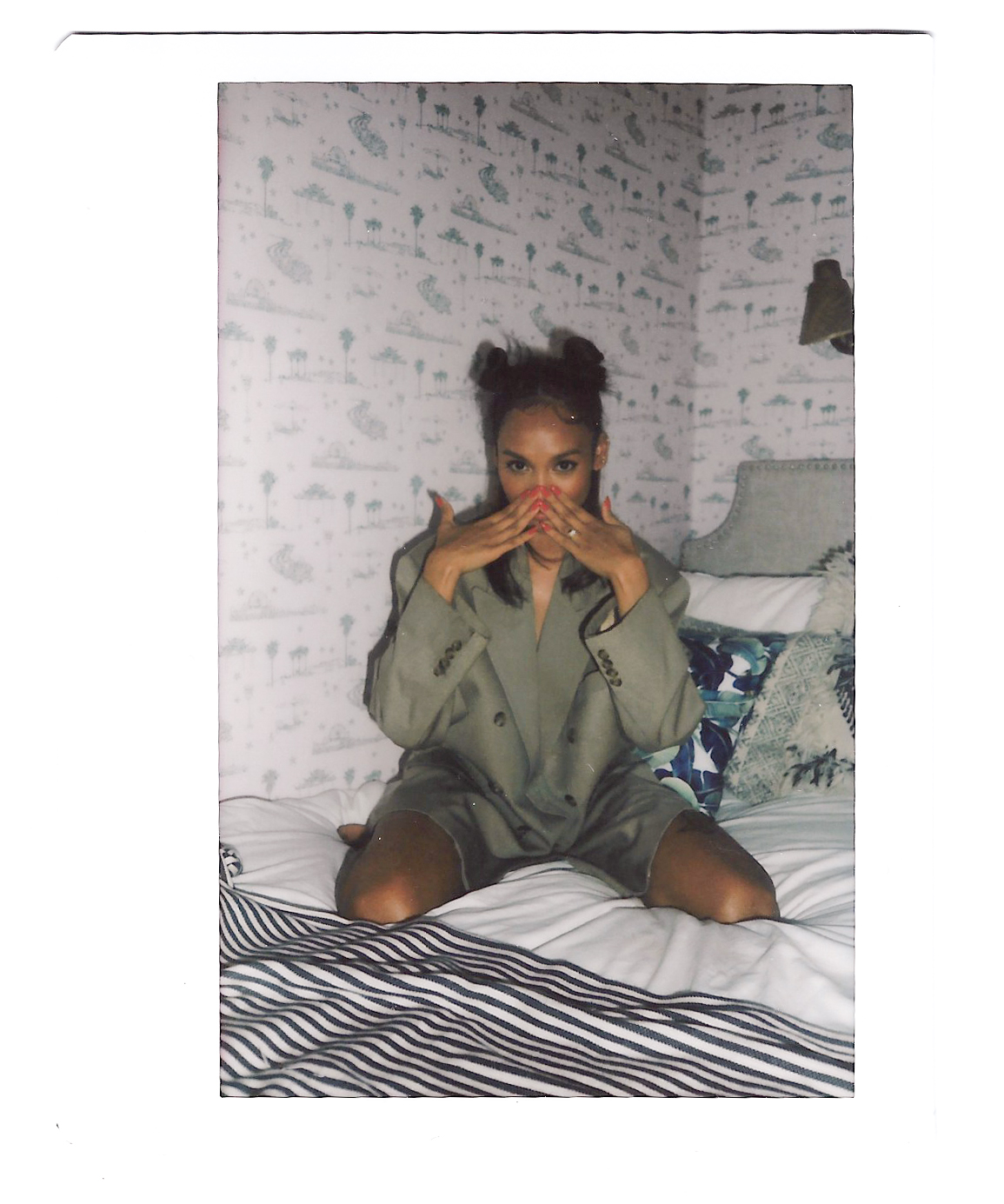 As a photographer/filmmaker, you travel a lot: what are your favorite travel destinations and the top 3 travel destinations on your wishlist?
Bali and New York City, and I'm hoping to go to Tokyo, Paris, and Marrakech soon. 
Your Jet-lag beauty cure.
Water and Skin Food. 
What's the bravest thing you've ever done?
Give birth.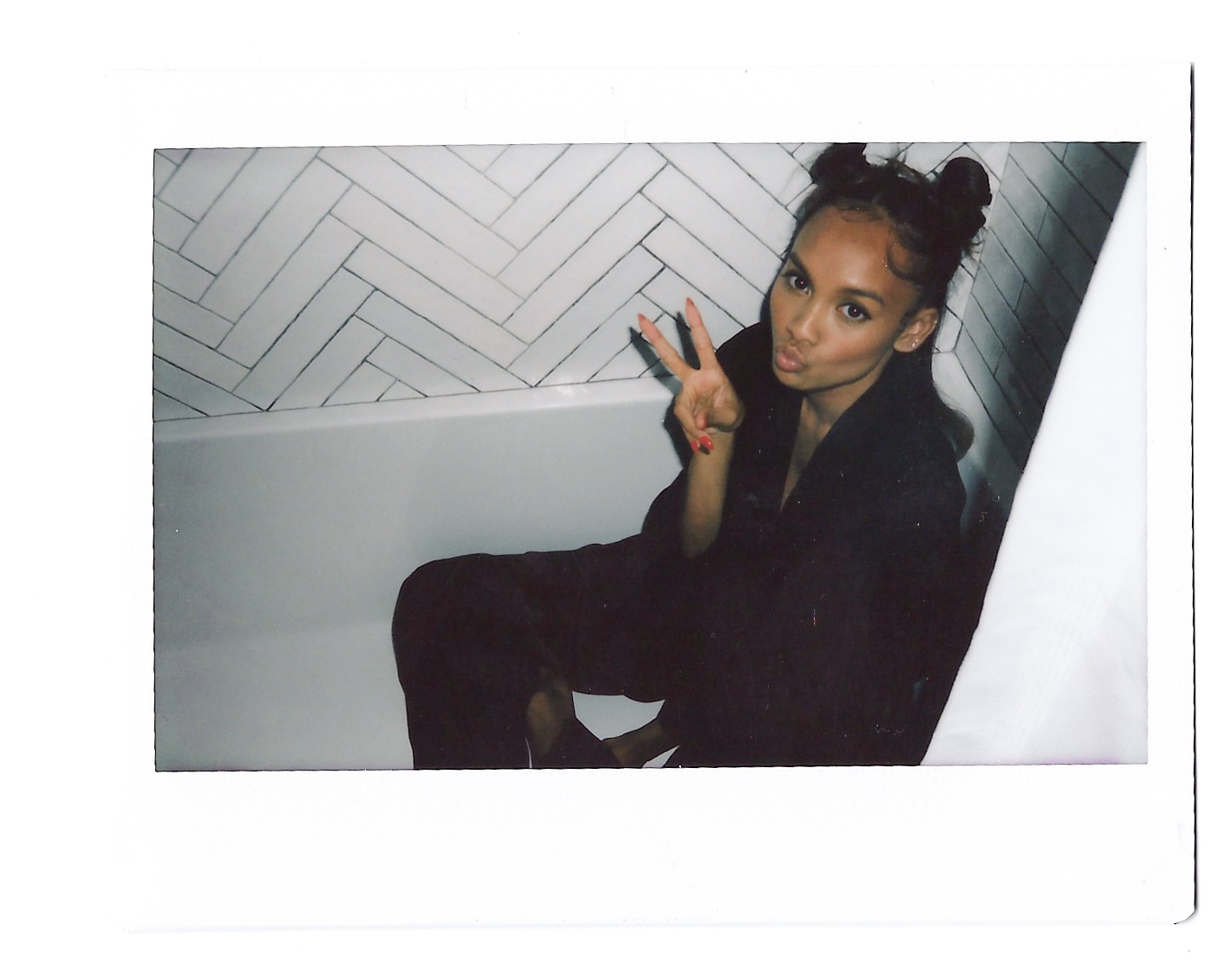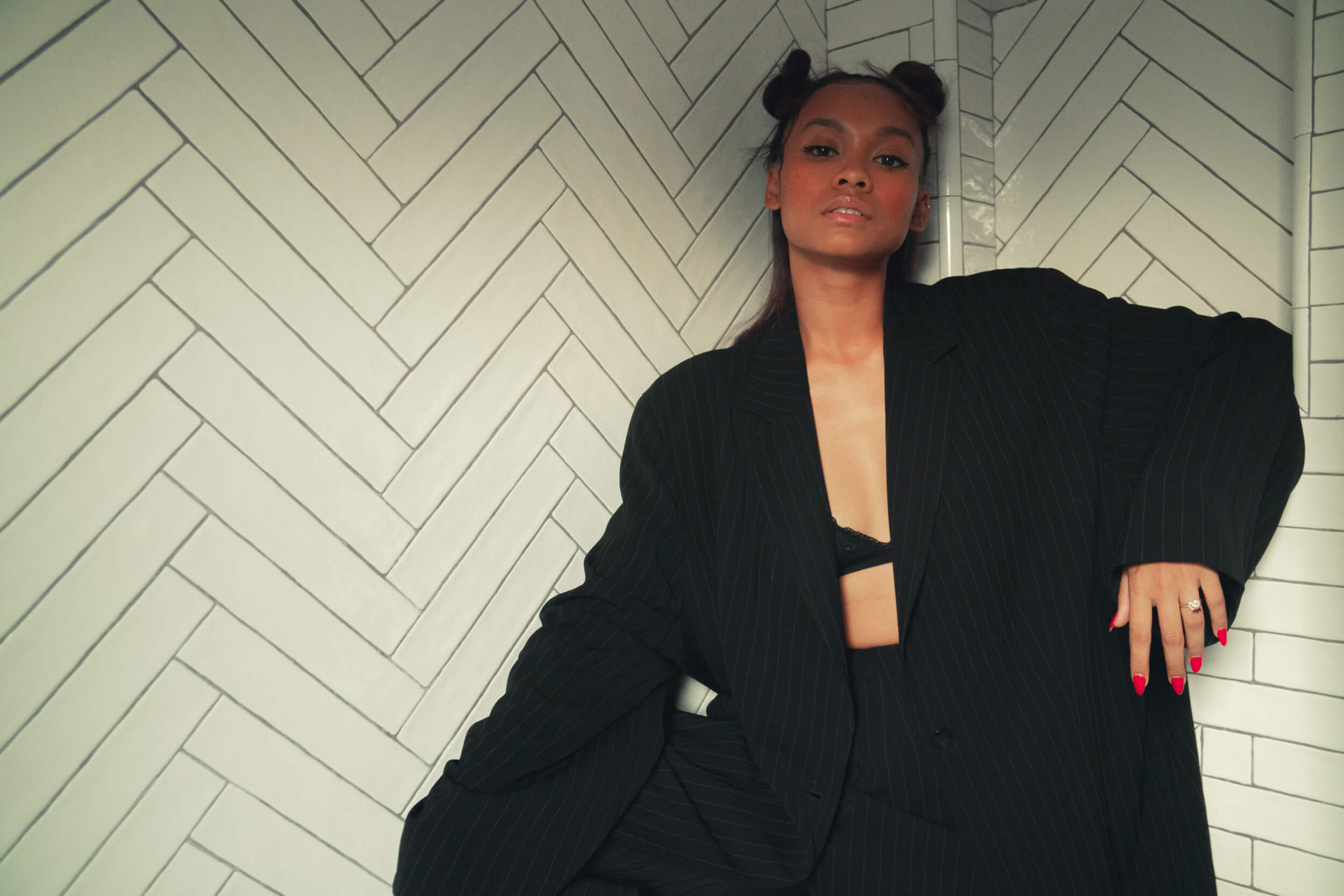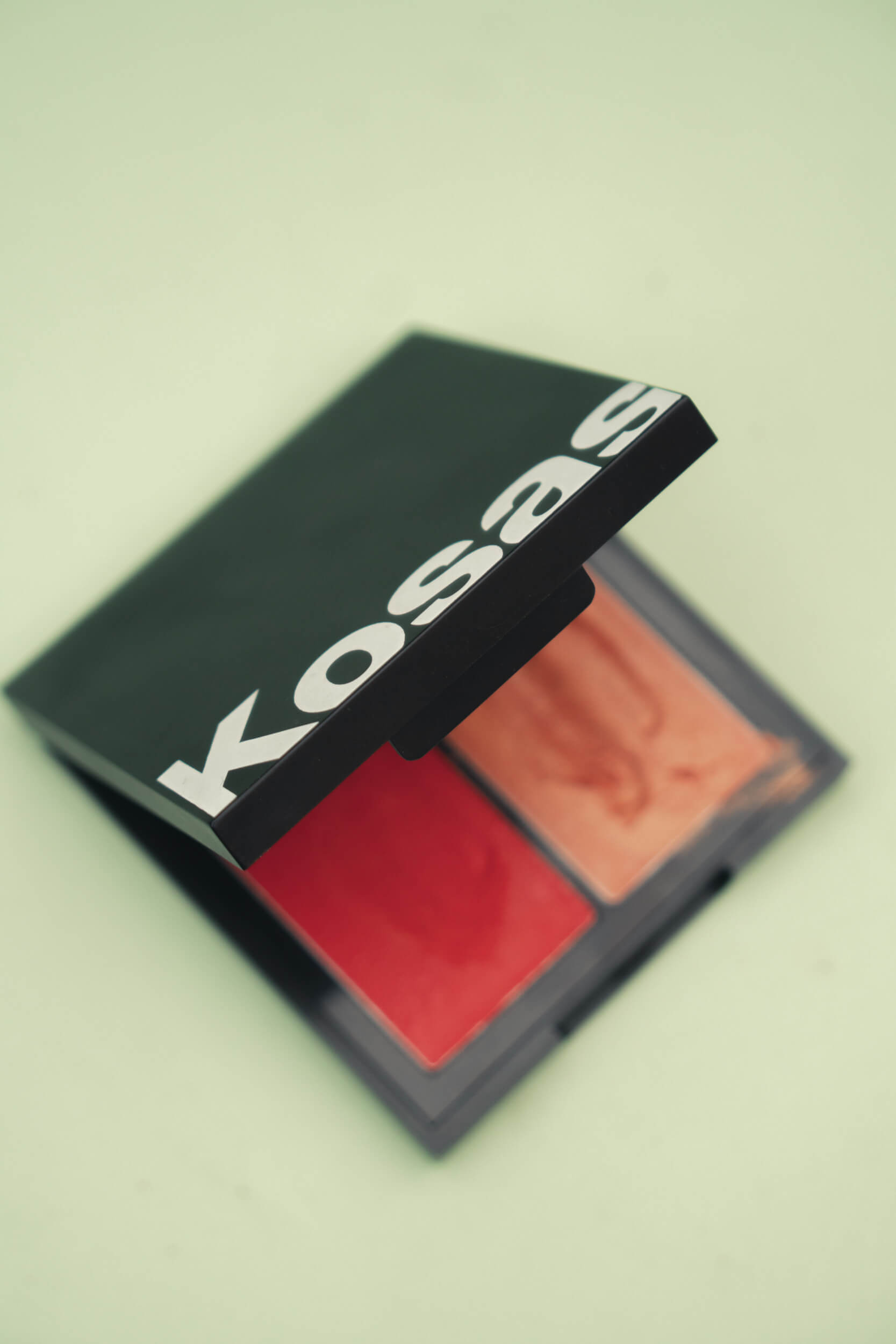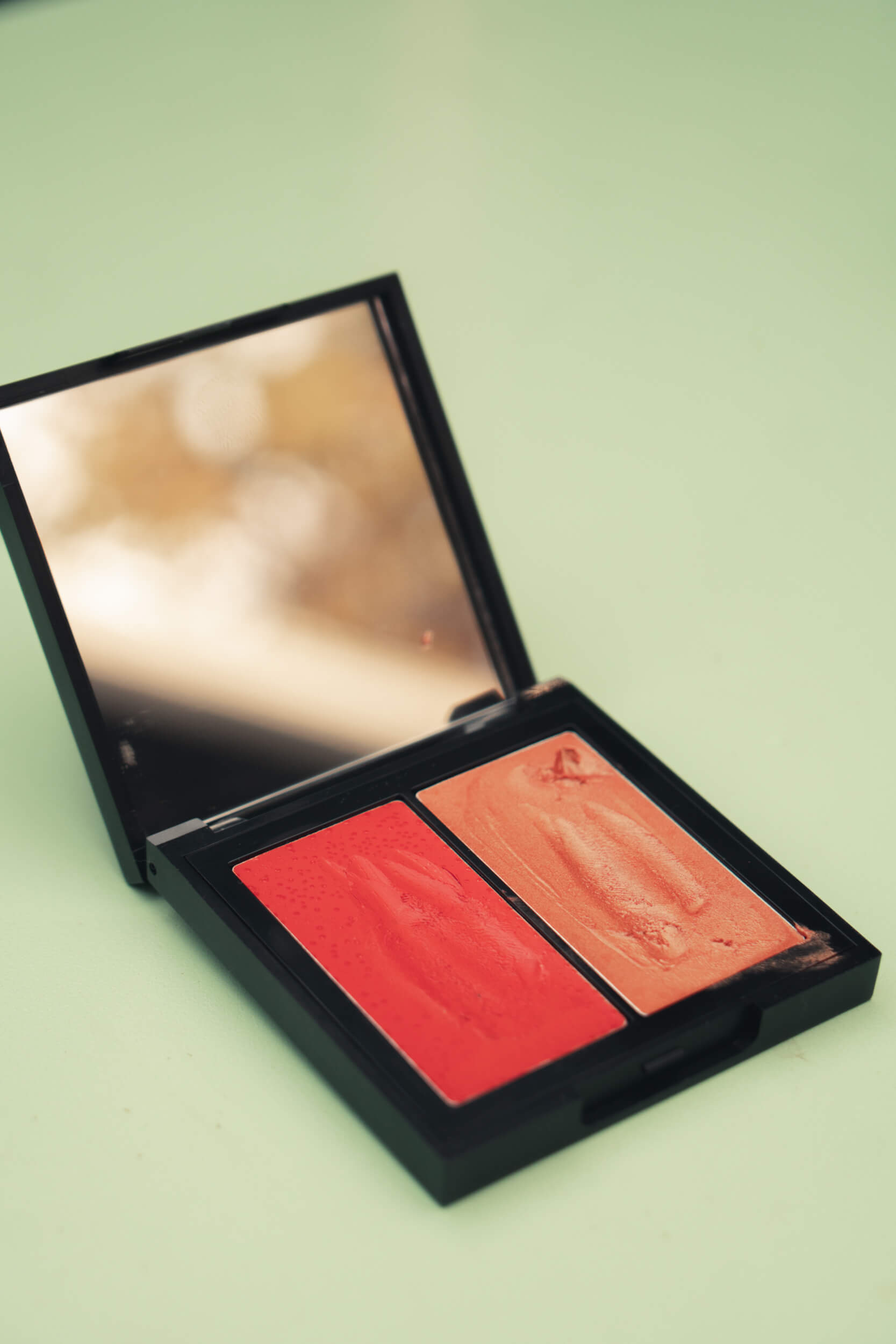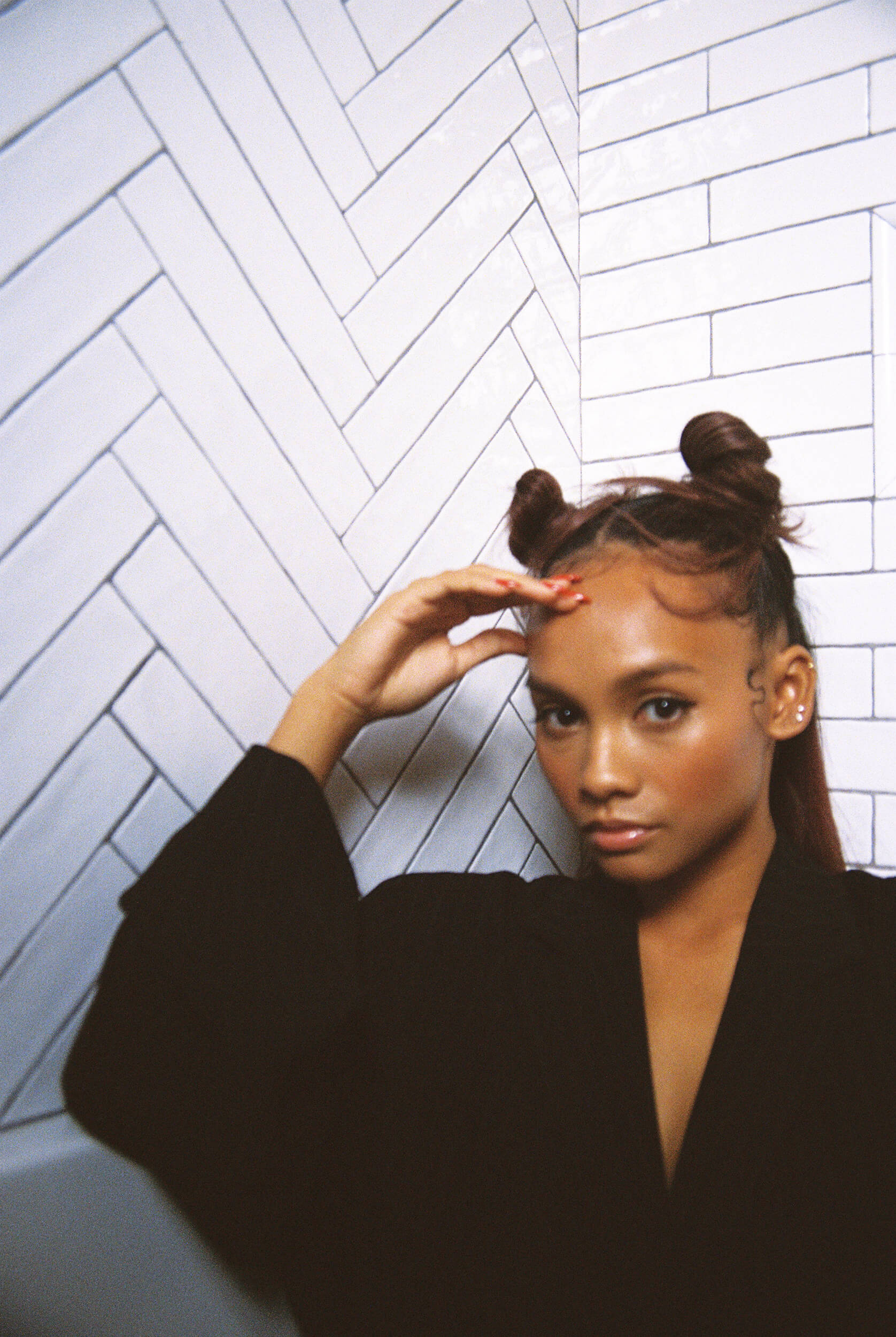 What would you love to see more and more on these days, in the photography world and also in the beauty world?
Unapologetic transparency and authentic vulnerability. 
What's your motto right now.
If you want something, work for it. 
What advice would you give your younger self entering the world of music/film/photography?
Be patient.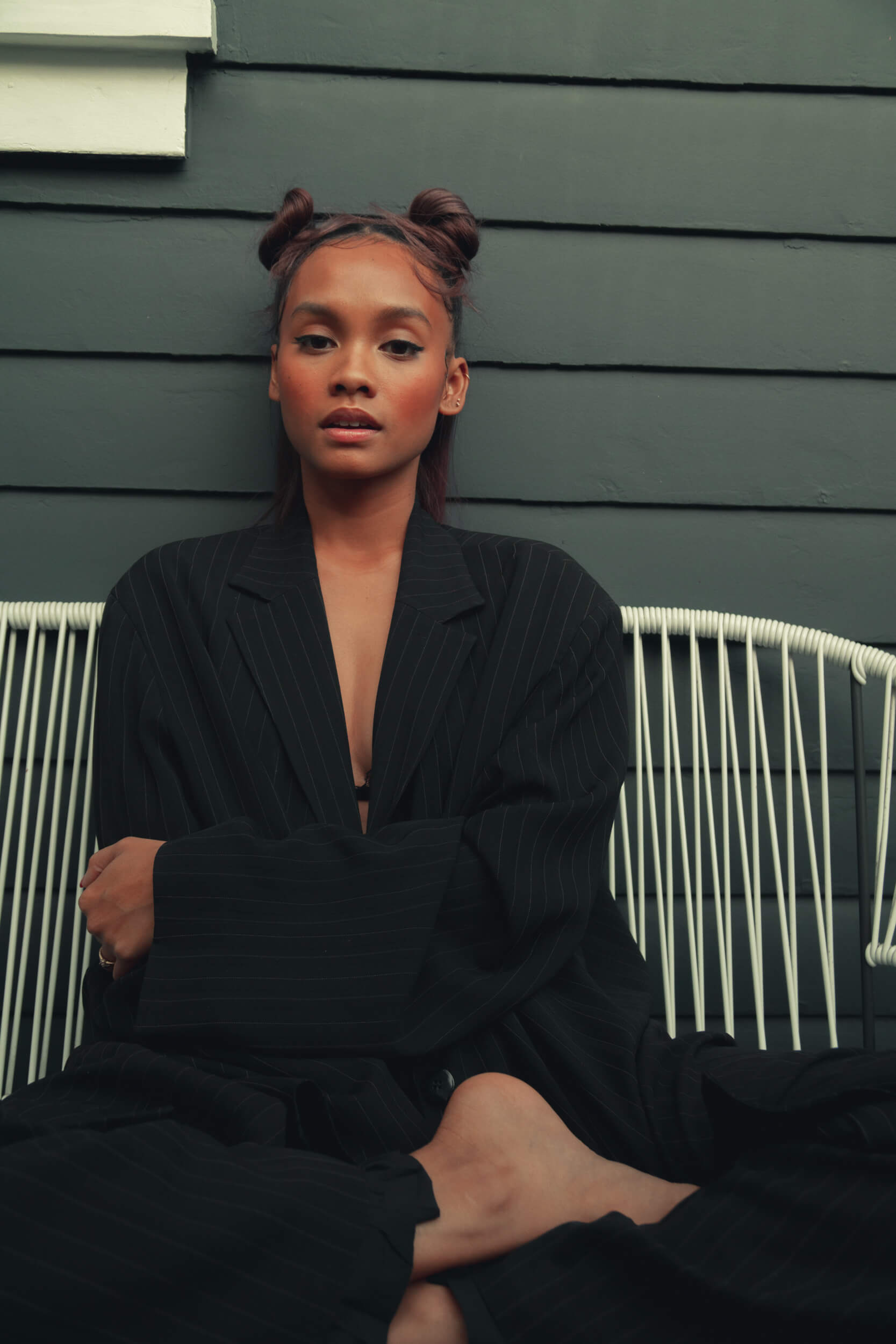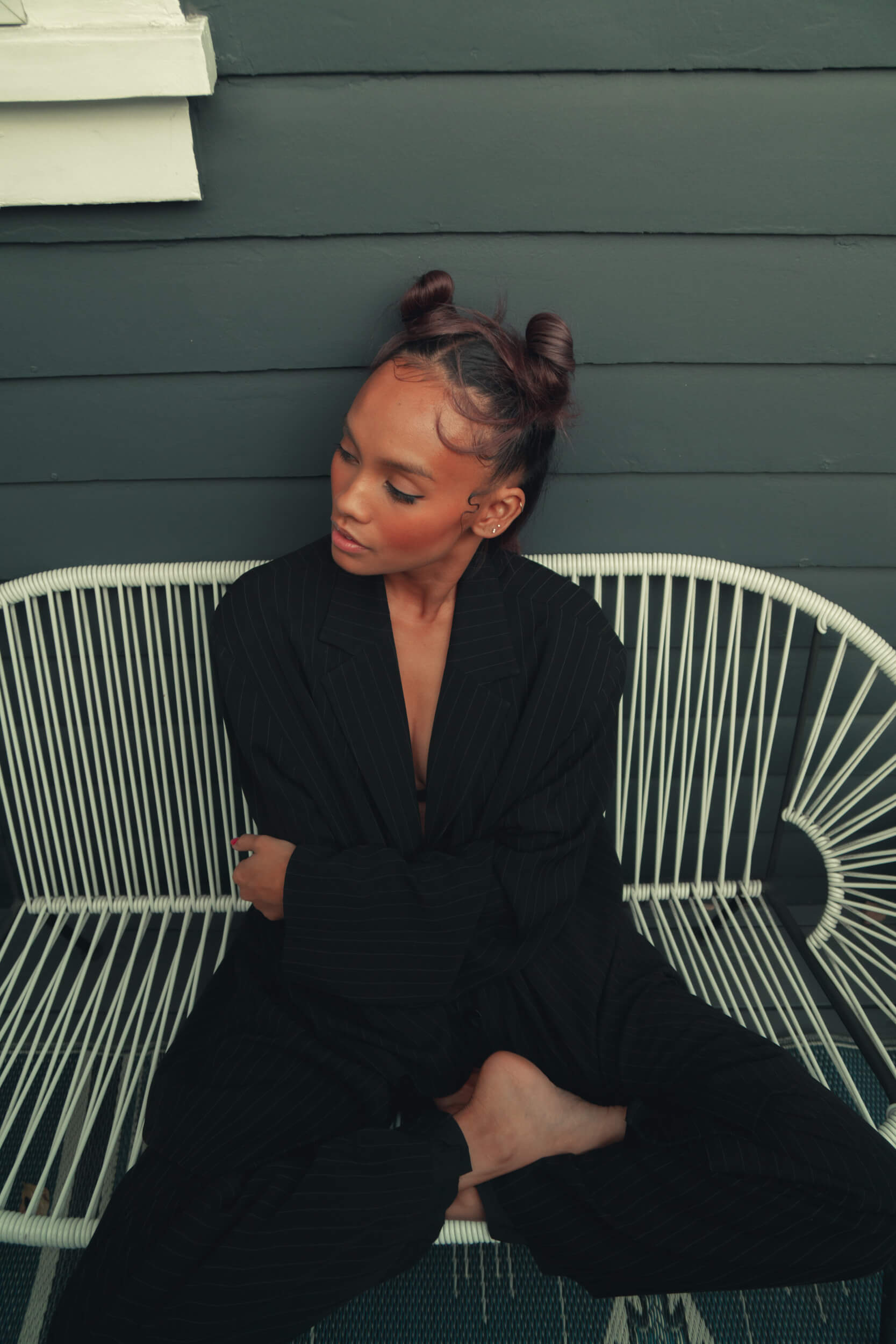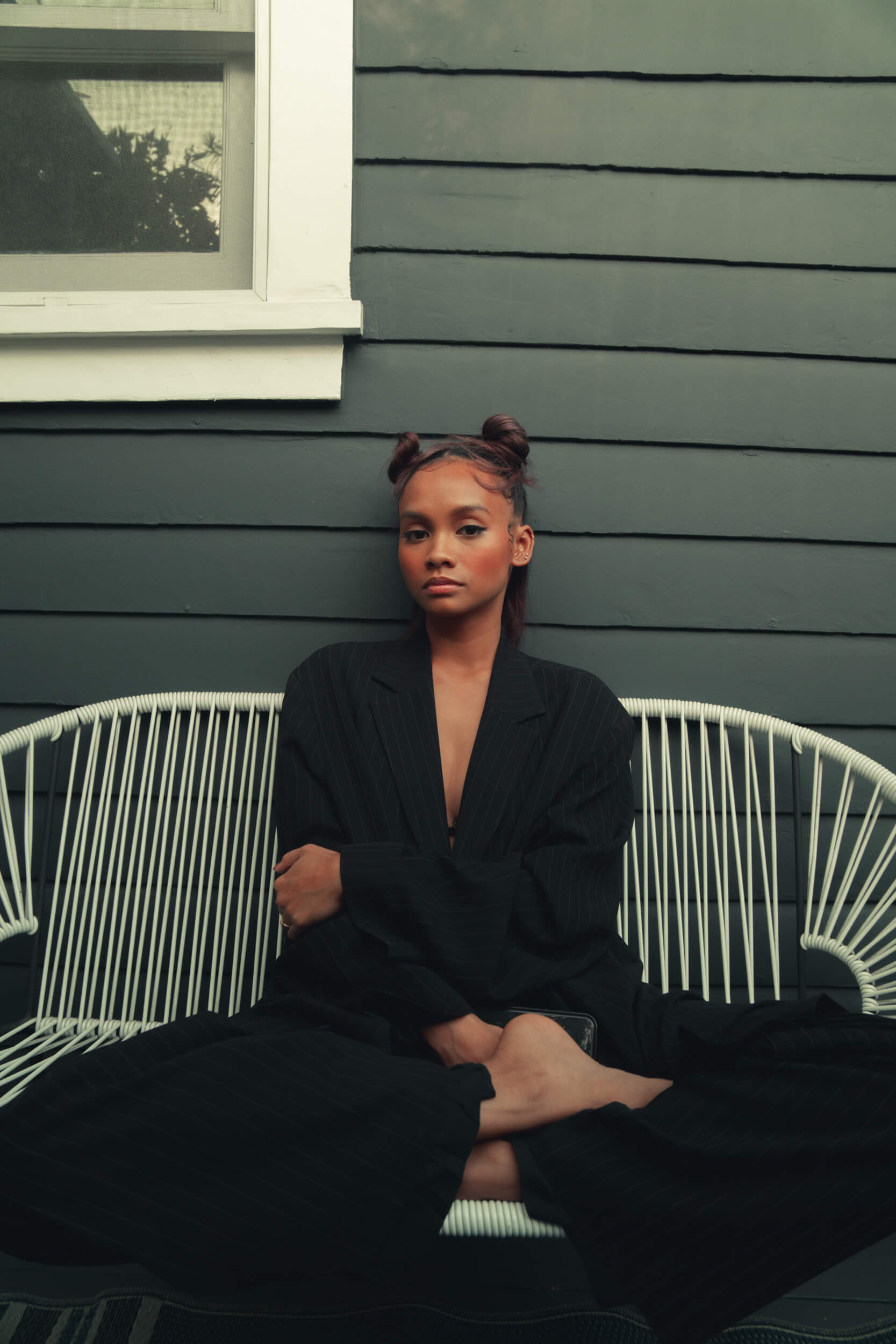 "Unapologetic transparency and authentic vulnerability."
Epic beauty fail.
I haven't had one yet because I'm not as daring with my looks; but looking forward to it.  
Your favorite cinema/TV series beauty look?
Obviously love "Euphoria," even before "Euphoria." Every time Gucci Beauty does an ad, I die on the inside because I love it so much.