HELLO, IT'S ME: Anja Tufina.
A great fashion and beauty enthusiast, blogger, influence and founder of "The Dolls Factory:" Anja Tufina is a deeply interesting personality, creative, a woman that knows what she wants and how to say it, both makeup-wise and as a consumer, but most of all as a person who has the right to support, with her choices, a brand or another.
We met her at the Gardenia, in Milan, and that's what she told us.
WHERE: Milan, Gardenia.   
WHAT'S ABOUT: The nude look with red lips or the look with a pink eye makeup and nude lips.
YOUR GROWTH WITH "THE DOLLS FACTORY"
As far as the beauty part is concerned, my family owns a cosmetic company in Albania, but I had never been interested before, the SPF 50 is the only thing I've always used. It's like owning a chocolate factory but not eating chocolate. [laughs]
Then, when I moved to Italy to study, I began to discover the world of beauty: it is something genuinely different from what I was doing before since I used to work in finance, where there is neither beauty nor fashion. Even though, when I went to the office, I used to dress in a bizarre way: I never bought boring office suits, gray or black, and I always wore separate skirts or shirts, with prints or patterns.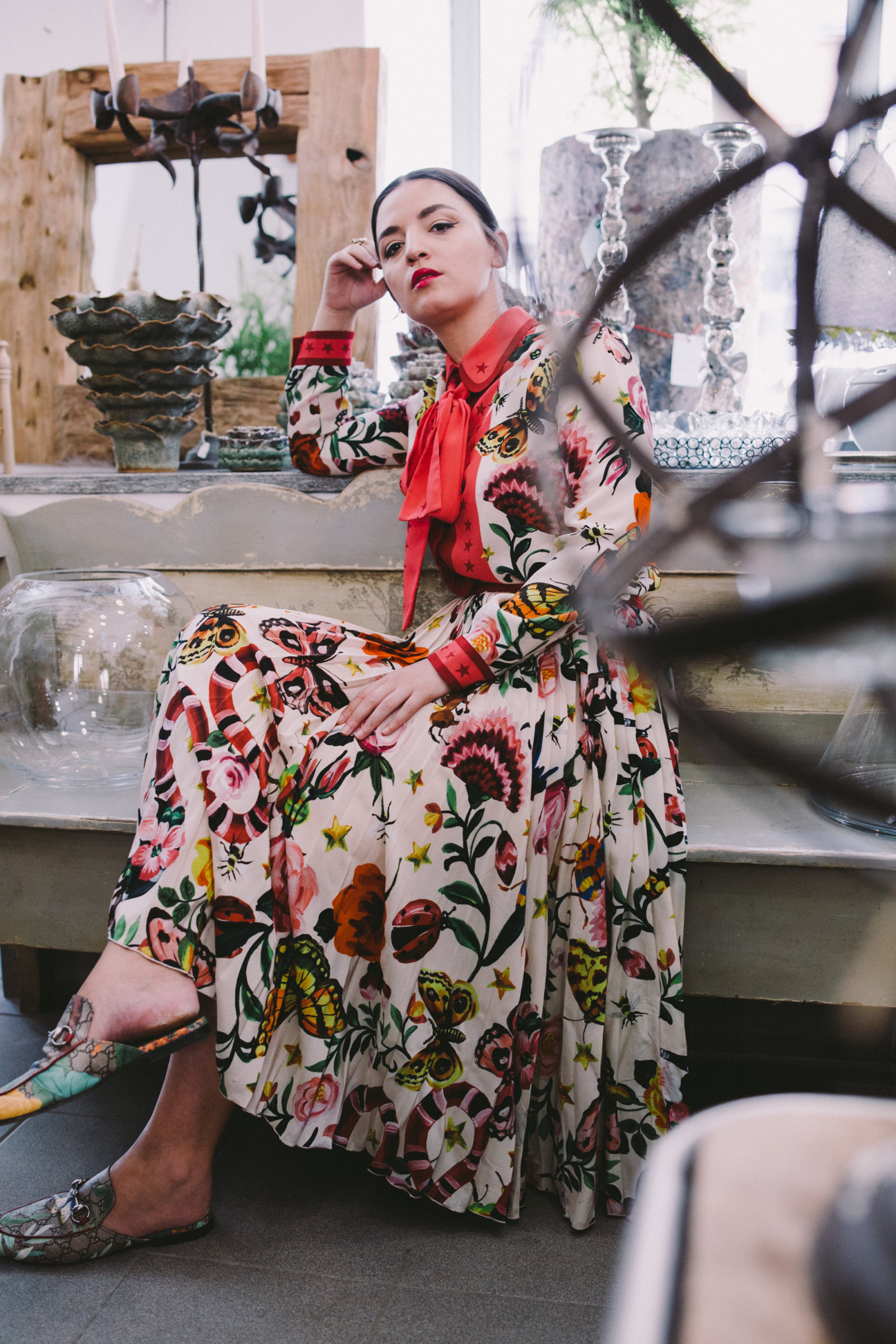 With the opening of the blog, I immersed myself in fashion: so I started working in the industry and the truth is that the more you work in fashion, the less shopping you do. When you are a person outside of this world, you go shopping, living the moment and saying things like: "Ah, I deserve a treat!"
Instead, when you work in fashion and you know how to do things you buy only the things you've already thought of, the ones you really want. The things whose brand or design you like, maybe, also the history or on a social level. Digging a little deeper, you understand that you should support a designer rather than another. The same thing goes for beauty: for example, I pay a lot of attention at endorsement in the beauty industry. 
Lately, a brand I know started doing events with an ex-member of "Uomini e Donne," someone who is definitely not representative of the intelligence of Italian women, thus I decided that I will never buy from that beauty brand again.
Marketing is good, but we must also respect the female public, especially in fashion and beauty where brands must be very feminist, now more than ever. 
If you endorse your brand with personalities that do not represent women intellectually or that do not represent a positive message, then the market should respond by saying, "I shall vote with my wallet." 
So, if I don't happen to like the marketing policy or something else of a brand I do not pay, I don't vote for it.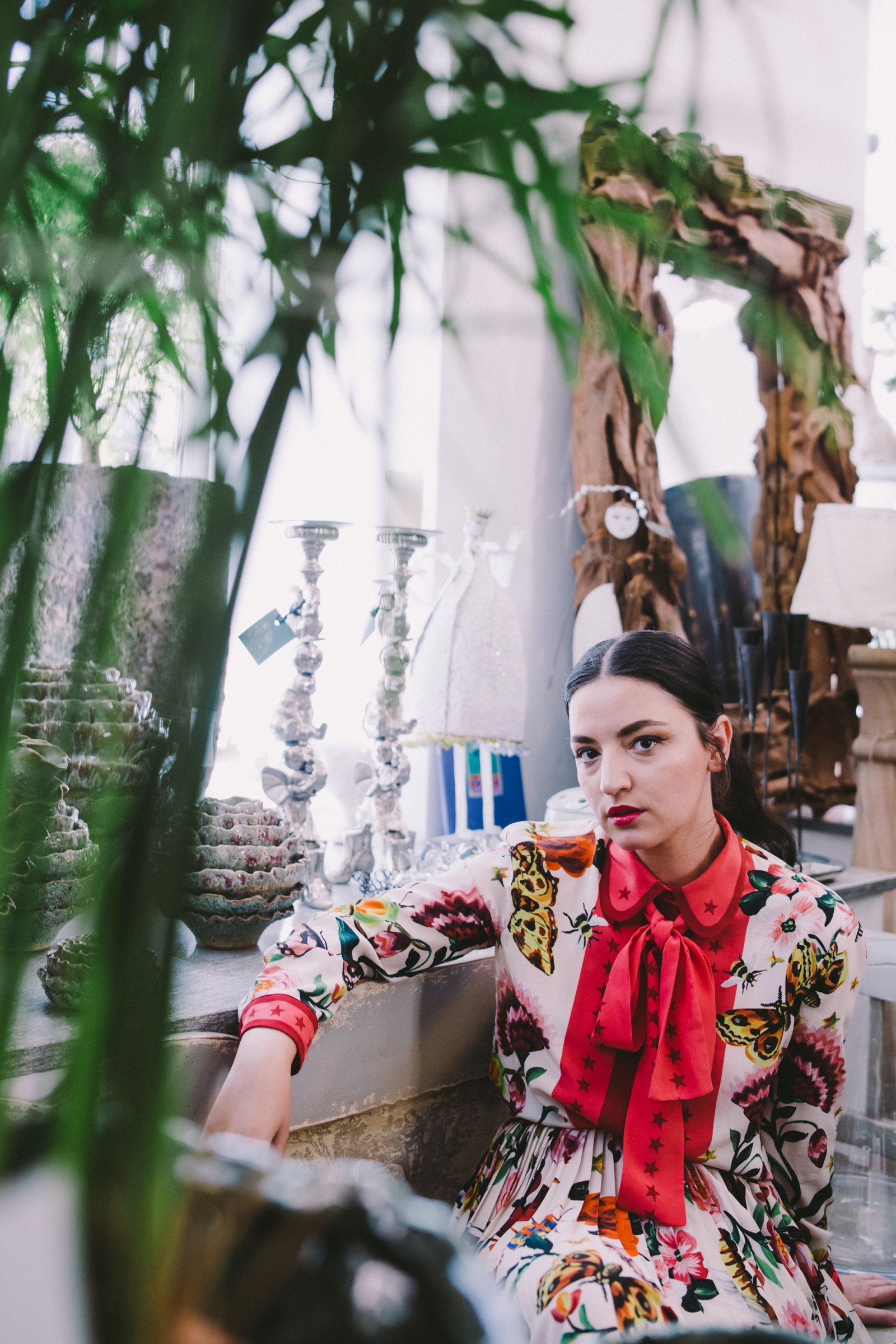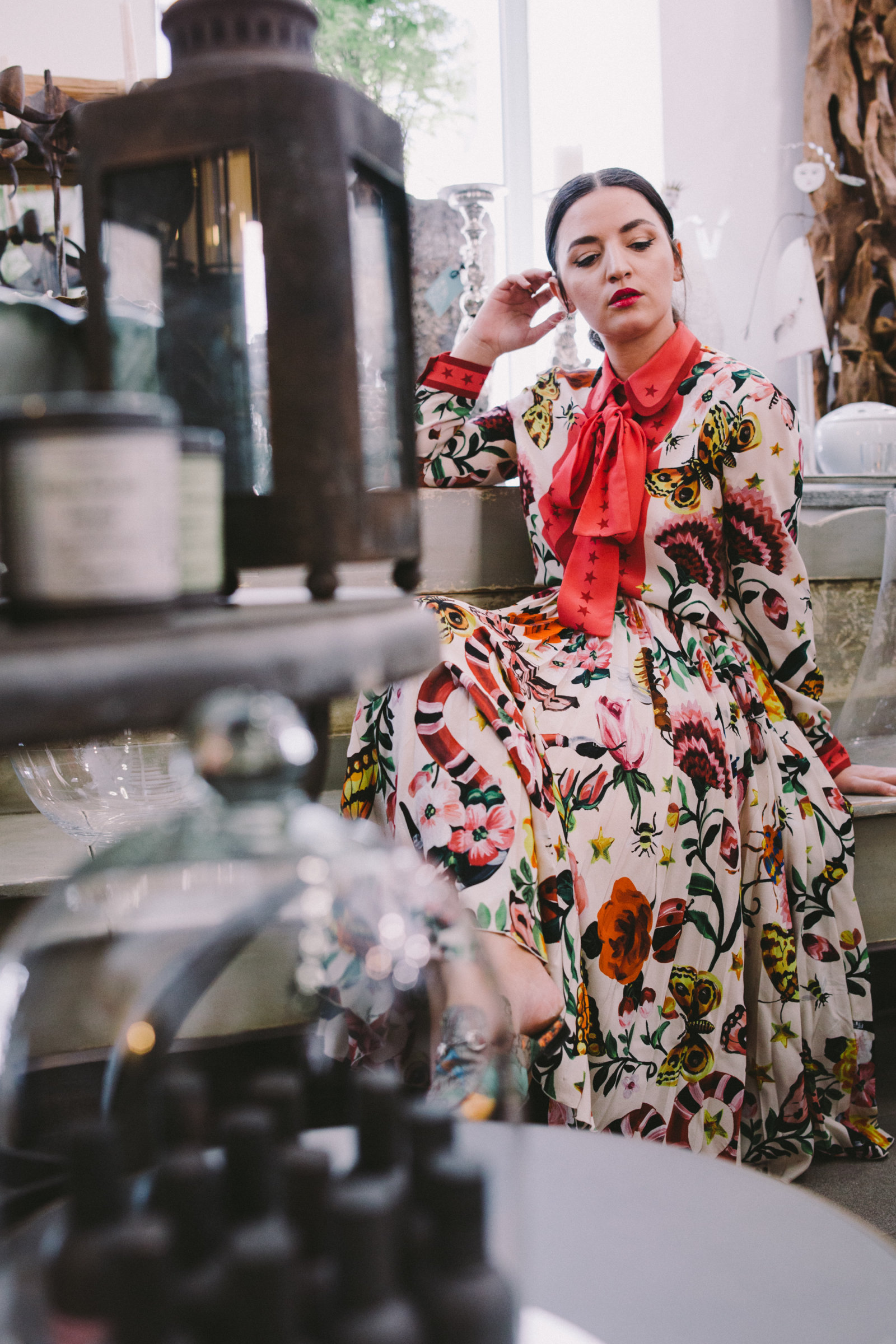 BEYOND BEAUTY
The travel section was born because when I travel, I am exactly as I am in the pictures: in my closet, there must be everything, there is no space for anything else, so even when I go for a trip I have to choose what to bring. I do not match heels with dresses, only flat shoes. It's not that if I am a tourist I have to be poorly dressed, also because I have to take pictures [laughs]! 
Many people have tested my theory: if you put on a long dress, you're very comfortable also as a tourist, because trousers are stricter. 
I bring the concept of comfort to the extreme sometimes, but I always look at the places in advance to prepare my suitcase also keeping in mind the place I'm visiting: when I went to Doha I knew I had to wear long dresses out of respect. Then, according to the city's palette of colors, I chose the clothes I should wear. My travel section is not a guide about where to eat, for example, also because one eats where s/he wants while traveling: however, my to-go trick to eat good food is to ask the policemen for advice, they always know the best local places.
"Marketing is good, but we must also respect the female public."
ICONS THAT INSPIRE YOU
Many women inspire me, even though they are entirely different from myself. For example, my icon is Tilda Swinton, and I can not precisely copy her style, I'm not like-minded. Then Michelle Lamy, the partner of Rick Owens, who is this lawyer full of tribal tattoos and who's very into supporting art: if you see her she looks like a witch, but in fact she's a human rights lawyer who also works as Art Direction for Rick Owens, being his muse. If you see her, she has nothing to do with me because her style is very dark, and she also created the Rick Owens Gang, formed by all the people who dress Rick Owens from head to toe.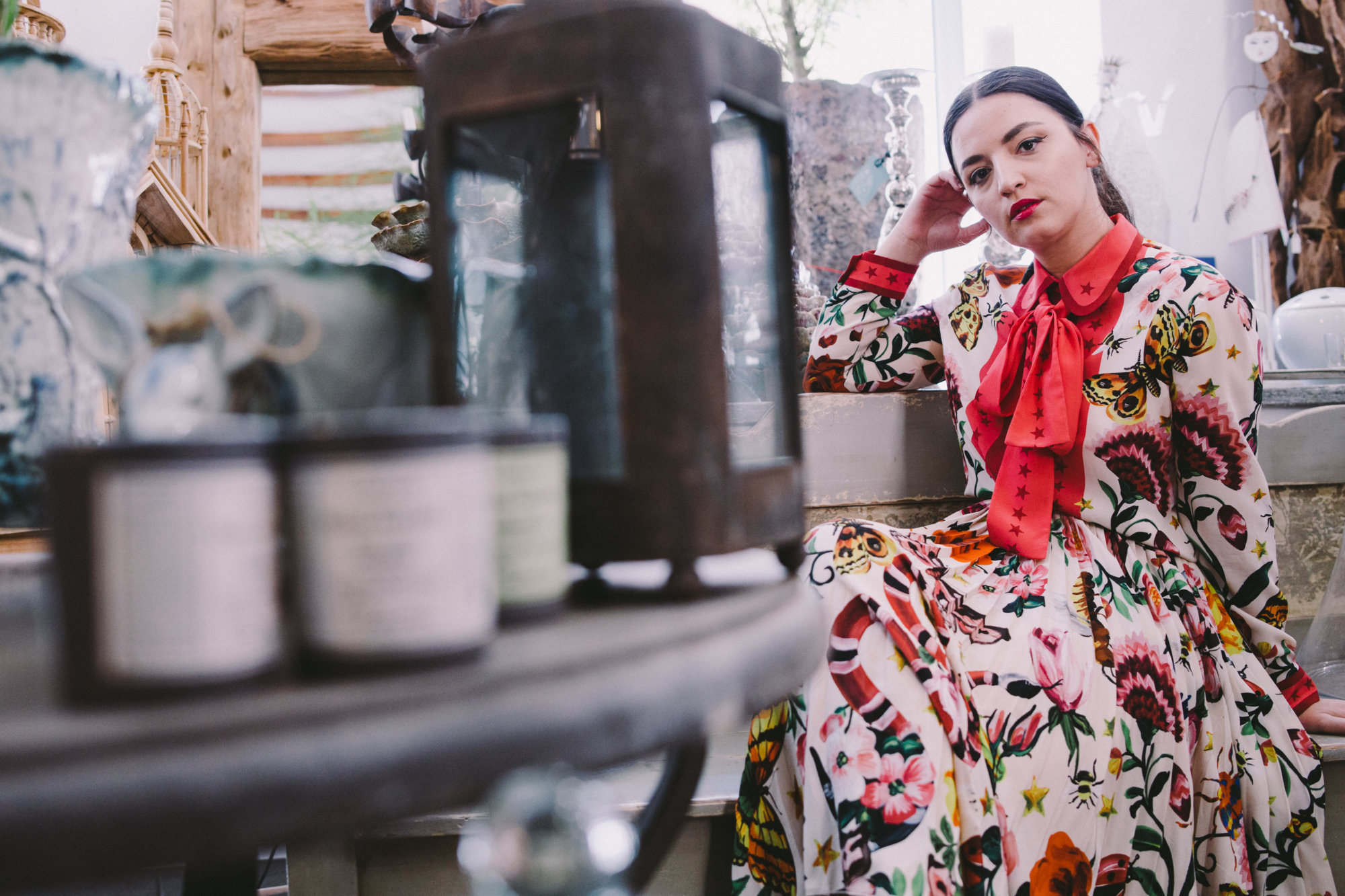 Vivienne Westwood is another person that has nothing to do with me but whom I adore: not only for her design but because she had declared war on climate change even before it became a trend. She has always fought the system, despite never changing her own style. Furthermore, she never changed her ideas: Vivienne has been supporting the gay community since the '70s, fighting the climate change since the '90s. And all the while, it seems that everyone else woke up now like: "Oh, look, the ocean is full of plastic!"
The women who really inspire me have nothing to do with me style-wise, but I follow them for their consistency in having an opinion and the way they carry them forward, for their strength and fragility, because even fragility can be a form of strength sometimes. I follow Tilda Swinton for her style, which is not touched by the glamorous wave of Hollywood.
Then Rihanna is another pop icon who is taking under her wing a lot of young designers, she personally asks for their pieces of clothing and so many times she also buys the clothes afterward. I have testimonies of people to whom her stylist has paid the order. Rihanna wore Jacquemus before anyone knew him, now the brand is worn by the Hadid and Kardashian sisters, but Rihanna wore its trousers first three years ago; a piece of clothing that I also bought.
"The women who really inspire me have nothing to do with me style-wise."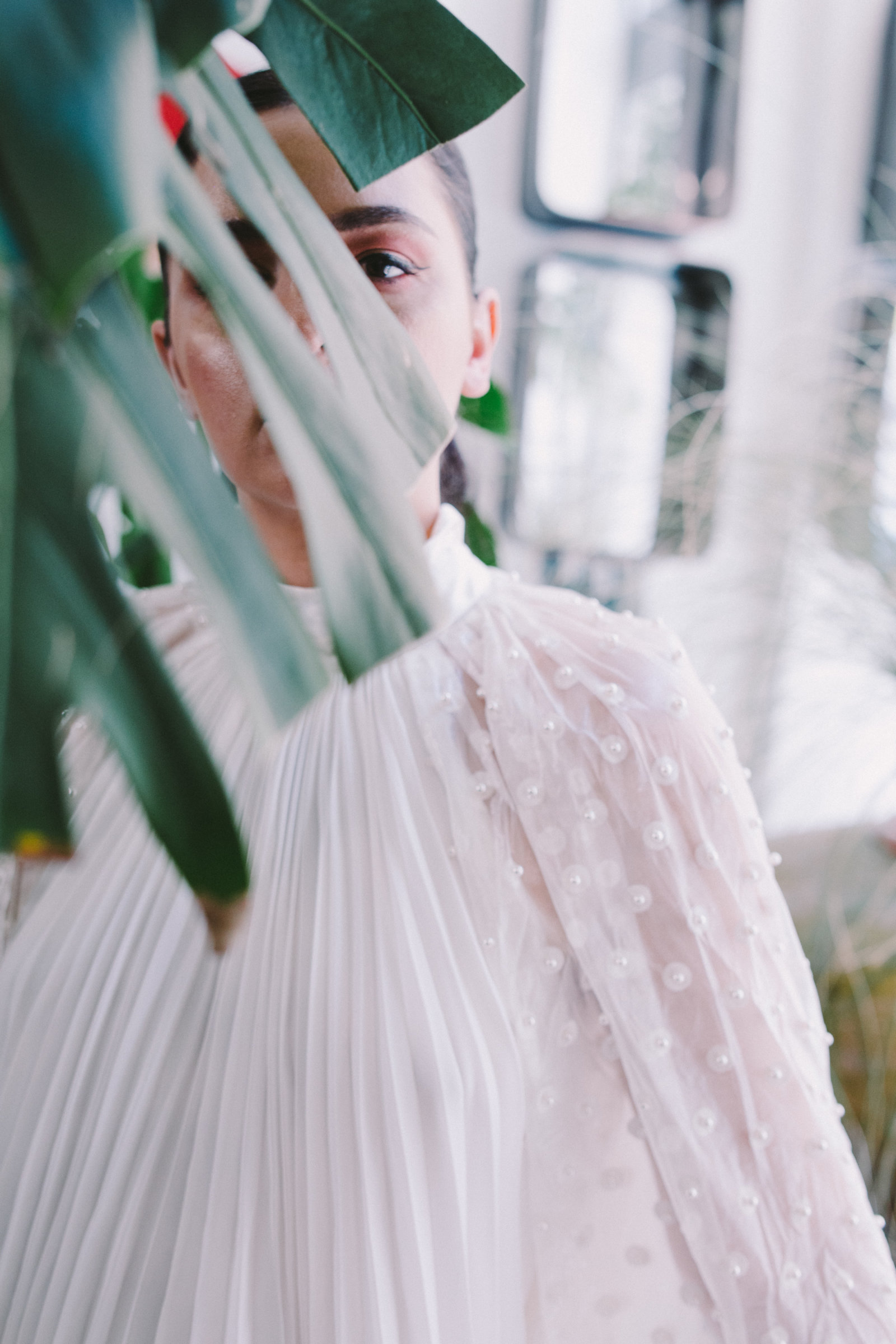 For me, when I go shopping, it is important to vote with the wallet and to know what companies are doing, because at the end of the day I spend on what I really think is worth spending, not only product-wise but also as a matter of support. Also, we buy so many beauty products when really we know that, if you have the Ruby Woo lipstick by Mac you do not need another 100 red lipsticks. Nevertheless, we keep buying, so it is worth buying with full knowledge and making an informed choice. People should not be extremist, but quite aware of everything: there are many causes, we should choose the battles we want to fight to, in a way, acquiring balance.
BEAUTY FOR YOU 
Beauty certainly means feeling good about yourself, and I realized that this awareness didn't come to me before the age of 30. From the age of 30, you start to understand and maturity is a matter of surrender (laughs). At 20 years you are so full of problems and so self-conscious: they told us what adolescence is but not what the 20s, the 30s or the 40s are. When you're 20 you are scourging yourself with the idea of perfection; it's the time when you're influenced by magazines, but you need to understand your appearance, which is also due to where you were born. The more you travel and the more you understand that beauty is not being blonde, tall and thin.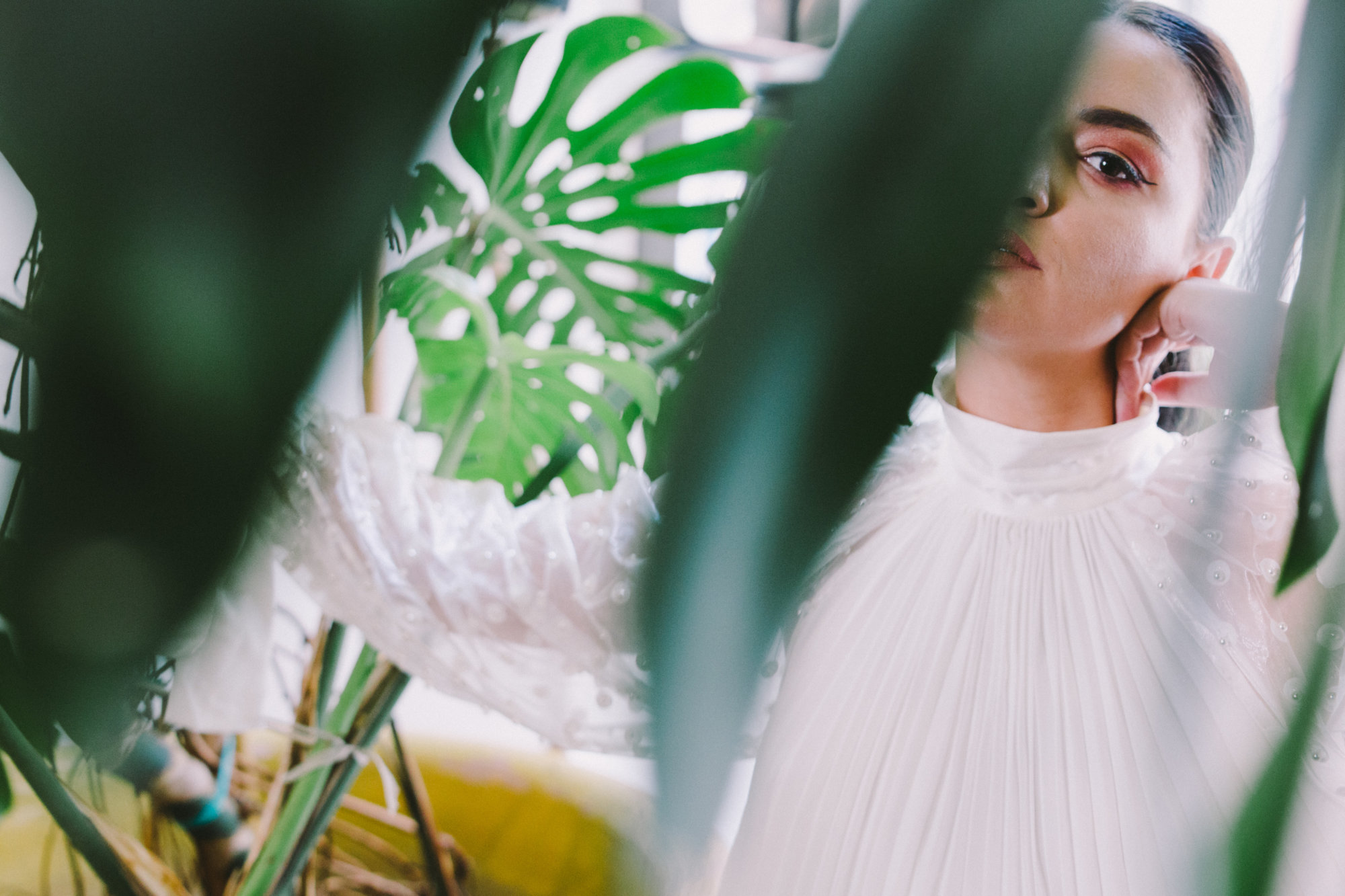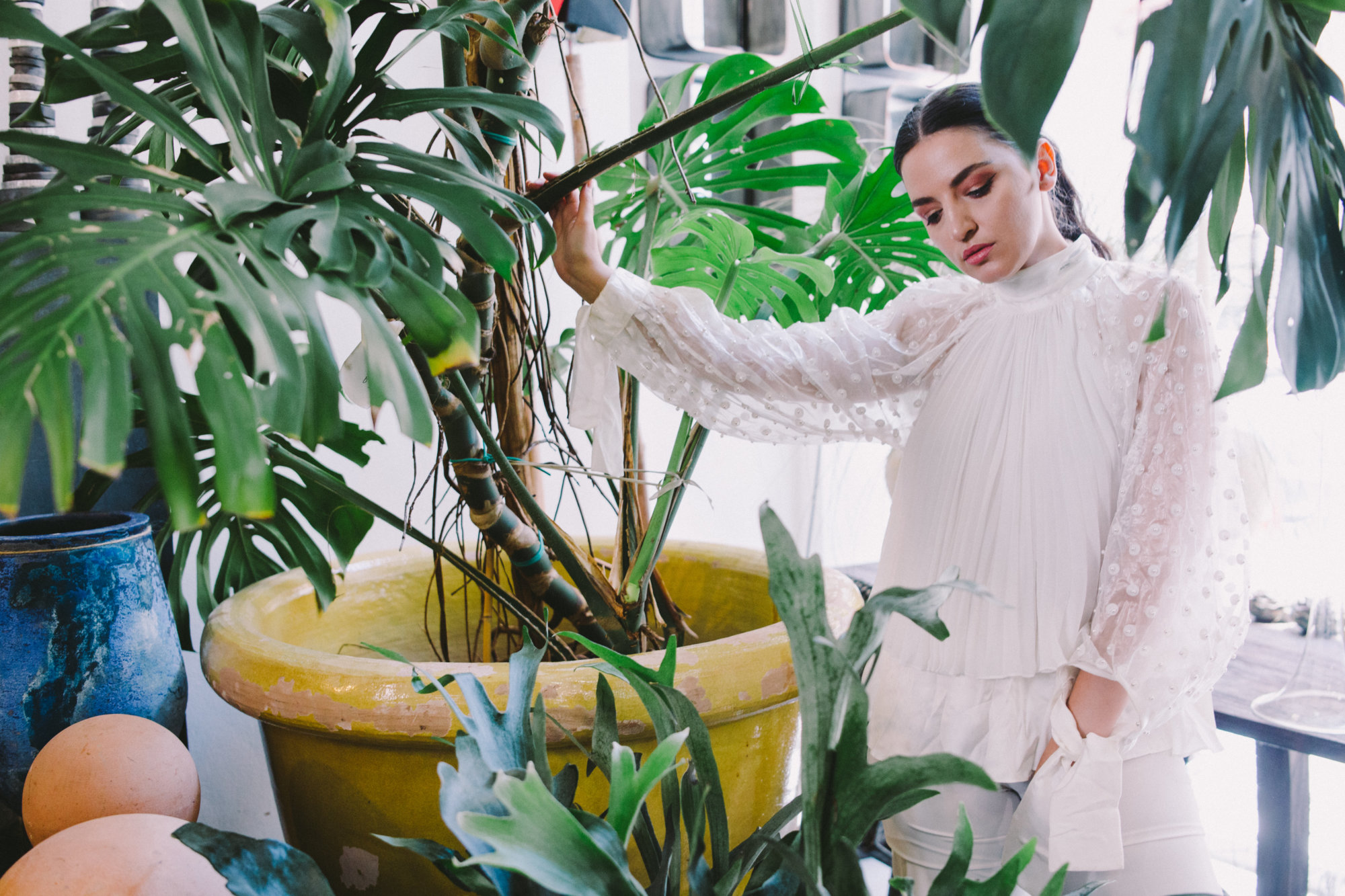 If you have Mediterranean traits, you'll hardly be as tall as a Swedish woman. You can be born with perfect skin; you can get there with treatments but, in the end, we have to define what perfection is for ourselves, and at 30 you understand that it is the exact equivalent of being happy. As a teenager I thought that my ears were sticking out a bit, at 20 I wanted to retouch my nose, at 30, on the other hand, I look at the mirror, and I'm fine with the way I am. I'm still keeping a beauty routine every morning to cuddle myself a bit. To be beautiful, we must be happy with what we have and to surround ourselves with people who keep on telling us how beautiful we are.
"They told us what adolescence is but not what the 20s, the 30s or the 40s are."
___________
Mascara or Eyeliner.
___________
Eyeliner. For example, today I didn't wear mascara because I forgot to put it on. When you wear the eyeliner any eye makeup is done.
___________
Matte or Metallic.
___________
Not metallic but glowy.
___________
Thorough Skincare or Nice Makeup.
___________
Thorough skincare.
___________
Highlighter or Blush.
___________
Highlighter.
___________
Lipstick or Lip Gloss.
___________


Lipstick.

___________
A Nude Eye Makeup or Smokey Eye.
___________
I've been into the smokey eye in pink for two years, so I wouldn't say a totally naked look. On the contrary, the dark smokey eye makes the eye look too tired.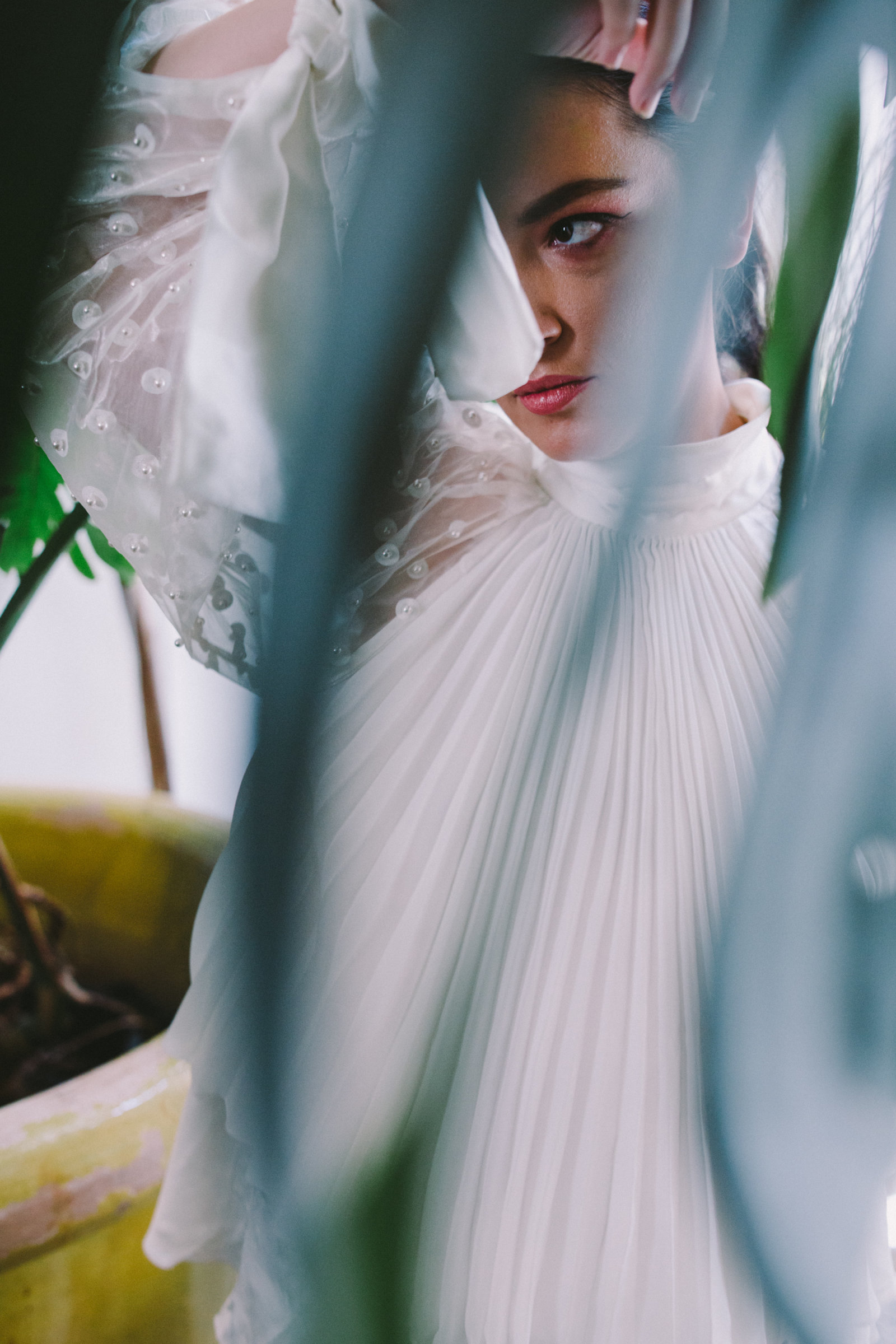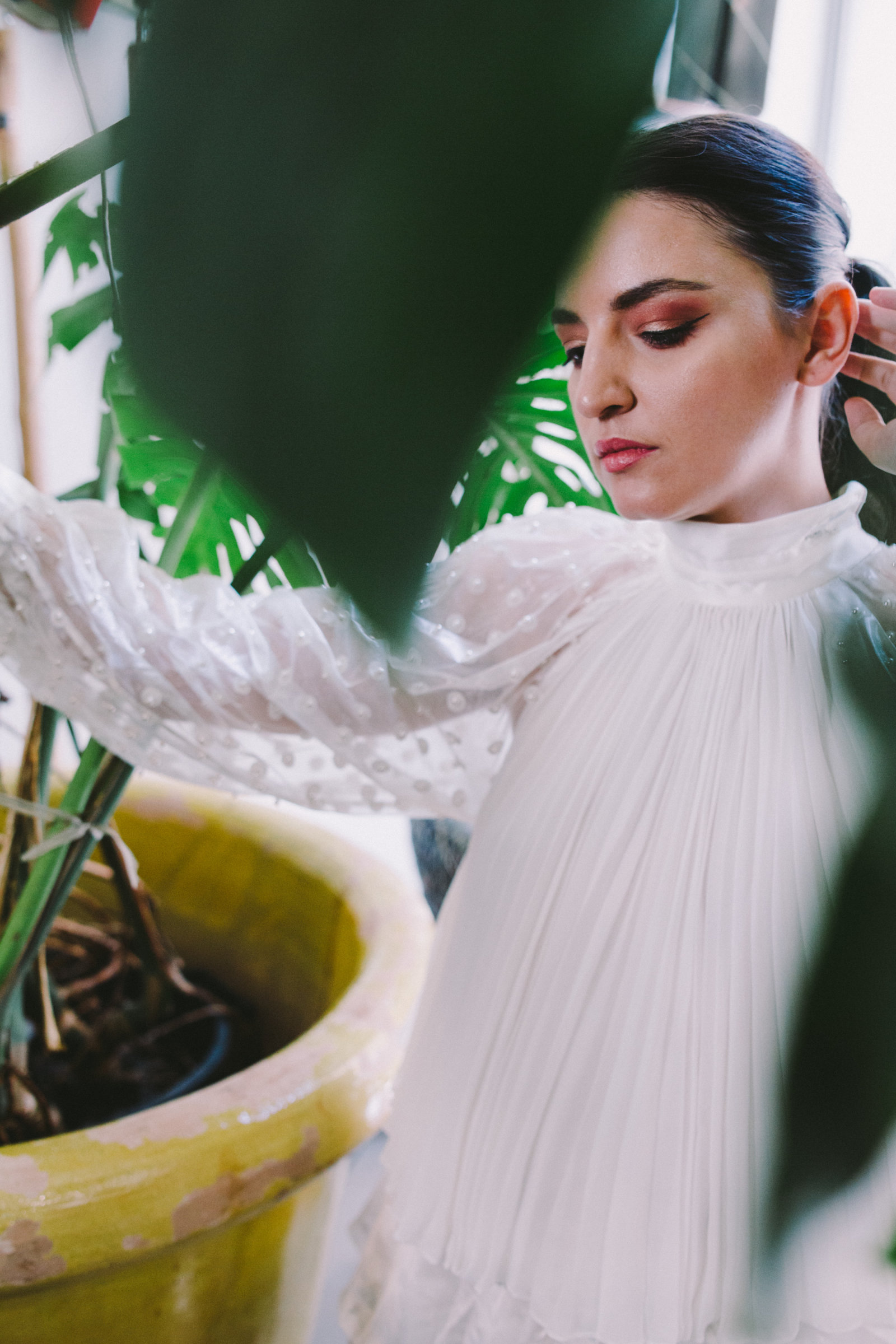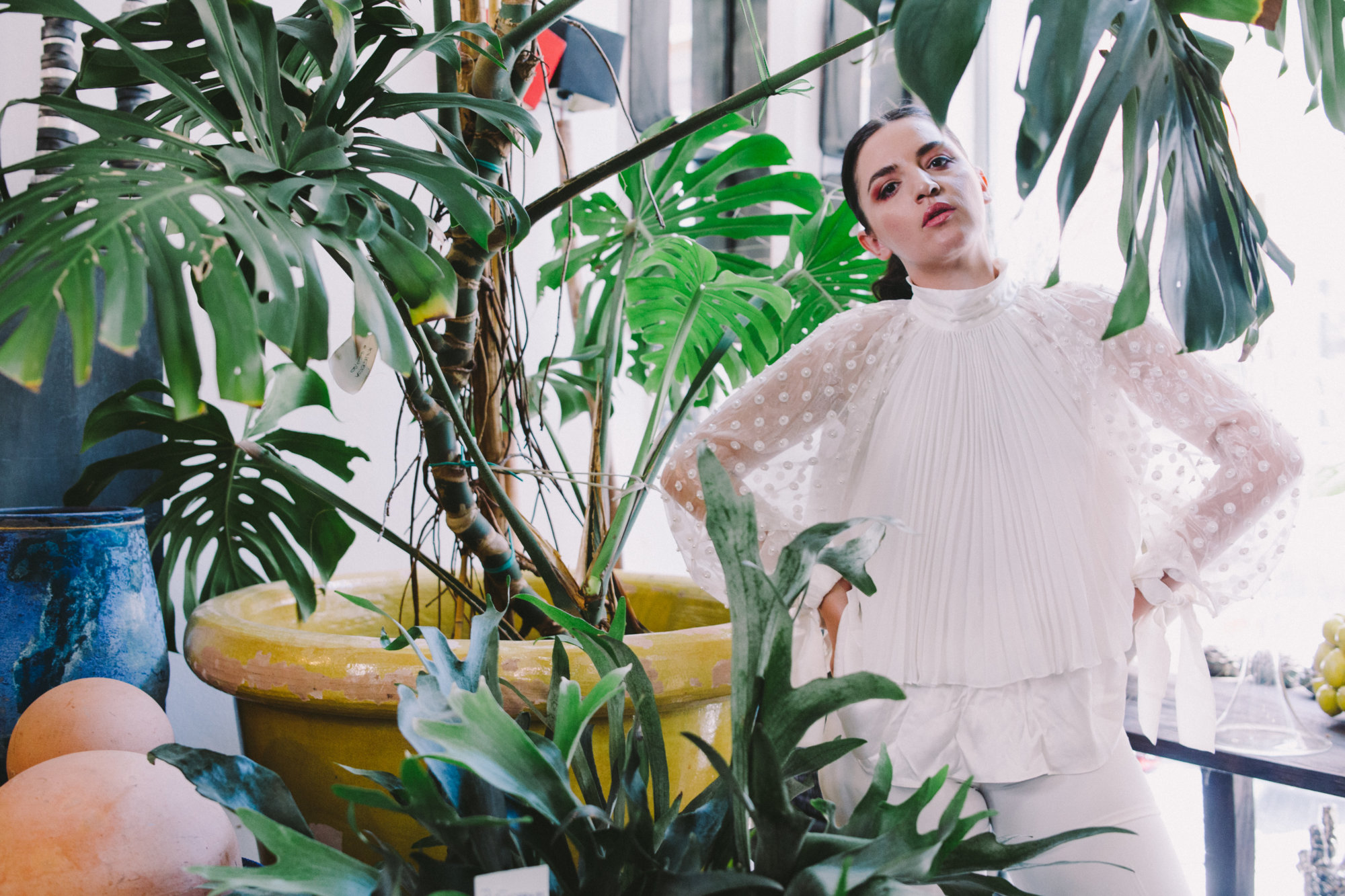 "To be beautiful, we must be happy with what we have."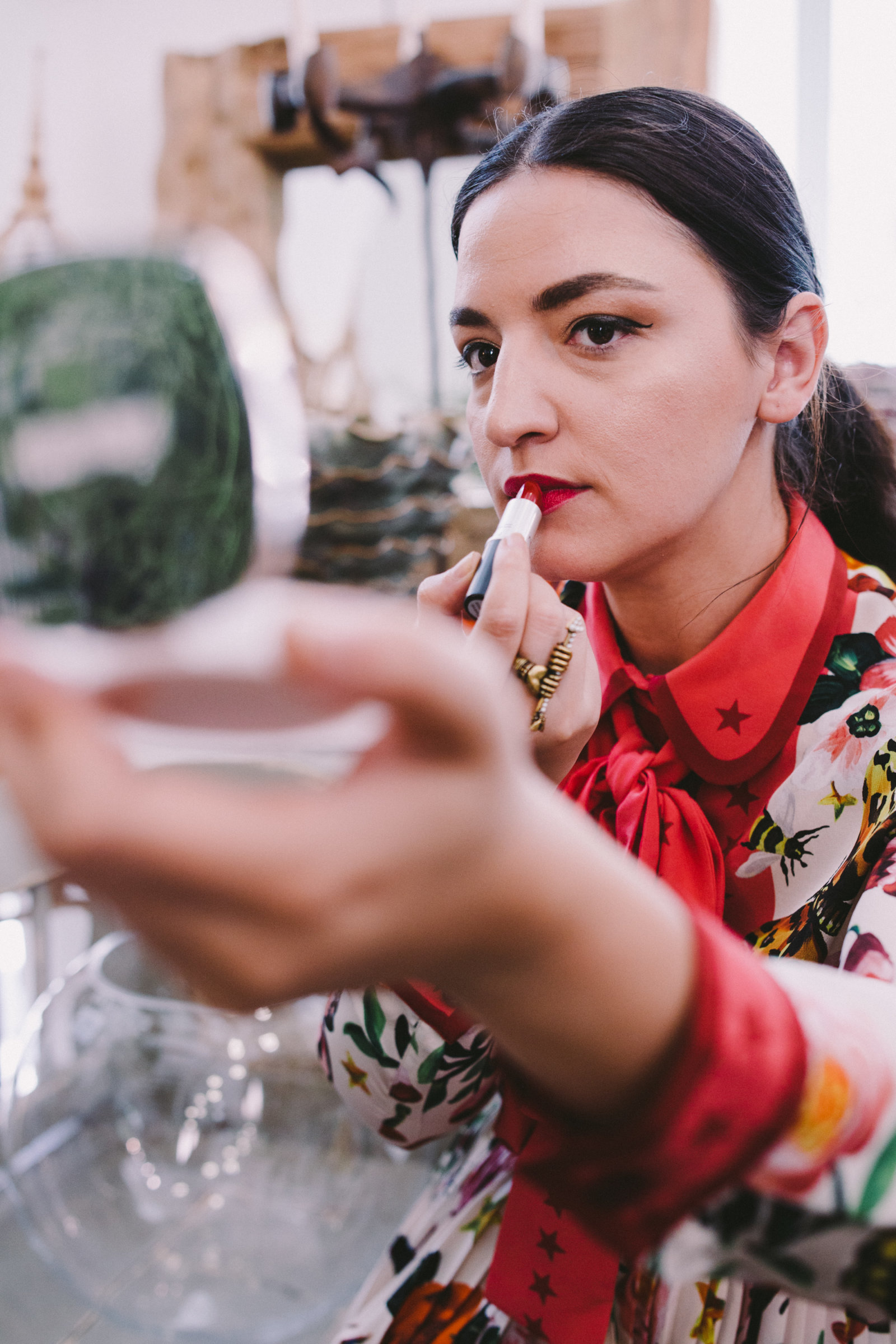 THE GLAM SQUAD
– Fenty Beauty Stick in Yacht Lyfe
– Mac Cosmetics Fruit in La La Eye Palette
– Mac Cosmetics Betty Boop Red
– Dior Backstage Eye palette
– Penhaligon Elisabethan Rose Fragrance
Nude Lips and Pink Smokey Eye
For the base, recently I've been using the Fenty Beauty sticks: I use them in the shades Linen, Amber and Starstruck to even, conceal and sculpt the face, while I use the more orange-y hue of Yacht Lyfe as a blush. They're so practical for Summer and traveling!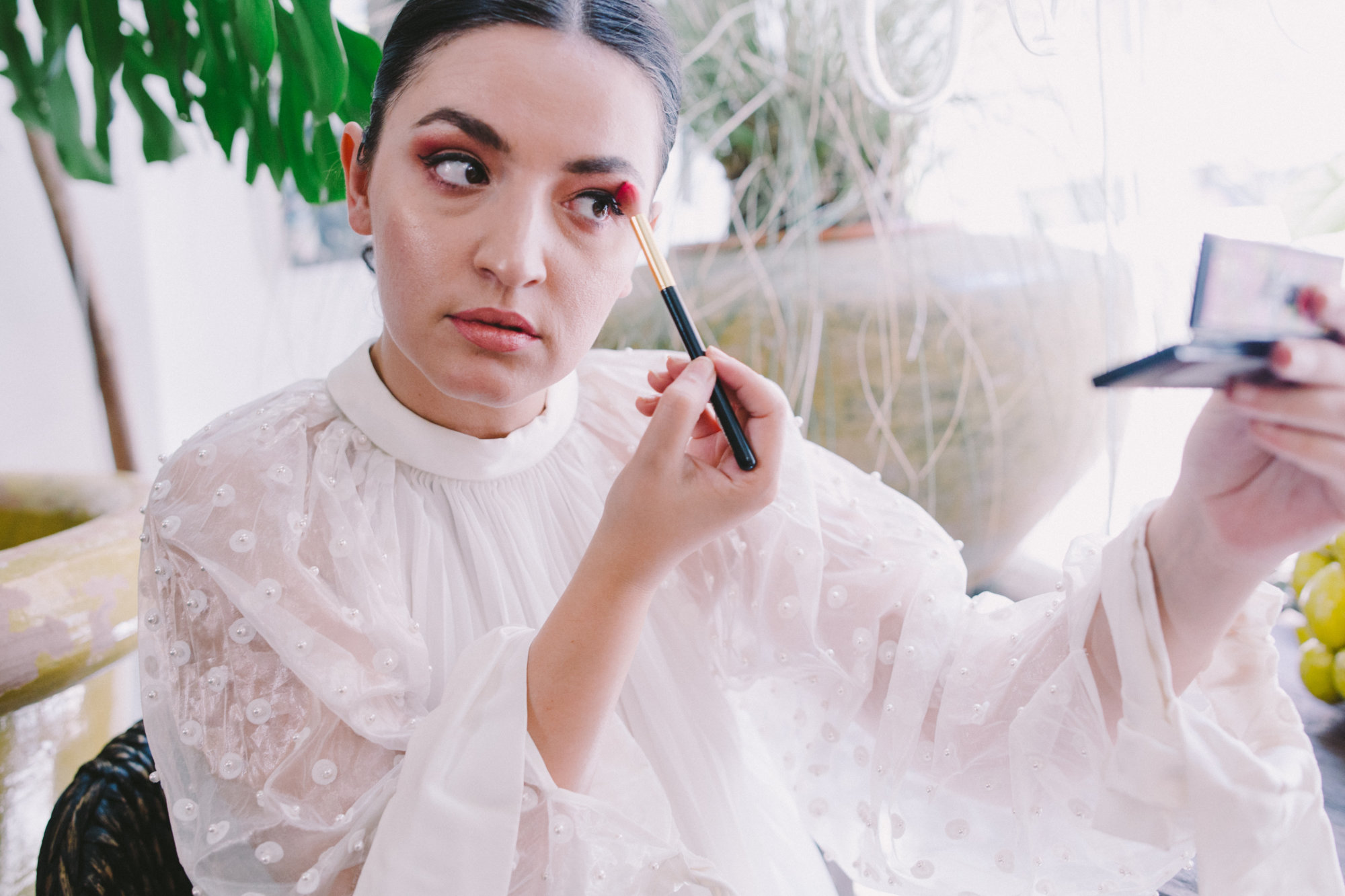 All the attention for this makeup is concentrated on the eyes: for a bright eye and a good smokey eye, I use the limited edition palette Fruit in La La, by Mac Cosmetics.
The Arriba shimmery shade adds brightness, while Cocktail Black, blended on the outer corner of the eye, adds depth to the gaze.
The eye is further dramatized by a flick black eyeliner, obtained with Louboutin's Oeil Vinyle in Black.
For nude lips, but still with a touch of color, I go straight for MAC Ginger Rose lipstick.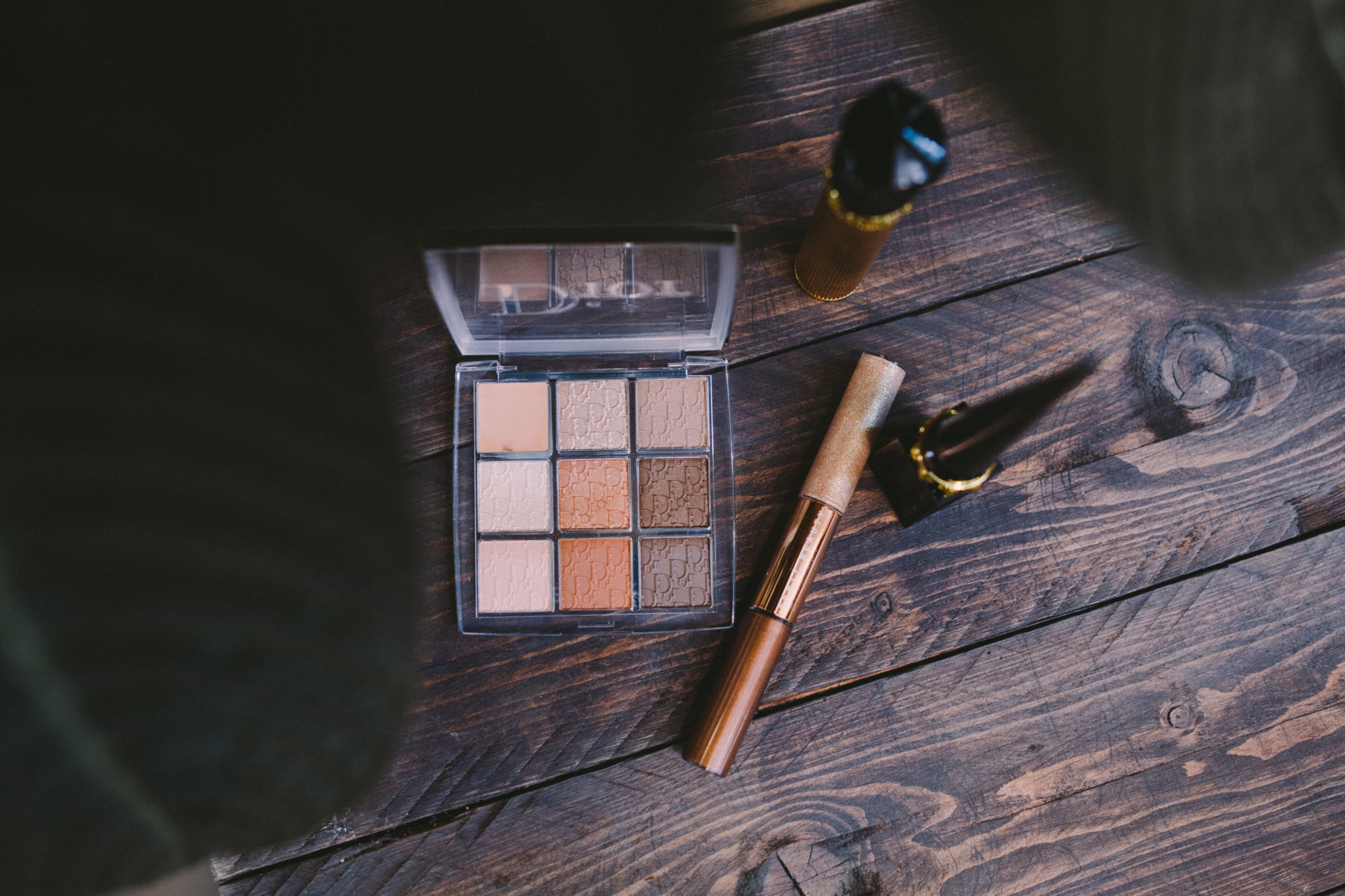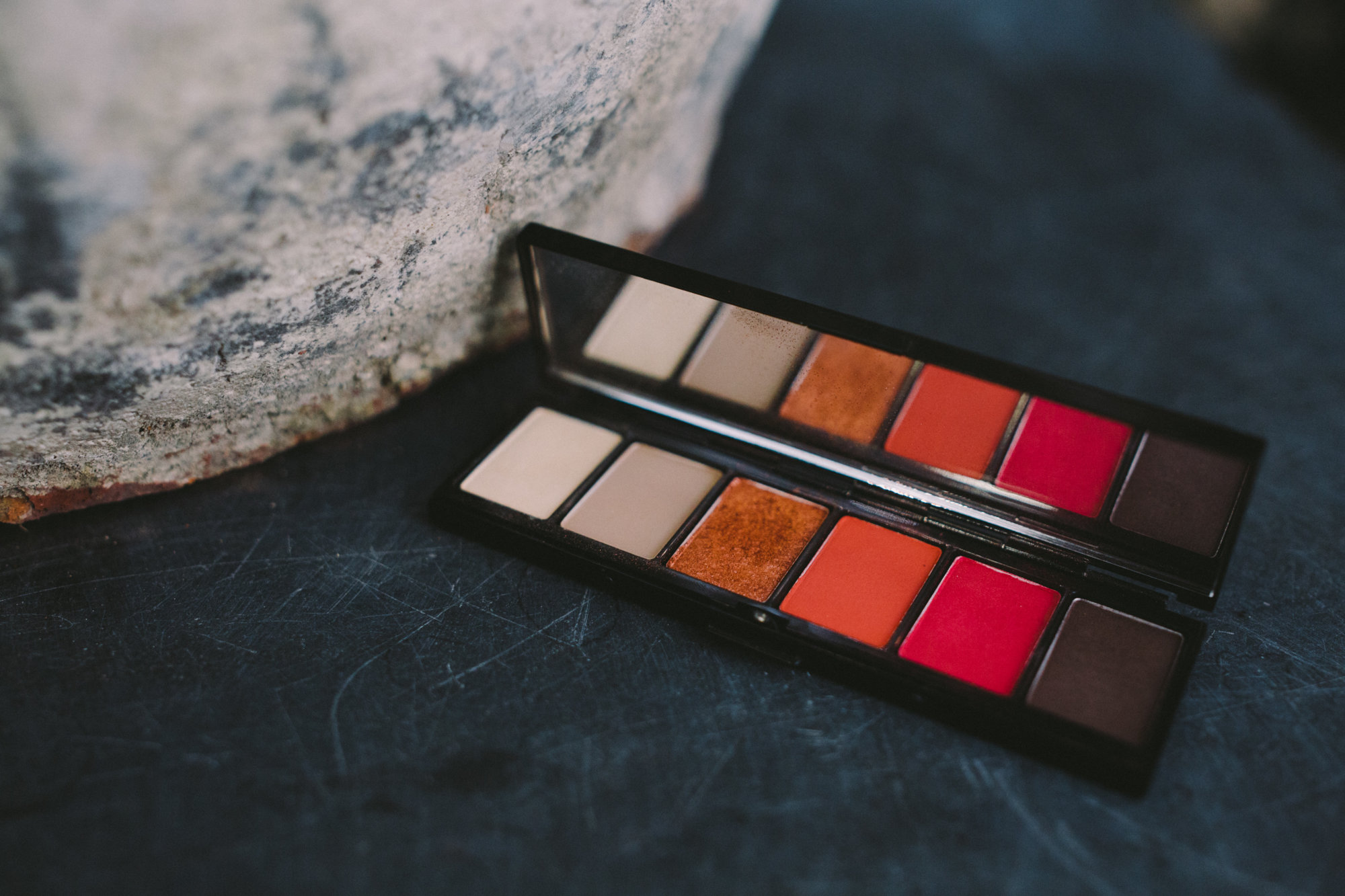 O R A N G E
R E D
P I N K
"For nude lips that don't miss the chance of a touch of color, I go straight for MAC Ginger Rose lipstick."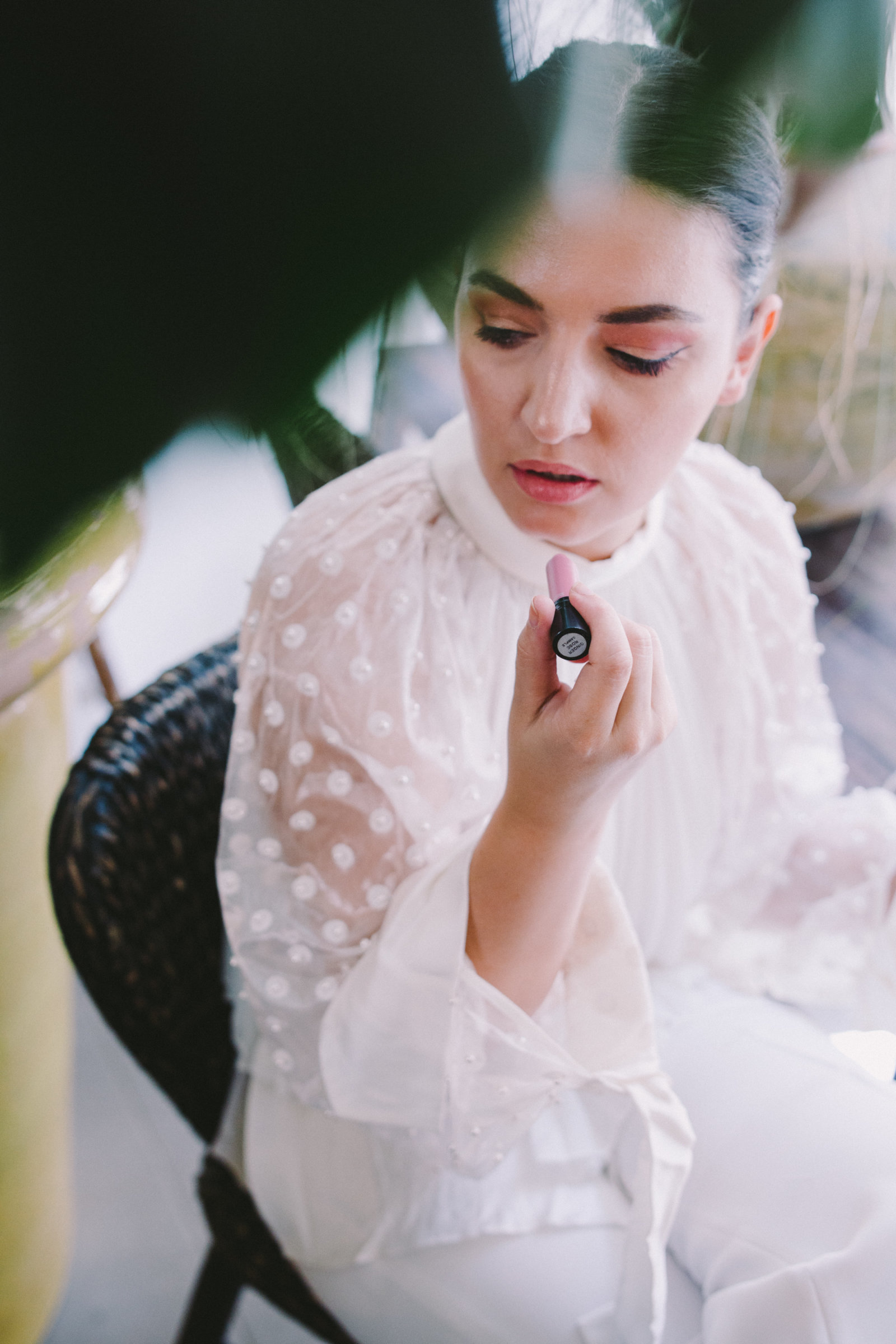 La Prairie foundation, with a touch of shimmer given by Fluid Sheer by Giorgio Armani.
To sculpt the face, I use the MAC Get It Glowin' palette and the highlighter of Fenty Beauty in Lightning Dust, dusted on the cheekbones to add a touch of shimmer.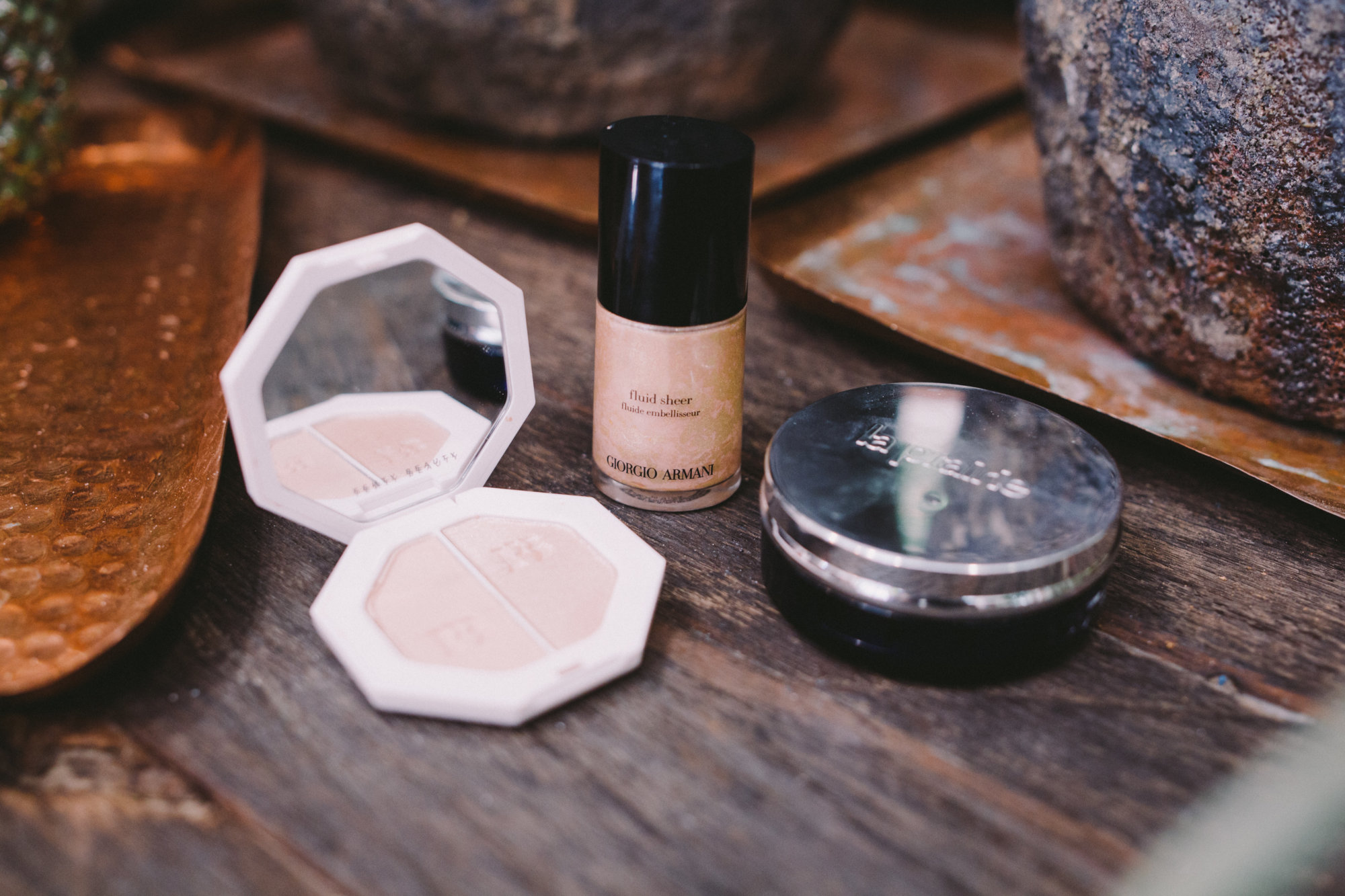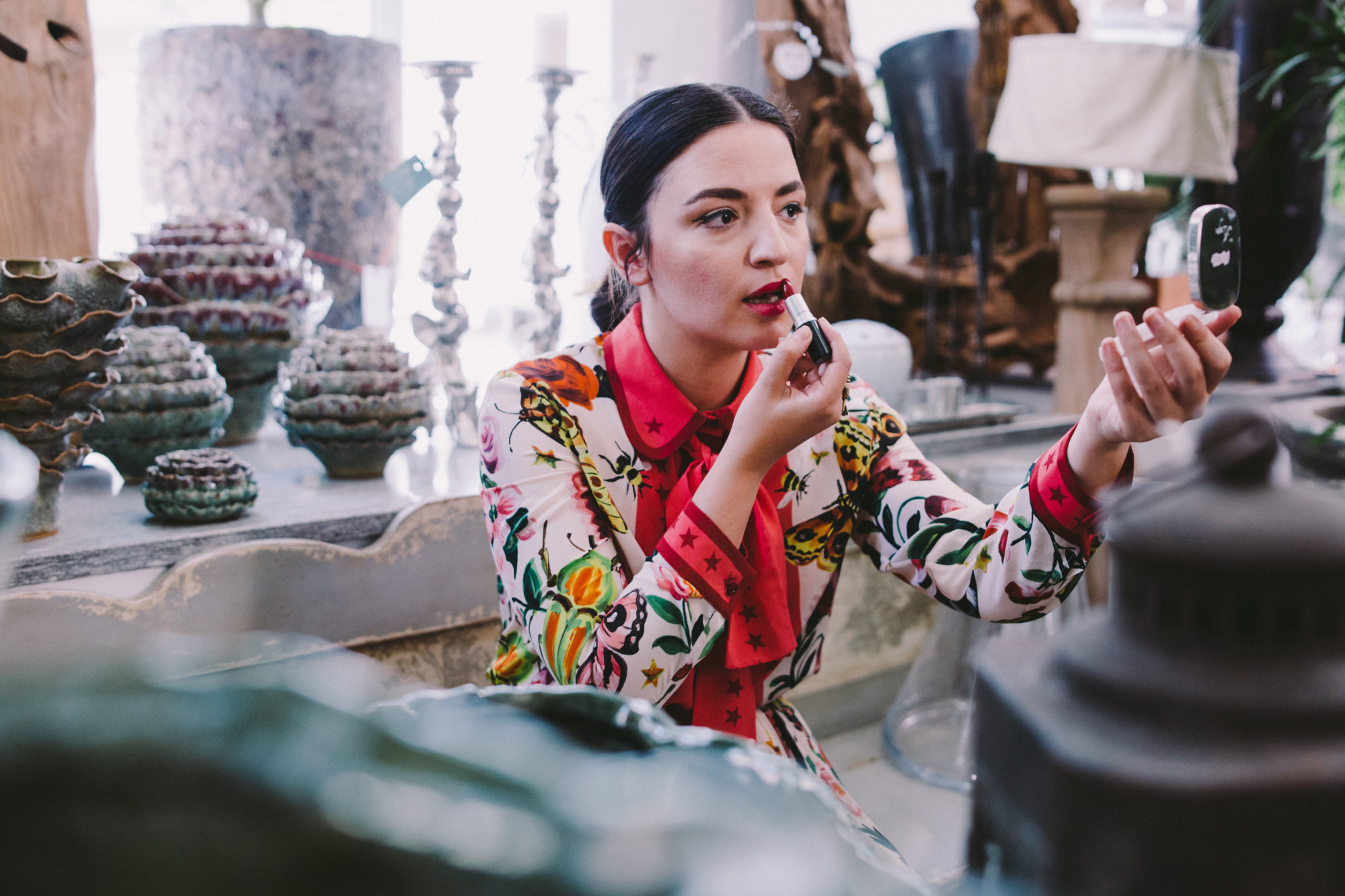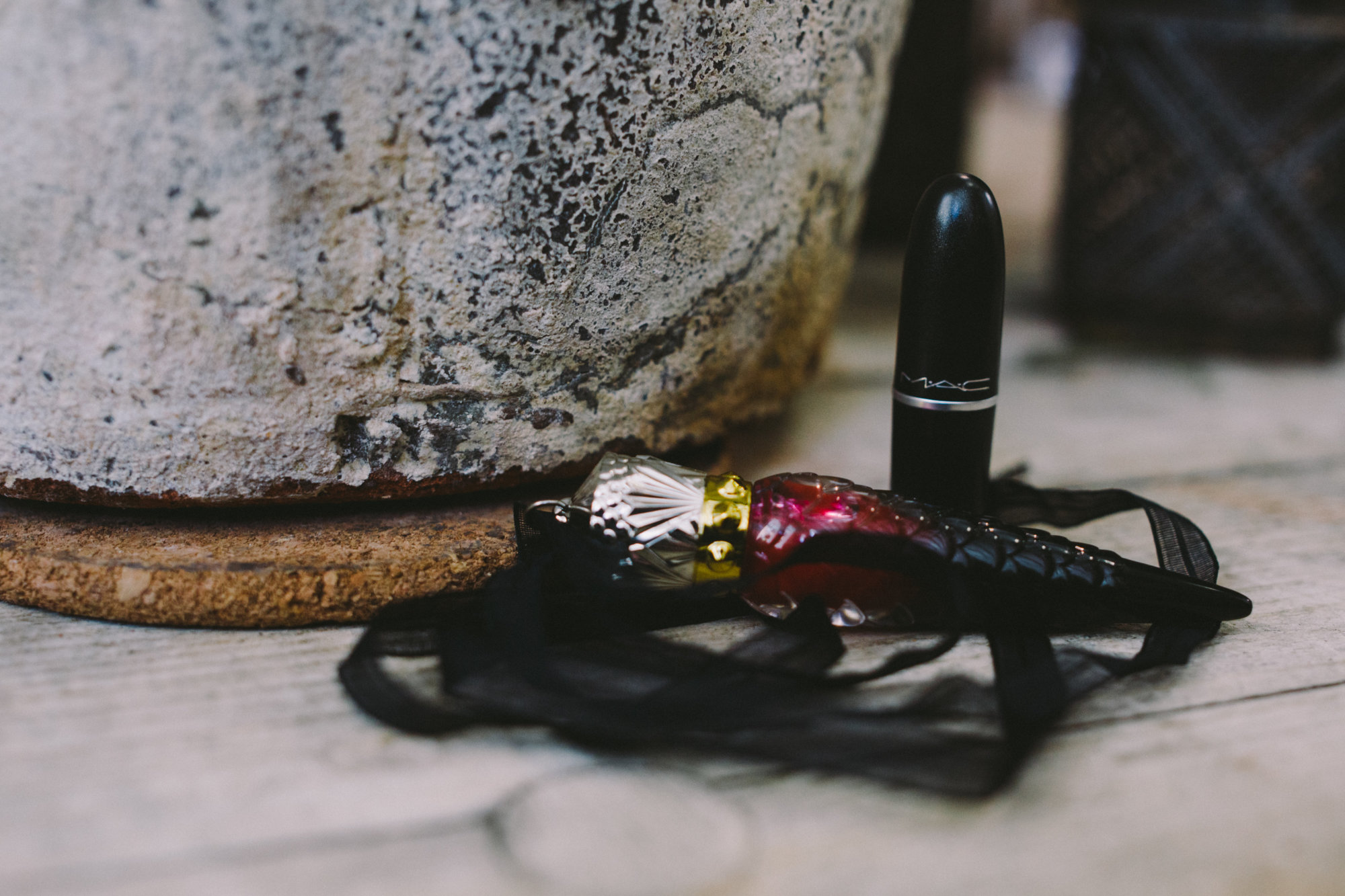 But the focal point of this beauty look is the lips, which are turned an intense red by Mac's Betty Boop Red. As a topper, to moisturize and make the finish look even brighter, I use Loubibelle: it nourishes and softens, perfect for shiny lips.
On the eyes, I recently tried the Dior Backstage palette, with all the shades of nude. To sophisticated red lips, I usually match a thick line of black eyeliner, to define the look, further emphasizing it with a coat of mascara, signed by Louboutin as well.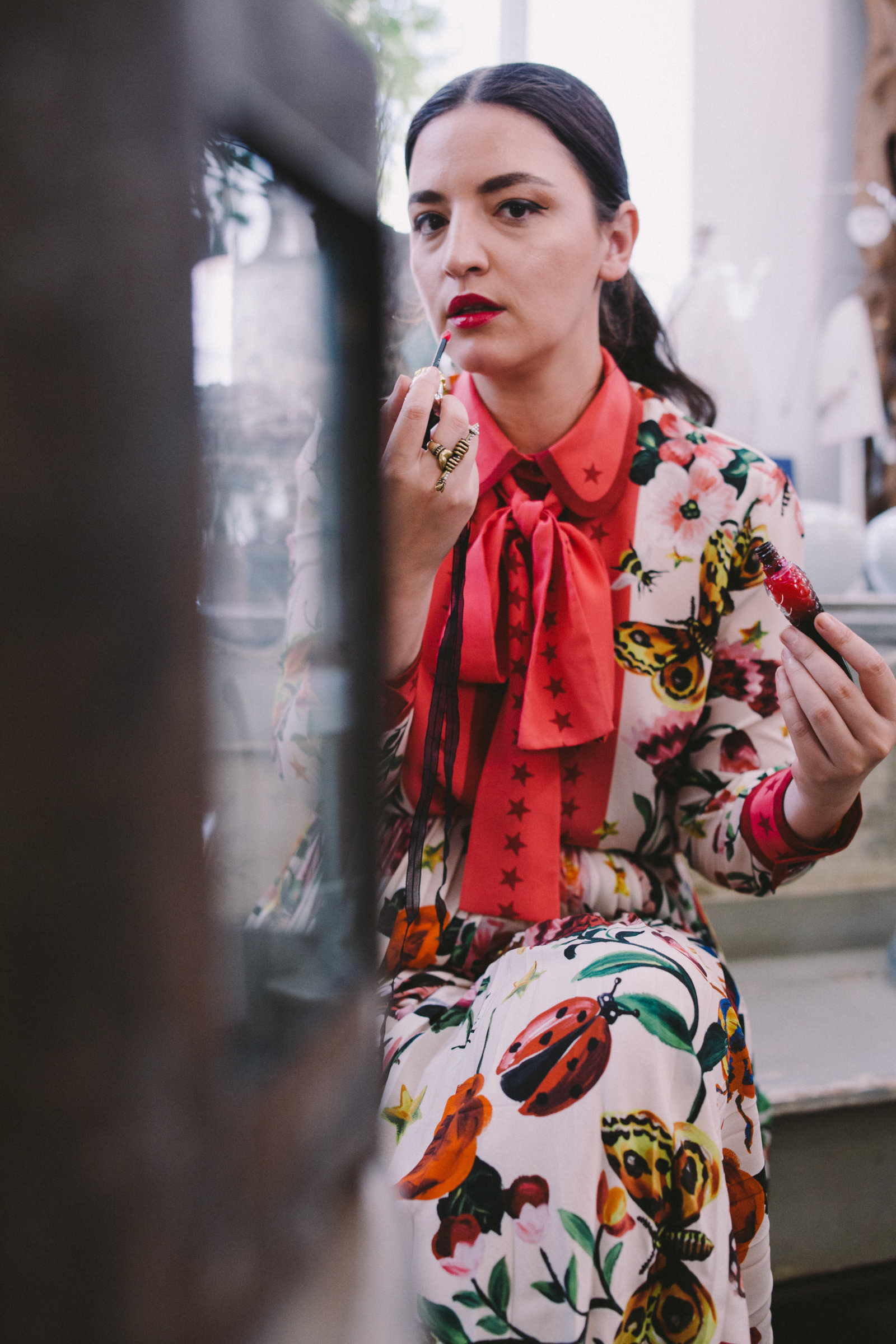 For each outfit, then, is very important to combine the right fragrance, which should be changed according to the mood and the look of the day: so the sweet fragrance Elisabethan Rose by Penhaligon was paired with the first look, while the second outfit was matched with Rosa Ekaterina's Moresque.
BEAUTY EPIC FAIL
I've made a lot of them. Being 33 years old I have gone entirely through the super thin eyebrows phase, and the problem when you have bushy eyebrows like me is that if you shave them too much, you will always have a lighter color underneath. Then I went through the trend of the blue eyeshadow, the Paris Hilton pink lips, the very light one. 
Virtually I followed all the trends of the 2000s, but that's because at 20 years old you are following trends, just as this generation does now. Once there was the matter of blending the eyeshadow, so if you used two shades the result was two separate lines. I think every generation is going to have its beauty horrors: the horrors of this generation will probably square eyebrows and contouring, specially contoured noses.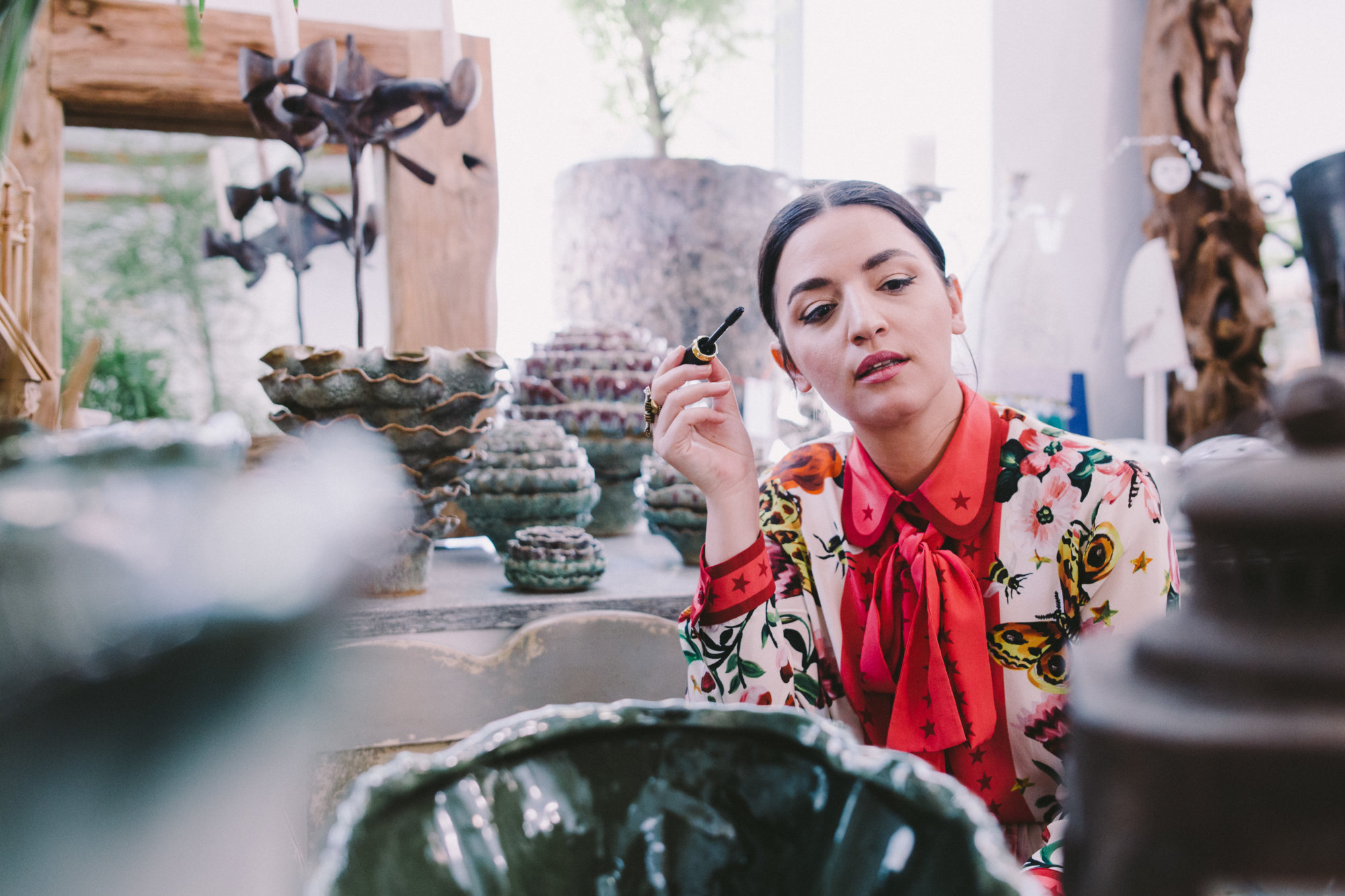 "I think every generation is going to have its beauty horrors."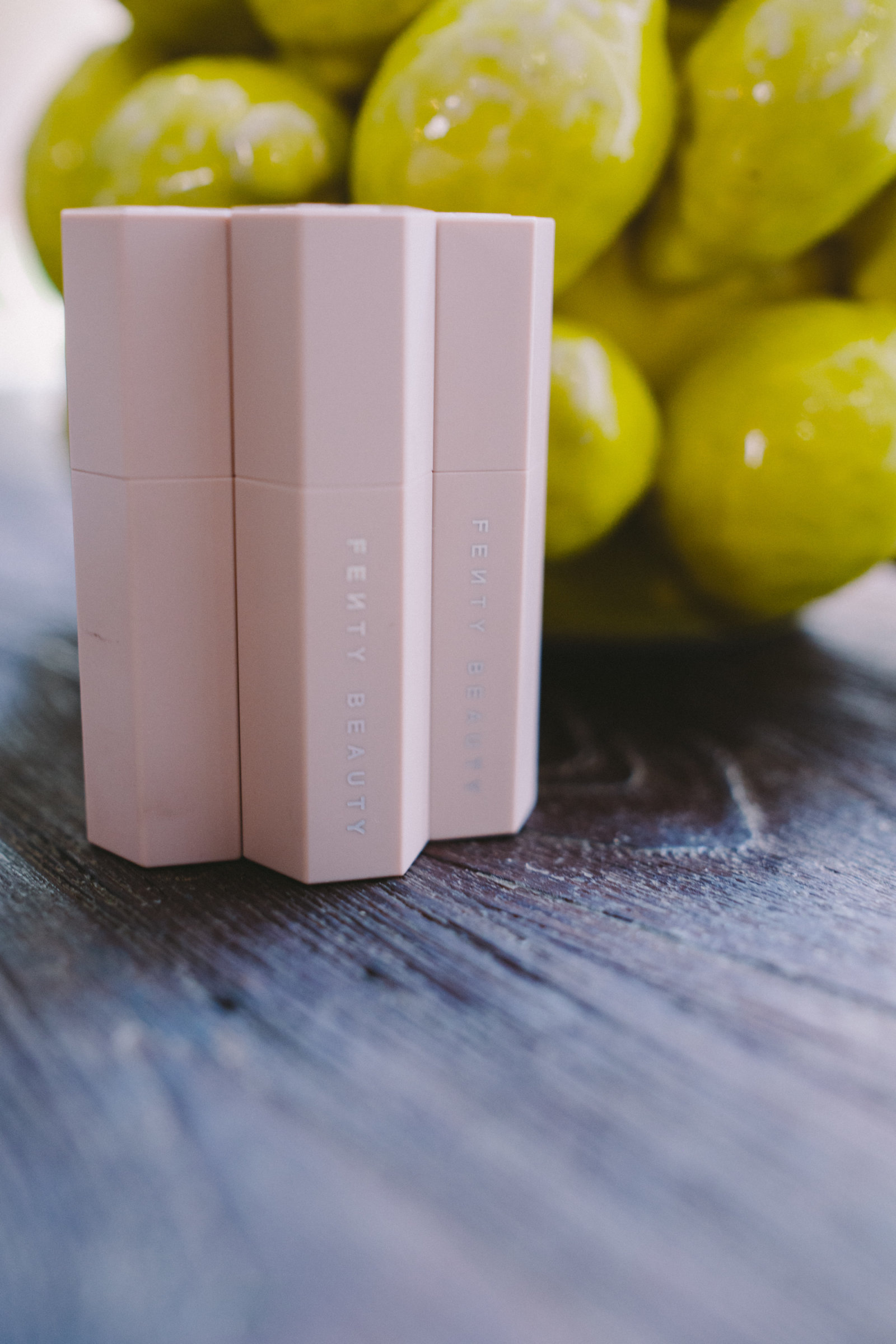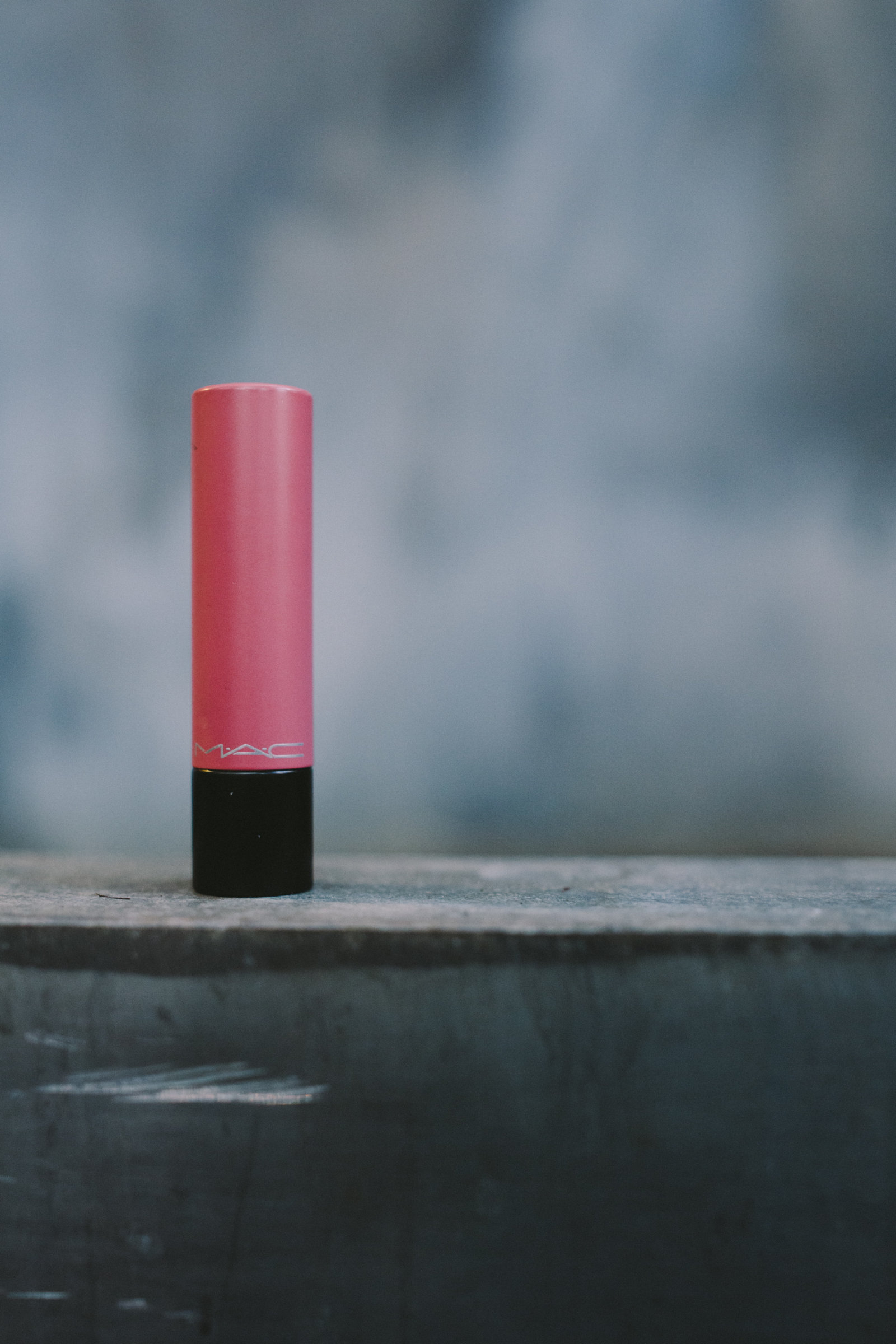 FAVORITE CINEMA AND TV BEAUTY LOOK
I do not usually watch TV, but I just finished "Westworld" and, if you haven't seen it yet, you must.
However, if it's a good movie surely the woman doesn't wear any makeup, she's the purest version of herself, which can be a problem: for example, I saw a film with Julia Roberts where she had to play a character who was going through a lot of suffering without makeup, but this way you could see she had been treated with botox. (laughs)
But Eva Green, for example, they always do her makeup as if she's on the red carpet, of course depending on the roles. In the best movies the female role is always suffering: apparently to win an Academy Award you have to suffer. A happy woman is not seen as something acceptable.