We've been hoping so hard for this news to come out, and here we are at last: "The French Dispatch," the new, highly anticipated film by Wes Anderson, will be presented next July at the 74th edition of the Cannes Film Festival, after having been postponed over and over again over the past year.
When people ask me who's my favorite director, I say: "Wes Anderson and Tim Burton" (the opposites, I know), and so that movie is what I was waiting for, since "The French Dispatch" is for me one of the most anticipated titles of this newfound film season (how good does it feel to return to the cinema, by the way?). Wes Anderson does not need introductions: his films are cults and they are instantly recognizable thanks to his "eccentric" characters, almost masks of a reality hanged between comedy and melancholy, unconventional shots, the recurring presence of some actors (such as the Wilson brothers, Bill Murray and Tilda Swinton) and the fairytale, colorful and retro aesthetic.
When I think of the valuable canons of Wes Anderson's filmography, I also think of another element: costumes. As if they were "uniforms," they are associated with some characters to emphasize specific aspects of their personality; the looks we see on the screen are sometimes exaggerated (just like the characters), with an ironic, colorful and vintage touch. They match perfectly the director's imagination, and they amplify it, and it's impossible not to find yourself thinking: "Wow, I'd love to have a style like that too."
While waiting to discover the costumes of "The French Dispatch" (made once again by costume designer Milena Canonero, who in 2015 won the Oscar for her work on the set of "Grand Budapest Hotel"), let's dust off from the closet the style lessons that Wes Anderson's characters have taught us over time. 
P.S. It is not so difficult to find clothes that recall the most iconic elements of a Wes Anderson's look. It's up to you now…
"Fantastic Mr. Fox" (2009)
Mr. Fox and the double-breasted blazers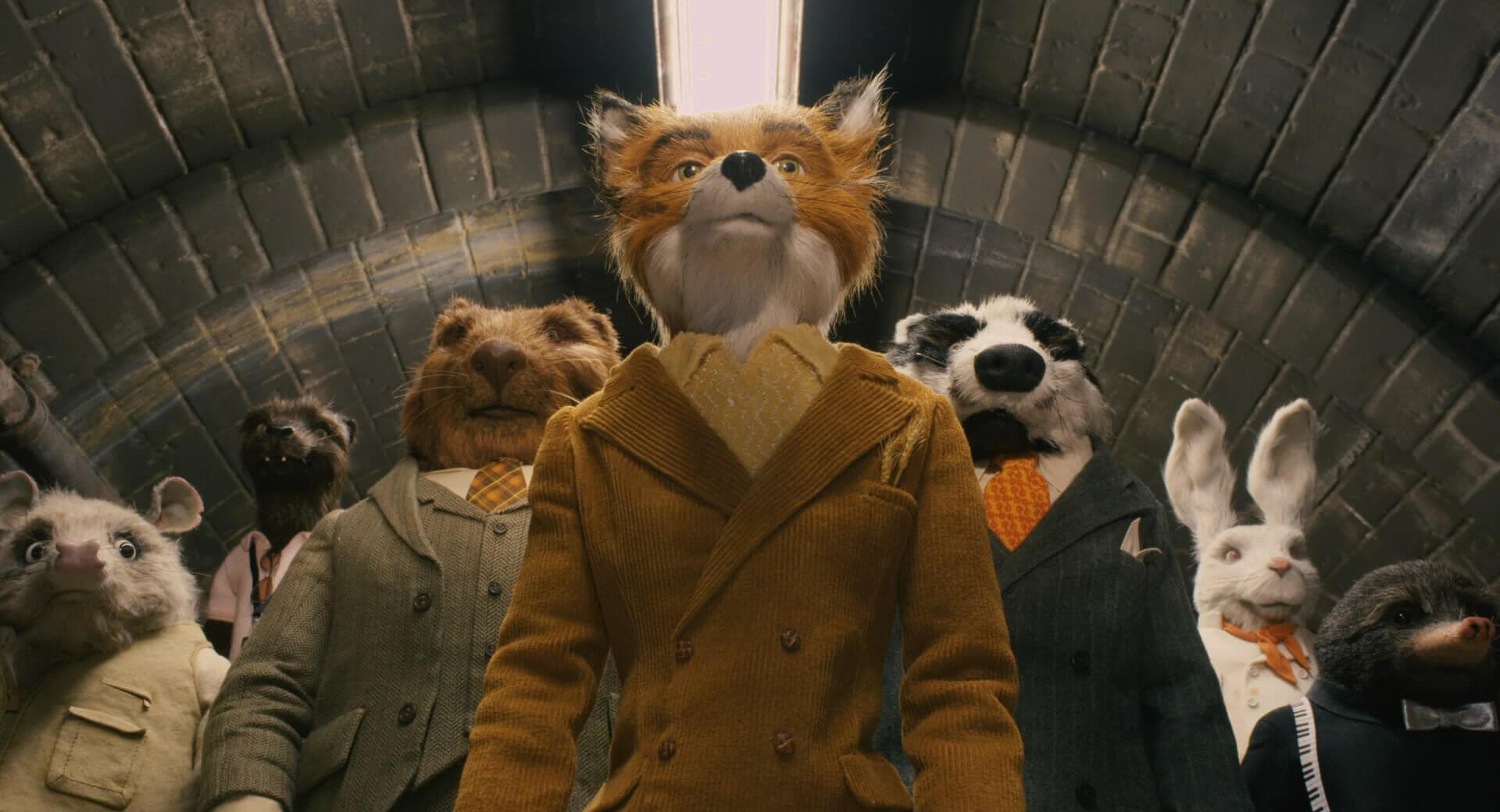 A fox with a double-breasted blazer in corduroy, are we dreaming, or are we awake? It's all true! Mr. Fox, who is a journalist, presents himself in this elegant suit that, in its color, recalls the warm shades of the earth and nature (brown, orange, yellow), where his and his friends' houses are located. The professional elegance that Mr. Fox shows with an enviable self-confidence and makes us realize that this versatile piece of clothing cannot be missing in our wardrobe for next autumn/winter. The director himself is a lover of this type of outfit: for sure, it is not a coincidence.
"The Royal Tenenbaums" (2001)
Richie, Chas, and nephews: long, live sportswear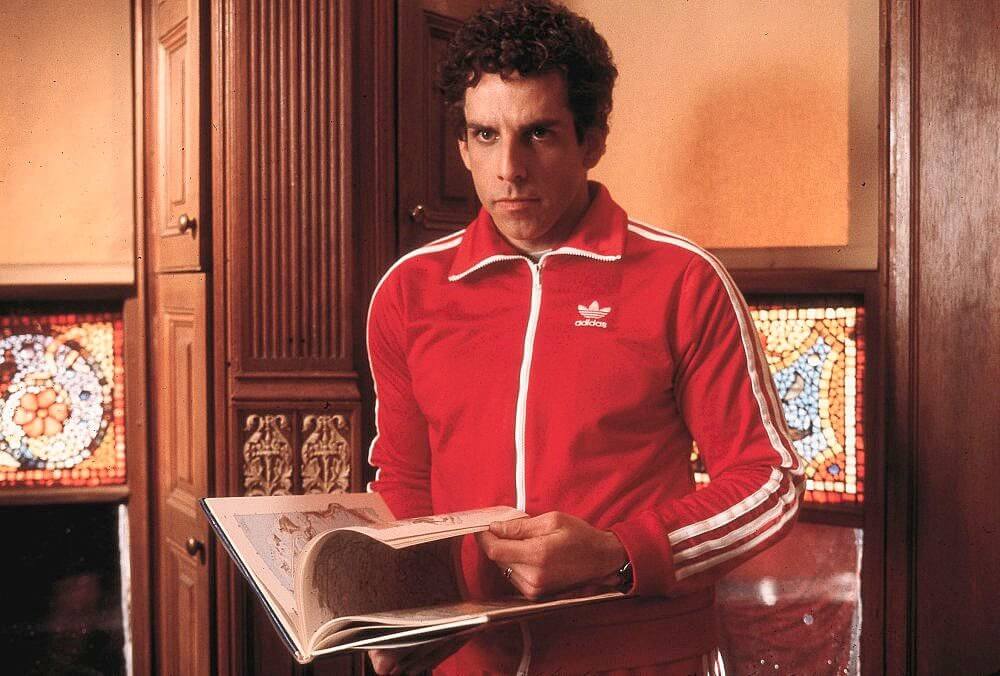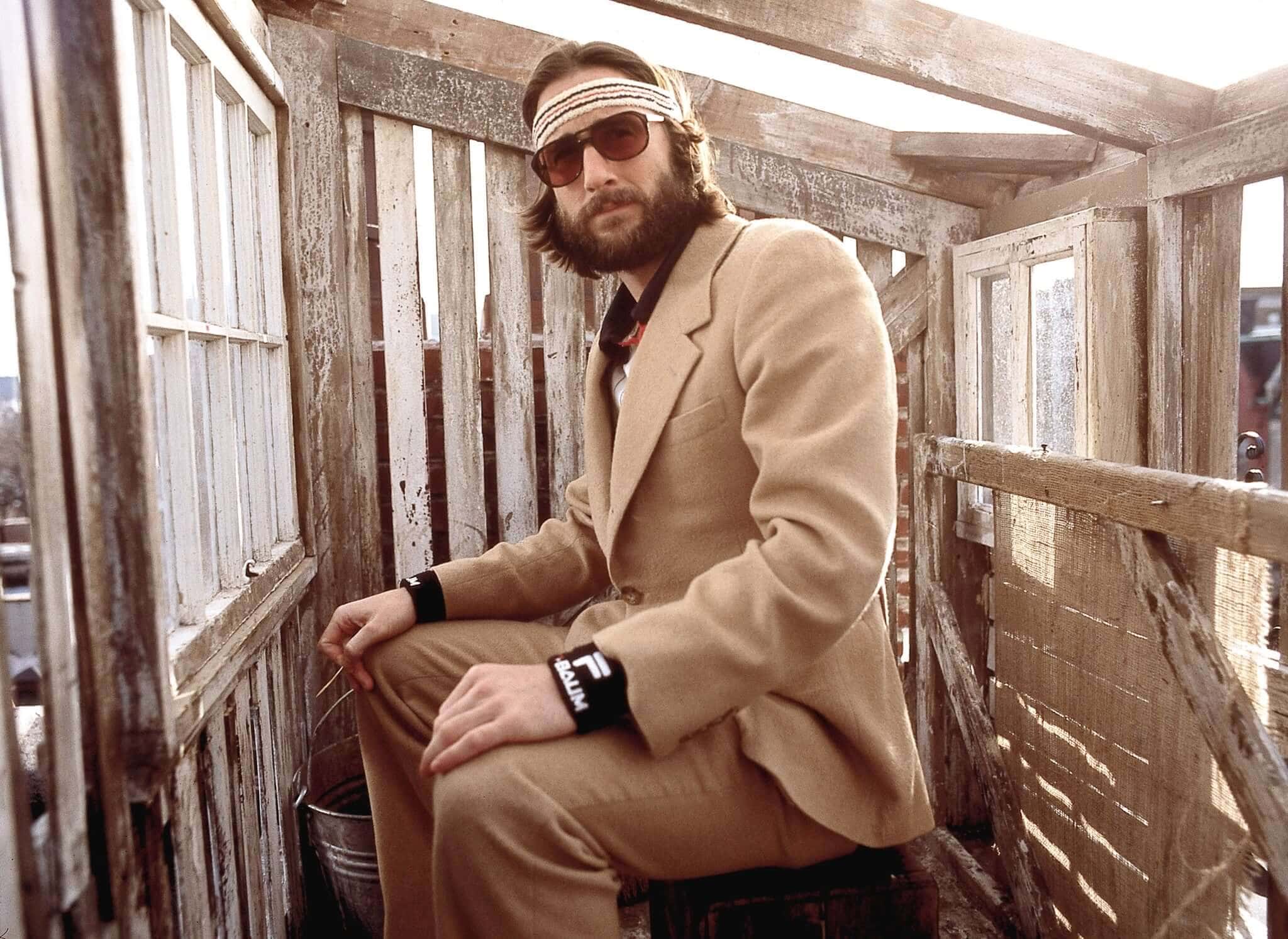 Perhaps the film that most of all consecrated the style (as far as clothing is concerned) of Wes Anderson's characters, in "The Royal Tenenbaums" we find an apotheosis of looks and accessories that, if worn or seen even today, make us say: "It would be perfect for Richie/Chas/Margot, etc!" Here we focus on the sportswear suits of the male characters: Chas wears a red Adidas jumpsuit, "imposed" even on his two sons, while Richie, a former tennis champion, cannot separate himself from his sponge hairband. At least, until the time comes for both of them to face the present, and finally let go of the past's pains: that's when Chas changes the color of the suit, while Richie finally takes off his headband. Whether yours is a dysfunctional family or not, take note: sportswear, possibly vintage, is still a fashion statement.
"The Life Aquatic with Steve Zissou" (2004)
Steve Zissou and his crew: where do you go without a red beanie?
Okay, maybe we'd tell you to think twice before embarking on the search for the "jaguar shark" like Steve Zissou, but what we recommend is that you always have a red wool hat with you. All the time, to match even with elegant suits. Oh, and to share it with your crew/group of friends too, so that you never go anywhere unnoticed, either onboard your submarine or on land. This detail, like almost every element in the film, is a tribute to Jacques Cousteau, the real oceanographer who inspired Steve Zissou's aquatic adventures.
"Moonrise Kingdom" (2012) and "The Grand Budapest Hotel" (2014)
There's something about uniforms…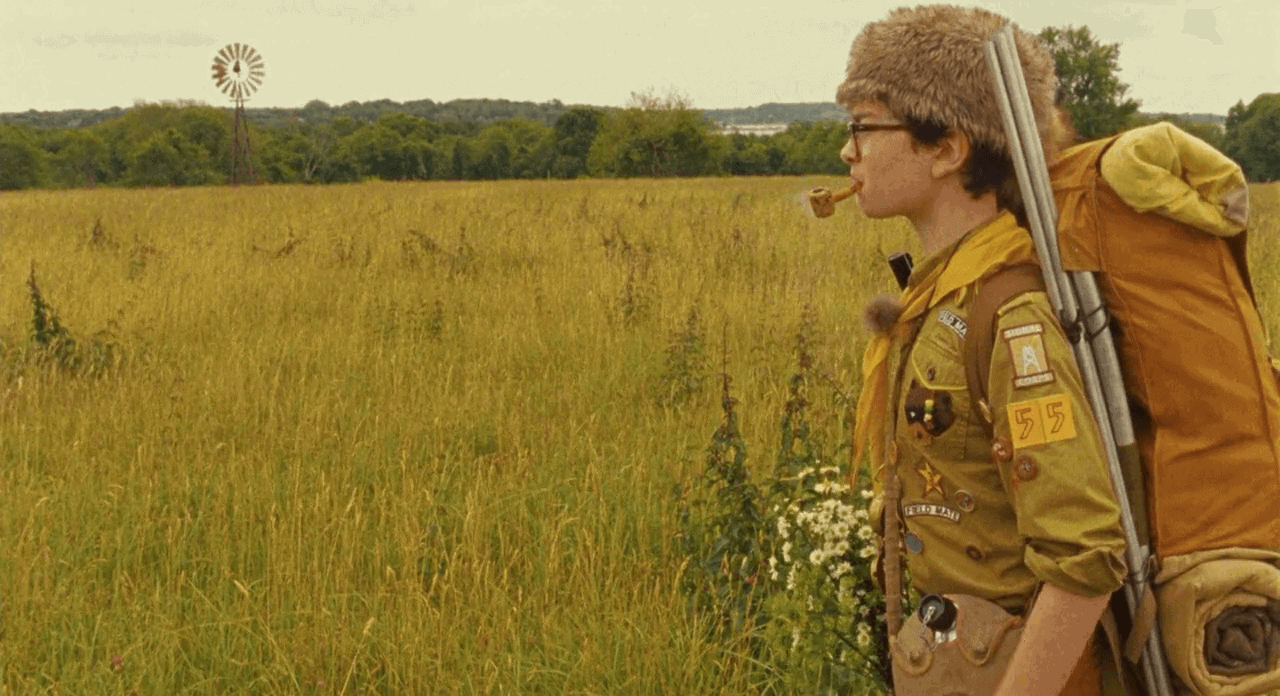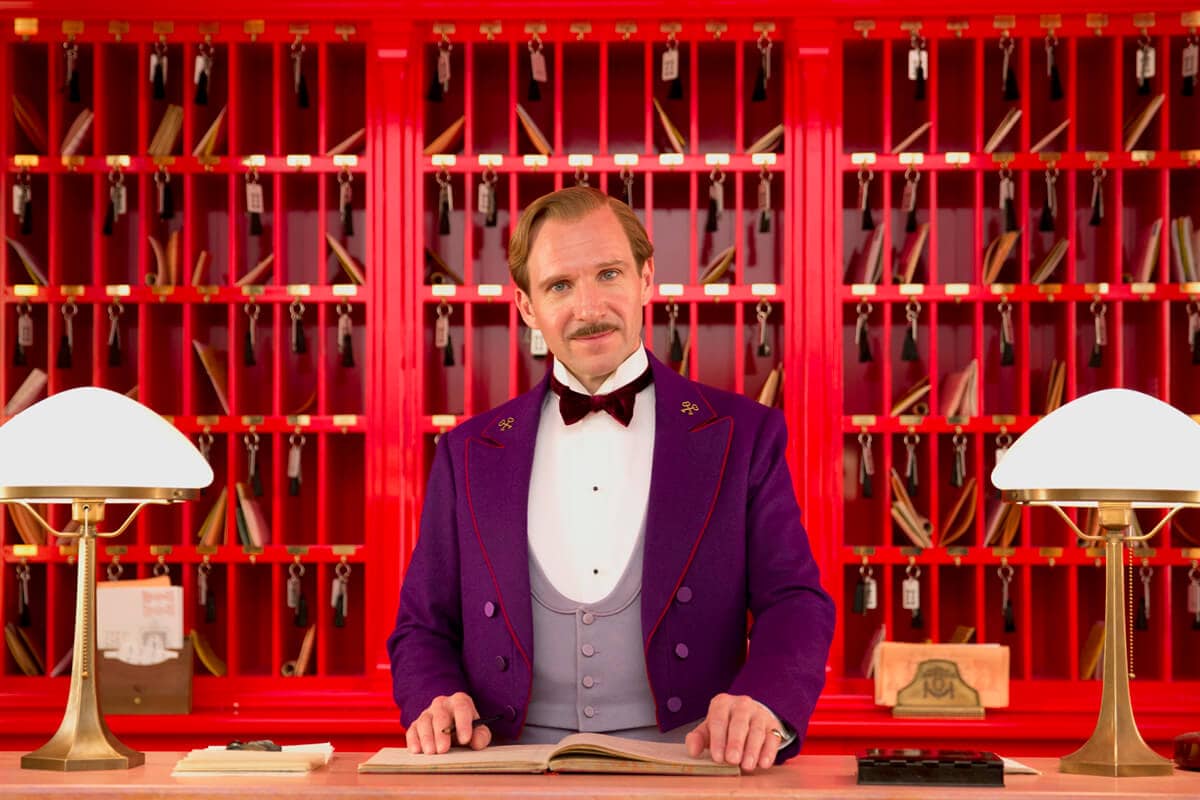 Sam Shakusky is a young orphan in love. Monsieur Gustave H. is a self-centered concierge. What do they have in common? As characters, nothing. Stylistically, the retro uniform: Sam is a scout, who also wears a fur hat, and who thinks to escape to live together with his beloved Suzy, while Monsieur Gustave H. fascinates anyone he meets with his purple suit, especially wealthy and aged hotel guests. Maybe they are not so wearable in everyday life, but they remind us that even just one detail is enough to personalize your uniform: from color to accessory, the only keyword to follow is "creativity"!
"Moonrise Kingdom" (2012)
Suzy Bishop: When a "delicate" appearance can be deceiving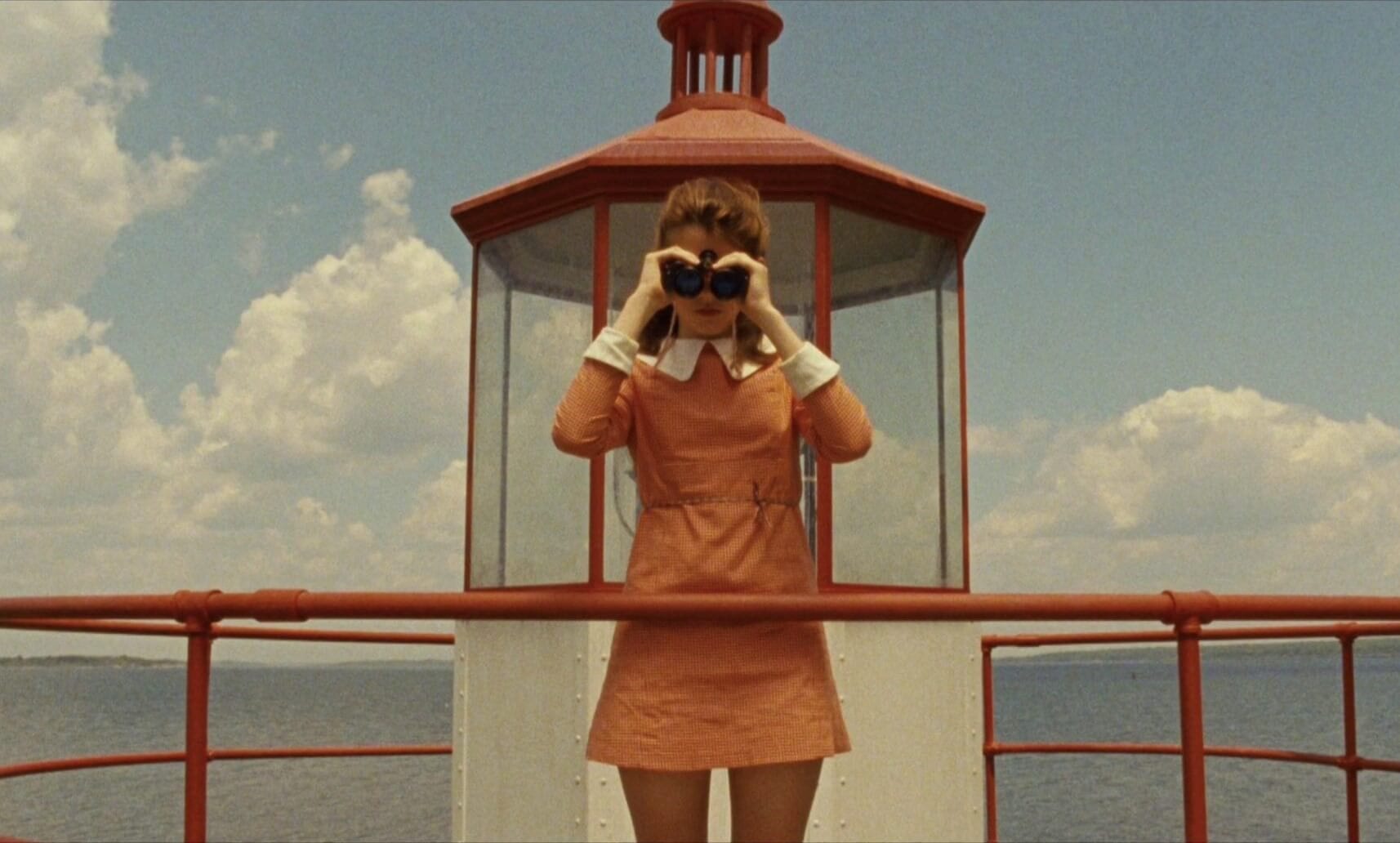 Bon-ton dresses with white collar, knee-high socks, basque, and camera or binoculars around her neck: Suzy Bishop is the quiet girl par excellence. Apparently, in fact. With her spirit of adventure and mischievous character, Suzy knows how to stand up and can't wait to escape with her beloved Sam to live in her own way, without limits. A character in stark contrast with the style through which Suzy is introduced to us, and which reminds us, once again, not to underestimate anyone. Especially girls.
"The Royal Tenenbaums" (2001)
Margot, the royal icon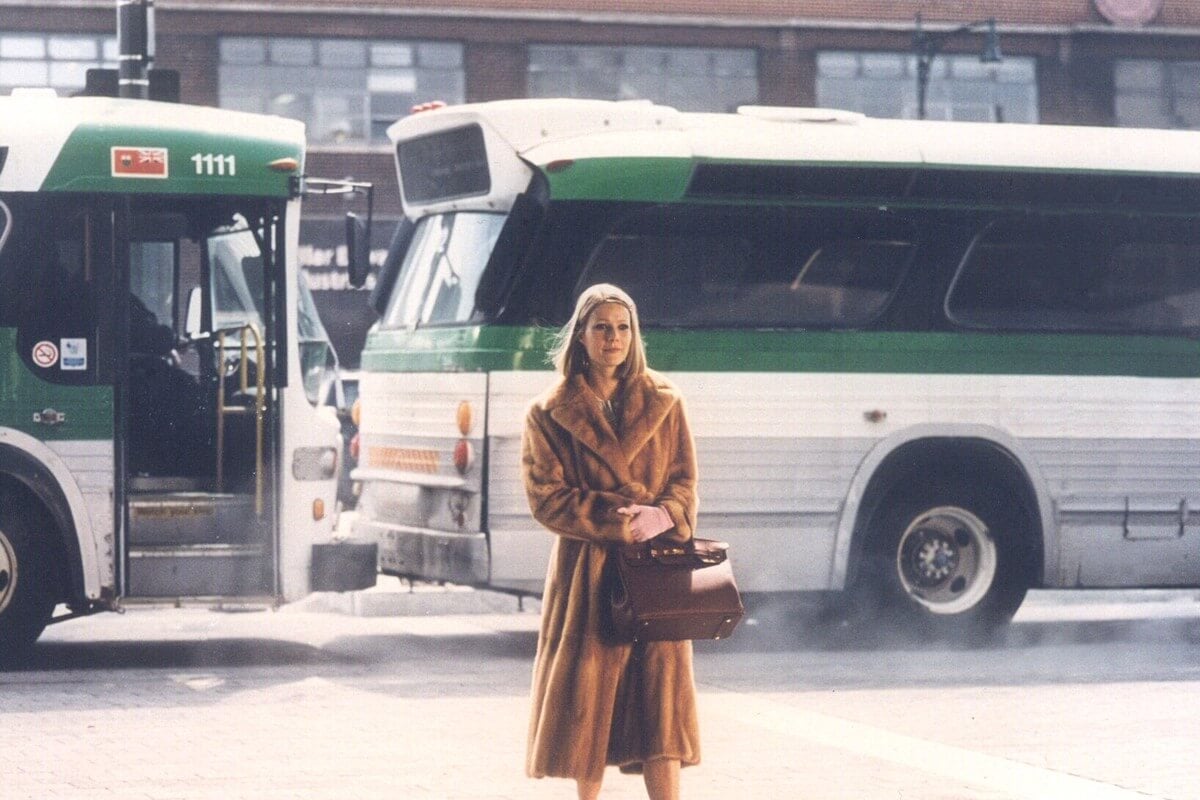 Margot Tenenbaum is introduced to us as a child while wearing fur, red hairpins, striped dresses or t-shirts and marked black eyeliner: all elements she carries with her even once she becomes a young woman (with the plus of a Birkin by Hermès), lost in her apathy, and marked by a series of difficult relationships that she does not want to face. Margot is the character everyone thinks about when it comes to the looks of Wes Anderson's movies, and how could it be otherwise? For the record, the fur is by Fendi, while the striped suits are by Lacoste. 
"The Darjeeling Limited" (2007)
Suits are approved, even on the road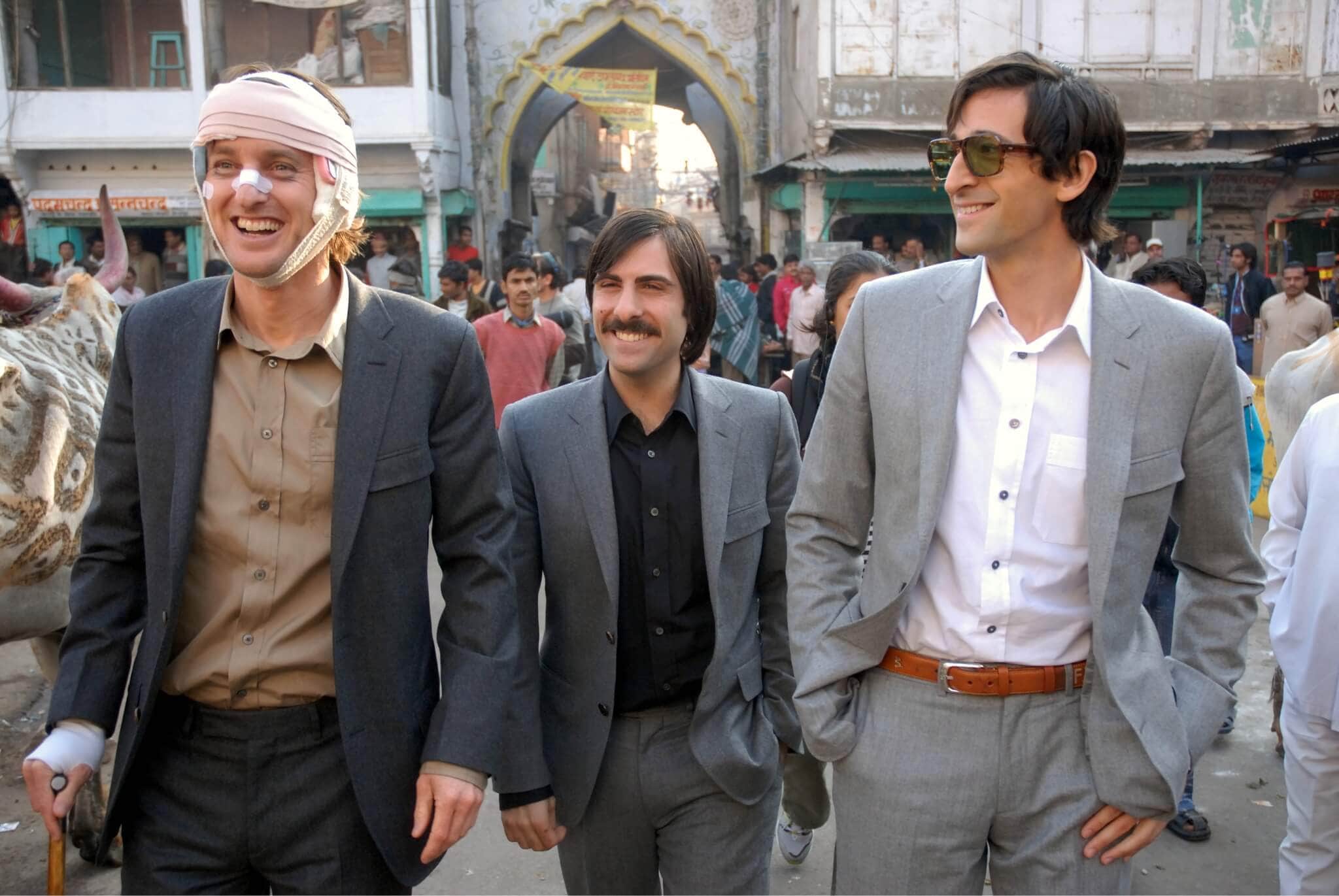 If anyone ever had to tell you that wearing formal suits to cross India is a bad idea, don't listen to them, it means they haven't seen this film starring the Whitman brothers! All three wear tailored elegant suits, sunglasses, and belts for almost the entire time: these are relics recalling the missing father and, in this way, giving them the feeling that they always have him by their side. These looks made by Marc Jacobs (creative director of Louis Vuitton at the time), complete with vintage Louis Vuitton suitcase sets, remind us that, sometimes, it is better to leave the past behind to allow the future to surprise us again.
"The Life Aquatic with Steve Zissou" (2004), "Moonrise Kingdom" (2012), and "The Grand Budapest Hotel" (2014)
When in doubt, go for pastel colors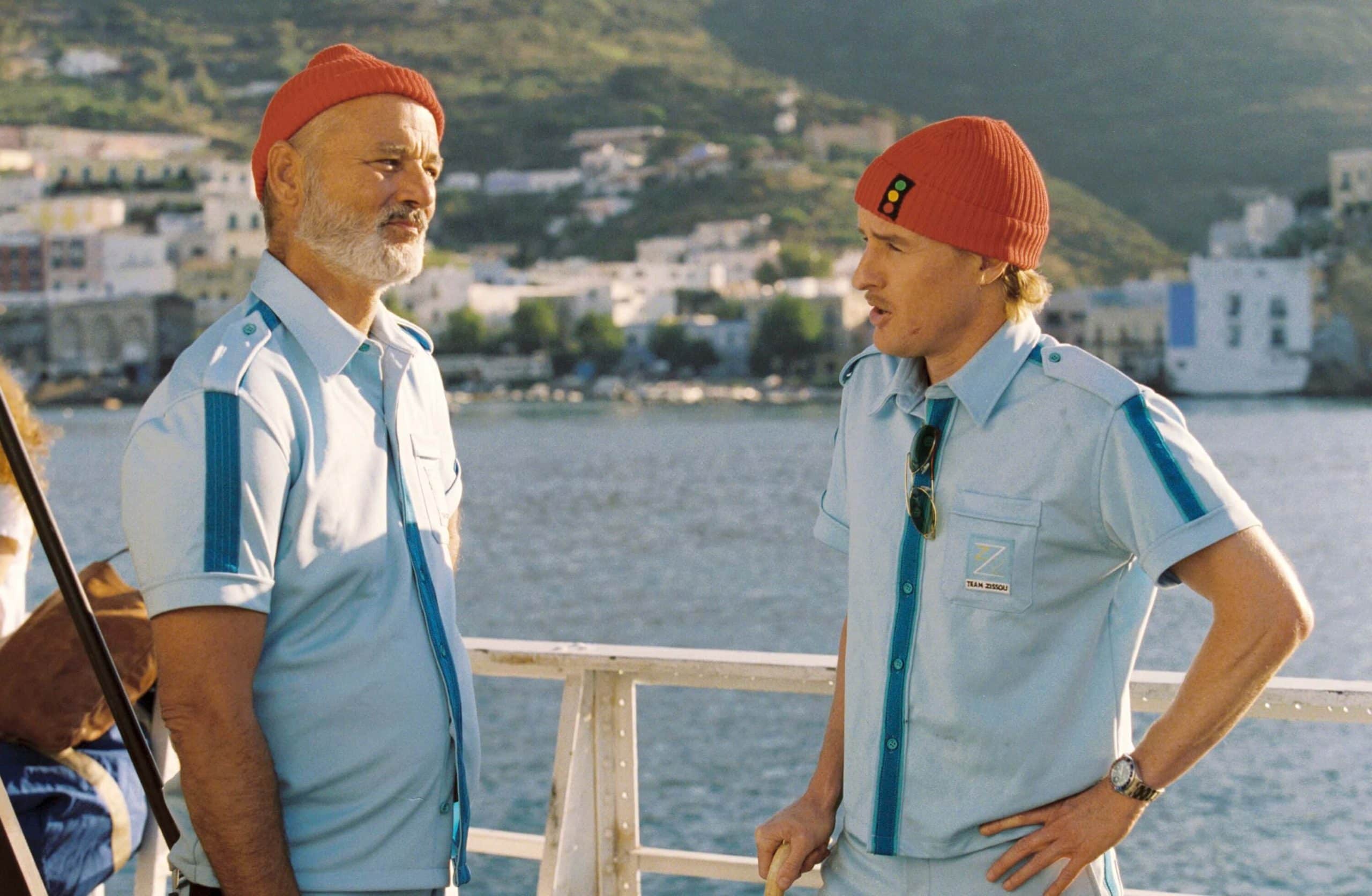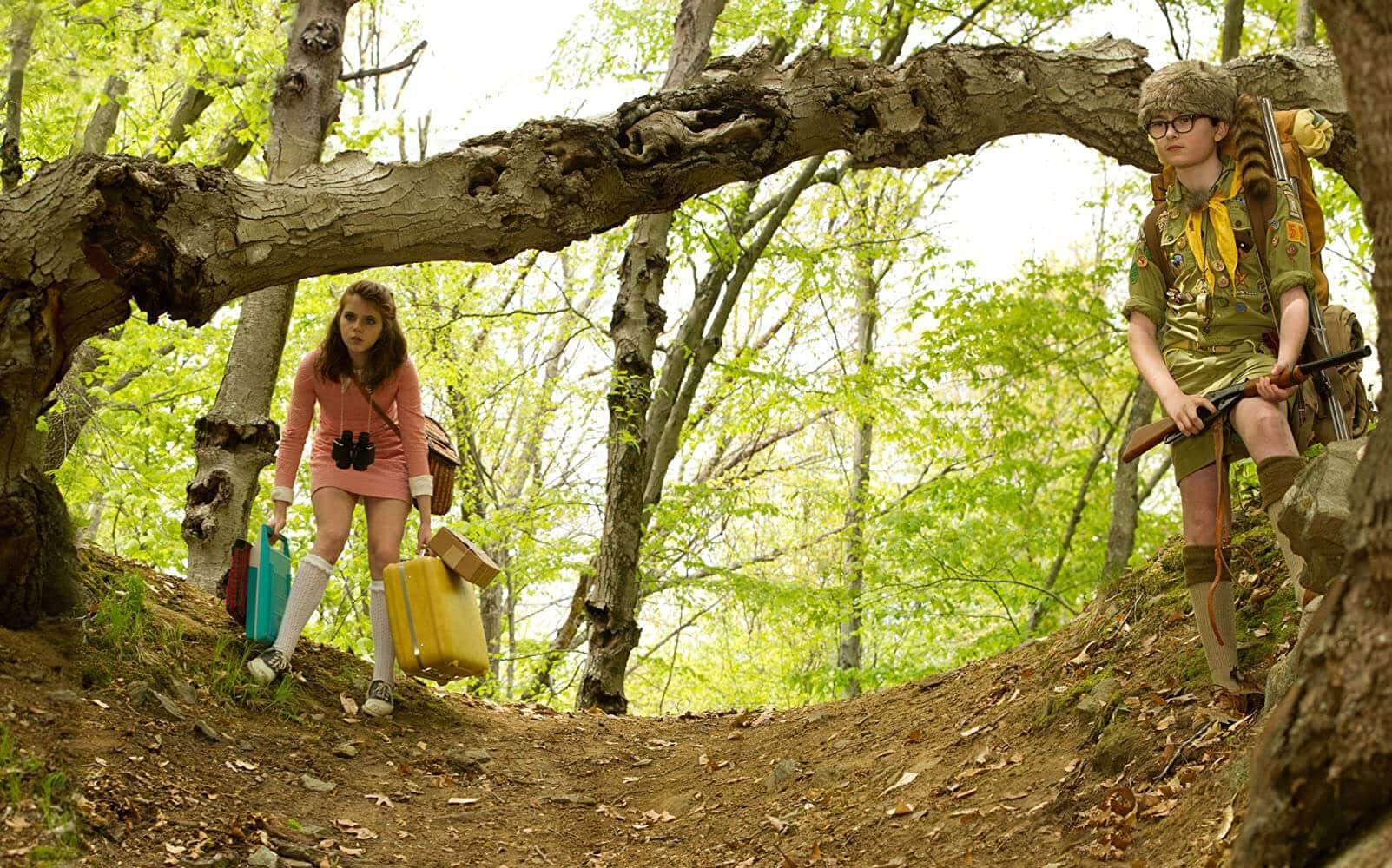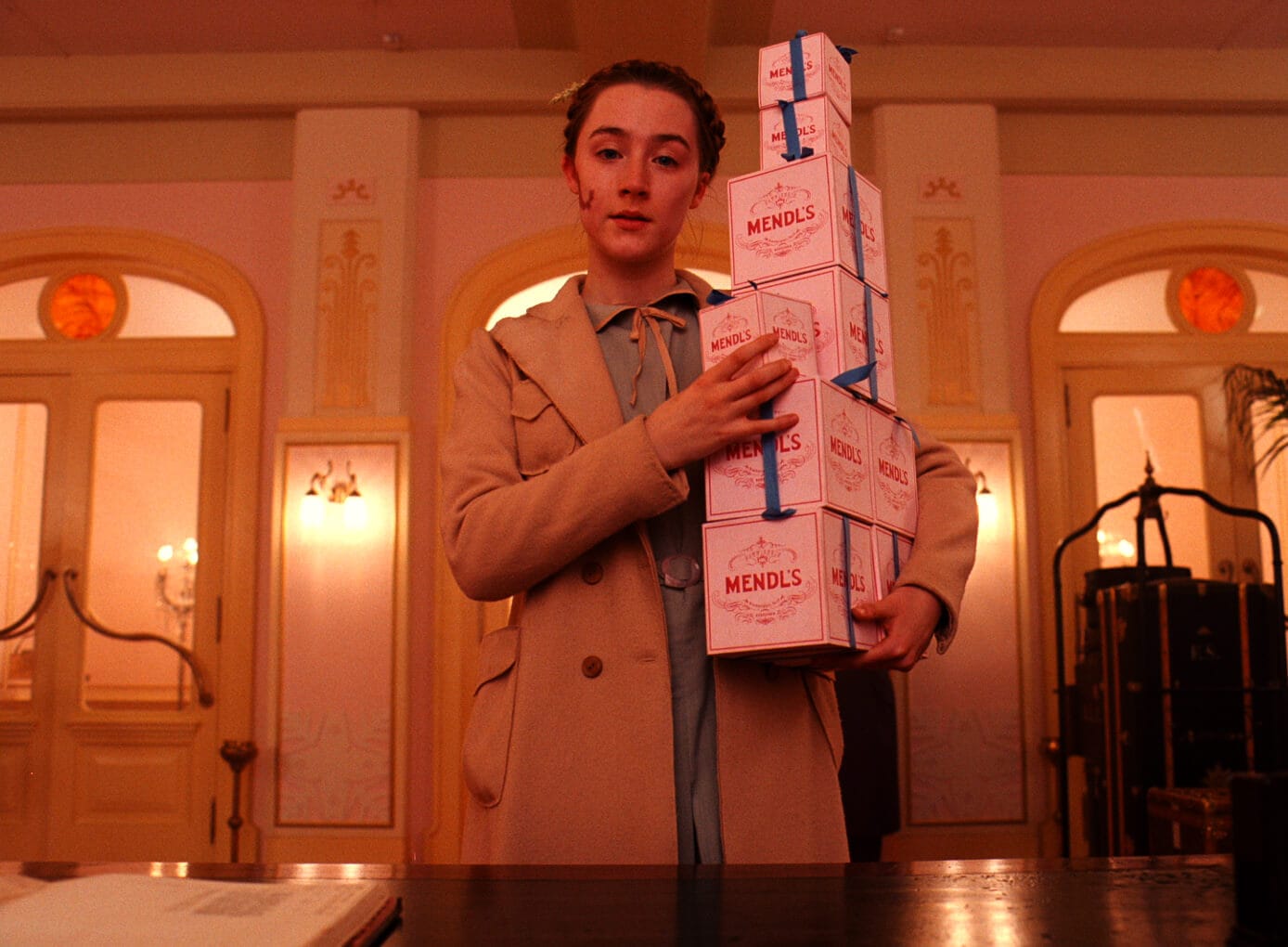 Wes Anderson's films feature a defined color palette: yellow, pink, blue, green, possibly in pastel shades, which add that retro touch to each frame. Even the looks feel the same chromatic influence: just think of the blue shirt of Steve Zissou and his crew (by the way, did you know that the Adidas Samba they all wear were made specifically for this movie?), the shades of Suzy's clothes (pink, yellow and orange) and the delicate beige look of Agatha. In this way, you will be ready to become characters suspended between fairytale and reality.