With a community made of over 1 million followers, the Instagram page @accidentallywesanderson (AWA) is, as of today, one of the user favorite (and most tagged) social media feeds in the world. For those who've never heard of it, the Ig profile was created in 2017 by Mr. and Mrs. Wally & Amanda from Brooklyn, and it shares with its followers pictures of landscapes, buildings, and ambiances reminiscent of the legendary aesthetics of Wes Anderson's films.
Pastels, perfect symmetry, and a sense of unbreakable balance dominate the overall atmosphere: a pleasure for the eyes. Stillness, grace, and harmony in its purest form unite not only AWA's collection of photographs but also the huge number of snapshots with similar aesthetics overloading social media complete with the ever-present hashtag #accidentallywesanderson. Leaving aside the conversation about the power of social media and the significance of what's "viral" in modern society, we must acknowledge that director Anderson and his fellow DOP, Robert Yeoman, and production designer, Adam Stockhousen, have truly managed to conquer the world through their cinematographic art, establishing a real aesthetic paradigm. "What's all this fuss over the cinematography of his movies?" those who've never seen any must be wondering. Anderson's style can be summed up in the expression "aesthetically pleasing."
Have you ever come across something, a place, an object, or a person, and have you ever given it a look, but then found yourself unable to take your eyes off that something because of a mysterious force bewitching you, seizing those eyes, mind, and stomach of yours? And time seems to stop, and you can feel the purest form of joy passing through your eyes, then caressing your cheeks, and finally pervading your heart.  It is in such moments that we're overwhelmed by beauty. Anderson's movies have a similar effect on those spectators who are able to perceive the harmony of proportions and the balance between every single constitutional element of their locations and frames. Just think about the hotel's exteriors and interiors in "Grand Budapest Hotel," or that famous shot in "Moonrise Kingdom" where Suzy is standing on the conning tower looking through her binoculars: perfect symmetry and chromatic harmony, so pleasing for our eyes.  This whole digression about the genius of Wes Anderson and his Instagram disciples is actually an introduction to a wider celebration of the aesthetic pleasure that cinematic art can give. The history of cinema is rich in films that could be called pure aesthetic beauty, that hypnotize us, that we would keep watching even on mute. Here's our selection of aesthetically pleasing movies.
There's Beauty in Fear
"Suspiria" (2018)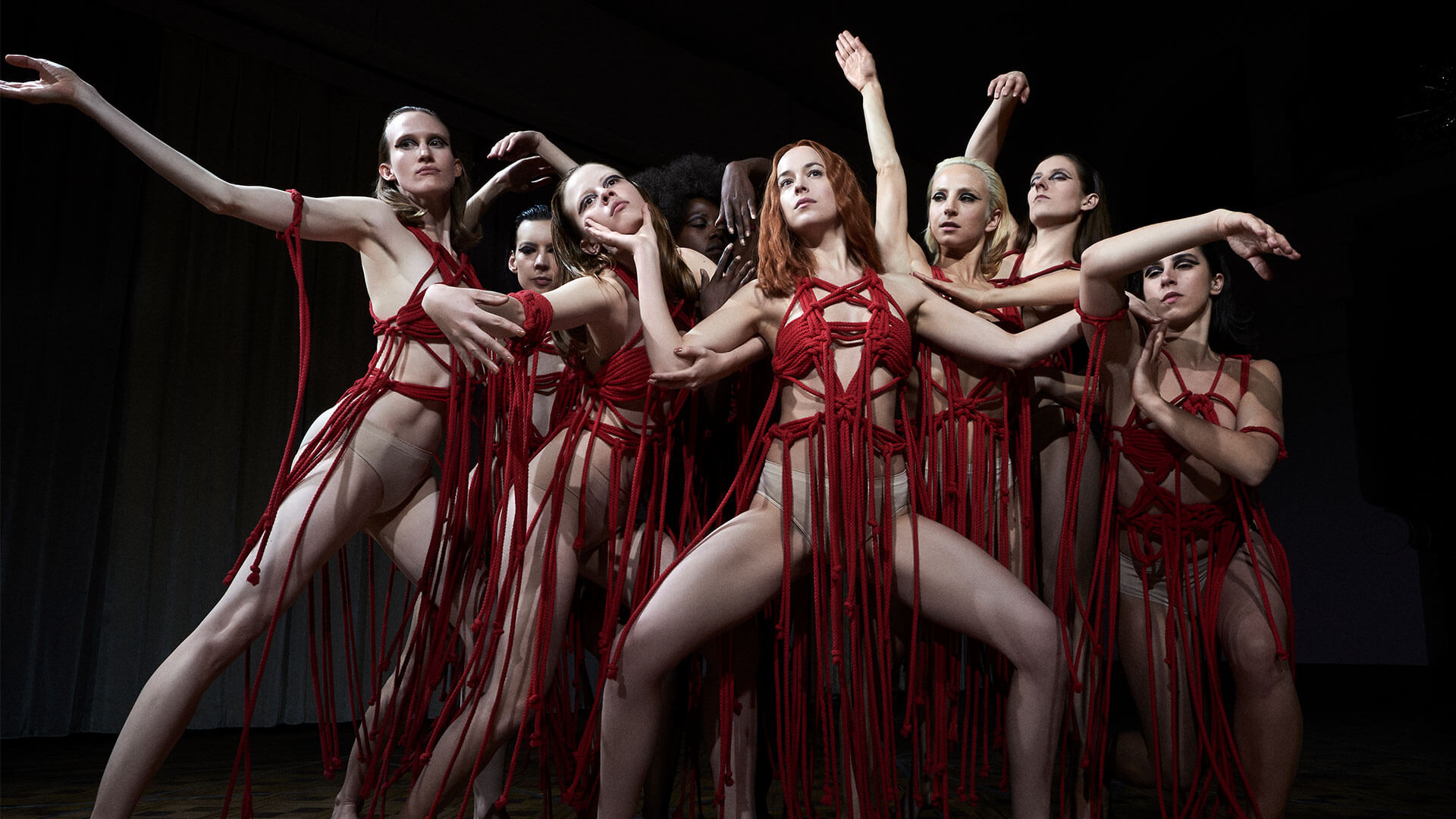 Yes, it's a horror movie, and yes, everything is quite scary and bloody. But who says that gothic can't be pleasing? You might not be a fan of horror movies, and I totally get it, but the aesthetics in Luca Guadagnino's remake of the original 1970's "Suspiria" is undeniably iconic. From the outside and inside looks of the dance academy, with its sober and austere architecture and maze of corridors, stairs, and hidden rooms, to the disposition of human bodies in both dance choreographies and dark magic rituals: Dakota Johnson thrashes her limbs and torso in sinister dances, Mia Goth either wanders or runs from room to room, Tilda Swinton drags her long robes all around and outside the school, and, as for our eyes, they will thank us because fear has never been so fascinating.
"Midsommar" (2019)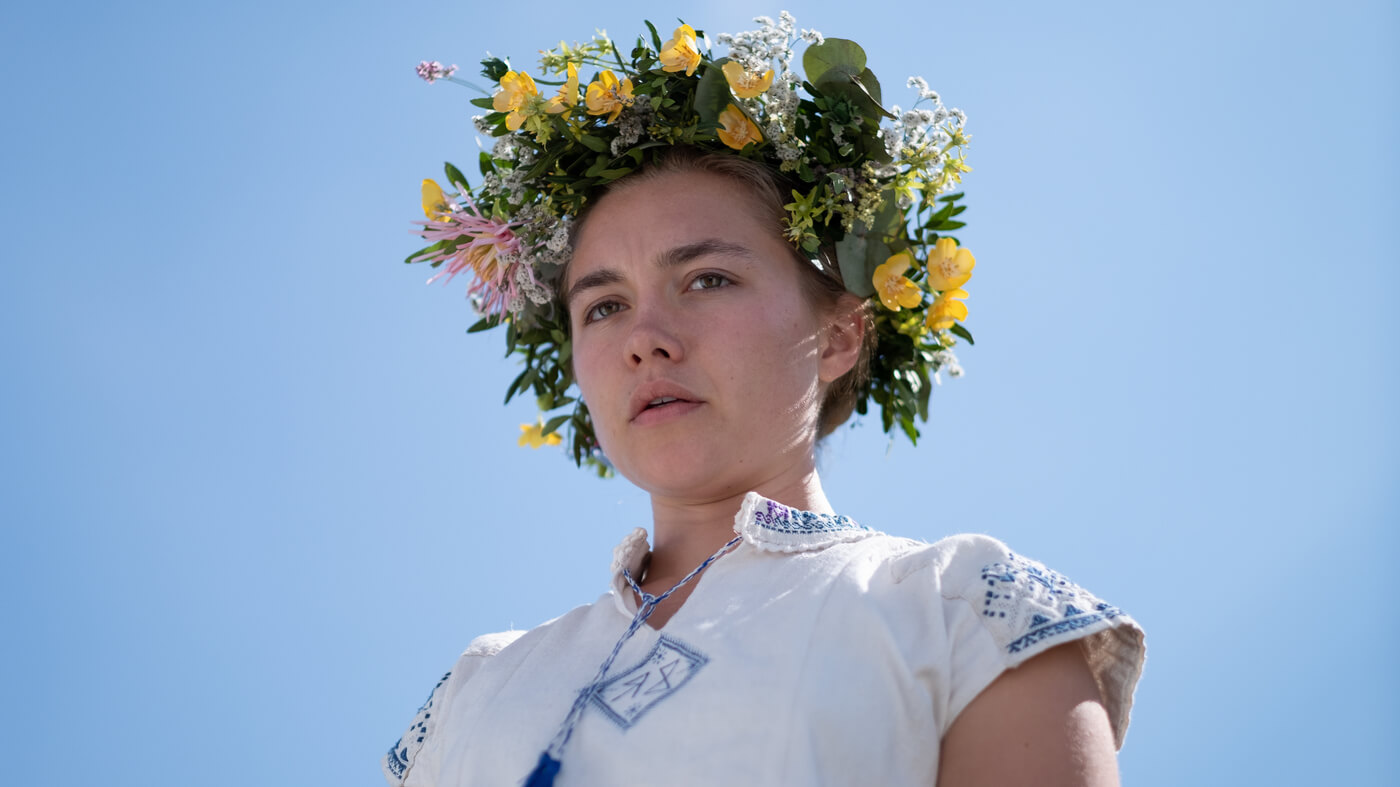 It's no coincidence that one of 2019's most popular Halloween costumes came straight from this indie horror movie: Florence Pugh's flower crown and white nightgown-like dress has become a highly recognizable (and easy to recreate) outfit in a viral mechanism than only cult movies can trigger. In fact, this Swedish-American production by Ari Aster has become a fully-fledged cult. The boundless, isolated grass fields and woods, the laid long table set out at mealtime with its weirdly silent, white-dressed banqueters, the bright sunlight and vibrant colors contrasting with the brutality of the religious rituals performed, are some of the elements that make the aesthetic of this movie so unique and worthy of an Independent Spirit Awards nomination for Best Cinematography. A scarily pleasing horror movie to watch, indeed.
Pastels, pastels, pastels
 "Edward Scissorhands"  (1990)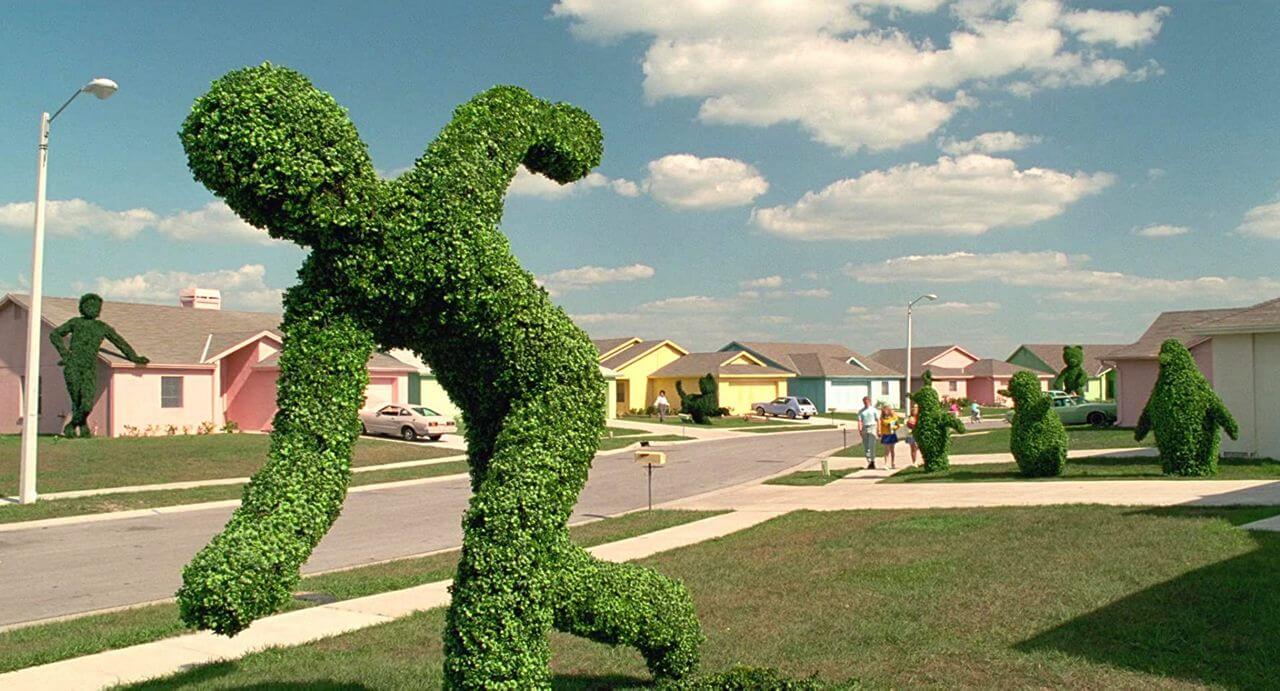 Streets clustered with pastel-colored terraced houses, pale blue, pale pink, and pale yellow cars circulating in an unnatural, traffic-free order, big, human and animal-shaped bushes, and a terrifying and totally out of place abandoned castle: Tim Burton's iconic fantasy romance everyone! Part of its universe and aesthetics has very recently been recreated in Cadillac's 2021 Super Bowl commercial starring Timothée Chalamet and Wynona Rider respectively as Edgar Scissorhands (Edward's son) and his mother Kim in a hypothetical depiction of how life would be in 2021 for the heir to the 1990's legendary humanoid. That's just one of the many signs of how impactful the imagery of Burton's film has been and will forever be in the eyes of all. Plus, that pastel world would be such a dream to live in!
"Mr. Nobody" (2009)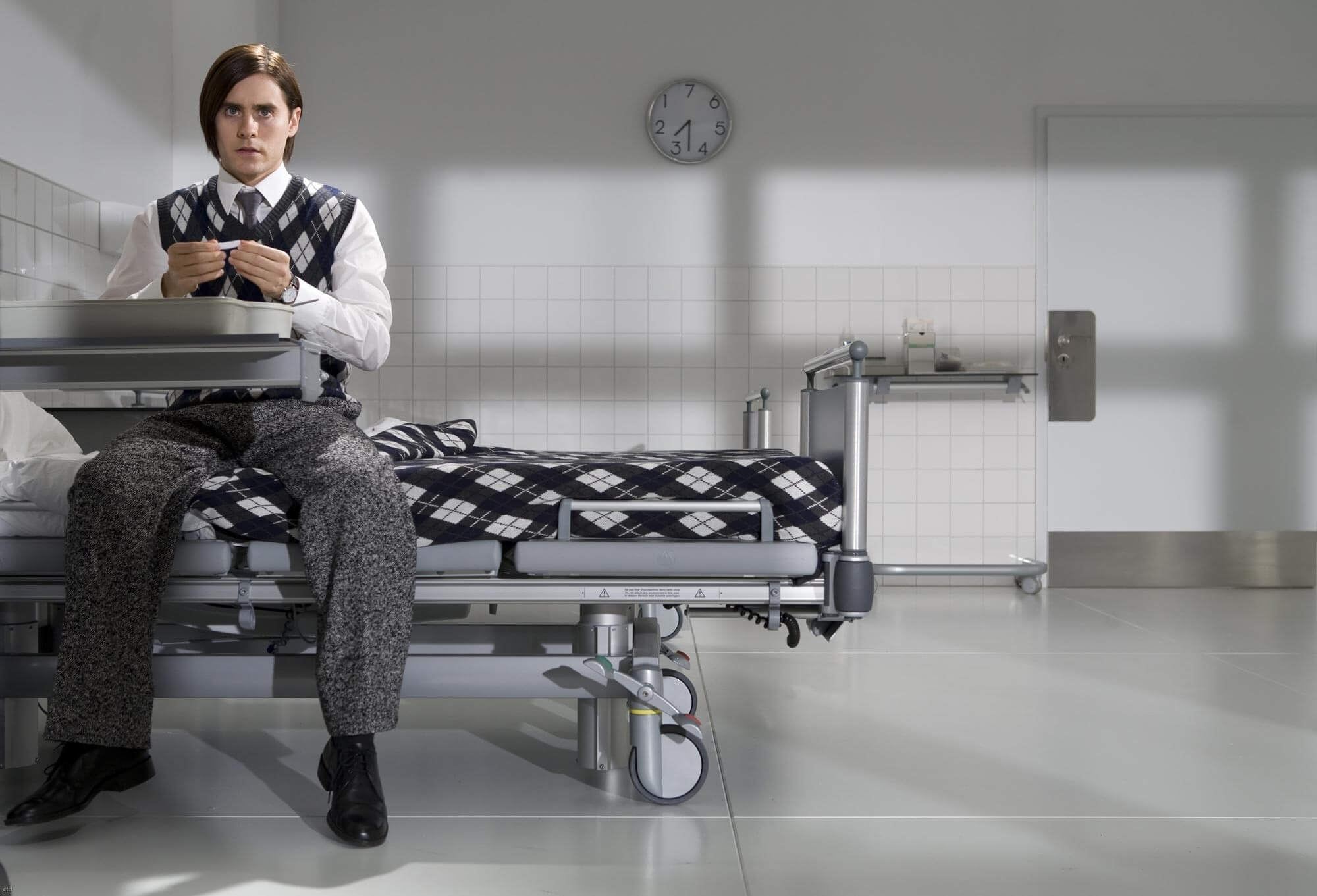 How would the possibility of multiple futures resonate in a person, in a house, in a world? The characters, buildings and atmospheres in Jaco Van Dormael's film give us an option of how disturbingly colorful, neat, and well-lit everyday life could be if there were a chance for it to split into different, but parallel dimensions. White and bright is the pre-birth paradise of unborn-children; pink, green, yellow, and red are the walls, floors and foods of adolescence; pastel-grey is the time of adulthood; pale blue and ice-white is the year 2092. An hypnotizing and never randomly composed palette of colors that keeps us glued to the screen until the unsettling end of this twisted, cinematographic masterpiece. On a side note: Jared Leto's eyes have never looked so blue.
Period Drama Royalty
 "Anna Karenina" (2012)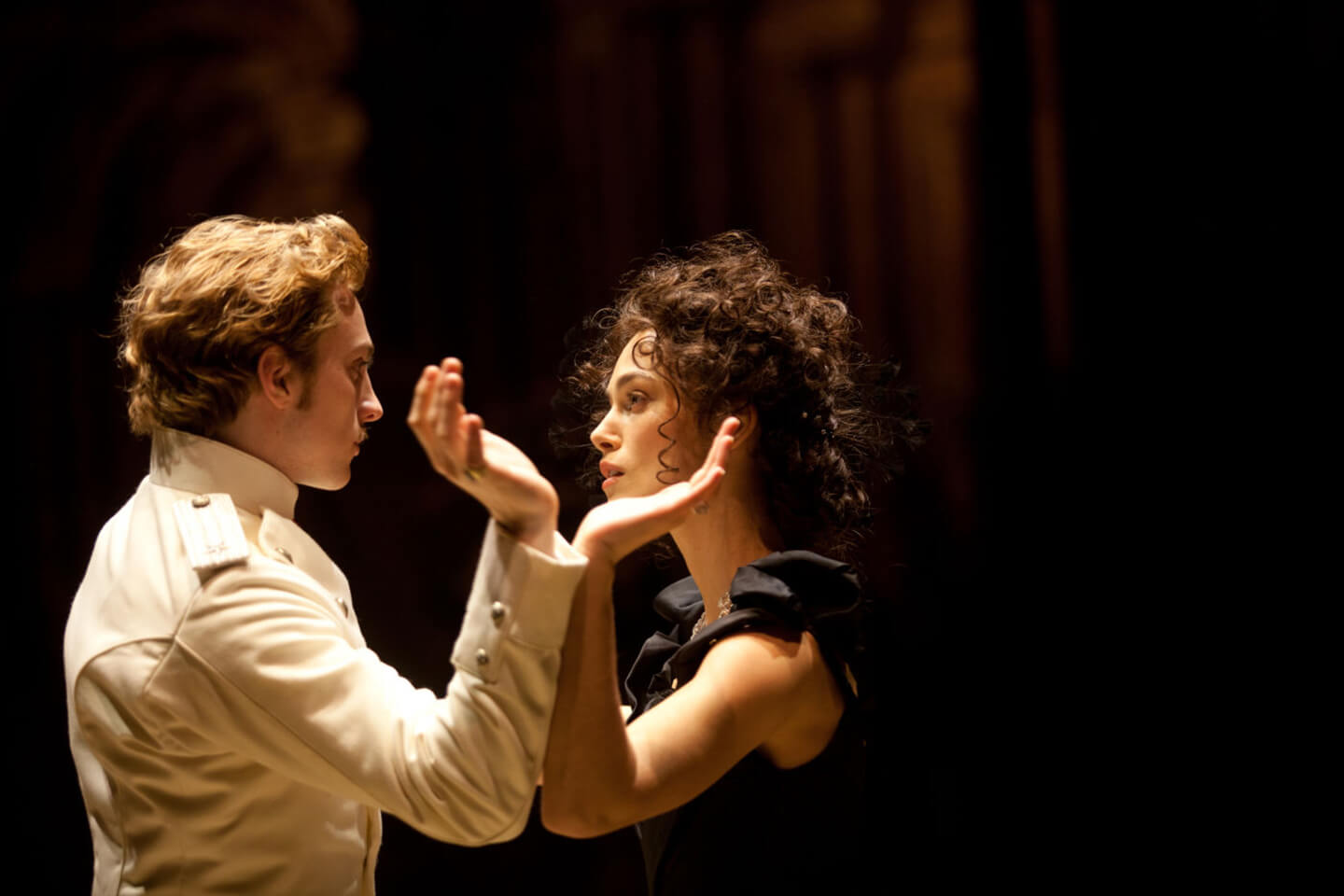 Opulent furs, shiny pearls and diamonds, austere white ties and top hats, glowing, eye-catching uniforms, and lots of corsets, all displayed on a XIX century theatre stage. This is not a play, though, it's Joe Wright's cinema adaptation of Leo Tolstoy's most famous novel about the life and sorrows of aristocrat Anna from Saint Petersburg. The whole story develops in a series of theatre settings, all created at the Shepperton Studios in Surrey, UK, but locations are not the only theatrical bits of this film: every move, every gesture, every utterance of the actors  is choreographed and exaggerated with a level of drama that can only be seen at the Opera House. So, while Keira Knightley and Aaron Taylor-Johnson dance in their multi-layered dresses and candid suits on the background of an extremely detailed, but visibly fake Russian ballroom, time freezes and we all seem to freeze with it, entranced by the luxury and unrealism of a fabled scenery.
"Emma" (2020)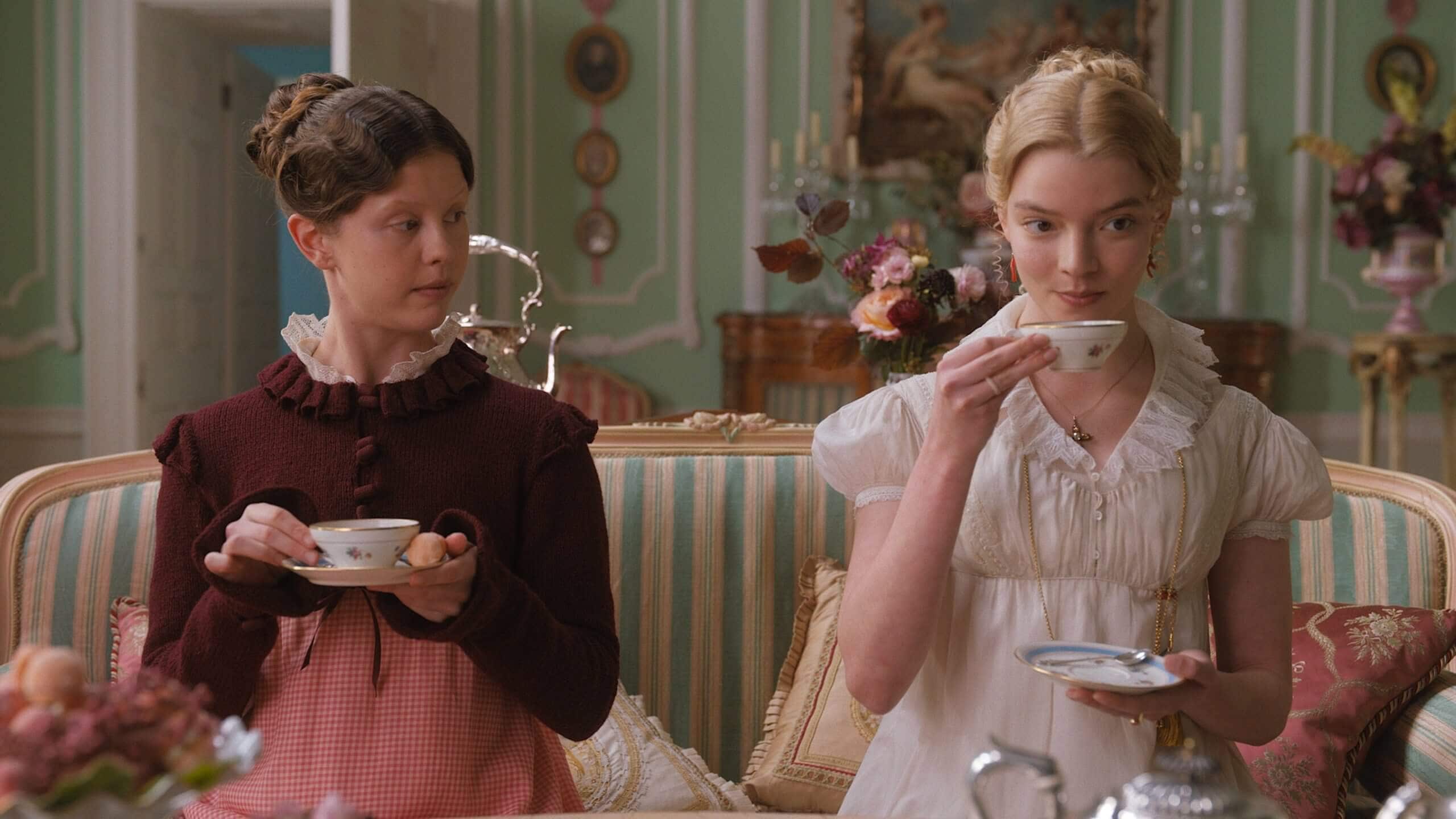 Bright colors combined to gold, marble, satin and velvet triumph in the harmonious settings of Autumn de Wilde's period drama. Based on Jane Austen's novel of the same name, this is the latest adaptation for the screen after the two 1996 versions by Douglas McGrath and Diarmuid Lawrence respectively with Gwyneth Paltrow and Kate Beckinsale in the leading role. The story remains unchanged, but this brand new re-imagination starring Golden Globe nominee Anya Taylor-Joy is aesthetically superior to its predecessors. Ballrooms are dreamingly decorated, gardens are joyfully blooming, characters are impeccably styled and combed, in an electric atmosphere that mirrors the Victorian bigotry and frivolousness, projecting us, spectators, in that same vivid dimension. And we stand there, picturing ourselves sitting on those sofas, walking through those gardens, and we can almost hear it, the sound of Mr Knightley's carriage that's coming to pick us up for a trip in the British countryside.
Best Frames Ever
"Malcolm & Marie" (2021)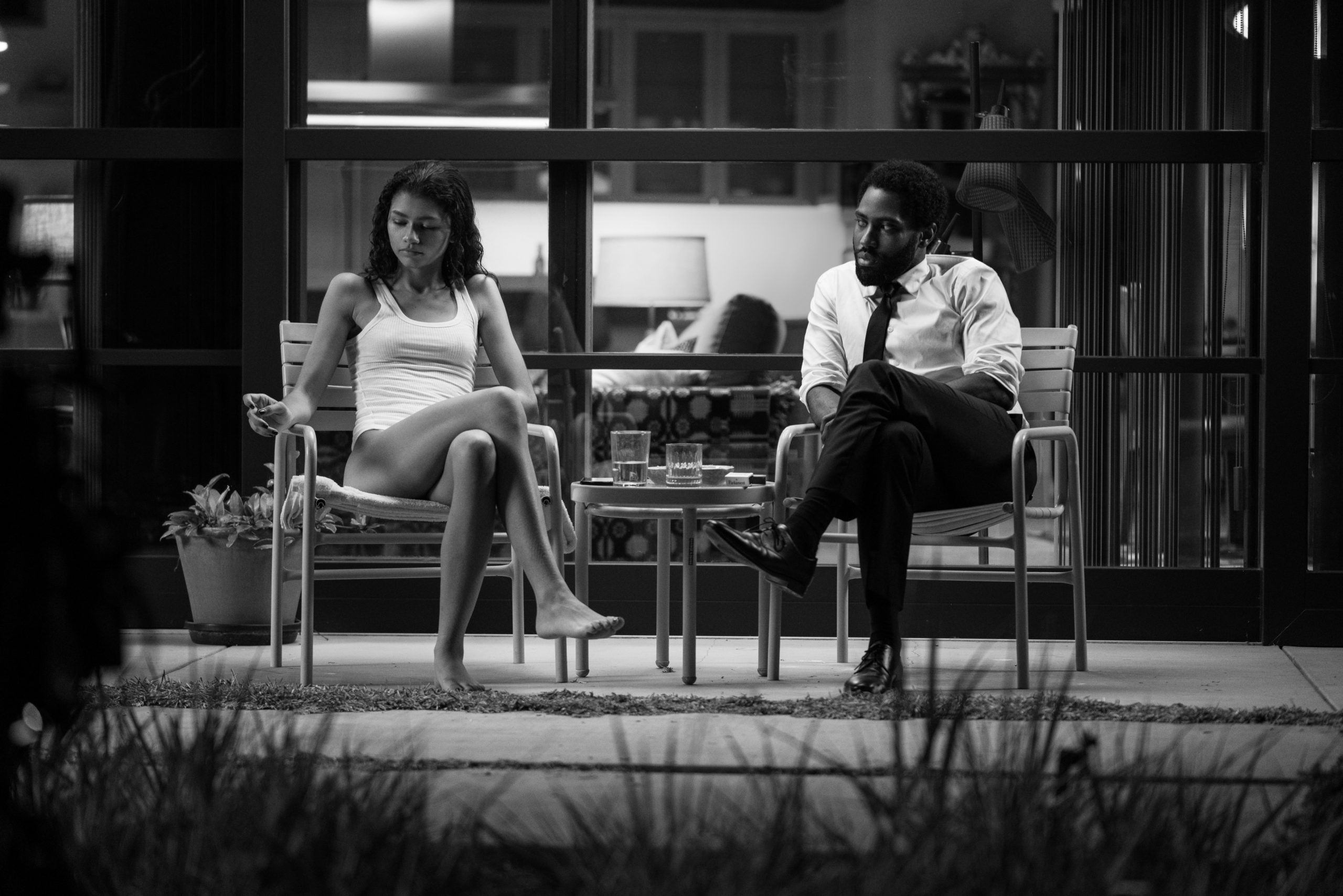 Freshly released on Netflix all over the world, Sam Levinson's new baby born in lockdown is a black and white mosaic of exquisite frames. Shot in 14 days with a 12-people crew and a 2-actor cast, all set in the middle of the woods, in a house with walls of floor-to-ceiling glass, this little gem of a movie will forever be a testament to how beauty can be created even in the ugliest of times. The fast-paced series of events is balanced by the stillness of most camera shots. Zendaya is laying on the bed, we see half of her through a tall and narrow mirror, her head glued to her hips by the magic rules of reflection; John David Washington is resting his chin on the edge of the bathtub, we can see the pores of his skin, the tears in his eyes, the cry in his mouth; they talk to each other, shout at each other, love each other, back and forth, with almost no pause. As for us, we lose track at so many points, stunned as we are by the beautiful frame we saw a while before but can't stop thinking about.
"Saturn in Opposition" (2007)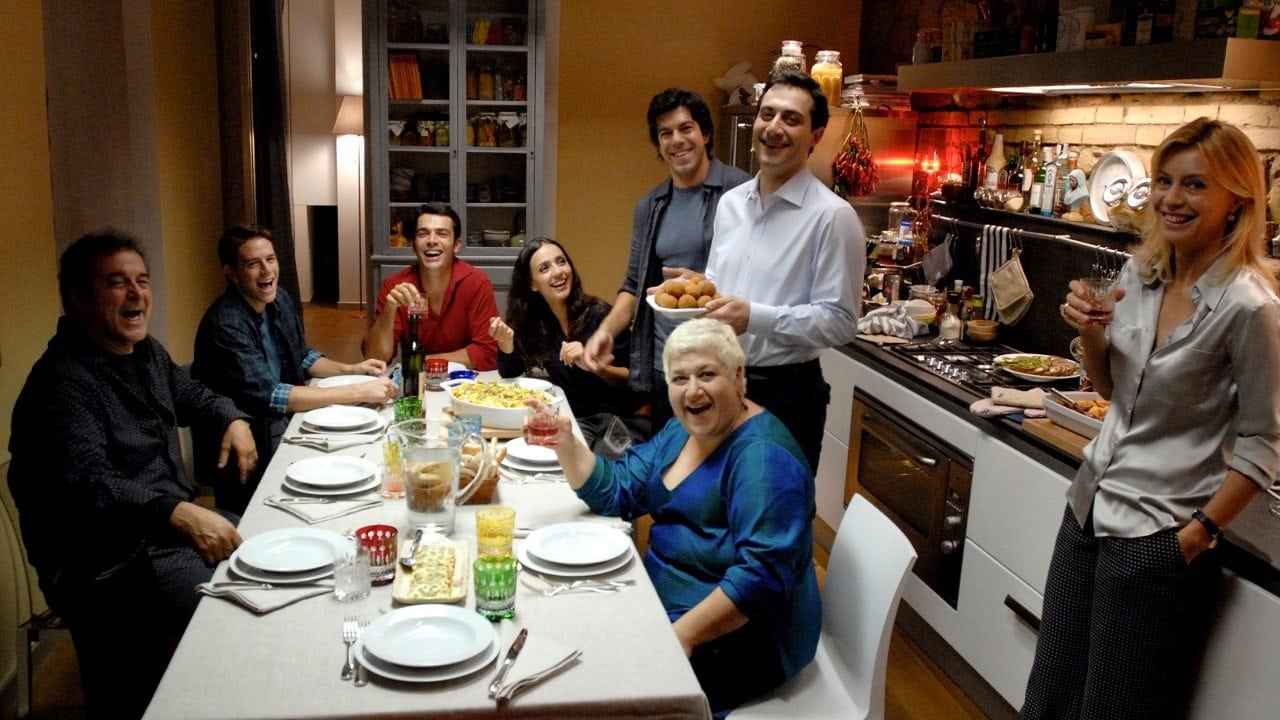 Endless dinners, lots of food on the table, lots of people around the table, faces hiding one or more secrets in camera angles that let us in on them all: this combination of details becomes the trademark of Turkish director Ferzan Ozpetek and is particularly well-orchestrated in this Italian drama film.  So the story develops, and we get to know all the characters and familiarize with their apartments and the streets of Rome. Then, Ambra Angiolini freestyles a sensual dance to the tune of Gabriella Ferrari's "Remedios," Luca Argentero sits at the head of the table absorbing and rejoicing at the warmth of his dinner companions. Sometimes, all these people look straight at us, they judge us, they laugh at us, they pity us, while we're more and more swept away by the glimpses of life and emotions that the movie offers us, as if it were an exhibition of photographs hung up next to each other in an empty gallery.
Hypnotic Clothes and Close-ups
"Moulin Rouge!" (2001)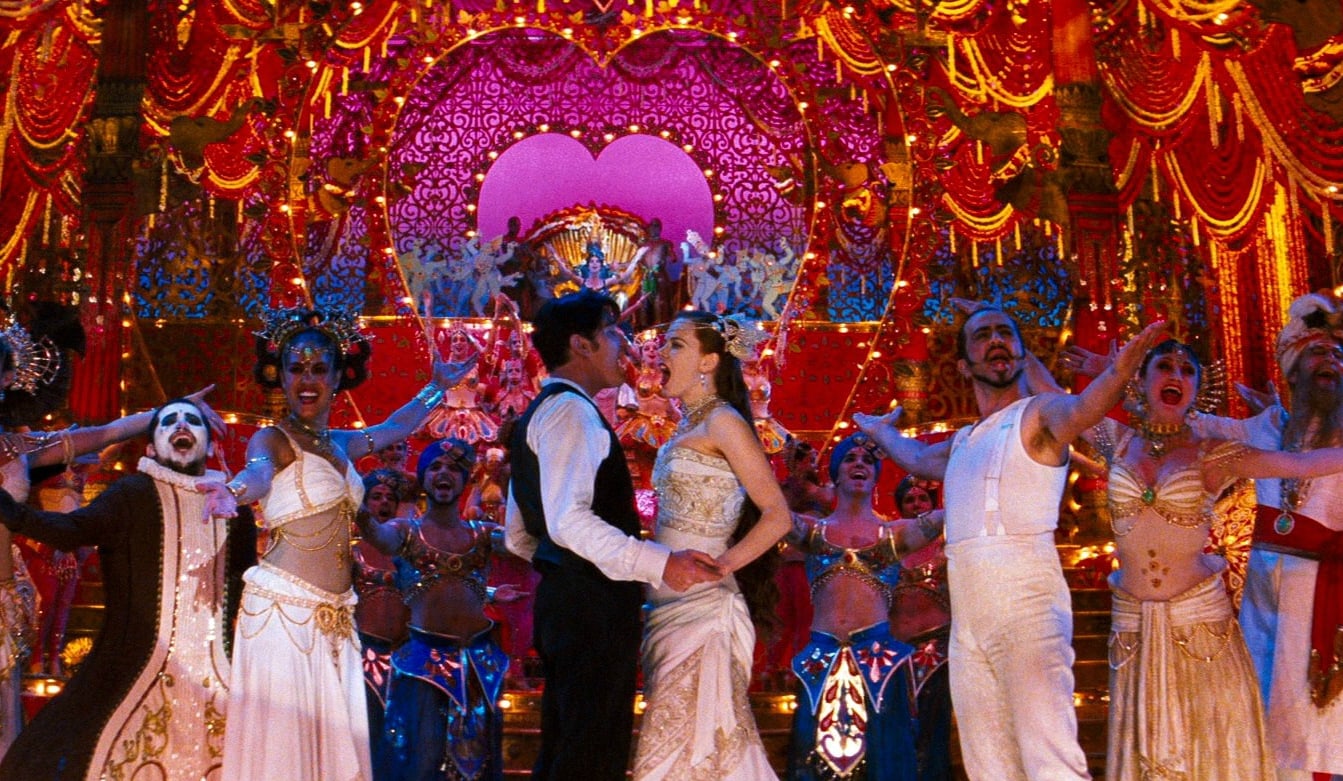 "Spectacular, spectacular / No words in the vernacular / Can describe this great event / You'll be dumb with wonderment:" Nicole Kidman, Ewan McGregor and Matthew Whittet sing it better than it could be expressed in spoken words. This whole movie is precisely a spectacular spectacular that leaves you breathless and heartbroken. In a roundup of feathers, sequins, fishnets, suspenders, and diamonds, of course, which are "a girl's best friends," Baz Luhrmann's jukebox musical romantic drama is a story of love in the Bohemian way. With the "Elephant Love Medley" as one of its peak moments of pure aesthetic pleasure, Satine and Christian's is also tale of splendors, majestic costumes, and dreamy cabaret numbers that take us through a whirl of emotions as we empathize with the characters' joys and sorrows.
"A Single Man" (2009)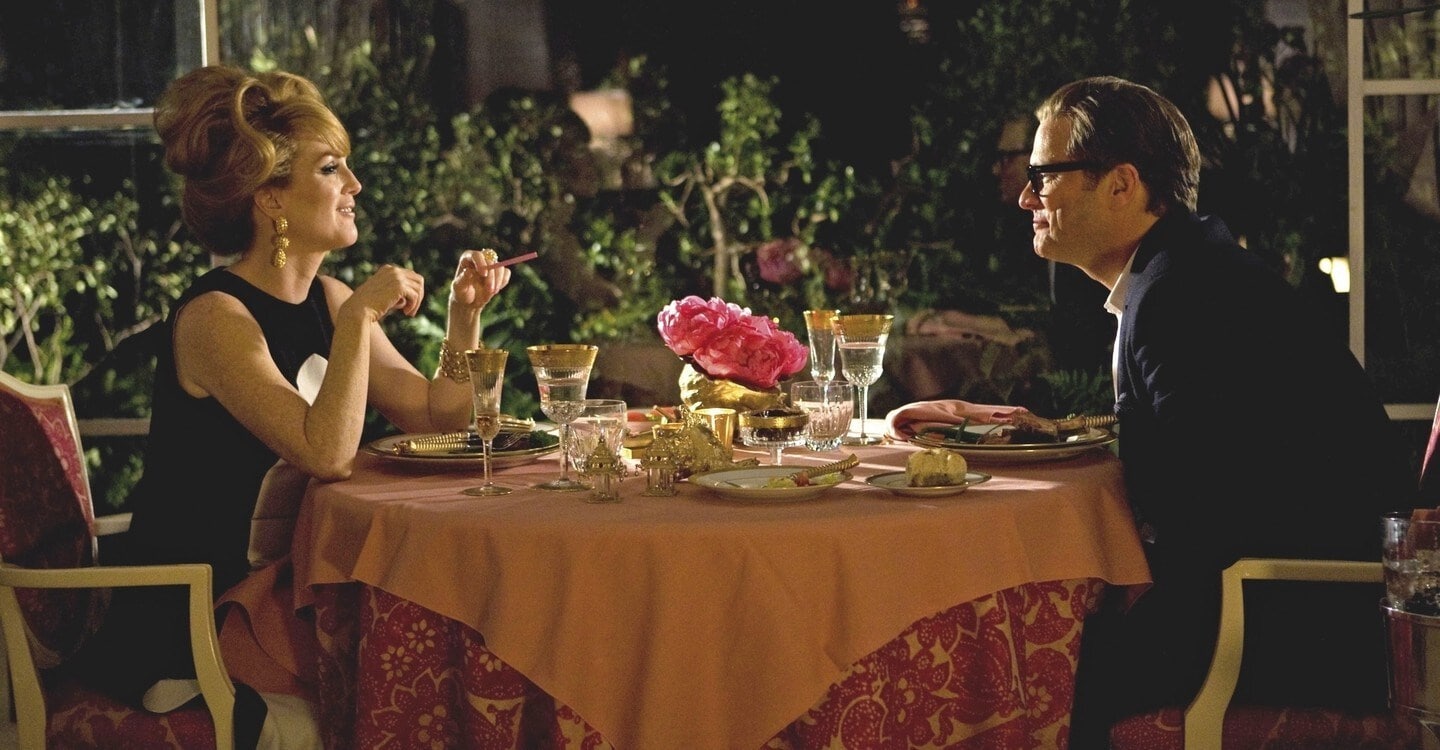 A suicidal attempt worn out by a series of last-minute encounters, all significant, all decisive, all beautiful. So, a broken Colin Firth looks at the world through the lens of a pair of thick-framed glasses signed by director Tom Ford: he dances what could be his last dance with a drunk Julienne Moore in her cream-and-pink Midcentury Hollywood Regency-decorated apartment, he lights a cigarette at sunset with model Jon Kortajarena, and falls for the big blue eyes of young Nicholas Hoult in a fluffy white jumper and matching trousers. On his directorial debut, Ford makes a movie out of a photobook in a unique, fashion-designer way: through eloquent costumes coming straight from his Maison, and art direction by Dan Bishop and Amy Wells, he manages to tell a story of life and death and communicate on a visual level, in a capturing and appeasing unwinding of fashionable long shots and close-ups.