There are the fairy tales' princesses and there are the real ones, those who have crowned their love dreams with Prince Charming (in flesh and blood), acquiring a noble title that has always been fascinating.
Over the years, we have witnessed royal weddings of incredible beauty, which made us dream and sigh, especially in front of the wonderful brides' dresses: starting with Queen Elizabeth II, who married in 1947, going through the herds of the most important royal houses in Europe, such as the daughters of the King of Sweden, the "commoners" Kate Middleton, Letizia Ortiz and Meghan Markle, up to the unforgettable weddings of Diana and Grace Kelly. One thing is certain: royal weddings have marked history and inspired a multitude of dresses.
Whether you're a lover of traditional dresses or of less conventional tastes, what is certain is that royal brides have been and still are real style icons! Let's retrace the most beautiful royal weddings of the century through their timeless dresses.
___________
ROYAL WEDDING DRESSES
Queen Elizabeth II – 1947

___________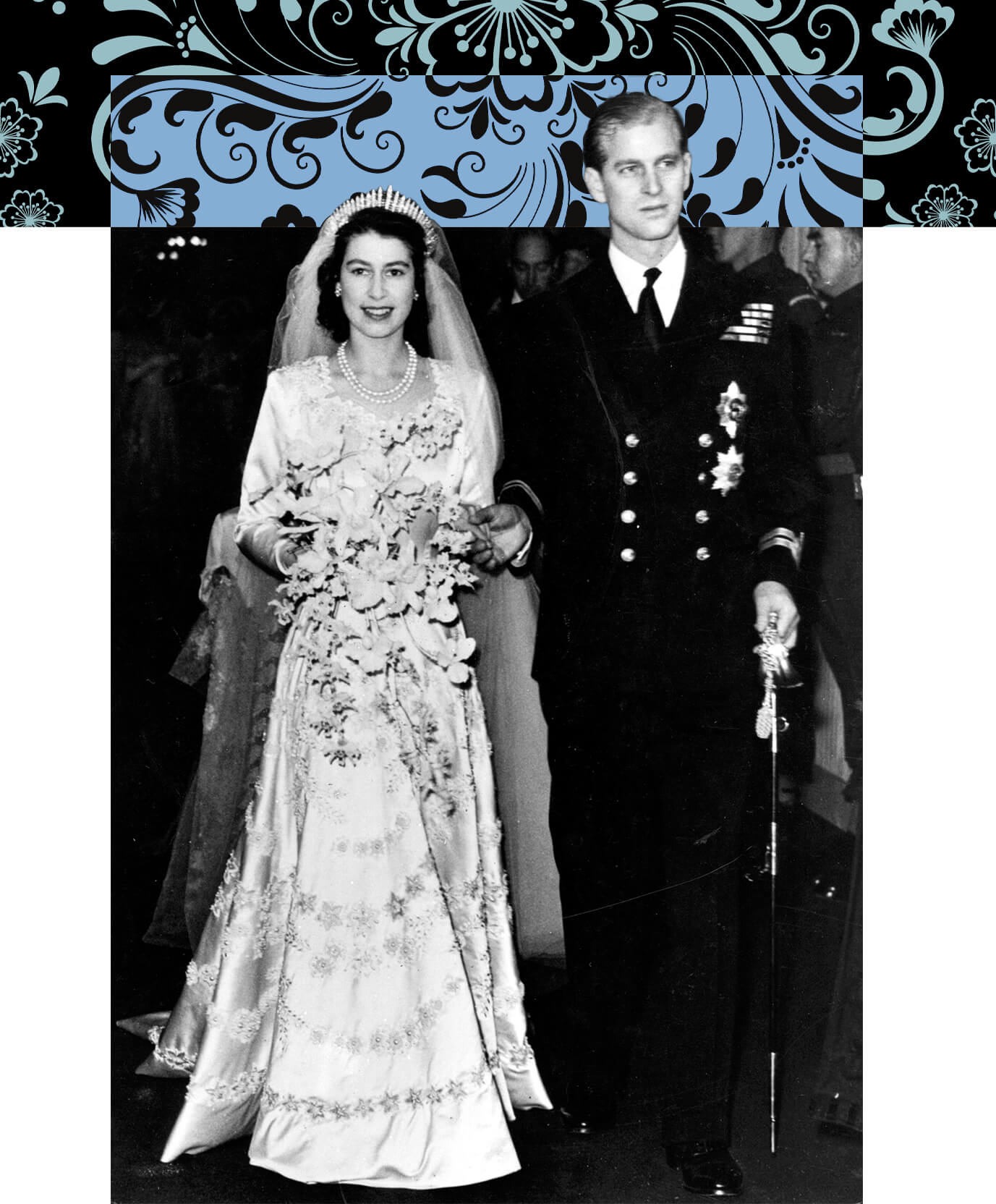 Elizabeth II walked down the aisle of Westminster Abbey to marry Philip of Edinburgh more than 70 years ago, but people are still talking about her wedding dress. The creation was made by the trusted tailor Norman Hartnell, who presented her 12 different models to choose from! The dress was made with Scottish satin, and it was embroidered with crystals and 10,000 pearls from the United States, while the decorations are inspired by Botticelli's Spring. More than a dress, therefore, it was a real work of art, a replica of which appeared in the first season of "The Crown," represents the most expensive wedding dress ever made for a TV series, since it cost 37,000 dollars!
___________
ROYAL WEDDING DRESSES
Grace Kelly – 1956
___________
Actress Grace Kelly married Prince Ranieri III of Monaco in a ceremony that was a real media event: the third and great protagonist of the wedding was her wedding dress made by Helen Rose, a famous Hollywood costume designer. The dress was made of 10 different parts: the skirt was in ivory faille with three undergarments, while the veil was very light, designed to keep the face visible. Instead of the tiara, Grace chose a Juliet cap to hold the veil. What about the bouquet? A bible covered with lilies of the valley!
___________
ROYAL WEDDING DRESSES
Margaret of England – 1960
___________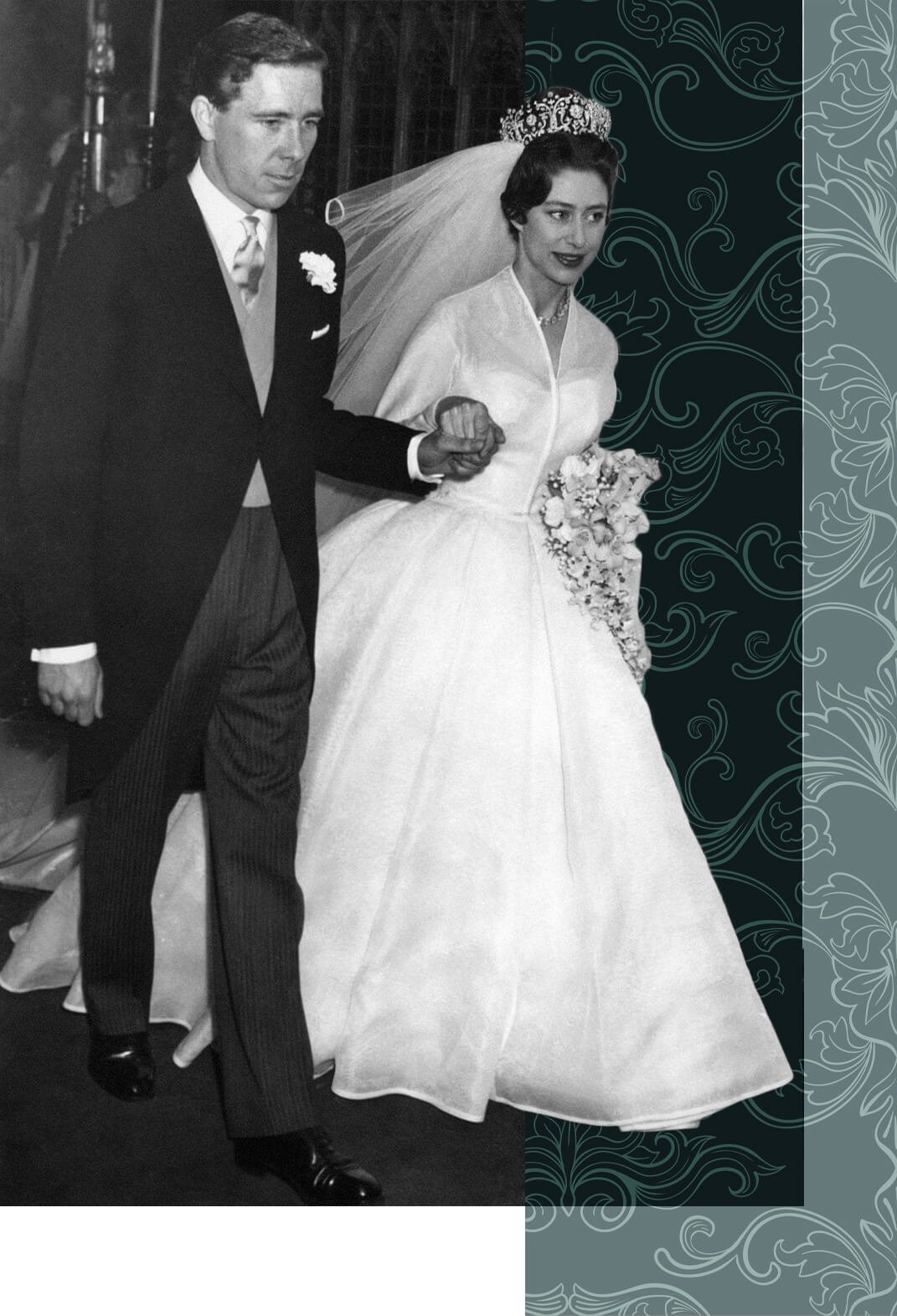 On May 6th, 1960, at Westminster Abbey, Princess Margaret married photographer Anthony Armstrong-Jones, a union that shook several crowned heads of the time: it was the first royal wedding to be broadcast on TV, and it was watched by 300 million people. The princess' dress was made by Norman Hartnell: it was in silk organza, just like the veil, while the lines of the dress followed the fashion of the time, with the V-neck, the narrow waist and the wide tulle skirt, for an extremely elegant result.
___________
ROYAL WEDDING DRESSES
Diana Spencer – 1981
___________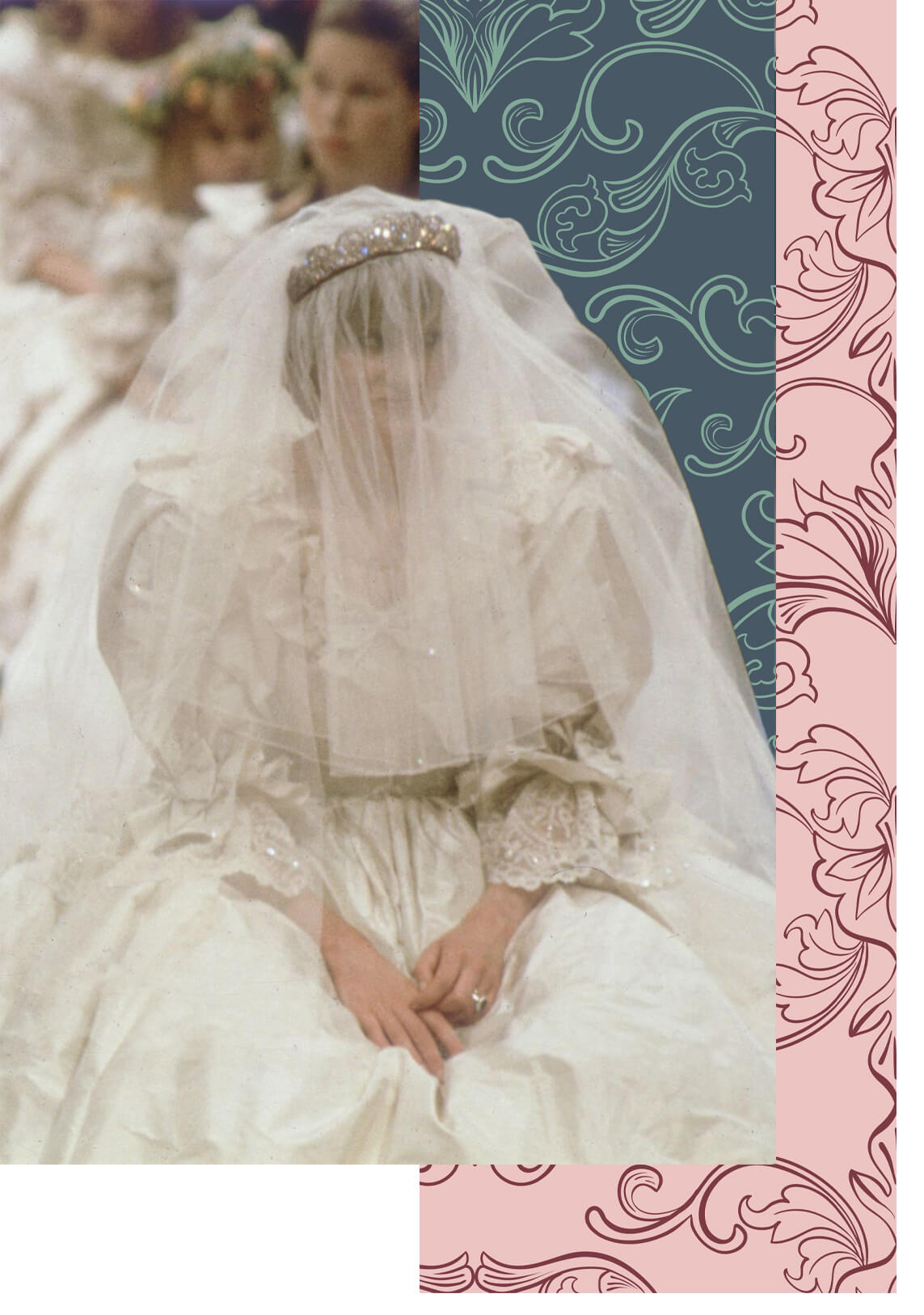 It was January 1981 when it was announced that the designer couple Elizabeth and David Emanuel would have created for Diana Spencer, future wife of Prince Charles of England, an unforgettable wedding dress. One of the Emanuel's most important tasks was to maintain the utmost secrecy about the creation. They made two copies of it, one destined to the Madame Tussauds museum. The result of the designers' long search on history books and period films was the beautiful dress made of taffeta of pure ivory silk, adorned with antique lace and with a trail of 7.62 meters. The trail was so huge that, on the wedding day, Diana's father had some difficulty to put it into the carriage!
___________
ROYAL WEDDING DRESSES
Letizia Ortiz – 2004
___________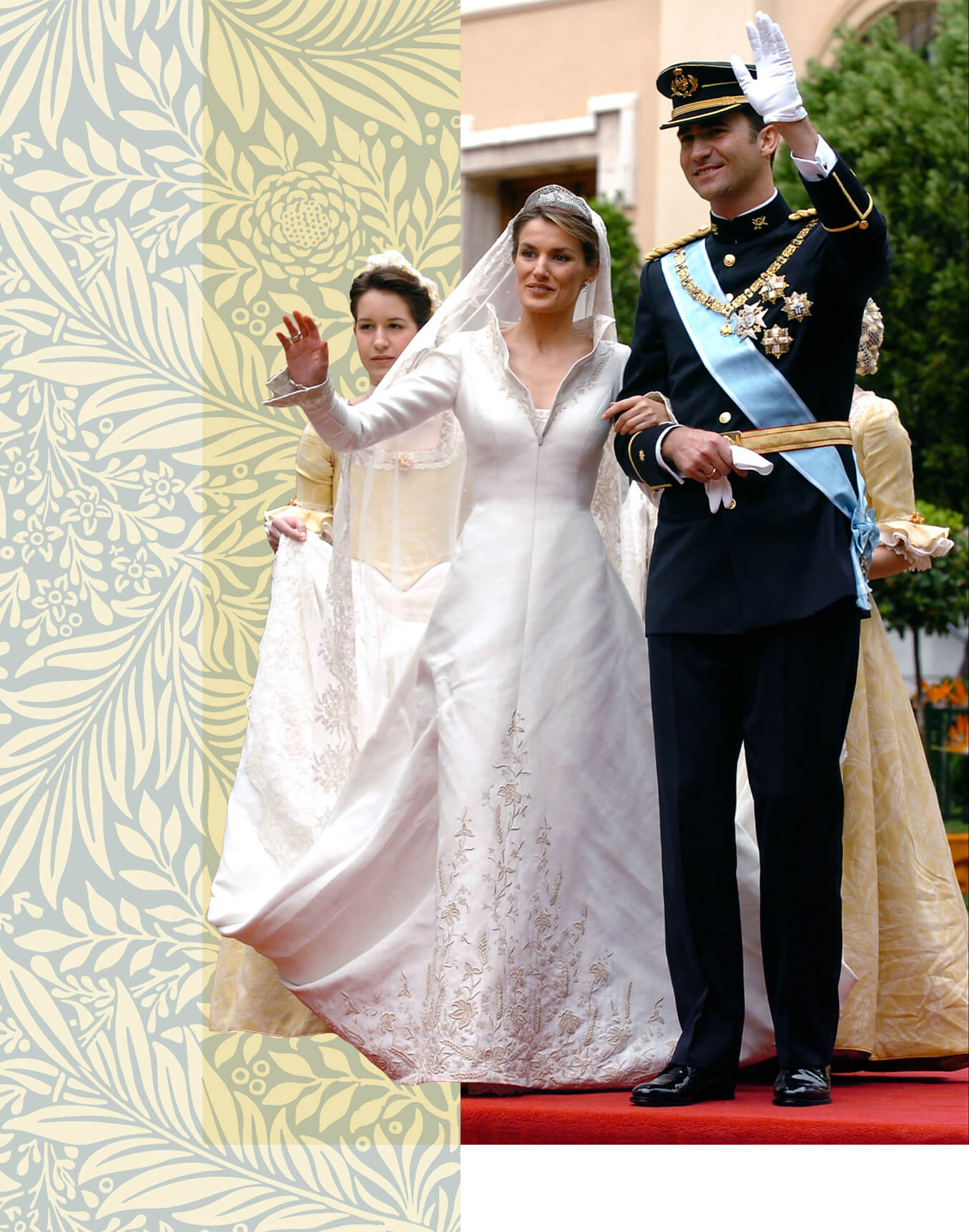 In Italy, we say: "Wet wedding, lucky marriage!" Not everyone will remember that, on the wedding day of Letizia Ortiz and Felipe of Bourbon in Madrid was pouring, but everyone will surely remember her dress, a sober and elegant creation by Catalan fashion designer Manuel Pertegaz. No veil in front of the face, an embroidered upright neck and two-and-a-half-meter for the trail, a tiara to support the long veil and a bouquet of white roses. Simple and romantic!
___________
ROYAL WEDDING DRESSES
Mary Donaldson – 2004
___________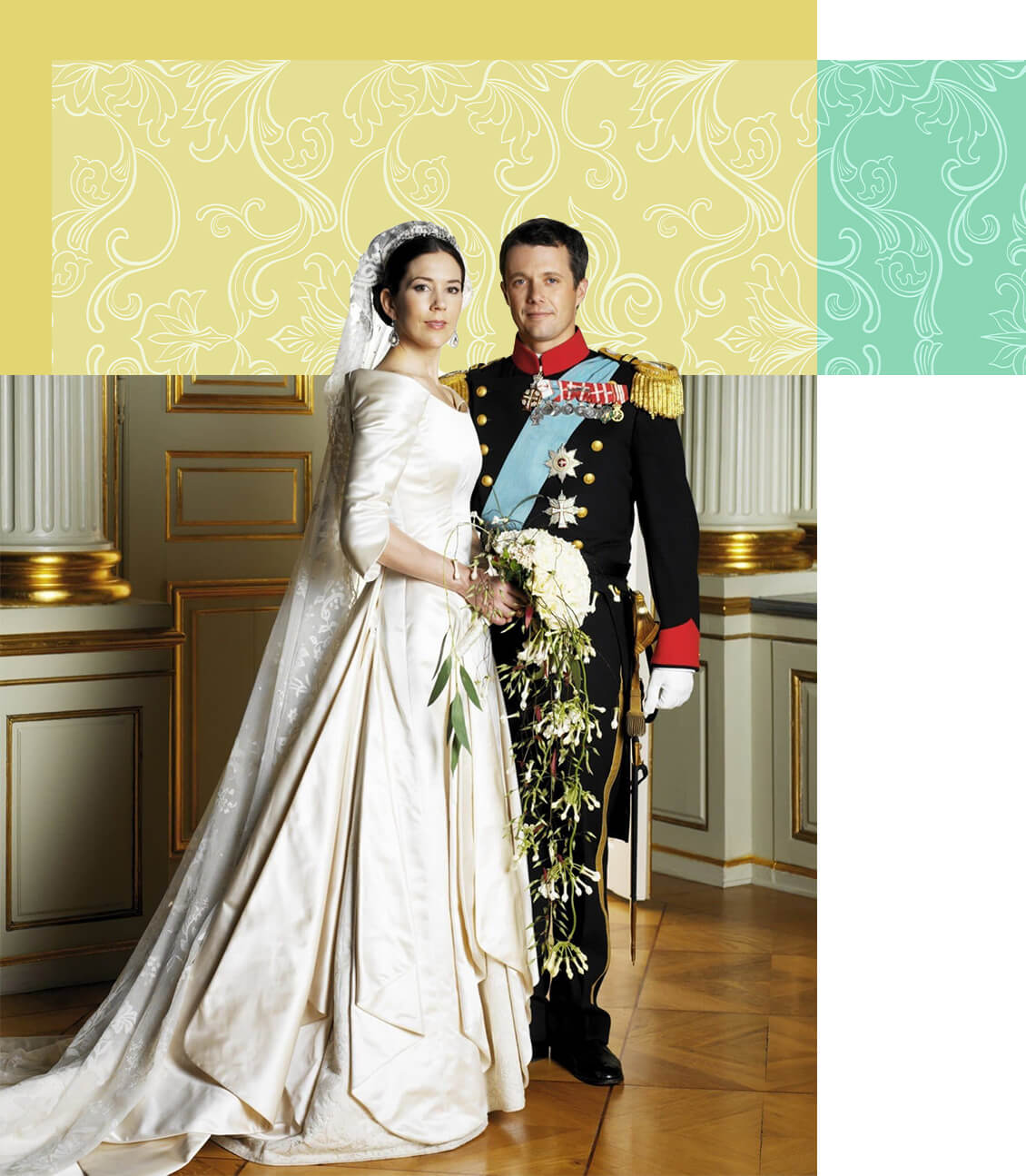 They may not be the most famous royal couple, but they are certainly one of the most beautiful and in love: Mary Donaldson and Crown Prince Frederik were married on May 14th, 2004 in Copenhagen Cathedral. Mary wore a wedding dress designed by the Danish designer Uffe Frank: made with 24 meters of silk and organza, inside the bodice the bride had sewn the wedding ring of her mother, who died prematurely. For the decorations, they used 2 meters of lace, while the veil had a trail of 8 meters!
___________
ROYAL WEDDING DRESSES
Victoria of Sweden – 2010
___________
Victoria and Daniel Westling met at the gym and, after winning the resistance of King Carl XVI Gustaf who saw the groom as a man who was only after fame, they got married in 2010, becoming one of the most beloved royal couples.
The bride wore a cream silk dress by designer Par Engsheden on her big day, with a five-meters-long trail with simple lines. On the head, she wore the same tiara worn in 1976 by her mother, Queen Silvia, on her wedding day with the king.
___________
ROYAL WEDDING DRESSES
Kate Middleton – 2011
___________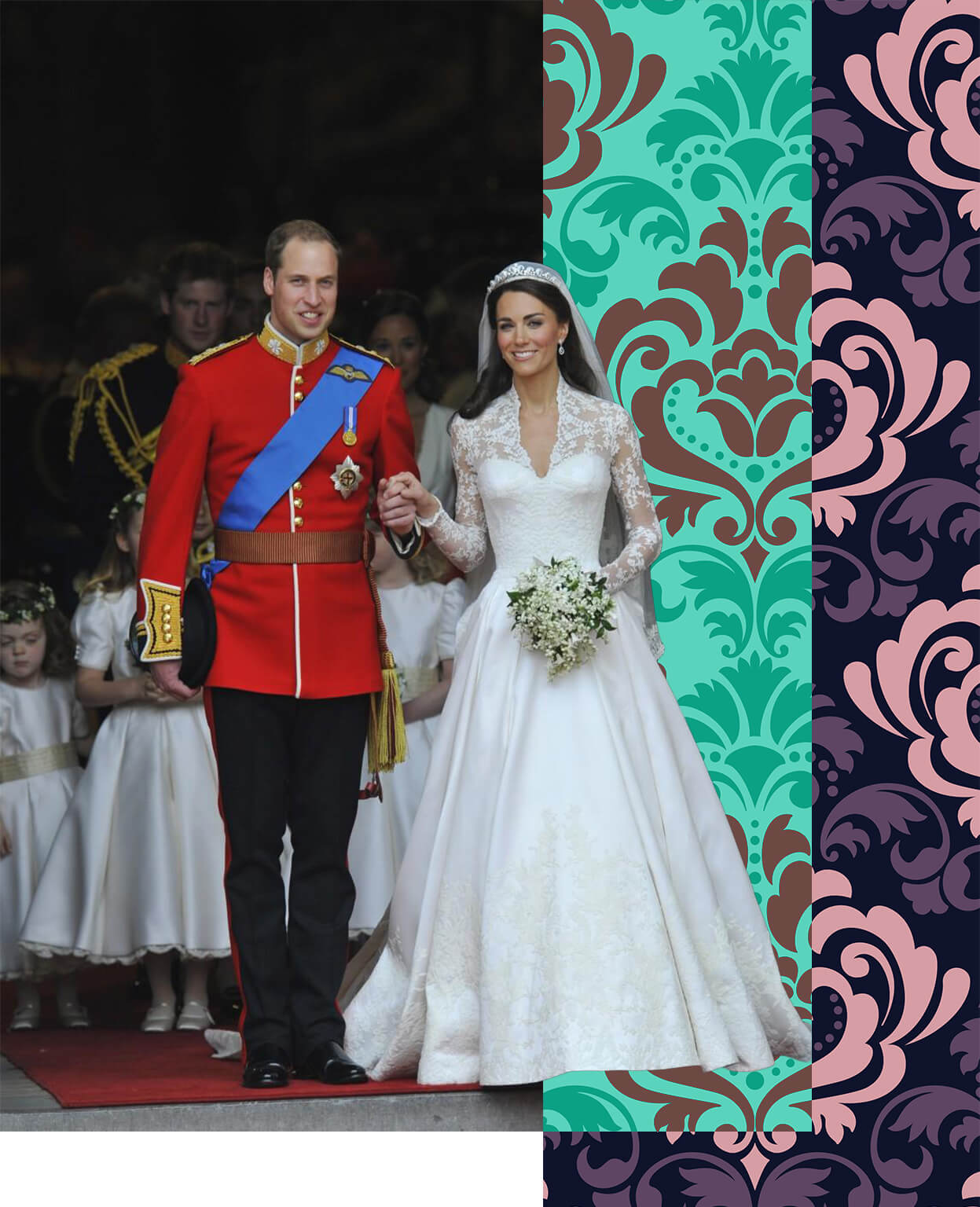 It is already considered the wedding of the century despite happening "only" in 2011: the union between Kate Middleton and William of England made millions of viewers dream, mainly thanks to the bride's dress, still one of the most popular reference designs for brides. Created by Sarah Burton, creative director of Alexander McQueen, the dress is made of silk satin and gazar and is embellished with numerous lace applications. The designer said, "We wanted to look to the past as well as the future. There are many references to Victorian corsetry: padded hips, narrow waist; but also references to the arts and craftsmanship with all the handwork of the lace applied to the dress and the saddle inserts to give shape." Even the veil is modern, only up to half the body, and the trail too, since it was "only" 2.70 meters long. To adorn the head and the veil was the Halo tiara made by Cartier in 1936, borrowed from Queen Elizabeth II. Does it remind you of another dress? You are right since it is known that the inspiration was precisely Grace Kelly's wedding dress!
___________
ROYAL WEDDING DRESSES
Charlene Wittstock – 2011
___________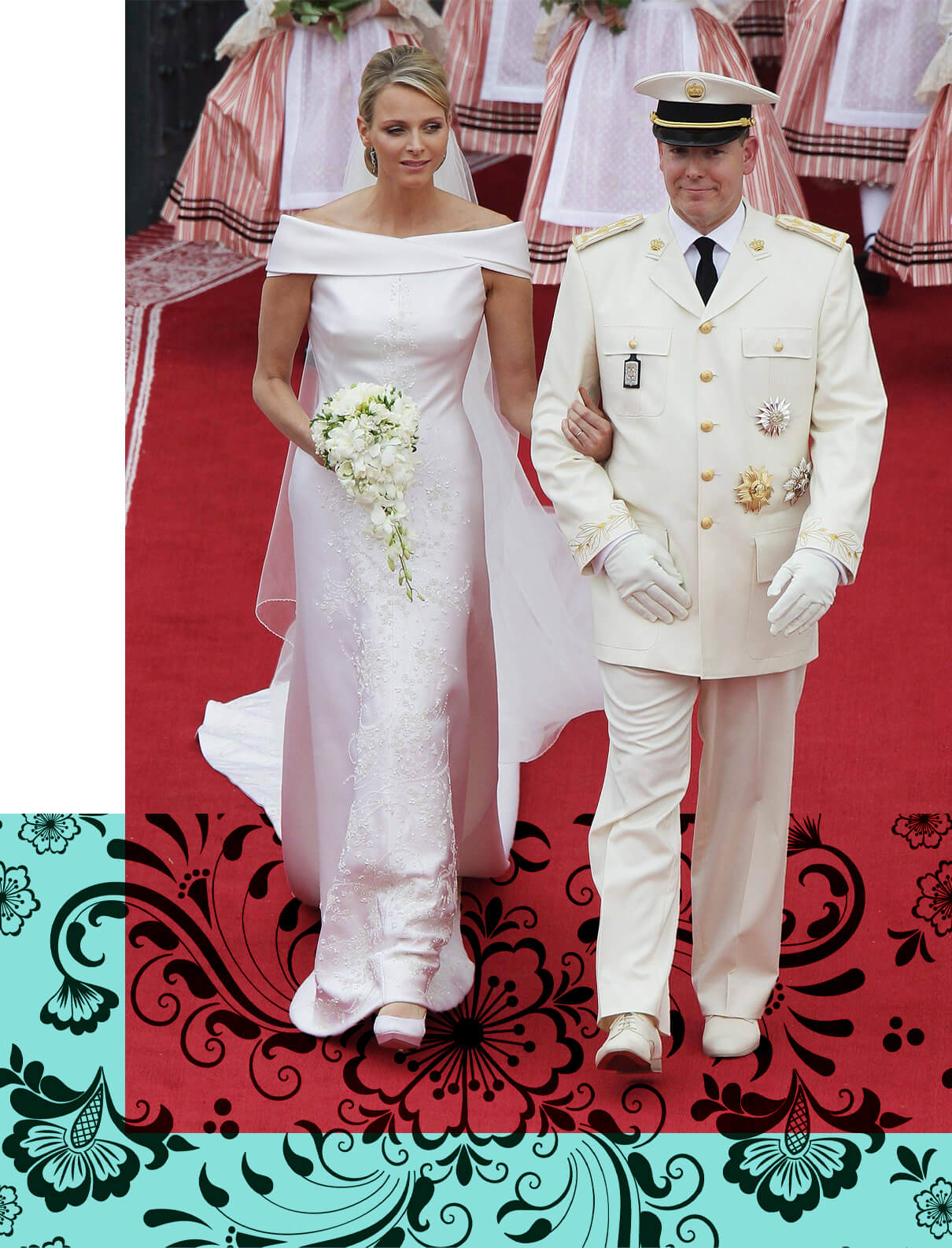 On her big day, when she married Albert II of Monaco, Charlène Wittstock opted for a long and fitted ivory satin dress by Armani Privé. On the front, it presented a precious floral embroidery made with small stones, delicate golden shades, Swarovski crystals and drops of mother of pearl. "The idea was to go for a completely modern look, devoid of any sense of nostalgia or revival, a must to escape the inevitable comparisons with Princess Grace. Although comparisons of this kind are a sign of admiration, each person has his own unique and individual style, and the style is the expression of the times," said Giorgio Armani.
___________
ROYAL WEDDING DRESSES
Claire Lademacher – 2013
___________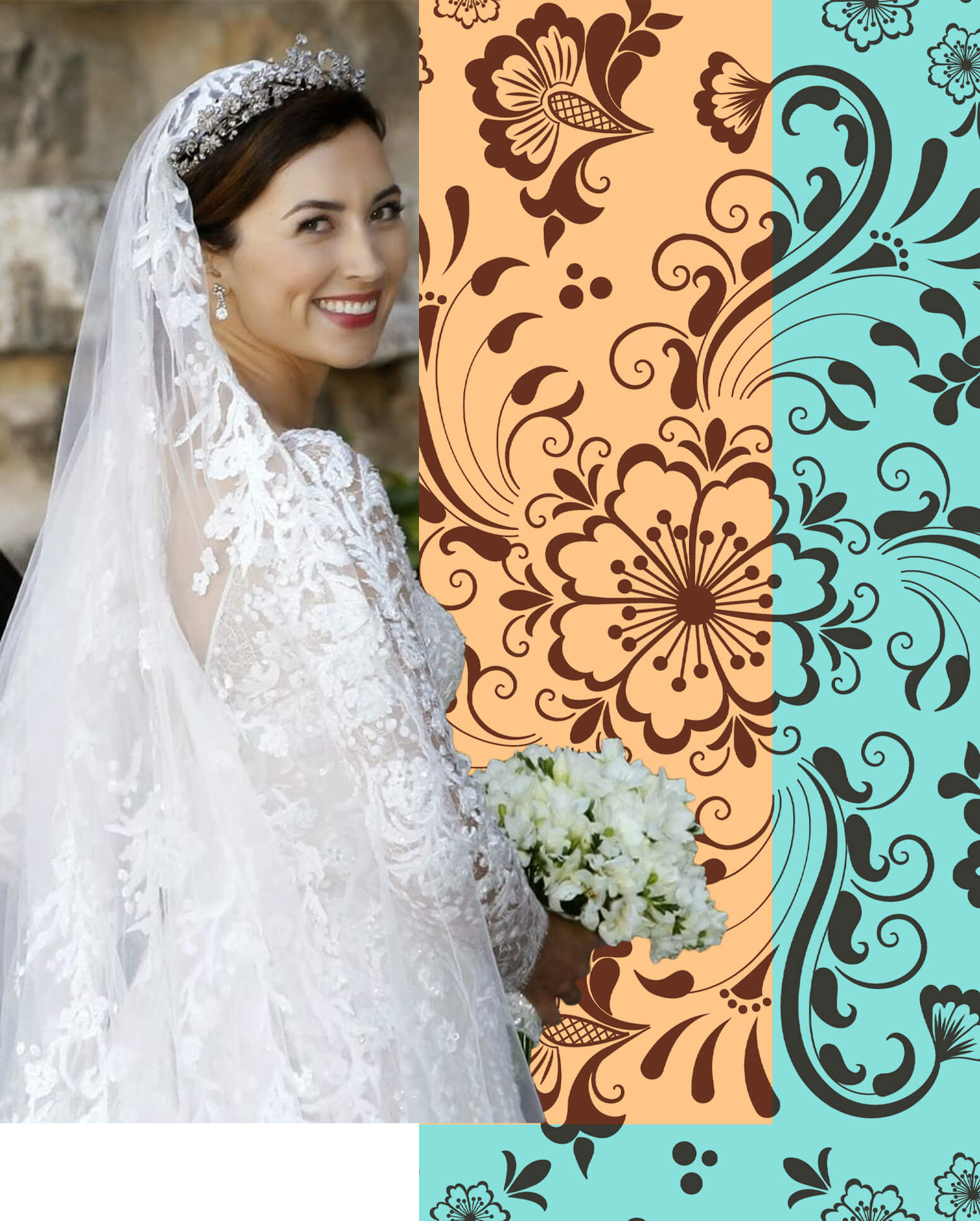 PhD student in bioethics Claire Lademacher and Prince Felix of Luxembourg, second in line of succession, got married in 2013 when Claire wore a fairytale creation by Elie Saab. The white dress had long silk sleeves with refined and copious chantilly lace embroidery. To complete the look was the 3 meters long trail, which featured the same embroidery of the dress. And they lived happily ever after, with style!
___________
ROYAL WEDDING DRESSES
Madeleine of Sweden – 2013
___________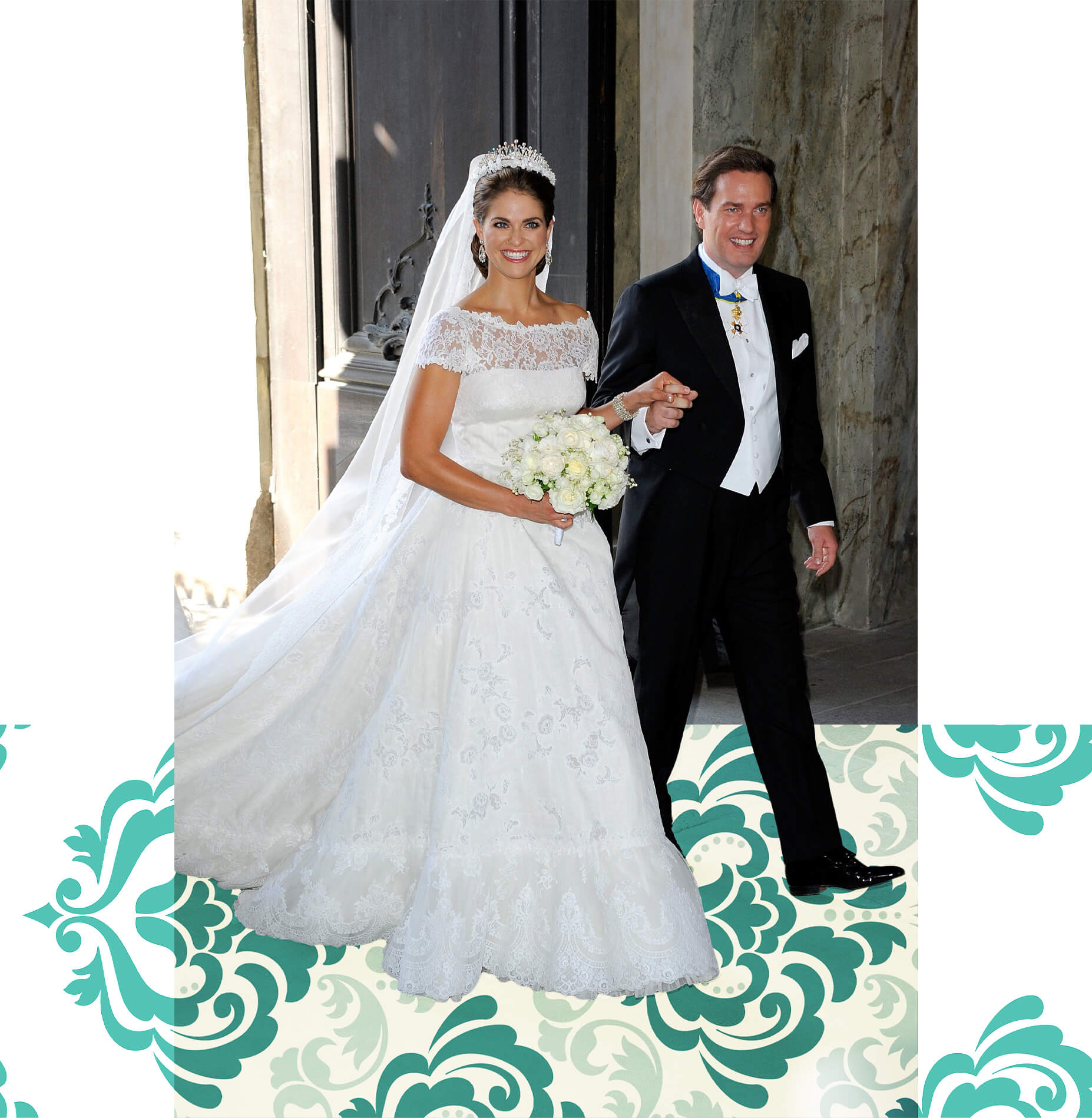 To marry her Prince Charming, or rather, her American banker, Madeleine of Sweden chose a couture dress by Valentino with a half-shoulder neckline. The designer decided to highlight the waist of the princess with a series of vertical micro-folds over the entire length of the skirt. The lower part of the dress presents a stunning 4-meters-long trail, with a veil of 6 meters in silk organza and decorated with chantilly lace flowers. No doubt, Valentino has created for the Scandinavian princess a dress of a great romantic classicism!
___________
ROYAL WEDDING DRESSES
Sofia Hellqvist – 2015
___________
In 2015, former model Sofia Hellqvist married Carl Philip of Sweden, one of Europe's most desired bachelors. A fairytale wedding, just like her dress made by Ida Sjostedt, a Swedish fashion designer. The long-sleeved dress was simple and delicate, made of silk, organza, and lace, with a veil full of transparency detailing. Simply radiant!
___________
ROYAL WEDDING DRESSES
Beatrice Borromeo – 2015
___________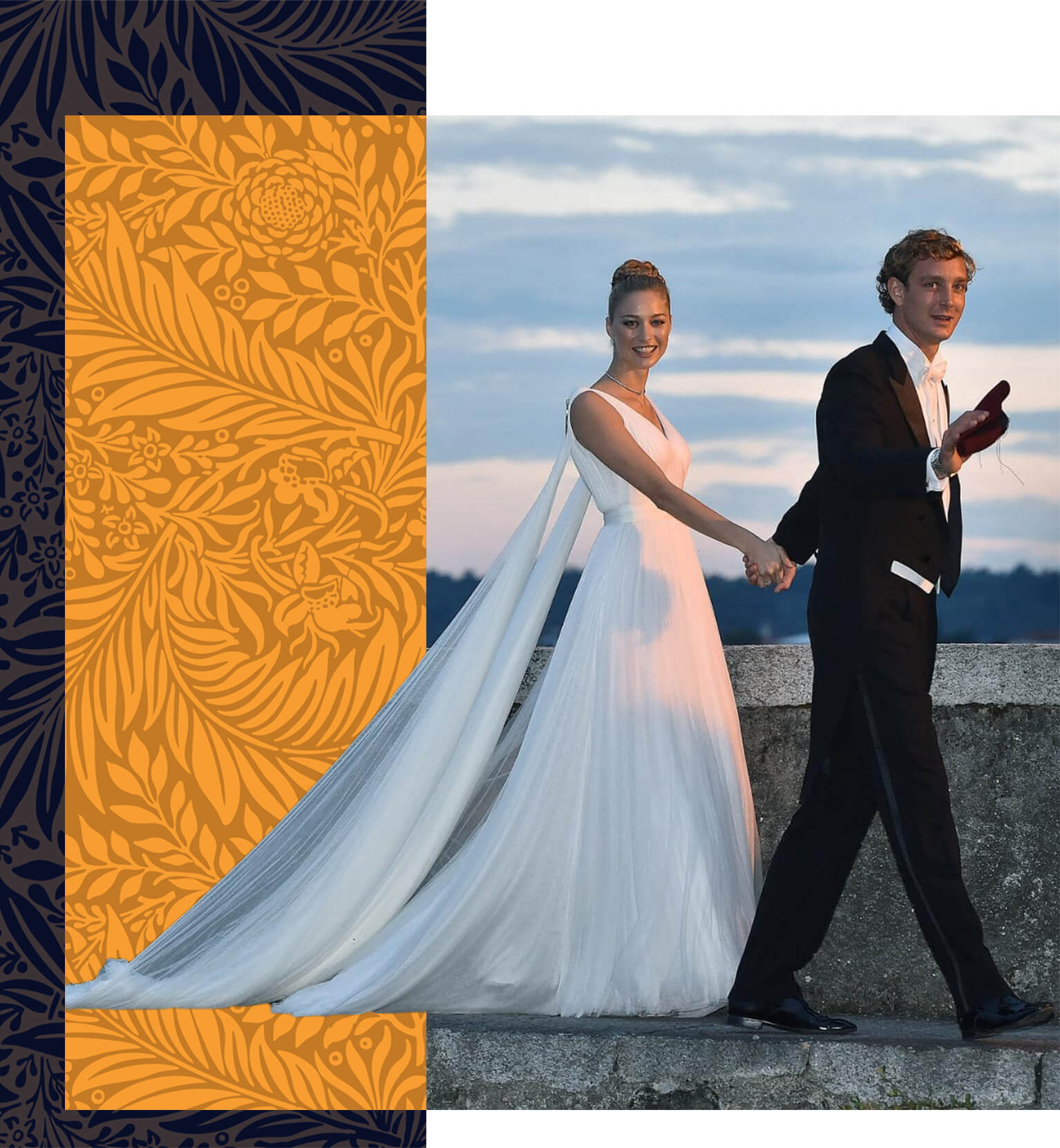 Armani and Valentino: what do these two big names have in common? Those were the two brands chosen by Beatrice Borromeo for her wedding with Pierre Casiraghi. For the civil union, Beatrice wore a romantic dress in pale pink signed by Valentino Haute Couture, with short sleeves and floral embroidery, a real bohemian bride! For the pre-ceremony party, Beatrice opted instead for an elegant Armani creation without sleeves, the waist marked by a satin ribbon, ethereal in its overlapping of chiffon's layers and with the veil transformed into a double cloak like a '40s diva, simply perfect. For the religious ceremony, she chose a sheath dress with a white lace trail, a boat neckline, and three-quarter sleeves, once again signed by Armani. A style that has definitely raised the bar!
___________
ROYAL WEDDING DRESSES
Alessandra de Osma – 2018
___________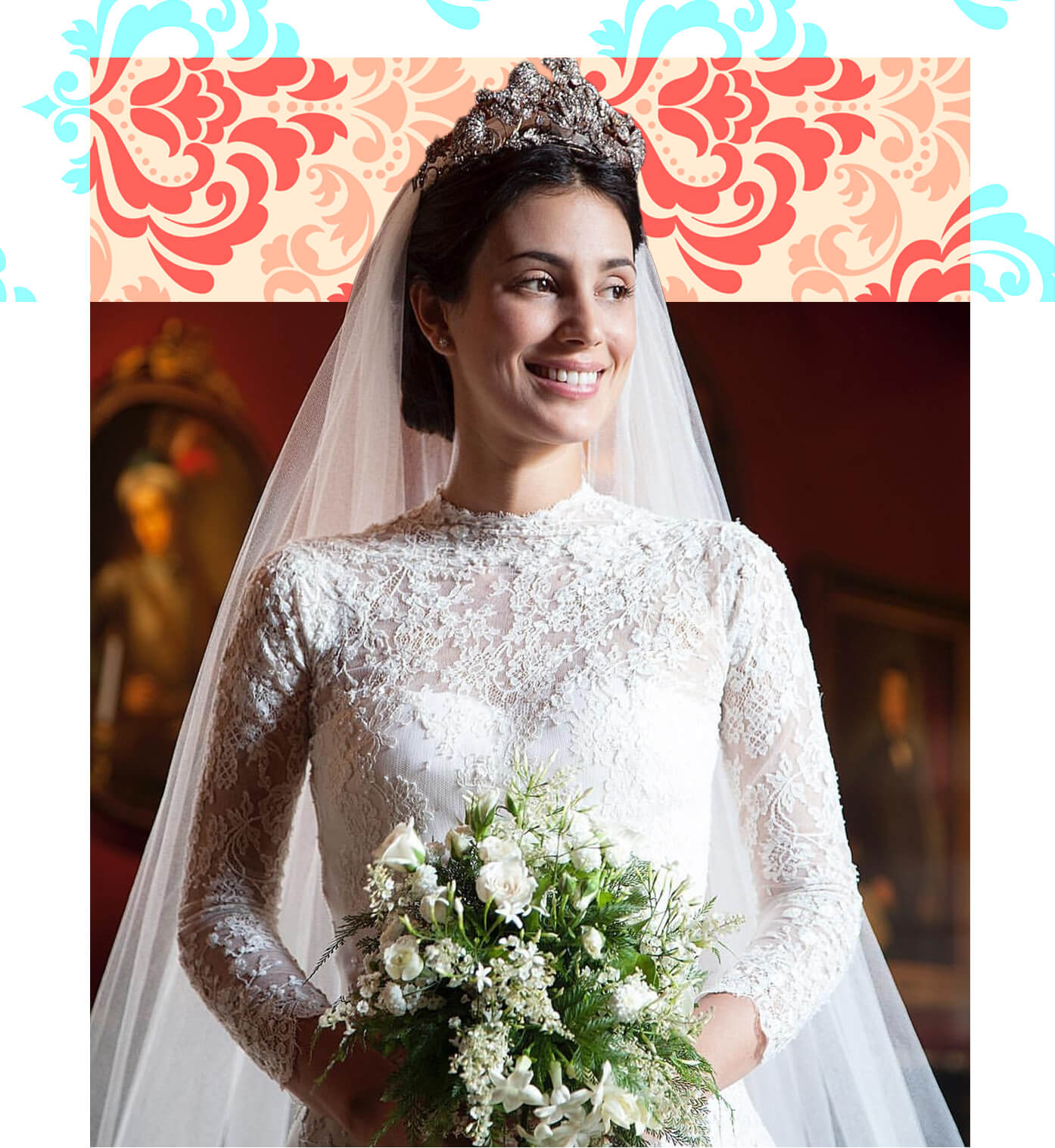 He is Christian, the son of Caroline of Monaco's husband, Ernst of Hanover; she is Alessandra de Osma, a Peruvian model, and their royal union is one of the most recent and romantic. Married in Lima, the bride wore a wedding dress by Spanish designer Jorge Vazquez: a romantic, classic and timeless design in chantilly lace, with floral motifs on the neckline, made in Italy silk gauze, long sleeves and a very long trail as well, to complete the look. If romanticism were a bride, it would surely be Alexandra!
___________
ROYAL WEDDING DRESSES
Meghan Markle – 2018
___________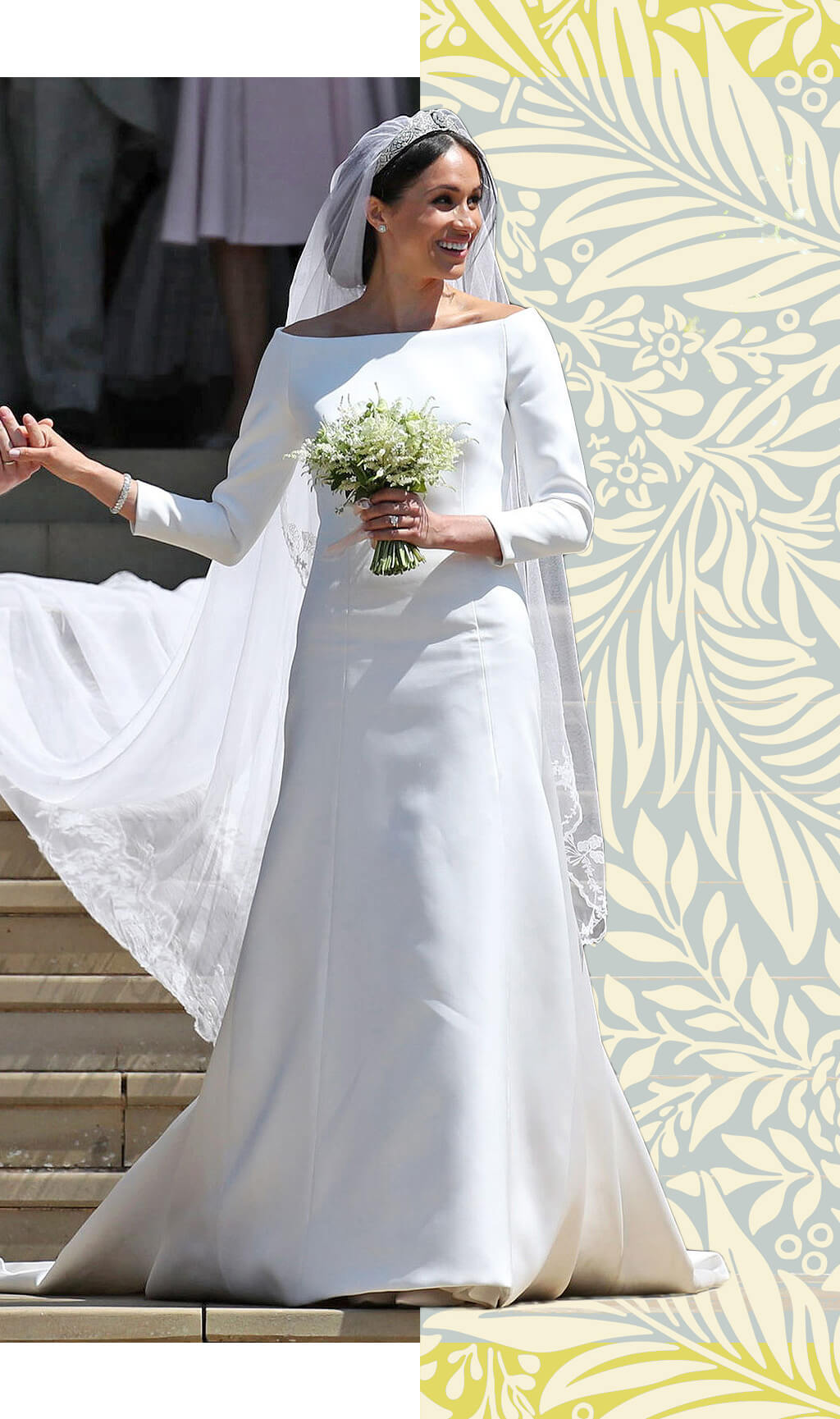 At Prince Harry's appointment at St George's Chapel, former actress and now Duchess of Sussex Meghan Markle astonished everyone: to made the pure and simple dress with the boat-neckline was designer Clare Waight Keller, creative director of Givenchy. Long sleeves at 3/4, a non-embroidered bodice, highlighted waist and a 5-meters long veil: a minimal dress, in line with the bride's style. Here's a curiosity: the veil represents the characteristic flora of each of the 53 Commonwealth countries to which Meghan has added two flowers, a calicanto in winter, such as those that grow in front of Kensington Palace's cottage where she lives with Harry, and a Californian poppy, not to forget her American origins.
___________
ROYAL WEDDING DRESSES
Eugenie di York – 2018
___________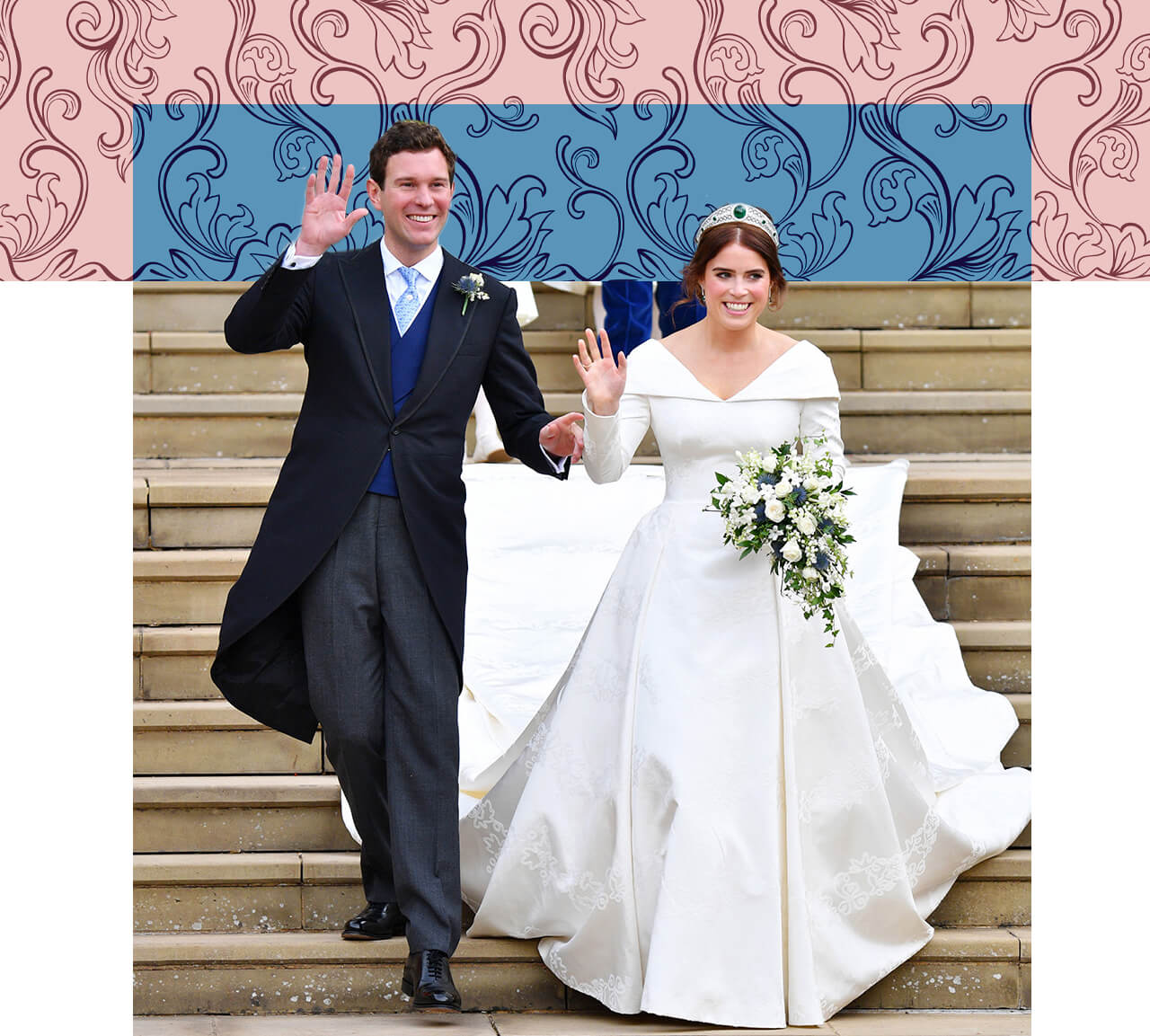 In 2018 there was another English royal wedding, the one between Eugenie of York and Jack Brooksbank. Her silk dress was made by Peter Pilotto: sophisticated and simple, it presents as decorations the thistles (to symbolize Scotland), clovers (Ireland) and roses (England), with long sleeves, a voluminous skirt, V neckline and a large curl on the back. The back was left partially visible to show the scar of an operation against scoliosis suffered by Eugenie when she was 12 years old, to underline that perfection does not exist except inside ourselves and that one should not be afraid to show scars.