This fashion month has come to an end. A month that, from New York, has taken us to Europe to discover the novelties and the main inspirations that will be protagonists during the next autumn/winter season.
The honor and the burden of closing the games have, as always, be granted to Paris, where for almost 10 days (from February 27th to March 6th) we saw the presentation of wonderful and innovative creations, many of them contemporary (just think about Balenciaga), while many others kept traditional and timeless (such as those of Valentino).
In this mix of originality and creativity, we chose the 5 collections that most excited us, each for different reasons and details. With this recap, therefore, we just have to wait until September for the next Fashion Month: Au revoir, Fashion Weeks!
__________
Paris Fashion Week F/W 2018
LOWE
__________
Someone said… Coats? Jonathan Anderson for the latter collection of Loewe, presented in the UNESCO headquarters, created no less than 15 coats made for different commitments, from going to the office to going out for dinner, from the elegant occasion to the daily activities. Each coat is different, for the material (leather or wool for example), the shape (adherent, wide, long or short) or for the motifs (striped, monochrome, detailed or clean). Even with regard to clothes and informal outfits (both characterized by neutral colors), the keywords remain sophistication and versatility. This last element is accentuated by the introduction of very large bags, even backpacks, designed for a busy and modern woman, who does not want to give up anything during the day, in order to be prepared for any need or unexpected task that she will face on her way.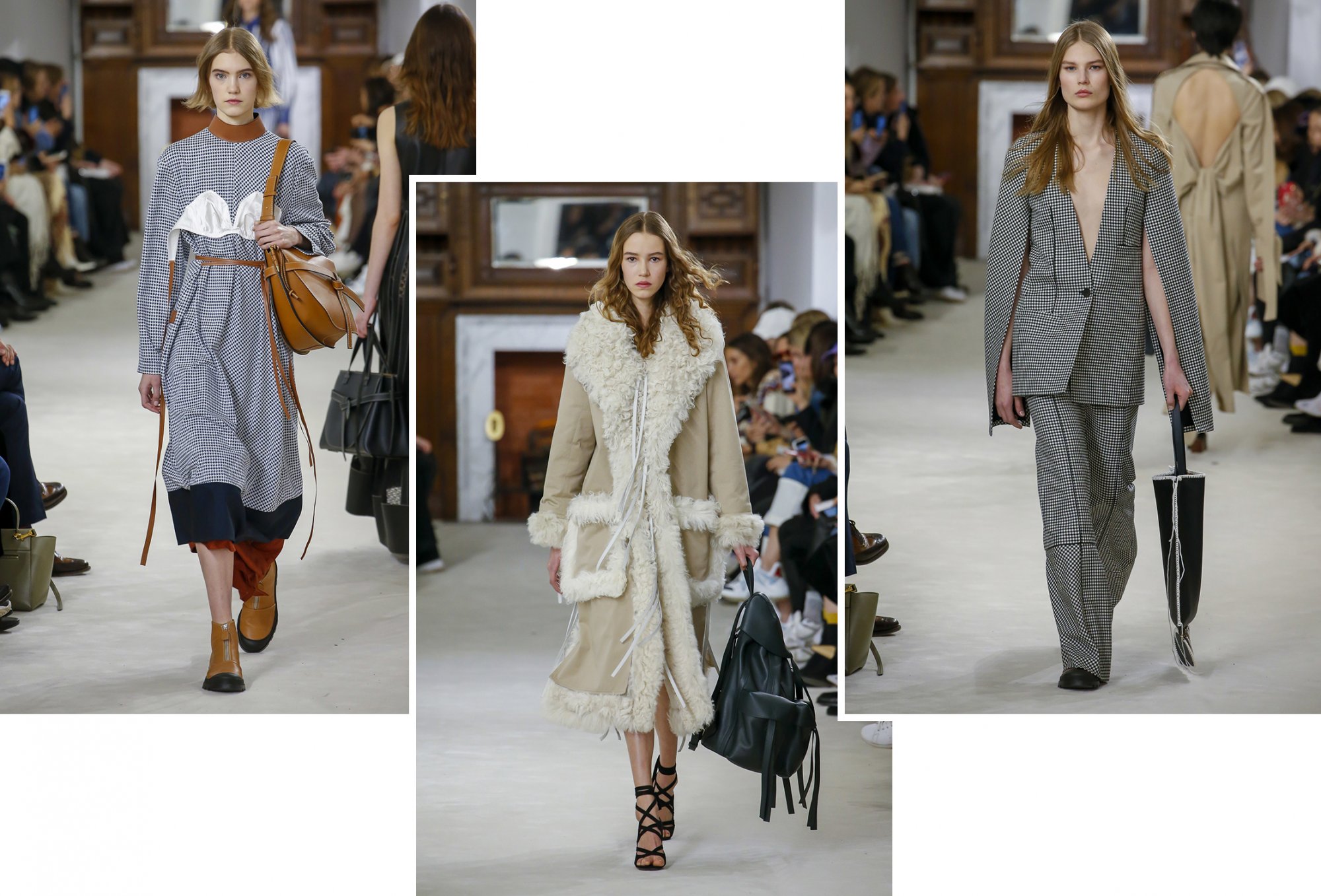 __________
Paris Fashion Week F/W 2018
VALENTINO
_________
Romanticism, elegance and modernity, in other words, Valentino: Pierpaolo Piccioli was once again able to surprise and to enchant us with wonderful creations, perfect to the smallest details, and able to make us live a short, but intense, Fashion Fairytale. Vibrant colors characterized the collection, ranging from black to pink, from fuchsia to green, to blue and pink again, going back to black in a circular way, and they are both unique protagonists of the looks than mixed together in a complementary way; the magnified floral motifs, which occupy almost entirely the clothes in which they are embroidered, are another beautiful element; also key points are the covering and soft volumes, like the wide shoulders of the jackets, the cloaks that barely touch the floor, some of which also integrated with an original hood, and the pompous skirts of the clothes.  Minimalism, refined embroideries, and clean lines make the collection suitable for any taste or need: in other words, they make it suitable for any kind of woman who loves beauty and high craftsmanship. Congratulations Pierpaolo, all this wonder left us speechless!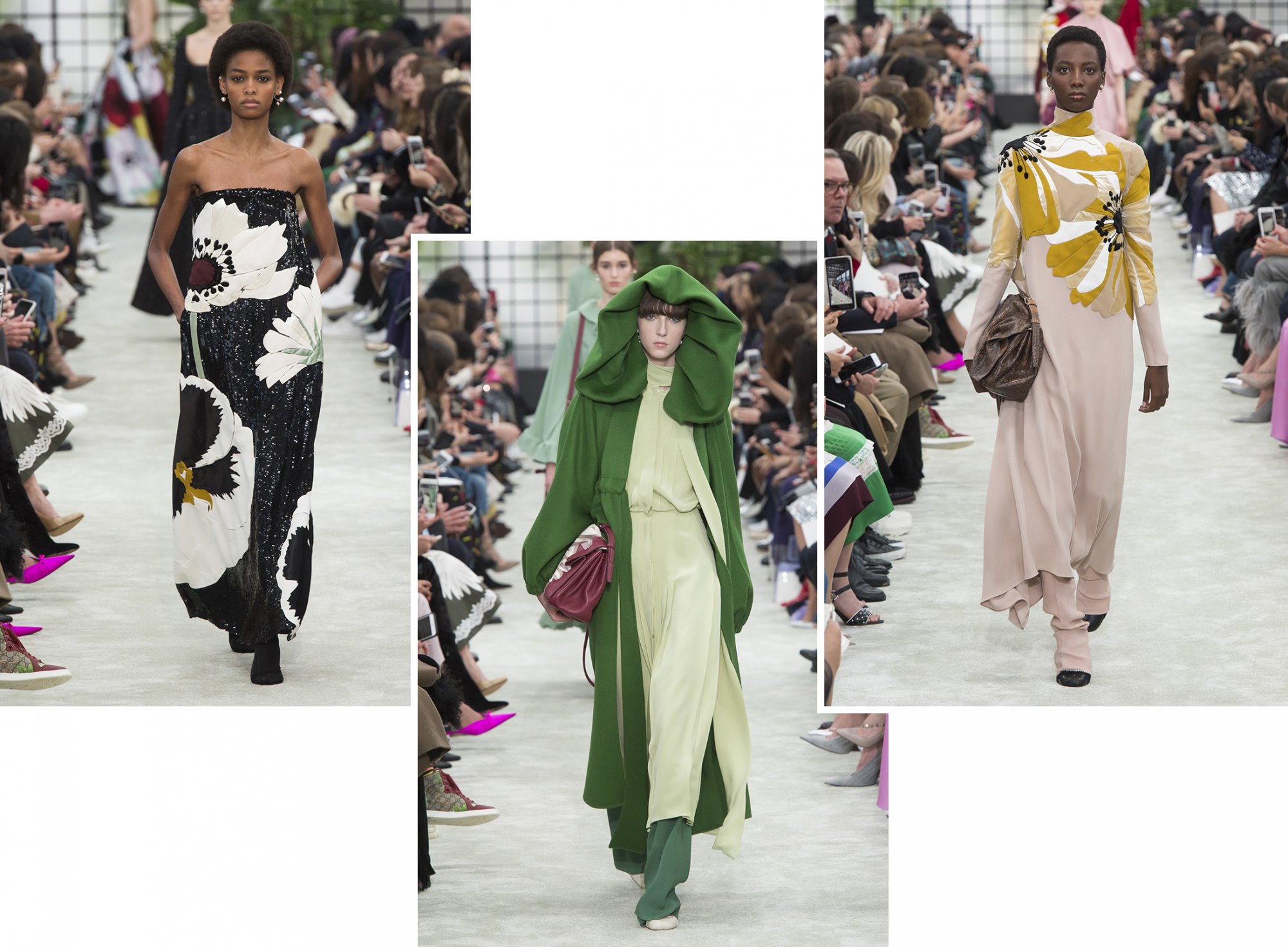 __________
Paris Fashion Week F/W 2018
KENZO
__________
When it comes to Kenzo, we can really talk about a fashion SHOW, since the surprising way by which it was able to amaze us: it started from dull colors to reach the most intense ones in an explosive way! In addition to this, the other dominant element, as always when it comes to the work of creative directors Carol Lim and Humberto Leon, is storytelling: this time the designers were inspired by Hollywood and its both past and contemporary films (many of which they have even watched together). Such inspiration led to a wide variety of forms (from wide coats to petticoat clothes passing through urban style suits), motifs (floral, with embroideries in evidence or with precious and luminous inserts) and accessories (such as high-heeled lacquered boots, low shoes with laces and essential handbags). In other words, it is the perfect collection for the nostalgic of the past (or vintage, as it would be better to say) than for young people, who want to discover some "new" reference: It is true, then, that everything comes back in fashion, sooner or later!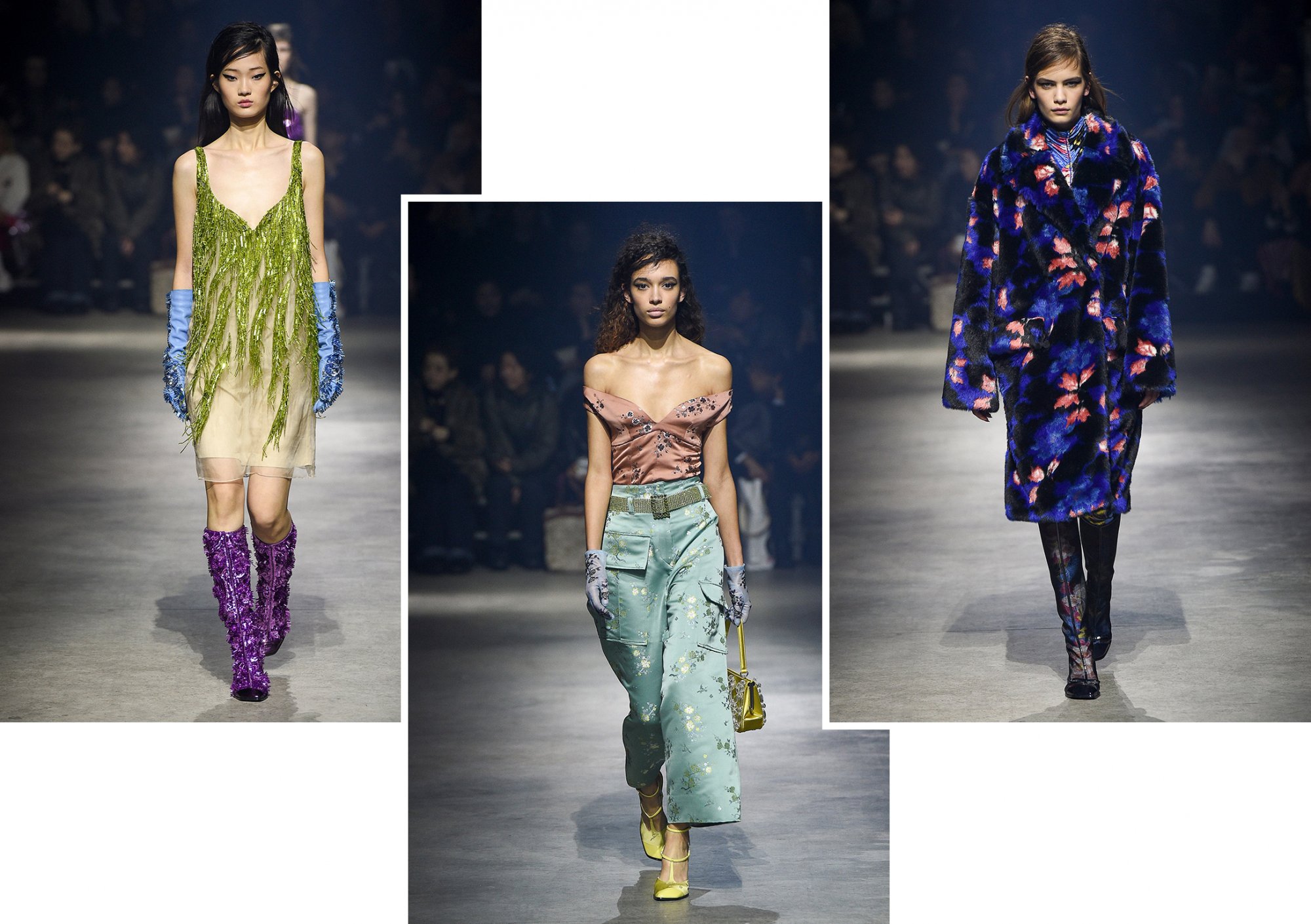 __________
Paris Fashion Week F/W 2018
ALEXANDER MCQUEEN
__________
The enhancement of femininity has always been a hallmark of Alexander McQueen and of its current creative director, Sarah Burton: it does not surprise us, then, to notice it also in her latest collection, defined by the stylist herself as "Extremely natural, a kind of light armor for women". An armor which was declined in various shapes, ranging from couture and sensual clothes to structured suits. The term "natural" is not randomly inserted, as nature is another well-established element for the brand: In this case, it is present through motifs like painted butterflies, protruding shoulders that recall wings, the embroideries representing exotic insects… All without forgetting the element of high craftsmanship, fundamental to the history of the brand, the use of bright colors (red is dominant in its different shades) contrasting with white, black and and a mix o the two, and the inevitable accessories (such as bags, both small that big, and varnished boots). It is not wrong to compare this collection to the exit of a butterfly from its cocoon that, with its uniqueness, is ready to fly and to make the world, in its own, small way, a nicer place.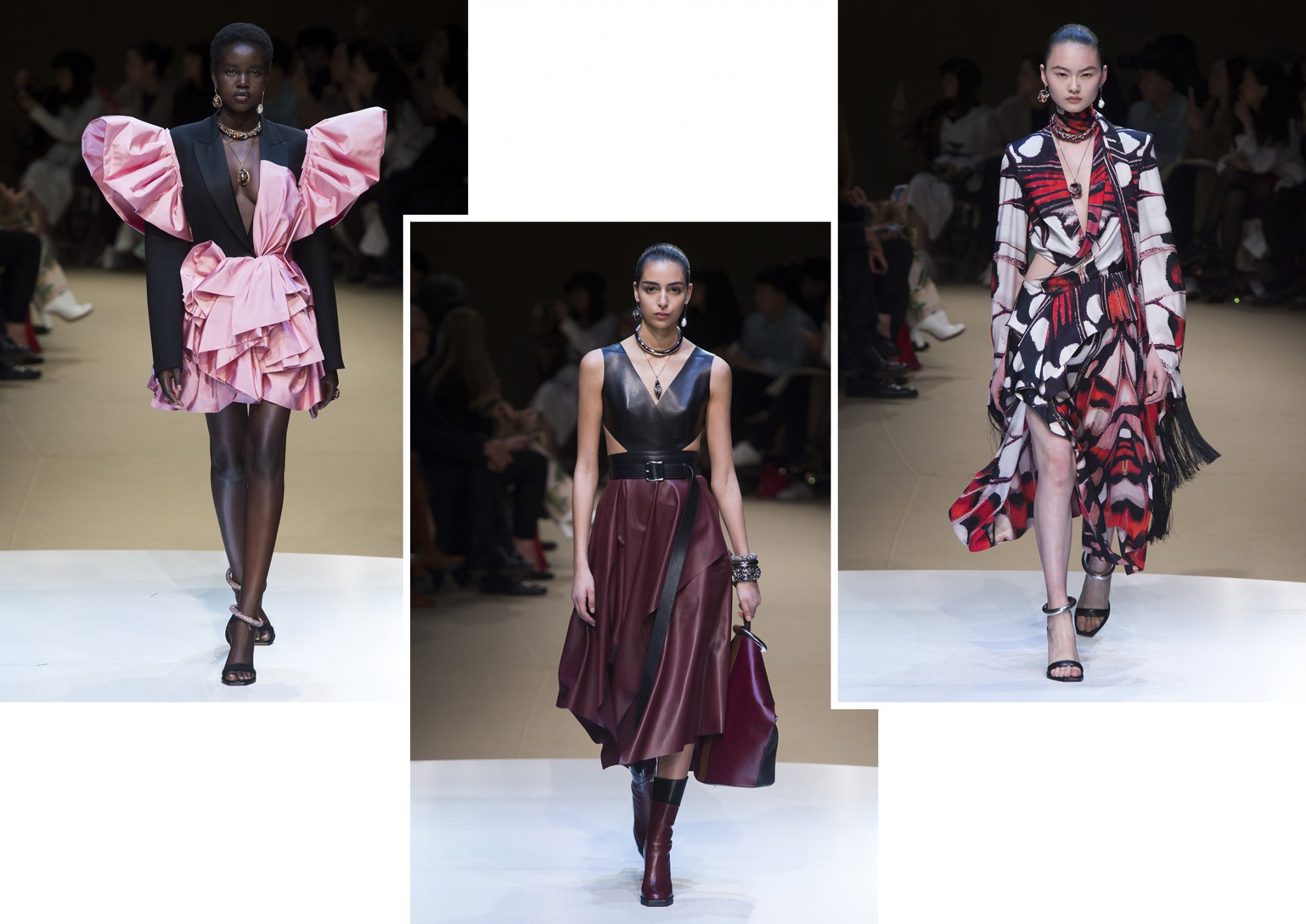 __________
Paris Fashion Week F/W 2018
CHANEL
__________
March 6, Grand Palais of Paris: Autumn has arrived. A carpet of leaves and the reproduction of a forest, transitioning between summer and winter, was the set of the last Chanel fashion show: a theme that's particularly dear to Karl Lagerfeld, for it's linked to his childhood memories and which we find, for example, in the motives of some leaders, both colored and monochrome. Time seems to be suspended in a perennial autumn for Chanel, which brings to the catwalk the embroideries, the shapes and the iconic prints of the Maison (the tartan, the elegant outfits and the structured coats), alternating to some contemporary inspirations, such as gloves and bags with Fluo colors and the golden Lurex used for both trousers and footwear. A certain nostalgic romanticism (accentuated also by the hairstyles that involve bun and the eccentric jewels) pervades the collection without invading it entirely, since Karl Lagerfeld does not forget the importance of turning past into a trend usable for the current generations and, why not, a premonition of what might be the future as well, infusing Chanel with an important element, although difficult to achieve : immortality.