Ok, here we go. 
The hot season has arrived (even though with its uncertainties), our faces are becoming a little less gray (although we must never forget the SPF) and the textures are becoming lighter (even if layering is always our fav way-to-go).
In short: summer means a desire for freshness, fun, new textures, and surprising colors. You know, we don't feel the need for summer to be daring with colors, but if nothing else, we can combine our makeup even more with our outfits that will be more colorful, lighter, freer.
And, if with our

Christmas Guide

we haven't already surprised you enough, now here we come with those products that scream "summer" and are the ones we recommend above all, with attached looks. Different looks, outfits, colors, and techniques to discover those products that we have fallen in love with over the last month.
LOOK #1: Glowing All Over
The first look is the simplest one (so to speak) but it's just for saying. Prepping the skin with the right products and layering them in the right way, to obtain a luminous effect, let's face it, it's a real act of art. 
With this look, we want to highlight the skin, with a crazy glow effect and, in particular, the cheeks will be the protagonists: with a peach, pink, or fuchsia blush to be applied even a little on the eyelids (no mascara), a moisturized eye area, and a little gloss on the lips. That's it.
But who says that because we talk about summer, then we can't talk about hydration? The skin must always be protected, hydrated, pampered with effective ingredients, in high percentages, and with textures that – the keyword – of this guide, are fresh.
So, let's have a look at which products we have tested for you and which ones we particularly liked, perfect for the summer, and not only, to create a base that stays hydrated but never shiny.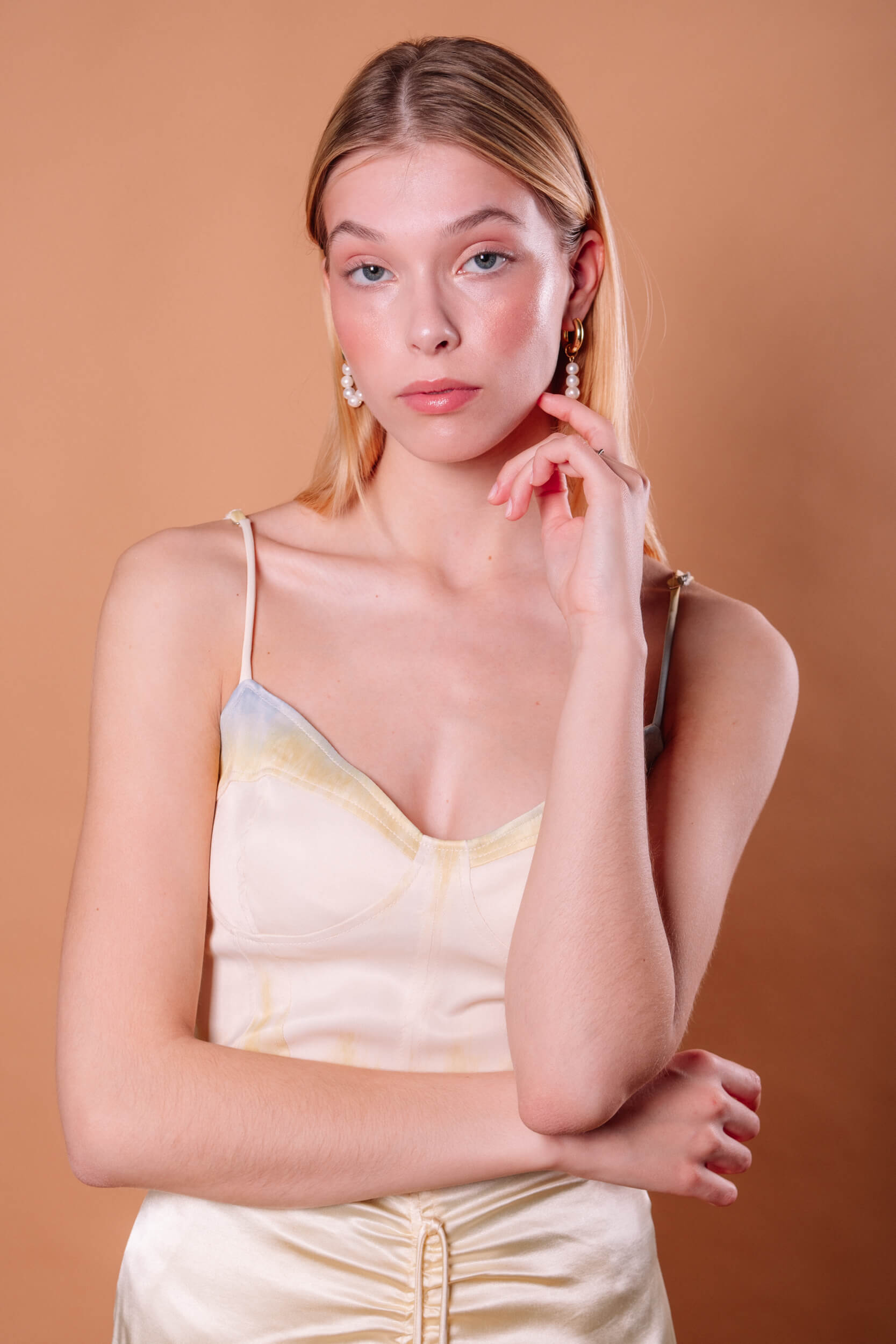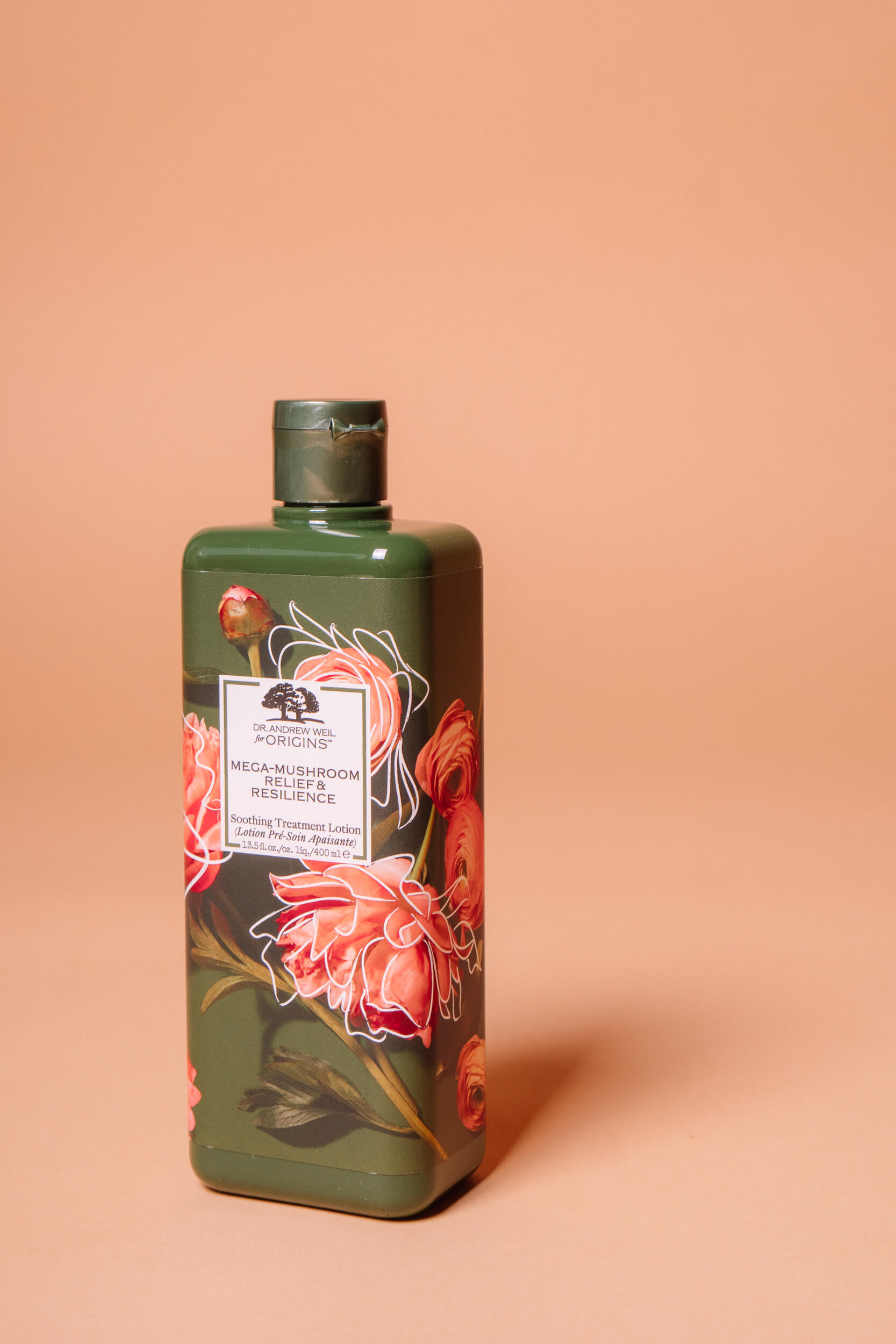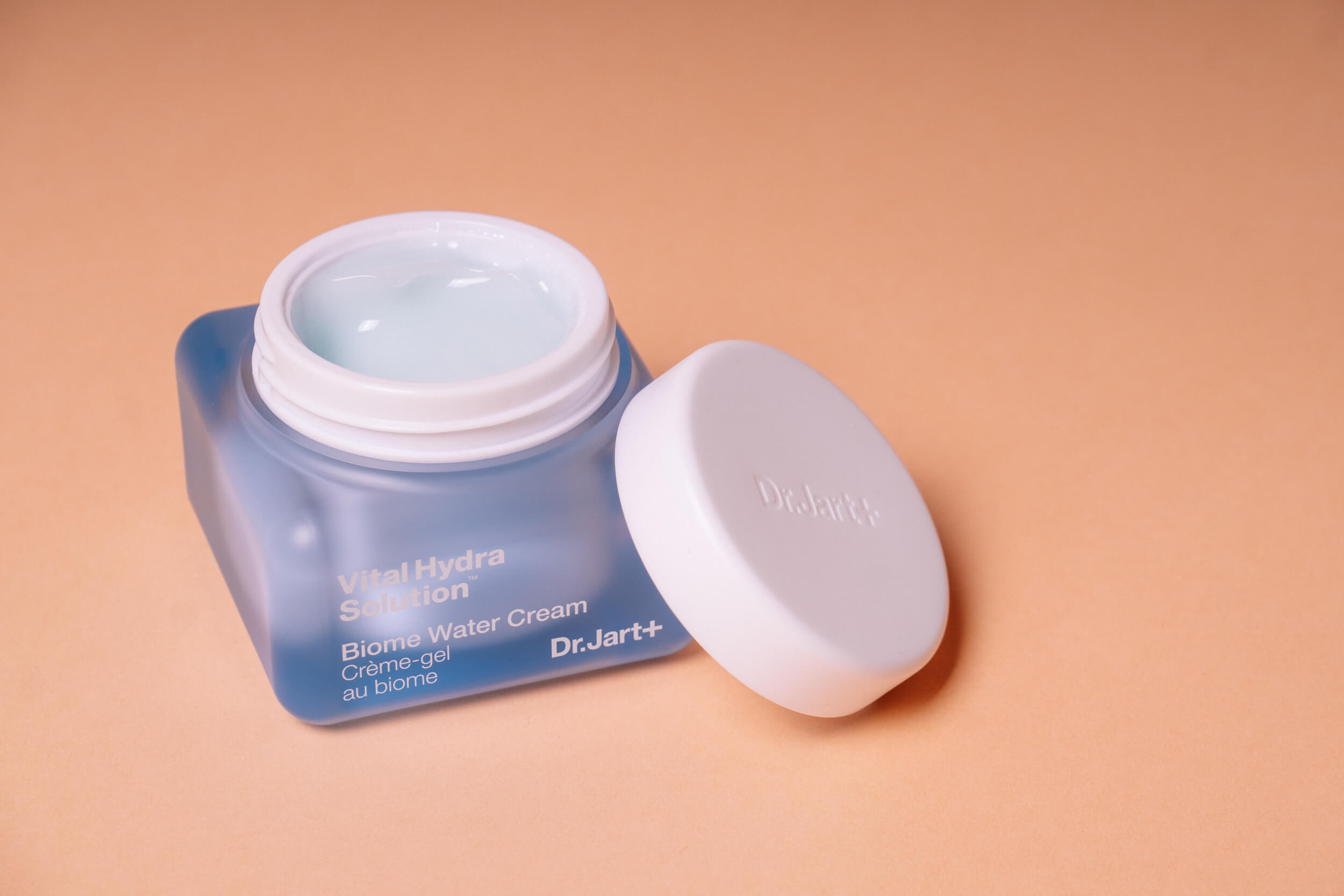 – Mega-Mushroom Relief & Resilience Soothing Treatment Lotion by Origins: this is the famous lotion of the brand with a formula with a complex of Chaga and Reishi mushrooms that soothes redness, calms, and moisturizes the skin, giving it a burst of freshness. What did we tell you about freshness? Here is the keyword? This lotion can be used as your moisturizer in the warmer months (or as a serum for the colder ones) and we find it excellent for prepping the skin before makeup: it dries easily and has a calming power, perfect for hot redness. But then, shall we talk about its new floral appearance on the occasion of the Month of the Earth? You can't miss it.
– Vital Hydra Solution™ Biome Water Cream by Dr. Jart +: This moisturizing gel cream will make all your pores scream "summer." A gel texture that is not only fresh but refreshing and which, despite its lightness, has a density that immediately binds to the skin. Perfect for all skin types, it naturally stimulates good bacteria, thanks to the new and exclusive Jartbiome™ probiotic complex, creating a delicate moisturizing layer while minerals increase elasticity and improve skin brightness. What did we tell you? Only perfect products.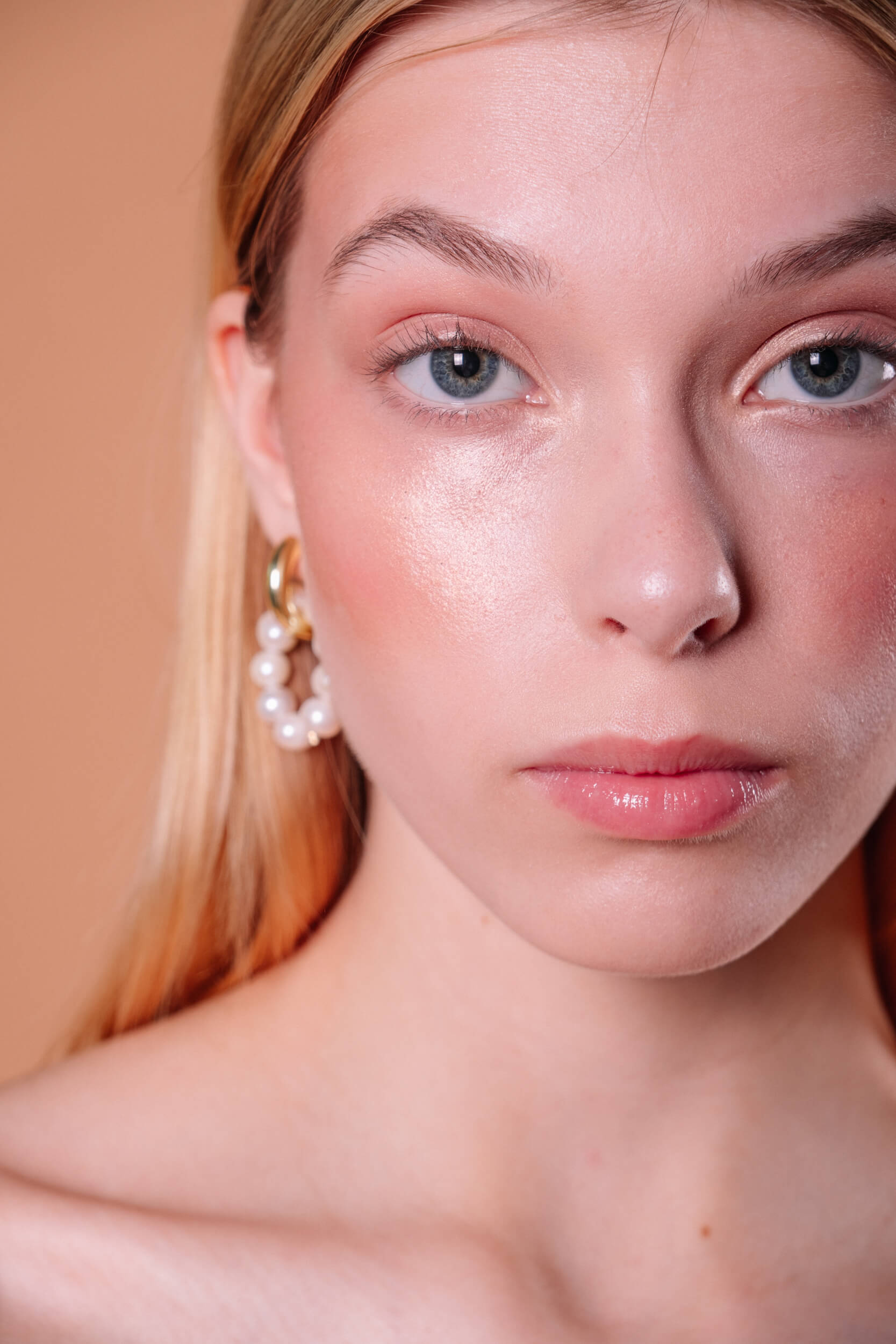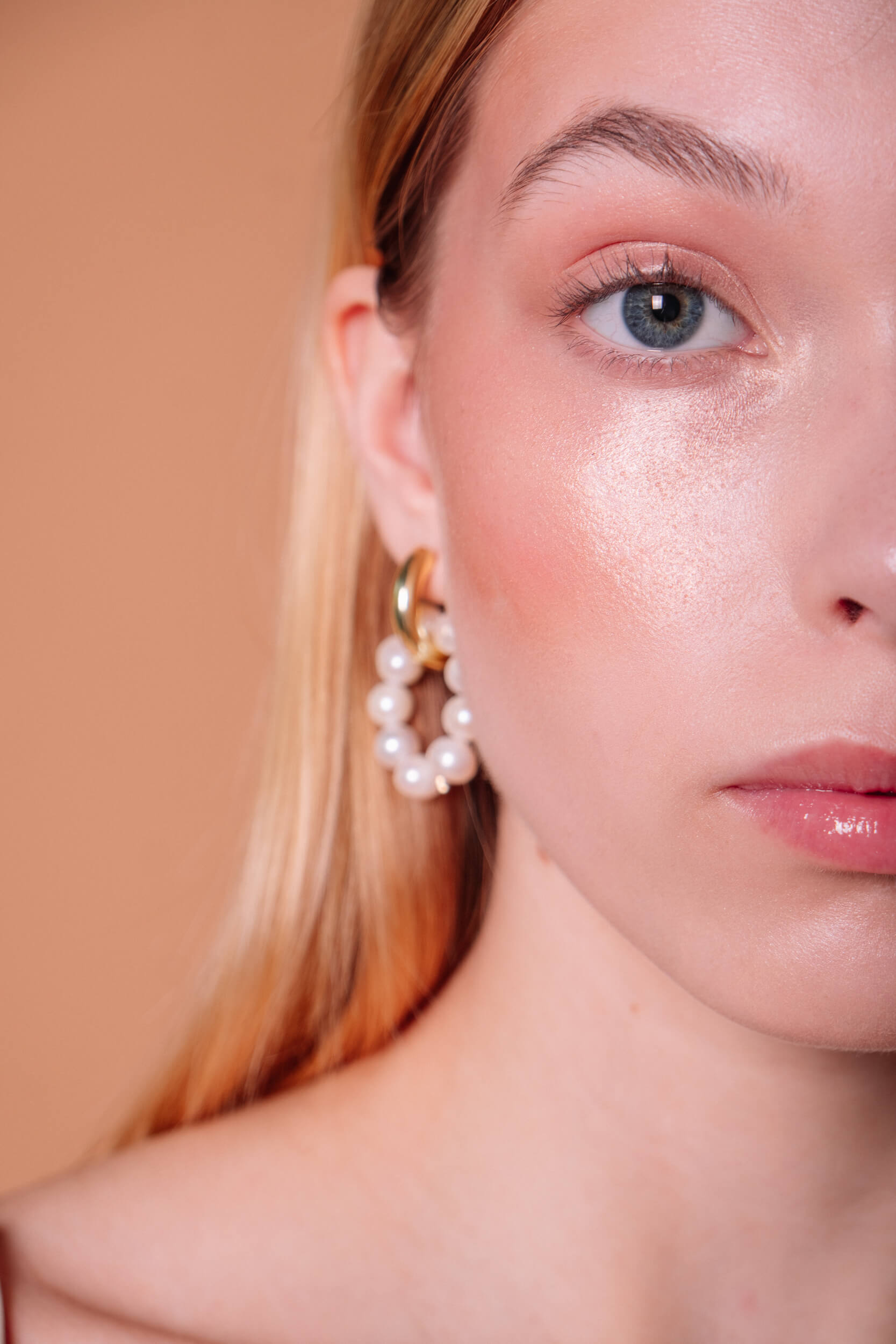 Eye contour
? We have recently fallen in love with this: the Plantscription Anti-Aging Power Eye Cream, with chamomile and algae. Suitable for all skin types, even the most sensitive, it is super moisturizing but absorbs instantly, minimizing the appearance of fine lines and wrinkles.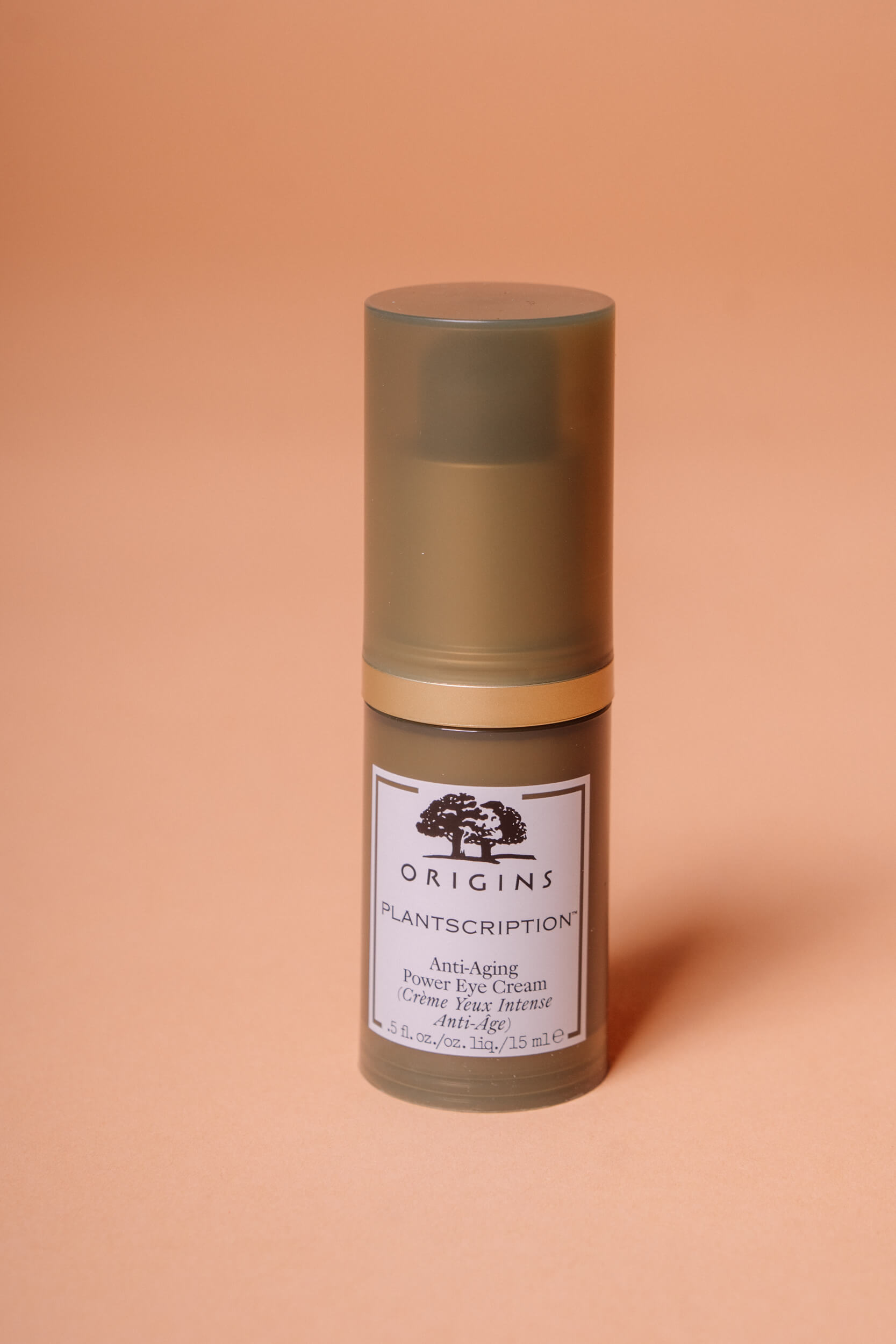 And if we have to talk about serums, the following are our heartfelt picks: 
– Vinoperfect Radiance Serum Complexion Correcting by Caudalie: perfect for summer for both its light texture and its highlighting and anti-blemish power that are our enemies all year round, but especially in summer! It corrects the appearance of existing blemishes and evens out the complexion to make it brighter and its fresh and delicate fragrance reminds us of cedar blossom, orange leaves, melon, and fresh mint. At the heart of the formula of this serum is Viniferine, a patented ingredient of Caudalie, extracted from the vine sap which ensures an anti-dark spot action, even more effective than Vitamin C.
– If you want a serum that is not only cooling, but that has also a unique gel texture and lifting action, then you are in the right place: Eisenberg Complexe Anti-Age, with its hydrolipidic formula, moisturizes, protects, and lifts all skin types; enzymes have a keratolytic action which helps to eliminate dead cells, promoting cell renewal, thus improving the texture of the skin; cytokines act on specific receptors to induce numerous vital reactions to improve tone and density, and biostimulants stimulate cell oxygenation which helps the synthesis of collagen and elastin. But that's not all: there are also high molecular weight hyaluronic acid, horse chestnut extract, to reduce blemishes and calm the skin, and licorice extract to decongest. Well, it looks like a little gem to us.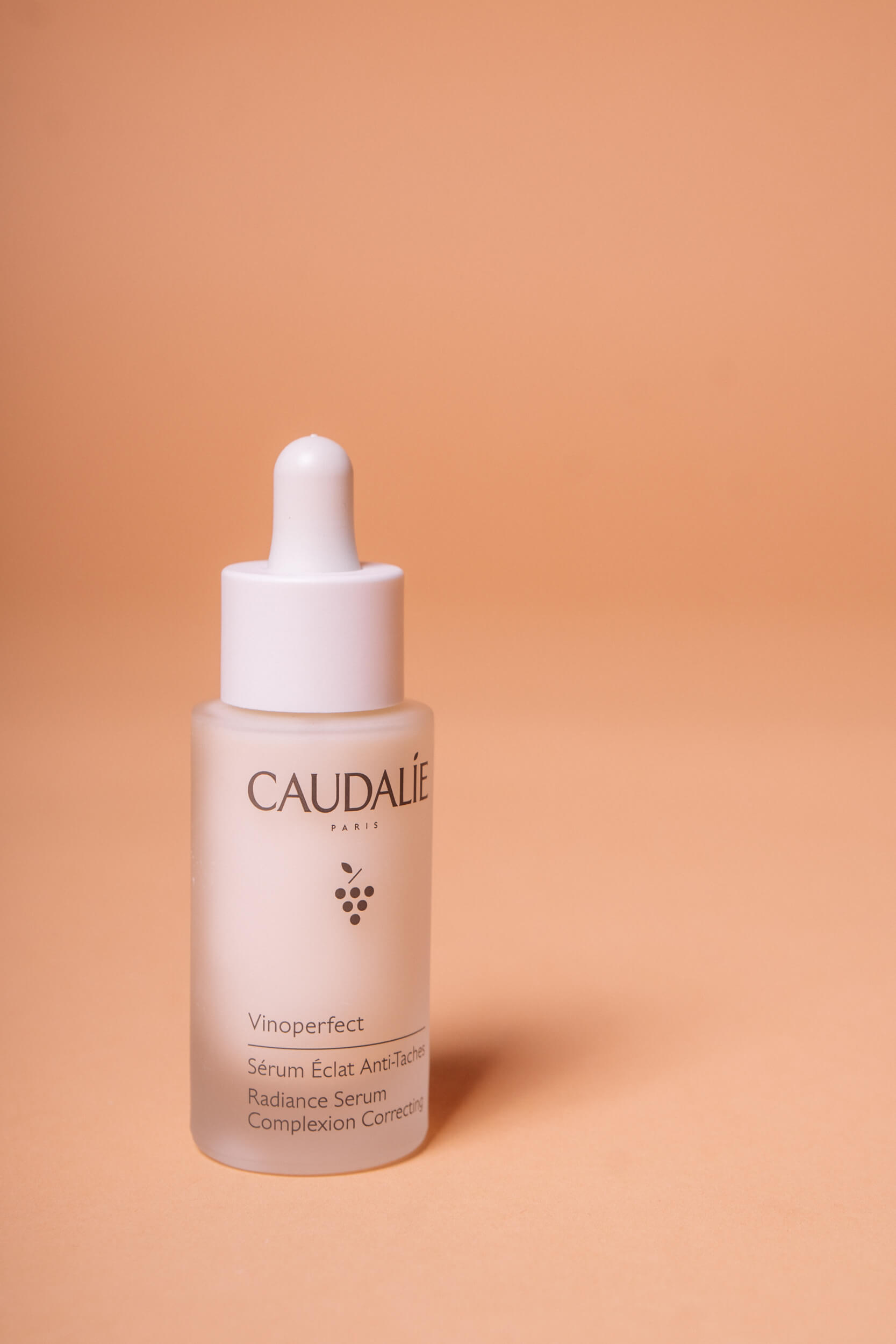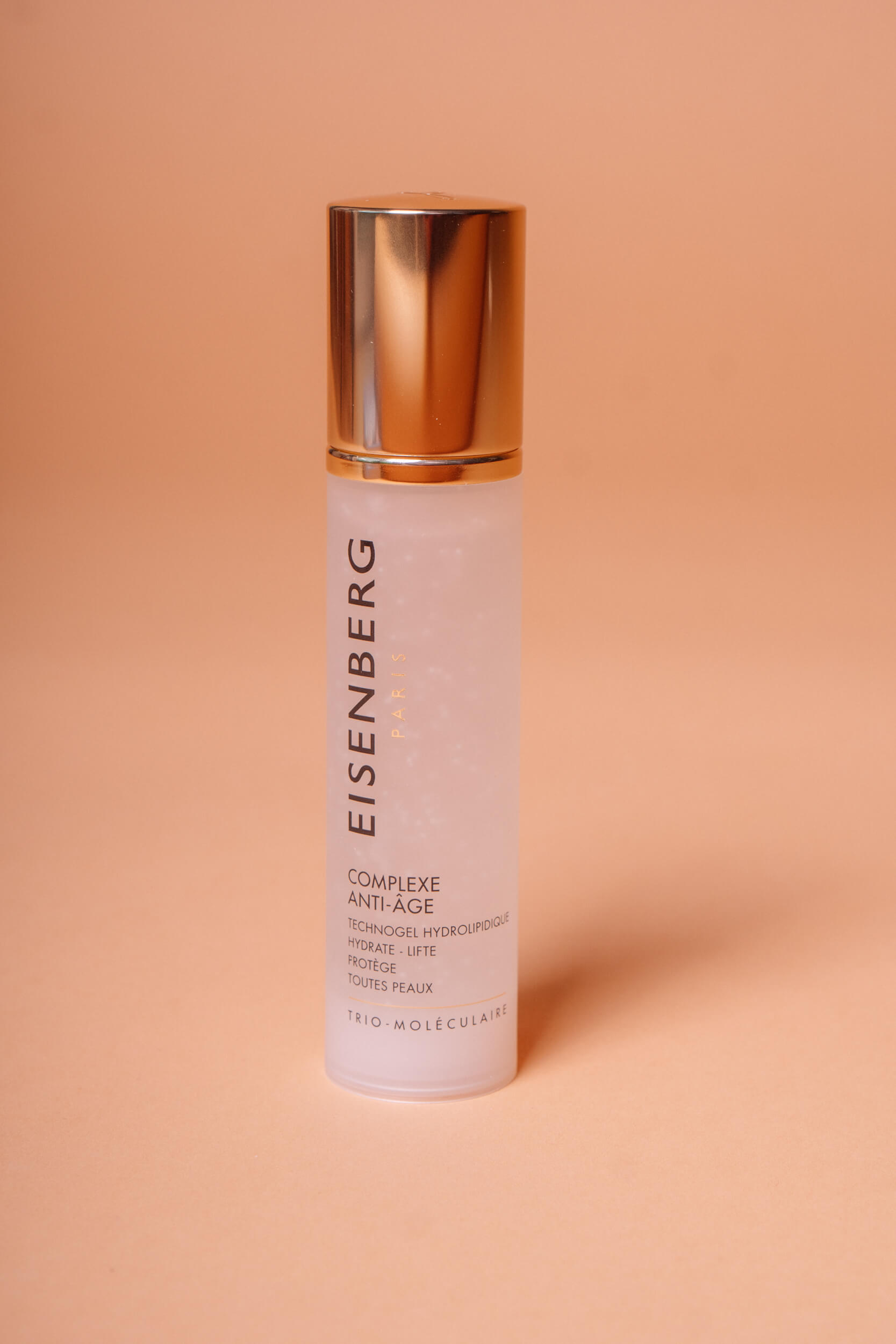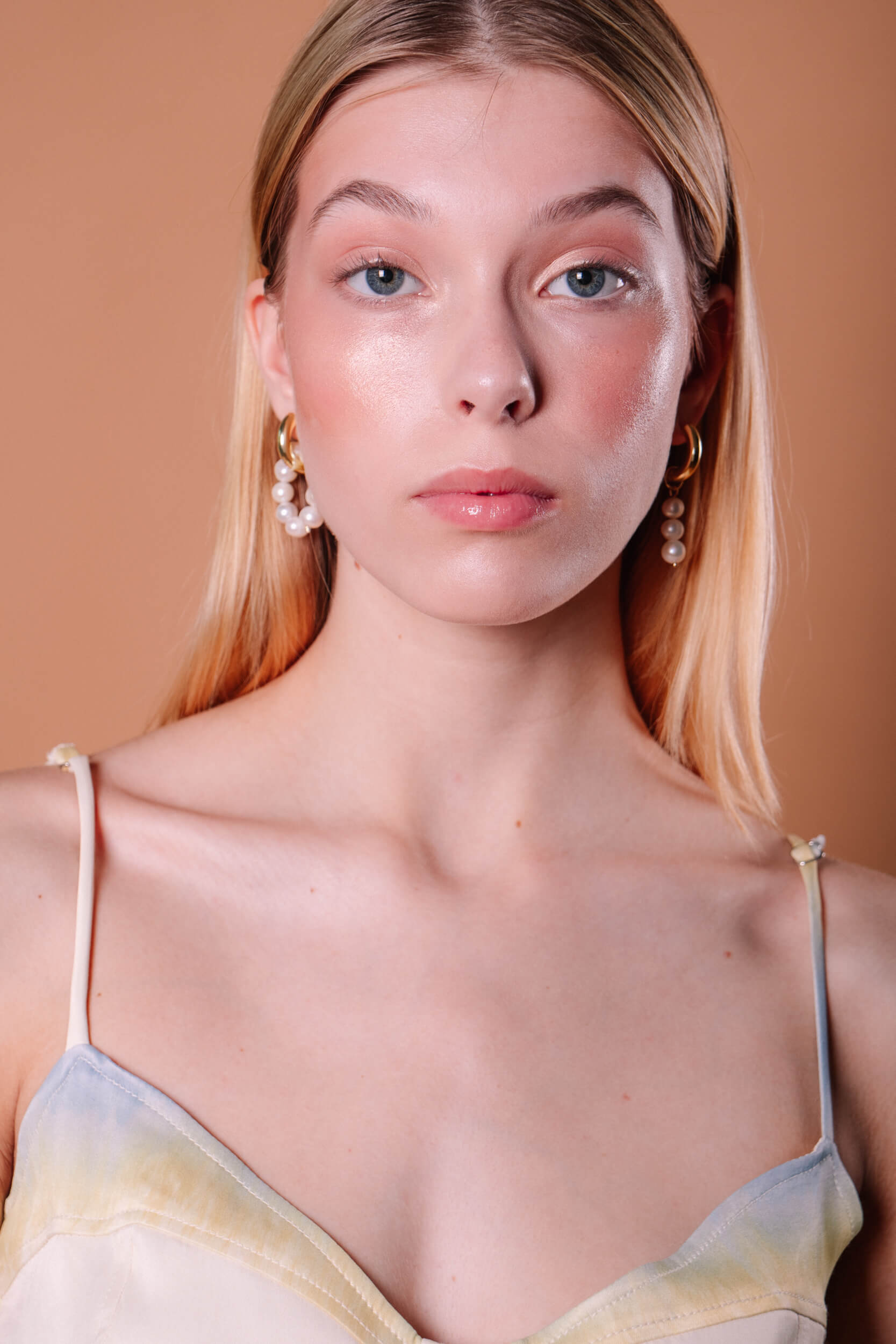 During summer, we tend to think: I don't even want foundation, let alone a primer. 
But we don't see it that way, nor for the foundation (because if you find the right one and use it in small quantities, it will do magic) nor for the primer, which can be a perfect base, to which you can simply add a little concealer, and that's it. But we want to talk to you about these two primers in particular, which, as with all the other products, we had the time to try and "experience:" we are talking about Make Up For Ever's Hydra Booster Primer and Giorgio Armani's Fluid Sheer Glow Enhancer.
The first one is a marvel, a moisturizing base for all skin types: normal, dry, combination, and oily. It allows the application of super soft foundation and does not clog pores, it is a veil of hydration that will make your skin feel good for 24 hours, and with a silky finish. The second one can also be used only as a highlighter at some points of the face, but we like to apply it everywhere to enjoy a radiant brightness (as you can also see in these photos). The formula is very light, almost impalpable. Fluid Sheer can be intensified by adding more layers without weighing it down or mixed with foundation (its perfect match is our beloved Luminous Silk Foundation). What can we say? For us, this radiance is unique, we couldn't but only fall in love with it.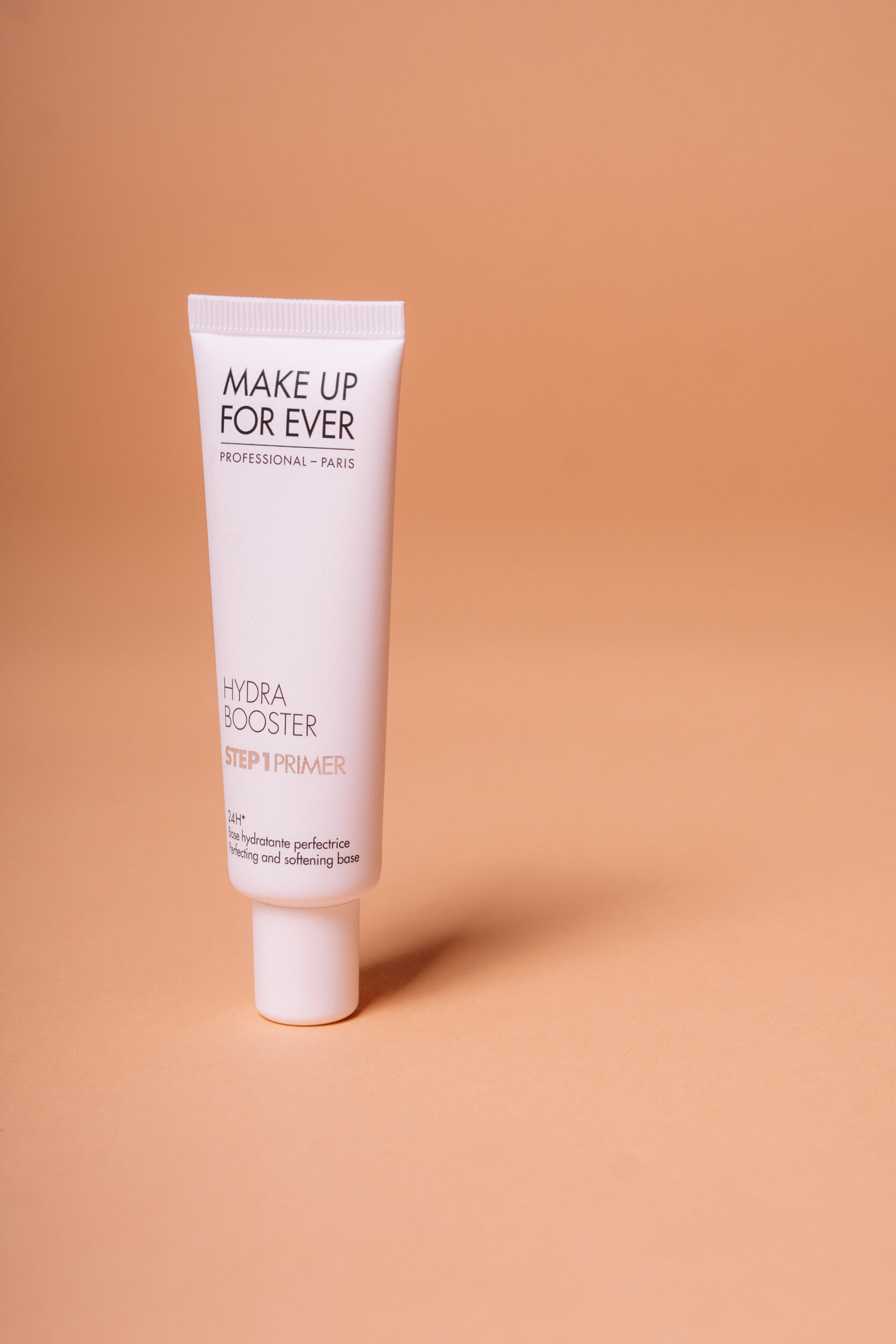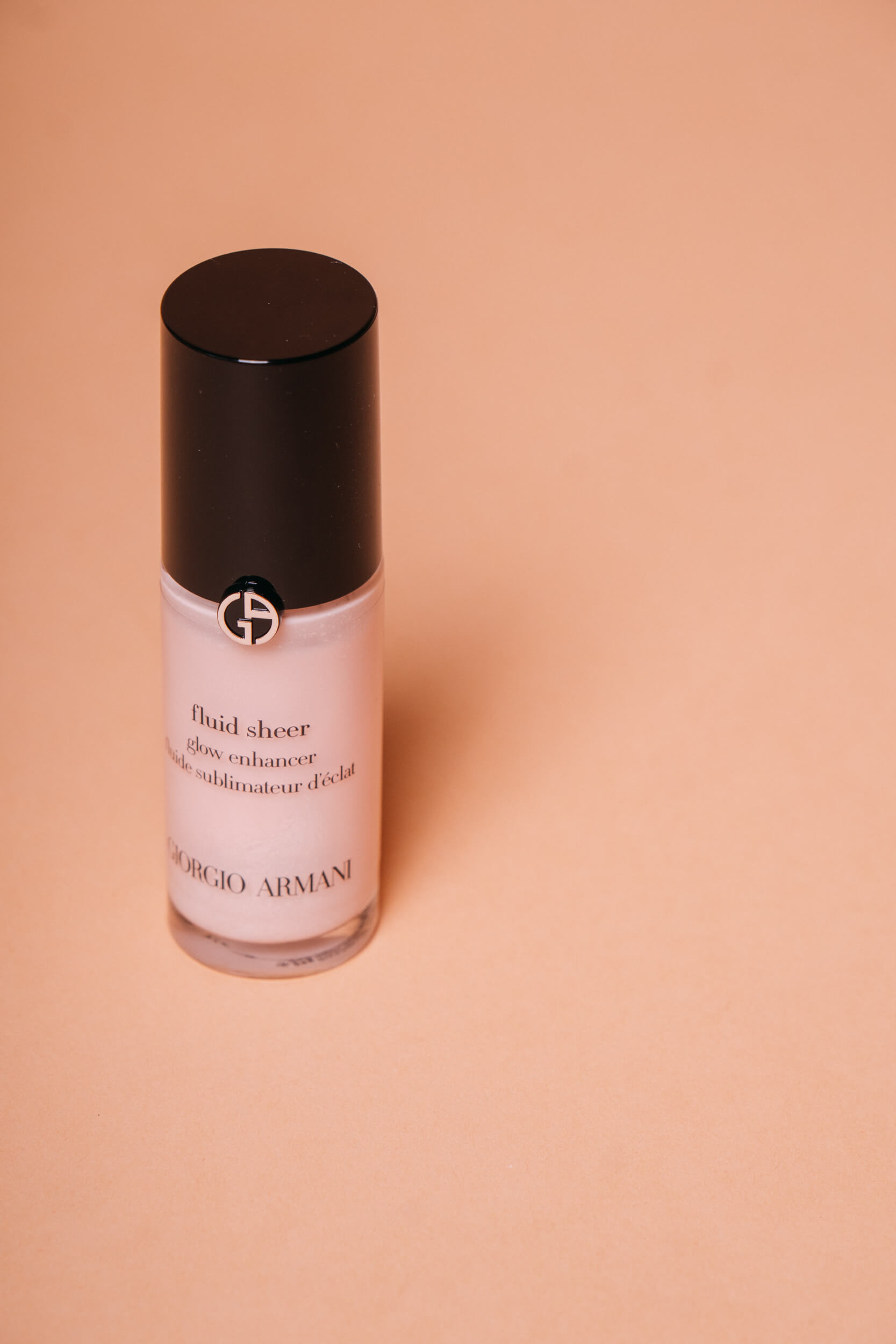 Ok, we are foundation lovers, even in summer, even just a drop, and we are sure that everyone might want to use some even just for that wedding when the makeup must last all day and yet, you don't want to feel suffocated. Our top choices are the following, and all three for three very different reasons: 
1) Chanel's Essence de Teint Sublimage. It is an essence. It is a skin tint. It is a treat. And if you know the beauty of all the makeup products, and in particular the brand's ones for the base, then you will have to change your mind again because this one is the new Queen. It has a texture that blends perfectly with the skin and the power of a glow generator. Its very innovative formula combines the pigments with photo-reflective particles, generating an immediate brightness that lasts all day. Its fluid texture is at the same time enveloping, fresh, and light.
2) Serum Foundation SPF 20 Even Better Clinical by Clinique. In short, we love when makeup blends with skincare to create something unique. This foundation (just a drop is really enough) has good coverage, a liquid texture (but not too much), and stays dry on the skin all day. Everything we want from a summer foundation. Why Serum? It is formulated with the technology of 3 skincare serums, which contain Vitamin C, Salicylic Acid, and Hyaluronic Acid.
3) Watertone Foundation by Make Up For Ever: another foundation with a light texture, which blends with the skin and is no transfer (thanks for worrying about the days with the face mask or simply for those in which we want to wear our white shirt without staining in two minutes' time). For those who are not fond of a covering effect, or who have always been afraid of foundation, or who love light and fresh sensation on the skin, this is the ideal foundation. Its formula moisturizes, reduces shine, and minimizes the appearance of blemishes, for a natural and radiant complexion.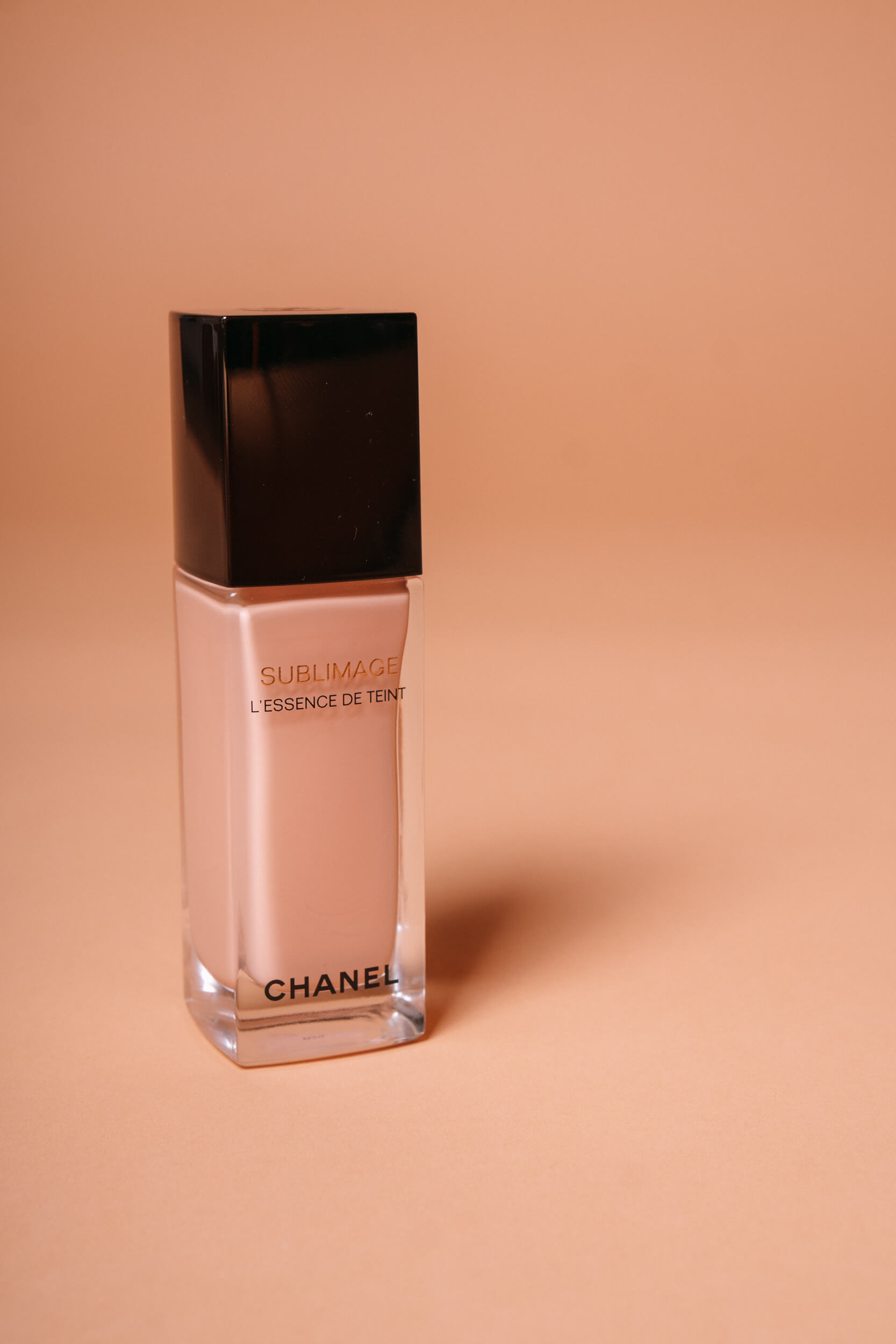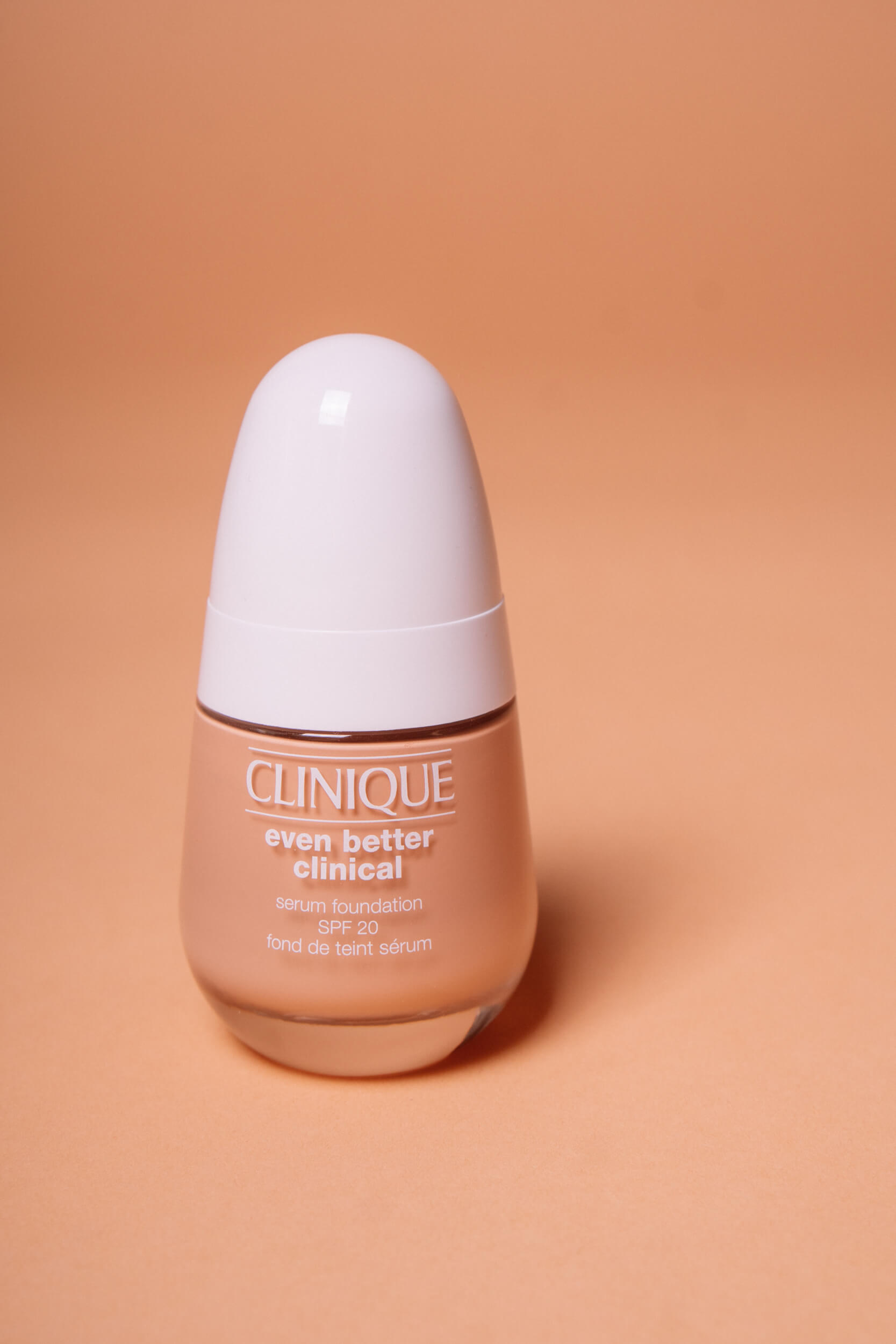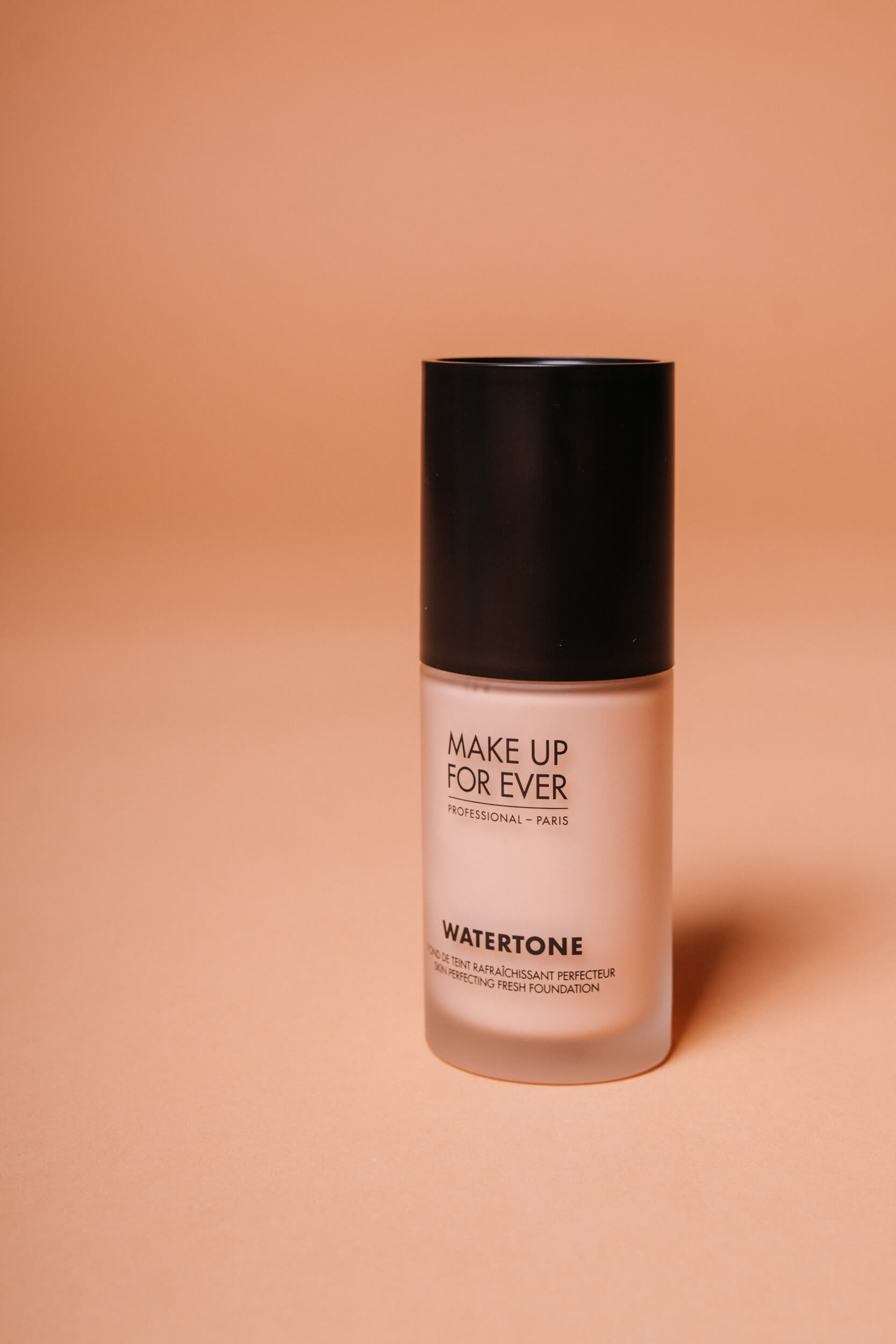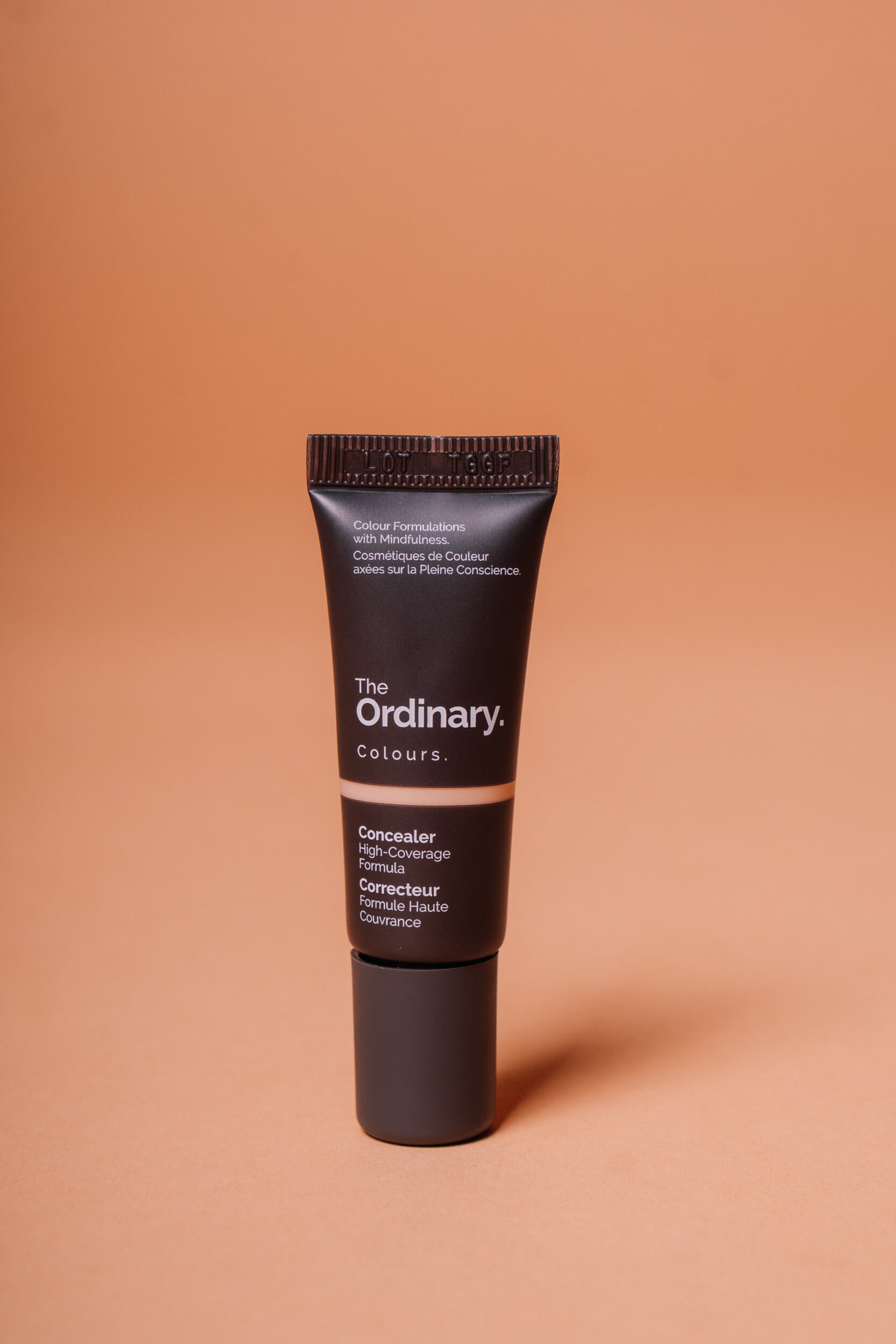 For those who really can't stand summer foundation, but need to cover dark circles or blemishes, we recommend this concealer which, when mixed with an eye contour or a light primer, becomes less covering and buildable. We are talking about The Ordinary High-Coverage Formula Concealer. A fluid and covering formula that we find to be super buildable. It gives the skin a second-skin finish and it blends very well. Pigments do not settle in fine lines giving a smooth and fresh look. What did we tell you about this word?
THE BLUSH
We had "warned" you: this is an "all about the cheeks" look; a look that focuses on super brightness and cheek color, slightly shaded on the eyelids. Right now, we are madly in love with Vieve's Sunset Blush in the color Peach, a truly gorgeous opaque orange coral. We use it as a base and then layer our beloved GALifornia by Benefit Cosmetics which is a mix of pink peach with a golden glow, perfect for the effect we want to achieve. 
But if we want to talk about the real novelty that has stolen our hearts and that we use both as a bronzer and as a blush to get that tanned effect, then let's talk about Hoola, which has recently got a makeover and has also become Hoola Glow. We could never speak highly enough of it: it smokes divinely, has a glowing effect without glitter or pearlescence, and is perfect for both sculpting and warming the face.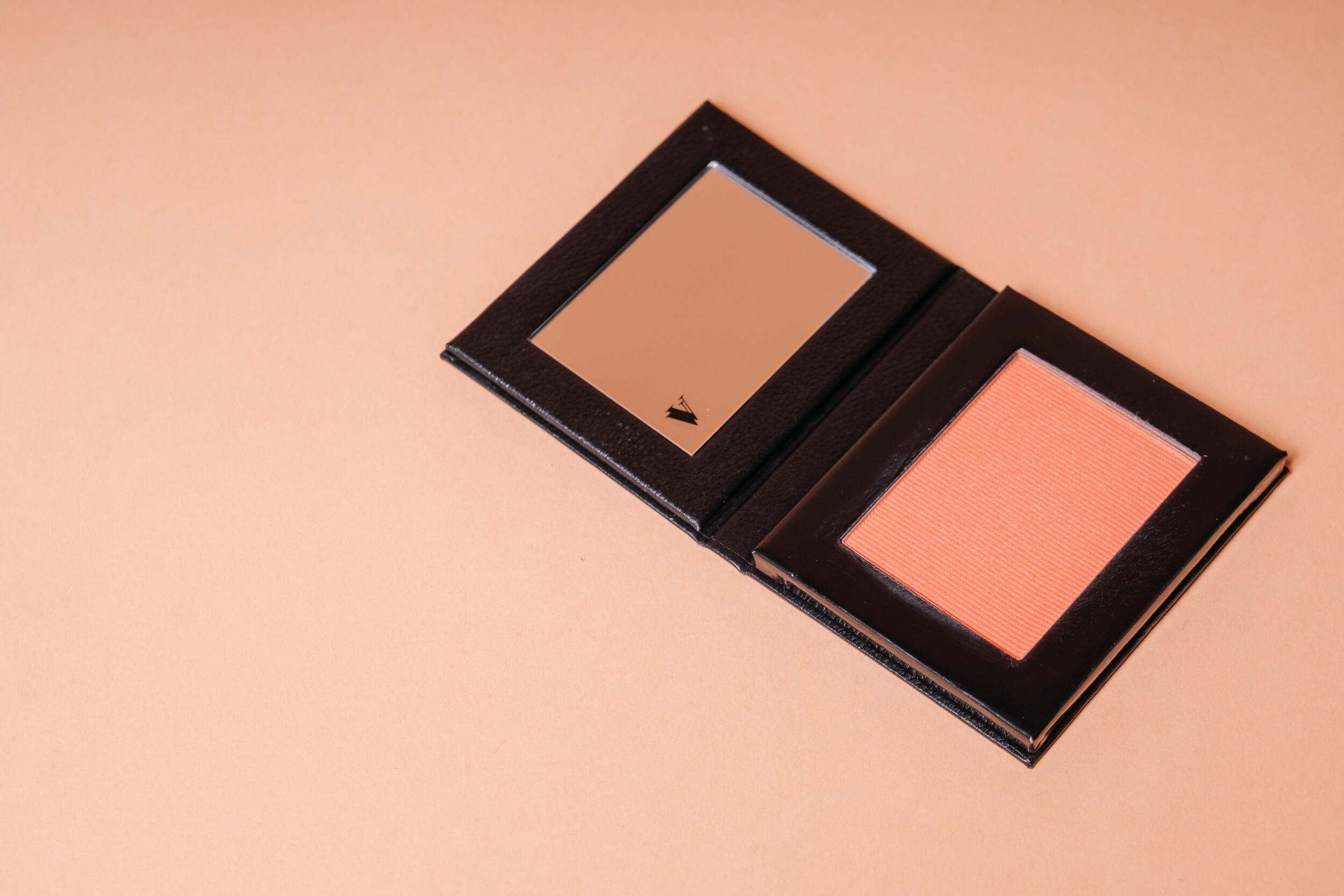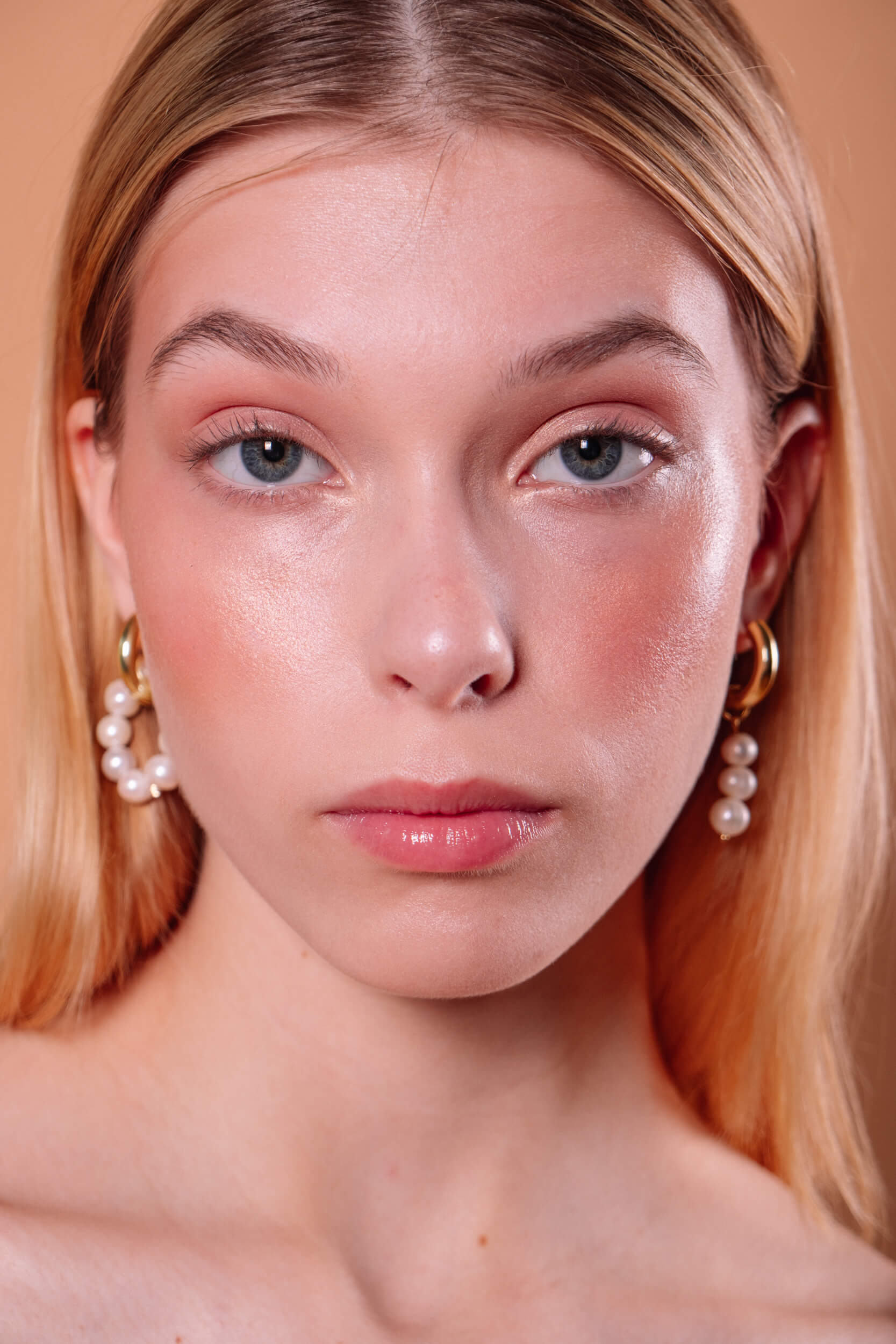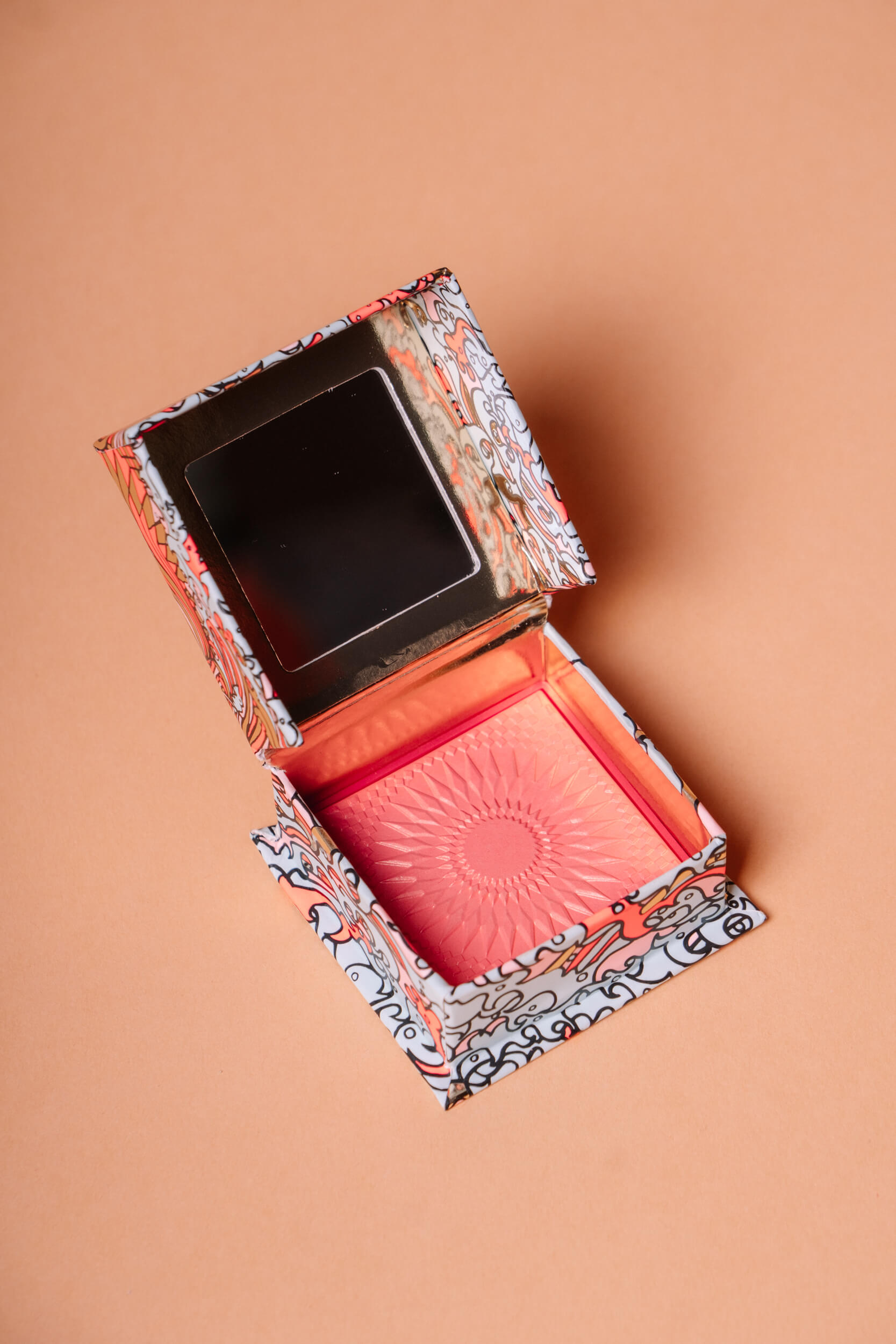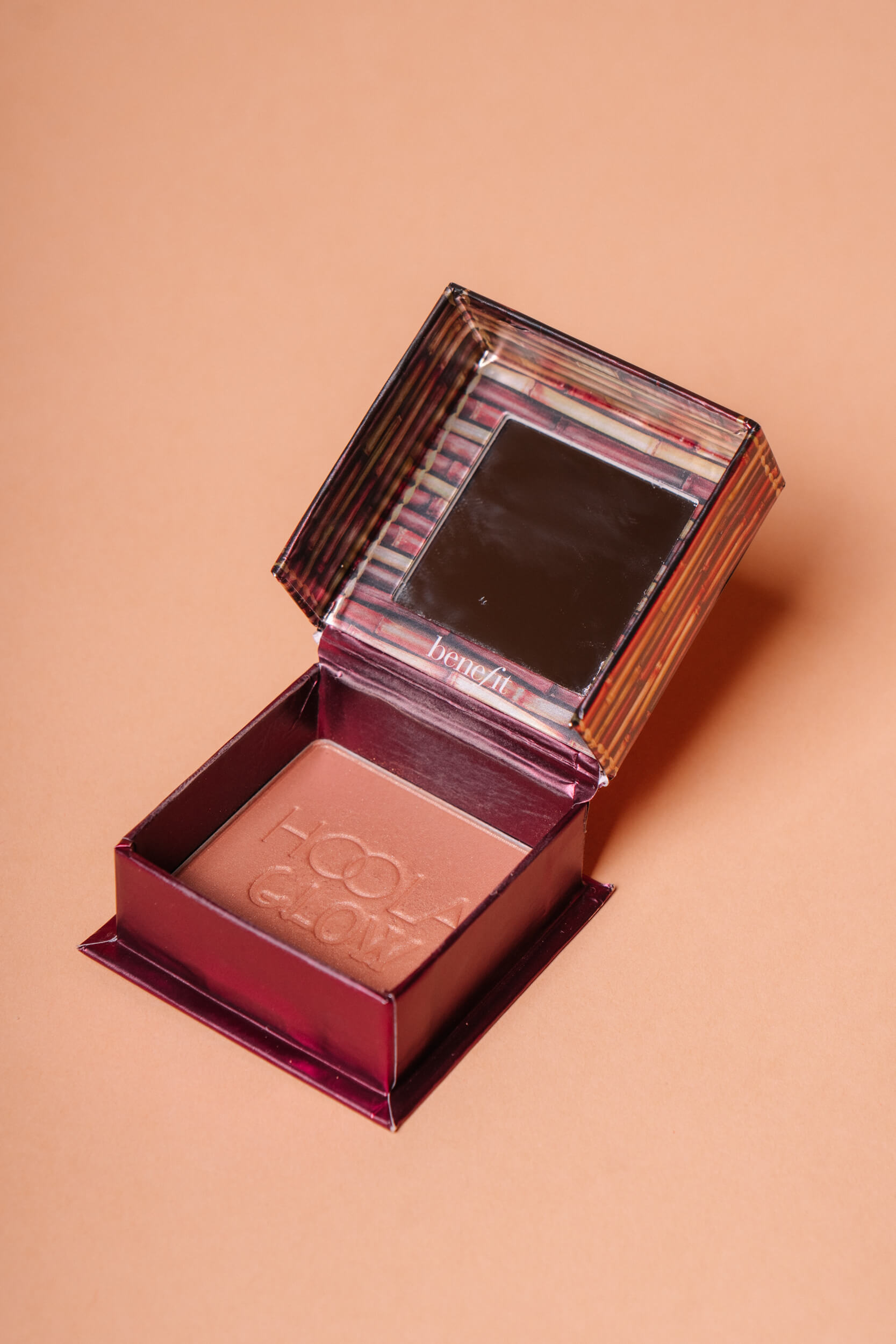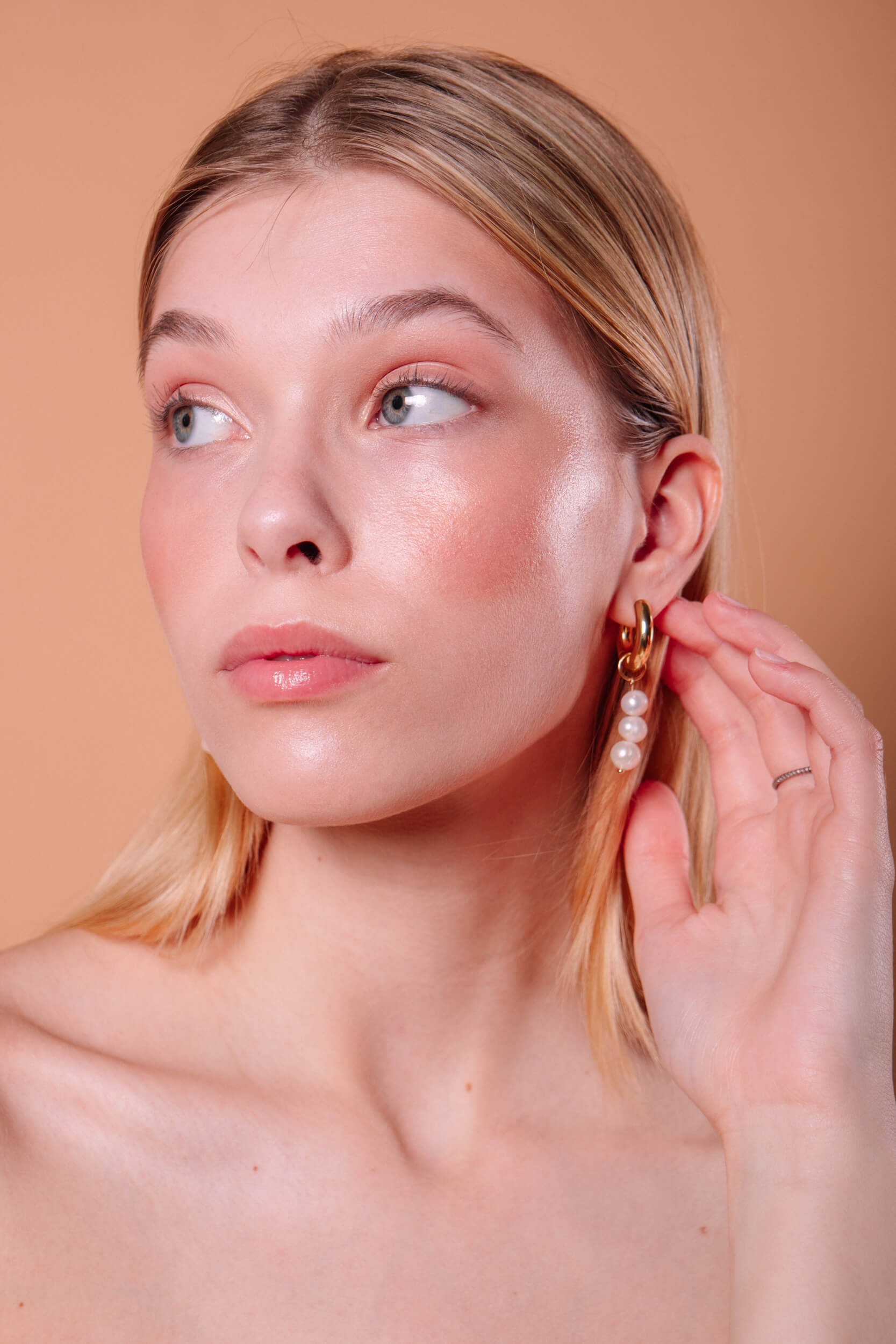 And here, Giorgio Armani strikes again, and he does it with two products. Why do we recommend this brand so much for the summer (even if it is also perfect for winter)?! Well, because its textures are all wonderful, light, modular, buildable and with them, you will never, ever, get a heavy effect. 
The two products we have chosen are the Highlight Nude from the Neo Nude collection, ideal for those who embrace no-makeup-makeup, but also very versatile for those who want a more intense effect, it has a liquid texture for delicate and natural brightness and it's very easy to apply for natural makeup.
The second product is not a highlighter, but a foundation whose luminous effect is enough for us to be included in a category of highly illuminating and light products: we are talking about the Luminous Silk Glow Fusion Powder – the first fixing powder that combines the ingredients and the brightness of a liquid foundation with the precise application and practicality of a compact product. It is a high-definition colored emulsion with state-of-the-art pigments: its formulation process is based on the memory of water. During the process, the water inside the product evaporates, leaving a powder texture in its place. In contact with the natural moisture of the skin, the process is reversed: the powder turns into a liquid veil that melts with the skin, avoiding the appearance of streaks or spots, and is almost invisible on the skin (if not for that incredible brightness).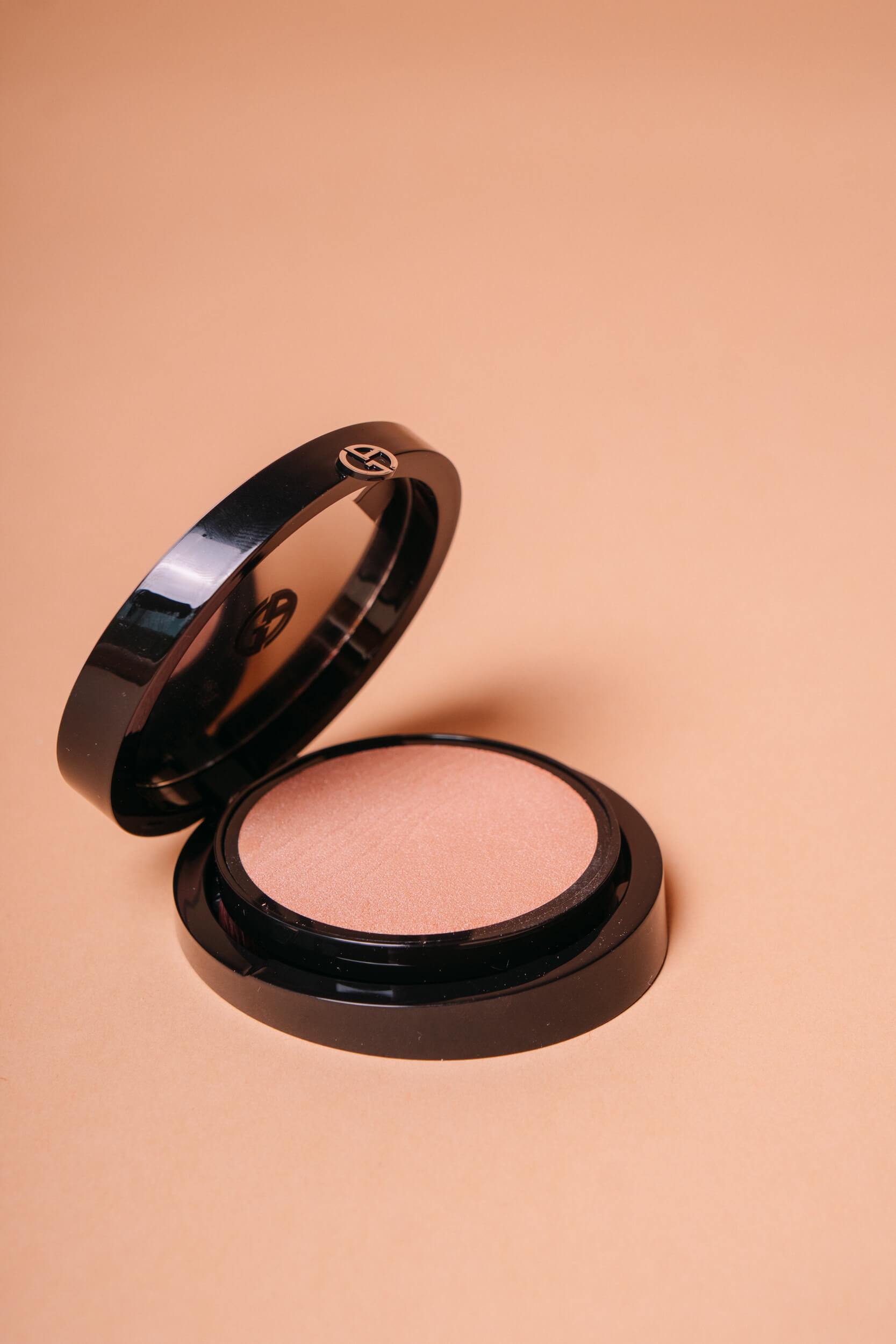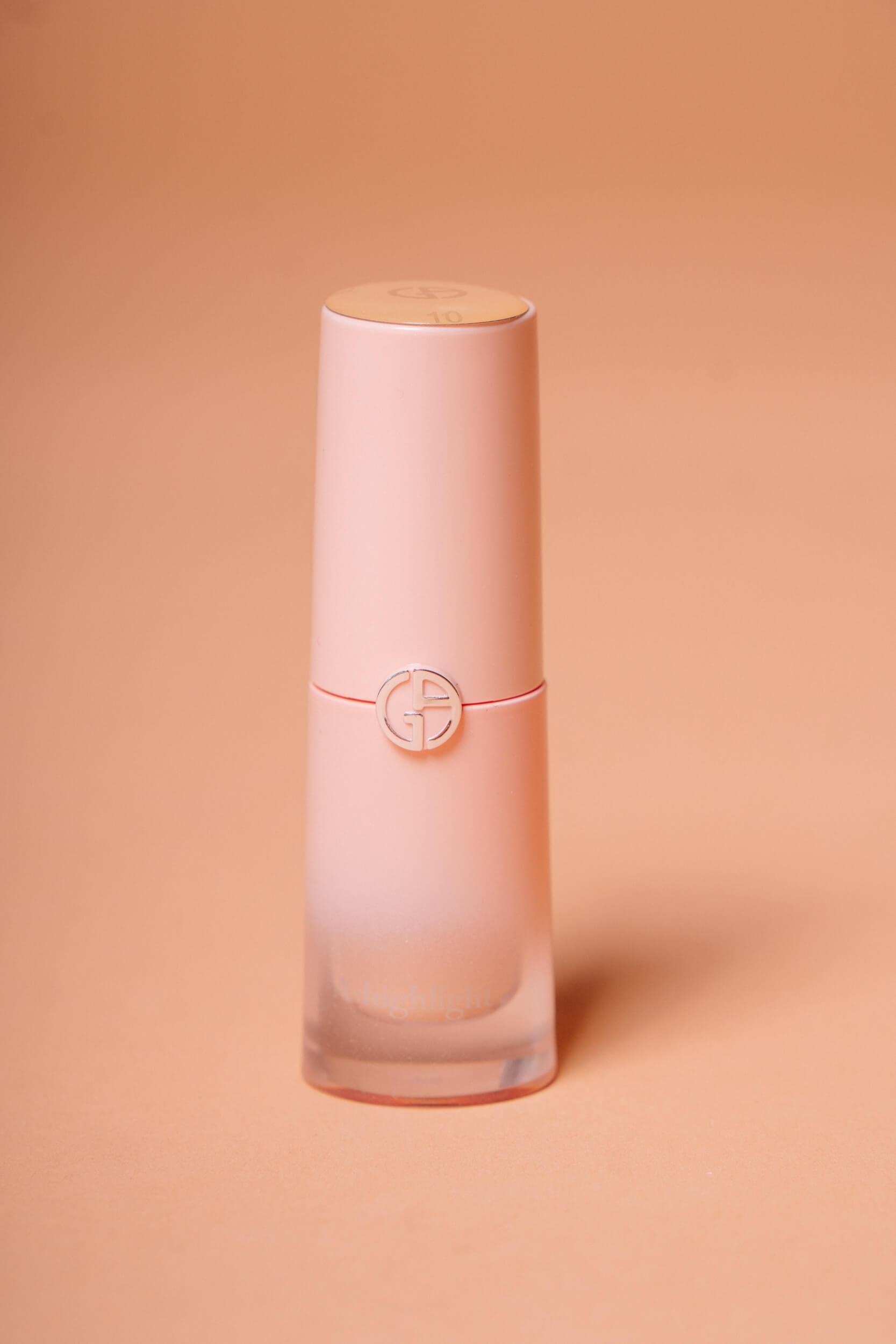 LOOK #2: Pink Lips, Pop Eyeliner
This second look, instead, is all about pinkish lips, pinkish cheeks, and a touch of color with a long-lasting liquid or pencil eyeliner. When you want to give your look a touch of color, you need to make sure that it lasts all day, that it doesn't melt. You could use a palette with your favorite colors and turn some eyeshadow into a nice, long-lasting eyeliner, or you could opt for a long-lasting pencil or liquid-liner pen. 
Whatever way or color you choose, here we've listed some options
for you
!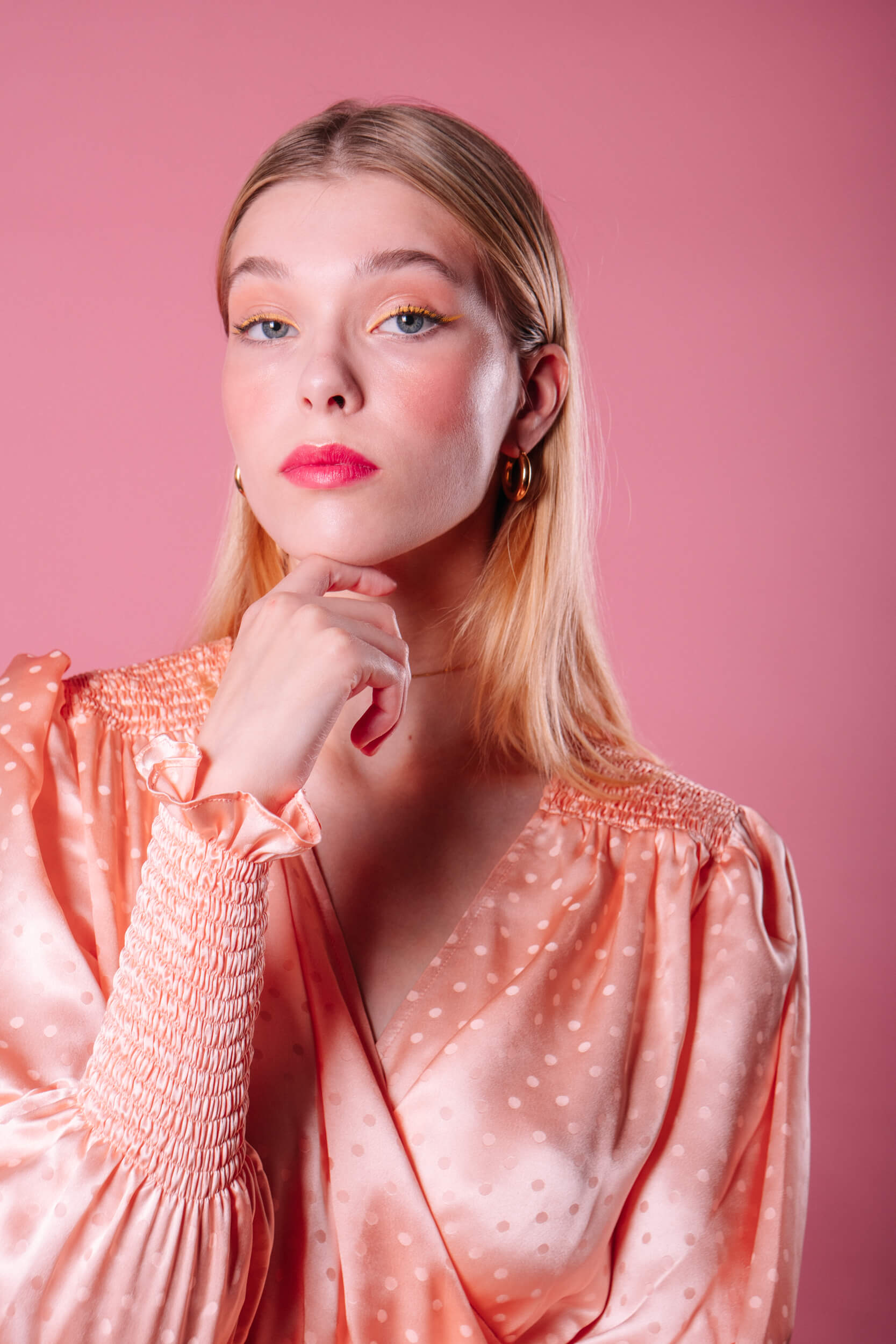 Les 4 Ombres in Candeur et Séduction by Chanel
For warm, pinkish tones, with a bit of fuchsia.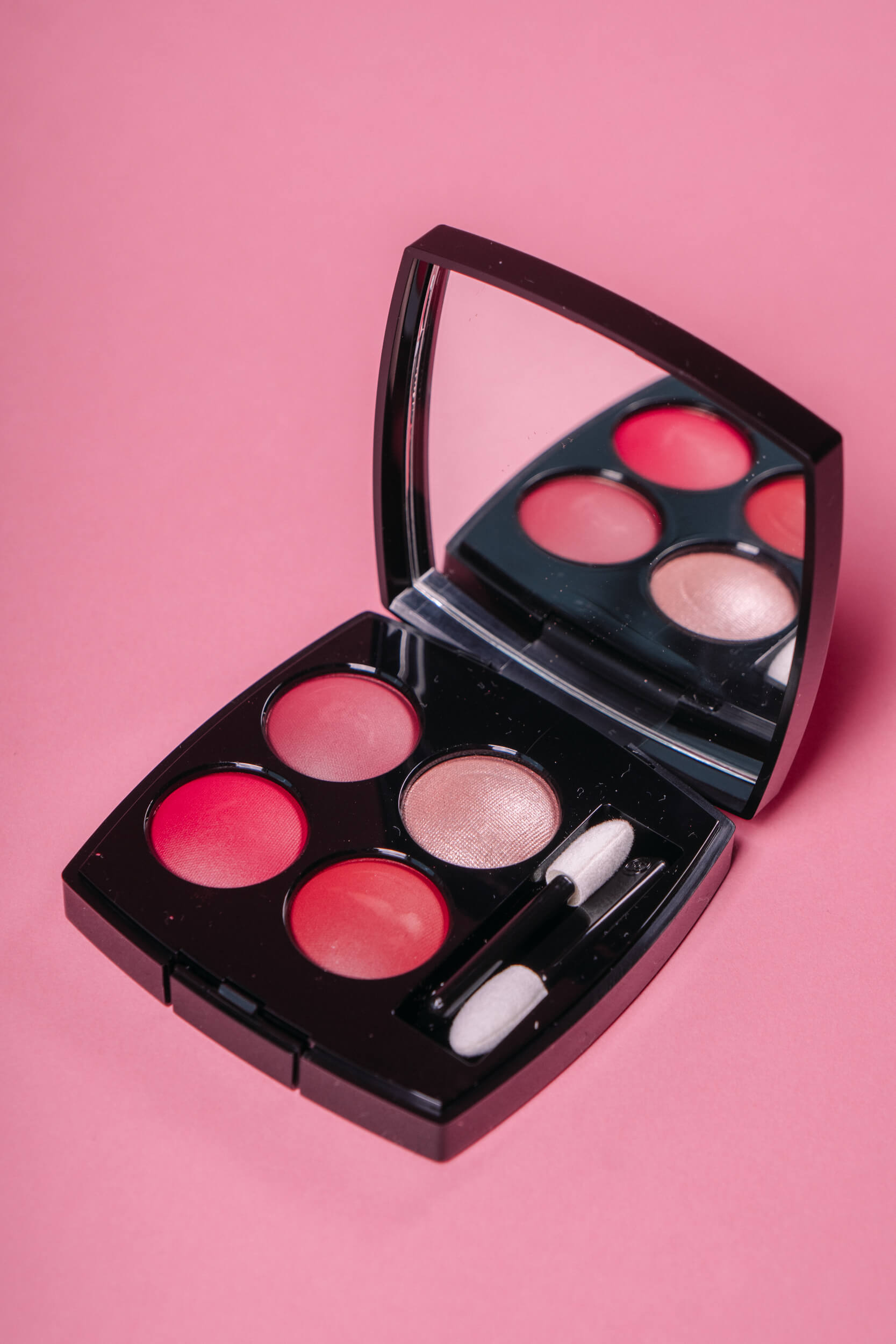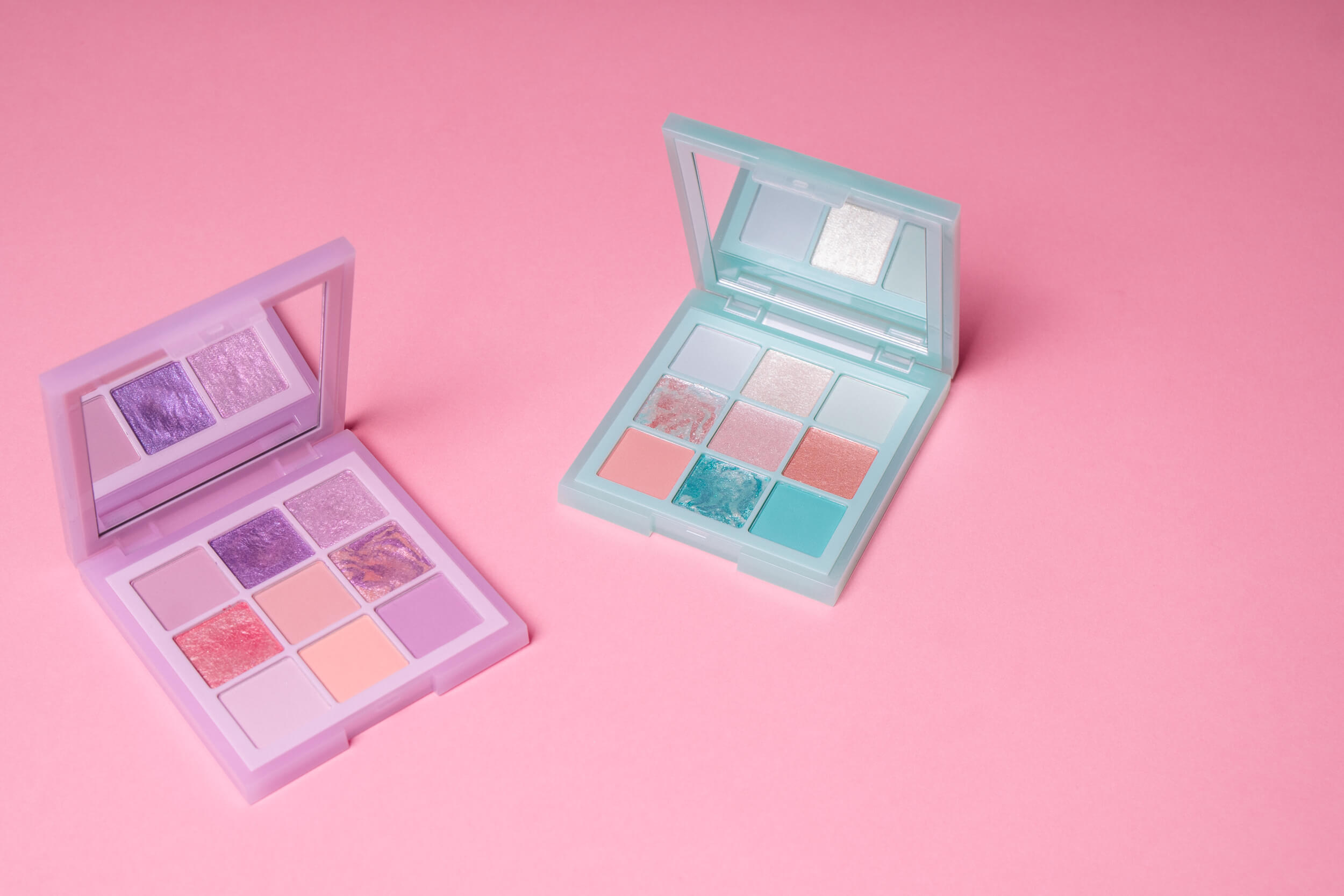 The Lilac Obsession and Mint Obsession palettes by Huda Beauty 
For those who love pastel shades.
THE EYELINER
For this look, we've chosen the Flypencil Longwear Pencil Eyeliner by Fenty Beauty, available in 20 different shades: you won't find it hard to have fun with your favorite color and do it lightheartedly, knowing that it will stay there with you, all day long. We've chosen the Grillz shade, a vibrant yellow with a touch of ochre, which makes it perfect for everyone, and for every skin tone.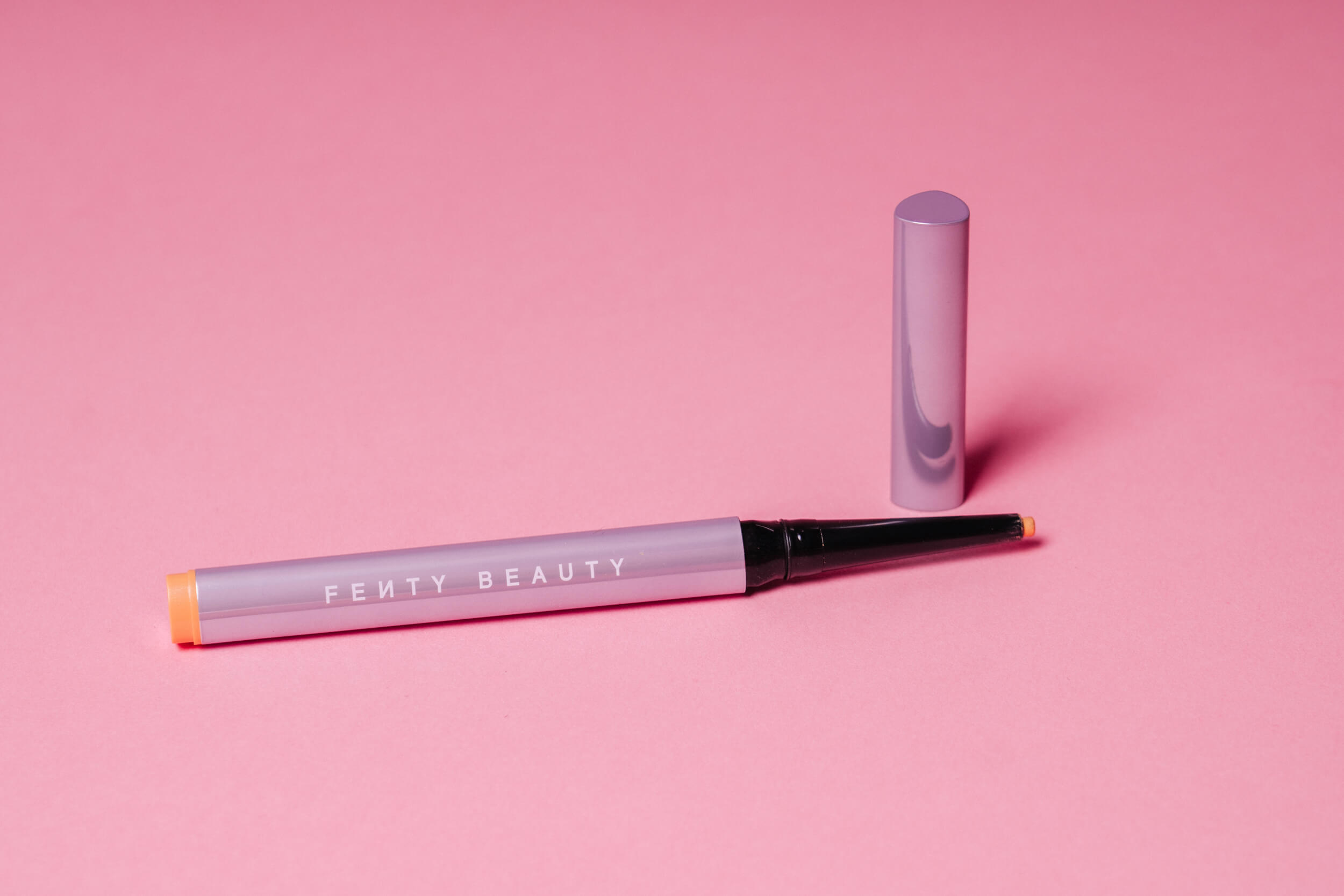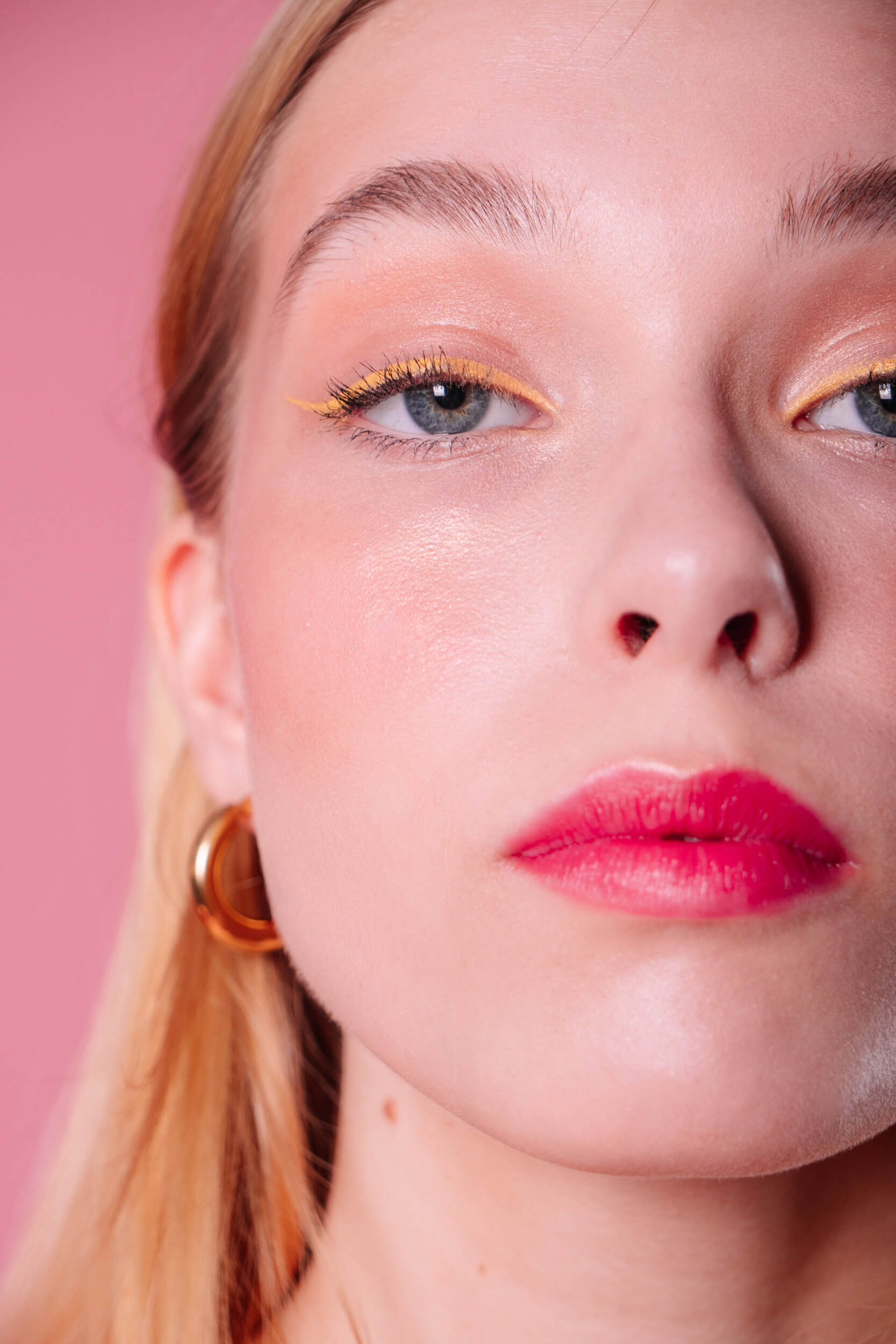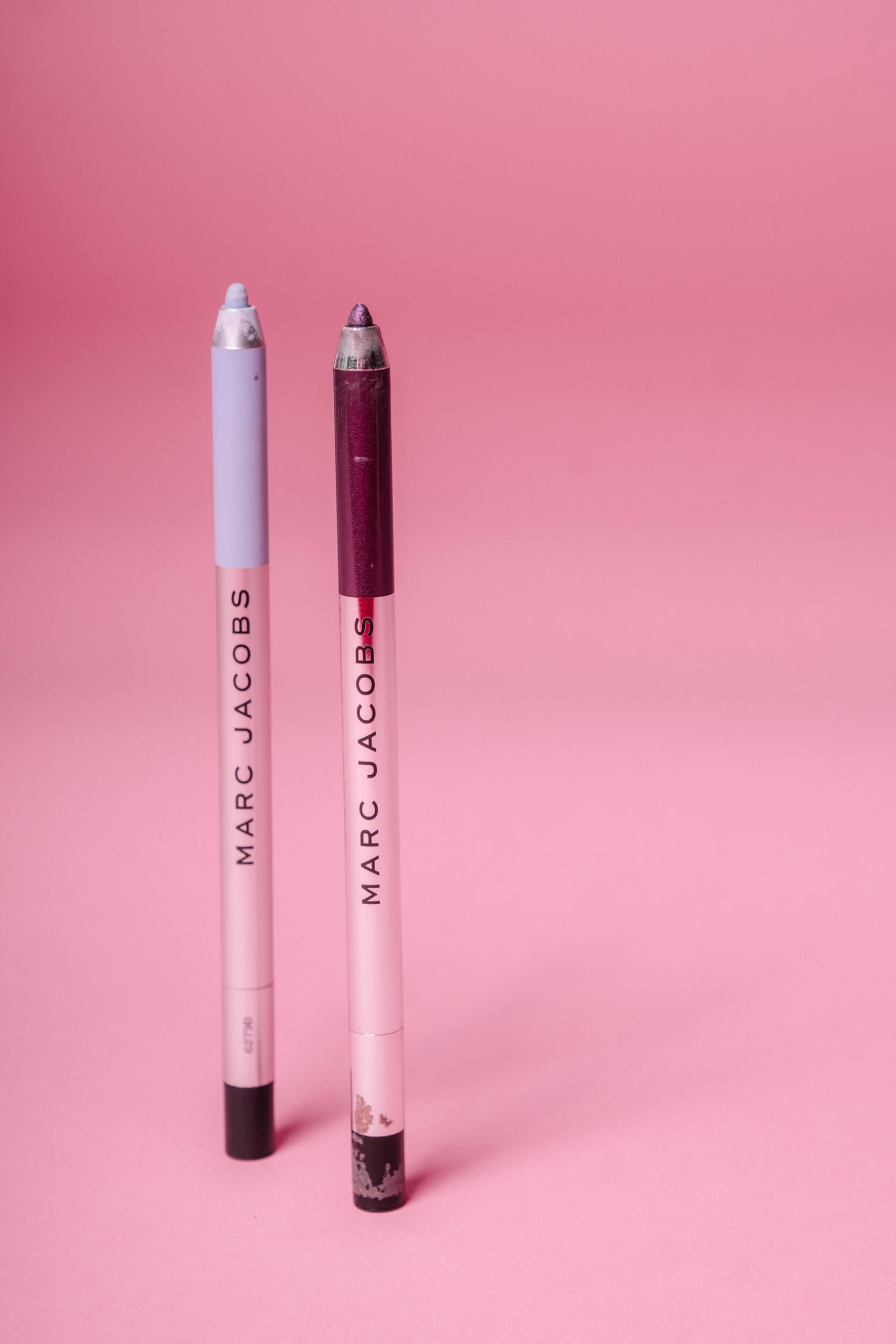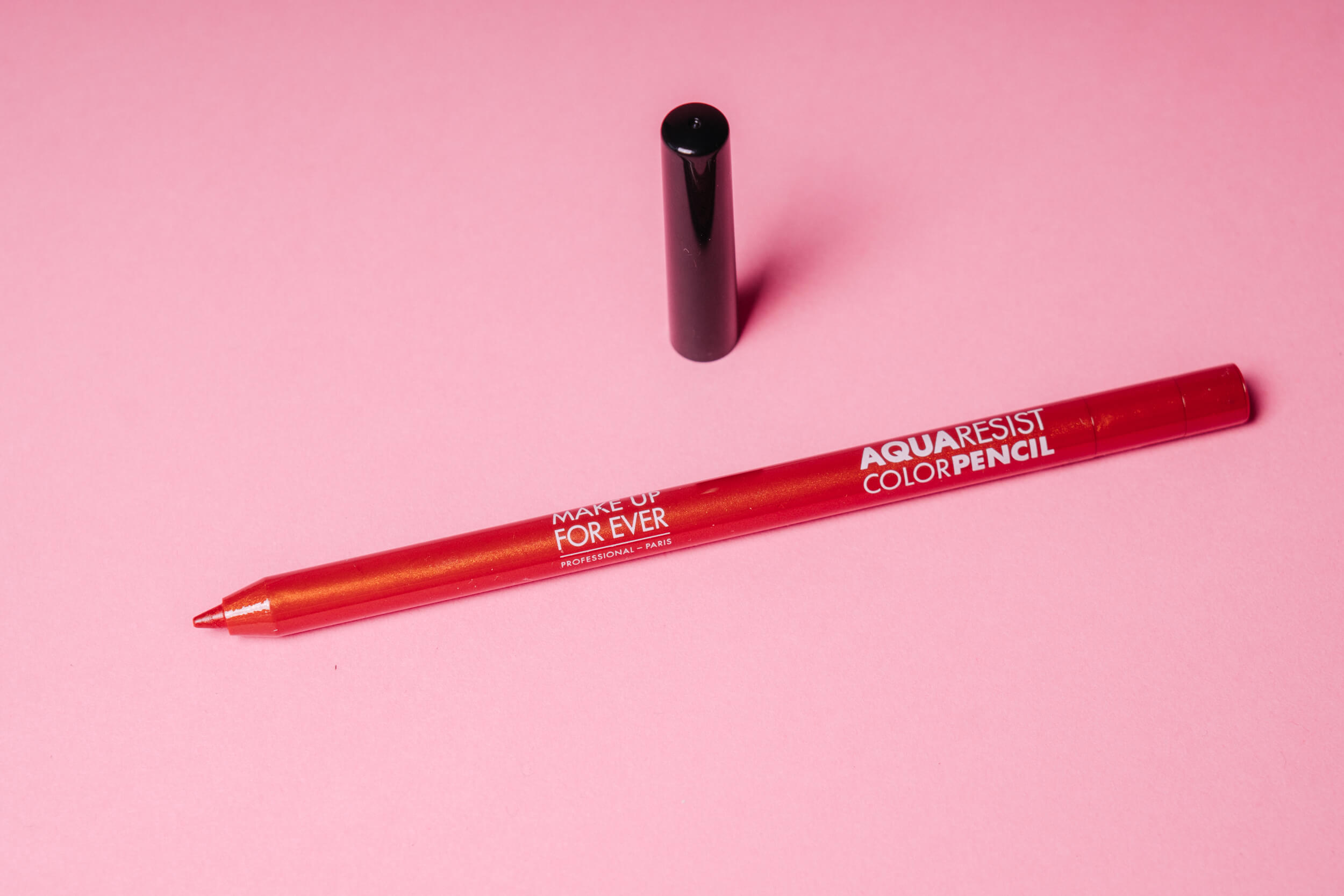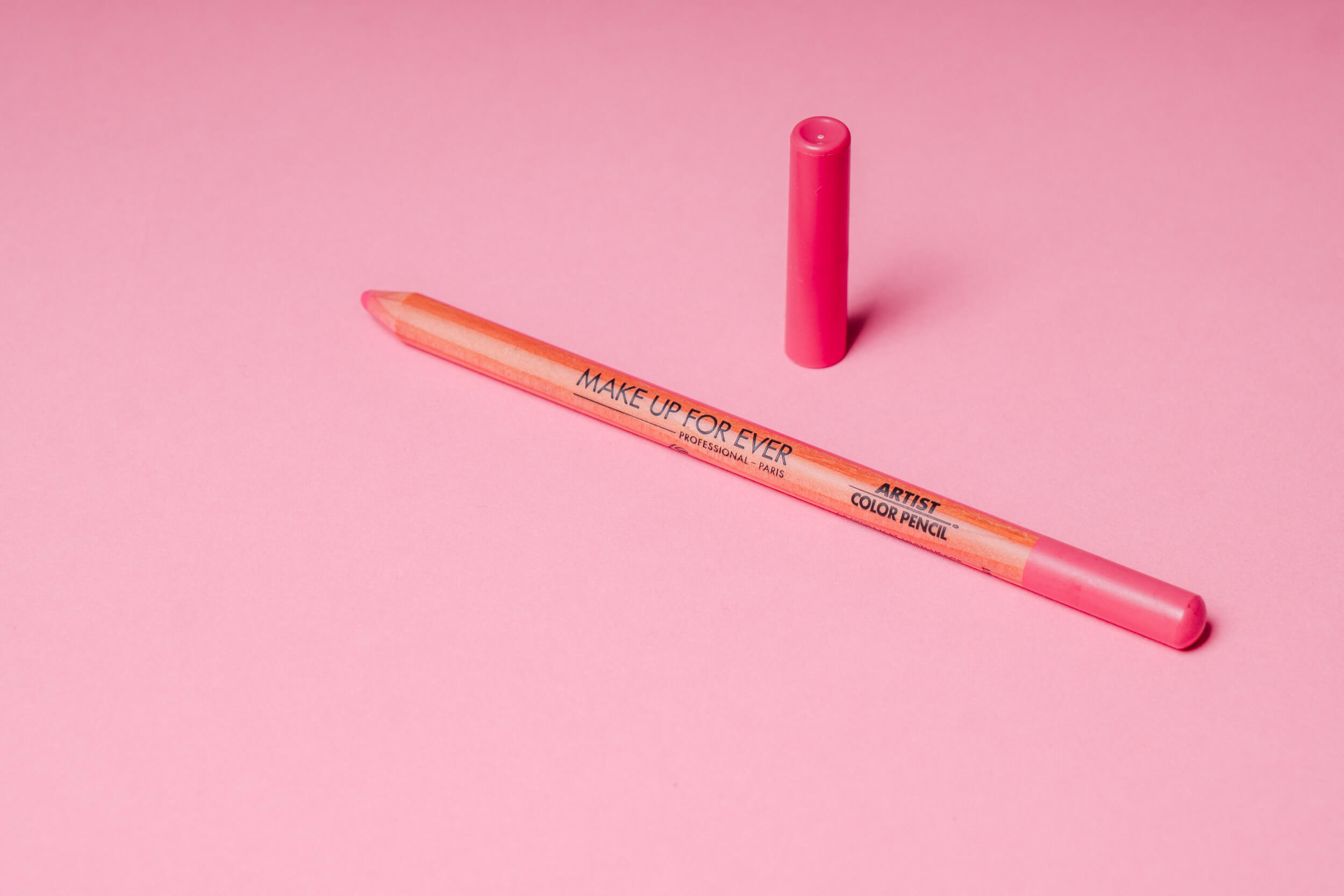 Some other eyeliners we've tried and that we'd highly recommend are: 
– The Highliner and Matte Highliner by Marc Jacobs Beauty for its unique colors and buttery, long-lasting formula. 
– Literally every single Aqua Resist Color Pencil by Make Up For Ever, for a vibrant, unique, color, a very long-lasting effect, and a good blending. Not to mention the Artist Color Pencils that, together, will offer you an amazing choice of colors. 
– The Only Eye Pencil by We Makeup, with our beloved being number 03, Malachite Green, a quite unique dark shade of green. In this case, the range of colors is not very wide, but each shade is studied not to be the "usual green," or the "usual blue."
– The Vertige Future Liner by Yves Rocher made us fall in love with their range of colors, in particular with this wonderful bright blue eyeliner, with an easy-to-use applicator, to create a bolder wing.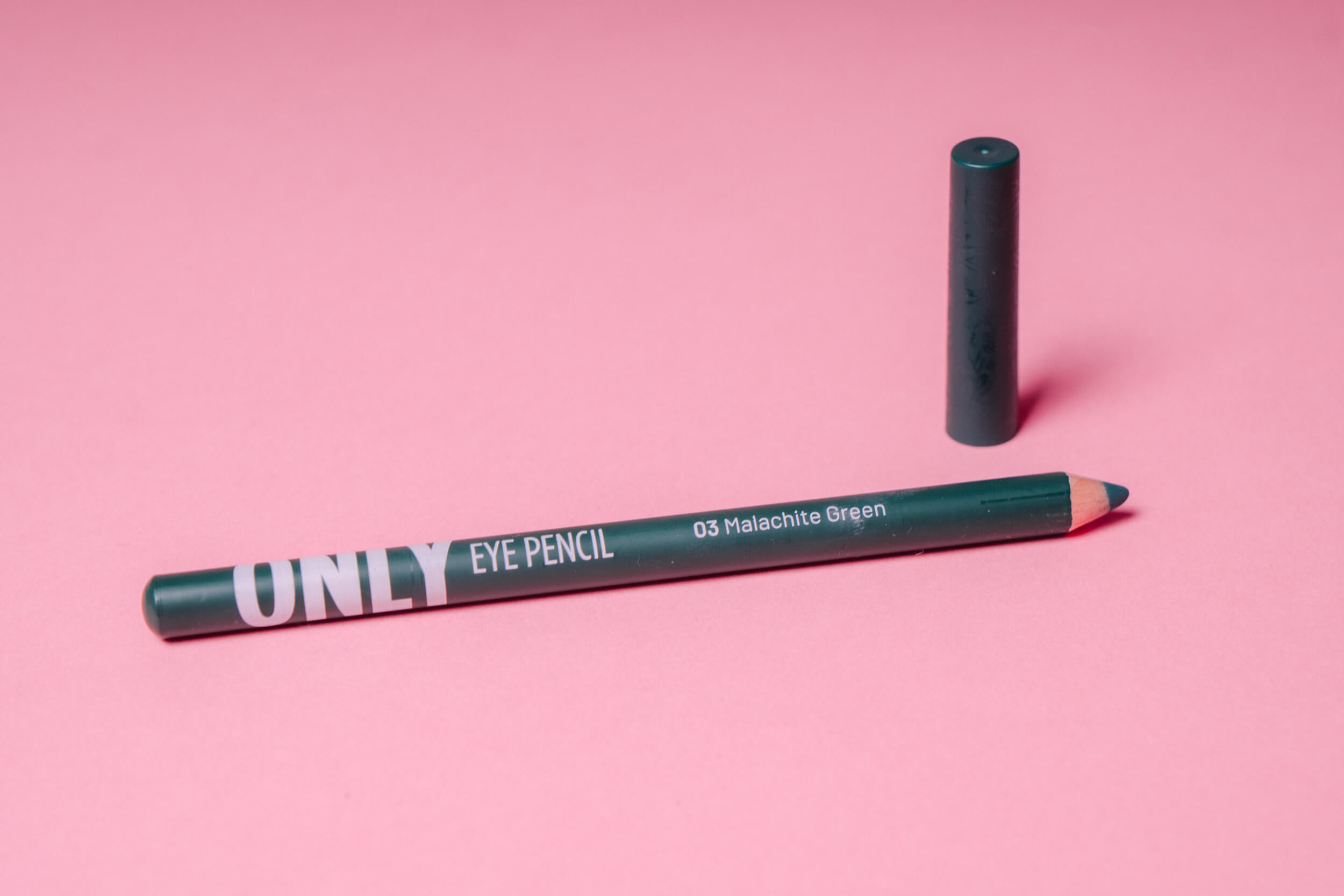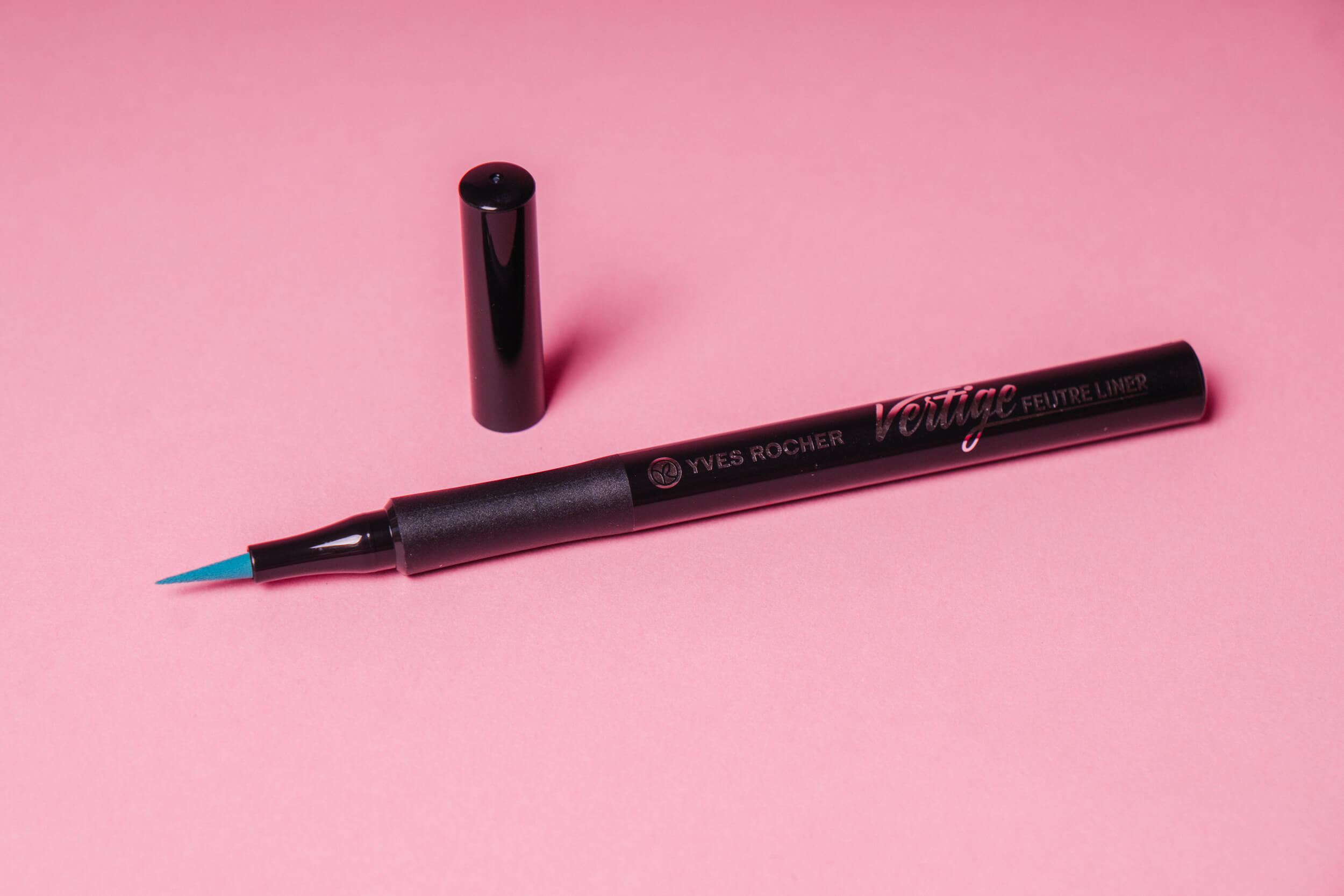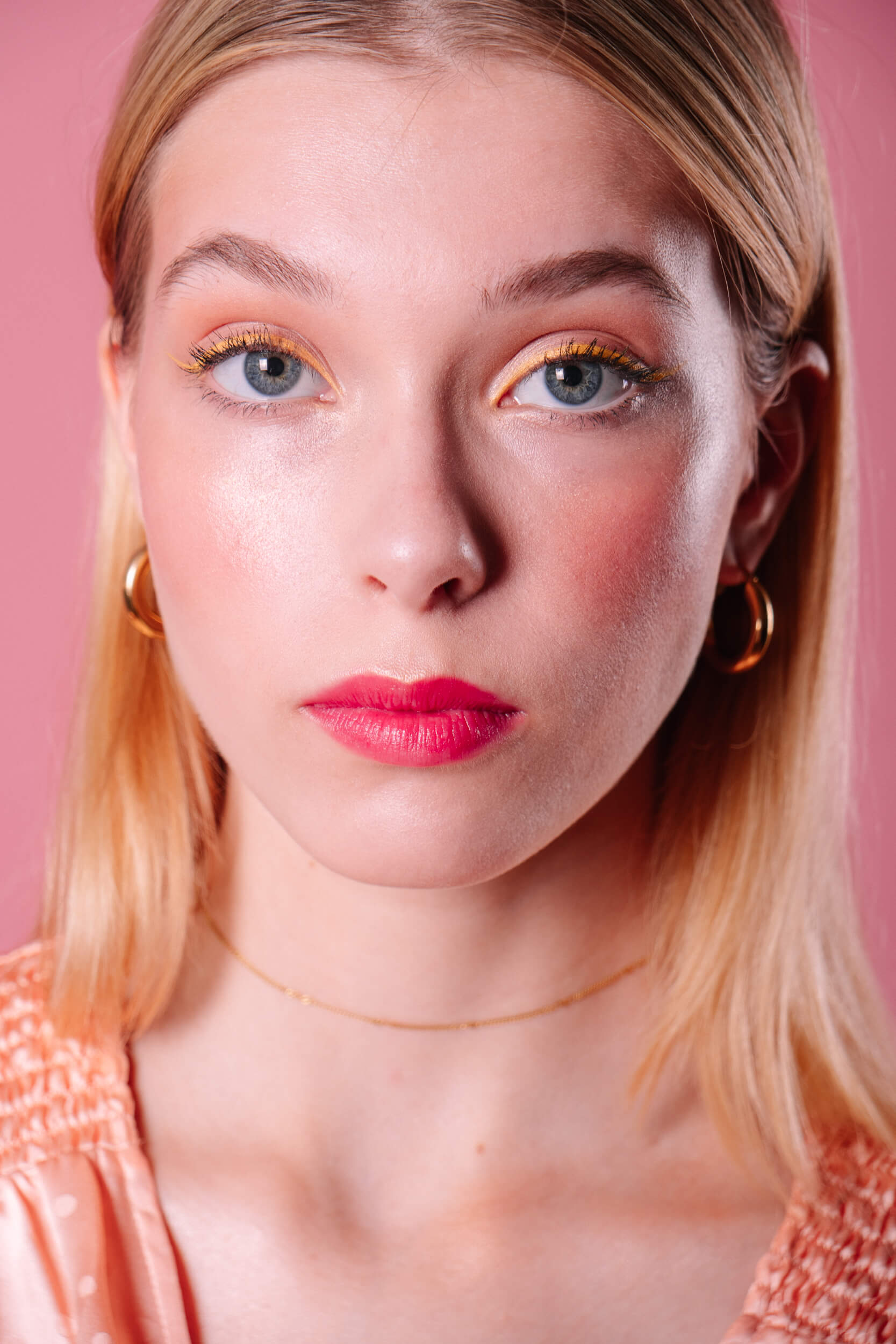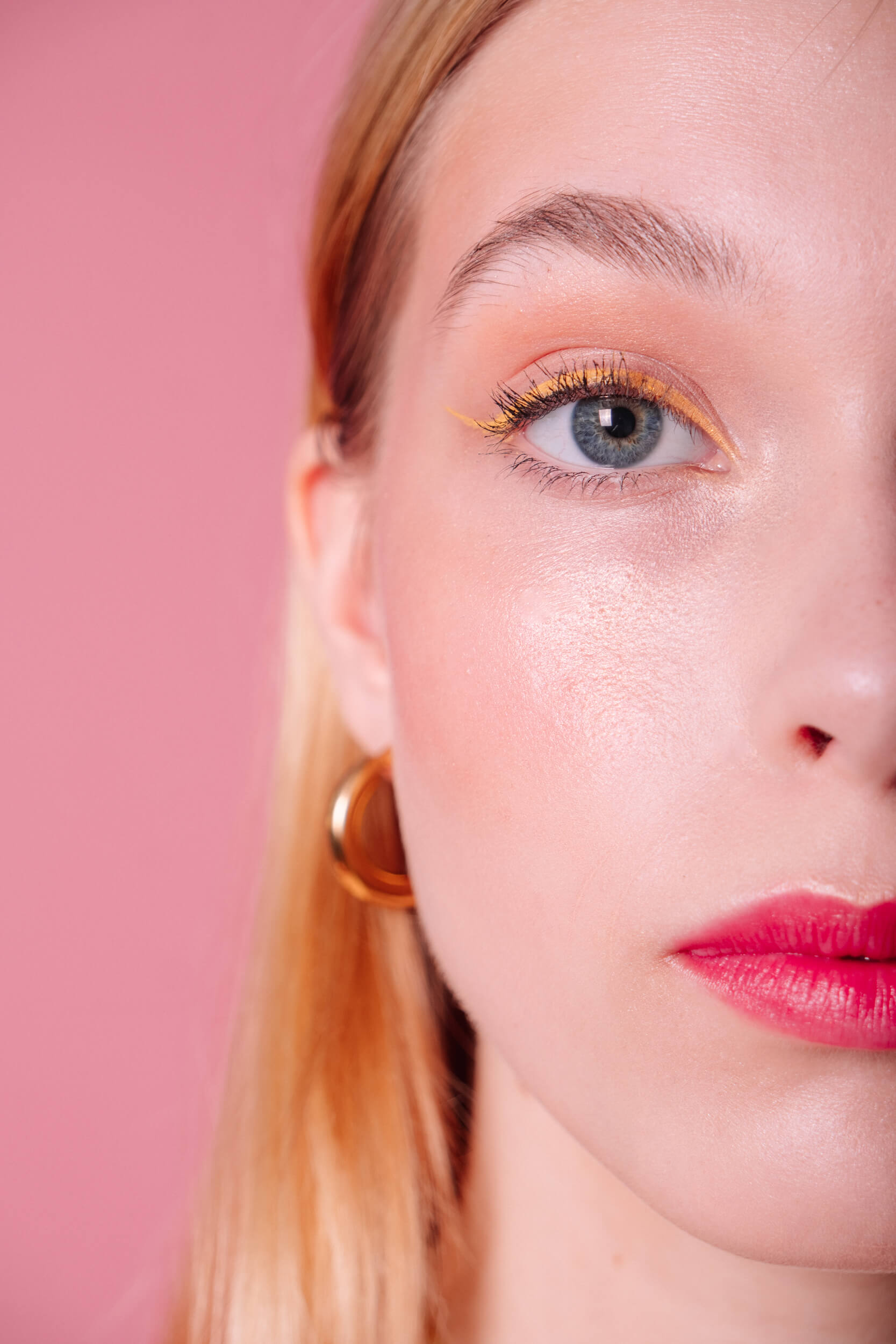 In this case, mascara has to be intense, but not too intense: we don't want it to hide the color we have on our eyelids, but, at the same time, we want it to be lengthening and create a bit of volume on the base. The following are our choices!
Le Volume Glamour by Bourjois Paris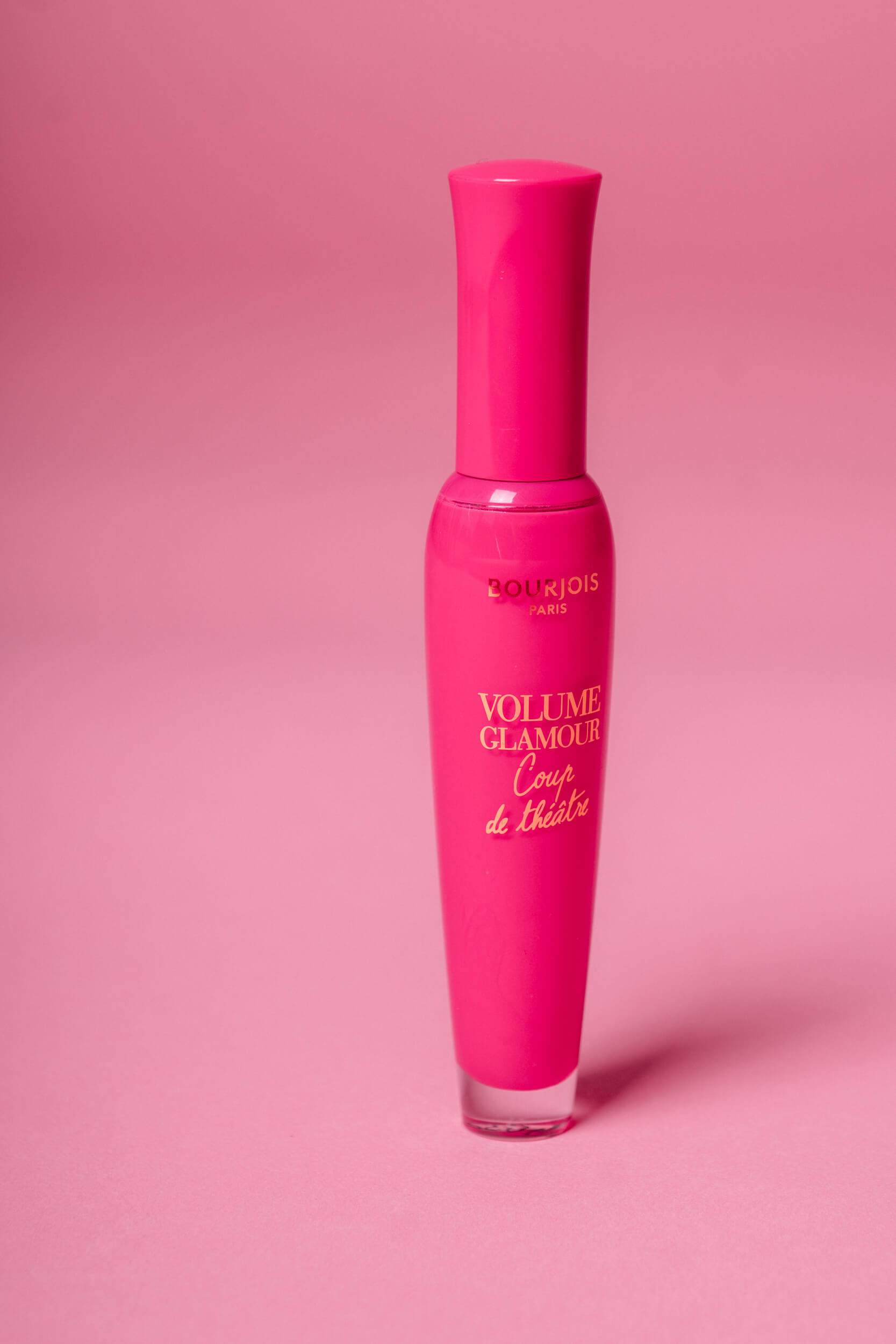 They're Real Magnet by Benefit Cosmetics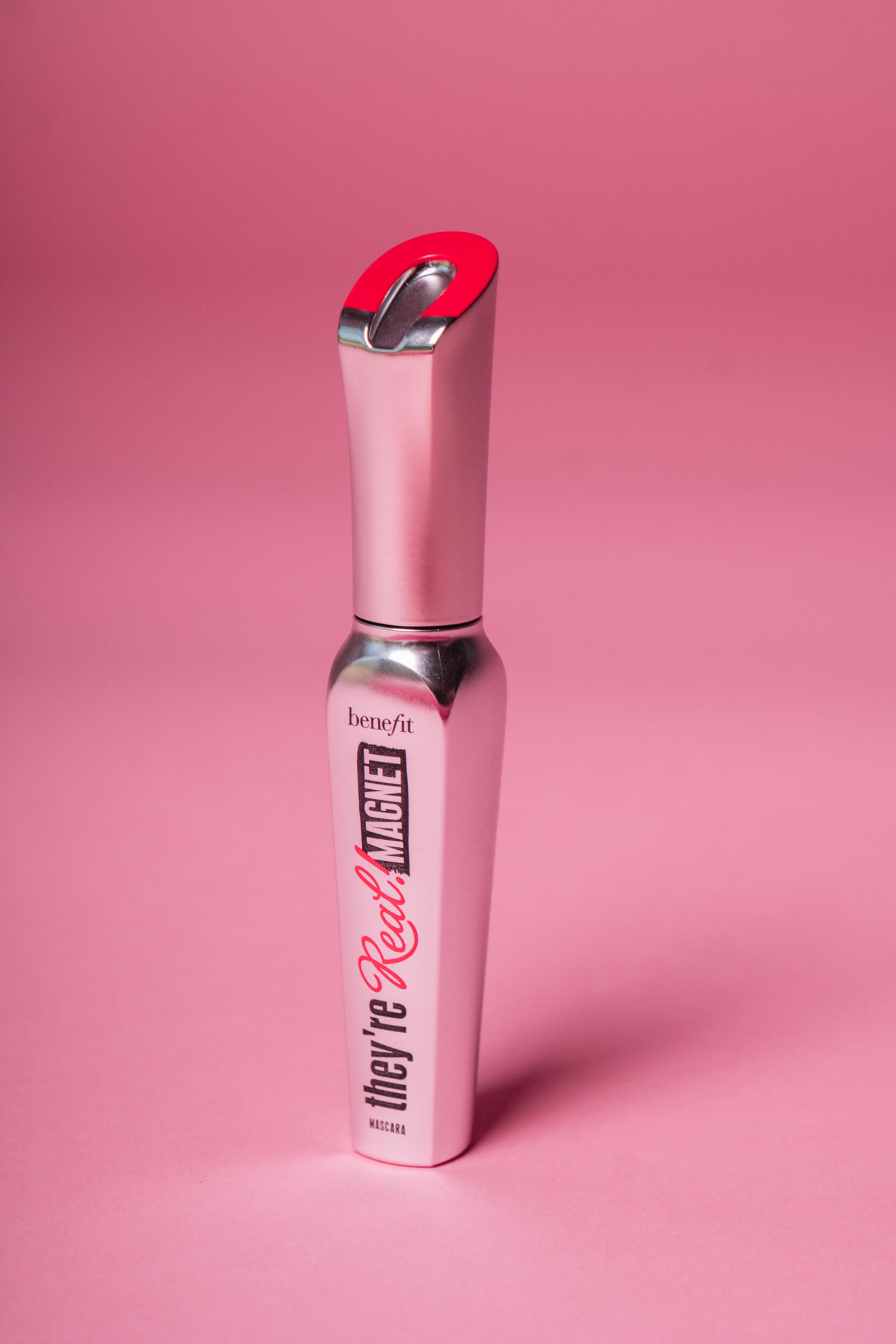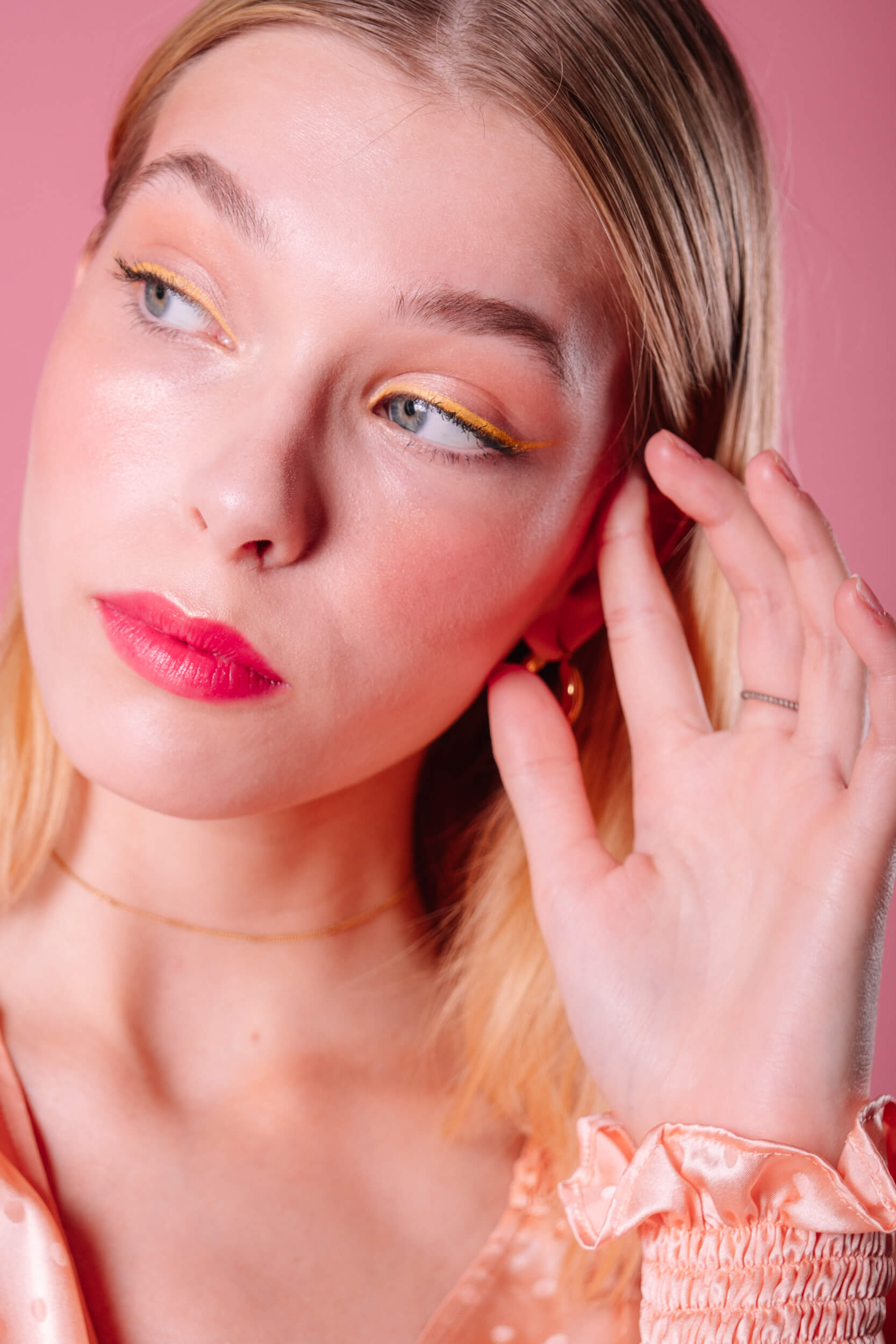 Kush High Volume Mascara by Milk Makeup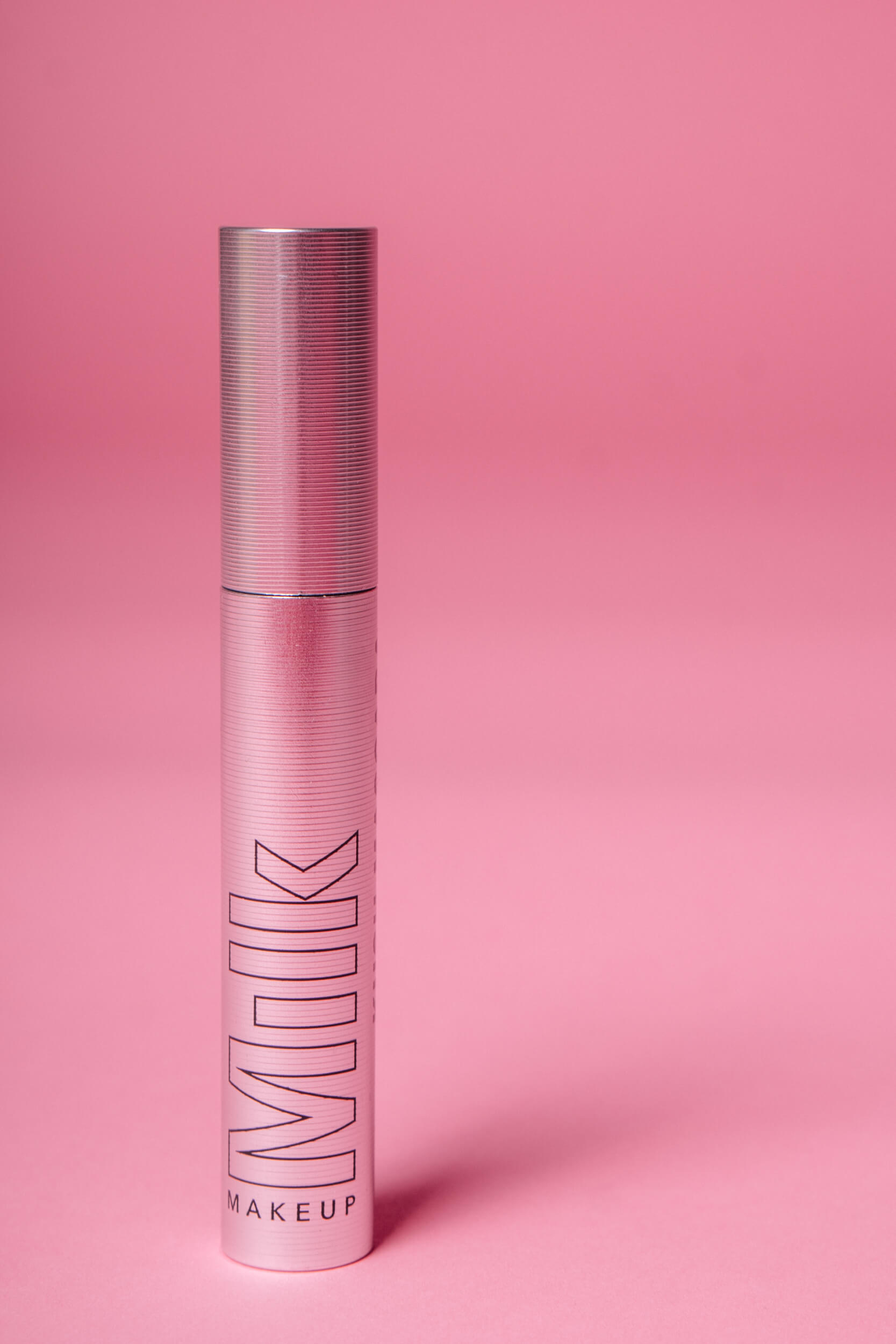 LIPS
As far as lips are concerned, we've opted for two completely different choices, but both perfect for this kind of look where lips are not too defined, but a bit blended. Max Factor has created this new line of Colour Elixir Soft Matte which is long-lasting and has a matte, but soft finish on the lips, without drying them. If you apply it with your fingers, the result will be wonderful and soft. 
Our second choice is the new line of "lip balms" by Chanel, Rouge Coco Bloom, which includes 20 new shades. These are luminous and hydrating lipsticks, however highly pigmented. Also in this case, if you apply and blend them with your fingers, your lips will not only be soft but also hydrated all day long.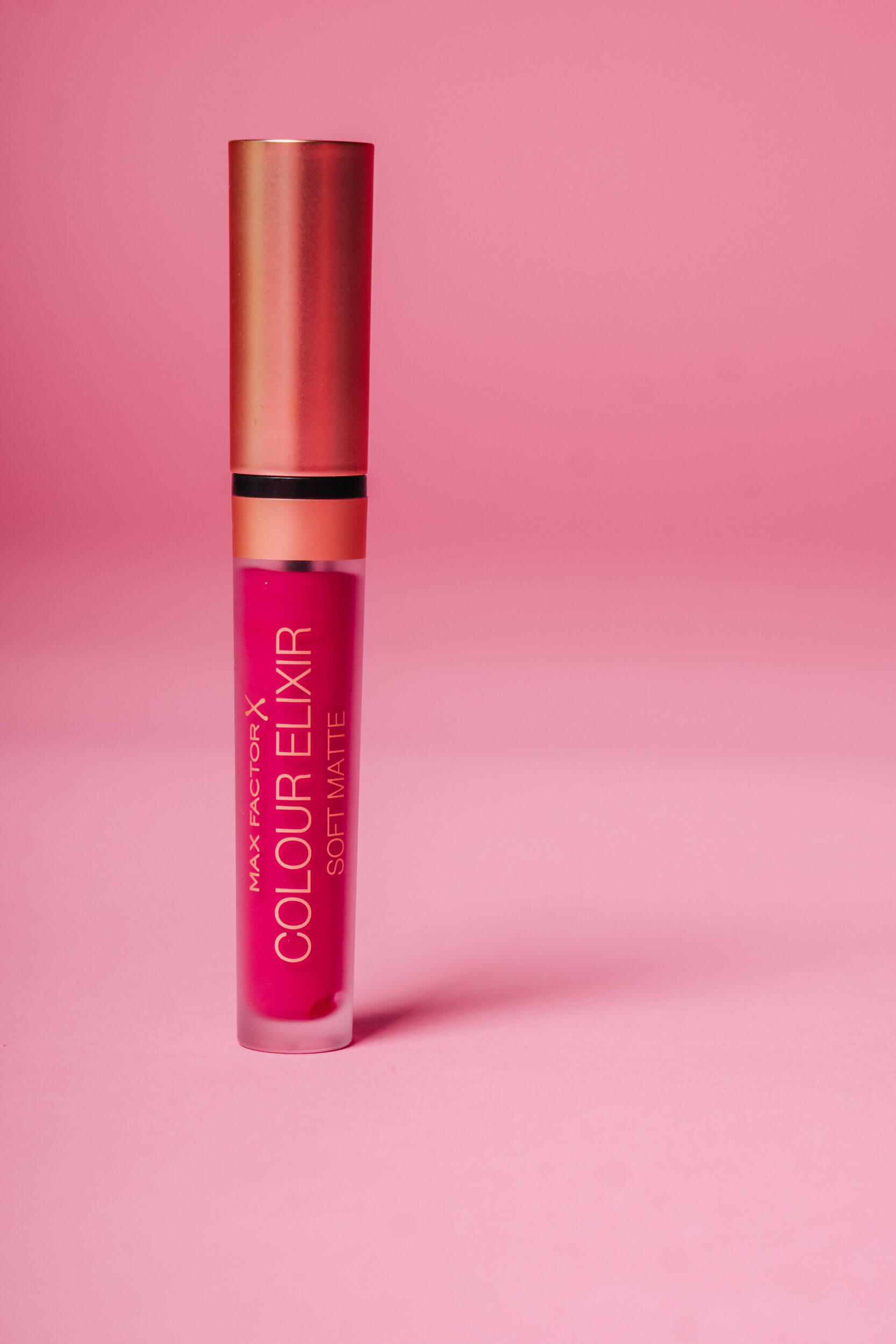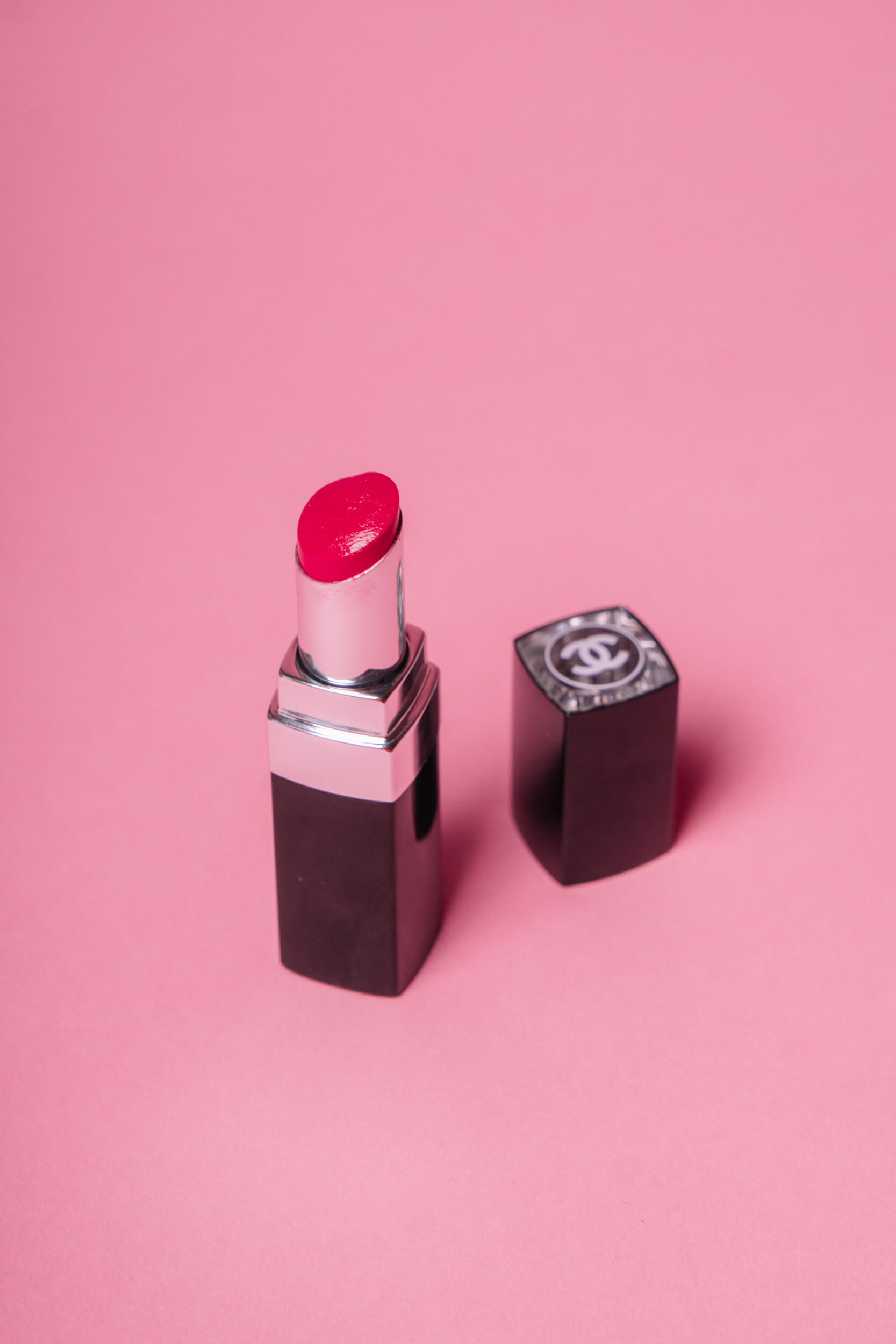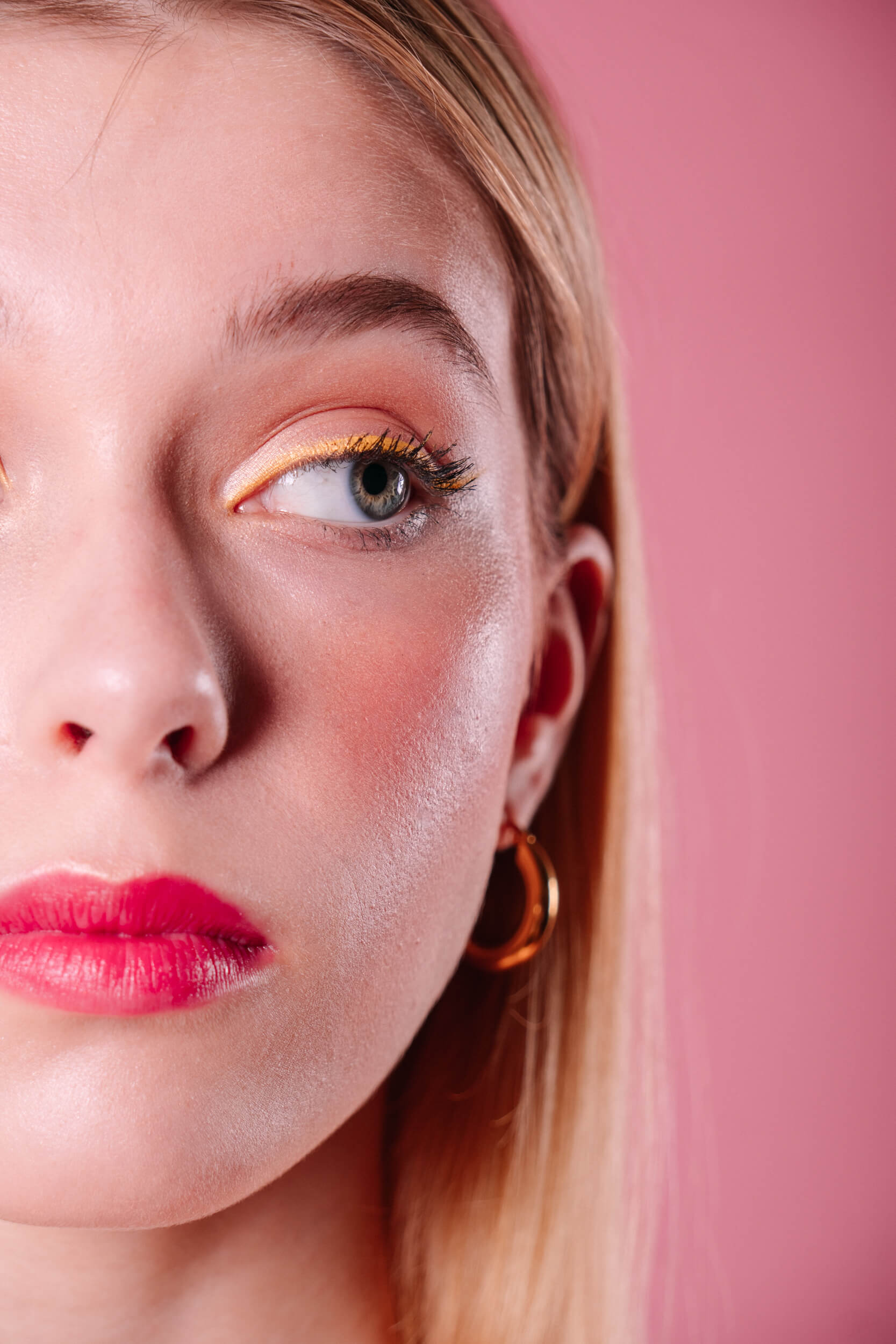 LAST TOUCH
Last, but not least: a beauty look is not finished if you don't match it with a bit of perfume to wrap us up all day long (and all summer long). We've tried some, and we've particularly liked this one, which has immediately ended up in our list of top summer perfumes, and On The Beach by Louis Vuitton couldn't but say this to us, after all: the desire of summer. 
This new cologne talks about escape, exciting adventures, and sunshine, and it does so through the notes of Japanese yuzu, with its sparkling facets that wrap the skin like the warmth of the summer sun, the sand, the smells of saltiness, wind, and waves of a day on the beach. Master perfumer Jacques Cavallier Belletrud created a fresh and bright fragrance, with citrus accents tending towards the warm softness of neroli, and with a deep heart of thyme, rosemary, pink pepper, and cloves, enhanced by the sea breeze.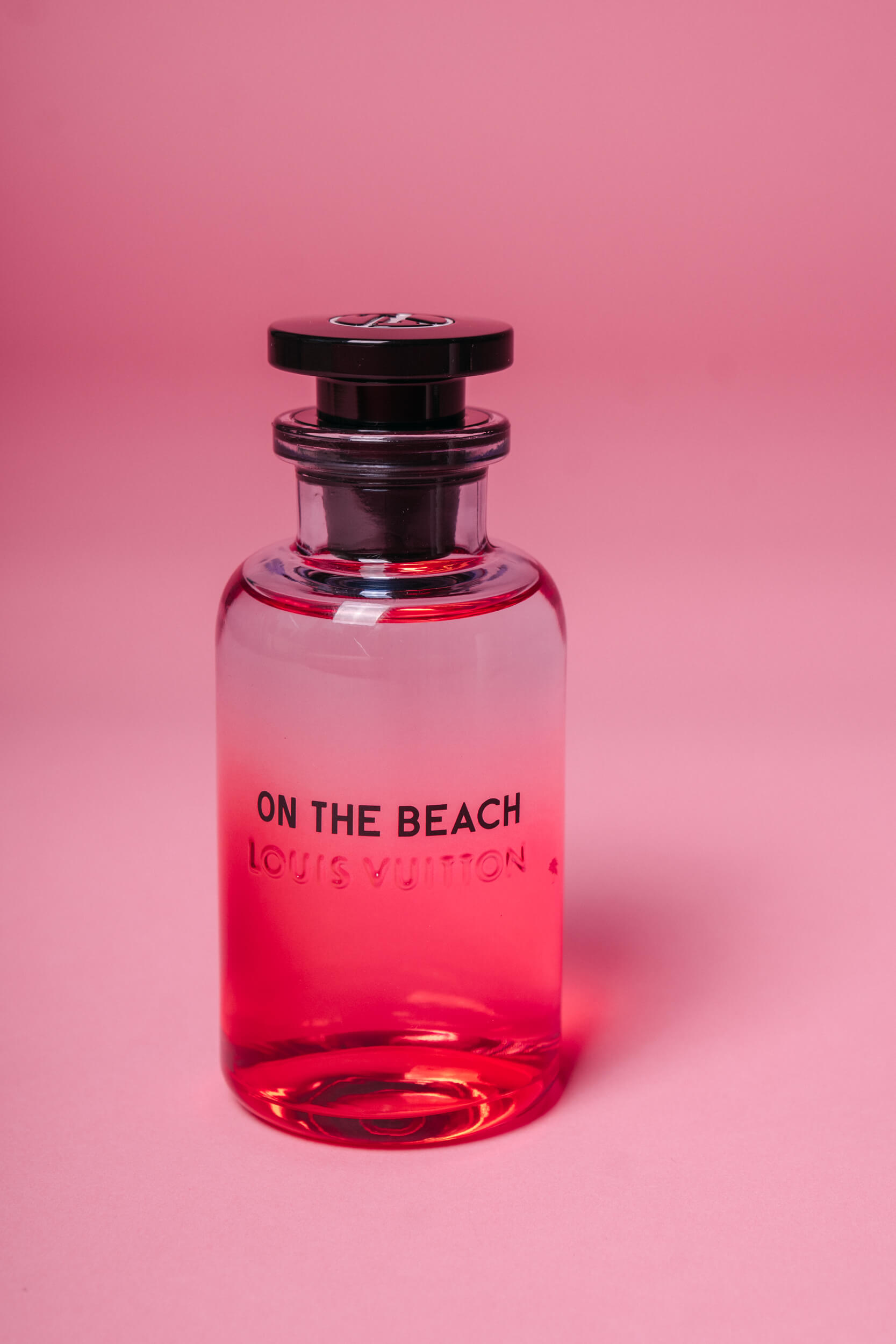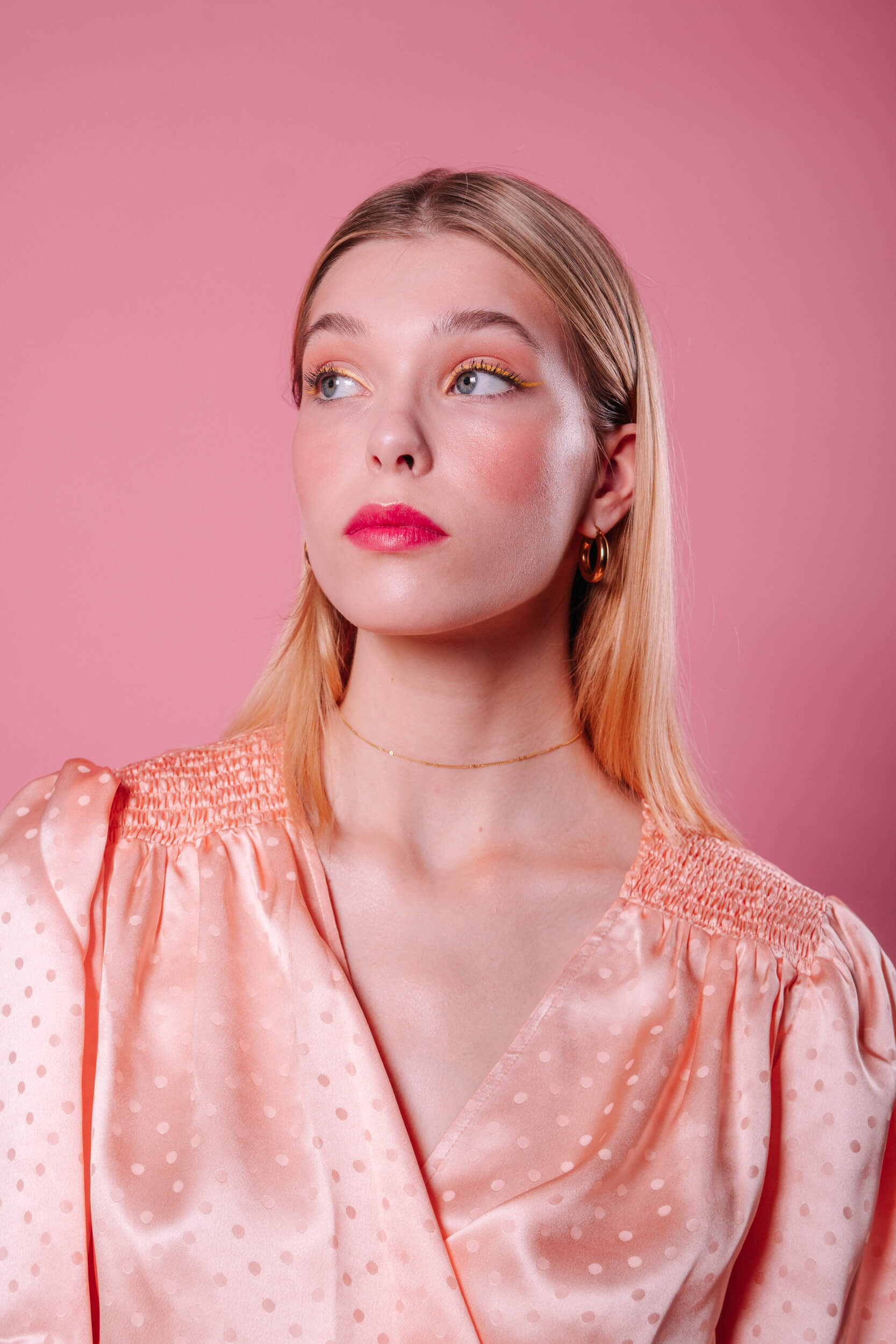 LOOK #3
Once again, the look is about color: the base stays the same, bright with an intense blush, and you can also make the most of the color of the pencil or liquid eyeliner you've already applied as a base for your super colorful look. 
Now, we recommend some palettes that stole our hearts: the Sciomancer Eyeshadow 5 Colours palette by Byredo and, again by Byredo (master of color), the Prismic Palette, which includes every possible eyeshadow color you can think of, from matte to metallic and, if wet, they activate and become colored eyeliners. But let's not forget about the customizable palettes by We Makeup, which offers some options with incredible payoffs. Last, but not least, a colored palette by Tom Ford, our favorite is the one with all the shades of lilac and purple. All you have to do is choose, the one in the shades of green is really beautiful, too!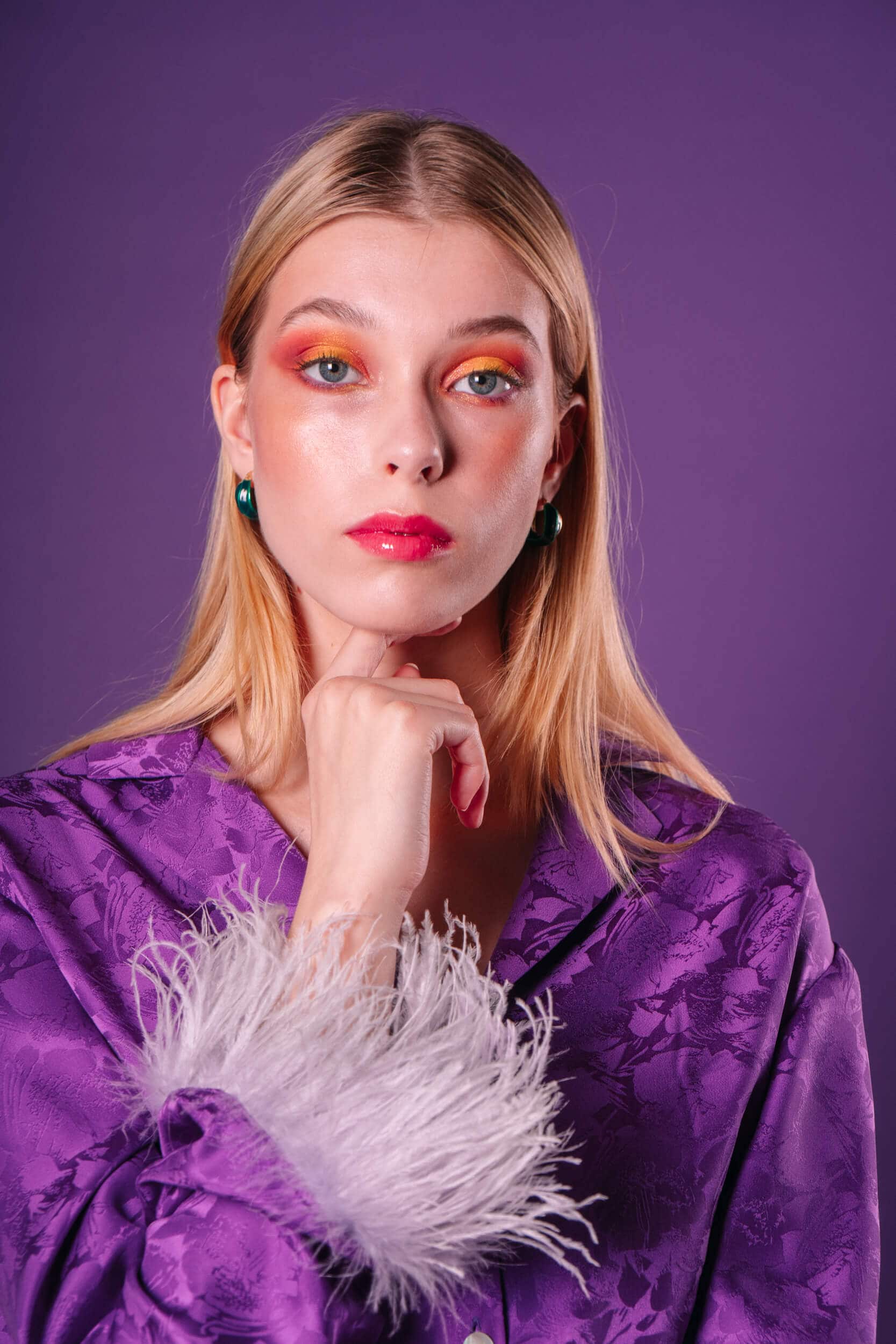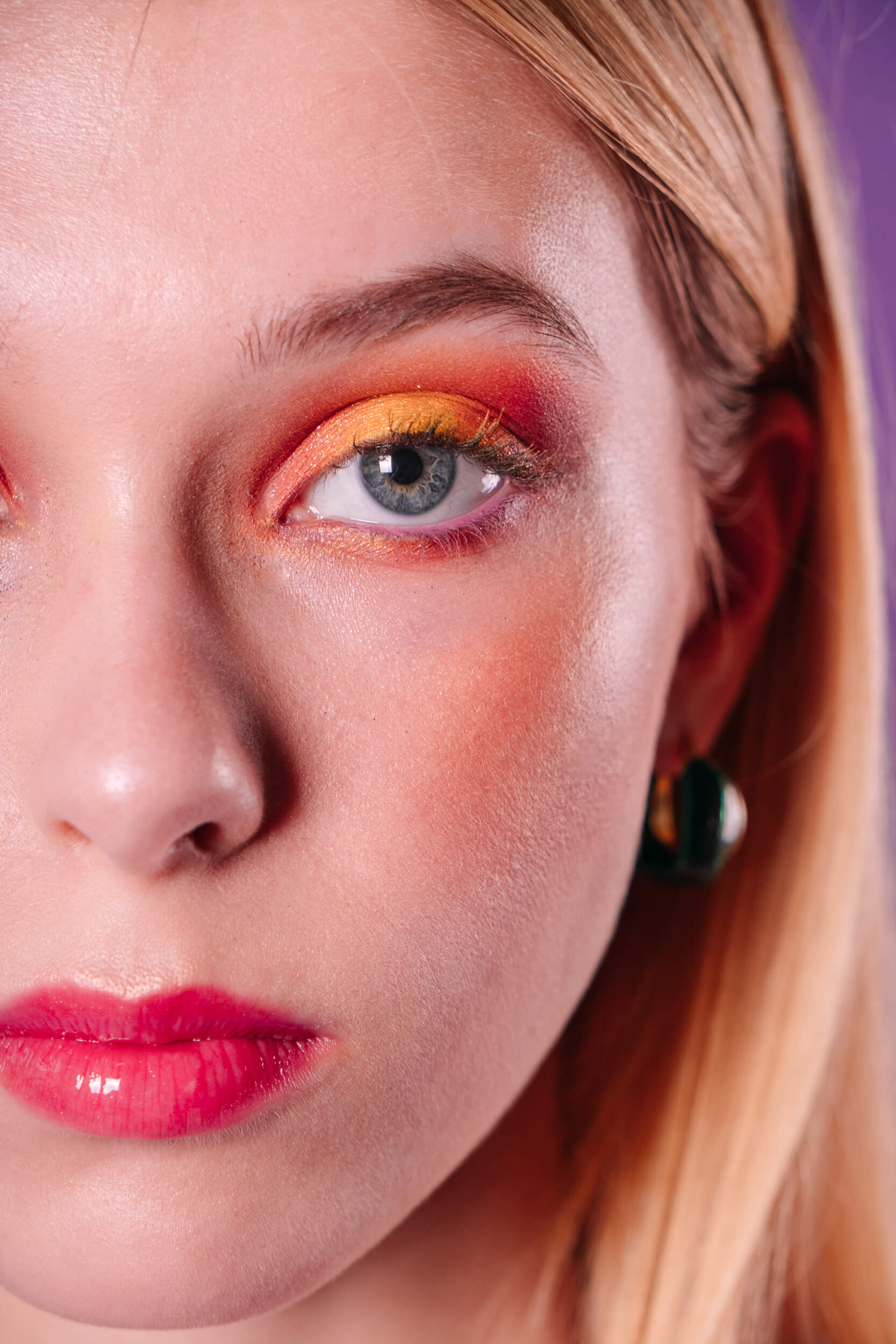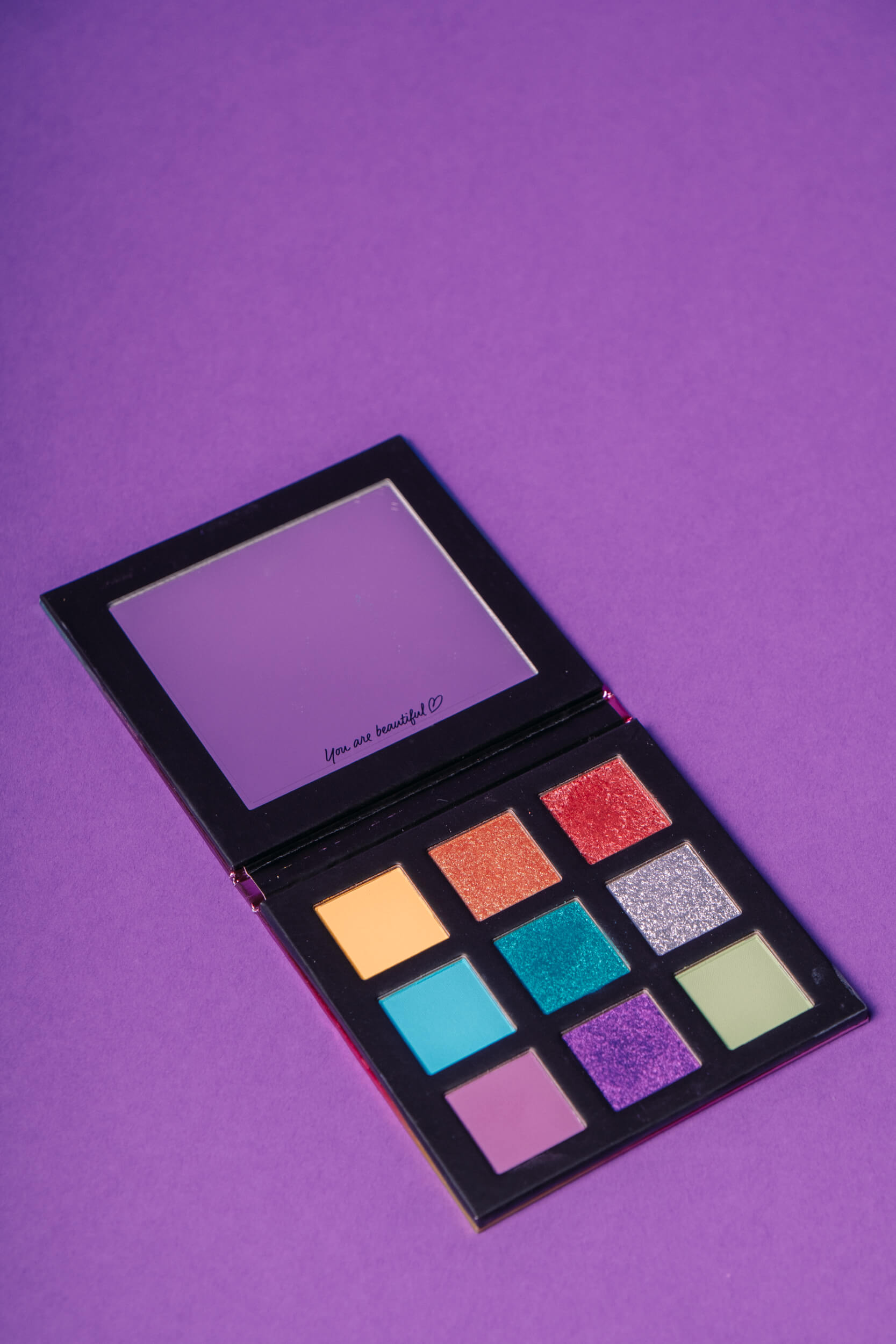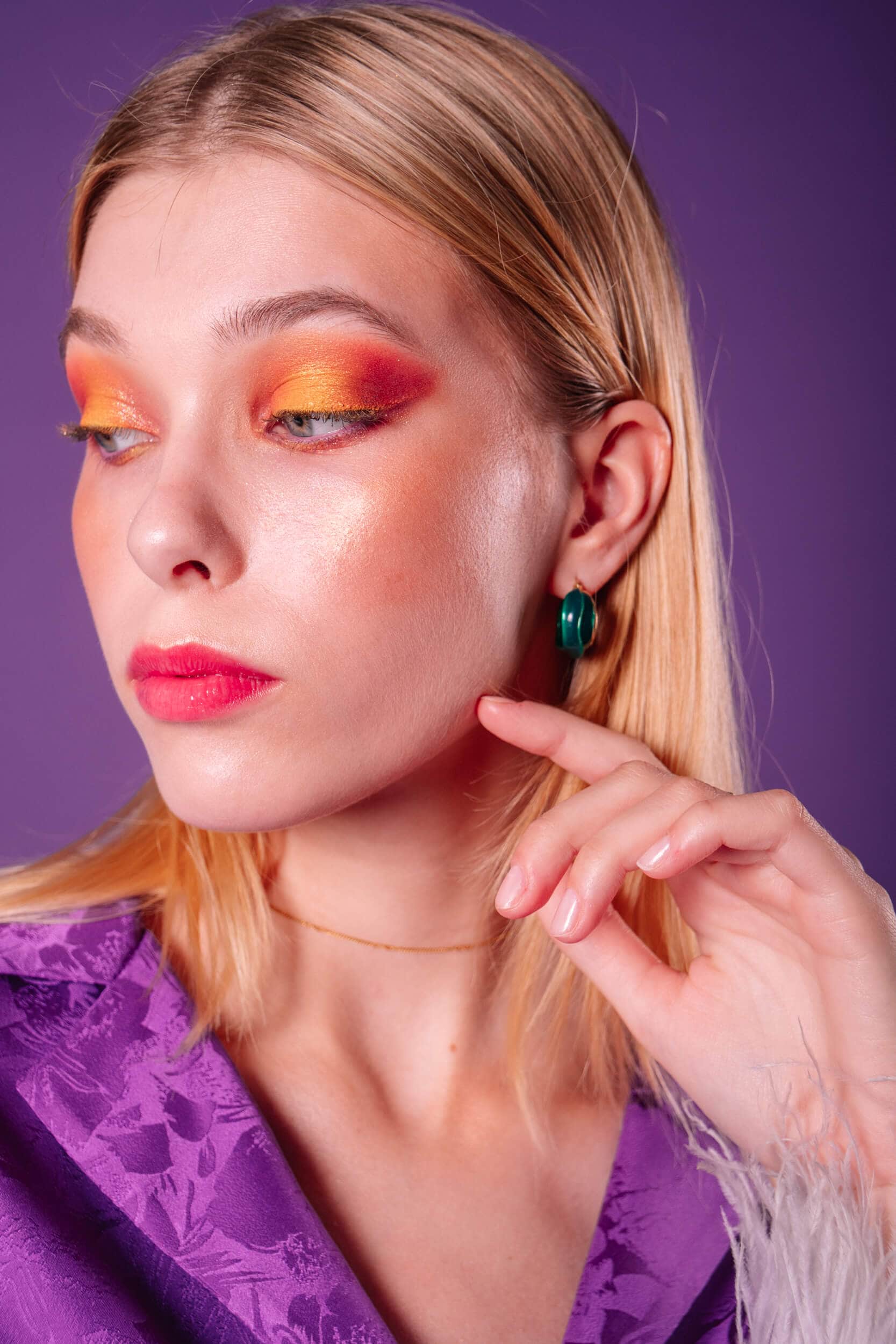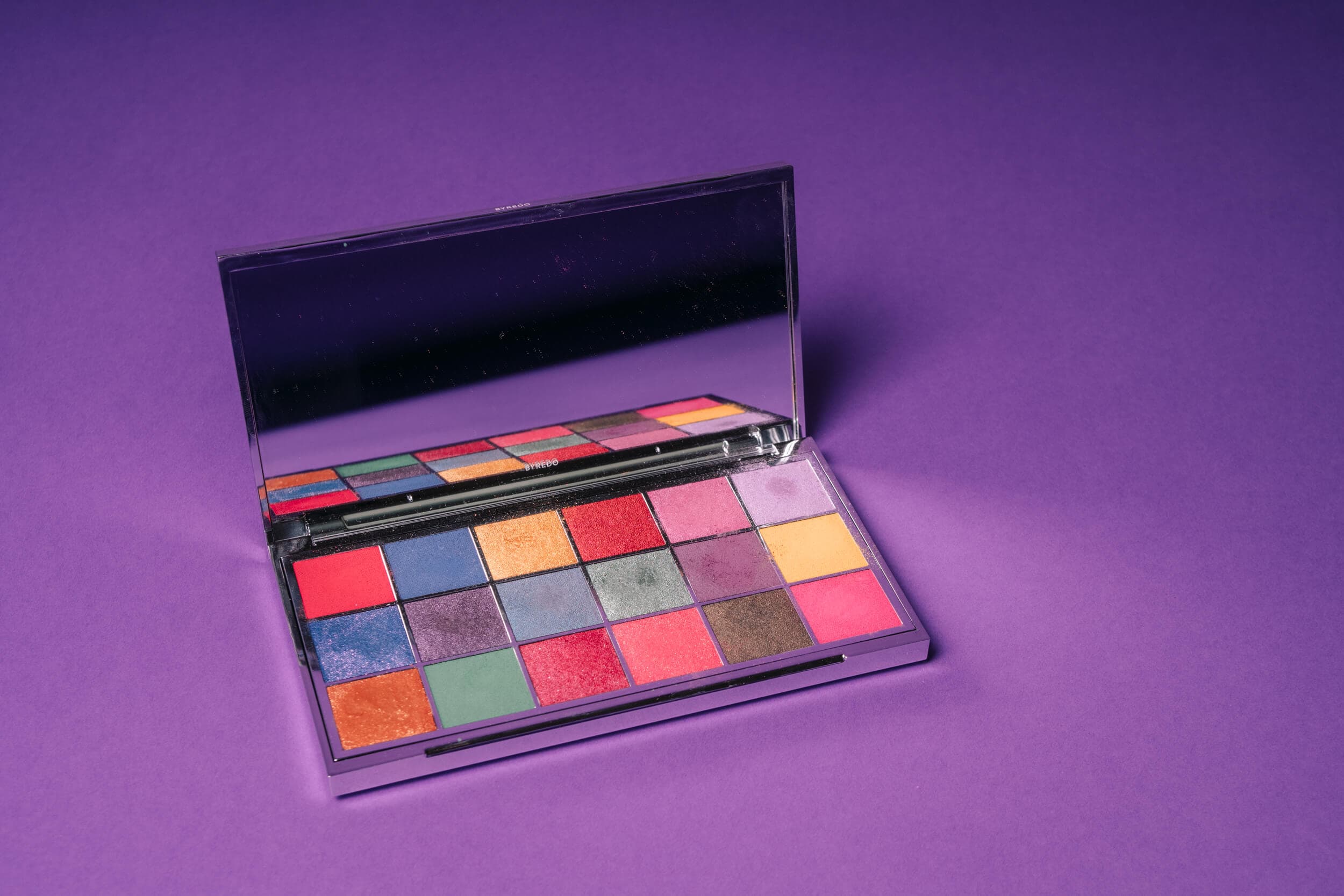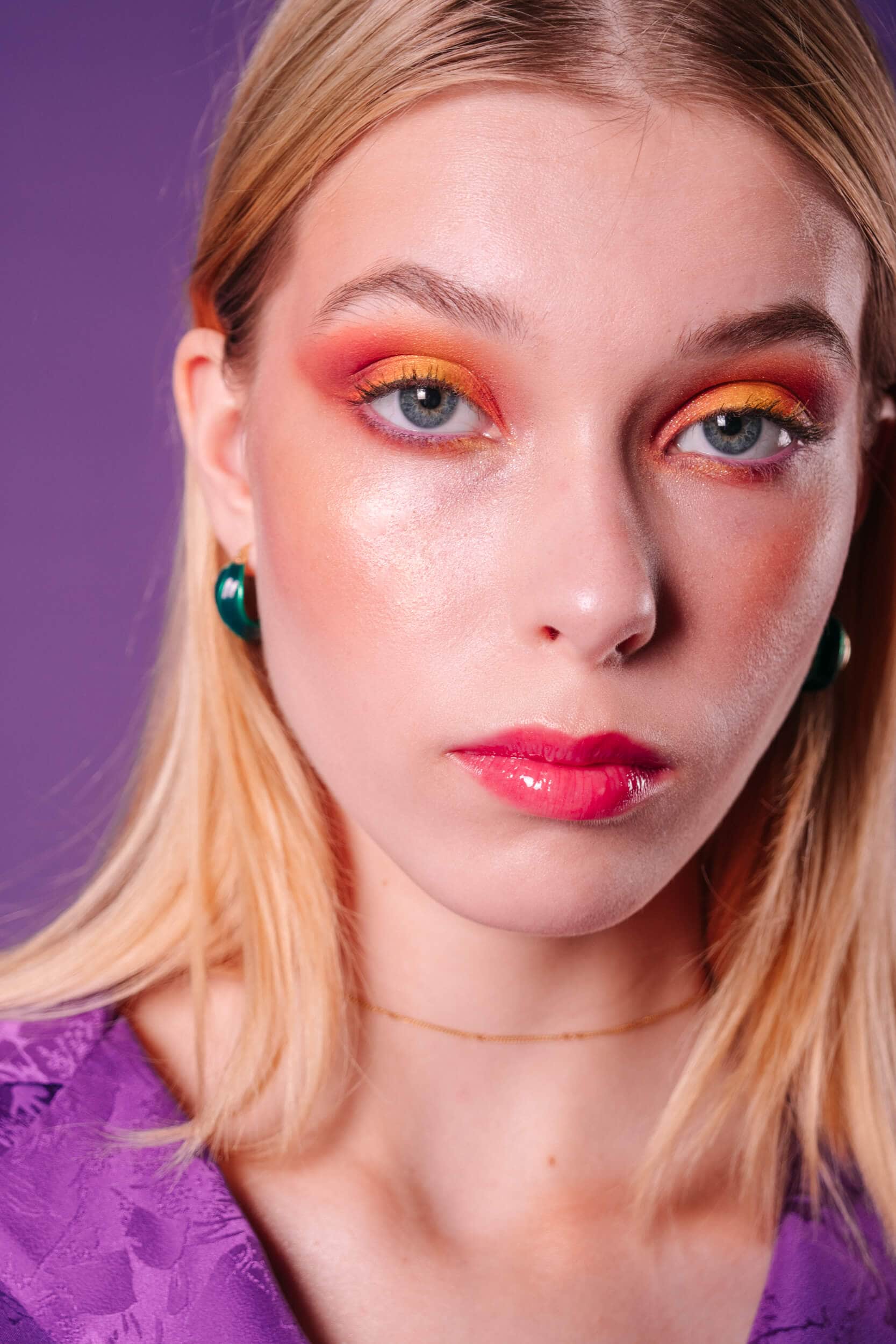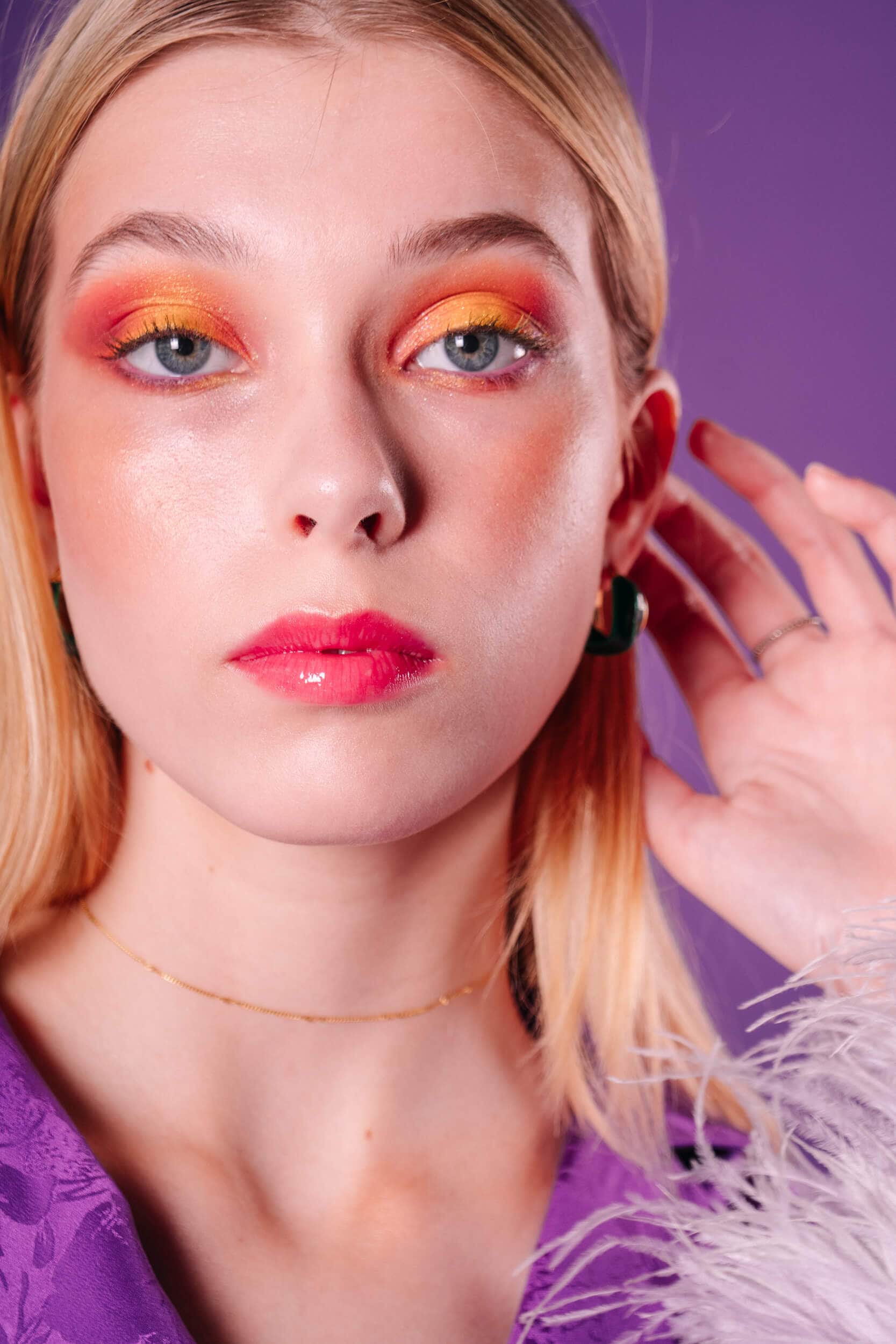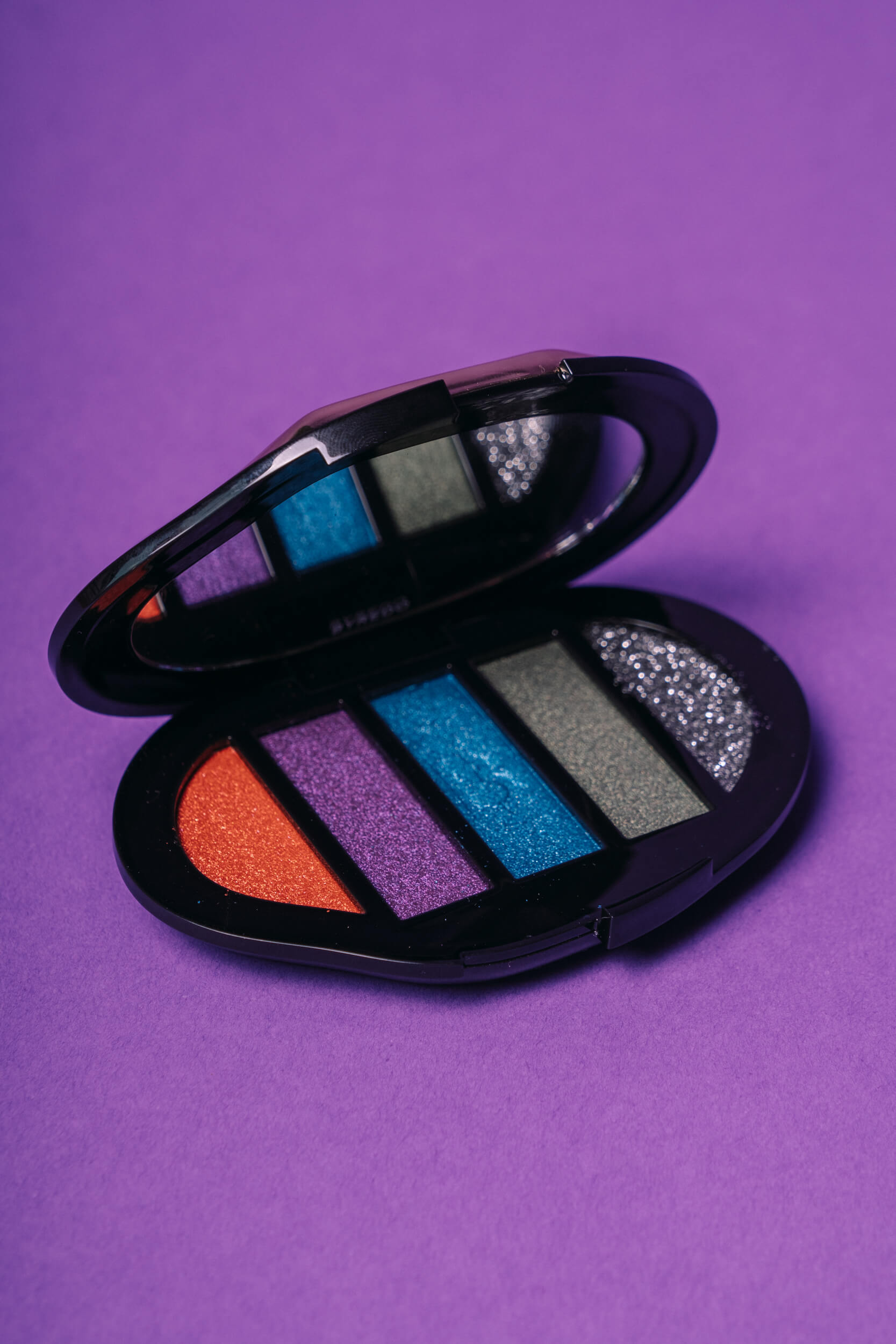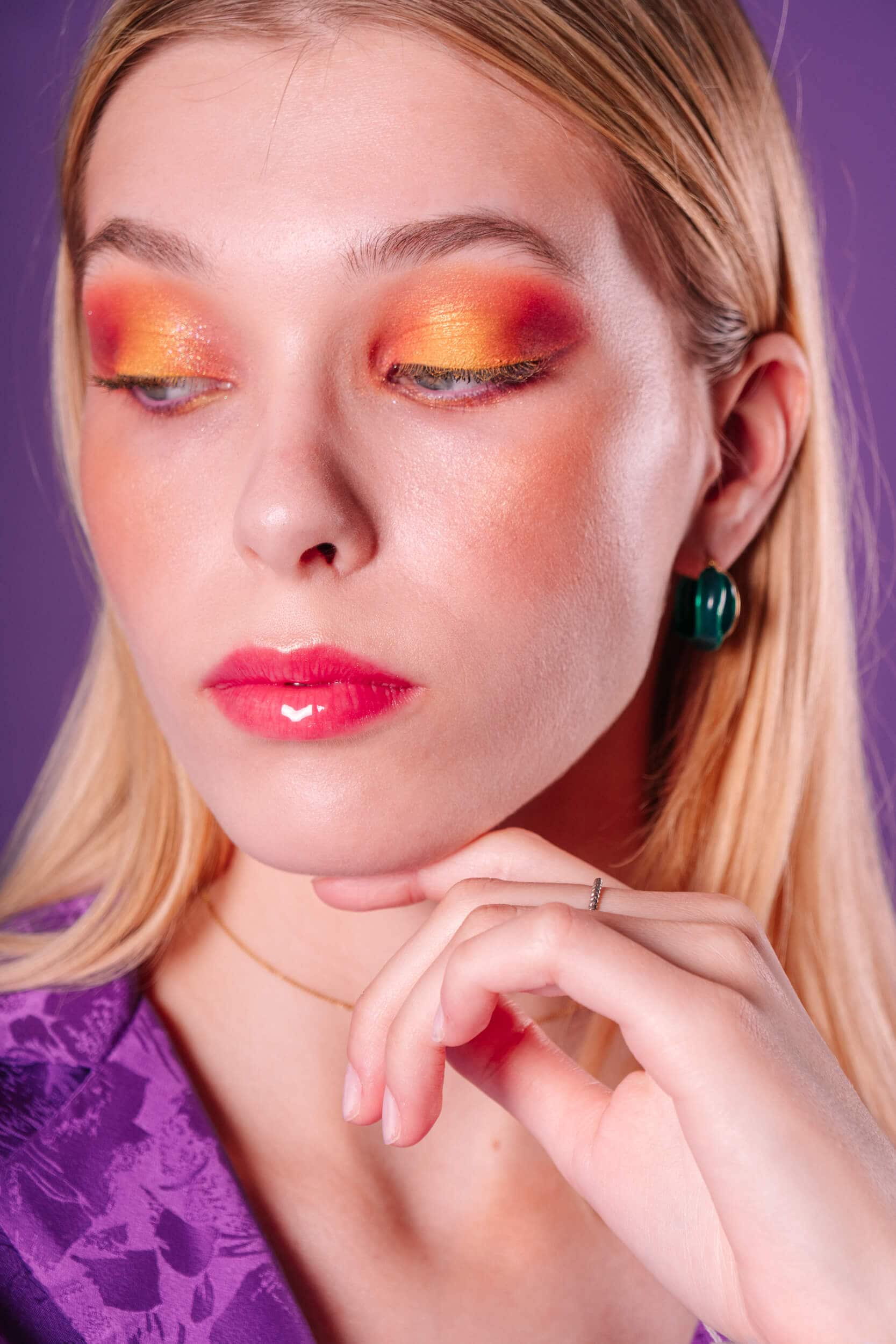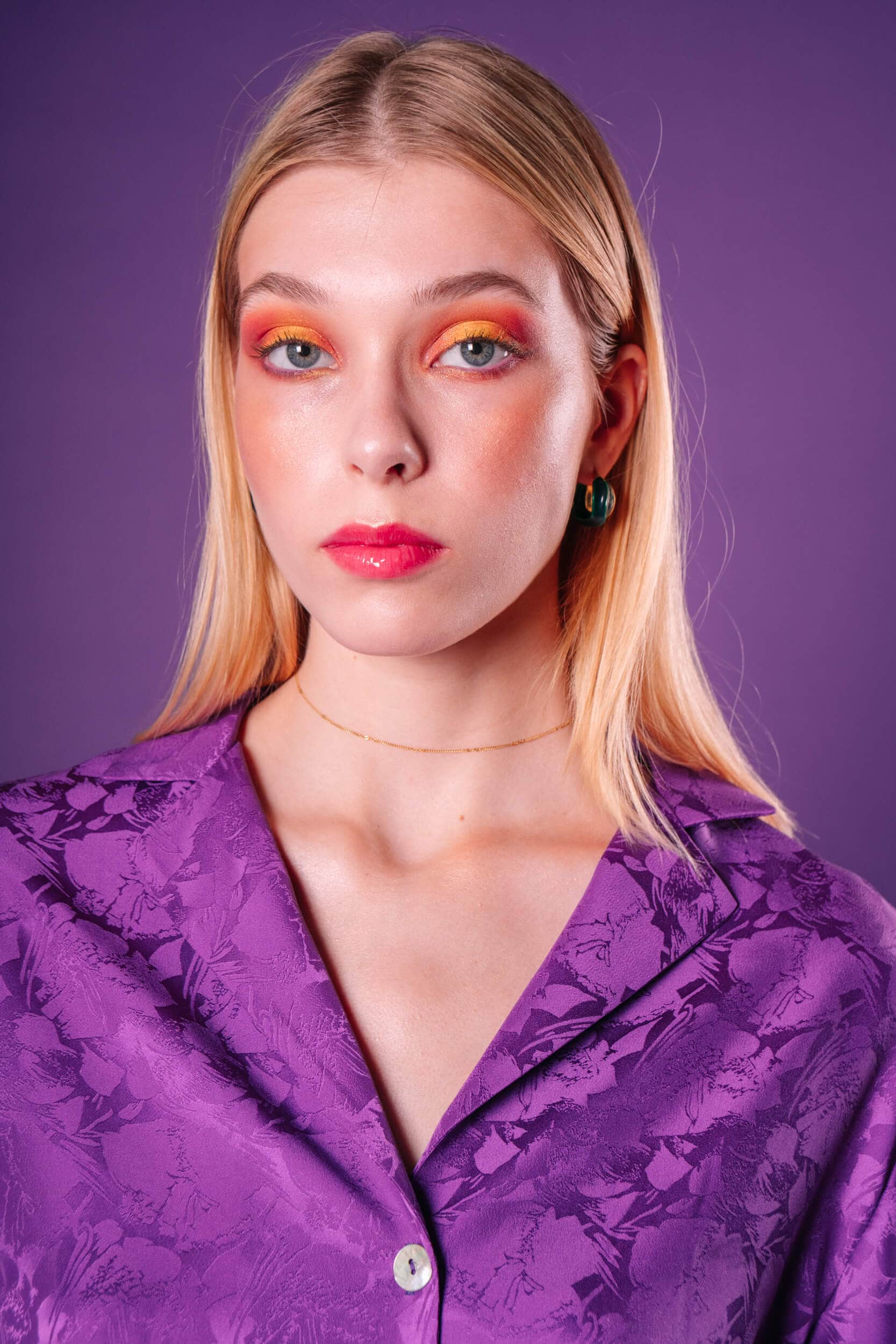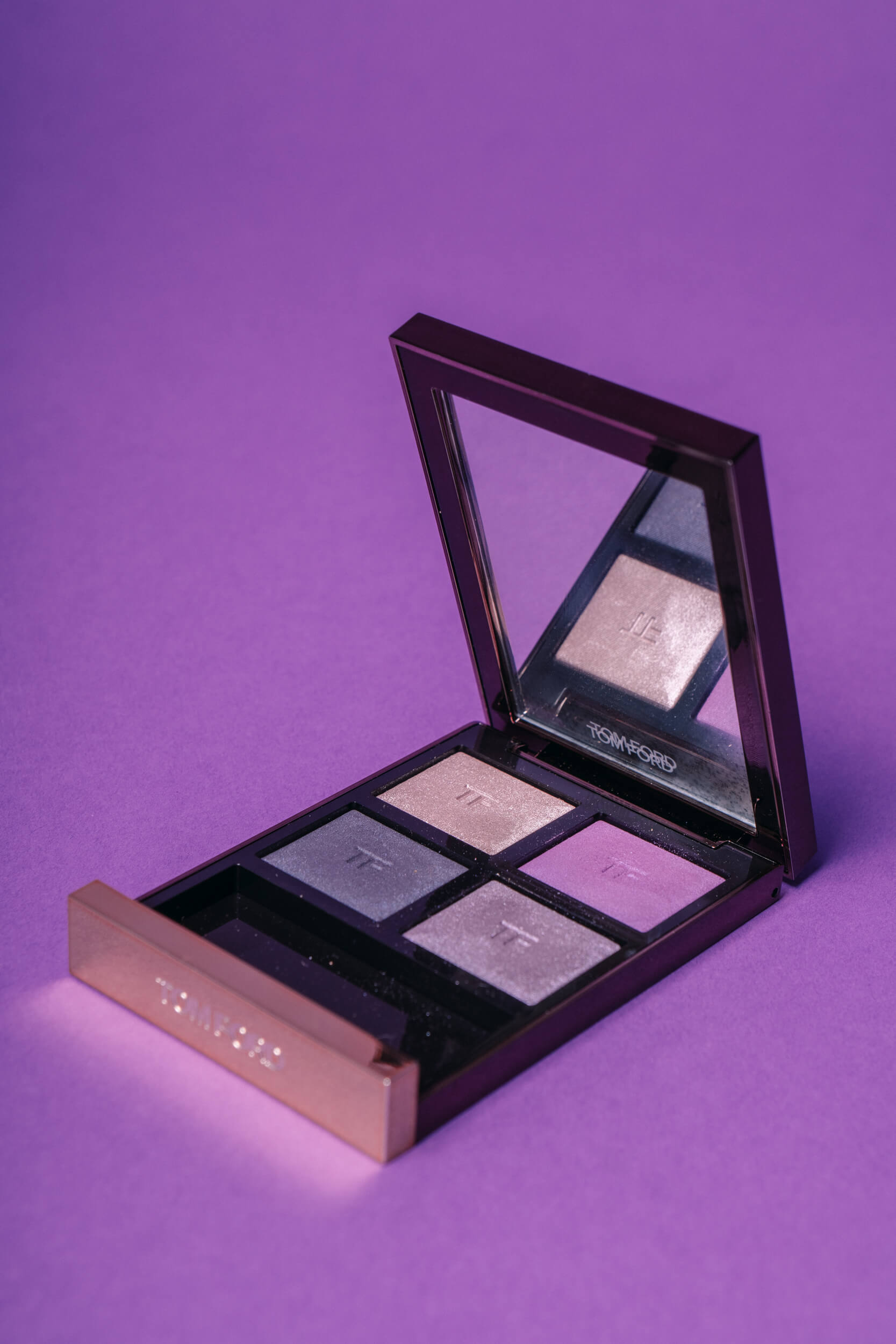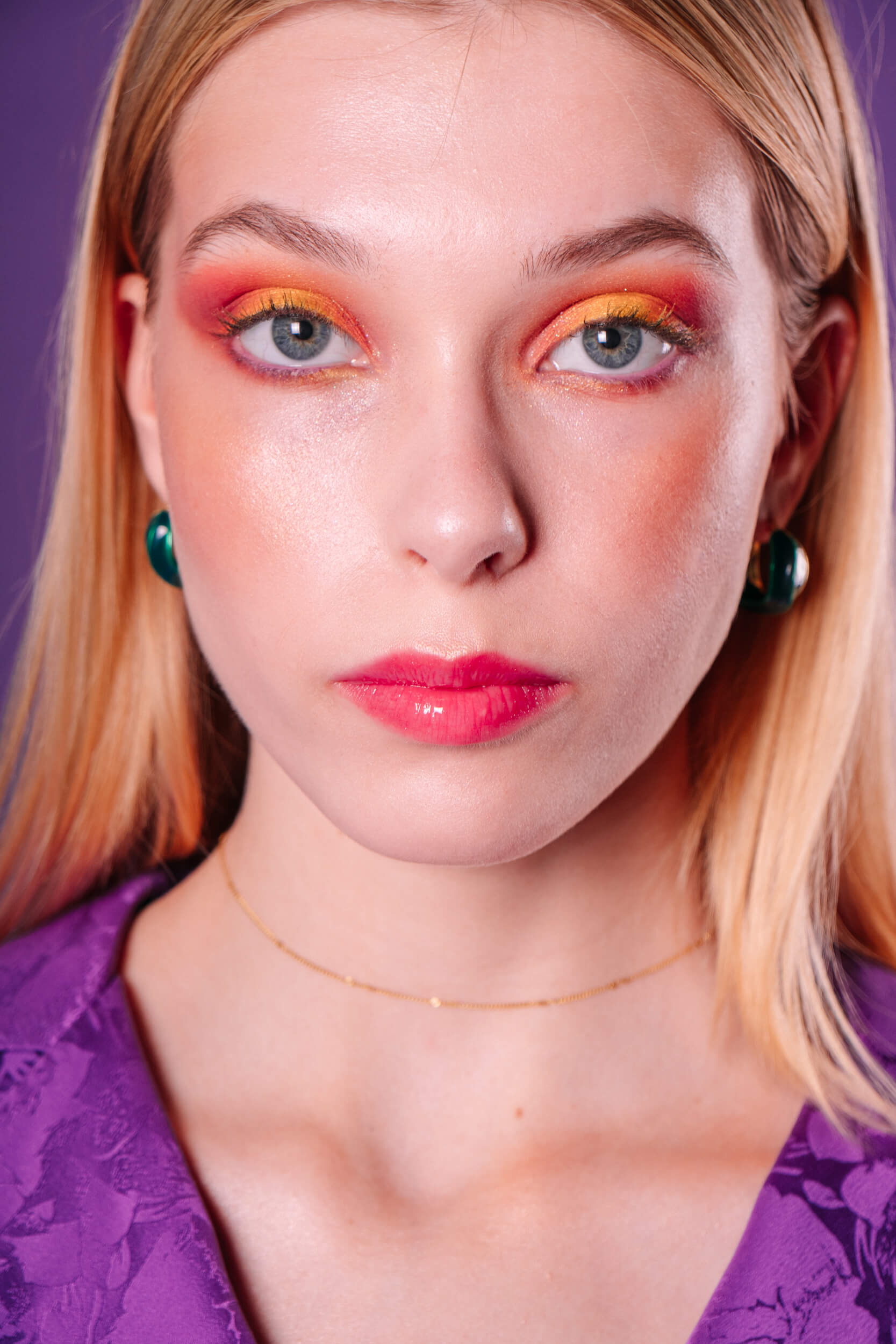 LIPS
For the lips, with such an intense eye makeup look, we've chosen a lip balm that is colored, but at the same time glossy, hydrating, and with good pigmentation. Our choice fell on California Kissin' Colorbalm by Benefit Cosmetics in the shade Fuchsia: a formula enriched with hyaluronic acid and mango butter, for 8-hour-long hydration.