Our review of the movie "Lady Bird", debut as director of Greta Gerwig who presents an intense movie on which we can all indentify with, and succeeding in getting five nominations at the Oscars.
Title
Lady Bird
Behind and in Front of the Camera
A brilliant and "complete" movie star, Greta Gerwig is qualify as one of the young and promising Hollywood's promises; actress, but first of all co-writer, she boasts collaboration the likes of Woody Allen, Wes Anderson and Noah Baumbach,with which wrote and played the title role in "Frances Ha"(that she was nominated as best actress for the first time at the Golden Globes in 2012). With Lady Bird adds one more piece to her witty career: infact the movie is her cinematographic debut as director and the expressive force of the film came from the accuracy and freshness of her script and from her unexpected director's skills.
Gerwig selected a group of very young cinema's talent: gifted actors as Timothée Chalamet, surprise of this year with his interpretation in Call me by your Name and Lucas Hedges (Manchester by the Sea, The Grand Budapest Hotel). No less important Odeya Rush, Jake McDorman and Tracy Letts.
The merit  of the emotional efficacy and of cinematographic success still it's up to the mother-daughter couple plyed respective by Laurie Metcalf and Saoirse Ronan, nominated and rewarded for their interpration so realistic that seemed to be genuine off and on the set.
Who's Got the Typewriter
Greta Gerwig directs and writes a coming-of-age commedy. A screenplay that the young writer was in the pipeline by five years. When it was finished, her ex partner and co-writer Noah Baumbach asked her to direct the movie; despite the mutual trust between them, Gerwig refused the offer and she decided to take totally charge of the project.
The result is a fresh direction and a screenplay that remember much Greta Gerwig's teenager years, that has denied every connection with the movie. Nevertheless the attention to details in dialogues, emotions and gestures suggestes that the young director has entered in touch with the story.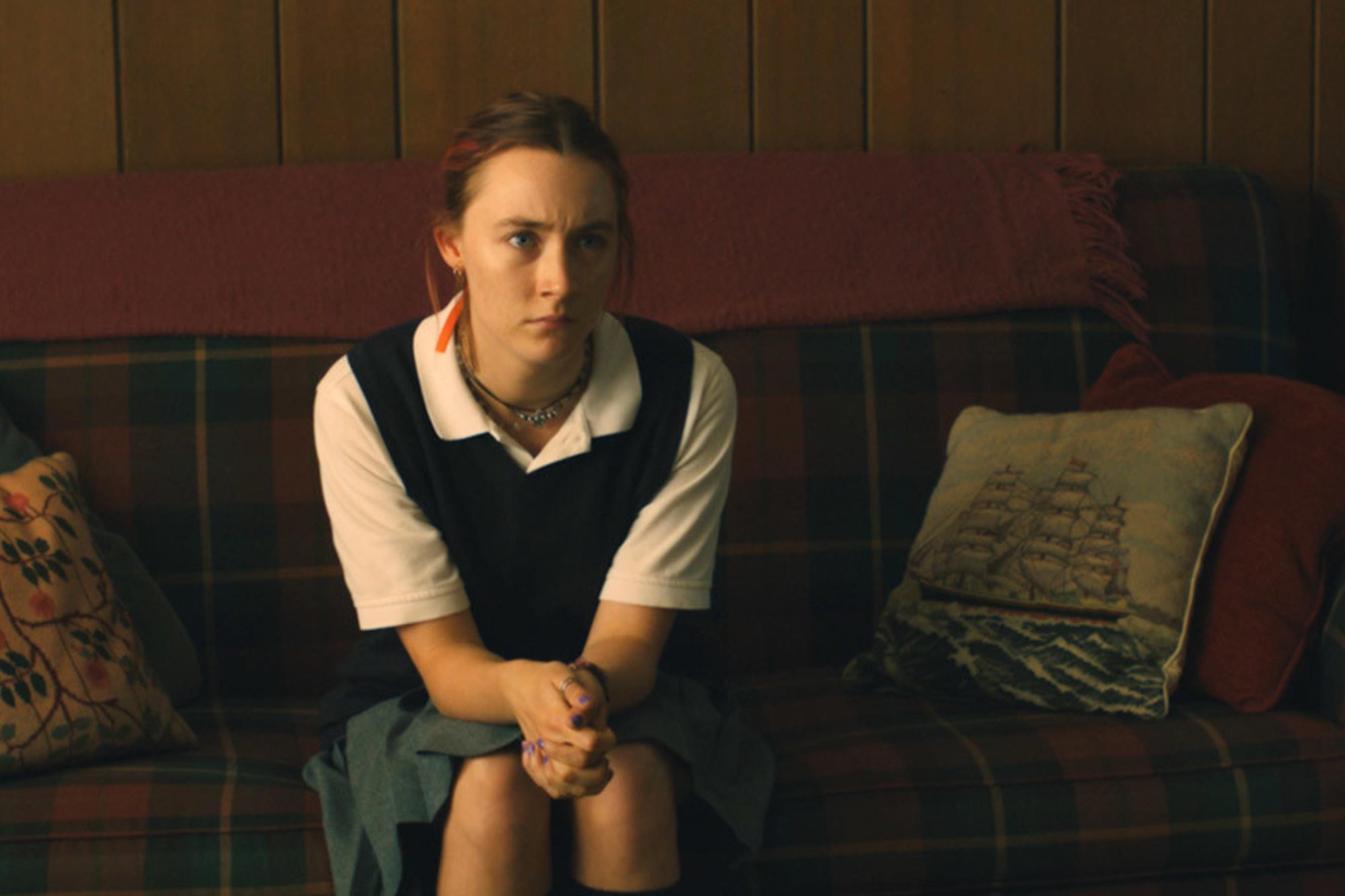 What to Know (ABSOLUTELY NO SPOILERS)
It may seem like a movie about an immature high school girl in between loves, friendship and relation with parents. A trivial plot that, as many others movies, deals with adolescence and the 18-yer-old's adventures, to be seen at a sleepover with friends and fall asleep at the usual happy ending.
But it's NOT, this time the ground breaking reigns in a film with forceful, humourous and touching connotations; Greta Gerwig tells and directs a moment, a period in a girl 's life that goes from high school senior to the starting college, in which each of us faced the impatience to start a new life, to begin finally 'adult' and then to pretend to be treated and behave in that way . A time in which 'being adult' means 'beng cool', when Home and parents gets stuffy and the wishing to escape and restarting everything –in our own way– is strong.
Issues that some of us have faced and others are facing with and, watching the movie, they have no choice but to confront young Christine and appreciate her for the defiant spirit, hate her for her dissatisfaction about what she's got or feeling sorry for the misfortunes that teenage years bring.
Christine "Lady Bird" McPherson (Saorse Ronan) is a strong minded girl, renegade, but very sweet, in contrast with many aspects of her life; first among them her mother Marion, an aloof nurse hardened by a thousand worries and economic problems: A clash between two very strong and different personalities : Lady Bird is the dream, the passionate youth, the dissatisfaction and the desire to escape from troubles, while her mother Marion is the everyday reality, made by anxiety, thrift and to be content with the life we have. An Odi et Amo between the abstract and concrete, two planets that appear to be so far away, but actually they need and in particular respect each other.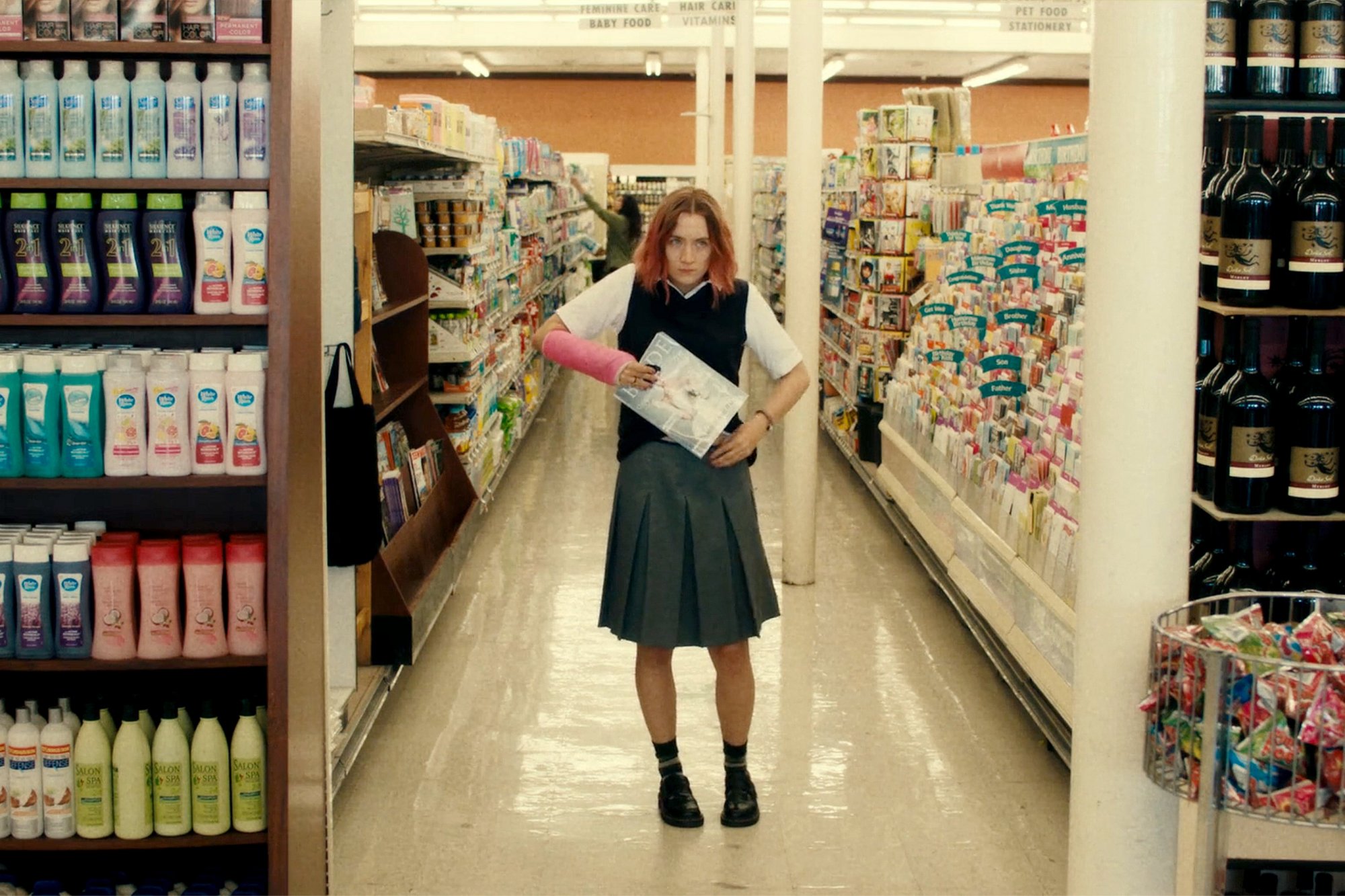 Lady Bird is a dreamer, with an high appetite of revolutionize every aspects of her existence, that untill then was marked by satisfying each mother's orders and requests, so giving up- for economic reasons- on the majority of her dreams.
She dreams about New York, but she lives in Sacramento at "the wrong side of the tracks" (that, it seems to be an exact metaphor of her life) and attend unwillingly the catholic school with conservative charges opposed her free and  immature soul.
Infact accross Christine'story, Greta Gerwig makes a sort of evolution to the maturity :  the relationship with her mother, the sex taboo, the love's disappointments and the choice of friends are themes that everyone of us have experienced and faced in a totally different ways. Remember our adolescence and those experiences years away remind us about many mistakes made, but also to how life has allowed us to grow up thanks to that mistakes, making us what we are.
Watching this movie is remember our adolescence and rethink about us in discontent, in the desire of escape, falling in love and being free of Christine. Lady Bird infact is nothing but the name of a 18- year-old girl of Sacramento stucks in a life that, as a dress, loved and now she doesn't seems to like no more.
The  evolution is completed when Christine will recognize  that the woman she's became will just be the result of the experiences she made by the sweet and rebel Lady Bird and at the end what she thought was her biggest obstacle, her mother, it was nothing but the thing, which although running away, would never abandon, because after all they are so different, but so similar.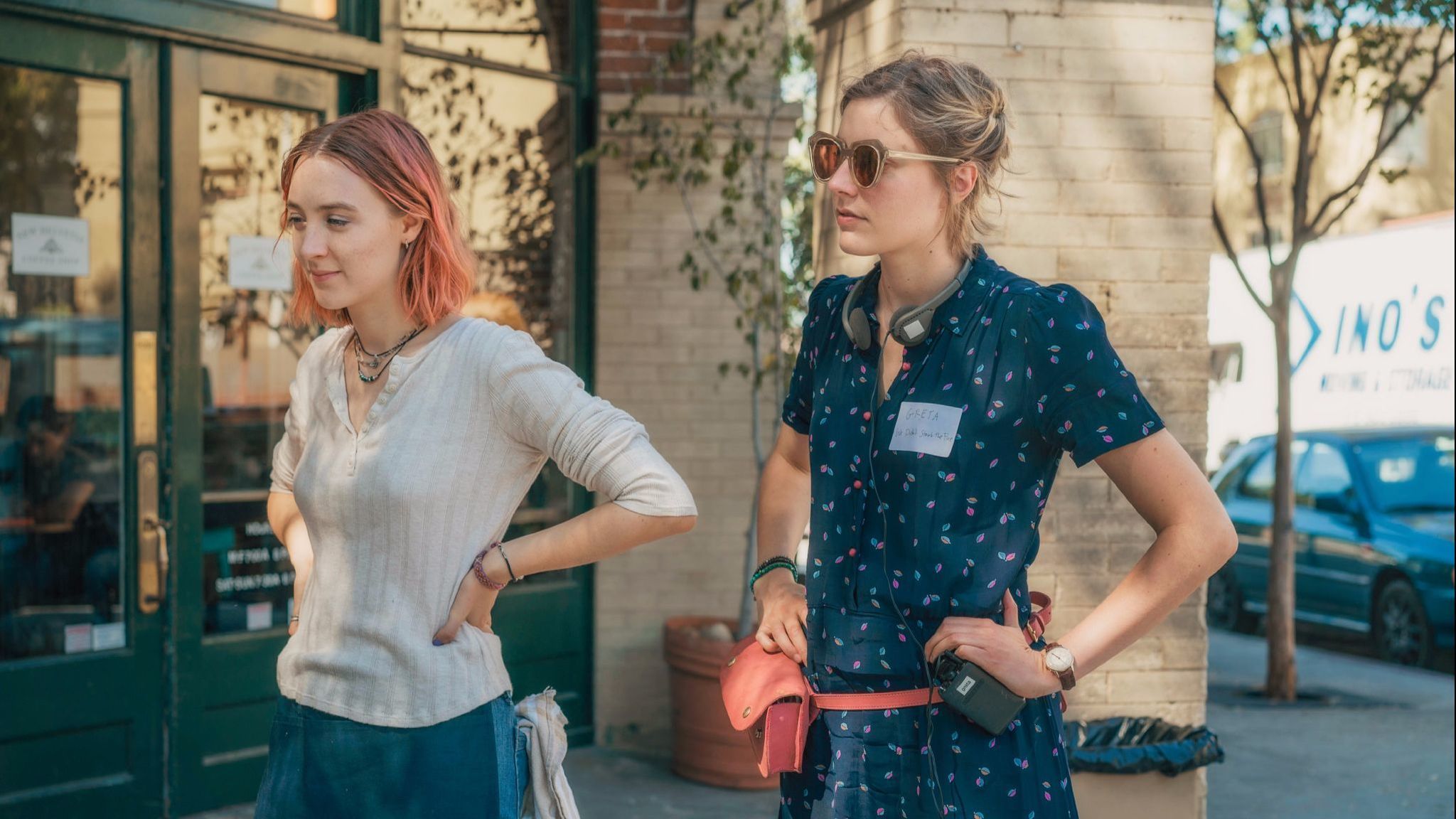 What You'll Need
 A full of emotions movie is waiting for you, but also load of sweet and nice humourism. If you have dealt with intense adolescence as our protagonist and now you are away from home, escaped from the past or you intend to do it and break out, well Lady Bird may be a test courage and her story could change your mind . However keep a pack of tissues close …the final part promised very powerful emotion.
What They Say
Greta Gerwig and the direction
"I didn't go to film school, so I learned on set and I tried to keep my ears and eyes open to what was going on around me and seek out mentors and people who would give me advice and tell me how they were lighting a shot and what were we doing exactly. I was very lucky to find those people."
…and the choice of the cast:
As soon as I cast them, I almost symbolically was like, "Now, I don't know. I don't know. You know. You know the character better than I do, so now you start telling me, because I don't want you to ever feel like I'm looking over your shoulder and fixing your work." I think that so much of my job as a director is to create a safe, calm, free environment where people feel free to make mistakes.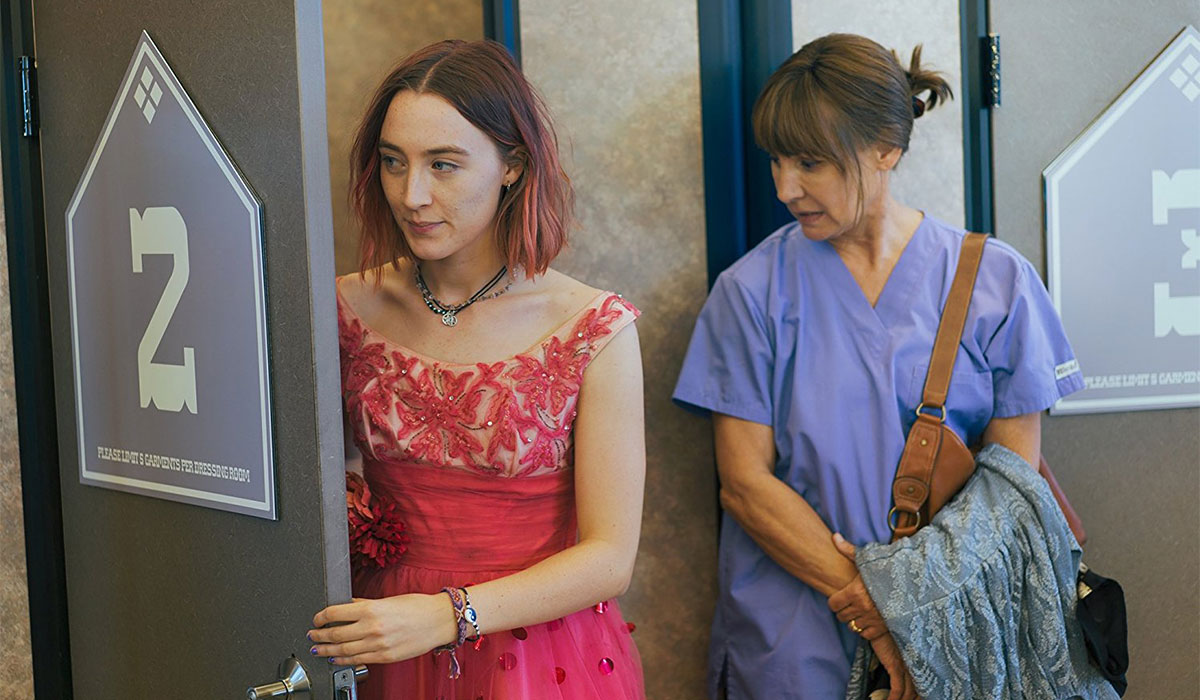 Saoirse Ronan about "her mother" Laurie Metcalf
Laurie is incredible, she's incredibly open and as an actor and as a person and is just kind of more than willing to try anything really, when she's working. You can tell the actors that genuinely just care about doing good work and she is one of those and I think she sets the bar so high that you have to meet her there in order to keep up with her because she's so good.
Saoirse and here role
I learn the lines, I read the script a lot, and one of the things that always helps me is finding the physicality of the character, so like the character's walk and how they hold themselves and their posture and things like that and just by sort of you know, physically being in touch with the character before you start, it can kind of get you out of your head and I just did that on a film I've just done about Mary Queen of Scots and it was very important that we knew how she held herself, the same with Lady Bird, like Lady Bird has a real purpose and a drive and you needed to sort of see that in her physicalities, so that really helps.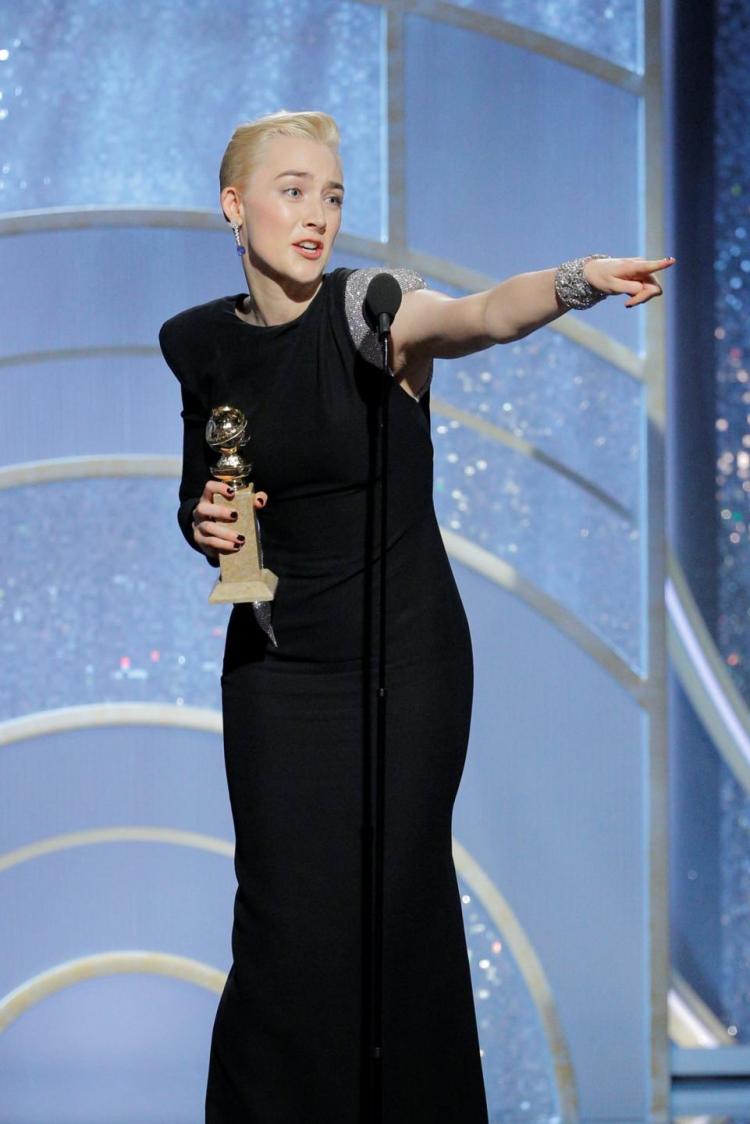 One Last Thing… 
Lady Bird was nominated for several prizes including the British Academy Awards and the Critics' Choice Movie Awards, but it was awarded at the 75° Golden Globes Ceremony for the Best commedy/musical and for the Best actress in a commedy/musical to Saoirse Ronan, stealing the award to the worthy rival Margot Robbie for her interpration in I, Tonya.
Also at the Academy Awards, the movie was nominated for Best Movie, Best Lead and Supporting Actress (Laurie Metcalf), Best Director and Best Original Screenplay.
The writer wanted Saoise Ronan from the beginning for the leading role, because Gerwig says that " she was perfectly connected with my idea of the character which is 'not a typical girl coming from Sacramento'". Saoirse Ronan infact was obliged to not make up herself or a little and to leave spots exposed, in order to empathize with the role of Christine.
On Rotten Tomatoes, the famous online megazine for passionate film fans, the movie has obtained the 100% of positive reviews, a new record of "the best reviewed movie of all time " broke the record held by Toy Story 2.
Nevertheless Greta Gerwig considers herself the exact opposite of Lady Bird's personality, refuting every rumor about a possible autobiographical note of the movie, there are many details linked to the director's adolescence: born and raised in Sacramento, attended catholic schools, her mother was a nurse and her name is Christine , as the protagonist Lady Bird.