We should see taking care of our skin like a bright moment of the day, an occasion for pampering ourselves, rather than a sad task we have to perform daily: that's the idea of Christine Chang, one of the two minds behind "Glow Recipe."
To pass it on, she created the word Skintertainment, or what makes skincare and makeup enjoyable. Skintertainment is a new word for a new, ever-changing, even more interesting skincare world: it's about fun products, cute packaging, amazing smells and high-end results. It's about enjoying the time you spend with yourself taking care of your skin and your makeup. In this, the Asian market of Beauty has always been a leader: only Japan and South Korea can make a beauty product appealing with popping colors, cute animals, manga characters and a lot of different textures, from jelly to bubbles.
Nobody is immune to the power of this new trend!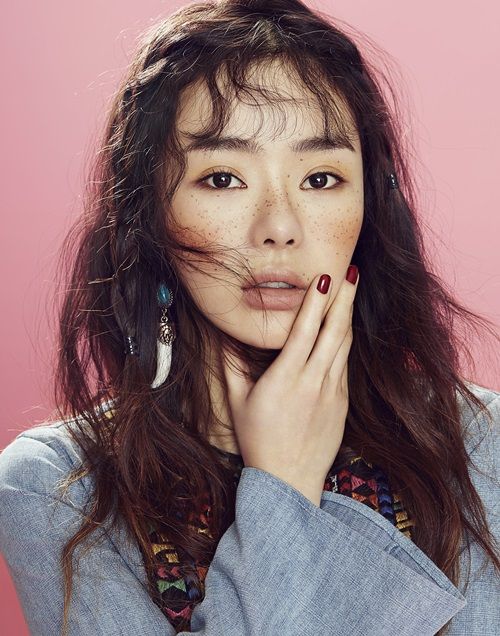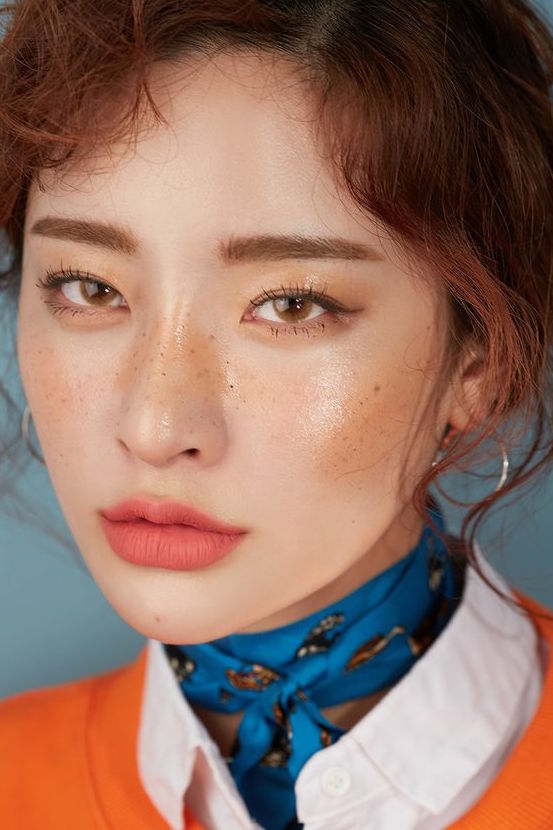 Everything makes you want to take time for yourself and be amazed but it doesn't have to be a boring and painful process, more like something you'd want to share with your friends (and IG followers). And, though it's getting easier and easier to find Asian products in the Western market, with the Western big makeup chains going crazy over the Korean and Japanese brands, there are still some products that are just not so easily found when you're on the other side of the Ocean.
So, thanks to YesStyle (the huge Asian online Market with a vast offer of every beauty product, both from Japan and South Korea) and a good amount of curiosity, we finally tried something to see if it could conquer our hearts and live up to the general enthusiasm.
This is what we loved, what we learned and (most importantly) what surprised us!
Etude House – Dear Darling Water Gel Tint
In: Red Bean Red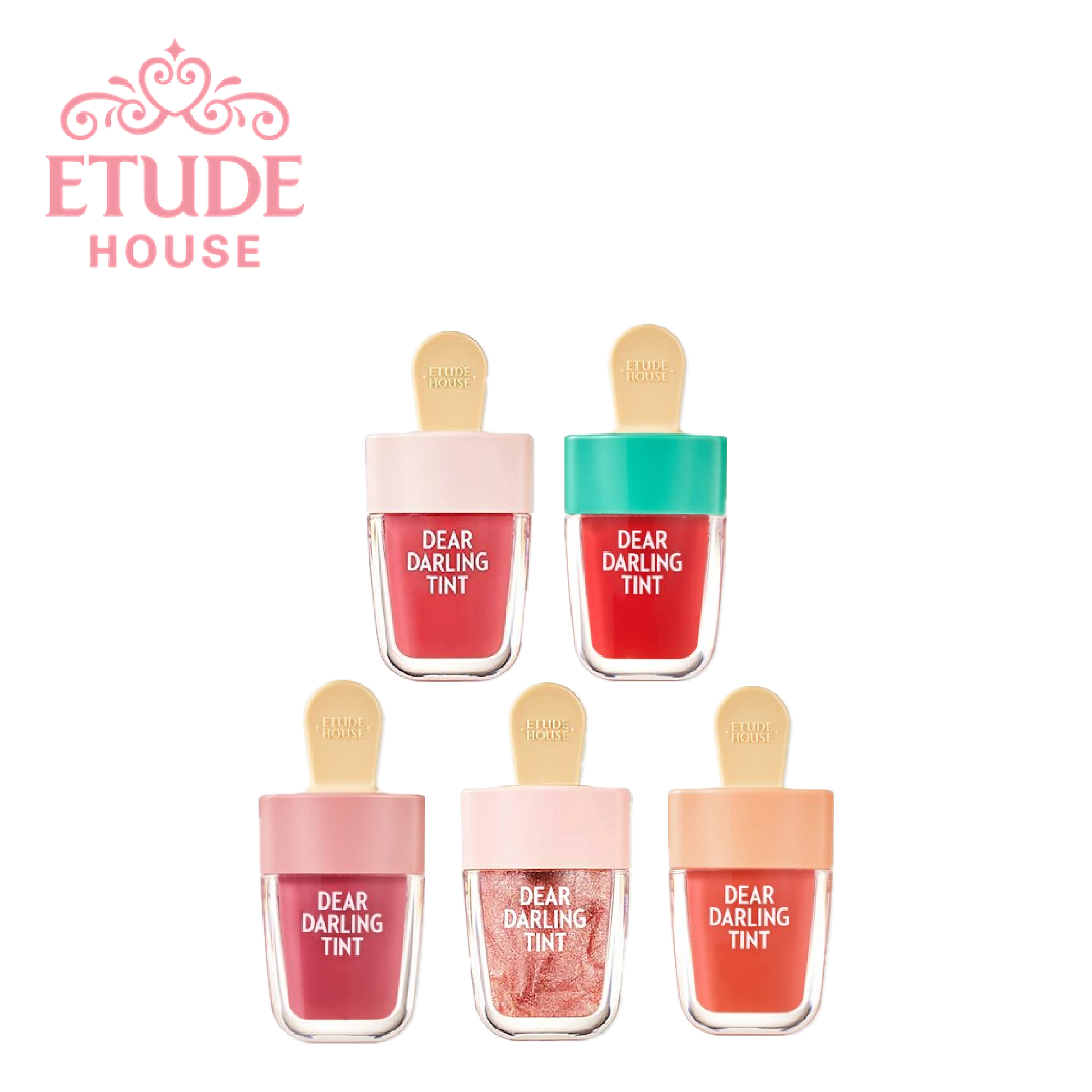 The first very, very, very pretty thing about this multitasking water-based tint is the packaging: we feel like the ice-cream shape of this mini, purse-friendly product perfectly fits the season. This light, slightly glossy tint is very versatile, and can be used for both lips and cheeks, and has a really pleasant and refreshing feeling on the skin. We tried the Red Bean Red, a deep, rich burgundy that blends into a lovely semi-sheer veil of red, and it tastes and smells like grapes. It's not super-pigmented and has a medium staying power, but we feel like it's going to be something we'll use every day on the beach.
Creer Beaute – The Rose of Versailles Face Mask
In: Oscar & Rosalie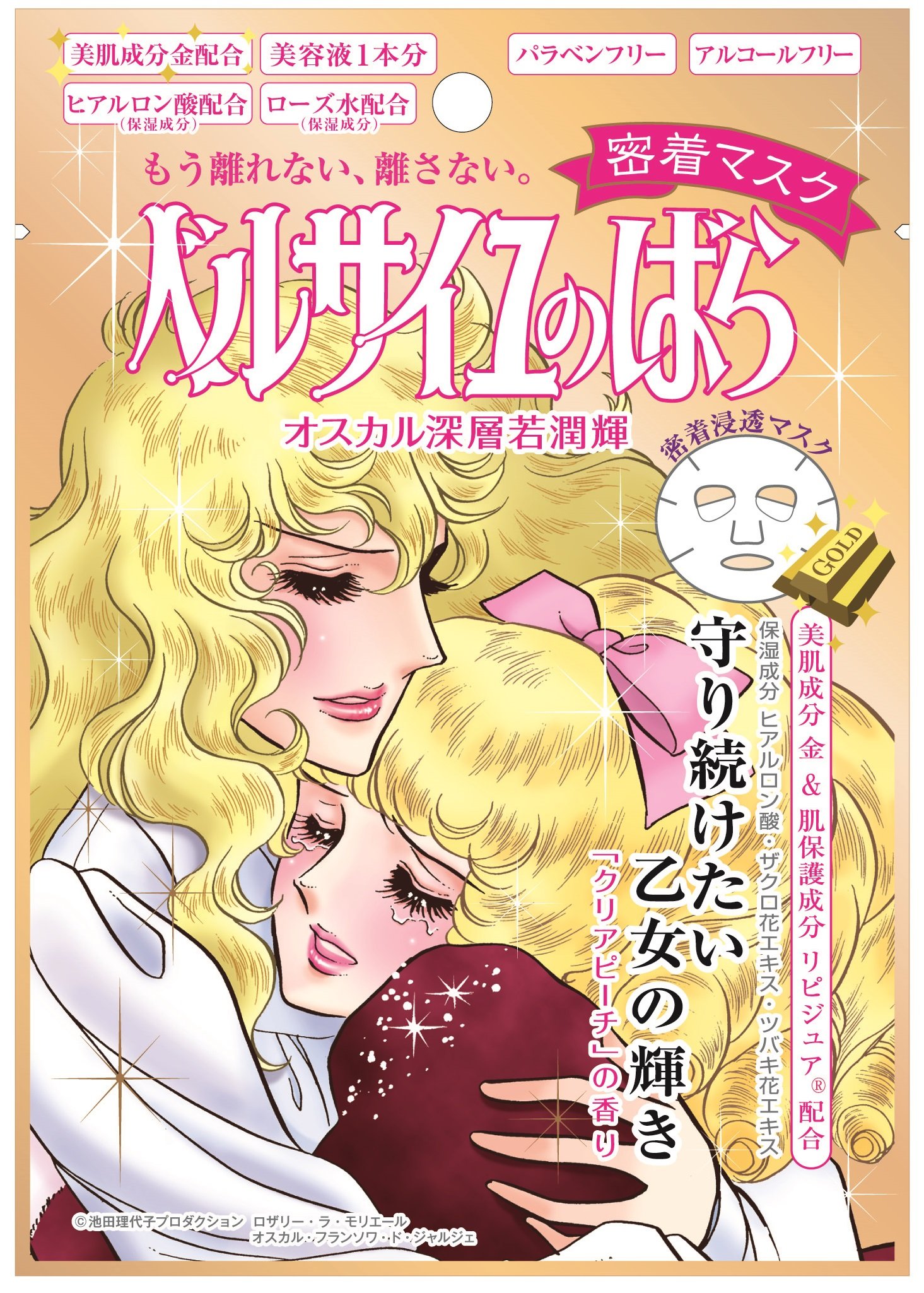 "The Rose of Versailles" has been everybody's obsession at some point in our childhood. So, down with the Disney princesses' facemasks and up with the most badass Commander of the Royal Guards ever. Despite the childish purposes of the purchase (we regret nothing), this sheet mask was actually pretty good. The main ingredients were Gold, which is a must in this kind of J-beauty masks, Pomegranate Flower Extract, Camellia Extract, Hyaluronic Acid to moisturize and agents of skin protection. As every other sheet mask, it takes zero effort: place it on your face for 15 minutes and just enjoy the sweet fragrance. It leaves the skin smooth for an entire day, and the face feels refreshed and soft as expected after a good facial, so we feel it's a win.

FYI: In the "Creer Beaute" brand there's pretty much everything, not only about Lady Oscar but also the other characters of the manga. There are even characters themed bath salts.
What can we say? The revolution kind of backfired.
Peripera – Ink The Airy Velvet
In: Elf Light Rose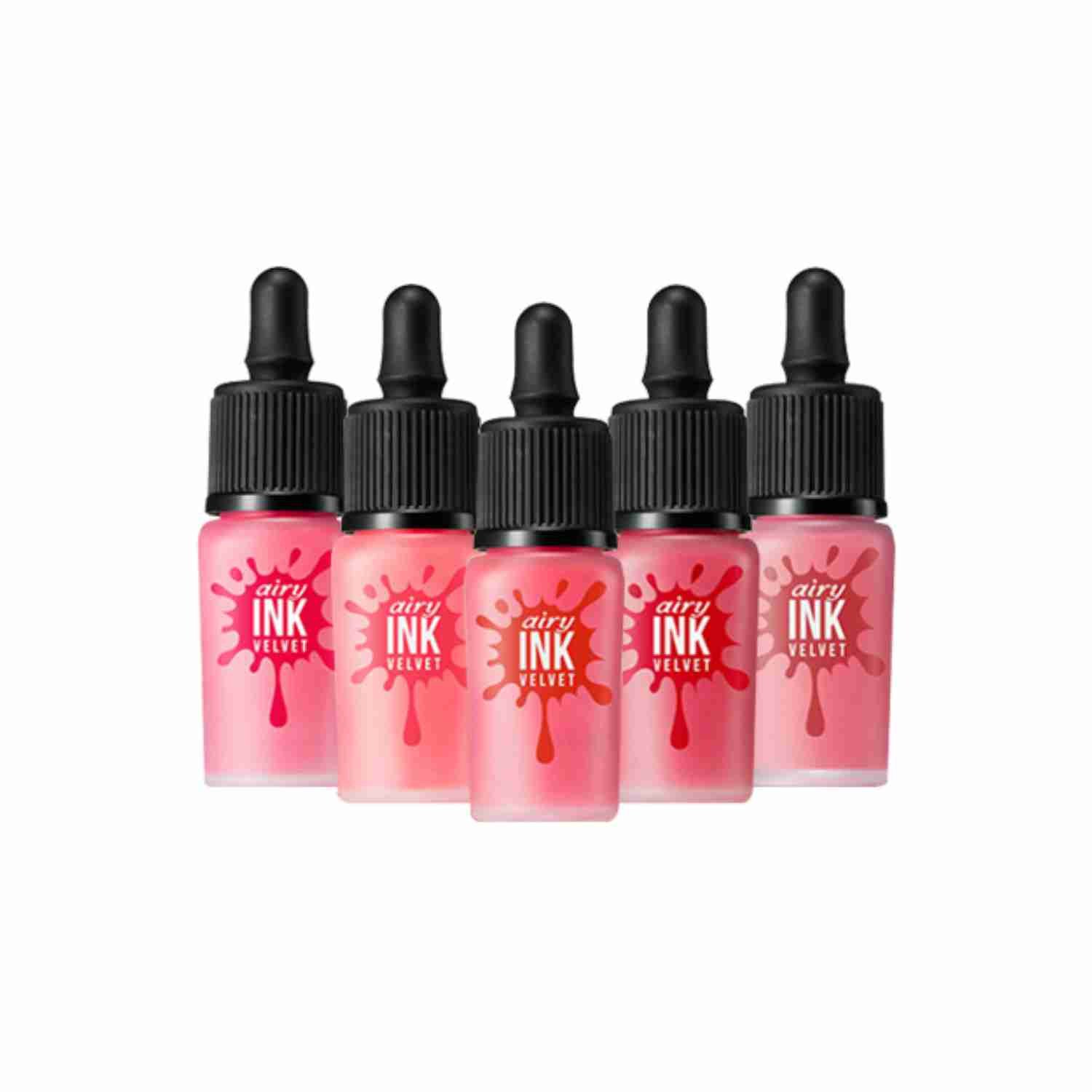 Differently than the Dear Darling Water Gel Tint, this lip and cheek tint is matte and has a higher, more even coverage. We loved its buildable shades (one swap for a hint of color and a gradient look, two swaps for a full coverage) and the softness of the formula, that doesn't try on the lips and doesn't crack even after a couple of hours. On the contrary, the lips feel smooth and soft – which is always a good thing with opaque tints.
The packaging is clean and simple: an opaque, tiny pot in which the particular shade of the product is immediately clear, and it's also good because the online pictures match really well the actual color on the lips. A versatile tint with, overall, a great payoff, perfect both for subtle and popping looks.
Kiss Me Heroine – Make Volume & Curl Mascara Super Waterproof
In: Black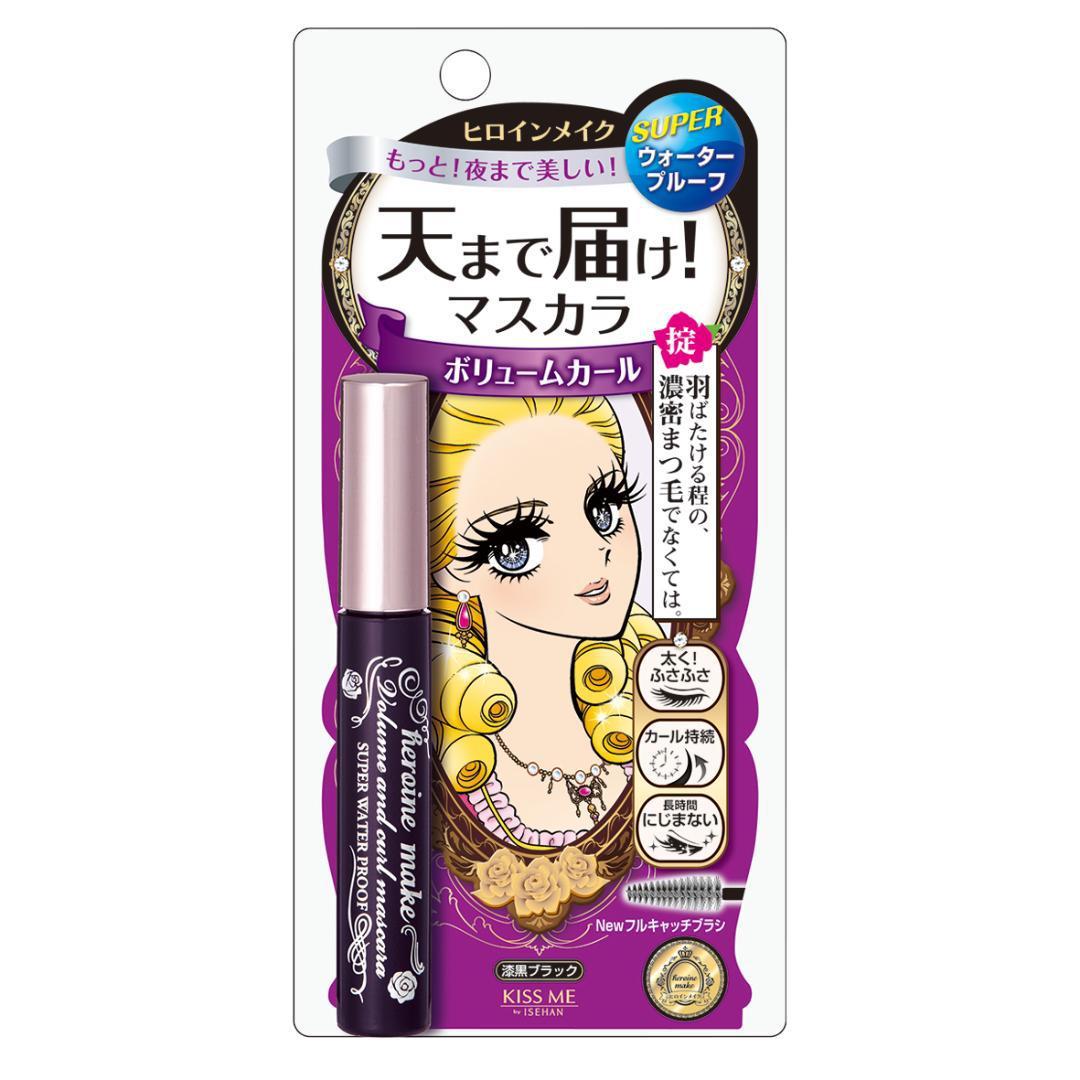 Who hasn't envied the doll-like, curved lashes of Japanese and Korean idols at least once? Well, this mascara was really a pleasant surprise.
It has a straight pipe and a highly pigmented, rich black color and, although the "Rose of Versailles" inspired packaging makes this product look like a kid's makeup, the result definitely overcame our (not so high to begin with) expectations. A couple of days and a lot of cotton pads and oil-based cleanser after, it was clear that this mascara was really super waterproof, and the effect on the lashes was nice and clean. It added volume and lengths without making the gaze look heavy, and it definitely doesn't smudge. Even more important, it doesn't create goops, so it's worth the risk.
It might become our go-to-mascara, to be honest, and that says a lot.

Etude House – Zero Sebum Drying Powder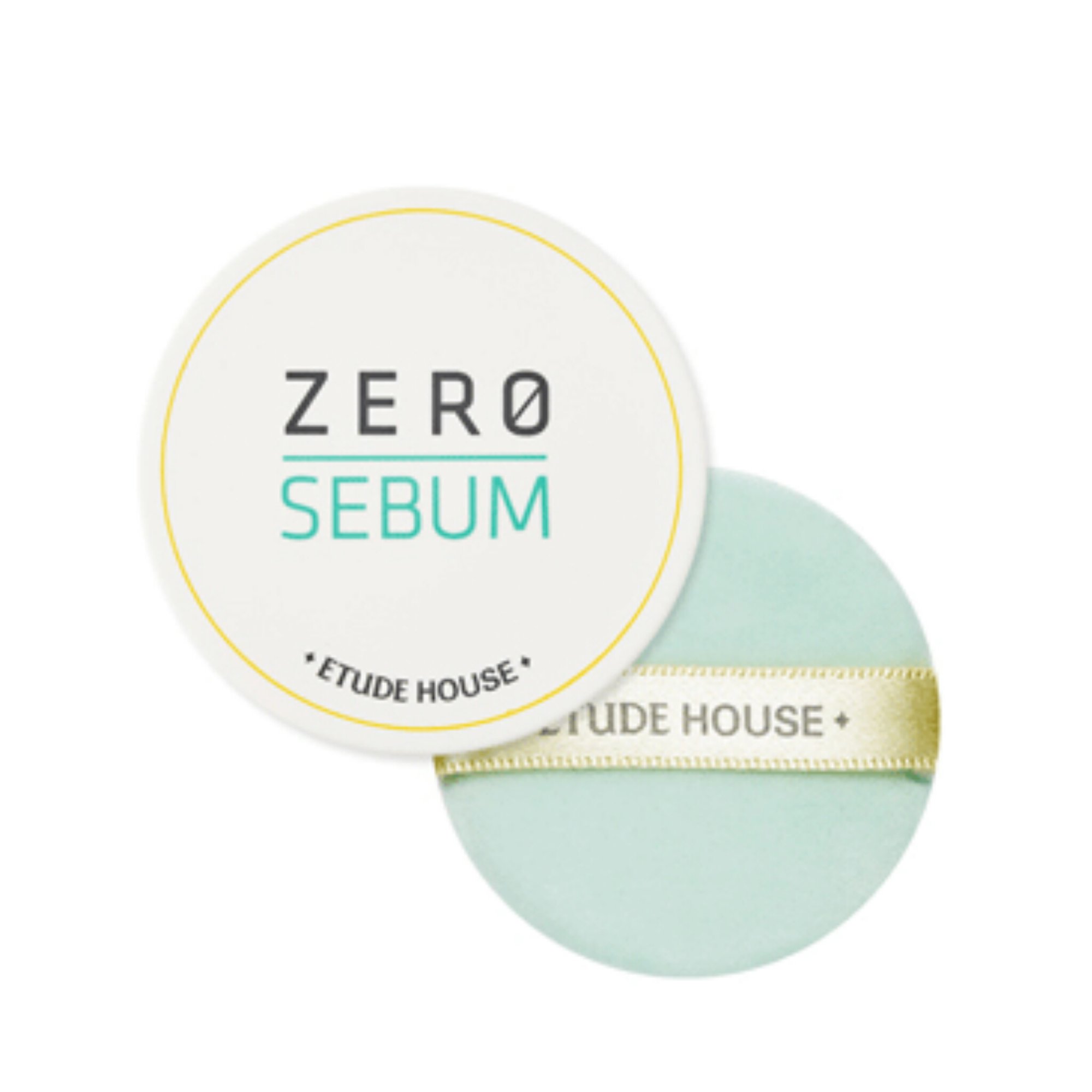 For those who have oily skin and want to mattify their slightly shiny makeup, this product is really good (although it's far from being the best of the best) and surprised us for its light texture and summer-friendly resistance to sweat, city smog and air conditioning. If you have oily skin but a cakey finish is your worst nightmare, this drying and mattifying powder is definitely more than a decent lifeline. Of course, being produced for South Korean girls, white powder is not something you may want to powder on a bronze-y and tanned complexion, but it blends nicely and, in the end, it results sheer and pretty without being too ashy.
The small compact packaging is pretty and allows the powder to be carried with you everywhere, be it your clutch or shopper: for those SOS moments of unwanted shine that, in summer especially, happen more often than we'd like them to.
Etude House – Dear Darling Water Gel Tint
In: Hot Pepper Red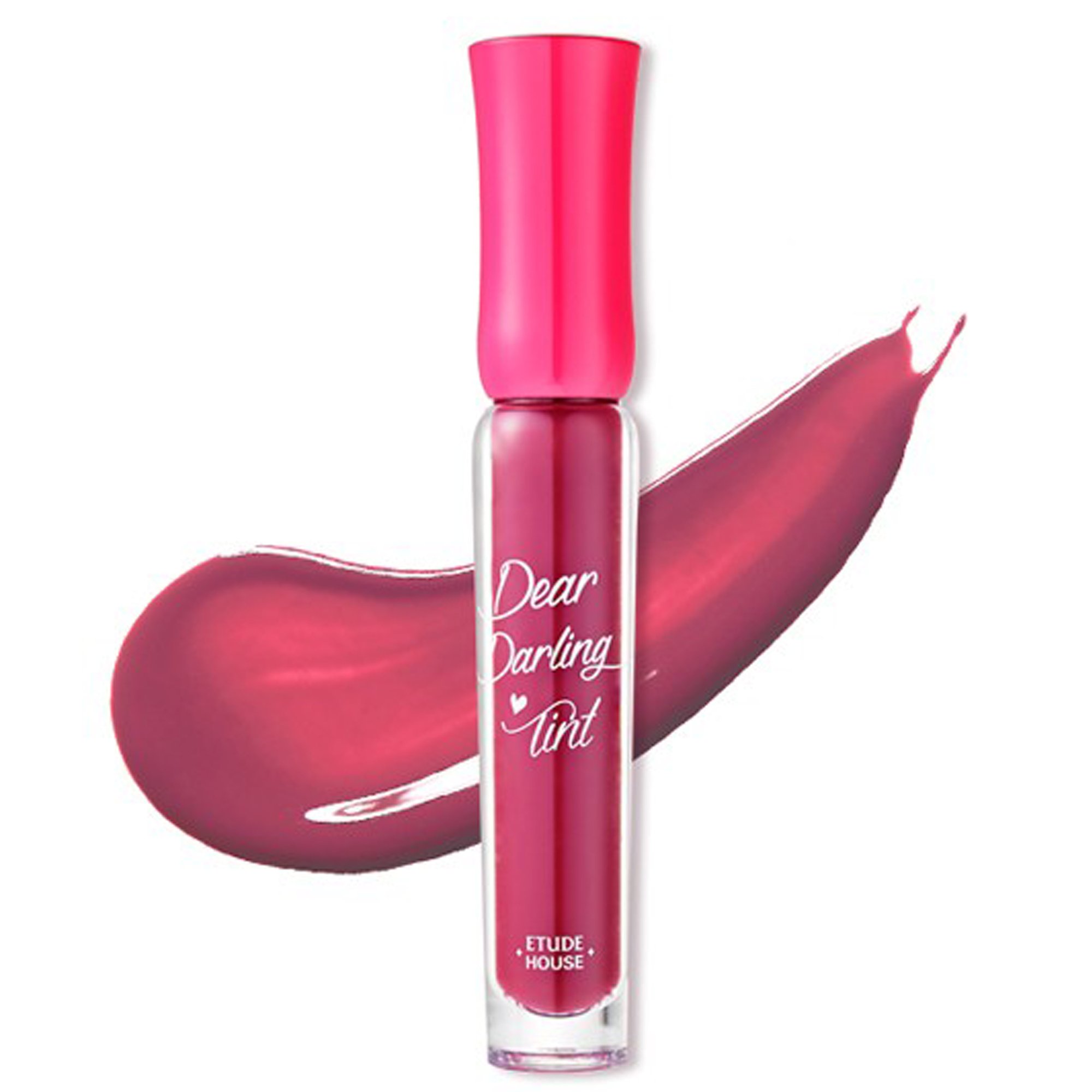 This semi-sheer and feather-light lip tint has pros and cons.
Once applied it smudges a lot but, once set, it has a long staying power and the water-based texture is fresh and summer-approved. The 14 shades are all inspired by fruits, and it feels refreshing and comfortable on the lips. It takes extra care when applying, the pigmentation is high, and the one we tried (the Hot Pepper Red) has a burgundy color with tiny golden glitters that gave a warm shine to the lips.
Because of the glitters it's not really recommended as a lip and cheeks tint but, once set, is definitely a lovely lipstick, drink-proof and semi-sheer.
Daycell – Re, DNA Propolis Ampoule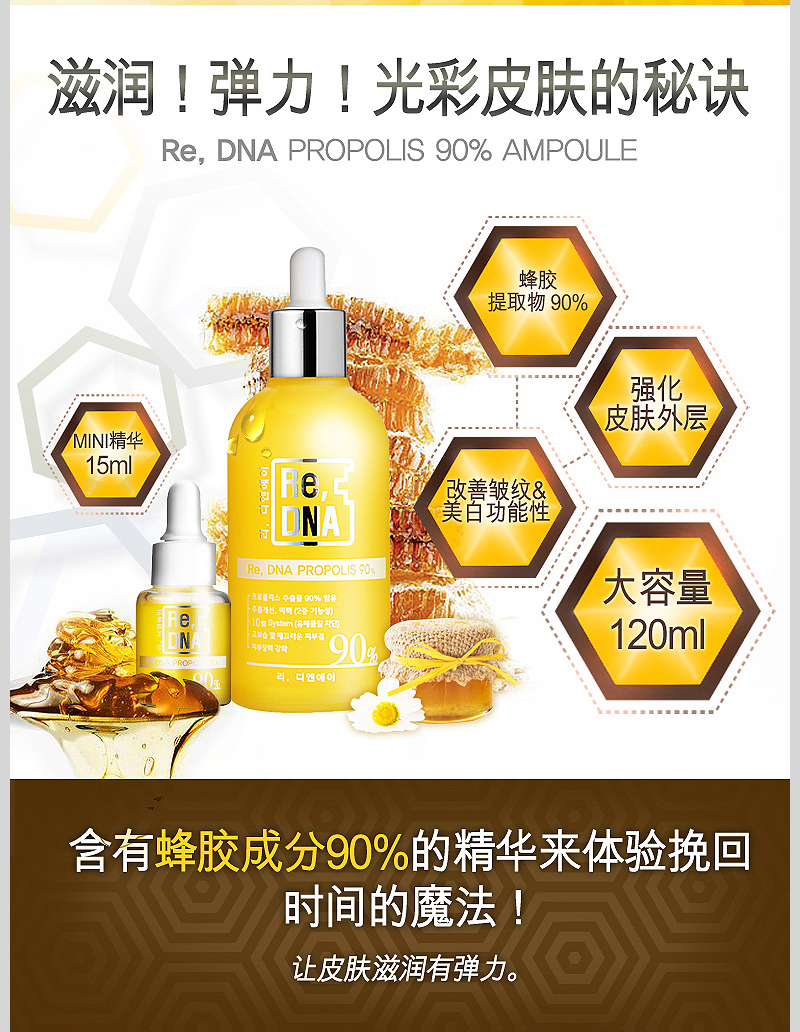 Let's talk skincare.
It's widely known that K-Beauty is very passionate about skincare, with extra-researched, often natural and super-delivering products, and all the influencers from Asia have crazy skincare routines and a luxurious skin. Pony's nighttime routine is more like a nightmare routine for those of us who are too lazy to layer serum and moisturizer, but is generally recognized that South Korea's beauty industry is years ahead in the subject of taking care of the skin, so we tried a rich serum and waited enthusiastically for it to do magic for our skin overnight.
It…kind of did. The Re, DNA Propolis Ampoule has a rich, thick texture that feels like putting drops of honey on your skin (but definitely less sticky), and actually brightens the complexion after a week of religious application. The formula has a percentage of 90% Propolis extract, which should help also acne-prone skins thanks to its antibiotic and antiseptic properties. It effectively reduces the shine on oily skin, but it's also recommended for dry, damaged and dull complexions that need a "bee-t of help."

Peripera – Milk Moist Lip Balm
In: Peach Milk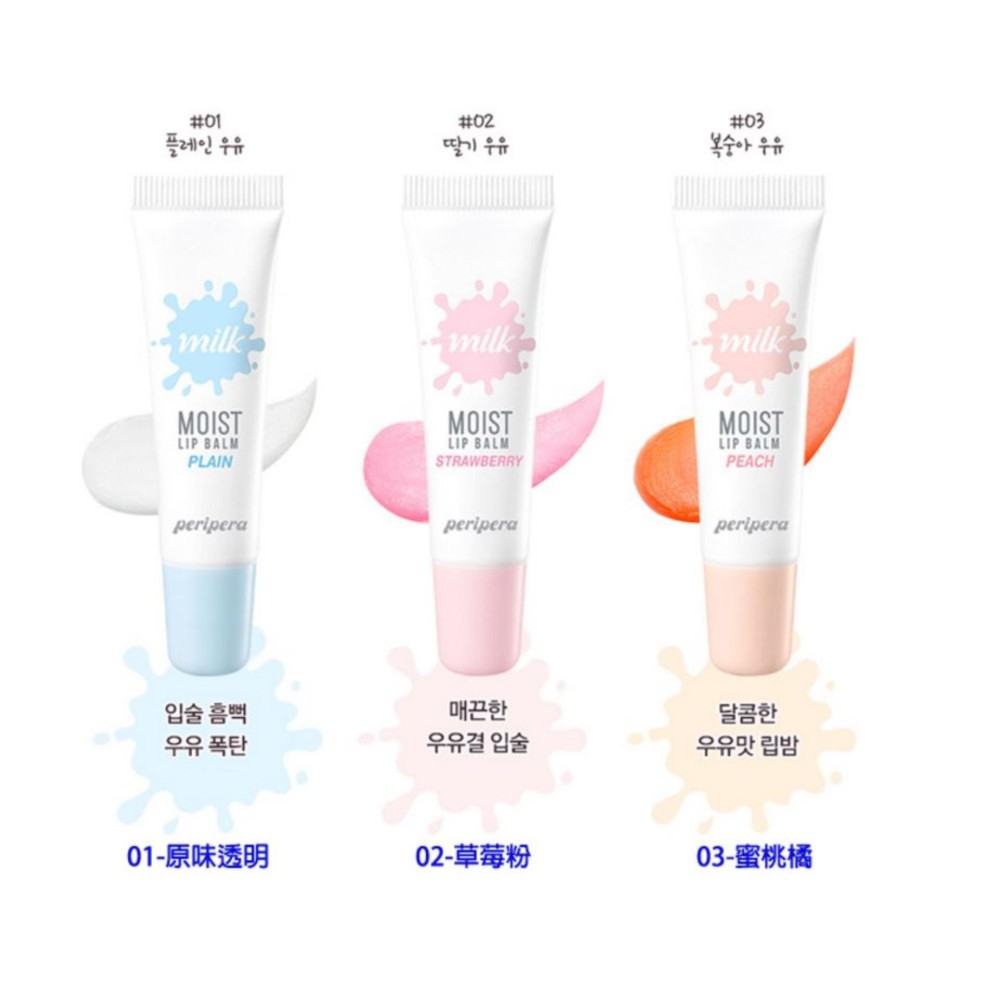 A lovely lip balm with a subtle peachy flavor that will earn a spot in your heart and in your purse. It's slightly pigmented (a peachy, soft shade, so it's not going to pop on your lips like a smudgy lipstick) but comfortable, and leaves the lips hydrated and tasting like peach. The milk extracts moisturize and protect the lips, while the peach and the vitamin complex makes them feel silky smooth.
There are 3 kinds of Balm: Plain Milk, a sheer balm in a pretty pastel blue packaging, Strawberry Milk that comes in a millennial pink package and with a vibrant pink shade, and the Milk Peach, in the pastel peachy package.
If you love the Glossier Balm Dotcom but want something less heavy for summer and that also gives a veil of color to your lips, this one is definitely a go-to!
Innisfree – My Real Squeeze Mask
In: Manuka Honey
In: Green Tea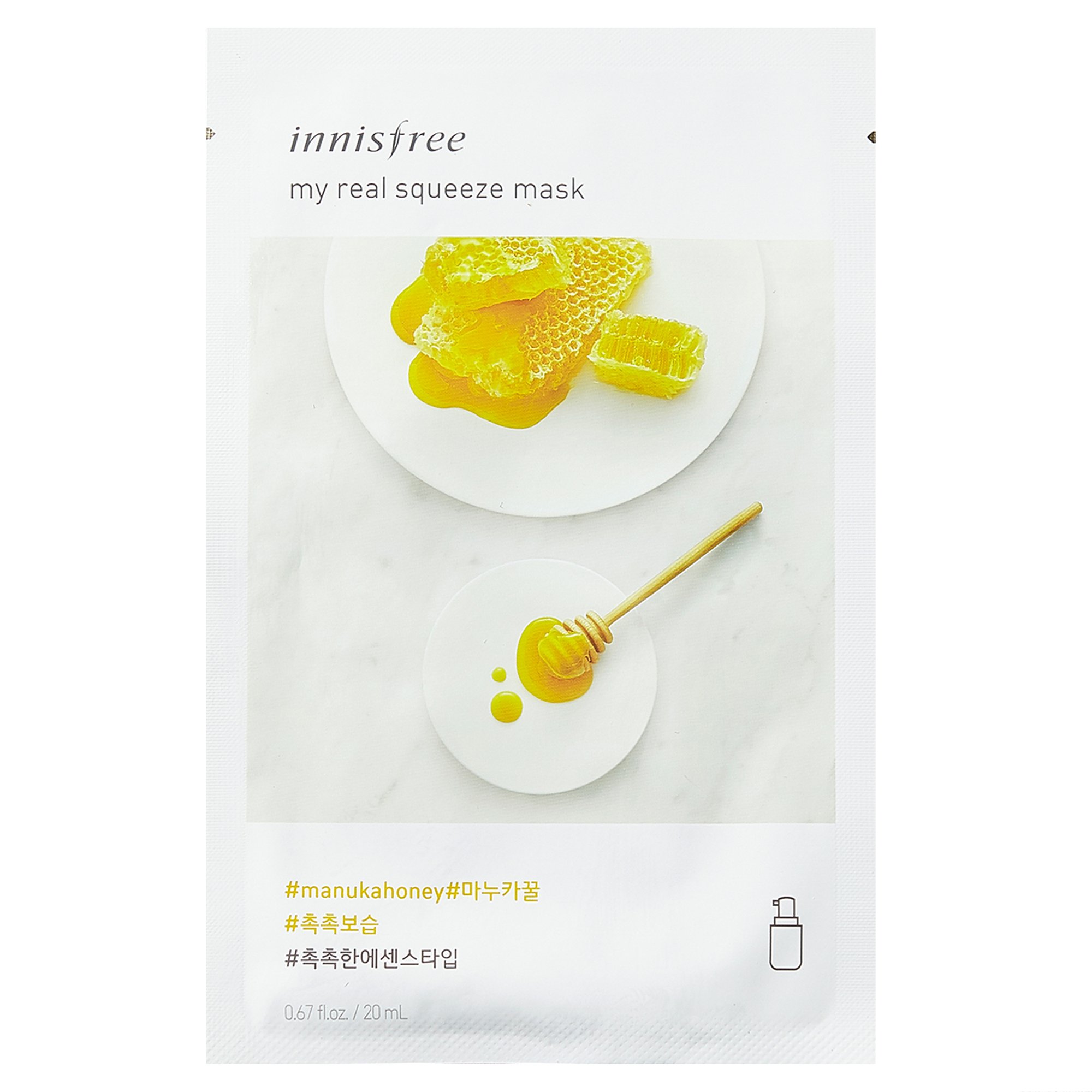 Every day is Soothing and Revitalizing Face Masks day, so we decided to try two sheet masks of the same brand, but with very different purposes: the refreshing Green Tea and the moisturizing Manuka Honey. Although very different, both things are of great importance when the heat of summer, the smog of the city and the salt of the sea stress our skin, leaving it often dehydrated and dull.
We loved both the masks that left the skin smooth and soft; incredibly, the remaining product didn't feel heavy or oily on the skin, even after 20 minutes or more of application (we left the Green Tea mask a little bit more than indicated).
Their water and cream base, whose formula changes depending on the main ingredient and purpose of the mask, is matched with 100% natural ingredients, from rice milk to tea tree.
Every skin mask (the brand offers 18 different main ingredients) is categorized in one of the three main sectors, which are indicated with a small sketch on the bottom of the package: the Fresh Water Type, refreshing and with cooling ingredients like bamboo, green tea and rose water, the Moisture Essence Type, with the hydration of cucumber, honey and aloe, and the Rich Cream Type, that deeply regenerates the skin with the extracts of Shea Butter, coconut and oatmeal.

Aromatica – Rose Absolute First Serum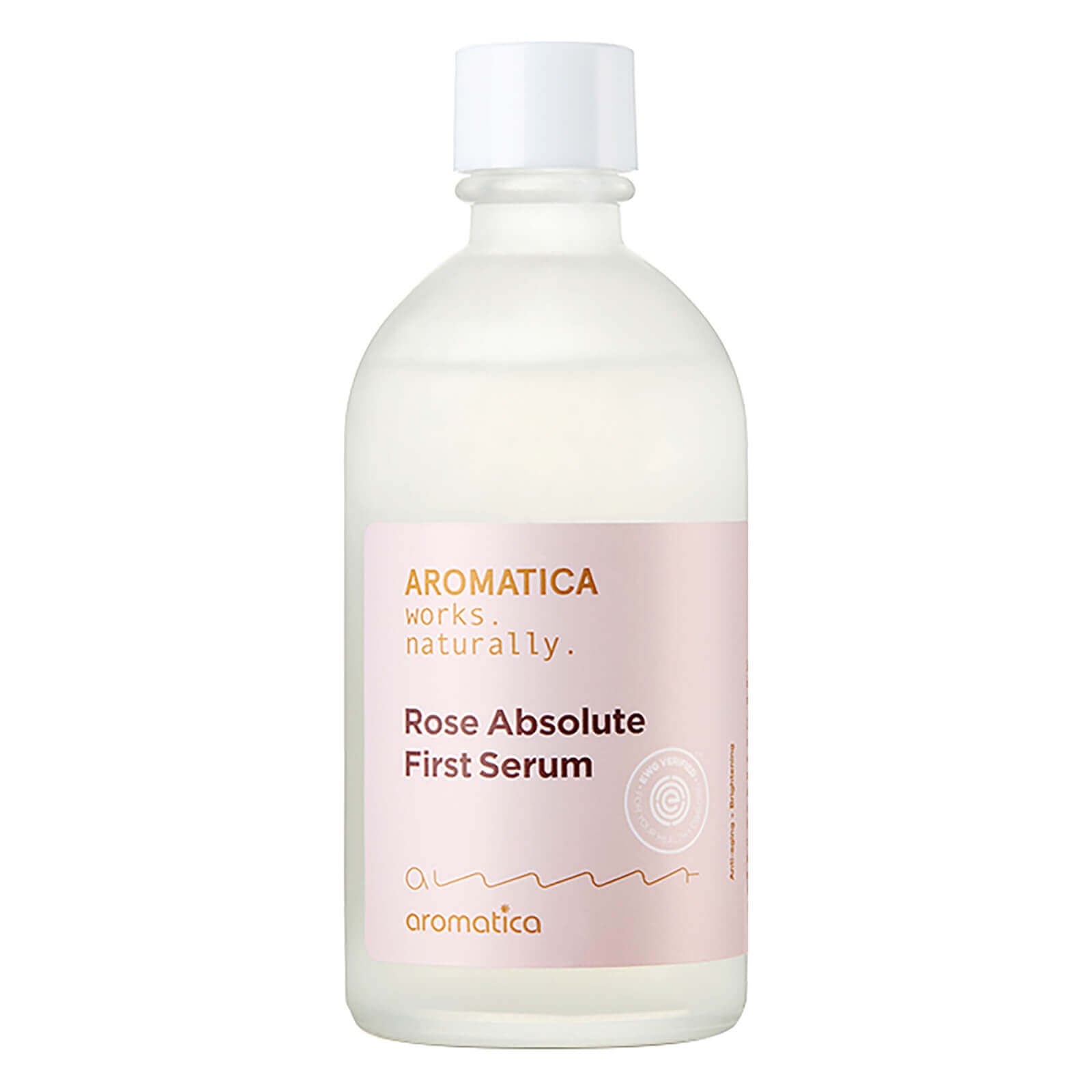 An organic, cruelty-free and anti-aging moisture essence formulated with rose oil, plants, and berry extract to create a balanced complexion, perfect for dry skin and with a lot of precious ingredients that enrich the formula, making it a go-to for feather-light skincare but with positive results.
The formula is composed by Aloe Vera and Calendula to promote the health of the skin, reducing the signs of age and fatigue, and Bulgarian damask rose oil to nourish and moisturize, offering also a radiance boost. Furthermore, the formula improves skin vitality thanks to the Super Berry Complex™, which relies on the properties of Elderberry and Indian gooseberry.
This serum is EWG verified and vegan, offering the best result while also being sustainable and respecting the planet.
COSRX – AHA/BHA Clarifying Treatment Toner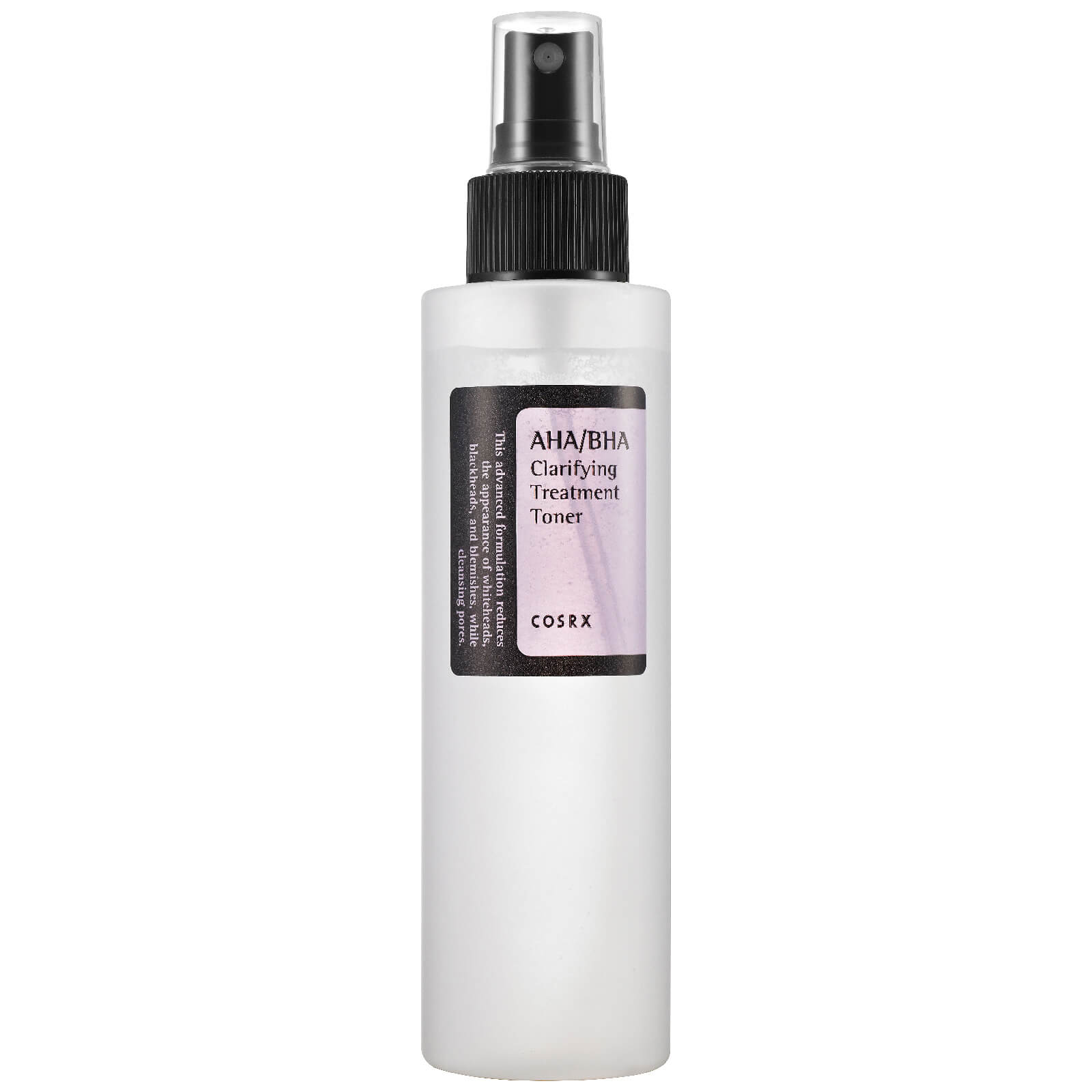 A practical, easy-to-use toner that will easily blend with your skincare routine, thanks to the easy application and the effectiveness of the formula.
Enriched with 10% Pyrus malus, or apple water, this spray provides a gentle exfoliation to get rid of dead surface skin cells and excess oil while prepping your skin to receive further nourishment and products, while also keeping the skin clean, thus preventing early development of blackheads.
This product is formed by only 11 ingredients, keeping all the "extra," non-necessary parts out of the formula to ensure maximum effectiveness in simplicity. Instead of purified water, the AHA/BHA Clarifying Treatment Toner uses mineral water, rich in natural AHA and BHA, to protect skin health and remove dead cells, while treating flaky skin caused by lack of moisture with potent ingredients, such as allantoin, preserving skin's vitality and balance.
Dear, Klaris – Midnight Blue Calming Cream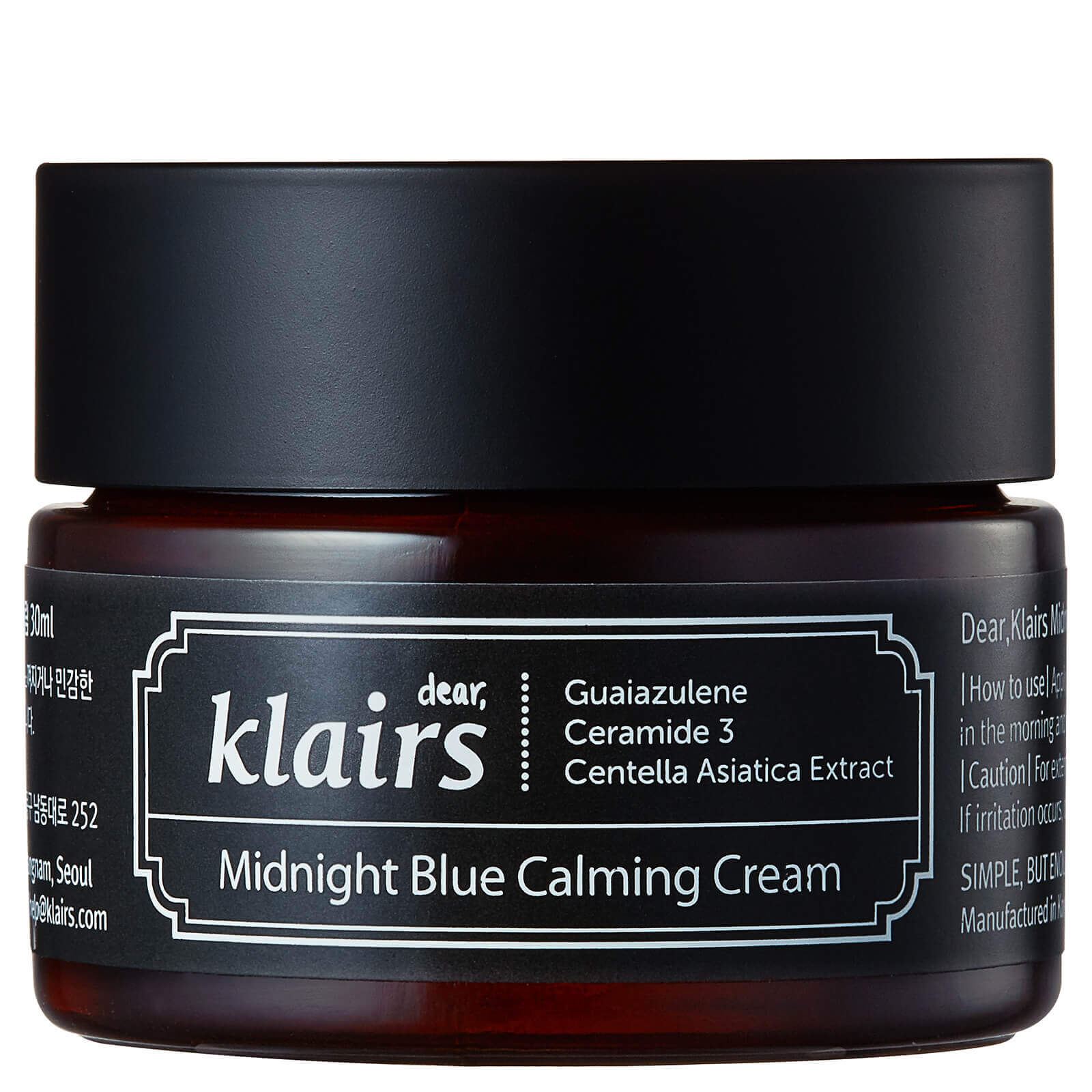 This bestselling, naturally blue cream comes in two sizes (a 30ml pot and a 60ml limited-edition, handy to carry everywhere and perfect for the summer, since it's perfectly baggage-proof) and is an absolute must for sensitive skin.
A true ally in the season of sunburned stressed skin: this gentle cream contains Guaiazulene, a plant-based component extracted from Chamomile oil that also gives the moisturizer that pretty violet color, to play a critical role in calming down any redness and irritation and promote cell regeneration. Add to the formula hydrating Centella Asiatica extract that heals irritations and blemishes, and you have the perfect skin rescue for summer.
It is suitable for oily, acne-prone, and sensitive skin to soothe redness and calm sensitivity from sun exposure, and it's perfect for spot treatment.
A By Bom – Ultra Cool Leaf Mask
In the truest Korean fashion, an ultra-cool packaging for a potent and effective 2-step mask that will make our skincare not only beneficial for our skin but also fun and Social-Media worthy!
This 2-step ritual is composed of a sheet of green-colored mask and leaf-patches seemingly taken from nature, which nourishes the skin and ensures deep hydration. The result is a cooled skin, relieved and deeply nourished, thanks also to the concentration of products in the eye area, while the rest of the skin is also hydrated. 
The Cool Leaf Patch provides intensive care and relieves the skin with mint leaf with its relieving properties, apple and melissa extracts for cooling and conditioning, while wrinkling controlling ingredients make the skin firmer and creates a lifting effect.
At the same time, the Ultra Cool Leaf Mask hydrates with extracts including lime, conditioning basil leaf extract, cactus flower extract for moisture and lemon balm for protection. In both cases, the skin he is pampered by the natural 100% natural Lyocell sheet made of cellulose extracted from trees, which provides a soft, silky texture and lessens skin irritation with its better high-adhesion than cotton.
PACKage – I love myself makeup boosting mask.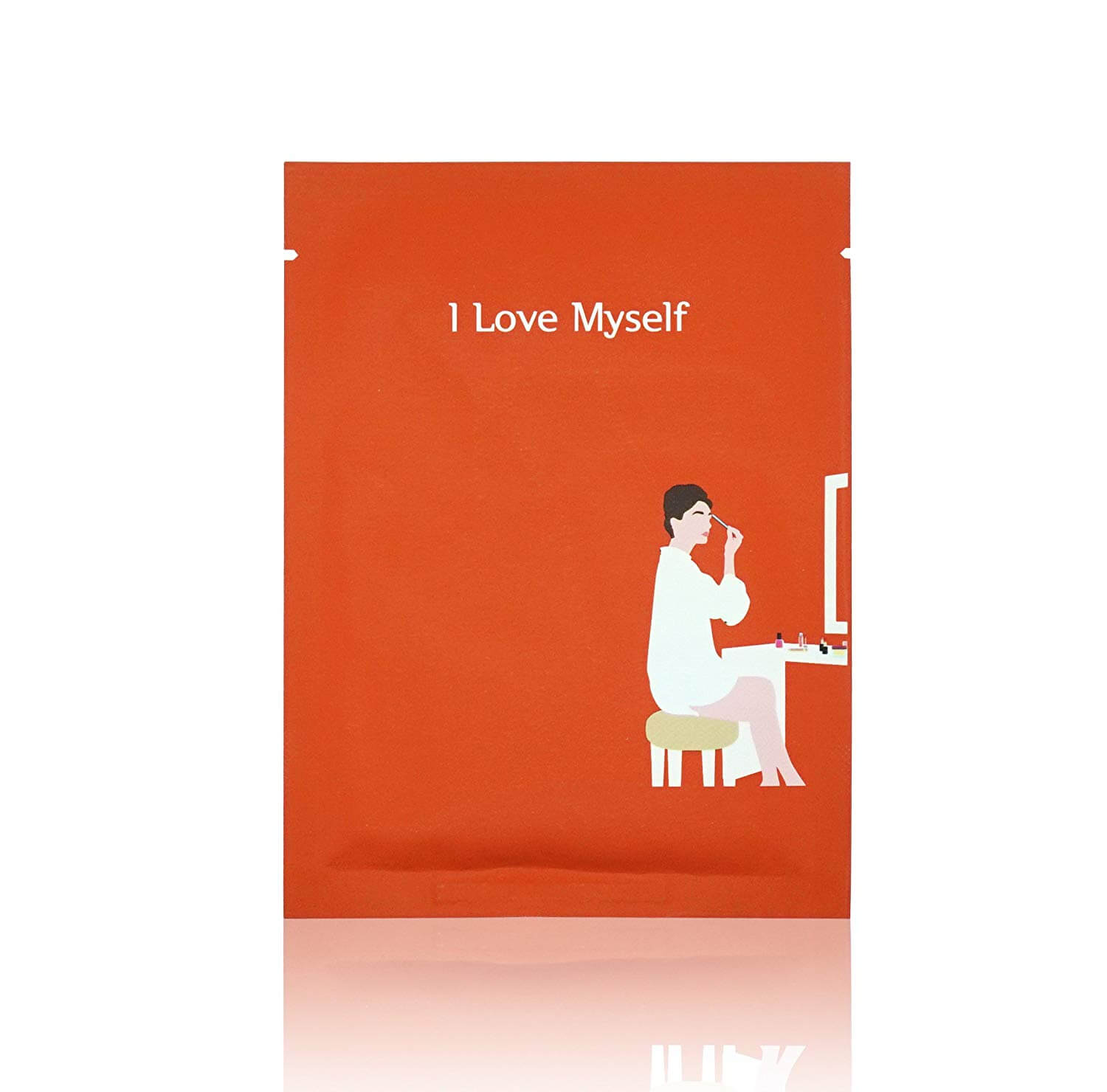 This one, a favorite of ours, is a lovely inspirational mask with great results and a modern, fun concept that helps the skin while playfully remembering us of our beauty, and that we should take care of it. This mask promotes the brightness, freshness and health of the skin, enhancing the microcirculation thanks, among the other ingredients, to lemon, lavender, and pomegranate: the perfect prepping mask to help the pay-off of your makeup and to boost skin radiance.
The serum is enriched with Hyaluronic Acid, which of course keeps the skin plump and moisturized, and Apple Fruit Extract. The fruit extract is rich in antioxidants, such as Vitamin C and natural acids; it is also a natural astringent that will minimize pores and clearing up every red spot or uneven skin, making this the perfect mask for acne-prone, stressed skin that needs to be soothed and spoiled.
BLITHE – Energy Yellow Citrus & Honey Splash Mask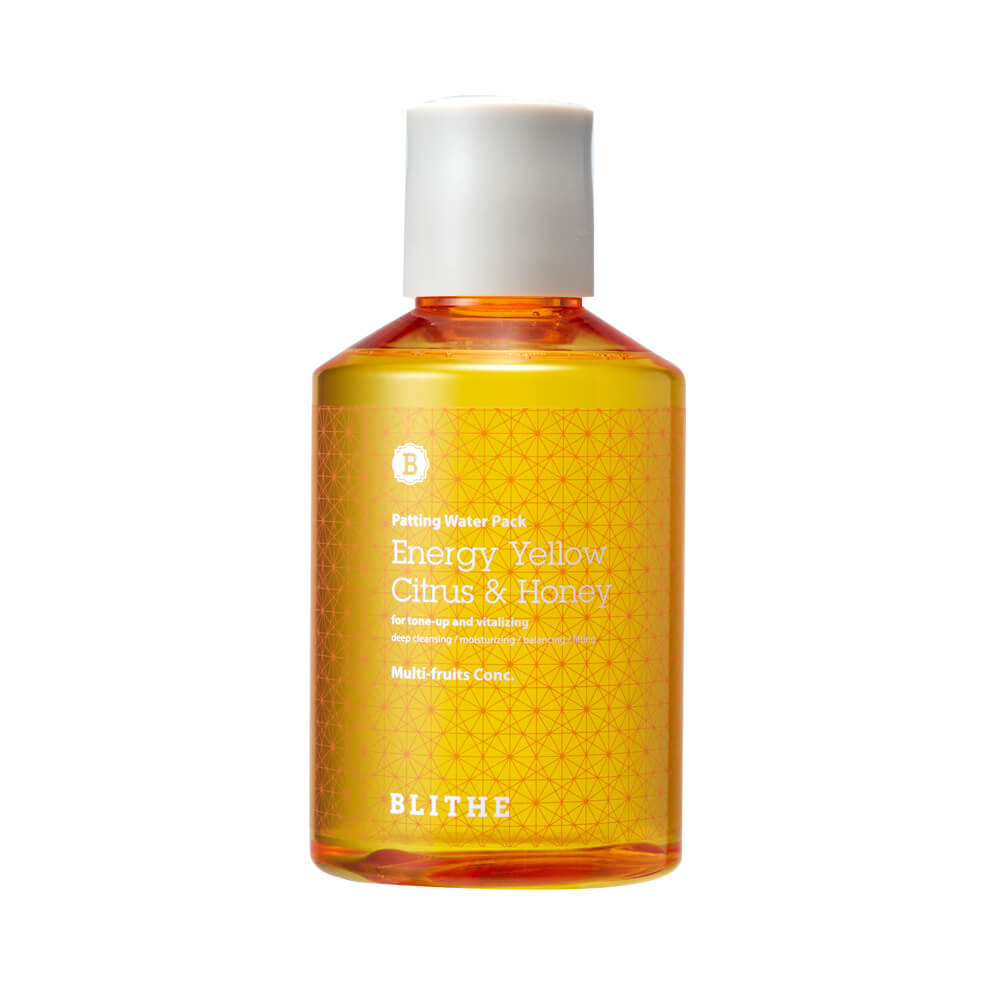 This mask is innovative, fun and will add newfound entertainment to your skincare routine: exactly as it is energizing, also thanks to its bright yellow color, this mask is enjoyable to "prepare" and use as much as it is effective.
After cleansing, pour a capful of splash mask into a clean bowl of water (the ideal ratio of formula to water is 1:100, so a capful requires 700ml of water). Then gently stir with your fingertips and splash the mask on your face, leaving for 15 seconds. It's quick, right? But when you gently pat it to make sure that the active ingredients are absorbed, you'll immediately feel a freshness and vitality bomb.
60% natural lemon and honey extracts compose this energizing liquid mask, which is also rich in vitamin C: it efficiently yet gently removes dead skin cells and impurities, while promoting a brighter and clear complexion, boosting radiance and hydration for an immediately comfortable and energized feeling on the skin.
The slightly-acidic formula also energizes and nourishes your skin while restoring the water/oil balance, cleaning and reducing blackheads and impurities: perfect to be used when you're in a rush, in the shower or whenever your skin needs that boost of energy.
LeeGeeHaam – Wannabe Honey Fit Face Mask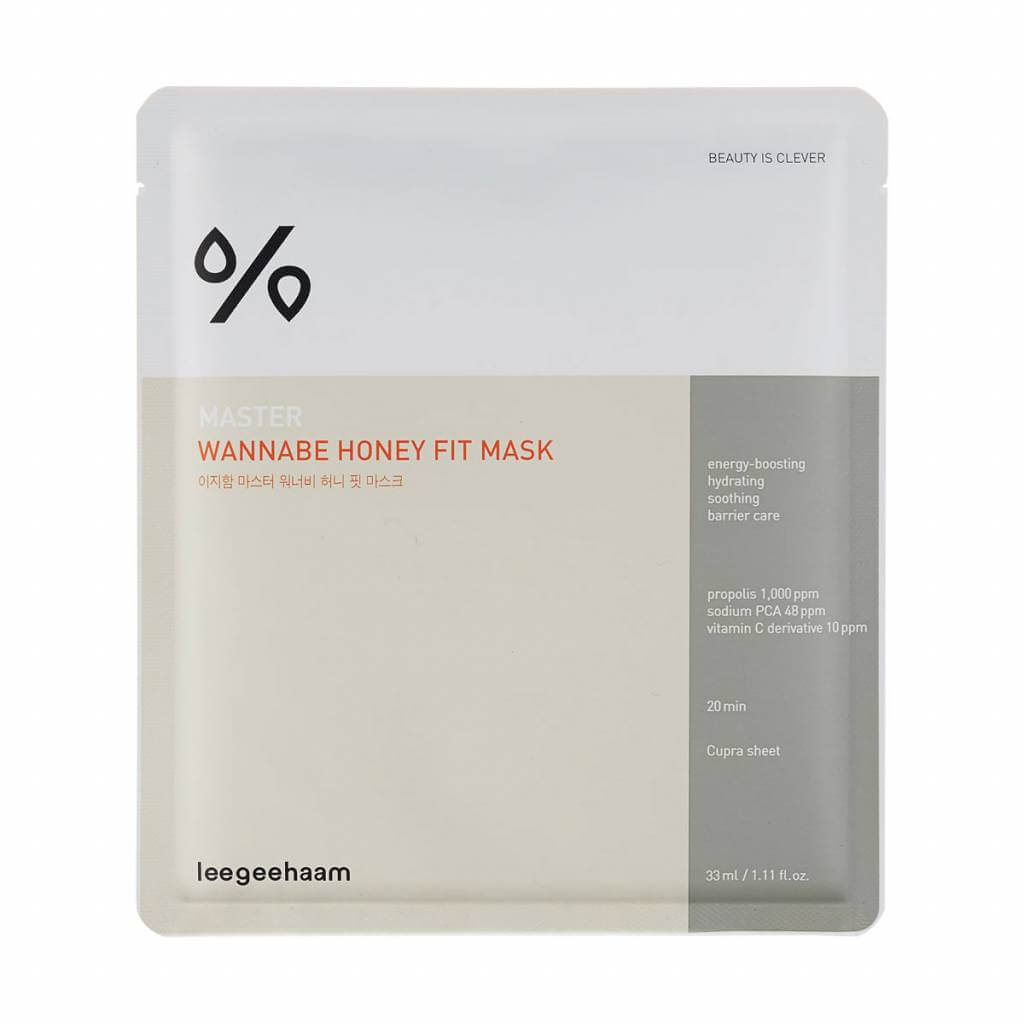 Ten minutes to aid stressed skin? This sheet mask is a go-to: apply it after cleansing your skin, relax with a video or, maybe sit at your computer to sort out some work, and just let the mask restore and pamper your face for you. In ten to twenty minutes, remove and pat the remaining essence into the skin – easy and super effective!
This anti-inflammation, revitalizing mask for dull and unhappy skin is based on propolis extract and vitamin C, giving renewed life to your skin. The rich propolis nourishes and replenishes tired and stressed skin, thanks to its calming and nourishing benefits, while vitamin C tones and brightens up the skin, leaving it radiant, happy, and overall looking healthier.
This mask is also special because of its compatibility with the Ion Enhancer, an innovative product that amplifies the benefits of the mask and allows the product and benefits to penetrate deeper into the skin in a shorter time.