Laughing is good.
It's good for the heart, health, mood, relationships with others.
Laughing means knowing how to be strong enough to face the most difficult moments and rejoice when the goals are achieved. Laughing is spontaneous, simple and contagious, a metaphor for life.
But laughing can also be a way to do good and to leave your mark (no matter how big it is) in the world: therefore, laughter becomes a support tool for charity, with the desire and hope to bring a smile even to the most distant places, that nonetheless, we feel close to the heart.
The actress Paola Minaccioni knows this well and, after taking part in important film and television projects (such as "Magnificent Presence" and "Fasten Your Seatbelts"), is preparing to stage her monologue in Italian theaters "Dal vivo sono molto meglio [I'm way better in person]," in which she will play different characters giving an insight (ironic albeit realistic) of contemporary society. The show, between a laugh and an imitation (starting with Loredana Bertè and Giorgia Meloni), will also arrive at the Serassi Theater (Villa d'Almè, BG) on April 19th, on an evening in favor of "Amici per il Centrafrica Onlus [Friends for Central Africa]," to which Paola has already expressed her closeness on several occasions.
Amici per il Centrafrica ONLUS is an apolitical and secular association that operates in the Central African Republic and which, thanks to the support and help of volunteers, is committed to helping the local population by promoting education, health care and professional training, in the hope of making them independent and helping them to move towards the future. The evening of April 19th specifically supports the "La Scuola dei Mestieri" project, dedicated to teaching professional techniques, to which the proceeds from the evening will be entirely donated.
A few weeks ago we had the pleasure of talking with Paola who spoke with us and the President of the NPO, Pierpaolo Grisetti: a chat on the goals of the NPO on the evening of April 19th, underlining the purposes and the implementation, on Paola's formative and personal path. from being a young girl who put herself in the center of attention to make others laugh, to the work with the director Ferzan Özpetek, on the show "Dal vivo sono molto meglio [I'm way better in person]," (whose title hides a very precise motivation) and on the return to the world of "Mine Vaganti [Loose Cannons]" on a new role and in a new setting, that of the stage, which allowed Paola to face the fears and concerns that, after all, once again represent those of our society.
With the hope, as Paola told us, that her laughter can reach every place and everyone, even in Africa, to shed a light, thanks to the NPO, on the future of all those young people who are walking confidently towards the future and towards its infinite possibilities.
PAOLA: Was there a precise moment in your life when you fell in love with acting or was it more of a process that led you towards acting?
First, there was fate, or maybe destiny… When I was a young girl, I was very exuberant, I often made myself the center of attention with my jokes, I was part of an ironic family that I'd define "naturally spectacular," I was used to using irony as a way of getting in touch with people. Then, in high school, I started to make impressions of the people who struck me, from teachers to school friends, and this led me to the school of dramatic arts. I got into the Centro Sperimentale di Cinematografia and from that moment on I got closer and closer to acting and theatre. I fell in love with acting so much that it became my life choice.
PAOLA: Were there any moments in this journey that you found challenging or, on the contrary, particularly satisfying? 
Every day is a challenge, we, artists, question ourselves on a daily basis. Every day we have to improve ourselves, be curious. Obviously, there are some very flourishing times when your efforts are rewarded with beautiful roles to play, perhaps with great directors at the helm, but there are also other times in which you feel a little abandoned, but that's the natural workflow of the freelancer. Plus, we always have to adapt to the market, that is to the new means of communication, to the new acting formats. We're always on the go and this makes us very active, we're people whose minds grow old slower than usual, but we're always stressed, always fragile. All this makes our lives very interesting, for sure.
PAOLA: What can you tell us about the show "Dal vivo sono molto meglio [I'm way better in person]"?
"Dal vivo sono molto meglio [I'm way better in person]" is an invitation to people to come into my house, in the rooms where I keep my favorite toys: it's a direct relationship with the audience in which I open up my life and my heart. I was inspired by the American stand-up comedy and decided to talk about my past, of course turning it into a show using all the means I have, from the characters of classical theater – such as the Sicilian woman and the grandmother – to impressions inspired by people from TV or radio, such as Loredana Bertè, Sabrina Ferilli, Giorgia Meloni: is a summary of what I am. Besides that, it's so nice to be on stage and be the conductor of an audience who laughs because of something you do or say, that show really is a piece of my heart.

PAOLA: The show is also a bit of a snapshot of society: what message do you want to "send home " the audience with?
First and foremost, the title comes from the fact that people usually stop me and tell me: "You're much better in person than what we see on TV." My favorite kind of show is the one in which there's a wish to remind people that real life is the one that you live outside of social media and modern times' paranoia, a comeback to the "here" and "now," a reminder to live the present. In the history of humankind, it's always been difficult to decide to become aware that the key to happiness is to live in the moment. Now, we tend to live somewhere else and not to be connected to what happens to us.

Every character I play is a person I see, someone I've met, people who are part of me; maybe there's some critic to the society beneath, but the first thing I do is criticize myself. My hope is that people decide to have their own point of view, to defend themselves by reading, interfacing with politics, getting interested in any form of culture, and I also hope that we can go back to doing something personal and really felt, rather than following the masses. And this is about fashion, culture, social media, values, fears, the huge fears that nowadays frighten the people, the fear of the stranger, the fear of being piloted by information or media that are used in turn, and this can be very dangerous. A comeback to the present and personal.
A comeback to the present and personal.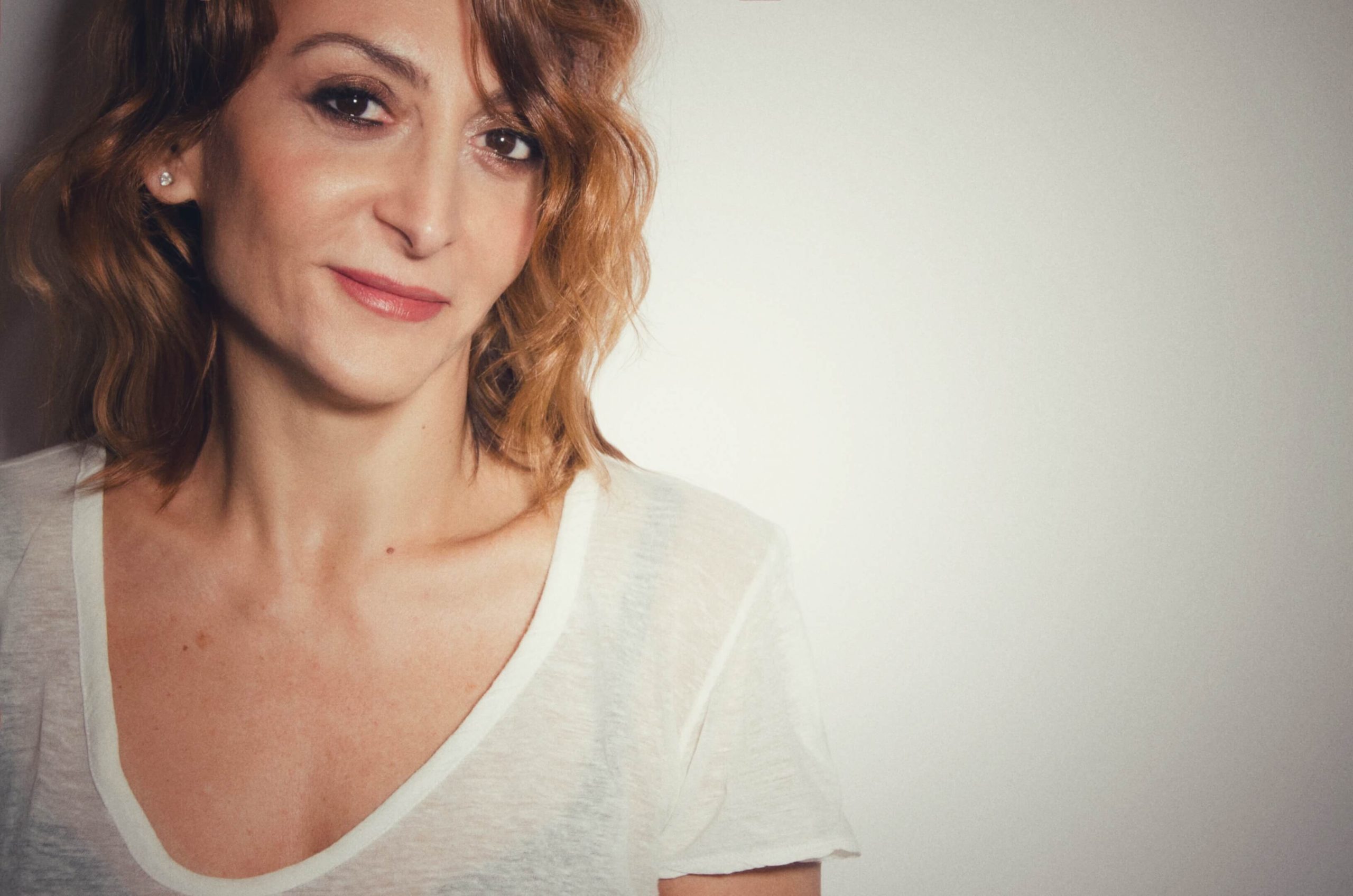 PAOLA: Given all these dynamics, would you say that comedy could be a useful reading key to both analyze society and criticize ourselves?
Yes, of course, if you want to make comedy you need to have a global view, generally, irony saves you, makes you feel like you're outside what's happening, so having a comic point of view makes you free. Besides that, it's fundamental because life is a tragedy about which we need to learn to laugh.

PAOLA: What's your favorite impression so far and what's the one you would like to do?
I don't have a favorite one, they're all wonderful worlds, and I won't tell you the one I'd like to do, because I don't want to reveal anything in advance. I love Giorgia Meloni, Sabrina Ferilli and I also enjoy doing Loredana Berté a lot. On stage, I play Loredana Berté during a speech where I get some advice on how to solve my sentimental problems and suddenly I become her, with no makeup on, with no mask, only with posture and voice, and hearing people applauding me is a huge joy.
PAOLA:  Speaking of the night of April 19th, when you're going to donate all proceeds of your show to the Association "Amici per il Centrafrica Onlus [Friends for Central Africa]": how was your relationship with this reality, and in general with sustainability, born?
Carola, a good friend of mine, made me get to know and get closer with a unique sensitivity to Friends for Central Africa. We, as famous people, are often approached by associations that ask us for testimonials but, besides the fact that they all do some good, to me is very important to know who is part of them and to see their work and projects. I trust the "Friends for Central Africa," people I know are part of it. Let's say that it was Carola to expose herself and act as my liaison and I absolutely trust her and what she does with so much effort and passion. To me it's an honor because it gives an added value to my job: it's important to do what you feel, because you believe in it and because someone gives you the chance to give more meaning to your profession. I'm very happy and I can't wait to stage my show on April 19th for the association and to bring my laughs all the way to Africa.

PIERPAOLO: On a practical level, how will the night of April 19th work?
The idea is to present the work of our association and in particular the project to which is bound the fundraiser of the night. We will tell the audience what the goals and the aims of the fundraiser are clearly and transparently.
PIERPAOLO: What will the message of the night be, also to bring people closer to the world of charity?
The message we'd like to convey is that our association is laic and based on voluntary work, and the funds we raise are over 90% destined to ongoing projects. It's very important for us to communicate such messages and show that funds consistently reach their destination.
The other message we would like to convey is that all funds aim at giving substantial help and real hope to Central African people, in particular, young people. The fundamental thing is to give them a chance to study, to be educated and therefore free from the submission of powerful people, to develop their own ability to understand, learning to think with their own head.
What's fundamental, from this perspective, is to push forward our project of building the "Scuola dei mestieri," a school whose aim is to guarantee young Africans a professional training, teaching them some job skills or to start a professional activity, so to have the possibility to be autonomous.
PAOLA: How would you want your cooperation with the NPO to develop in the future?
I've debuted on stage with "Mine Vaganti [Loose Cannons]" directed by Ferzan Özpetek and on some nights we will get the audience to know the association, besides a show that will take place by the end of March and will be dedicated to fundraising. I'd also like to go to Africa myself and see the projects already carried out and the ongoing ones, to see and touch with my own hands the work of Friends for Central Africa, to play an increasingly bigger part in it. It's a charity system that changes your point of view on things and represents more than something that's selfishly good for me.

PIERPAOLO: It's right to see what you're fighting for and what you're part of.
PAOLA: What message would you like to convey throughout this night?
There are many ways to be happy, we're all constantly looking for some results, but it's enough to be connected to reality and this planet. 

The secret is in there, to love other people and to love ourselves. And we should learn to accept what comes next. 

PAOLA: Speaking about "Mine Vaganti," how was living this story again and how is the play different from the movie of the same name?
I've lived this story again and rediscovered it at the same time. Thanks to the movie "Mine Vaganti" I met Ferzan Özpetek. Before starting rehearsals for the play, I saw the movie again and thought it was a masterpiece, even more beautiful than I remembered. To work with Ferzan is a unique experience, he's a great artist, an instinctive one, a director who challenges you, who supports you and constantly pushes you to be the best version of yourself. 
Rediscovering "Mine Vaganti" and acting in its theatre version, I understood that its story isn't only about the problem of coming out and homosexuality in the family environment, but it actually has a higher value. In everyday life, we feel as it is our right to be explicitly racist, racism is showed off, isn't it?

This is demonstrated by people's fear of foreign people, of different people. In this theatre comedy, the character of the father fully represents and is the symbol of all the fears we are living now, all the narrow-mindnesses. The part that I play, that of Stefania, is the role of a woman who would forgive her sons and move on, but her soul is irreversibly overwhelmed by all those culturally imposed schemes that make her become a victim herself, not a free woman. This represents more than ever our current times, the fear of "going outside the box," the fear of diversity…
But what is really different?
PAOLA: How did you prepare for the role and how do you live the relationship that you create with your audience?
I prepared for my character studying the script and finding a more personal restraint in Stefania as opposed to the cinematographic version (in the movie I played a different character, Teresa). Moreover, the language of theatre is different from the language of cinema, so you need different means to represent a character, you might need to focus more on their anxiety or worries, but when a character is well-written, it's also centered.
My relationship with the audience is intimate and personal, different in every experience I have: when I do stand-up comedy I directly connect with the audience and I suddenly become transparent on stage. In "Mine Vaganti," there will be moments of improvisation, as well, but mediated by the character.
PAOLA:

What does being an artist mean to you?
It means being a sponge, being alive. 
PAOLA: What can you unveil about your next projects?
I should bring my stand-up comedy show "Dal vivo sono molto meglio [I'm much better in person]" to New York on April 29th and this makes me very excited. Then, there's my short movie "Offro io [It's on me]" that I directed and wrote and it's going to be released very soon. Let's say that I'm trying to target my projects, because I've grown up, so I'm trying to focus on things that can better express myself and that are closer to my desires.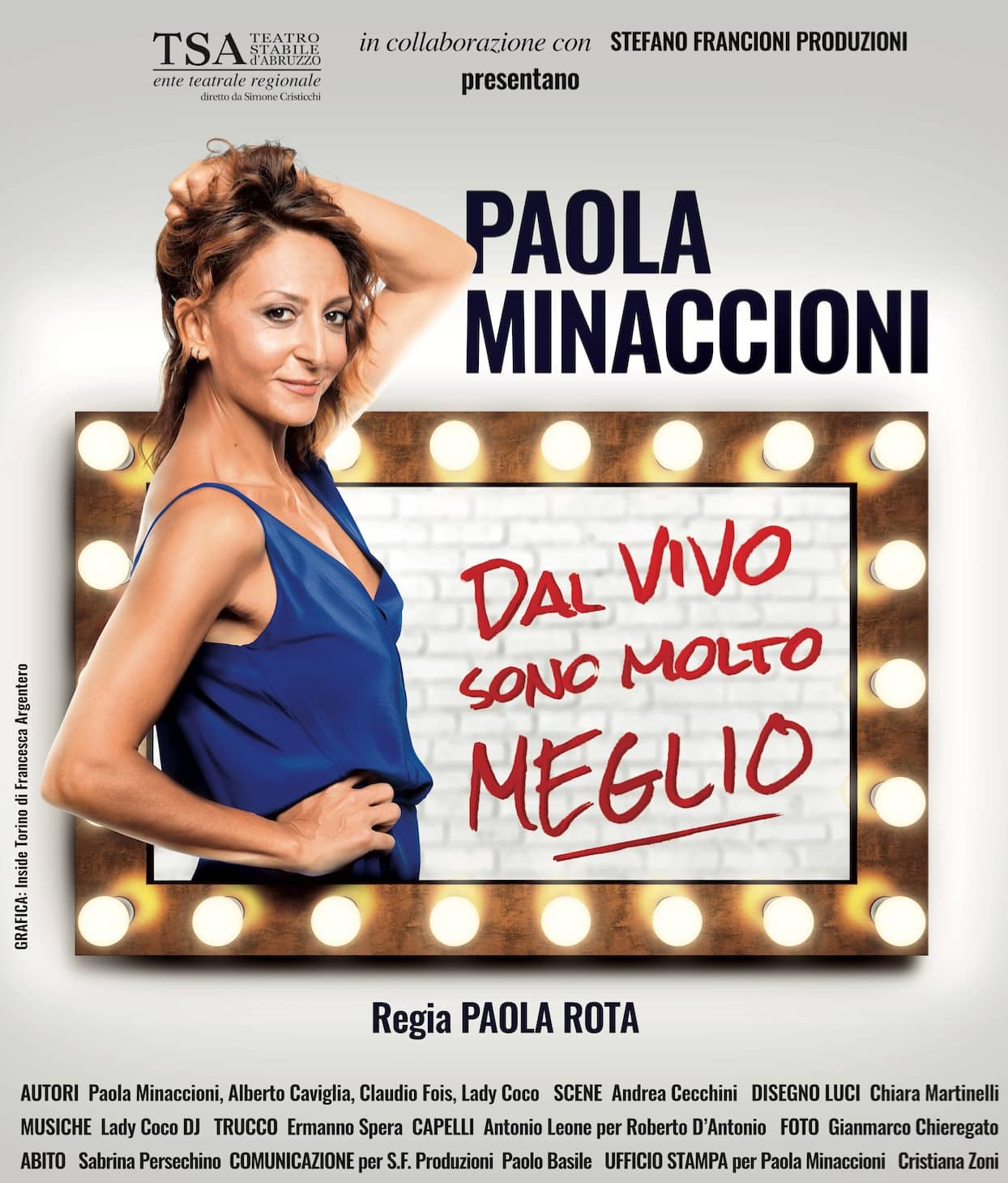 To buy the tickets for the show "Dal vivo sono molto meglio" of April 19th, click here. 
For information about the project "Dona un'ora" of the Associazione Amici per il Centrafrica, click here.
Special thanks to Carola Amelia Muttoni.