"It's a very bad time we're living. Even more so, we should be smiling as much as possible," says Guglielmo Poggi.
As an actor and lover of the Seventh Art, cinema is his "big bang of happiness:" what wouldn't he do for the sake of his vocation? Exquisitely self-ironic, with a good word also for the worst account of backbreaking physical preparation processes, Guglielmo told us about his experience on the set of "(Im)perfetti criminali," the new Sky Original movie by Alessio Maria Federici. Through a reflection upon the injustice of the human condition, in line with the core of the story, Guglielmo has analyzed his character for us with such expertise and attention to detail that it almost feels tangible, materialized in front of our eyes, revealing a depth of soul, a sense of observation, and a desire to engage and always do his best, in every aspect of life, that is definitely rare. While identifying the common but different elements between himself and his character, he's shaped a clear idea of the meaning of his job, revealing the bright side of being able to live someone else's life from time to time.
Between tales of pyrotechnic scenes and hints to a top-secret project, celebrations of lifetime heroes, and antidotes to the most trying times, like a band, his own, L'Orchestraccia, Guglielmo is learning how to "fight the battle of being in the world," always chasing that adrenaline that guides us through the streets of the world.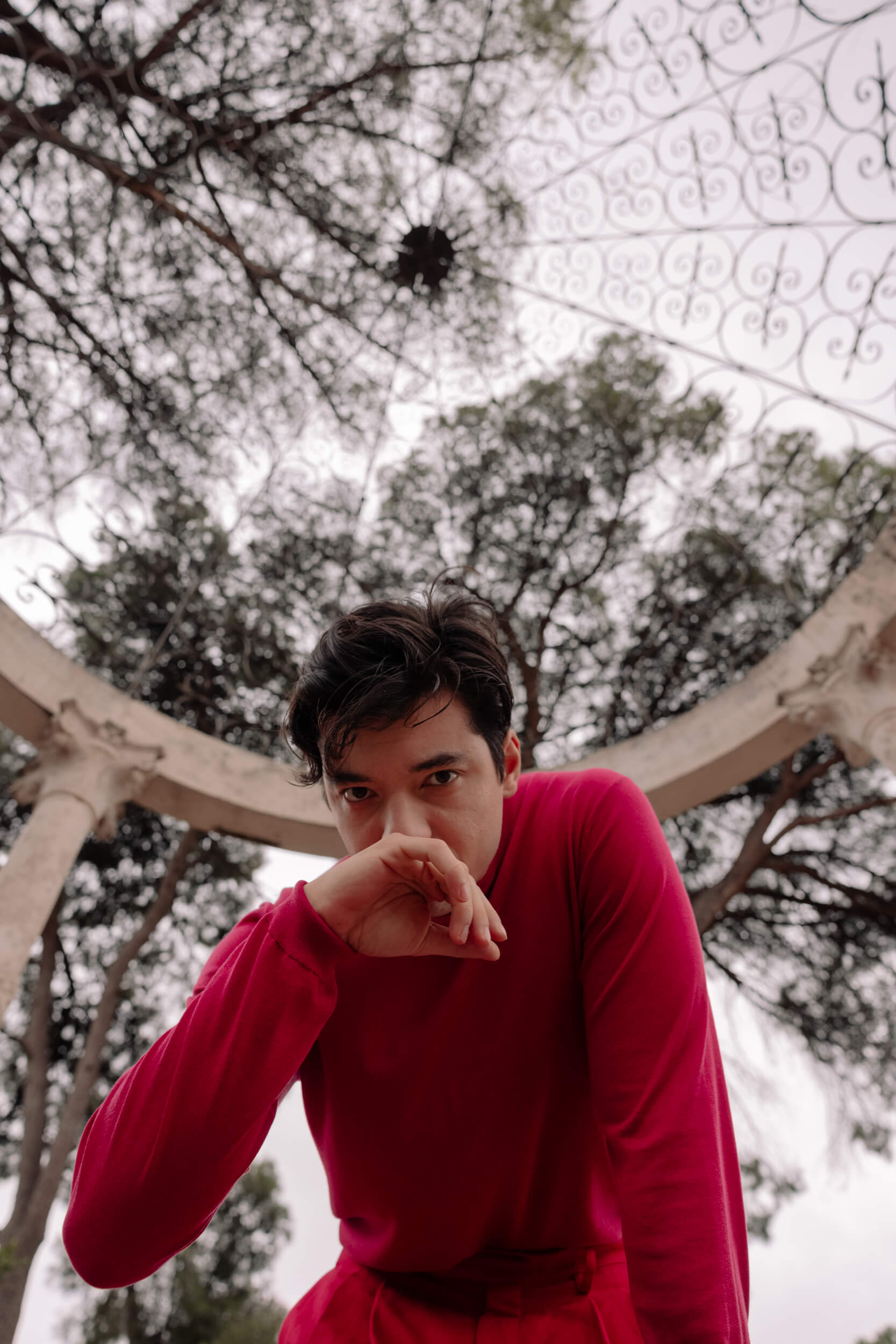 What's your first cinema memory?
My sofa, me sitting between my parents. A few years old. The movie is "Delicatessen," the grotesque feature debut by Jeunet, where a butcher's shop in a post-apocalyptic Paris sells human meat. That's my first memory. And yes, my parents must have escaped the Nuremberg trial, but I'm grateful for that because thanks to them I soon got to know the authors, the genres, and Cinema. Alongside a fair amount of circus fairground: I remember "Godzilla," I saw it at the cinema when I was a kid. I wanted to leave the theater after the first 5 minutes, but they forced me to stay there on the seat, and still today I remember it as a big bang of happiness that I wanted never to end.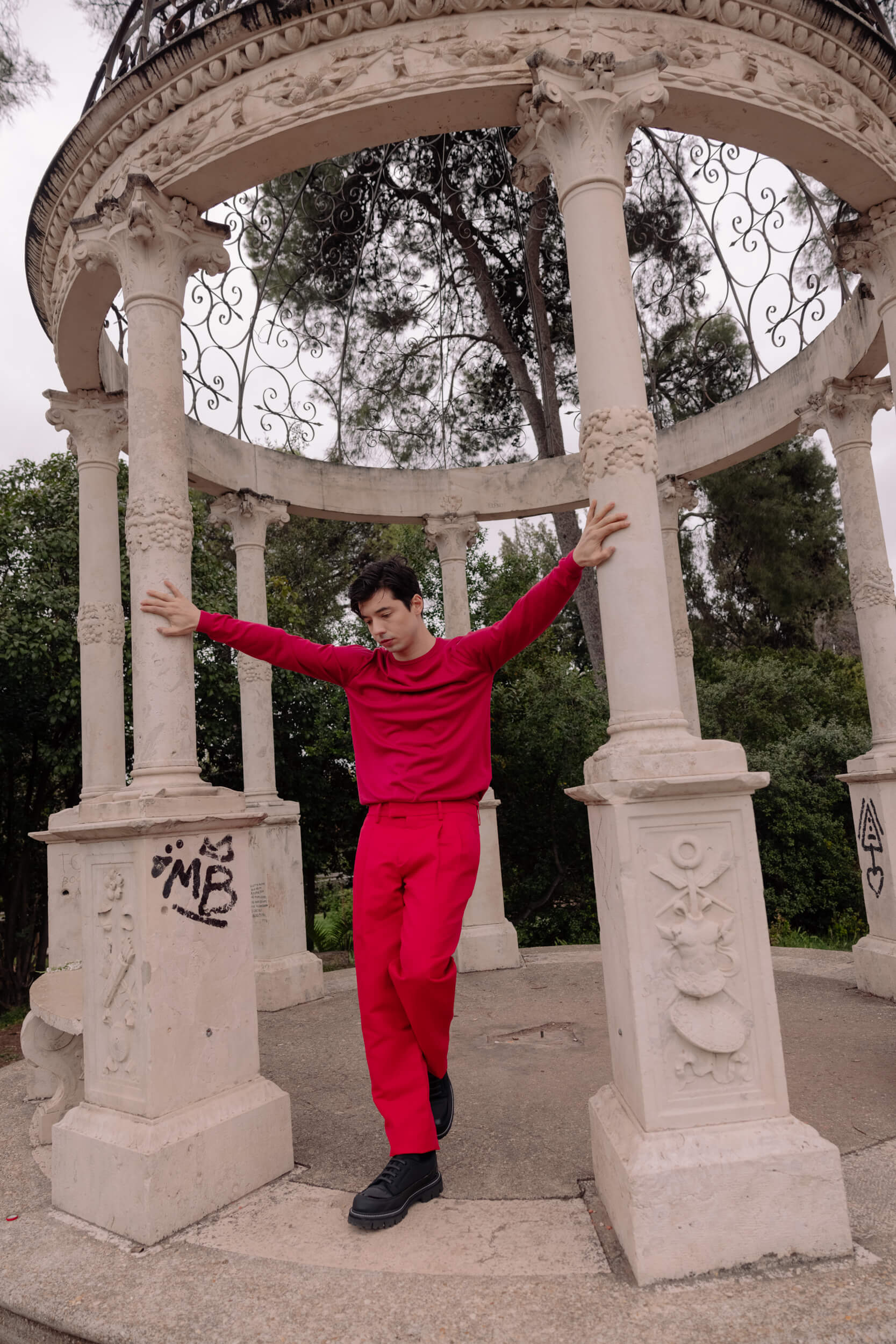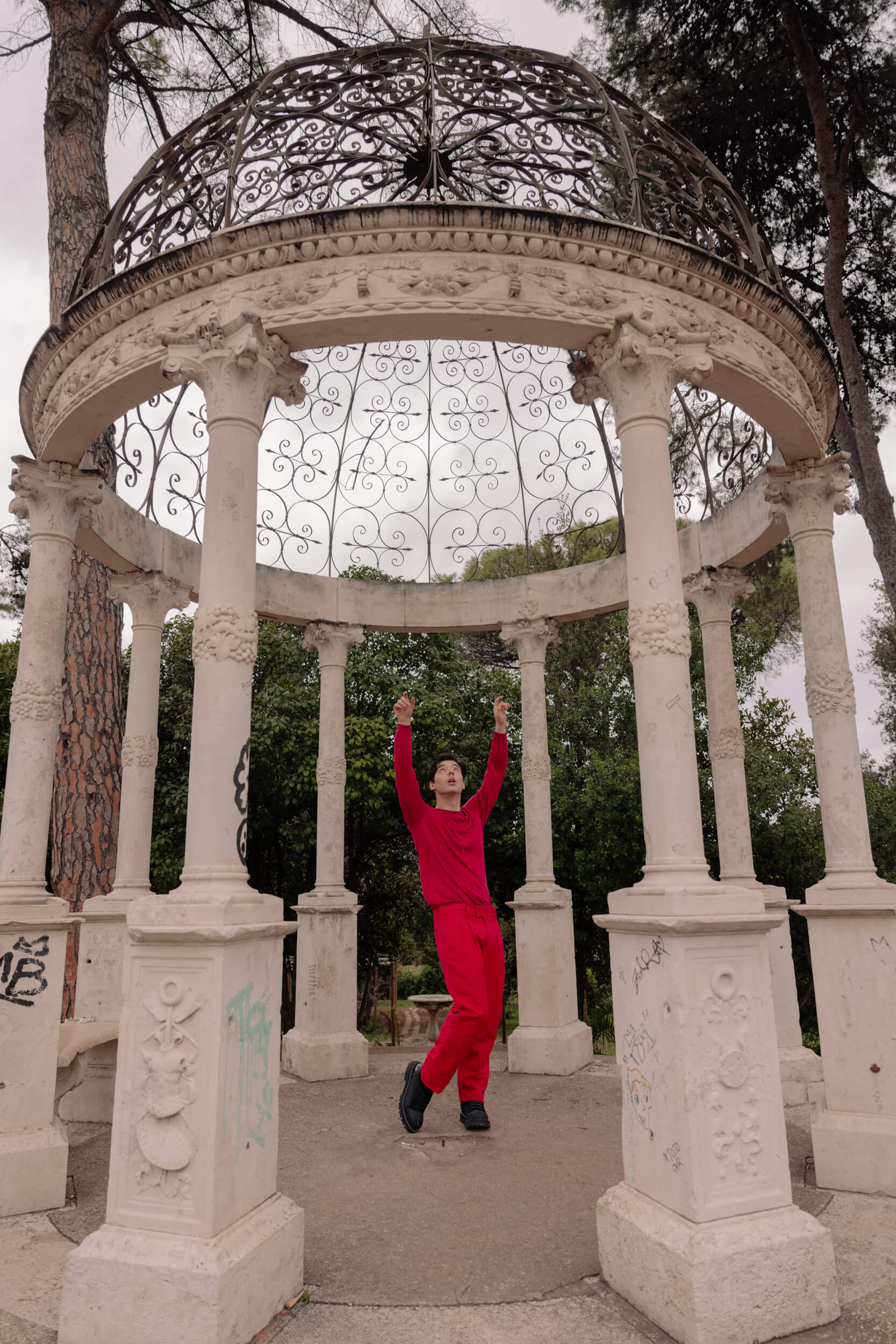 You're one of the main characters of "(Im)perfetti criminali," the new Sky Original movie by Francesco Maria Federici. What was your first reaction after having read the script and the first question you asked the director?
"This movie will come out either as crap or as a gem. It's his neck (referred to Federici)."
About the question, I didn't have time to ask it because I became part of the cast a month before starting filming, so I directly listened to the answer. Alessio talked, a lot, really a lot, in front of a fish-based meal where he explained everything to me, even how many centimeters my hair trim would have measured. When we got to dessert, I asked him if he wanted me to be physically bigger. He said yes, so I went to gorge myself with steaks, put on muscle mass, and lift weights in the gym like crazy. It was exhausting, but also the least I could do to pay back his trust.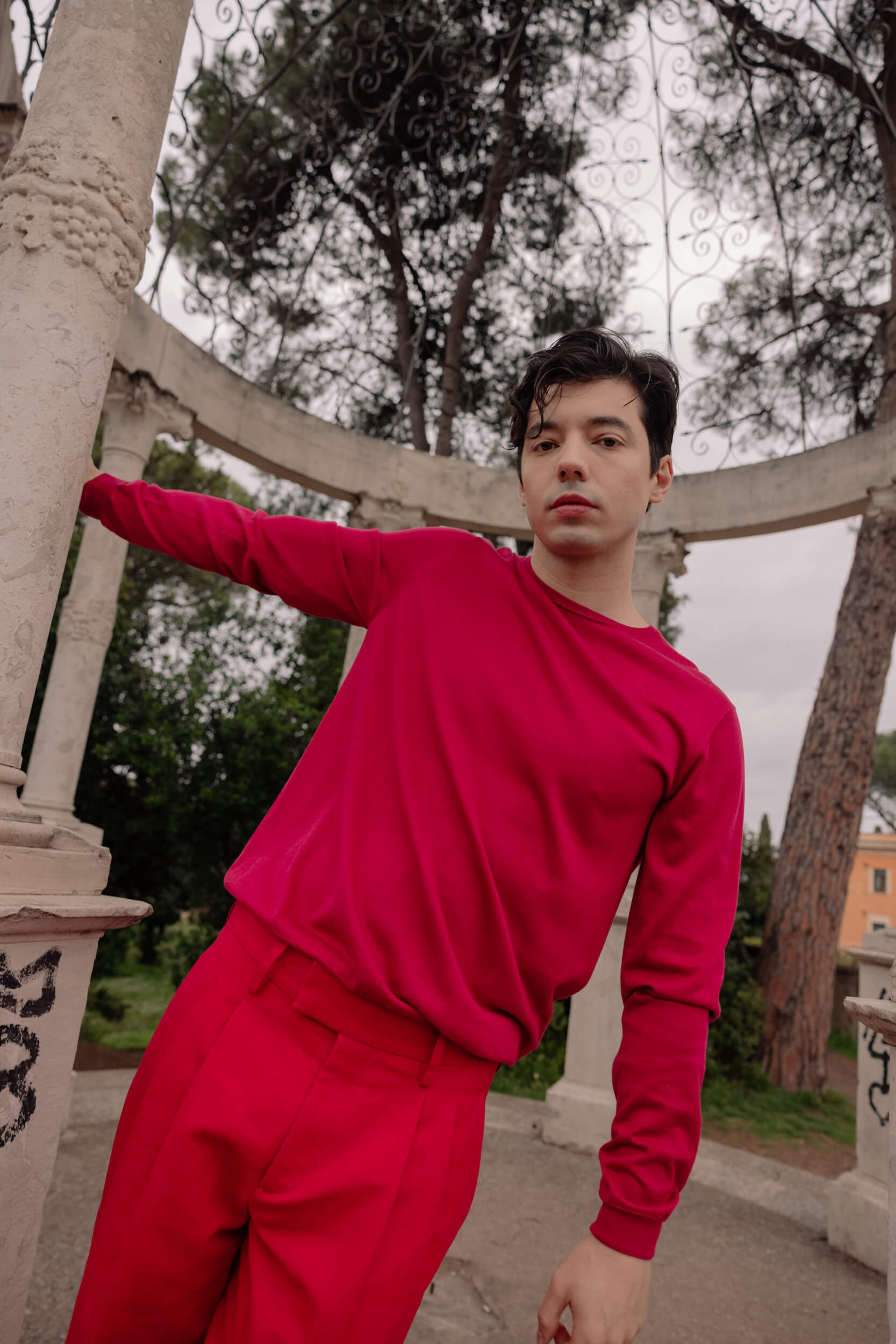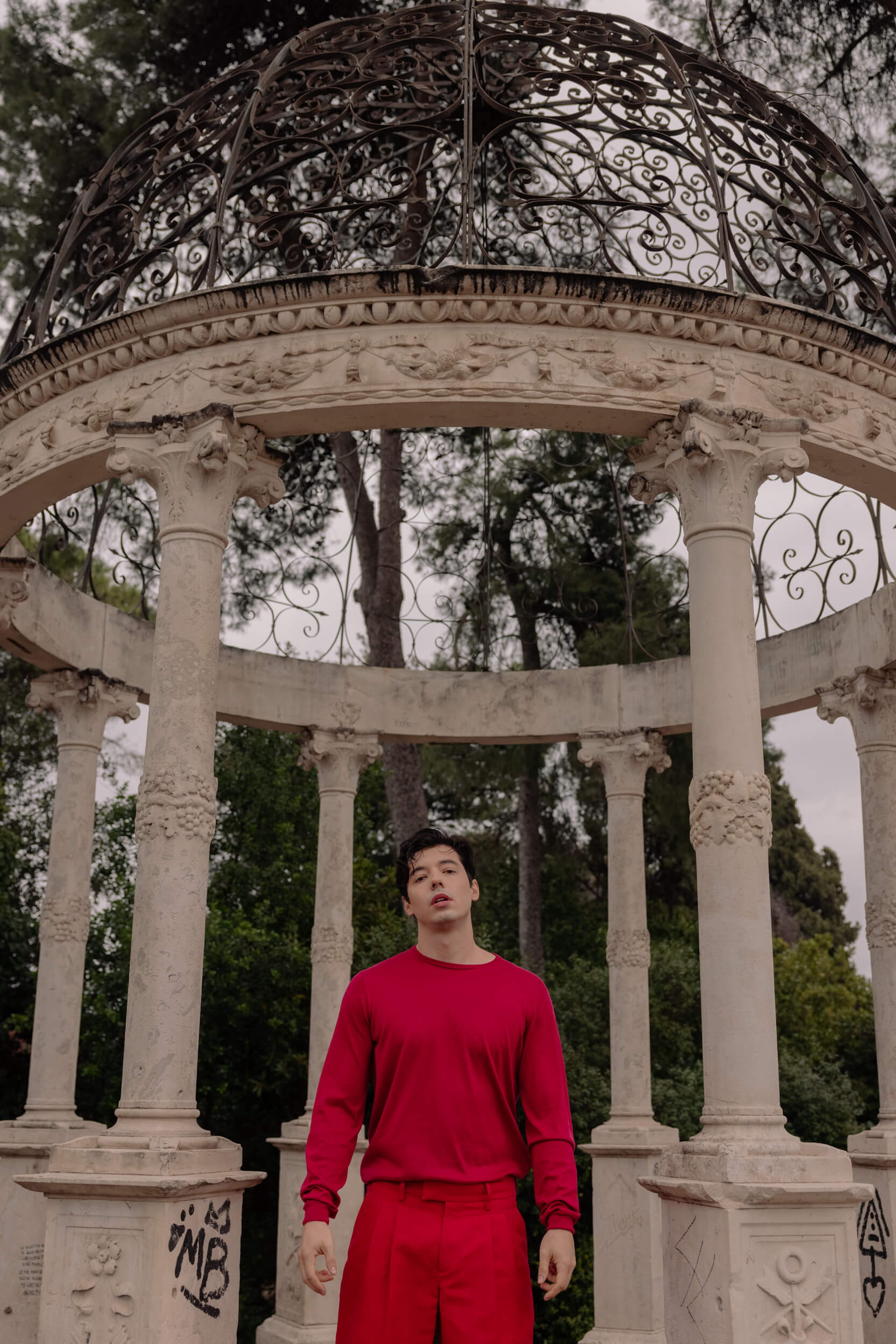 "(Im)perfetti criminali" is a crossover of genres, a mix of comedy and crime drama, with a touch of sentimentalism. How did you approach this kind of layout? What difficulties did you have to face and how did you overcome them?
Shimmy down the seventh floor of a building, hanging from a green wire that could be removed in post-production and that, as such, was as thin as dental floss: what further difficulties would there be to face? Say a line while crying? Let's be serious. Dental floss, that's difficult.
As for the approach that the genre requires, I try and help myself by making no distinctions. That's what the director does (which, as I tell you what this movie represents for me, reminds me that he's edited it in the shape of a comedy, and not the Sturm und Drang-like drama I'm describing). I can't help it, that's the way my mind works: when I did "Il tuttofare," I acted as if it was a Shakespearean tragedy in salsa generational; "(Im)perfetti criminali," to me, is a tale of revenge about the injustice of the human condition. The fact that these movies make people laugh, and not cry, is nothing but an added value for me. When they gift me with tridimensional characters, I don't give up on putting in their throat a nice lump, the one I feel in real life. For Massimo, muscles are a means of defense, the same goes for his aggressiveness and the need not to be outdone; they're not thought of as mechanisms of a character who "feels fine:" they're the weapons of someone who'd do anything not to suffer anymore.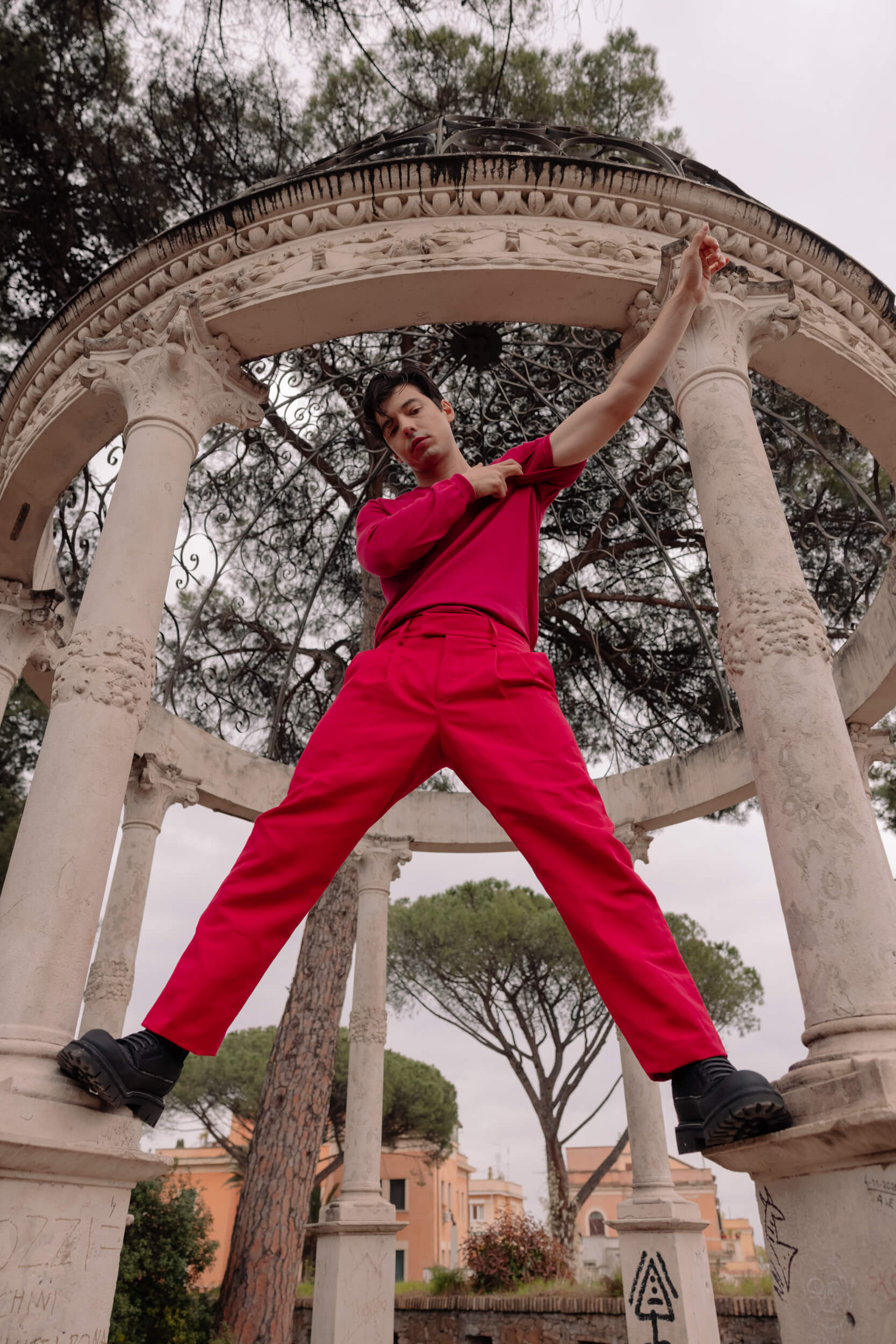 "…I don't give up on putting in their throat a nice lump, the one I feel in real life."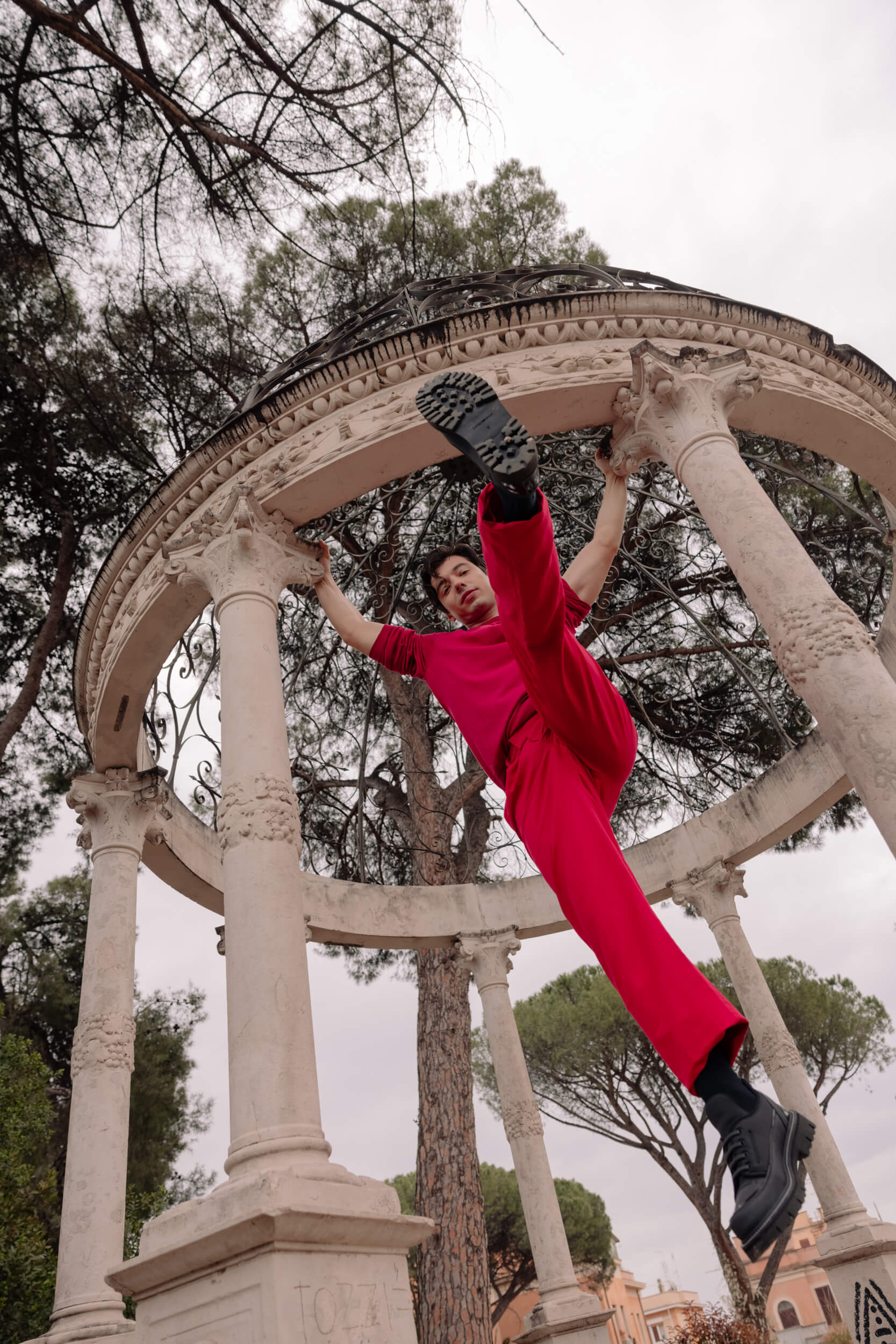 Your character, Massimo, introduces himself, in the beginning, as the naïve one in the gang, the security guard who's a bit clumsy and out-of-place, hiding traumas and past delusions, between an inferiority complex and the fear of his father's judgment. How did you build him and how much of yourself is there in him?
See? You said it, he's one of those "outcasts" who seem not to find a direction in their life, even if they try. Maybe because his existence has punched him in the face, forcing him to grieve for a loss that's too much bigger than him; or perhaps, and that's the whole point, because he's continuously diminished by his father, the point of reference that's supposed to help him walk his way in the rocky roads of the world. Massimo is stunned by his incapability of finding his own space-time dimension. That's why he tries his best to get his friends to like him, and not to feel second to them. And this inadequacy, that's sweet, innocent, but also loud and clumsy, is what shapes his devastating sympathy. I don't think it's necessary to point out, as Federici says, that that kind of inadequacy, although in a different form, is what I constantly experience.
Otherwise, why do a job where you get to live someone else's life?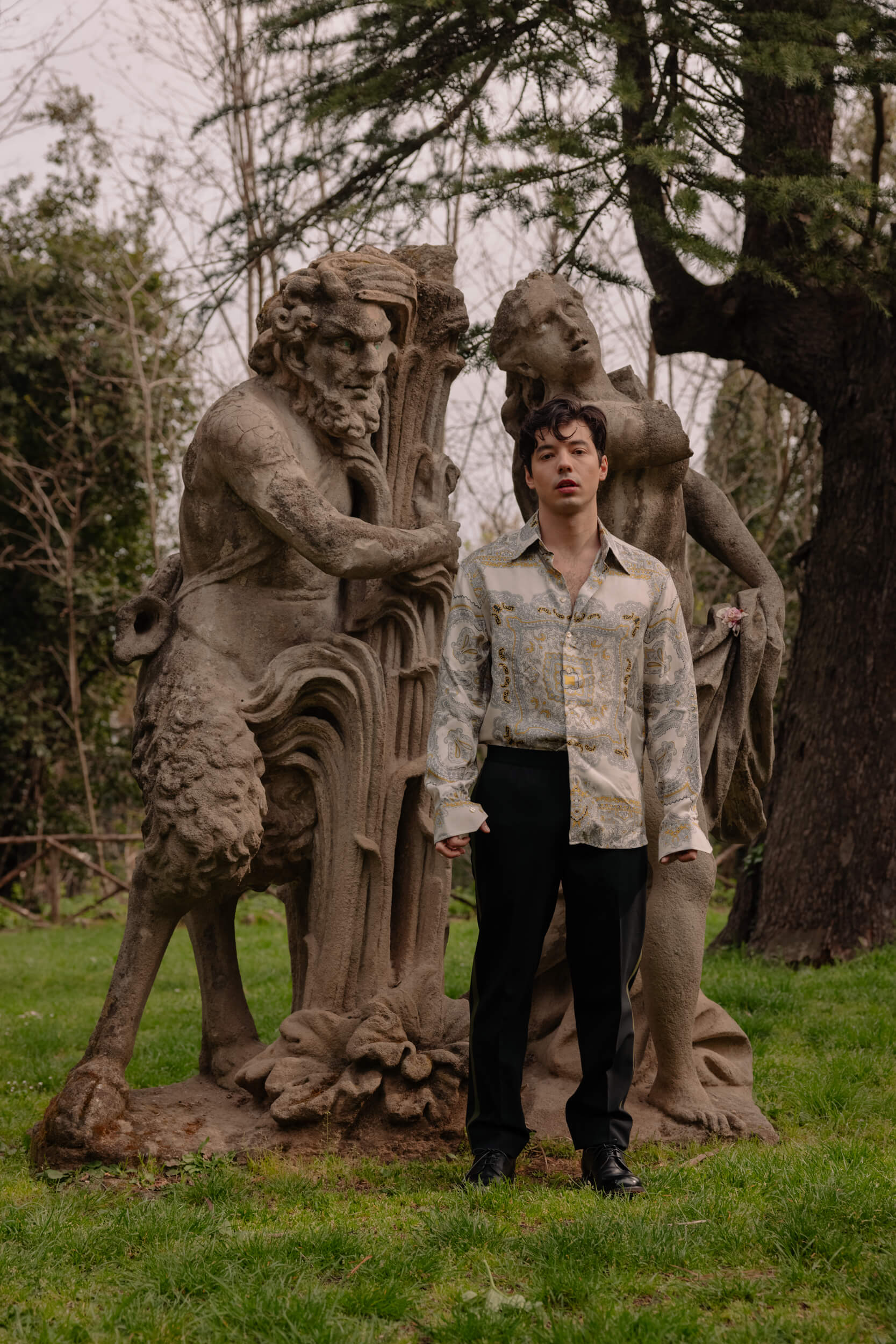 Massimo changes and evolves in the course of the story, or rather, in the end, he proves to be different from the person he seemed to be at the beginning. Is there anything new you've discovered about yourself while giving shape to this character and his layers?
I discovered that behind the defeated, the last, the ones that the society wants as outcasts and unable to revenge, there's a phenomenal power.
Not only in a Marxist sense, but also on a finely existential level, while revenging their status quo, men and women acquire some surprising features, which he could never acquire with money, nor with power, or using cultural means.
I was born lucky, my life and family gave me the weapons to fight the battle of being in this world. Also, characters like Massimo encourage me to push myself a little further, with the awareness that, while revenging myself or the others, I can find a better adrenaline incentive than many other bad drugs I took.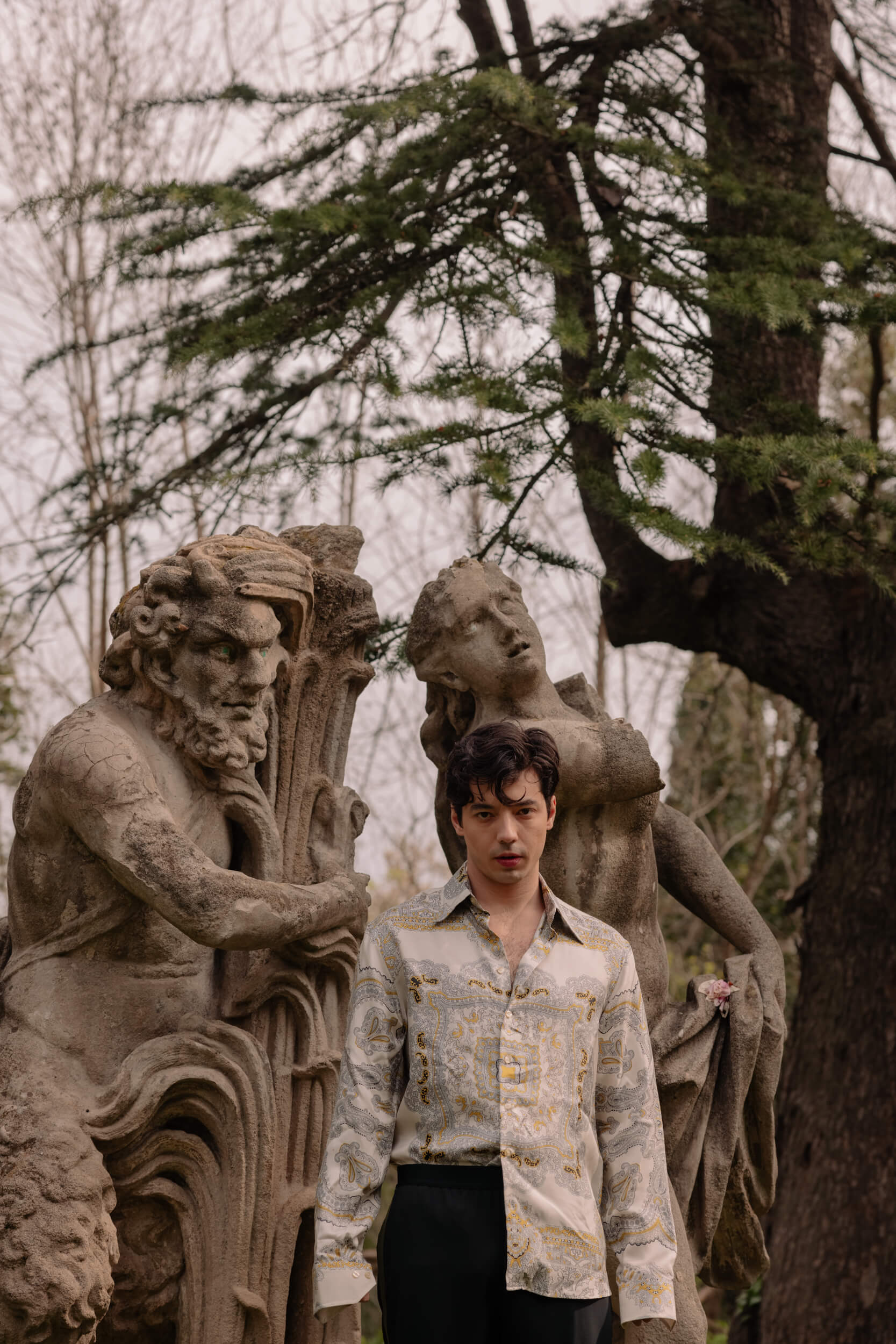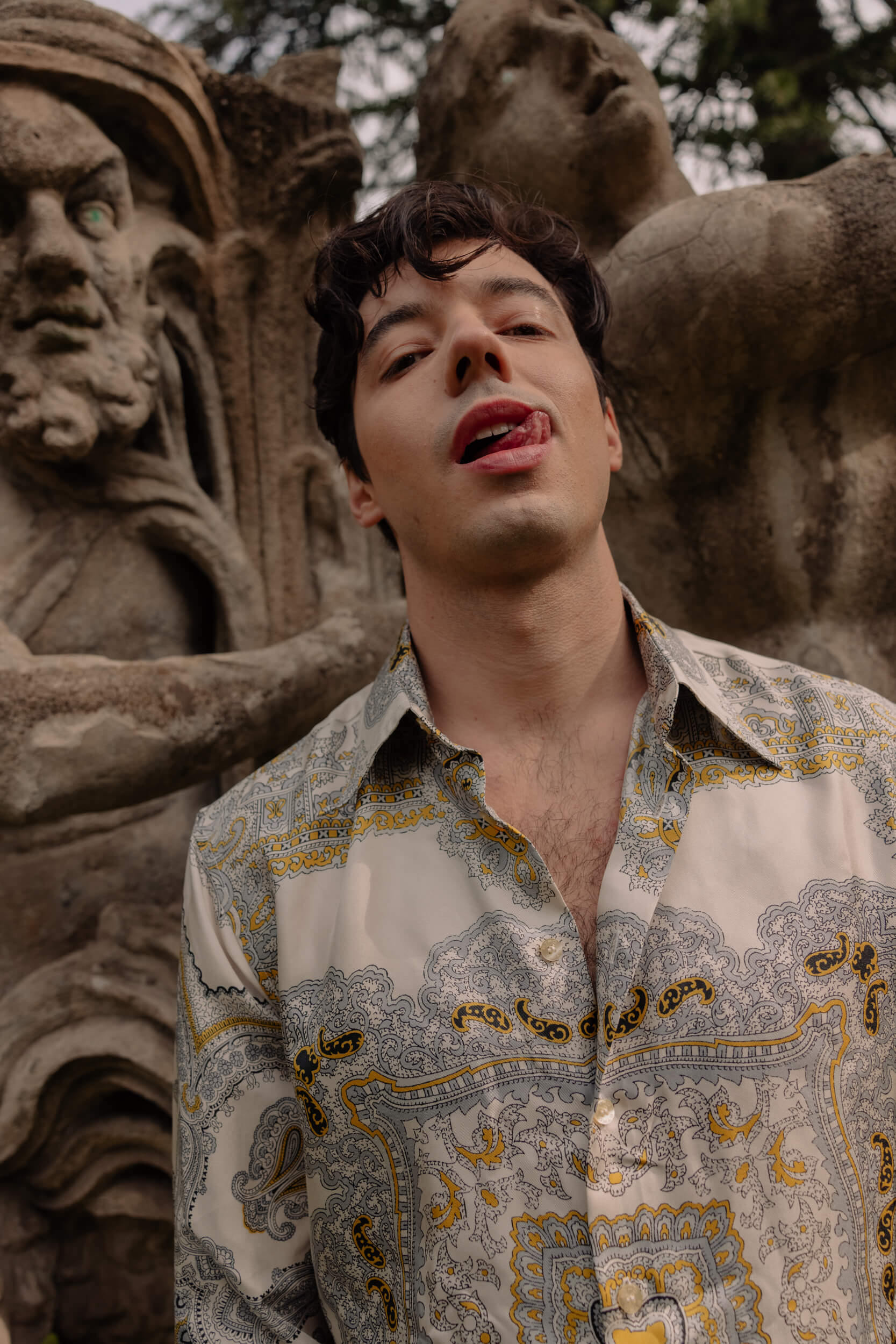 You, Filippo Scicchitano and Fabio Balsamo, aka the group of security guards looking for social redemption, pursue a "mission impossible" with all the instruments you have available, like disguises, climbing, tampering with alarms, and scaffolding. What were the most fun and the most difficult scenes you filmed?
As I said, I didn't think I felt as scared as when I jumped in the void for 25 meters. The most complicated scene ever, no doubt. As for the fun part, I don't remember a day that wasn't fun, I had fun all the time in this movie. Then, of course, there are the pyrotechnic scenes: knocking down a wall with a pump-action jack, climbing over the roofs of the Excelsior Hotel, breaking through a fish tank with a crowbar covered in diamonds, jumping between infrared lasers, and, obviously, filming with Roberta Bruzzone, who also told me that she thinks I am the Italian Ted Bundy. When do you get a chance like this again?
How would you describe "(Im)perfetti criminali" in one word?
Delicious.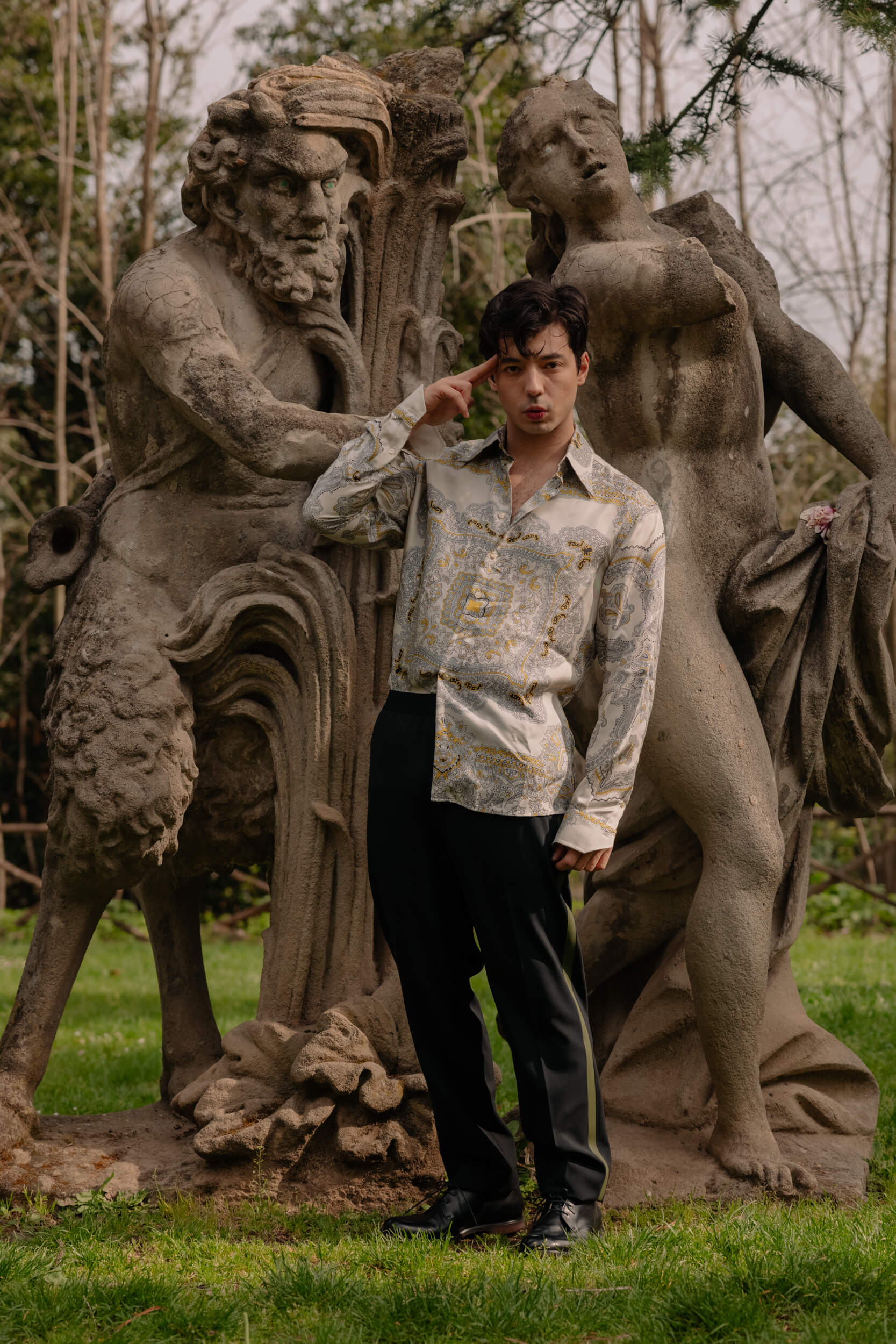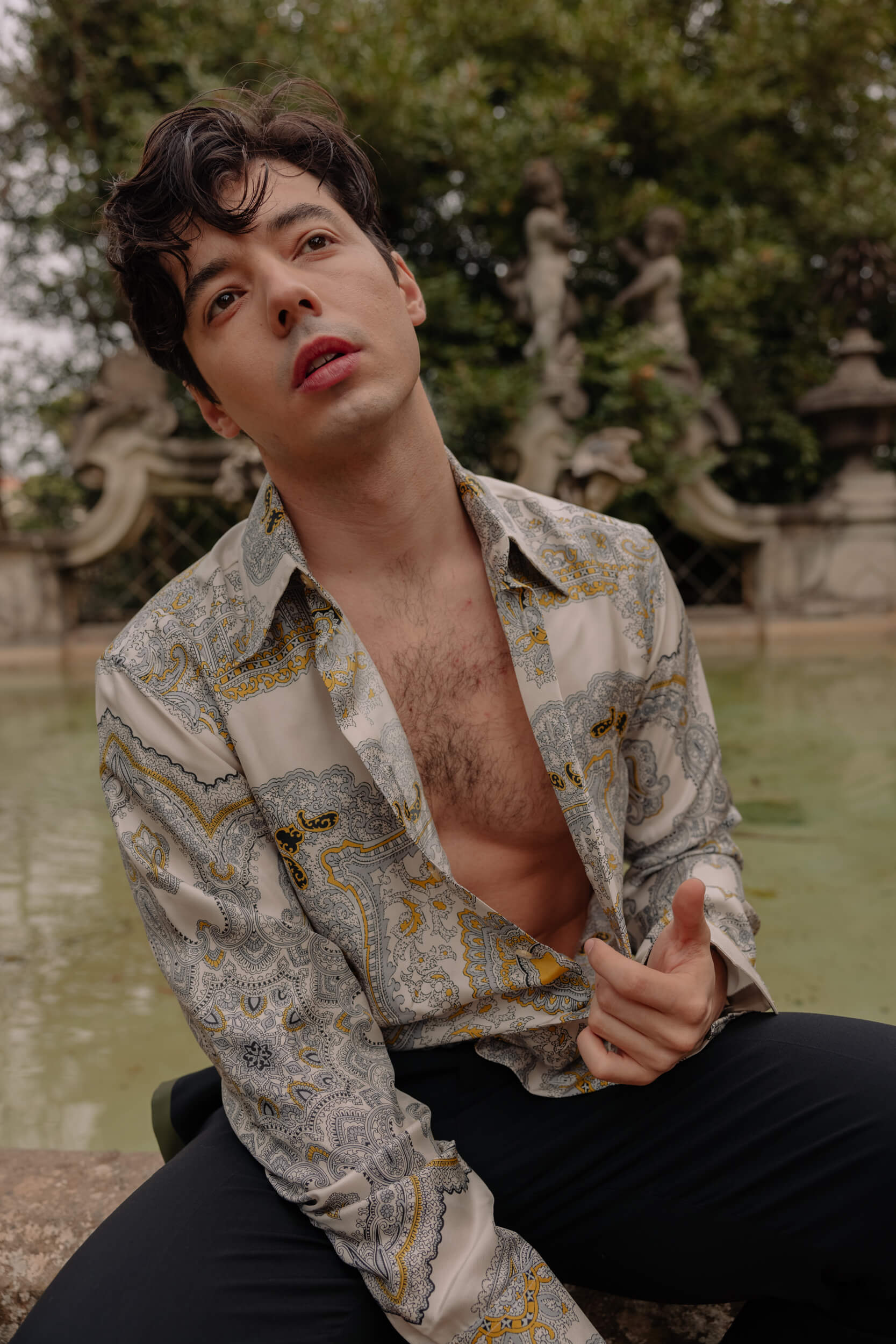 What usually makes you say yes or no to a project?
Its cachet. I wish I could tell you I'm joking, but yes, I am joking because most of the time I'm underpaid but say yes anyway. I'm a workaholic, and from a certain moment onwards I only got to play wonderful protagonists or minor characters which one would dream of playing over their entire career: hard to say no. I rarely say no to projects or roles, but rather to a certain "way of working." If I feel like choosing me or someone else would be the same; if I get a sense of that subtle blackmail "there's a colleague of yours who would pay to be in this movie;" if I feel like I cannot propose unique, personal choices and directions – which are what I really consider the added value I can put in a job – so I make up the excuse that I have to leave for a long journey to find myself, or that I'm on the scene for 7 hours straight for a monologue in archaic Italian. And knowing me, they believe me.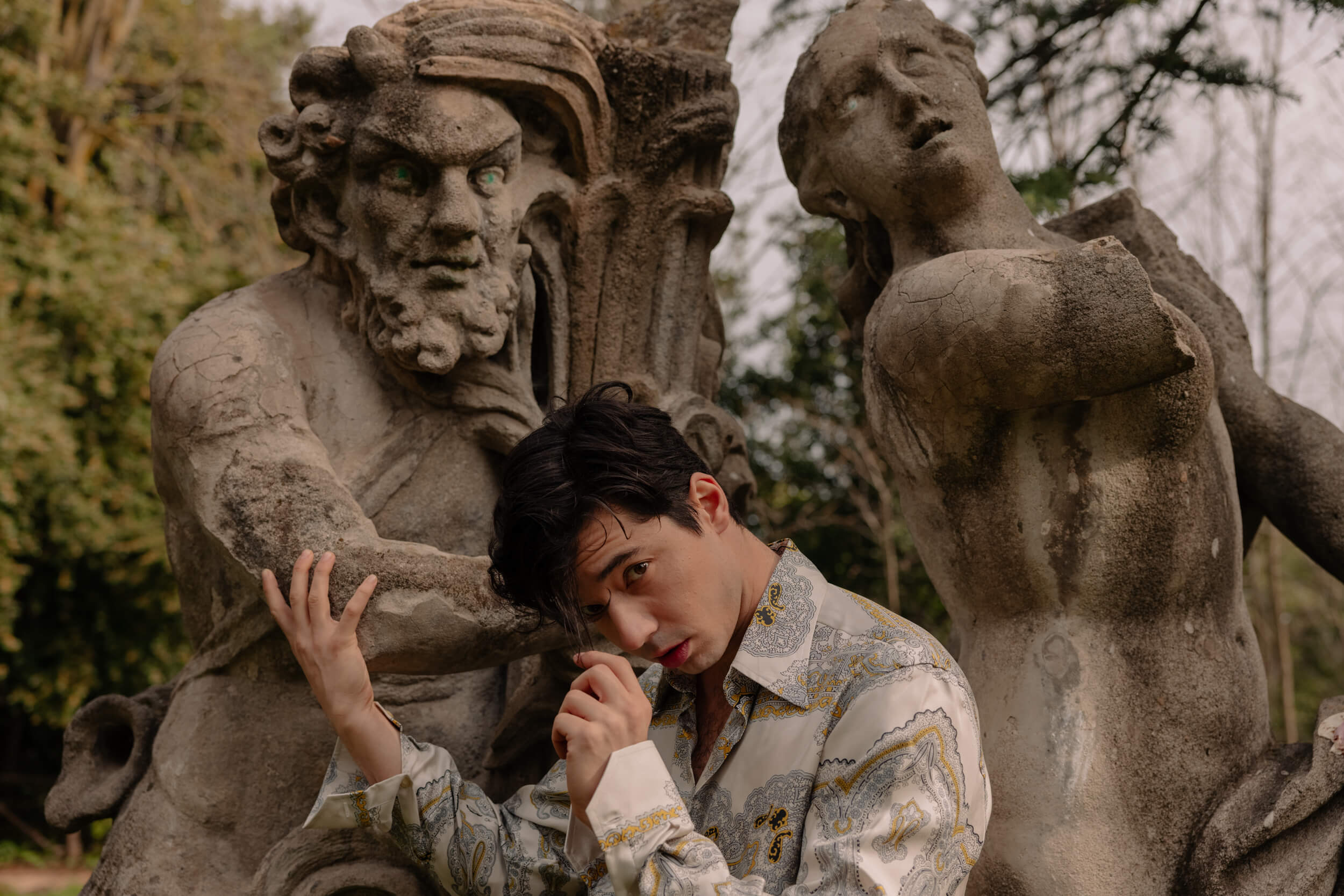 "I rarely say no to projects or roles, but rather to a certain 'way of working'."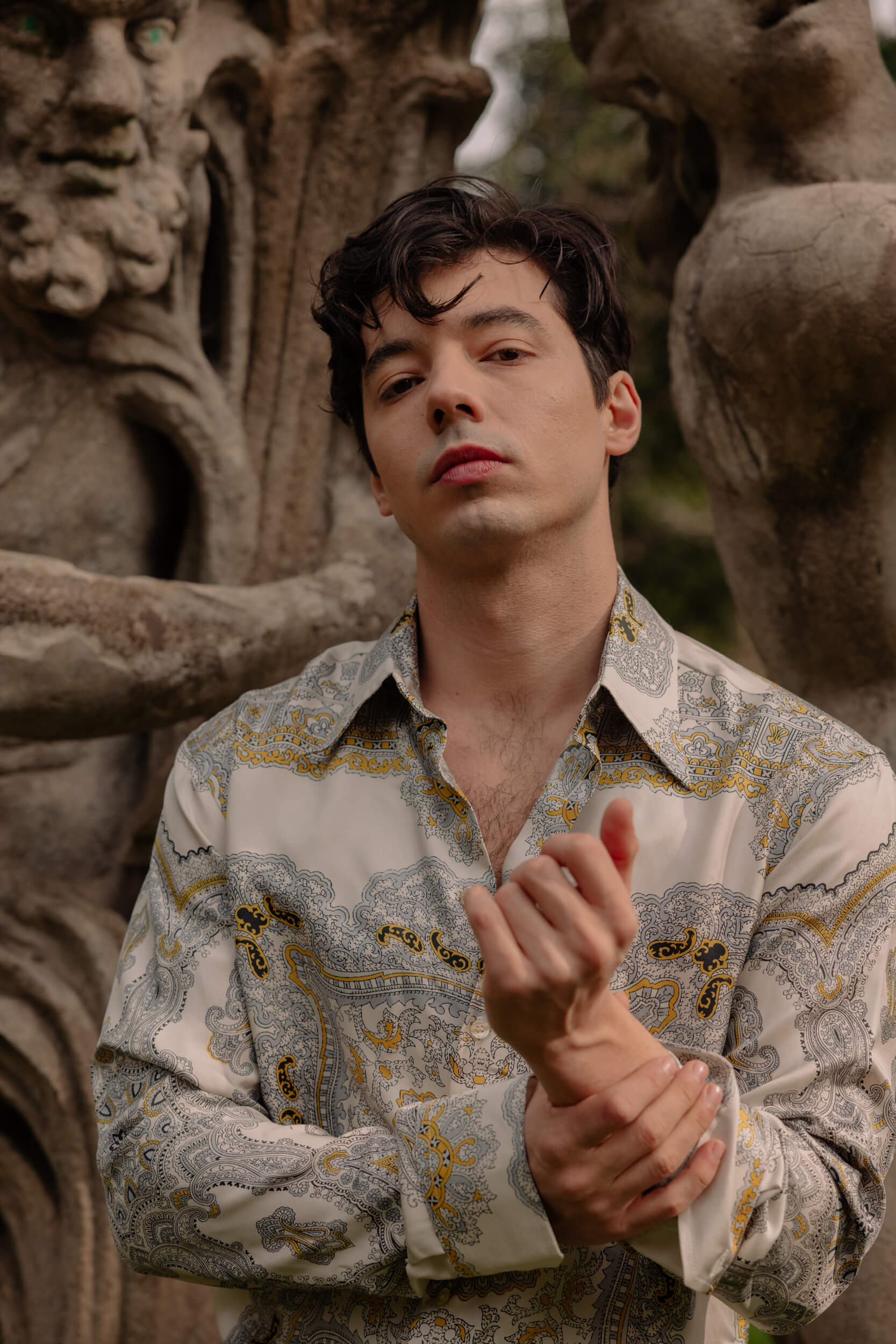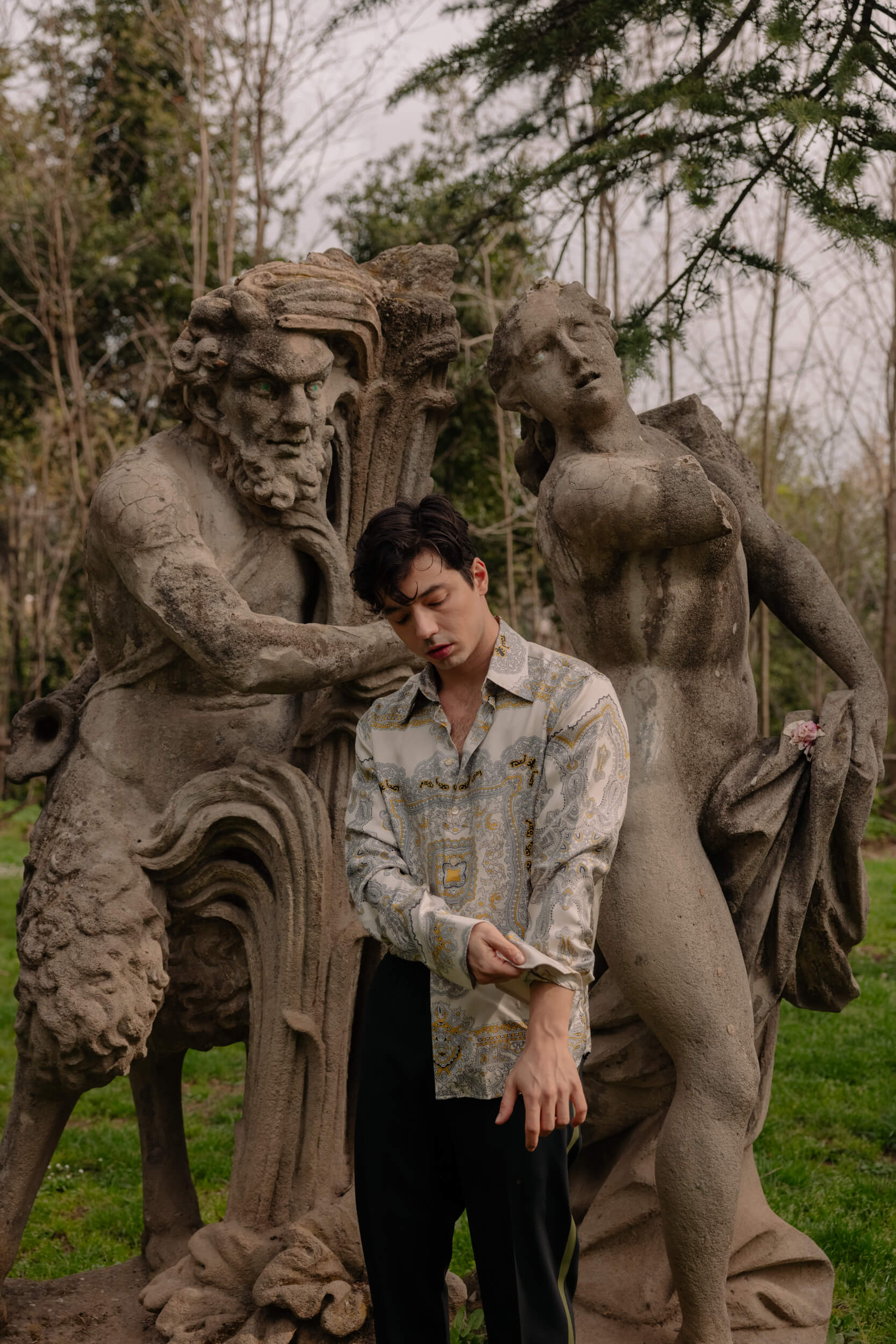 Your latest binge-watch?
"Better Call Saul". If they don't stop torturing me with a week-long wait for a new episode, I'll sue them.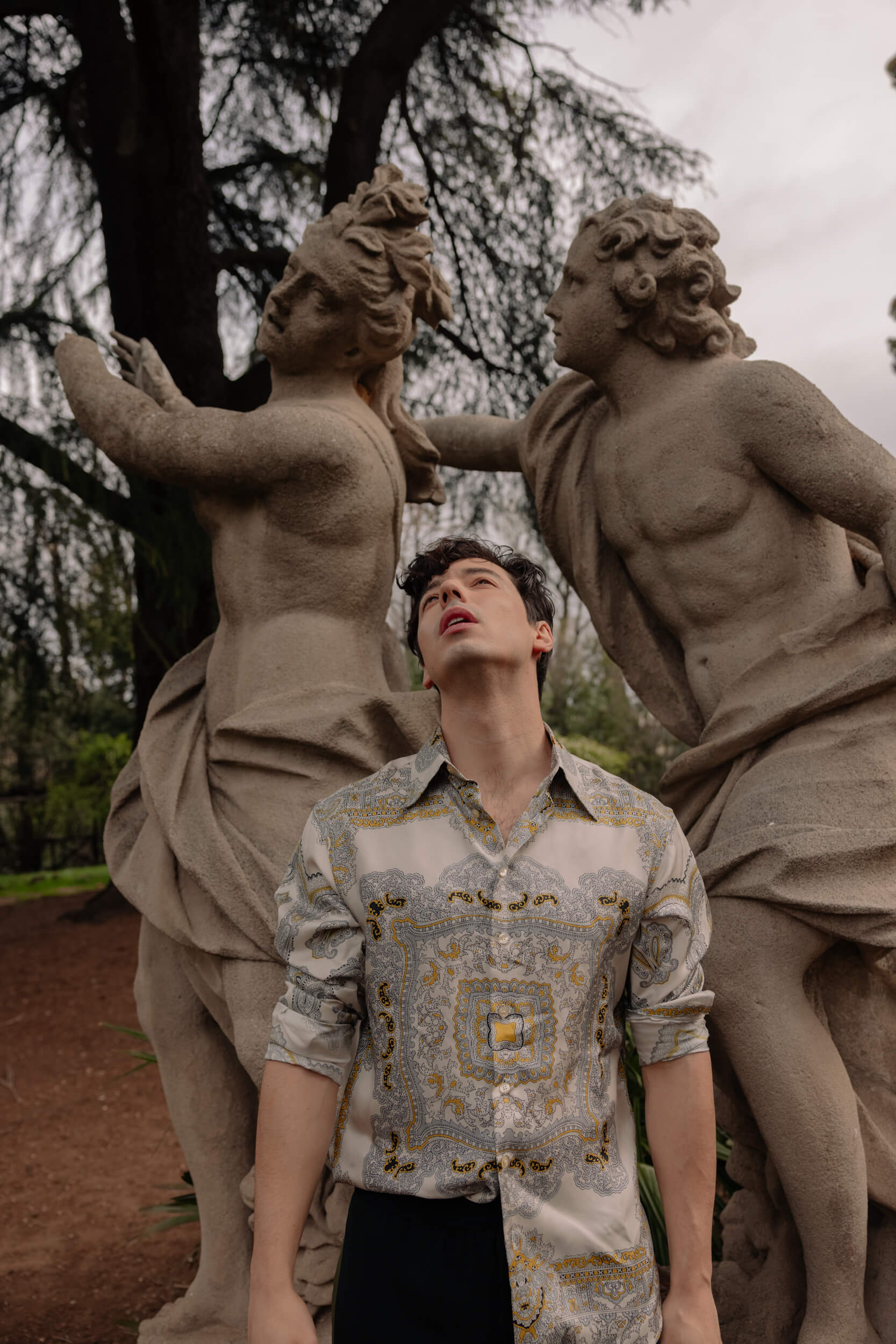 A real-life character you'd love to play?
The one I've just played: a horrible murderer. Top secret for now. I would dream of that and went out to make it come true – you know, at the beginning they didn't even want me to audition for the part because I'm physically nothing like that. I had to lose a lot of weight, wear a wig, pick up some tics, and change the way I speak. Ah, how wonderful. If you want to know about the next one, I would be glad to undergo some kind of physical transformation. I don't know, someone like Mario Bosisio, for example, the boxer loved by Mussolini, who was defeated by Leone Jacovacci, the black wrestler whom Fascism has decided to delete from our historic memory. There you go, I'd like to play Bosisio. Always and in any case an antagonist. I love them.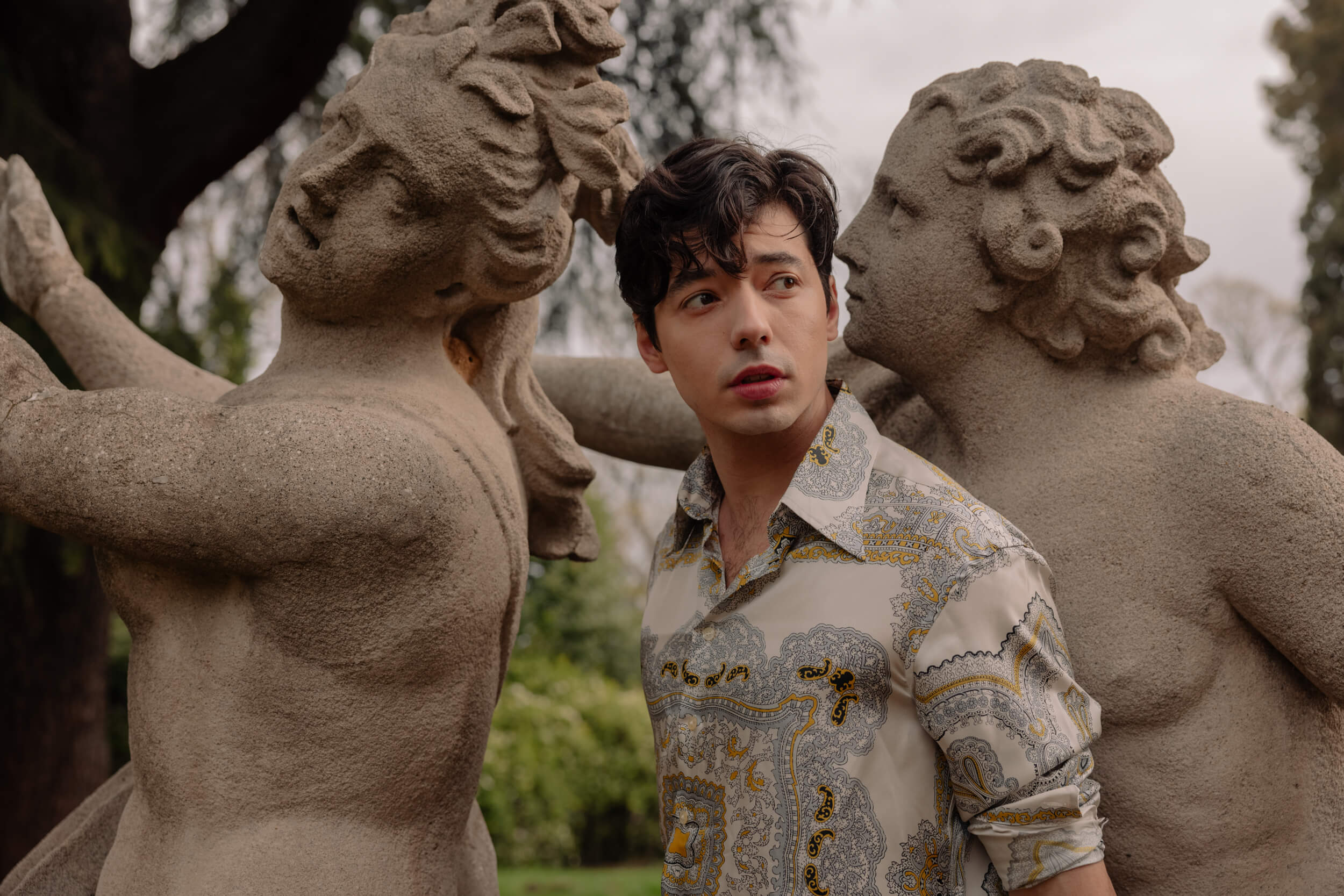 "Always and in any case an antagonist."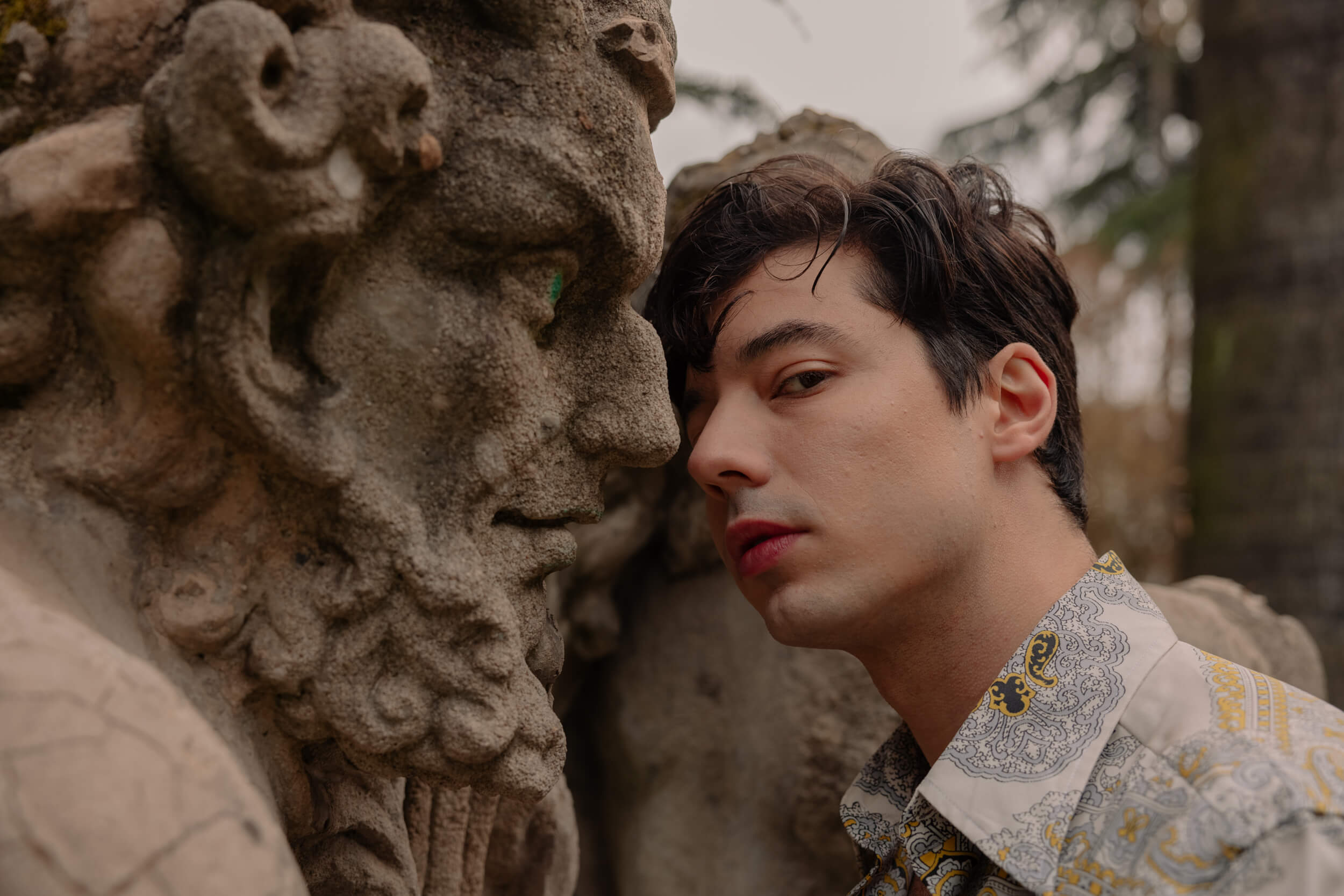 You're also a musician: what role does music play in your life?
It's the antidote to depression, to the challenges of existence. With l'Orchestraccia, my band, or on my own. Playing it, listening to it, dancing to it. Music is oxygen, the real one, not the trivial and smog-filled one that keeps our organisms going.
Which song describes this very moment of your life?
"La Vita," by Shirley Bassey, one of the gems of this wonderful movie.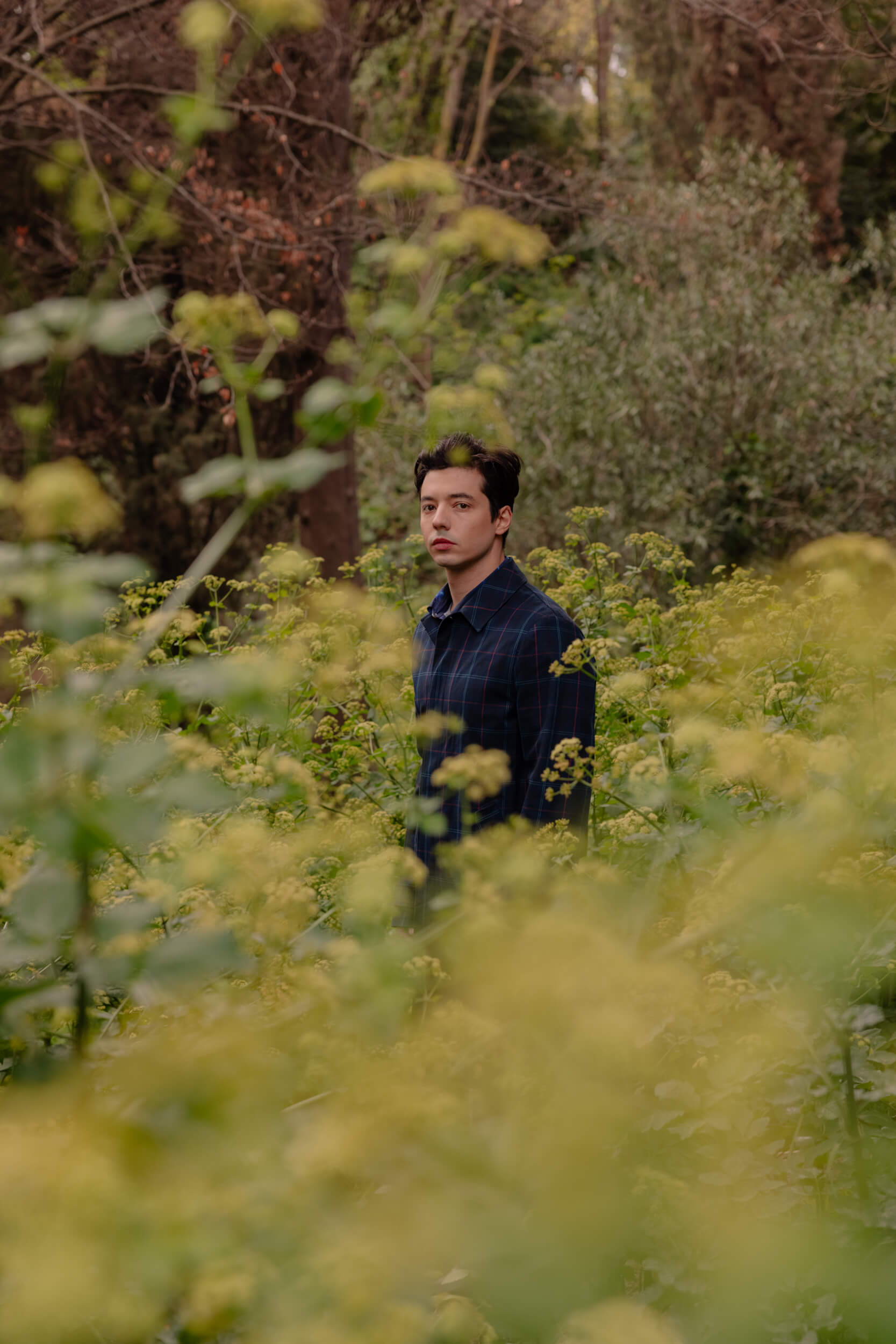 The most significant professional encounter of your career so far?
Just one, you mean? Maybe, the only plus I have compared to my colleagues is precisely the lucky encounters I've had. At the age of 30, I can boast of having worked as a peer with some of the greatest Italian actors, like Castellitto, Elena Sofia Ricci, and Nino Frassica; some of them, like Claudio Bisio, have also become friends of mine. But along my journey, I've also met Gassman, Gerini, Leo, Fresi, Haber, Bevilacqua, Calabresi, Sermonti, Cabra, Lombardi. I've worked with directors who've won international awards, brilliant professionals, and young talents who are becoming dazzlingly successful in our cinema industry; I've collaborated with award-winning talents like Danny Boyle, and I had the chance to be directed by my number one hero, the one who will be forever the greatest of all time to me, Gigi Proietti, whom I'm met with Shakespeare. How do I choose one? My encounters are perhaps the greatest satisfaction of my life.
Who or what inspires you on the job, but also in your everyday life?
I've stolen the dedication from my mother, and the obsession for details from my father; from the maestros of my life – Gabriele Linari, Annabella Cerliani, Vito Mancusi, Popova, Benedetti Michelangeli, Dezi, Perelli, and the other teachers from Rome's Centro Sperimentale – the knowledge that allows me to act freely on the scene. From Ludovica Bargellini, the great love of my life who recently passed away, the joyful, curious and explosive attitude that pushed her to always look for something more in herself and in life.
The real challenge, though, is to continuously change your references and inspirations. In this way, you force yourself to explore unknown places, never settle for less, and always walk new paths.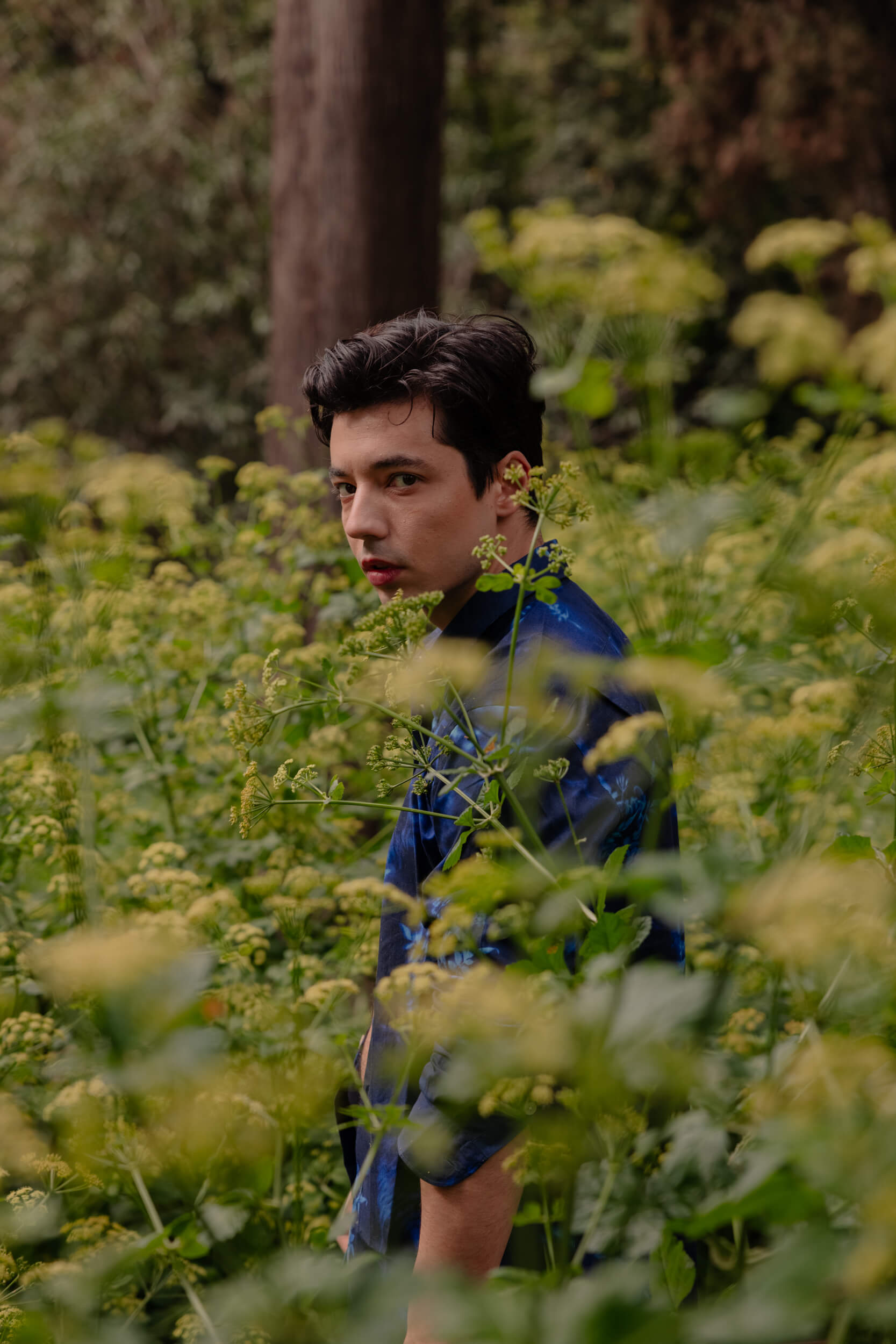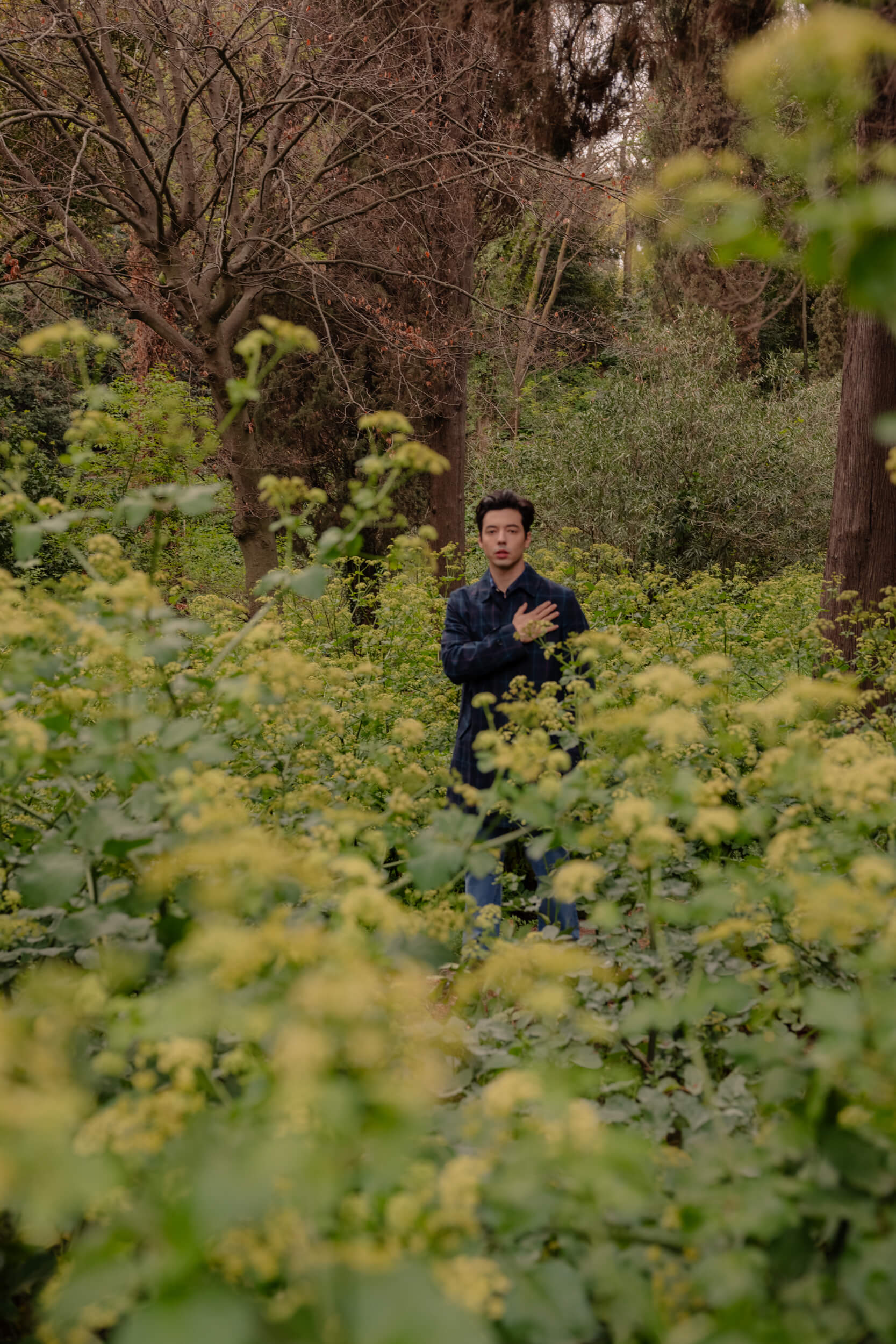 When creating a character (but also in your everyday life) are you more rational or emotive?
It's all about the phases I'm in: my approach is absolutely rational, and the more I manage to explore with my brain, the more I feel free to switch it off later on and let myself go with emotion. It's like driving a car: at the beginning, I wanted to know the exact engine speed to which it was appropriate to shift gears, while now if I get distracted, in the end, I don't know how I've gotten home.
What's your favorite movie quote?
"Scusi, noi siamo in quattro, come se fosse antani anche per lei soltanto in due oppure in quattro anche scribai con cofandina, come antifurto, per esempio," a nonsense quote from the Italian movie "Amici miei."
An epic fail on set?
I can't remember. And if I did have any, I must have wanted to remove them from my memory. To me, failing on set is like forgetting my son at preschool and go pick him up the day after. Yes, I guess that's an appropriate metaphor. I live it well, so to say.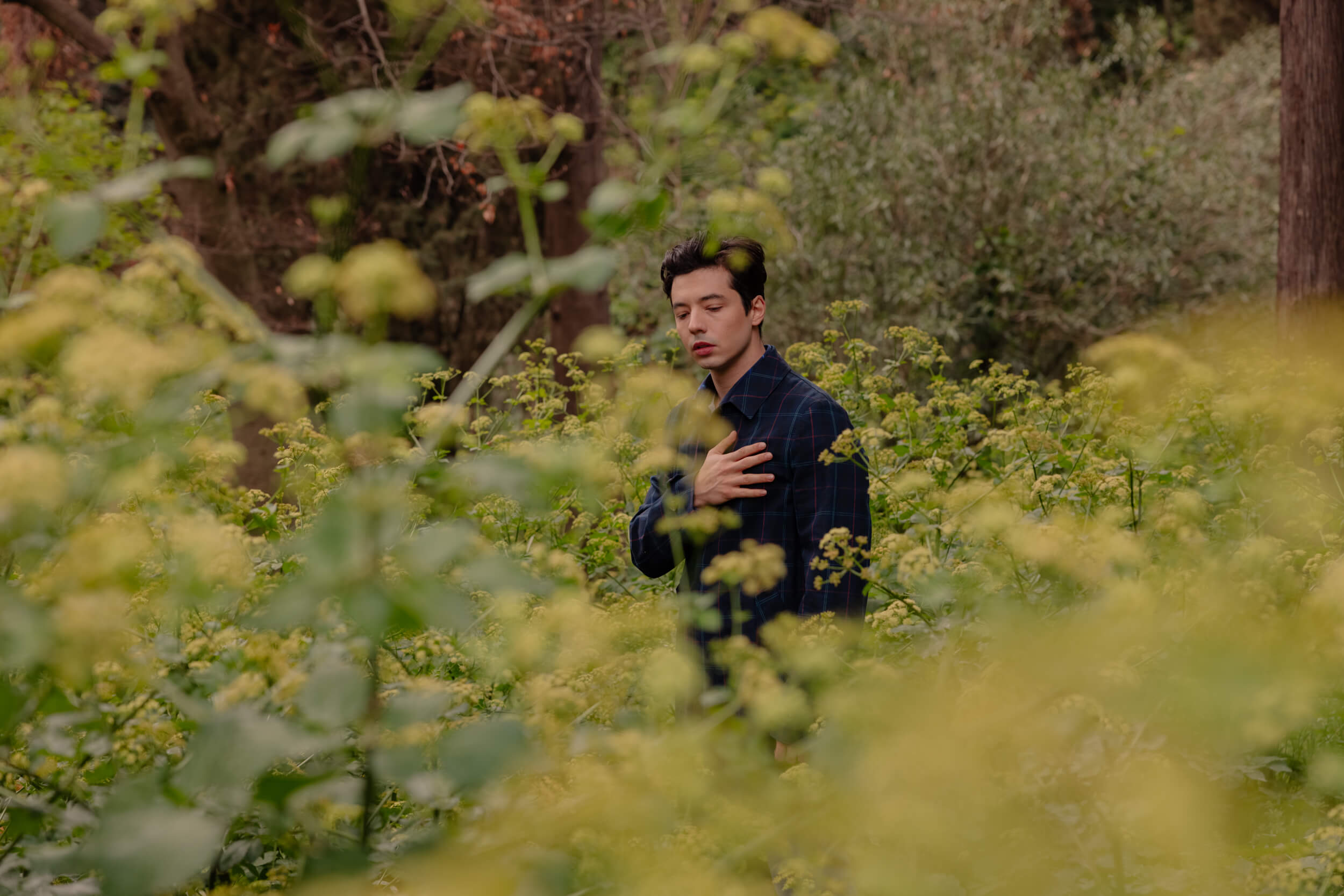 Your must-have on set?
My beauty case. In there I keep my toothbrush, deodorant, perfume (it's essential to help your colleagues not to come under your after-party breath and secretions), my notes on the script, earphones, condoms (because you can never be enough optimistic – but it's always been the same box for years, they've probably expired), phone charger, some lucky charm, and some ibuprofen, vitamin supplements, and similar medicaments. Basically, my beauty case weighs 30 kilos.
What's the bravest thing you've ever done?
"Waking up this morning," a quote from "The Road" by Cormac McCarthy, from which I performed a monologue. It's not true, but it's always a bit true.
And your greatest act of rebellion?
Saying no.
Ask my therapist, for me it's like the storming of the Bastille, or the Russian Revolution. That's it. When I say no, I'm just like Danton or Lenin.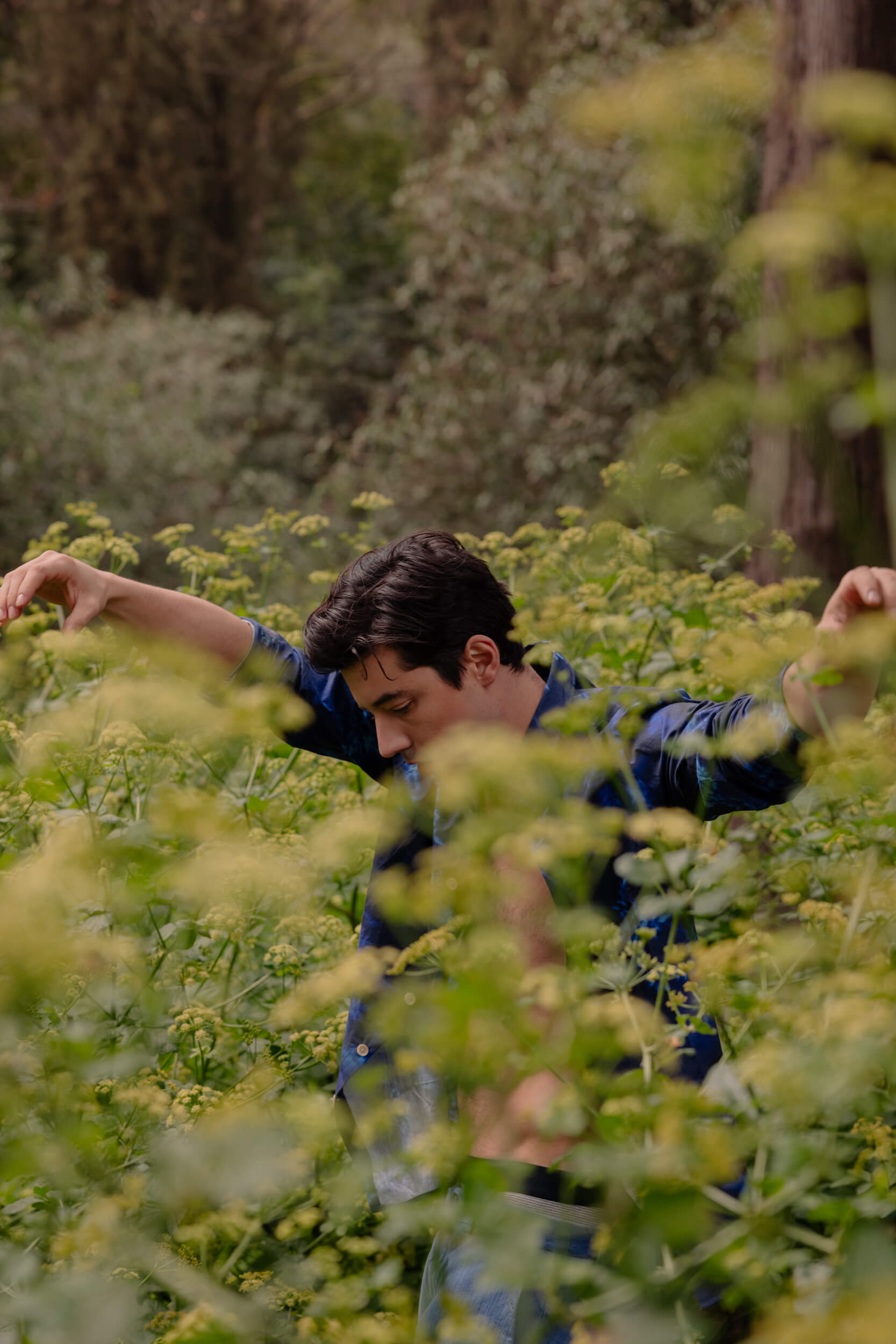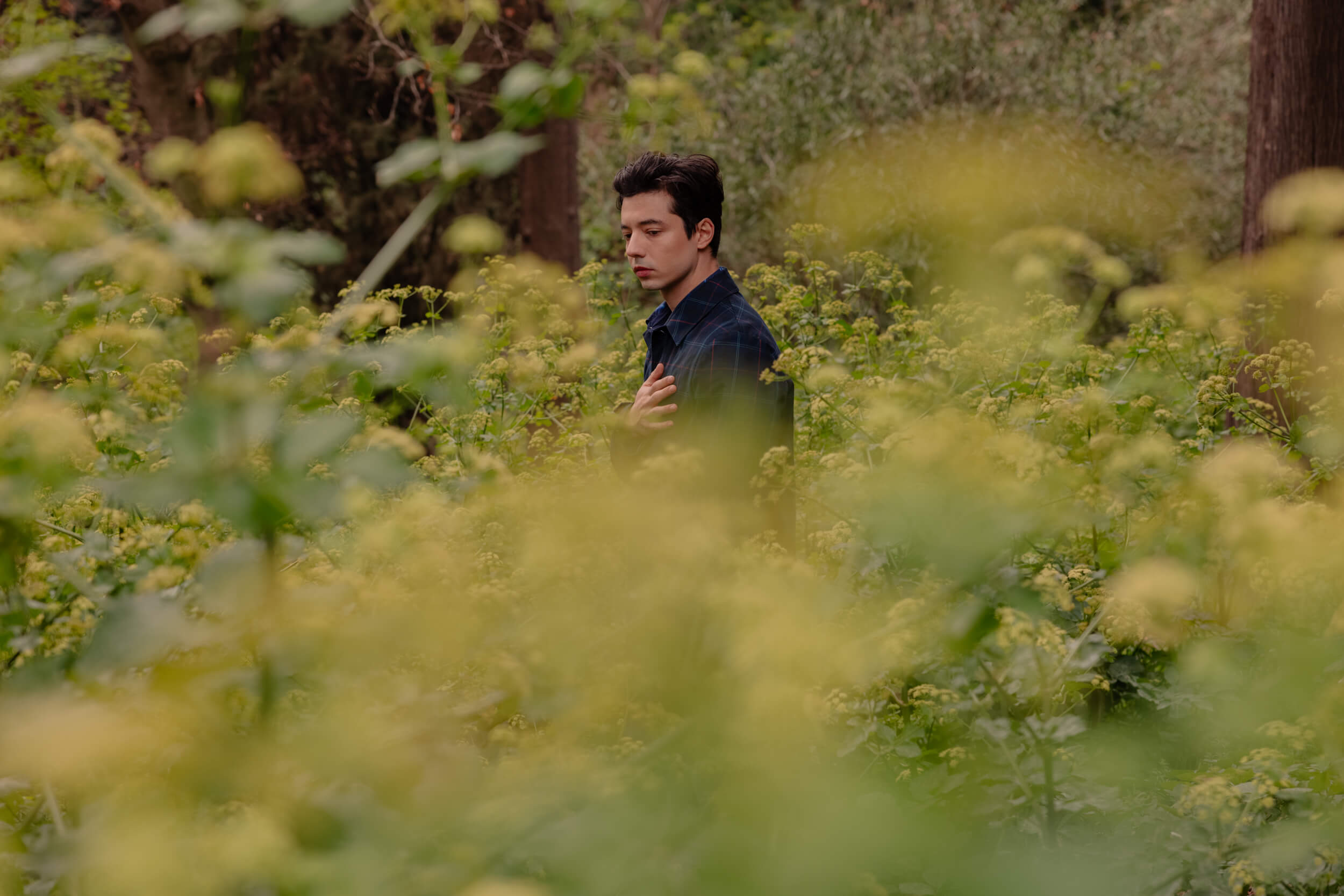 What does it mean to "feel comfortable in your own skin" to you?
I have literally no idea.
What are you afraid of?
Of being a shitty actor. Of tomorrow. Of yesterday. Of mice. Of the future, death, pain, being a shitty actor, not being enough; of unsuccess, success, Equitalia, evil dogs, shitty actors, two-wheelers, overcooked pasta, peanut butter (I've eaten an exaggerated amount when I was a kid); of illnesses, being a shitty actor, the health of the planet, capitalism, trap music, trap music in clubs, clubs, money, bad movies, time flying, forgetting about the beauty of life and only remembering the horrors it faces us with, being a shitty actor.
The latest thing/person that made you smile today?
My colleagues from "(Im)Perfetti Criminali," my friends, whom I love. Sitting to answer some questions, watching the clips from the movie – I smiled a lot today. Why choose one single thing/person? It's a very bad time we're living. Even more so, we should be smiling as much as possible.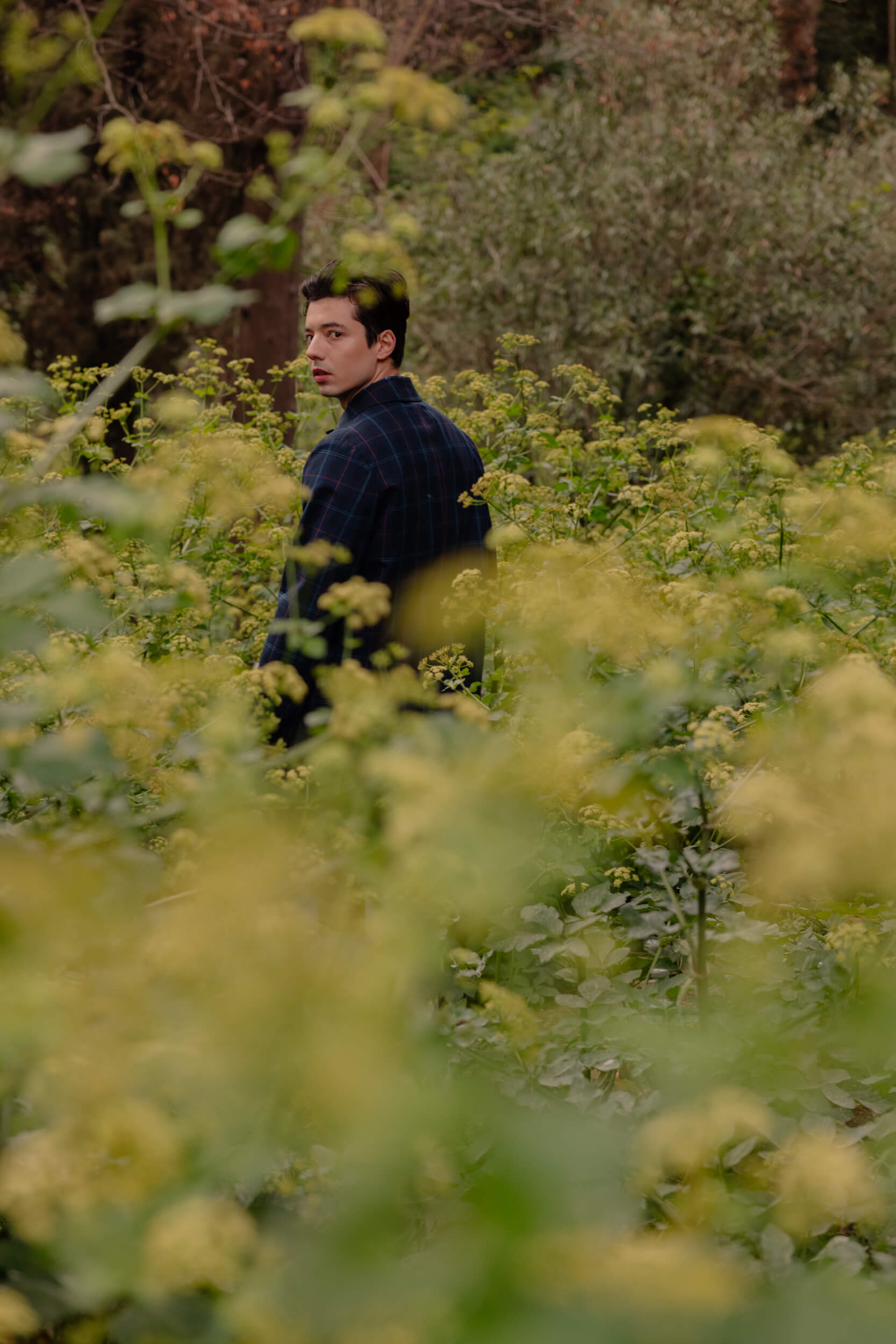 Your happy place?
Musical instruments. Movies. My love. Food, whisky, red wine. The long chats with my friends until 6 in the morning. The kitchen. The hammock you use in yoga to hanging upside-down. My parents lived as people and not as parents. Headphones and music blasting. The theater, the set. I'm lucky.
I don't have one place. I have a world.