Interviewing Daphne Scoccia felt like chatting with an old-time friend. It was one of those chats you rarely get to have, and only with a few, one of those conversations in which you're happy to get lost and indulge in your deepest thoughts and most intimate memories, discussing life, society, ideology and, obviously, our greatest shared passion: cinema.
To cinema, Daphne has given all of herself and she plans to save much more of her time for it, with the most worthwhile goal: to reawaken the consciences through her projects, telling stories of powerful women, strong thanks to their weaknesses.
A versatile actress and artist of great sensibility, for her role in "Umami – Il quinto sapore" by Angelo Frezza, she entered the raw dimension of eating disorders, zealously studying its effects and features; in "Rido perché ti amo" by Paolo Ruffini, she turned into a tattoo artist providing love advice, experimenting the lightness of cinematographic sentimentalism; in the three seasons of "Nero a metà" she found a second family, the one you choose and that becomes the emblem of making movies when, on set, you feel so comfortable that you can call it "HOME."
With Daphne, we've spoken about food ethics, the importance of being ethical even on that front for the love of animals, yourself, and nature, which is our lifeblood, a huge happy place. And we discussed delicacy and empathy as keywords to enter the characters and handle acting and life challenges with peace of mind; all of this trying not to take "your ego" too seriously because often it's our guts, our most primitive desires the ones that allow you to empty out our safe and free all our dreams locked in there and reach the stars, just like that omen from the childhood days.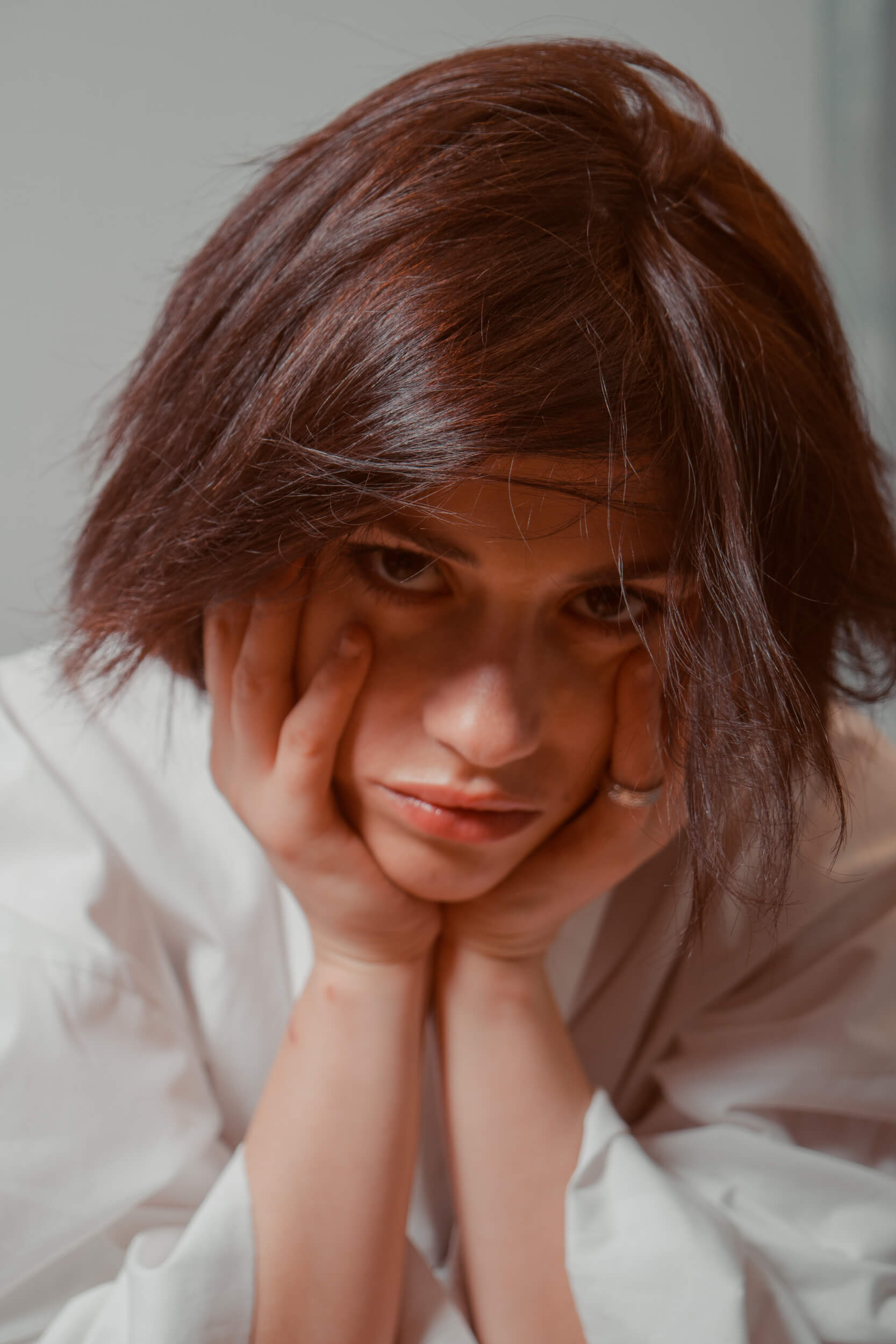 What's your first cinema memory?
My first memory is the very first time I went to the movies, I must have been 3 and a half or 4 years old, and the film was "Jurassic Park." I went with my parents, and I was so overexcited! You know when, at the beginning of a movie, they show the logos of the distribution and production companies? At some point, in the utter silence, I saw on the screen something that had to do with the sky or astronomy, like a shooting star, I bolted up, in the total silence of the movie theater, and shouted, "Mom, look!" [laughs]. My parents started laughing and told me, "Shhh, be quiet, everyone can hear you!". This memory makes me laugh, and it's my first cinema-related one.
June 17th is the release date of one of your most recent projects, the comedy movie directed by Angelo Frezza called "Umami – Il quinto sapore." What was the first question you asked the director and yourself when you read the script for the first time?
The two things go together: when I read the script, I immediately reflected on the fact that Nina, my character, was a girl suffering from eating disorders and mental health issues in general, who was about to lose her voice because she'd decided not to speak anymore, so I asked myself what a person suffering from eating disorders goes through and looks like; I wanted to look for information, I started making research and studying the disorder itself, and then discussed with the director about it.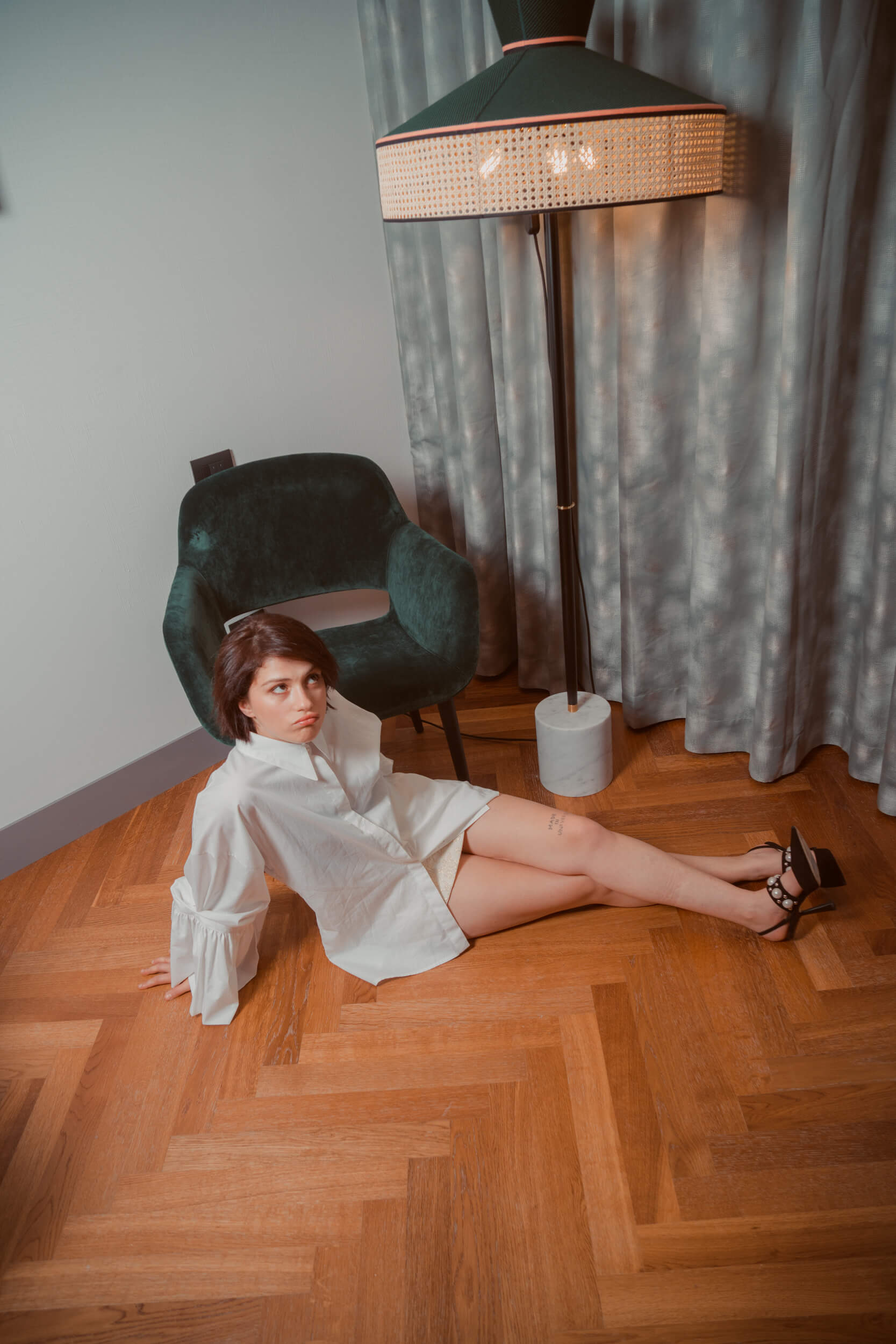 What were the challenges of playing your character and how did you overcome them? 
The challenge was no doubt trying to understand the personality of my character and its issues, the search for it: the challenge is discovering the character, maybe also studying it, always with great sensitivity. I overcame this challenge through empathy, I entered the character with sensitivity, without forcing too much.
One of the themes the movie tackles is food and cooking as cathartic elements, with healing, meditative, and communicative powers. How do you live your relationship with food? What does it represent for you?
I get on very well with food! [laughs] I have a very sweet tooth, I like eating, but at the same time, I've discovered so much about nourishment because food is not only something to eat, to gorge yourself with, but it's nourishment. I started educating myself on food – I'm vegan and I care about keeping going with this, it's a challenge every day for me, and I care about that because our stomach is our second brain, and the way we eat also defines our way of thinking, other than our body; I care about that because I like to fight for the animals' rights as well, I love animals and that's one of the reasons why I'm vegan, besides health issues. If you exclude certain foods from your diet, you discover a different kind of energy, and I believe we don't talk about this enough, or rather, we wouldn't talk about this enough in the past, but now the conversation is growing. When I go to the supermarket, for example, I always read the labels of the products, I care about the food ethics and about being ethic, even in those terms I try and do things with empathy; now, if I were to have a stake in front of me, I wouldn't see a piece of meat, but I would see a piece of someone, so I wouldn't be able to eat it. We should all educate ourselves a bit more on the subject of food, for the sake of the planet, of ourselves, of animals, to live better and more in tune with nature.
How would you describe "Umami – Il quinto sapore" in one word?
Sensitive because it tackles certain topics with great sensitivity, and also the characters, for the way they've been written and imagined by Angelo Trezza, the director, and by us actors, are treated with sensitivity, and this aspect really stands out.
Sensitivity.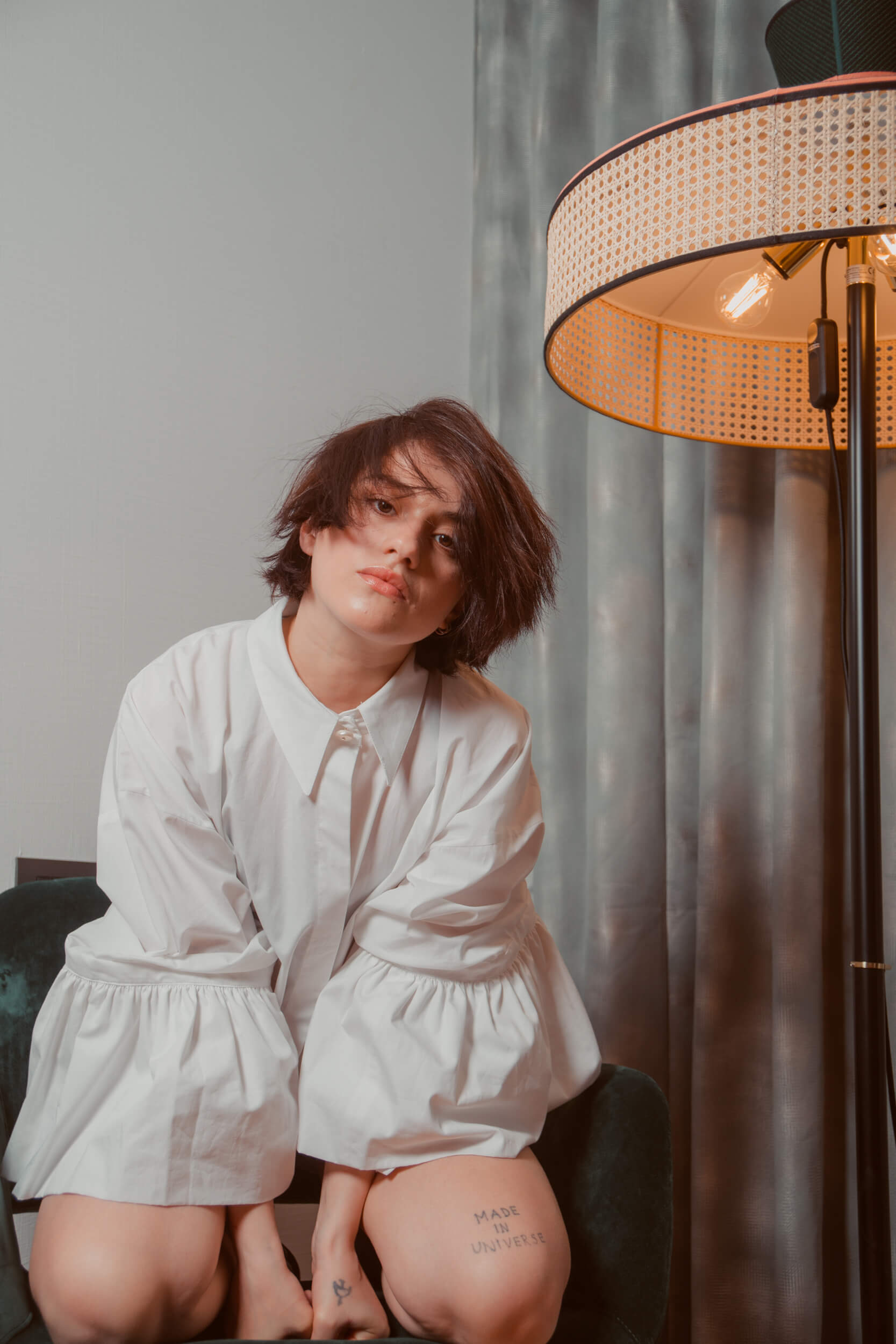 "…the way we eat also defines our way of thinking, other than our body."
You're also one of the protagonists of "Rido perché ti amo," directed and performed by Paolo Ruffini, which is currently in post-production: would you like to tell us something about the movie and your character?
"Rido perché ti amo" is a comedy, a funny comedy, and there's one word that comes to my mind: fairytale. This movie is a sort of fairytale. My character is called Sam, she's a one-of-a-kind girl, a very strong one, with a melancholy inside that she hides well under her tough skin, but eventually, with time, it will come to the surface. Everything revolves around the story of four protagonists, played by Nicola Nocella, Paolo Ruffini, Barbara Venturato, and I. The characters played by Paolo and Nicola are very good friends, they live by this little square where, after a while, I join them to open a tattoo shop. One night, I notice they're having a fight, I reach them and start talking with them, and a drinking night starts off, where we get to know each other and become friends. Nicola's character wants to reconquer the love of his partner, whom he wants to marry, but he needs to fix some things first because he pushed his luck. The other characters and I help him win her back and, in the meantime, things warm up between my character and Paolo's, and then you'll see what happens. Anyway, my character is cool: a super tattoo artist! I really loved playing her.
What should we expect from this comedy?
Lots of serenity, for sure, love, lightheartedness… sentimentalism!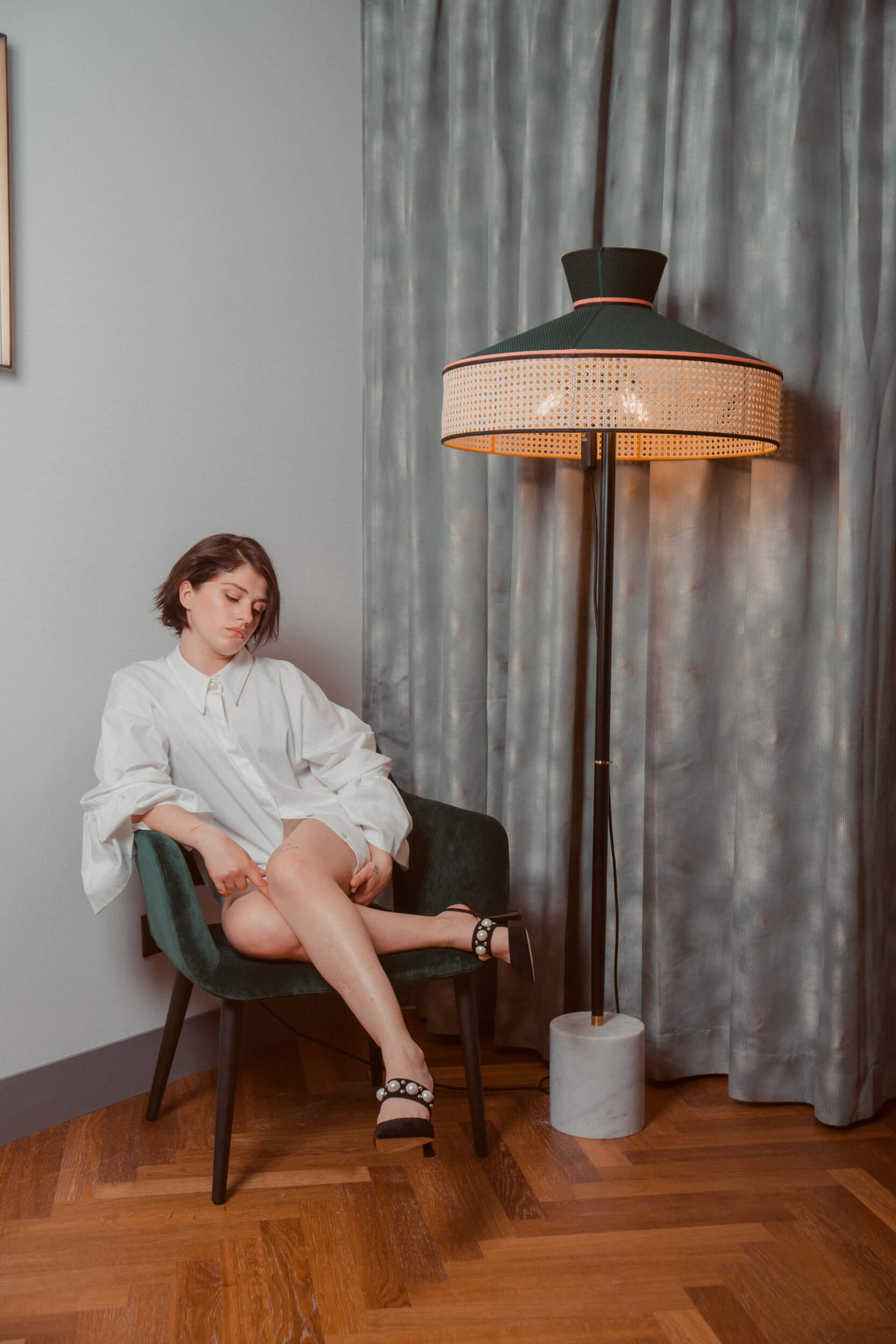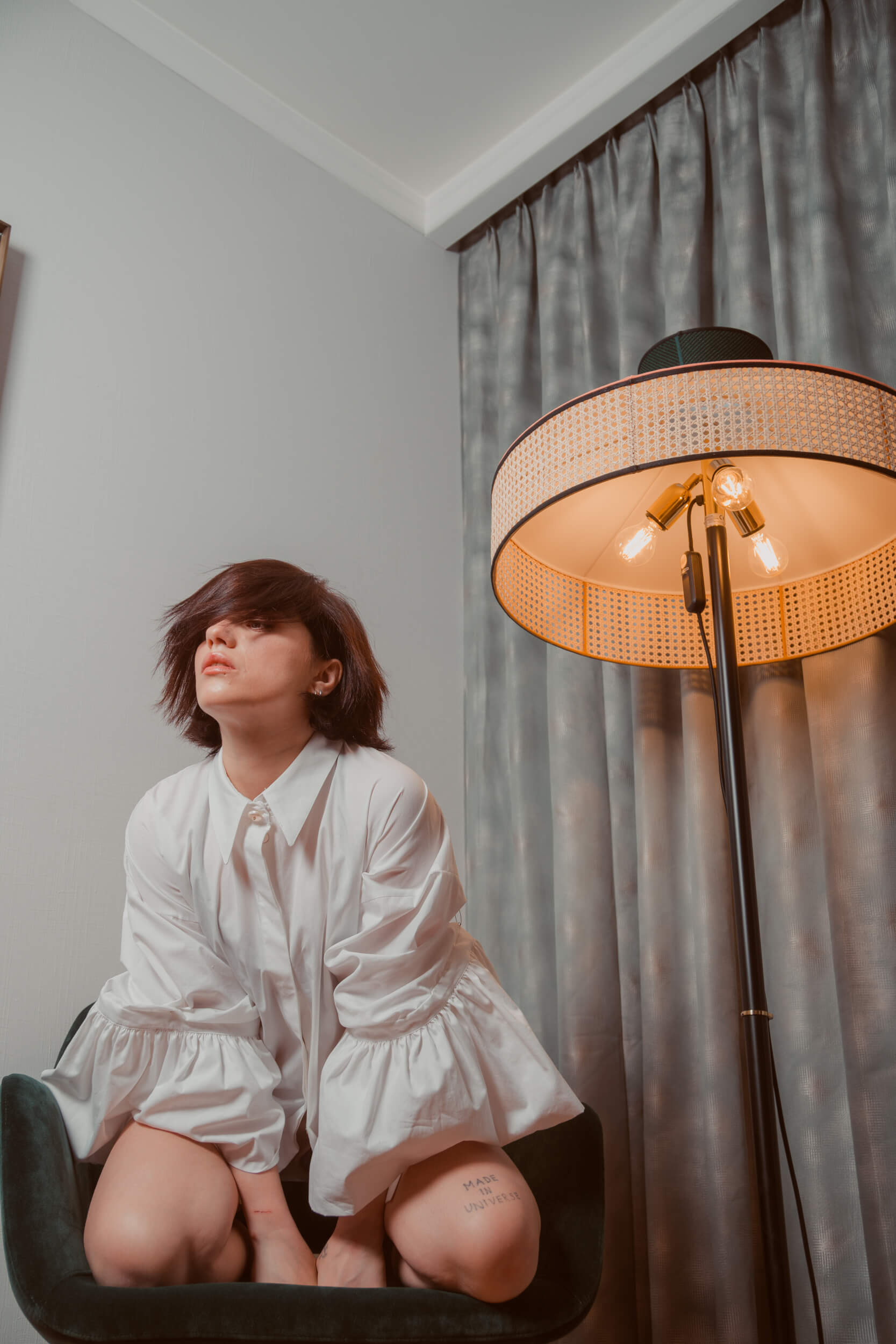 We will soon see you in the next season of "Nero a metà:" what was the experience on set like and what did it leave you with?
This experience starts from way earlier: I started acting in "Nero a metà" from season one, then I was also in season 2, and now, in season 3, my character has grown and has more space, so there's going to be huge news in this season, and I'm very happy about this. On the set, I had a very great time with Claudio Amendola and Miguel [Gobbo Diaz], they're really wonderful and super professional people, but very fun at the same time, so the cast becomes your family if you all get on well with each other and everything works right. This is what happened to me on the set of "Nero a metà:" I became attached to everyone, and to my character as well.
"Tutti i nostri ieri" (Eng. lit. "all of our yesterdays") by Andrea Papini tells the story of nine prisoners, in fact, the main set of the movie was Codigoro's former jail, in Emilia Romagna. What was your experience on this "tough," I guess, set, from an emotional point of view?
The title of the movie is actually going to change, but I still don't know what it's going to be called! Anyhow, this time I'm not the prisoner! [laughs] I meet this man who's filming a documentary, and I'm some other character's sister. But also the landscape, those plains all around, the nature…
It was beautiful, intense, an opportunity for growth.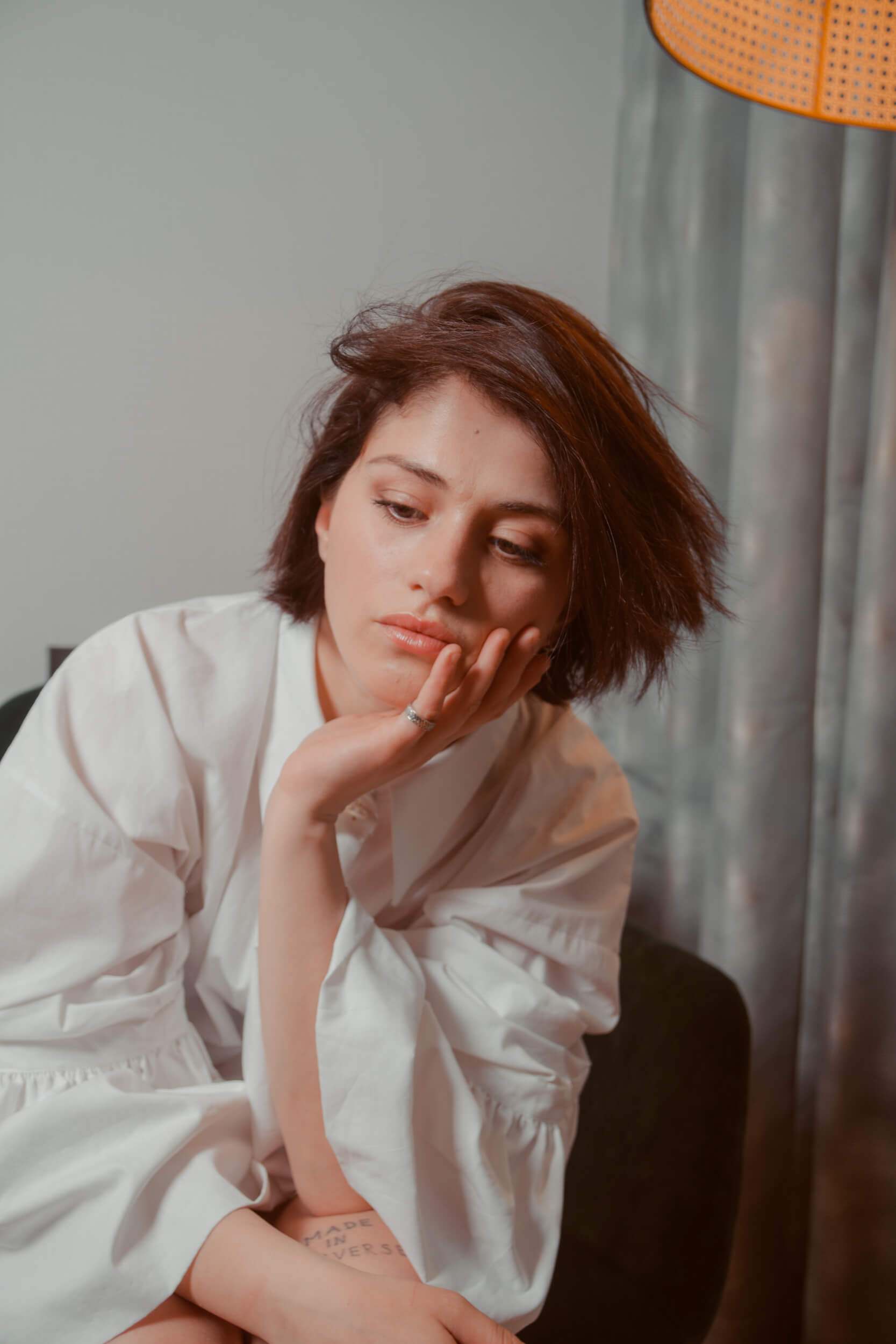 What was your first impression, the first thing you thought about your character when you read the script?
Well, this project has been going on for five/six years now; I got the call from Andrea Papini around three or four years ago, and he wanted me for that role because I was perfect for the part. I read the script, then several years went by, and in the end, we finally managed to make the movie. I really enjoyed playing this part, and I wanted to do it because narrating the fragility of women is always a well-received mission, the fragility, and strength of women, actually, which are two things that go together.
Would you like to tell us something about your character?
My character is a simple girl, she works in her parents' bakery, she's a small-town girl that goes through something… But I can't tell you about it! [ride] Her sister dies, and at the beach, when she goes there to bring flowers to the exact place where she was murdered, she meets a director, who eventually tells her, "Let's make a documentary."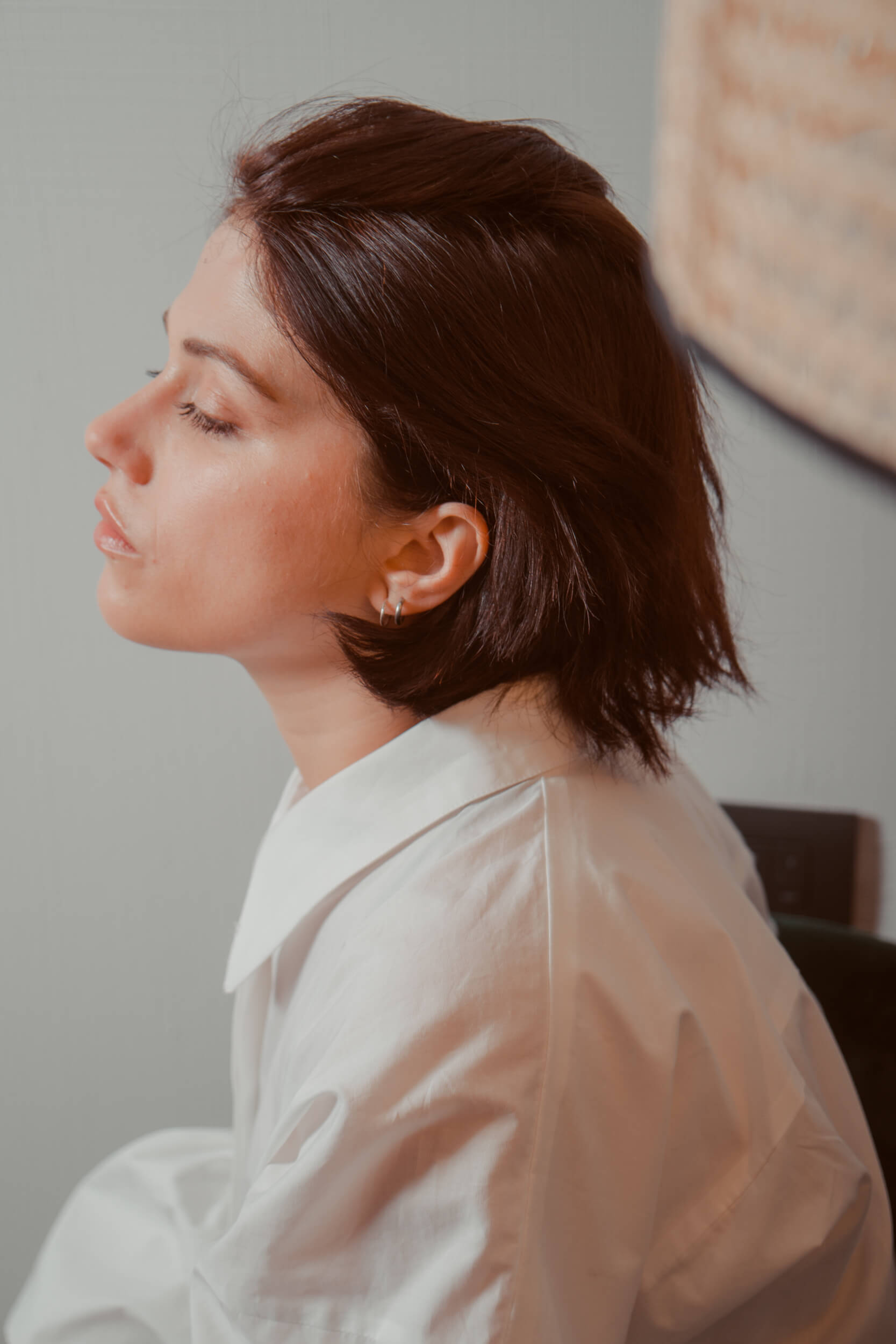 One of the themes the movie deals with is the relationship between identity and memory, evoked by a documentary project in which the protagonist engages. On this note, what would you want to impress of yourself, as an actress, or maybe as a person, upon the memories of those who watch you on the screen? 
Eh… Lots of stuff! [laughs] It's nice to bring female roles on the screen, it's nice to represent the multiple facets of women, and I like the fact that I get called to perform characters that most of the time are fragile, but at the same time strong women. Cinema is a great source of knowledge, through the movies I make and will make, I'd like to send a message, first and foremost, a message of empathy, ability to step in someone else's shoes, which is an actor's prerogative, if you think about it. I'd like to bring on the screen things that people might not know, I'd like to open up people's eyes, I'd like to give viewers the possibility to discover and get to know new things, sides of people, I'd like to get them to ask themselves questions because we all should ask ourselves some questions before judging other people, we should wonder "why are they doing that, why did they do that?".
Open the doors of human conscience, awaken human consciences, this is what I'd like to do through my projects.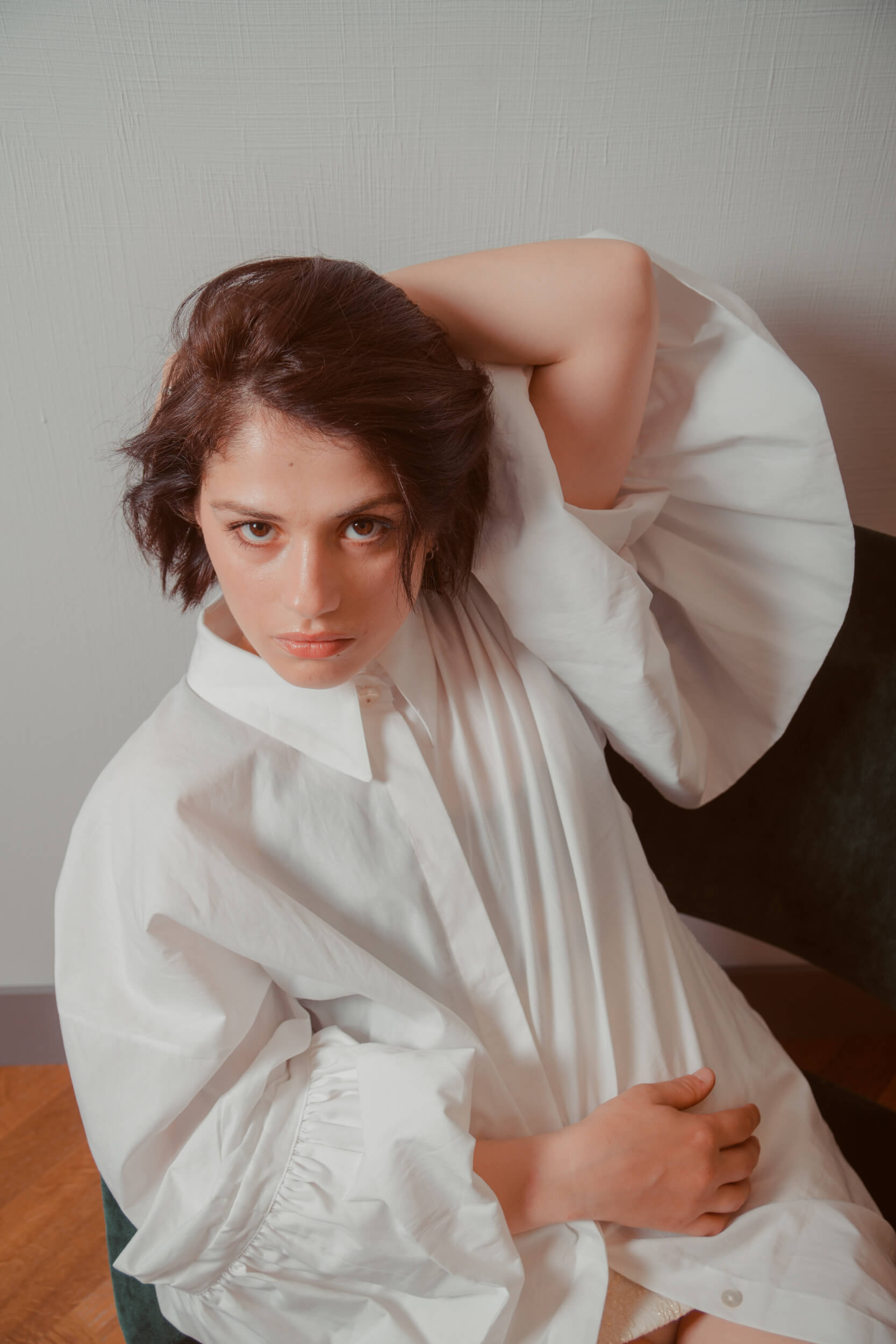 "South" is another movie you've recently wrapped up, directed by Lionel Baier. What can you tell us about this project and your experience on this set?
In this movie, I play Nina, a blogger. The story focuses on the fishy stuff made by the EU towards migrants – Nina is a subversive blogger, she tries to reveal some things and ends up falling in love with the son of one of the Ministers.
You did your first audition for a leading part (which earned you a Nastro d'Argento award and a David di Donatello nomination for Best Leading Actress in 2017) in the movie "Fiore" by Claudio Giovannesi: what role did cinema play in your life before becoming an active part of that world, and what does it represent for you now? 
Let's say that cinema has always been a part of my life: I liked to watch movies, I used to collect DVDs, I really cared about that, and so many times I would spend my nights alone with my computer watching two or three movies one after another, so it's always been a part of my life. This has certainly amplified with time, so now cinema is everything to me, it's my life, it's my job, it's continuous experience-making, continuous growth, but it's also school. I'm grateful for this.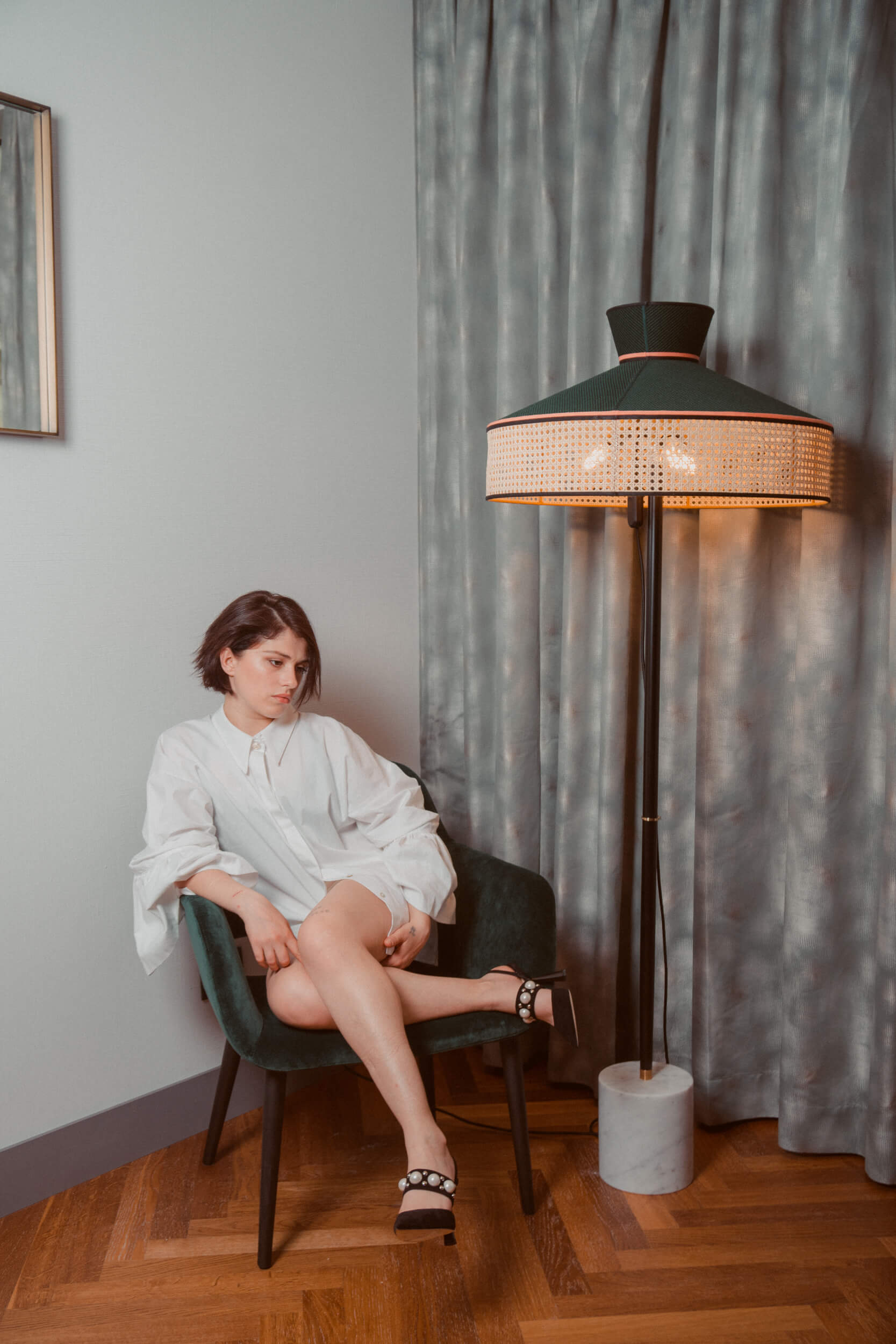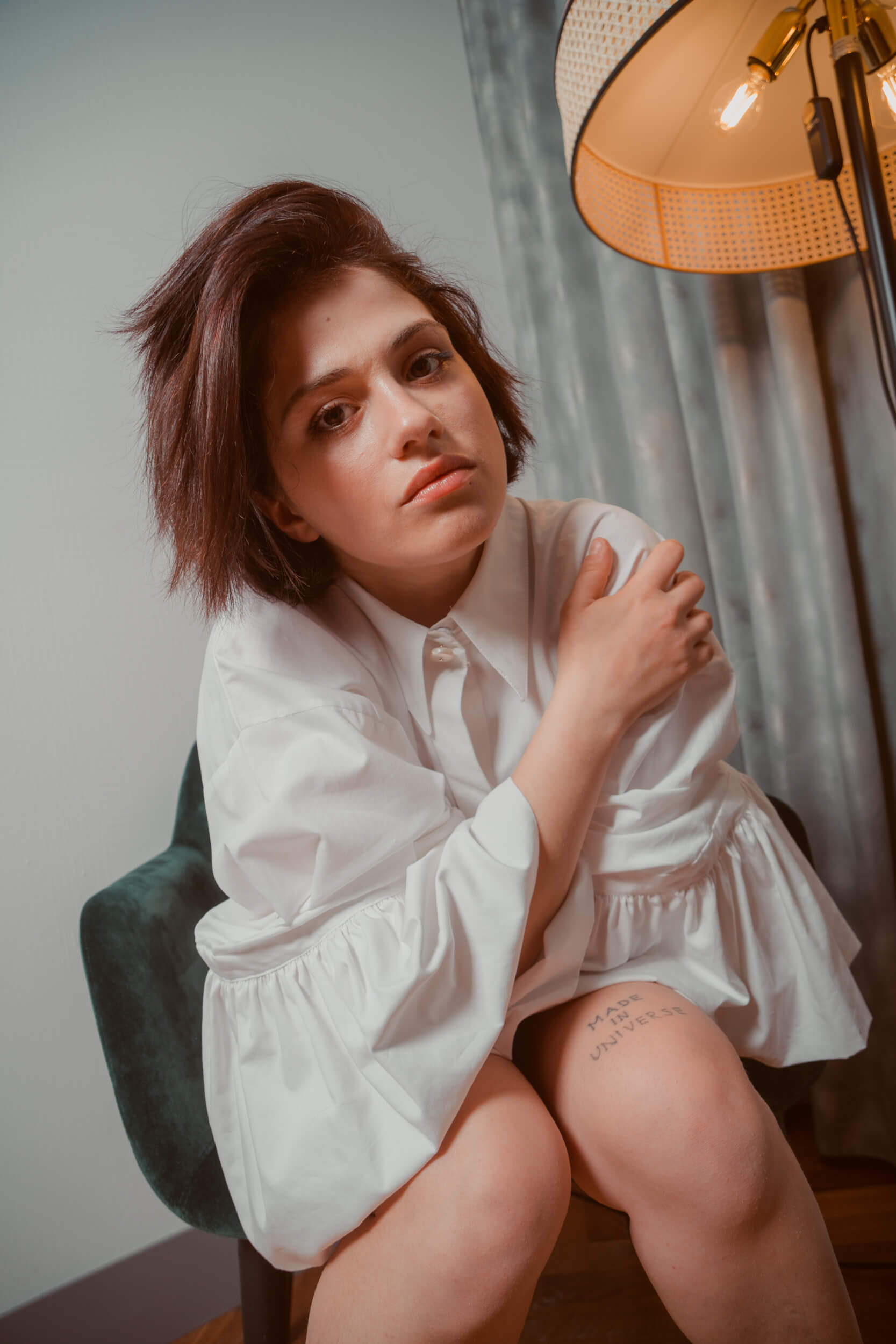 Is there something of the entertainment industry you wish was different or you'd like to change yourself?
Eh, this is a question that summons a wide-ranging answer… Yes, there are certain things I would change, I would give more space to the new faces, I would give more space to talents; unfortunately, it often happens that those we see the most are always the same faces, sometimes because of the connections they have, sometimes because it's more convenient for a producer because a well-known character sells more compared to a less-known one. I would change that, even though there would be so many aspects to improve, but I'll stop here, or I could become polemical [laughs].
Who or what is your source of inspiration in your private and/or professional life?
I guess I have lots of people inspiring me all the time, but, at the same time, I don't think I have any idols. There are so many beautiful people from the world of cinema and not only, in the world of art as well, that I admire, but I always try and take inspiration from myself; however, there's more, I would also find inspiring a lady walking her dog, or a little girl playing with soap bubbles. As for the big names, it would be dismissive to mention them in my case because I would have so many names to name, and choosing only a few would be dismissive.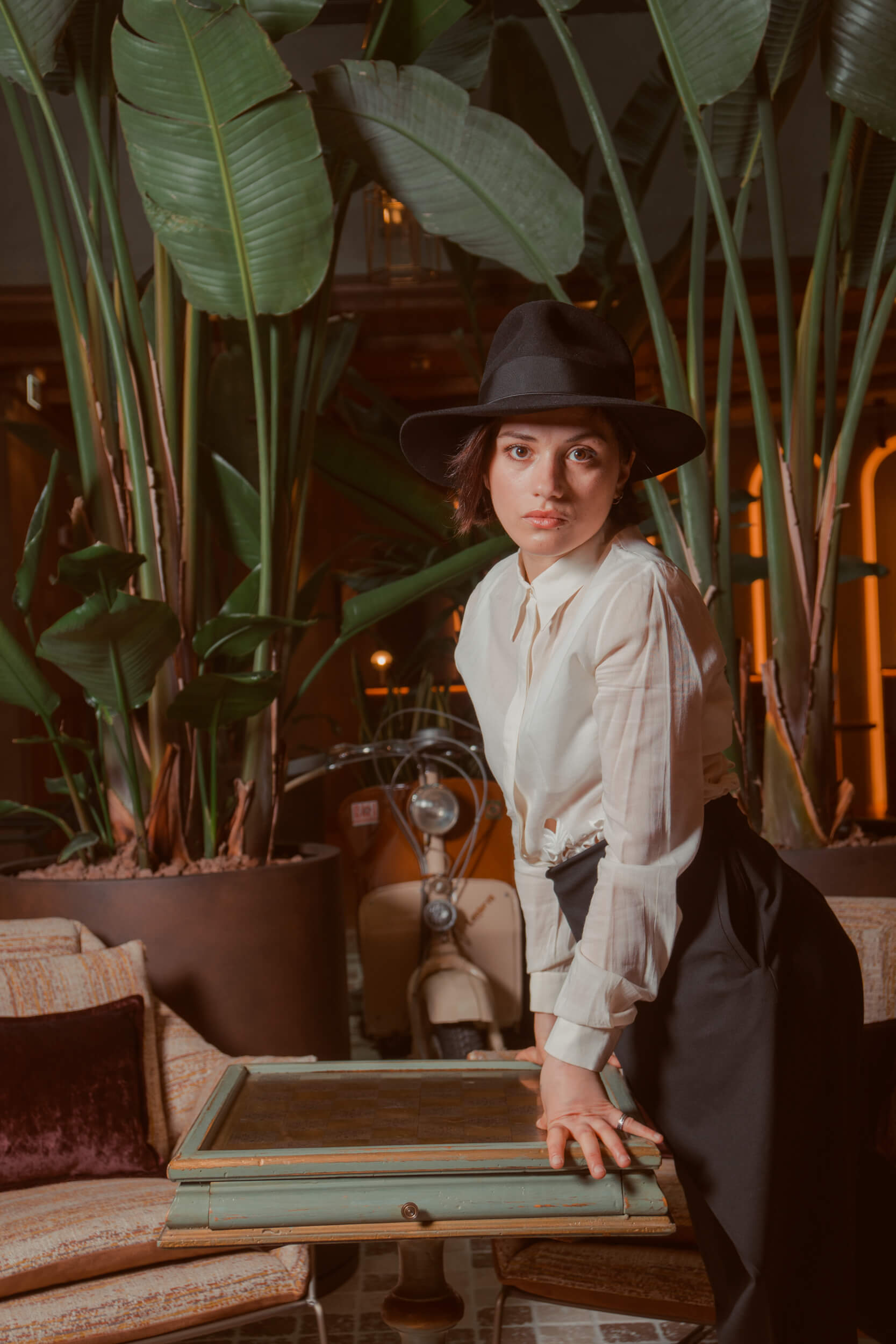 "I always try and take inspiration from myself."
What real-life character would you like to play and why?
I certainly like strong people, people who put their name, who've tried to improve the world, people's conscience, by using themselves as a means. It would be nice to make a movie about Marielle Franco, for example, an activist who got killed, because she was a strong woman who's done a lot and would have deserved a lot more. Or Alda Merini, who was also a woman full of wonders, who had a lot to give and tell. As of now, those two people come to my mind, but in general, I would say strong characters.
Your latest binge-watch?
First and foremost, "Strappare lungo i bordi," a series I found amazing, and then I truly admire Zerocalcare, I was lucky enough to meet him at a festival in Genoa and he's a wonderful, exquisite person, and this of course shows from what he does. So, "Strappare lungo I bordi" in one sitting, all at ones, and right after that, "Nine Perfect Strangers," the series starring Nicole Kidman, a very interesting one, also in terms of the cure they experiment with psilocybin, which is taking hold even as a cure for depression, they've noticed that it works with psychiatric disorders, that it's helping lots of people; then, "Brand New Cherry Flavor," which I loved so much, it was great, catching, full of suspense, it keeps you glued to your chair trying to understand, with your eyes wide open, it's very interesting.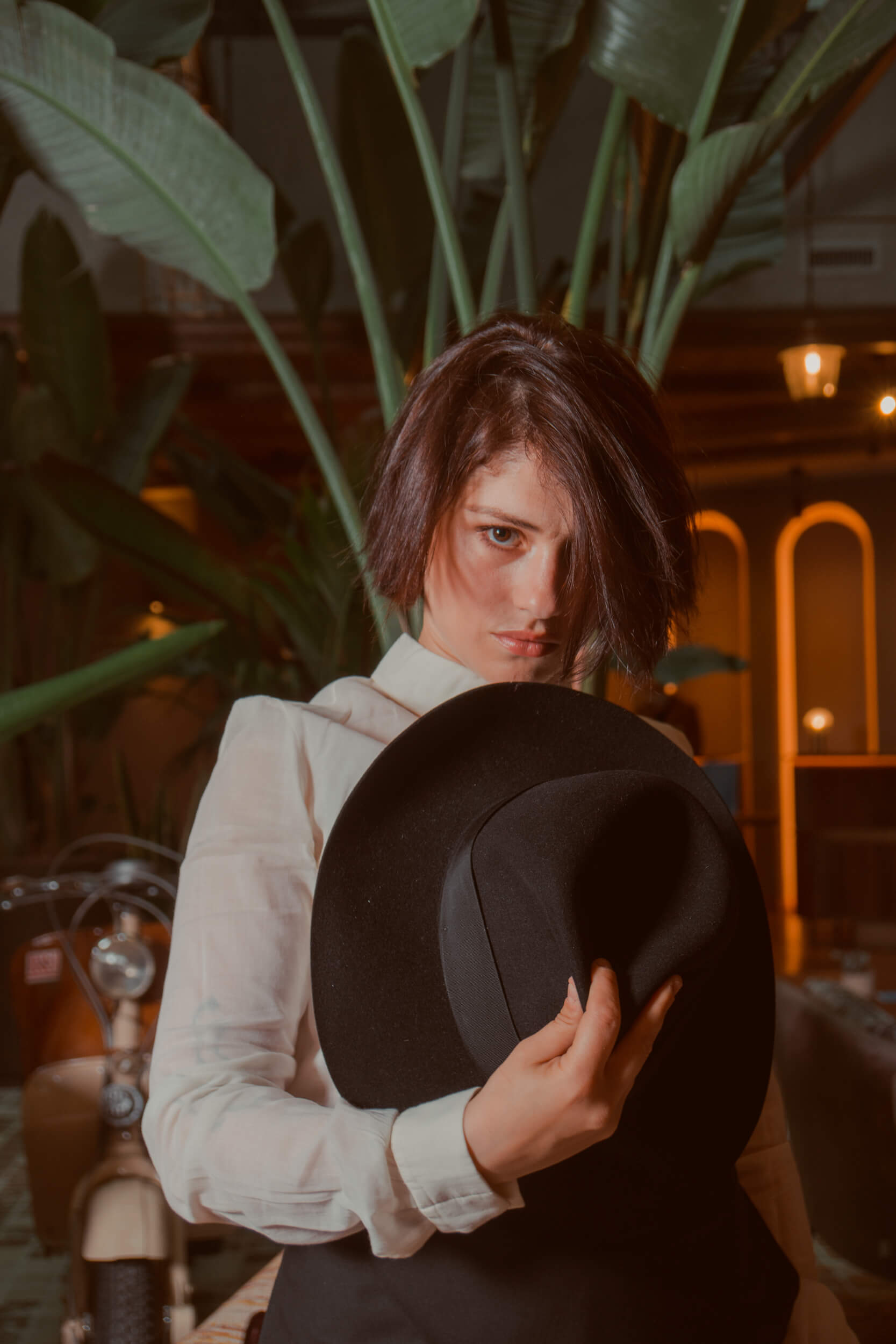 The latest movie or TV series that made you discover something new about yourself?
Actually, it's not really the last movie I saw, but a couple of movies I watched a while ago, and that I carry in my heart because they made me grow up on a human level, they made me discover a bit more in-depth what empathy is, not only towards others but also towards myself because we need to learn to be kind to ourselves and forgive ourselves, which is something I have a hard time doing. The two movies I'm talking about are "Angel-A" by Luc Besson, and "Visit to a Green Planet" by Coline Serreau, a 1995 movie that wasn't even released in theaters, but it's such a nice movie that it was successful anyways, even though it wasn't screened anywhere.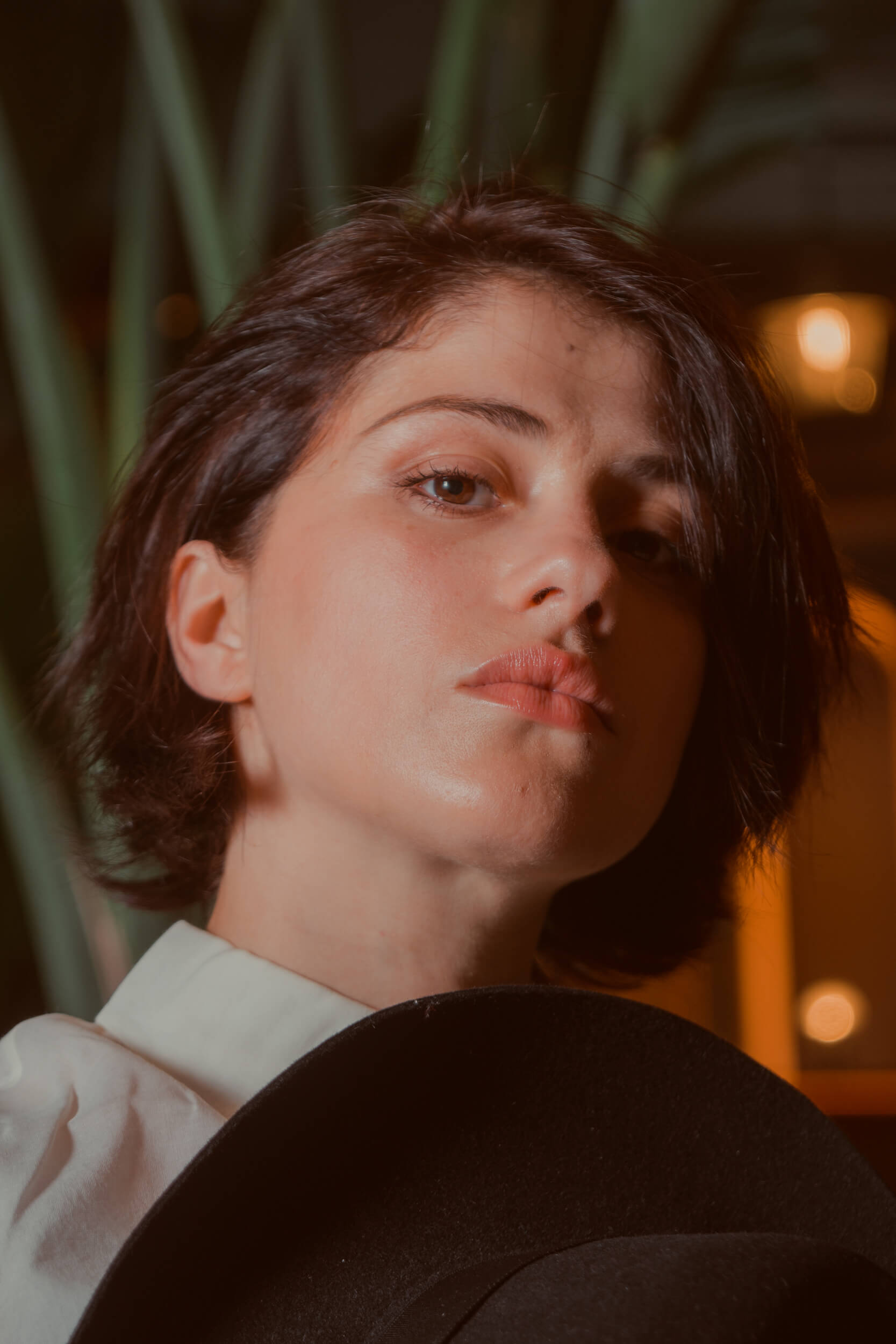 Your must-have on set?
Coffee, for sure, it's vital [laughs], I don't know why it is, sometimes I get carried away because every break is an excuse for coffee and cigarettes. I don't have any lucky charm, so it's just this, just coffee.
A movie or TV series character you'd like to be friends with?
No doubt André from "Angel-A" because he's so sweet; then, another one is Neo from "The Matrix," even though I would want to be friends with the whole group of characters and if you watch "The Matrix," you'll understand why!
The first DVD you bought?
I bought two, "Pulp Fiction" and "A Clockwork Orange;" I already knew I wanted to start collecting DVDs, so I started from there, huge, immortal blockbusters.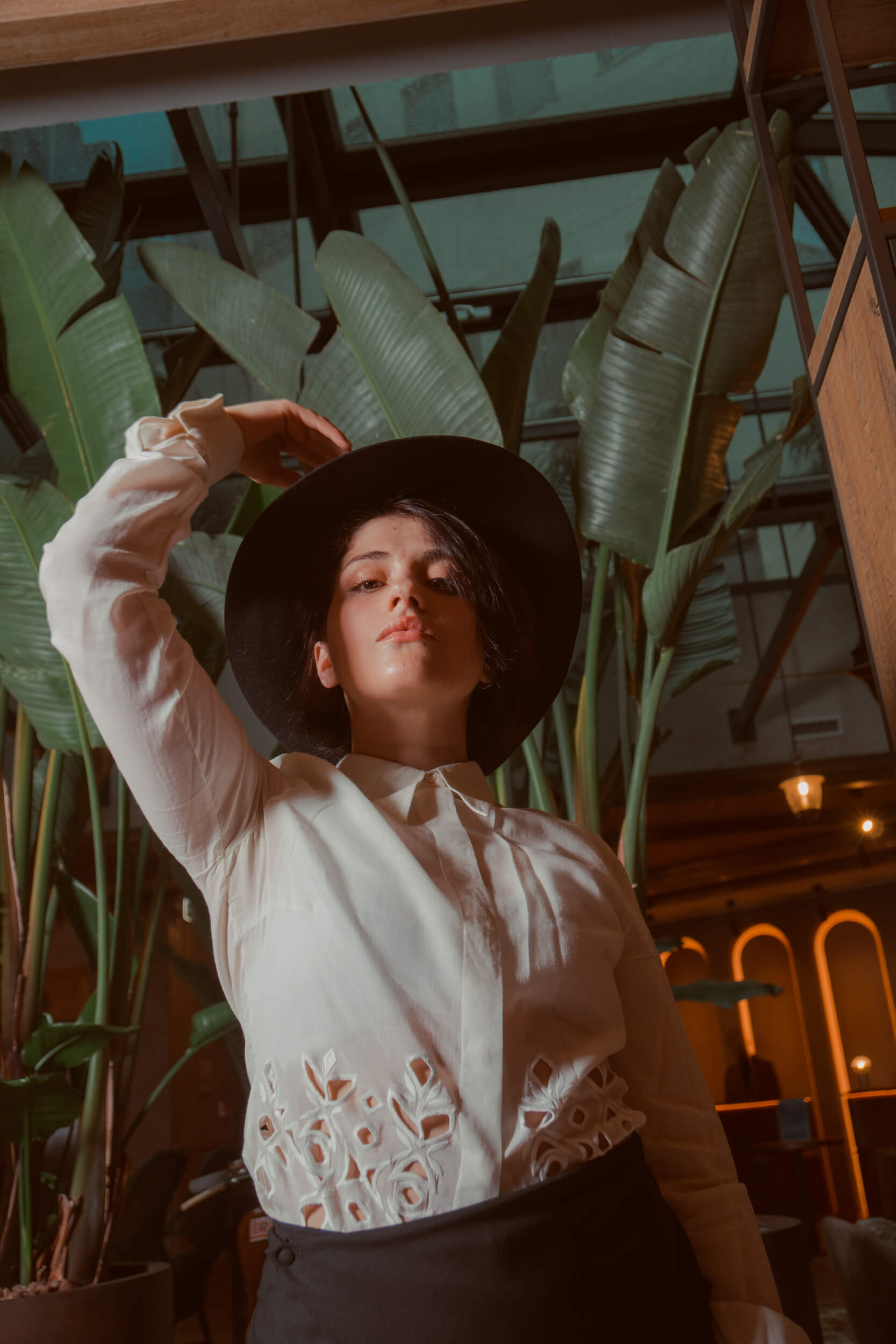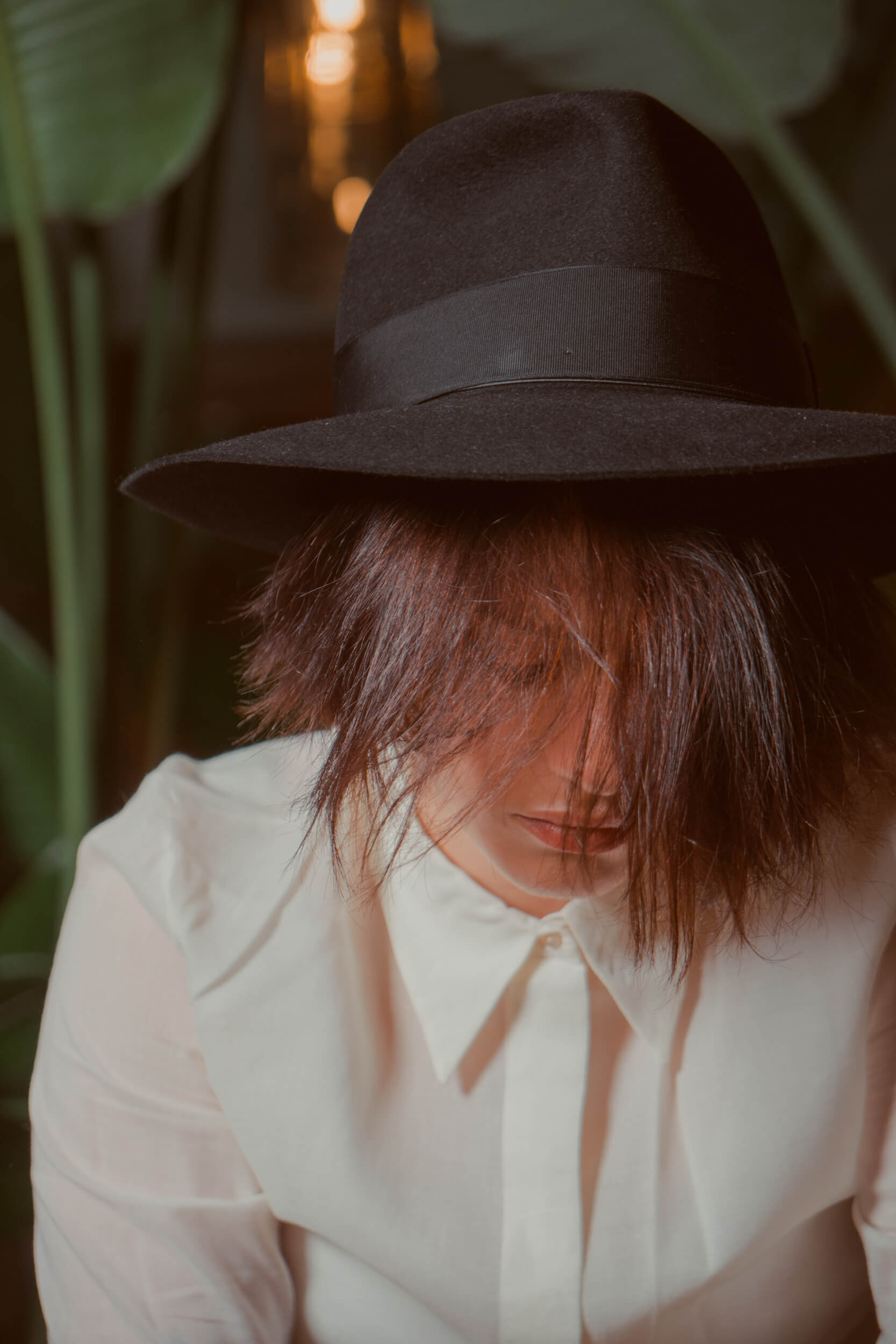 What's the bravest thing you've ever done?
Moving to Rome, for sure, because I'm originally from Marche, so dropping everything I had there and leaving for Rome with plans to radically, totally change my life, even though I didn't know how actually. One other thing was this acting journey I've embarked on, having accepted the job in "Fiore," because I wouldn't be so talkative in the past, or so open even just verbally, I would have a hard time expressing myself, so how could I even just imagine being an actress? So, I went up against myself, too, I stepped out of my comfort zone, back then it was unimaginable for me to do such a job, while now I obviously feel lucky. It was an act of courage because if I listened to my ego, to that voice inside my head saying, "you can't do it, you just can't speak out loud, where do you think you're going, you're not up to the cast," right now I wouldn't be here. But I'm here, instead.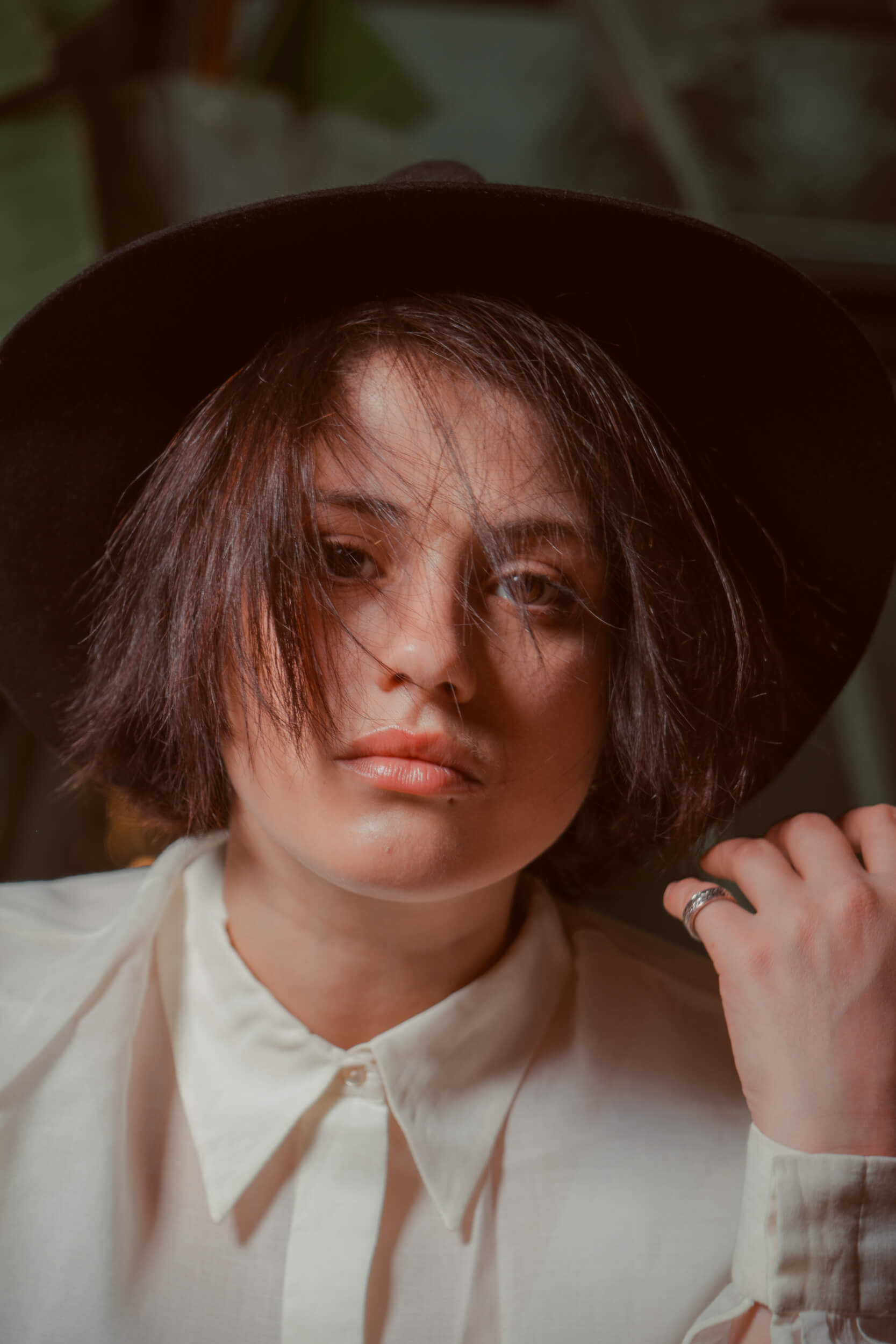 "It was an act of courage because if I listened to my ego, to that voice inside my head saying, 'you can't do it, you just can't speak out loud, where do you think you're going, you're not up to the cast,' right now I wouldn't be here."
What's your happy place?
My happy place is an inner feeling of happiness and peace; my happy place is the light, staying in the light, justice, fighting for this; feeling at peace with myself also from a financial point of view, having financial stability: if you have that, you're already a step ahead, you're calmer and able to do more. Whereas, in terms of physical place, everything that concerns nature will do, that's my happy place, whether it is the countryside, the sea, the mountains.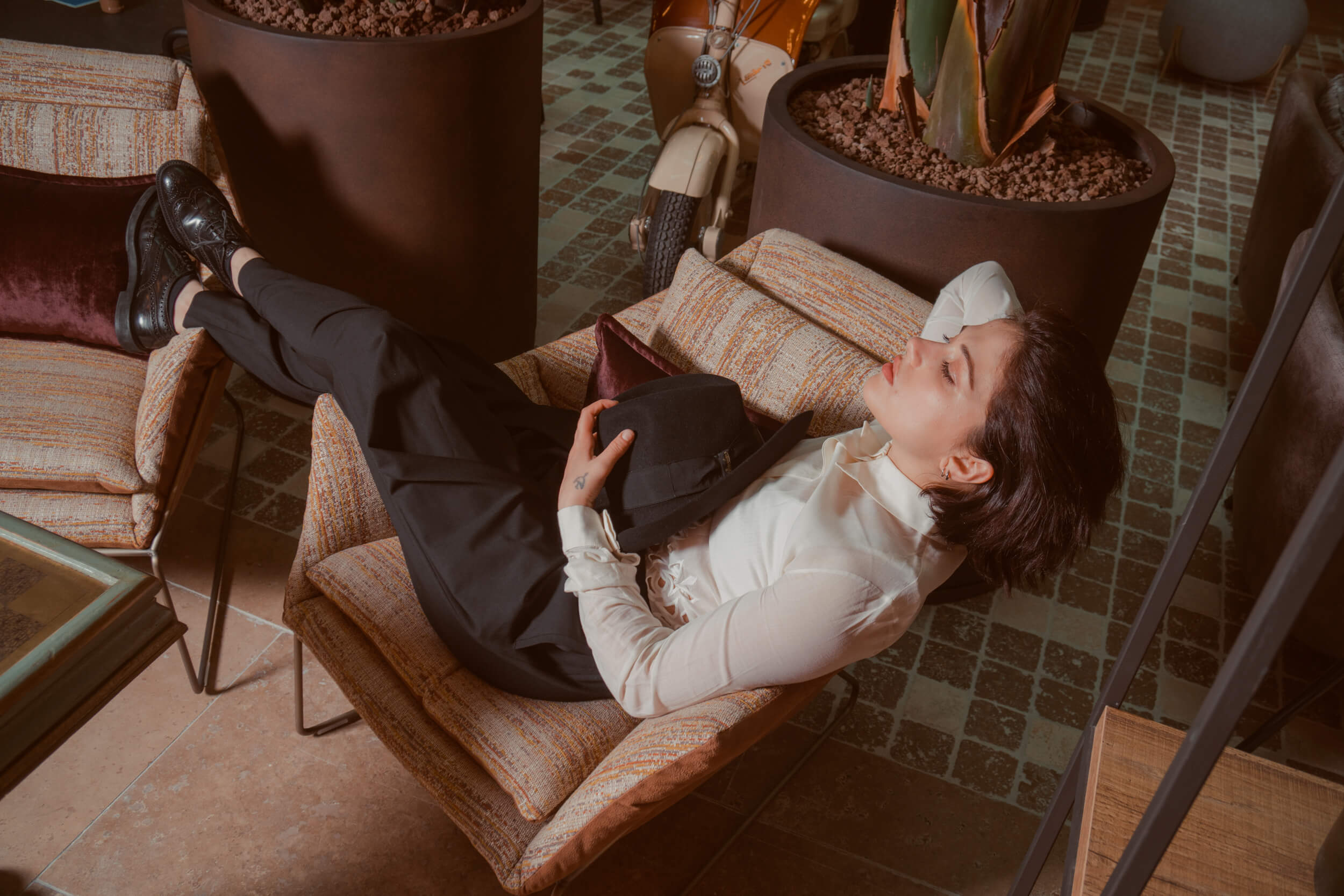 What's your biggest fear?
That ignorance and lack of respect and empathy triumph, threatening my and, generally speaking, our peace and freedom.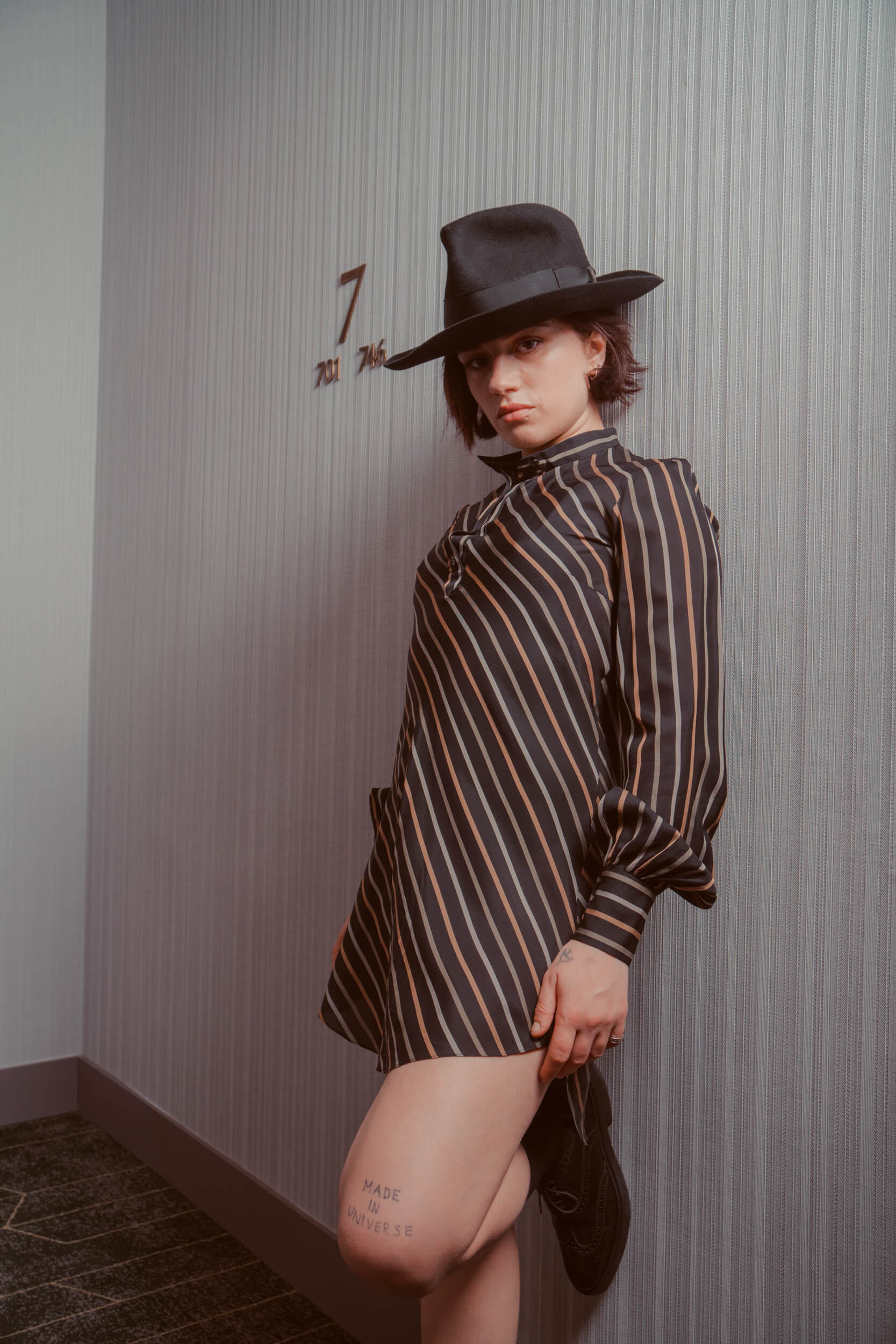 What does it mean to you to feel comfortable in your own skin?
Staying true to myself, pushing myself forward without appearances, showing myself for who I am, being honest with myself and those around me, helping others and, as a consequence, myself too – this makes me feel at peace and comfortable in my skin and my head, alongside being ethical.
What stories do you dream to tell?
Eh, there would be plenty… Of course, the stories of all those people who've fought for our rights, strong humans who, most of the time, have a story to tell.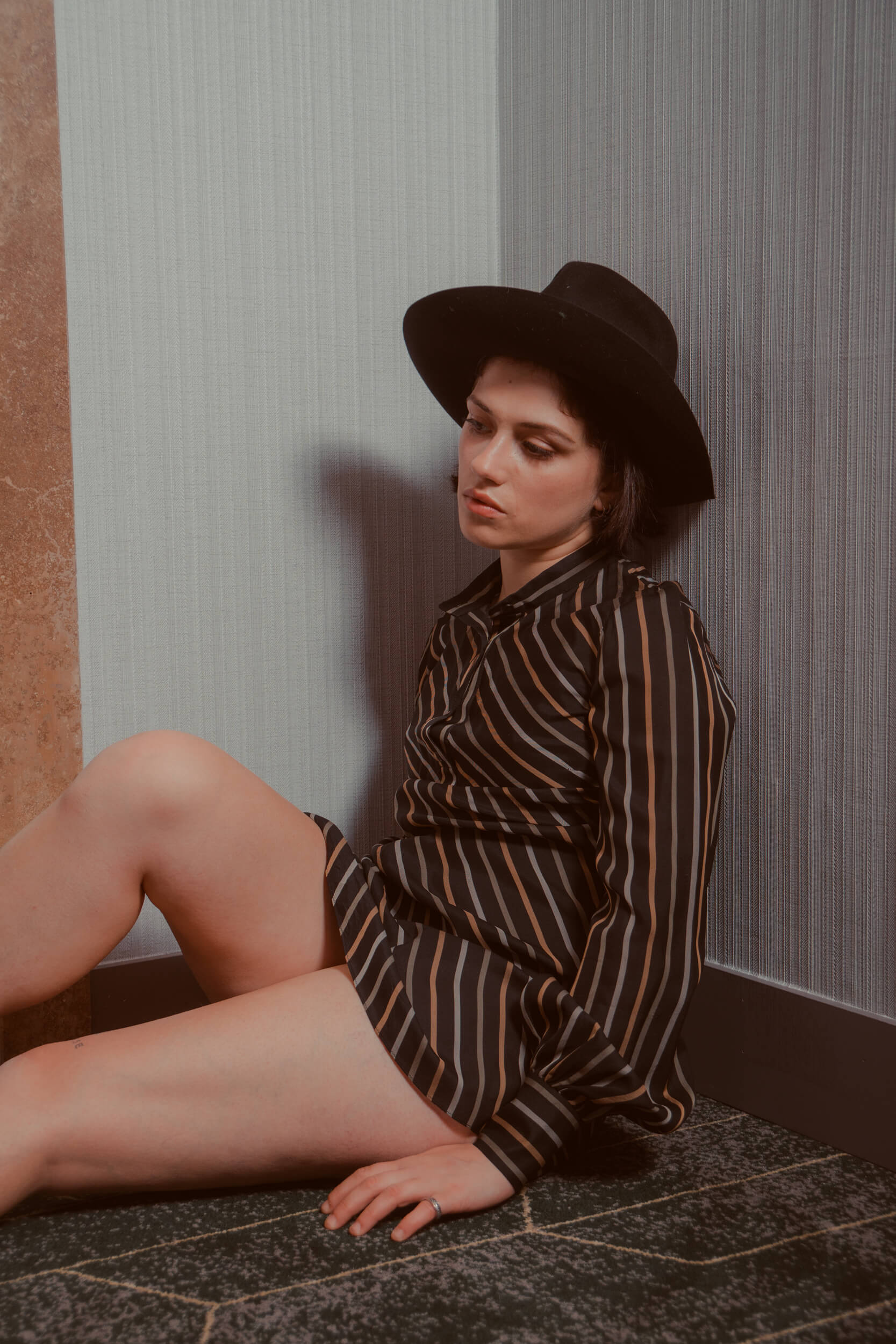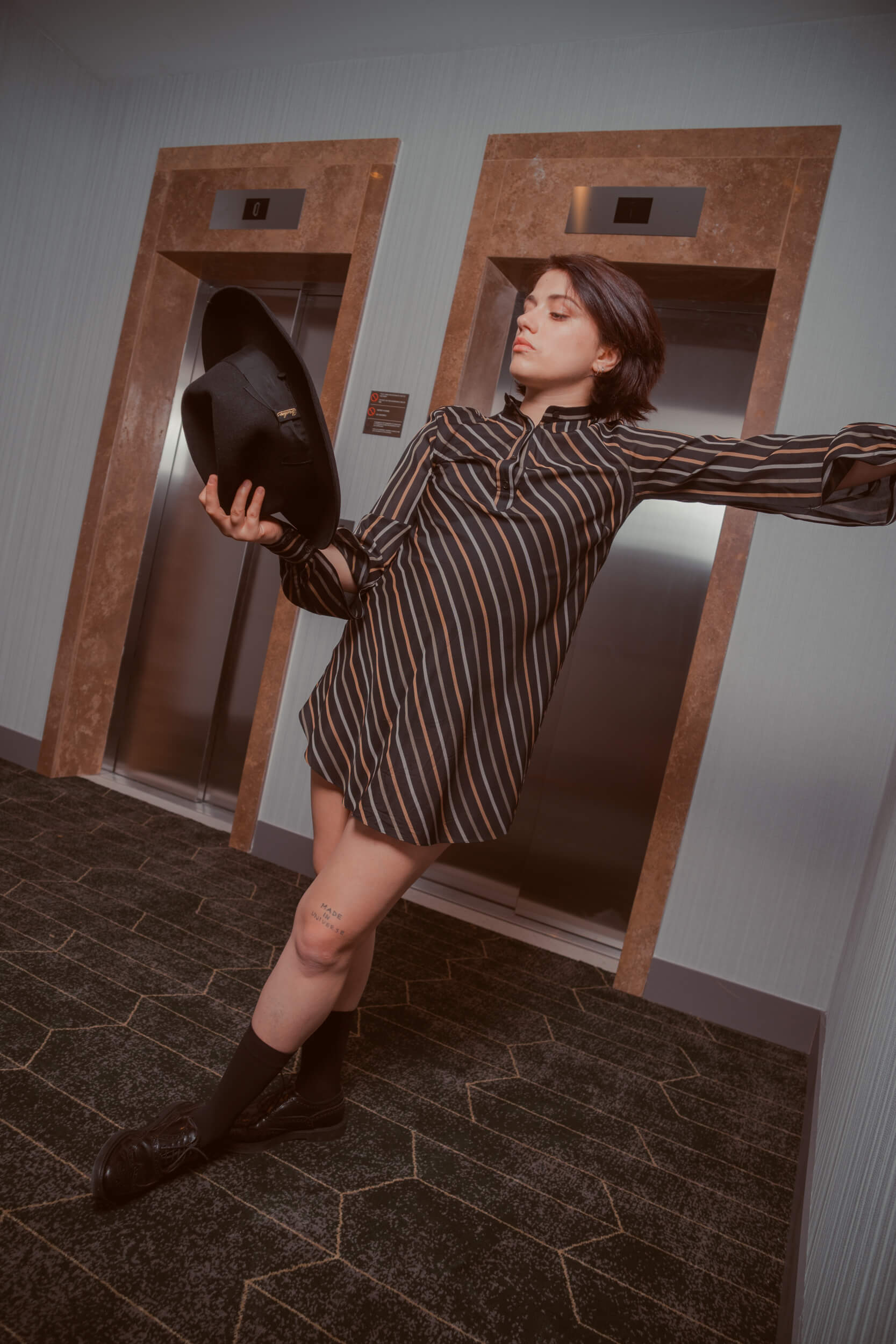 Any wishes and future projects?
My wishes surely fall within the sphere of cinema: I wish to have a chance to work with certain directors, like the D'Innocenzo brothers, or again with Claudio Giovannesi in a new project, and many other directors, both Italian and international; I'd really love to work in France, for example with Céline Sciamma, it would be a dream. As far as my future projects are concerned, there are my above-mentioned new works coming up: "South," or rather "Au sud," by Lionel Baier, "Rido perché ti amo" by Paolo Ruffini, Andrea Papini's new movie, and the third season of "Nero a metà," where some very cool news will concern my character.