A wonderful autumn day in Rome, an interview on the agenda, and as usual that question, "who knows how it will go?" And then nothing, a few floors of stairs, a coffee and those spontaneous chats that make you understand that it will be one of those interviews that leave you with the feeling of having met a special person. And with Beatrice Grannò, it was just like that.
Beatrice, one of the actors of the new (long-awaited) generation of Italian cinema and singer, told us about the surreal experience on the set of "Gli Indifferenti" ("The Indifferent Ones") directed by Leonardo Guerra Seràgnoli (available on all platforms) and future projects such as the Netflix Original Series "Zero" and music, lots of music, a music project coming out between a piano, a ukulele and singing.
Between a song sung on the rooftops of Rome and skating in the streets of the Eternal City, Beatrice is our December Cover Story.
What's your earliest cinema memory?
The dark theatre, I don't remember which movie it was, I was a child, maybe "Fantasia 2000." I remember a huge crowd of people and a strong smell of popcorn, and that makes me feel nostalgic. 
How do you choose the projects to take part in?
I usually always try and stay away from projects whose philosophy I don't share, but that's an extreme case scenario. It's a difficult job, I welcome the chances I get with joy, I trust my agents and I never give a job offer for granted.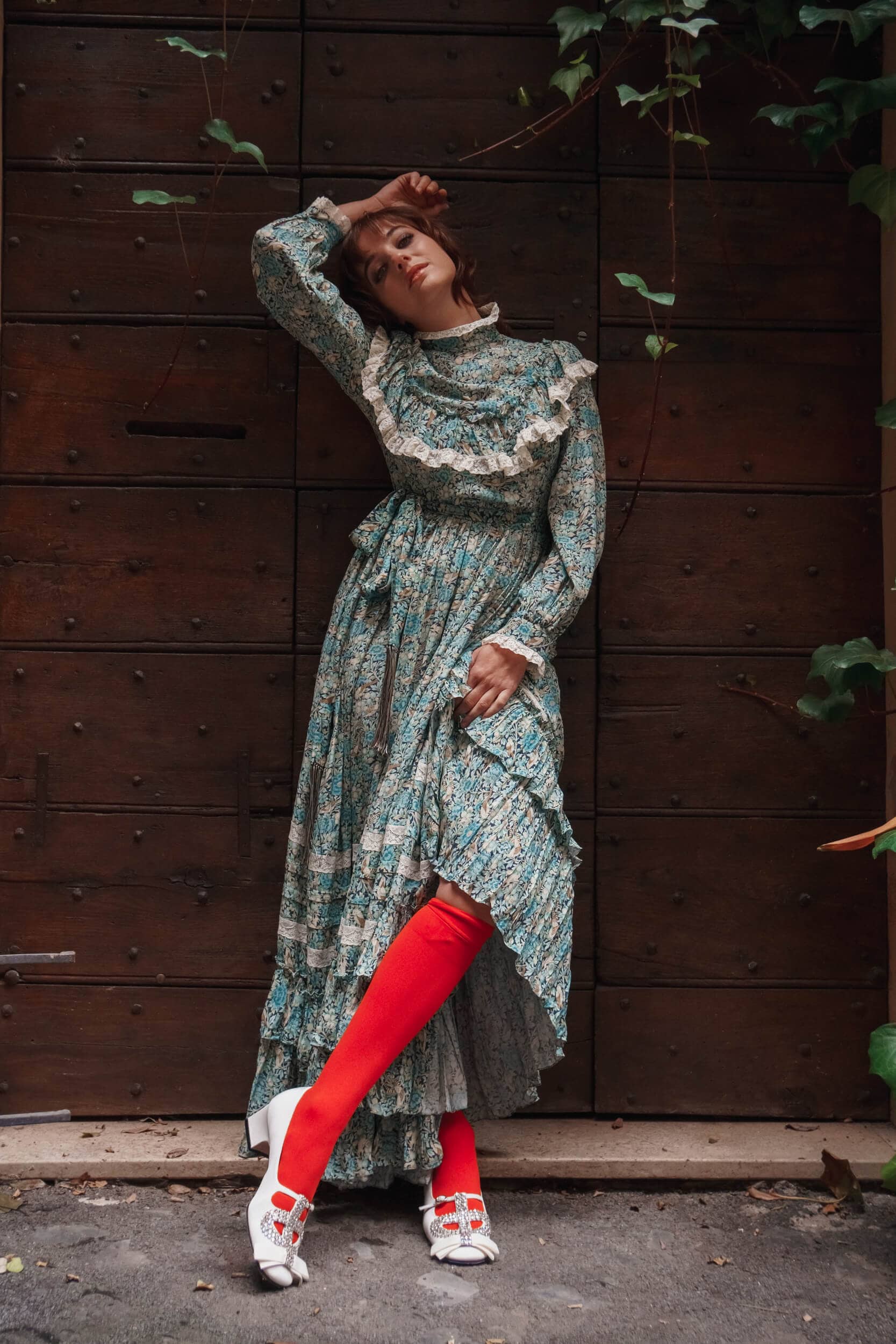 "I usually always try to stay away from projects whose philosophy I don't share…"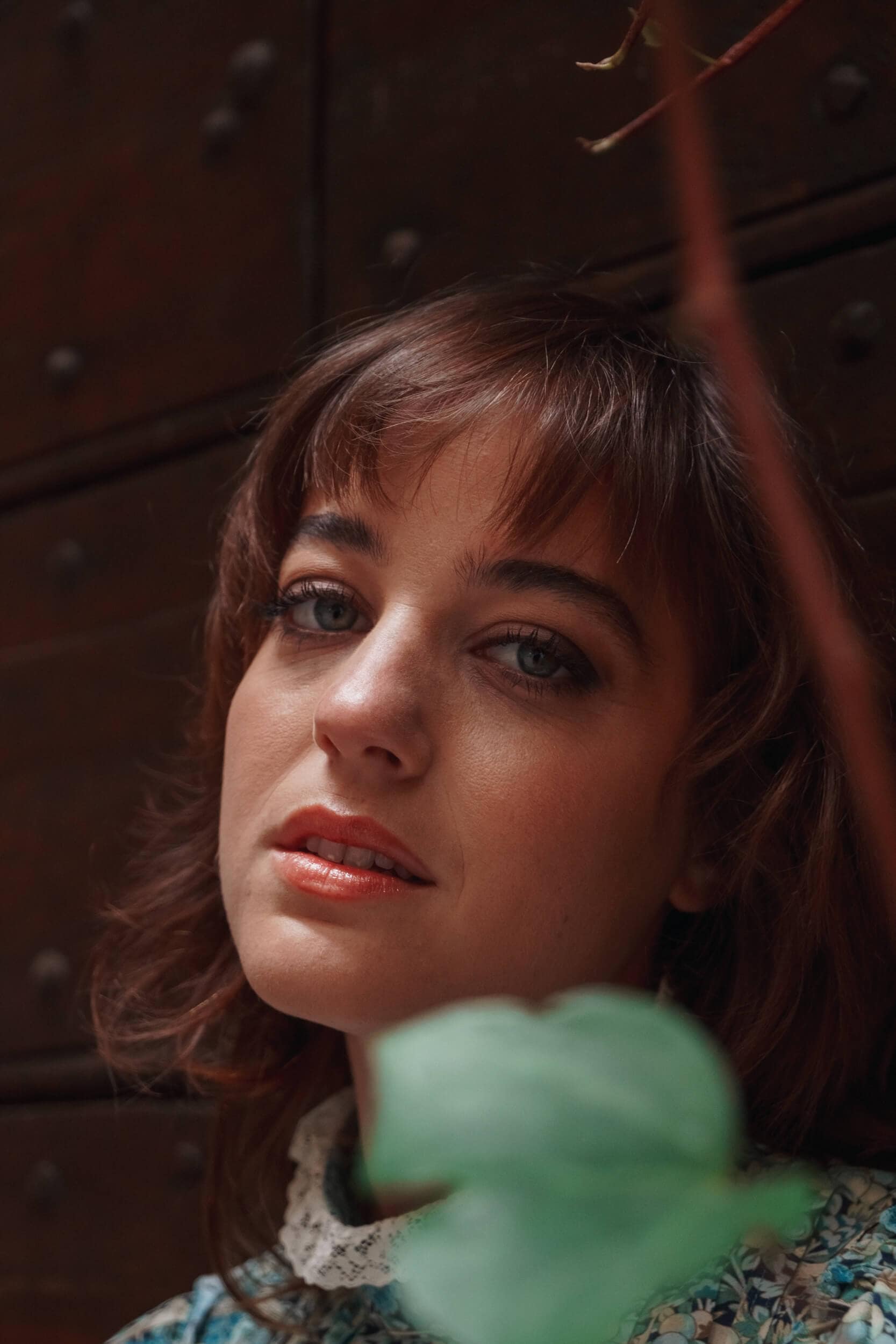 It's not the first time that "The Indifferent Ones" is adapted for the big screen. Had you already seen the first movie adaptation? Did you get inspiration from Claudia Cardinale's interpretation of the character or did you prefer not to let her "influence" you? 
I saw "The Indifferent Ones" by Francesco Maselli only after we had finished shooting the film. I didn't regret that: while I was watching and analyzing Cardinale's craft, I kept telling myself, "I could have done this too!" Maybe it would have been self-defeating, she's obviously exceptional, it's hard to keep up with such a performance. 
How much of Beatrice do we find in your characters, and how much of you do we find in Carla, for example?
I studied in London and I followed a course where we used to talk about looking for our "diamond:" the unique element we possess and we're willing to offer through art. When I play a character, I always lay my cards on the table, if they're mine, they will be recognizable and the character will play the game in the way I would play it. Carla is a girl who's fighting to eradicate the dynamics of a family whose members keep their heads stuck under the sand. I think many women often charge themselves with the role of the "fixer" and I can relate to that.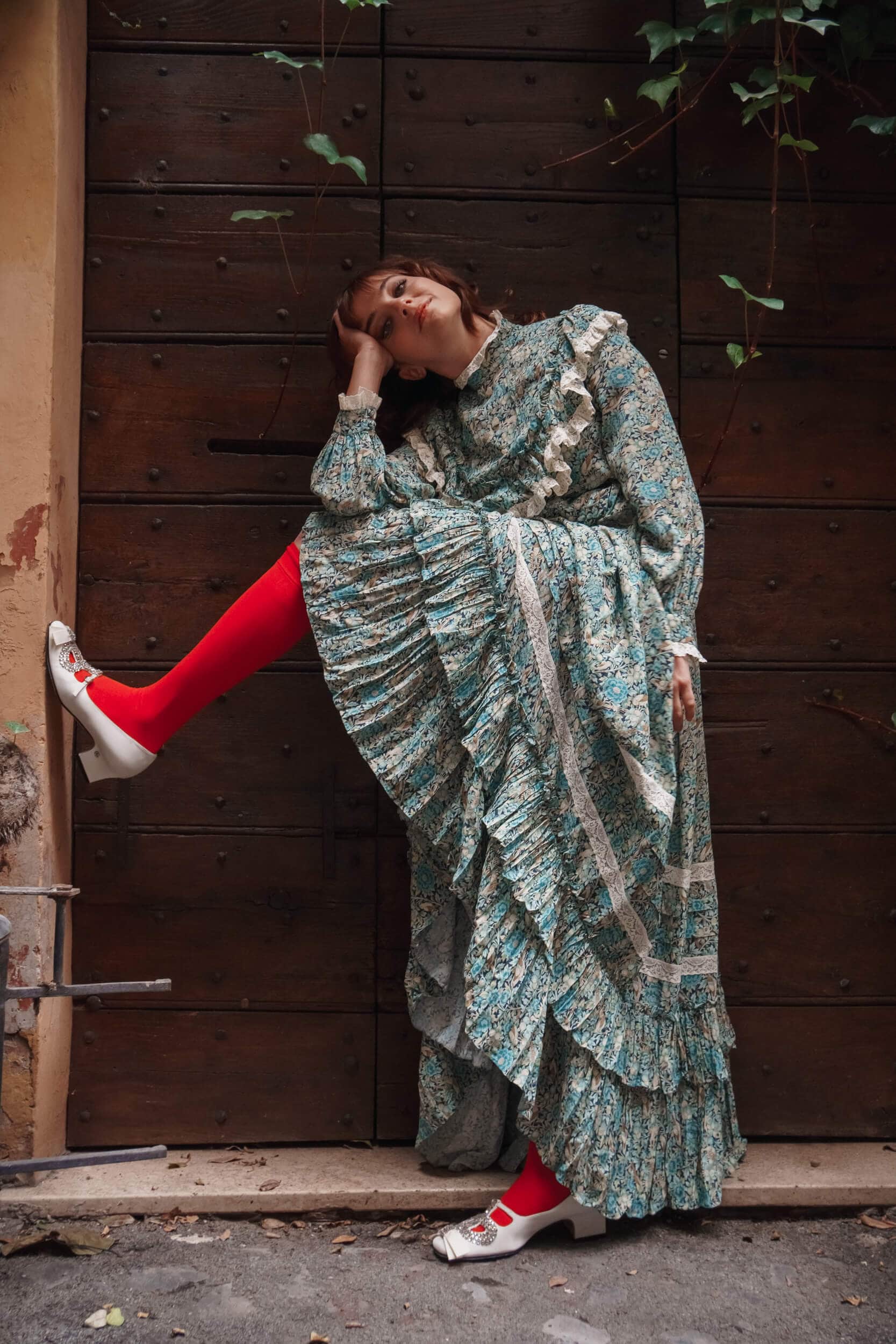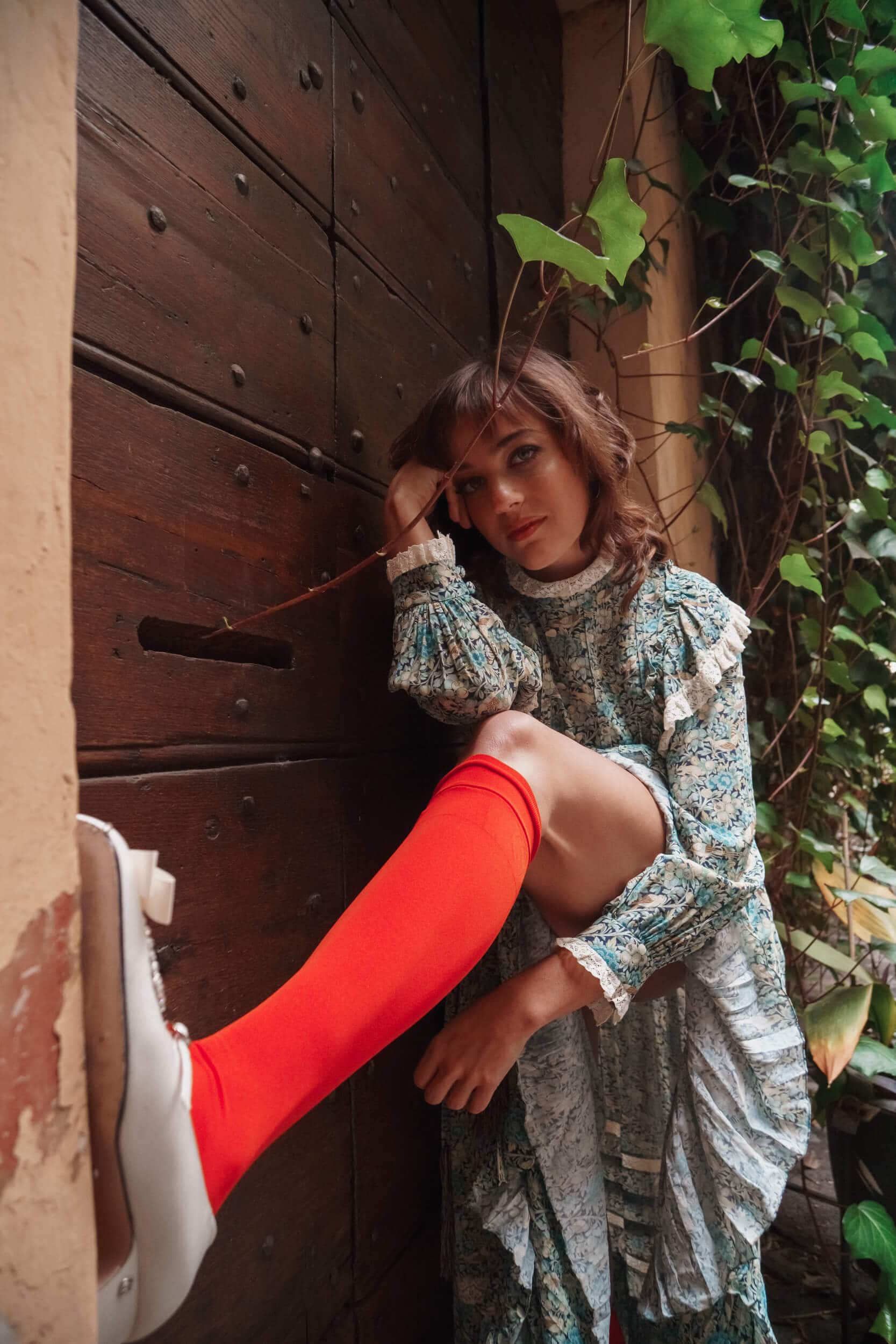 "When I play a character, I always lay my cards on the table, if they're mine, they will be recognizable and the character will play the game in the way I would play it."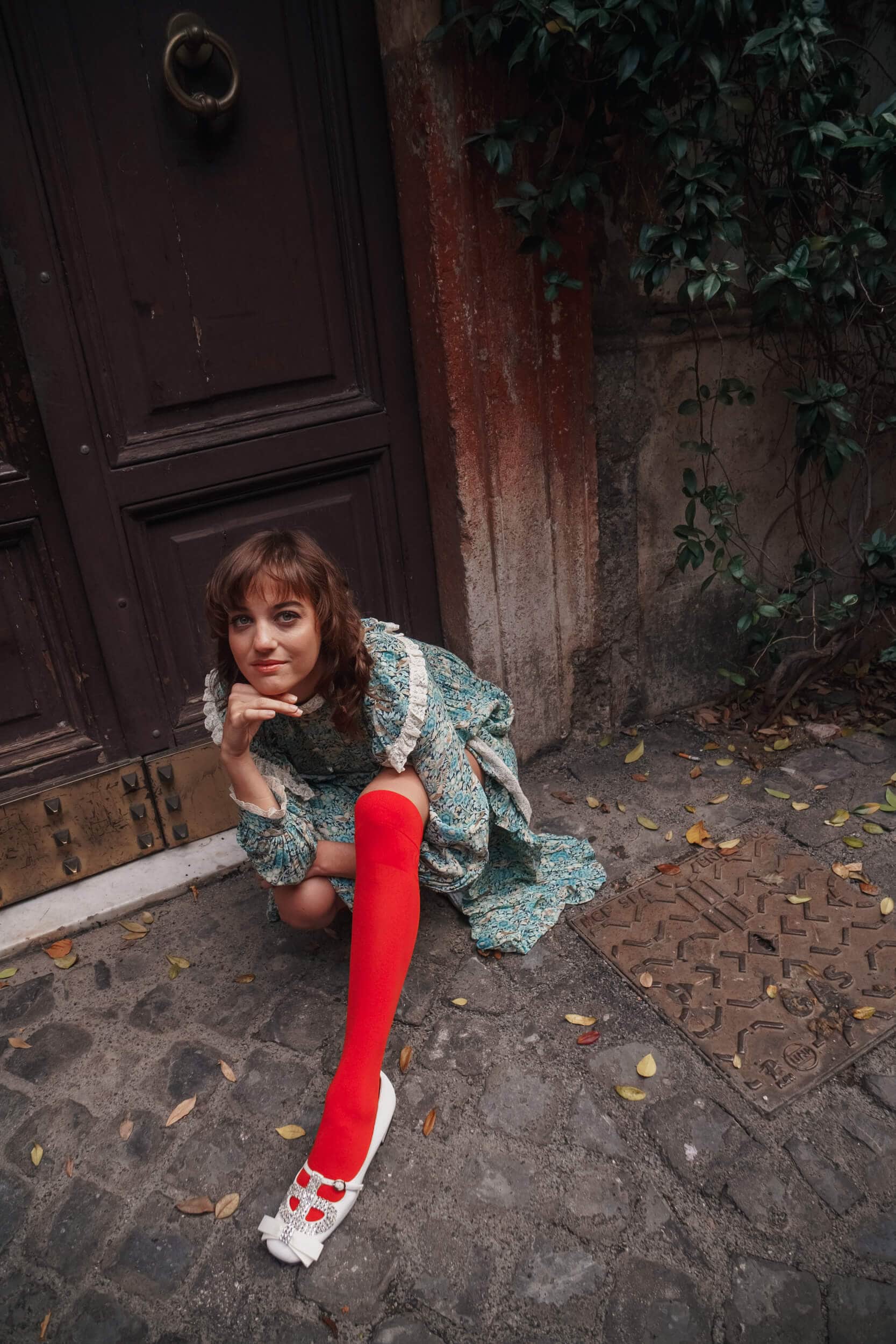 Boredom and indifference are the two main themes in the novel. How does Carla cope with these? And, given the historical moment we're currently living in, how do you cope with boredom?  
In this adaptation, Carla dreams of becoming a professional gamer, the Internet and social media are her outlets to fight the apathy that reigns in her home. Unfortunately, she won't be really understood and supported, and social media won't be what will save her eventually, but no spoilers. How do I cope with boredom? Help, I could spend hours talking about this, I'd prefer not to bore you. 
How did you build your relationship with the rest of the cast, and with Edoardo Pesce and Valeria Bruni Tedeschi in particular?
I often say this, it was a very unique set, the director did a good job in creating opportunities to allow us all to empathize with each other. I've become very good friends with Vincenzo Crea and Blu Yoshimi, we hold each other in such high esteem. The actress that plays Mareme is an incredible musician, Awa ly, we used to listen to music together on set and exchange ideas about it. Edoardo Pesce and Valeria Bruni Tedeschi are two brilliant actors, it goes without saying. Before shooting, we rehearsed together on a boat, it sounds crazy to me every time I think about it, all the work seemed to happen in a timeless dimension, from beginning to end. Valeria is a real artist, every take felt different to me, and it was hard to remain impassive, especially with Vincenzo who kept giving me knowing glances. It was one of those sets that reminded me all the time of how much I love this job.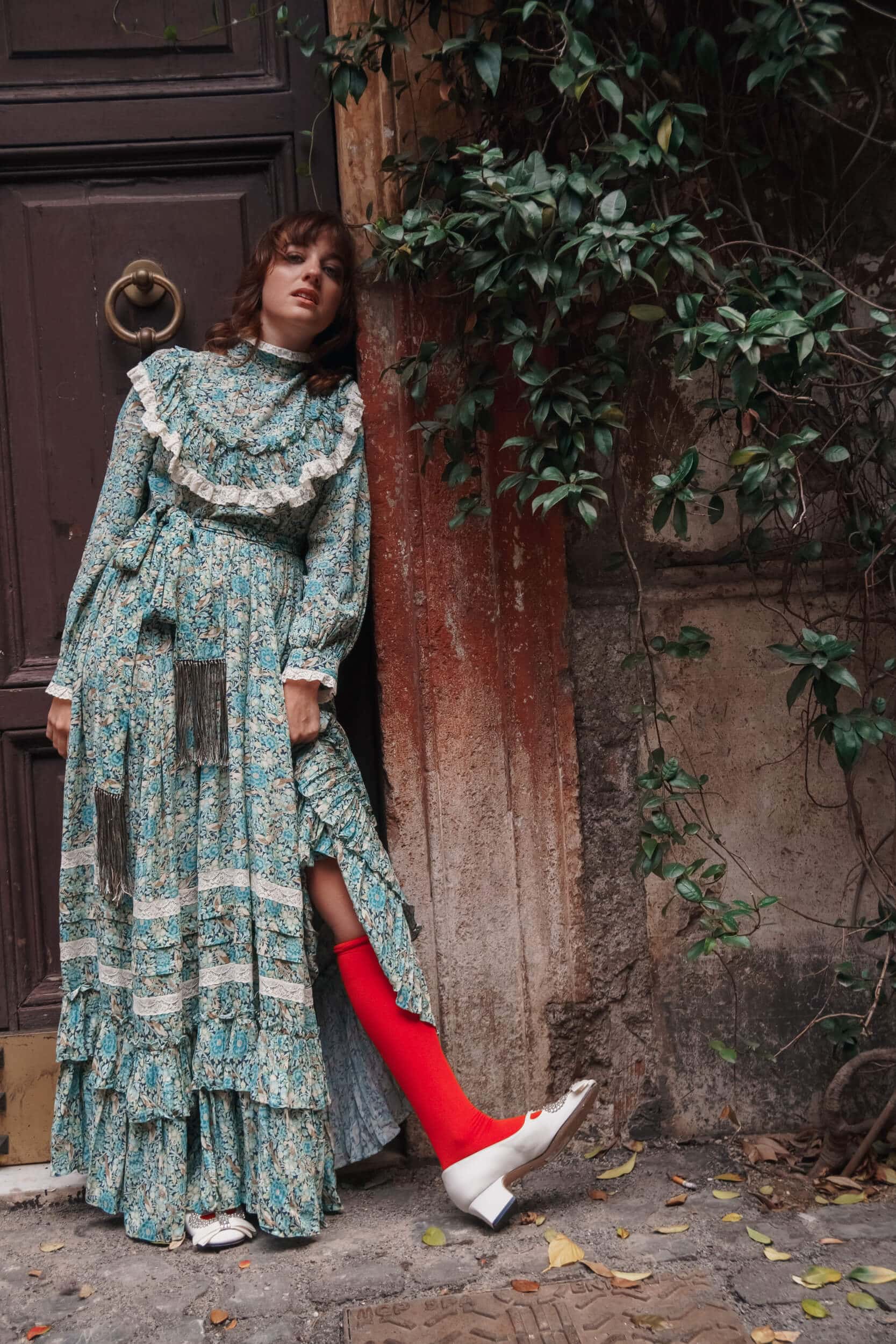 "How do I cope with boredom?"
"I could spend hours talking about this, I'd prefer not to bore you."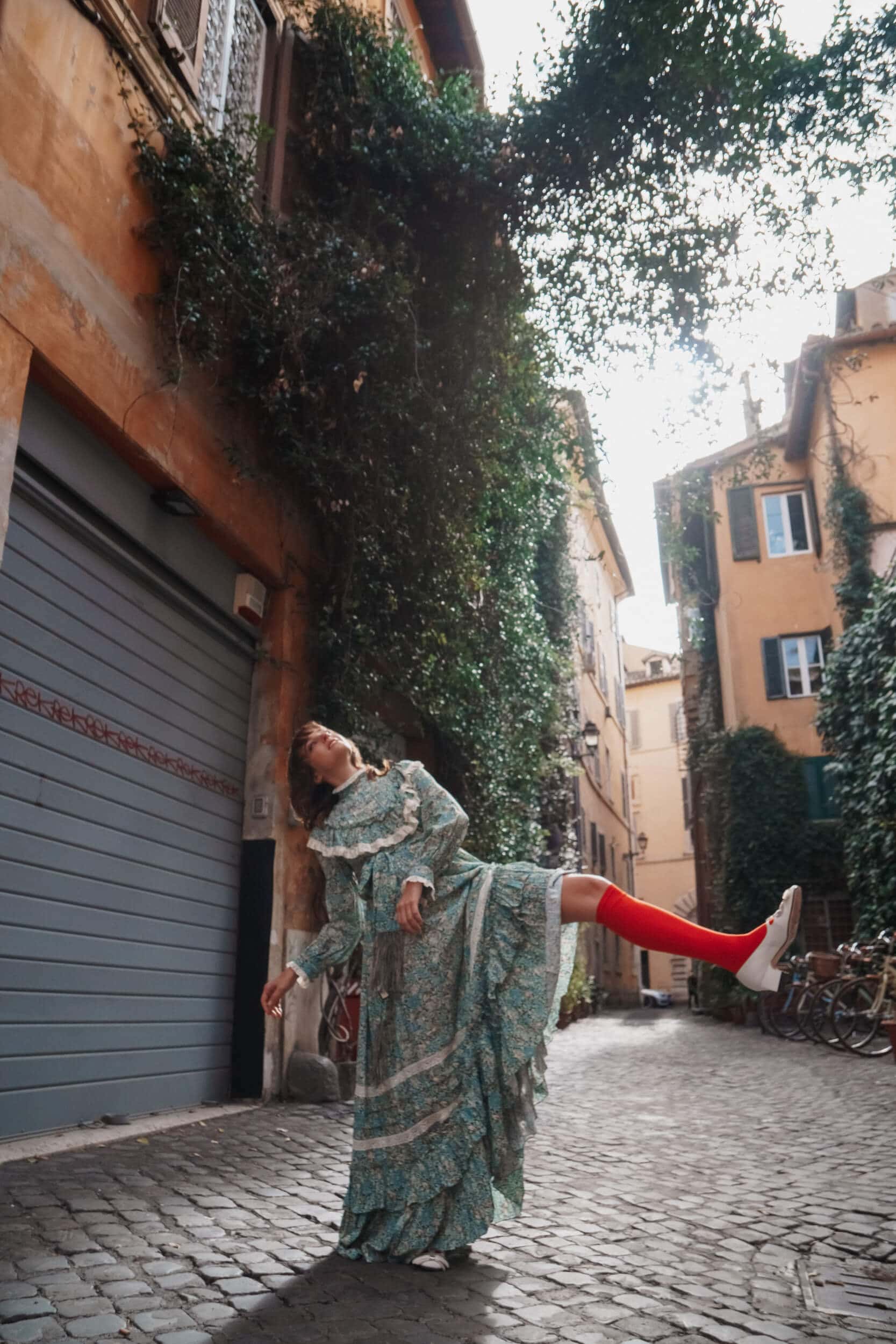 "Before shooting, we rehearsed together on a boat, it sounds crazy to me every time I think about it, all the work seemed to happen in a timeless dimension, from beginning to end."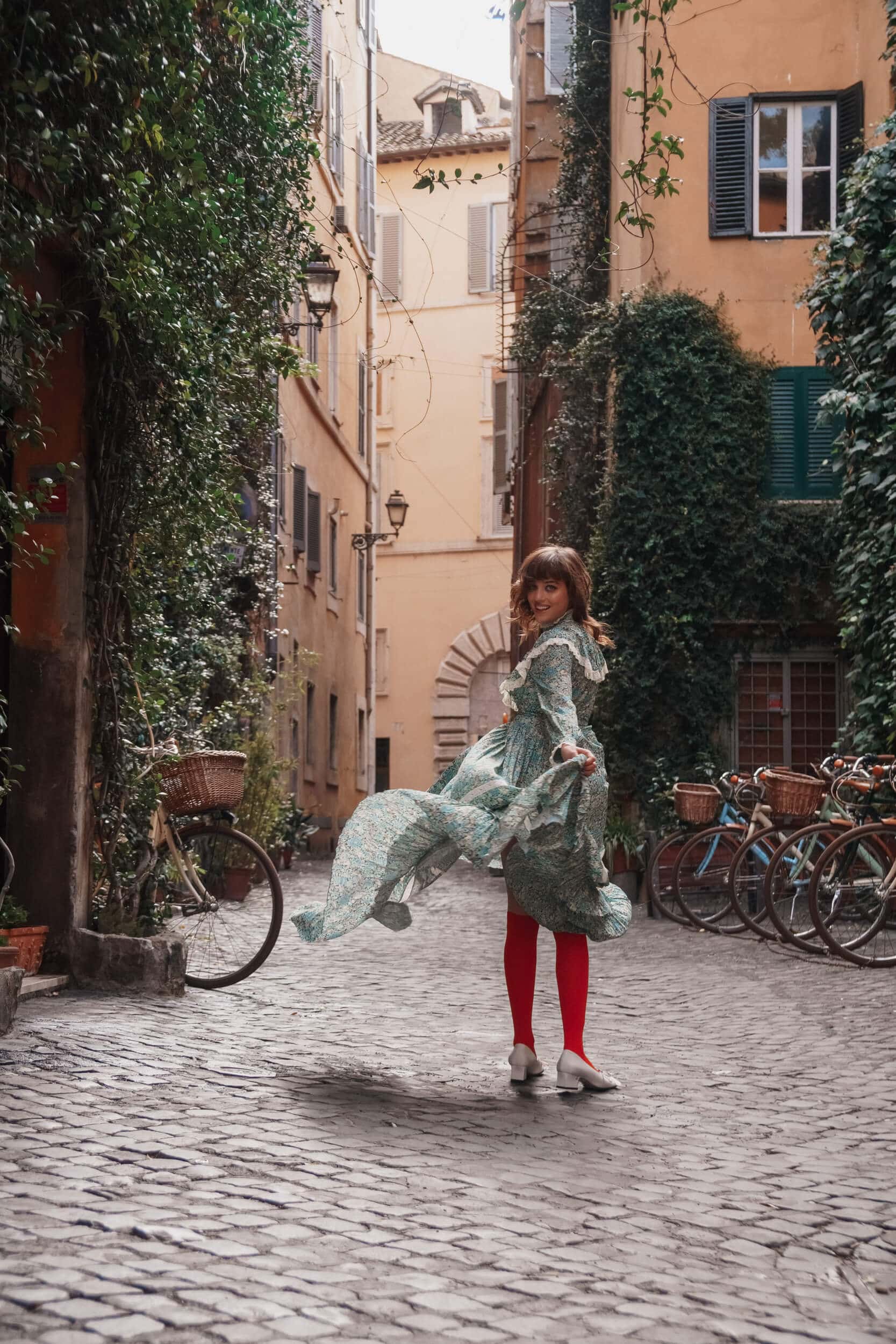 How would you describe "DOC – Nelle tue mani" in one word? 
I'd like to answer "Luca Argentero," but I'm going to go for "big success" instead. 
Cinema vs TV series, how does your approach to character change (if it changes)?
Whether it is TV series, cinema, or theater, the way I approach my character is always the same, the only things that change are the rules of the game.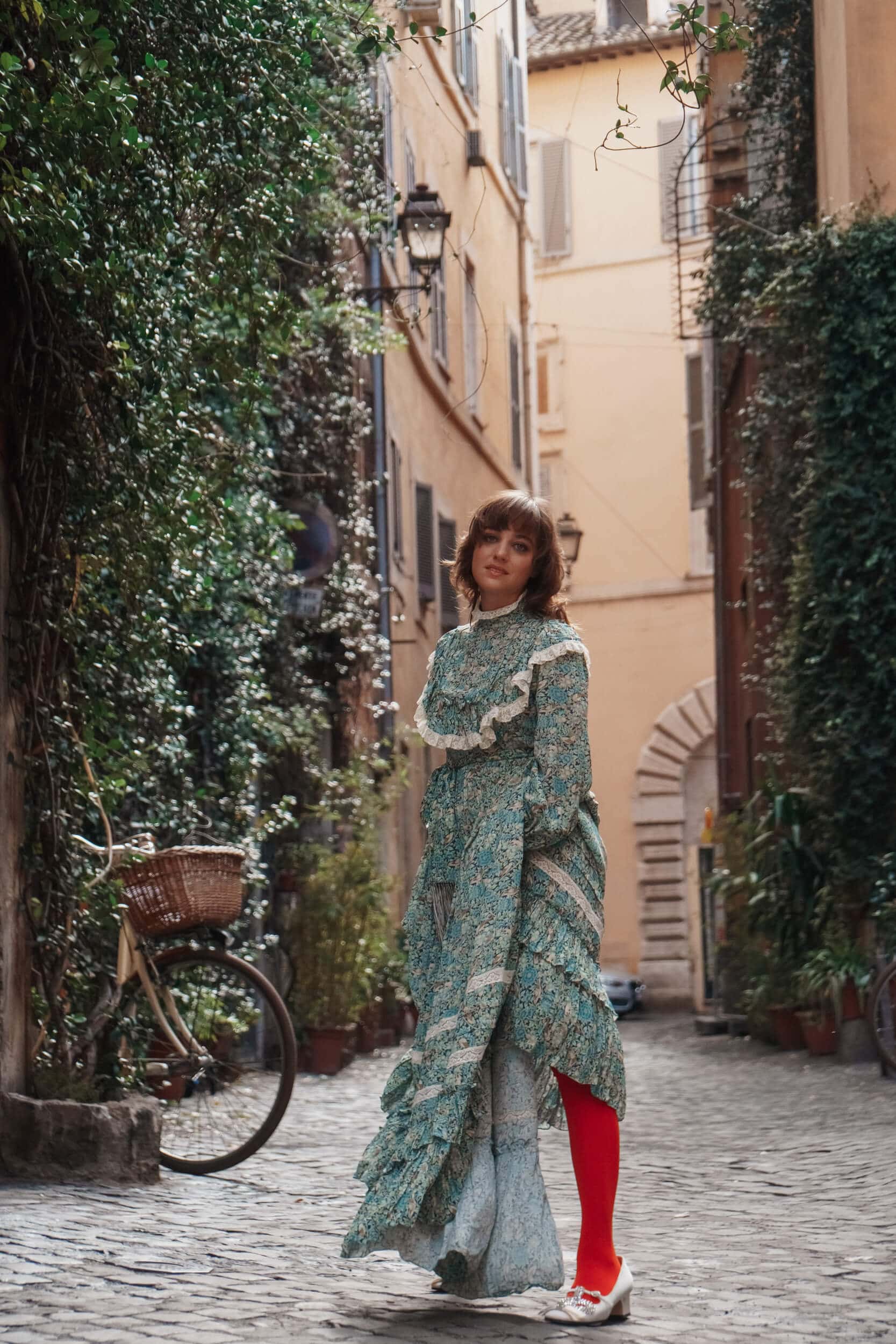 How did you understand the world through the eyes of your characters? Is there something that changes within you every time you play a new one? 
I let my characters go through me quite a lot, but in the end, it's always me, I don't want to mix up things. But it's nice to think you can change the world and the point of view of who's watching you, maybe giving them hope when they're living a difficult situation. 
What does "feeling comfortable in your skin" mean to you?
In social relations, I stammer, I blush, I'm clumsy, and I'm not good at it, I often feel uncomfortable, but I think that on a deeper level I actually am comfortable. Feeling good in your own skin to me means having your story and your identity clear in mind. When you have that, you could also stumble in front of everyone, but at least you know it and you deal with it.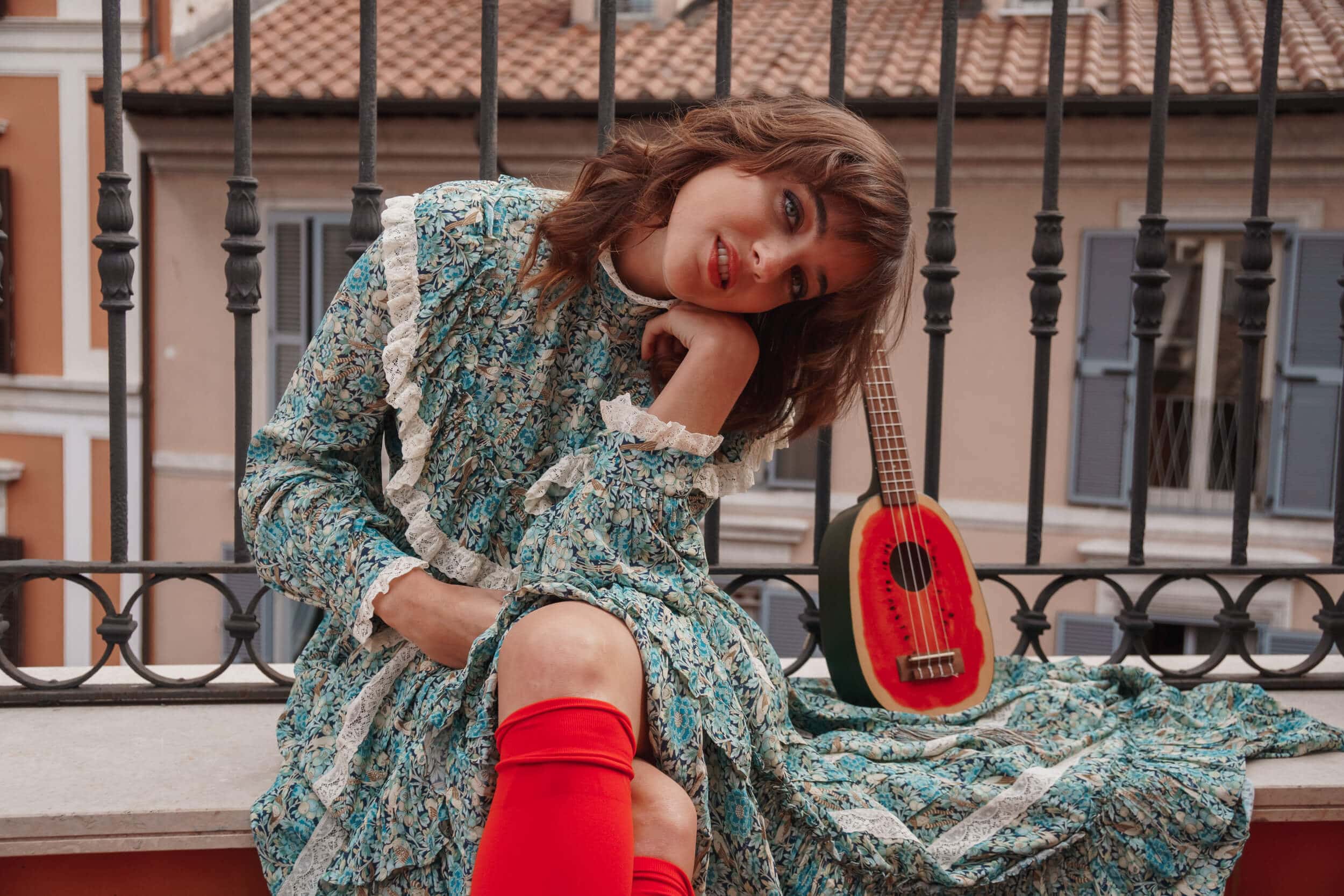 What's the most significant cinematographic encounter you've had so far?
Giovanna Mezzogiorno, it's the second movie we do together. Maybe she brought me luck, I'm not superstitious, but she's been a magic encounter for me. She gave me a lot when we worked together, she's so inspiring and always very loving.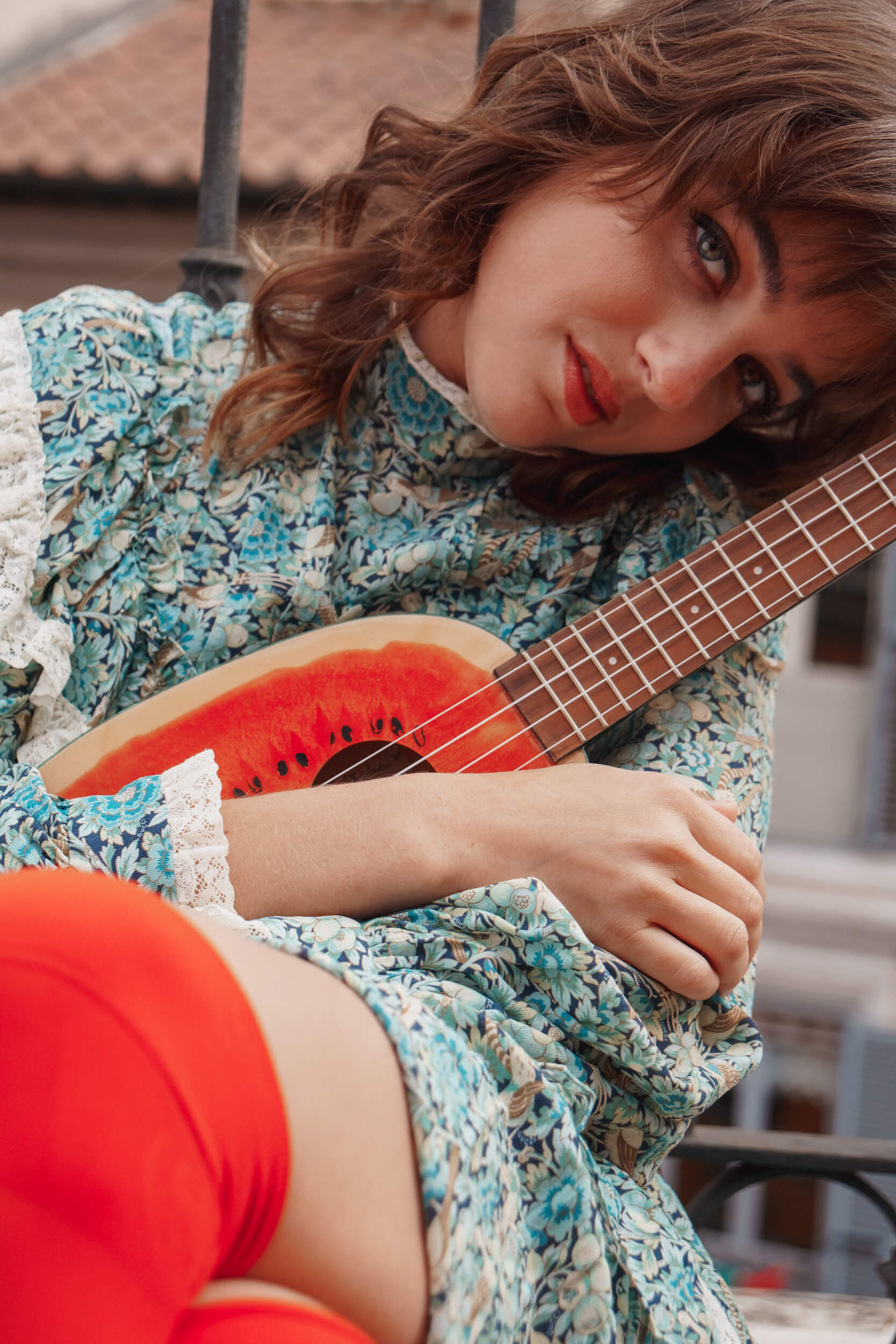 What's a song that represents this very moment of your life?
"Vince chi molla" by Niccolò Fabi. 
How did music enter your life?
Even before learning how to walk, they used to call me "ballerina" because as soon as I heard music playing, I started dancing around. I used to randomly sing about things I saw in the streets, driving my brothers crazy, and I used to write love songs for my friends; the Blues at my father's house, a piano at my mother's and a teacher who strongly believed in my talent. 
What singer/musician would you like to play on the big screen?
I don't look like her at all, nor physically nor vocally, but I'd say, Amy Winehouse. Or a singer from the 40s, like Doris Day.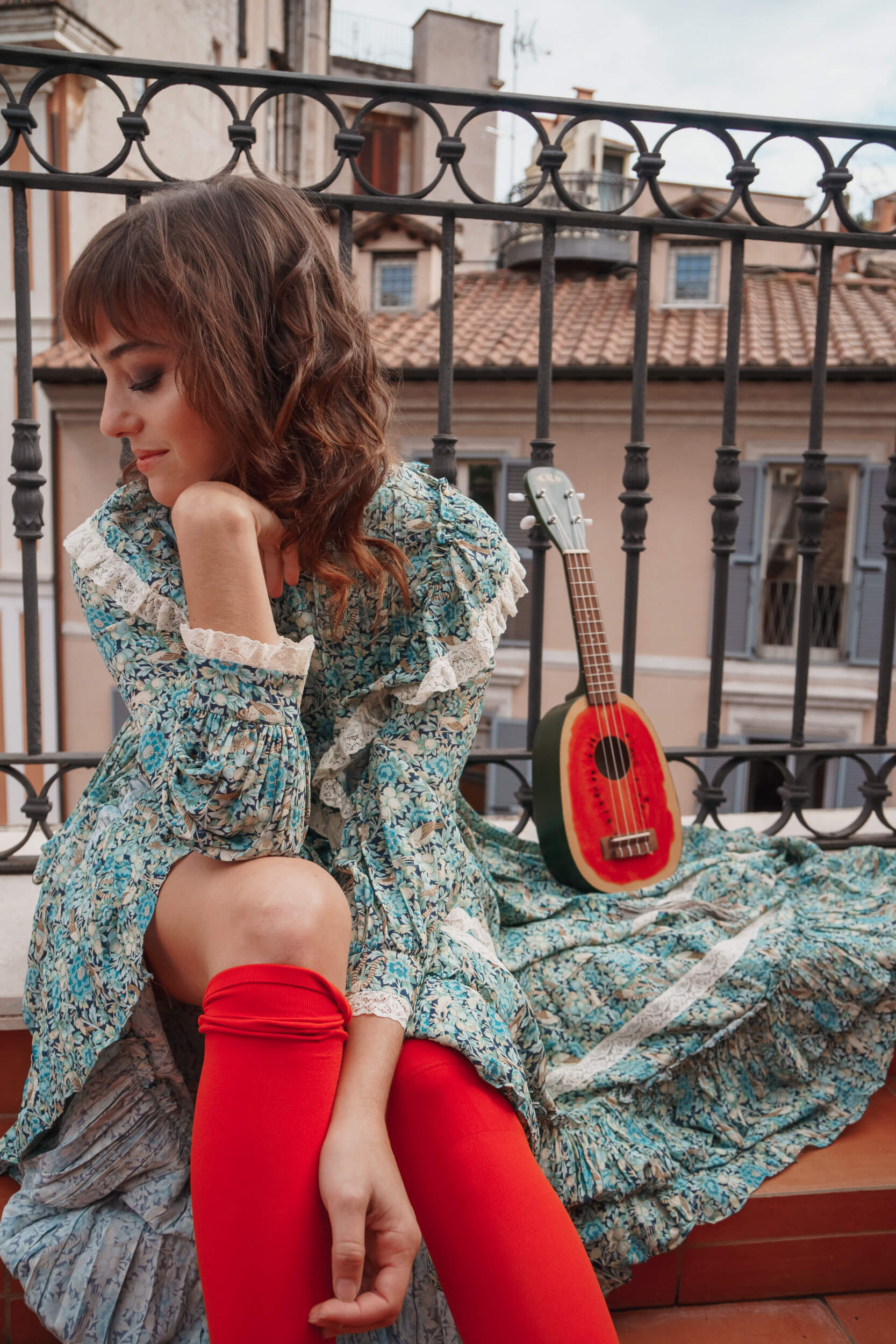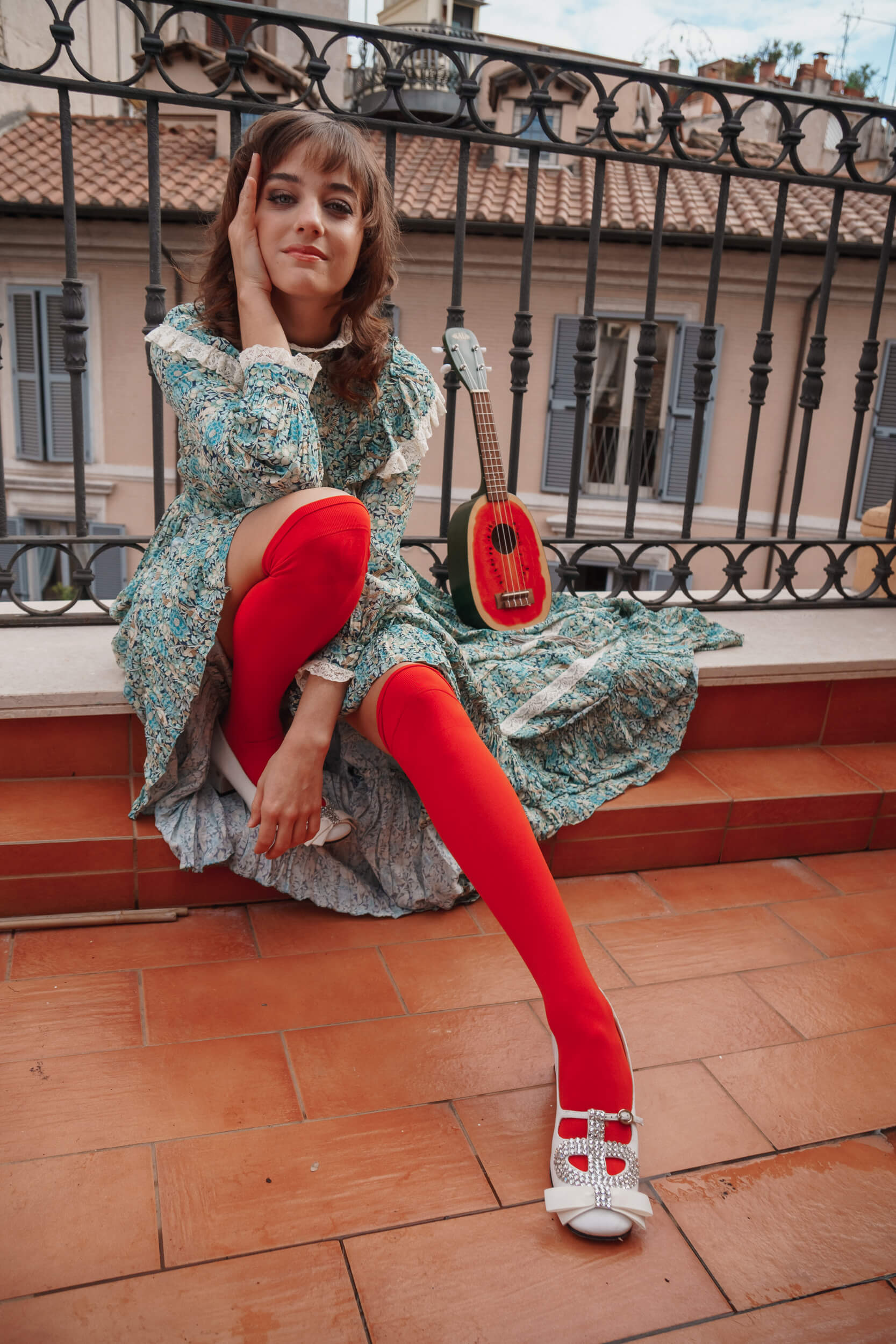 The first three songs on your playlist?
The ever-present one is "Nearness of you" by Norah Jones, as for the others, they're constantly changing. Right now, "Flowers Blossom" by Thony, "Stella di mare" by Lucio Dalla and "Hey Ma" by Bon Iver.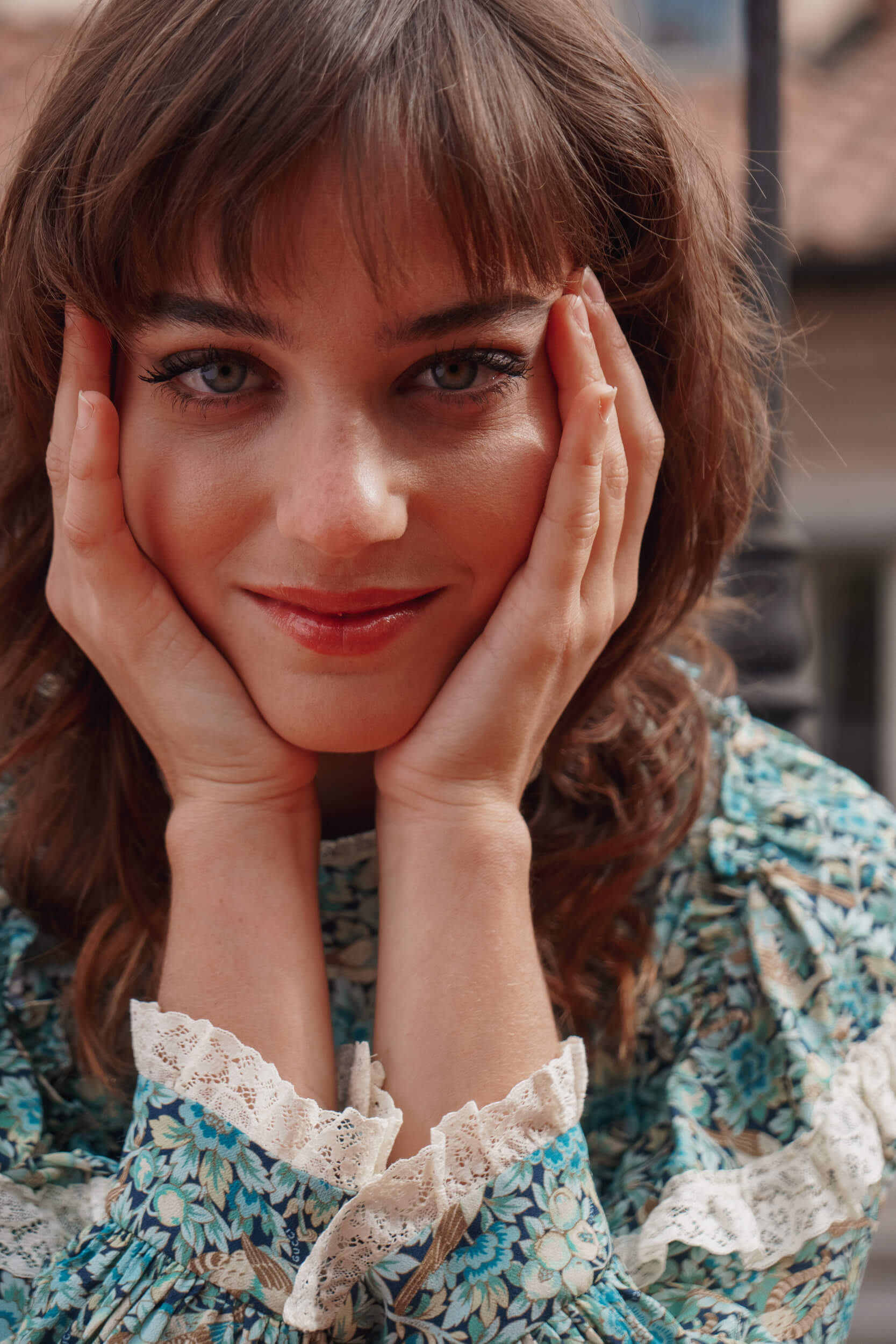 When do you feel freer to express yourself?
When I'm feeling sad and I find the right words and notes to write a song. 
What's the latest lie you told?
"I didn't have lunch!" to justify the seconds of pasta at dinner.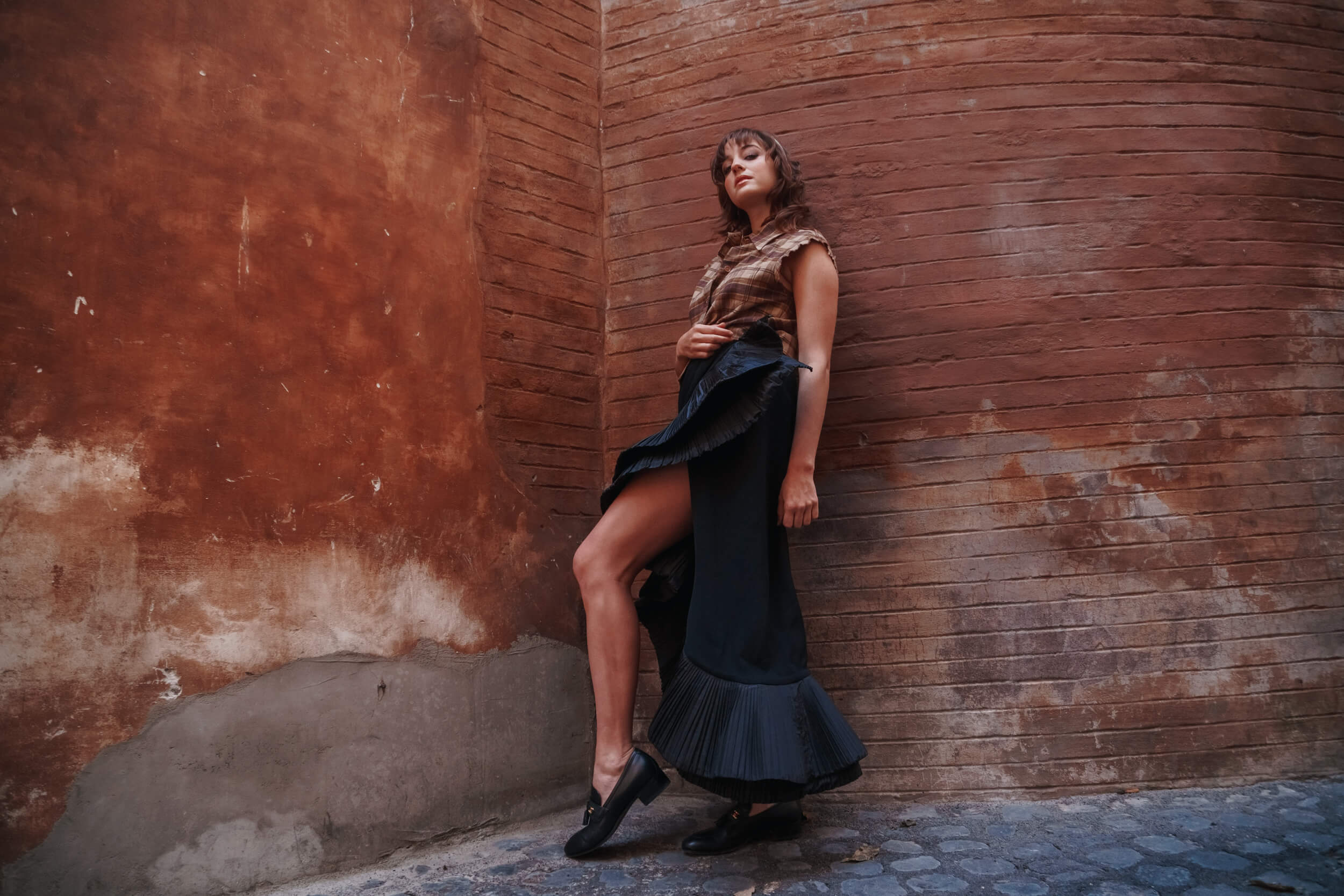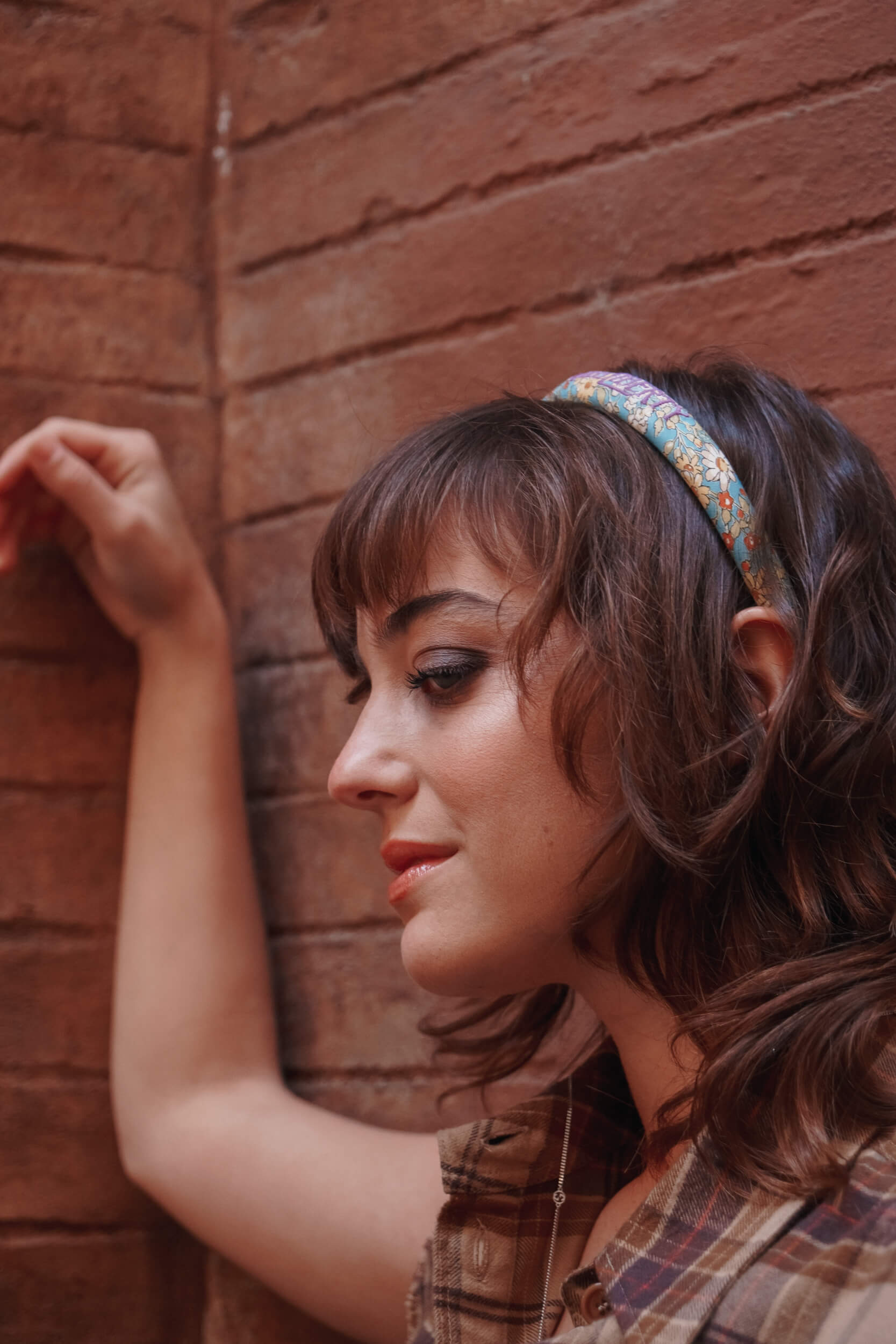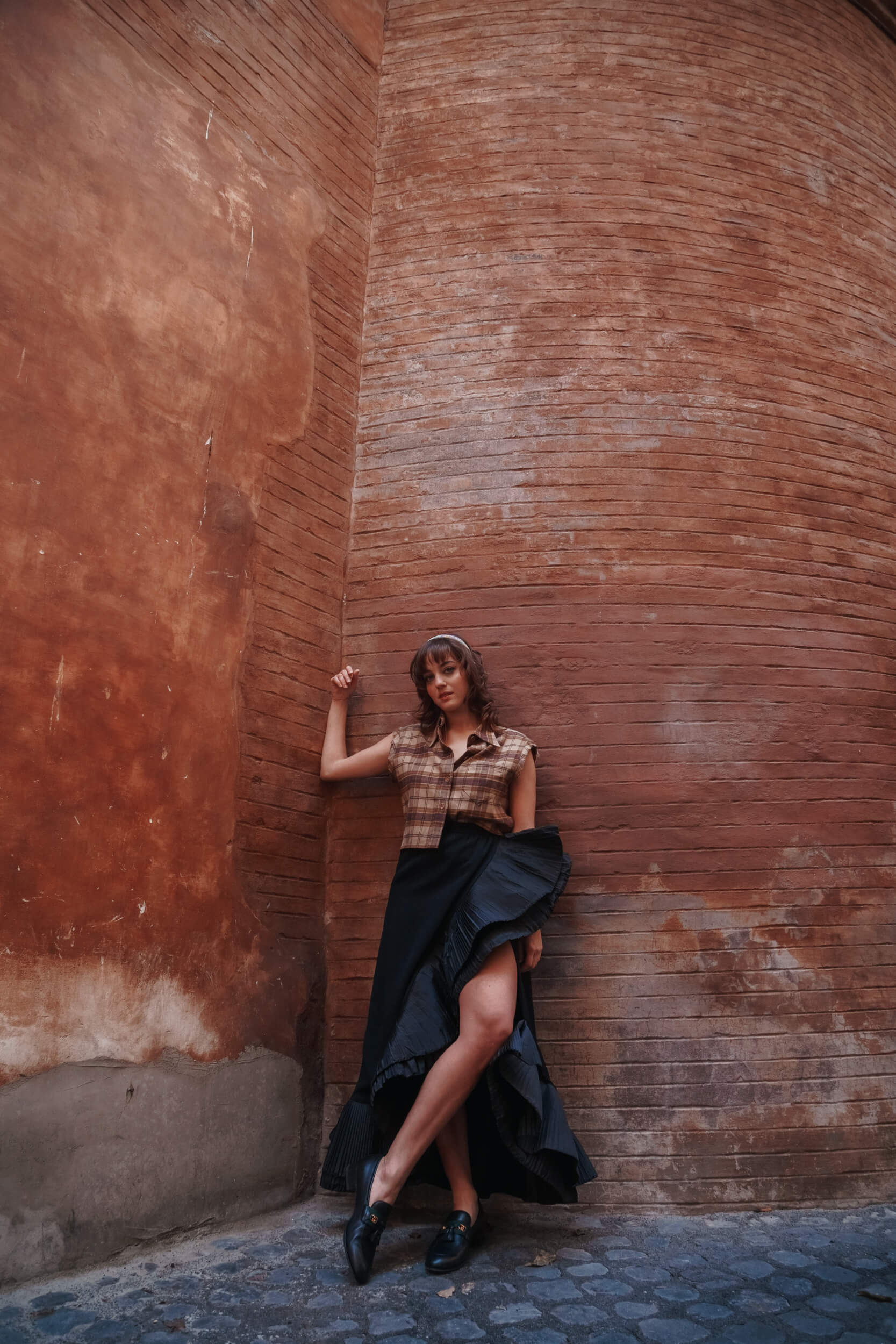 The first DVD and the first CD you ever bought?
The first DVD was "Grease."
I don't remember what the first CD was, to be honest, but I remember being in London, many years ago, entering a store and buying a CD by Four Tet without even knowing who he was. I'll never forget how emotional I felt when I listened to it later at home.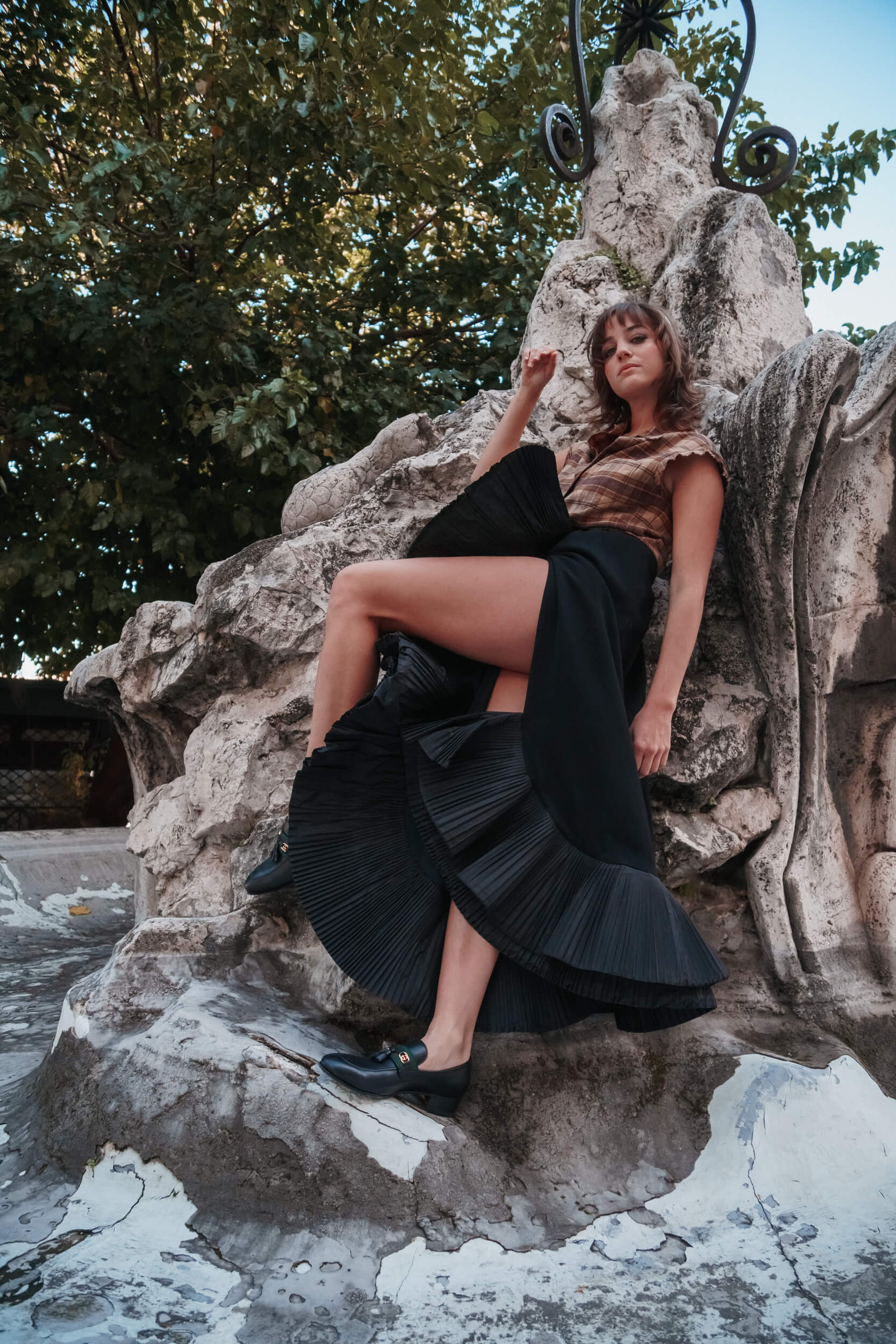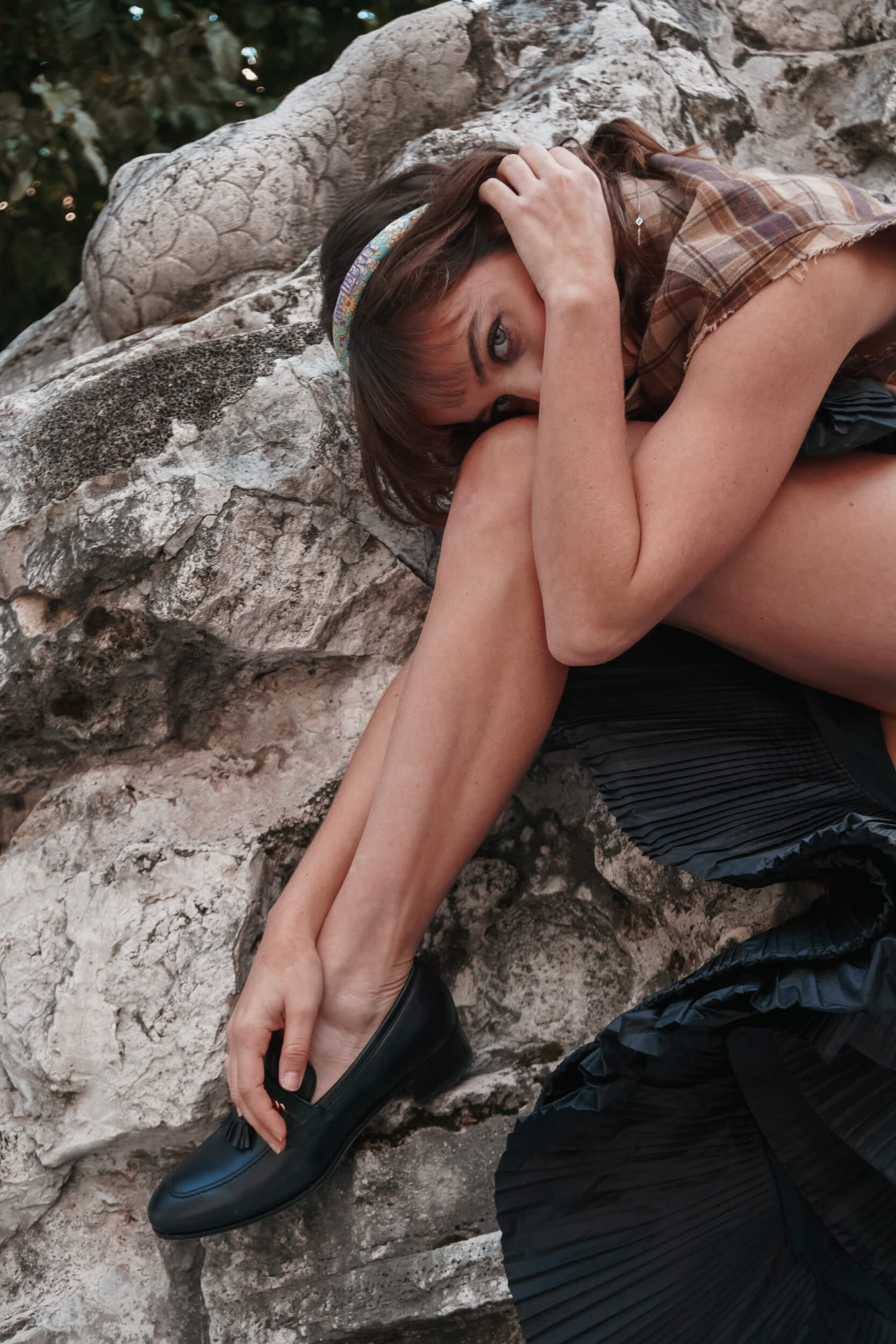 Your guilty pleasure film?
"High School Musical."
The book on your nightstand?
"Fedeltà" by Marco Missiroli.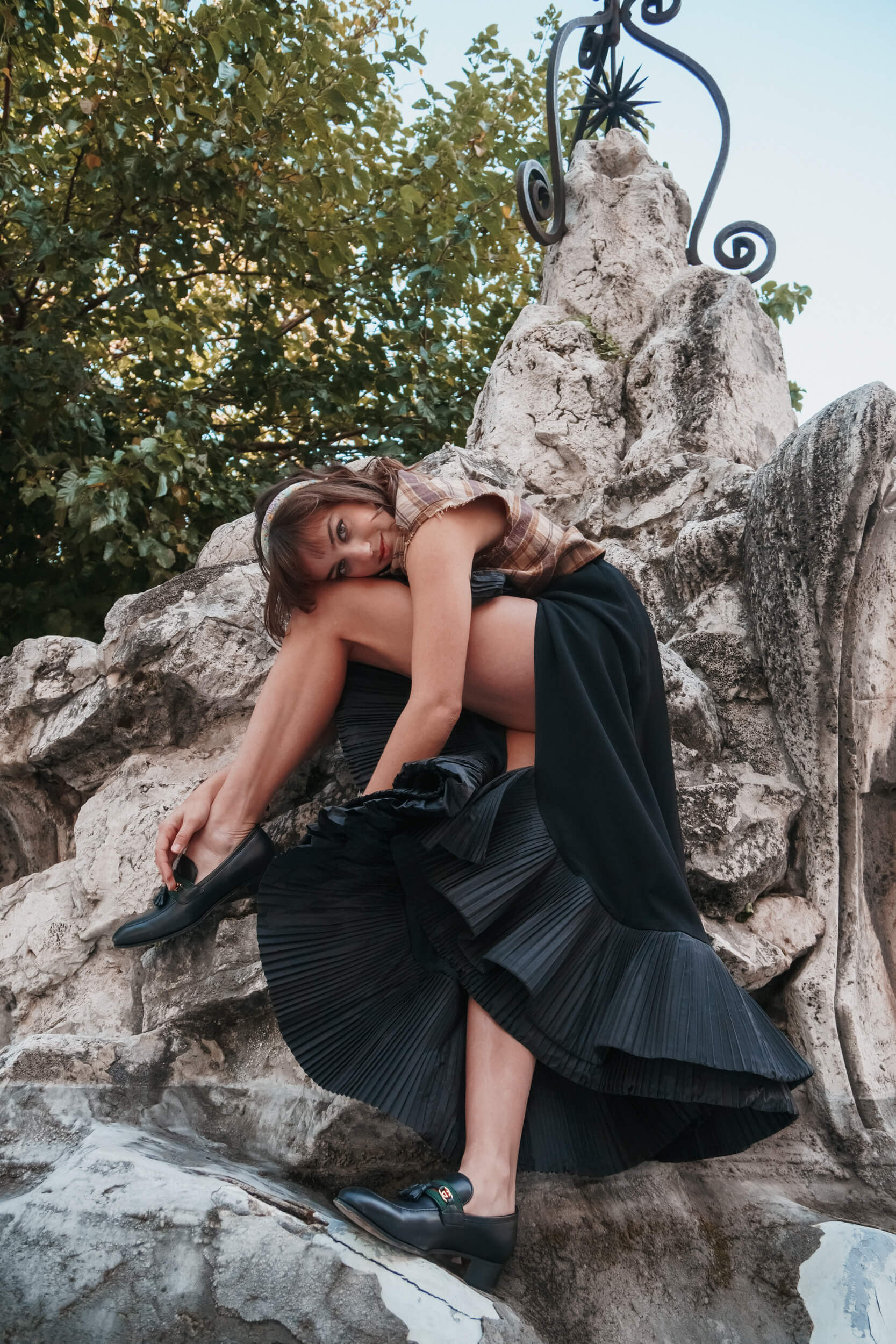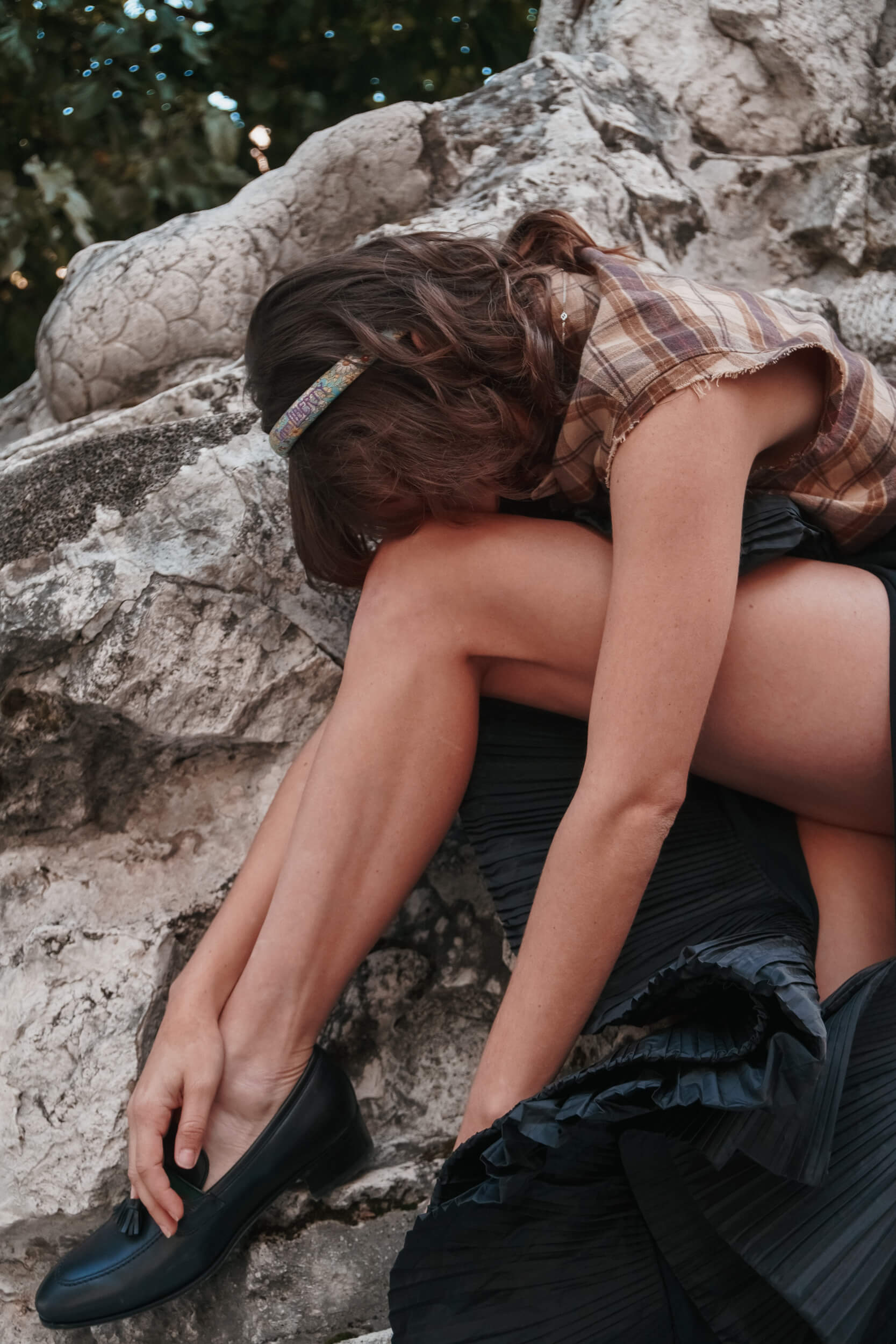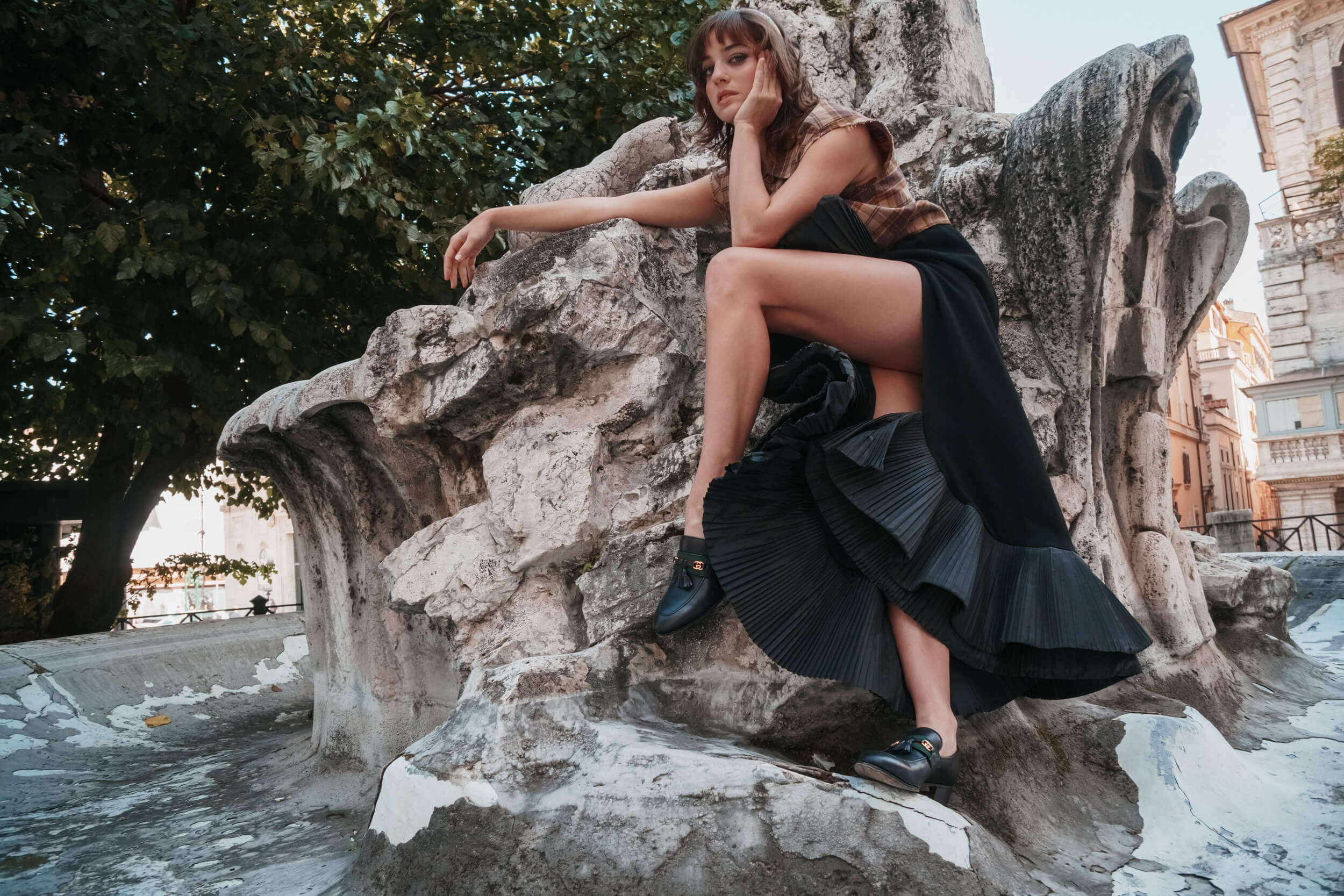 Your must-have on set. 
Headphones are essential. 
Epic fail on the job.
Once, on set, I fell down the stairs while shooting the scene of my birthday party. After the loud thud and its echo in the room, a colleague of mine compared me to an "ancient vase," I'll never forget that.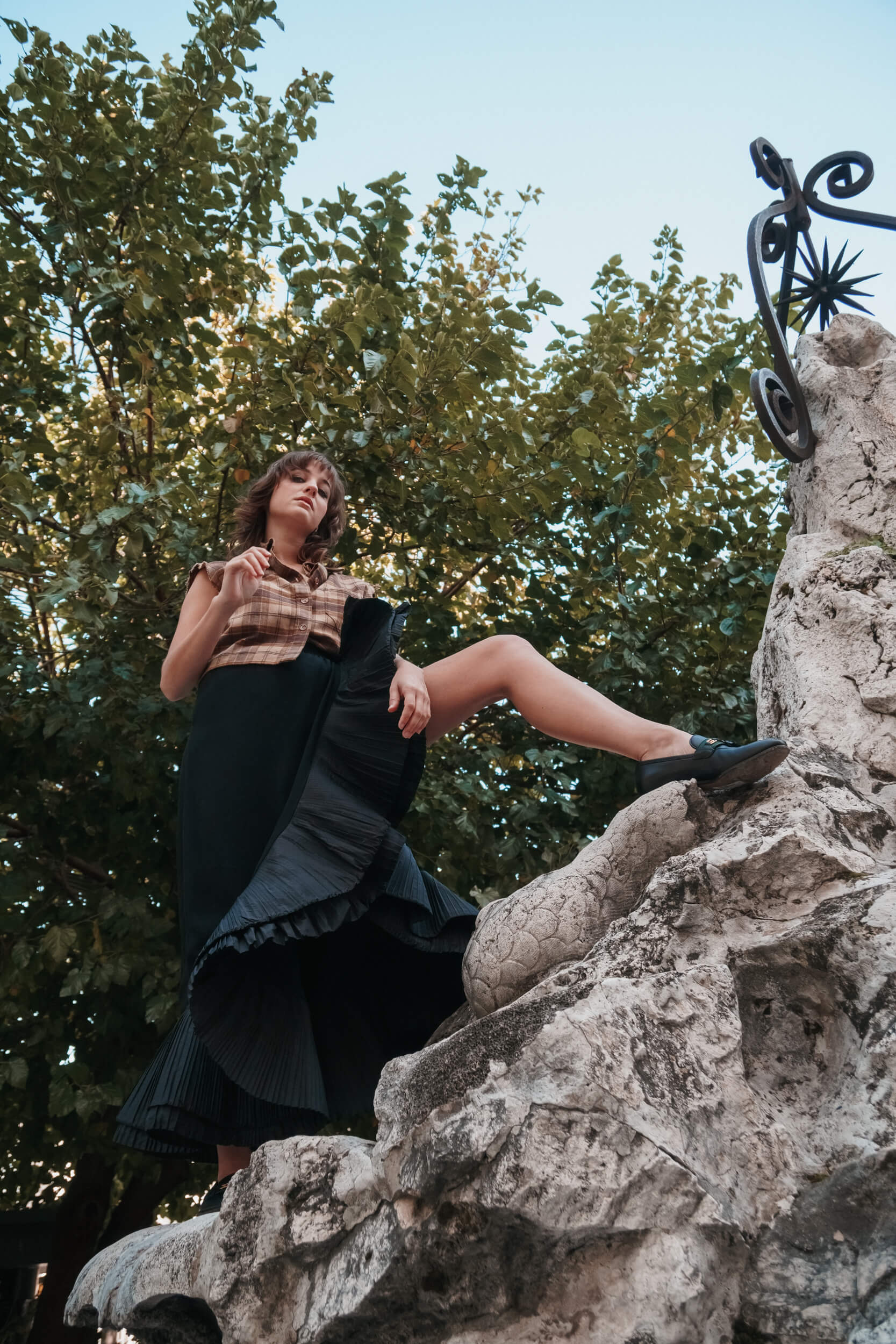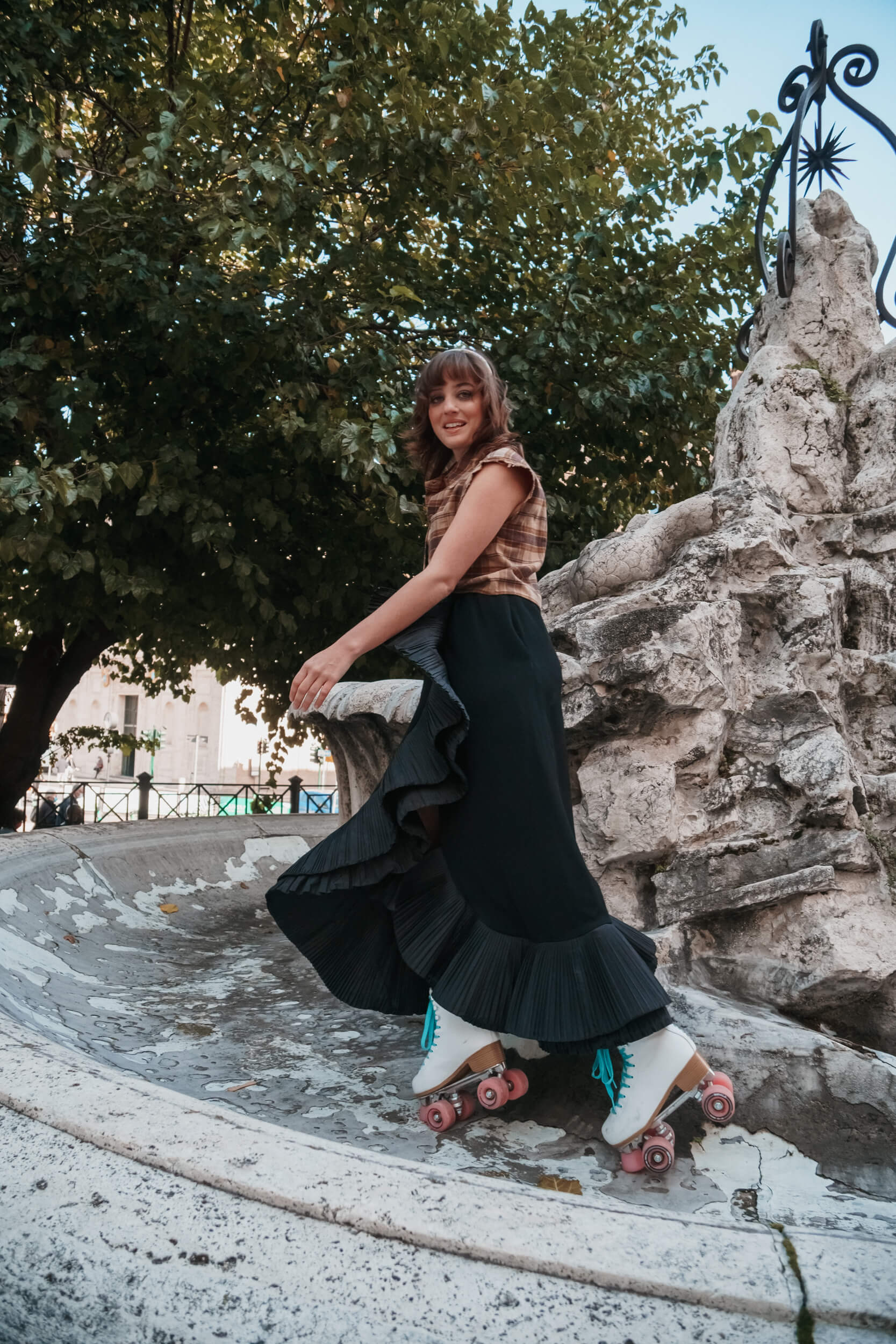 What's your favorite soundtrack?
I could tell you a never-ending list, but a movie in particular that comes to my mind is "Where The Wild Things Are."
The movie that you know almost by heart?
Actually, now that I think about it, there's none. I hardly ever re-watch movies, even if they've remained in my heart.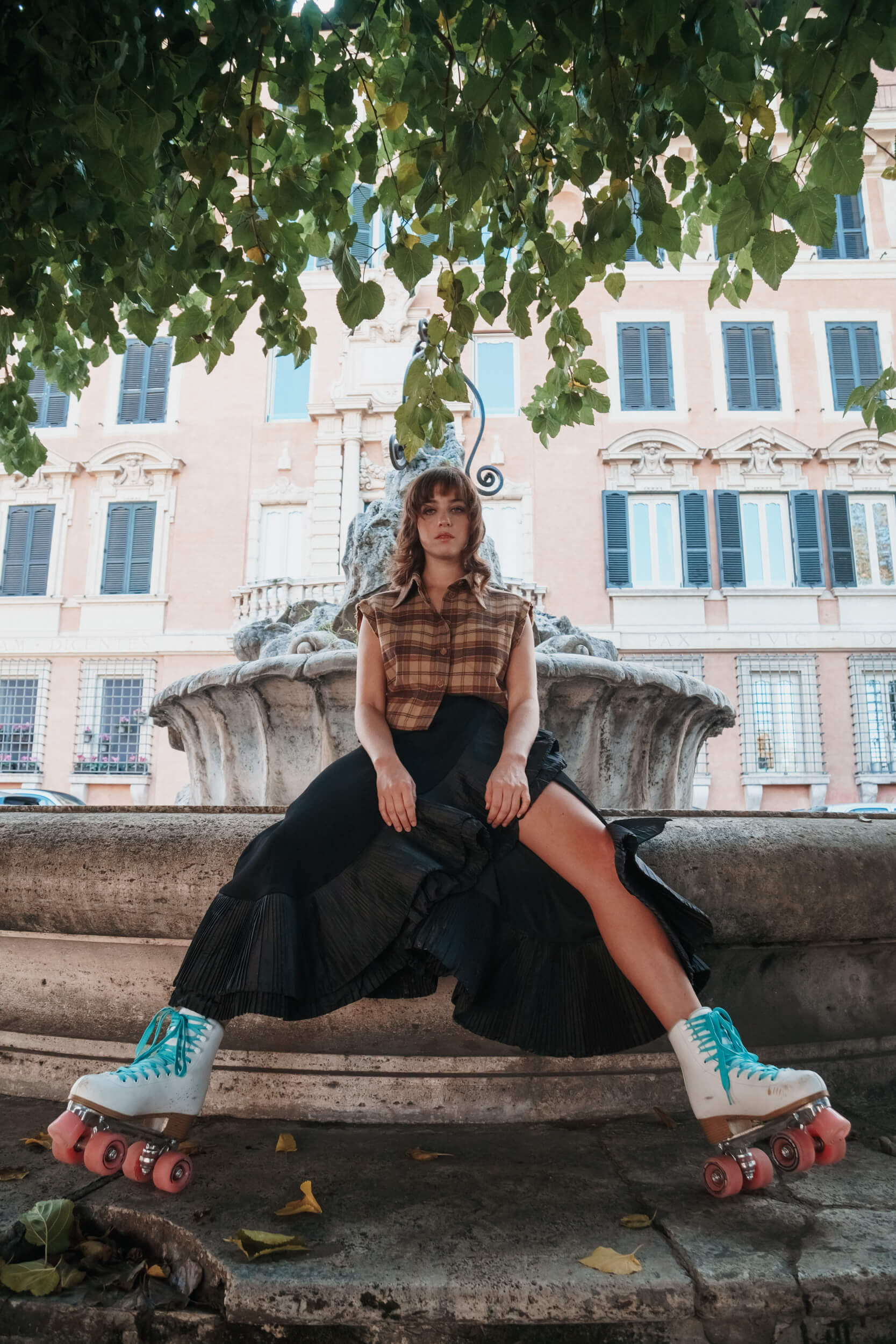 What's the last thing you found out about yourself?
That I don't know any movie by heart.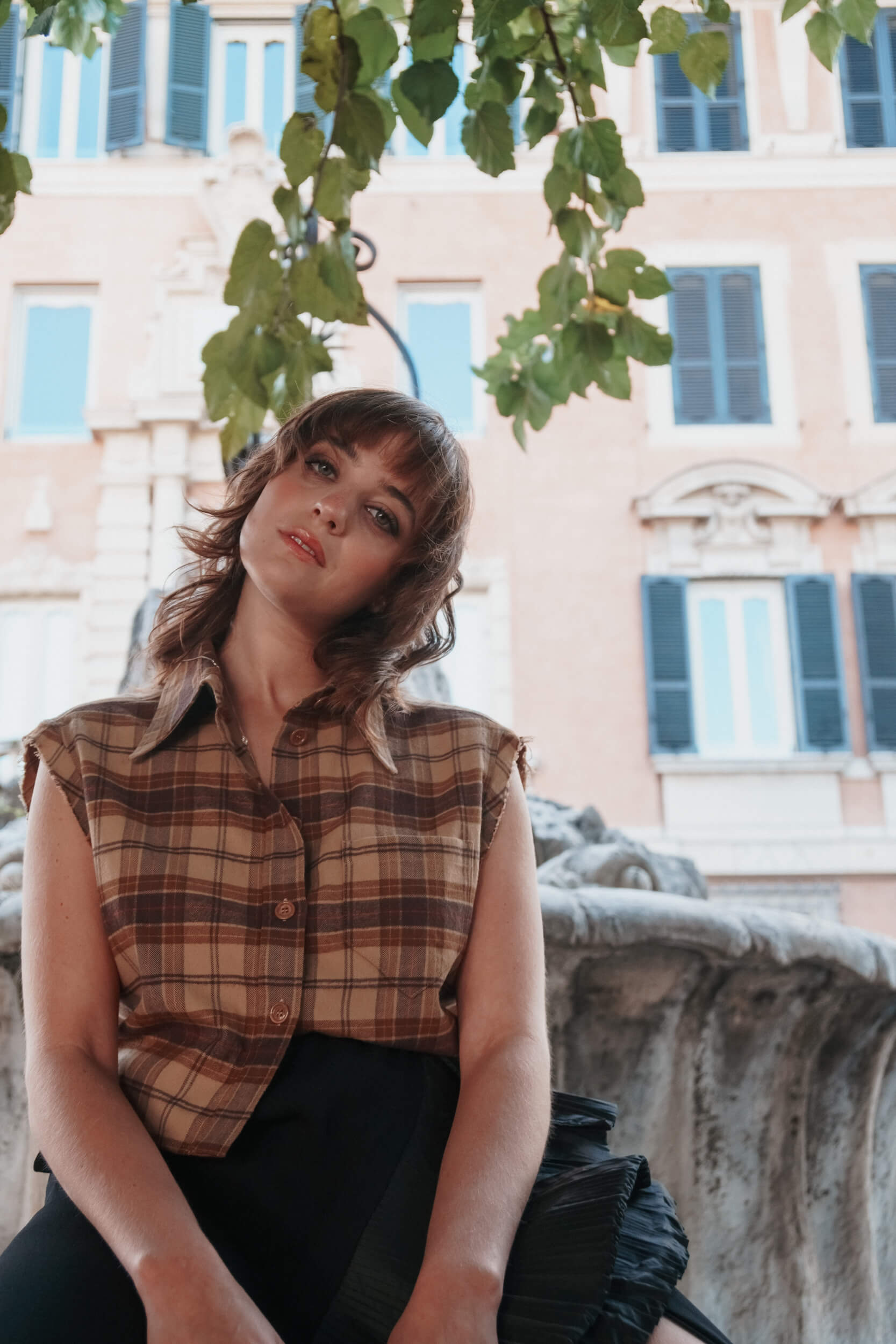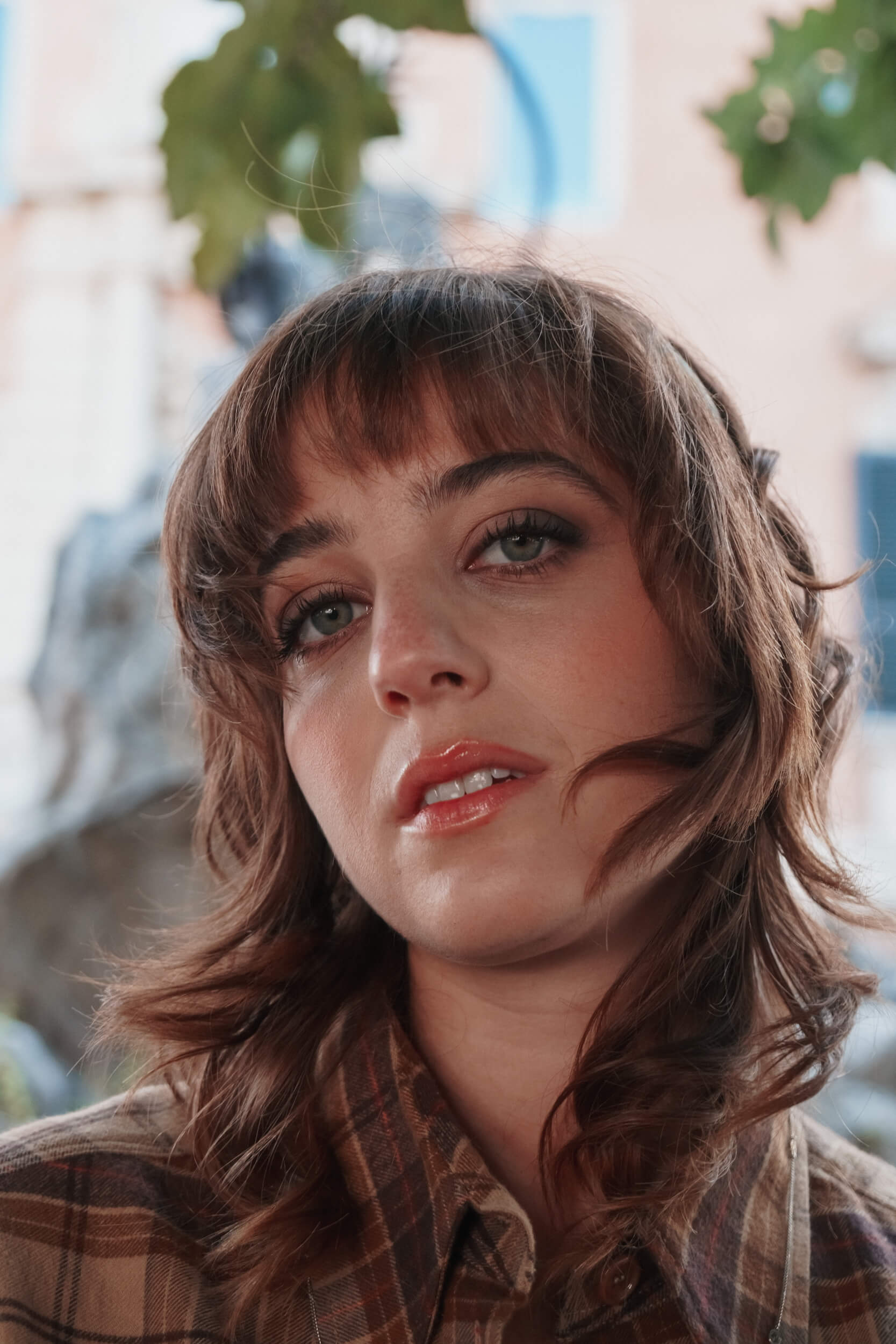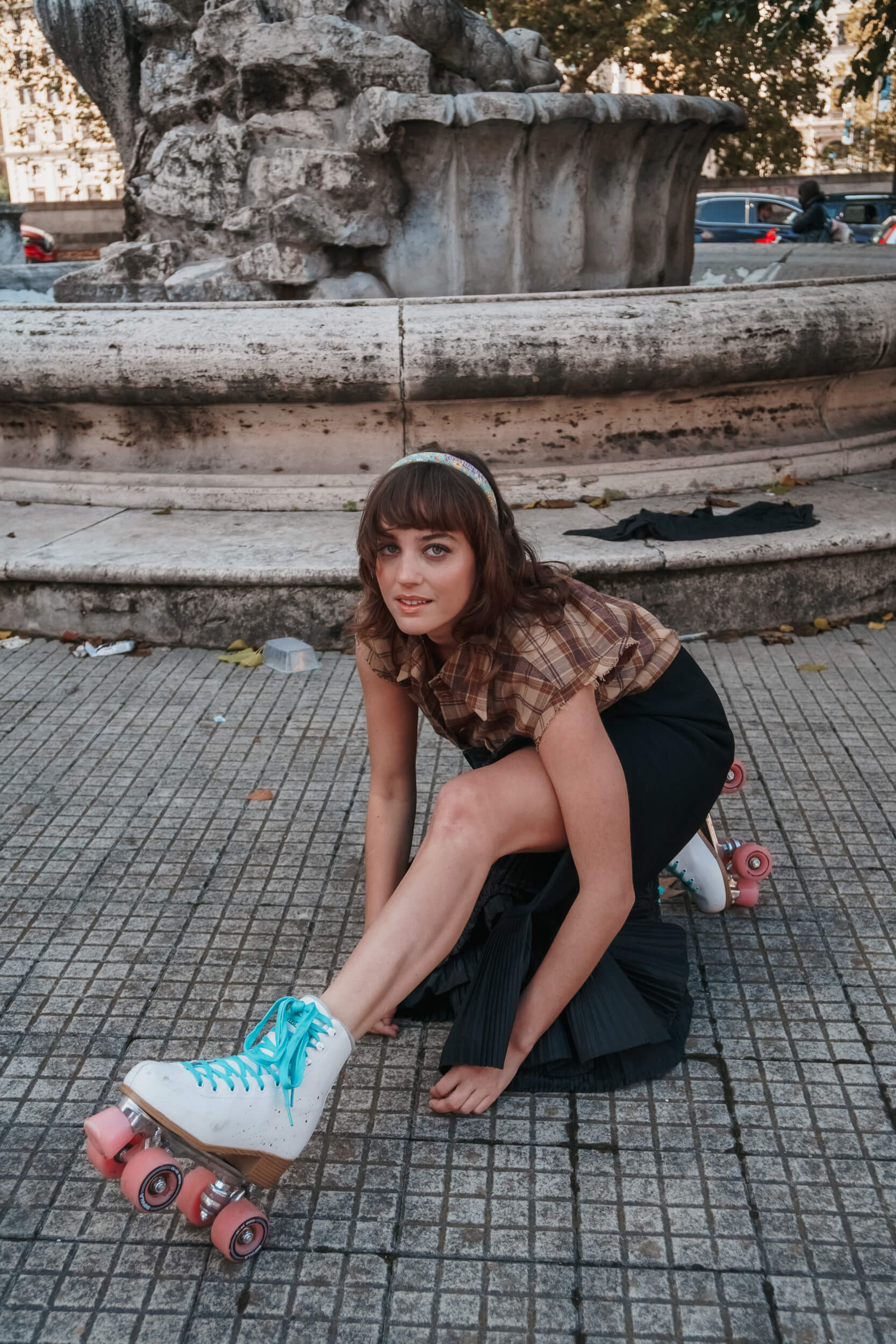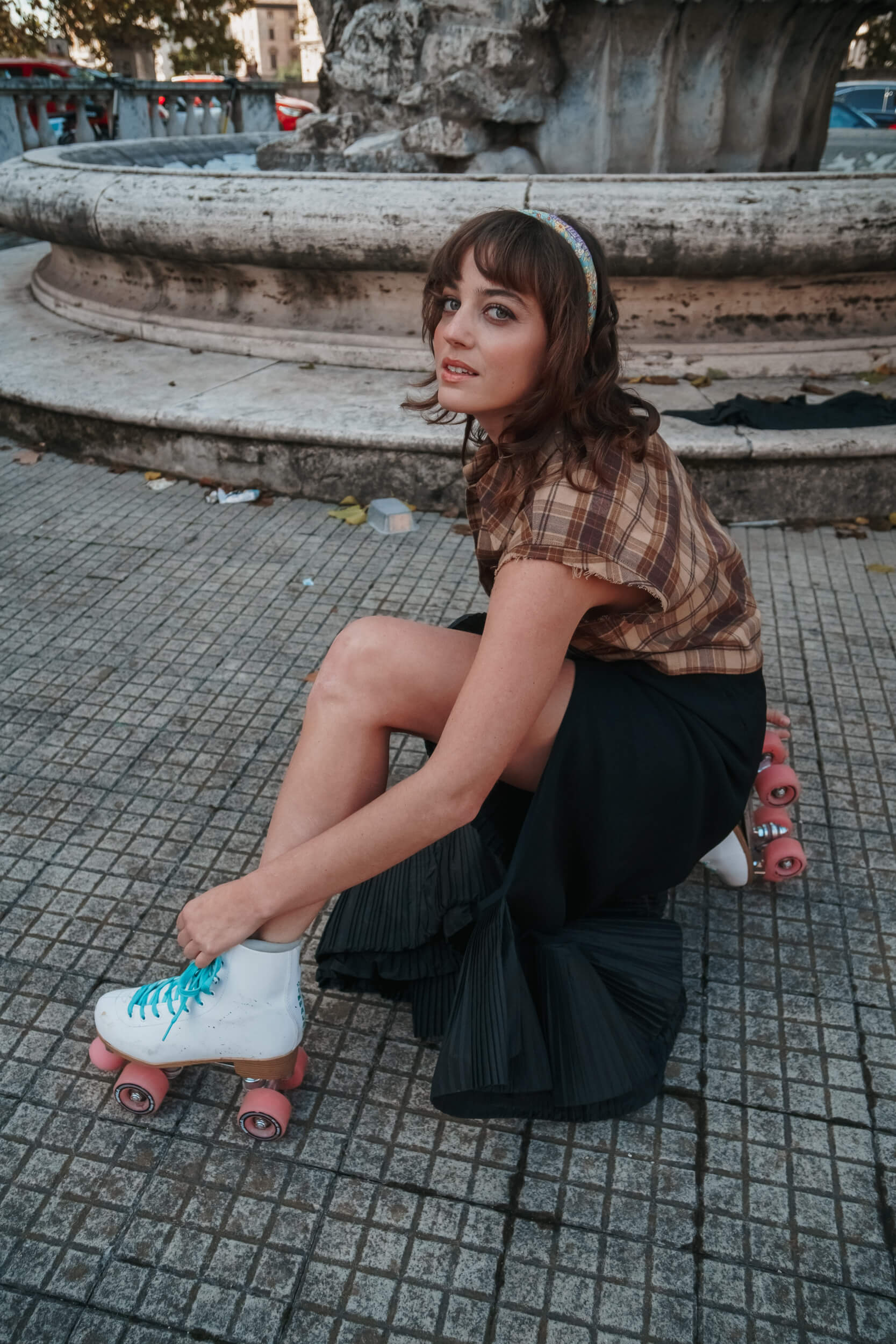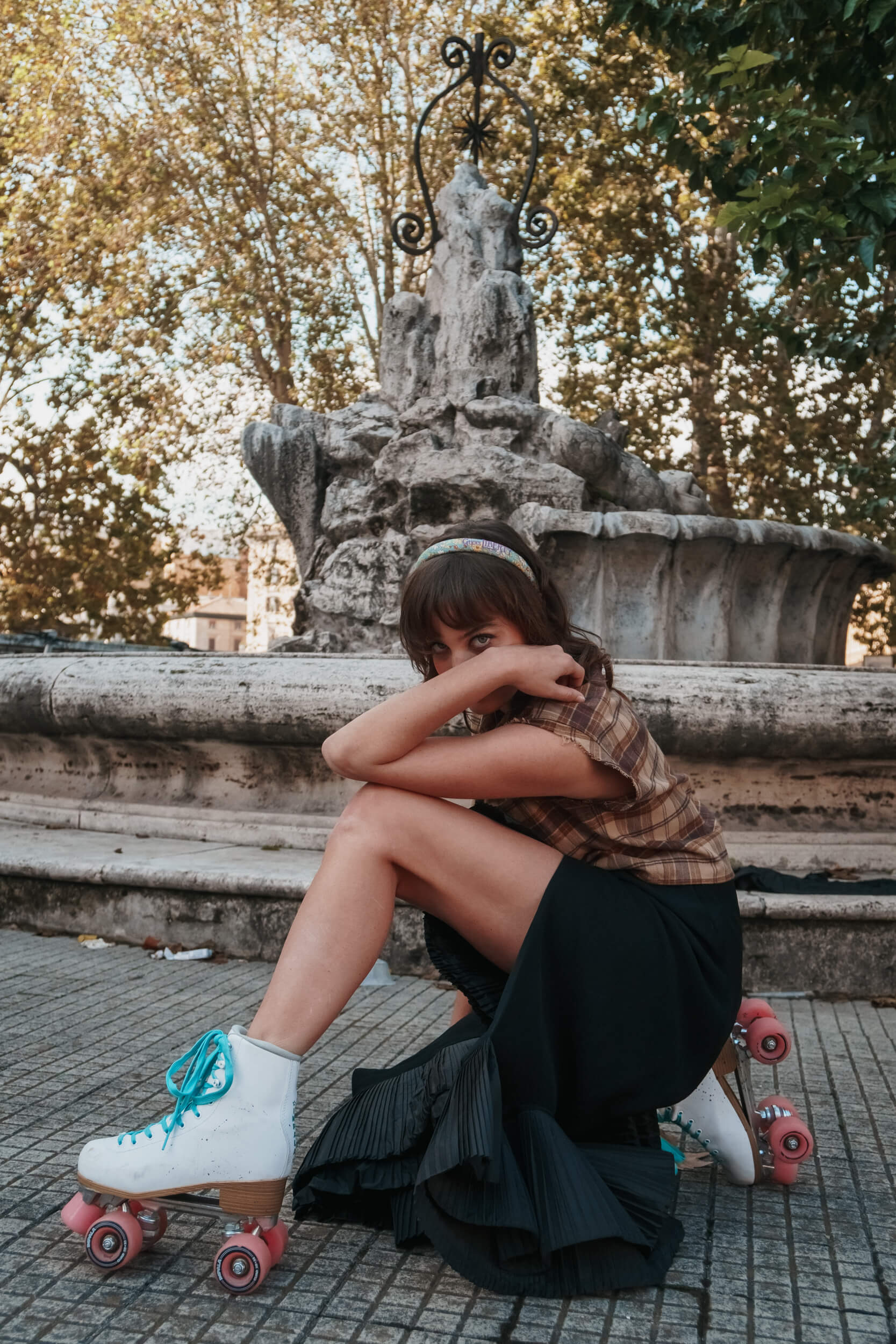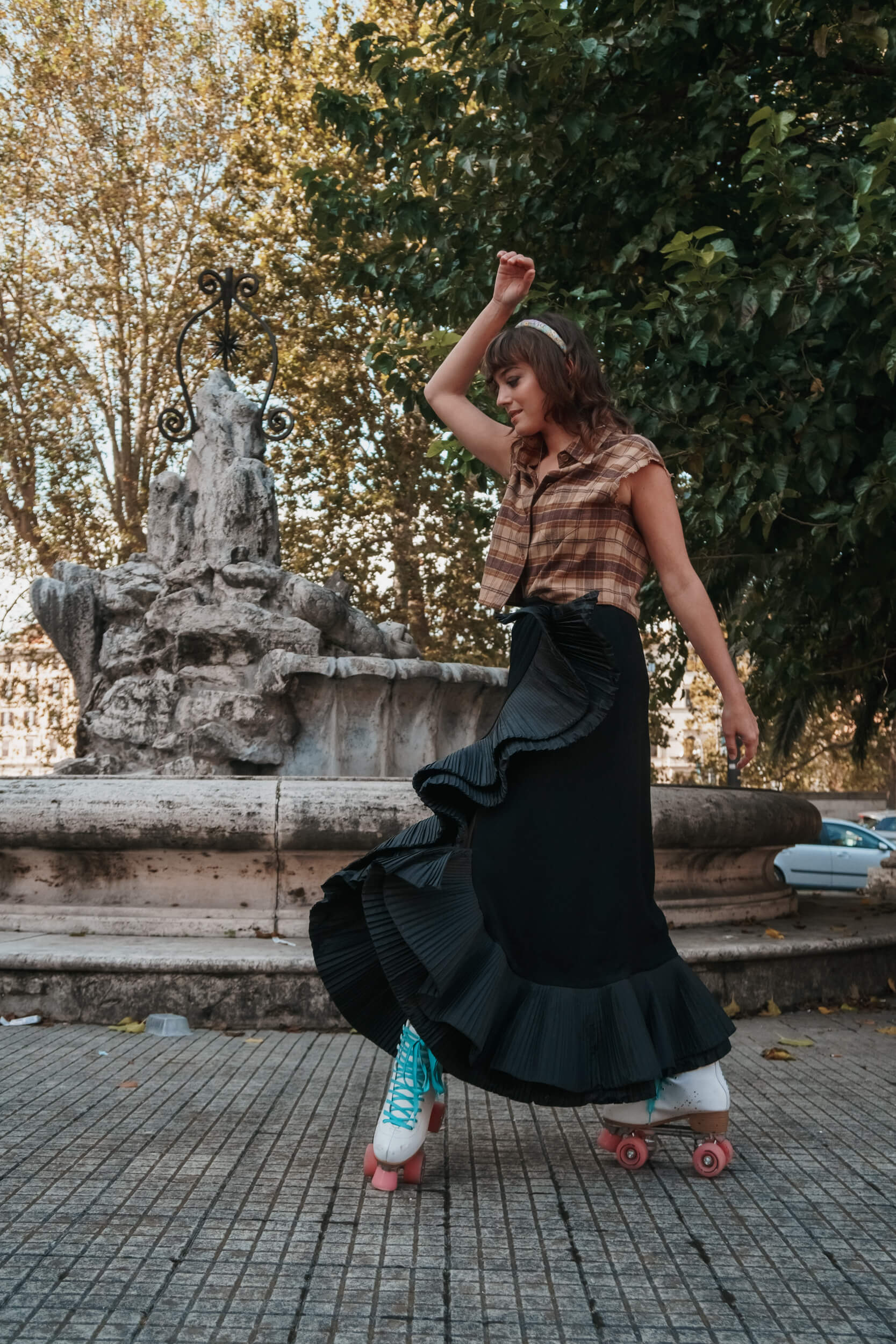 What was your first celebrity crush from cinema and music?
Zac Efron and Jesse McCartney, not surprising at all, isn't it?
Who's a person from the world of cinema you would like to be friends with?
Emma Stone, even though it would be more of a worship than a friendship.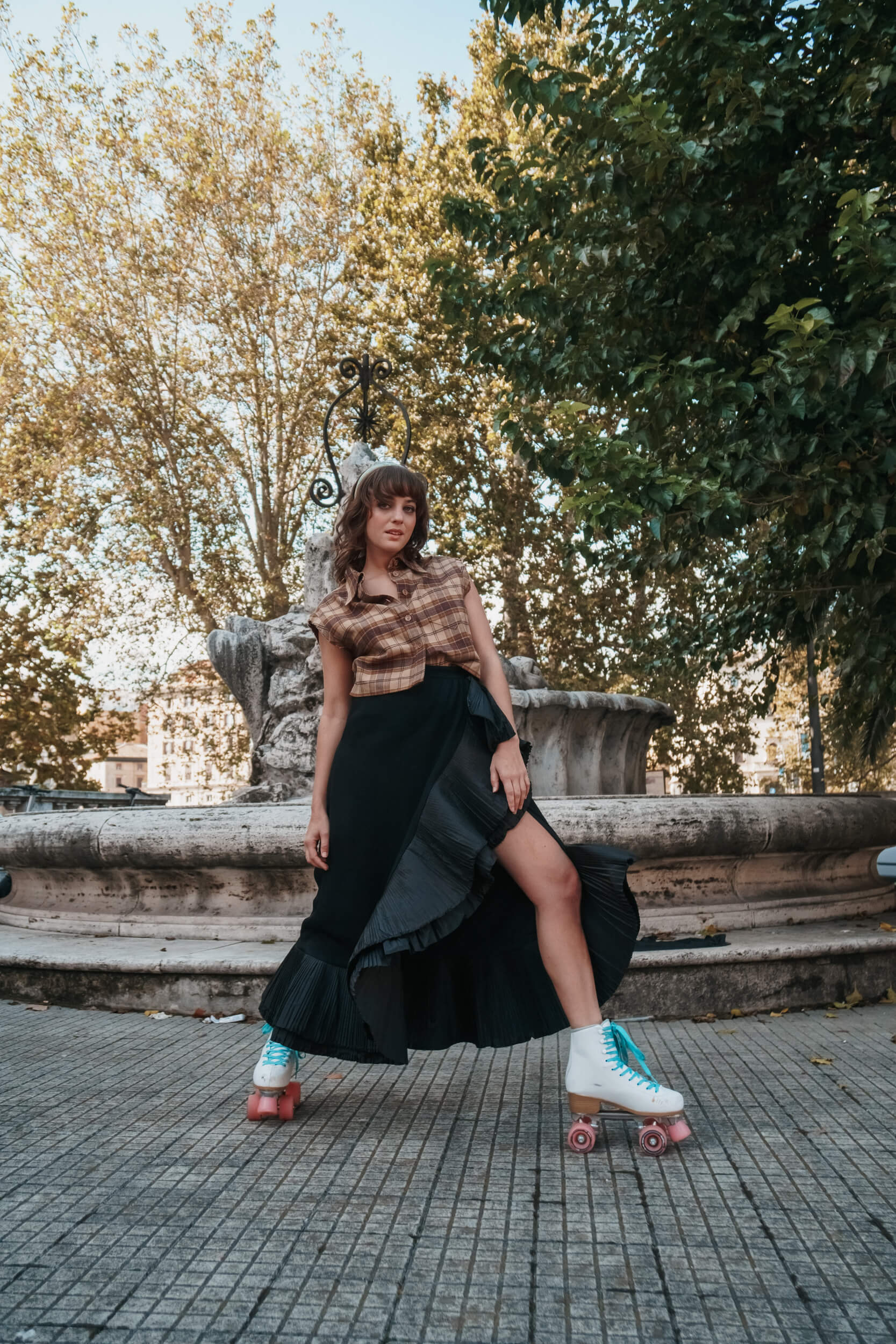 Where's a place you would love to roller skate for hours?
If it were possible, an empty highway, I like the idea of an endless looking route, but I'll be fine with a bike path on a seafront. 
What's the song you sing to yourself when you walk up the stairs of your house? (those 2/3 steps you have)
"I Will Survive!"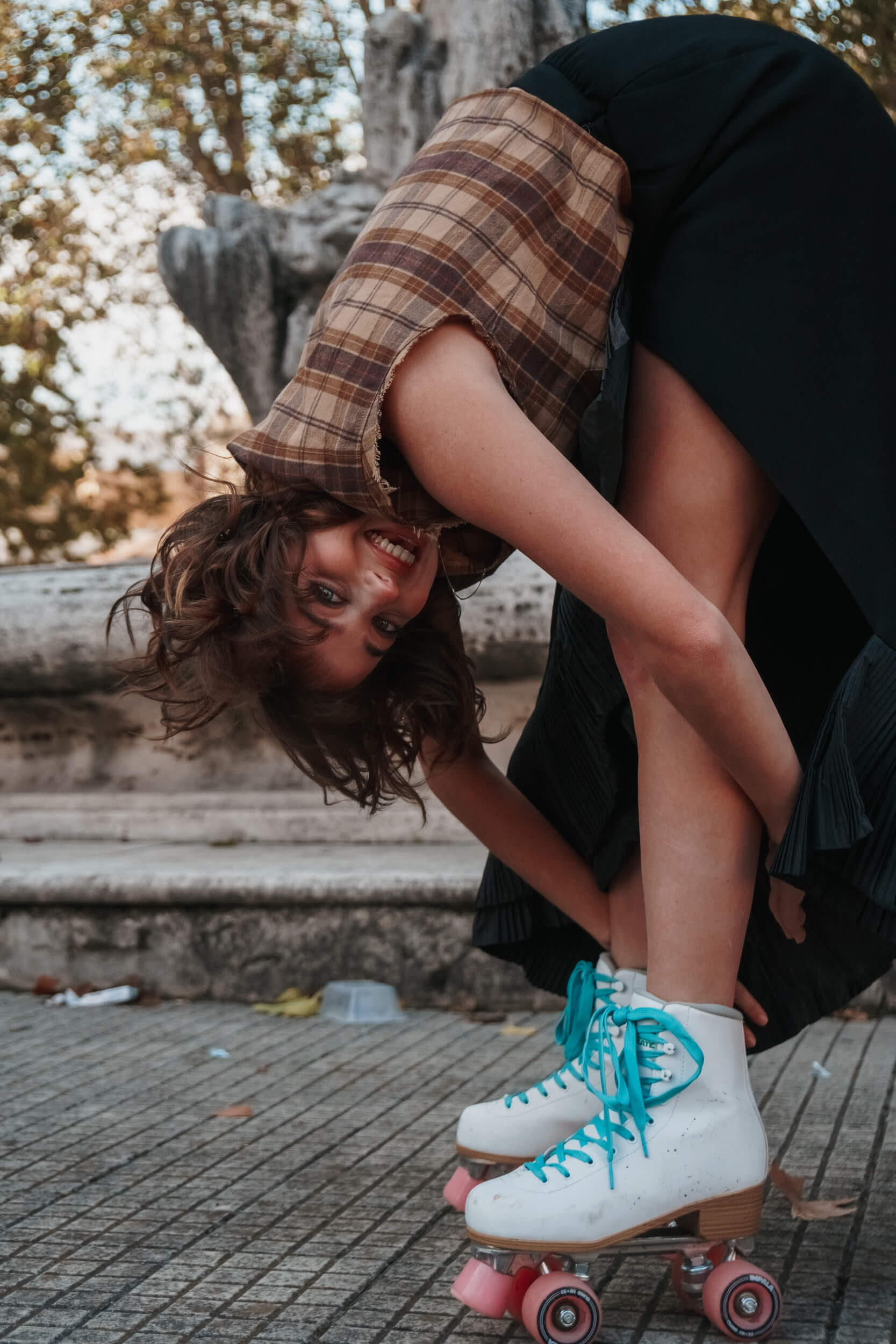 What kind of stories do you dream to tell? And what are your future projects?
I'd like to tell stories of redemption, of womanhood, and those stories that have never been told as properly as they'd deserve. I'll be one of the main characters of "Zero," a Netflix Original series originated from an idea by Antonio Dikele Di Stefano. Moreover, you'll hear me talk about my music project. I play piano, ukulele, and I sing, and I have a brilliant guitarist with me… fingers crossed!