I have always been a great fashion enthusiast and, following this passion, I decided to become a Fashion Editor. I am one of those people who recognize a brand from its details and, during the Fashion Month, I'm the first in the backstages to be sure to not miss anything.
There are some fashion protagonists who have made their way in the industry thanks to their unique taste and their strong personality: among them, we find Courtney Trop. Many of you, however, will know her as Always Judging, the grunge girl who loves vintage, Gucci and the '80s music. I have always admired Courtney because her style is not dictated by trends, but by how she feels at a certain moment: that's why she combines psychedelic fantasies, colorful tights, unpredictable accessories and oversized jackets in always new and unexpected ways. Whether it's a couture look or a punk rock one, Courtney knows how to wear clothes with the typical attitude that only authentic people can flaunt.
Driven by her way of living fashion as a necessity, a way of breathing it rather than it being job, we went to meet her in person in her studio in Los Angeles to have a look at her closet through our new format "In Da Closet." Courtney showed us some unique vintage pieces (including a Jean Paul Gaultier suit and a Vivienne Westwood corset that takes your breath away, literally), and she told us about her style evolution over time (starting with a polka dot dress that she wore for a week), of the path that led her to open her blog "Always Judging," her fashion epic fail and the desire that the temperature drops below 10 degrees in Los Angeles to finally be able to wear those jackets that she loves so much but that she's rarely able to wear.
True, unique, candid and a little crazy. Here is our February Cover Story: Courtney Trop, aka Always Judging.
What were your first experiments with style and how did they change over the years?
When I was really little my mum used to choose how we dressed and when I was about 3, so I was in preschool, I remember she made me this polka dot dress and I wouldn't take it off for a week, I wore it to preschool every day for a week and it was so '80s – I was born in 1986, and I'm from a small town. I wore it for a week and my mum said "They're going to think we don't have any clothes for you!" and I remember wearing it over and over and my mum being mad about it.
And then, when I was in high school, I was really into BeeDees, it was late '90s and that was a really big thing there where I'm from. So I wore a lot of BeeDee, which is weird because it's back in style now (laugh), the late '90s stuff is totally back. And then I moved to LA and that's a period that I want to forget forever, but some of my friends see these old pictures and they are like: "I love who she was." I was going out a lot and wearing club clothes and if you see those pictures now you'd be like "Wow, that's not you." (laughs).
Everyone has a time like that, but it's kind of funny, now, when I look at it, I'm like "Ok, this is funny". I was a specific character and I like it, I owned it, I guess.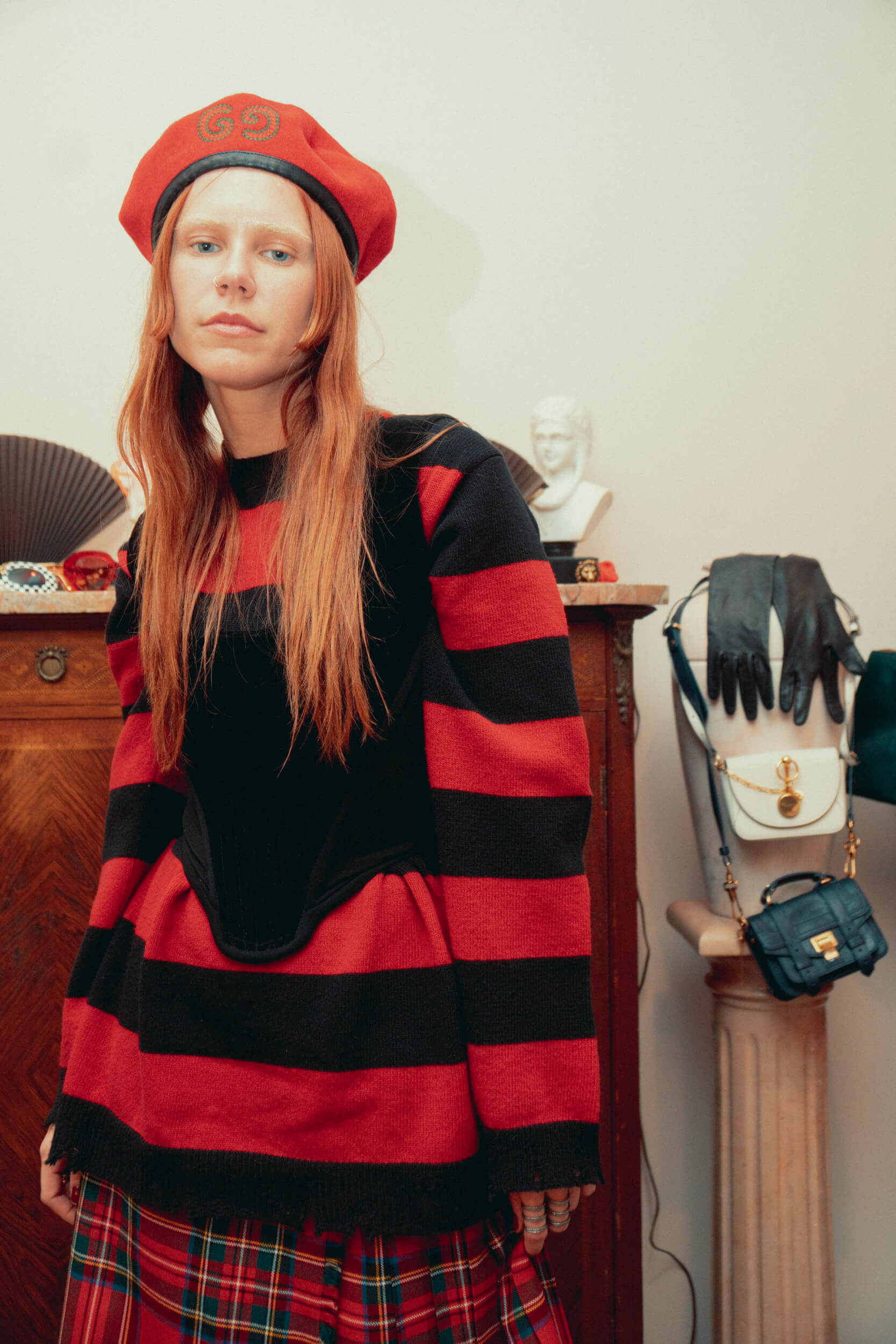 "I remember she made me this polka dot dress and I wouldn't take it off for a week, I wore it to preschool every day."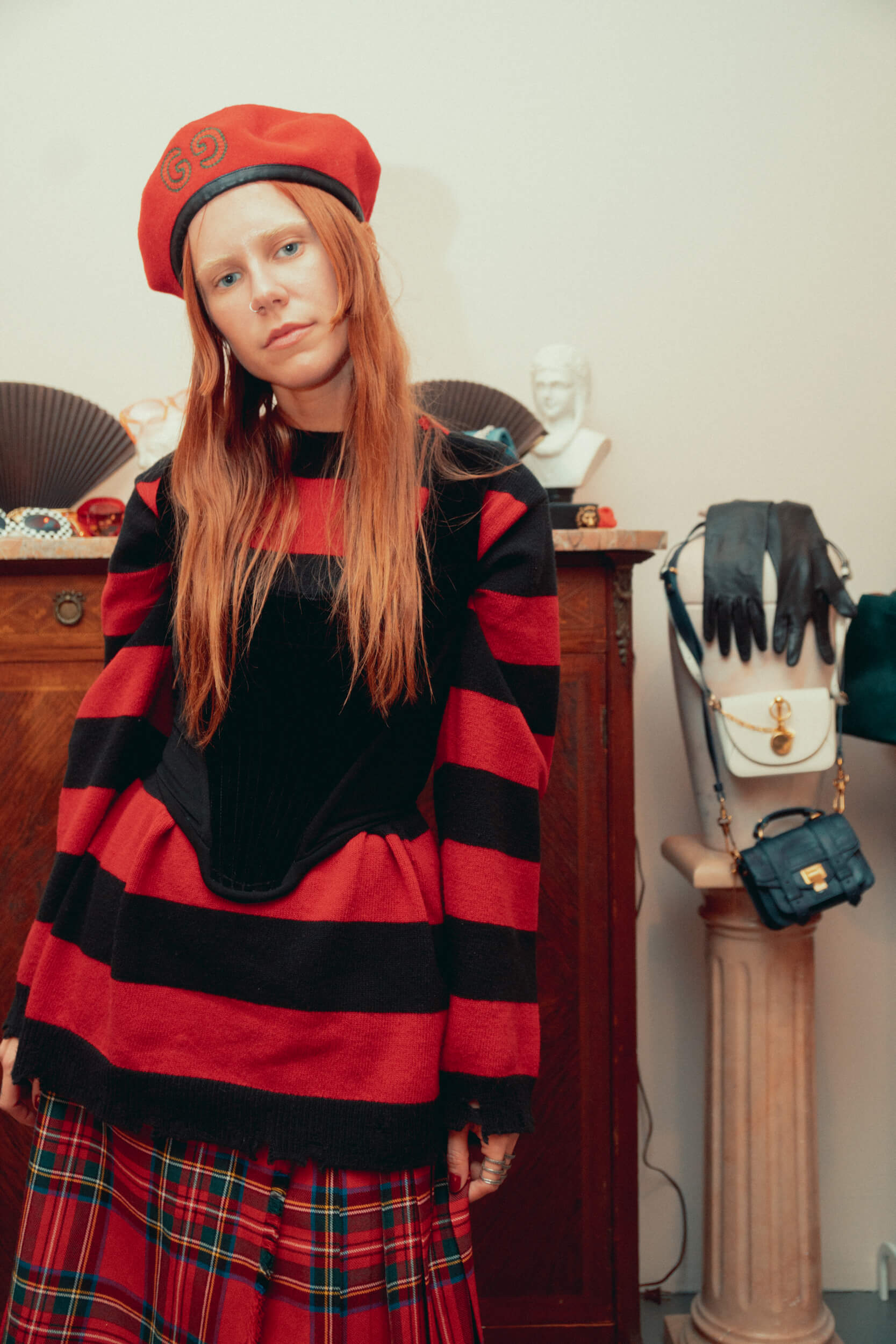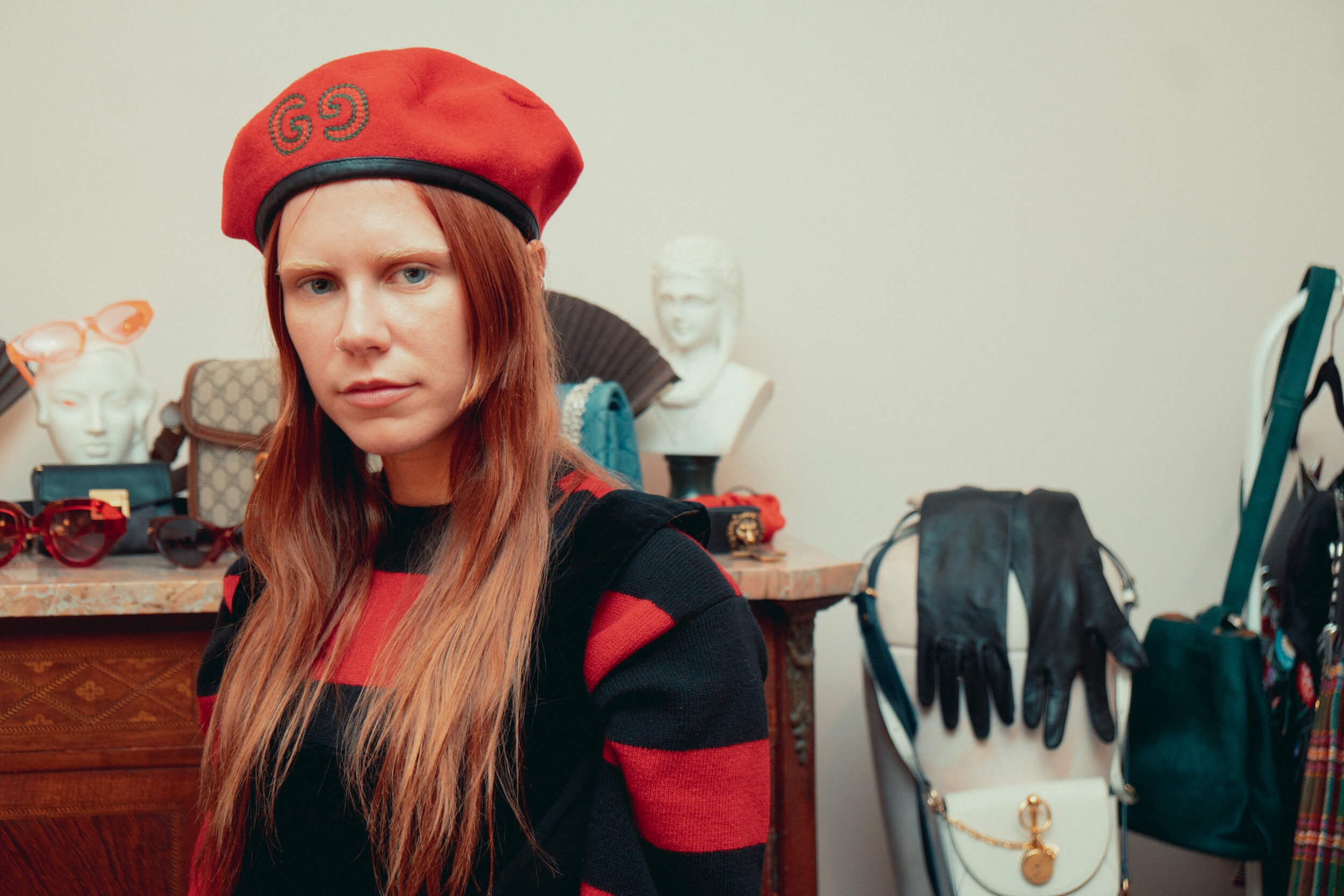 And then Bob opened Intermix on Robertson Boulevard and it was a big deal, it was like my home back in the day, in 2007 or 2008. As soon as Intermix opened, I applied for a job there and I got it, and then fashion came full force back into my life. When I was in high school, I went shopping at Saks, it was the only thing we had in Pittsburgh (Pennsylvania). Obviously, I wasn't like mind designers, I had a few Chanel bags that my dad had bought me for birthday presents, but I coveted them; I had a weird childhood, so my dad used to make up for it by giving me clothes, which is really interesting, but it really shaped my entire career and my life. So, I had a few Chanel bags, but he would make me shop all the sale stuff and I would get stuff at Saks, but then whenever I got my job at Intermix, fashion came back into my life. I learned who Proenza was and I got that little PS bag over there when I worked at Intermix and it reinvented my whole life.
What are the pieces of clothing that best represent your personality right now?
I really love Gucci, I like all the Gucci punk/rock stuff; I don't love streetwear, I like all the vampy, rocker stuff, and I really love the grunge Marc Jacobs stuff, I love what he's doing. And vintage, I really shop so much vintage.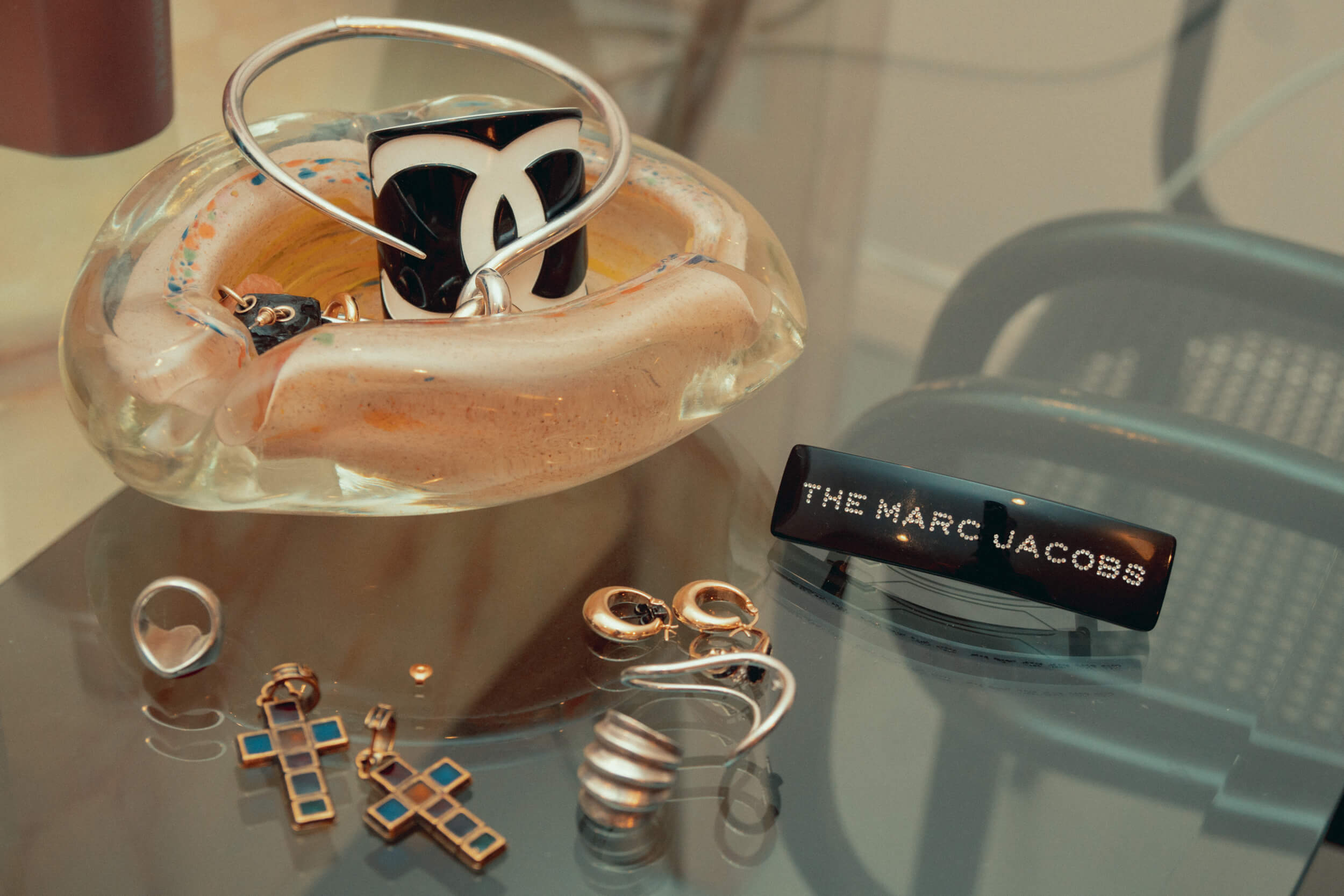 "I really shop so much vintage."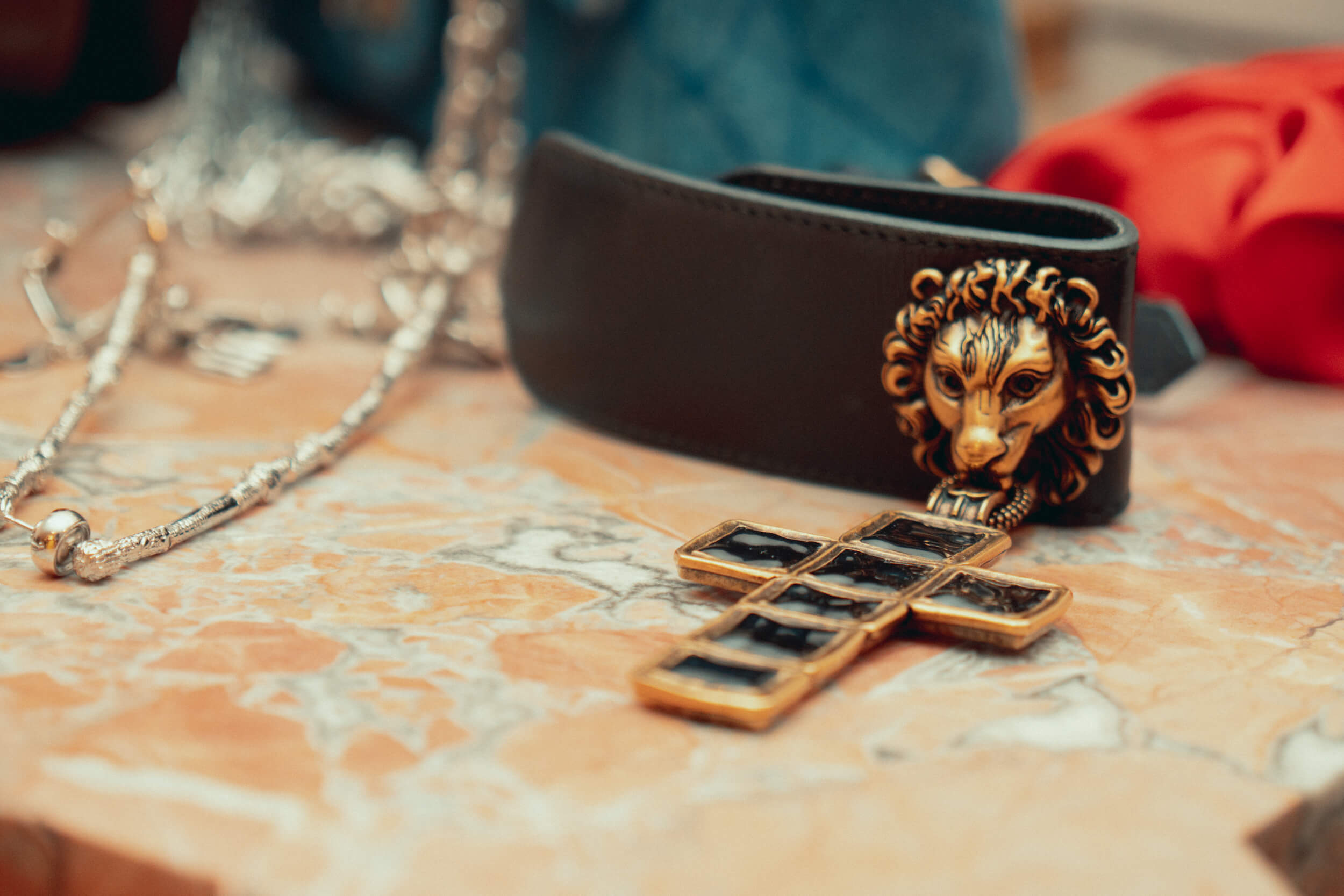 What are the 3 best shops where you would go to buy vintage here in LA?
Replica is the best store in all LA. Danny, who owns it, lived and clubbed in the '80s, he's iconic. Do you remember when Comme Des Garçons did that collection with the body-shaped stuff? His friend worked at Barneys when that was on the racks at Barneys. And he tells me stories about how no one would buy it and people were like "what is this stuff?" and now, if you have a piece, it's worth of so much money.
He has some of the books at his store, he has a good studio base. I said so because everyone who's not from here wouldn't understand what it is: it's by appointment only, it's a tiny little space, it looks unassuming, it's like incognito, and then you walk in and there are all these Vivienne Westwood from the '90s, tones of JPG, tones of Margiela, tones of Comme (Des Garcons); he knows every show that everything walked in, he's like a Wikipedia. When I go there, I get stuck there for like three hours. And I want to buy one thing, but then I end up buying three things. His prices are really good, like super fair, you can find something for 150 and then you can obviously find something for 2 thousands, so there's some range. If you buy vintage designers, you go there and you find something you feel comfortable with.
And there are other vintage shops too. There is Scout, and then a friend of mine just opened a really insane vintage store in Beachwood Canyon, I haven't checked it out yet, I've seen pictures of it, but I've known her for 10 years, she's the vintage queen. Her shop is called Aralda Vintage, you should check it out, it's really special, I've ordered from her online, a lot of stuff she sent me is from the '80s and it's really cool.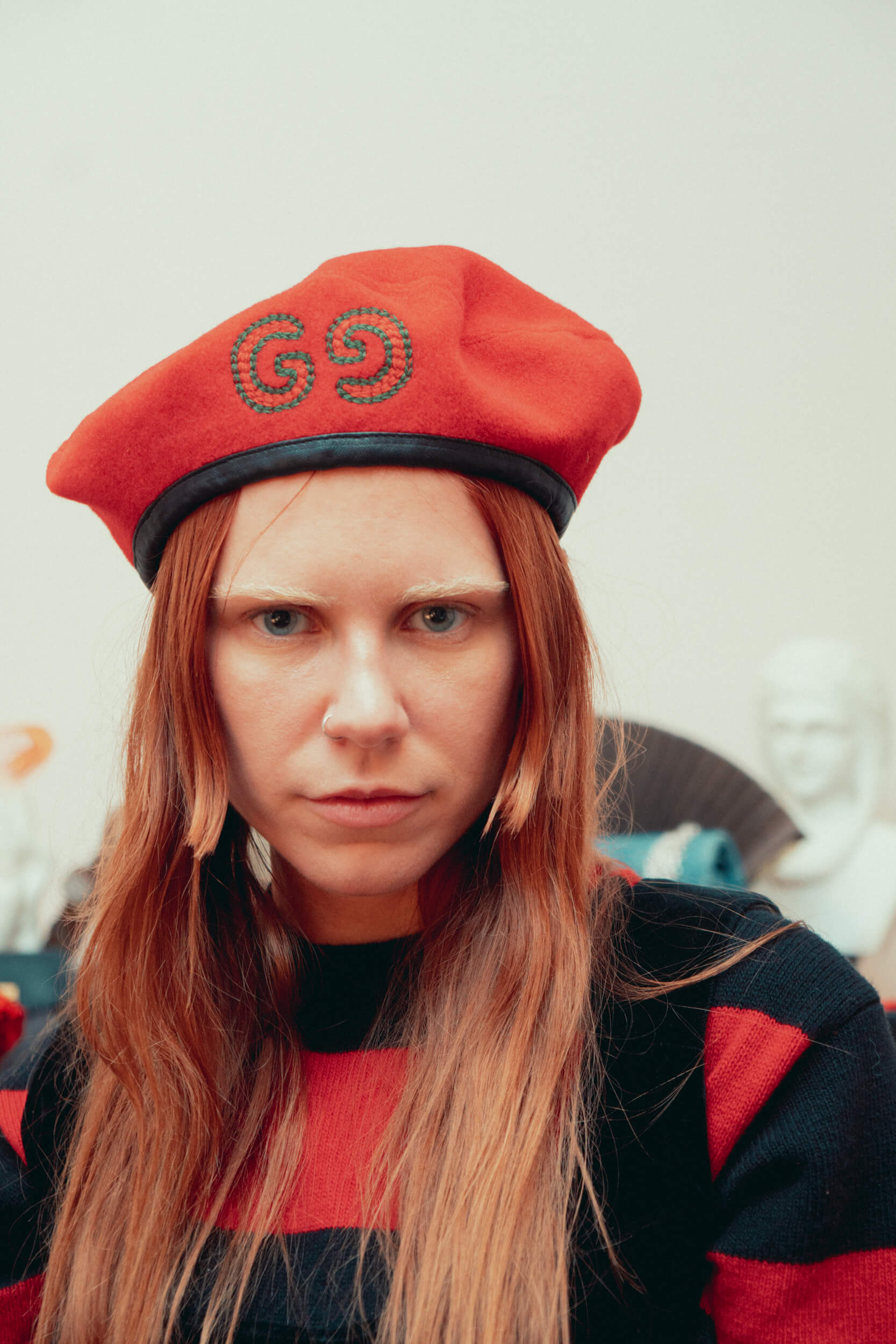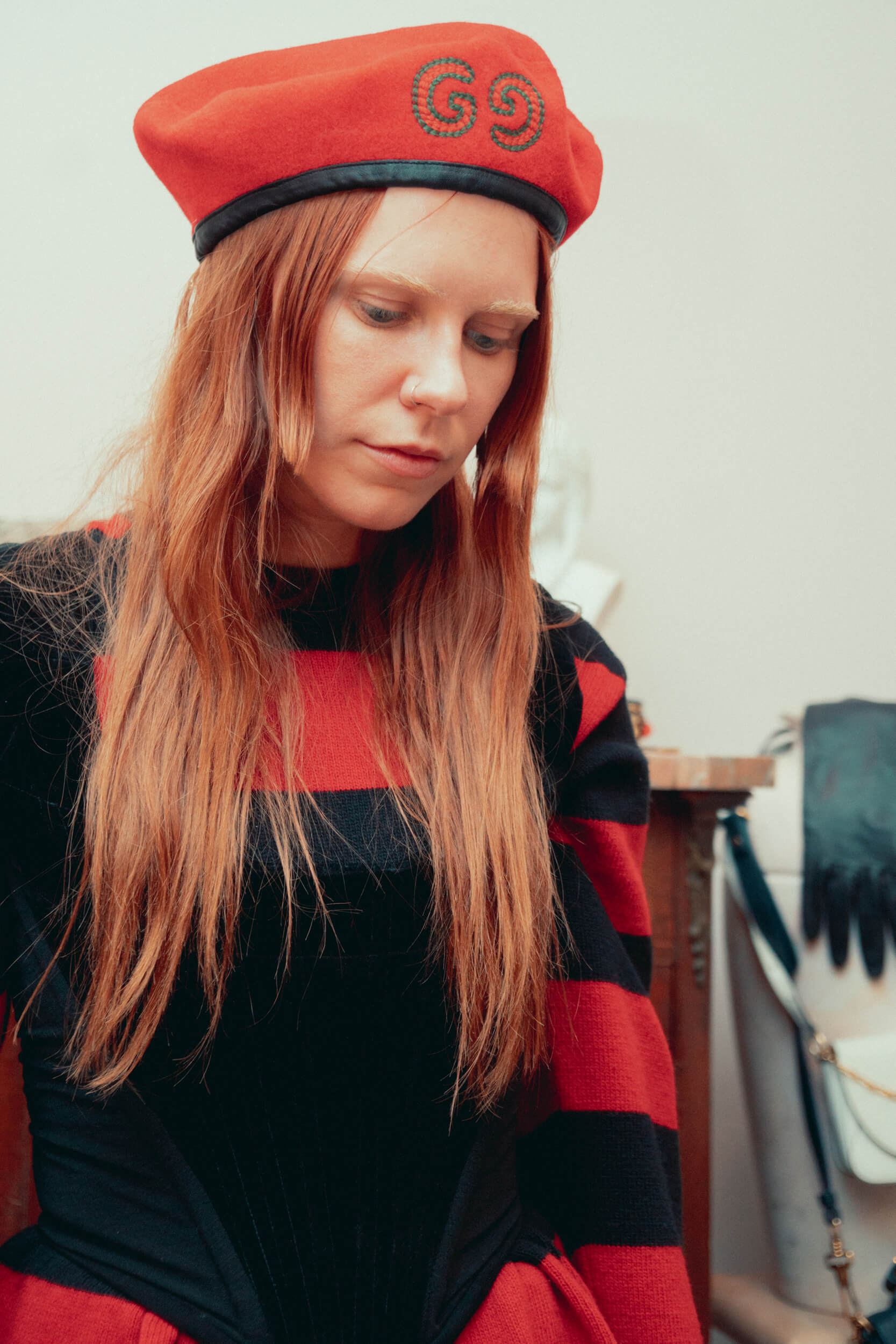 "When I go there, I get stuck there for like three hours. And I want to buy one thing

,

but then I end up buying three things."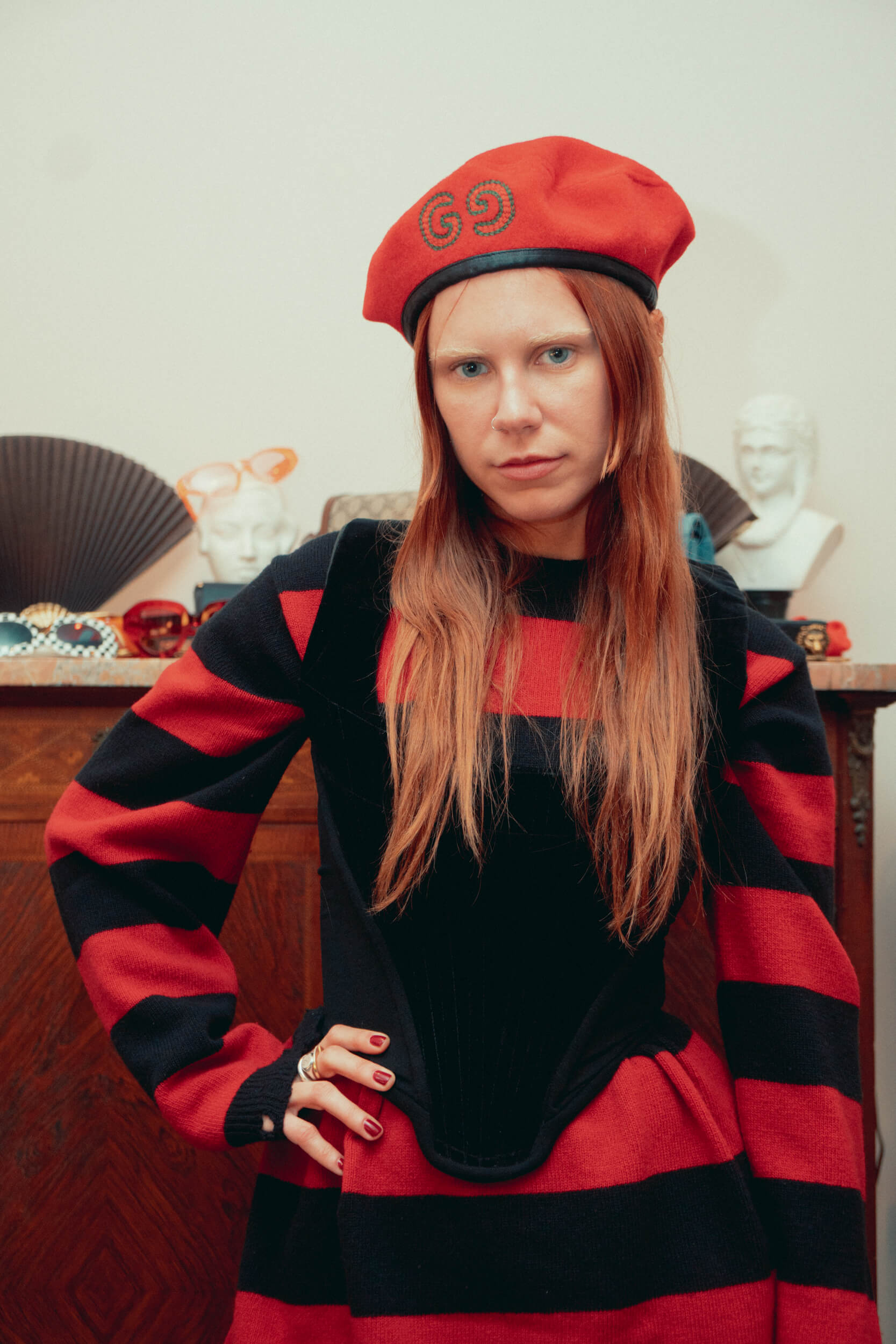 What are the 3 must-haves in your closet, instead?
I have a vintage Alaïa jacket from the 90s and it has pronounced shoulders, it's leather, it's very 80s and the leather is rough because it's worn, but it's my favorite piece in my wardrobe. I really love braids and headbands, I have really long hair and I'm holding off cutting it, because I'm having fun styling it, and now I feel like every woman is interested in fashion, or goes to fashion month, I feel like everyone is really into weird accessories, like gloves, leather gloves, hair accessories, it is not just shoes, bags or clothes anymore, it's much more.
When you guys walked up I was on my Farfetch's favorites that I have saved and I love Charlotte Chesnais, she's a sculptor and she has started out sculpting and now she has her jewelry line and her jewels look like sculptures. I love her jewelry, it's worth the price tag but it's not super expensive, it's like a little bit more and if I could buy all of her pieces I would.
And also a good Chanel bag.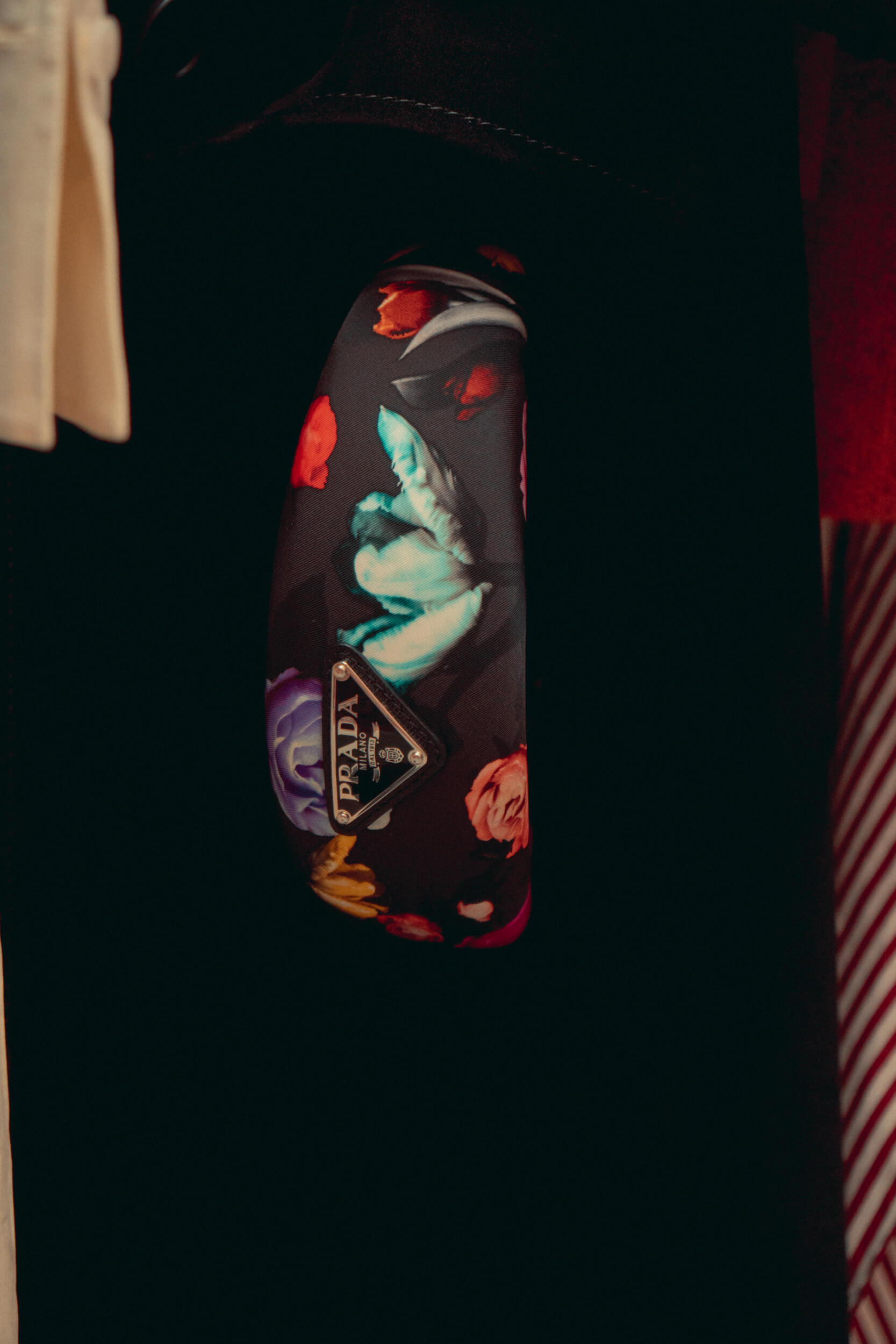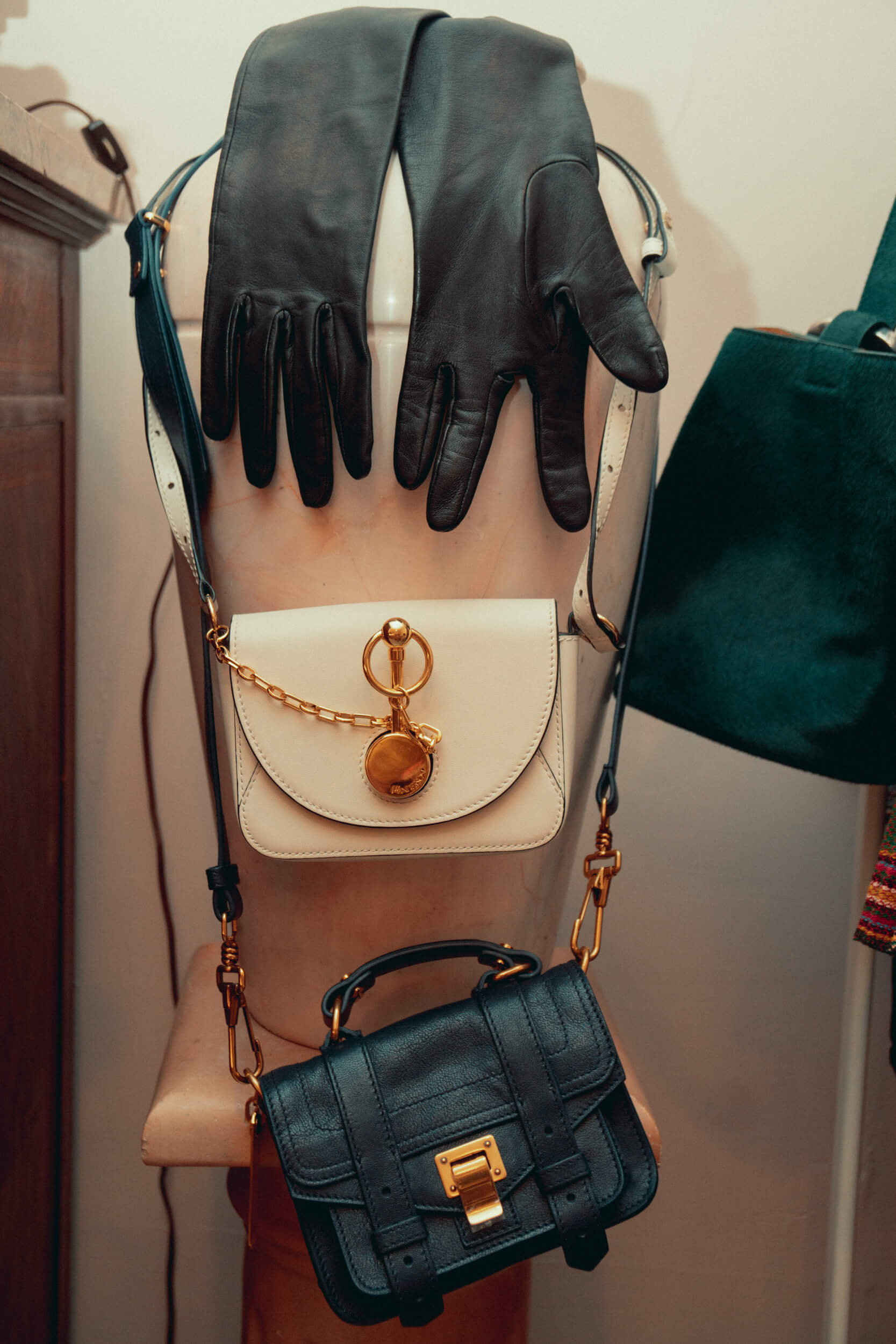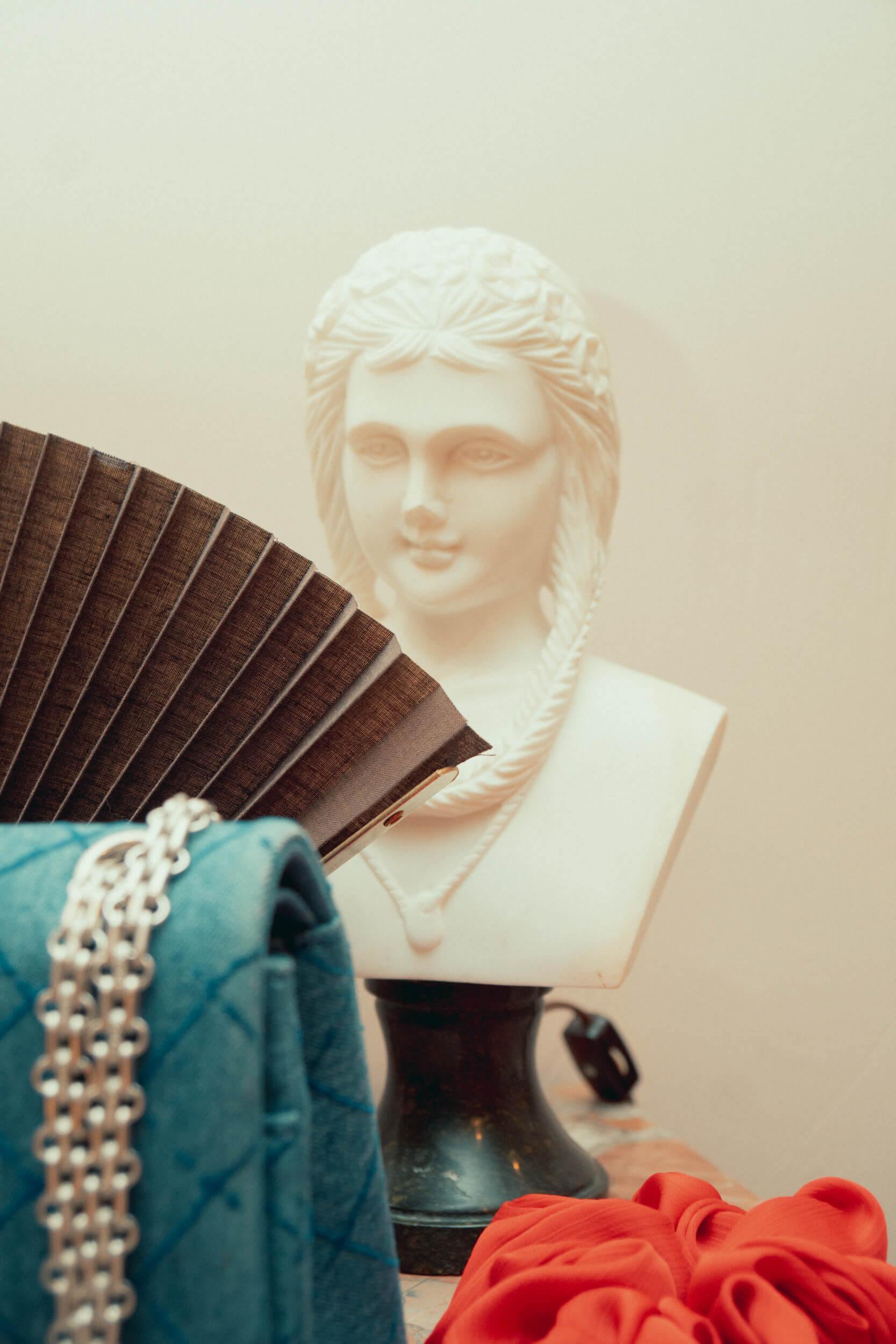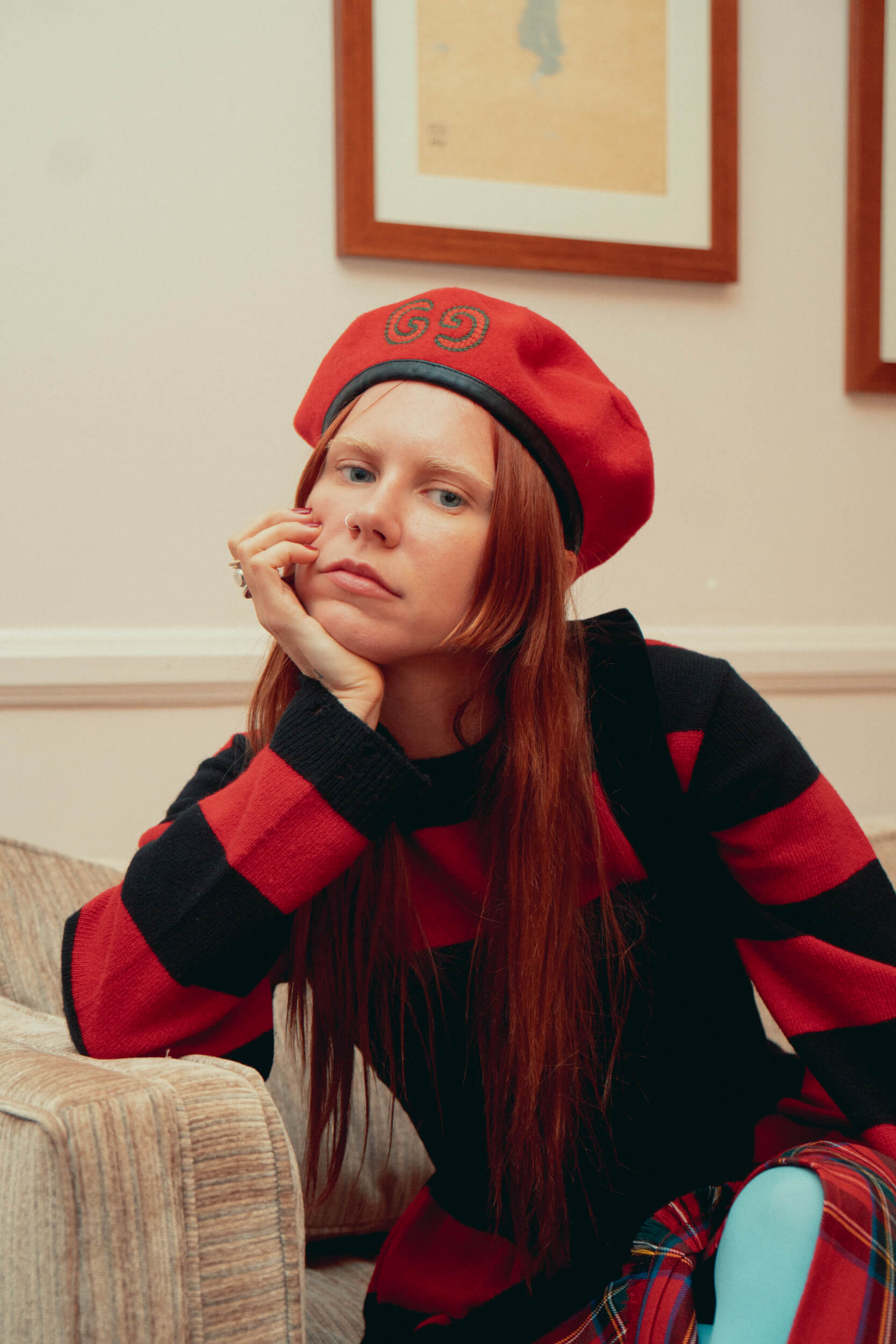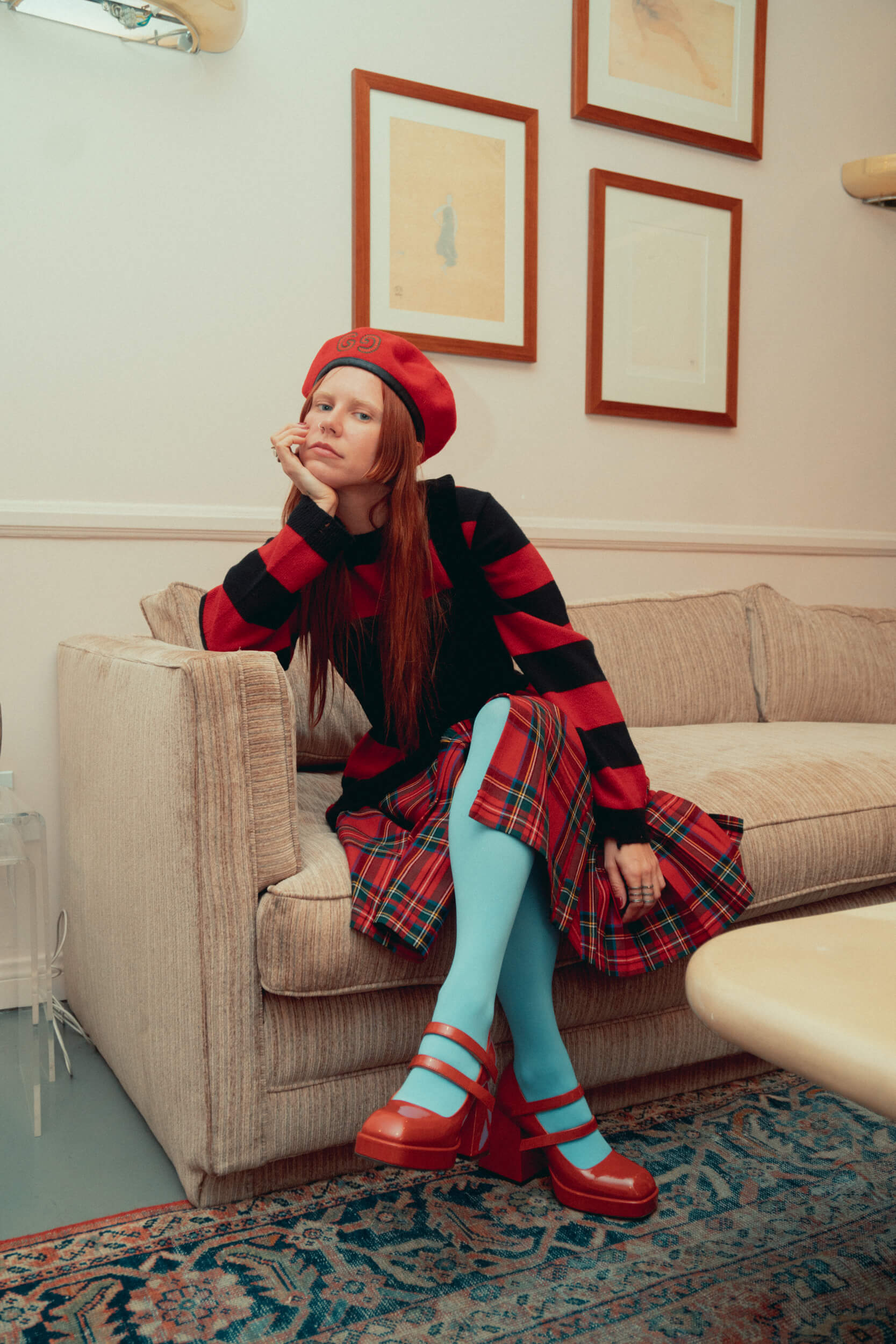 Would you say that Chanel is your favorite brand?
In term of bags it's my favorite brand.
Speaking about shoes instead, what are your favorites?
As I get older, I really like comfort. When I was younger, I definitely wore more stilettos, Manolos, and when I first moved to LA I had a bunch of Louis Vuittons, but as I get older, I really like comfort, and some high heels. It's overwhelming when I go to an event like a concert and I'm so short, because everyone is always taller than me, so it's nice to have a little bit of high on me.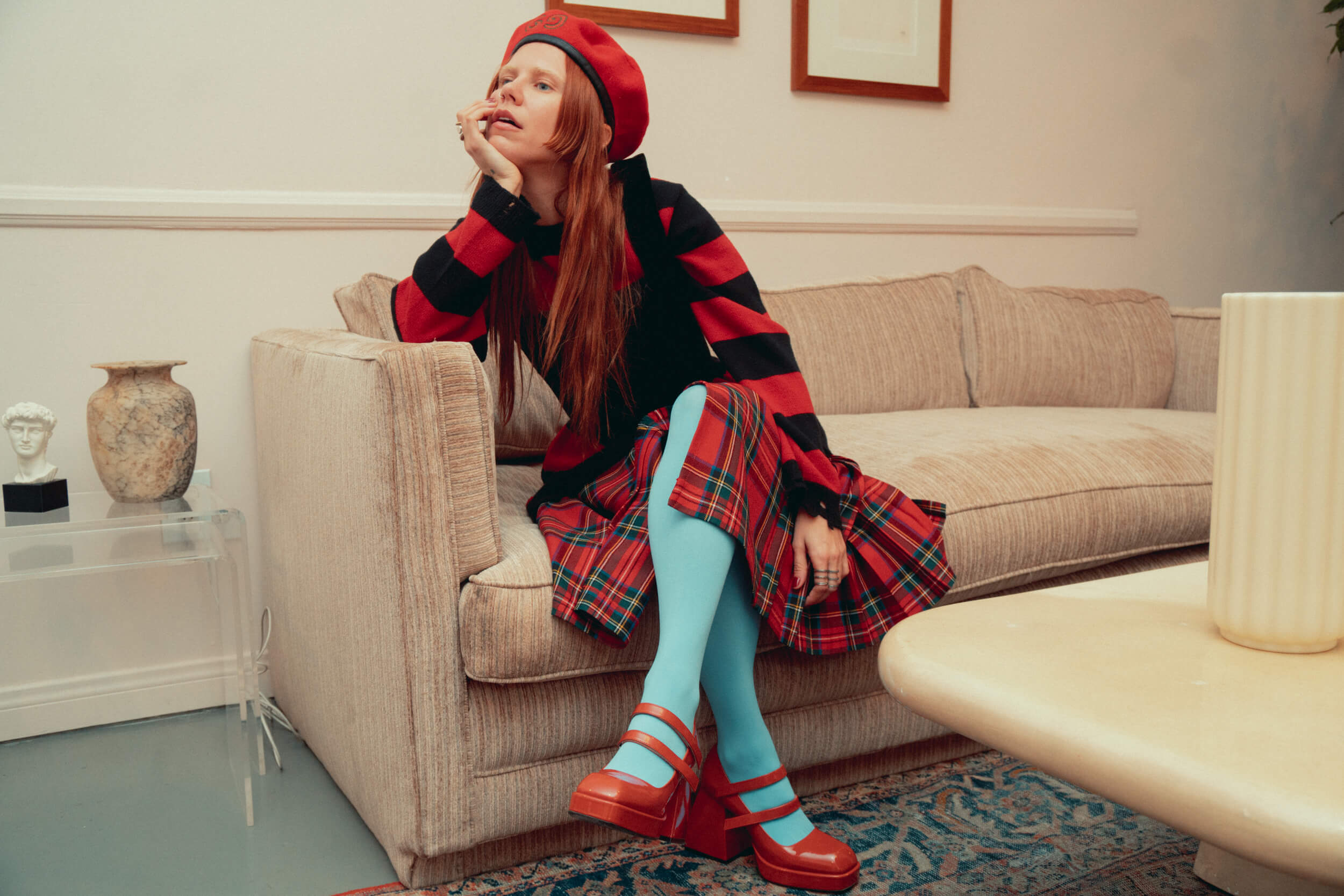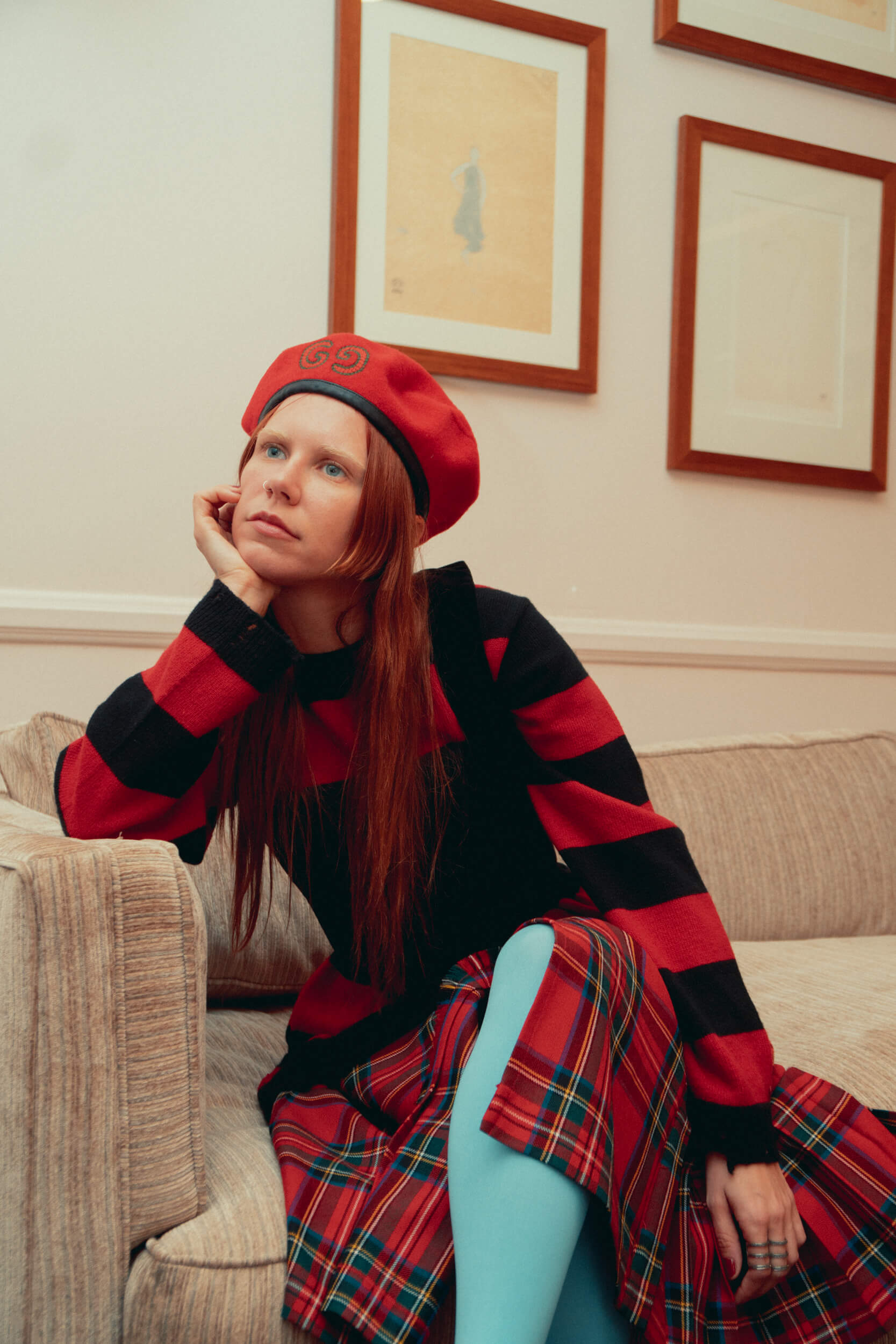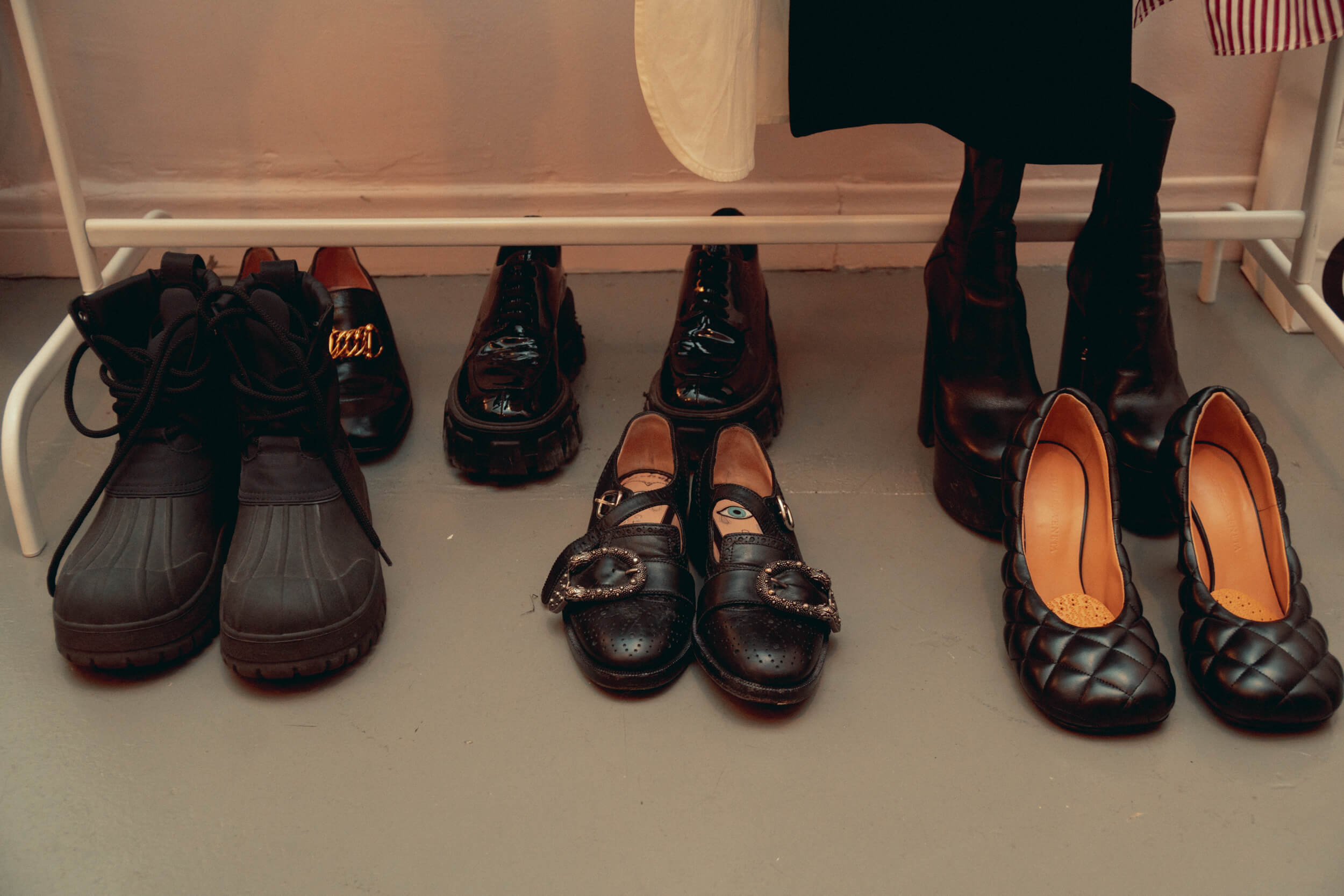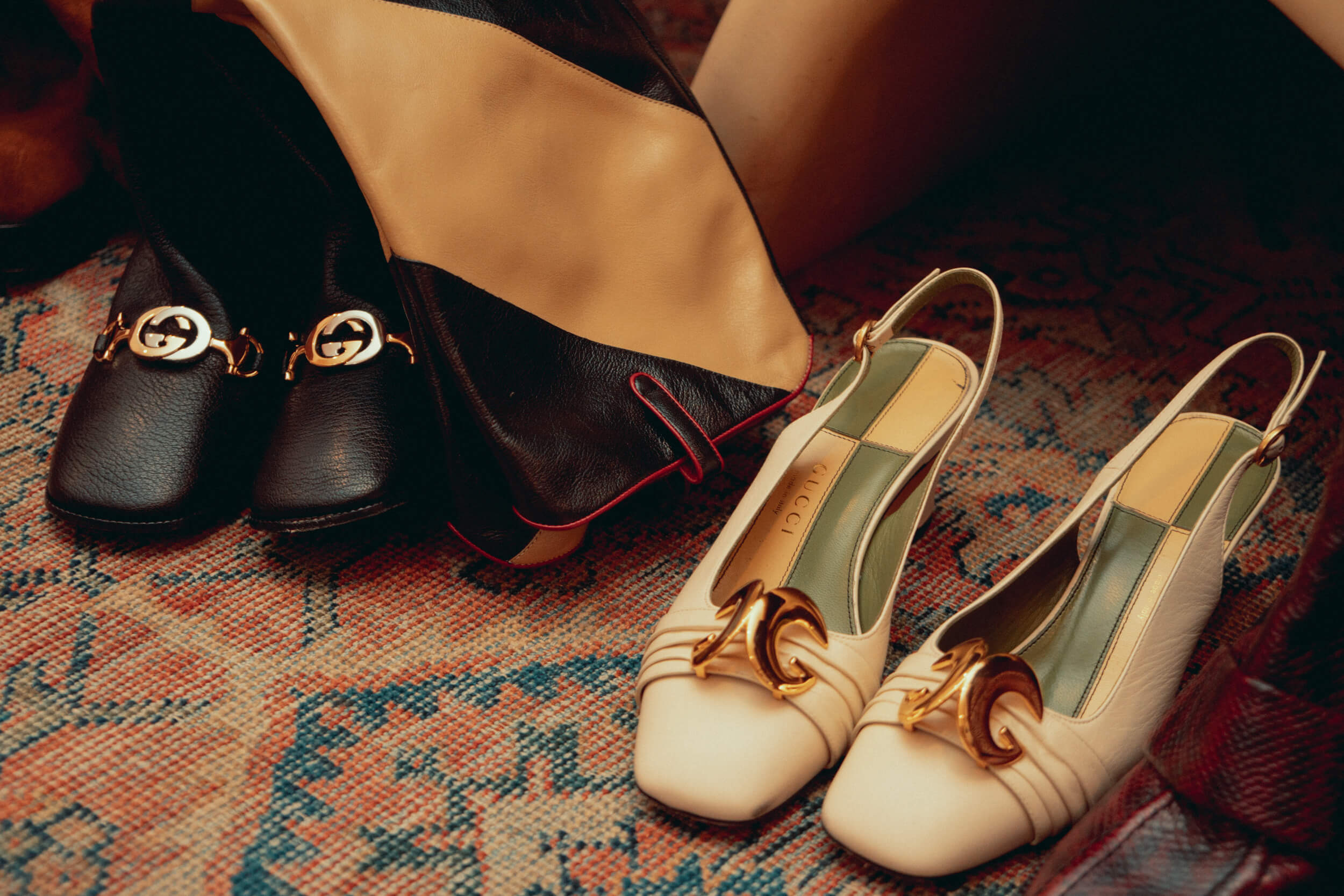 "IT'S NICE TO HAVE A LITTLE BIT OF HIGH ON ME."
Have you ever had a fashion epic fail or related to your closet?
My first walking photos that are online, with my coffee and stuff, those are my epic fails. (laughs) It's funny because I've actually started my blog quite later in life, later than a lot of the young women and men that are doing it now. I started when I was 26 and I had a very extensive fashion background when I started, I've worked since I was 15 and I've got many internships in New York. Here, I worked for Intermix, Saks, Anthropologie, I run a small boutique on Robertson (Boulevard) for a while, I worked for Reformation when it was on 3rd Street before it moved to a larger location, I was a buyer for a start-up company that sold off-price, like at the end of the season I would hit up all the brands and be like: "What do you have?", I worked for a showroom that sold Camila, House of Harlow back in 2010. I've really worked in fashion, I did it all. When I started my blog, I had already done all that stuff and now when I go to shops, I understand that the buyers need to be there to place the order and I understand how you fill out purchase orders, because I worked in a showroom for a long time, it's like a ecosystem and I understand how a couple of things work.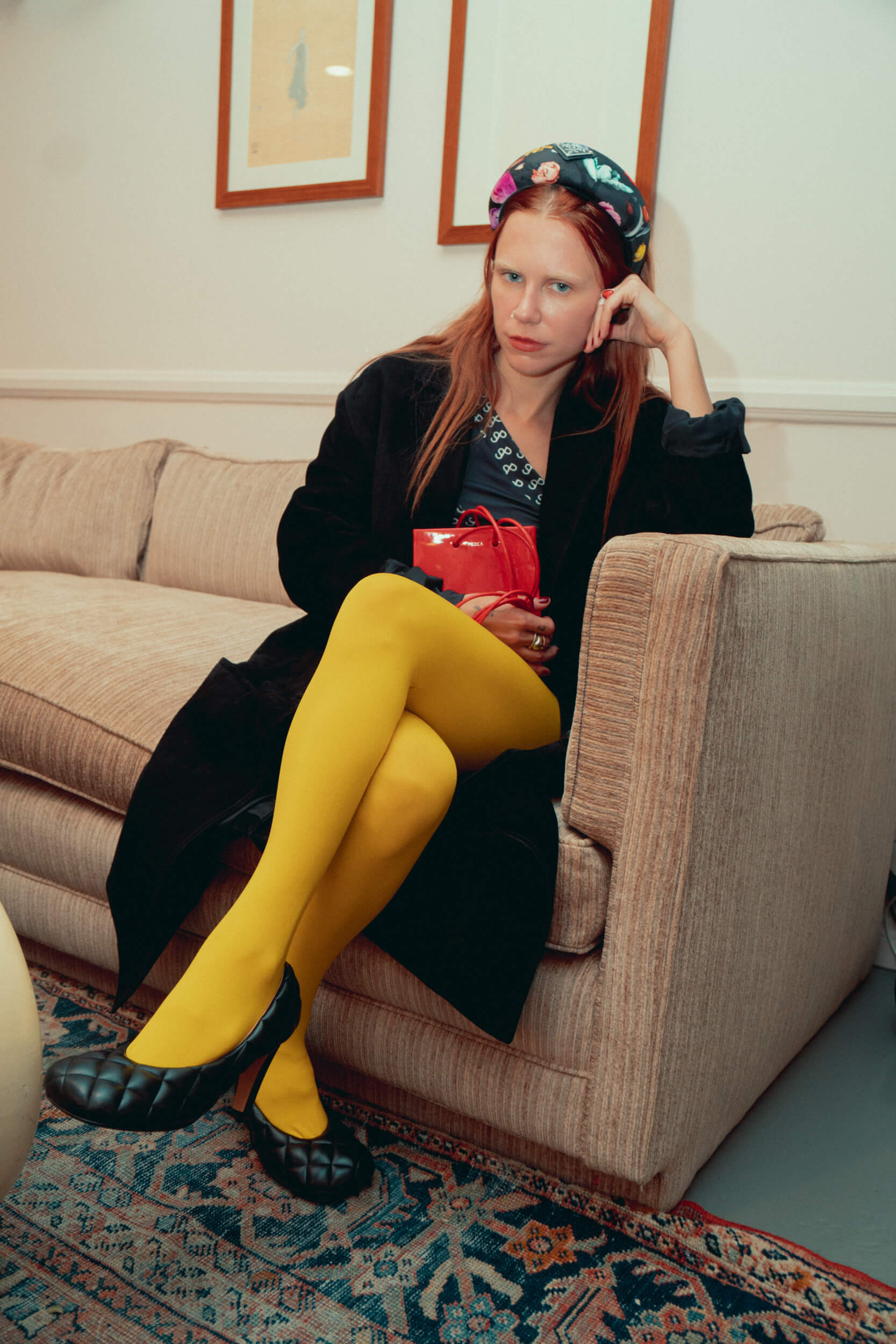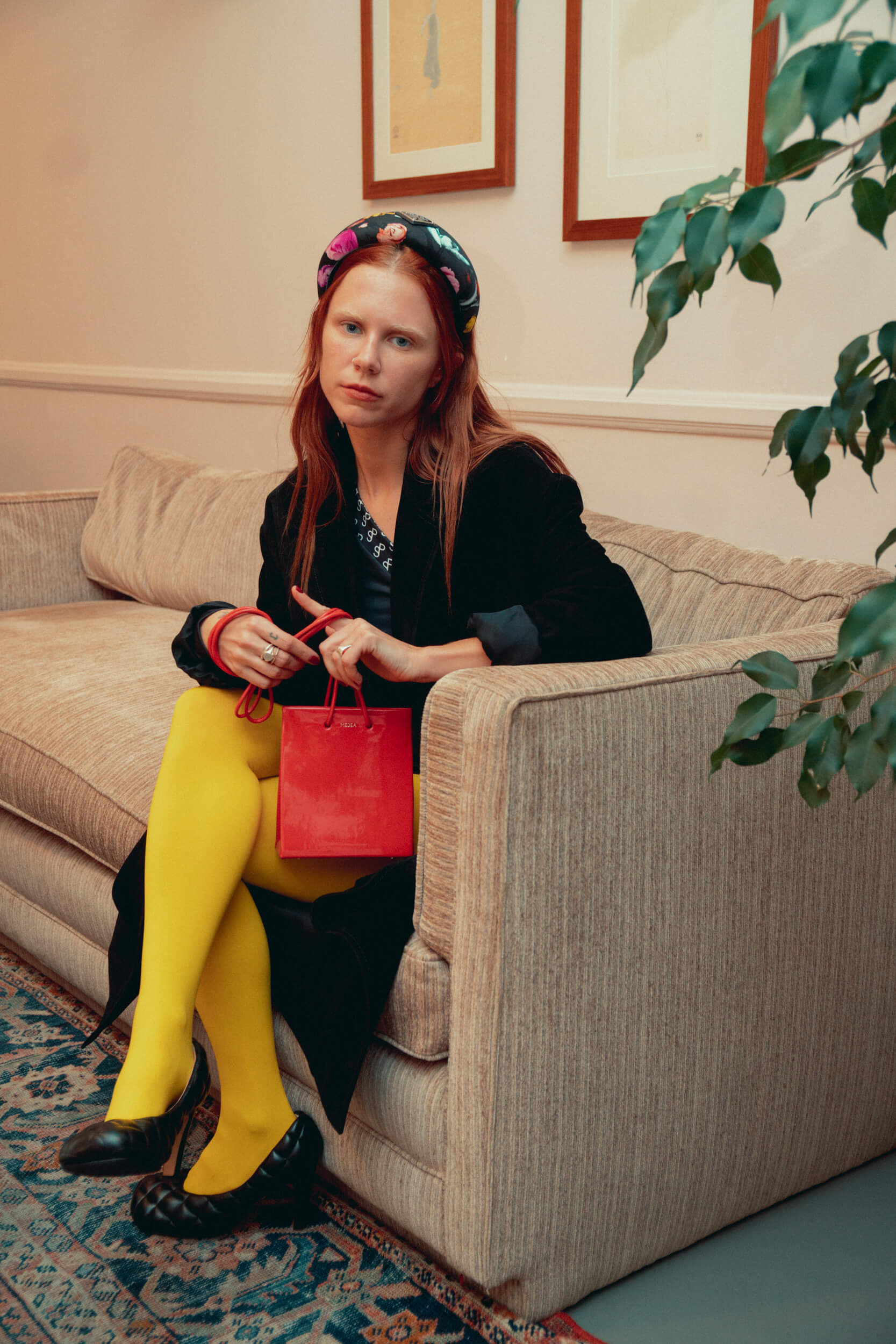 "It's funny because I've actually started my blog quite later in life, later than a lot of the young women and men that are doing it now…"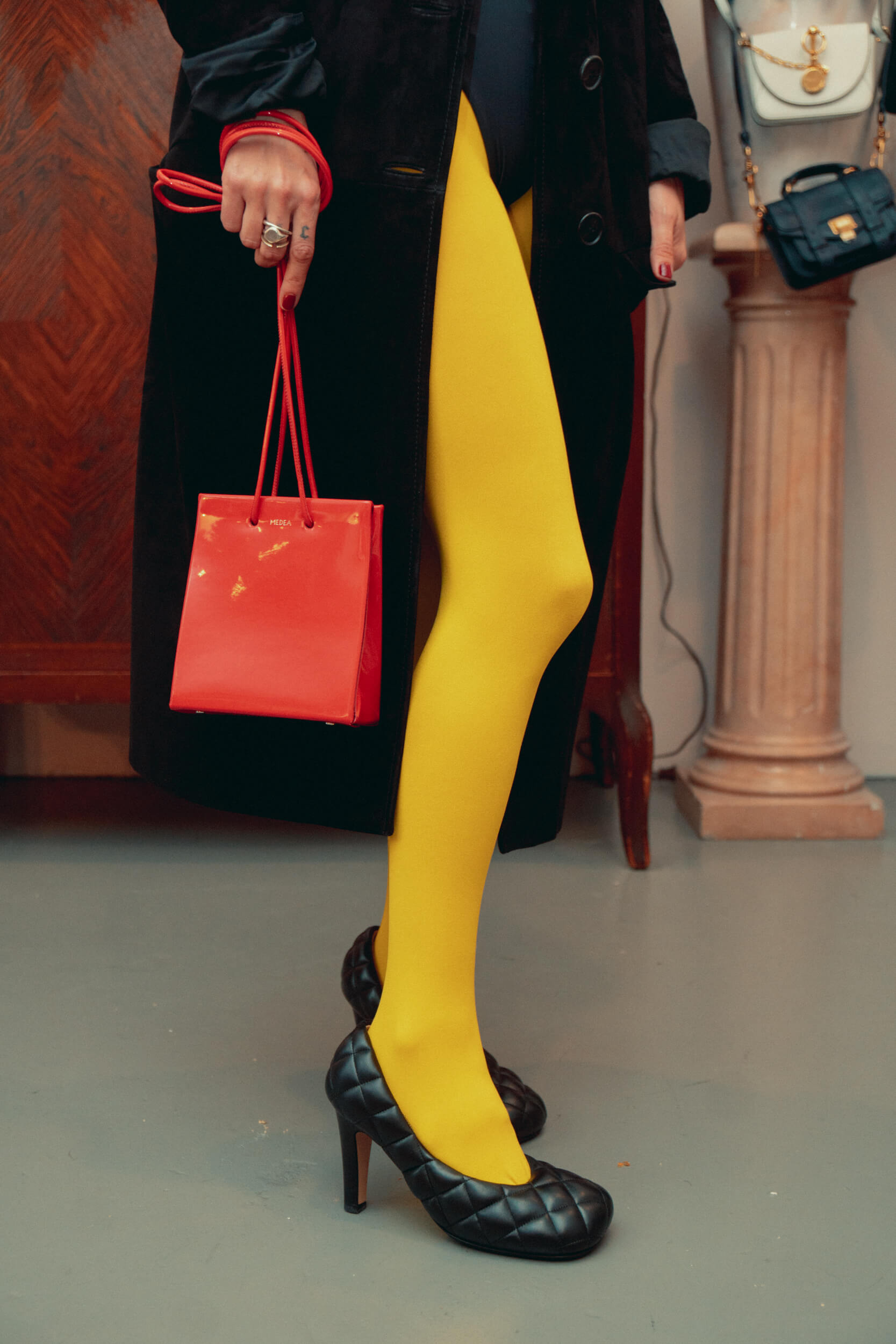 "…I started when I was 26 and I had a very extensive fashion background when I started."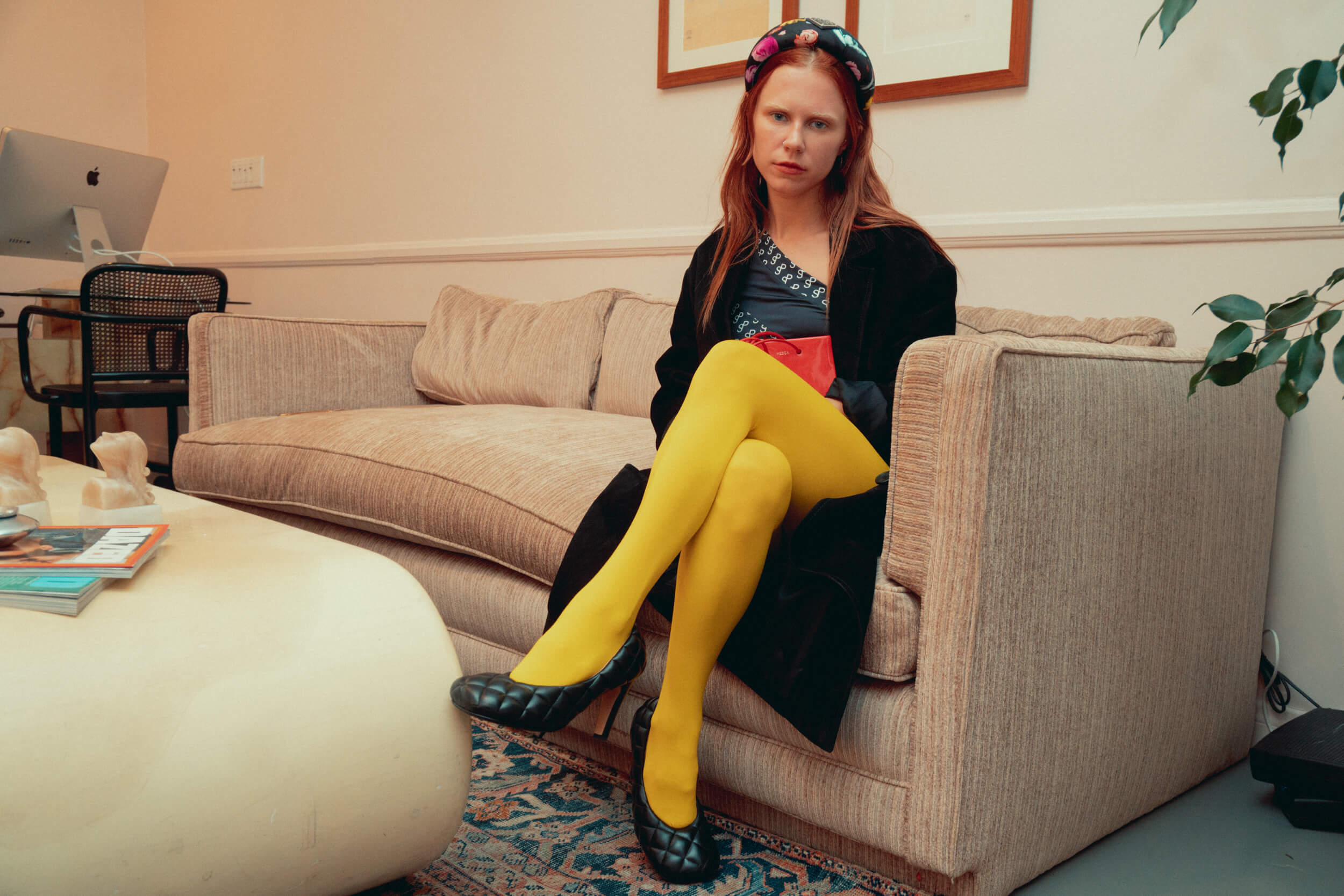 And now social media are a big thing…
I don't update my blog anymore. Honestly, I hate to admit this, but I don't even go on my computer that much anymore, because it's heavy and you have to log it around. In Los Angeles, if I write an interview and I need to focus, to write, or to source things, then I'm on my computer, but I don't look at anything, if I sit down to do a mood board on my computer, I think "what am I going to do now?" because on my phone I have all these folders and I have all of them organized.
Related to this, how did your aesthetic change over the years?
My style is always changing. I know that I'm not overly feminine or super girly,  I know that I have a little bit more masculine or grungy point of view, but I leave it open-ended, I do feel like the most comfortable in there is a little rough around the edges, like something grungy. I don't wear a lot of makeup, and when I do my makeup I do a cold eye and I literally rub it on my fingers, I don't like to look like it's all put together.
When I feel more punk, grungy, I feel the most comfortable.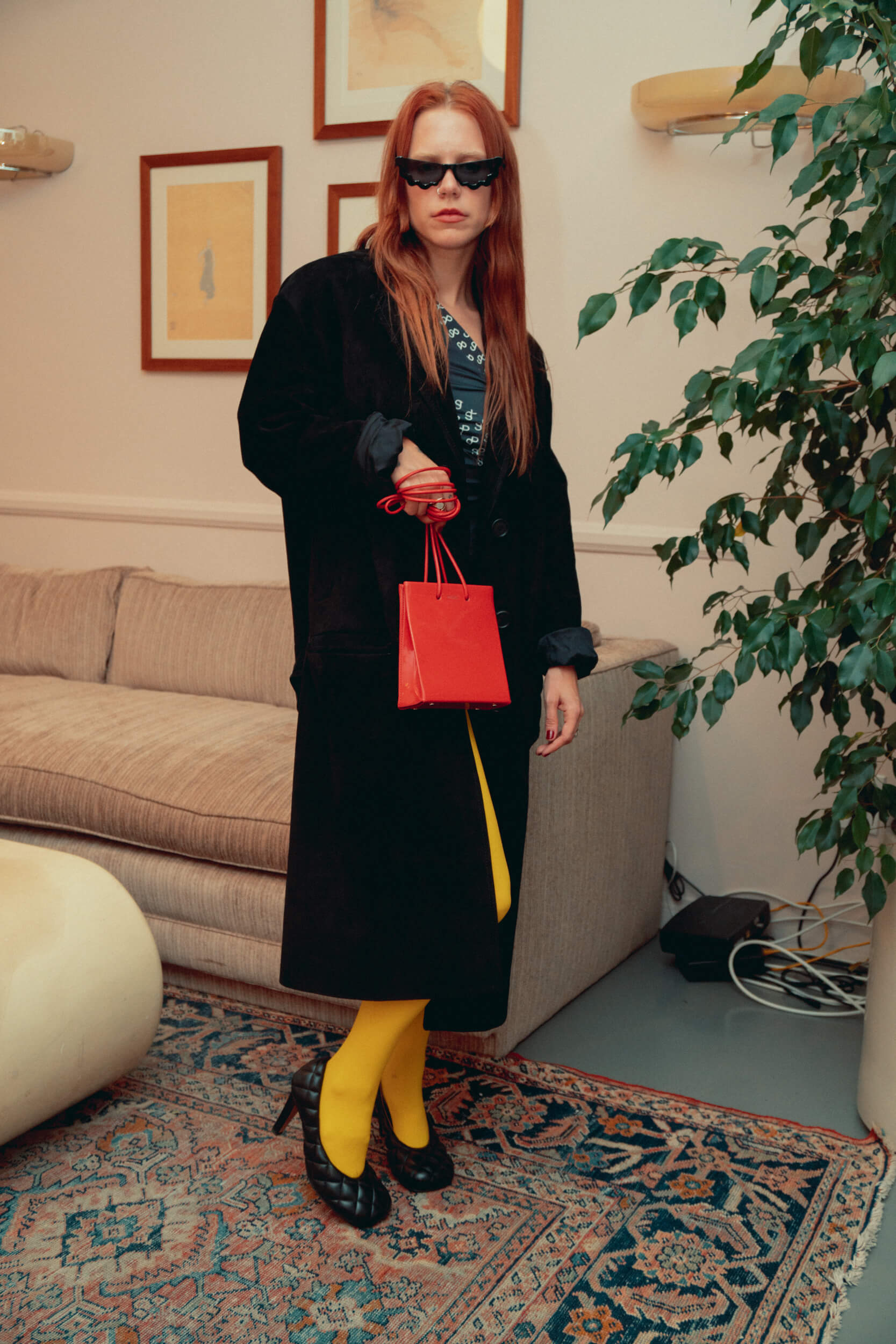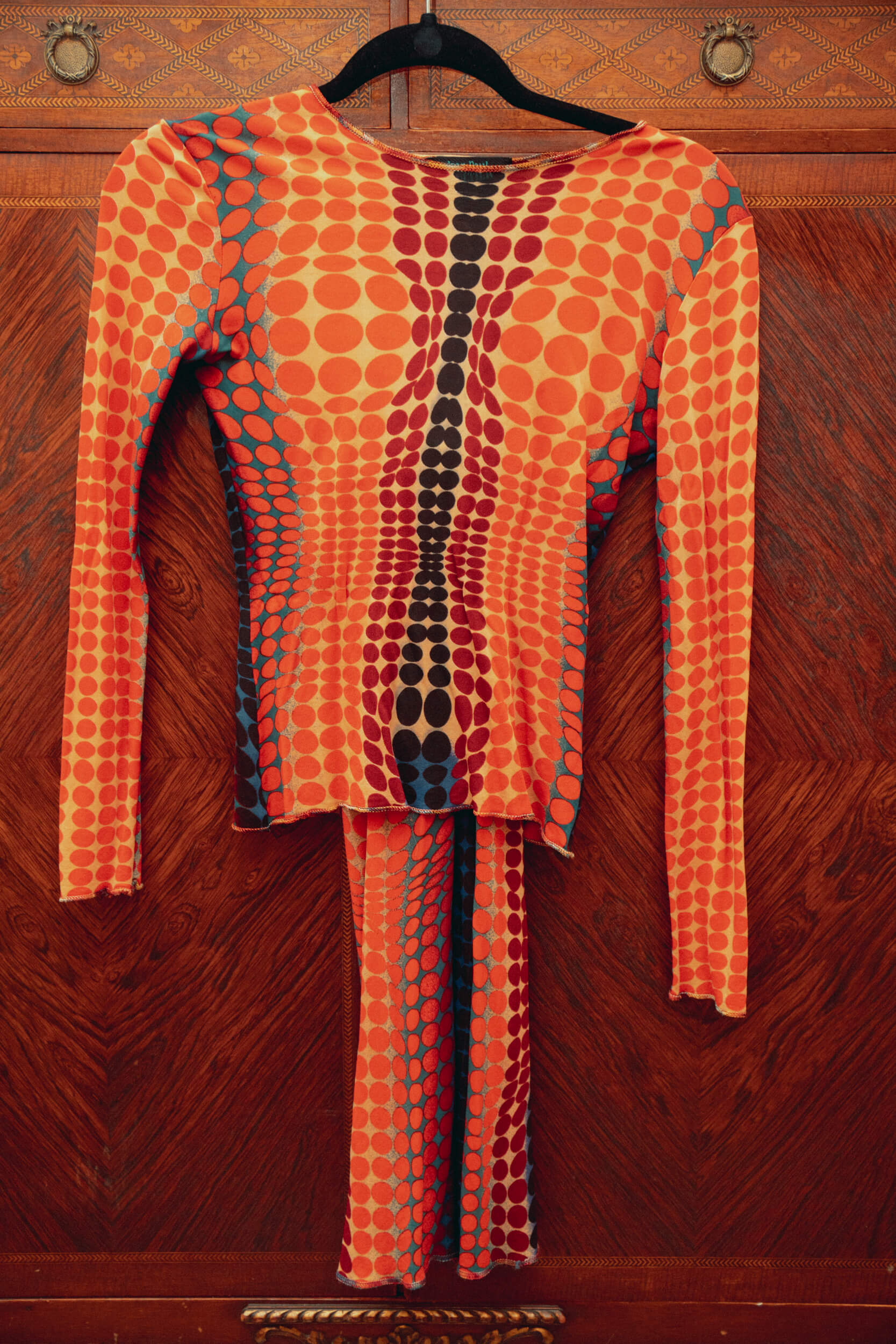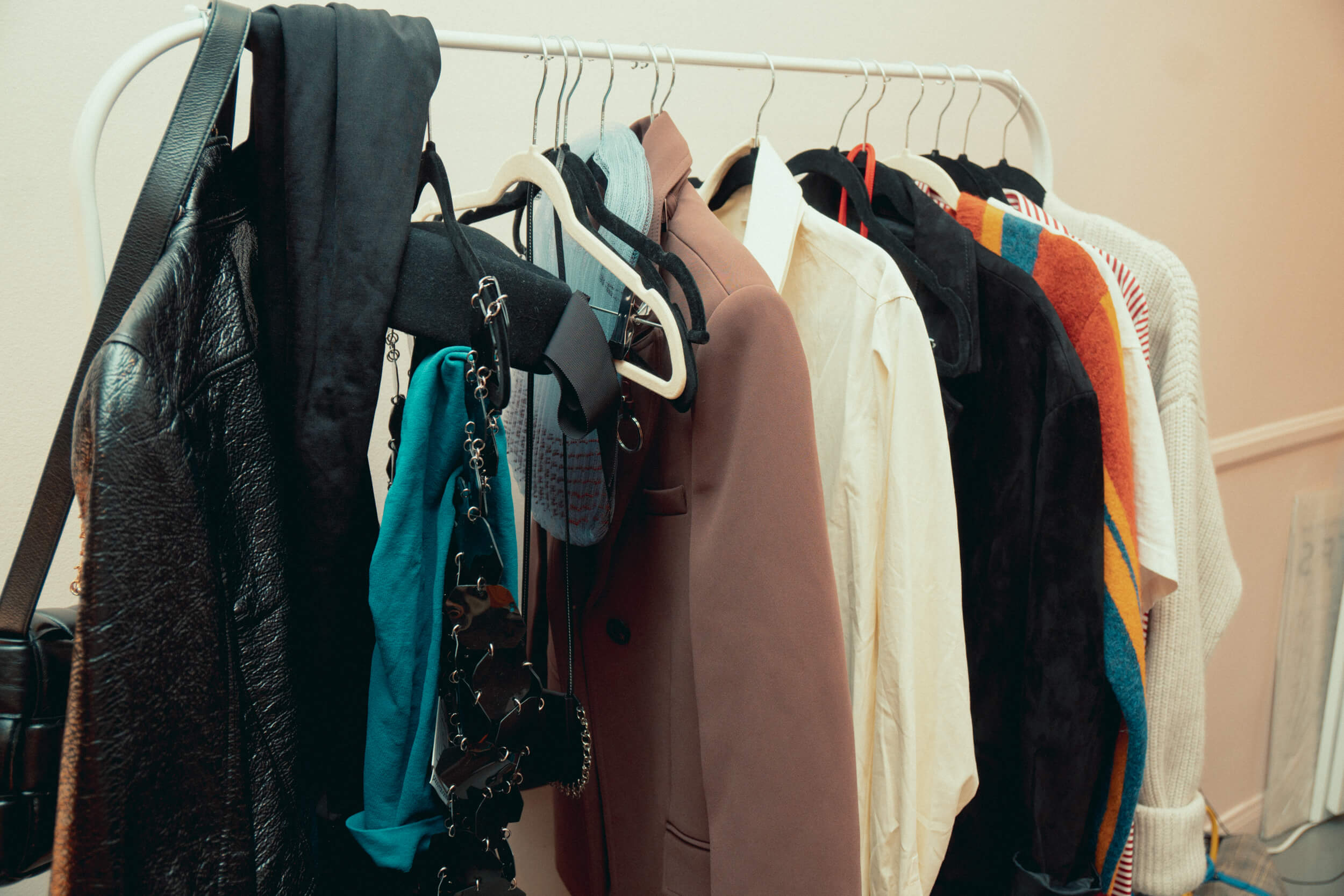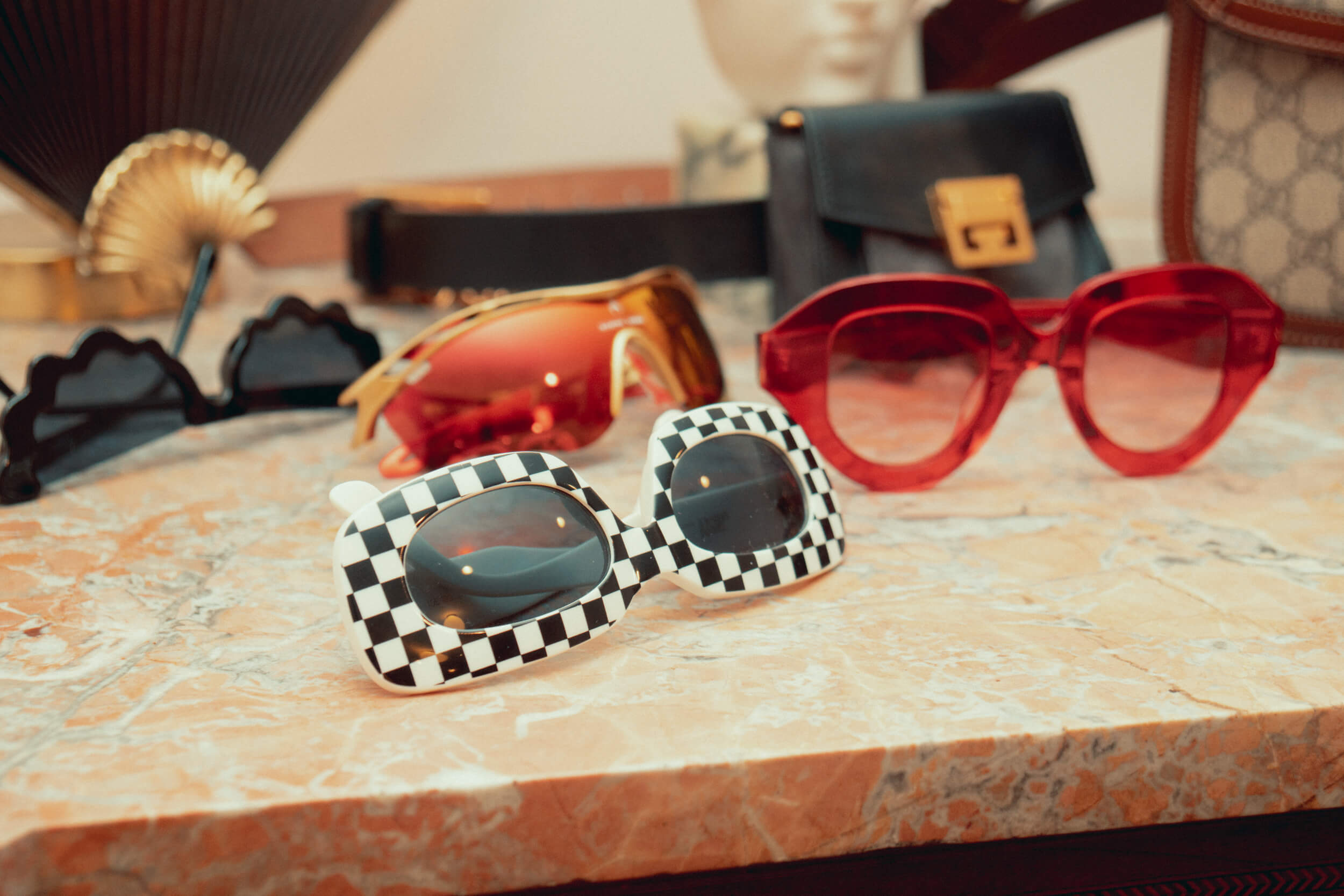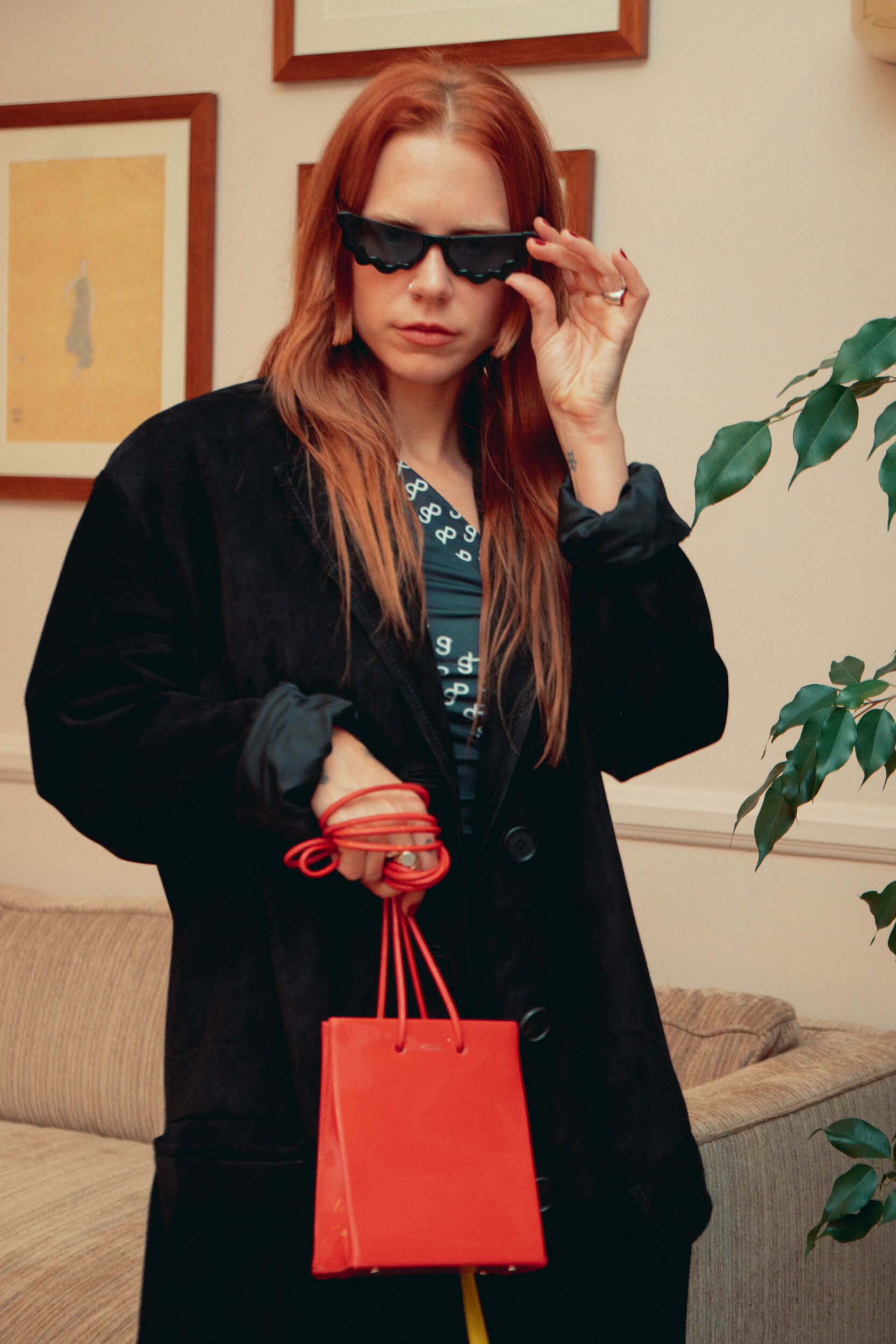 What's the piece of clothing that should deserve a closet of its own?
My corset. When I travel with it in my hand, in a bag, on the plane, I get nervous. I've packed it a few times, but when I first got it, and still now, I get nervous, because sometimes my bags are too packed, and it's been refurbished, so it's like a car, it's in really good conditions, but it's also very delicate and old, it's from the '90s.
If you could wear just one brand from now on, who would you choose and why?
First off, it would be just some vintage. It happens so many times that I pack my suitcases and it's literally all vintage, but one brand… I really would feel comfortable by wearing The Row, but the gothic/punk side of me would say Gucci.
What is that you have too much of in your closet?
Everything (laughs). I guess I have a lot of sets, I love clothes, they make me really excited and I'm not ashamed about it. I found how to express myself by wearing a certain style.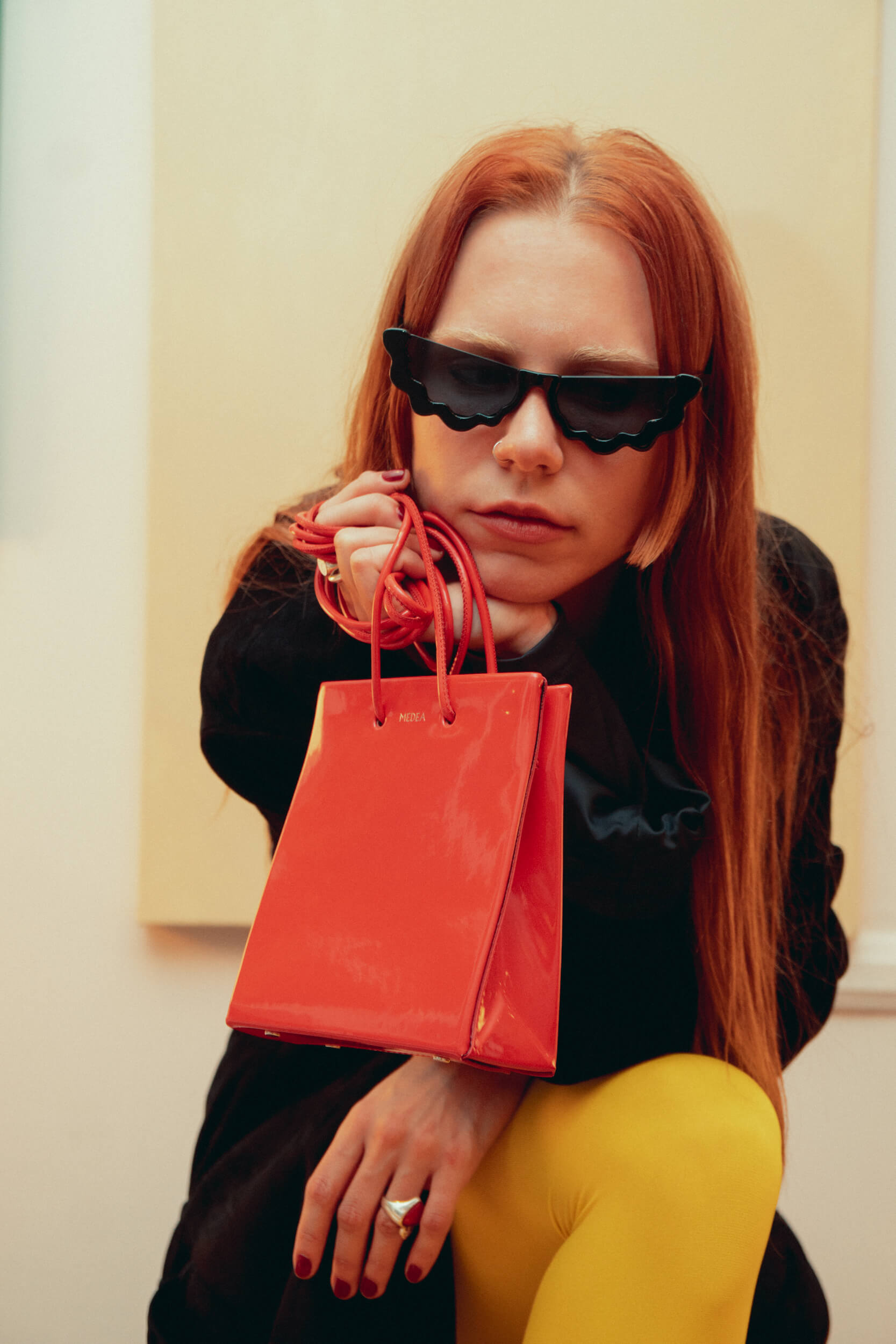 "I found how to express myself by wearing a certain style."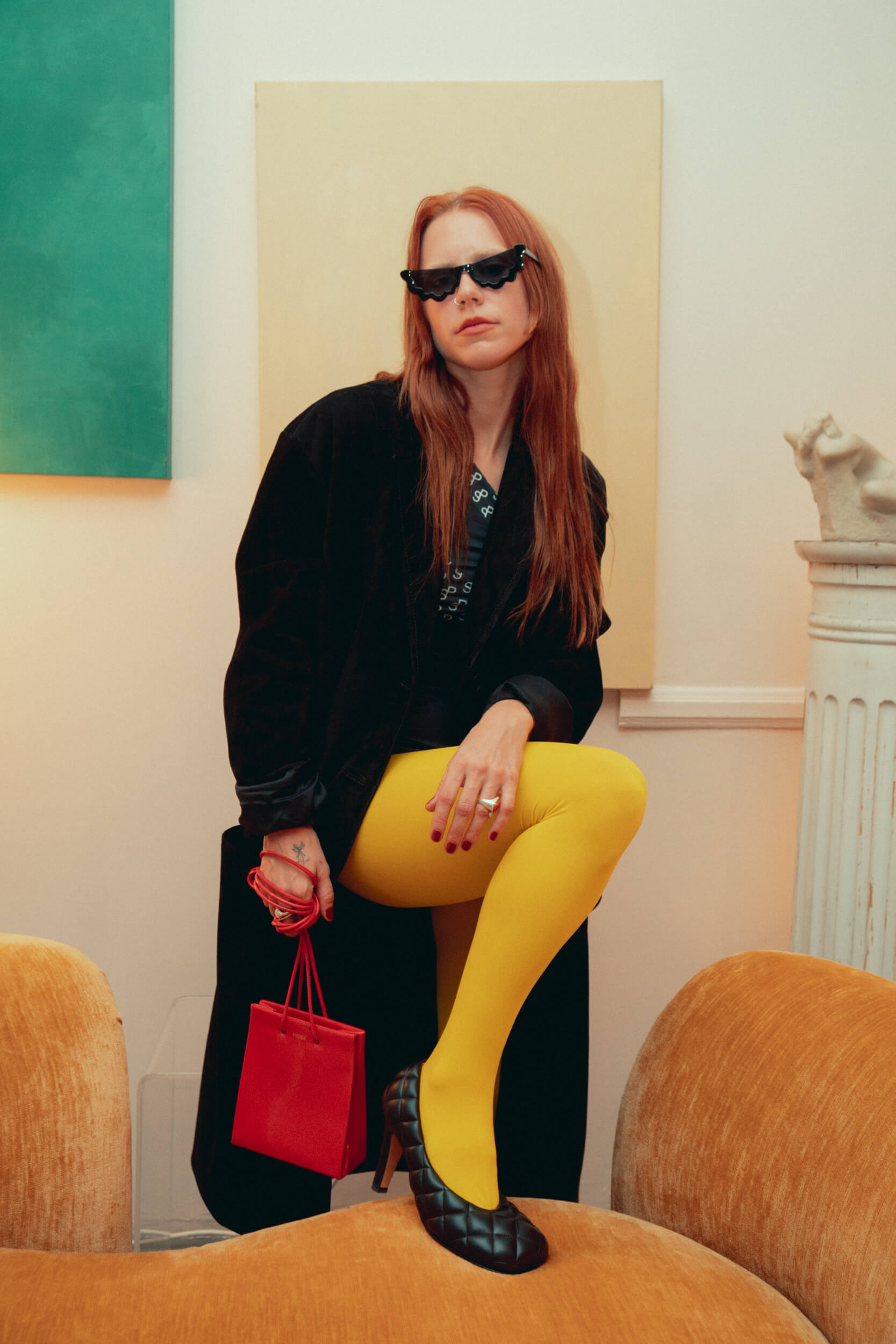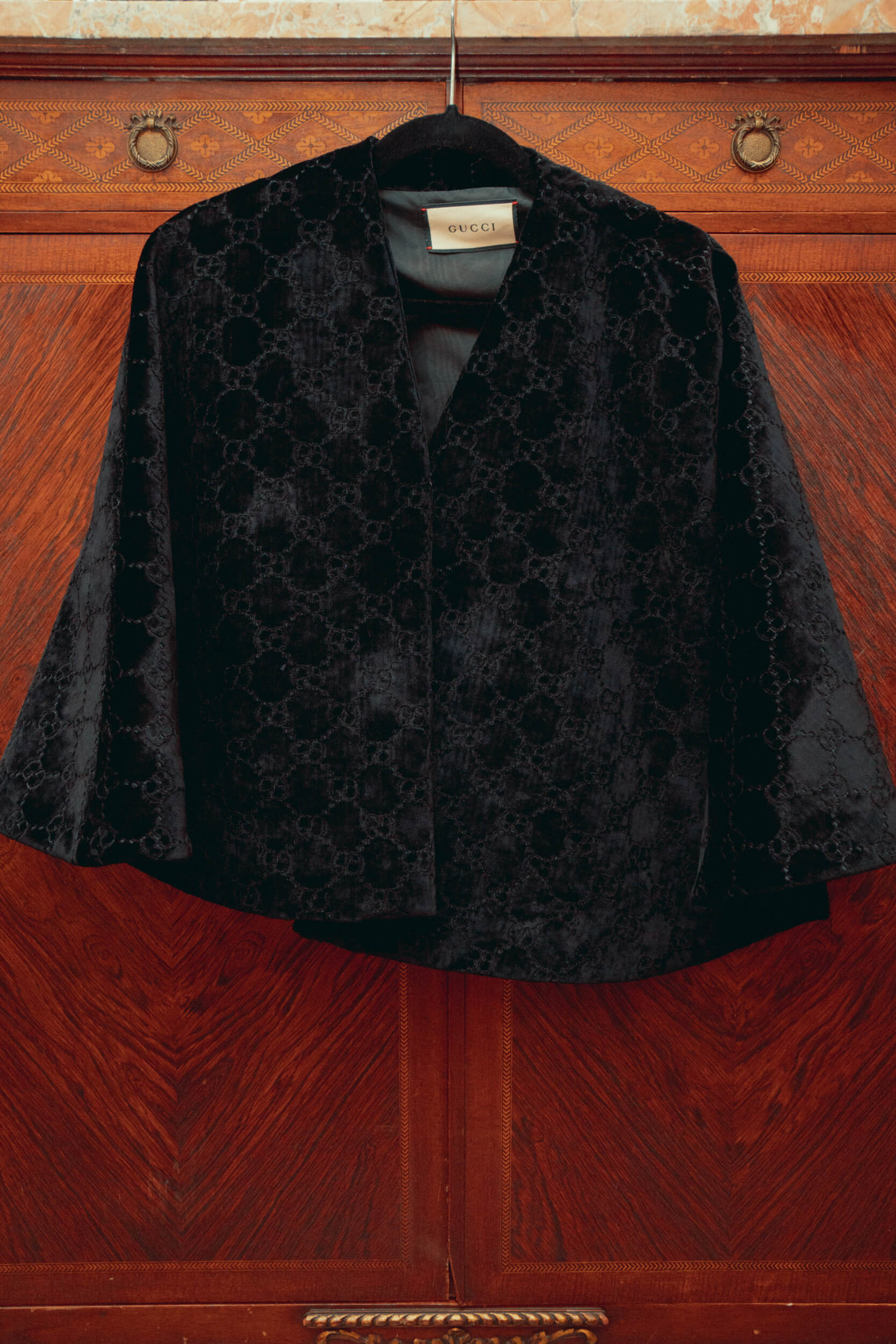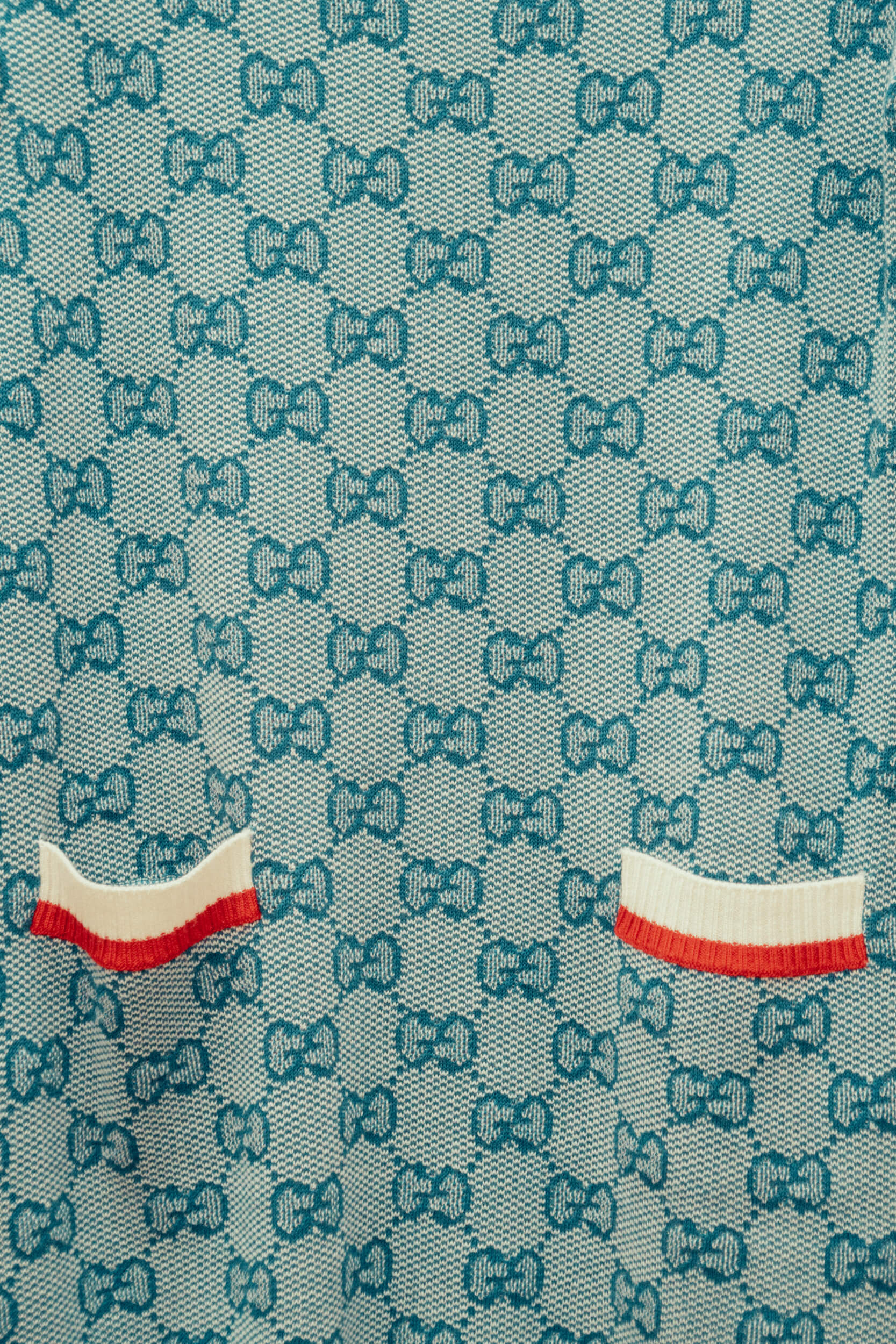 "I love clothes, they make me really excited and I'm not ashamed about it."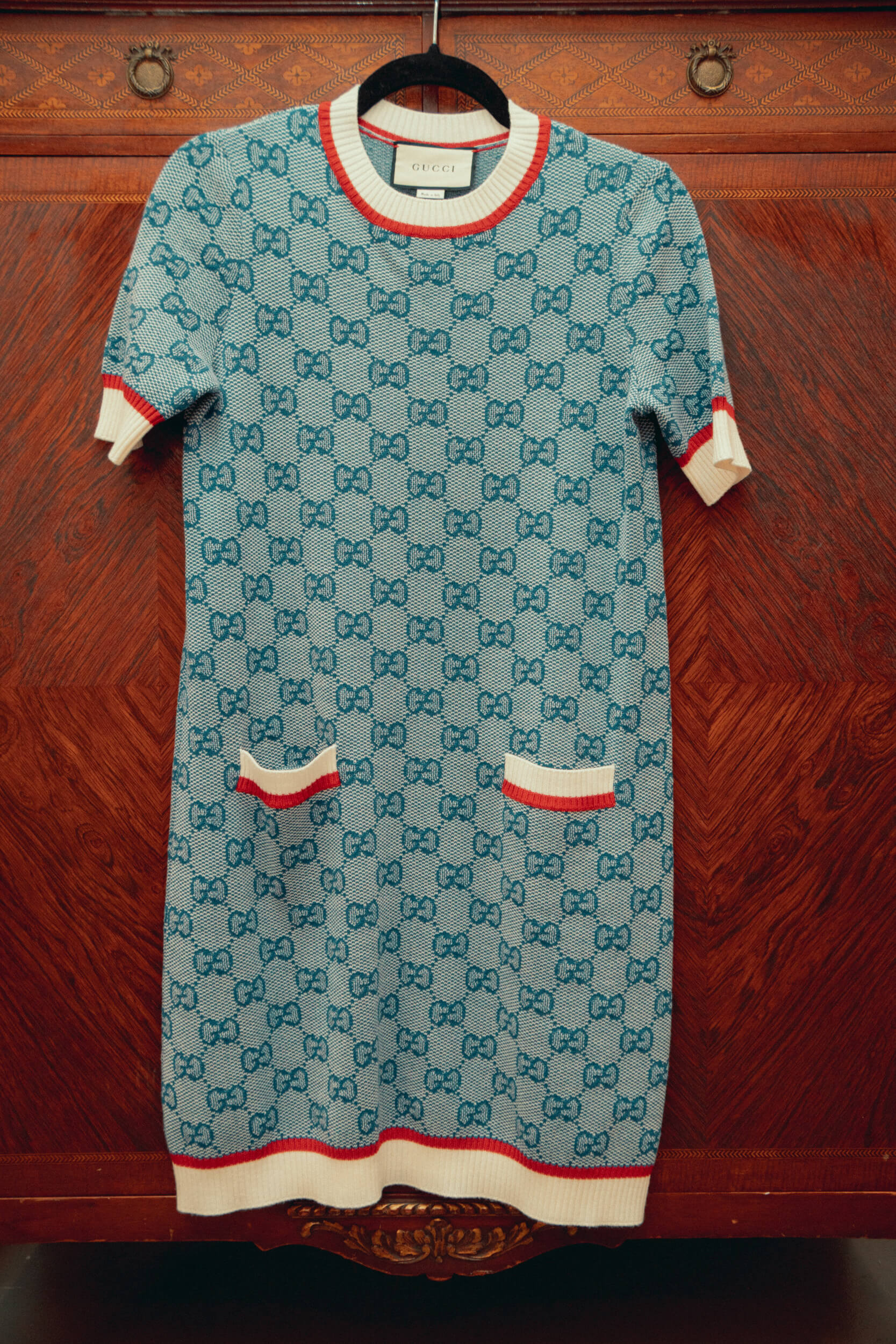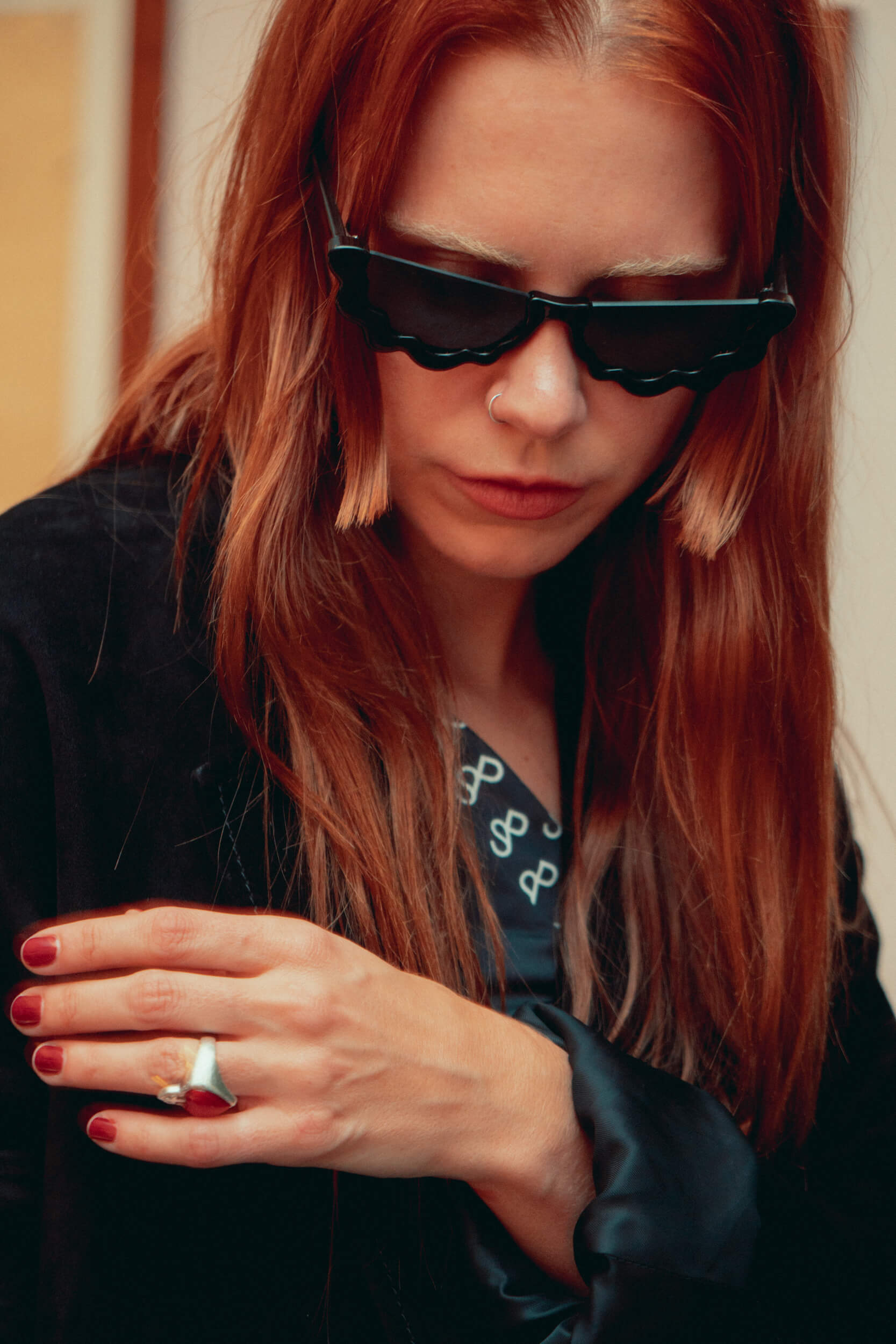 Do you prefer color block or black?
Black.
How often do you reorganize your closet?
A lot, like every week. I know where everything is at all times, in my head I can see where everything is right now, and if something moves I freak out. I always say that if my home is a mess, my brain is a mess, everything has a home in my home and it's always on its place.
What's at the top of your fashion wish list right now?
We were just looking at it (laughs). Let me think… I love Laer, I wear all my Laer stuff all the time, it's really good quality and the cuts are really beautiful, and I do think it could be a little bit punk. It could be quite grungy, it depends, they have a bunch of different canonic customers. There are two Laer jackets, the one I wore at the show and this other blazer that I've saved on Farfetch, I have a credit from a job I did for Farfetch and I want to buy it.
What world would you use to describe your closet?
Overwhelming. I'm going to re-do it hopefully this winter before I go to holidays, back to where I'm from.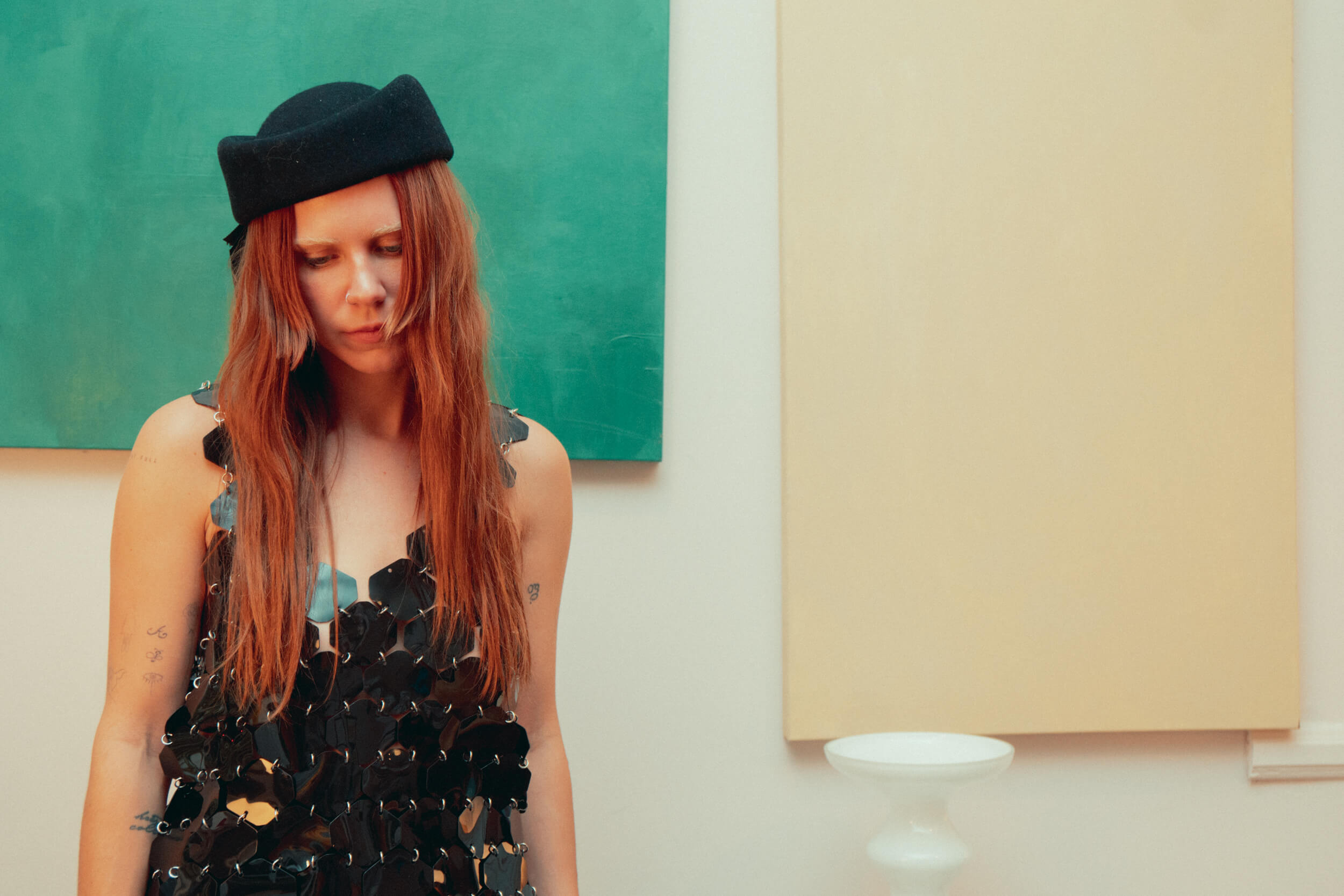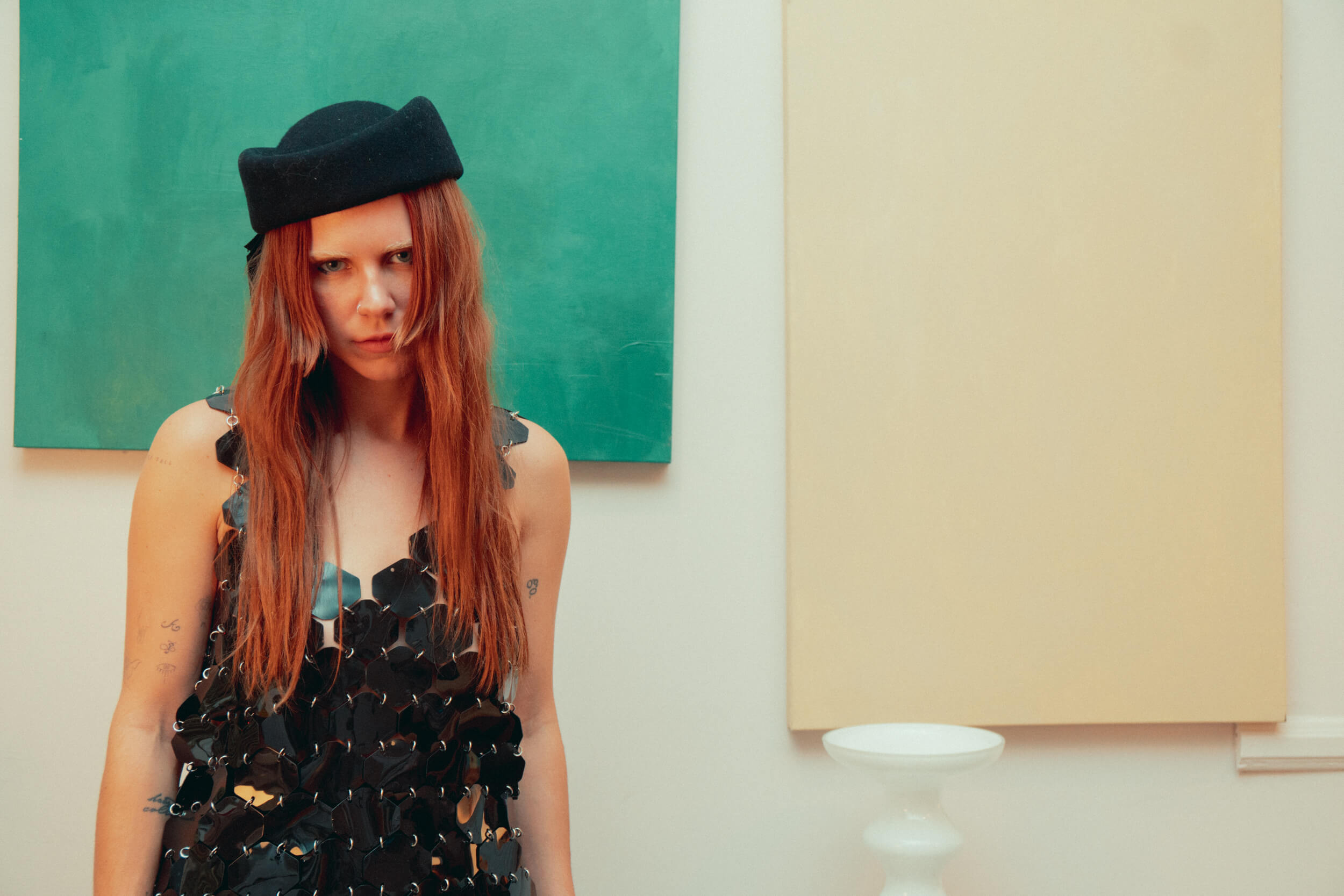 "Everything has a home in my home and it's always on its place."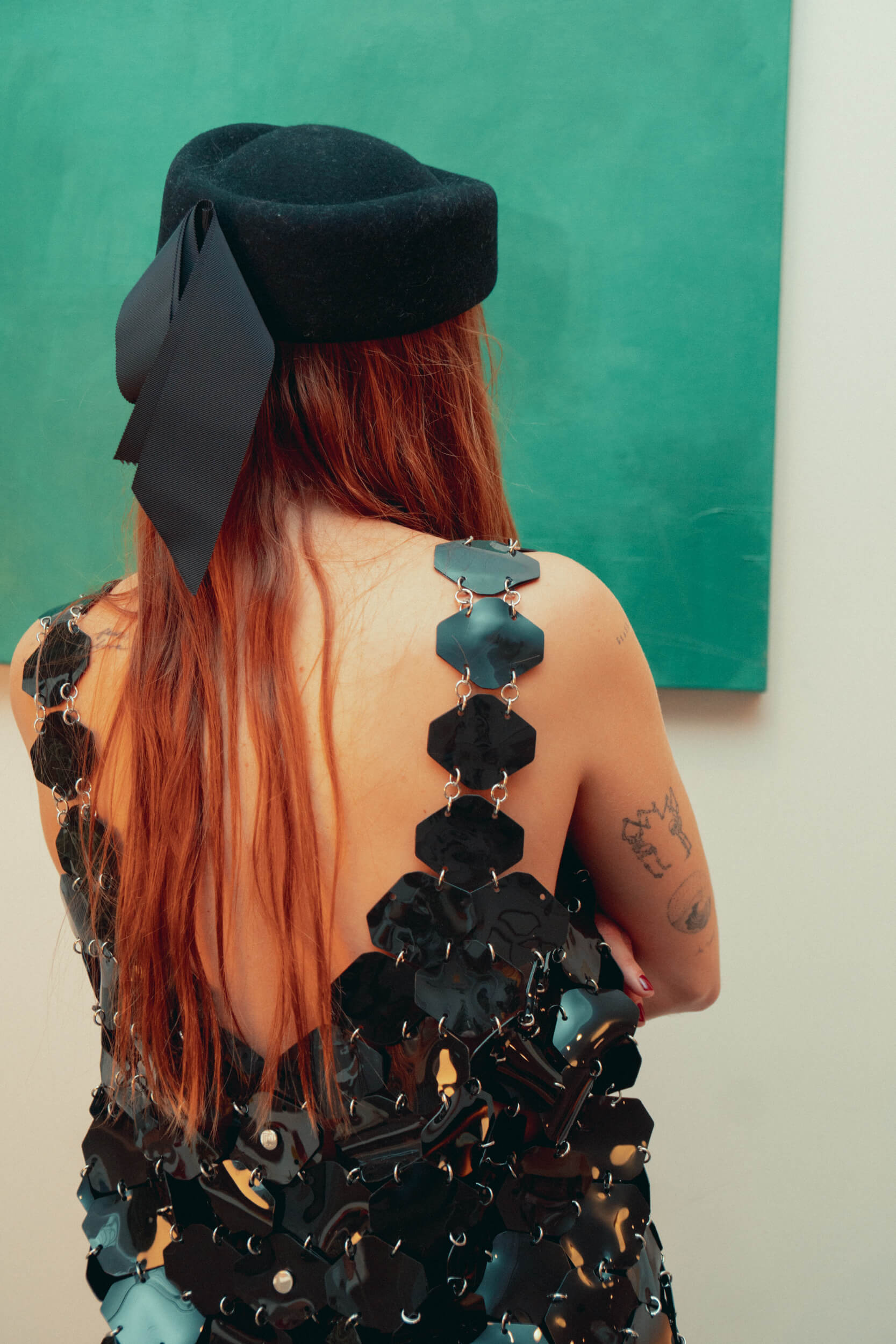 Let's talk about music: what's your go to song?
It changes so much. The song that I play when I wake up in the morning
,
that makes me feel really good
,
it's called "Marilyn" and it's by
Mount Kimbie, that's my favorite morning song.
What would it be in your opinion a perfect playlist or cd or singer to dress up to?
I like '80s music and it's perfect to dress up before going out. If I could live in a decade when I would be coherent and not being a baby
,
I would go for the '80s.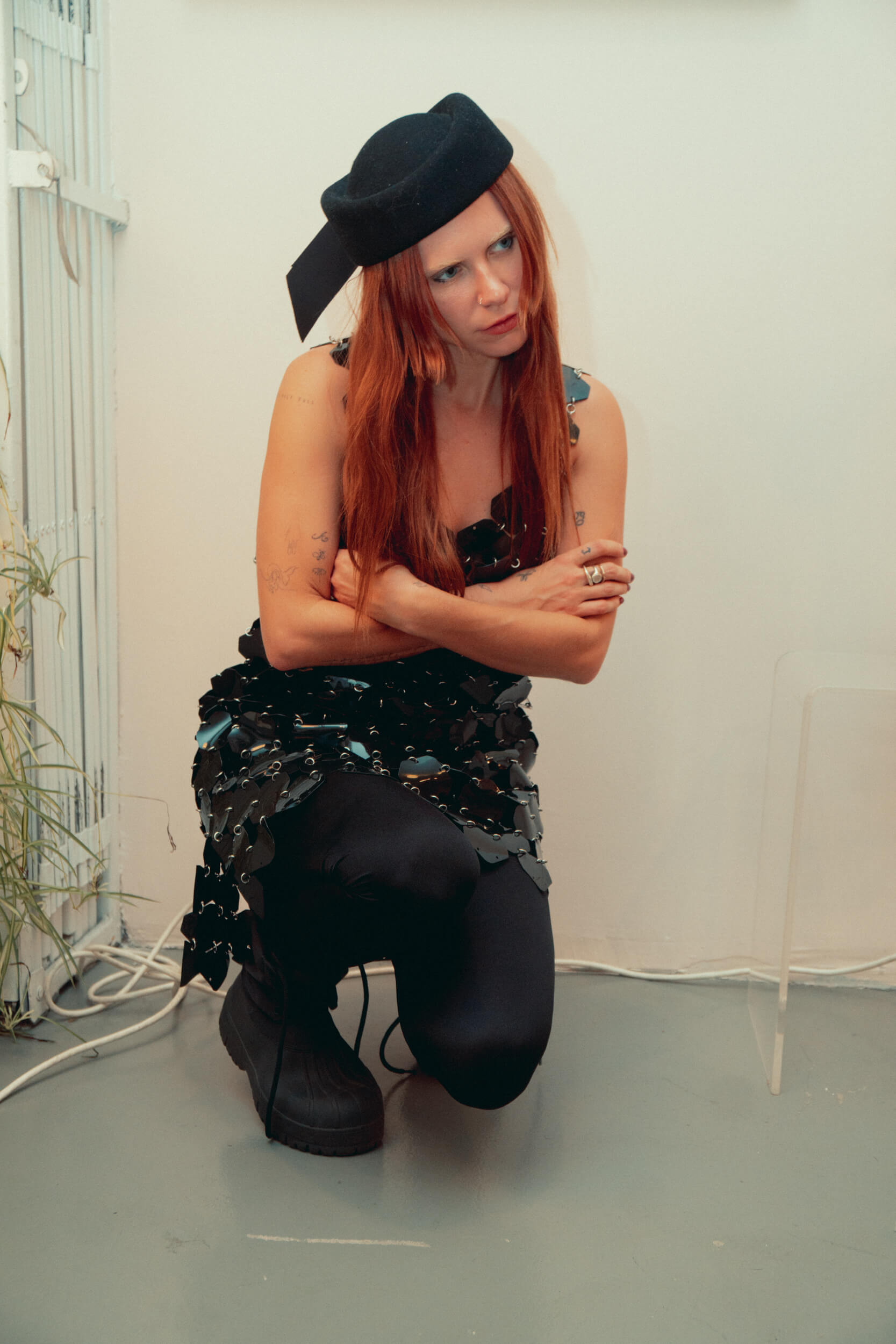 Who are three people, from the 80s or from the present, that you would go out to dinner with?
From the present, definitely the Olsen twins, I love how they stay really private and ironically have a brand. I met them when I worked for Intermix, they come to do product's meetings, which is really cool for them to do, because it usually doesn't happen. They would show us the collection, for sales, so it can sell in stores, it was really intimate, there were 20 of us. And I would have loved to have dinner with Anthony Bourdain, but it's no longer possible. I think about it when someone doesn't ask me. I've got to know Al Pacino once, because my friend was in a movie with him, that was really cool, I couldn't even speak to him, I was so nervous.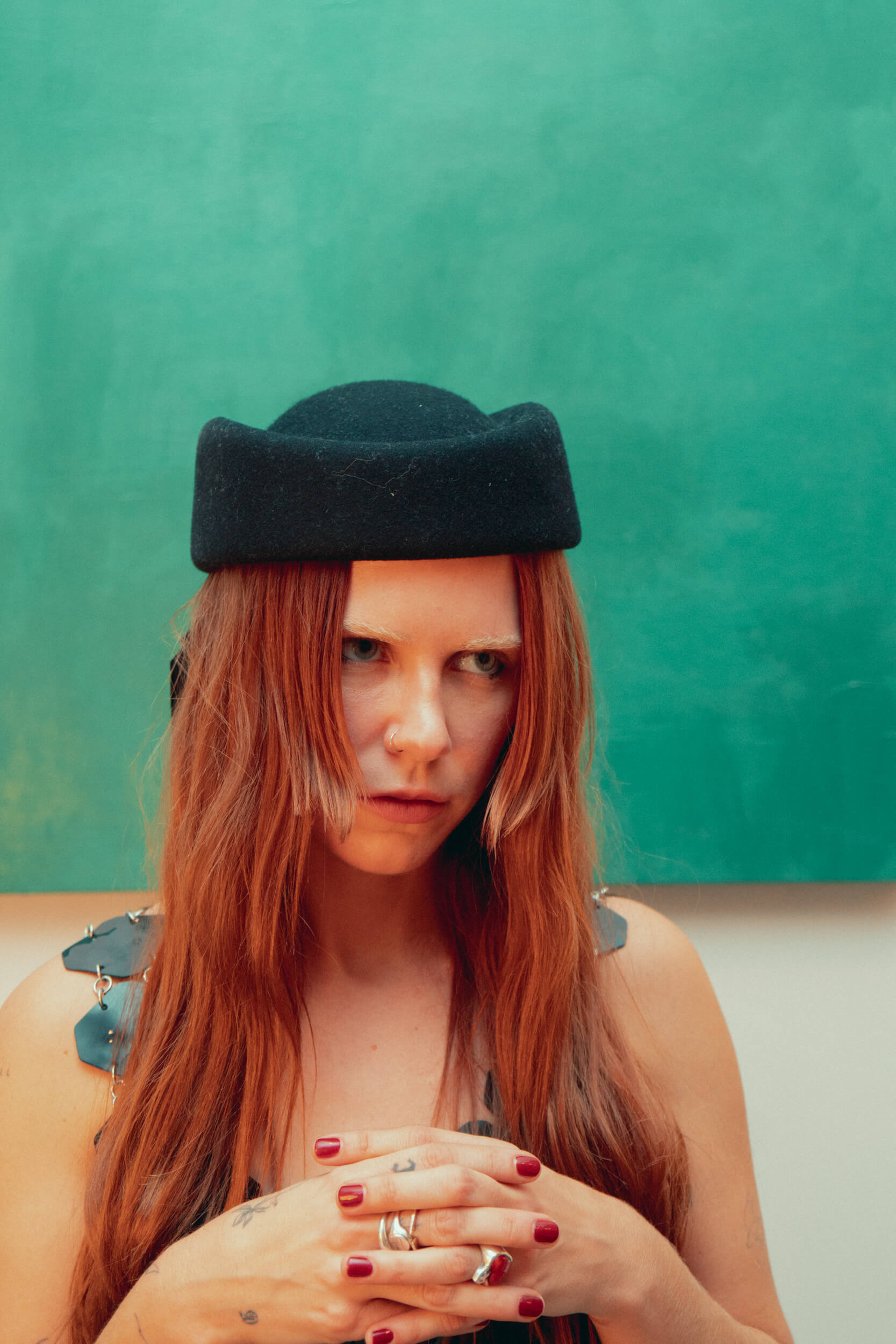 "I like '80s music and it's perfect to dress up before going out."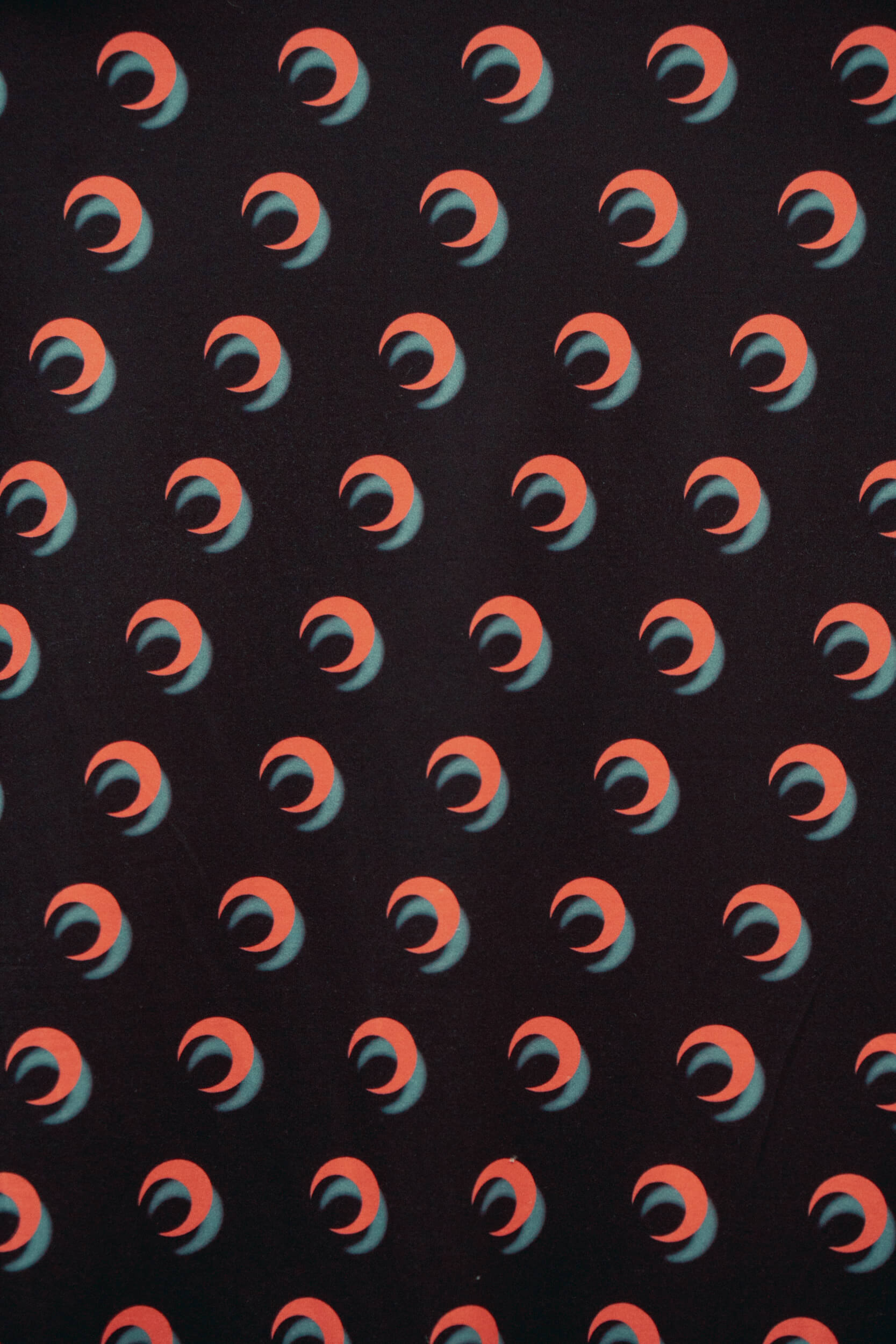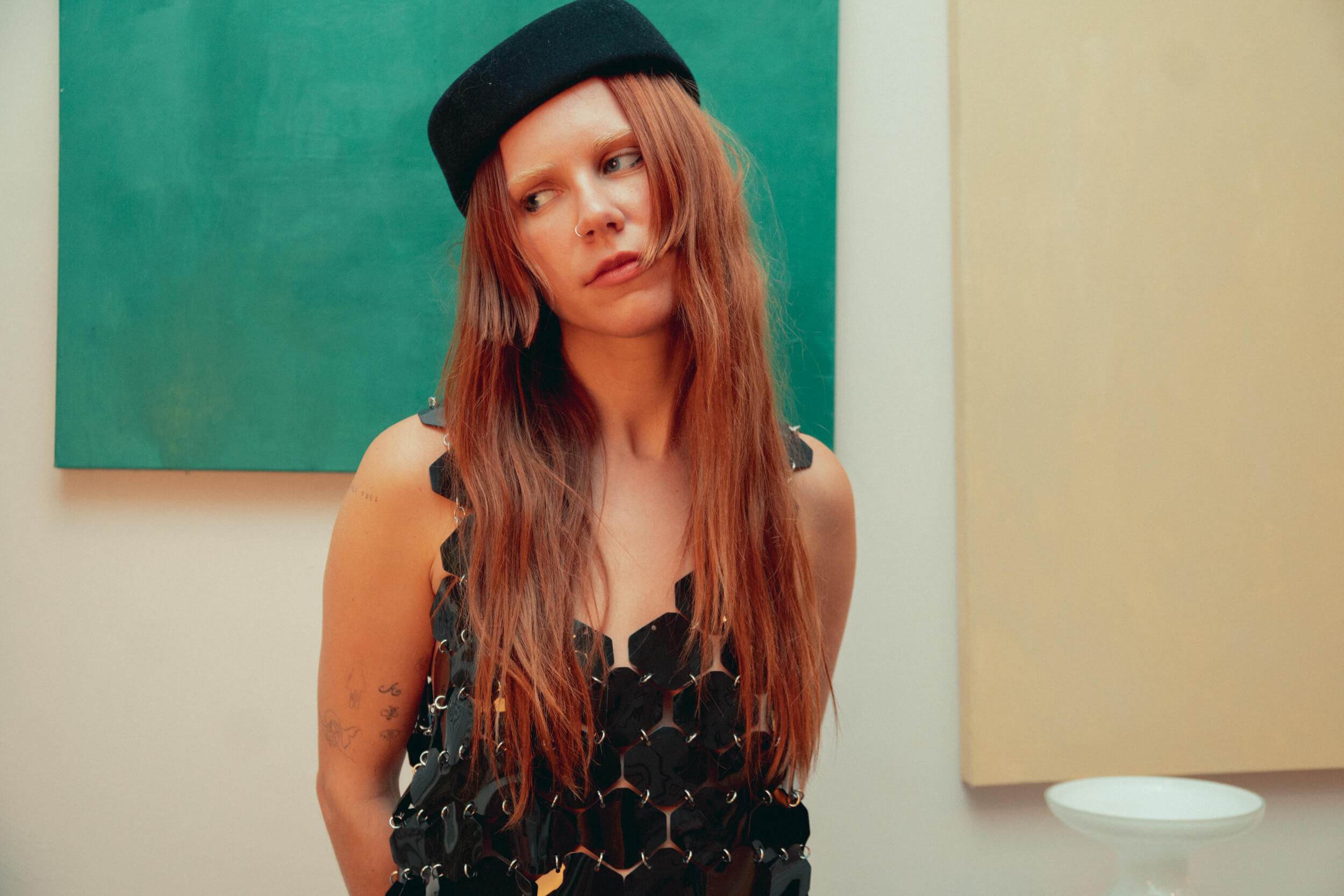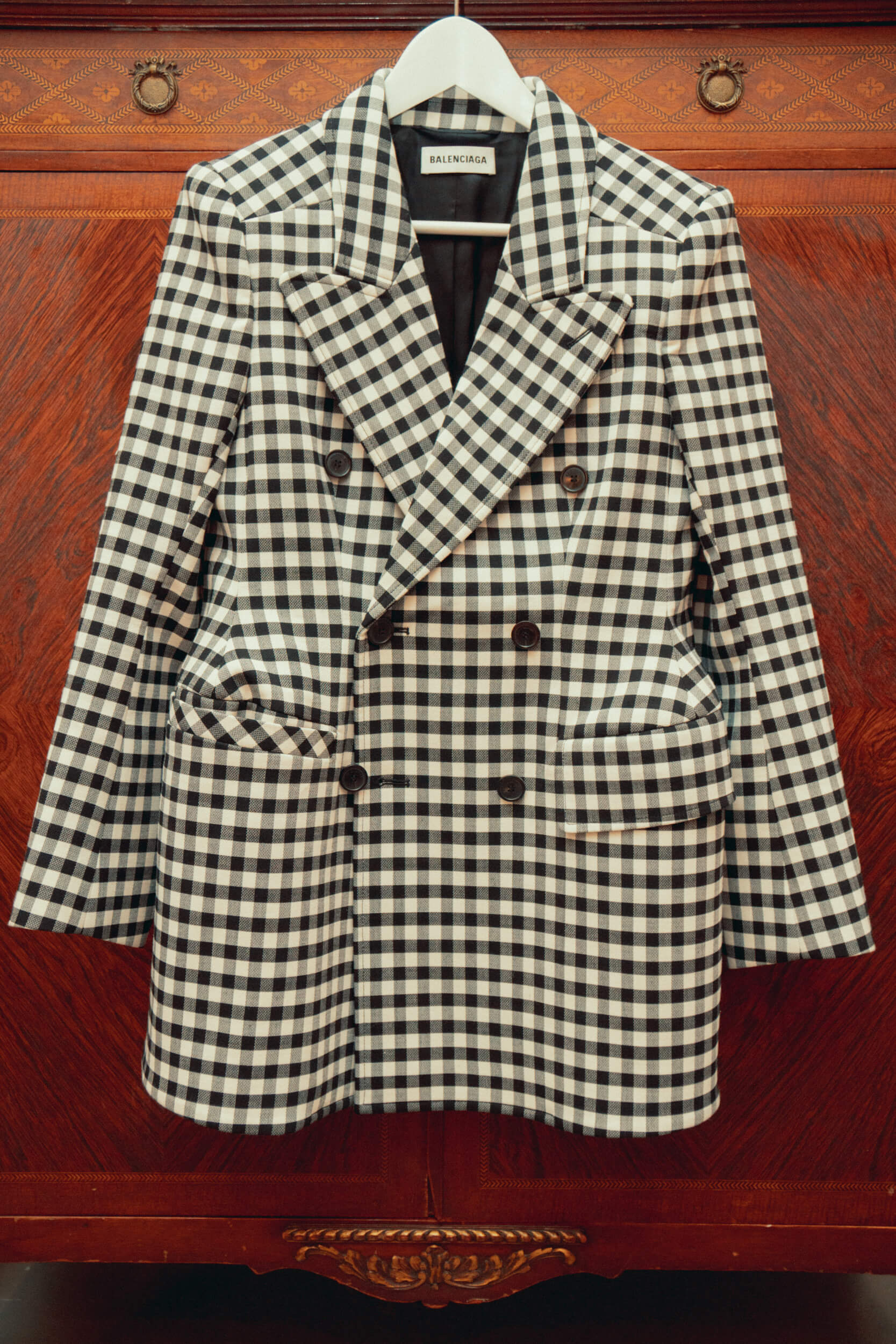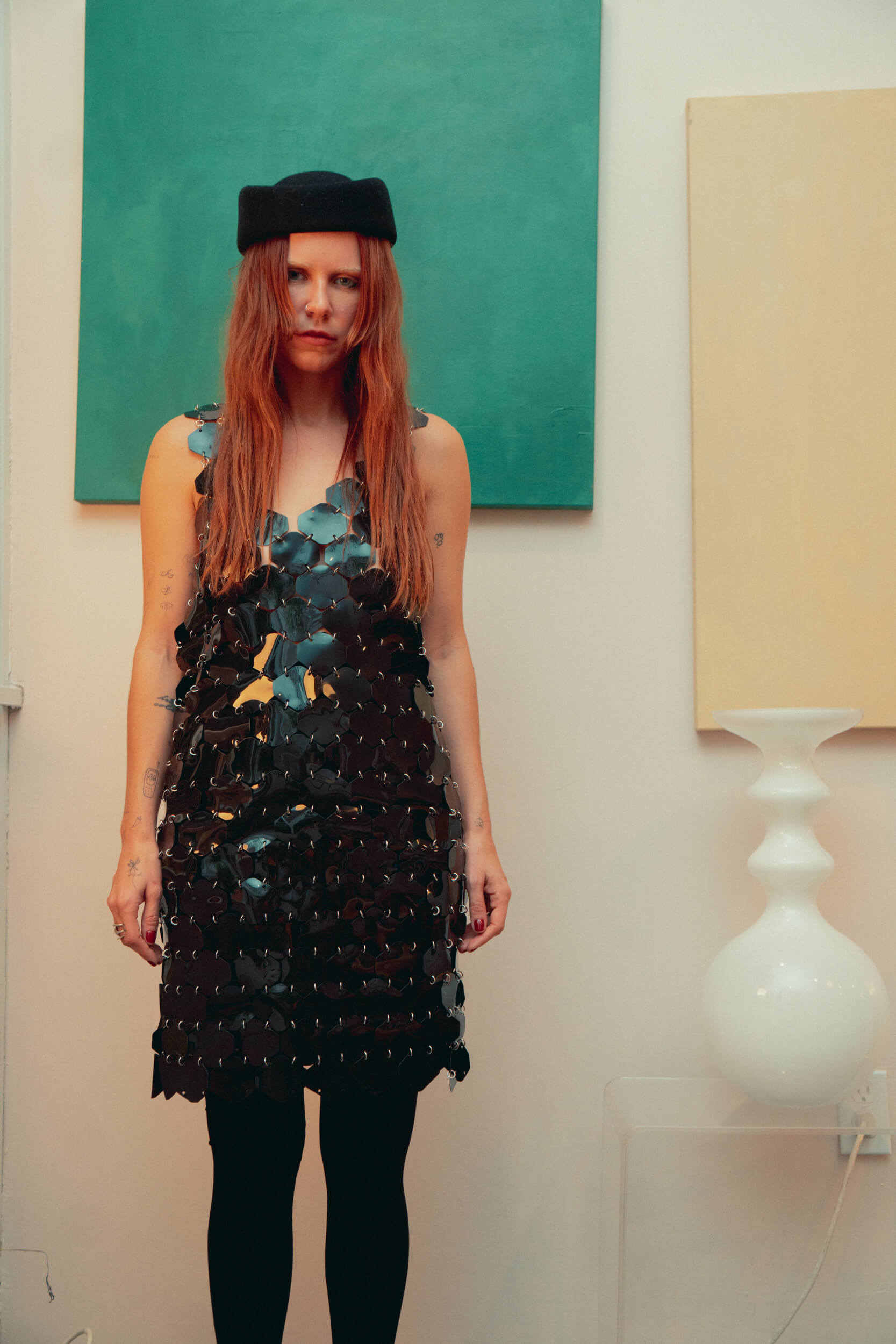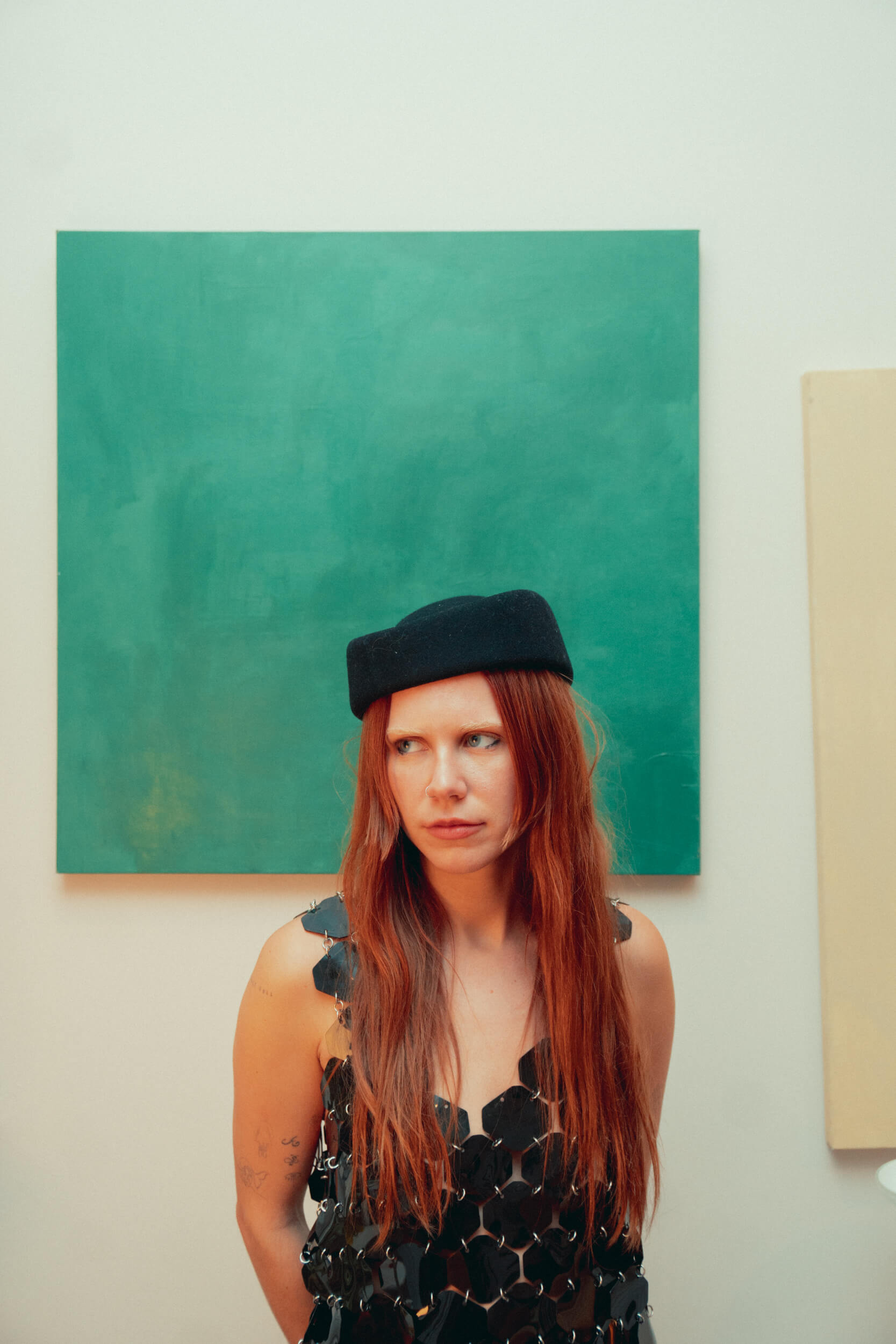 Speaking about Los Angeles, do you believe that this city inspires you in some way?
In the summer I think it does. I do like all the rock and roll scene, I think it's really strong here. For rock and roll there are places where you can buy cool vintage cowboy boots or hats, the whole rock and roll/grunge thing is cool, but aside from that, we are really in cars a lot during the day and the streets are really messy for walking around and the weather doesn't get that cold, so we're kind of limited on what we can wear, but it's fun in the winter because we can wear things the way they are actually more on the runway, like a big jacket with tights and strappy shoes, you can wear whatever you want because the weather doesn't prevent you from doing so.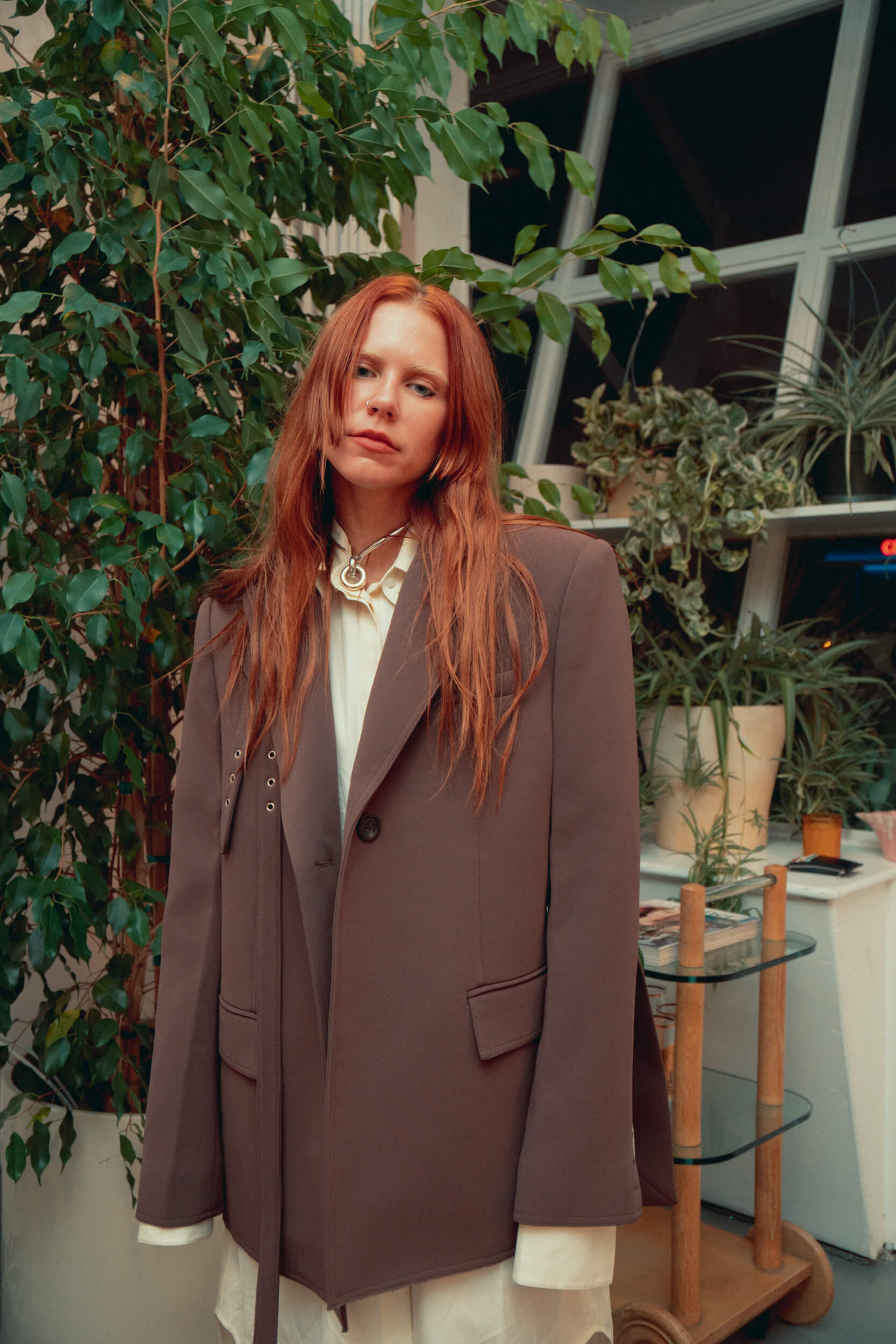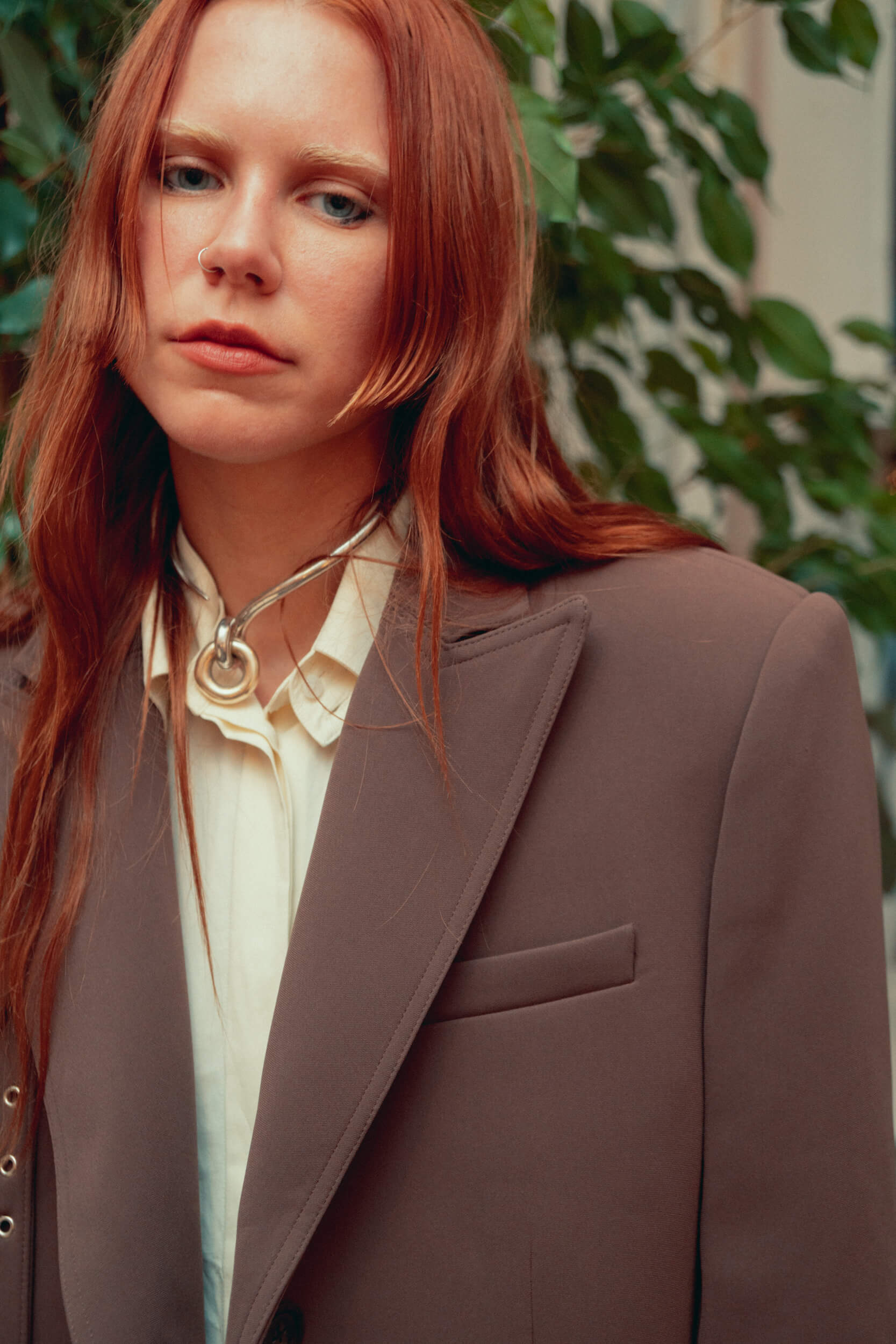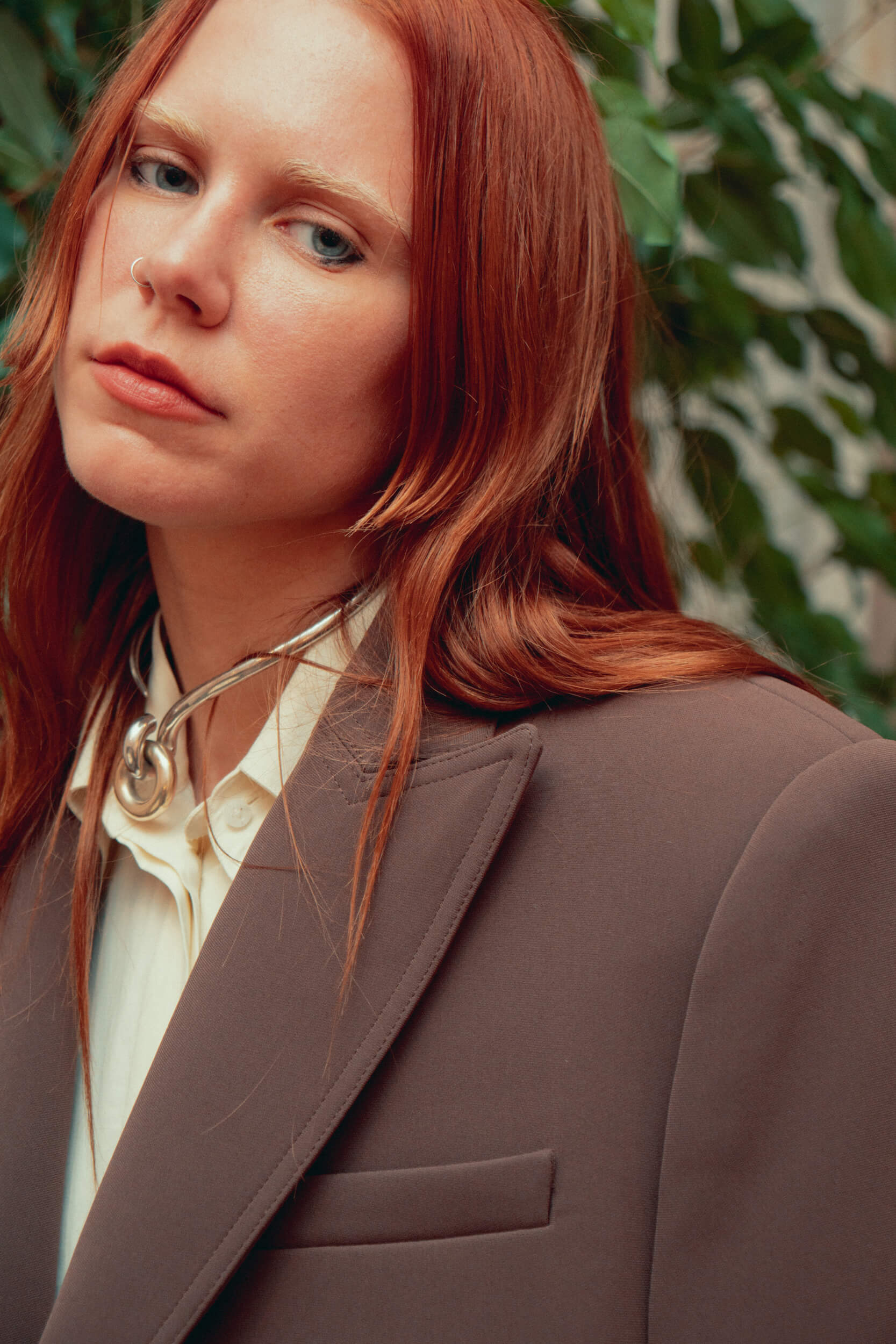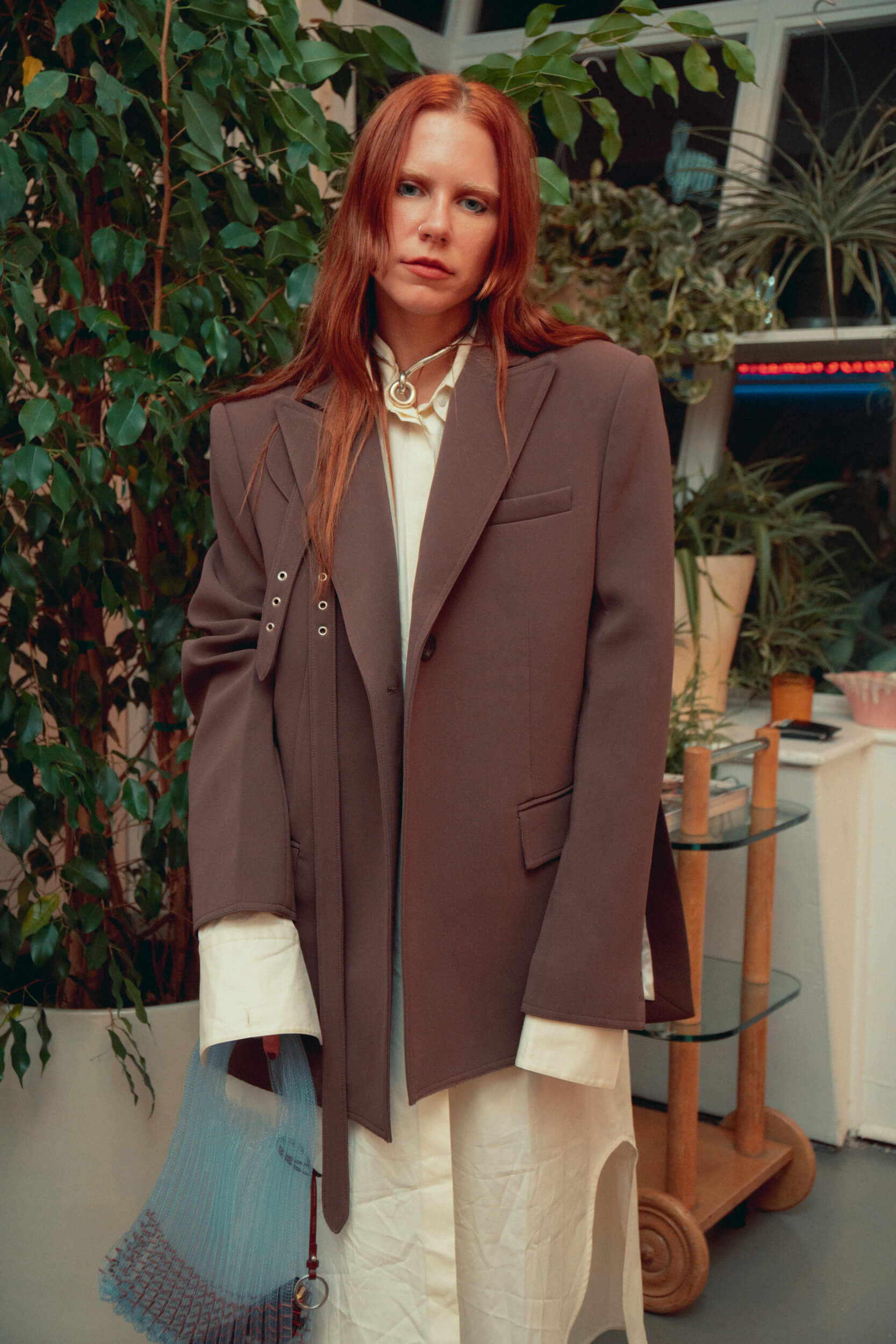 What's your superpower?
I wish I could fly. Or teleport, maybe that's smarter, because I could take jobs all over without having to travel so much.
Do you have any future projects that you can tell us about?
I'm working on my own CBD line and full cannabis line. Marijuana is legal here and it has been for a while, and it's also legal in more than half of the States, but it's non recreationally legal everywhere yet, but it's like a really big thing in the United States, and I wish it could be legal everywhere so I'm kind of getting involved in that; it has health benefits, it's healthier than some things to which some of the Americans are addicted, like prescription pills, and cannabis is weaning people off that, so it feels like I'm doing something healthy.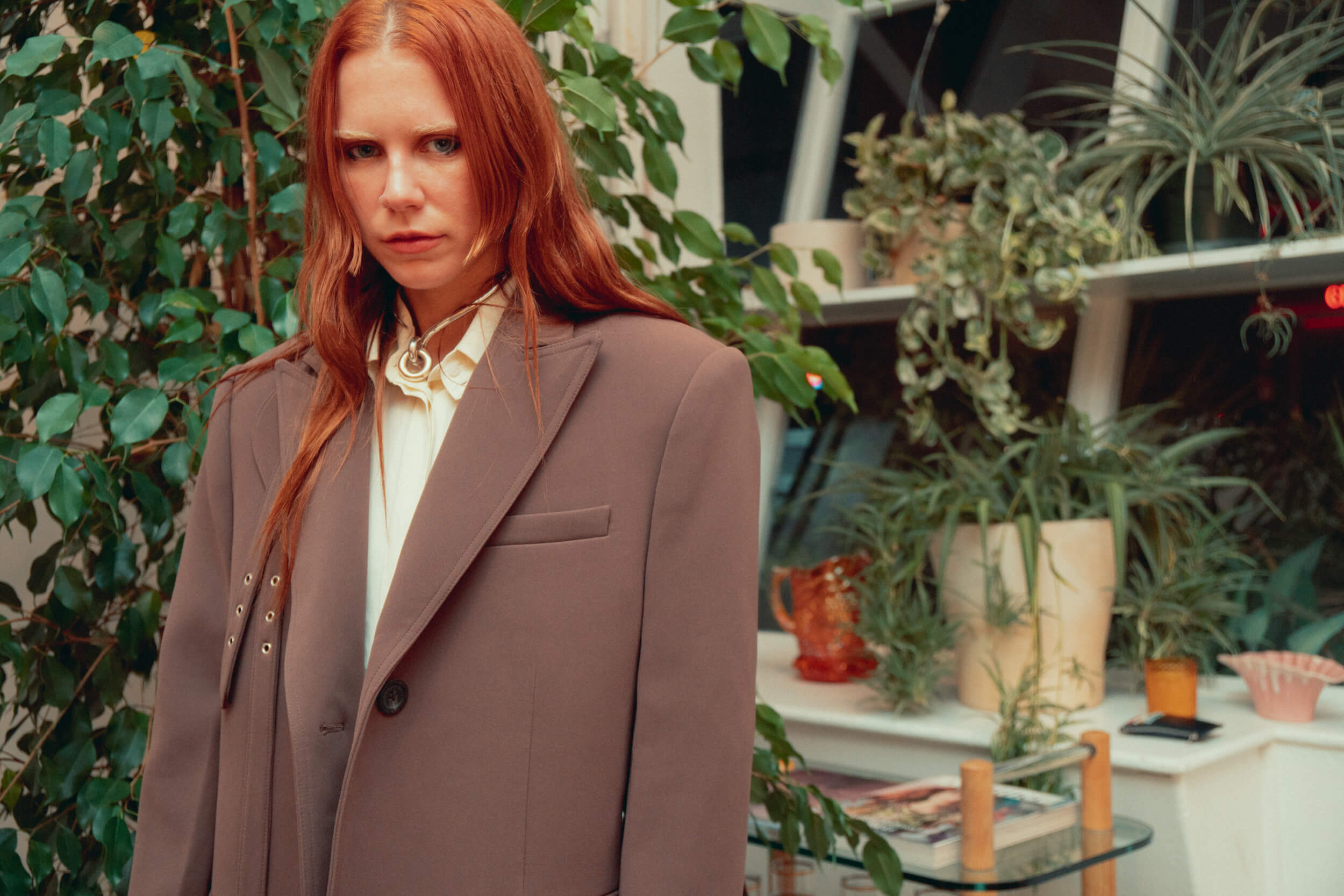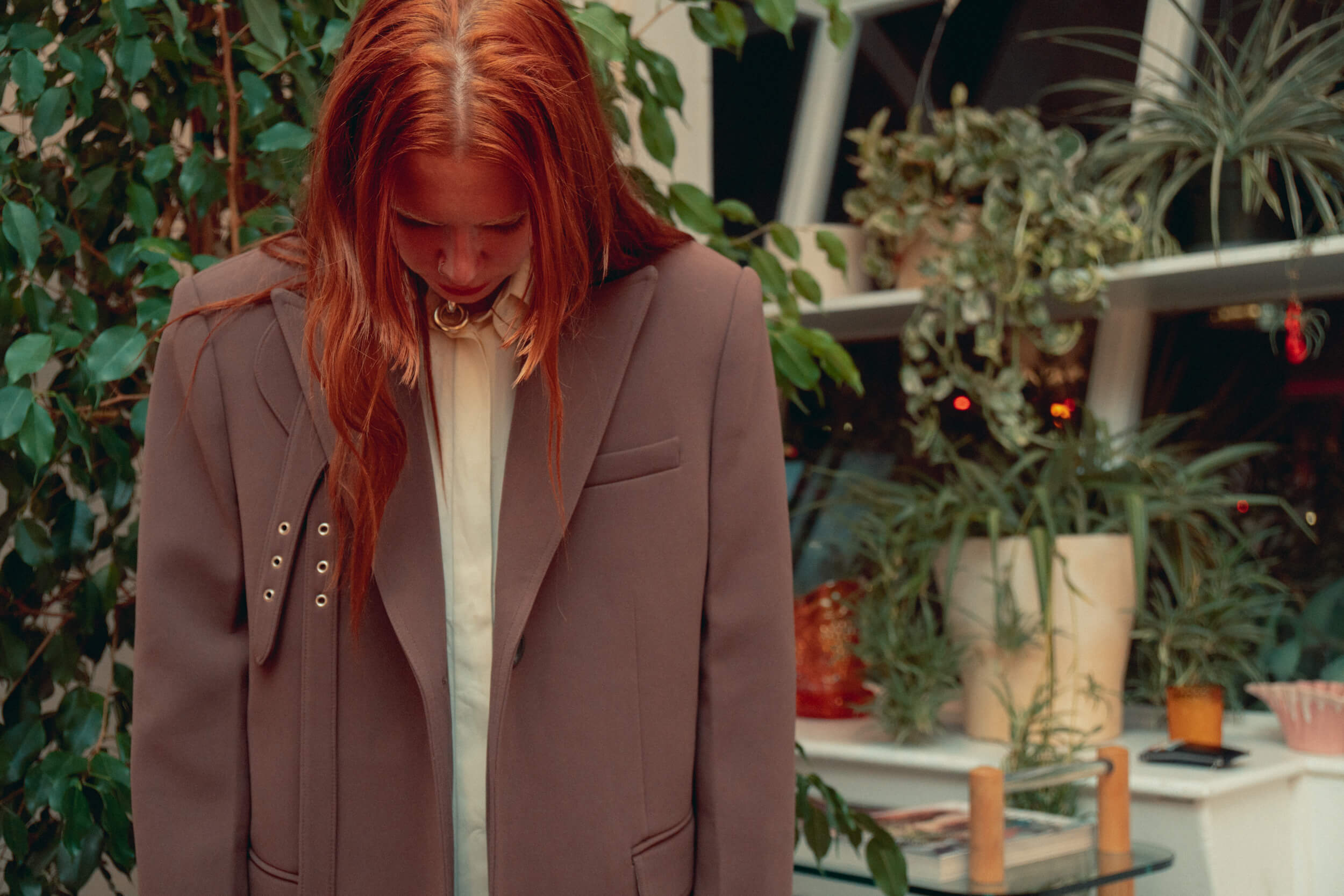 Last question… Are you always judging for real?
Only clothes, it's based on clothes. It's been my Instagram handle even before I opened the blog, you know when all you friends are sitting there and we had made our Instagram a long ago, and they were like: "You should go for 'always judging' because you have so many damn opinions about clothing, it's all you talk about," so that's why I called it like that. And when I started my blog, my friends also inspired me, because they said: "Just leave it, it's perfect".
And I don't want to change it.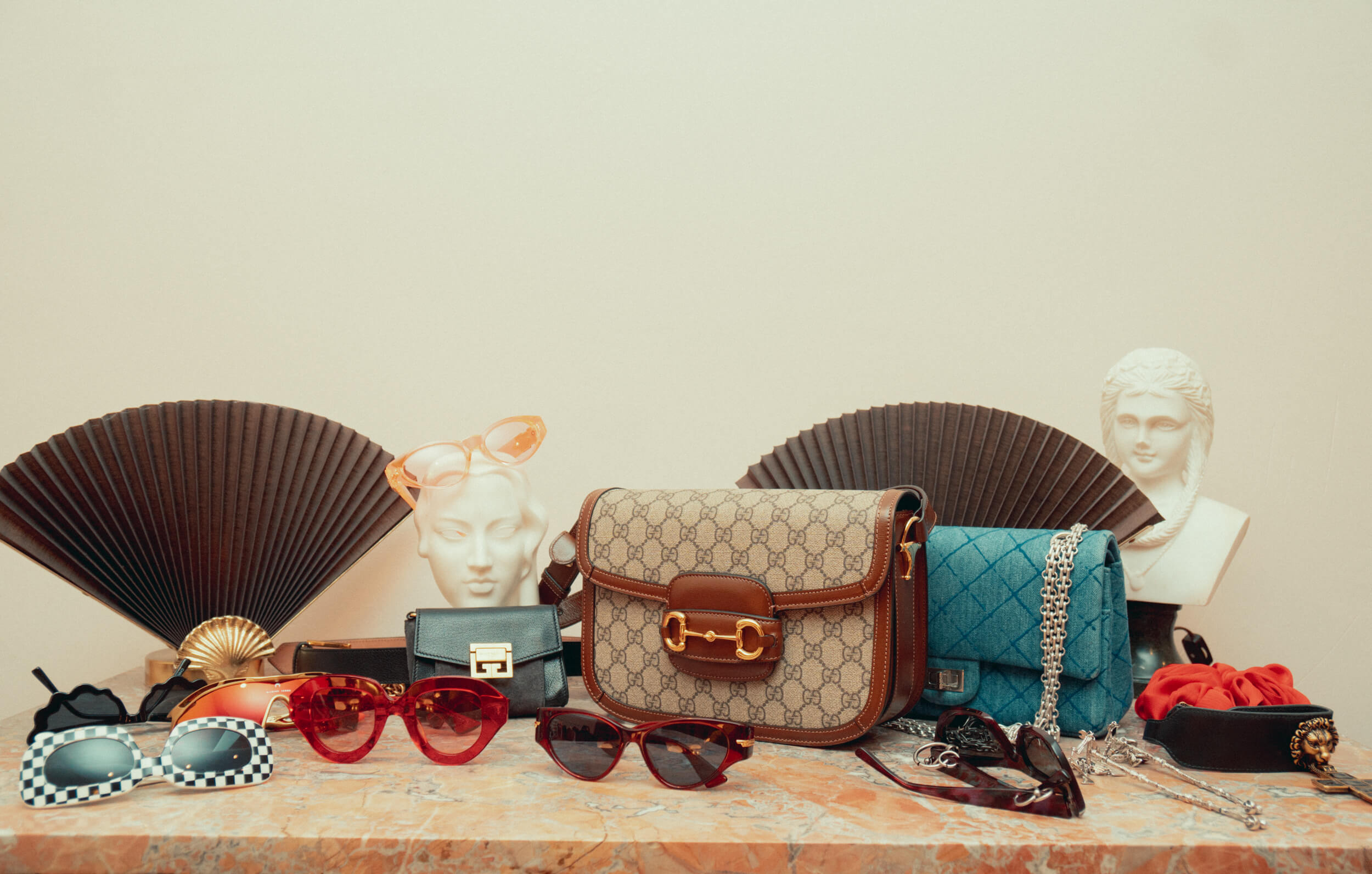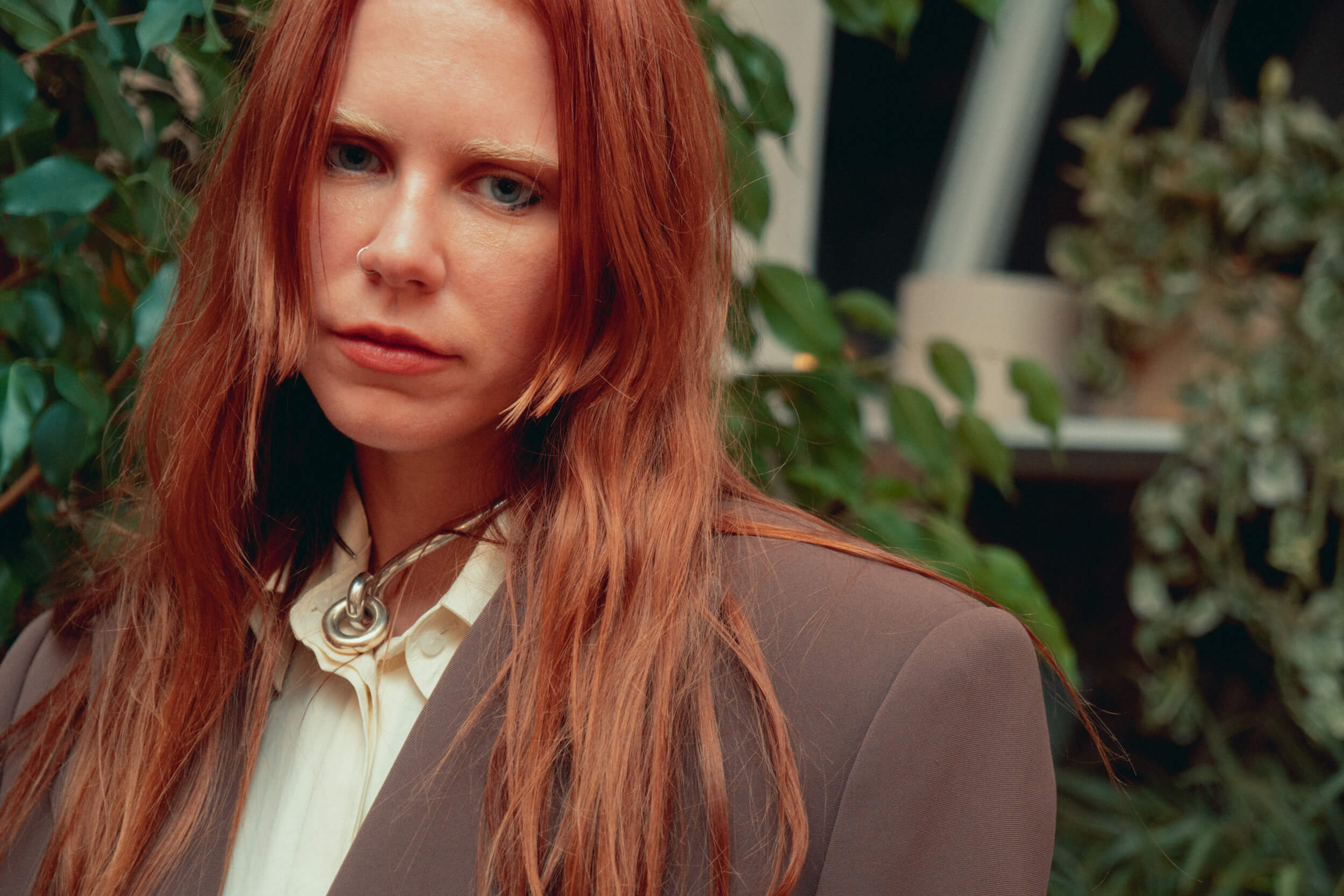 The Film Wall
Fuji Instax