We can finally say it: "Game of Thrones is Coming!"
They left us with a very, very sad end: our beloved Jon died…or maybe he didn't! Well, it's about time we finally find out!
On April 24th we will see again our favorite heroes and profoundly hated enemies. The women on the show represent very different characters: someone is powerful, someone desperate and lonely but still, they are all fragile and strong in their own way. The one who wants revenge or the other whose only desire is to run away from everybody, to close her eyes (and maybe go back to the 1st episode, just for a little bit).
The female protagonists happen to be beautiful and intelligent women; we want to present them to you with some curiosities.
EMILIA CLARKE:
She is 30 years old and she is an English actress. Known and famous for her role as Daenerys Targaryen in the series, Emilia made her Broadway debut in a production of "Breakfast at Tiffany's" as Holly Golightly in March 2013.
But, it was at the age of 10 that she announced to her parents her intention to become an actress. Before Game of Thrones she had little roles, she said: "Game of Thrones changed my life, I owe the show everything."
She describes herself like a resolute person, she's always had hunger ever since she was a little girl. All that thanks to a very strong feminine figure in her family: her mom. Her mother is the marketing vice-president for a global management consultancy and Emilia describes her as a very, very hard worker: "I got my work ethic from her, for sure. She was taking a marketing meeting a few hours after she'd given birth to my baby brother."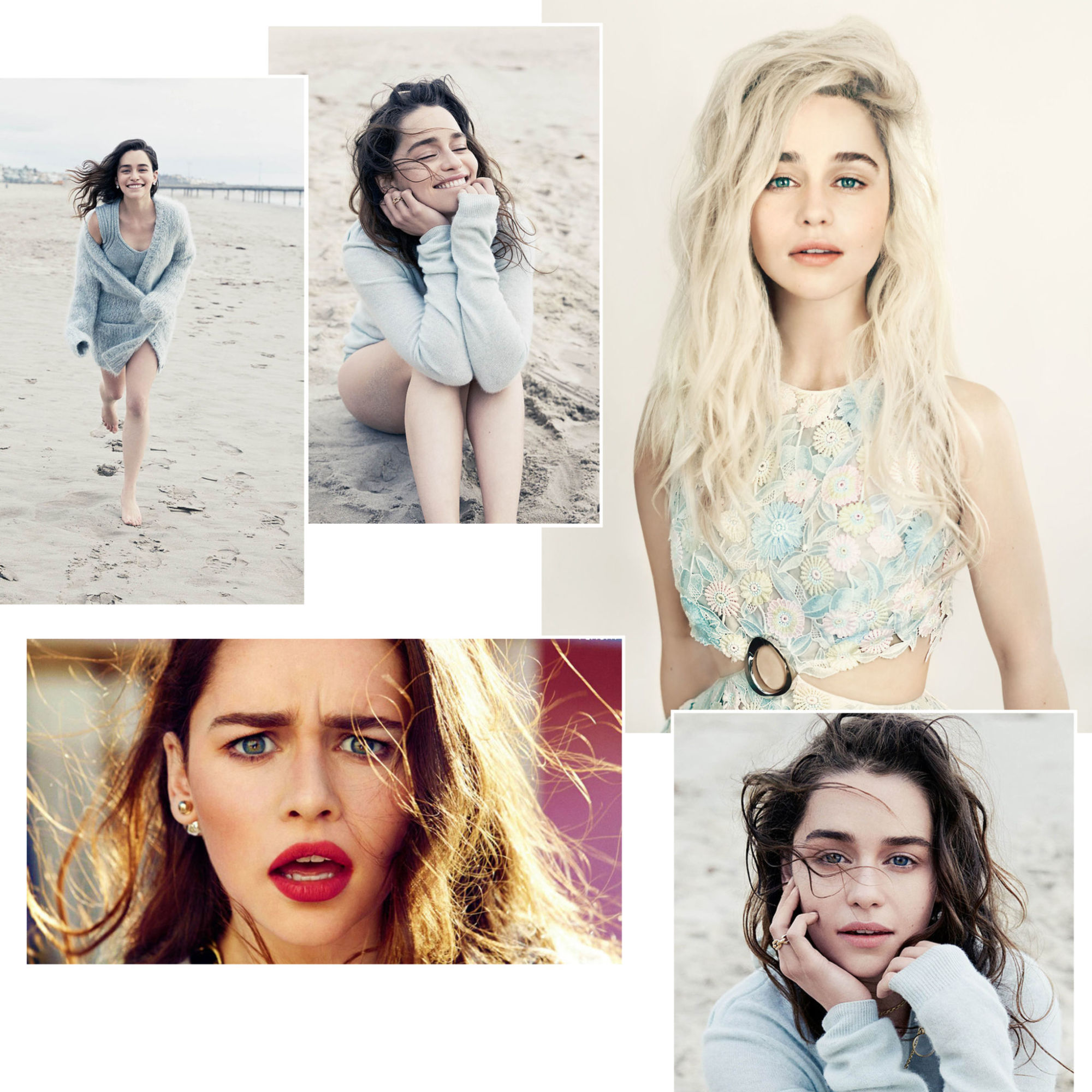 Last year she acted in the movie Terminator with Arnold Schwarzenegger, it was a hard experience for her, but it was also a signal of what she wants to do in her life with her acting: "Finishing Terminator was like falling off a rollercoaster, it was such a beast and they demanded a lot from me. At the time I was asking myself, 'What sort of career do I want and what should I be doing to get that career?' And then I went back to Game of Thrones and it was like coming home. Just the smell of the hotel in Belfast made me feel safe. I told myself, forget the big game plan; all I want is to do jobs that make me happy." Credits: Vogue UK
In fact, in June we will see her in the adaptation of Jojo Moyes's bestselling novel "Me Before You" with Sam Caflin: an heartbreaking, beautiful love story that speaks about the true sense of life. She is very attached to the story, she even tattooed her little finger with a bee (the ones of you who read the book will know what it means).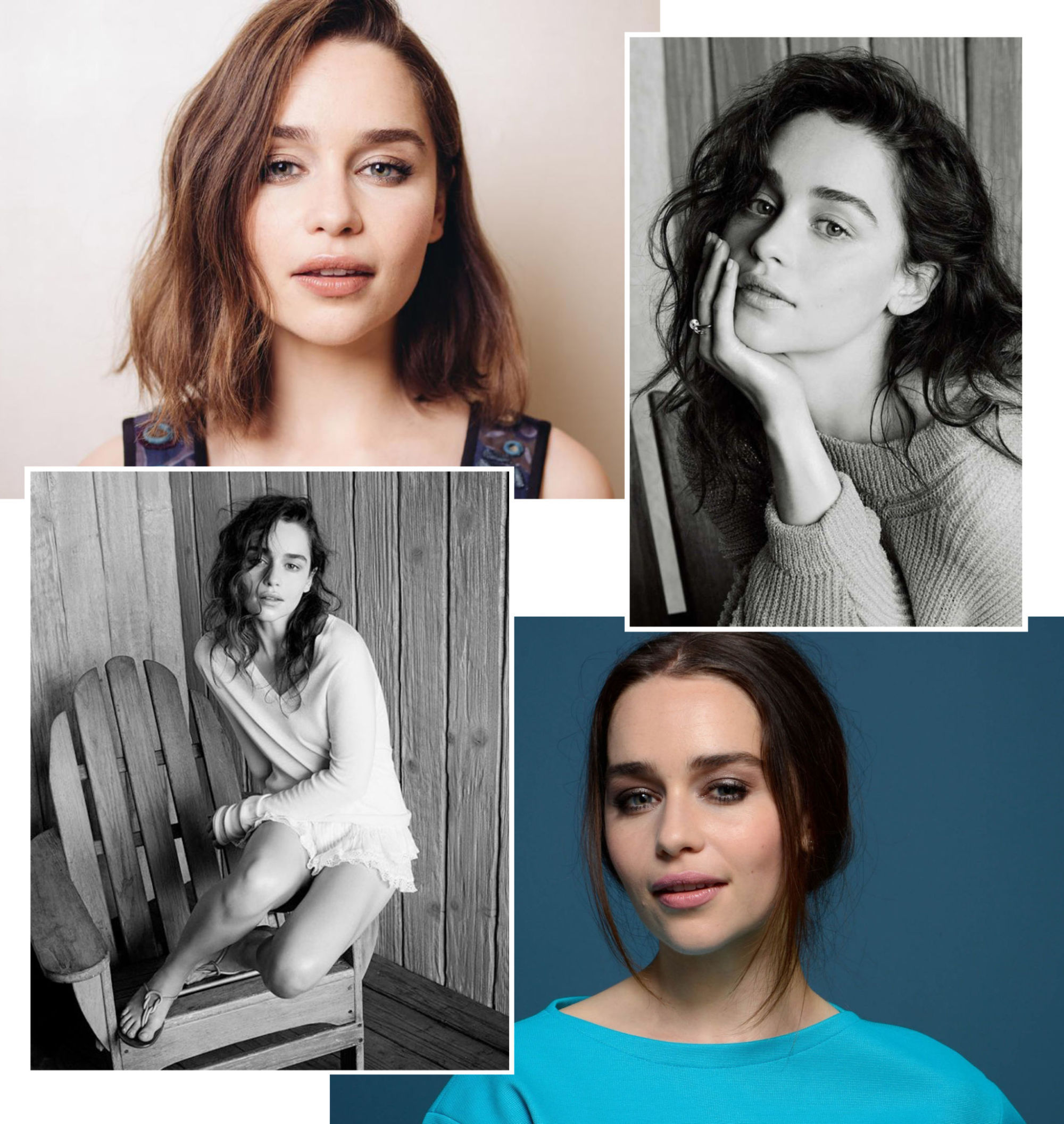 Credits Images: WallStreetJournal, Marie Claire, Vogue, Hollywood Reporter, Telegraph.
She is described by journalists and co-workers as an exquisitely pretty and effervescently friendly woman who only last year was named by Esquire the Sexiest Woman Alive. And now, she is the new face of Dior. Not bad!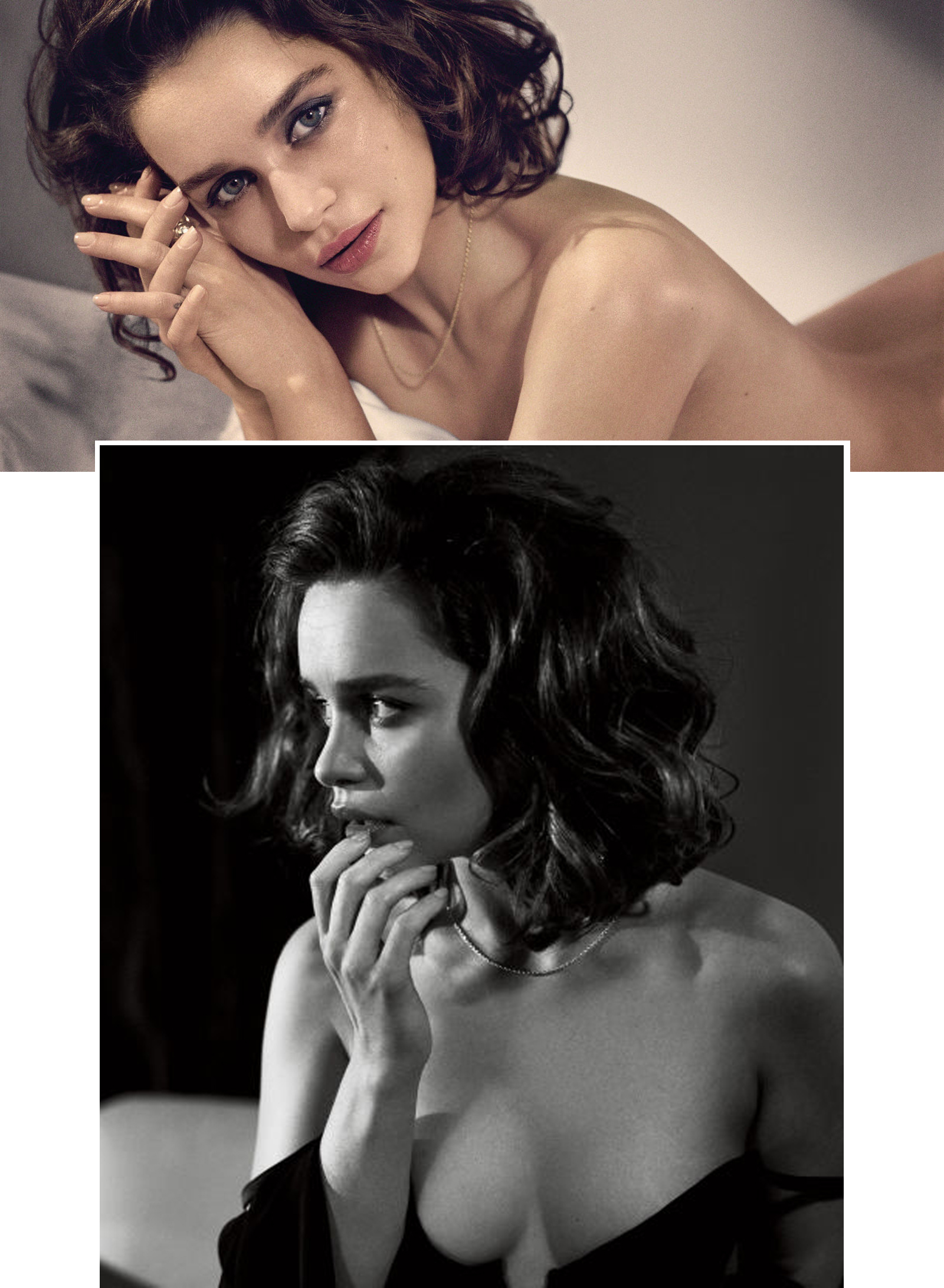 Credits Images: Esquire Magazine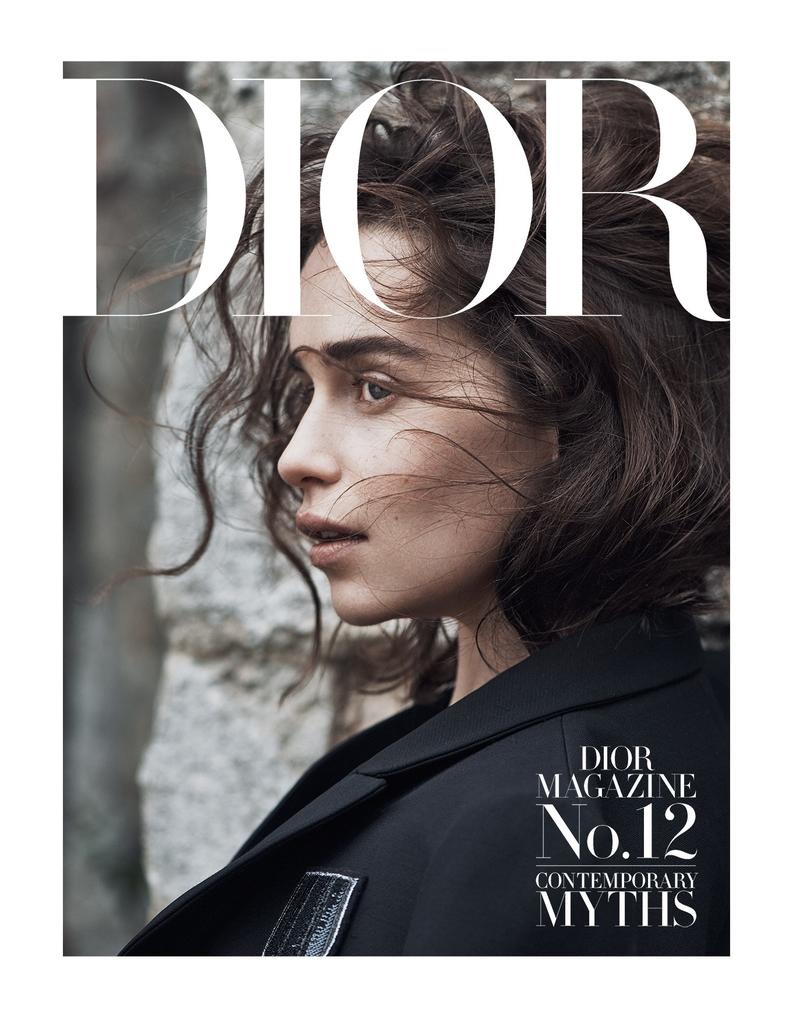 Credit Image: Dior Magazine
MAISIE WILLIAMS:
Maisie is an English, young (18 years old), actress. She made her professional acting debut as Arya Stark in Game of Thrones, for which she won the EWwy Award for Best Supporting Actress in a Drama, the Portal Award for Best Supporting Actress – Television and Best Young Actor, and the Saturn Award for Best Performance by a Younger Actor.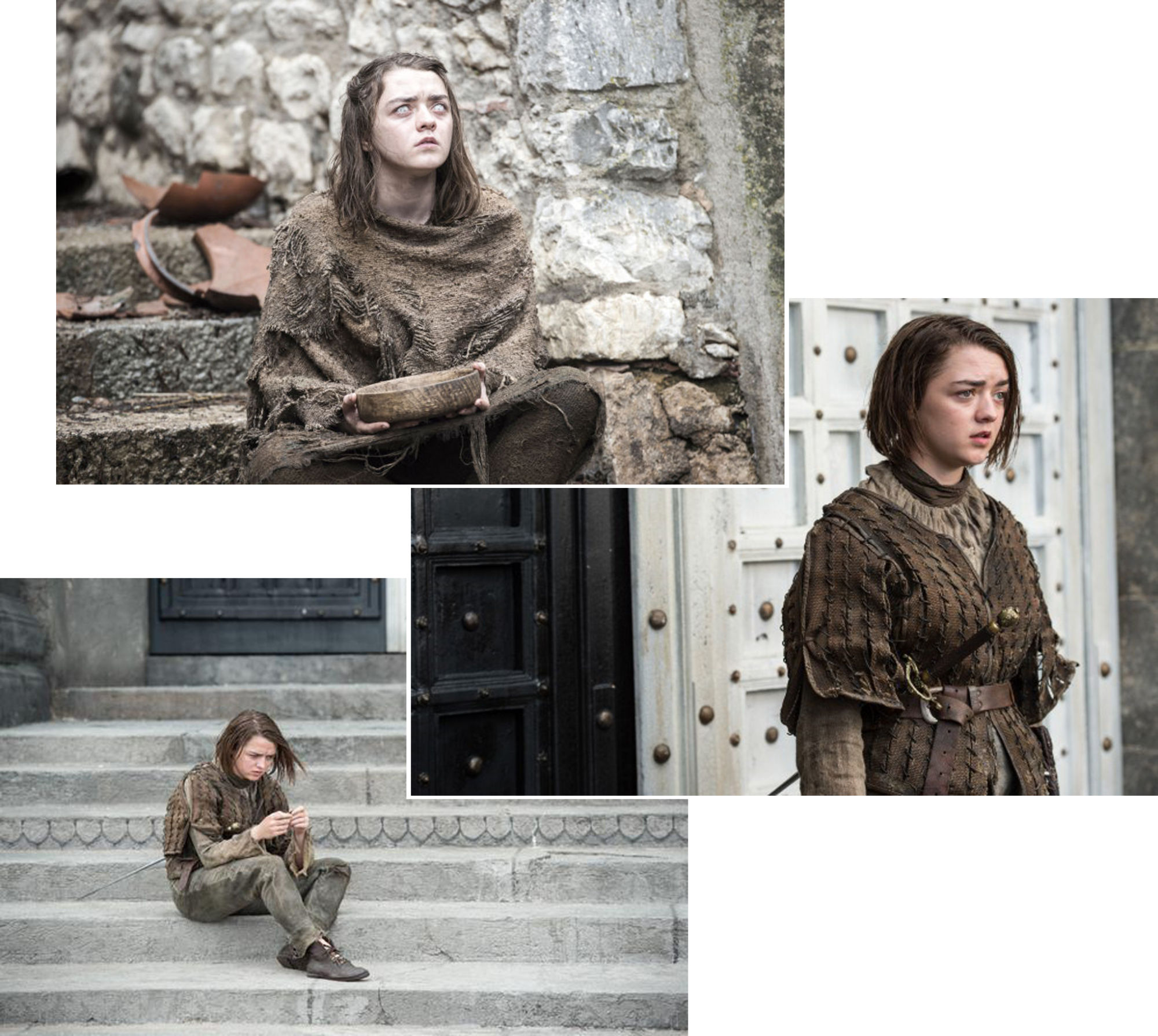 Last year she also had a recurring role in "Doctor Who" and she made her feature film debut in the mystery "The Falling", for which she won the London Film Critics' Circle Award for Young Performer of the Year.
She is a very cheerful, fun and joyful young woman. But, one thing that particularly angers her is the perception and treatment of teenagers–"They just get a bad press for everything. No matter what happens in the press, if it involves a teenager then you automatically get eye rolls. The stigma that we can't do it, before you've even given teenagers a chance. The thought that if you struggle to get a job, then you can't be bothered. That's not the case at all — so many of my friends are so passionate and so willing, and want to work in this world and do great things with their lives. Instead, one person sits on their arse so therefore all of us do. It's just not fair. It's the judgement before there's even proof".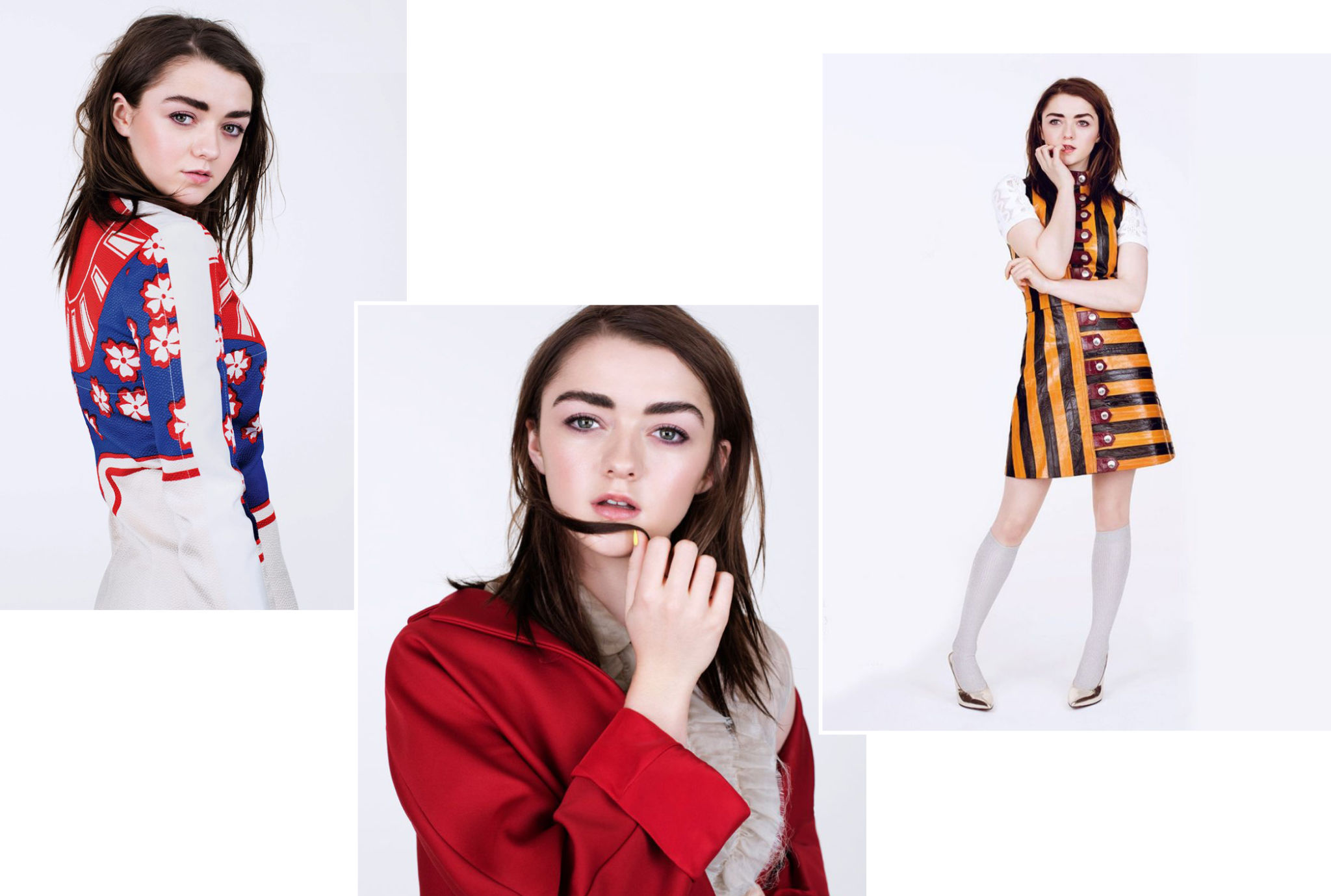 Credits Images: Glamour
About the difficulties of being a woman in the filmmaking industry she said: "There are a lot of roles that come in that are "the girlfriend" or "the hot piece" in a movie or TV series. That's what I see and that's what needs to change. I've been lucky enough to play a very great female character from a young age, who is a fantastic role model for girls". Credits: Evening Standard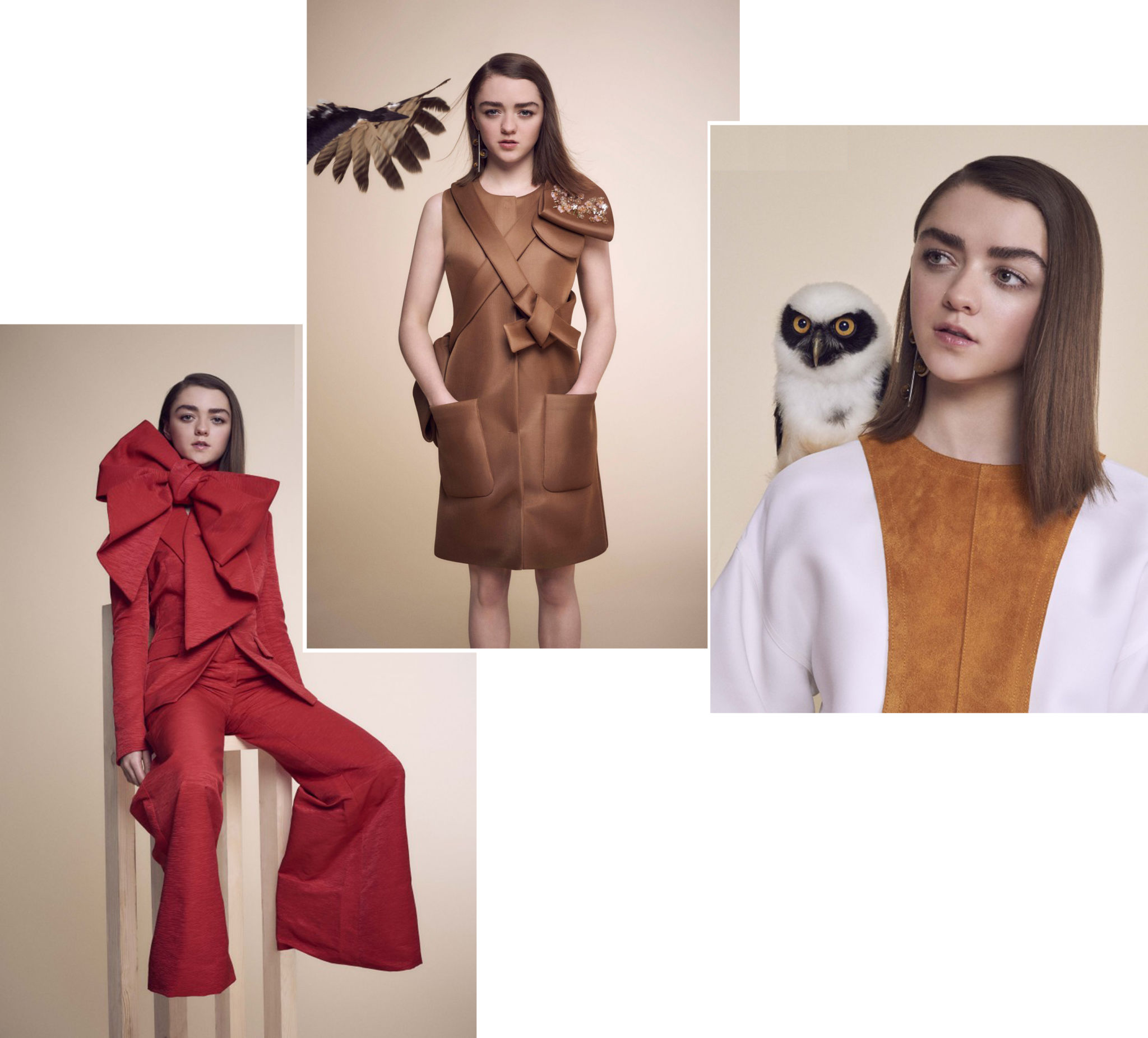 Credits Images: InStyle
Upcoming projects include a leading role in "The Devil and the Deep Blue Sea", a movie starring and produced by Jessica Biel. It's about a widower who teams up with a wisecracking girl in order to build a raft to cross the Atlantic.
The new Game of Thrones season is very exciting for her this year: nobody knows what's going to happen, it will not take anymore inspirations from the books, and she can't wait.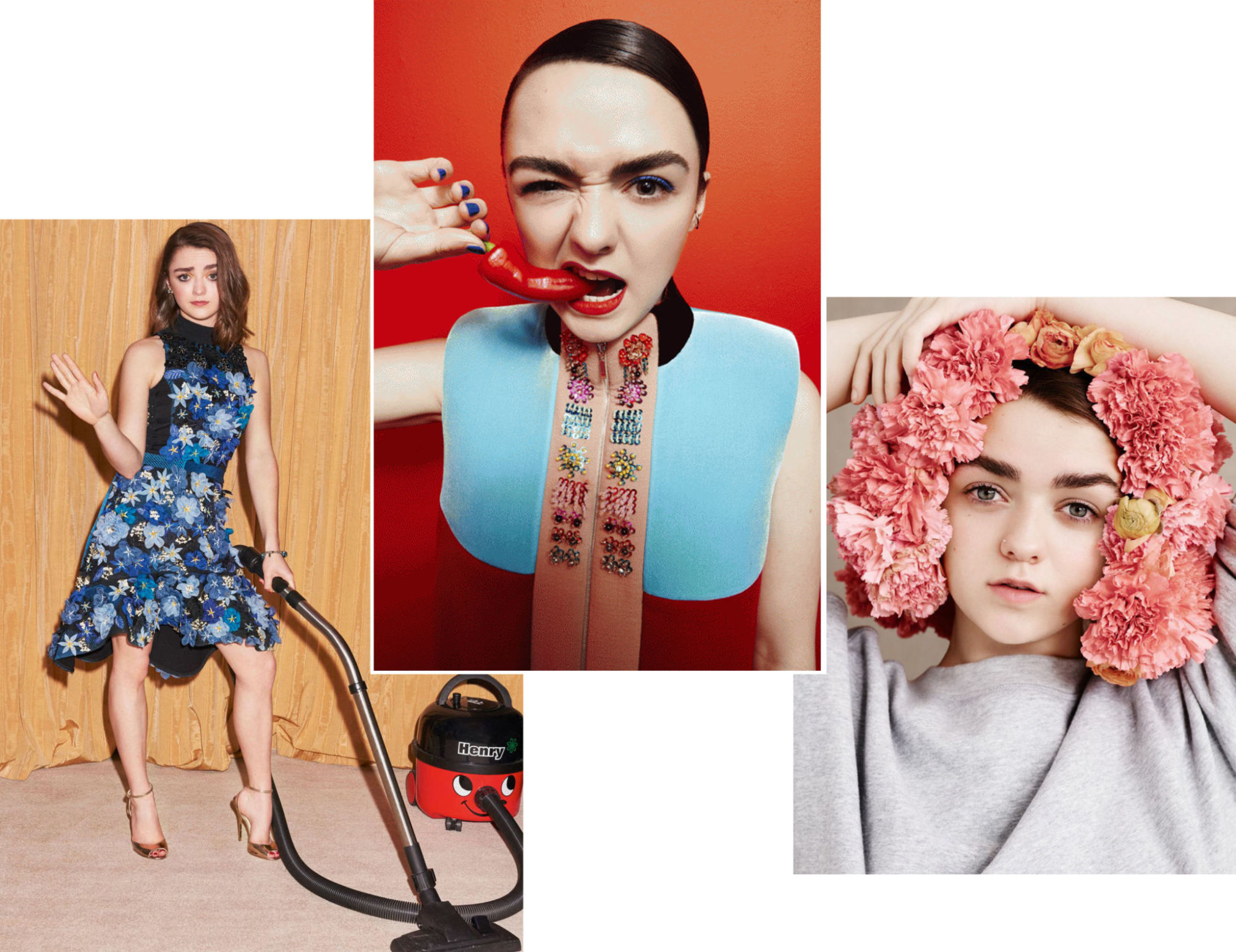 Credits Images: ES Magazine
In the meanwhile, Guillermo del Toro recently took her out for lunch in London, just because he madly wants her to act in Pacific Rim 2. Girl, you are doing great things here!
NATALIE DORMER:
Natalie is an English actress known at first for her role as Anne Boleyn on the series "The Tudors" and then as Margaery Tyrell on Game of Thrones. She has been nominated for Best Performance at the Gemini Awards for her work in "The Tudors" and she has been nominated for a Screen Actor's Guild Award for her performance in Game of Thrones.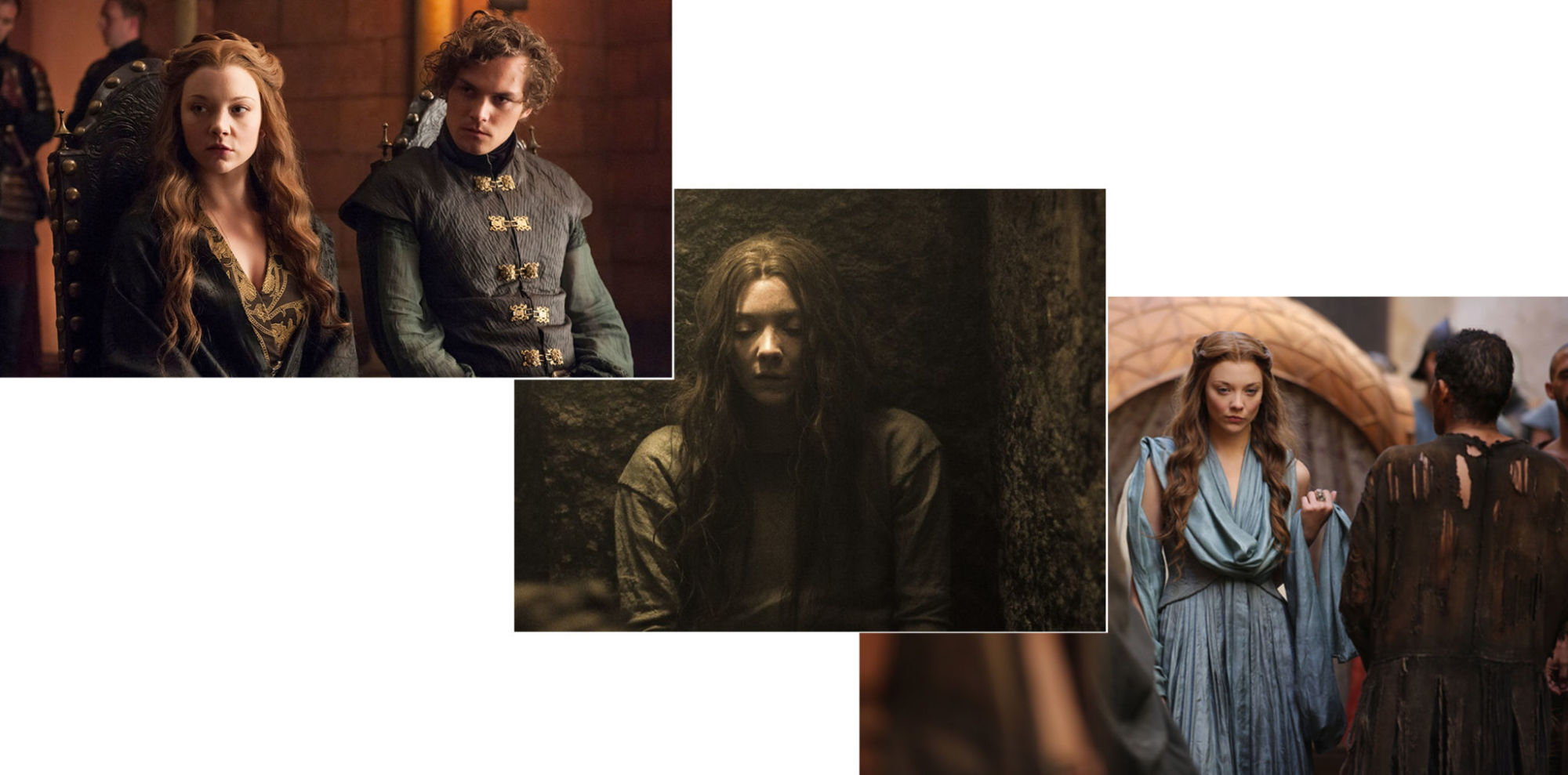 Natalie, a straight "A"s student, opted for drama school when she missed the grades to study history at Cambridge. Her first role was a biggie, alongside Heath Ledger in 2005 "Casanova".
She really cares about female empowerment and feminism in general. To the magazine The Guardian she said: "Female empowerment shouldn't be exclusively about sexuality. And you meet a fair fraction of male writers and directors who want to wave the equality flag and believe that they're making you a kick-ass female assassin, and they're empowering you. Whereas true empowerment wouldn't be a stylised, hyper sexualisation".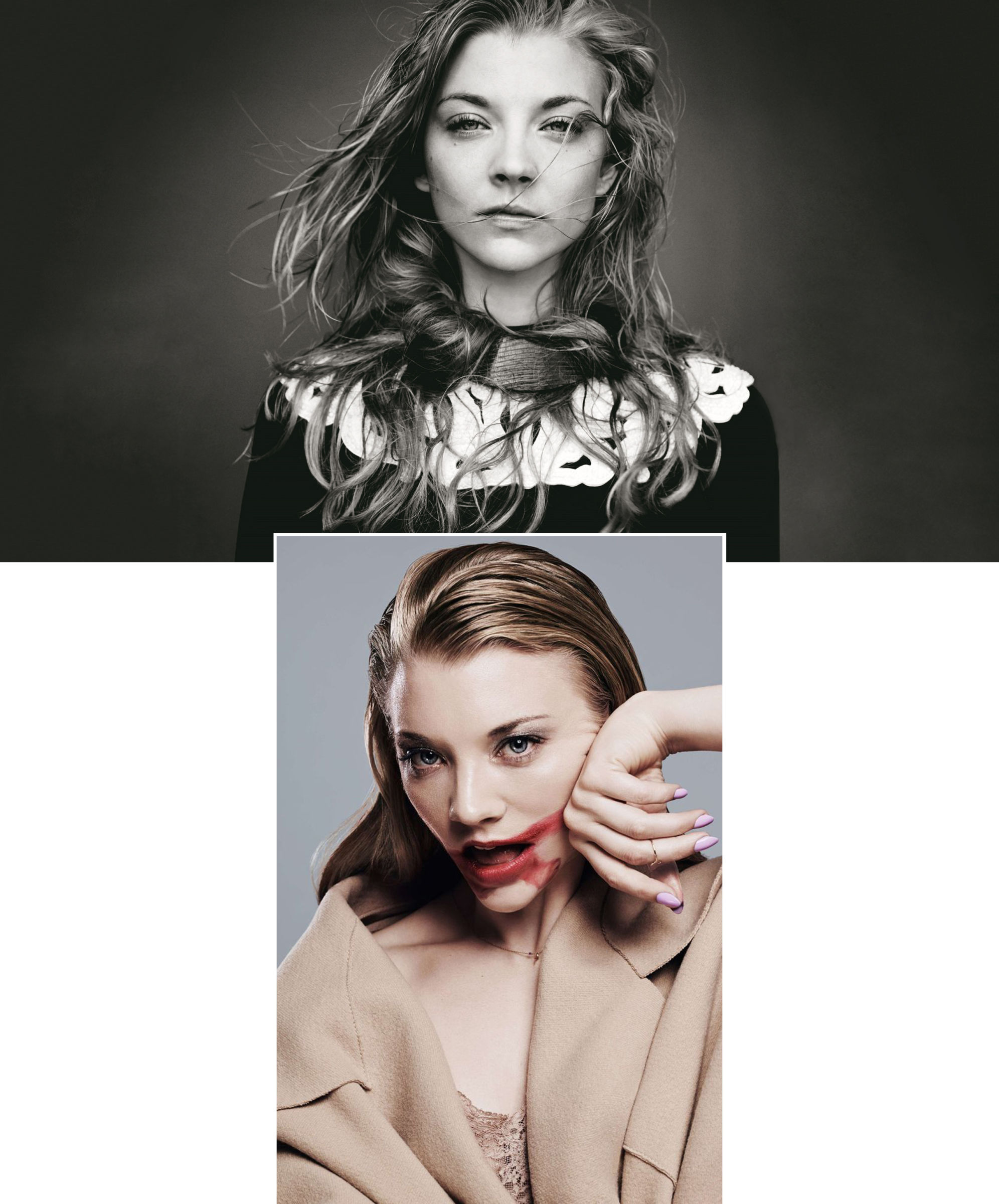 In fact Natalie was enthusiastic about playing bad-ass film-maker Cressida in the Mockingjay movies: "It's so refreshing to play a woman who's not defined by the love of a man. I was getting a little tired of sitting around in a silk skirt. It was a good antidote to put on a pair of army boots and run around in the mud for nine months, but by the time I had finished, I was ready to put the silk skirt back on."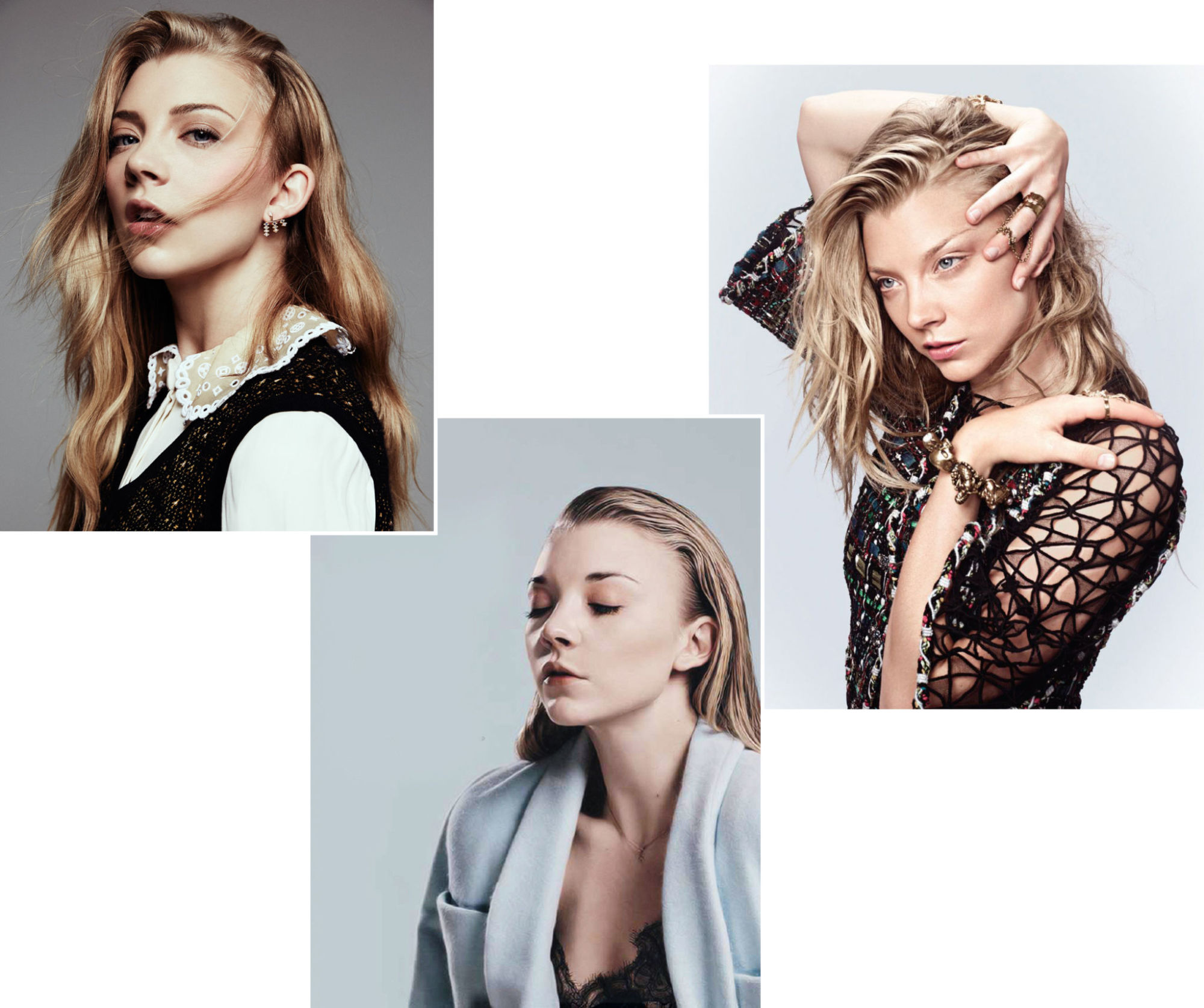 Her last movie (January 2016 in the USA) is a horror one, "The Forest", in which she plays a woman who goes looking for her twin sister in Japan's Aokigahara "Suicide Forest" after she mysteriously disappears. Another fantasy thriller for her, "Patient Zero" will air next fall, in which she acts together with Stanley Tucci.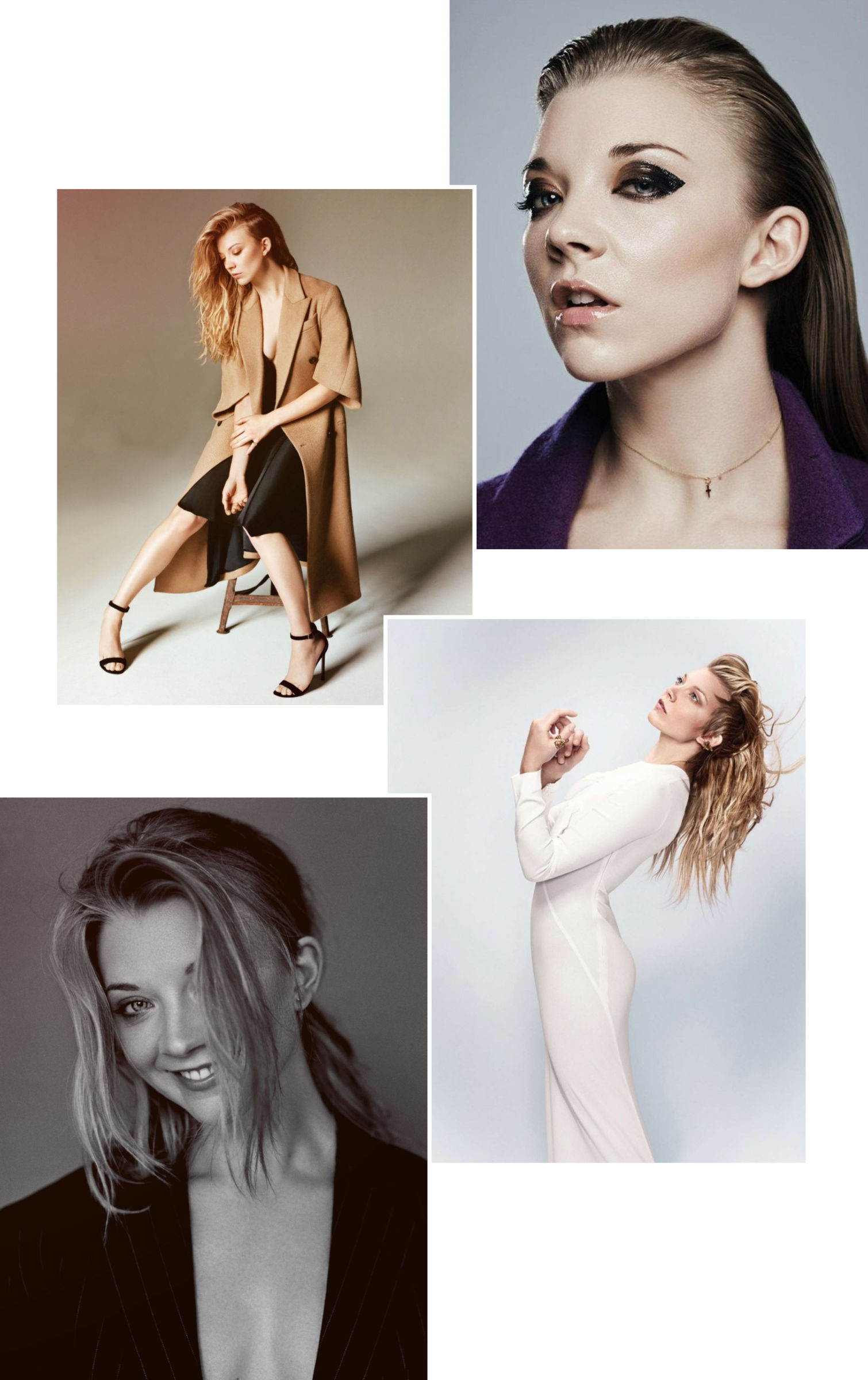 Credits Images: L'officiel, Flare, W Magazine, Glamour UK
And, to the people who ask her if she sees herself as an actress for the long run she always answers with no doubt: "I'm aiming to die doing this job". Credits: The Guardian
SOPHIE TURNER:
Sophie is 20 years old and, like the others, she is an English actress. Turner made her professional acting debut as Sansa Stark on Game of Thrones, which brought her international recognition and critical praise. For her performance, she has received four nominations for Screen Actors Guild Award for Outstanding Performance by an Ensemble in a Drama Series, as well as a Young Artist Award nomination for Best Supporting Young Actress in a TV Series and a nomination for the EWwy Award for Best Supporting Actress in a Drama.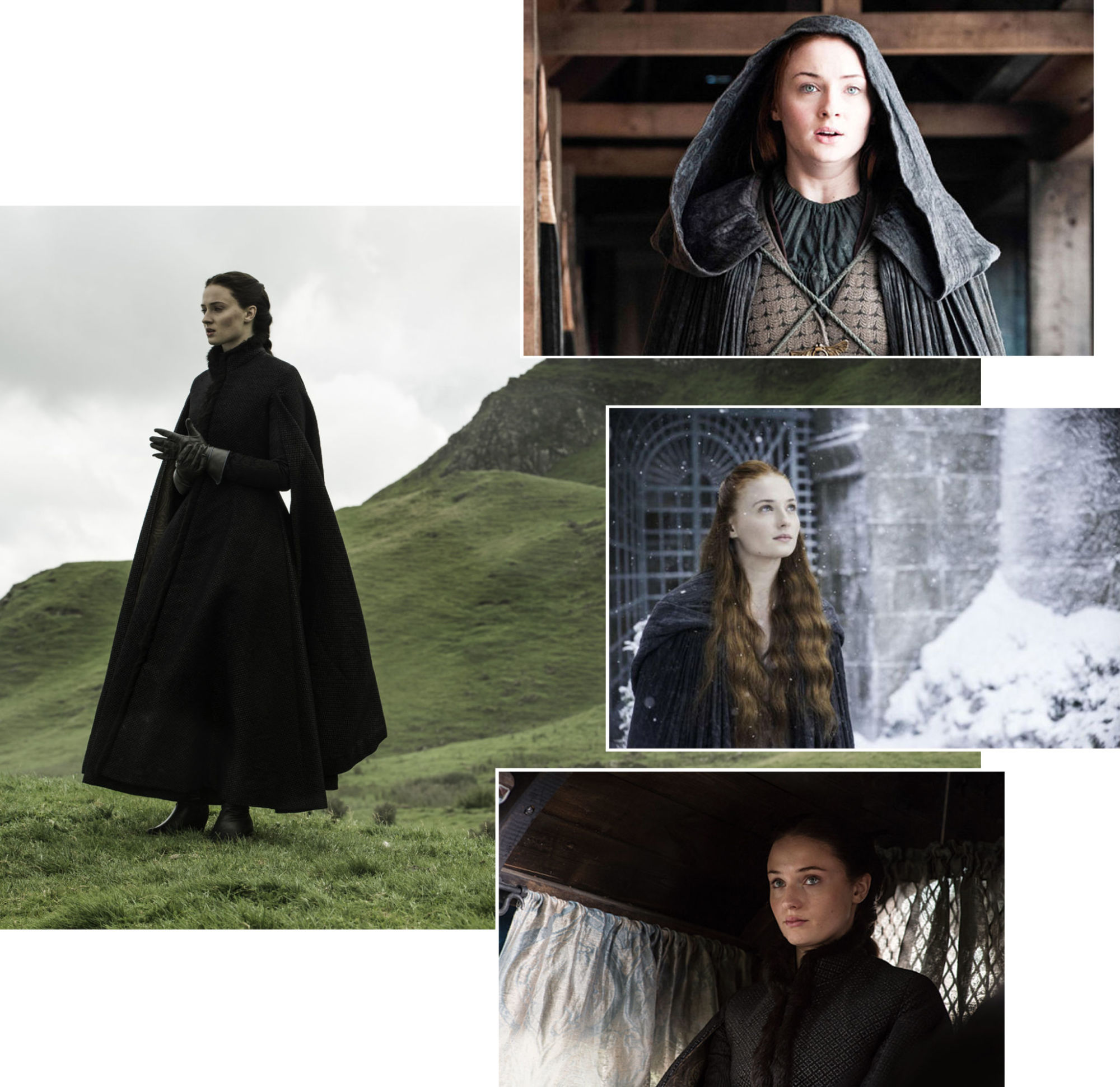 She has also starred in the action comedy "Barely Lethal" in 2014 and she will be Mary Shelley in the upcoming biopic "Mary Shelley's Monster". In 2016, Turner will be also playing a young Jean Grey in "X-Men: Apocalypse".
She told Vanity Fair that in the new season of Game of Thrones her character will reveal a new side of herself: she begins to manipulate people around. Sophie is really excited to see what people are going to think about it.
About her co-worker Peter Dinklage she said: "He is so nice, and he is the one who cracks the jokes on set. He is one of the most fun people to be on set with. He's not like one of those method actors, who's just like in the zone for hours and hours. Even if it's an emotional scene, he will be really funny. He hasn't given me any advice verbally, but every time I work with Peter, he just makes me a better actress. You are only a product of the environment around you. " Credits: Vanity Fair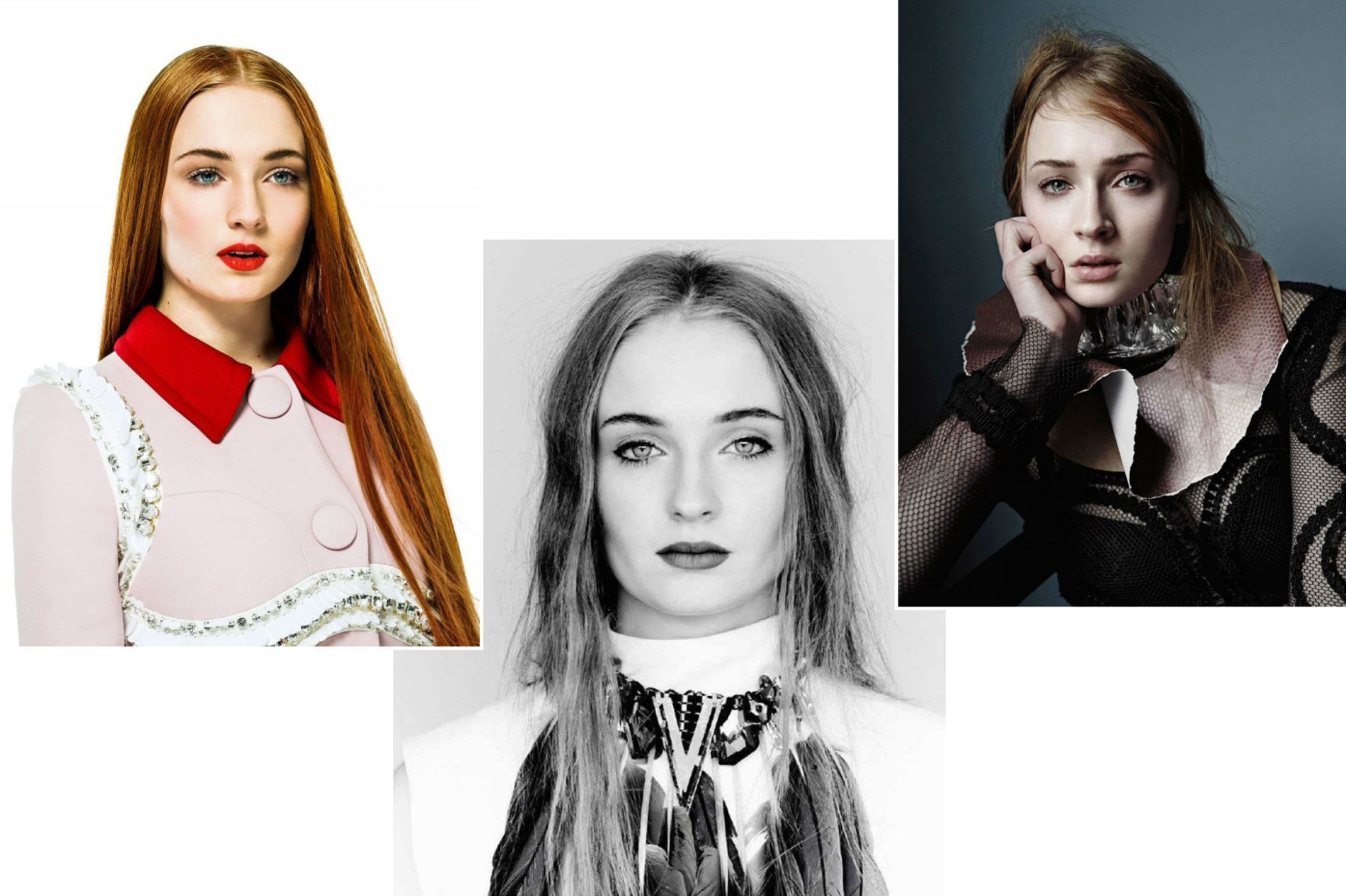 Her top directors are Joe Wright and Peter Jackson. And what about actors? She is dying to work with Jack Nicholson. Who doesn't?
She describes herself as a very emotional person, she can't watch movies like "Titanic" or "The Fault in our Stars" without cry herself out. She defines them as "emotionally destroying". And we could't agree more.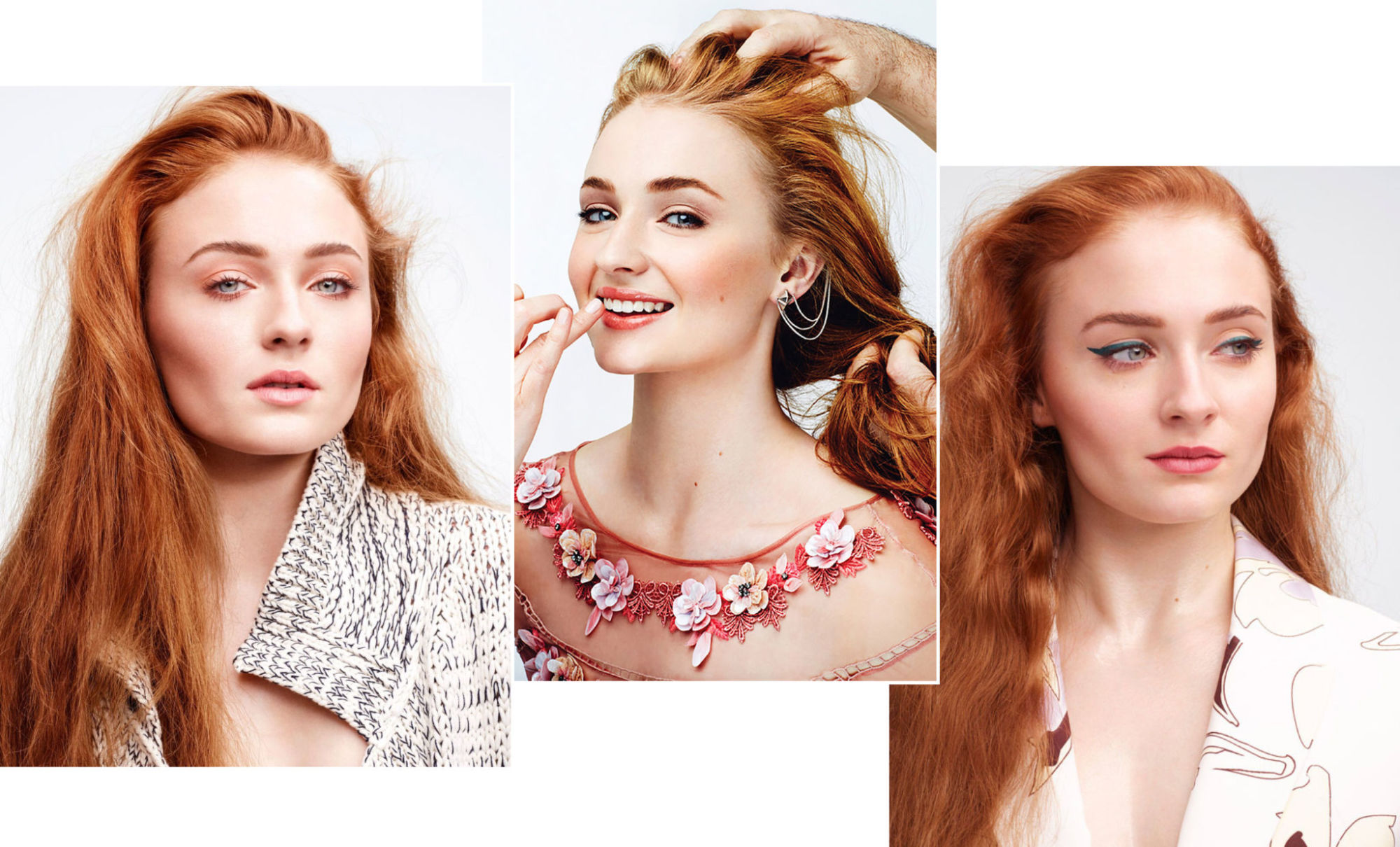 Credits Images: Glamour, Tatler Magazine, InStyle, Interview Magazine, Nylon, Vibes.
Family is very important to her, about her brothers – her best friends –  she says:"They definitely keep me grounded. If we watch an episode at home I'll ask them what they thought and they'll tell me it was OK. I need that".  The Game of Thrones cast is like extended family: Kit Harington is a surrogate brother and Maisie Williams is a best friend and a sister".
About the future of her character she says: "I would miss Sansa, I love her. She's half of me and I'm half of her". Credits: Telegraph UK