The unconventional dress is the new wedding dress. Here for you the very best dresses of the last New York Bridal week for Spring 2018, the ones that astonished not only for their beauty but also because they let us see a new bride, maybe unconventional, maybe simply bolder.
NAEEM KHAN
______
There was a wide variety in this Spring 2018 collection: a bedazzled, flapper-esque number looked fit for the modern bride, while a drop-waist gown with an embellished bodice and feathered skirt might resonate more with a sultry type. Khan also included a shimmering, caviar-beaded jumpsuit: "The idea is, 'Who is this woman who wears my clothes? She's fashion-conscious, she travels, she obviously wants multiple wares. She wants to get married in an important dress, and then she wants to change for the rest of the evening".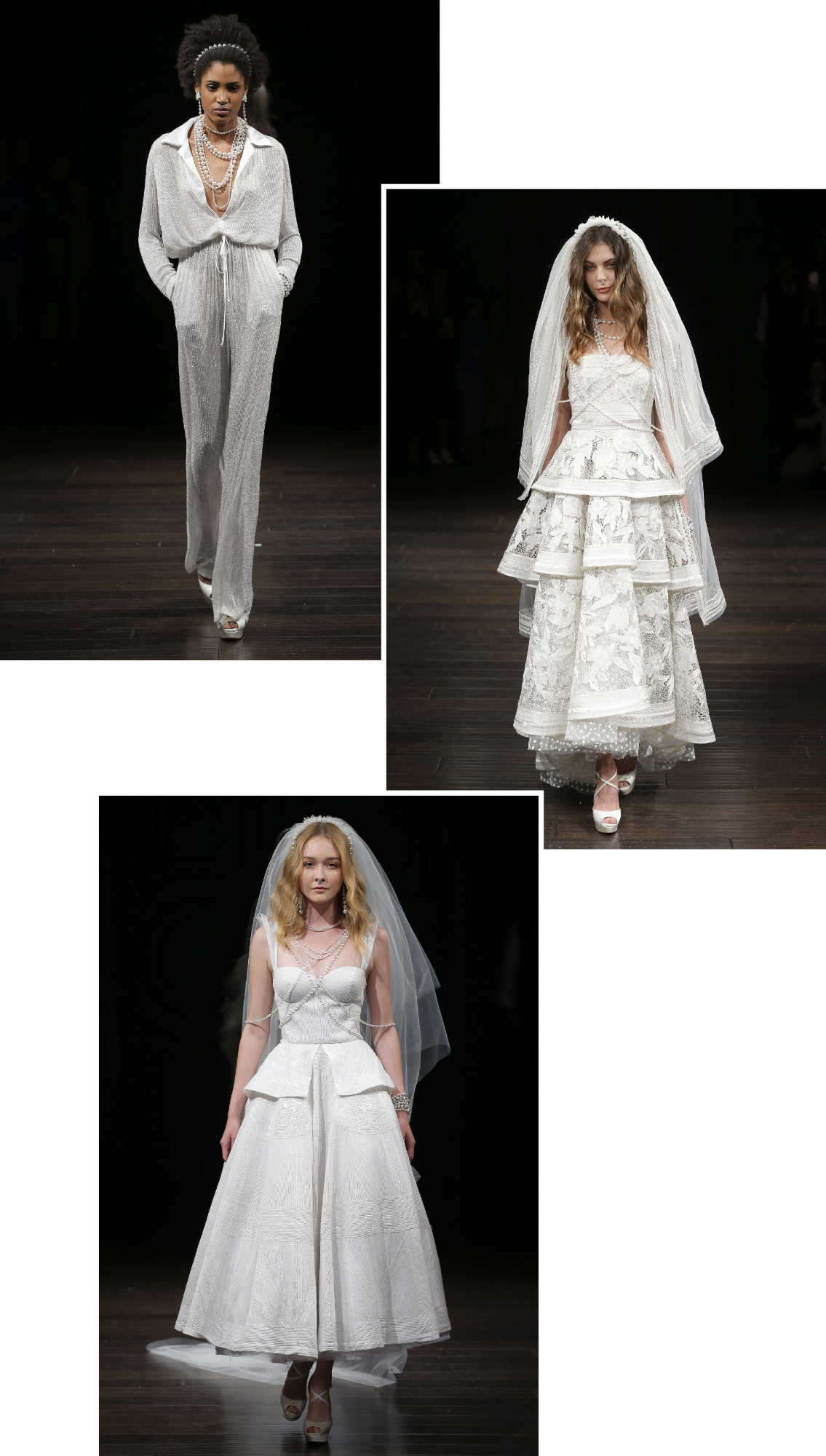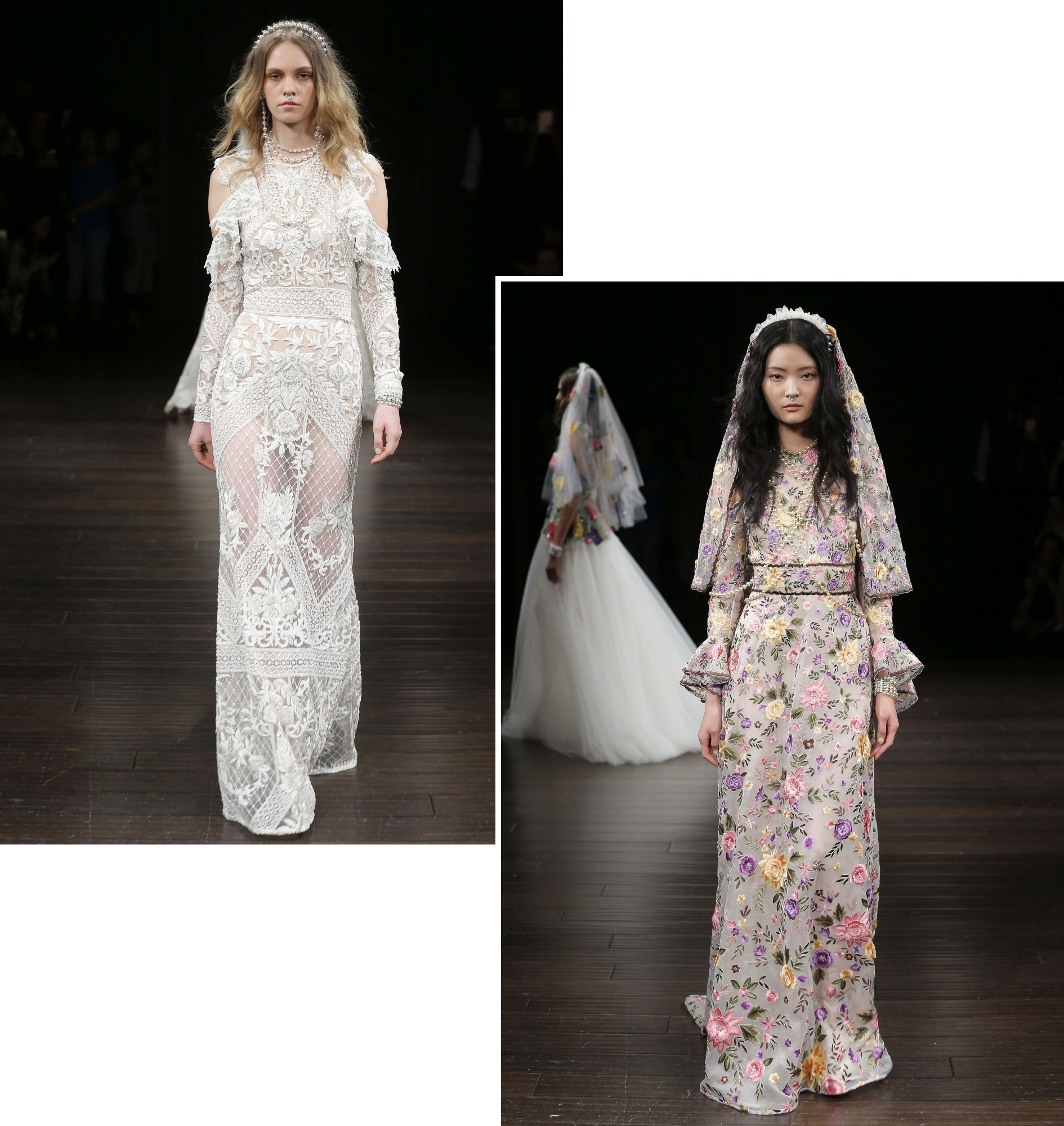 CAROLINA HERRERA
______
Though hardly informal, Herrera's dresses this season, in line with the theme, had a sense of ease and pockets! "For me," explained the designer, "the most important day in the life of a woman is her wedding, and it has to be romantic, it has to be feminine, it has to be ethereal, it has to be dreamy, it doesn't have to be sexy." One of our favorite looks: a tulle skirt paired with a formfitting sequined sweater. The opposite of a dress-to- impress ensemble, this one is for a bride confident in her taste and with nothing to prove.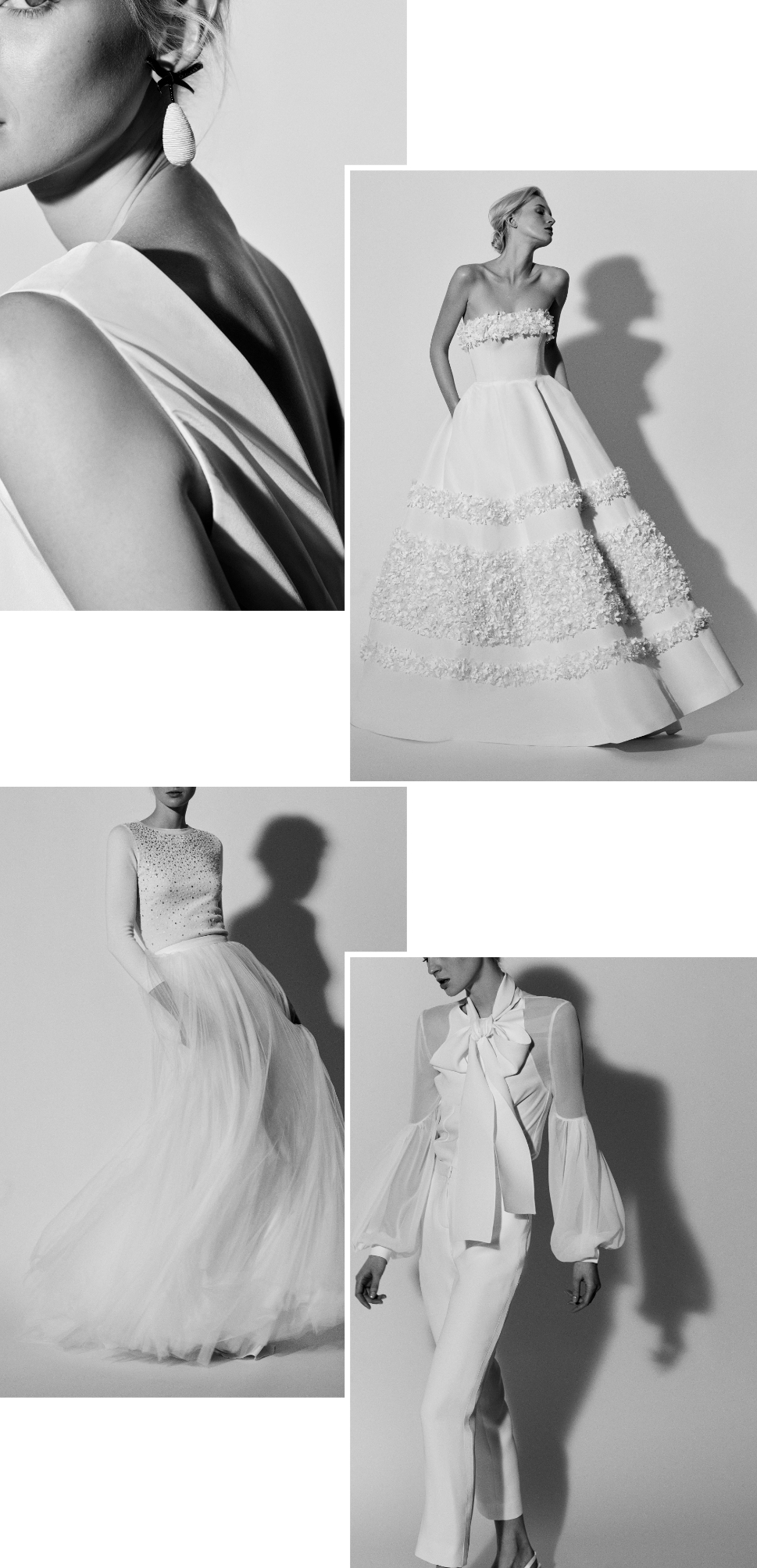 MARCHESA
______
Wedding etiquette often dictates that guests shouldn't wear black, but what if you're the bride? At the Georgina Chapman and Keren Craig's Marchesa presentation, many of the outfits had some sort of black detail: a black velvet belt, a hair bow, jet-beaded chandelier earrings, or even the stark black trim on a fluffy tulle mini.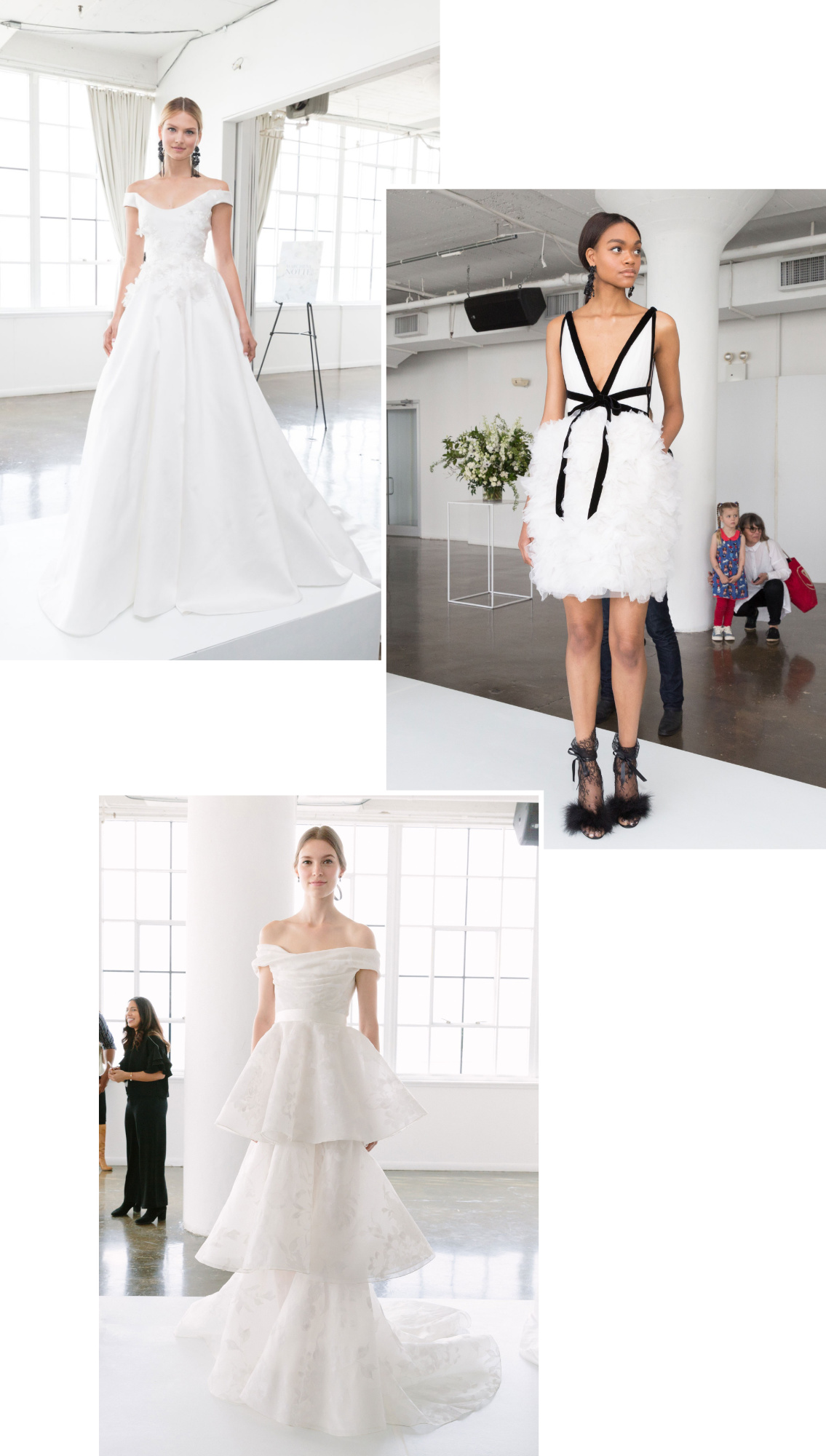 LELA ROSE
______
Lela Rose's bridal presentation was the most Instagram friendly. For her, bridal is about designing simply pretty and sophisticated dresses that aren't stuffy or overworked. She described her ethos as "a relaxed formality." "Even if one of our gowns nods to tradition, there's an ease about it. It's part of the changing rules of bridal," she said. "I think women want to feel like themselves, instead of wearing a dress that's unlike anything they've ever worn in their regular life."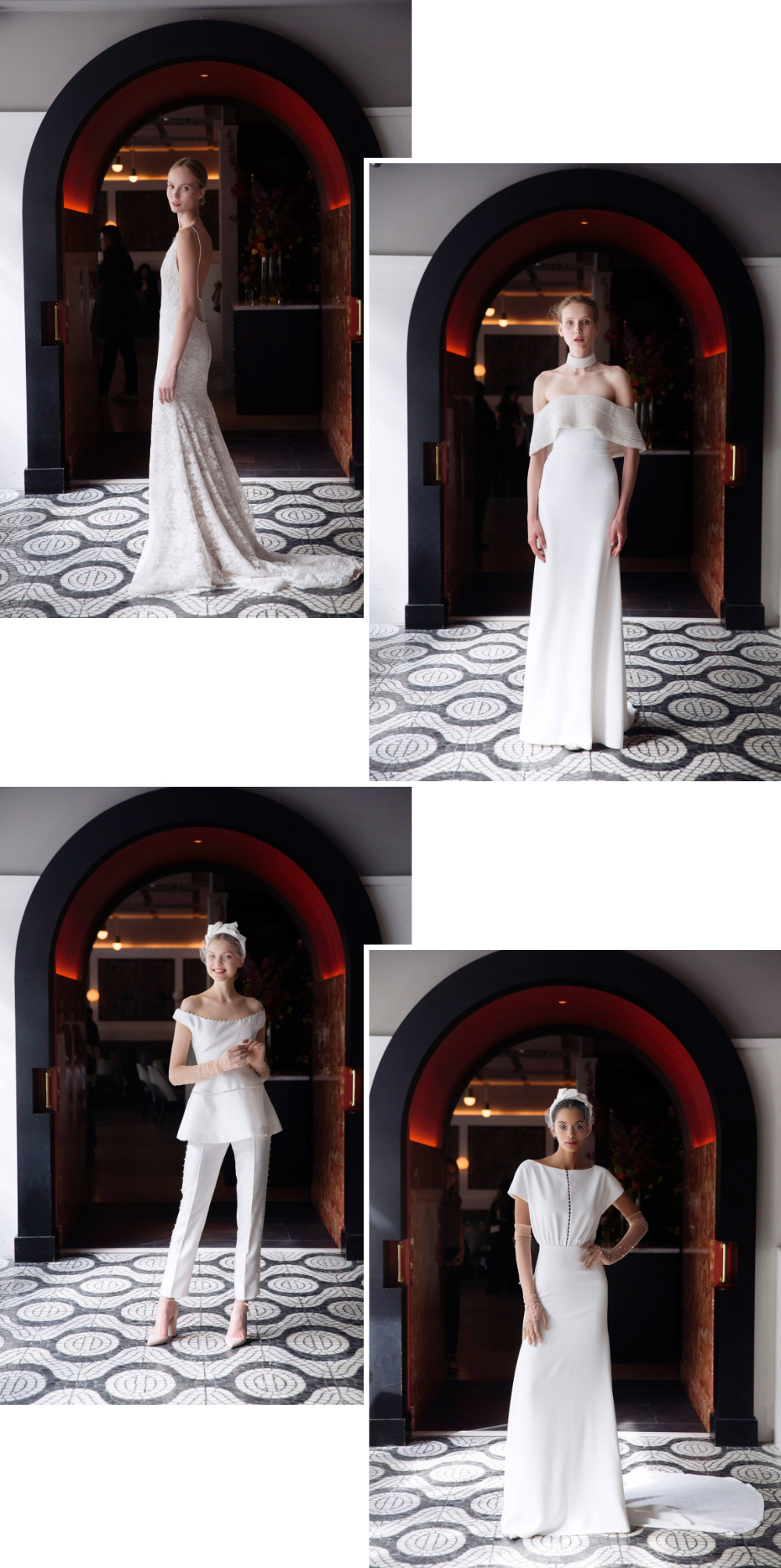 ELIE SAAB
______
The 13-pieces, were presented with jewelry and sparkling shoes. The lineup took its cues from Japanese cherry blossoms, which came through in floral motifs and Saab's use of blush for the first time. A sheath dress got a dose of his signature red carpet glamour with a detachable skirt, which brides can remove after the ceremony for a greater ease of movement. Saab carried that idea of comfort and versatility over to a long-sleeved jumpsuit, which took a simpler approach to glitz with tonal crystal embellishments.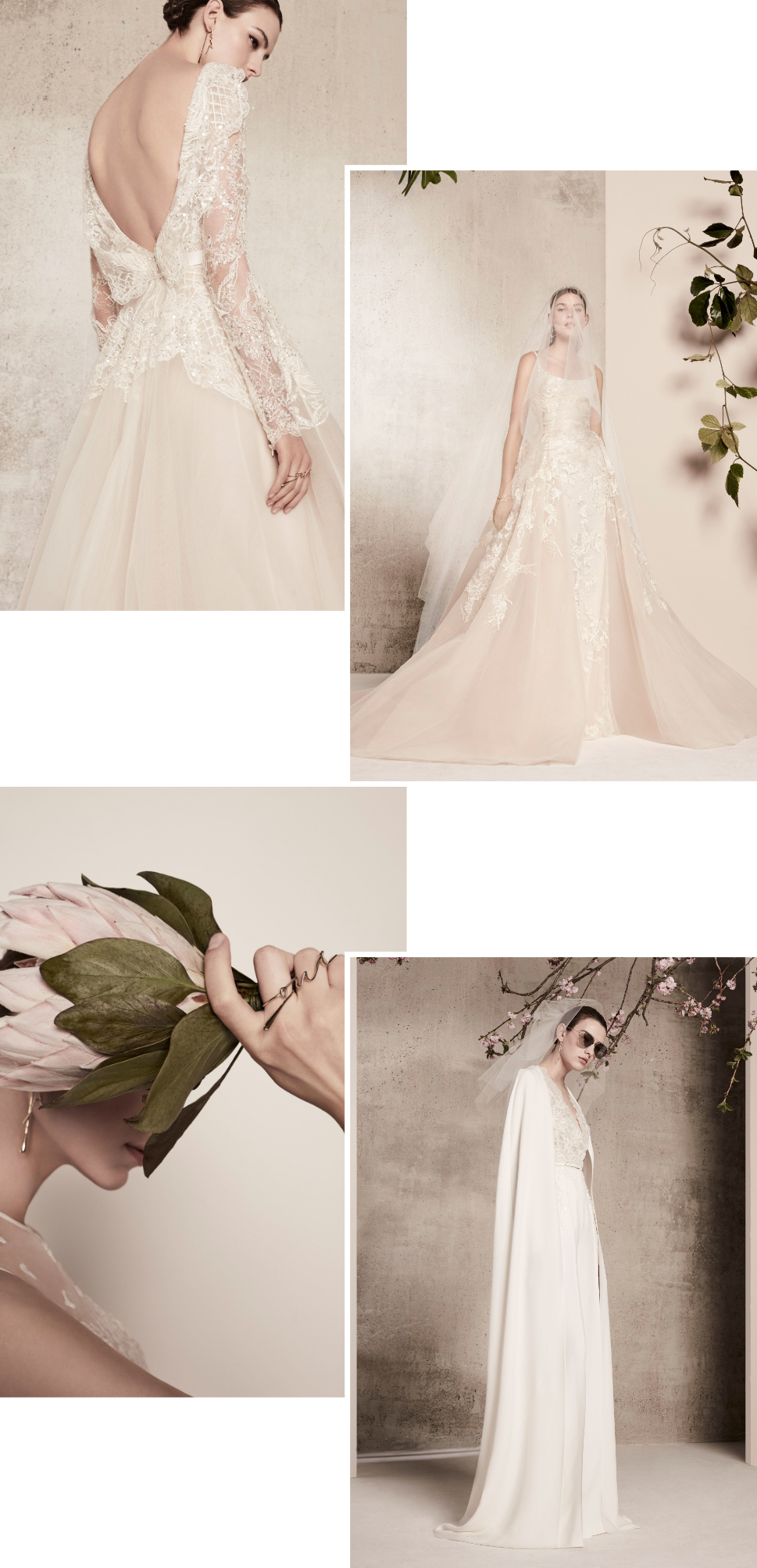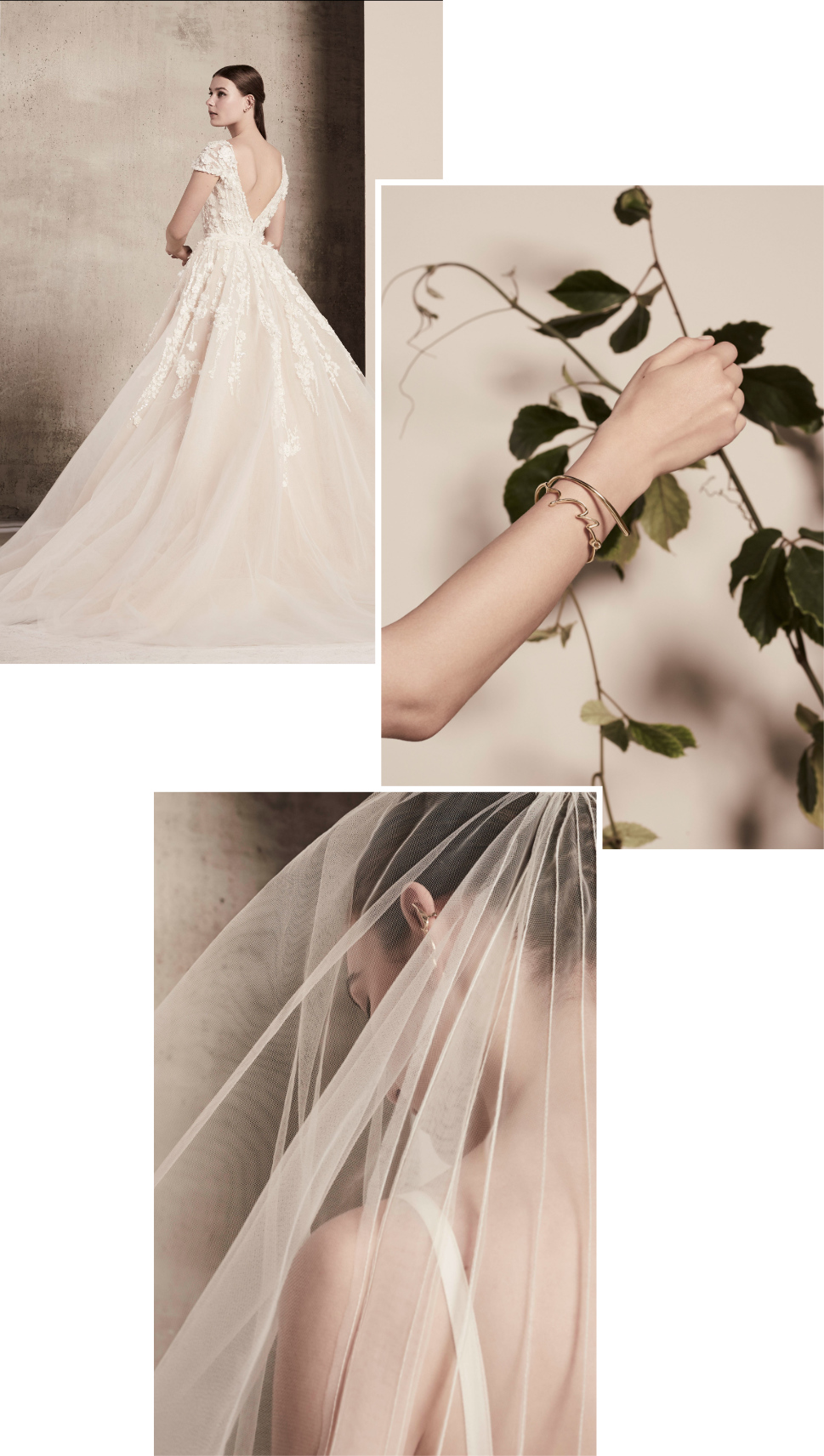 SACHIN AND BABI
______
Sachin and Babi Ahluwalia were particularly interested in the youthful, opinionated brides searching for atypical wedding fare. "I'm learning from the young ones," Babi explained post- show. "They come into the studio with these ideas, and then you're like 'Oh, well, why can't she wear a coat dress?'" There were plenty of the luxurious details Sachin & Babi fans are accustomed to, like pearl and crystal embroidery, but the Ahluwalias also broadened their horizons with a "floral" sash in hand-cut taffeta and an embellished gown over pants. Despite those classic silhouettes, this was a collection for risk takers. The high point was the finale: an ostrich-feathered mini layered over a sheer tulle skirt.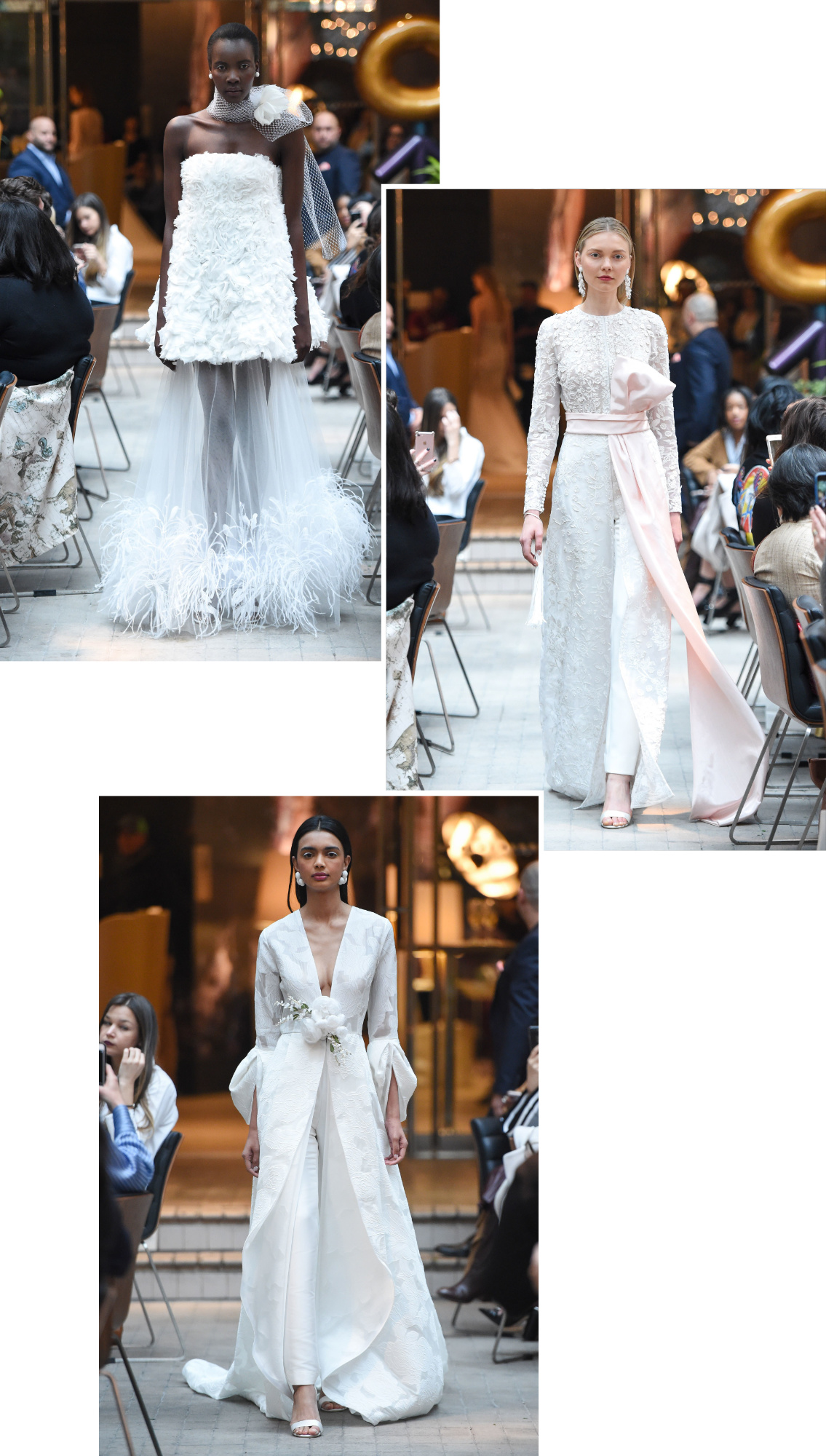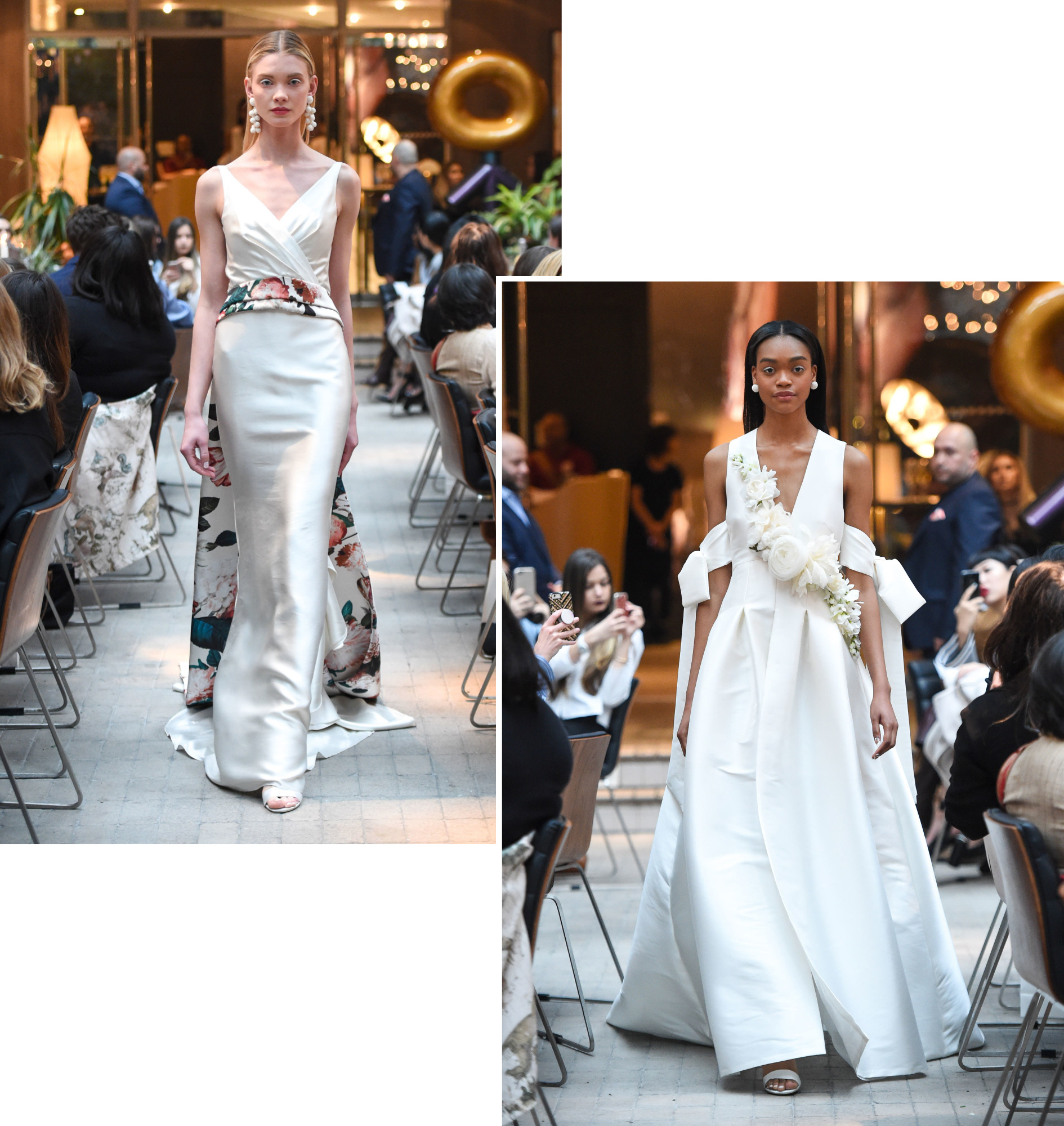 REEM ACRA
______
Reem Acra kicked off Spring '18 Bridal Week at Tiffany & Co., celebrating her partnership with the jeweler and her label's 20th anniversary. While Tiffany's is a traditional setting for all things wedding-related, the show's beginning was unorthodox: they opened with 12 black gowns.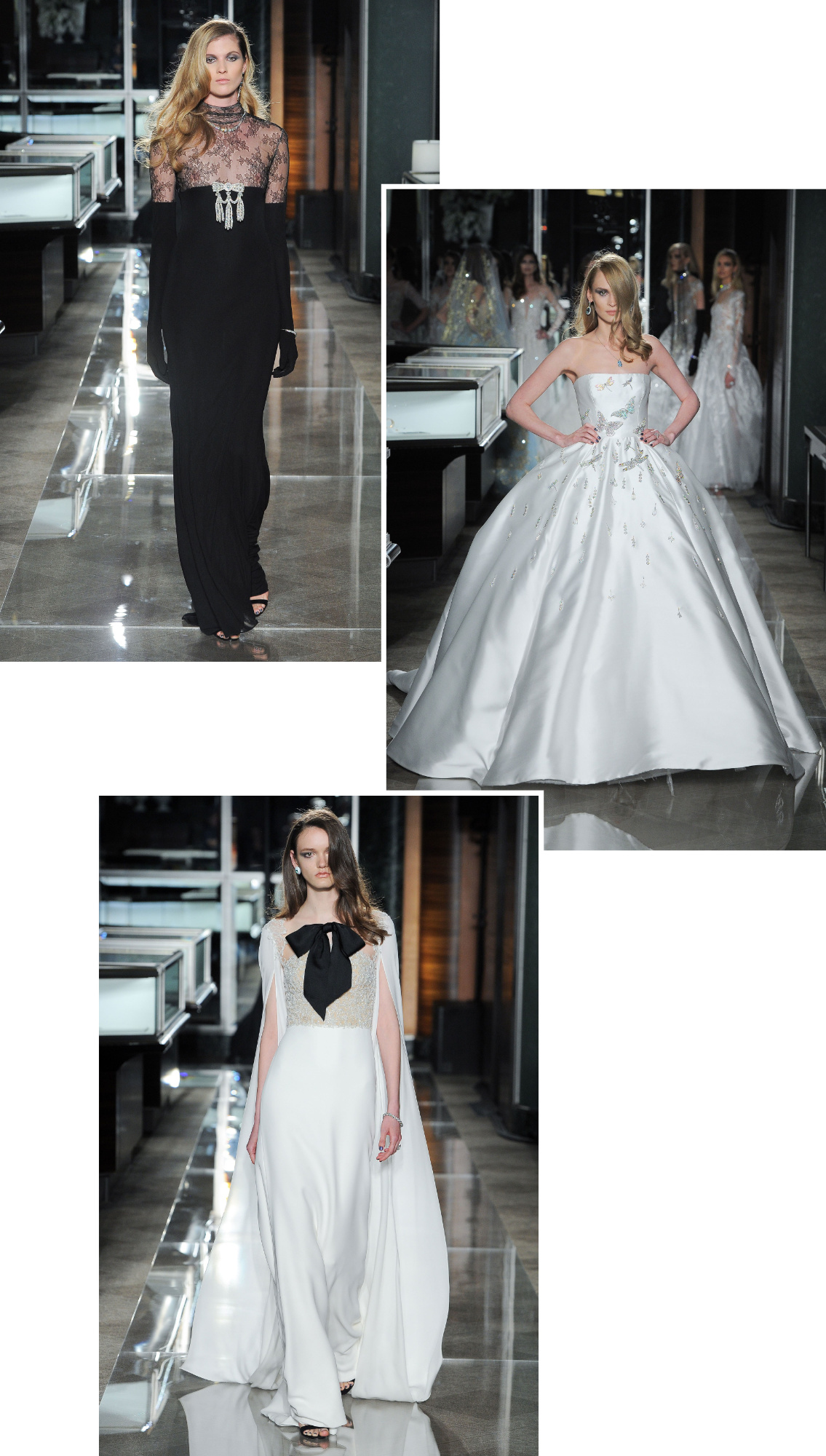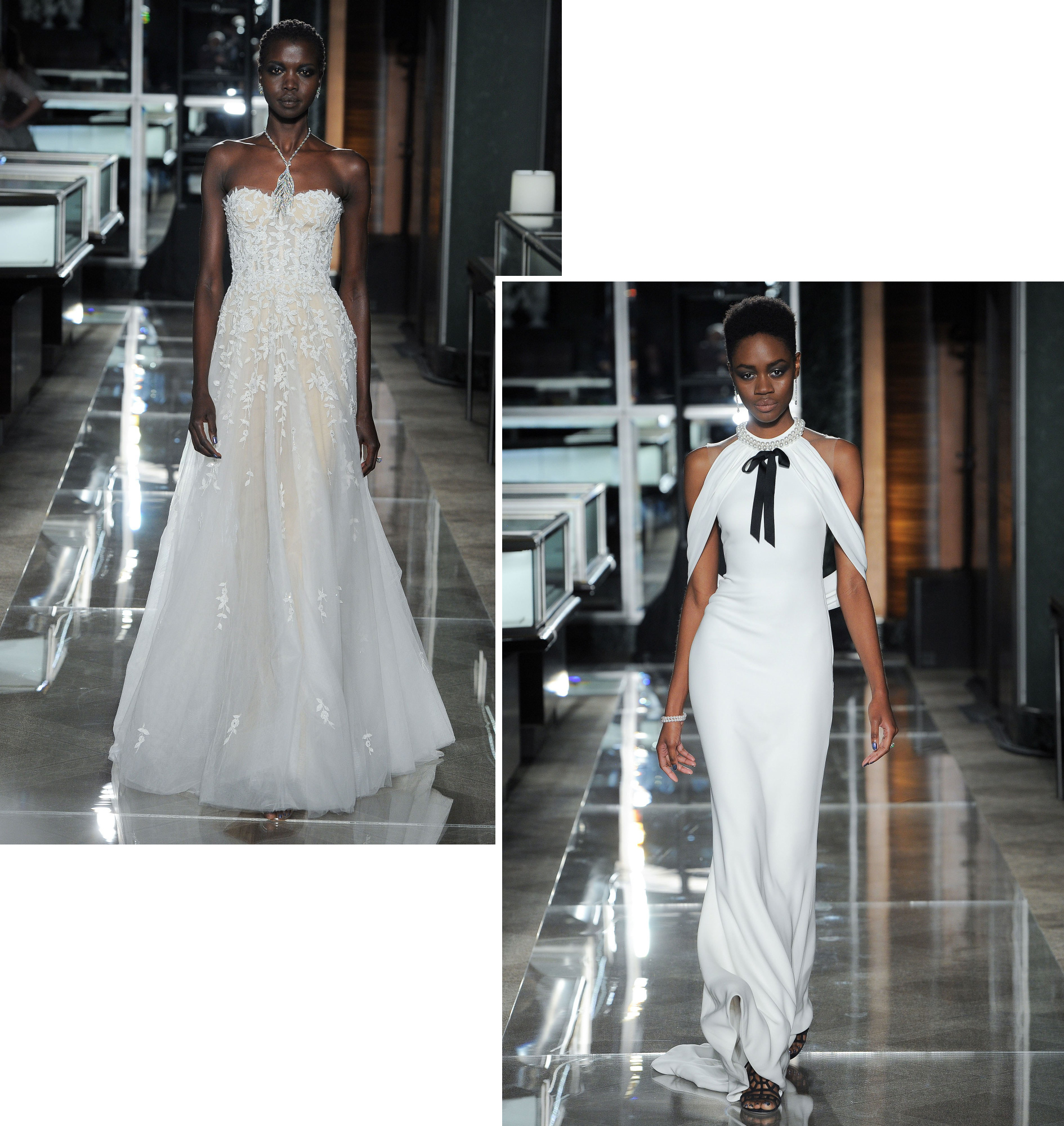 OSCAR DE LA RENTA
______
Without flowers It wouldn't be an Oscar de la Renta show. Gorgeous floral lace, 3-D flower petals, and painterly prints, all inspired by his very spectacular gardens. For their first bridal show, co-creative directors Fernando Garcia and Laura Kim paid sweet tribute to that. But they are experimenters: there was a jumpsuit with a lace bustier and a relaxed ivory suit with a sequined corset and one dress Kim referred to as their "ode to Sarah Jessica Parker" with "Just Married" embroidered on the back.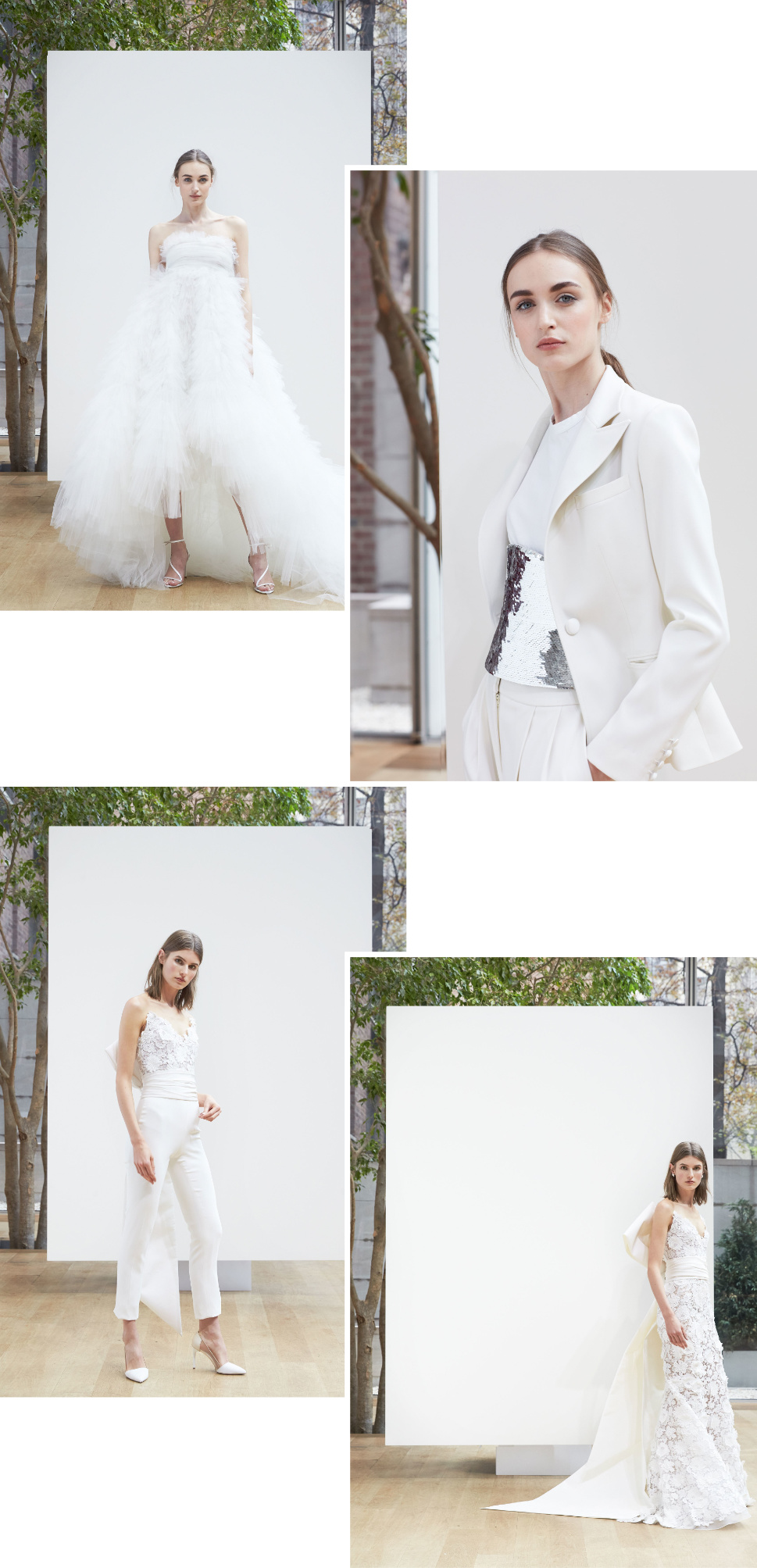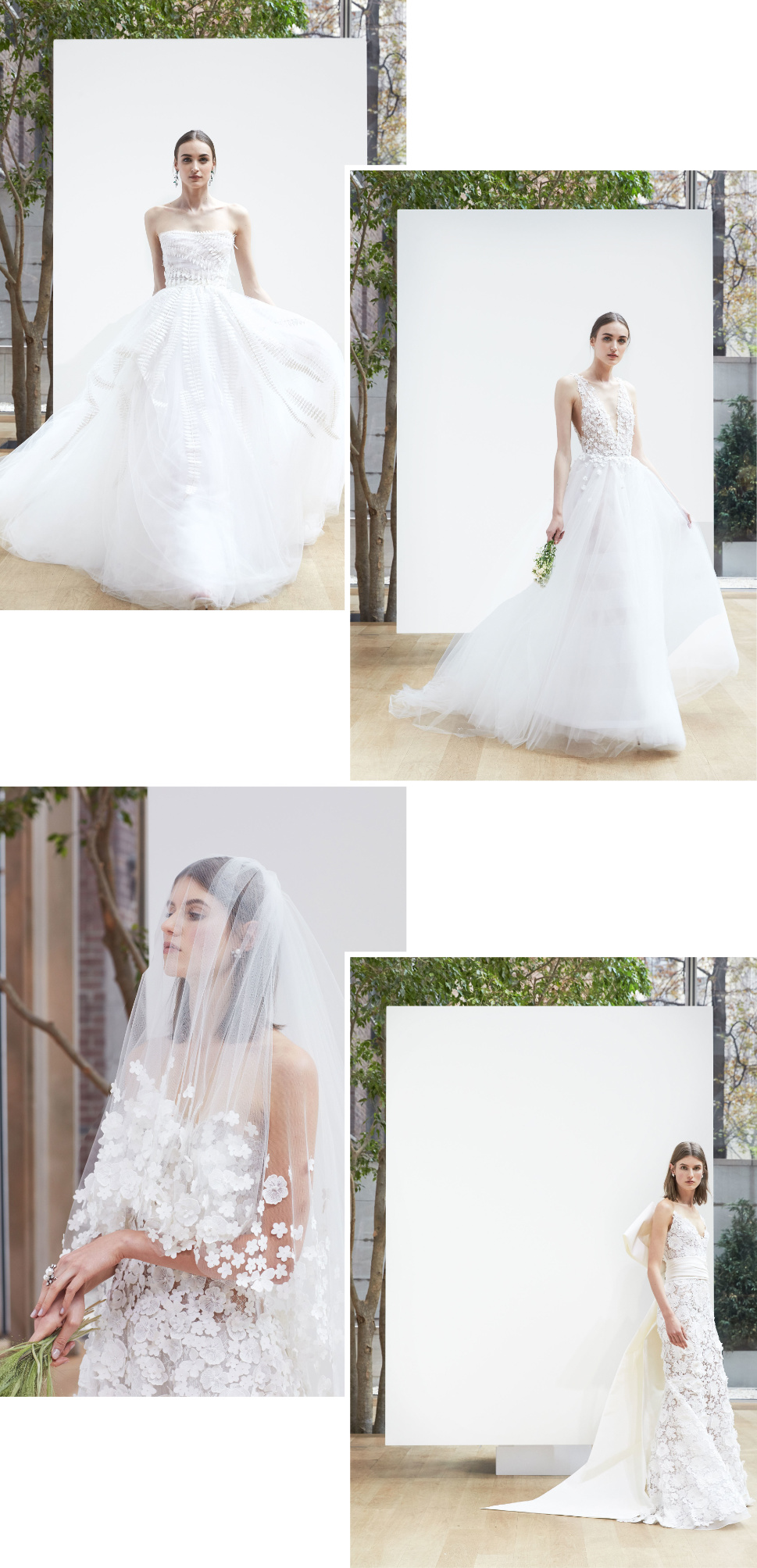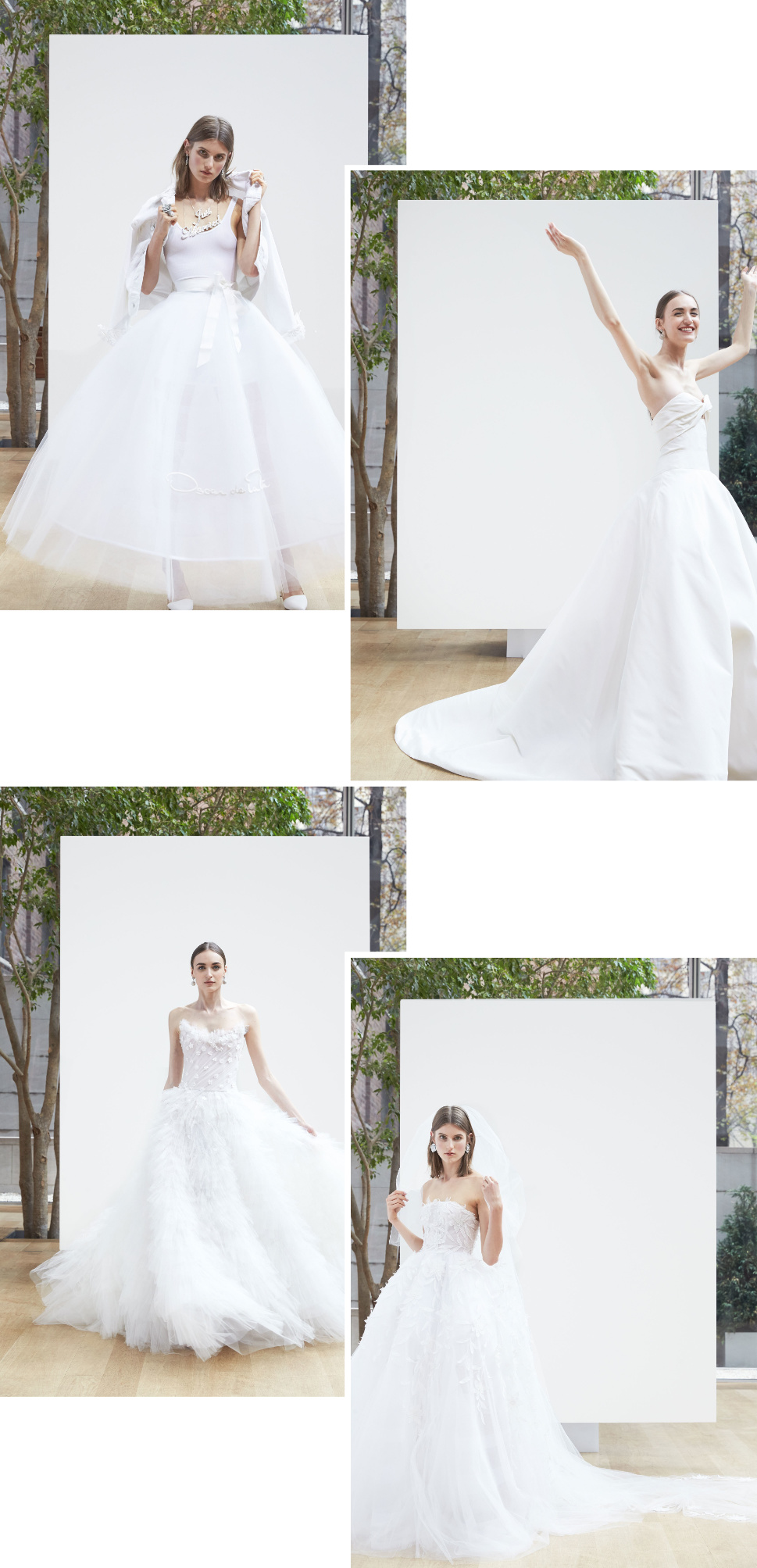 JENNY PACKMAN
______
Someone said Circus? This theme for a wedding season is definitely unusual but the designer succeeded to mix red dresses, bustier typical of a Moulin Rouge affair, sequins and lavish sleeves. We loved the jumpsuit, which is a mix of heavy jewels, a soft fabric for the trousers and a tulle train.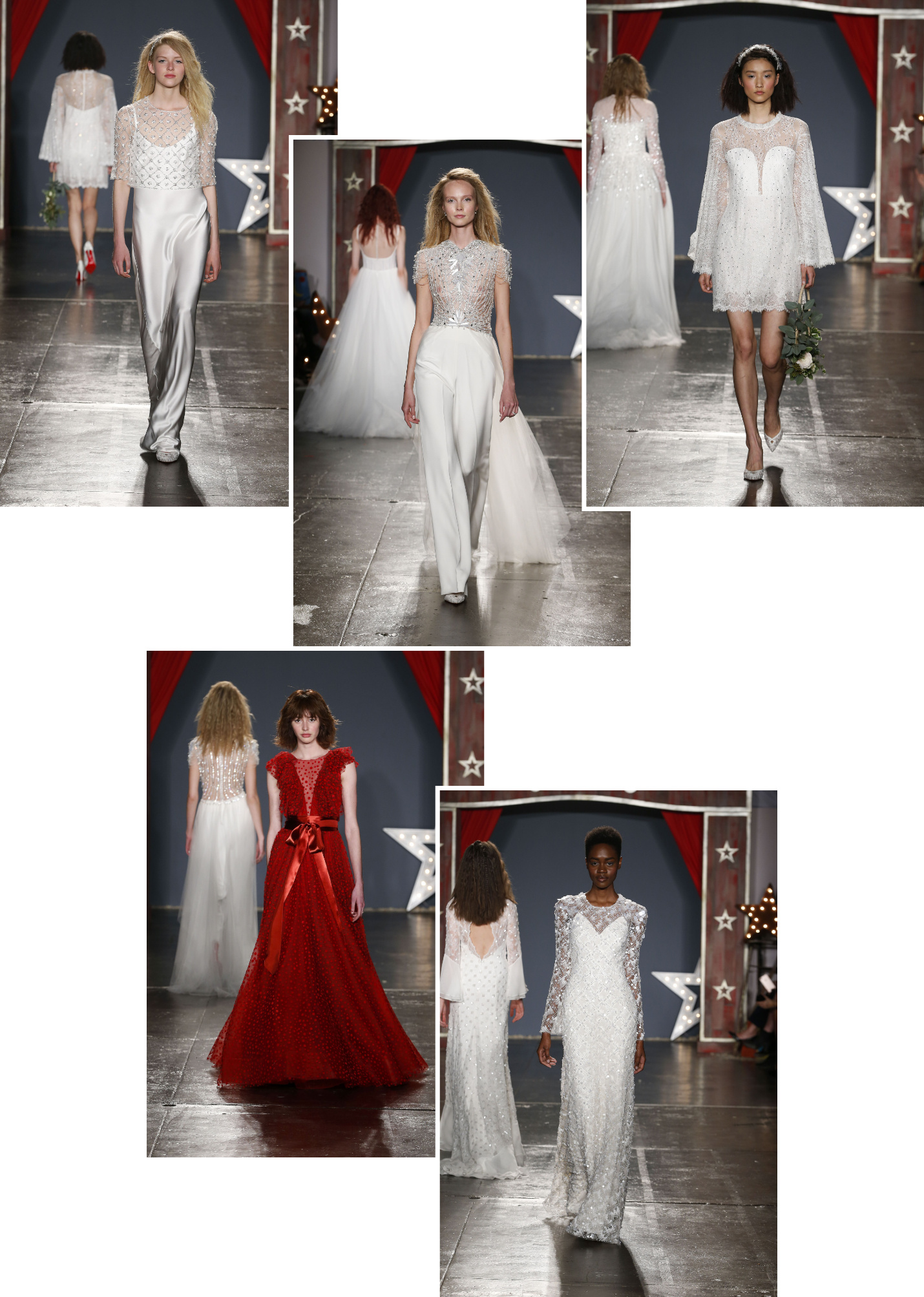 VICTOR&ROLF
______
Even the most avant-garde ones have a pure, stripped-back quality, so they're exquisite, yet timeless; artful, but not overpowering. Fans of the high-concept label will notice a few of V&R's signatures right away: handmade flowers, often the size of real blooms; layers upon layers of pleated tulle, sometimes sliced at an angle; and oversize satin bows. Brides planning to buy a second, shorter dress for the reception, take note: The two bottom tiers on this one are removable. And while "minimal" is rarely a word used to describe Viktor & Rolf's collections, brides in the mood for a sparer look will be surprised to find plenty of options here. There were two jumpsuits: one with a single bow at the shoulder, and another with an abbreviated train and rows of tiny bows across the back.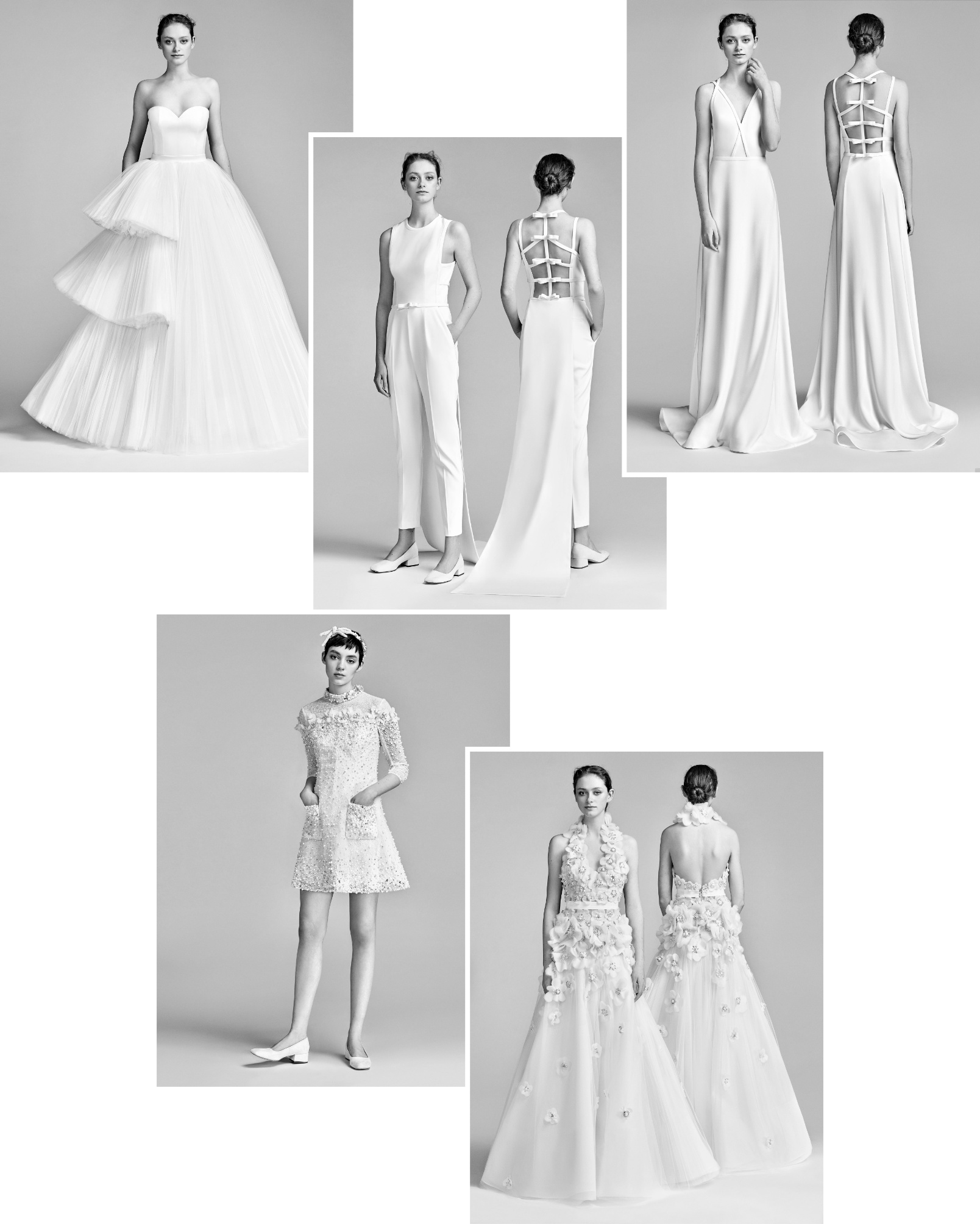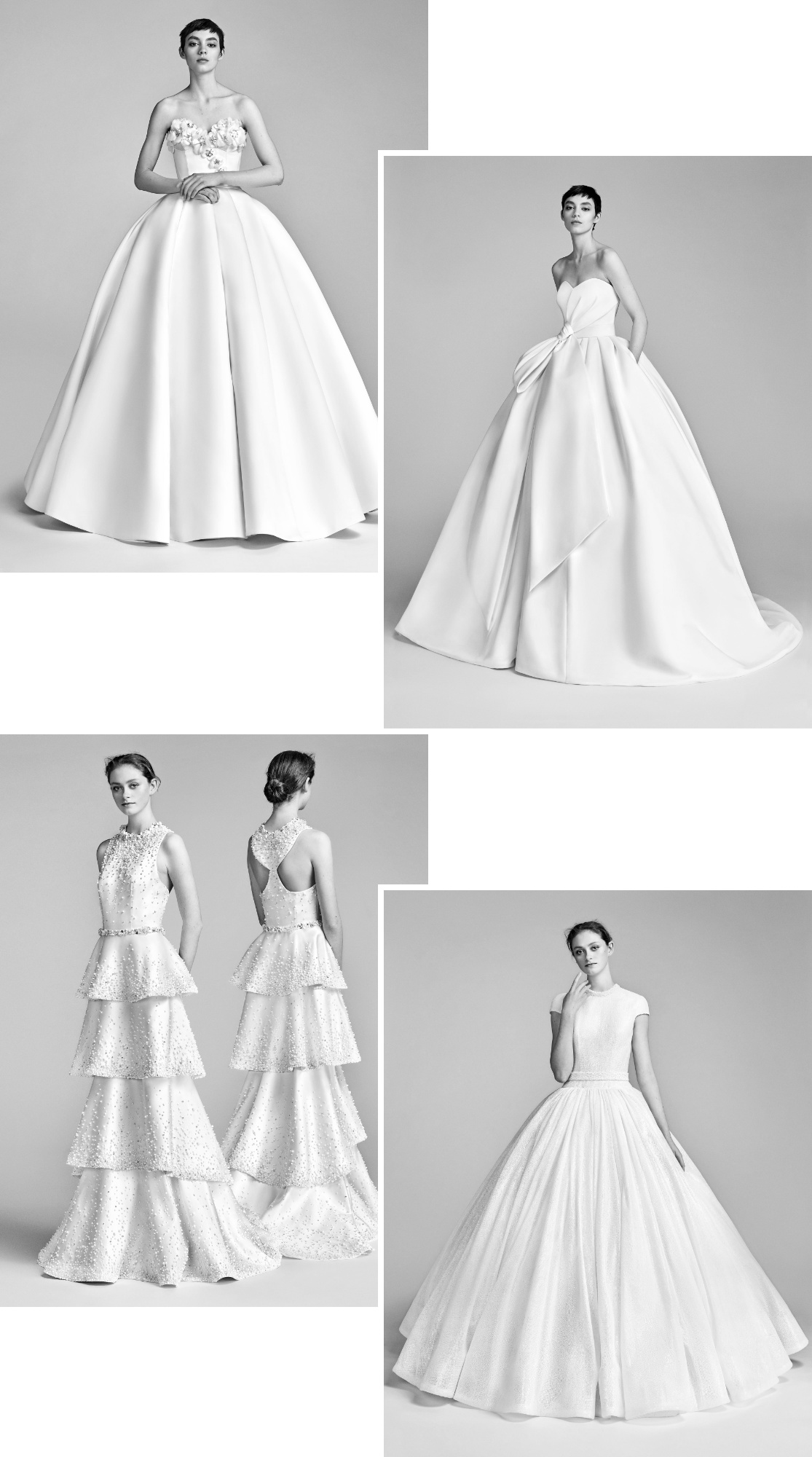 Credits: Vogue