The Artist
Rachel Goodwin.
Rachel is NARS Director of Pro Artistry and a sought-after celebrity makeup artist. She works with color and passion, unleashing her creativity freely, without fear and always pushing boundaries. She has created beautiful looks for stars such as Millie Bobby Brown, Emma Stone, and Brie Larson, or the lively editorial look for Winnie Harlow that we can see on Rachel's Instagram, where Winnie looks like a butterfly bathed in colors. Rachel is a real bomb of constant inspiration: France, feelings, and music are only a few of the things that move her and which she celebrates in her art.
But what are her must-have products, what's her first memory of makeup and where does she look when looking for new ideas? What is the best part of being at the Venice Film Festival, where she accompanied Emma Stone for the red carpet of "The Favourite," Yorgos Lanthimos's historical drama where the actress plays the lead, together with Olivia Colman and Rachel Weisz?
Discover all the above, plus a secret about all the steps of a very important makeup look, in this very special interview that, for the first time, meets the Red Carpet!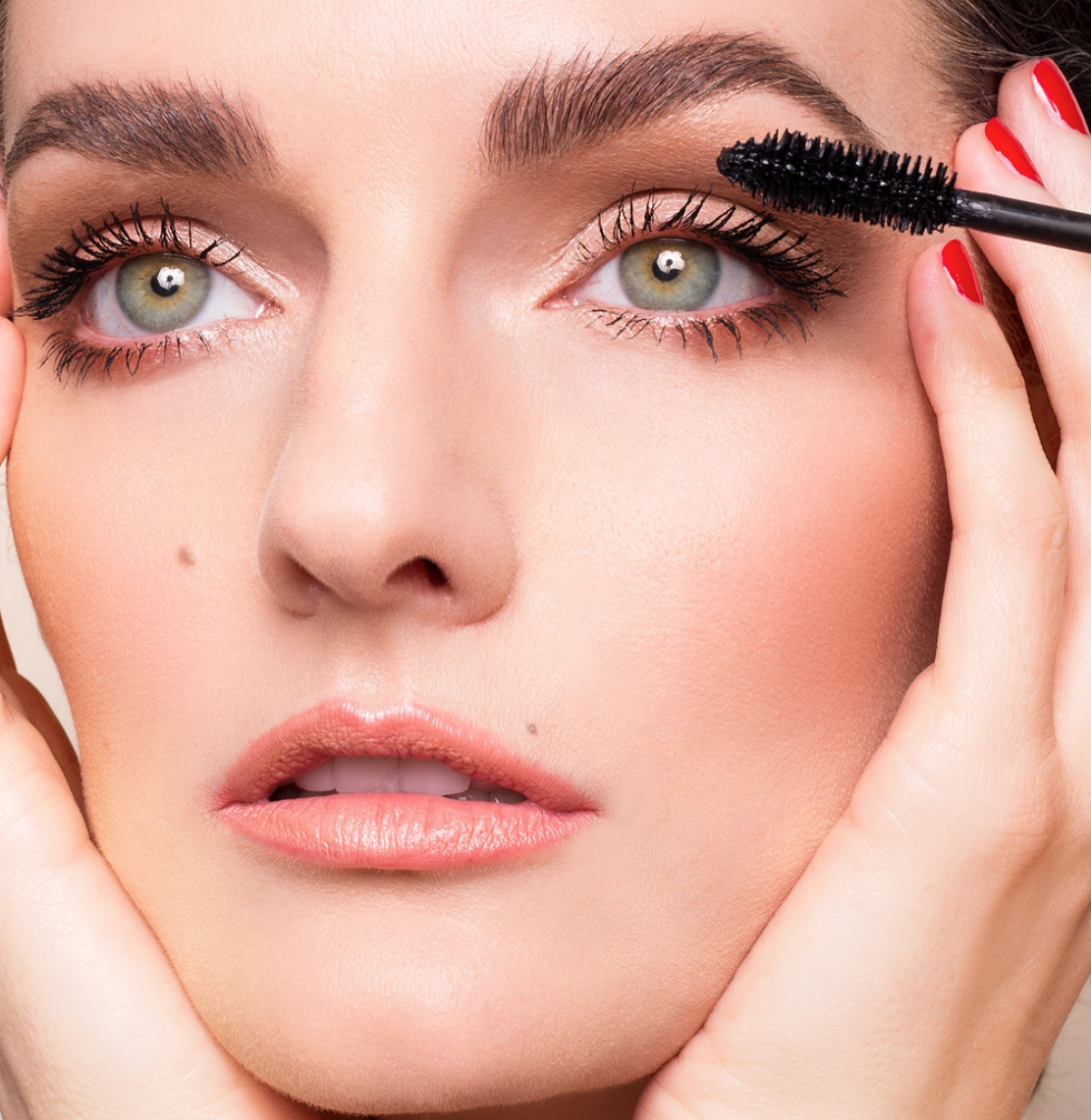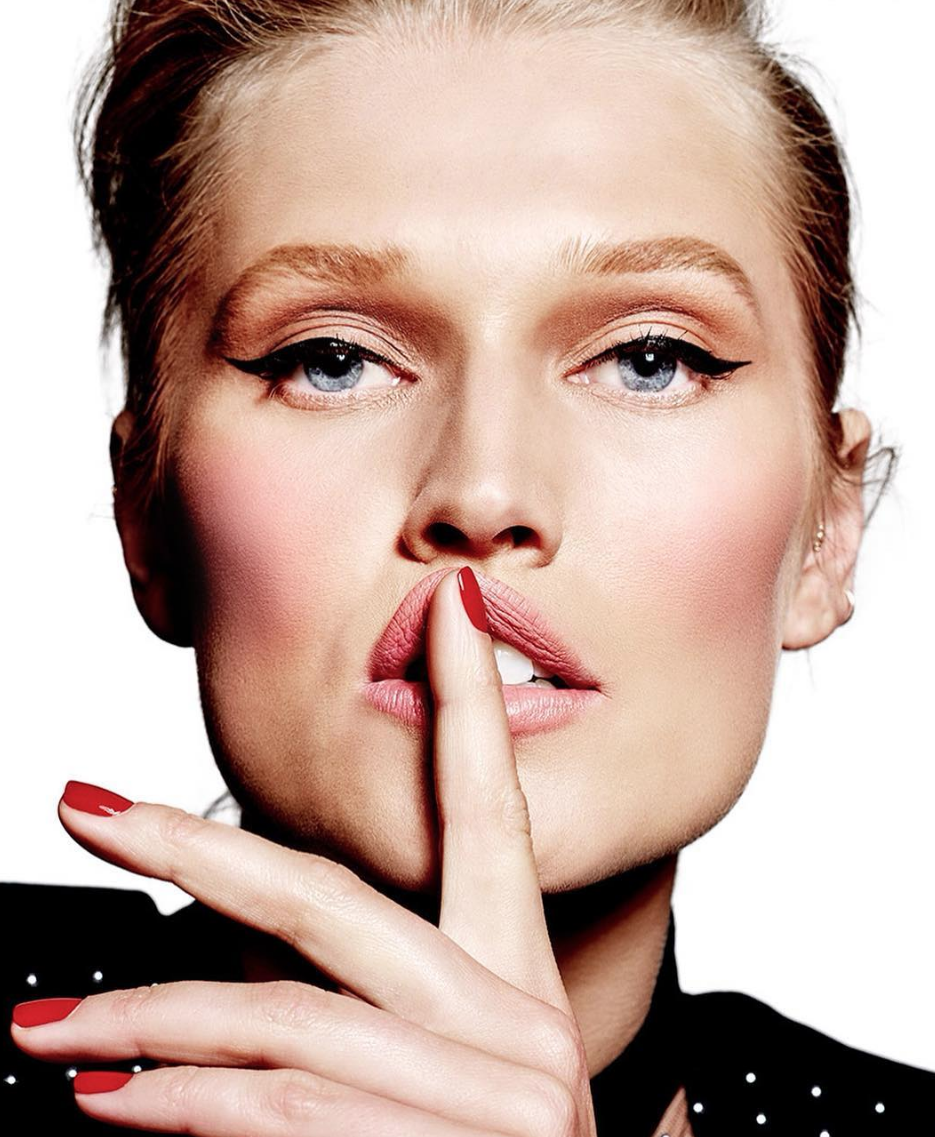 ____________
How was your relationship with makeup and beauty when you were younger?
____________
I have been fascinated by color, glamour and transformation as long as I can remember. My mom exposed me to a lot of art, film and music growing up. I remember very early in my life watching her do her own make up. I was totally enthralled with the process. I started drawing her and her friends' faces when I was only four. I still have a few of those portraits somewhere. I always gave everyone loads of lashes, nothing has changed, LOL!
____________
What's the best thing about being at the Venice Film Festival, for you?
____________
I love the feeling of mystery in Venice, it's truly magic every time. Which also reflects the magical quality of cinema which is why I think it's it's such a perfect place for a Film Festival. Also, just the fact that I take a boat to work, I think that is my favorite part. Oh yeah and the pasta:)
____________
Your love for France, both ancient and modern, is well known: would you like to work on the makeup for a French History-inspired editorial/movie?
____________
OMG YES! I would jump at the chance it if ever presented itself. I am a Francophile for sure. My dream would be to work on a film about Josephine Bonaparte, she is a personal hero of mine.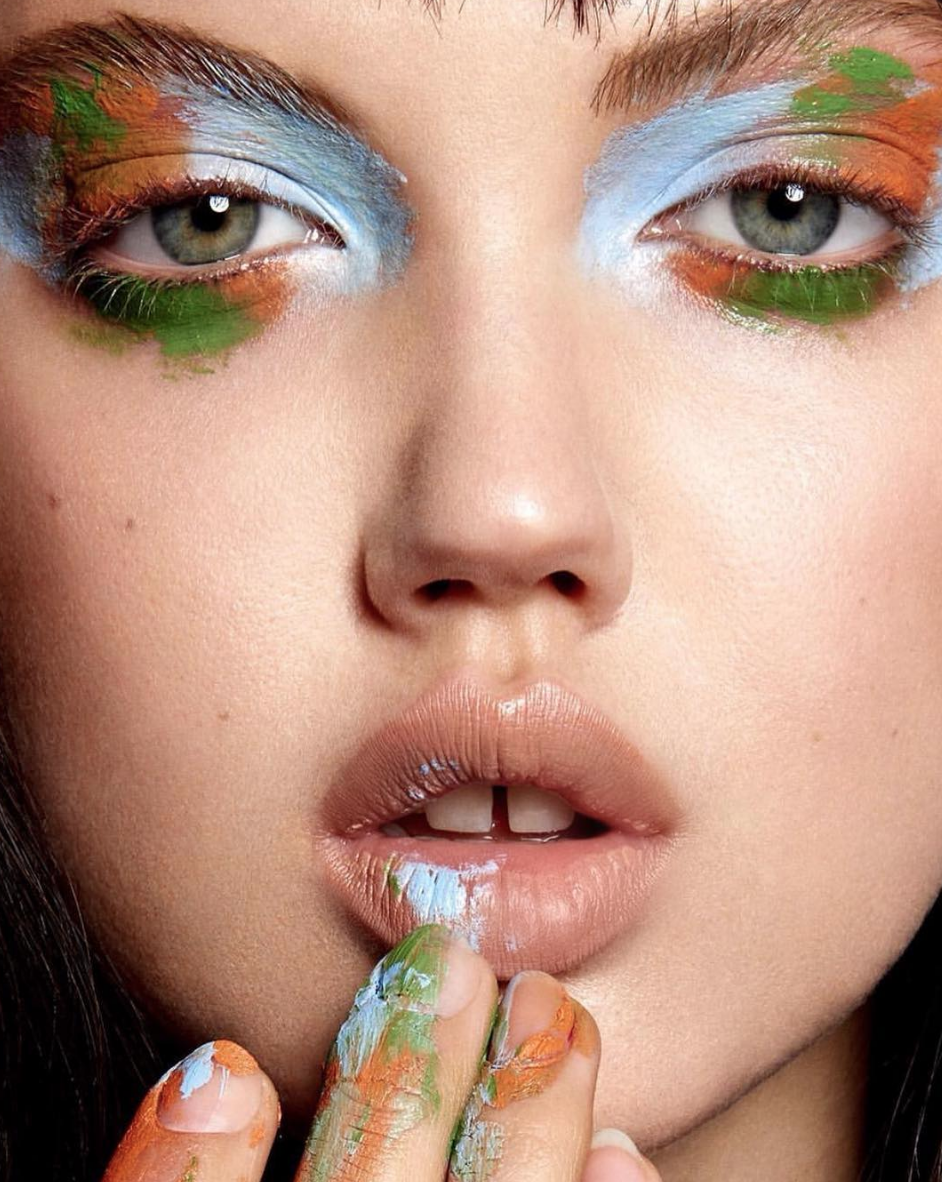 "…Josephine Bonaparte, she is a personal hero of mine."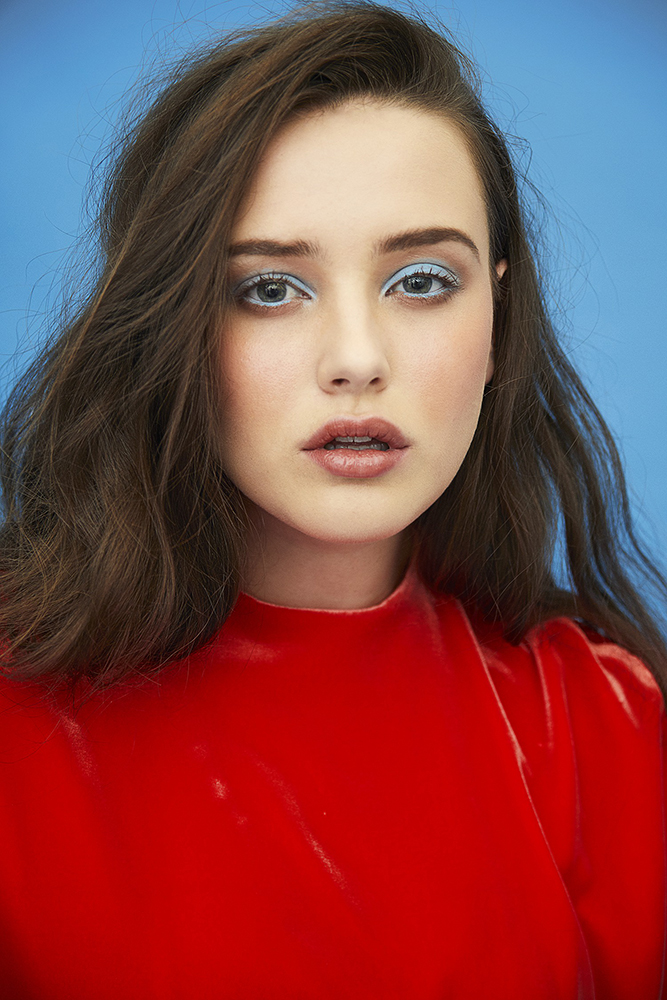 ____________
We loved two looks, in particular, you did recently: the blue eyeshadow makeup for Katherine Langford on Marie Claire and the Vogue Thailand cover. What can you unveil us about those looks?
____________
I would say that my love for color is reflected in both. I am so grateful for any moment where I get to use color to express my feelings or mood. I'm so proud of both covers so It makes me so happy to hear you liked them!
____________
Three products you would bring to a desert island?
____________
Tinted Lip Balm is an addiction of mine. Burt's Bees Dahlia is my go to. Supergoop sunscreen and NARS radiant creamy concealer.
____________
In a few words, what's your skincare routine?
____________
Minimalist. Effective, Natural.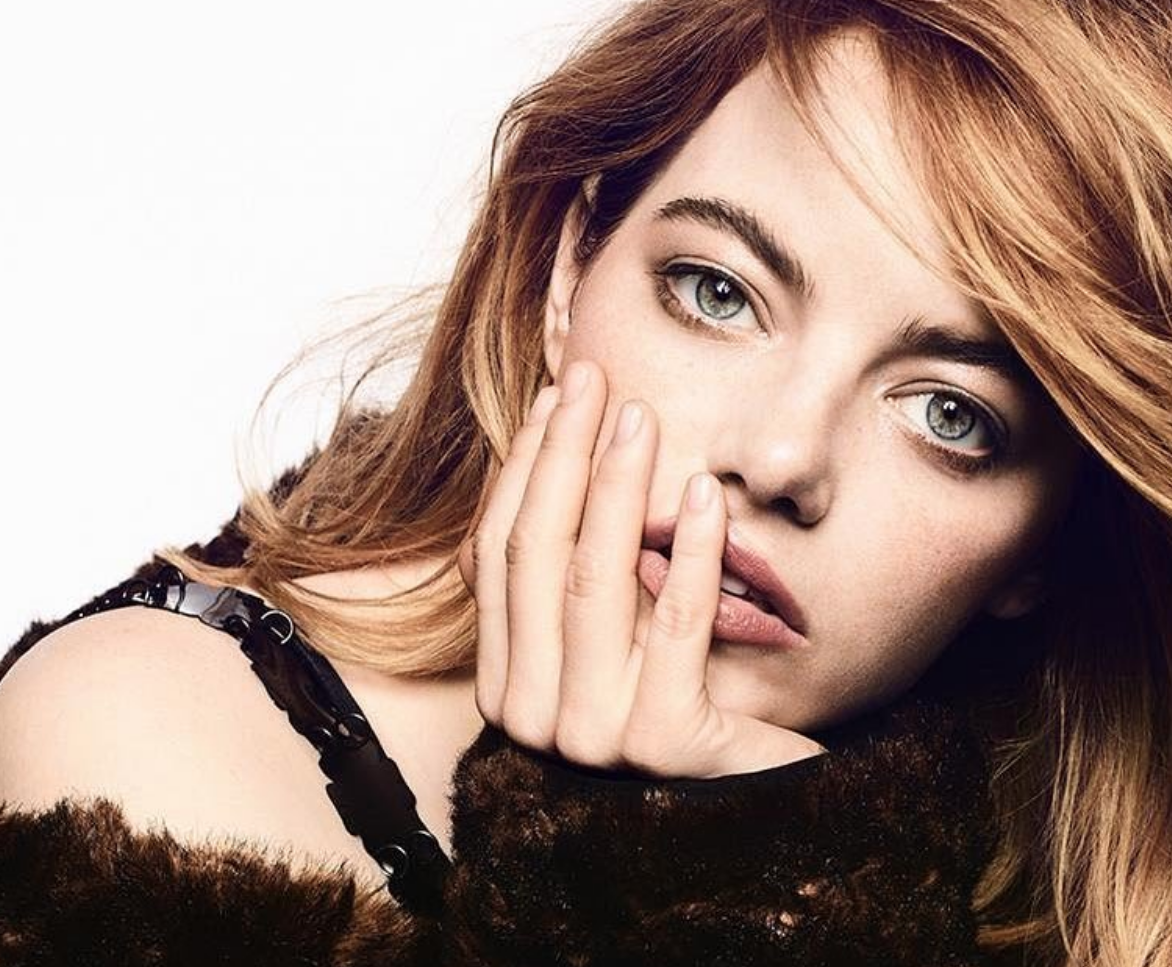 ____________
What's your favorite red carpet look you ever did?
____________
Emma for her first Spiderman premiere in Paris in 2012.
It was such a special moment I'll never forget. I loved everything about it. What we ate, where we were, how much we laughed, the dress, the hair and most of all the drama of the makeup, which was inspired by all of the things I just mentioned.
"Minimalist. Effective, Natural."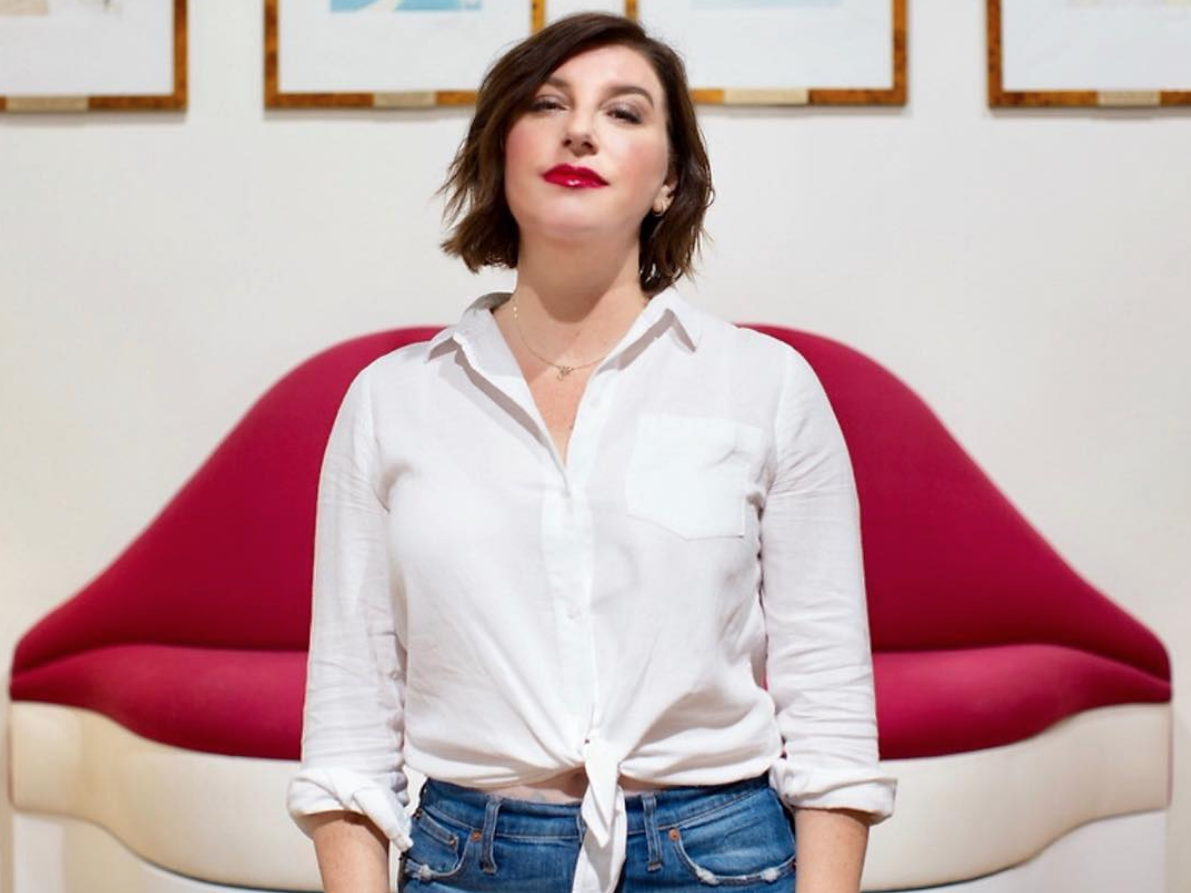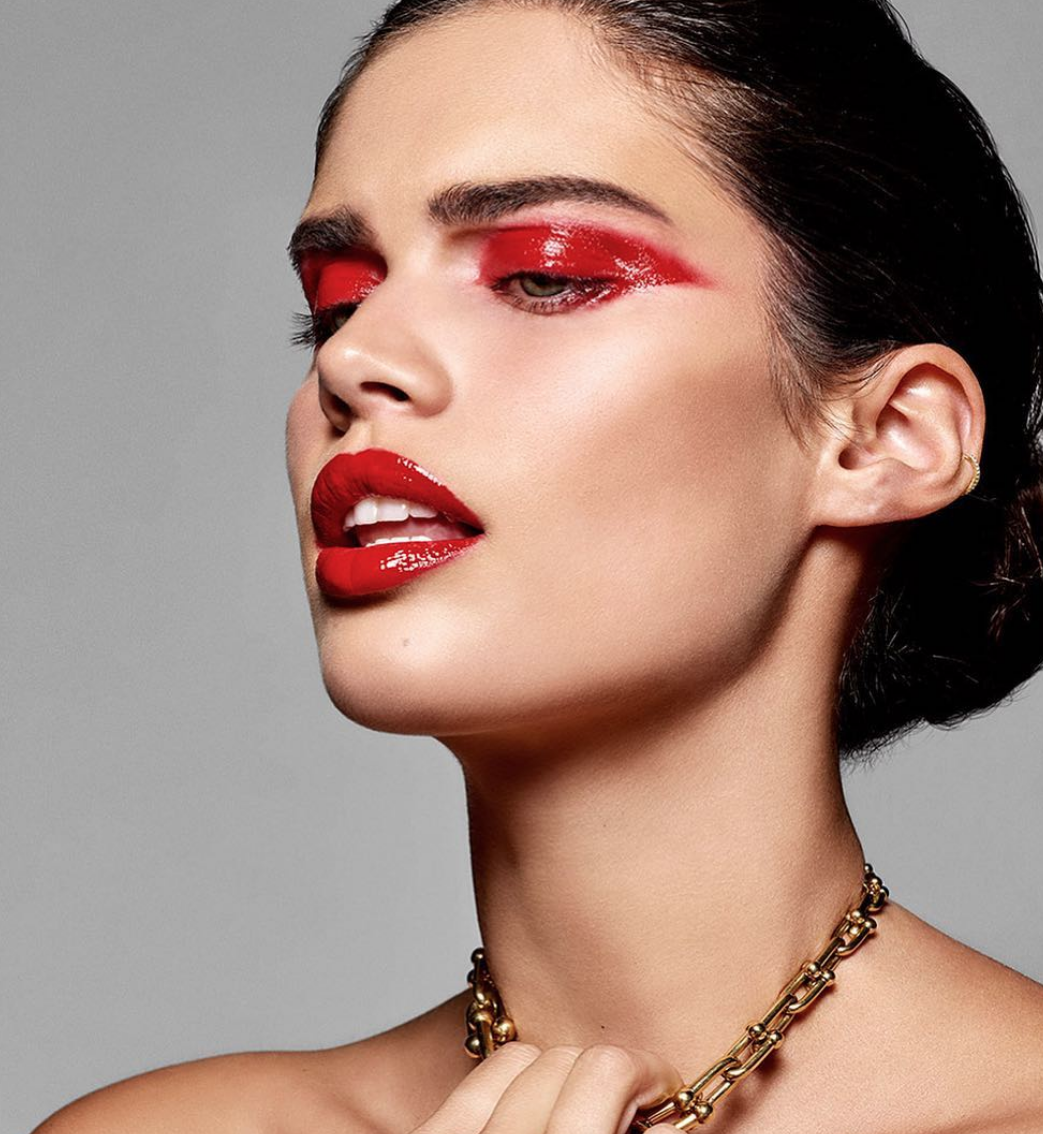 ____________
And what inspires you the most?
____________
I am inspired by emotions, nature, people, places, films, photos, paintings it's pretty endless, to be honest. I can find something to be inspired by pretty much anywhere I look. The trick is that I'm always looking
____________
What does color mean to you?
____________
Everything.
____________
What's beauty for you?
____________
My favorite form of alchemy.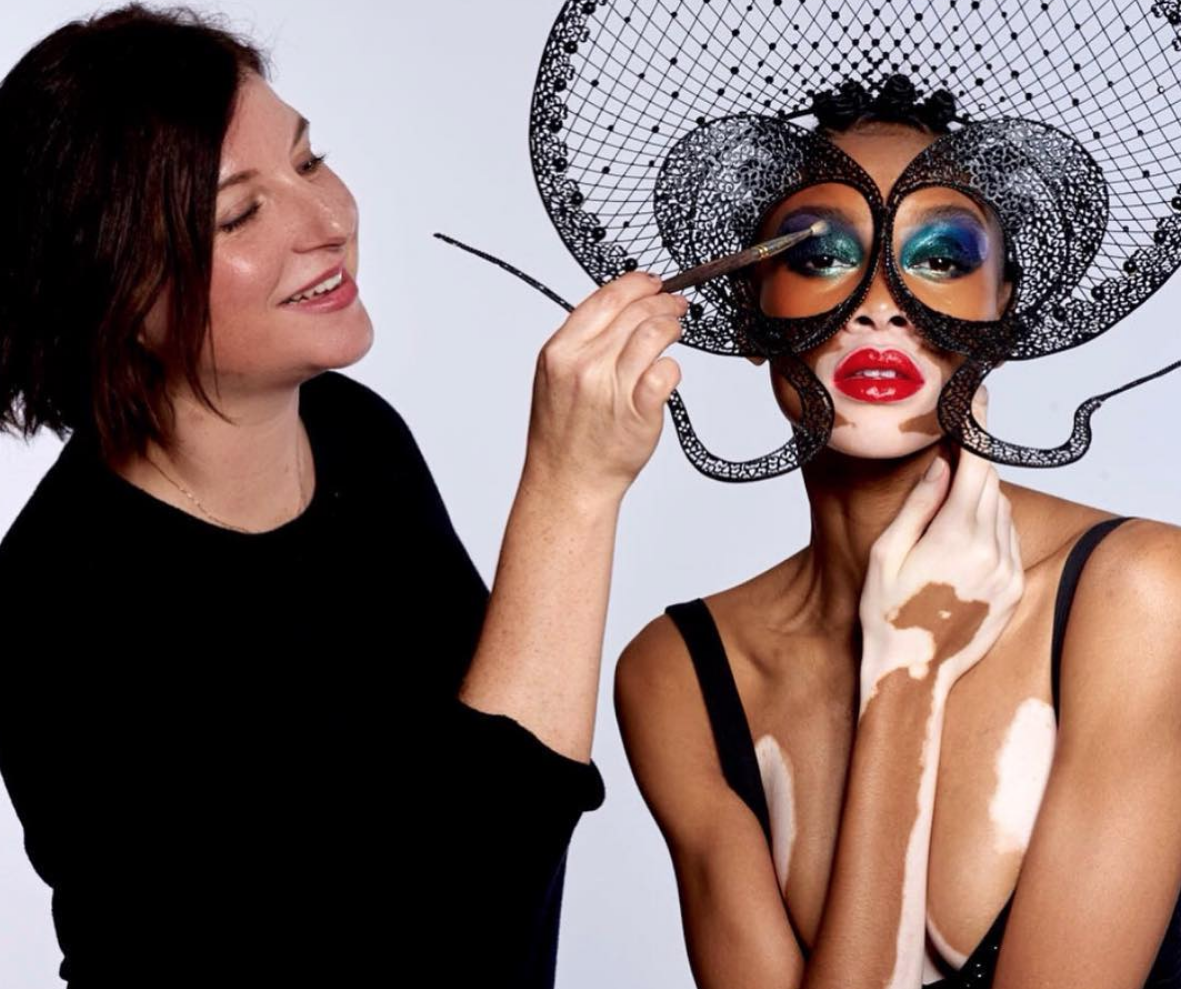 Emma's Beauty look for the Premiere of "The Favourite" in Venice? We Got You!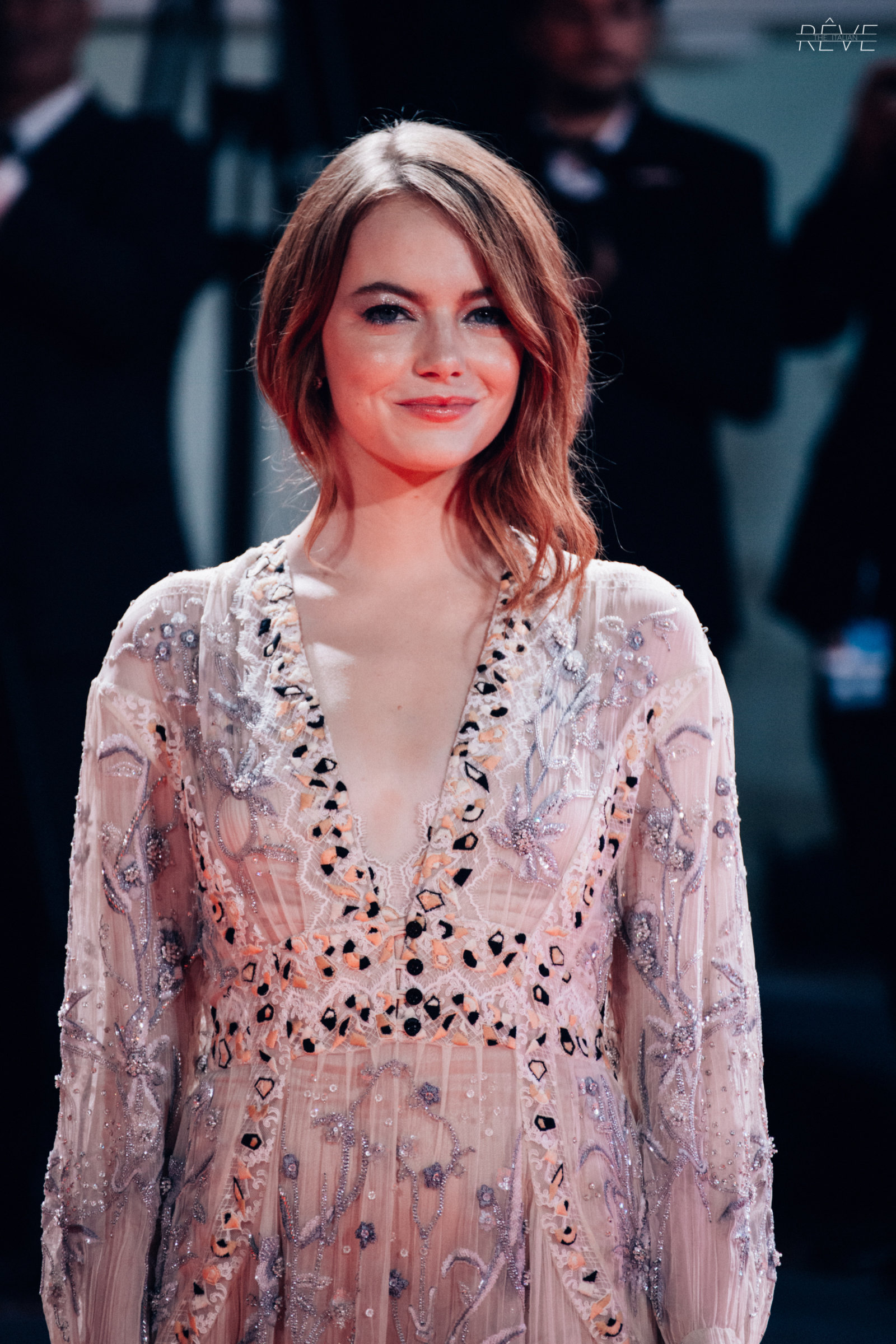 Inspiration
To create this beauty look, Rachel used bright shades and soft tones of pink.
She chose to play with shimmering products and velvety textures, such as the RMS Luminizer and the peachy pink Orgasm Lip Balm. She created a mesmerizing and romantic look for the red carpet, a subdued beauty that matches perfectly with Emma's strawberry blonde hair, styled in an updo with golden leaves, and her Louis Vuitton gown.
The Skin
I began by having her sleep overnight in the Concentrated Revitalizing Lifting Mask by Venn Skincare for a lit from within. To add quality to her skin, before I apply foundation, I also add the all-in-one concentrate for an extra boost of hydration.
On her skin, I used Natural Radiant Longwear Foundation in Gobi, blending it with a beauty blender sponge leaving behind just the faintest trace of coverage allowing her freckles to come through.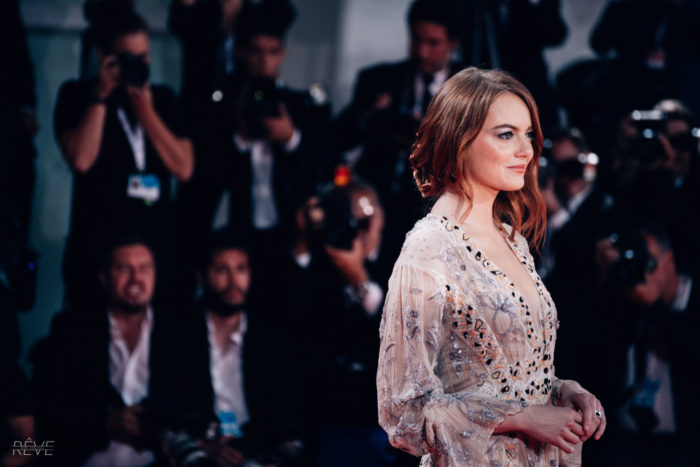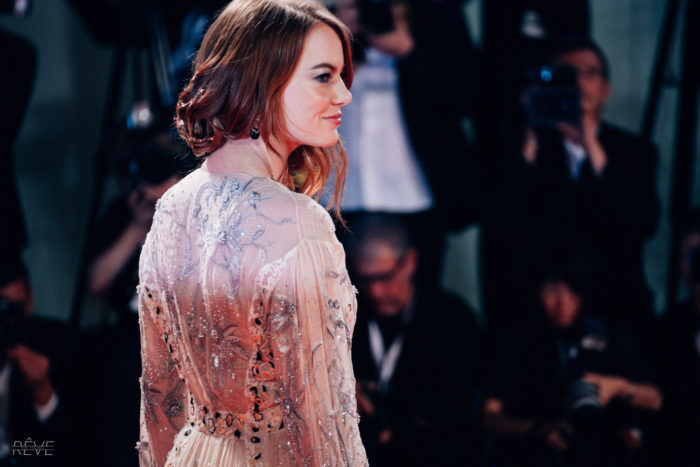 The Eyes
I lined her upper lash line with NARS Via Veneto Larger Than Life Long Wear Eyeliner then curled her lashes and applied two coats of Climax mascara.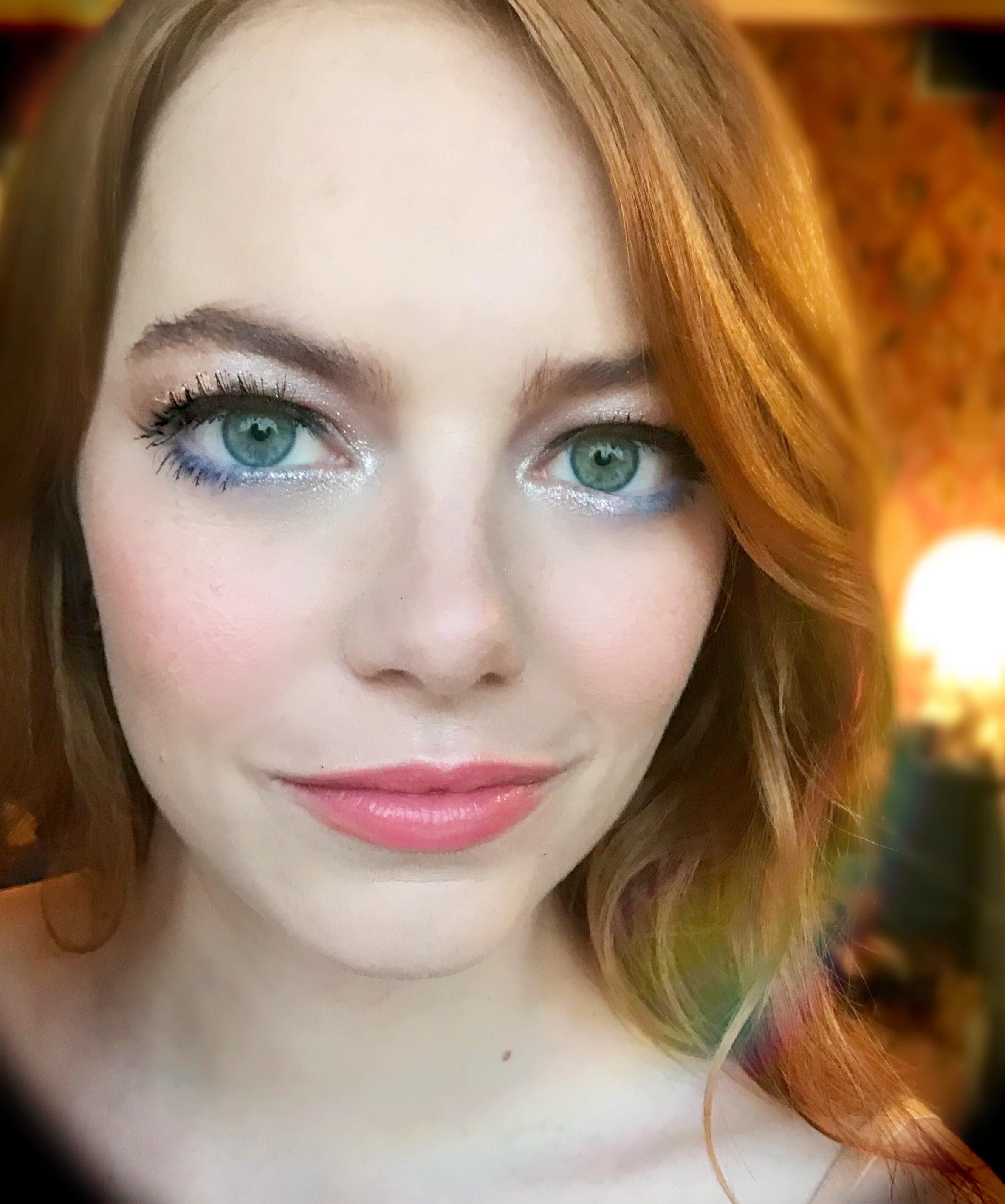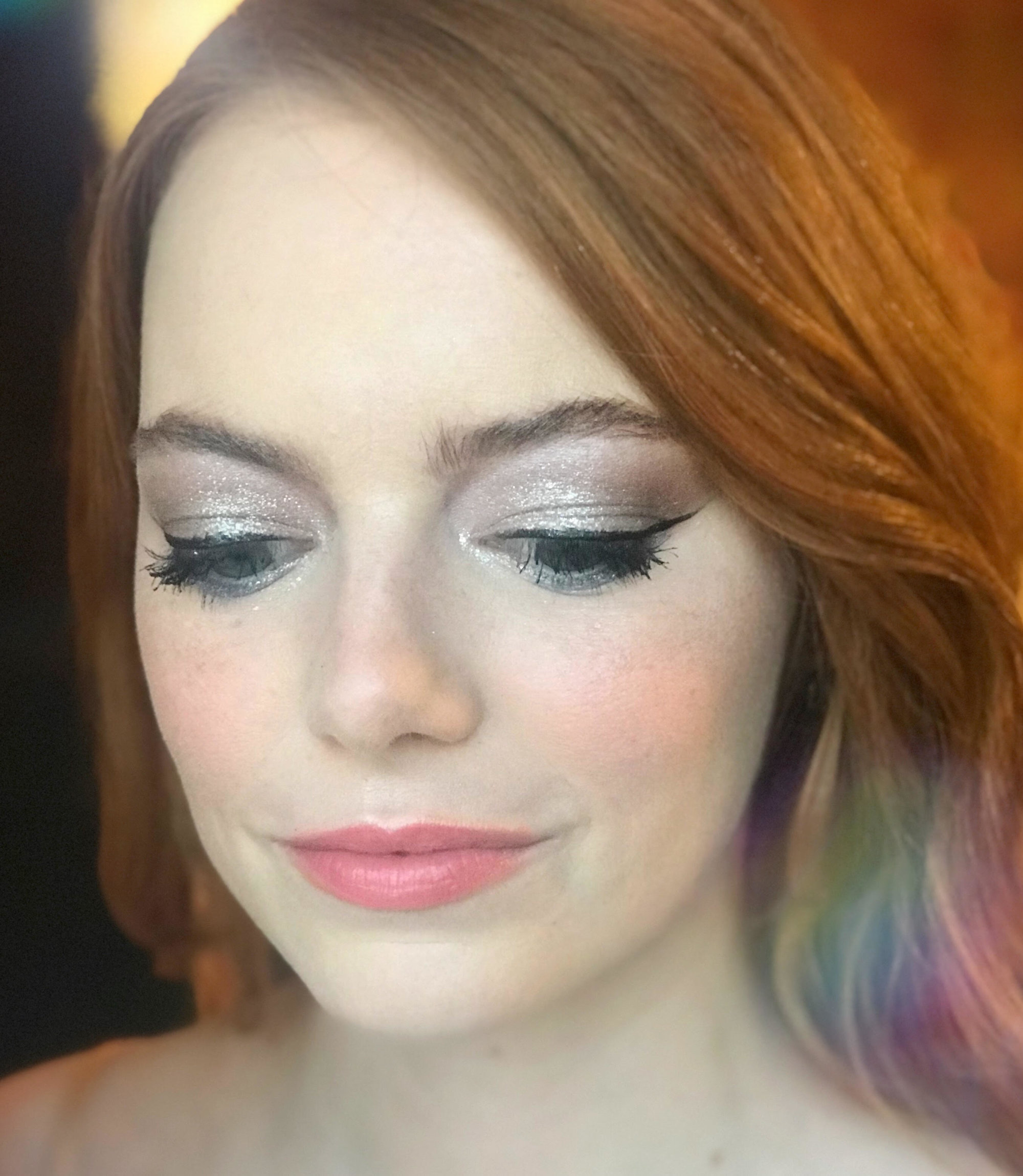 The Cheeks
On her cheeks, I dabbed orgasm lip balm and highlighted her cheekbones with RMS Living Luminizer.
The Lips
Her lips were lined with Rouge Dior Ink Lip Liner in Actrice and finished with the Afterward Orgasm Lip Balm.
The Must-Haves
– Venn Concentrated Revitalizing Lifting mask
– Natural Radiant Long Wear Foundation
– RMS Beauty Living Luminizer
– Rouge Dior Ink Lip Liner
The Finishing Touch:
I finished by dusting the center of her face with Marc Jacobs Finish Line Perfecting Coconut setting powder.
All over Emma's body, I used the Alleven Color Shield hydrating tinted protection spray in the shade Pearl.
Your Beauty Secret to Share
Just remain constantly curious, eat good food and take great care of your skin.