Yves Saint Laurent (1936-2008) was able to modernize women's wardrobes thanks to his incredible taste and to the technique with which he made every dress impeccable; the only thing that mattered to him was to emphasize the unique beauty of women, whom he always admired and respected. His successors have also remained faithful to this principle while modernizing it: let's discover more about a designer and a brand that has made, and is making, the history of fashion.
FIRST, BIG STEPS IN FASHION AND IN THE WORLD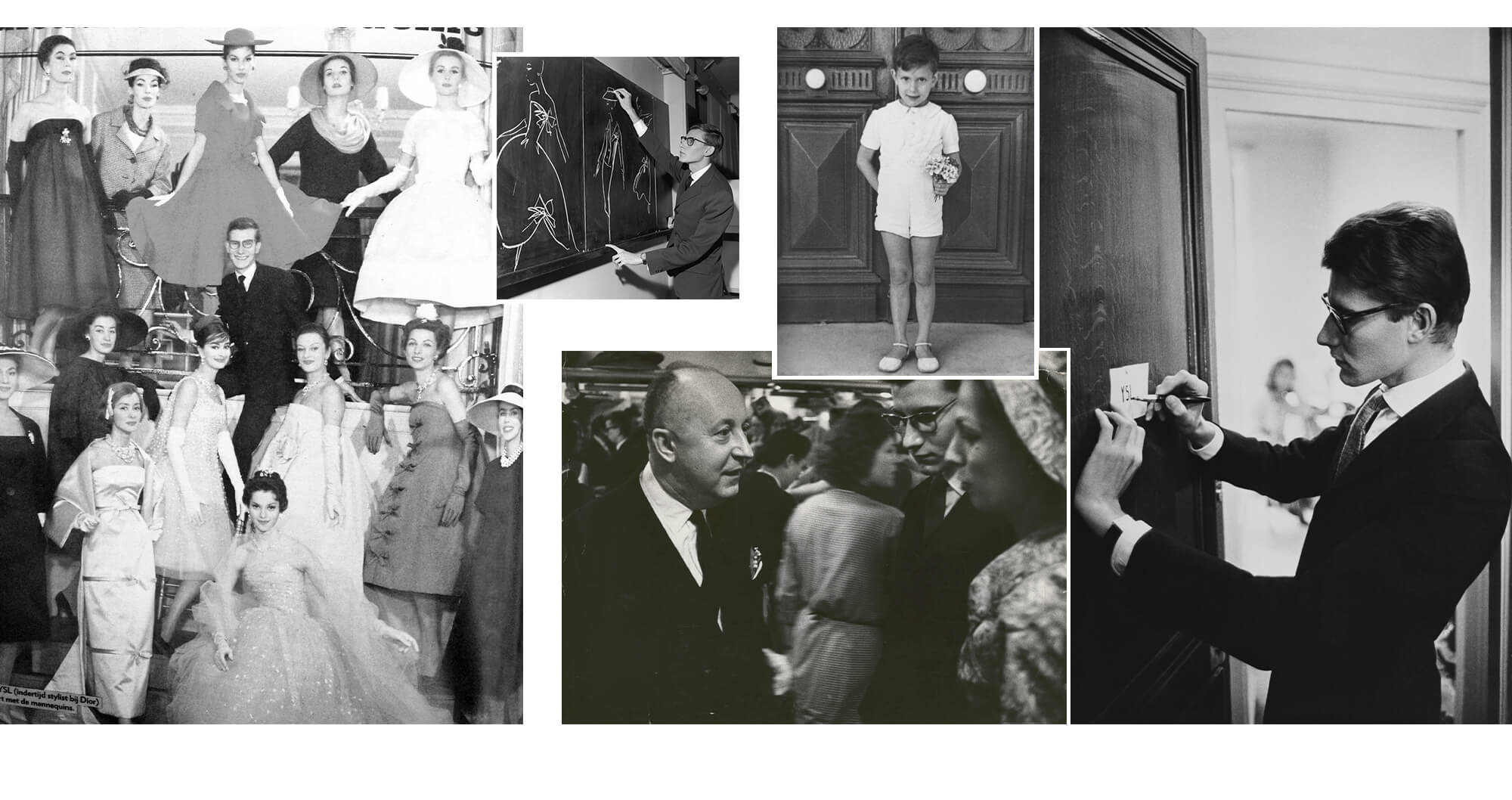 Yves Henri Donat Mathieu-Saint-Laurent was born on August 1st, 1936 in Oran, Algeria. He began to show his artistic talent at the age of three and, on his ninth birthday, while blowing out the candles, he made this wish: "My name will be written in big letters on the Champs-Elysèes." Teased at the Jesuit school for his "diversity" (later confirmed as the principle of his homosexuality), Yves never let himself be discouraged by such behavior, and continued to create the clothes in which he made theater performances in the living room for the whole family. In the autumn of 1953 he arrived in Paris and in 1954 he won the "International Wool Secretariat" competition.
He then attended the École de la Chambre Syndicale de la Couture Parisienne and, shortly after that, thanks to the intercession of Vogue Paris journalist and friend Michel de Brunhoff, he began working with Christian Dior. Saint Laurent learned a lot from him and he would always remember with deep affection the time while they were working together. When Monsieur Dior died in 1957, Saint Laurent, who wasn't even twenty years old, and three other people were put at the helm of the fashion house: his first and iconic Trapèze collection (1958) was an incredible success. In 1960 he met Pierre Bergé, with whom he had a lifelong relationship in a tumultuous but extremely productive way. In the same years, Saint Laurent was called to serve and, after this experience, he had a nervous breakdown that left him depressed and ill. In October, he was replaced by Marc Bohan at the helm of Dior and this encouraged him to start his own fashion house. It was also thanks to the financial support of Bergé that he bought a place at rue la Boétie which he turned into an atelier and called the artist Cassandre to design his logo in 1961.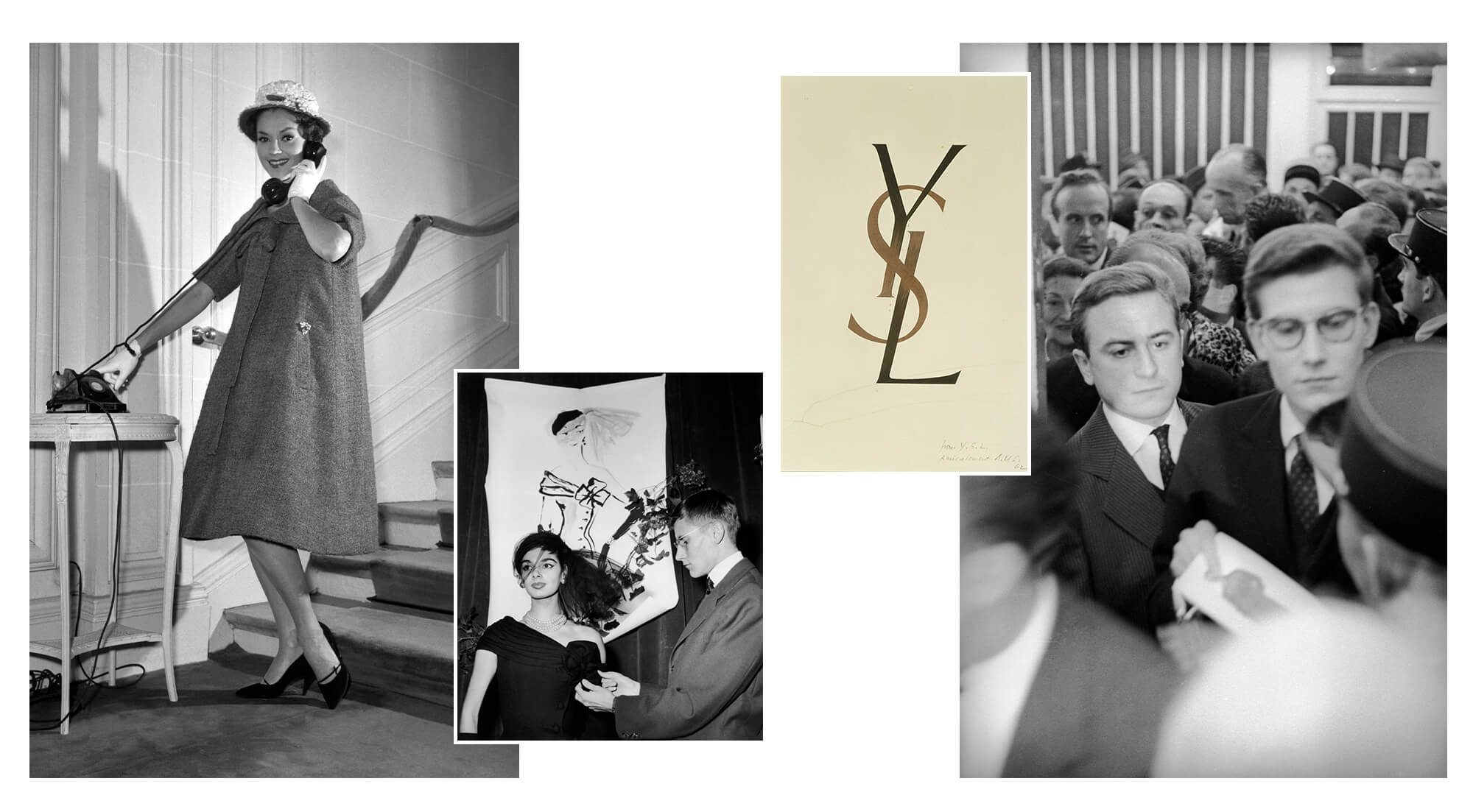 FASHION, ART AND GENDERLESS TALENT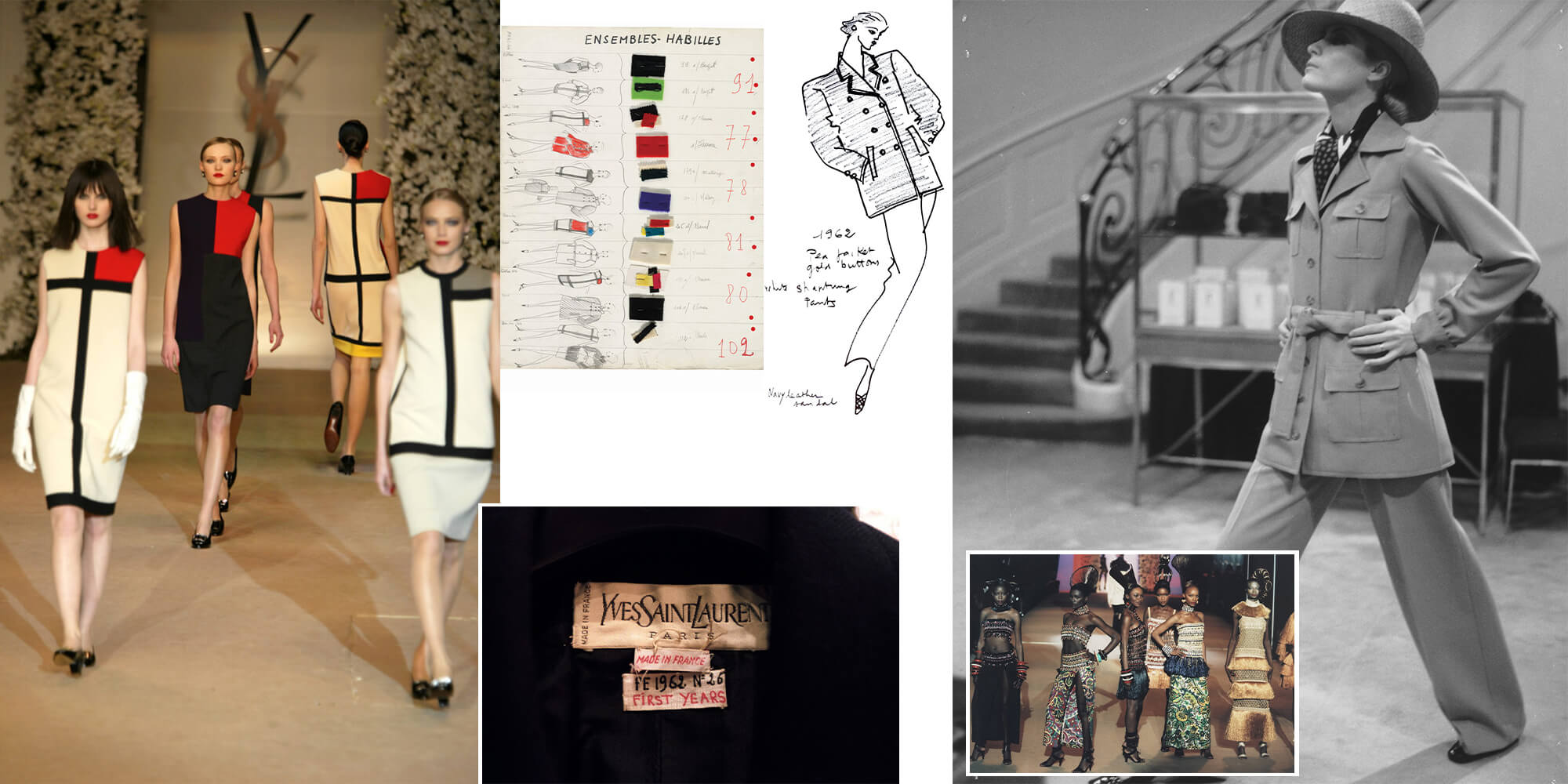 In 1962 he released his first collection and his genius was then universally recognized, making him more and more confident about his abilities. In 1965 he launched the famous collection inspired by Mondrian. In the 1966 collection, he included a navy pea coat, a male coat redesigned to be worn by women: it was the first time that a French designer introduced men style in a women's collection. "Genderless" will be one of the keywords of all the designer's future collections; an example of this approach is given by the female tuxedo, launched in 1966, the leather jacket and the pantsuits. Another great theme (and passion) channeled by Yves was art: he paid tributes to the masters of painting such as Picasso, Andy Warhol, Matisse, Braque, David Hockney, Van Gogh. The third focus of his work was the combination of ethnic and folkloric prints, which were included in almost all his collections; they were inspired by Africa, Spain, India, Morocco, Russia, and they mainly consisted of Saharan jackets, the first of which was introduced in 1967 by Betty Catroux and Loulou de la Falaise.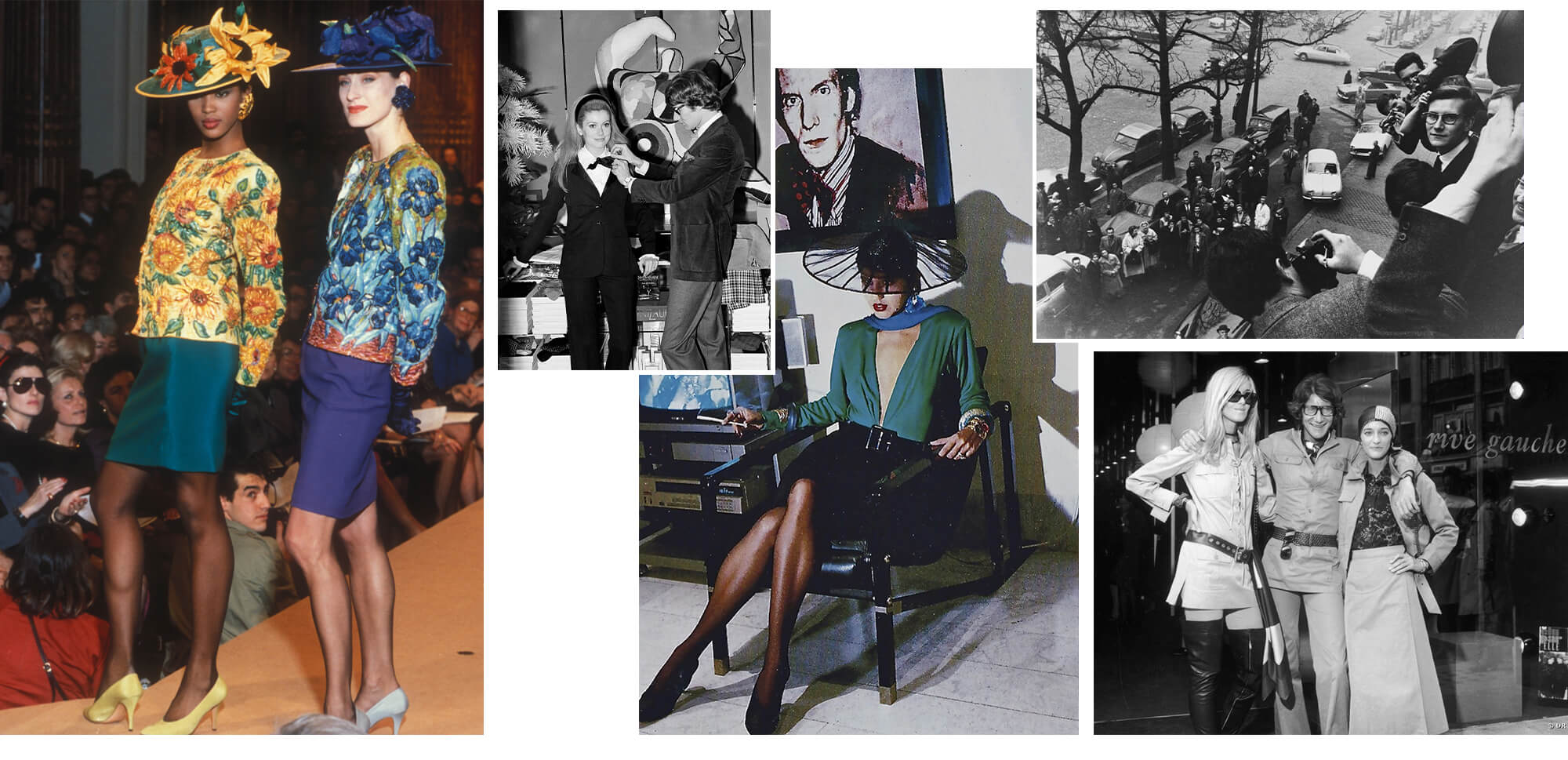 Saint Laurent felt the "old" and rigid patina that characterized the couture of its time and he proposed himself as a style modernizer: in 1966, he launched the Rive Gauche line, the first to provide ready-to-wear clothes at an affordable price. This risk was not supported by designers such as Chanel and Balenciaga, but it turned out to be a successful move from the very first moment; Yves was half inspired by street style and was half inspiring street style, in a continuous exchange relationship, and he managed to keep a perfect balance between haute couture and ready-to-wear collections.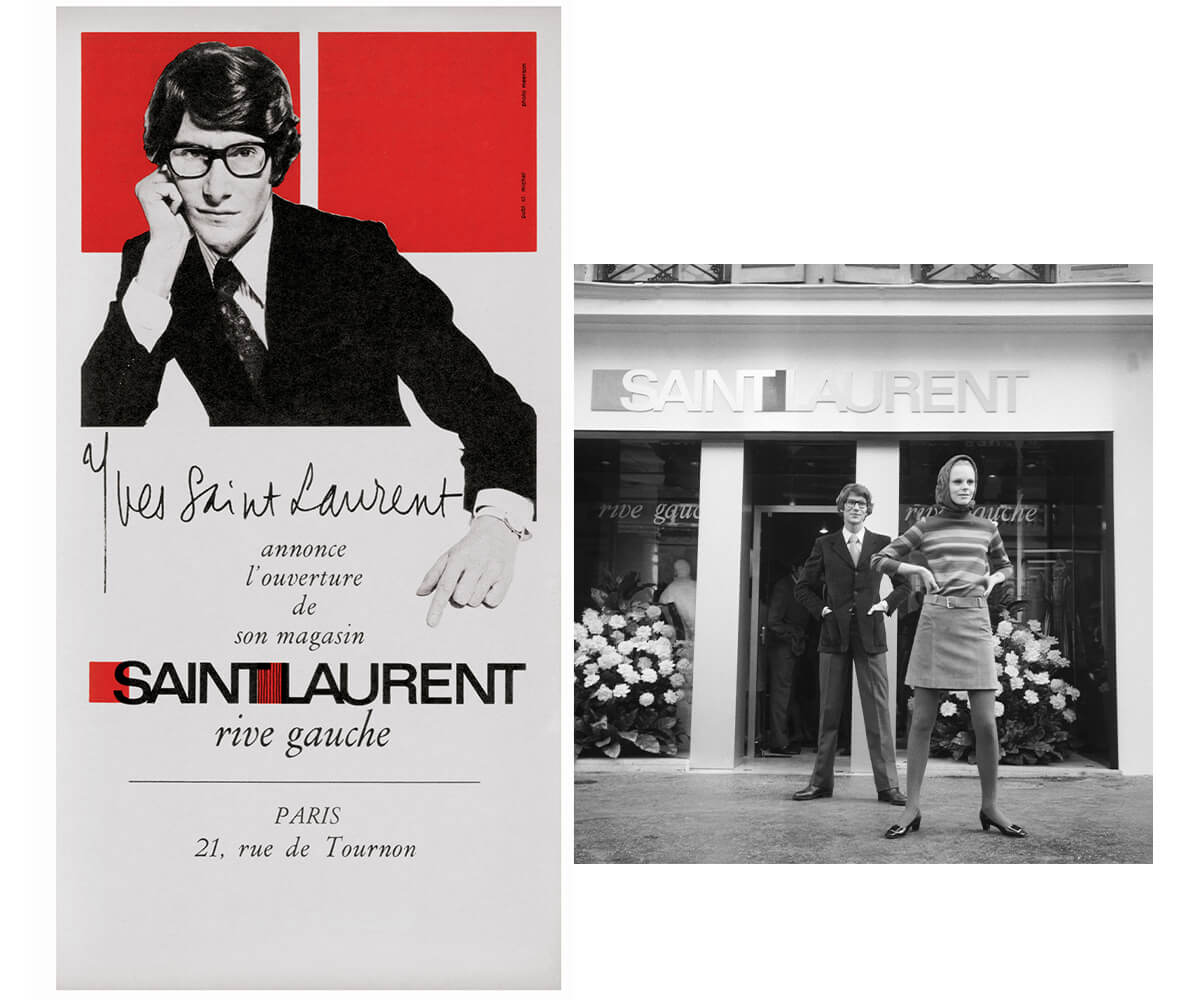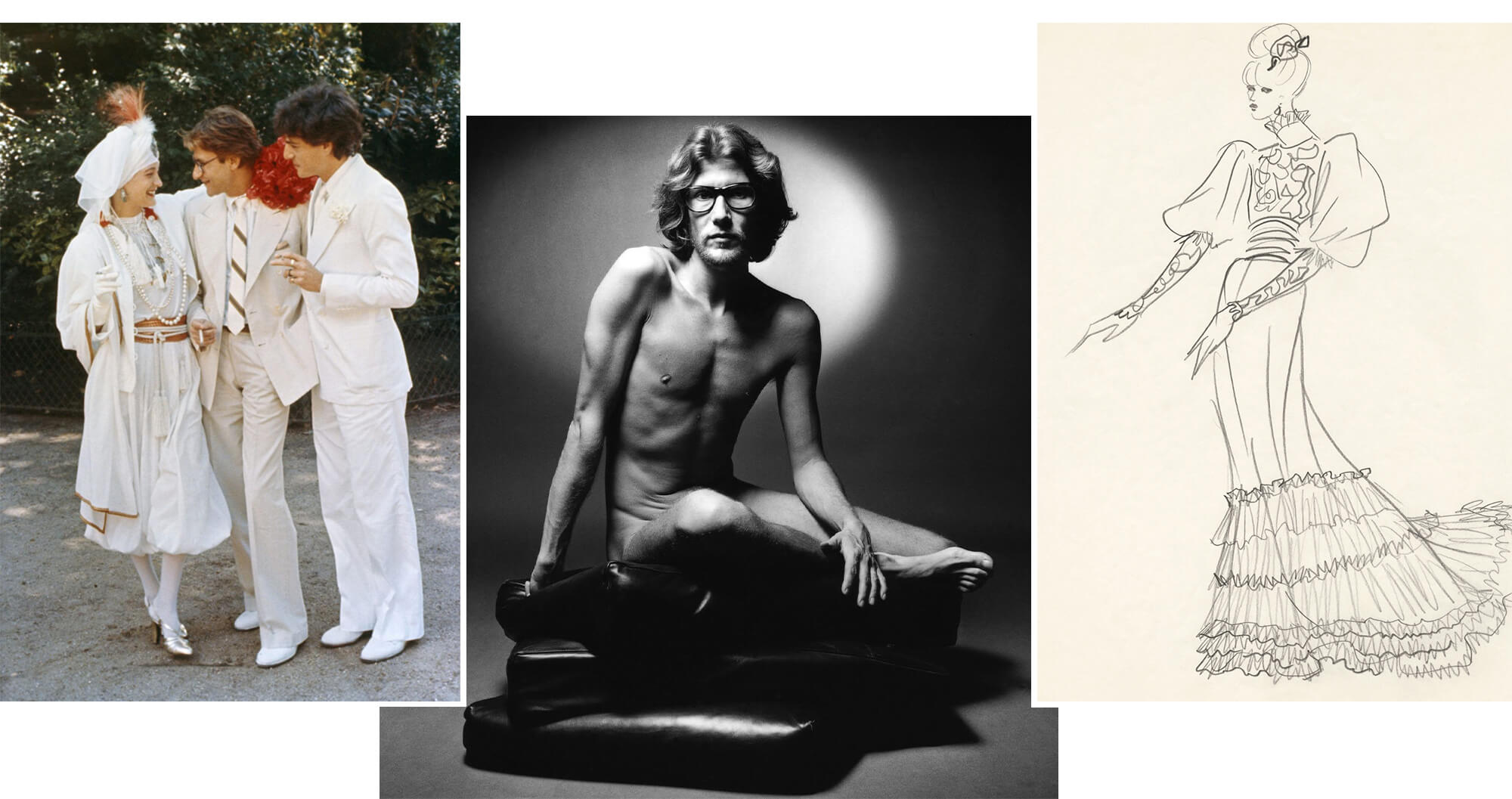 In 1971, his collection inspired by Paloma Picasso was not approved by the French audience because it was considered too scandalous and, that same year, he launched his first male perfume, Nu Eau, using a picture of himself naked for the advertising campaign. Success led him to skid between drugs, casual sex and wide use of alcohol, however being aware of the fact that Pierre was always ready to save him when it was necessary.
Still, he continued to seek inspiration everywhere, like a child who is curious about the world around him. In 1976, Bergè left him after the umpteenth fight, but he never stopped supporting him, even while being distant. This detachment first produced in Yves a nervous breakdown and then a creative explosion that led him to the conception of a line that recalled the genius of Proust. Although life challenged him, he never let himself down, on the contrary, he allowed these changes to be the main motivation to create masterpieces, such as the wedding dress of the longtime friend Loulou de la Falaise.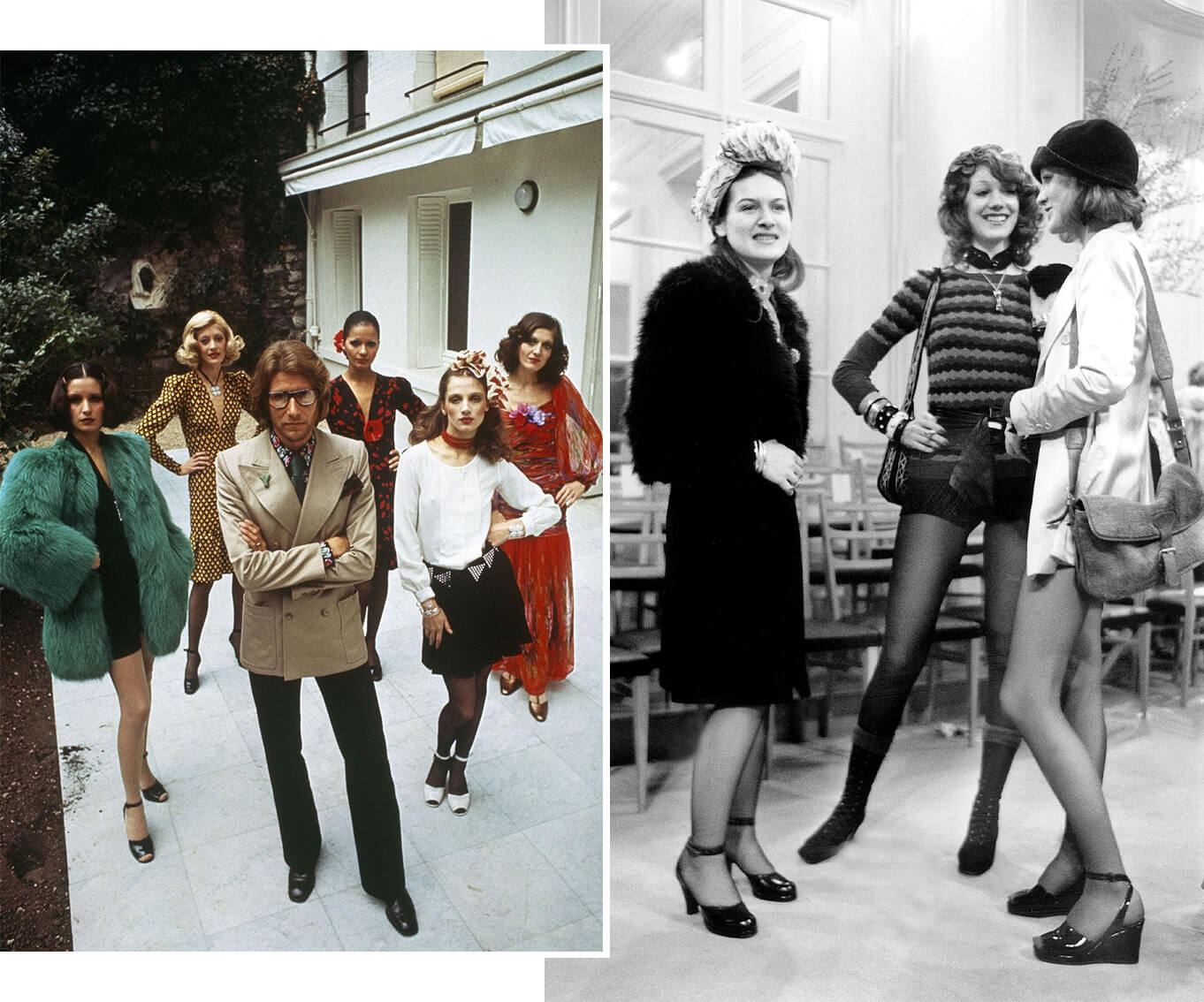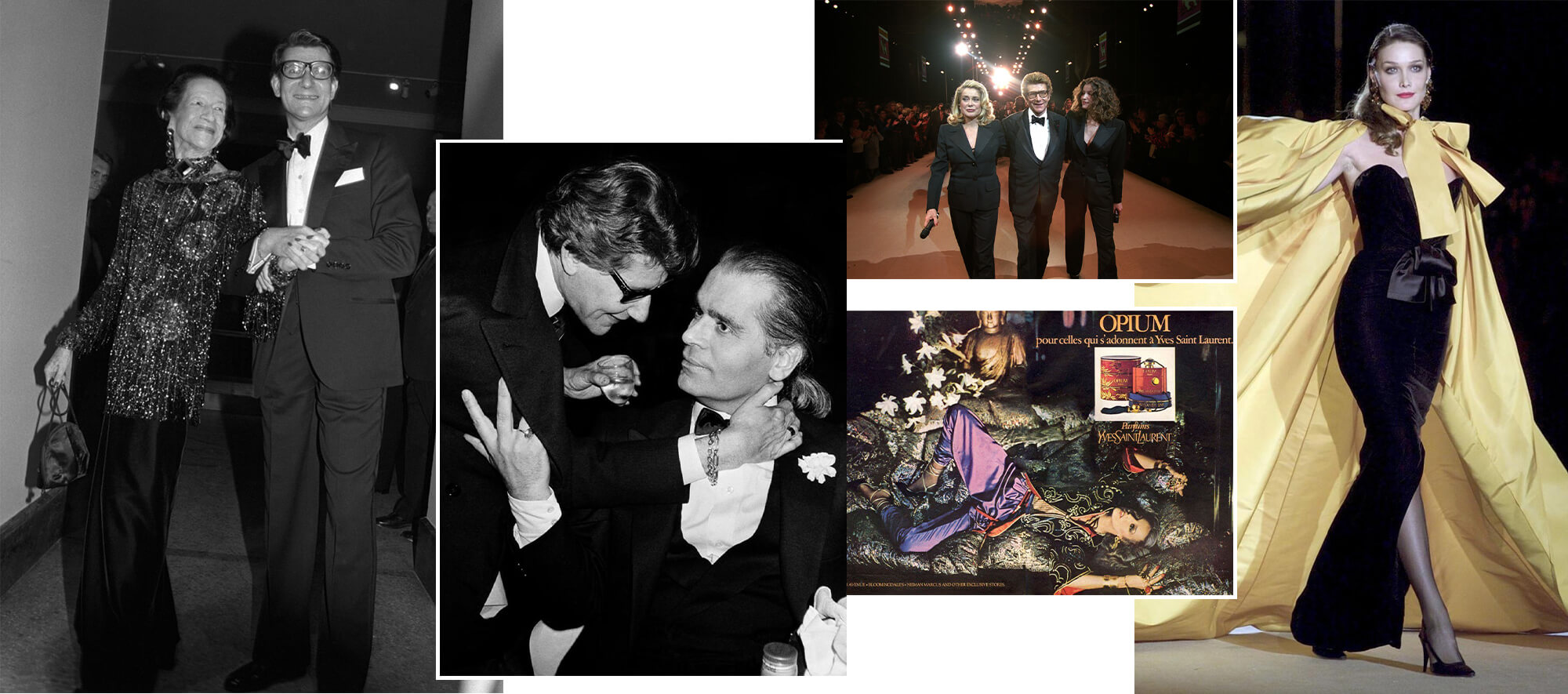 In 1977 he created the Opium perfume, and the many criticisms due to that name contributed to its success. In 1983, an exhibition of 243 pieces dedicated to Yves was inaugurated at the Metropolitan Museum of Art, making him the first living designer to whom the MET dedicated a retrospective; the exhibition's curator, Diana Vreeland said: "For 26 years he kept his creations on the same high level. He is followed all over the world by women who look young, want to live young and feel young despite their age." In the '80s he was unhappy and he isolated himself more and more; his style changed as well, moving towards the needs of middle-aged women, leaving innovation behind. In the same years, Karl Lagerfeld became the fashion director of Chanel and took over Saint Laurent in terms of success. Yves will always look for inspiration, but his ready-to-wear collections will no longer be truly appreciated until 1998 when Alber Elbaz succeeded him at the helm of the brand.
In 2002, Saint Laurent retired from the fashion world after 40 years, even if he continued to visit his studio in Avenue Marceau until 2004 when his couture house became a museum. He then retreated in his apartment in Rue de Babylone, surrounded by his incredible art collection; he died on June 1st, 2008 of brain cancer. Several designers including Valentino, Galliano, Gaultier, Givenchy, and Kenzo attended his funeral.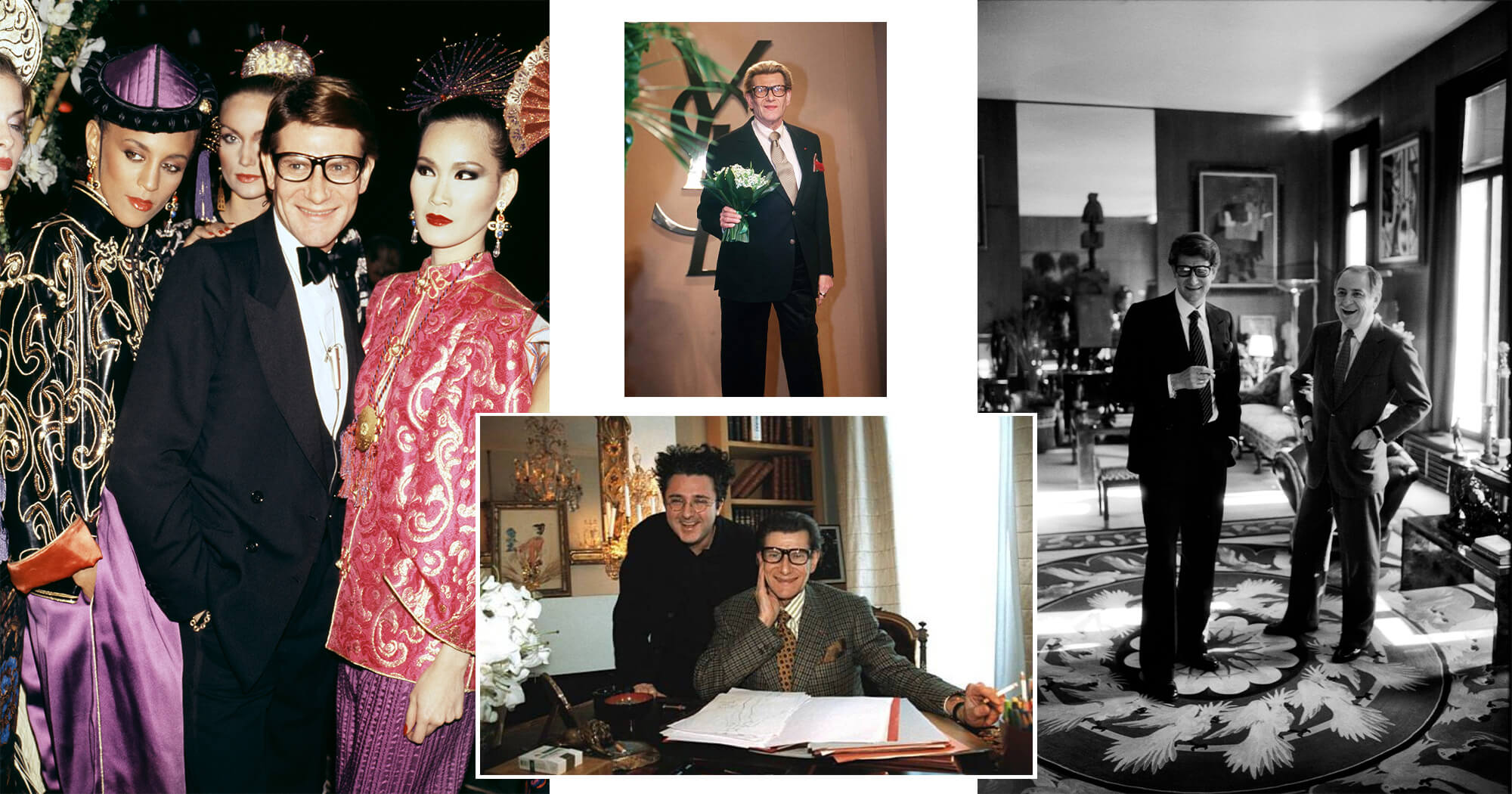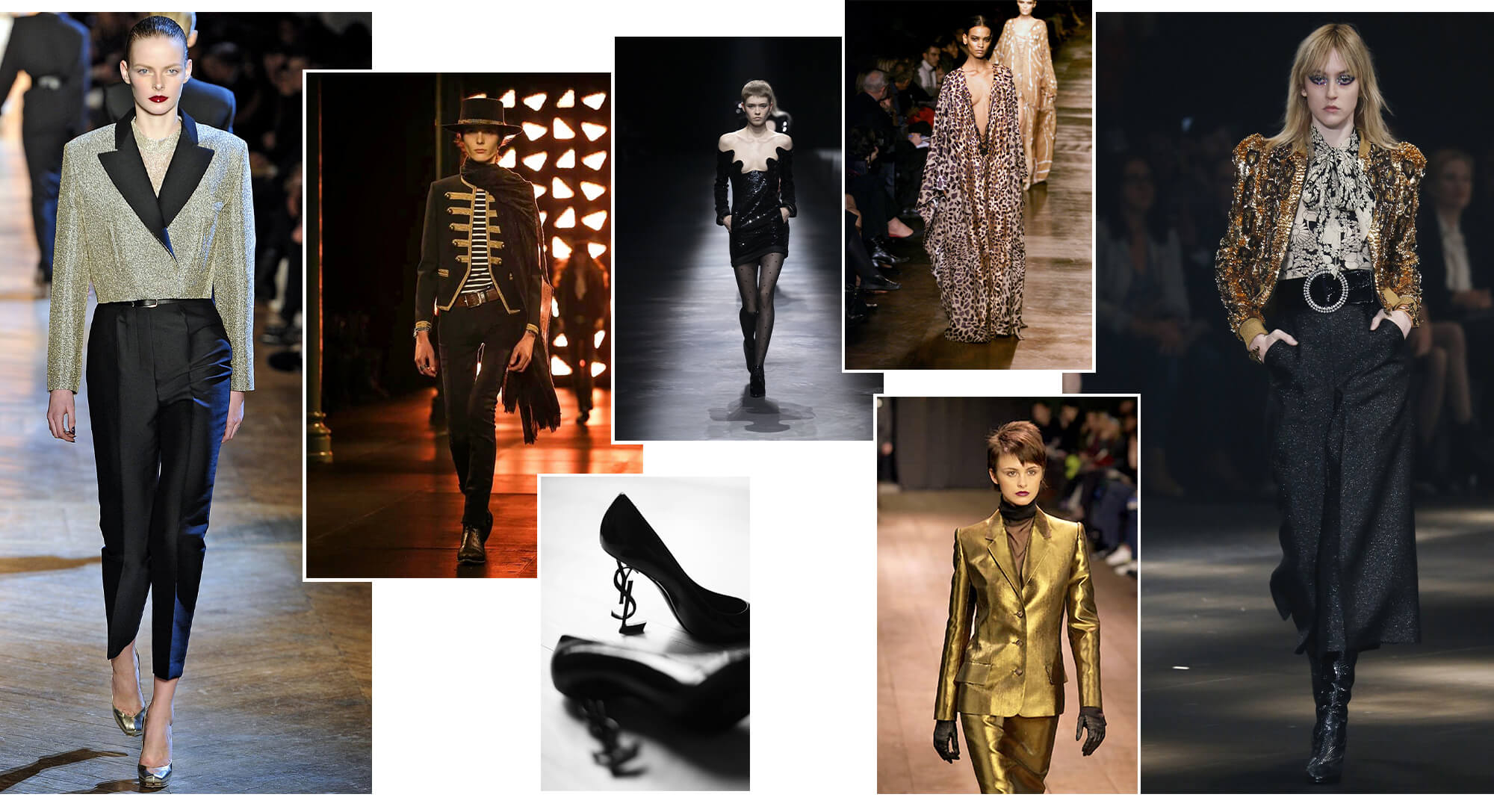 In 1998, fashion designer Alber Elbaz choose Guy Laroche to replace Saint Laurent at the helm of the ready-to-wear line. The burst of innovation brought by the designer, made of chiffon dresses and golden fabrics, however, did not last long: Gucci acquired YSL in 1999 and Tom Ford became its creative director, giving the brand an explosive sensuality. In the same year, the Kering Group bought Gucci and Yves Saint Laurent as well. In 2004, Ford left the brand to launch his own line: he was replaced by Stefano Pilati who, during his eight years at the helm of the brand, reinterpreted very faithfully all those items and elements that characterized the golden age of Saint Laurent's aesthetic.
In 2012, Stefano Pilati was replaced by Hedi Slimane, who was the creative director of YSL men's collections in the '90s. This appointment represented a huge change: in a four-year innovation process, Slimane restored the rock'n'roll spirit of the brand and undertook a controversial rebranding, including the decision to remove Yves from the name of the brand, which however led to an extraordinary sales success. After the appointment at Celine, Slimane was replaced by Anthony Vaccarello in 2016, who's still at the helm of YSL (he restored the Yves in the logo). Vaccarello, with his collections, embodies the evolution of Yves's sensibility in a rock-chic and sensual key, designed for a confident and enterprising woman, a Parisian daughter of the world whose imagination knows no limits. In 2017, the museum dedicated to Yves Saint Laurent opened in Marrakech, the designer's beloved city, and it works as keeper and symbol of a legendary creative genius.