Art.
If we think about the concept of art, we may no longer be able to stop our mind from imagining how many forms and ways we can find it in our world and in which ways it develops within our society. Art pervades us, from the smallest things, even in everyday life, such as the pleasure of applying lipstick, a lipstick that has been created according to someone's idea and art.
And sometimes we, art lovers, stop and look at a painting, and there we notice the representation of beauty. The art of beauty and the beauty of art.
Art itself, the one of paintings, the one that has painted women of all generations and eras is one of those things that most leave us speechless, that fascinate us and make us curious about what those wonderful painted women could think of beauty, of a primitive concept of makeup. And sometimes their beauty makes us wonder, "What did she put on those rosy cheeks of hers? Or what's that beautiful red on the lips?."
Well, we don't know the beauty secrets of hundreds of years ago, but what we can do is imagine, imagine what piece of makeup those women would have used if they lived in today's world.
Because what's makeup if not a few paints of color?
#1
Title: "María Teresa, Infanta of Spain," 1651.
Author: Diego Velázquez.
Key product: Shiseido Blush Minimalist Whipped Powder in Sonoya.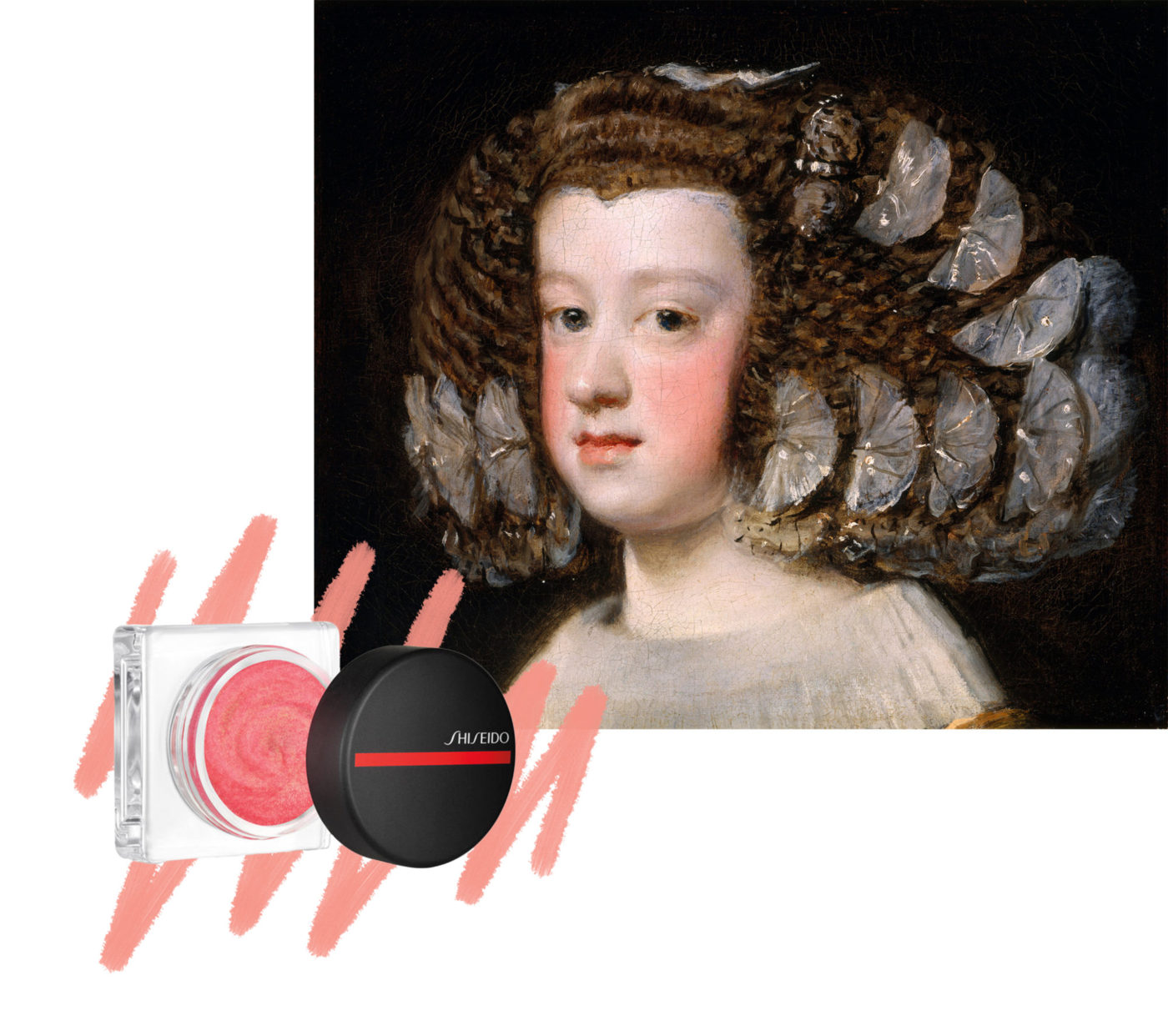 Velázquez influenced a generation of artists, including Picasso and Manet, and the drama of his portraiture is shown in this painting of the Infanta of Spain, who would become the Queen of France. Her cheeks are flushed and rosy with a reddish undertone, seemingly glowing. We imagined her using the Shiseido Blush in this powdery mousse, which is very pigmented and luminous at the same time. It seems just the perfect match. The translucent butterfly ribbons in her hair add a touch of innocence.
#2
Title: "A Triple Portrait of May Morris," 1874.
Author: Dante Gabriel Rossetti.
Key Product: Burberry Lip Velvet in Oxblood.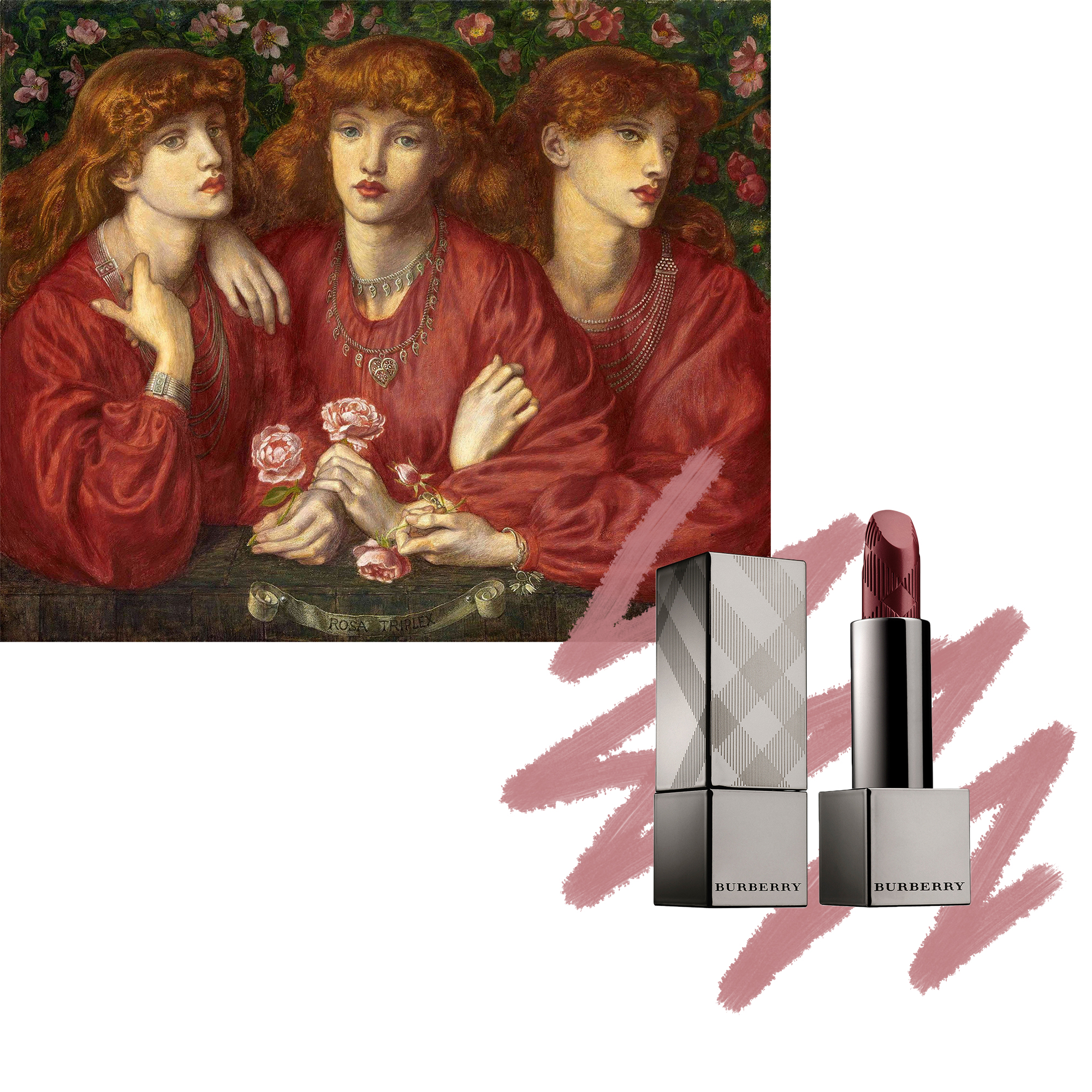 Poetry and images are closely intertwined in Rossetti's work. Appreciating female beauty through art was sacred to him. In both poetry and painting, he explored his own fantasies and conceptions about earthly and spiritual love through the theme of female beauty. In this exact transposition of female beauty, he honored the red color and all its shades. And, if the beautiful redhead woman was here now, she would have chosen the Lip Velvet by Burberry in the magnificent and modulable tint Oxblood, a burgundy red on the lips.
#3
Title: "Portrait of a Young Woman."
Author: Amedeo Modigliani.
Key Product: Hourglass Illume Sheer Trio Color.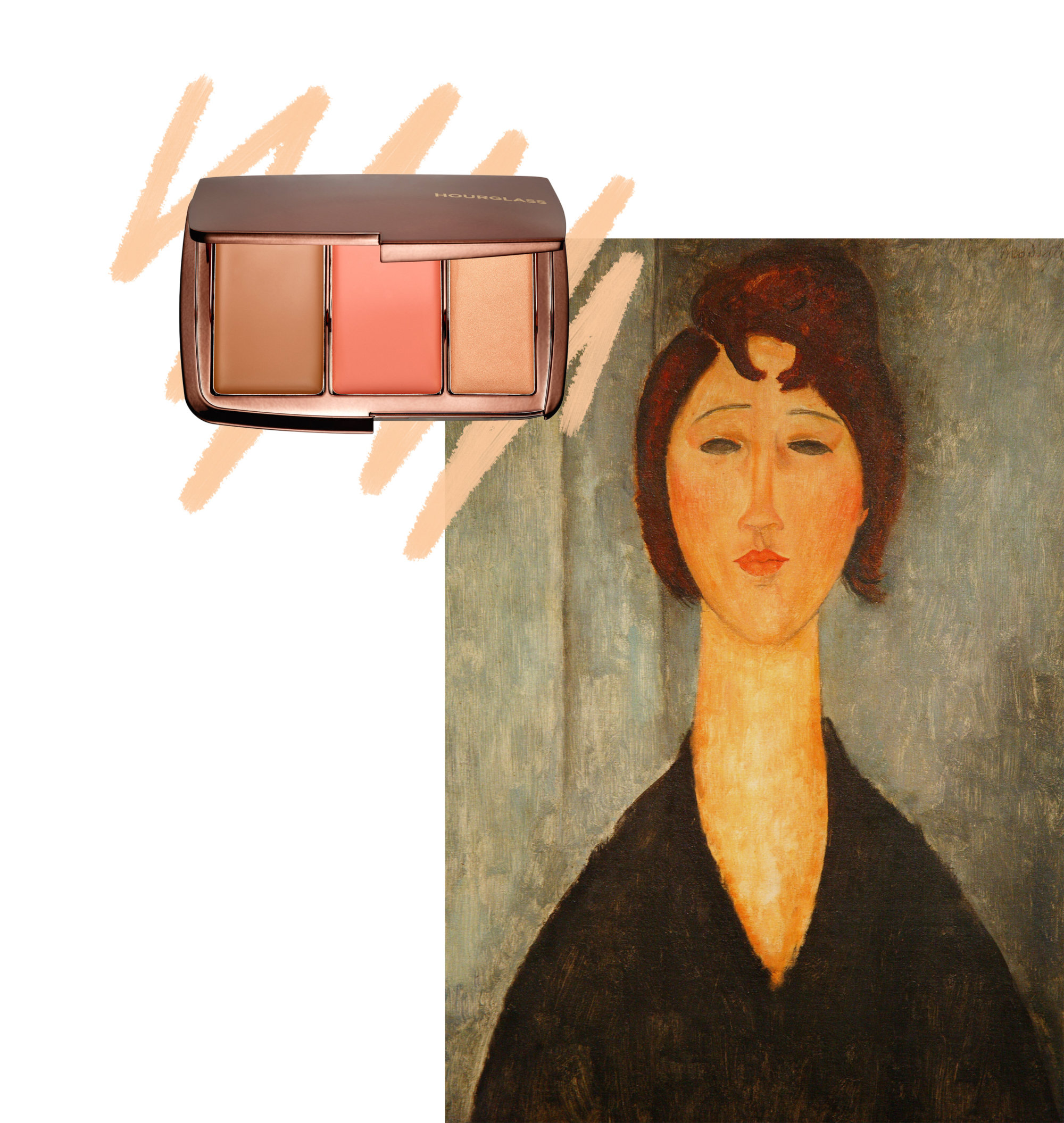 Modigliani's art includes paintings and drawings. Modigliani did not choose to be categorized within any label or movement such as Cubism or Surrealism. He was unclassifiable. He was an artist putting down paint on canvas creating works not to shock and outrage, but to say, "This is what I see." And, in his mind and paintings, women are sharp and contoured. So, that young women with some contouring, peachy lips and cheeks and points of light, has certainly used the Illume Sheer Trio by Hourglass.
#4
Title: "Portrait of a Young Woman."
Author: Jean-Marc Nattier.
Key Product: Cloud Paint in Puff.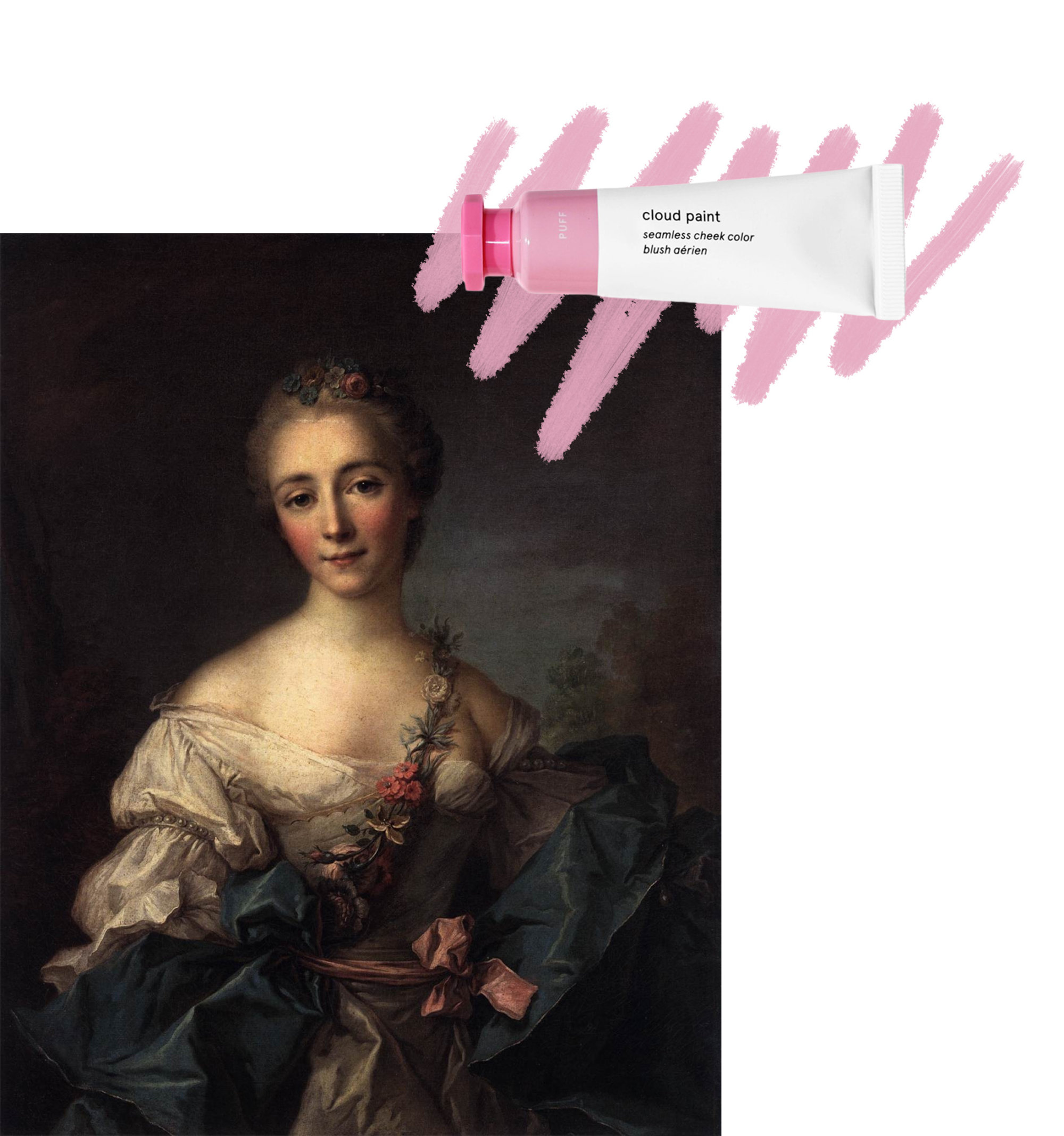 Born in Paris, Jean-Marc Nattier was a portraitist with a gift for beautifying and elevating the stillness of his female subjects. His muses often show peaceful expressions that captured the distinct features of their faces, making Nattier's paintings a unique vision of femininity. And we can see the young woman sitting in her table, writing a letter to Glossier, to ask for a supply of Cloud Paint in Puff just because it's her favorite. And ASAP.
#5
Title: "Portrait of a Lady," 1800.
Author: Louis-Léopold Boilly.
Key Product: Anastasia Brow Wiz.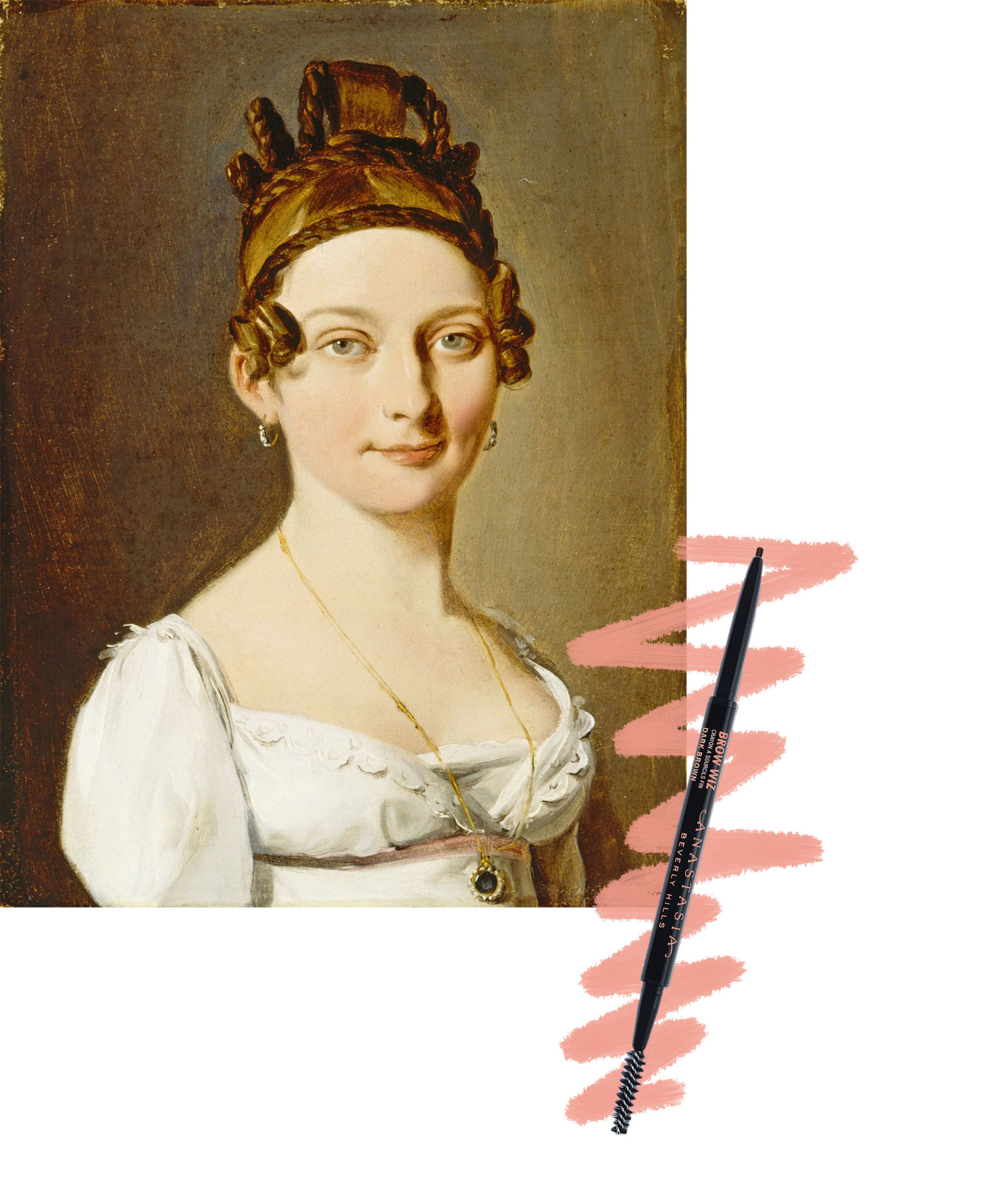 The French painter Louis-Leopold Boilly was known for his historic paintings as well as his portraits, documenting the political tumults and changing the society of 19th-century Paris. Here you can see how much the eyes and their expression are the centers of the work. They communicate individuality and strength. And the eyes expression is also underlined by two perfectly defined eyebrows, that can be done, without any doubt, with the super famous Brow Wiz by Anastasia Beverly Hills.
#6
Title: "The Young Elisabetta, Duchess of Baviera," 1853.
Author: Franz Schrotzberg.
Key Product: Becca Shimmering Skin Perfector Pressed Highlighter in Pearl.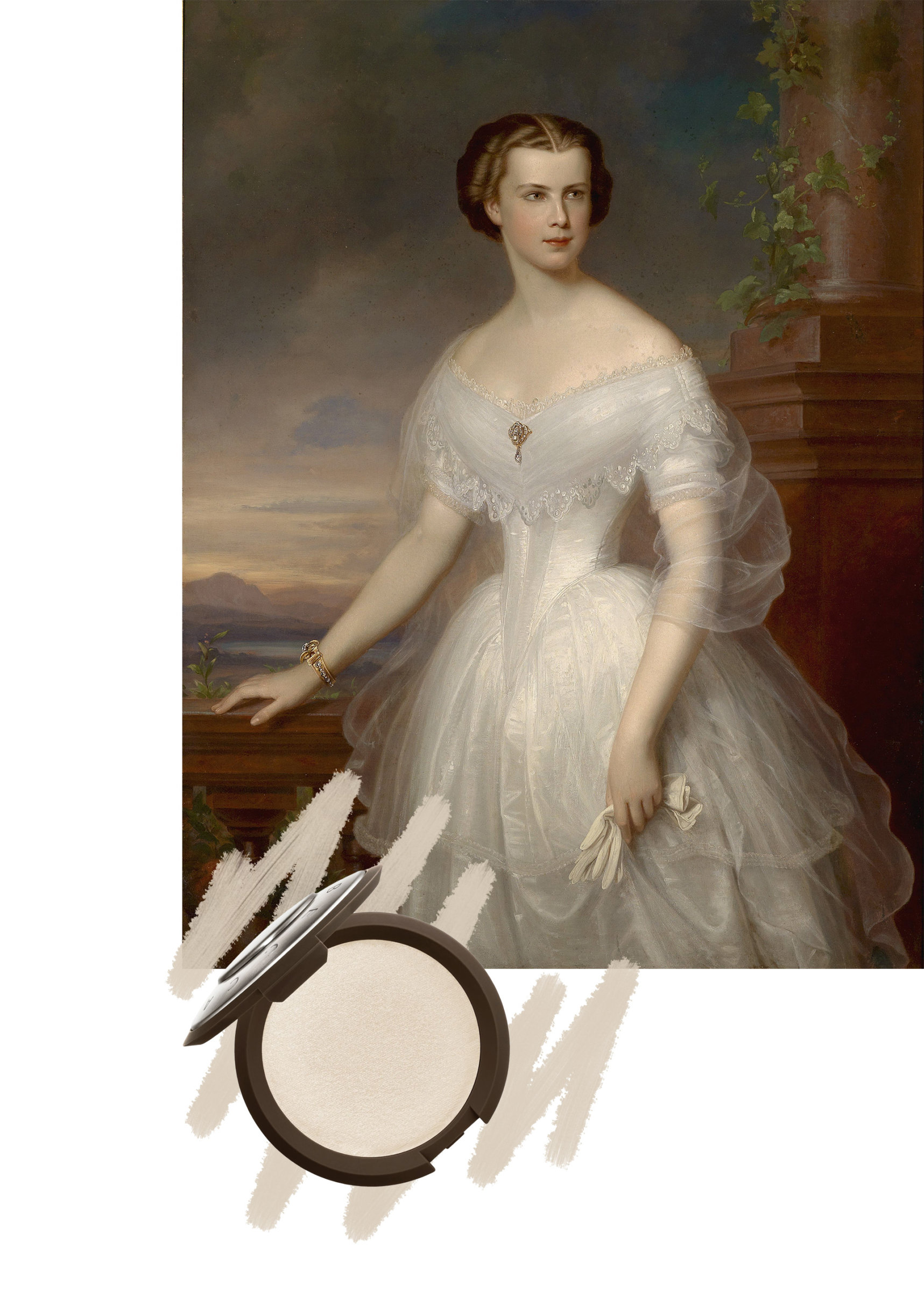 Franz was an Austrian painter, very famous for portraying the aristocracy. In this beautiful portrait of the Duchess of Baviera, the first thing we notice is the use of light, helped from the use of white. Her face is perfectly highlighted and we imagined her applying some Becca Highlighter in Pearl, perfect for her oh-so-fair complexion.
#7
Title: "Girl at a mirror," 1632.
Author: Paulus Moreelse.
Key Product: Fenty Beauty Stunna Lip in Unbutton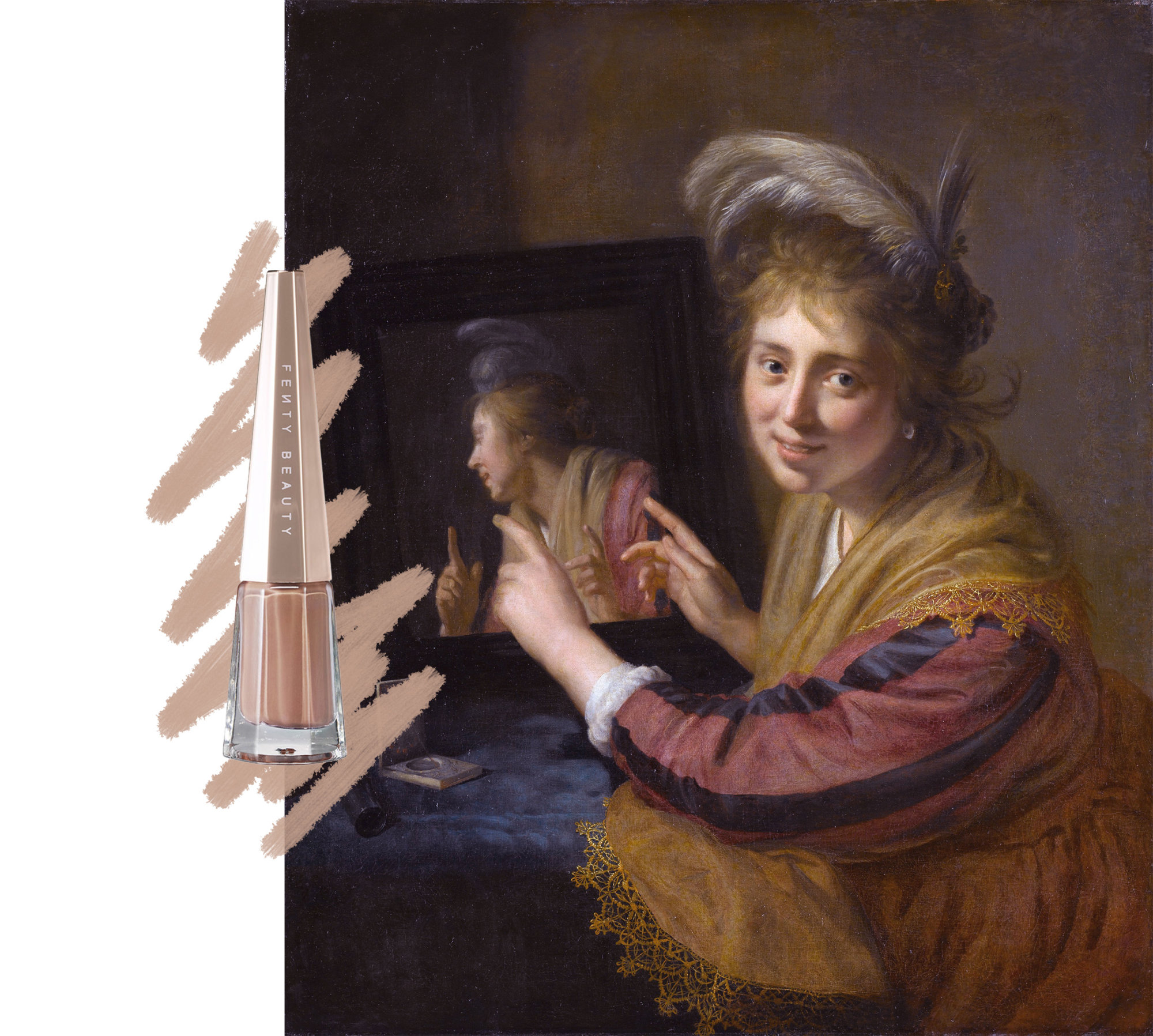 Paulus was especially appreciated for his rich use of color, often imbuing his figures with a lively, pink-cheeked vigor. One of his favorite genres was the playfully sensual portrait of young women with tousled blonde hair and overflowing décolletage. And we can imagine her applying her nude shade of the Stunna Lip, then pointing to the mirror saying: "Can't you see?! Fenty Beauty just killed it again."
#8
Title: "Head of a Young Girl," 1740.
Author: Francois Boucher.
Key Product: Nudestix Nudies All Over Face Colour Matte in Naughty N' Spice.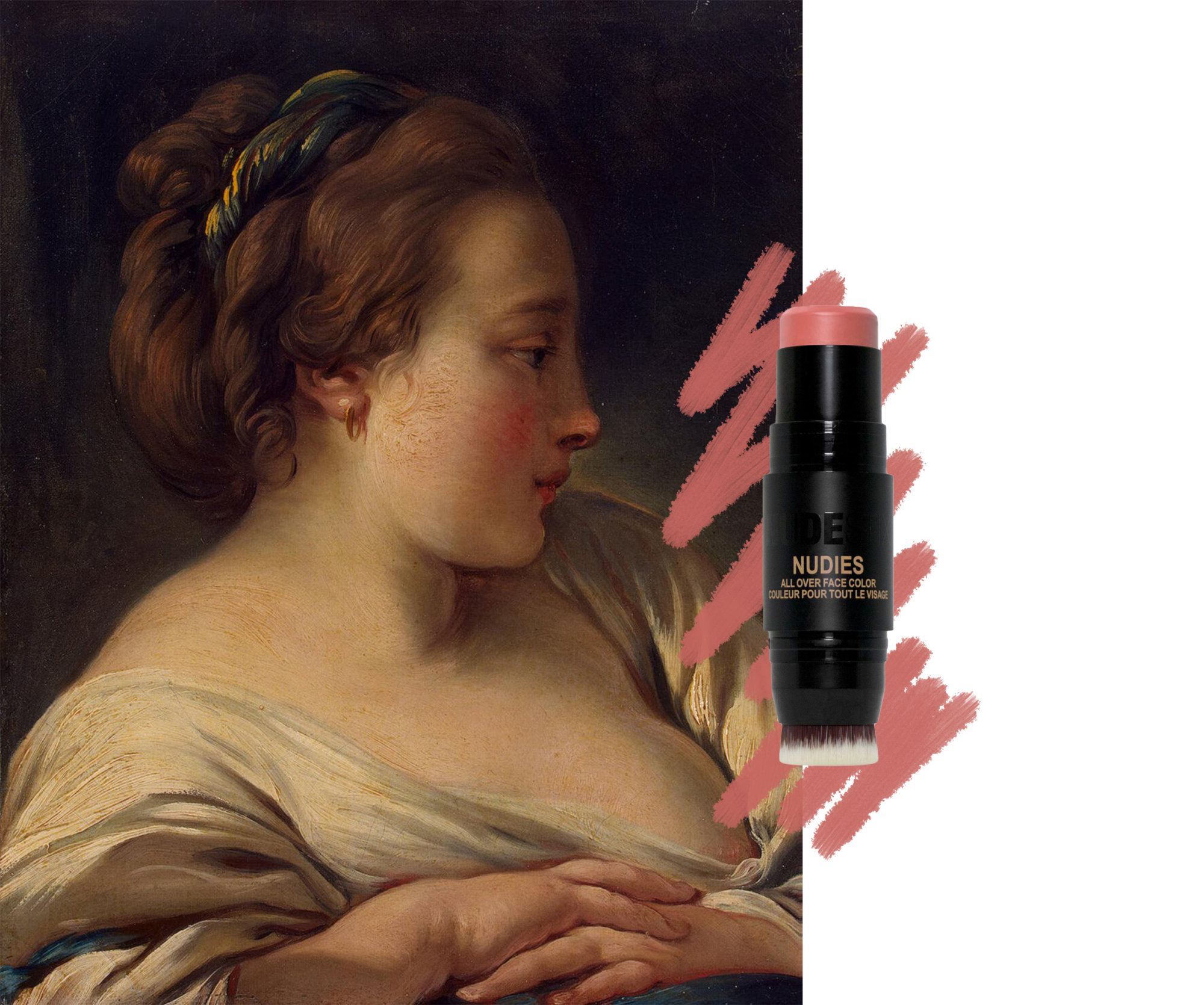 François Boucher was one of the defining artists of France's Rococo period, known for his voluptuous, romantic paintings. In this 18th-century portrait, Boucher depicts a deep pink apple of the cheek, lips, and eyelids, on a woman who is looking at something sensually. Maybe she is looking at the Naughty N' Spice stick by Nudestix, with which she has played.
#9
Title: "The Lady with the Veil," 1768.
Author: Alexander Roslin.
Key Product: Estée Lauder Double Wear Nude Cushion Stick Radiant Foundation.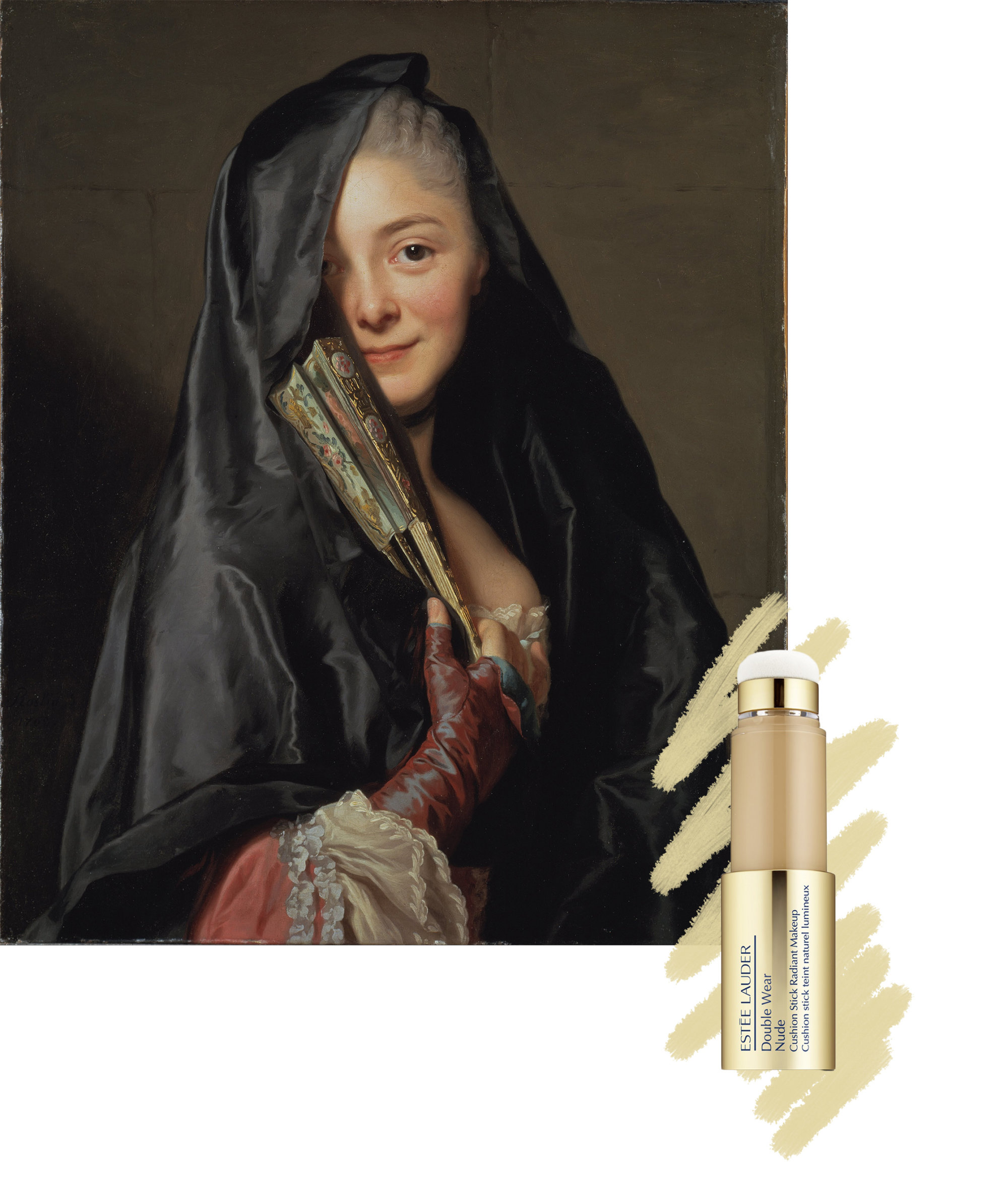 The Swedish portraitist Alexander Roslin made powerful use of emotional detail, textural accuracy, and intricately placed accessories to capture specific beauty. Here he represented his wife, a beautiful woman with a very perfect skin: no pores, no wrinkles, no imperfections. Only a veil of Double Wear Nude Cushion Foundation by Estée Lauder to make the complexion radiant and flawless.
#10
Title: "Portrait of a Young Swiss Woman," 1800.
Author: Jean Etienne Liotard.
Key Product: Charlotte Tilbury Hollywood Flawless Filter in Tan.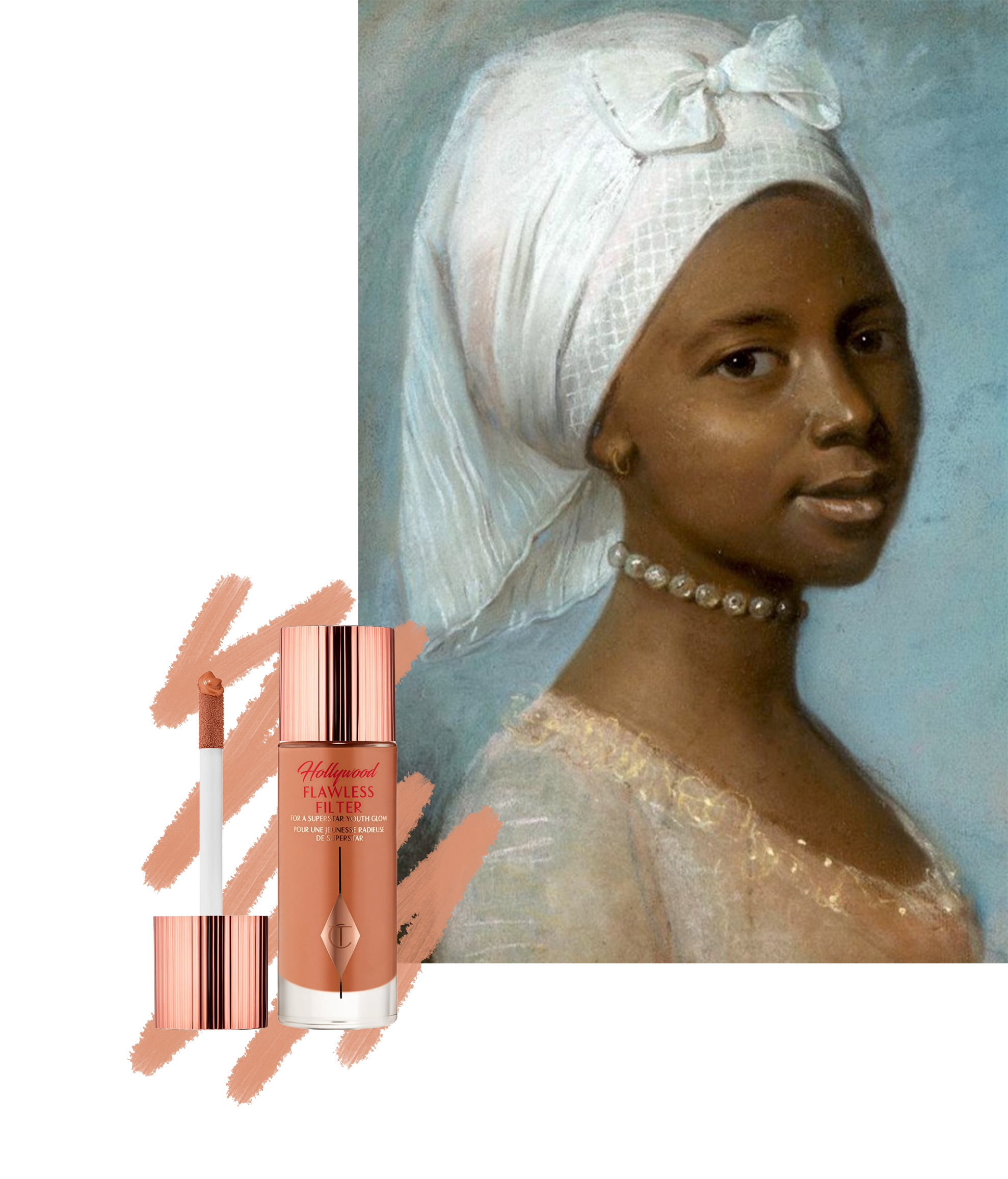 Jean Etienne was a Swiss painter, art connoisseur, and art dealer. He is best known for his portraits in pastel, and for the works from his trip to Turkey. In this painting, the Lady has the best skin ever, a beautiful highlighted skin with no glitter or shimmer: only light, all in the right places. How did she do it? Why, of course, with the one and only Hollywood Flawless Filter in Tan.
#11
Title: "The Shower of Gold," 1908.
Author: Howard Gardiner Cushing.
Key Product: Coco & Eve Hair Mask.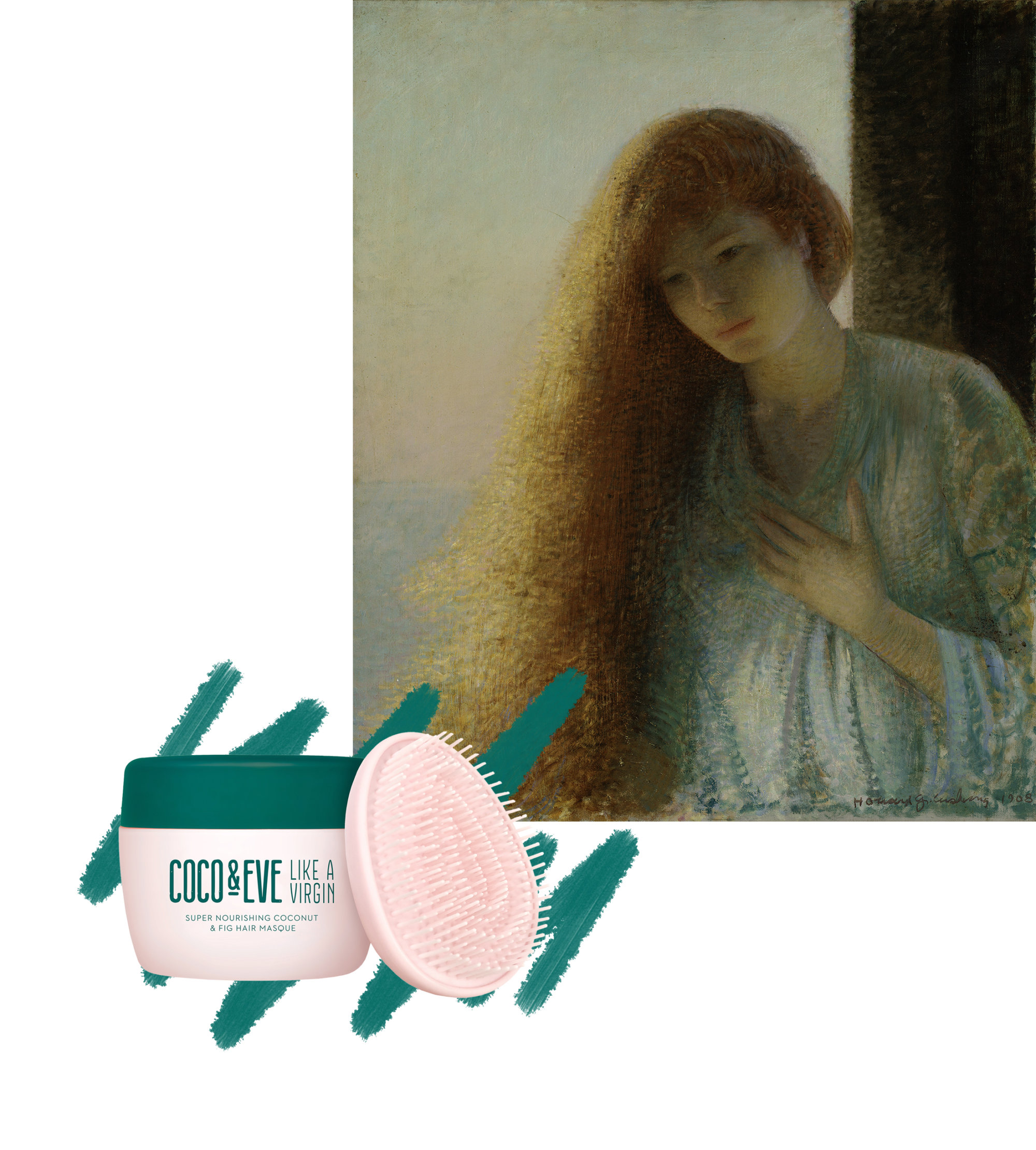 Howard Gardiner Cushing graduated from Groton and from Harvard College and studied at the Academie Julien in Paris. Then he established a studio in New York City in 1898 and worked there until his death. It's here where he painted this beautiful redhead woman with touching what it seems to be the best crown of hair in the world. And these days, to maintain all that softness despite humidity and pollution, we would suggest her the hair mask by Coco & Eve which is a real miracle.
#12
Title: "Perdita," 1866.
Author: Frederick Sandys.
Key Product: Chanel Palette Essentielle in Caramel.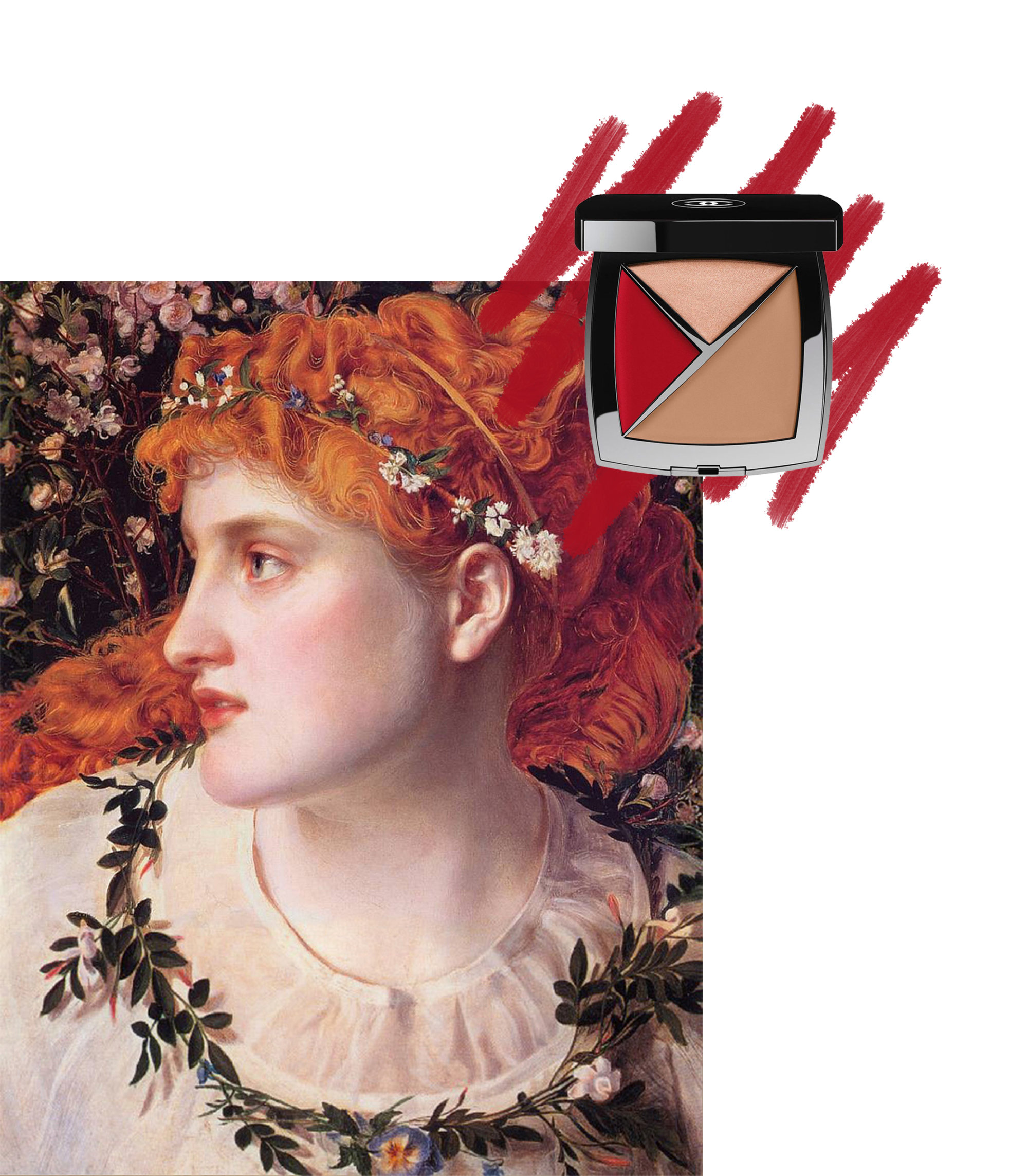 Frederick was an English painter, illustrator, and draughtsman, associated with the Pre-Raphaelites. He never became a popular painter and the dominant influence upon his art was the one exercised by lofty conceptions of tragic power. There was in it a somber intensity and an almost stern beauty that lifted it far above the ideals of the crowd. In this beautiful representation, he used golden, red, and warm nude shades, which seems to apply perfectly on her skin, eyes, and lips. And what better than the multitasking Palette Essentielle? We think that maybe he could've painted with that one.