The wedding dress is a dream for many of us, especially during our childhood and we are influenced by fairy tales. But once we grow up sometimes we understand that, instead of the traditional wedding dress, we would like to wear something more special and original, something that can express and represent our unique personality.
Of course, the princess dress and a traditional ceremony may still be our dream, but in recent years there has been an increasing trend of women saying "no" to the standards opting instead for an "alternative" wedding! If you are among those who want to break the rules, here are the main trends regarding wedding dresses for a mindful, modern and, equally, romantic woman.
__________
Wedding Dress Trends
SHORT DRESSES
__________
Short dresses are perfect to enhance petite body figures and they are suitable for those who have a jaunty and versatile style, especially if you want to get married in the summer. The illustrious examples of this category are Audrey Hepburn, Mia Farrow, and Keira Knightley and, nowadays, short ceremonial dresses represent a category full of inspirations: from the sheath dress to rounded models or the ones with a trail, from the lace top to the plunging neckline and the long sleeves, there's really something for everyone! The latest wedding collections presented on the runway have stated the importance of details and accessories when it comes to short wedding dresses: flowers, feathers, small capes and precious inserts make a short dress even more special and unique. On the other hand, the keyword when it comes to accessories is "playing": from the headband to the retro veil, from jewel clutches to big earrings, everything can make your look chic and unforgettable.
__________
Wedding Dress Trends
ONLINE SHOPPING
__________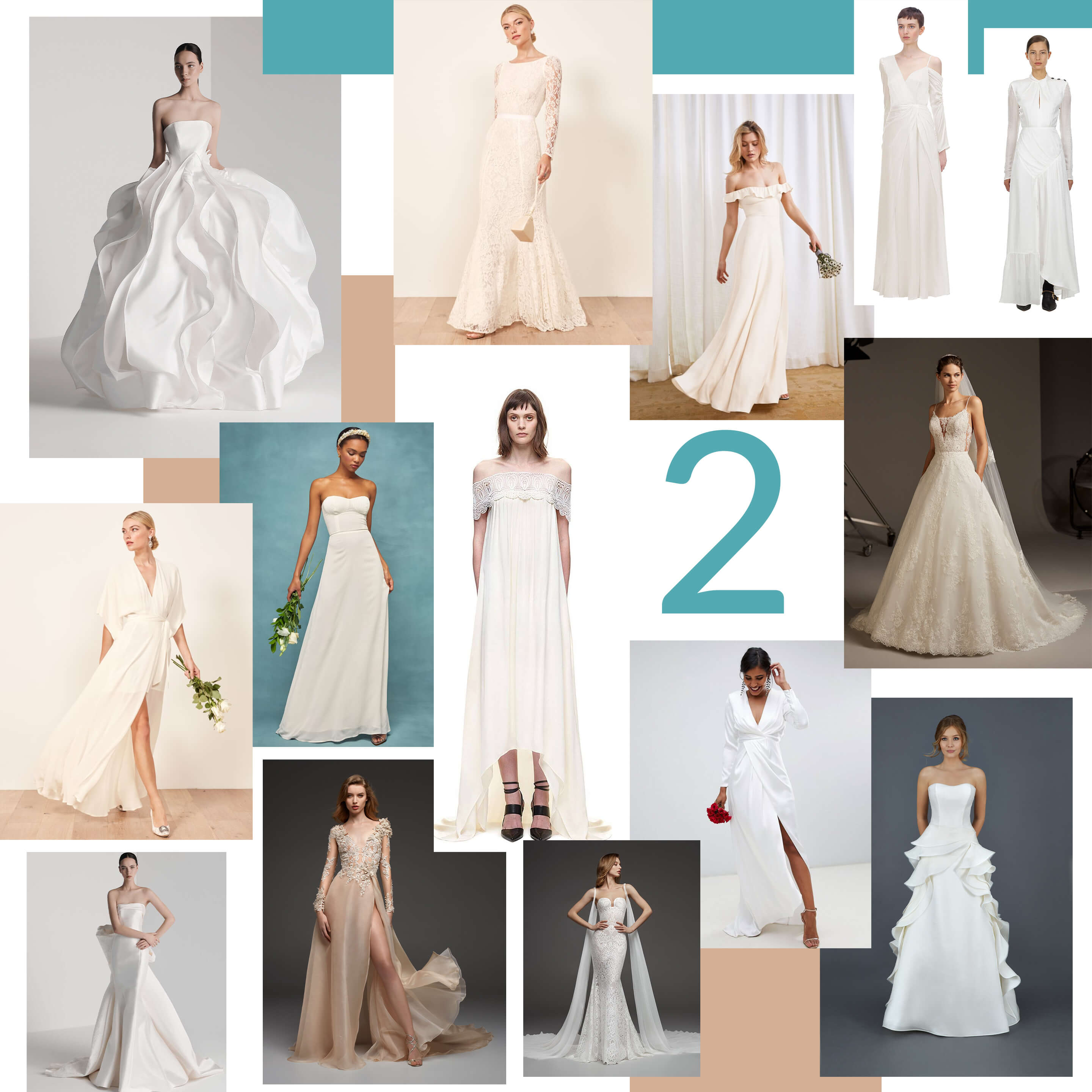 We live in a reality where the Internet plays a huge role: nowadays you can buy everything online and, not by chance, online shopping is increasingly widespread. If you are aware of what you want, then, or if you are just looking for inspiration without the bother of booking endless appointments in an atelier, why not choose your wedding dress online? Many sites offer a wide selection of dresses and even tailoring services online: you just have to share the idea, your measurements et voilà, it will be delivered directly to your home! Easy, right? Buying a wedding dress online is an idea aimed especially to those who do not want to waste time, those who are looking for cheaper solutions and those who, being internet-addicted, know that in the WWW there is a dress that awaits her and that would not be easily found in an atelier: all without giving up the quality, by the way!
__________
Wedding Dress Trends
UNCONVENTIONAL WEDDING DRESSES
__________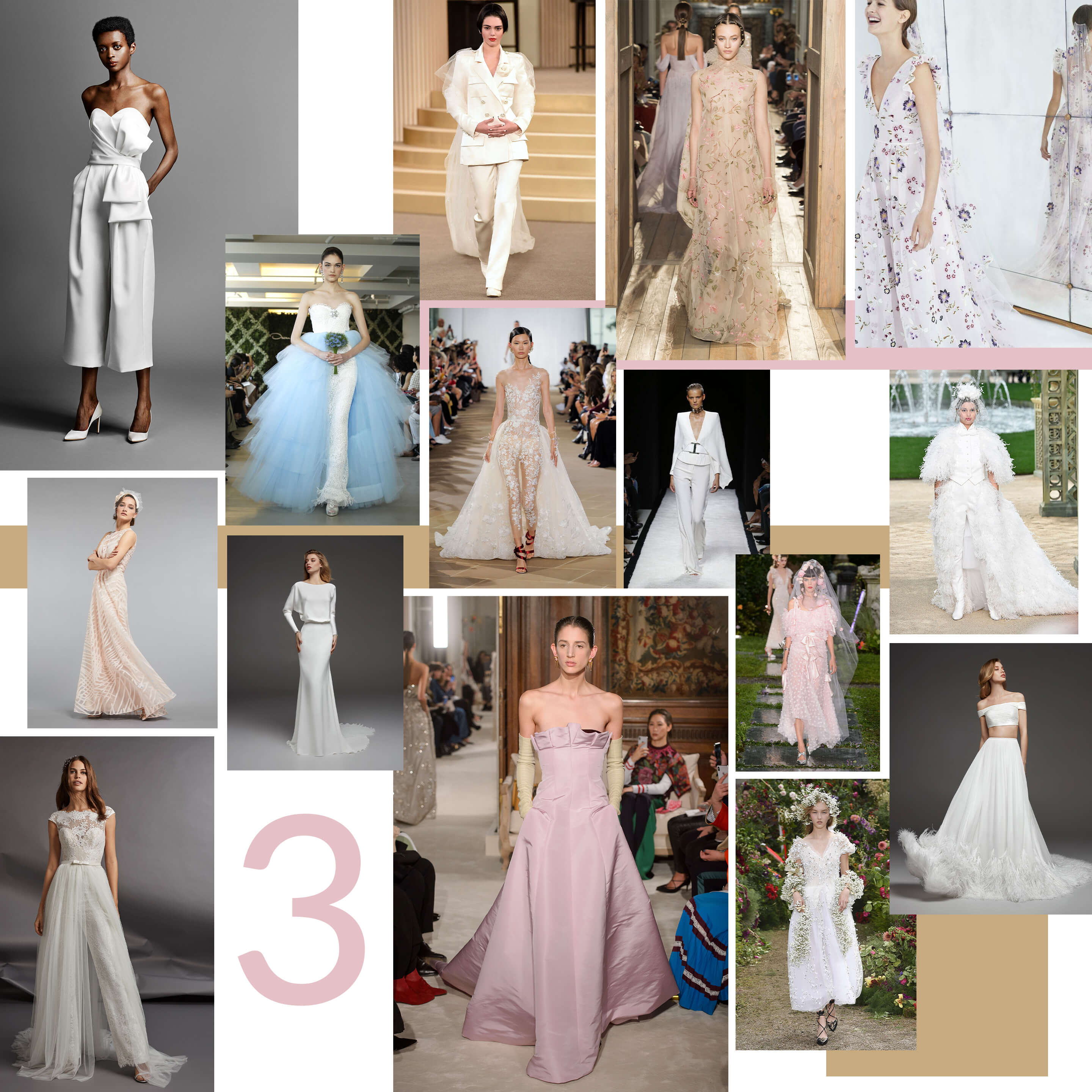 When we think about the typical wedding dress, we imagine a white and long dress, with a veil and full of details: if, however, conventions don't suit you, there are original solutions that will leave everyone speechless! The first one is color: bye-bye white, welcome colorful shades able to enrich (userei add value to) your dress. One of the first and most famous examples of a colorful wedding dress is the one of Liz Taylor for her first marriage with Richard Burton: short, fluttering, full of ruffles and yellow! Then there is Dior's dress designed by John Galliano for Gwen Stefani with shocking pink shades, Julianne Moore's lilac petticoat, Olivia Palermo's soft green cardigan and, more recently, Rodarte's fluttering pink dress worn by Mandy Moore.
Another way to break the tradition is given by the model shape: for a contemporary bride, the suit composed of trousers and jacket is the perfect solution, although the greatest example of this look is "vintage," since it is the suit worn by Bianca Jagger for her marriage to Mick. An alternative can be found in elegant jumpsuits or bohemian creations, such as the pink Valentino dress worn by Beatrice Borromeo for her civil ceremony with Pierre Casiraghi.
An advantage of unconventional clothes? They can often be reused on future occasions! Because, if it is true that the wedding is unique, who said that the wedding dress should be worn only once?