For the SS20 collection, Vivetta takes inspiration from her family memories and bring us back to 1960s Greece, between summer reminiscences and colors that open the doors to imagination and surrealism.
Vivetta SS20
MOODBOARD
__________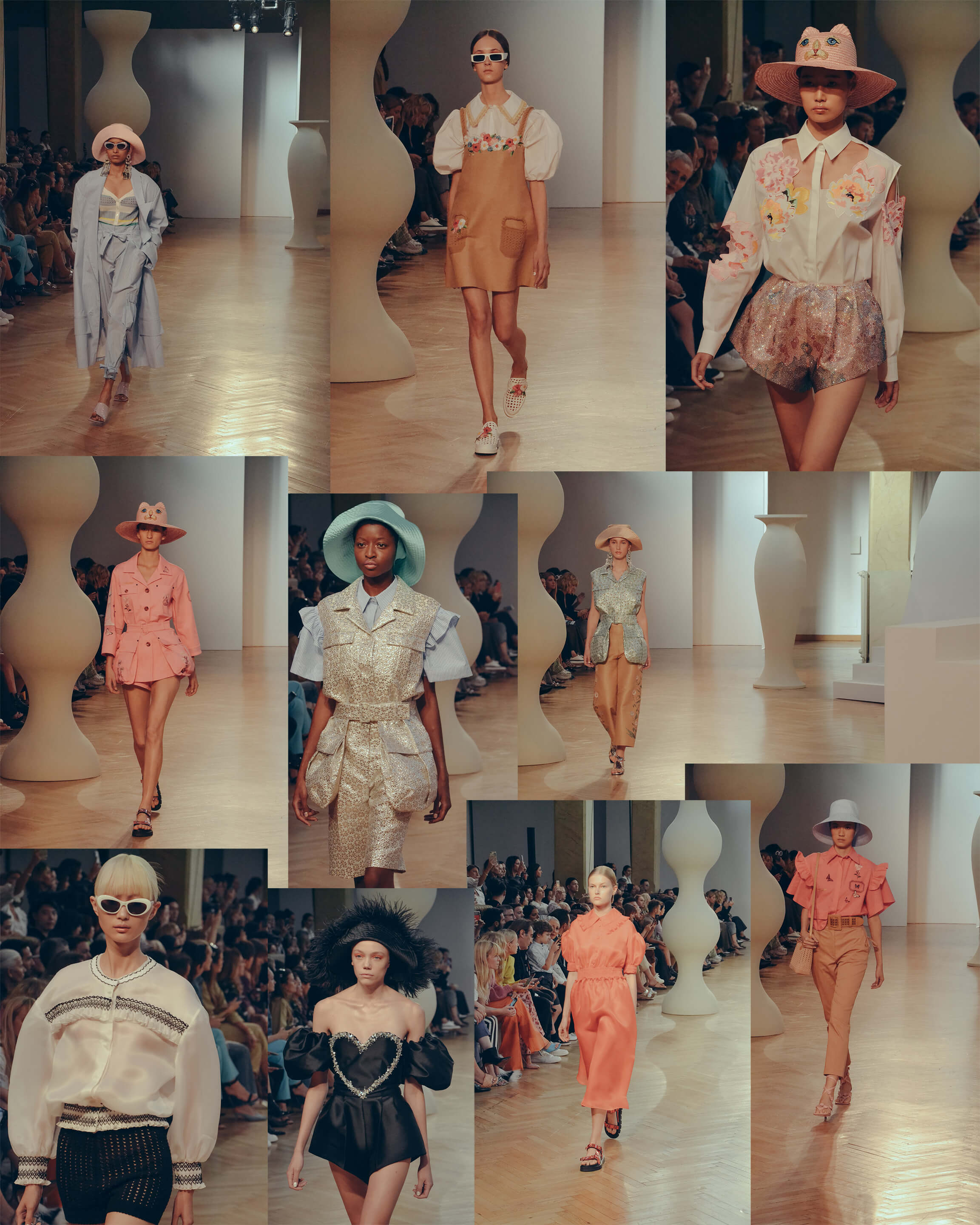 Vivetta has in mind a feminine, ironic and surprising woman, and she is inspired by the tenderness and poetry of her childhood memories, more precisely those related to her holidays in Greece. Through the surrealist sculptures of the artist Garance Vallée, models wear bon-ton and delicate organza dresses, wheel skirts, puff sleeves, large floral caftans, tulle and geometric prints, in an explosion of colors ranging from yellow to blue, from coral to pink aligned with the iconic style that made us fall in love with the designer's work. There are also lace, embroidery, flowers and feathers that define the whimsical and joyful mood not only of this collection but of the entire brand.
Vivetta SS20
CLOSE UP
__________
If the looks are small masterpieces, it is also due to the details: large silk bows, Swarovski-studded hearts, giant earrings in the shape of daisies, low sandals and cute cat faces that give a touch of cheerfulness to the straw pastel hats, which suggest a fun idea of comfort.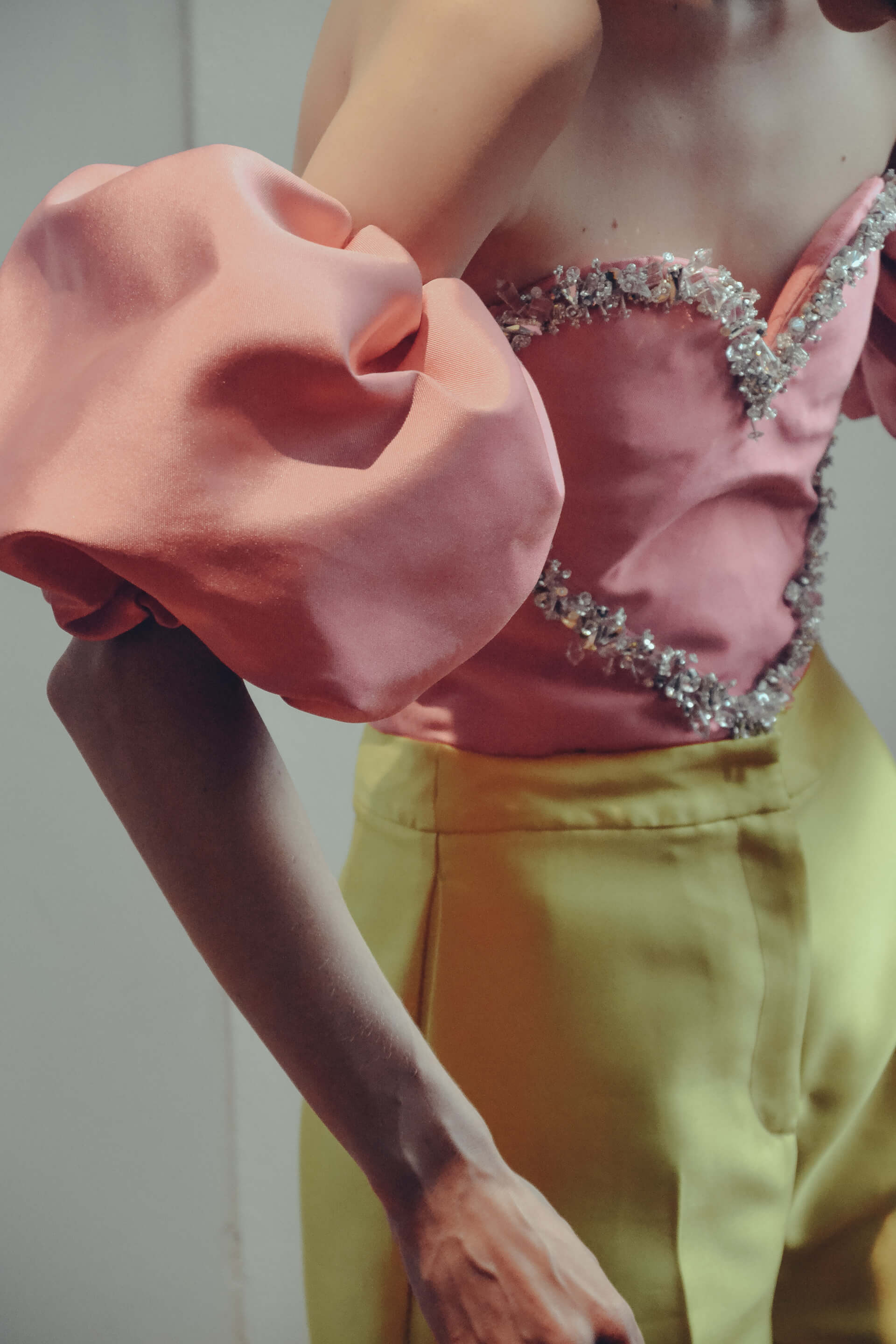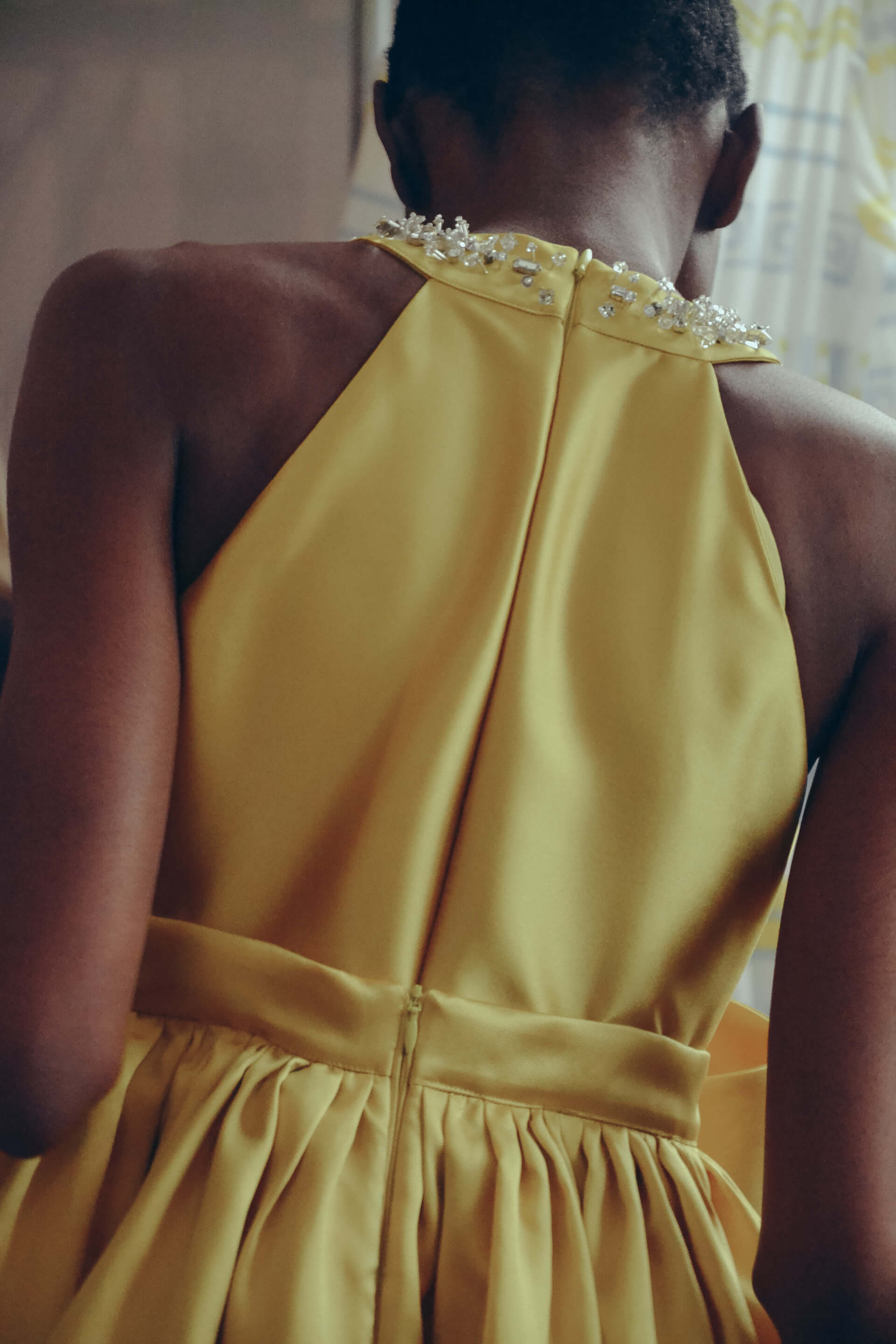 Vivetta SS20
OUR FAVORITE LOOKS
__________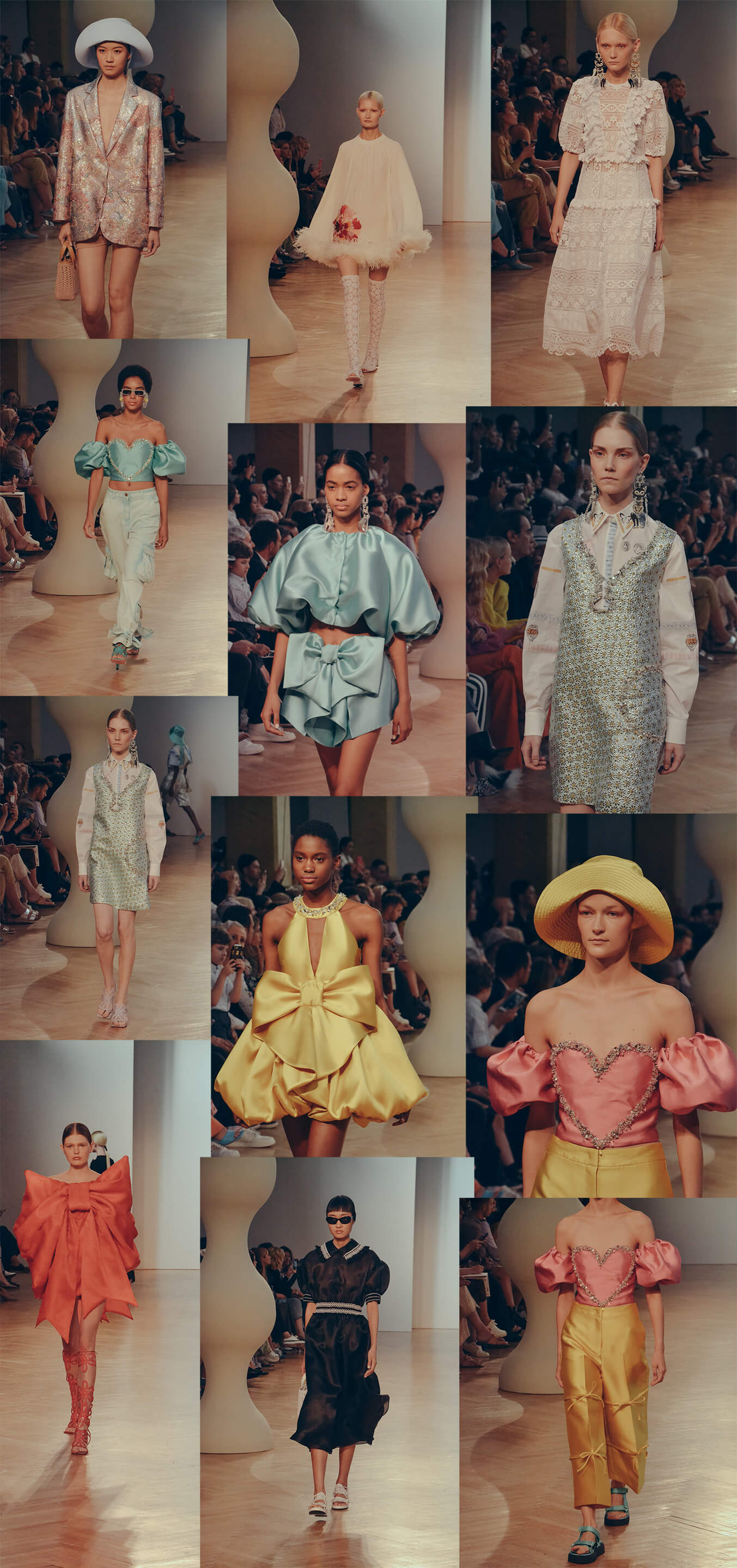 Vivetta SS20
BEAUTY
__________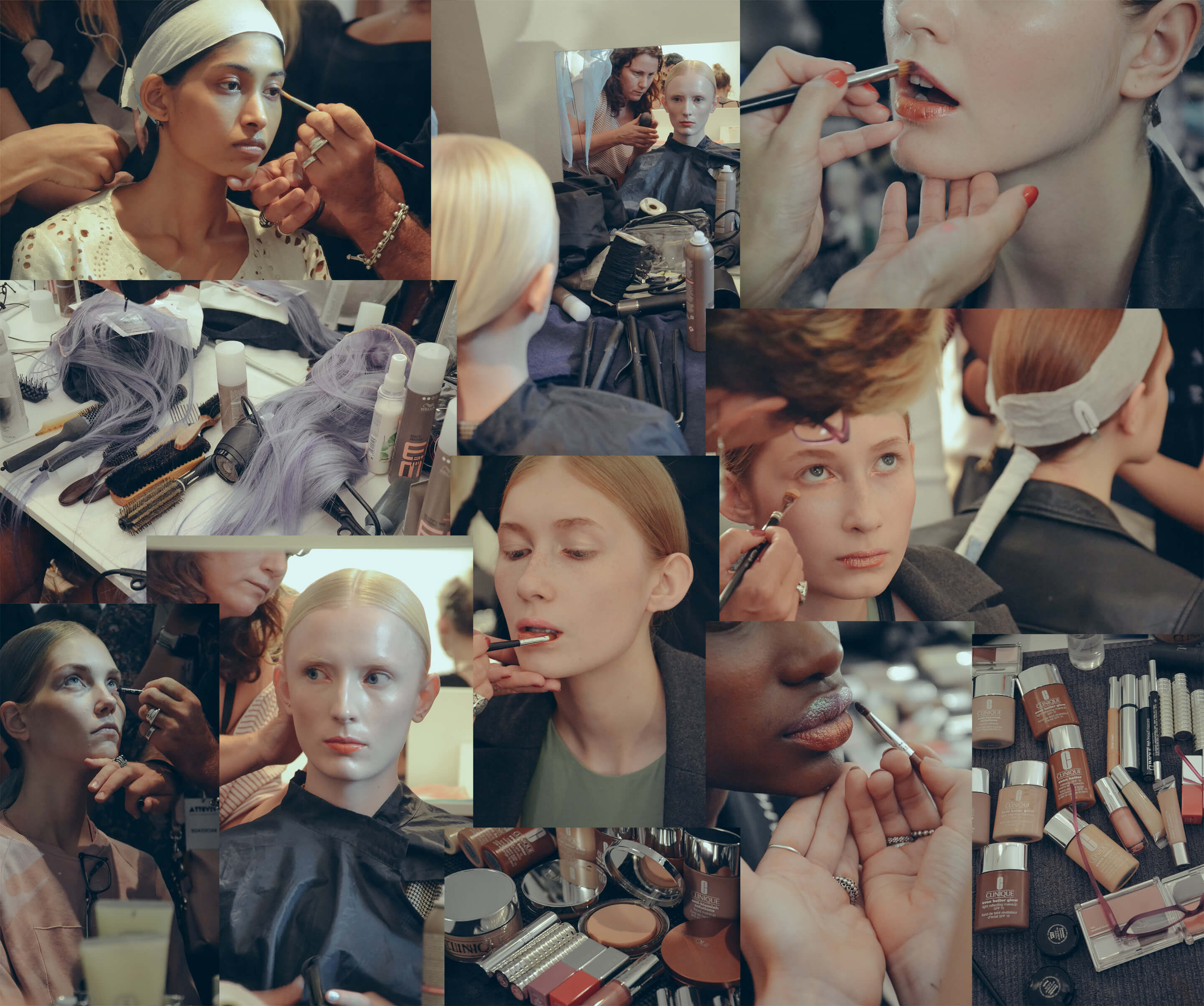 A colorful and dreamlike beauty look becomes the natural extension of the collection. Created by Giulio Panciera for Clinique Italia, it is characterized by glittery lips, where two shades of lipstick from the Lip Pop Lipstick line, in Kiss Pop and Poppy Pop, play with the same shades of lipsticks applied instead on the eyes, as if they were eyeshadows.
The Even Better foundation is applied on the skin for a natural effect, underlined by the untouched eyebrows, while lashes present the application of the High Impact Mascara. For a touch of color on the cheecks, they applied the Blush Blushing Blush in Iced Lotus. The hair completes the looks thanks to the sophisticated low tails, with the line in the middle, to which were added touches of colors though the application of fake strands in blue, pastel pink and aquamarine.
I capelli completano il tutto con delle sofisticate code basse con riga in mezzo, a cui sono state aggiunte delle note di colore grazie a delle ciocche finte nei toni dell'azzurro, del rosa pastello e del verde acqua.