Bakuchiol is the new frontier of skincare: why do we say this?
Because so far it's been unlikable not to have our Instagram feeds (and not only) full of posts about the benefits of this powerful ingredient and the reason why it is the 100% natural substitute of our beloved Retinol.
Bakuchiol is a plant-based ingredient derived from the babchi plant and it is known for its anti- inflammatory and antioxidant properties: thanks to its low possibility of causing irritation and redness -which is typical of Retinol, instead – it is, therefore, a valid alternative for those with sensitive and delicate skin. 
Just like Retinol, Bakuchiol also acts to prevent and restore premature aging, helps stimulate the production of collagen and elastin, and, like vitamin A, it can act as a sebum-regulator against acne and skin rashes.
These are not its only benefits, by the way: Bakuchiol can also minimize the synthesis of melanin – illuminating and evening out skin accordingly to its tone – and it does not increase the sensitivity of the skin to sunlight as Retinol does, instead. This is precisely why we have recapped the 5 Bakuchiol serums you can no longer go without! 
Herbivore, Bakuchiol Serum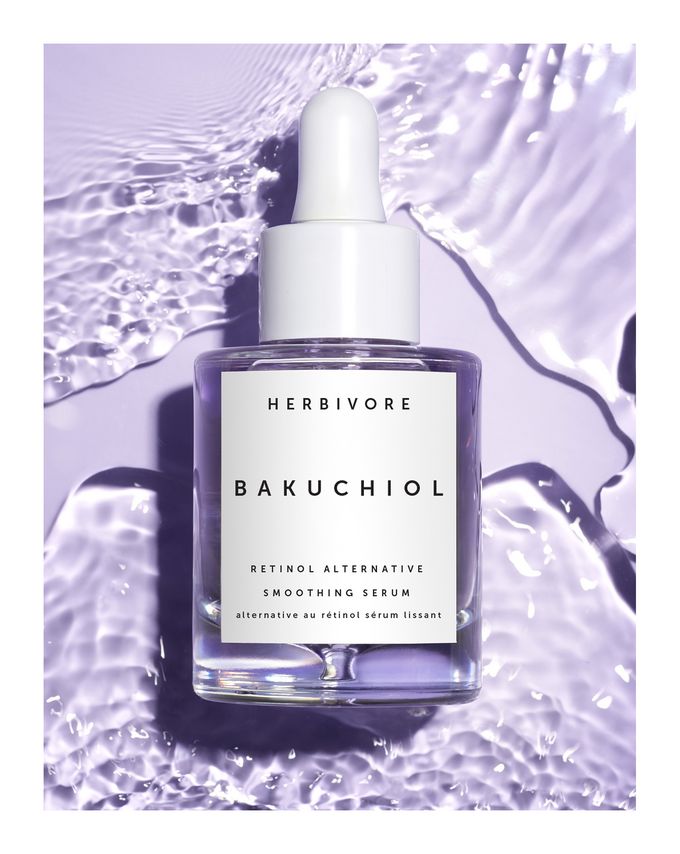 Herbivore's Bakuchiol Serum, thanks to the powerful illuminating and smoothing formula given by 4% of Bakuchiol, from the mixture of 1% polyhydroxy acids – which increases serum absorption and hydration – from the extract of the fungus tremella and stem cells of blueberry (which strengthen the skin and protect against environmental agents contributing to premature signs of aging), gently evens out the complexion and minimizes fine wrinkles. Its water-based formula, smooth as silk, and its gel texture make it suitable for anyone who wants a lightweight product that is quickly absorbed (perfect even in summer when the hot weather makes us hate rich and full-bodied creams!).
Besides, this serum is natural and vegan and suitable for all skin types, even the most sensitive ones: you just need to apply 4-6 drops on clean and freshly cleansed skin, massage to make it absorb, and proceed with cream and facial oil. 
Medik8, Bakuchiol Peptides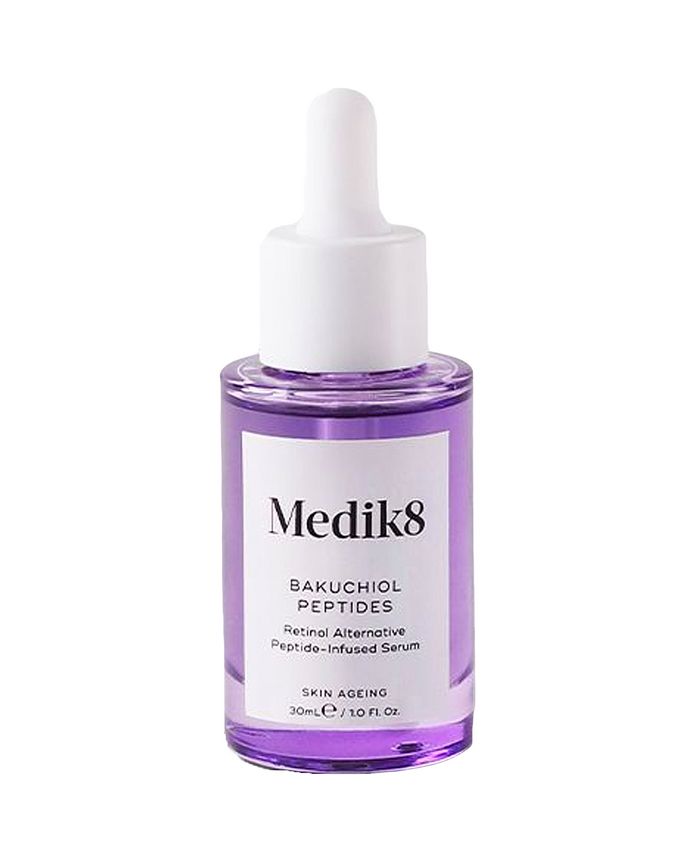 Suitable for skin intolerant to vitamin A, this light oily serum uses the power of pure 1.25% Bakuchiol to improve the texture and tone of the skin, making it visibly softer and smoother. Enriched with illuminating peptides that minimize spots and dyschromia given by hyperpigmentation, it also contains precursors of lightening peptides, which penetrate the skin barrier blocking the production of melanin (and thus making our skin look lighter and more uniform), the extract of Centella Asiatica, which acts on the synthesis of collagen and has anti- inflammatory properties, and Sacha Inchi Oil, a plant of Peruvian origins that restores the lipid barrier and decreases water loss. 
Use it after cleansing your face both in the morning and in the evening if you want fast and enhanced results, and then proceed with the regular skincare routine.
Ps: The packaging is formulated to protect the serum from UV rays and its formula is enriched with triandra krameria root extract, optimizing it for long-term photostability. 
Paula's Choice, Clinical 0.3% Retinol + 2% Bakuchiol Treatment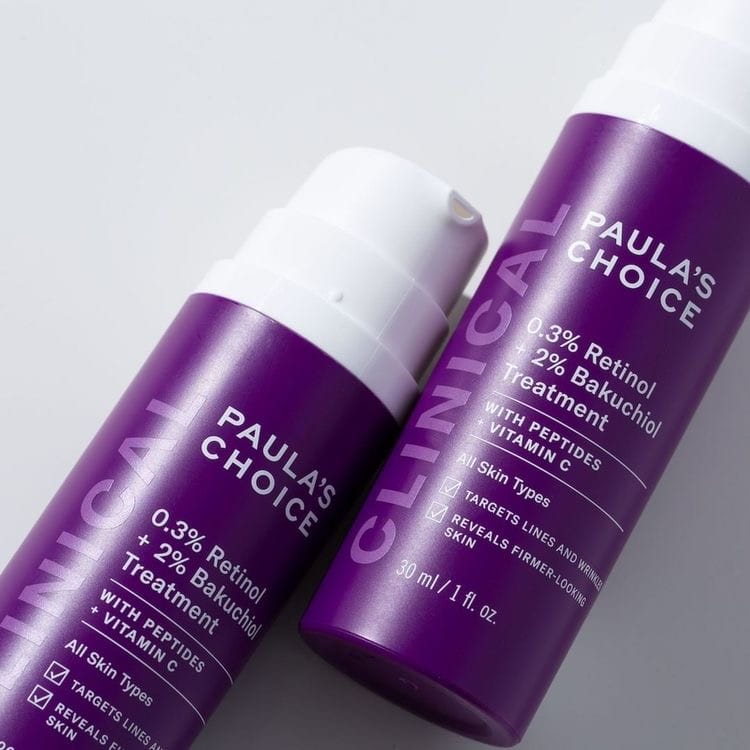 Do not change a winning team: in this treatment of Paula's Choice the 0.3% Retinol and the 2% Bakuchiol work together for a perfect combination. Bakuchiol, in fact, is a natural anti-inflammatory that stimulates and helps make retinol easier to tolerate for the skin, as well as being one of the rare ingredients that makes it more effective.
Along with peptides, which have a soothing effect on the skin and soften the appearance of expression lines, this lightweight lotion is suitable for all skin types, especially if you have signs of aging and sun damage!
Some advice on its use: initially, limit the use to three evenings a week, then gradually increase the frequency and, if you are using this product for the first time, do not apply it at the same time with exfoliants (AHA or BHA) because that could cause irritation or redness.
If your skin requires daily use of exfoliants, then use them both, but apply one in the morning and the other one in the evening, always monitoring the skin's response. If no signs of sensitivity occur, then go ahead!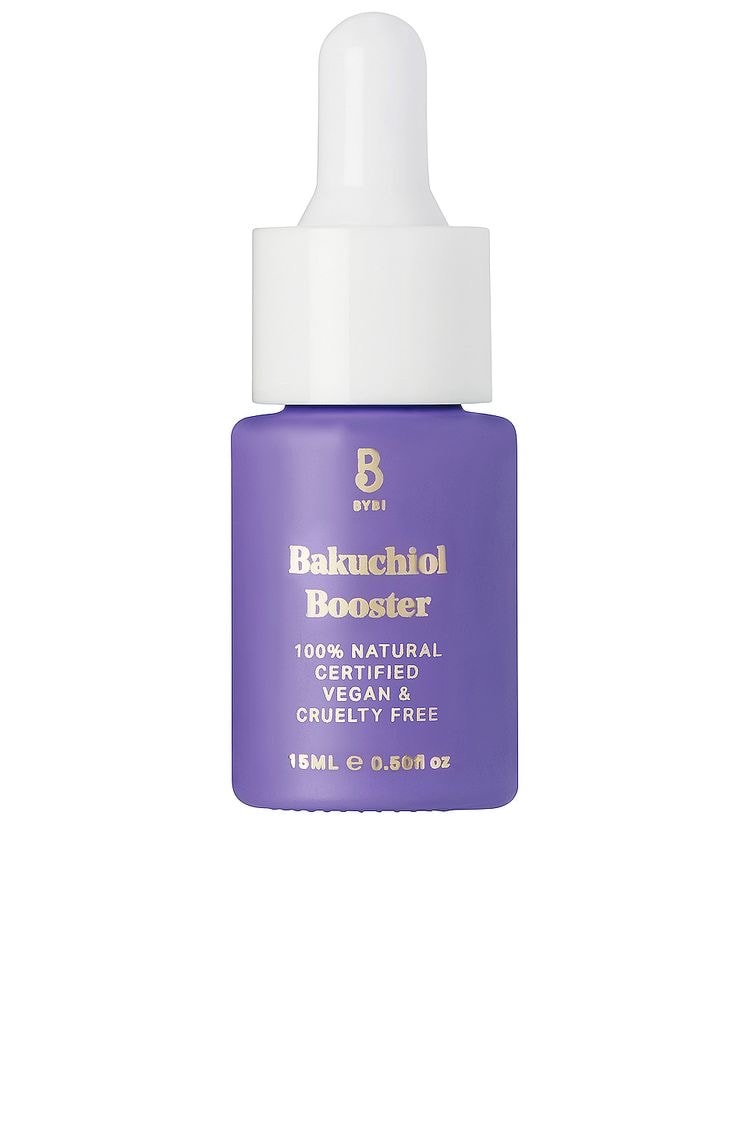 The Bakuchiol Booster by Bybi is perfect for those with dry skin or spots and dyschromia: it contains Bakuchiol oil, which eliminates the side effects of Retinol (such as inflammation, irritation, and high photosensitivity), and Squalan oil derived from olives, that gives energy and nourishment to the skin. It is a Booster, so we like to mix it with other products such as cream or face oil, either alone or as a makeup base. 
Unlike Retinol, Bakuchiol does not increase the sensitivity of the skin to sunlight, so you might not even put it on if you don't want to, but our advice is to always wear SPF (remember: sun cream is always the last step of the skincare routine).