In these days there's a wide choice and offer when it comes to metallic make up: the trend is everywhere, from the catwalks (have you checked the Alberta Ferretti eye make up, with the golden glow on the inner corner of the eye, the black matte smoky interrupted, at the center of the lid, by a rich red?) to the shop's shelves, where important names like NARS, Huda Beauty and Urban Decay are going on a metallic spree.
Recently, Urban Decay has launched a new metallic line, which also consists also of a brand new palette, the Heavy Metals Metallic Eyeshadow Palette.
It composes of 20 new shades with a bright metallic finish, from the ocean blue "Diva" to the rose golden tones of "Maiden", going through the shimmery black of "Ground", and it's perfect to be matched with a black glittery eyeliner.
Make Up Artist Lloyd Simmons for Alexis Mabille, for example, colors his model's eyelids with generous paintbrushes of golden eyeshadow (using MAC pigments). It enhances the free, fearless spirit of the model, but it's also snappy and looks simple and immediate to recreate.
Liquid eyeliners, lip tints, silvery or pure golden powder and creams are versatile.
They can be extra-colorful or just basic, it's up to you!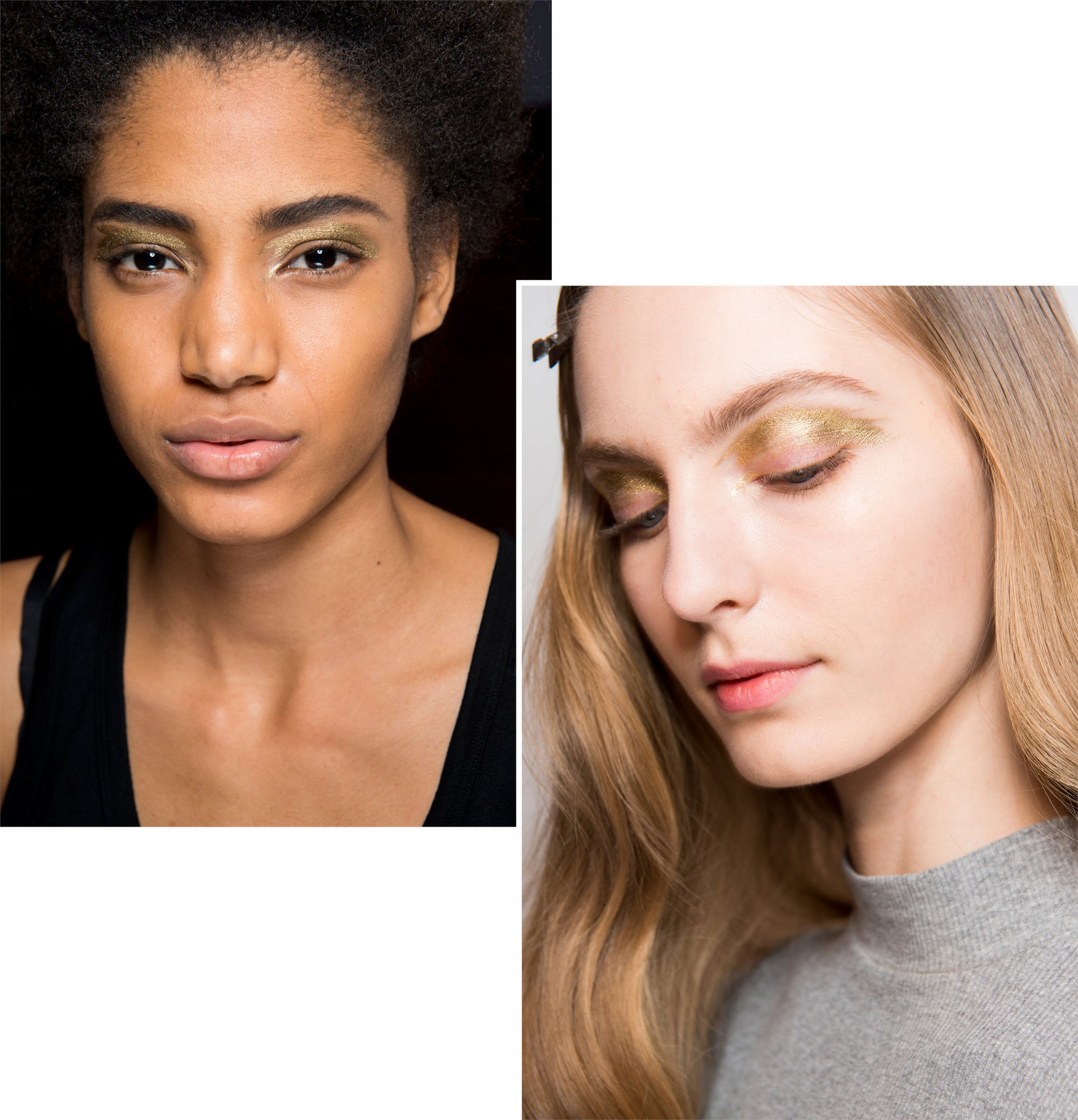 Don't be shy, but remember that there's a line that shouldn't be crossed. Nobody wants to look like a (bad, early and cheap) Christmas angel on the top of a Christmas tree, so just don't overdo it with that glow.
Maybe start with a detail, such as the eyes and the lips, and find the perfect sub-tone for your style. From there on, it's great to experiment with metallic eyeliners, loose pigments and a more complicated contouring. This kind of make up is not always effortless, it involves a solid base to keep the makeup in place for more than a couple of hours, there's small to no blending and the eyeshadow can easily fall or crease, but don't worry: the current, wide choice of products makes just everything easier.
Experiment. Be confident.
Be stunning.
Here some tips for the perfect metallic make up, to be stunningly up to date with the trend:
_______
Metallic Make Up
Prep the Skin
_______
Always remember to hydrate and moisturize first: the first, game-winning glow is the one that comes naturally from a skin that's well taken care of.
Then, the base is extremely important when talking about metallic make up, because we want the pigments to be bright and colorful and, what's even more important, we want them to stay put for as long as possible. To achieve such result it's very important to even the color base and to fix the product to the make up.
To do so, nothing is better than a creamy primer.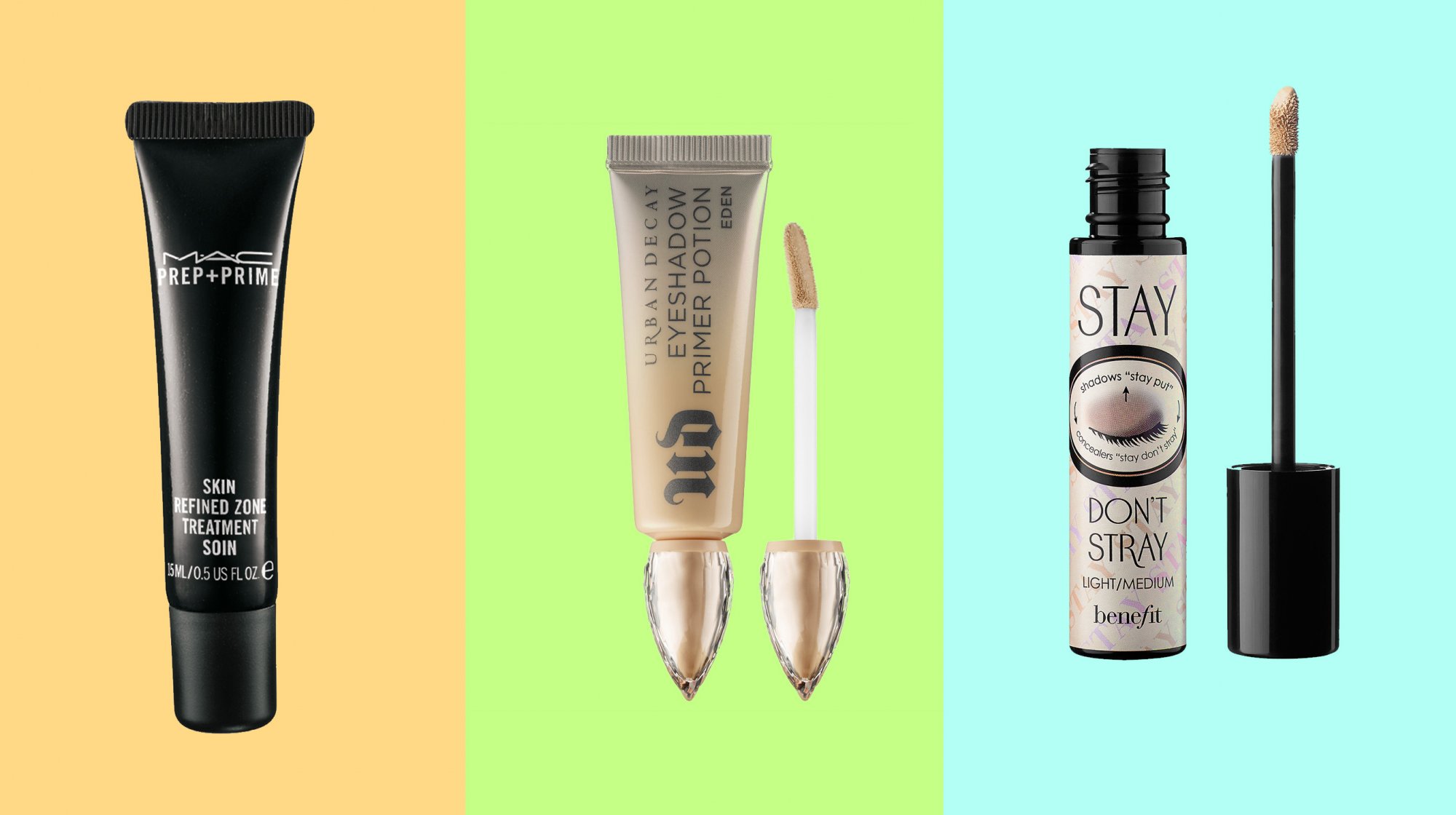 _______
Metallic Make Up
Cheekbones
_______
 
First of all, match the right highlighter for your skin tones with a matte foundation base.
Speaking of highlighting, though, we know that it goes up close and personal with another big step of recent cosmetic: contouring, the art of dramatizing your cheekbones with darker colors. Now, if the Kardashians and KKW basically created contouring, Rihanna and Fenty Beauty really raised the bar when comes to highlights.
We love the Fenty Beauty highlighting sticks in the famous shades Confetti (an iridescent pearl) and Sinamon (a cinnamon bronze). The line also proposes a compact highlighter: it's available with two shades (also mixing sheer colors to pearly and metallic ones) or just with one, such as the extra-famous, metallic 3D gold Trophy Wife.

_______
Metallic Make Up
Be Fearless
_______
If you have your mind set on rocking a metallic make up, be ready to shine. Any kind of metallic shade will attract a lot of light, so it works better if you're comfortable with being really glowy, confident and fabulous. One usually safe (and playful) zone is the eyelid, because it's kind of a free-for-all zone and we're already used to see it in many different ways.
Of course, it's really fun to highlight your best features, but keep in mind that playing with the metallic makeup will draw a lot of attention, and it's not always easy to obtain a smooth and long staying effect with loose pigments.

_______
Metallic Make Up
Lipstick
_______
We all love the matte lipstick shades (they're just so perfect for the season), but metallic lipstick is a trend that's going extra strong these months.
The best hues are offered by Huda Beauty, with the shiny Lip Strobes, Urban Decay, with the extra-bold Vice Lipstick in Naked Heat, and the new treasure from Fendi Beauty: Gloss Bomb, a metallic lip tint with gold and peachy tones.
Also, ColourPop has recently launched a new My Little Pony inspired collection and, in it, there's a tiny must-have for all the metallic enthusiasts: Flutter Valley, a shimmery lip gloss with a gold undertone and tons of pink glitters.
Mac's Frost Lipsticks, as always, offer a huge range of shades, all creamy and buildable: our favorites are Bronze Shimmer, a bright and lively yellow, and On and On, a cold and pearly purple.

_______
Metallic Make Up

Eyes
_______
Metallic eyes are something that we can't live without, anymore. On Brandon Maxwell's catwalks we saw a stunning smoky eye composed by a metallic, copper-ish shade and a rich, deep black.
Also Laura Biagiotti's models rocked a soft golden eyeshadow, while Christian Siriano made her models cry orange, glittery tears of metallic eyeliner.
Now those beauty looks are just everywhere and there are just hundreds of way to be inspired by them: chose a metallic shade, be it silver, gold or copper, and create a dramatic effect by matching it to a bold smoky eye or matte shades.
For the perfect metallic look, we love the Heavy Metal eyeliners by Urban Decay; to be matched, perhaps, to the new limited edition hardwired eyeshadow by NARS.