The looks featuring blue eyeshadows are one of the biggest trends of recent times: they made their first appearance both with the arrival of the cold season and in the fashion shows in September (2020), and they were soon to be found everywhere on magazines, editorials, Instagram. We played with them so we could show you the best ones!
If so far you've thought of blue as a challenging and difficult color to wear, now is the time to change your mind: in 2021 blue eyeshadow should be worn every day, in a new, more versatile version. What are you waiting for? Unleash the creativity that is within you and indulge yourself with colorful make-up that reminds us of the color of the sea and the summer sky, but also of the color of the darkest nights.
Are you ready to dive into the blue, painted blue?
Blue Eye Palettes
Makeup Revolution Forever, Flawless Palette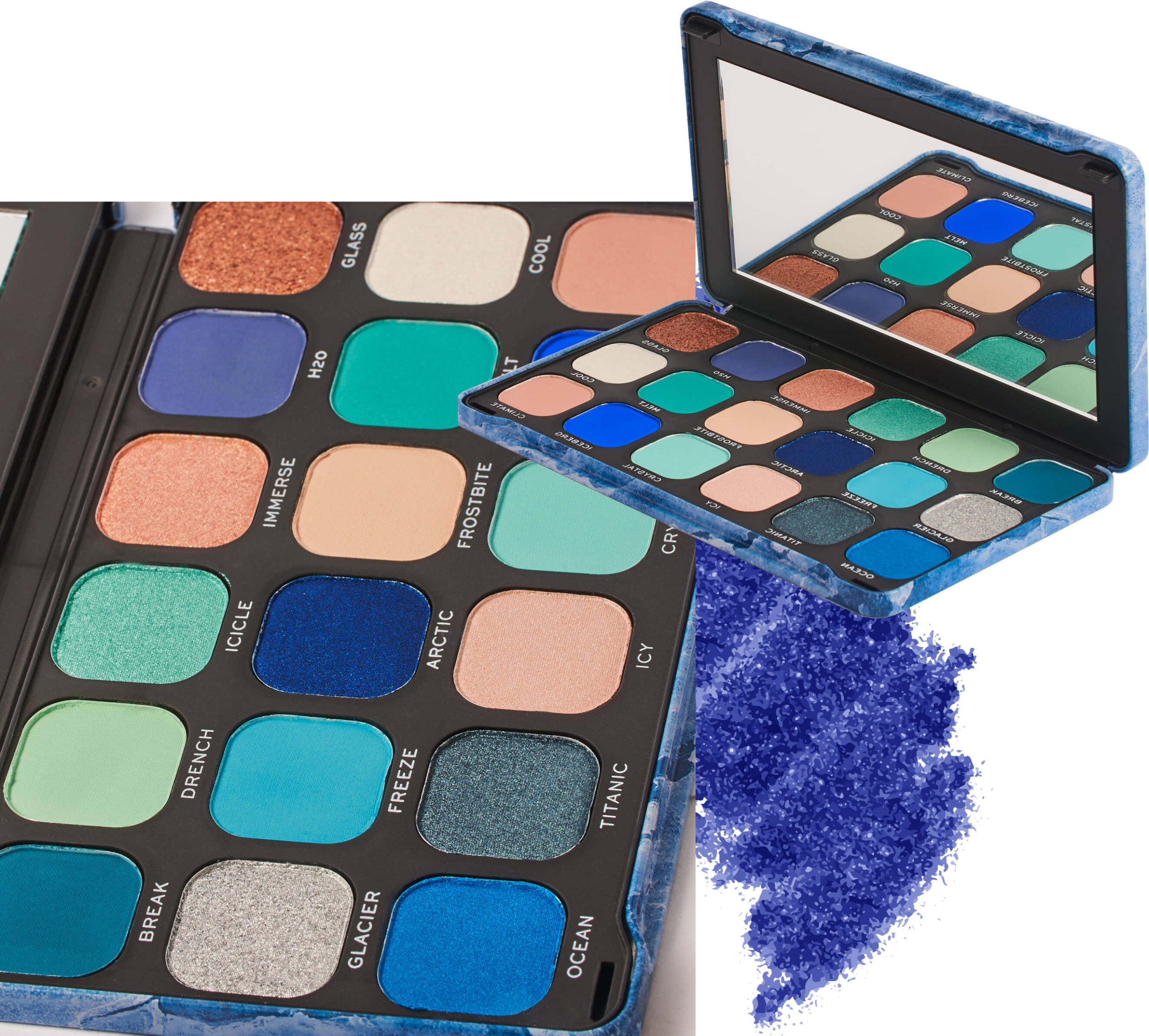 Makeup Revolution Forever amazes us with a palette of 18 shades in a mix of nudes ranging from white, hot pink to bronze and the various shades of the sea, ranging from pearly colors, ice, and silver- more refined and desaturated – (Cool, Glacier), more intense shades of blue (Freeze, Ocean), water greens (Crystal, Icicle, Melt), blues (Artic, H2O, Break) and electric blues (Iceberg) of multiple shades and intensities.
A versatile palette for all needs: from pop and sparkling nuances to the more delicate ones in a matte and shimmer version for all undertones, both warm and cold.
The packaging? A blue metal box that reminds us of snow!
Dior, 5 Couleurs Couture Palette Eyeshadow, Denim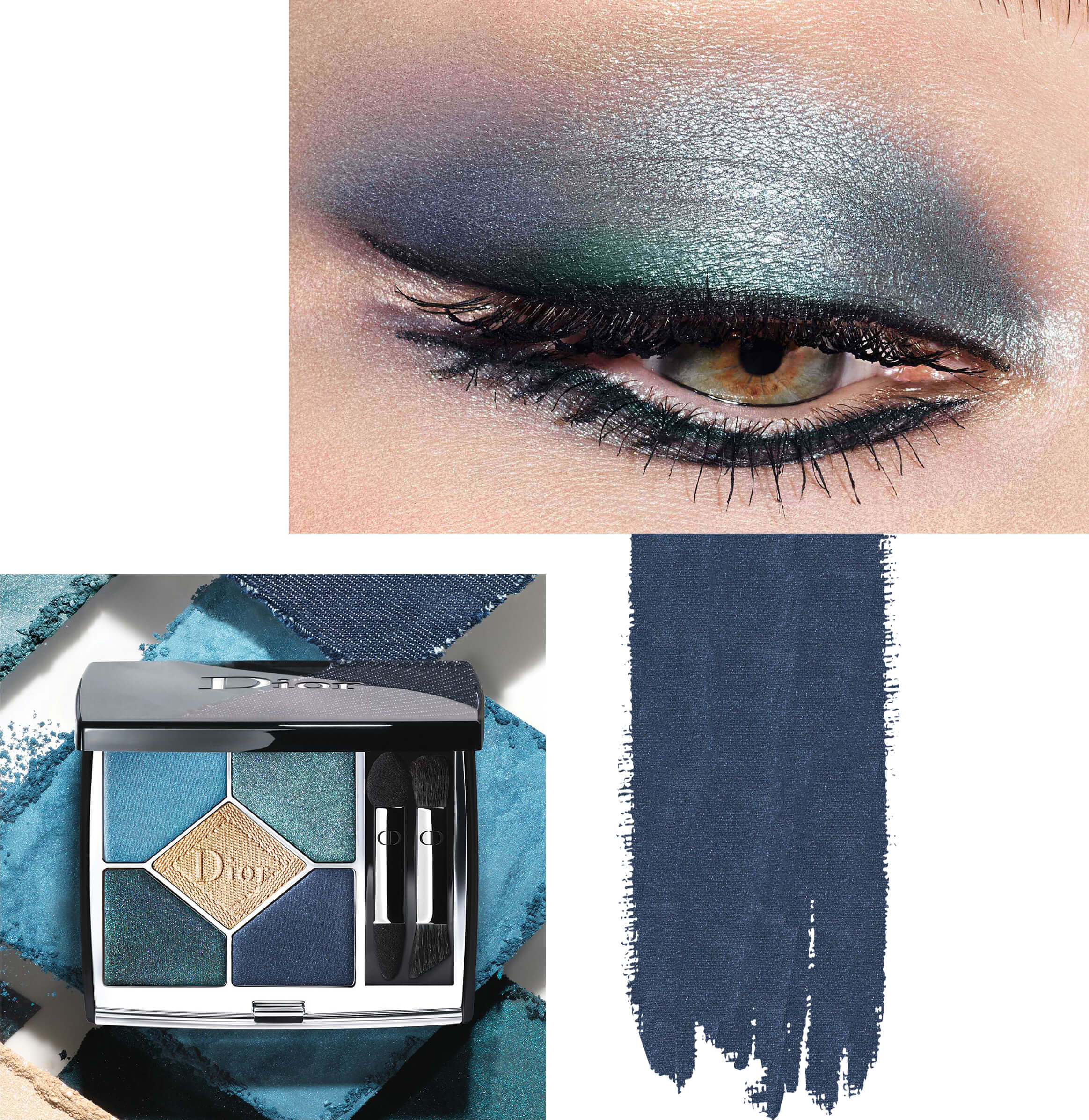 The iconic Couleurs eyeshadow palette is rich in petroleum shades: 5 Couleurs Couture with a pearly finish recalling the colors of winter sea in a warmer variant – for the first time in history the eyeshadows are enriched with treating ingredients such as aloe vera, known for its soothing action, and pine oil, famous for its softening properties.
At the center of the palette, we can find a shimmering gold with the Maison logo that captures our attention and reminds us of the elegance of Dior (and its makeup).
Charlotte Tilbury, Luxury Palette Super Blue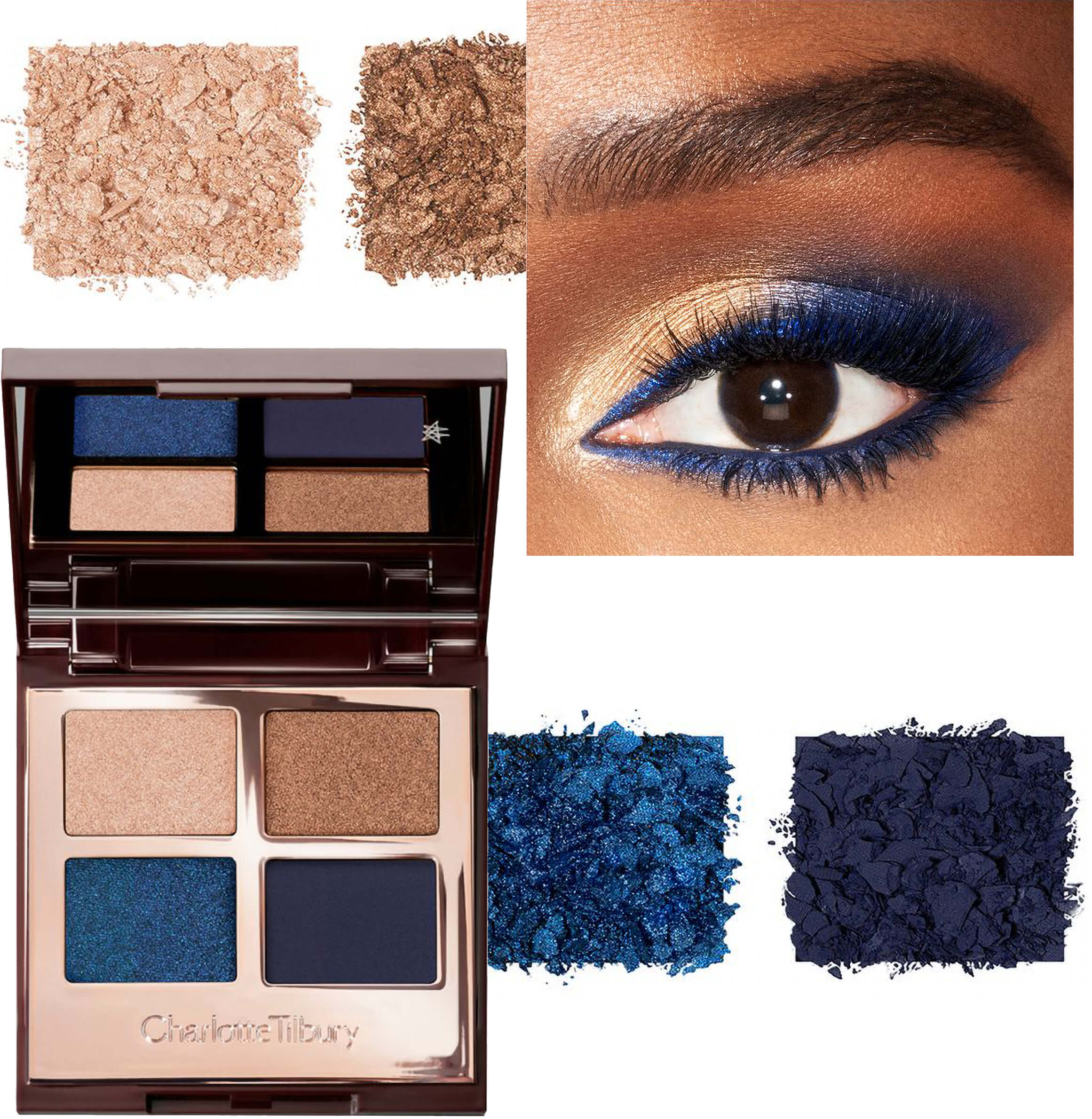 When we talk about Charlotte Tilbury, we talk about excellence and glamour and the Luxury Palette Super Blue makes no exception: a palette with bold colors that embody modern glamour with silky formulas and refined packaging. A quartet of vivid nudes and royal blues + complementary dark blues – perfect to enhance both brown-eyed people and blue- or green-eyed ones, making us fall in love with the icy and cold effect that stands out in light-colored eyes, enhancing the cold shades and making them look even more glacial – to be used alone or together, like a real love letter to intense blue.
Chanel, Les 4 Ombres, Quiet Revolution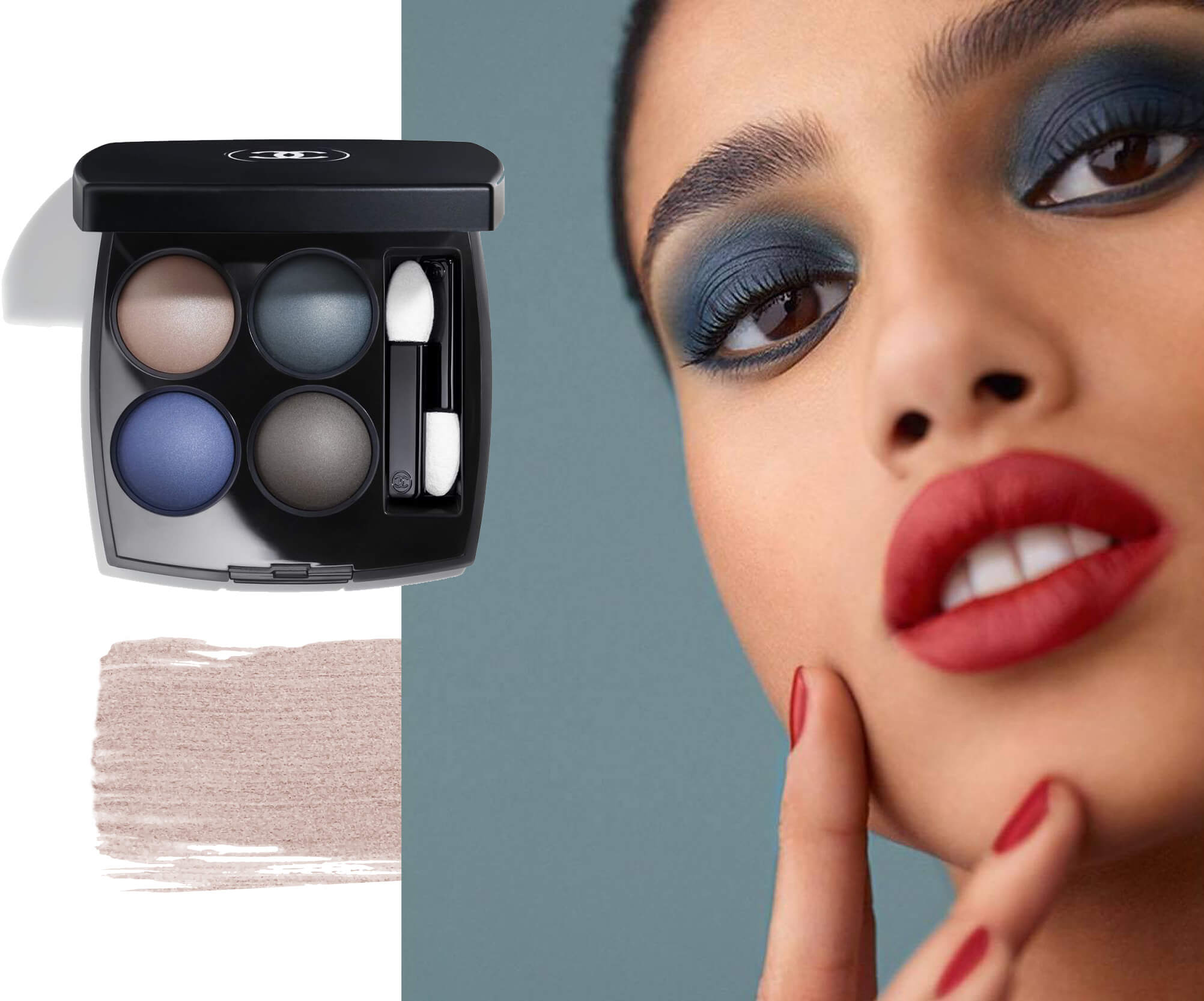 A palette of 4 eye shadows and nuances available in different finishes such as matte, satin, iridescent or metallic in two shades of blue (electric blue and denim) and two more classic and versatile shades with a gelling system and a mixture of polymers and spherical powders that give a soft and homogeneous texture on the eyelid.
Anastasia Beverly Hills, Moonchild Glow Kit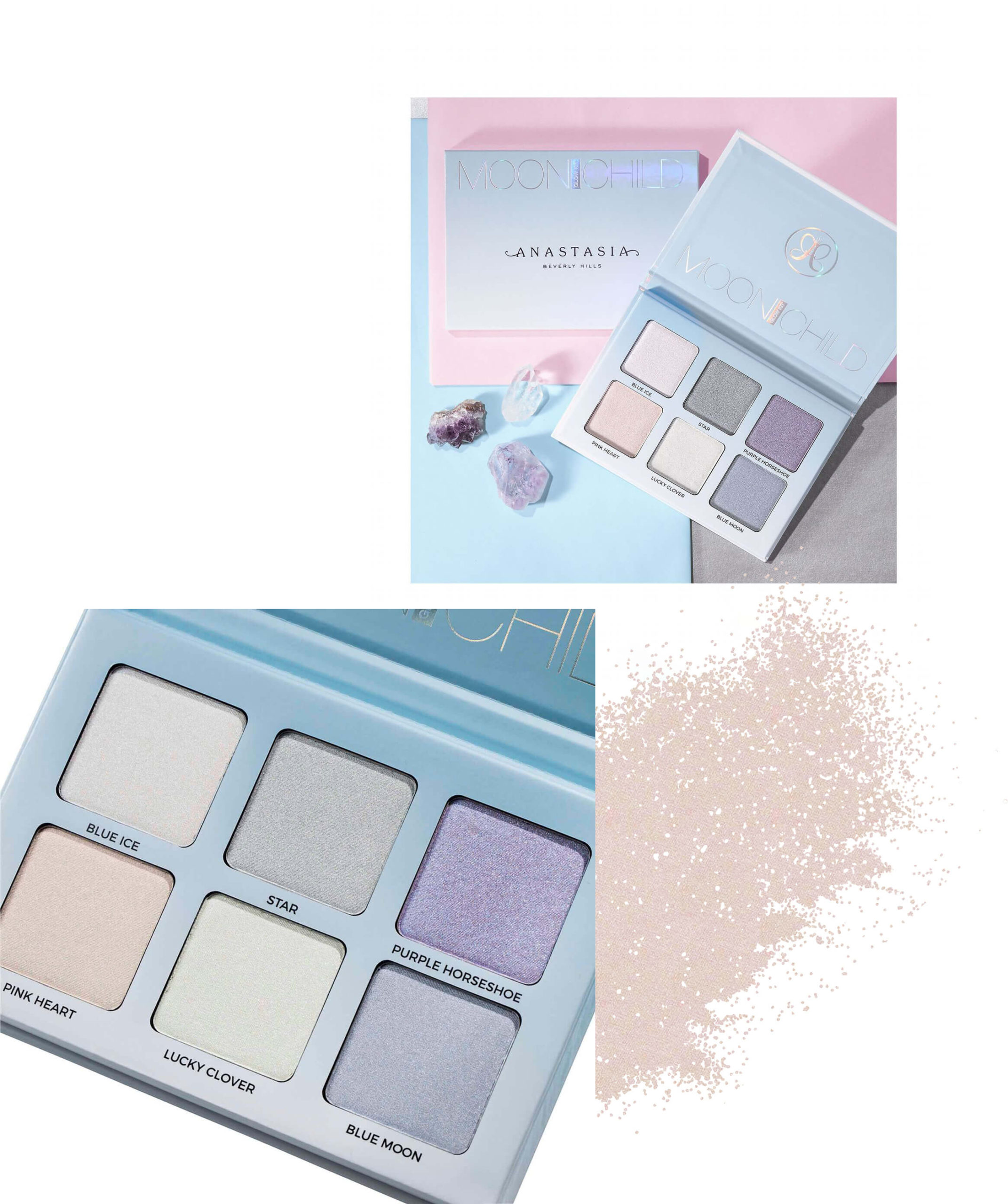 This palette by Anastasia takes us directly to the moon: a palette of highlighters (which can also be used as eye shadows) to highlight the inside or the entire eyelid if you are looking for a look that is not too intense and not too full of pearlescent reflections.
There are 6 metallic powder nuances ranging from icy and iridescent shades of lilac, blue, pearl, and pink that can also be applied wet, with a makeup brush, or layered for a personal celestial mix.
The palette is divided into the shades: Blue Ice, a white diamond shade with ice blue nuances; Star, a fusion of mint, platinum, and silver moonstone; Purple Horseshoe, a sparkling lavender color with shades of arctic blue; Pink Heart, a pearl white with shades of pink opal; Lucky Clover, a gold-infused clover streaked with yellow diamonds; Blue Moon, a frozen blue with silver reflections.
Armani, Eyes To Kill Eye Quattro, Hollywood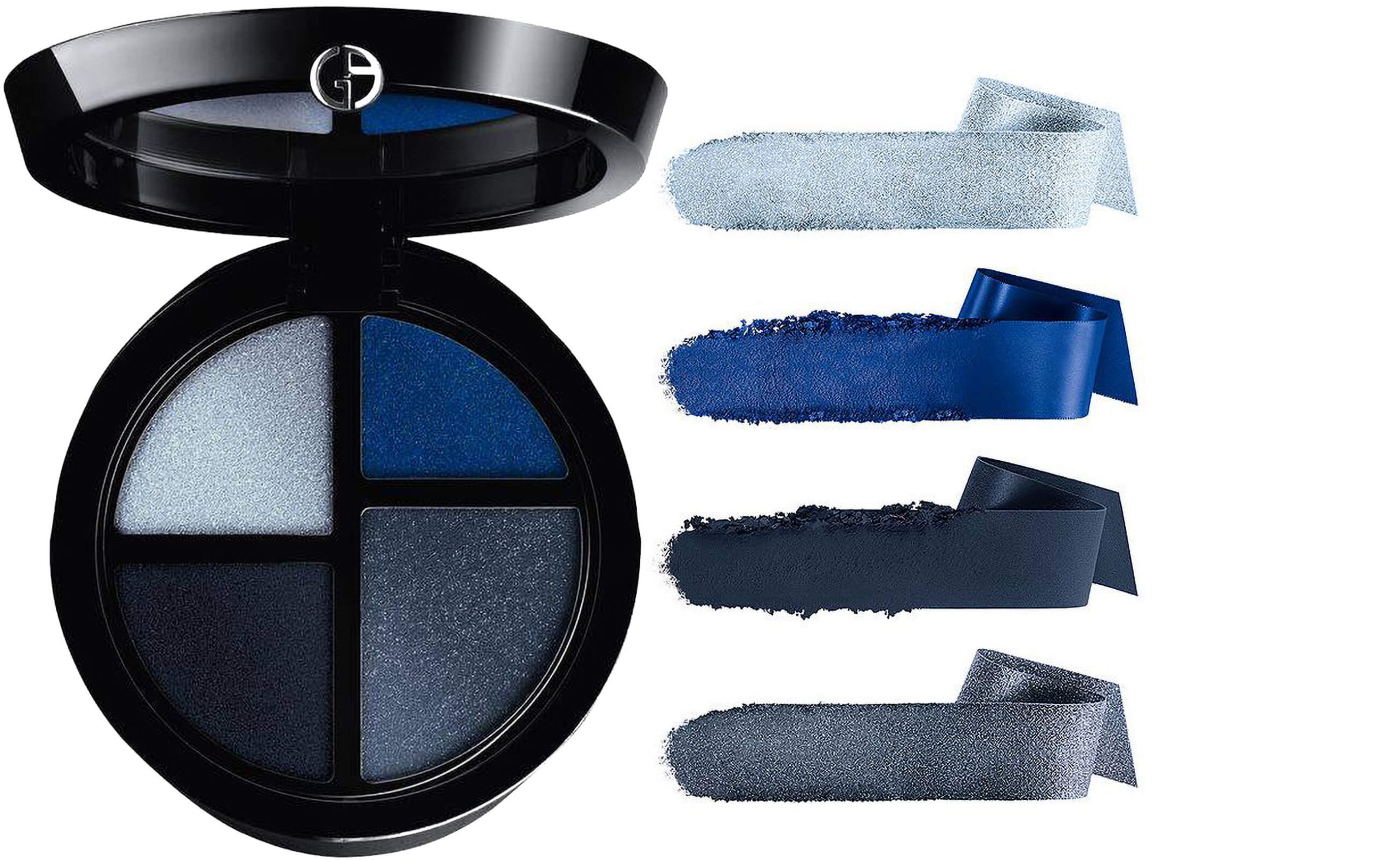 The Eye Quattro Palette contains 4 colors in an ultra-creamy texture with alternating matte and shimmer finishes in an easy-to-apply formula. The shades range from a light cold blue and shimmer denim to an electric blue and a matte midnight blue. If you love denim, you have here's the perfect palette for you.
Single Blue Eyeshadows
Yves Saint Laurent, Sequin Crush Eyeshadow n ° 8 Louder Blued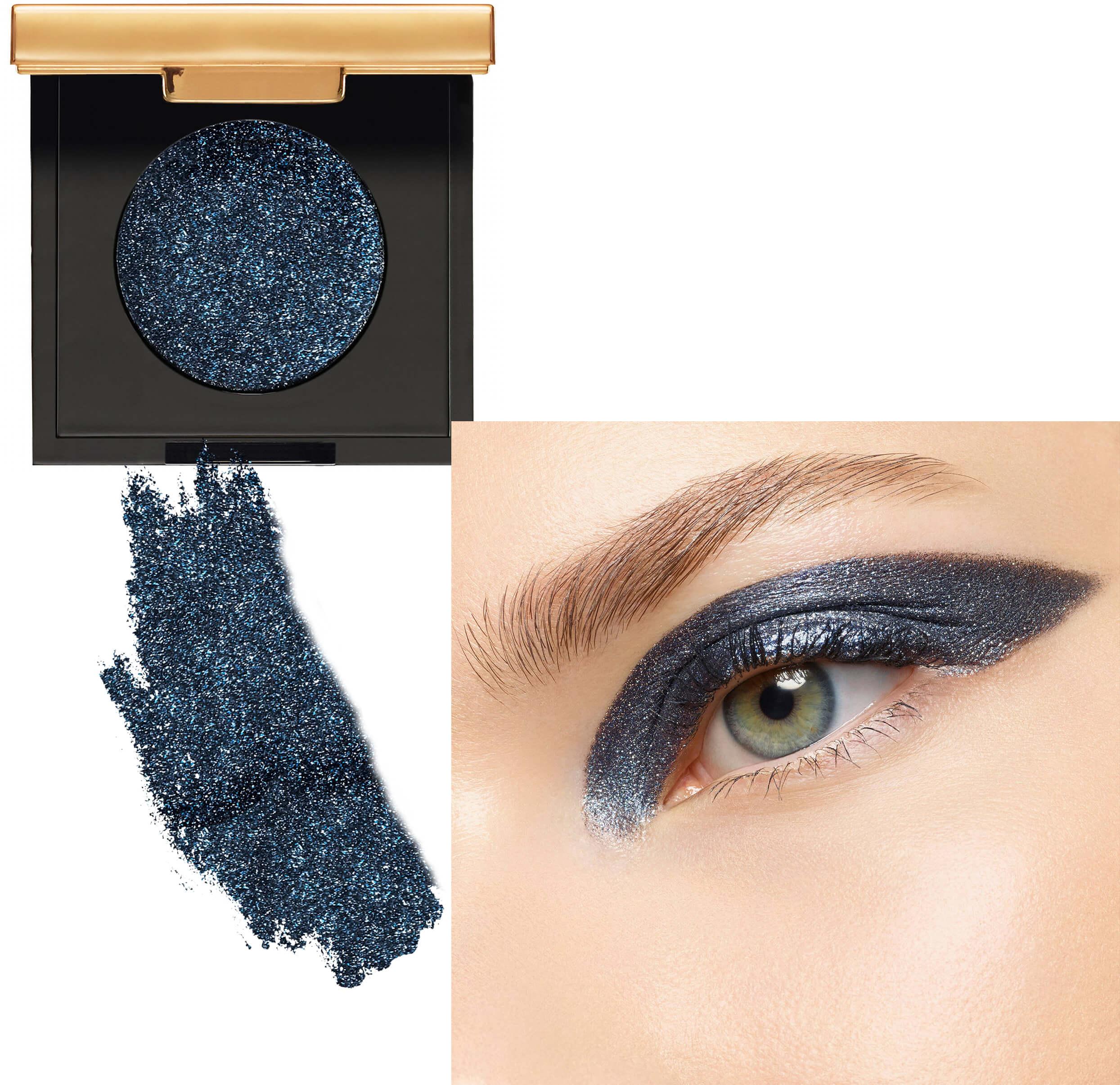 One of the brightest and most glittery eyeshadows in the YSL Beauty line: a deep midnight blue with silver pearlescence that will replace your favorite black eyeshadow.
Sequin Crush eyeshadows are easy to apply (if you prefer you can also apply them with your fingers), creamy, and extremely bright with maximum color tightness, such as an explosion of sequins and light effects to try.
Clio MakeUp, SweetieLove Creamy Eyeshadows, Sugarfree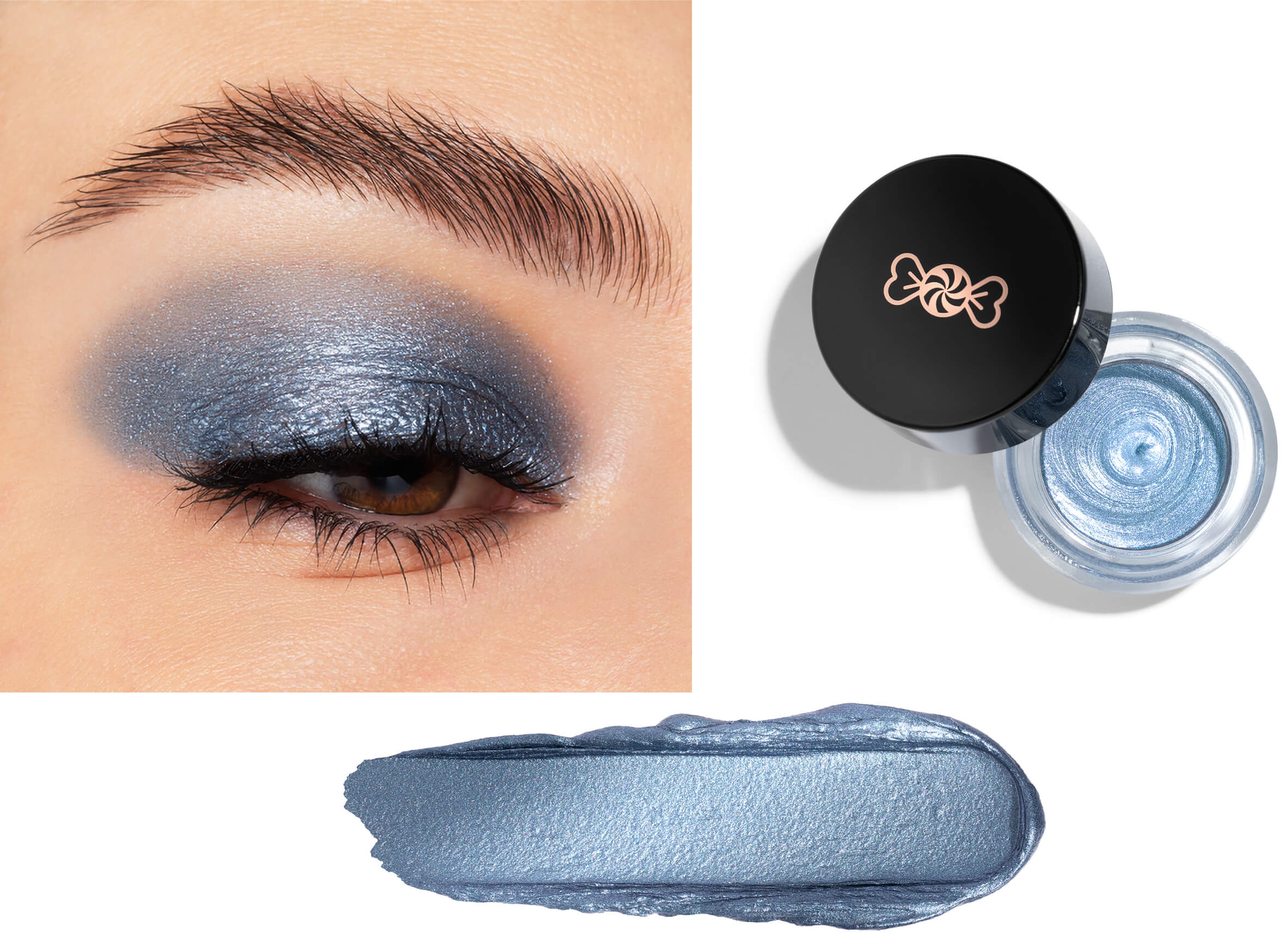 In addition to the Sweetielove cream eyeshadow collection by Clio, there is also Sugarfree, an intense cold blue with silver pearls with a three-dimensional metallic finish in a denim-based nuance. A very bright eyeshadow with a very soft texture, with a modular and versatile coverage for a glamourous and bold look.
Mac, Eye Shadow, Atlantic Blue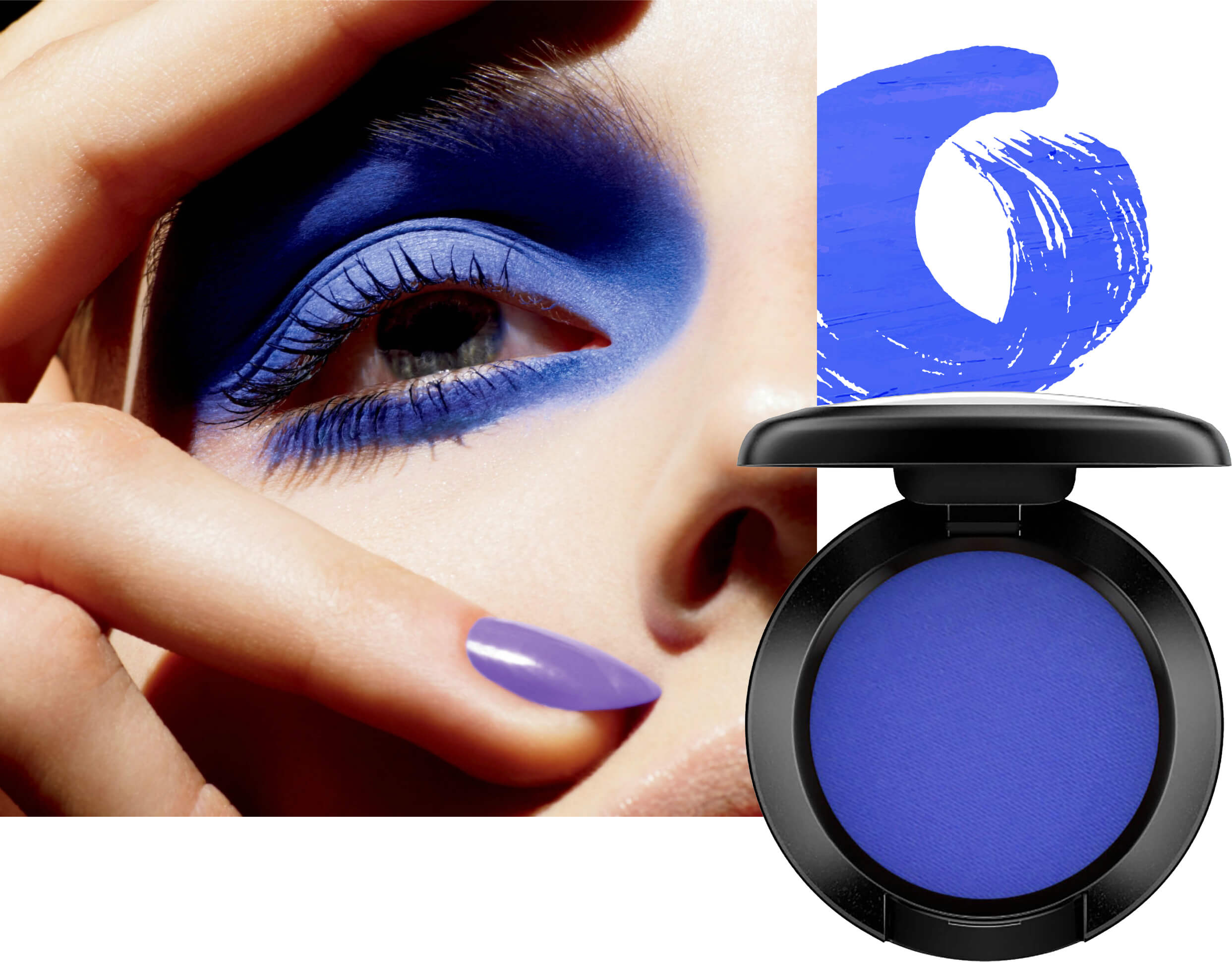 You said electric blue, didn't you?
This ultra-pigmented Mac eyeshadow with a matte finish is all you need for an explosive look!
Nars, Underworld Eyeshadow Duo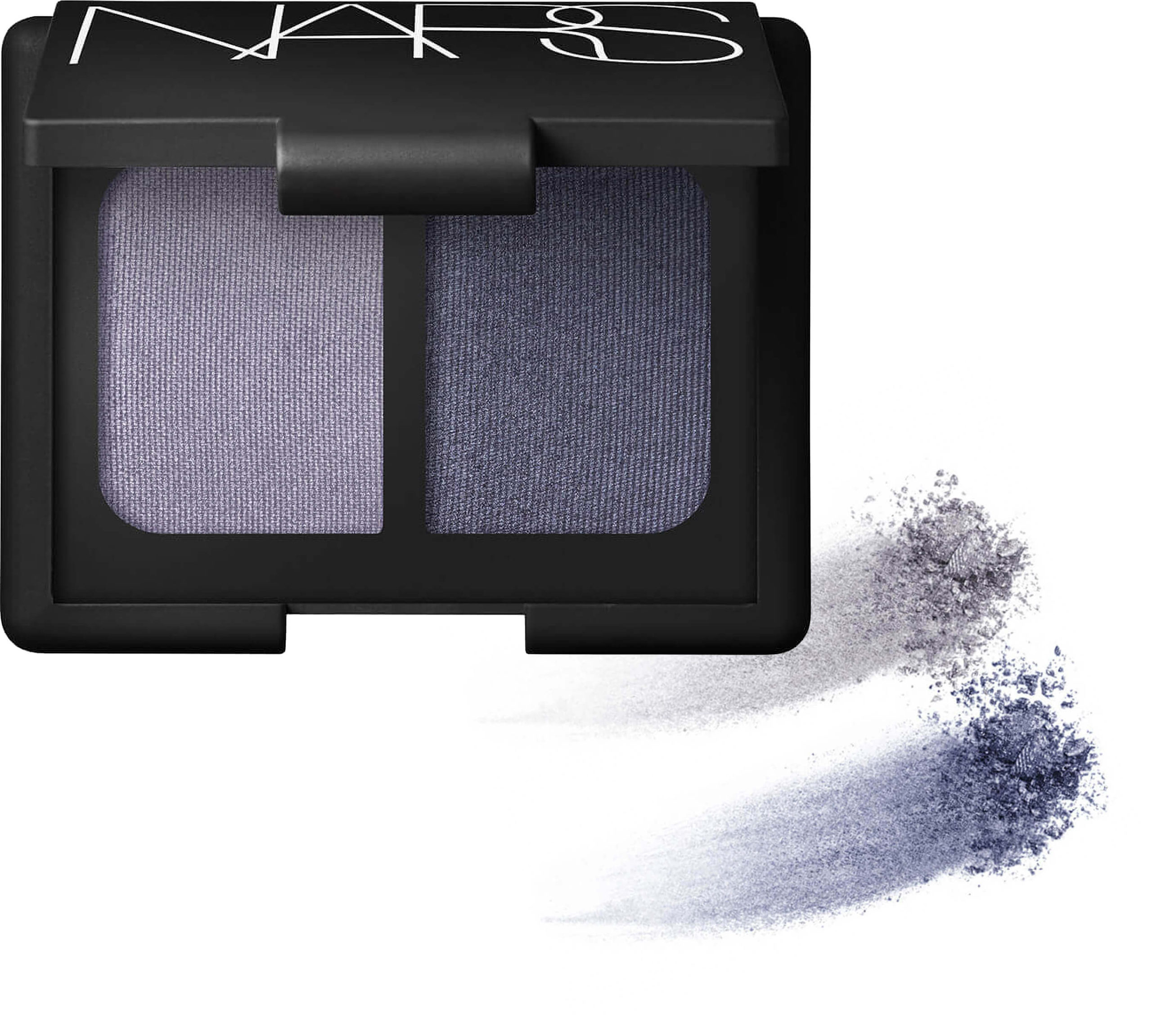 An eyeshadow with softer and more delicate nuances, with a matte finish and micro-thin powders, long-lasting and highly pigmented. Underworld by Nars is made of two complementary and contrasting shades – dark indigo and light denim with silver and lilac nuances – which will allow you to play with makeup, between delicate looks if worn alone, or more intense and pop by doing a mix.
Pat Mc Grath, EYEdols, Lapis Luxury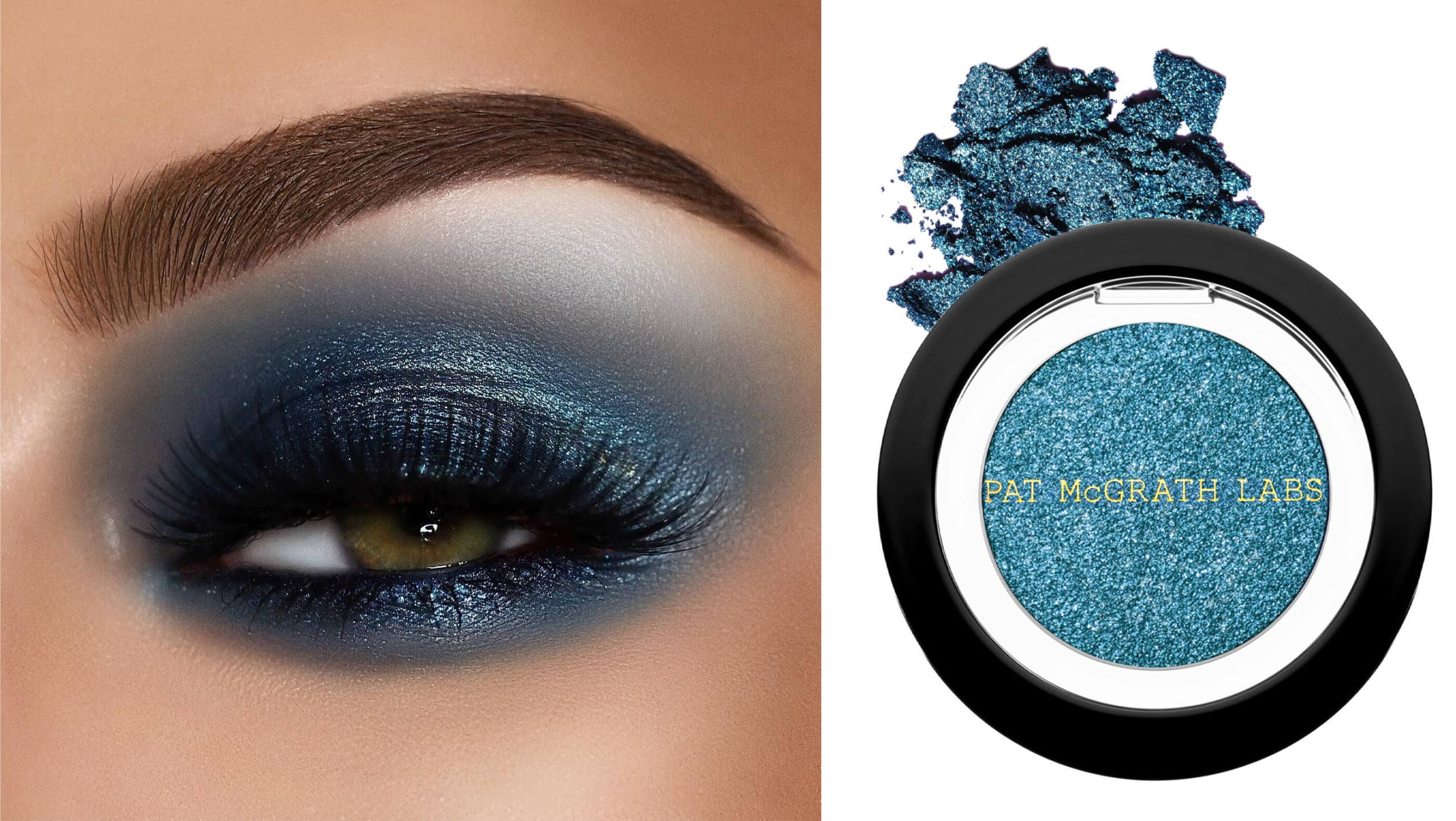 If we talk about eye shadows, we can't but mention Pat McGrath: Lapis Luxury, one of the Mother's iconic eye shadows in a glittering lapis lazuli color, extra pearlescent and concentrated. Its formula, created with emollients, causes the compact-creamy powder to dissolve on the eyelid, perfect to highlight the eye with a multidimensional and pure look.
Kosas, 10-Second Liquid Eyeshadow, Nitrogen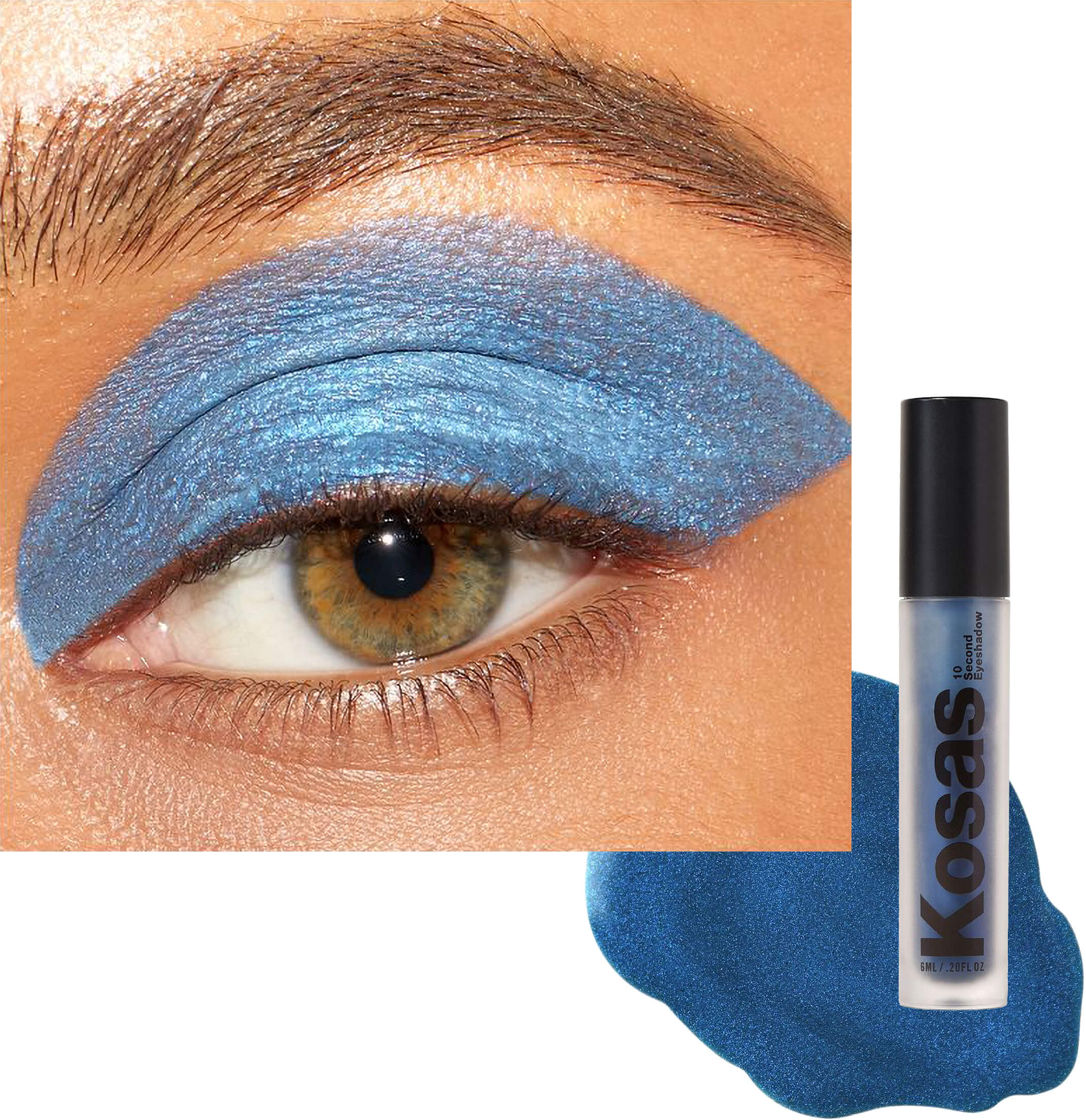 From the Kosas line, created by Sheena Yaitanes, a versatile artist from Los Angeles, there is 'Nitrogen', a metallic blue liquid eyeshadow for a color block effect, from the 10-Second Liquid Eyeshadow collection, a selection of liquid eyeshadows available in 8 shades with a quick-drying buildable creamy formula. Enriched with jojoba oil and orange blossom extracts, these liquid eyeshadows are also cruelty-free, free from all kinds of harmful chemicals including parabens, phthalates, and synthetic fragrances.
Surratt, Prismatique Eyes, Visual Eyes, Inky Blue Cream with Blue Steel Duochrome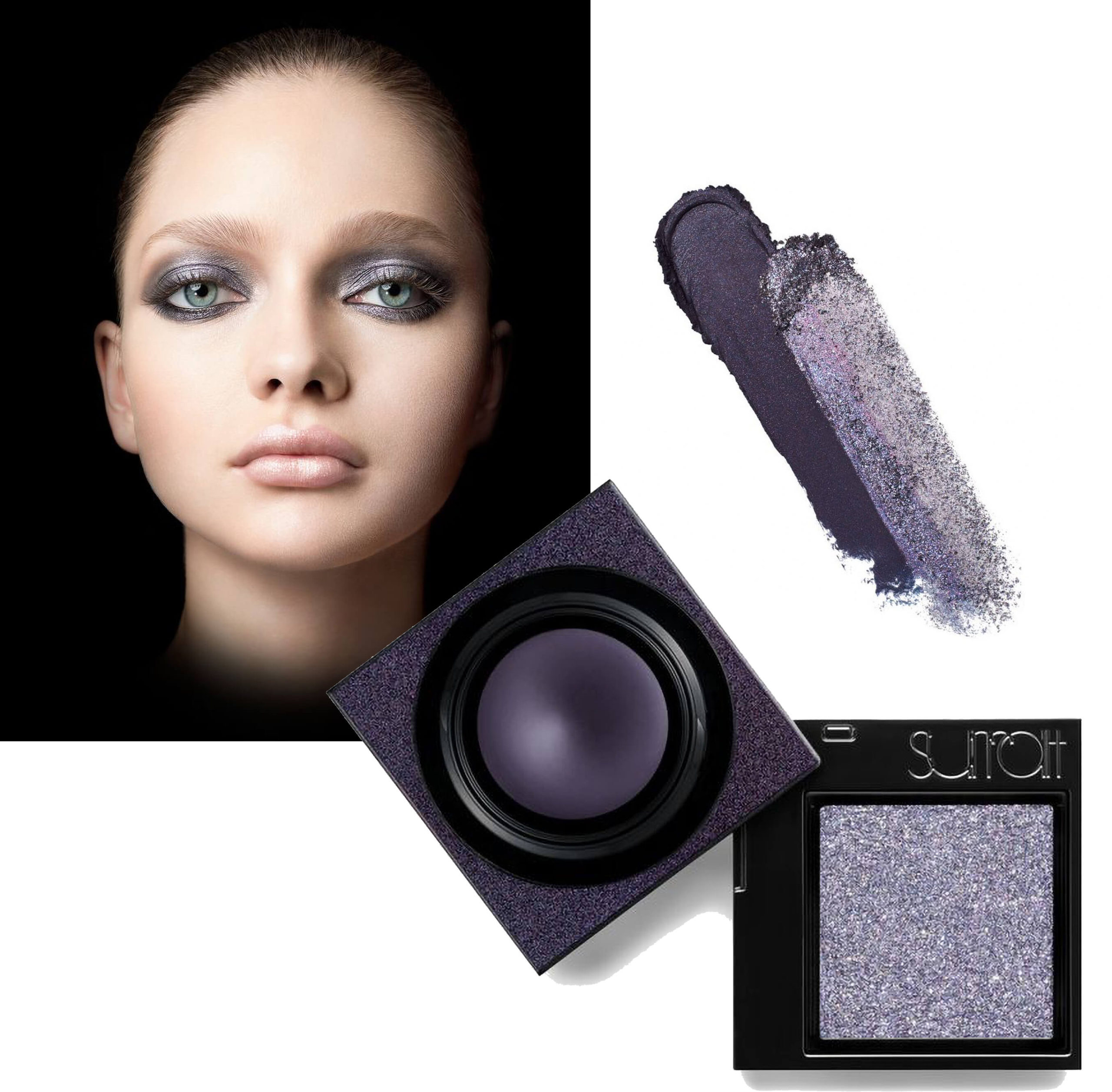 A "twinset" made up of a pair of eye shadows in cream and powder in midnight blue: the matte cream is water-resistant and is perfect for a beautiful all-over base (or to give some definition – try it as a base for smokey eyes), while the steel blue shimmering powder can be worn alone or paired with the darker shade to ensure an unparalleled sparkly look!