– THE MATTE LOOK –
It's undeniable that these past months we have learned that "Less is More," but that certainly does not mean going unnoticed.
For this look we chose cold shades in the colors of taupe nude and brown, combining them with a matte foundation enriched with a satin finish. Despite being matte the focal point of this makeup, expressed through the two key products, we had to balance it with a little light; therefore we didn't use powder on the satin foundation, leaving it with a touch of radiance, given by the natural brightness of the skin underneath.
We wanted to create a modern makeup, not at all boring despite being based on very few main products and tones that are close to the natural shades of our skin, and enriched by a minimal allure; a versatile beauty look that would be just as good on a regular day as it would be on a catwalk.
The eyebrows are combed upwards, and the eyes are left free and almost entirely natural, without mascara nor eyeliner, to balance the piercing and cold tones of the lips and to avoid the makeup to result in something that looks too dark or heavy.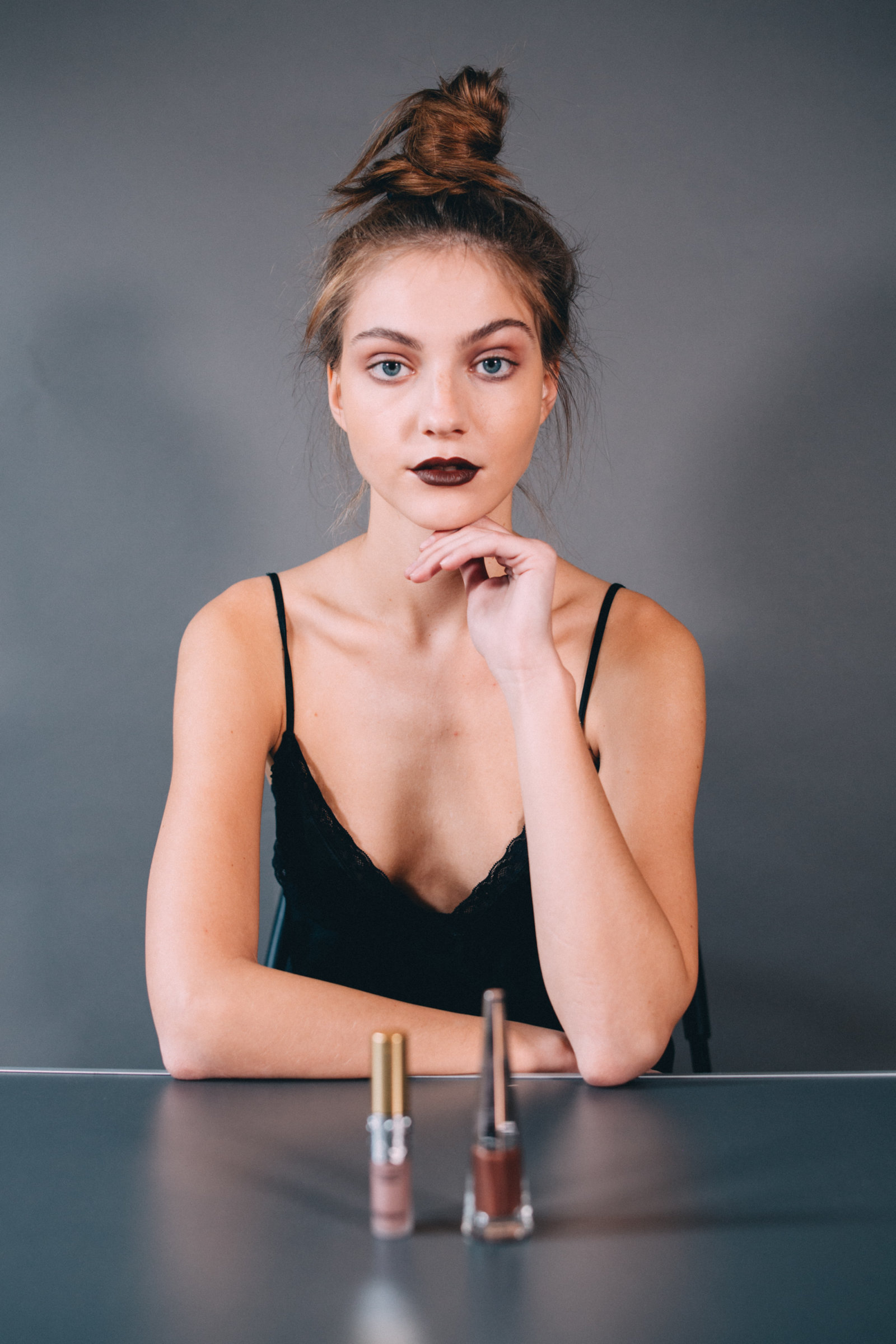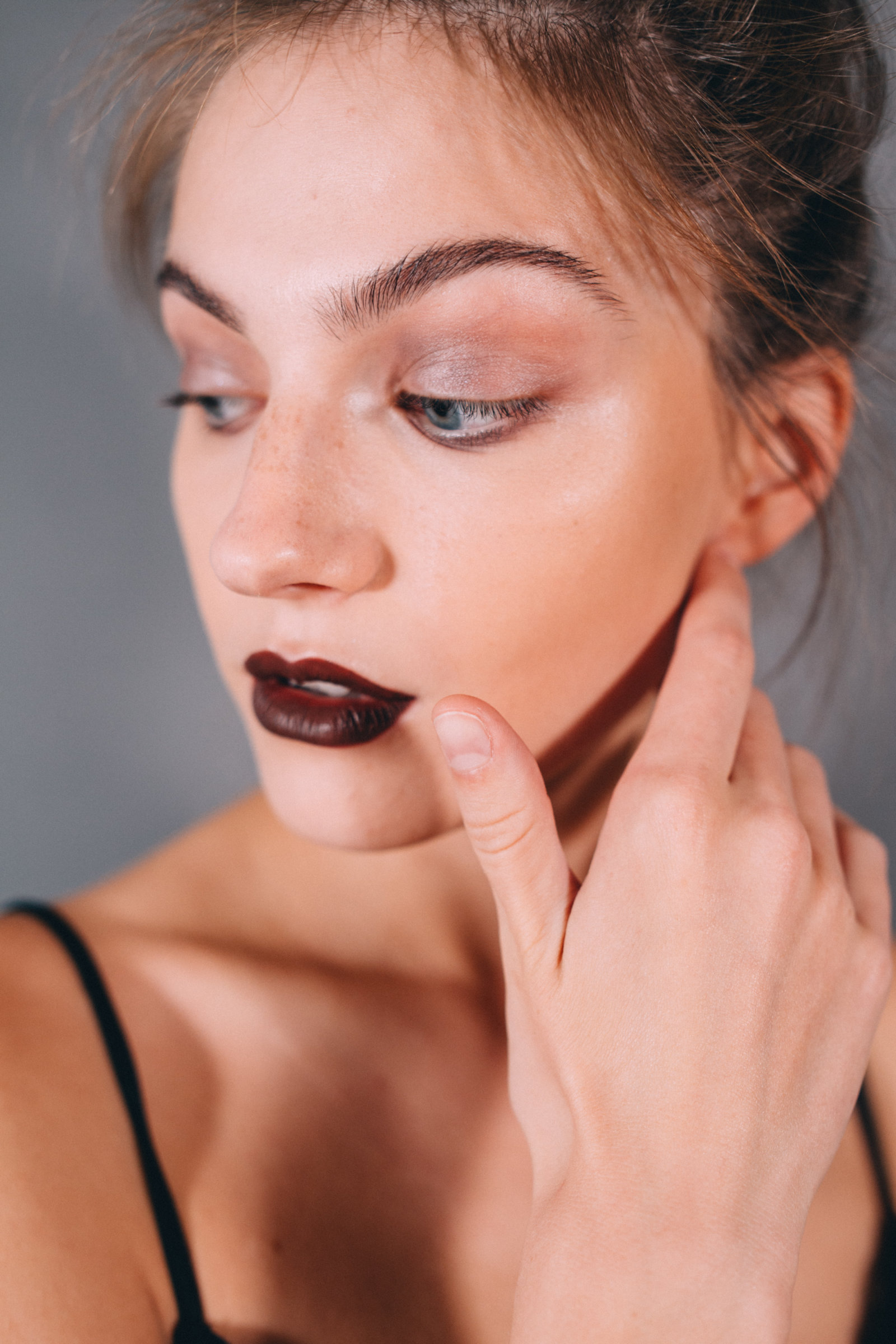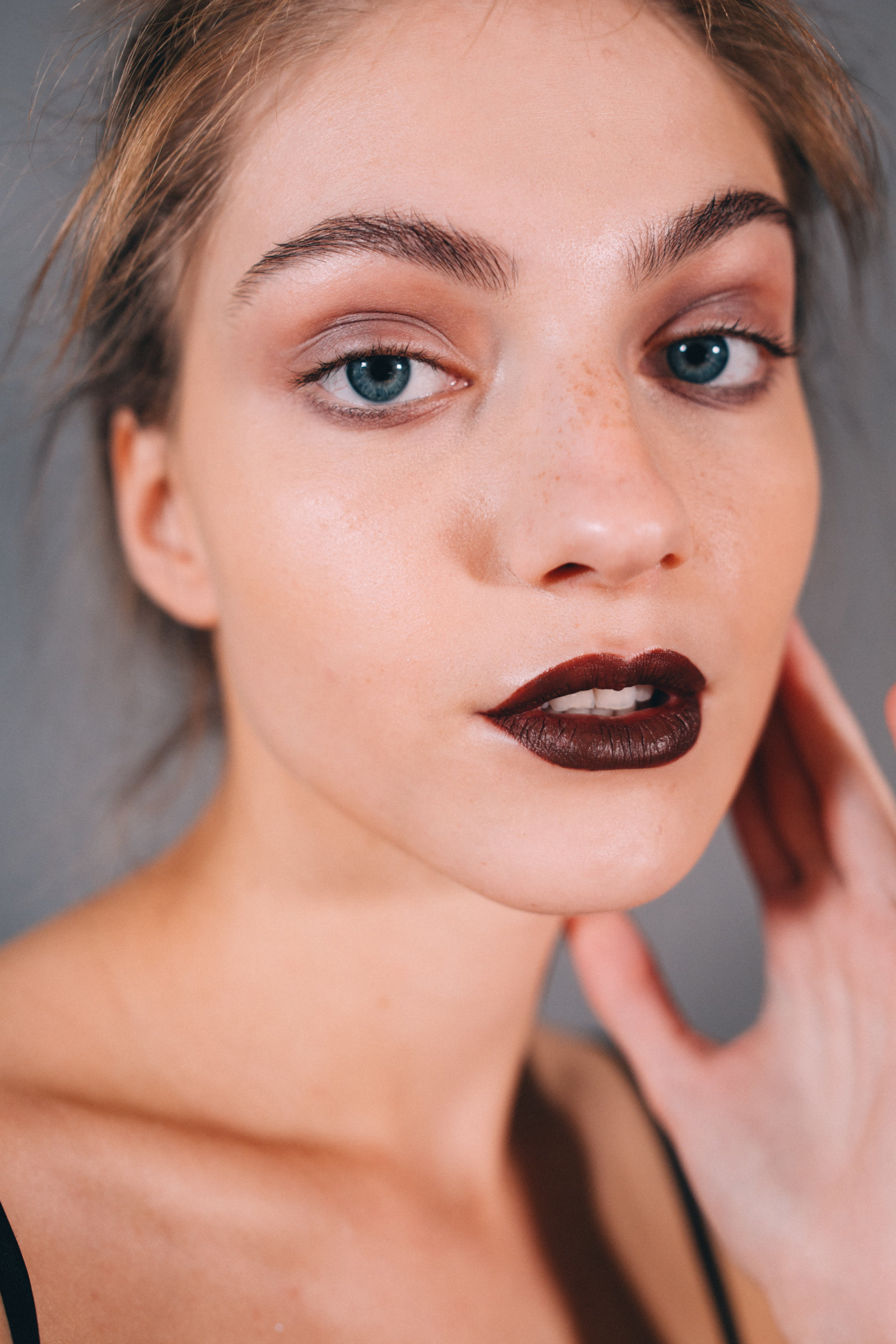 #Brown Lips
The lip tint Stunna by Fenty Beauty has been a great protagonist of these last months of 2018. It was, perhaps, the lipstick that changed the way we see the world and the brand has recently added new shades to its first original red lip tint, Uncensored, universally suitable for all complexions and which became a must-have in no time.
Our secret for this look is the Stunna tint in Unveil, a brown shade that looks cold but also fondant and rich, which immediately points all the attention on the lips. 
Long staying power, a full lip and highly pigmented color were some of our strongest requests in products through 2018, and we refused to settle for anything less!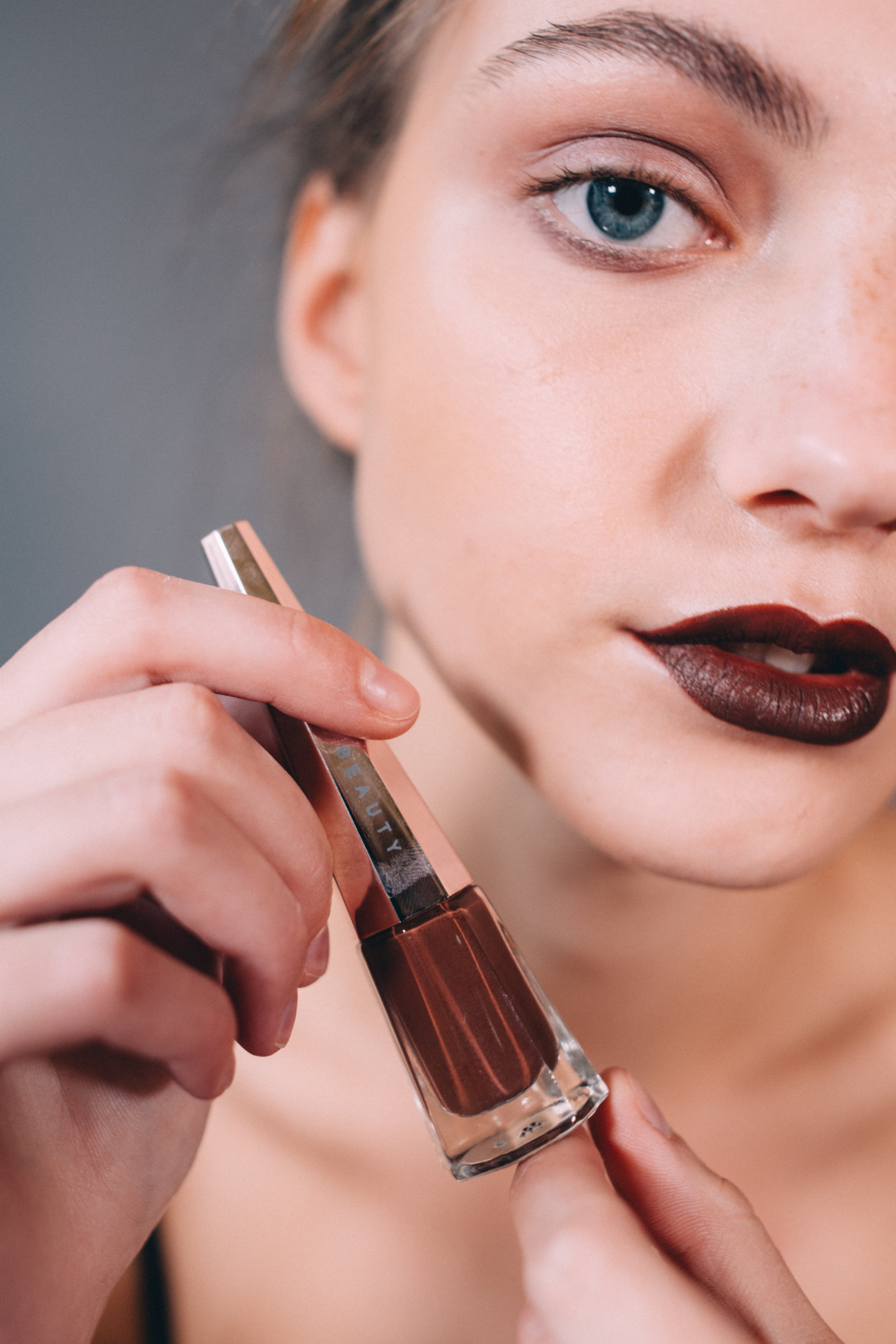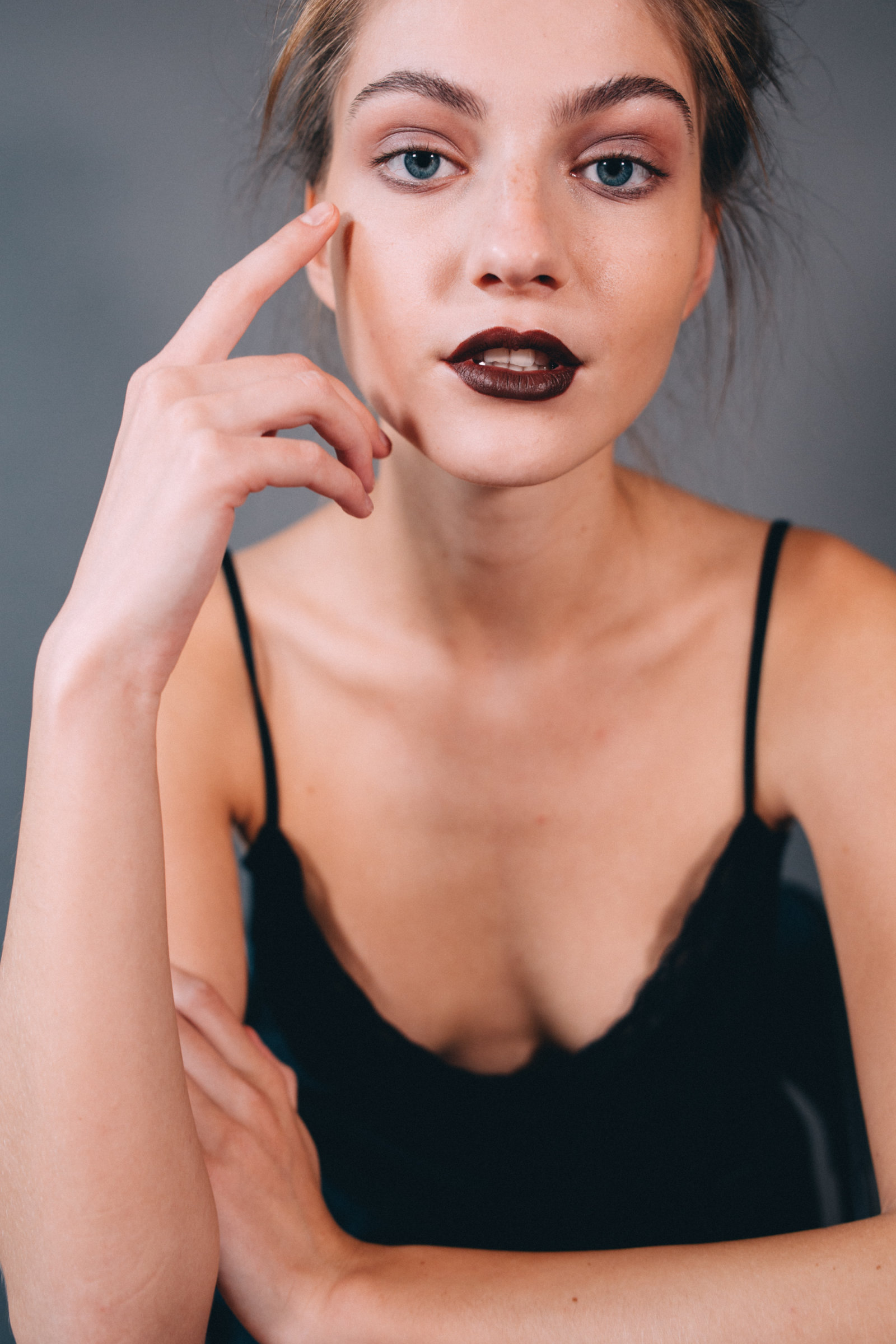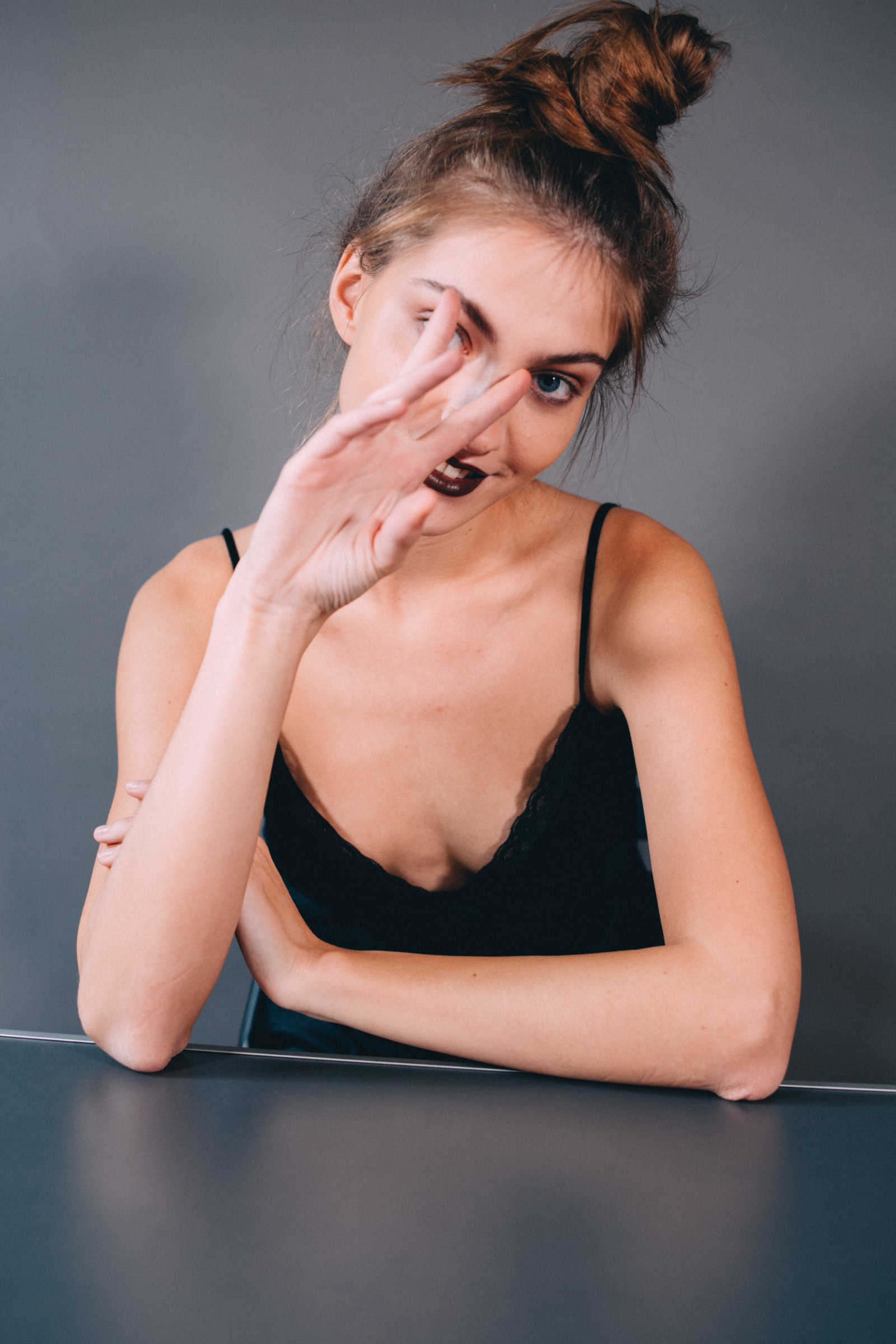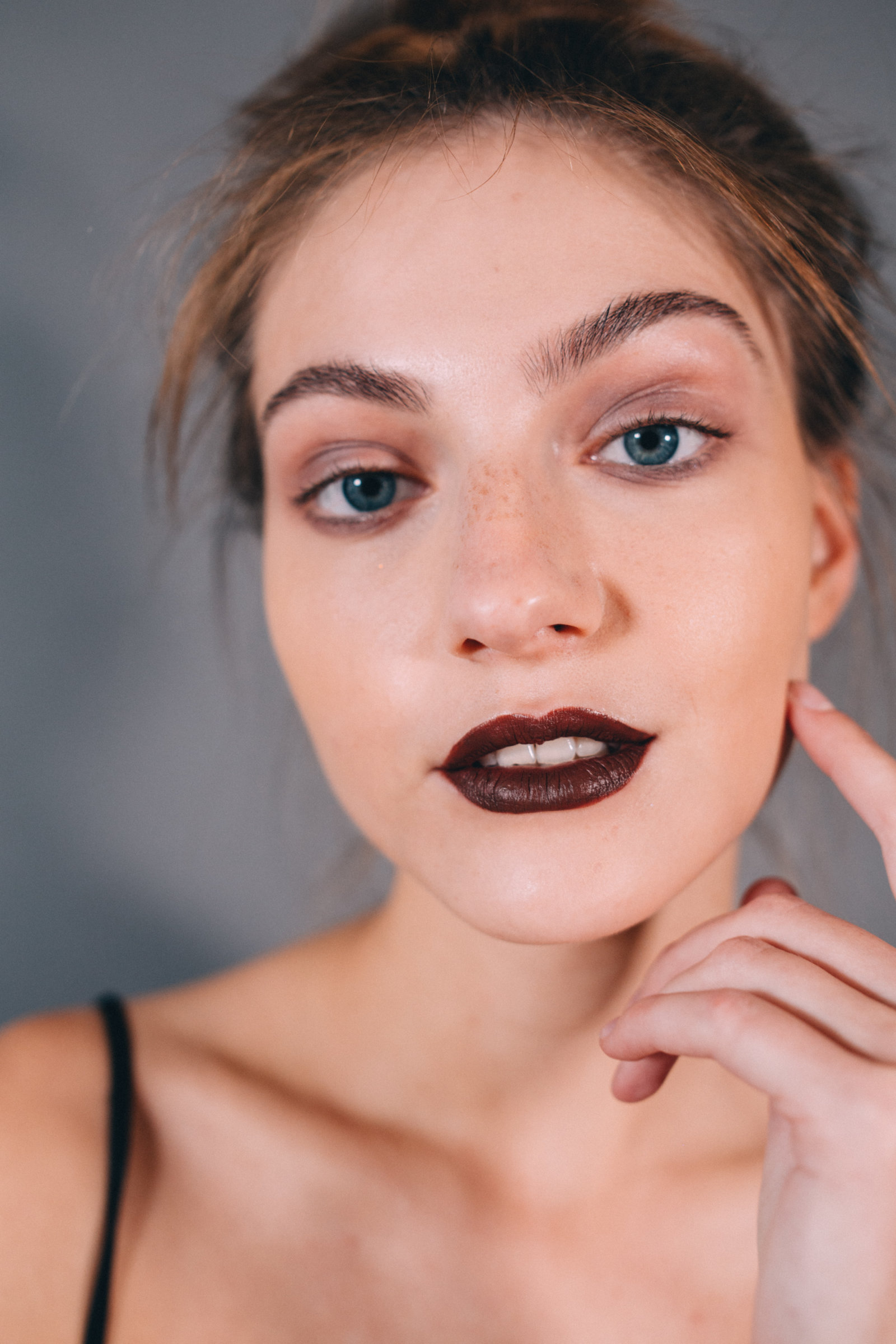 #Taupe Eye
The makeup on the eye is subtle and feather-light, and the lid looks bare if not for the presence of the eyeshadow that, more pigmented and cold compared to the grain of the skin, is dabbed on the entireness of the eyelid like a veil of taupe.
Our favorite product of 2018, which manages to give an elegant but also sophisticated look to the beauty look? Yves Saint Laurent's Full Matte Shadow in Tantalizing Taupe, which was a little revolution in our idea of matte liquid eyeshadow. 
A product that, when blended and heated with the fingertips, changes its color slightly despite the matte finish, adding more nuances and dimension than your average matte eyeshadow.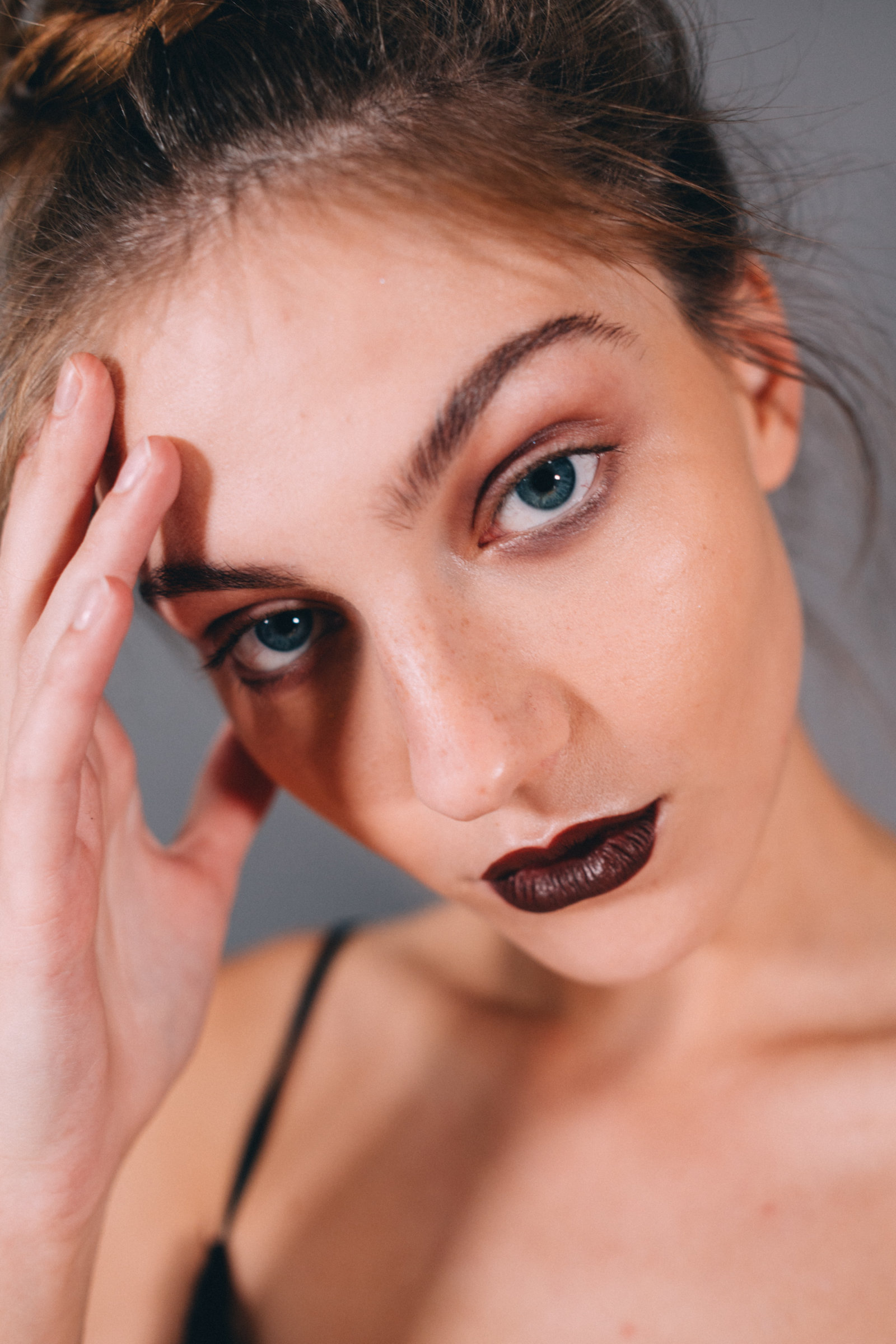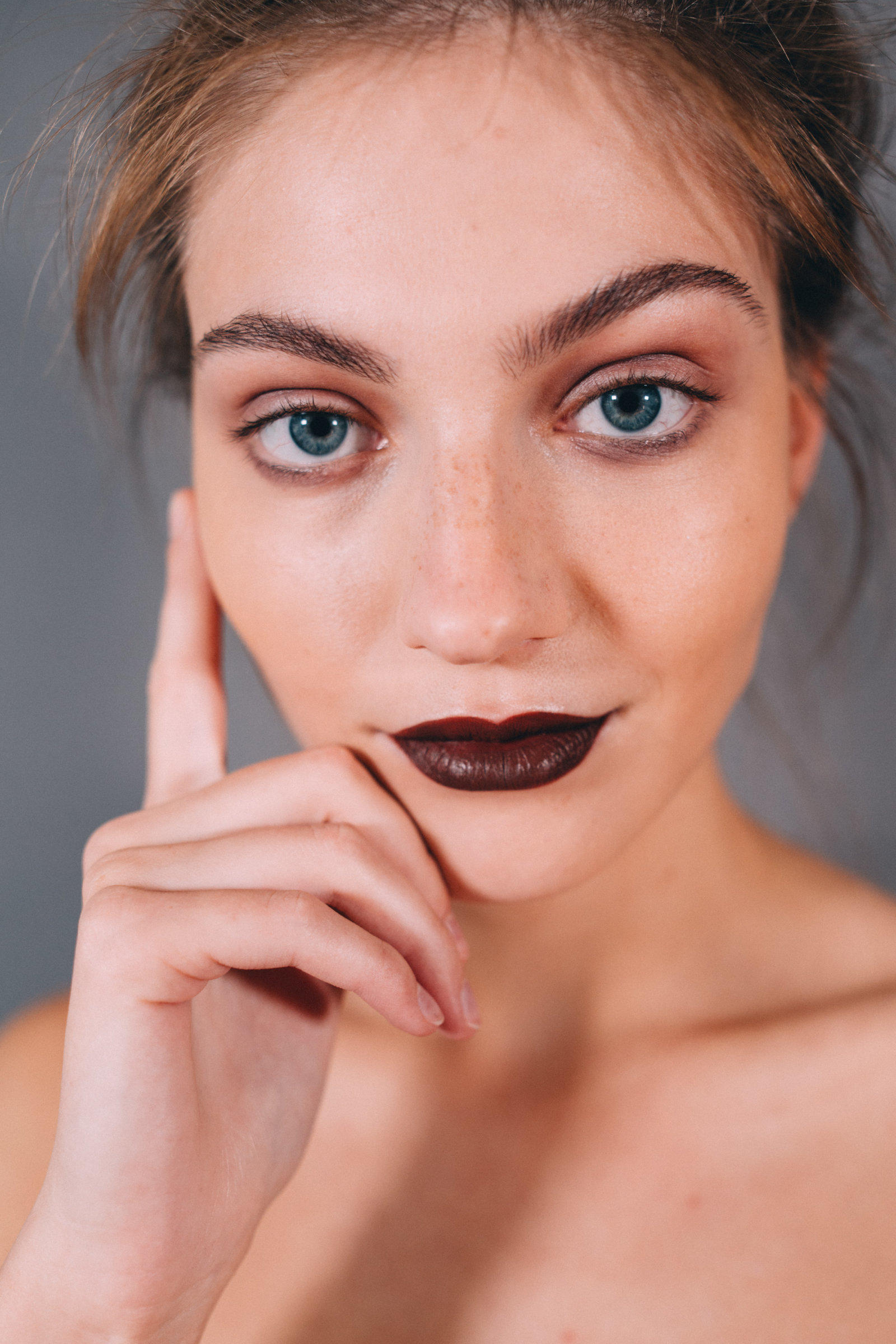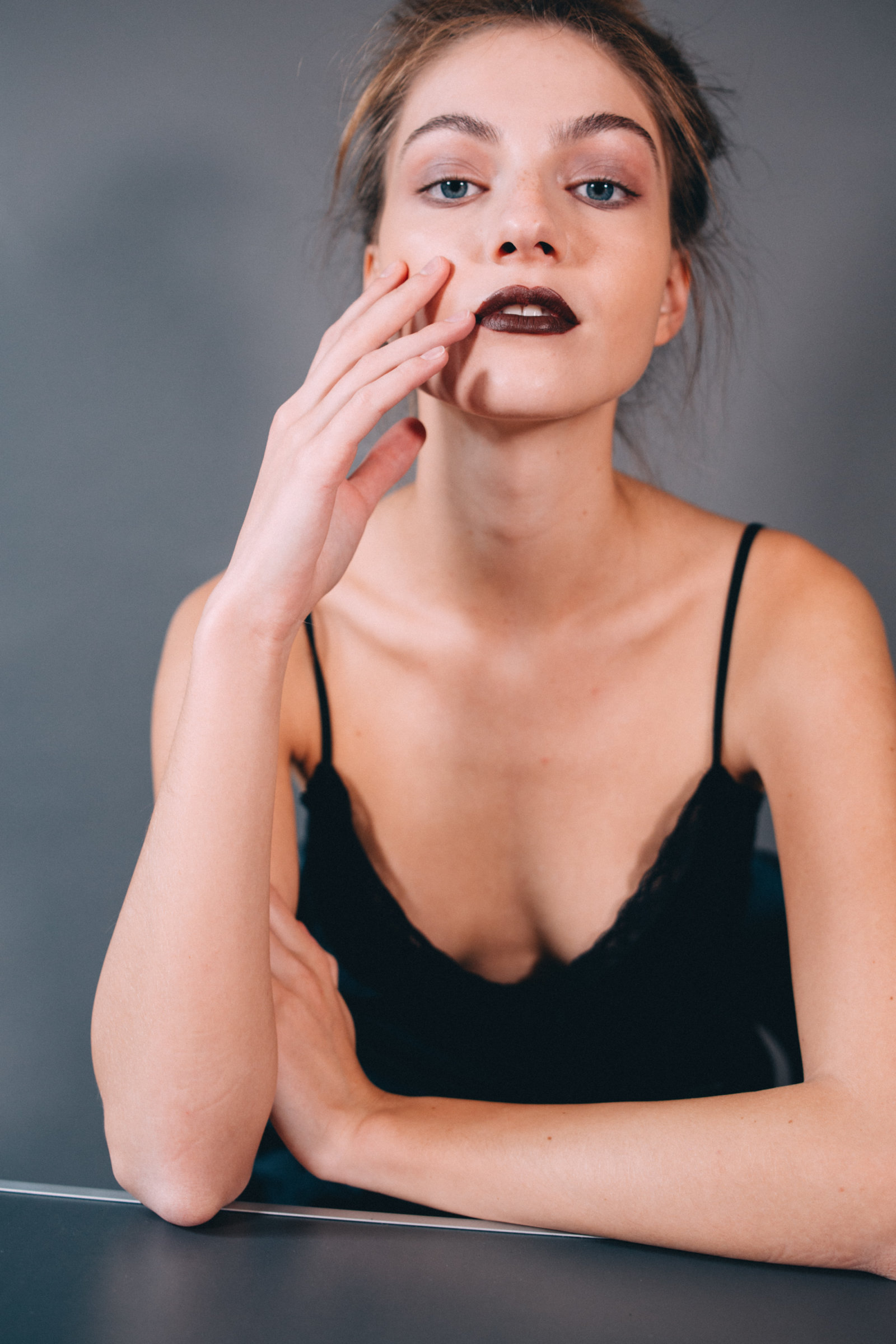 – The Colorful Look

 – 
Colors are all around us, all year long. So what's better than celebrate them with a lively and cheerful makeup, adding just a little touch of spirit to our everyday look? 
You'll need the perfect base but, let's be real: every look is just better with a good base and an even complexion. In this case, we went for a satin finish, with touches of light on the highest parts of the face, such as cheekbones and on the eyebrows.
 The perfect match for this makeup should be a simple hairstyle: thus, we can avoid stealing the scene from the beauty look but also it will make the ensemble appear more refined and will balance the popping color on the eye.
Two secrets, two easy steps and two of our hero products of this year.
 Are you ready? Here we go!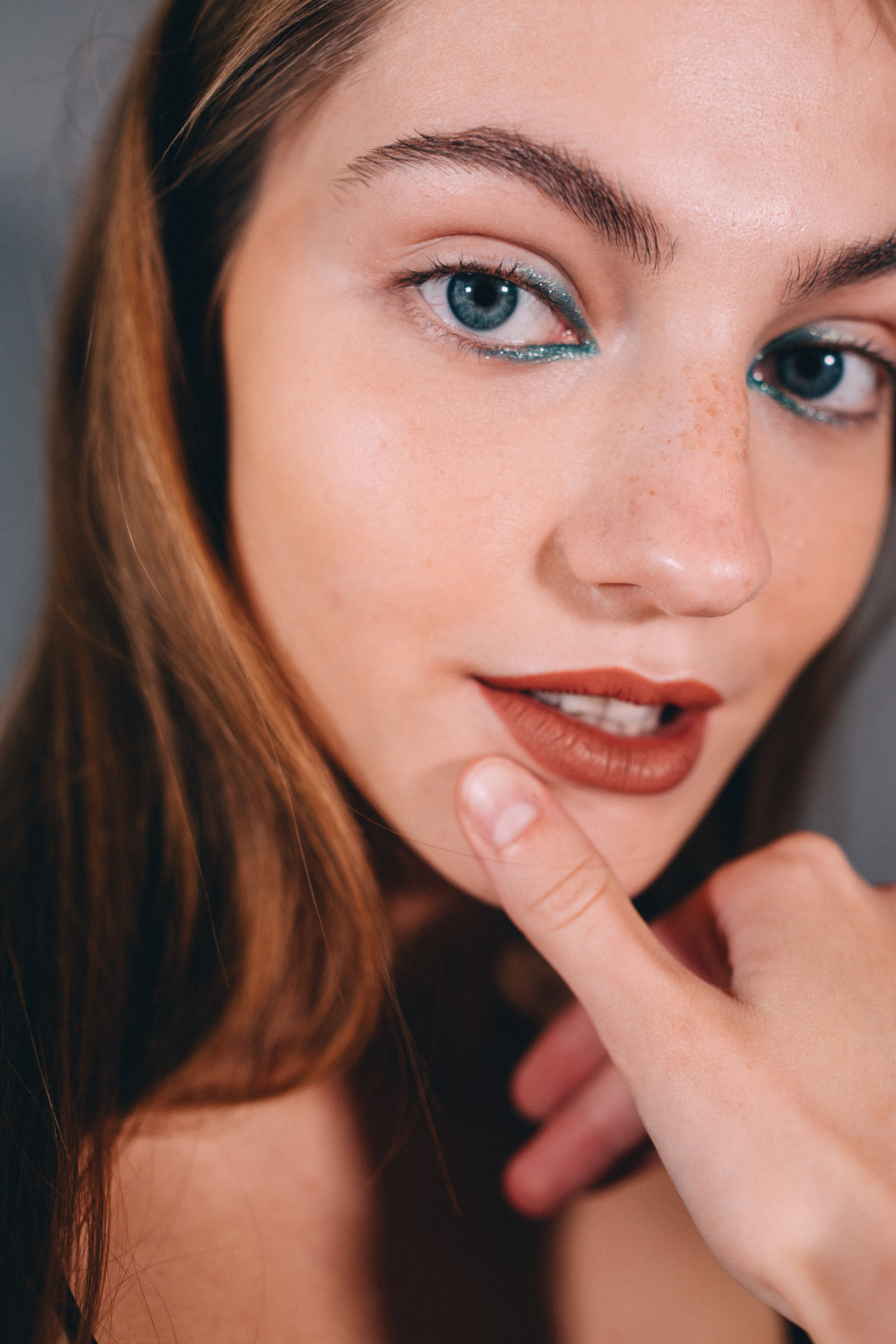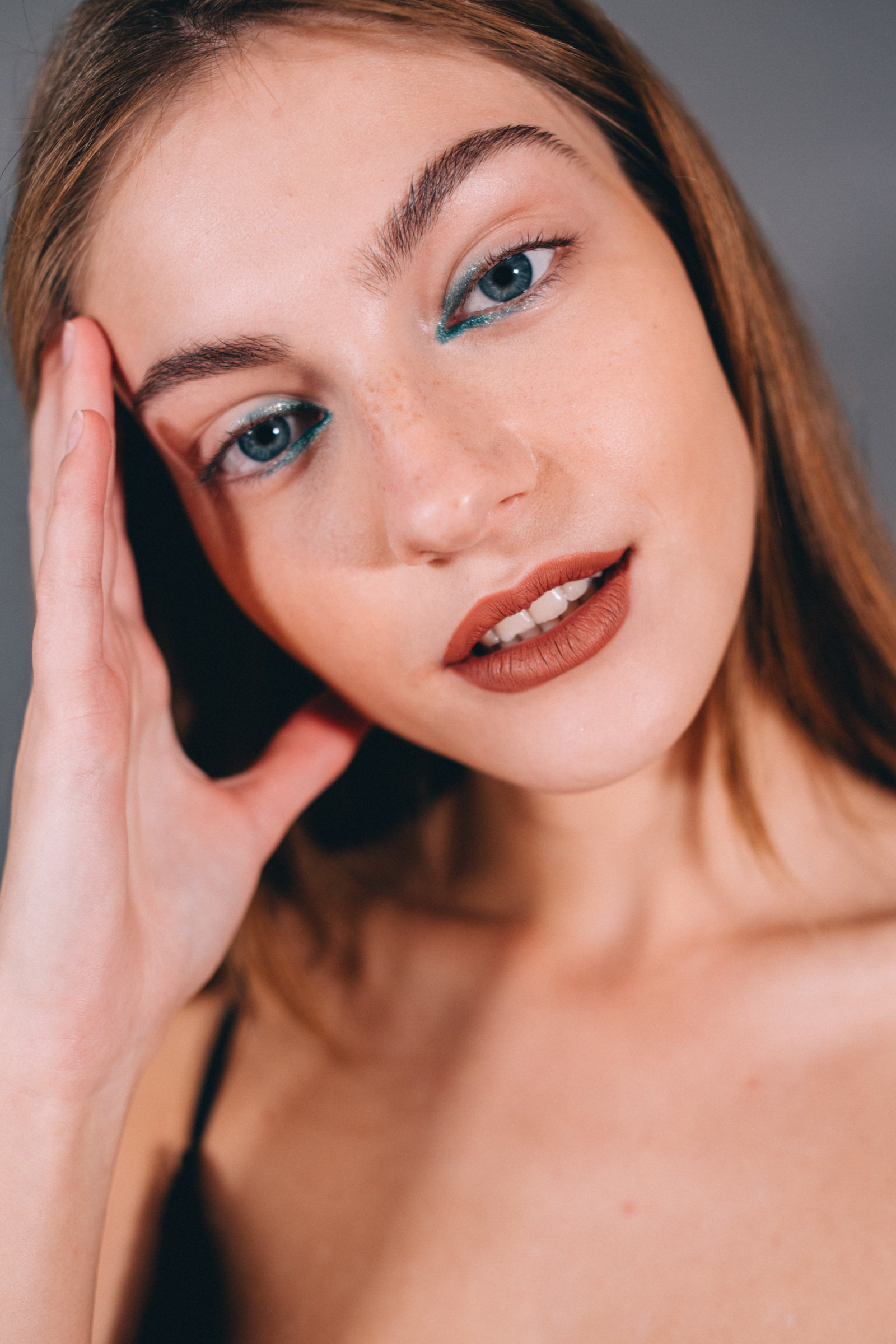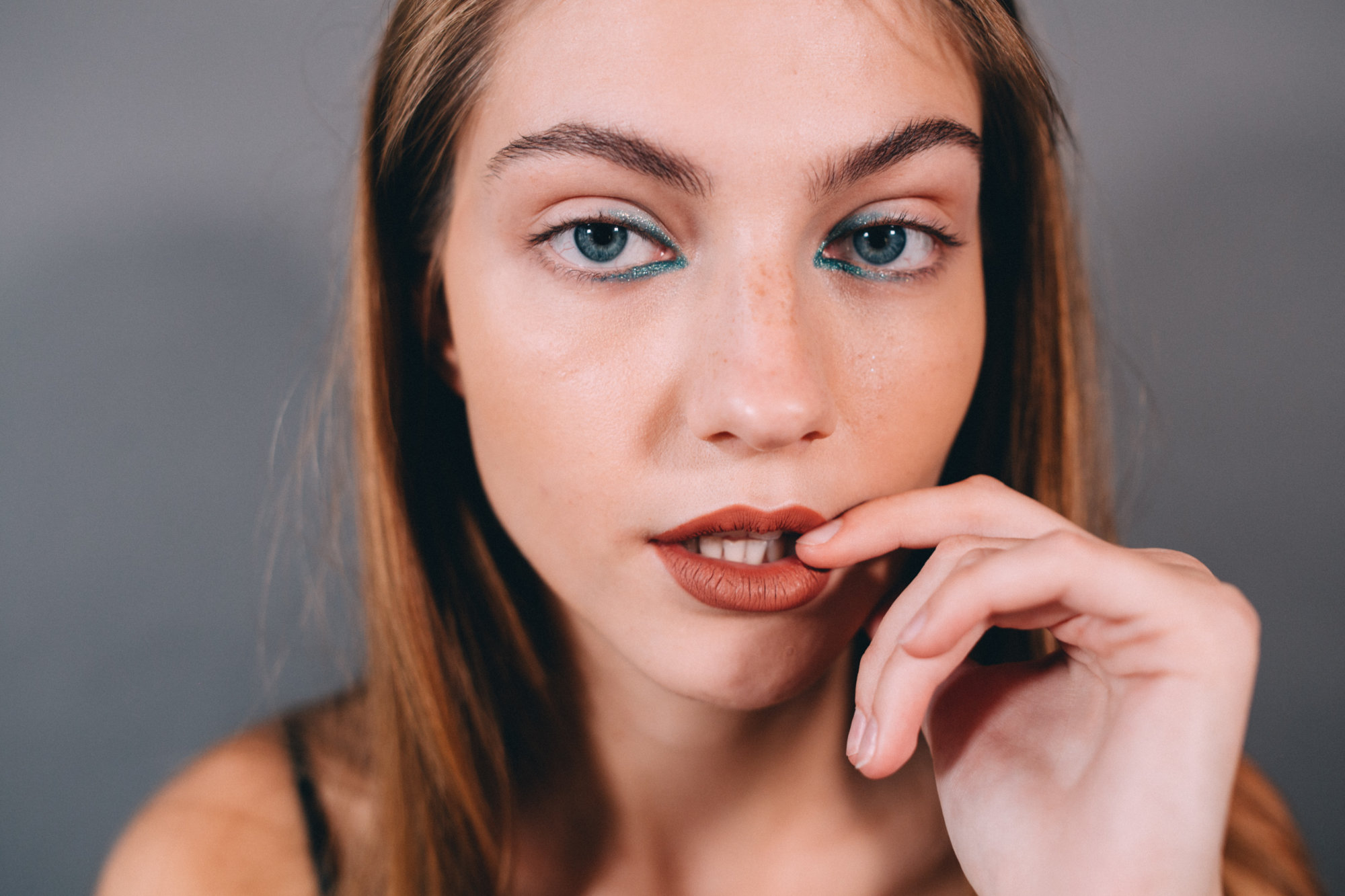 #The Green Secret
Feeling cheerful and a little into the future? Why not try a new graphic eyeliner, instead of the usual wash of all-over eyeshadow on the lids? We love it, and it's more wearable than you might think.
And, after all, 2018 told us something fundamental: Marc Jacob's Highliner Glam Glitter Pencil in Gemstone might as well be one of our favorite beauty tools ever. 
We love its vivid and precise trait, the long-lasting endurance and, most of all, the flattering sparkle that adds to the eye.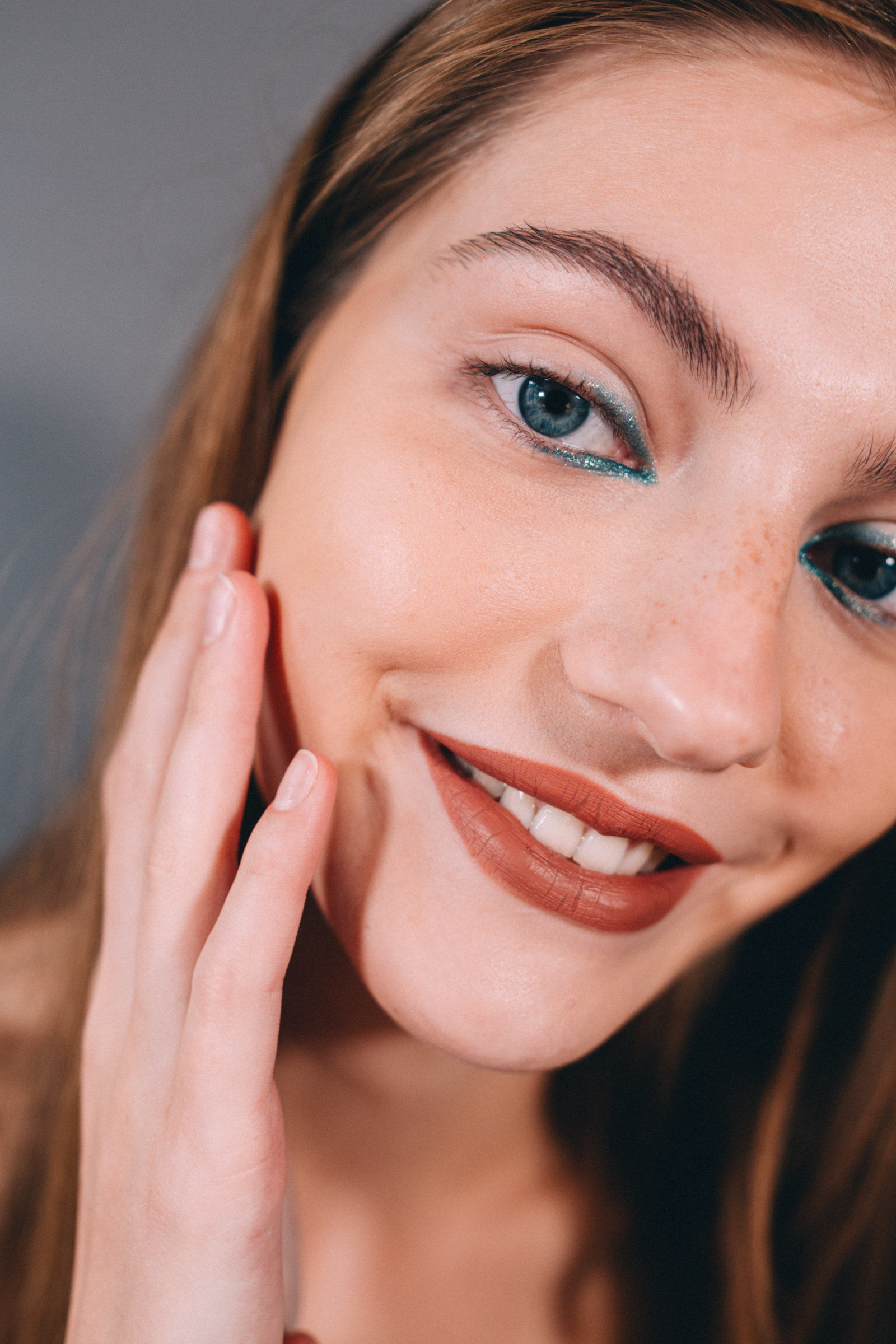 MARC JACOBS 
HIGHLINER GLAM GLITTER PENCIL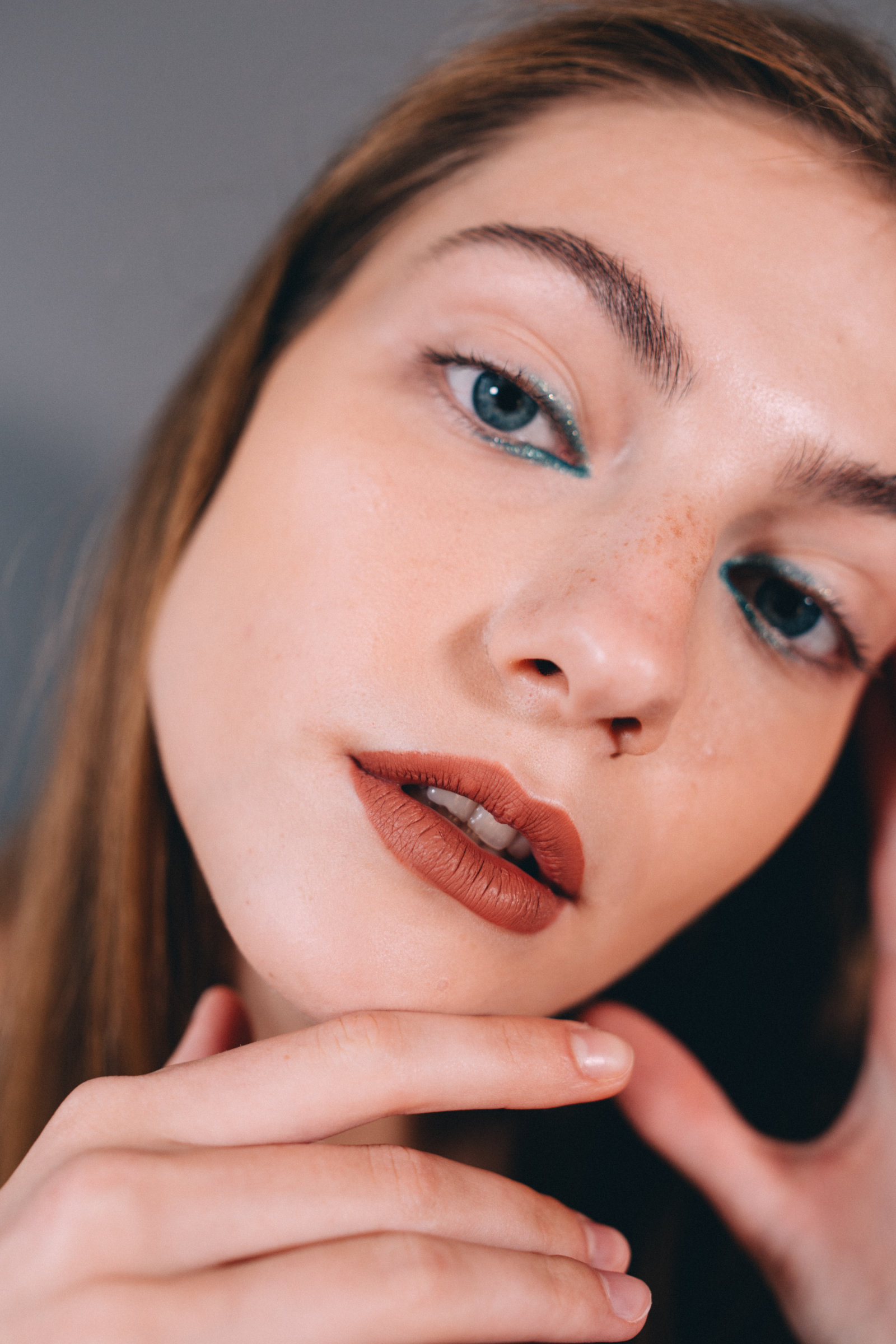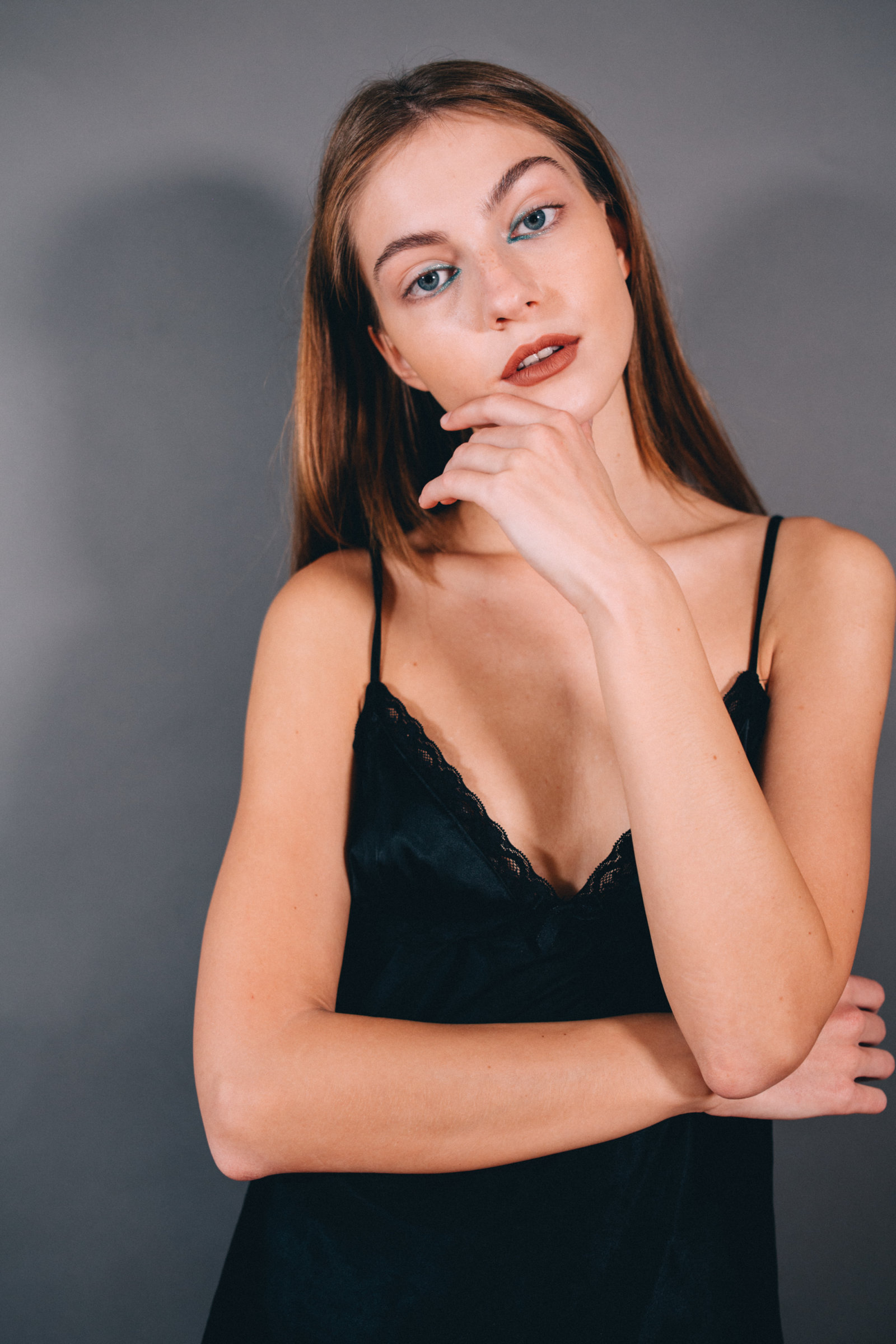 #The Matte Secret
Kissable lips are a must, but we never renounce feeling comfortable and cuddled. 
Hence, we chose to match to our lively green eyeliner a subdued, but not less pretty, matte lip tint in nude. The warm, fondant shade of Bless lip tint in Butter Pink marries perfectly the cold tones of green on the eye, creating a feeling of harmony between the different shades.
 But, most importantly, we can rest assured that the color won't fade or smudge!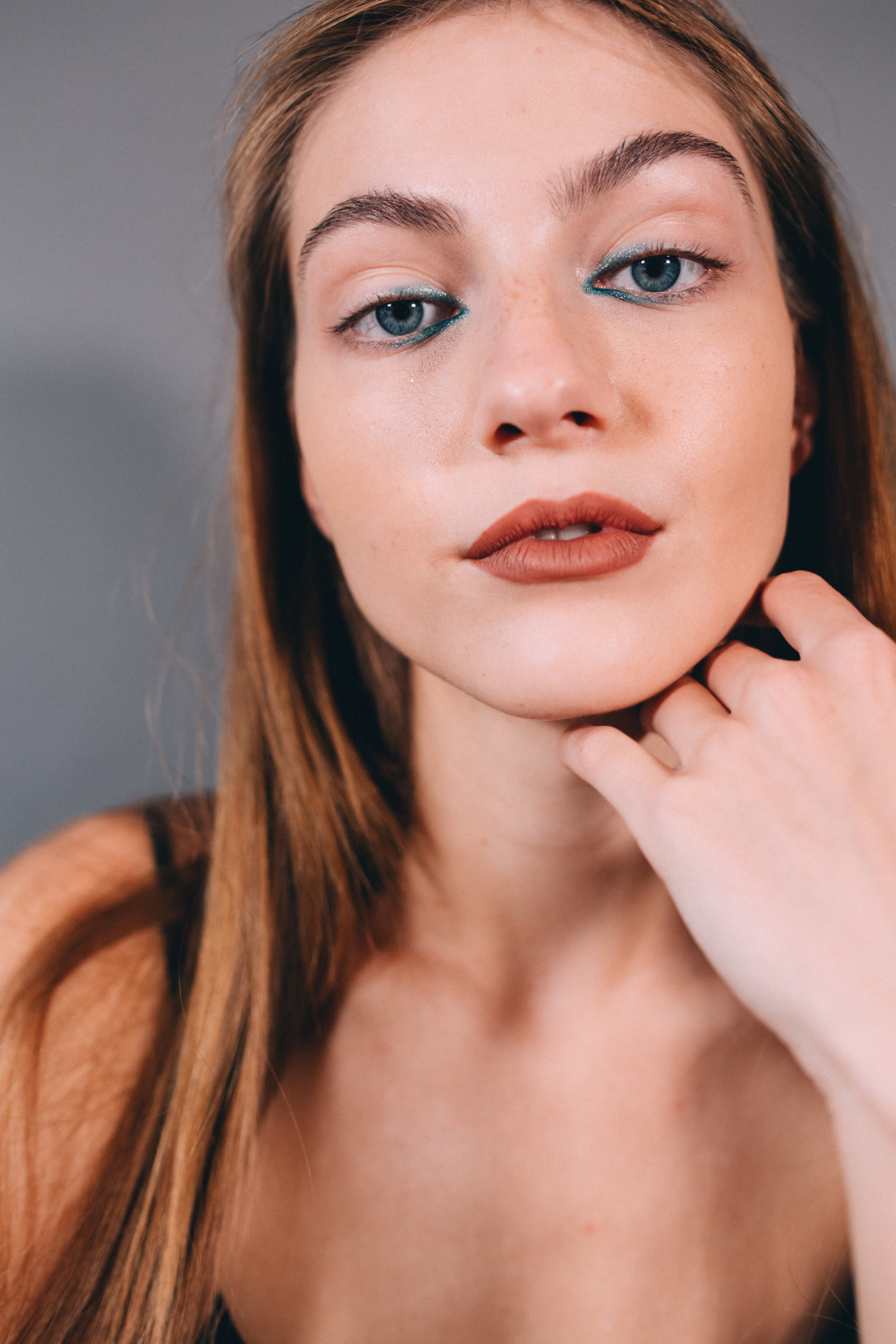 BLESS COSMETICS
LIP TINT IN BUTTER PINK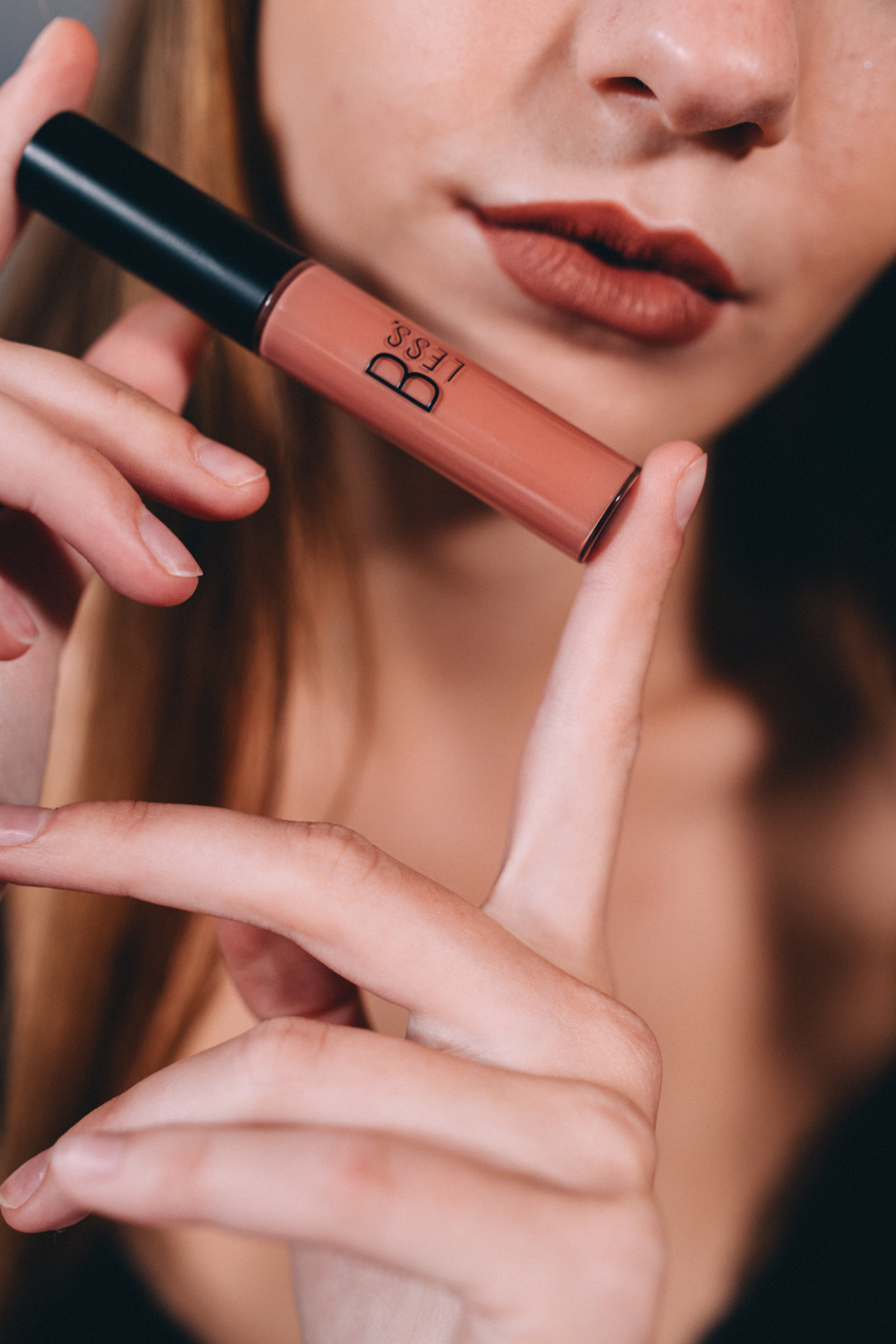 – The Glossy Look –
A big thing in 2018 was glossy skin and an all-over shiny look: the perfect encounter between a sophisticated makeup and the fresh allure of gloss. It feels fresh and modern at the same time, and it doesn't really take much effort. We love a good highlighting base, matched with Millennial-full eyebrows brushed upwards and a touch of Mascara.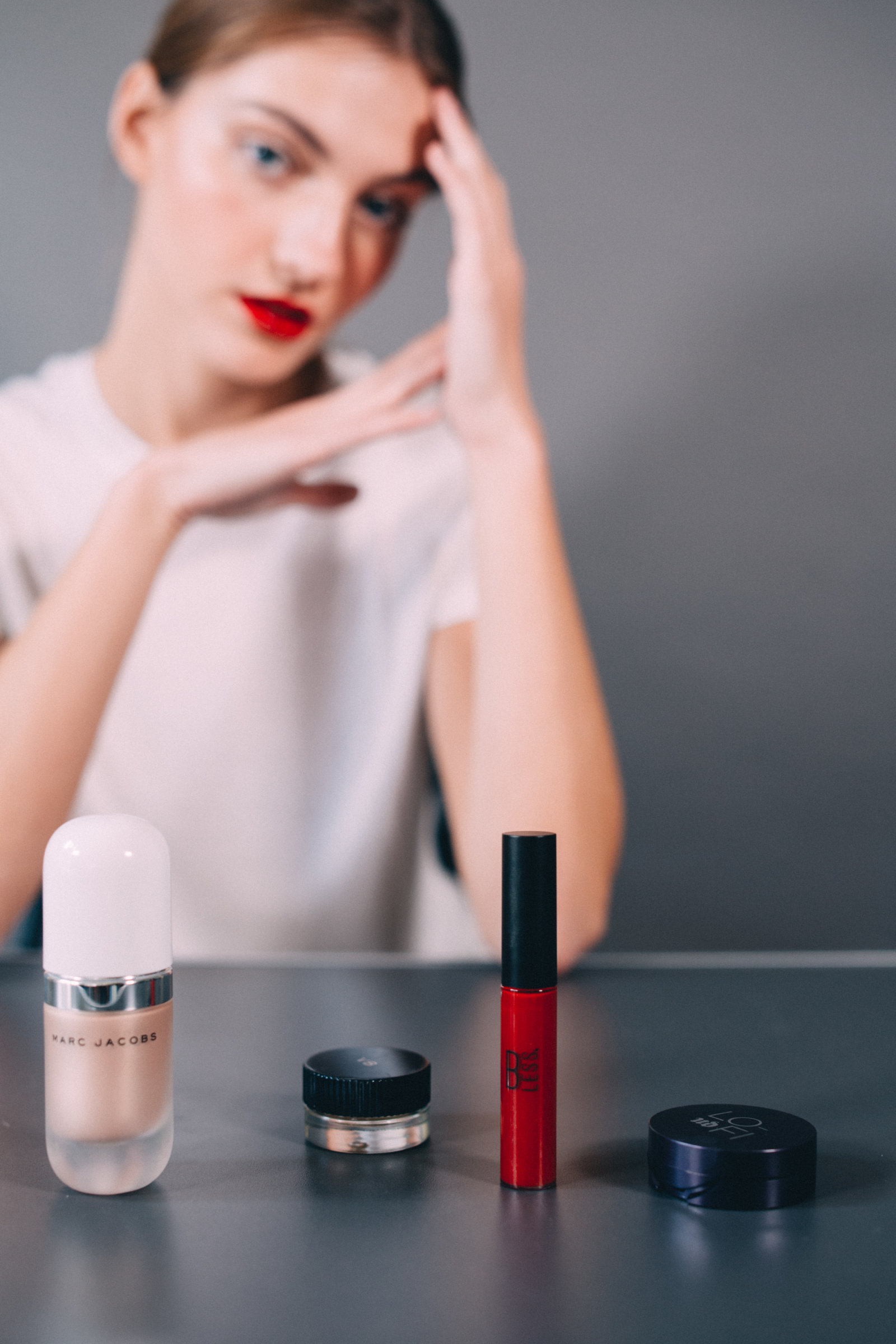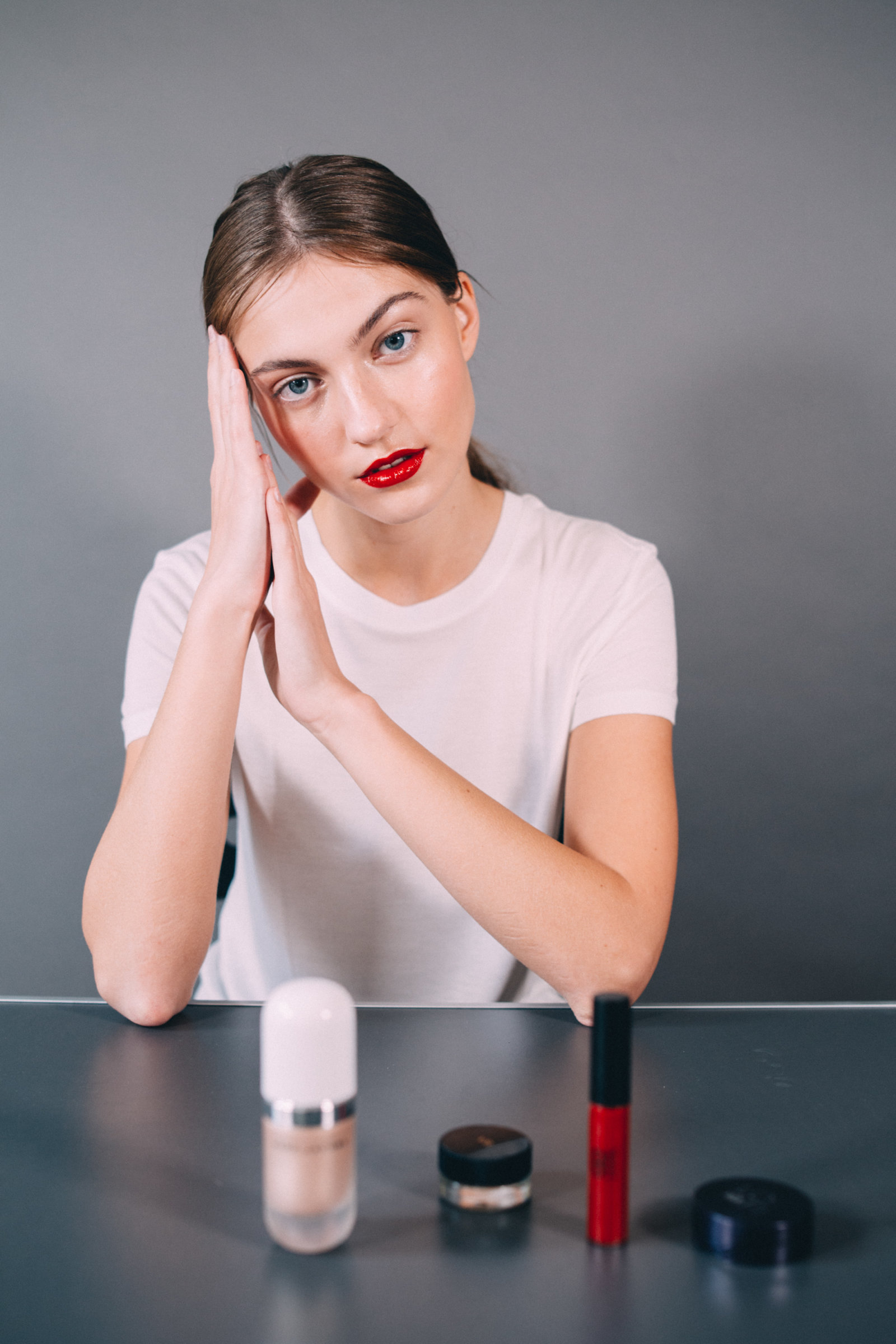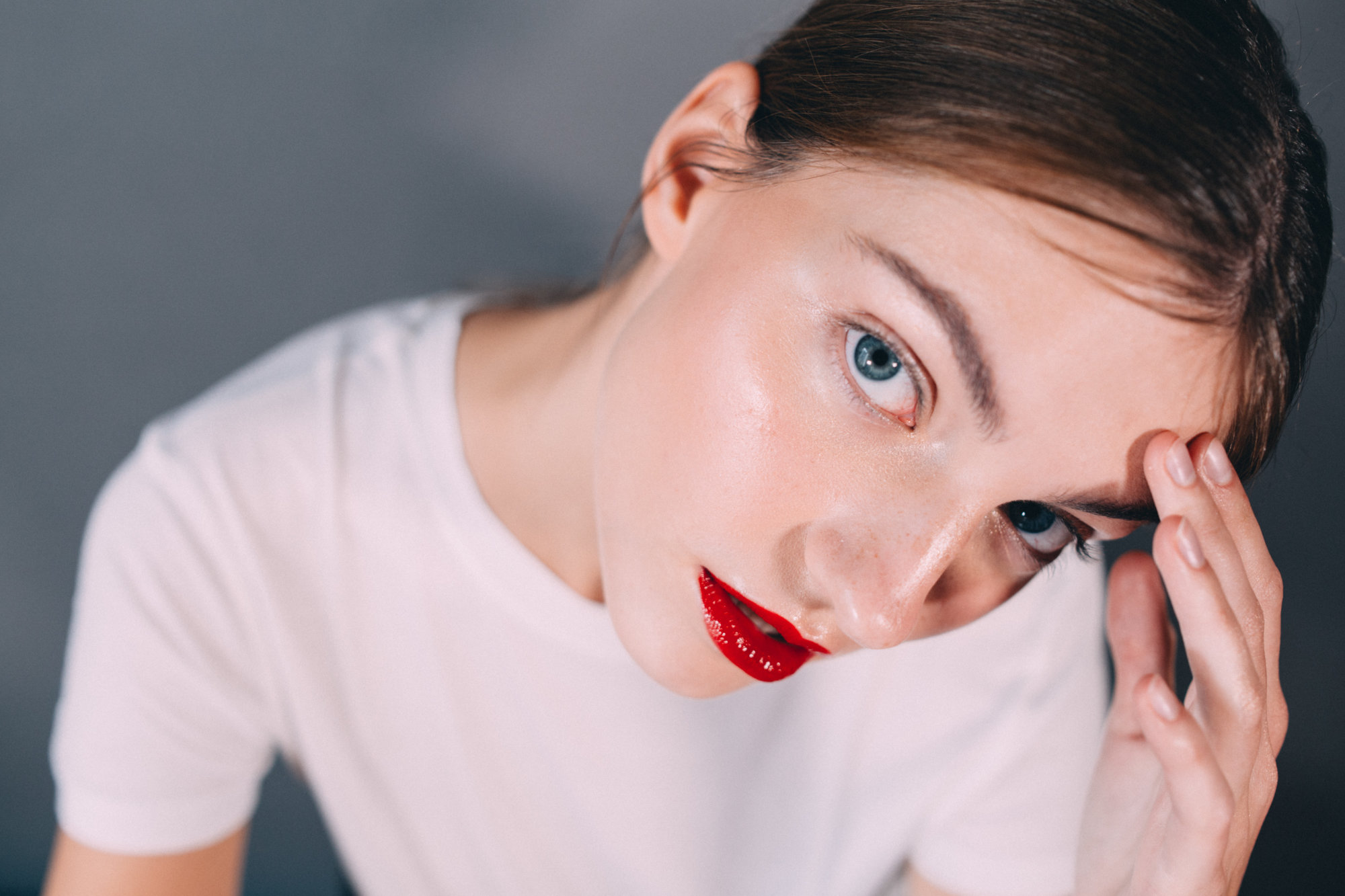 #Glowy Base
Just forget all the matte foundations for a moment, and let your skin (and mind) look for something a little different, lighter.
For the base, we used the Coconut Gel Highlighter by Marc Jacobs: this highlighter, matched to good skincare and the hottest skin trend of the moment, the glossy skin, can give a beautiful light and dewy effect to the face. 
This gel has a really heavenly scent and refreshes and replenishes the skin, but it's perfect to add to the foundation or to apply directly on the skin, dabbing with the fingertips for a more natural effect.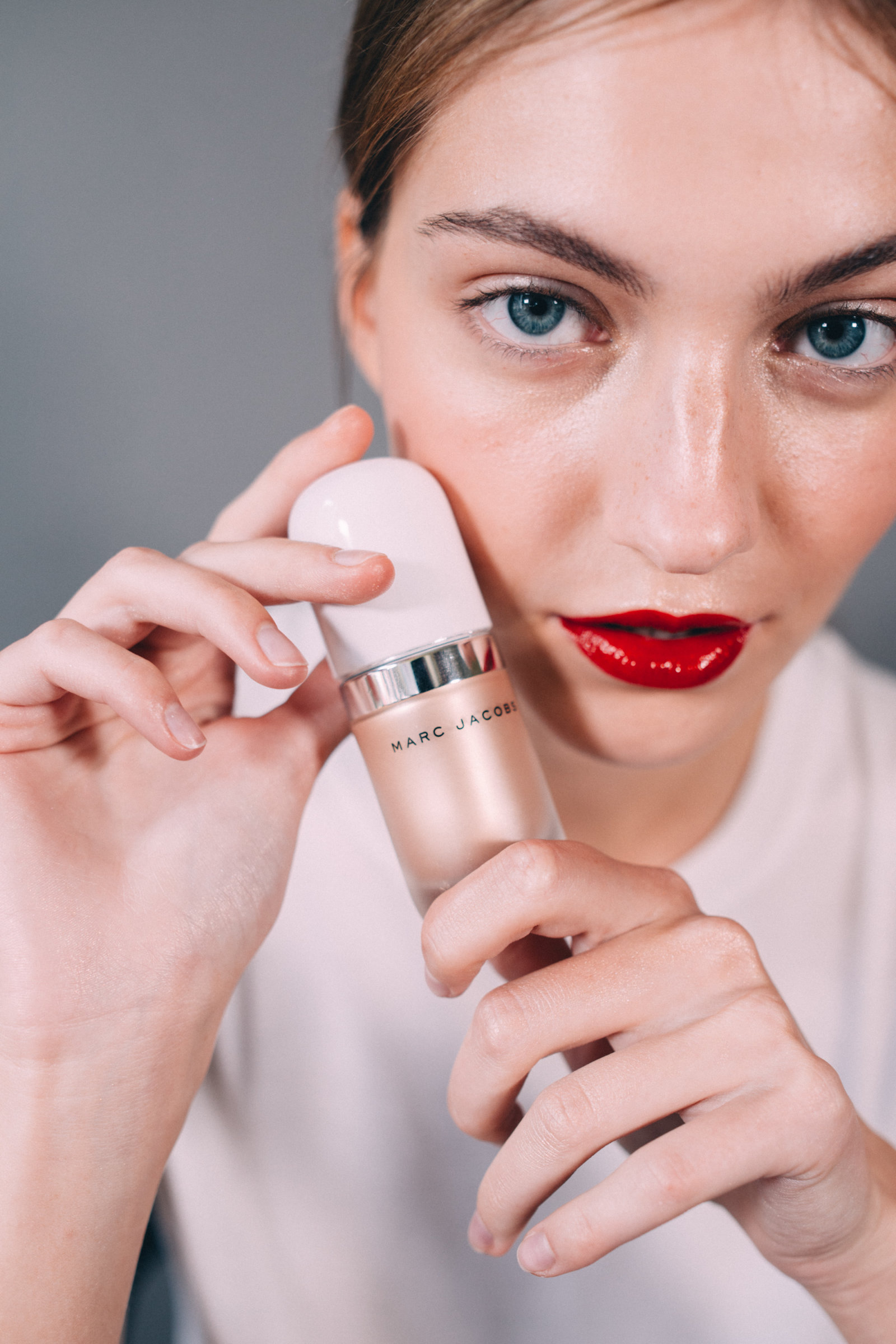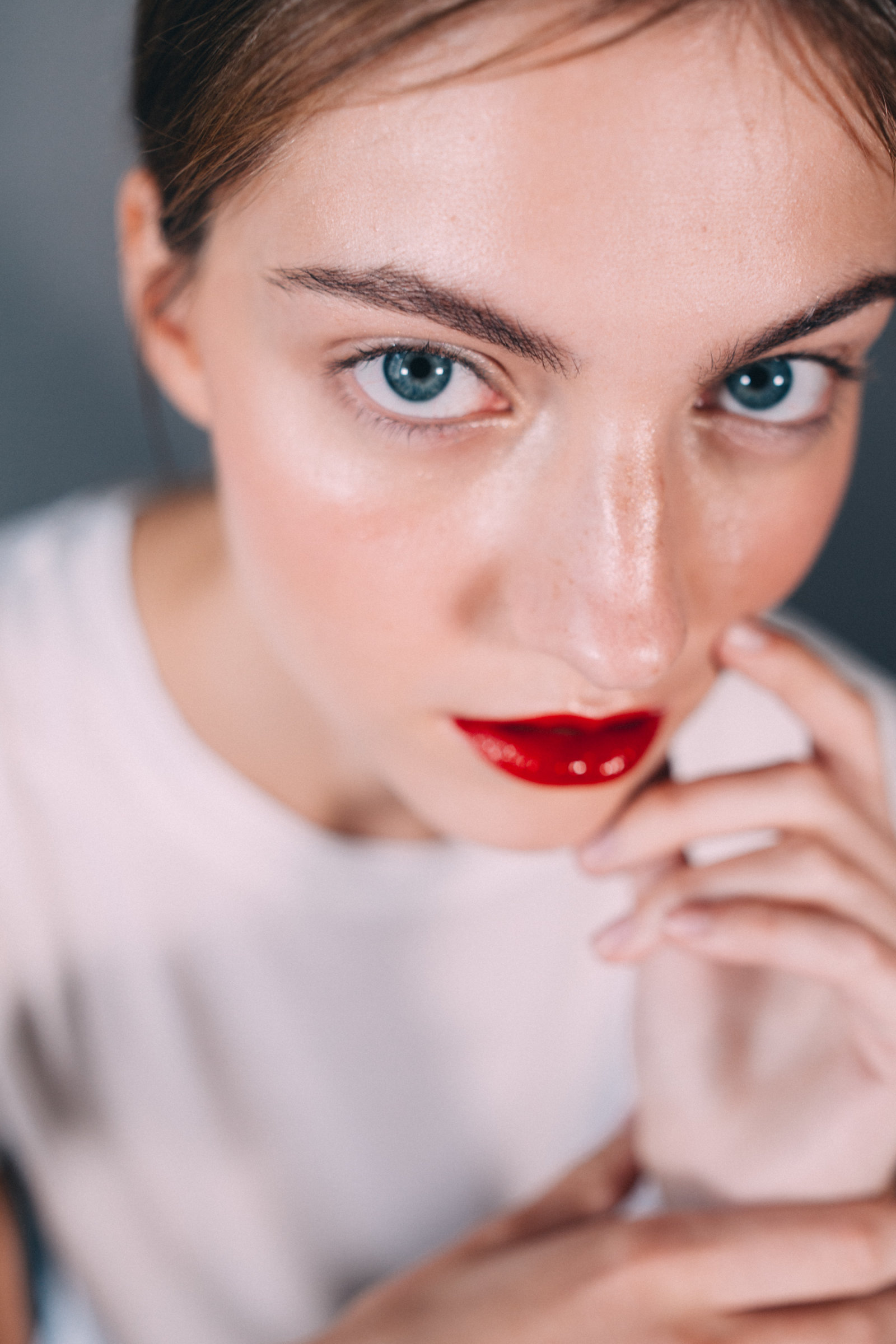 MARC JACOBS
COCONUT GEL HIGHLIGHTER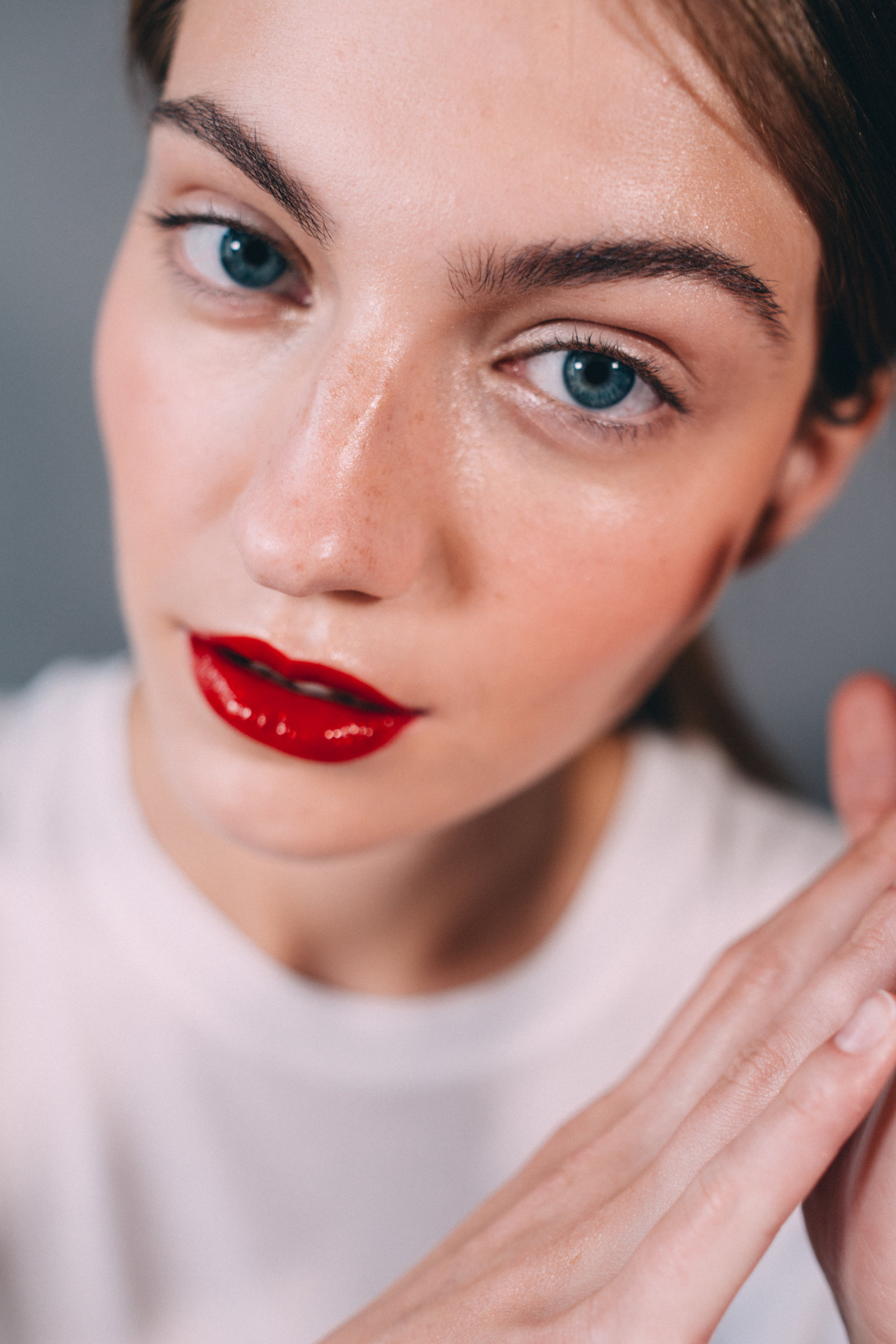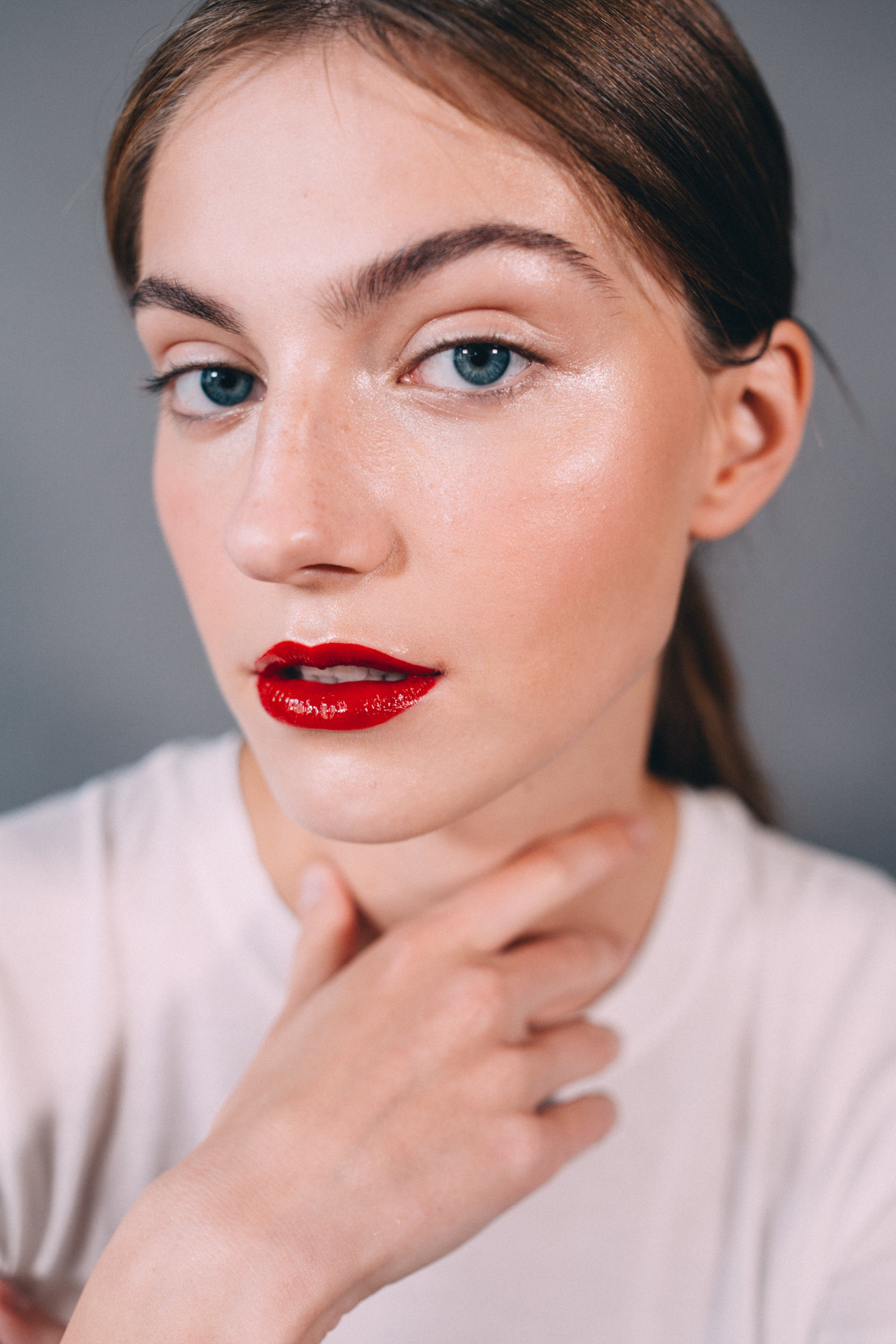 #Highlight with the Gloss
When the base is the perfect balance between radiance and even complexion, highlighting the cheekbones and the bridge of the nose to add that little right touch of light is just the next natural step.
 We used a gloss that we love, light on the skin but powerful in hue and endurance: The Aura Gloss by Victoria Beckham x Estée Lauder.
It's comfortable, and it feels like it disappears and blends in the skin when you softly massage it in, but we can assure you that it will be your best friend throughout the longest day, especially when you need a little boost of shine.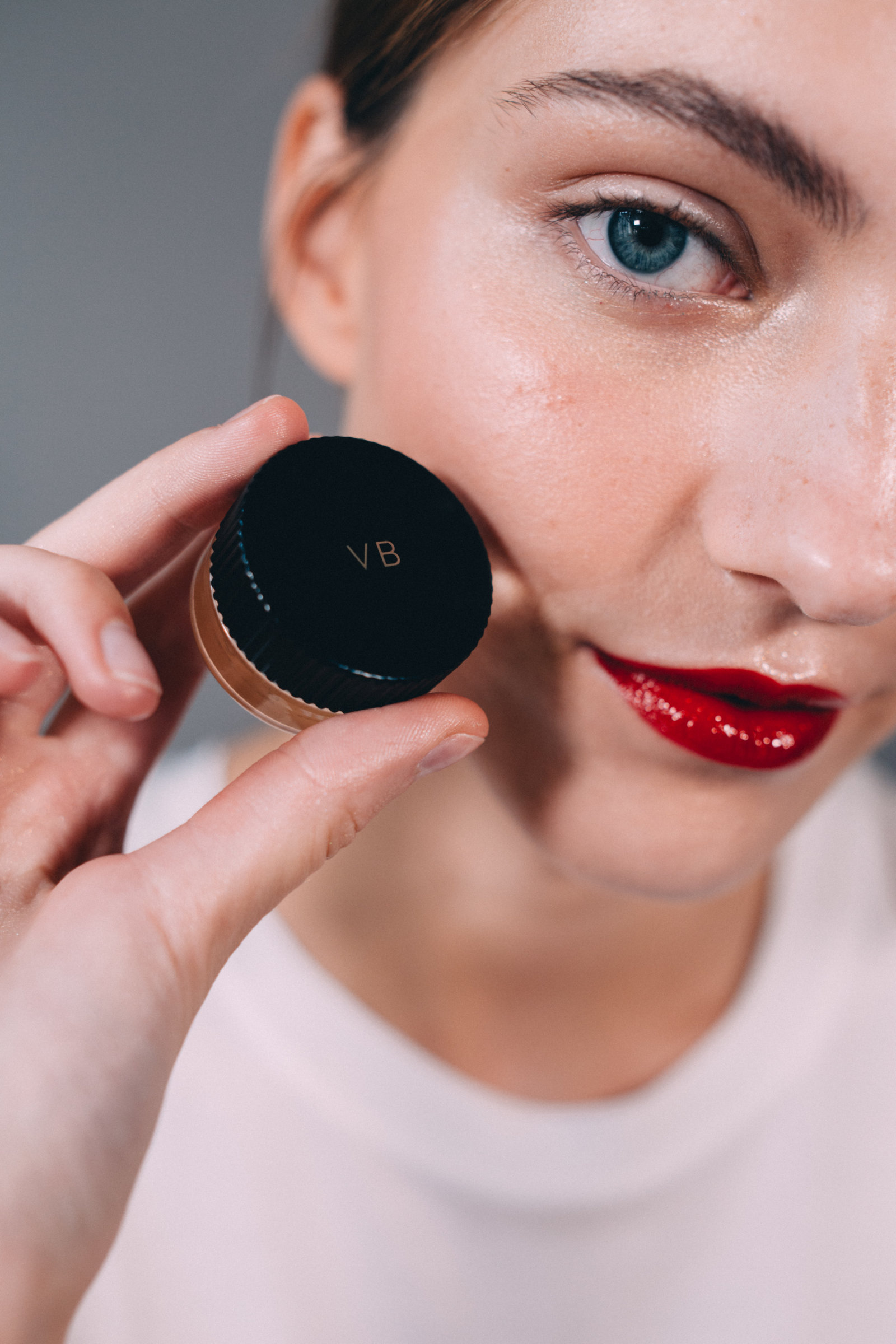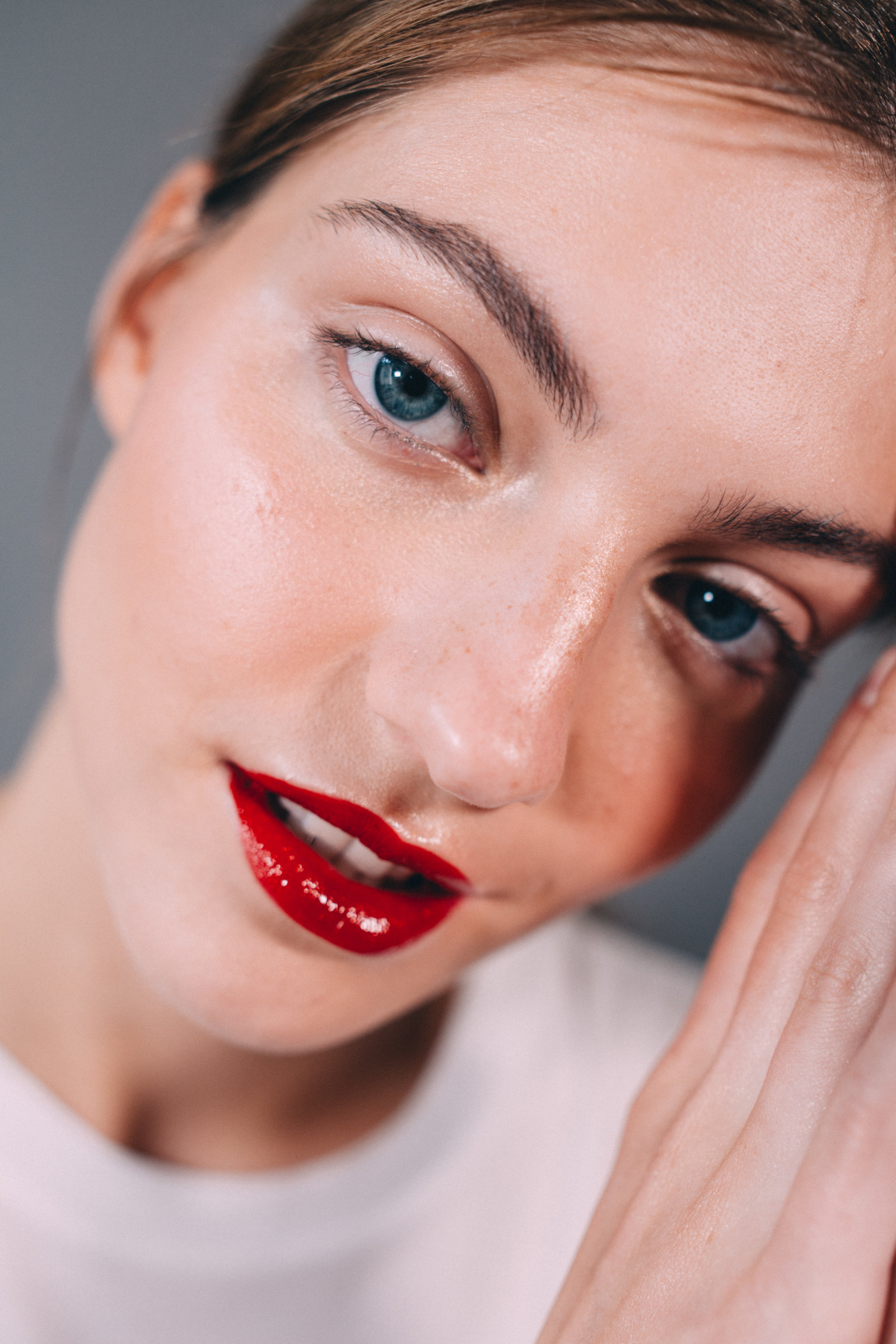 VICTORIA BECKHAM x ESTÉE LAUDER 
AURA GLOSS
Our secret?
A touch of matte, to down-tune the look and avoid any risk of a greasy effect, or to look too similar to a lamp on legs. Yes, glossy is cool, but we can't really go all the way down, or the balance shall be broken, and the look will be a mess.
 A veil of Lo-Fi by Urban Decay on the apple of the cheeks and on the cheekbones, to add dimension and to enhance our natural healthy, fresh flush.
 This year, we discovered that a bit of blush goes a long way, and can add a more subdued, but not less alluring, contour to our face.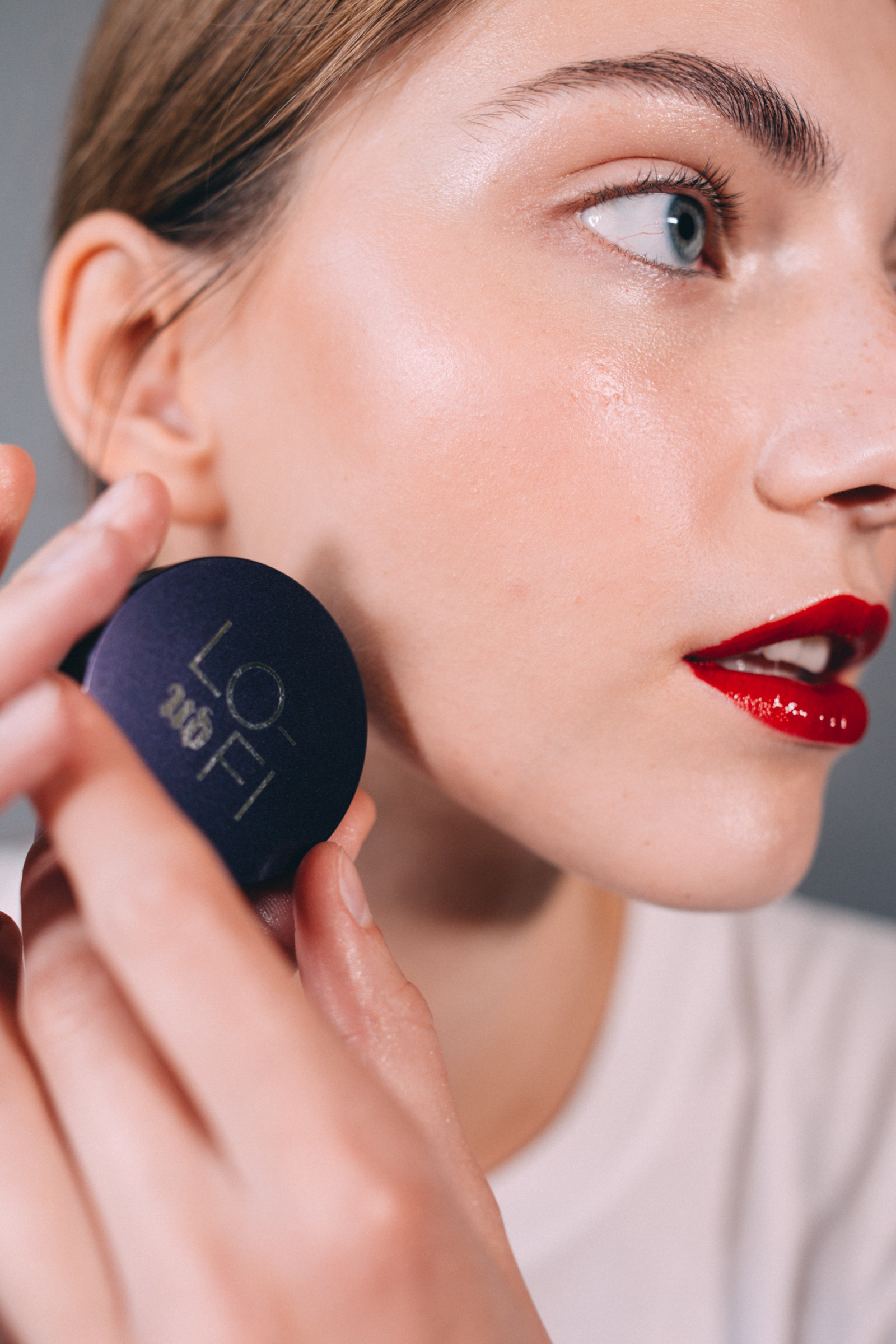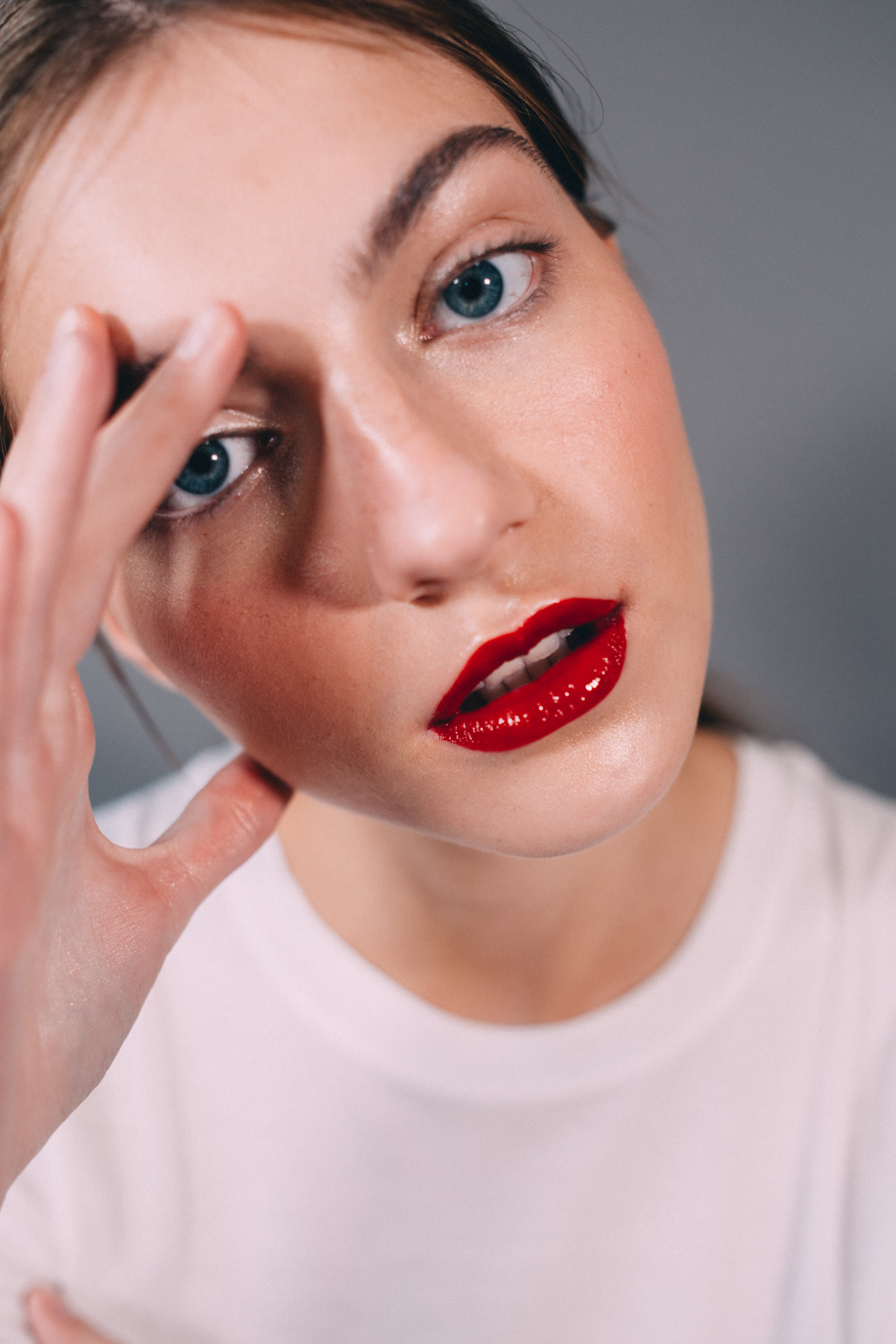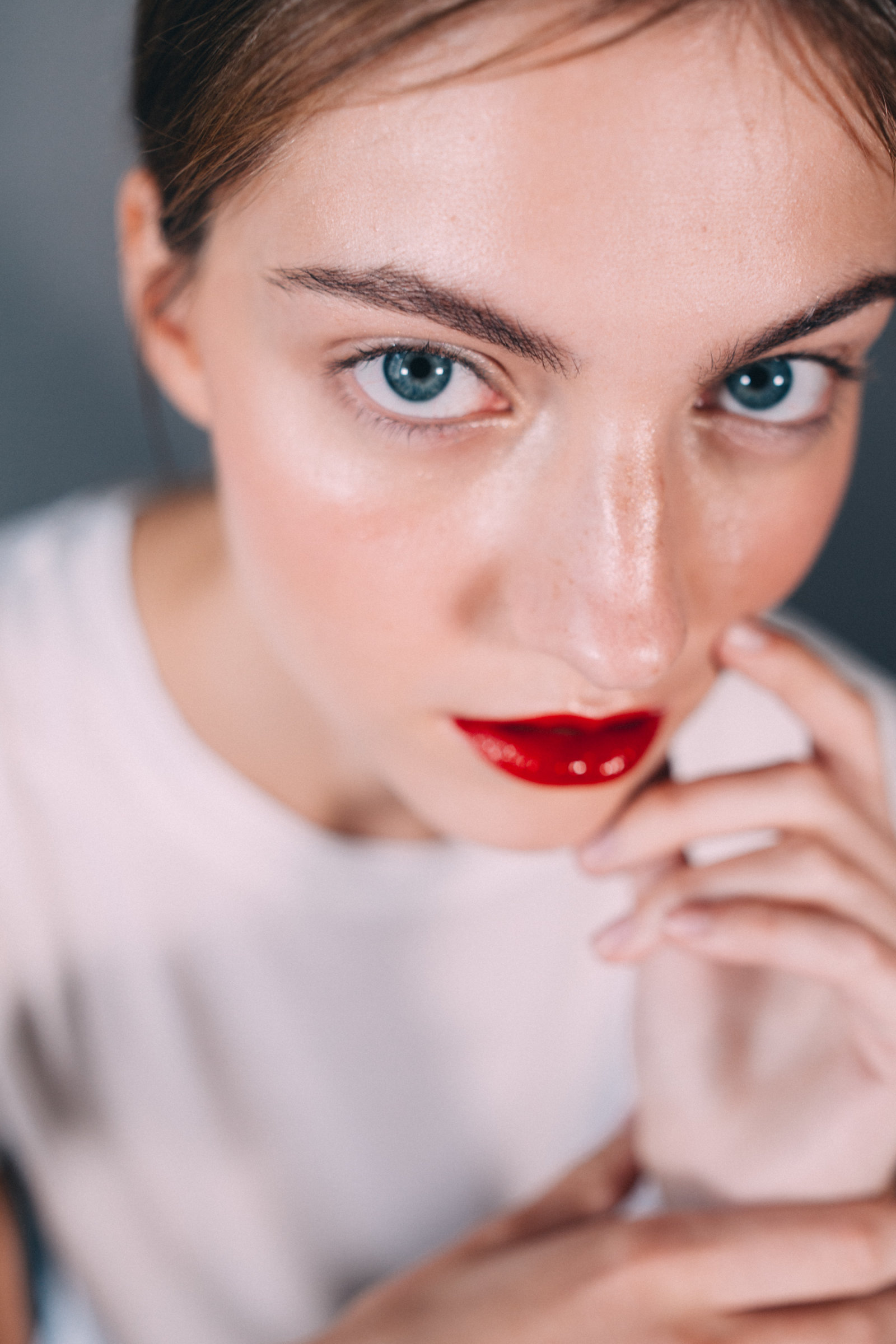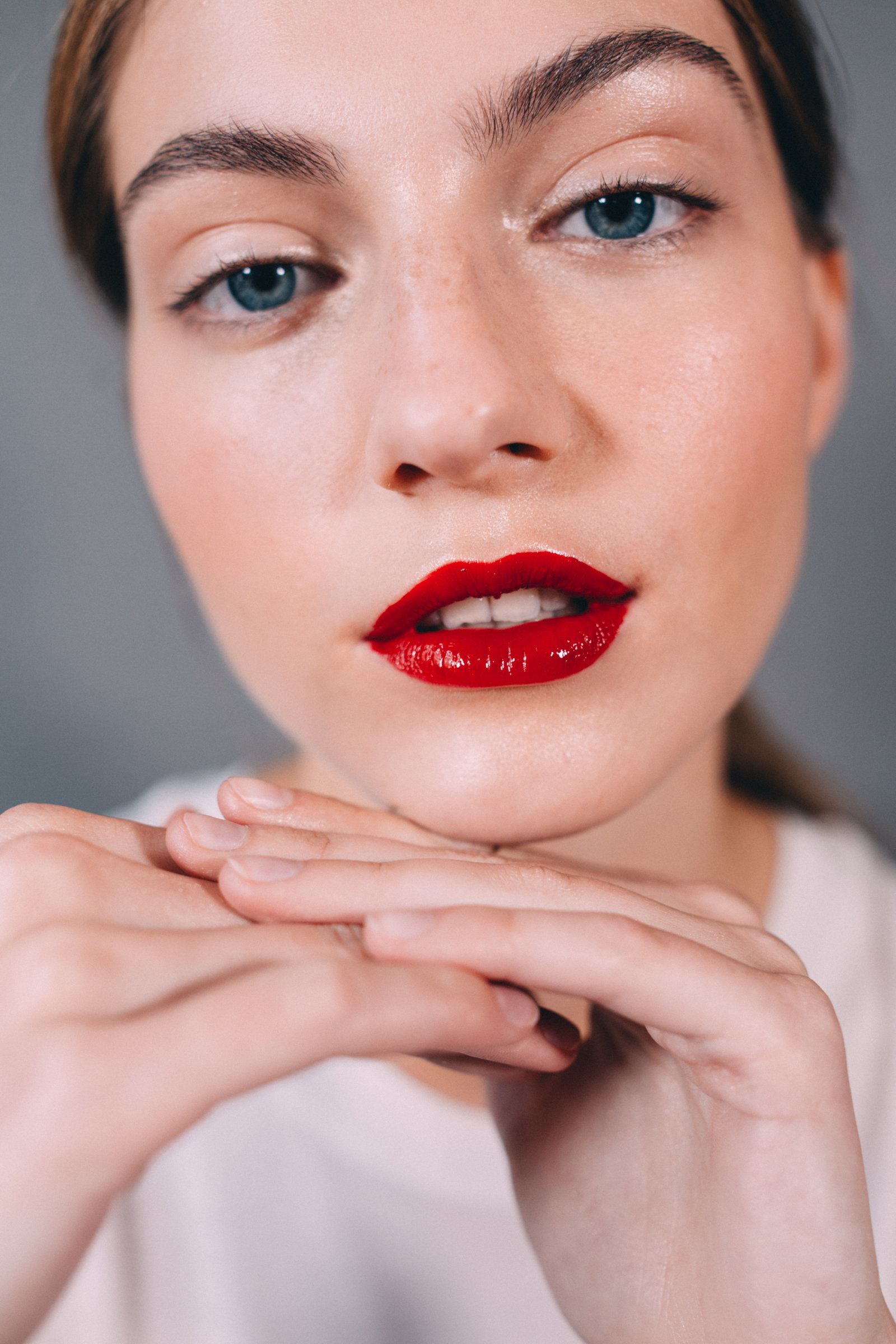 The eyes are nude, so we can play with the lips and choose something to enhance our radiant complexion. We chose to add our little touch of vinyl with a classic red lip tint, with rich pigmentation and a lively coral red, to keep it elegant but also modern: the bright color.
 We loved a bold red lip, and our favorite choice for a comfortable and long-lasting color is the Vinyl Lip Tint in Marilyn by Bless Cosmetics.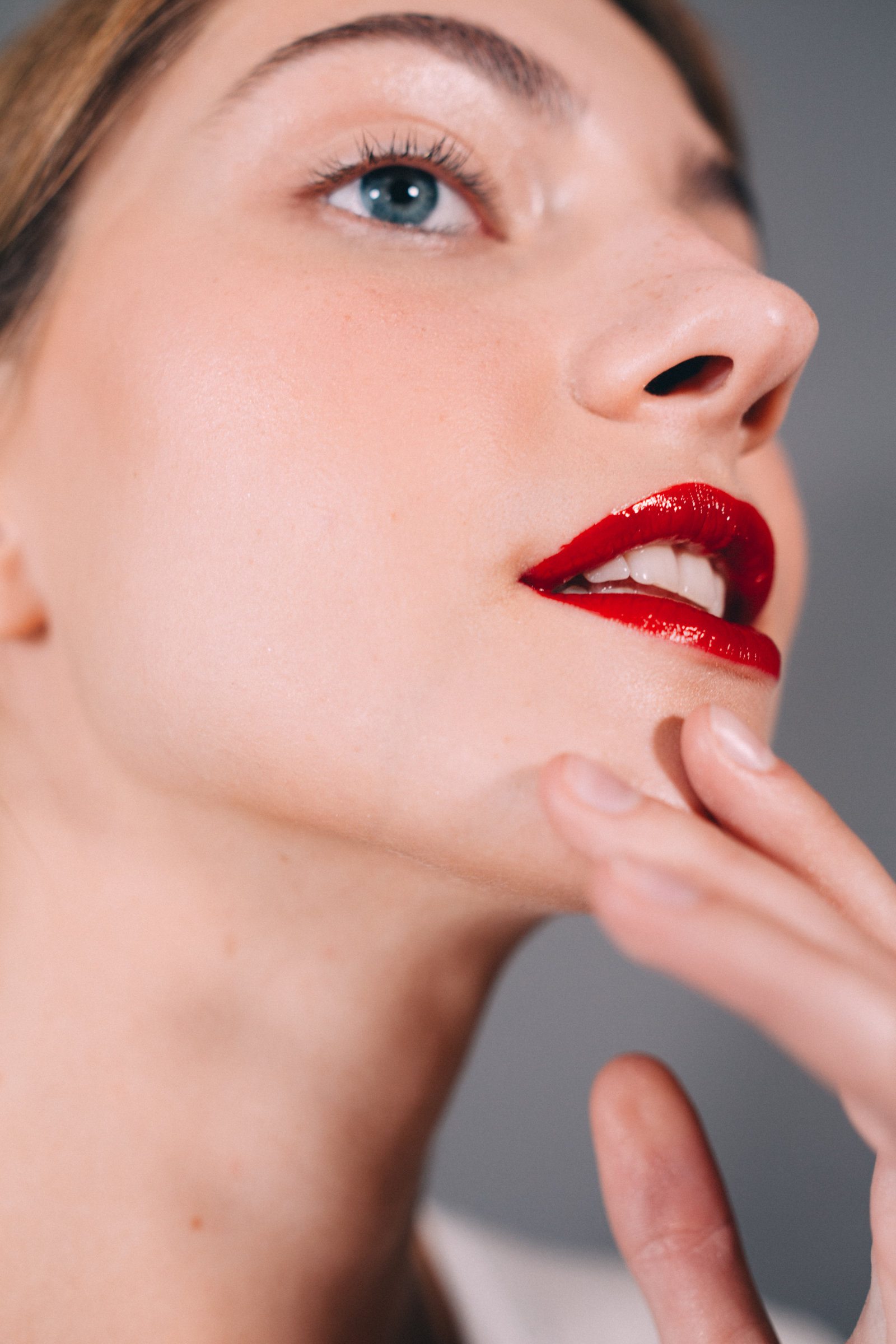 BLESS COSMETICS
VINYL LIP TINT IN MARILYN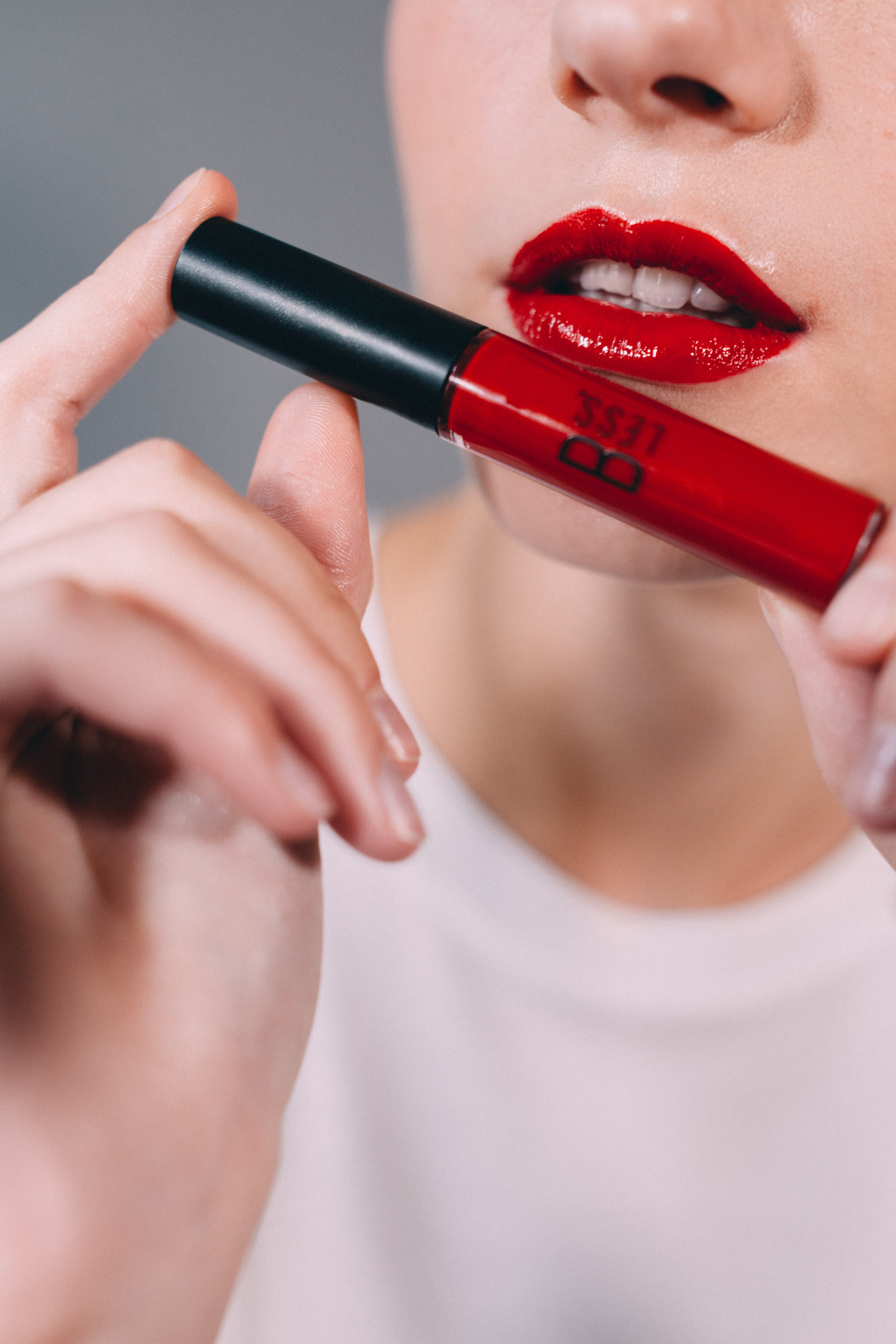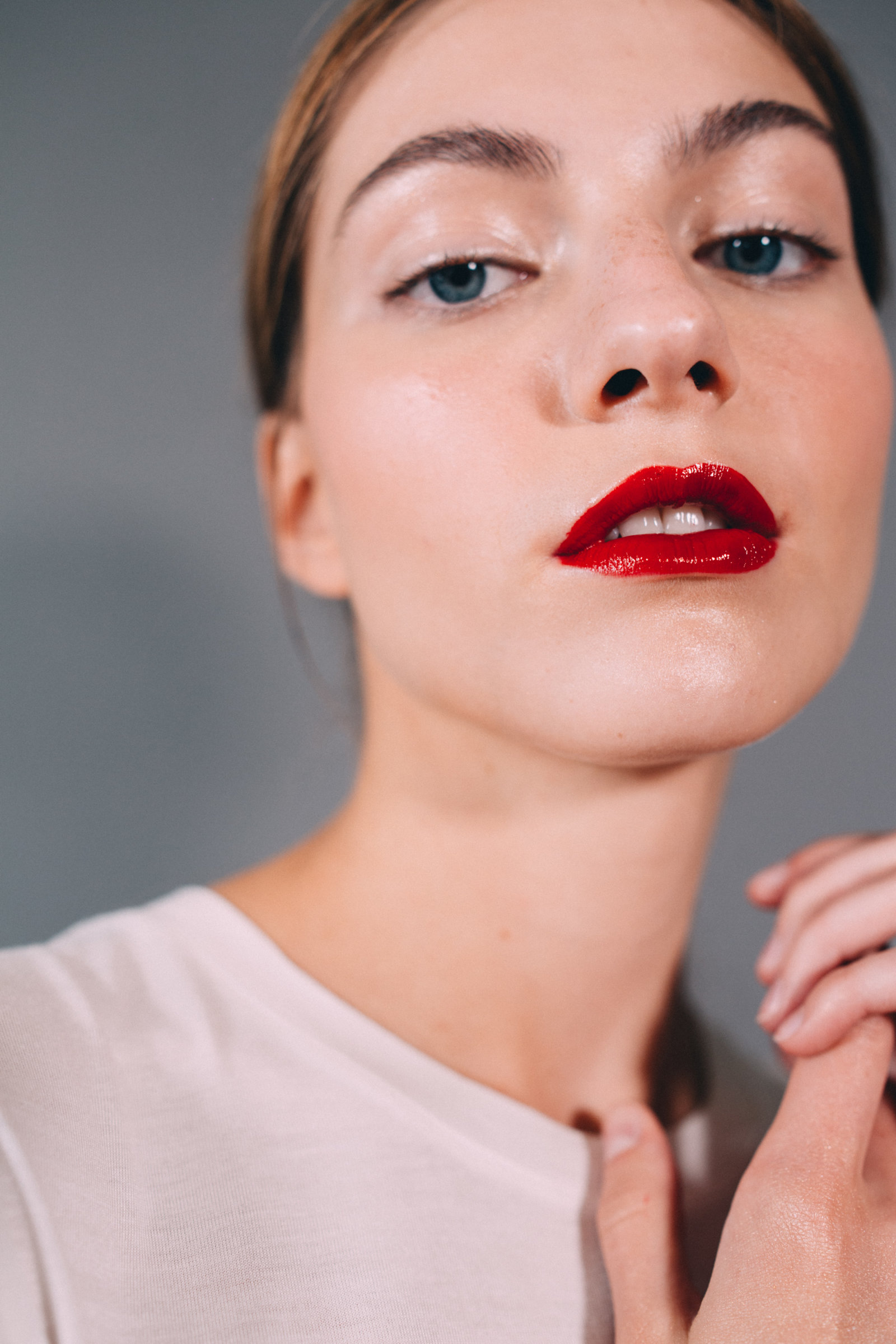 A makeup that feels free and a little crazy, but that is not, for this reason, not wearable. On the contrary, it is a meeting point between different kinds of makeup that, until a few months ago, we did not believe could ever be matched: the everyday makeup and the editorial one. In fact, if combined with a "classic" and subtle makeup base, with a luminous foundation and modern eyebrows combed upwards, glitters can be an unusual but effective solution for a party or a special event.

Our protagonists could not but be them: the sparkle heroes by Lemonhead LA.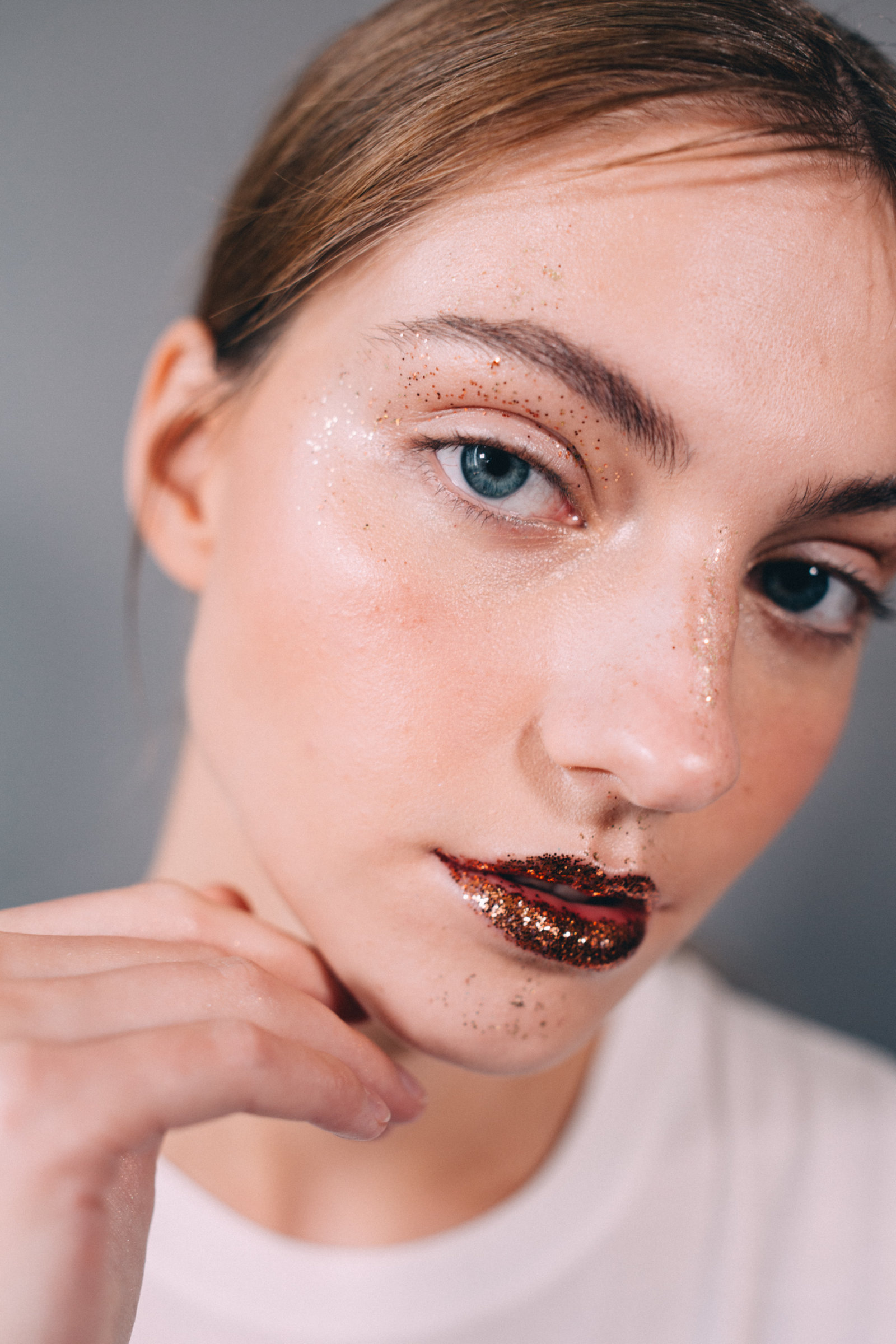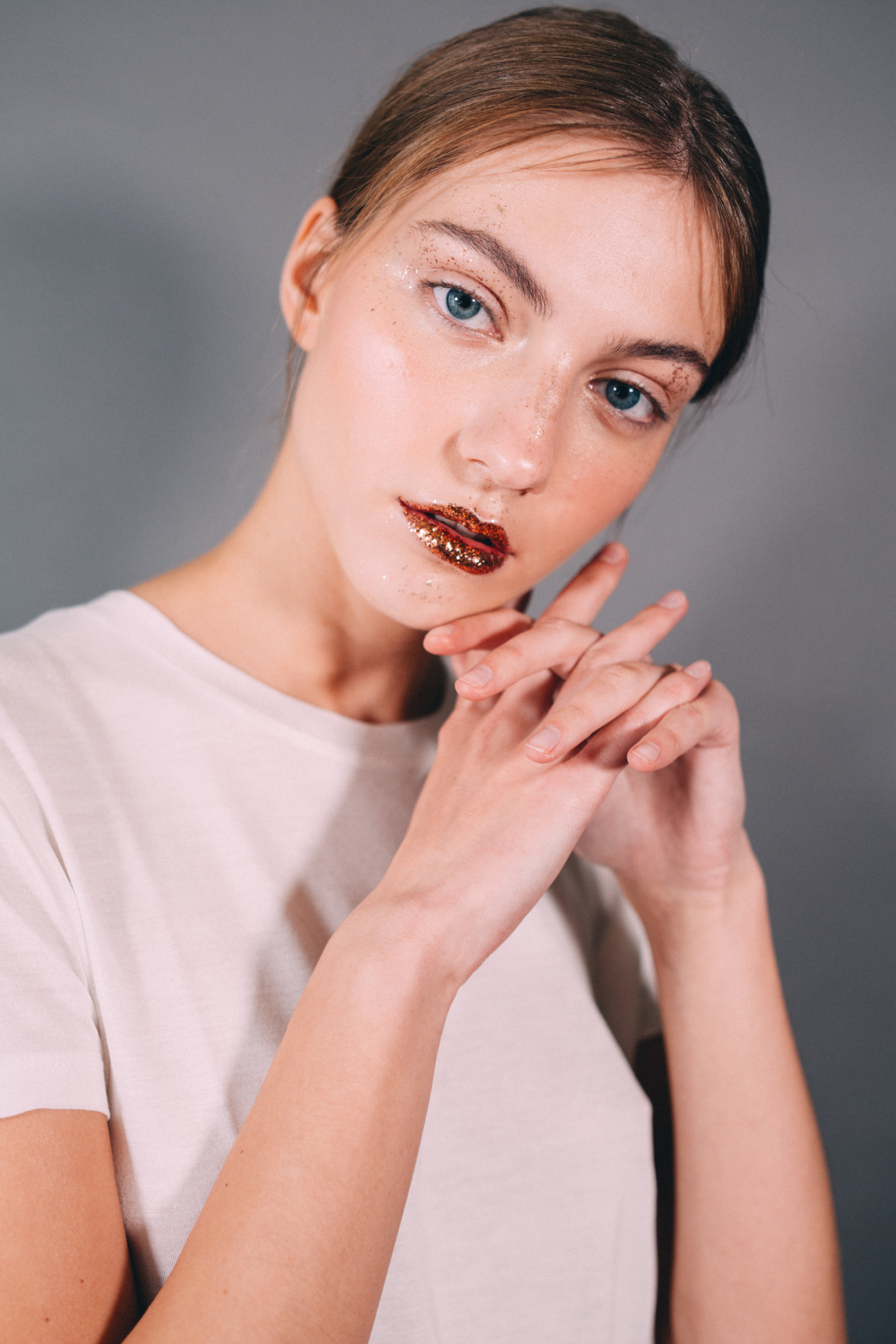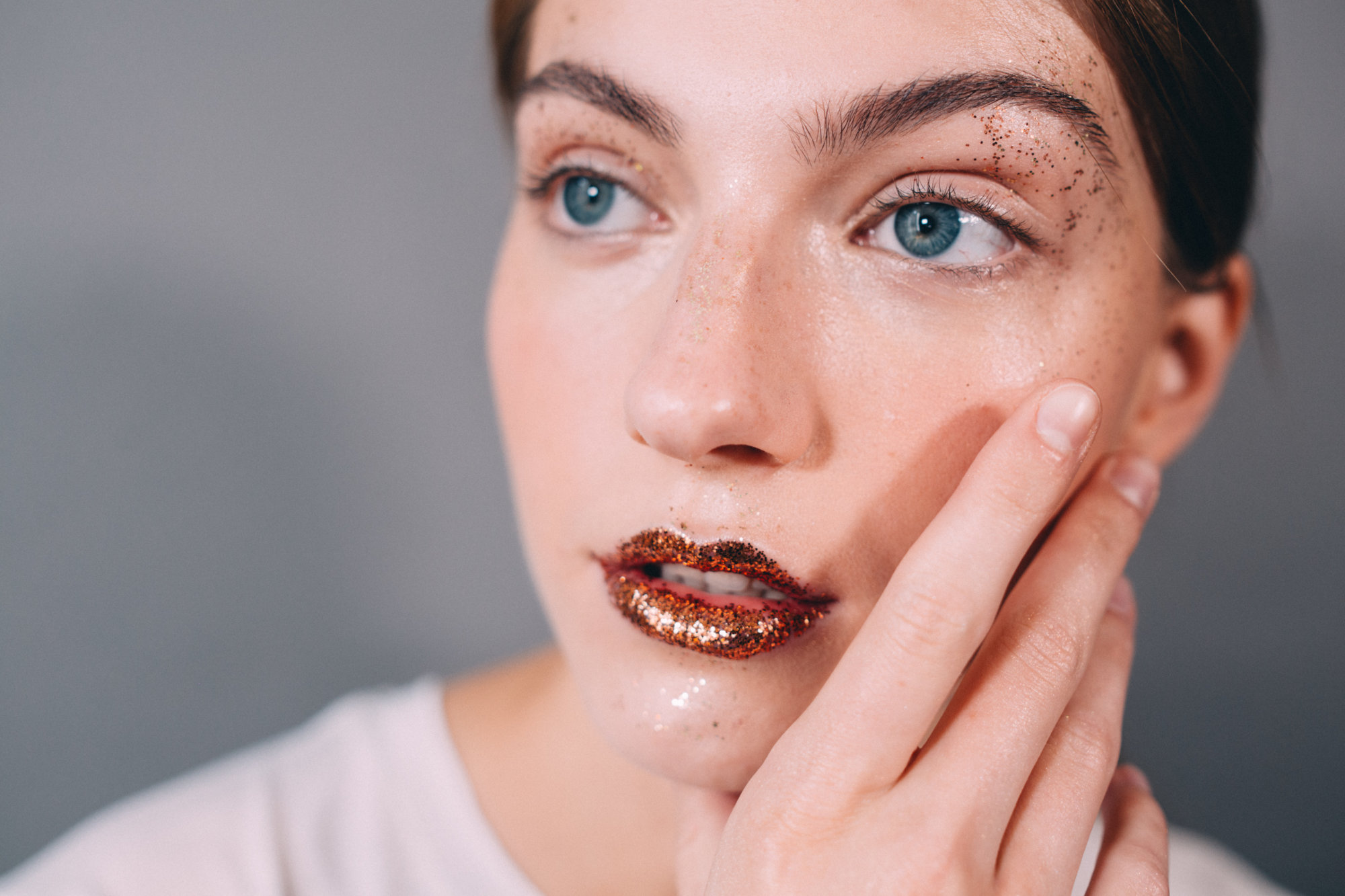 The fame of the Los Angeles-native brand, founded by MUA Megan Dugan, has grown quite a bit in 2018 and we too couldn't help but fall head over heels for these magical, life-changing products. 
What convinced us? Not only the versatility of these glitter pastes, which can be adapted effortlessly to any kind of makeup look but also their easy application and durability, which is just groundbreaking and unheard of for a glitter paste.
And what about the pay-off? Let us tell you: it's just great.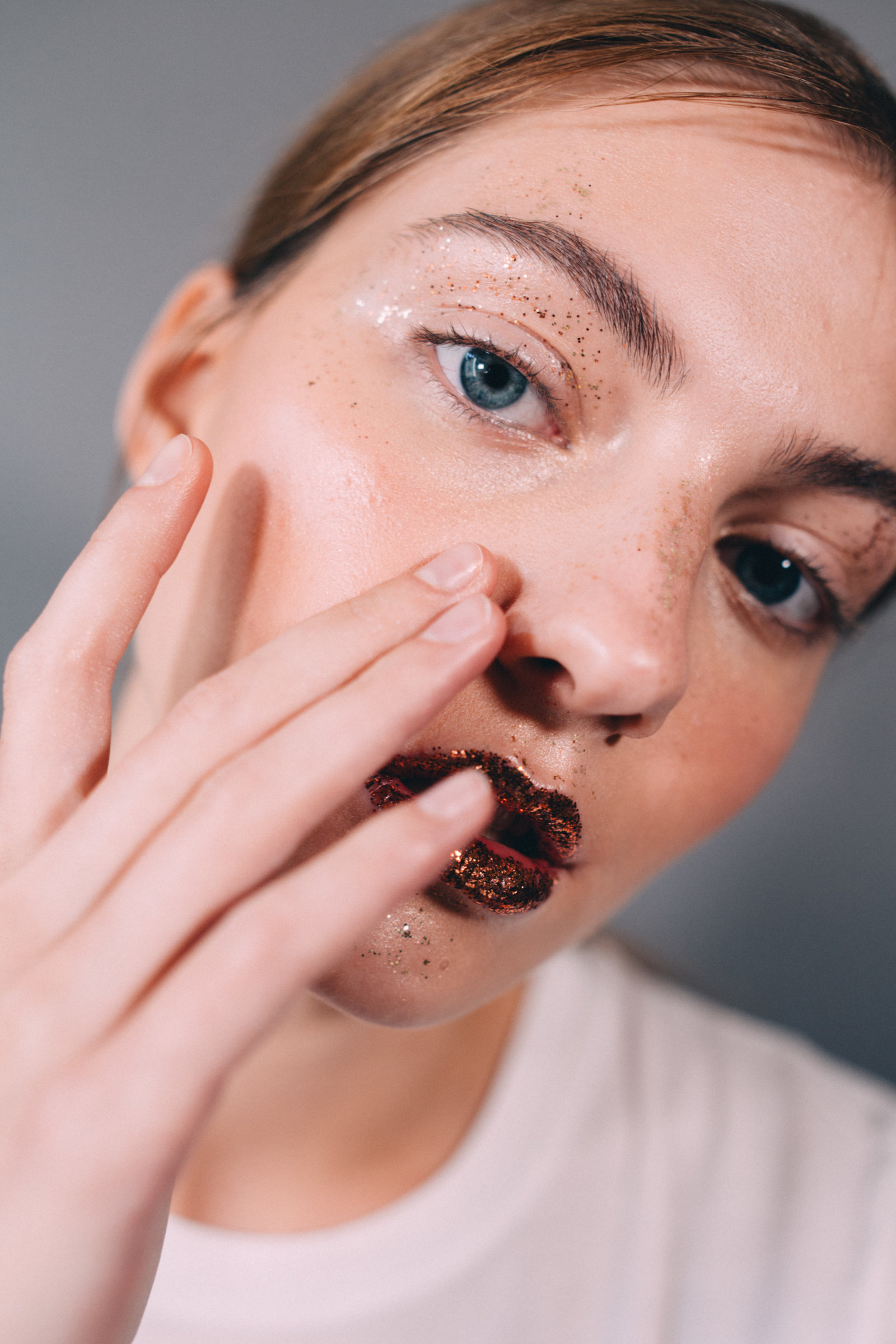 LEMONHEAD COSMETICS
GLITTERS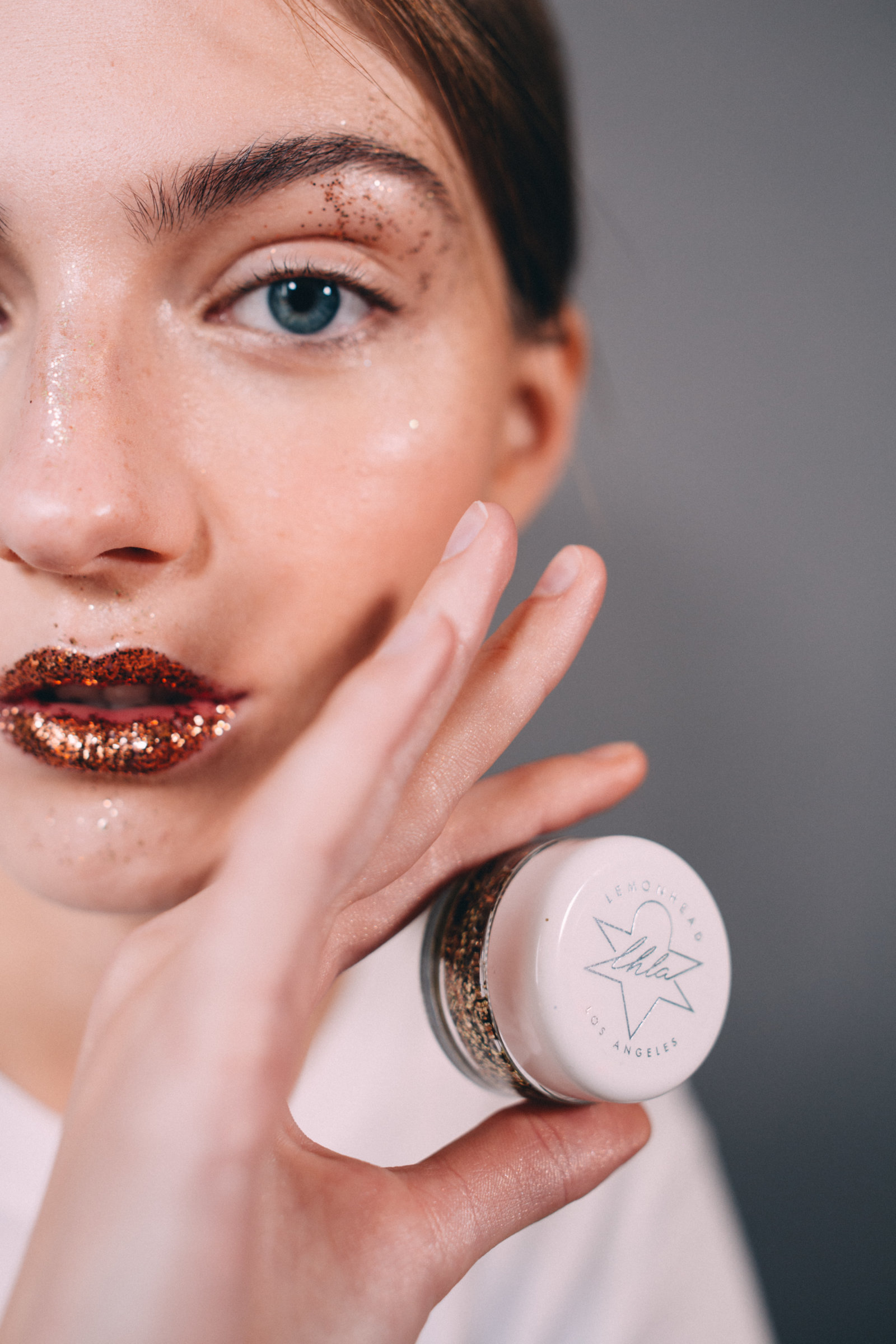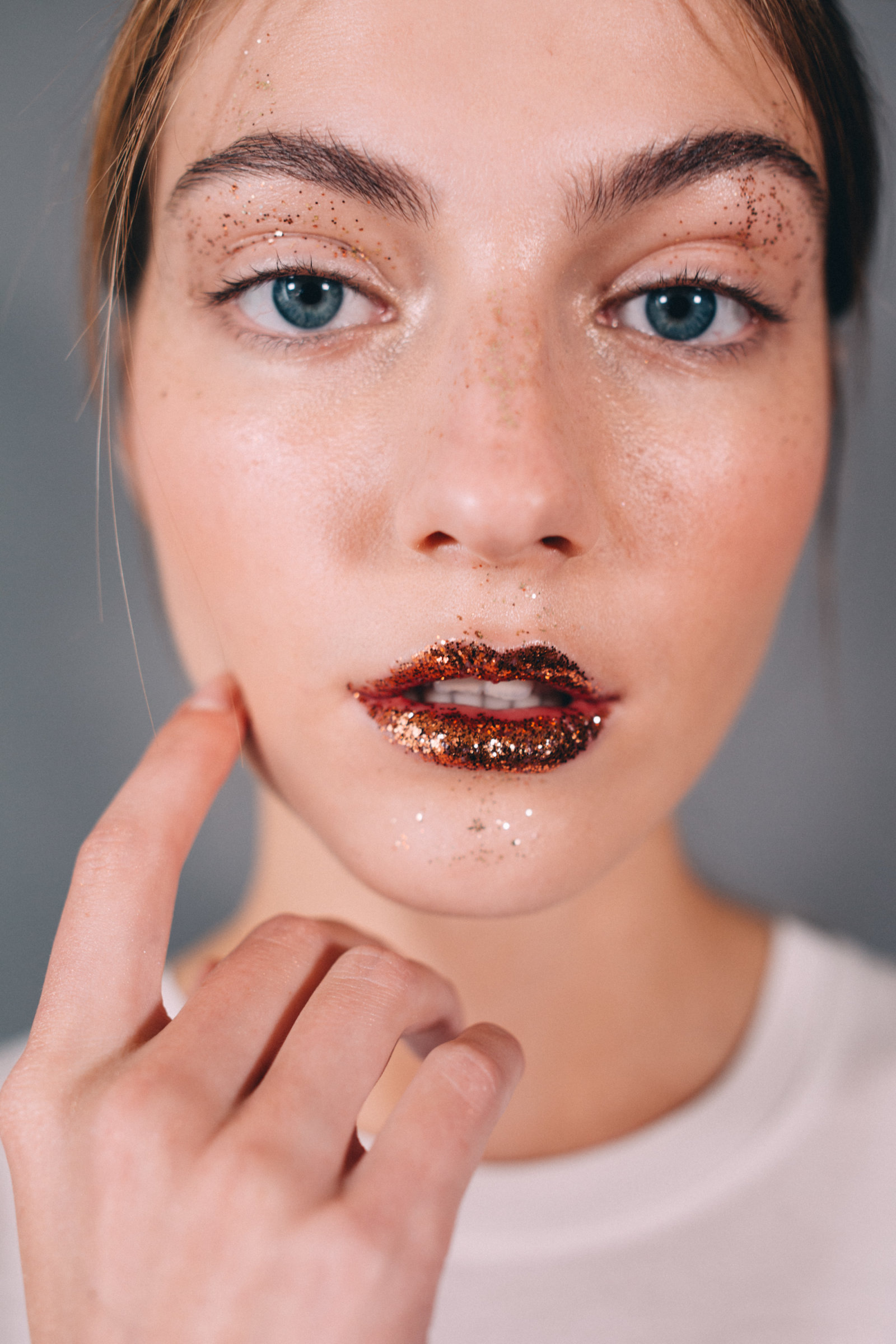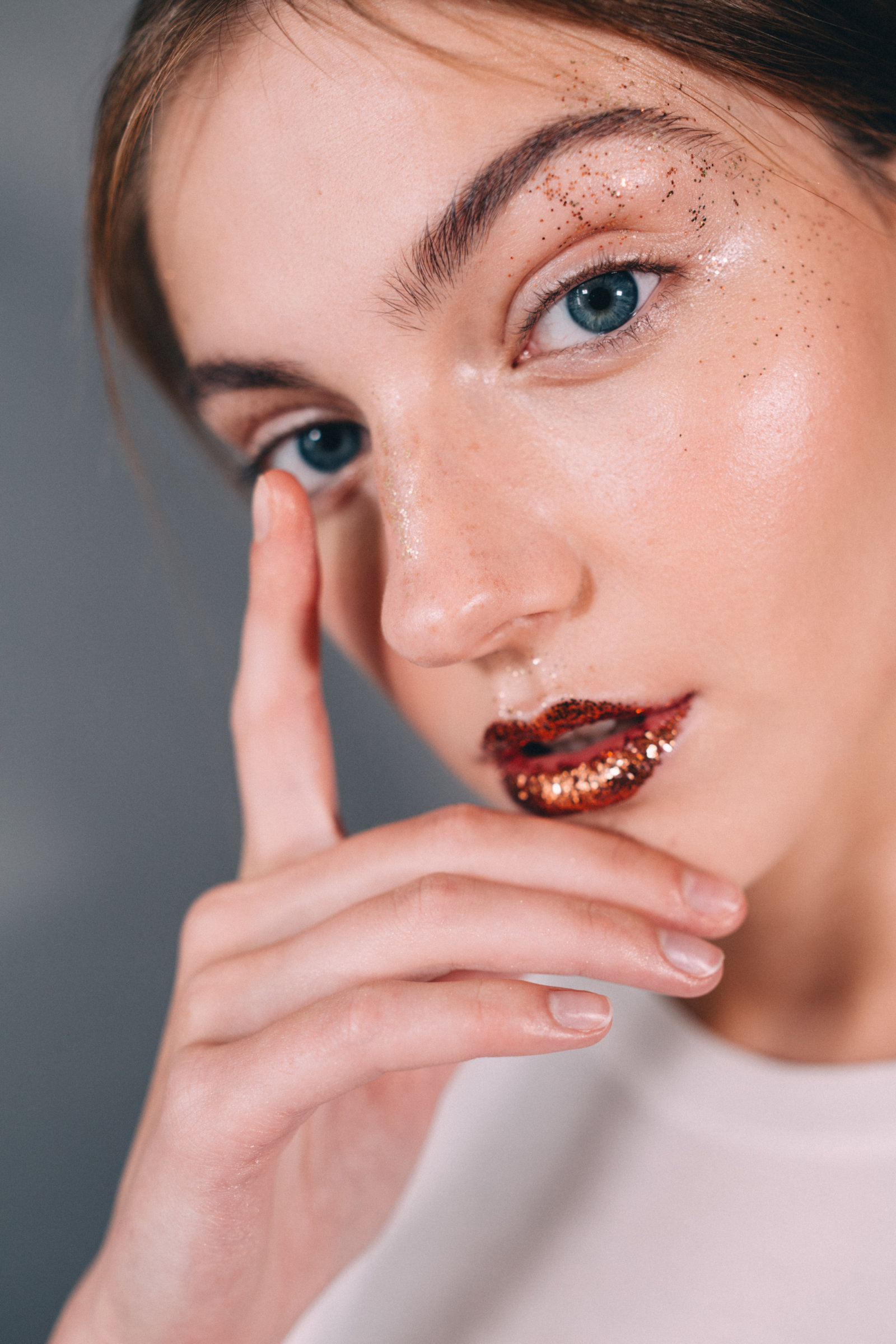 On the pout, we used glitters in copper nuances, precisely the shade Mulholland. For a more intense effect, we layered the glitters, tapping them in until we reached an even and rich coverage, just like a lipstick. The final result is indeed bright and intense, with the light reflected by the glitters in many different shades for a "kaleidoscope" finish and endless effects depending on how the light hits our lips.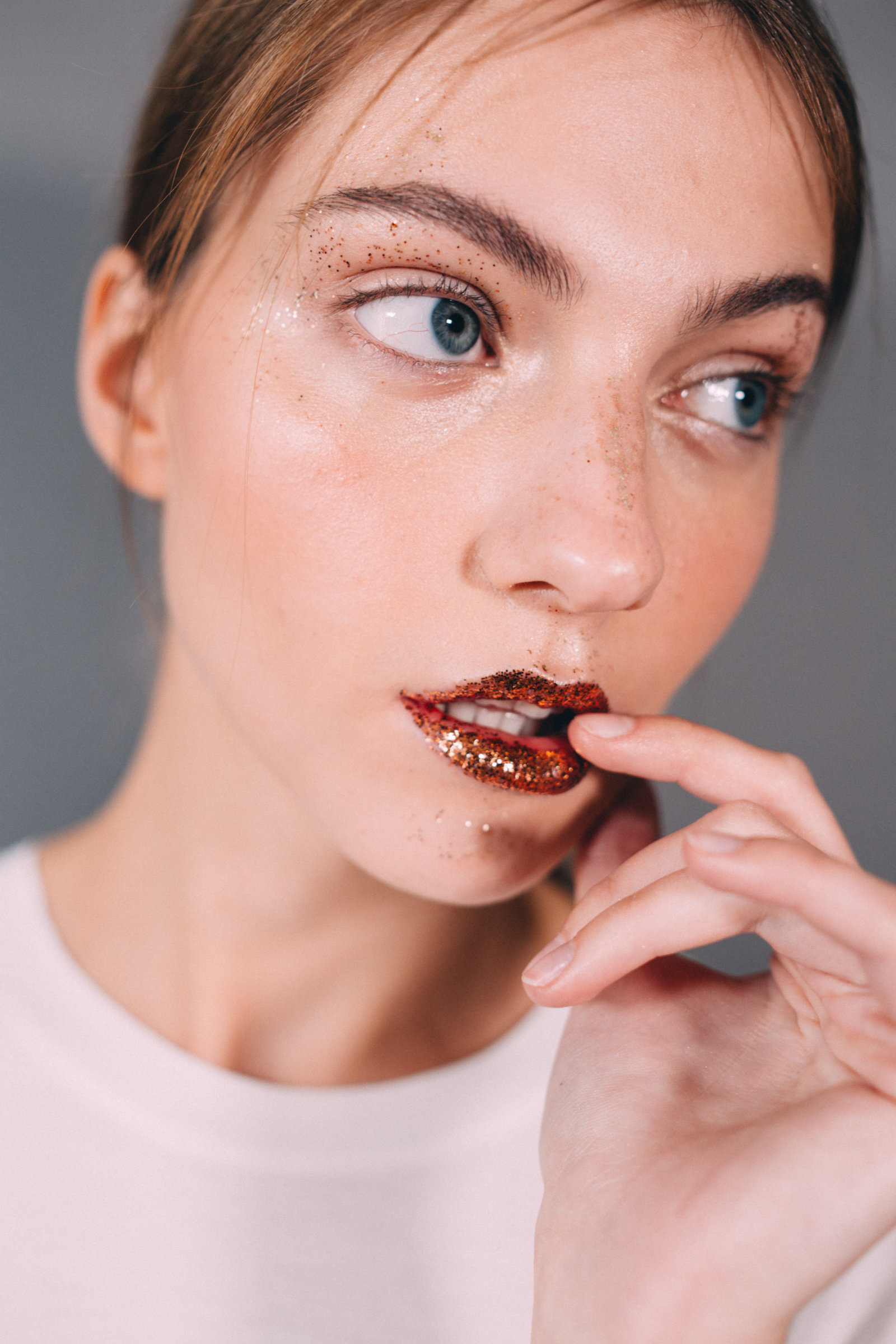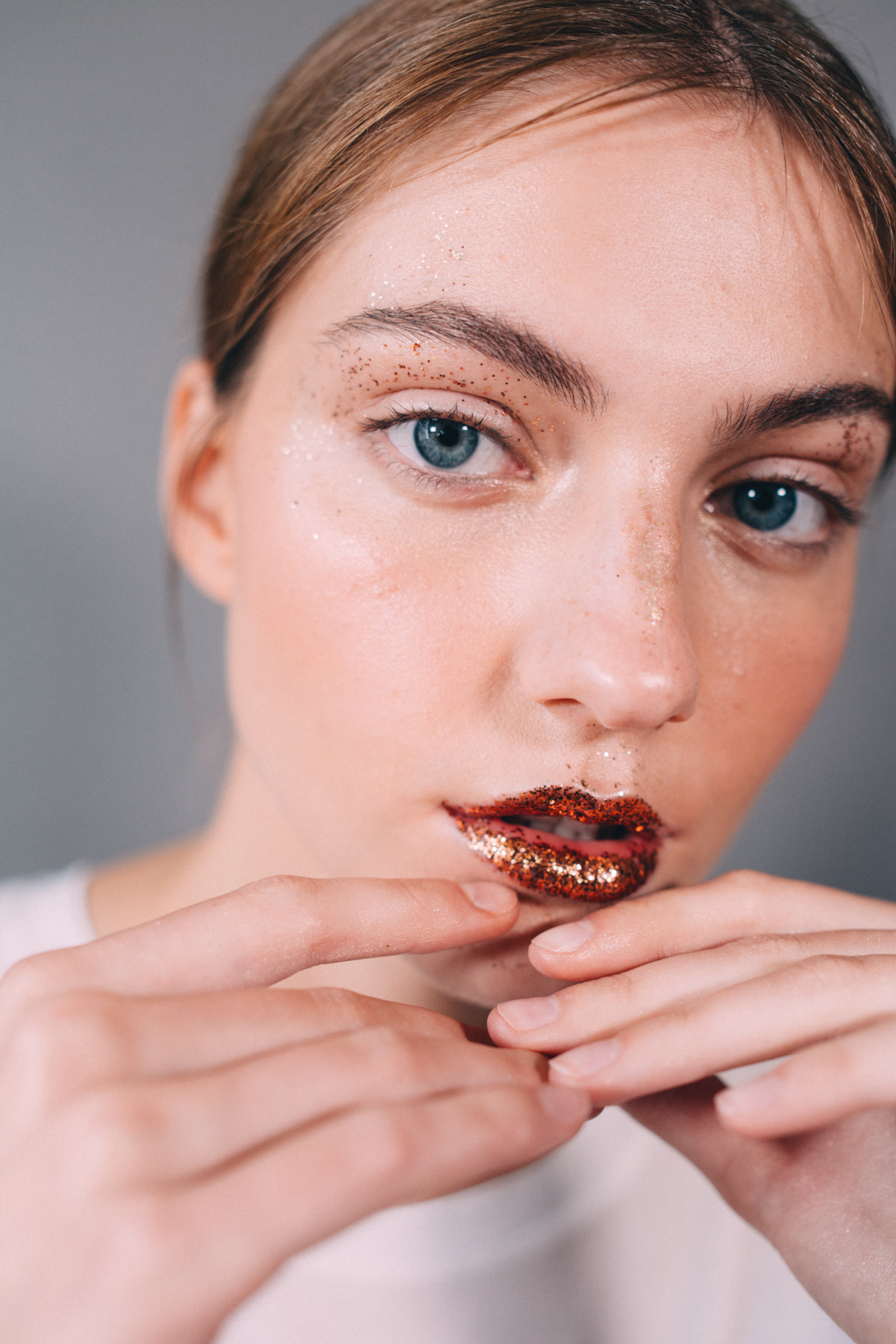 On the cheekbones, on the bridge of the nose, on the chin and the forehead, instead, we chose to spread a more delicate veil of glitter in the Dirty Penny tone, which is a rich gold, using the glitters as we would've done with a highlighter. 

The effect is graphic and beautifully edgy, but the result is entirely different than the one on the lips: it seems almost impossible to think that this is, in fact, just different layering and colors of the same product! And, since versatility is one of the qualities that we have been looking for in 2018 and that we are sure will win in 2019 too, for us the Lemonhead Glitters pass the test with an A+ and flying colors!