Skincare and Gen Z are a bit like Nutella and peanut butter: they always go well together.
What we mean to say is that by now more and more young people, thanks to Instagram and various social networks, have acquired a boundless culture in terms of skincare, becoming "experts." Between Bakuchiol, BHA, and AHA, enzymes, niacinamide, and many more skincare buzzwords, there is a whole world to discover. Unlike the beauty routine suitable for young skins, relatively little is known about the products suitable for more mature skins, belonging to 30 to 50-year-old people, and especially from the buyers of this age group. We know that marketing tips like "X makes wrinkles disappear in two weeks" are absolutely false and that (unfortunately) skincare does not do miracles and does not rejuvenate us, but there are still solutions and routines ad hoc for every age.
This article will not focus on the types of skin in terms of fat, dry, mixed, etc., but on all those small skincare measures that can be adopted on people ranging from 20 to 50 years old, addressing new types of skin problems, like slow cell turnover, loss of collagen and elastin, loss of tone and so on.
Skincare Routine for 20-year-olds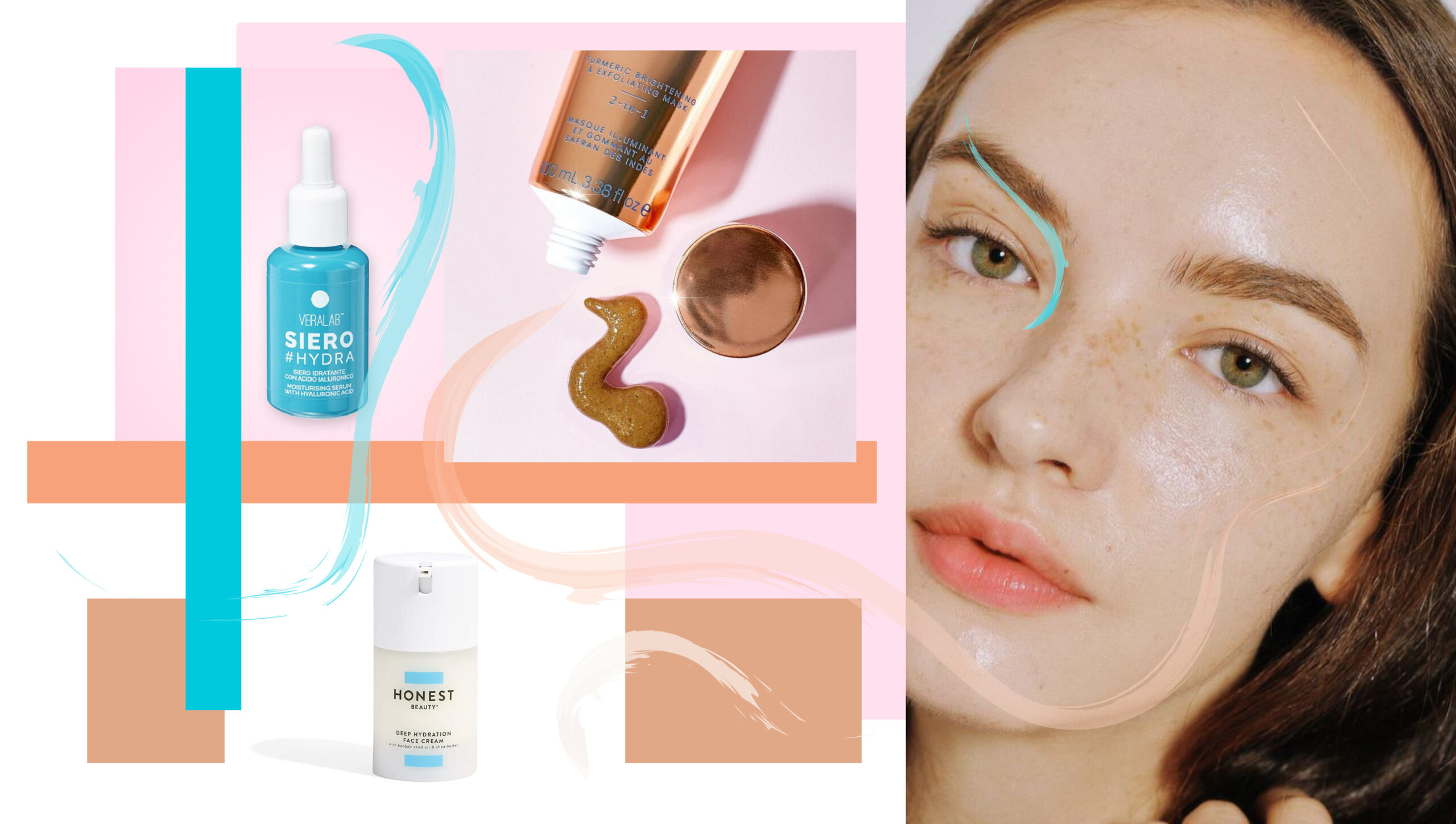 When you are 20, skincare should focus on prevention and measures to keep the skin hydrated, healthy, and protected (in addition to any treatments for specific problems).
A moisturizing combination consisting of a good serum and a moisturizer is perfect. A winning duo? The Serum Hydra by Veralab, which contains hyaluronic acid and polysaccharides extracted from the seed of the tamarind working in synergy to maintain the level of hydration + the Deep Hydration Face Cream by Honest Beauty, with a velvety but not too heavy texture that restores moisture to thirsty skin, also protecting it from external aggressors. Sunscreen ALWAYS and, if we want that extra touch that gives us a glowy look, an illuminating mask like the Turmeric Brightening & Exfoliating Mask by Kora Organics, containing turmeric, peppermint for an invigorating and refreshing experience + papaya enzymes that stimulate cell renewal, or a BHA-based exfoliant are perfect options!
Skincare Routine for 30-year-olds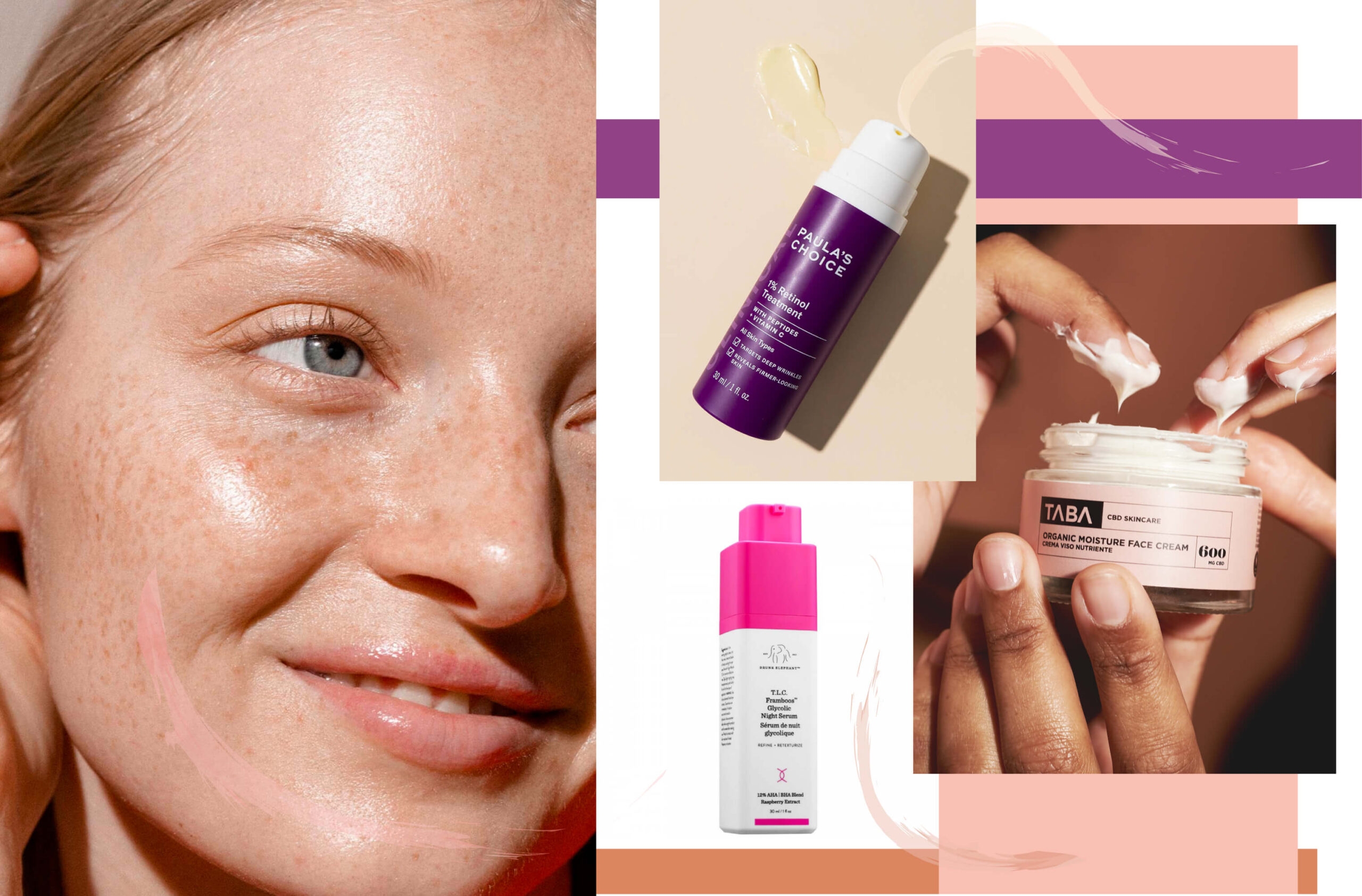 Ah, being thirty years old… In everyday life, turning 30 marks an important moment for almost everyone (how many of you have already been through that?), and even for our skin, it's not at all easy to bear. Well, that's clearly because at this age we start to produce fewer collagen fibers, the skin becomes even finer, less compact, and drier, and the first wrinkles make their appearance. In addition to that, the natural cell turnover rate begins to slow down, which means dull and "dry" skin and a tendency to acne and also to dilated and visible pores. To combat these first signs of aging, you must have a weekly peeling or exfoliating acid treatment, put on a moisturizing or nourishing cream, opt for a retinol treatment, and wear SPF every day. A combination that works a lot on this skin is the 1% Retinol Treatment of the Clinical line by Paula's Choice (a treatment that combines 1% of retinol, peptides, and licorice root extract to be used initially 3 times a week, gradually increasing the frequency until you get to alternate nights and, eventually, every night if your skin tolerates it) + Nutrient Face Cream by Taba Skincare, containing a mix of botanical extracts that nourish the skin minimizing the signs of age, in addition to – hear me out – CBD.
CBD and Retinol, as you know, are two ingredients that work very well together: retinol restores skin, smoothes wrinkles, and also improves damage caused by sun exposure, while CBD acts as a "calming" element, compared to external stress factors, in addition to being a cure-all for both dry skins, oily/acne-prone skins, and a super anti-age ingredient thanks to its fatty acids and antioxidants: its antioxidants are more powerful than vitamin C and vitamin E, can you believe it? When it comes to the "exfoliating" step, we recommend the T.L.C. Framboos Glycolic Night Serum by Drunk Elephant, which combines both AHA and BHA (the "dream team" of acids: glycolic, tartaric, citric, and salicylic) that improves the tone and texture of the skin, fine lines, wrinkles, and pores, followed by SPF 30+ containing moisturizing agents such as ceramides and peptides.
Skincare Routine for 40-year-olds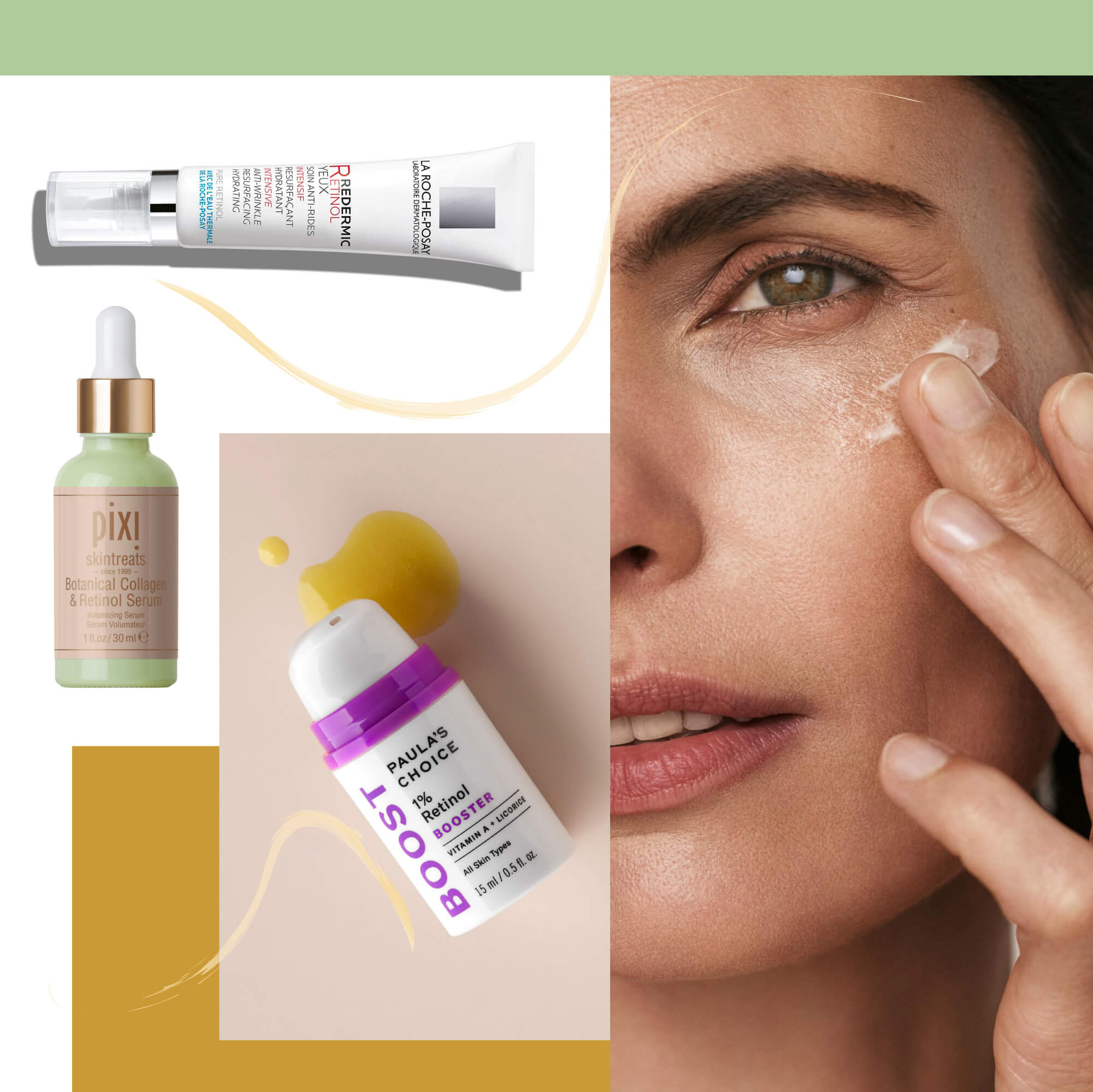 At the age of 40, wrinkles have formed and photoaging is more evident, in addition to the loss of volume and elasticity that will gradually make our face look less toned and subject to the force of gravity. Focus on regular use of retinol (the 1% Retinol Booster by Paula's Choice, which is even more concentrated because it's a booster, or the Collagen & Retinol Serum by Pixi, which is enhanced with collagen, retinol, niacinamide, and vitamins) and use it also on the eye area. As for the feared crow's feet: the Redermic [R] Retinol Eye Cream by La Roche-Posay contains 0,1% Pure Retinol + 0,1% of a complex that accentuates retinol + 0,2% of caffeine.
Add vitamin C to your routine to brighten your skin, but also to prevent sunspots, dark spots, and hyperpigmentation. A really good moisturizer? Dr. Dennis Gross's C + Collagen Deep Cream, which contains a powerful and stabilized form of vitamin C, as well as a concentration of moisturizing oils extracted from japonica camellia seeds, sunflower seeds, and rice bran, which is suitable for reducing transdermal water loss, and of course, our beloved collagen.
Skincare Routine for 50-year-olds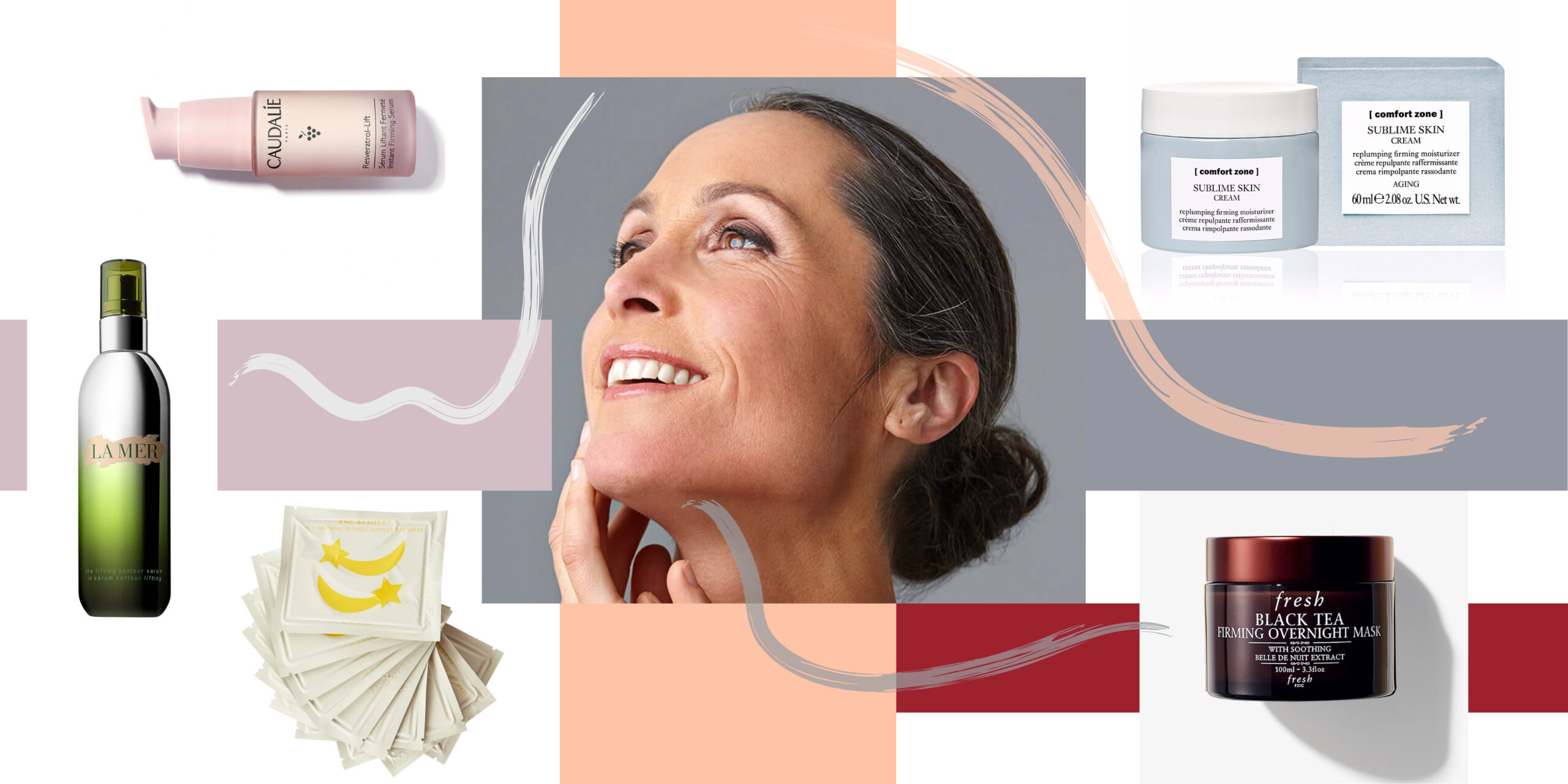 When we turn 50, the biggest problem becomes precisely the loss of tone: estrogen levels drop sharply, the degradation of collagen and elastin accelerates, cell turnover slows down considerably, the production of sebum decreases with a consequent increase of dryness and thinness of the skin. Skin also becomes even more sensitive to sunspots and wrinkles increase. In addition to the aforementioned retinol and vitamin C, at this stage, the use of tonicizing, firming and sculpting products should be maximized.
Some names? La Mer's The Lifting Contour Serum, which increases the production of natural skin collagen, defining and sculpting the face (perhaps combined with The Lifting and Firming Mask), the Sublime Skin Cream by Comfort Zone, a firming face cream with Micro and Macro Hyaluronic Acid, Peony extract, Palmytoil Wisteria, and Archi-liftTM technology, which leaves the skin more plumped, compact and nourished, and with more defined contours; the line of Fresh Firming with Black Tea, composed of serum, serum for the eye and cream contour, or the Resveratrol Lift Firming line from Caudalie. In addition to that, for one of those bad days, the spotlight shines on the patches of KNC BEAUTY, containing retinol, plumping collagen (our two favorite anti-aging ingredients), and hyaluronic acid, gold, licorice root extract, aloe, and rosemary extract.