Winter is coming (sounds familiar?) or rather, it has already arrived and, as we know well, we must protect our skin in the best way possible from the frosty weather, and redness, dryness, and all that it causes to our skin. How to do it? Well, with proper skincare and a cold-proof routine. In this article, we will list the indispensable ingredients in this period (the needs of our skin also change according to the seasons and, for example, vitamin C is perfect in summer, but retinol isn't because it's photosensitizing; without ceramides, our skin can become dry, irritated or itchy and this hardly happens with the warm weather when we produce more sebum. Here's a list of the best ingredients to use in winter and the products that can not miss from our fight against the cold!
Squalane – The Best Skincare Ingredients For Winter
A vegetable derivative of olive oil, squalane is a wetting, saturated and stable hydrocarbon, also present naturally in human sebum, that helps to maintain unchanged and reinforces the hydro-layer lipid of the skin and reduce water loss of the skin throughout the day. It has strong emollient and lipid-replenishing properties, in fact, it makes the skin more elastic, in addition to moisturizing and nourishing it.
The Ordinary: 100% Plant-Derived Squalane
A serum composed of 100% Squalane (is this Heaven?), which can also be used on hair as a heat protectant and nourishing balm, which helps to prevent the loss of transdermal hydration, the loss of elasticity and tone and deeply moisturizes dry skin.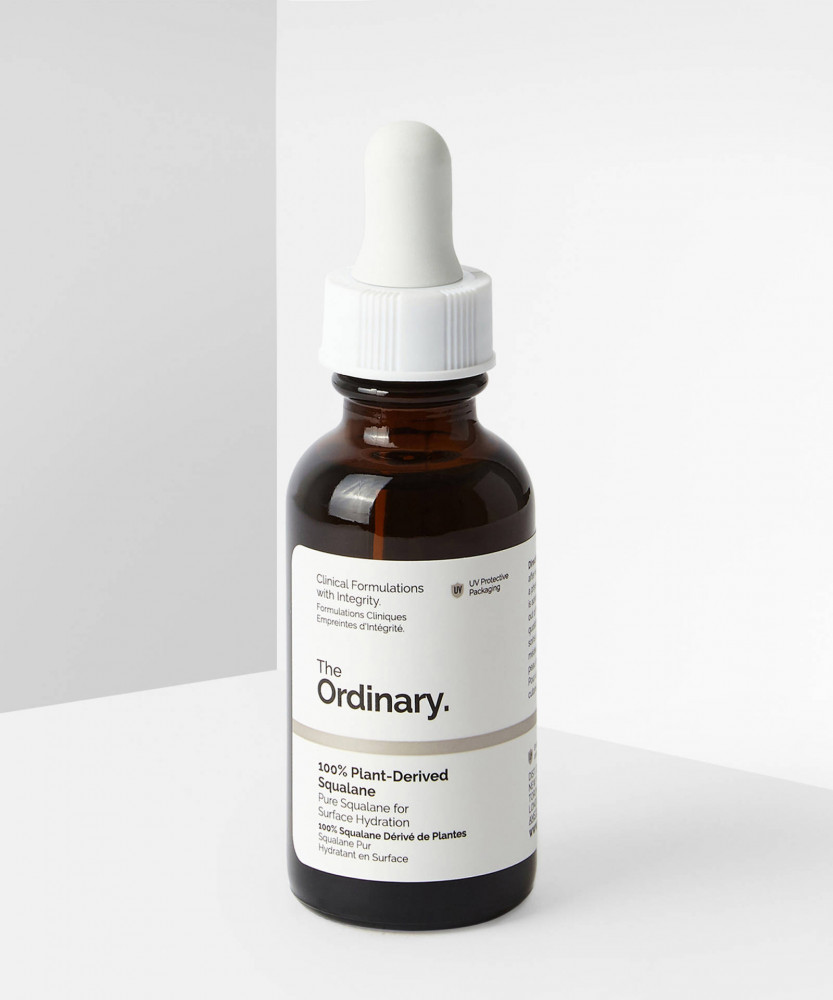 Hyaluronic Acid – The Best Skincare Ingredients For Winter
Another essential ingredient (for real!) for skin hydration is hyaluronic acid: its molecule is able to bind water molecules in large quantities and promotes hydrolipidic balance and collagen production, maintaining the elasticity and hydration of those skin types that over time have lost the ability to retain moisture and it is also important to preserve the health state of the epidermis and dermis.
Face D: Pure Plump H4 Acide Hyaloronique Serum
After spraying a bit of thermal water in your face, the ideal is a serum with Hyaluronic Acid: Face D serum contains pure Hyaluronic Acid with 4 molecular weights, that incorporates and retains water instantly multiplying the water reserves that are essential for the optimal functioning of cellular metabolic processes and is enriched with vitamins from the B group, useful to the skin: Niacinamide (repairing, anti-redness, reduces the dyschromia) and Provitamin B5 (anti-inflammatory, promotes the production of collagen and elastin).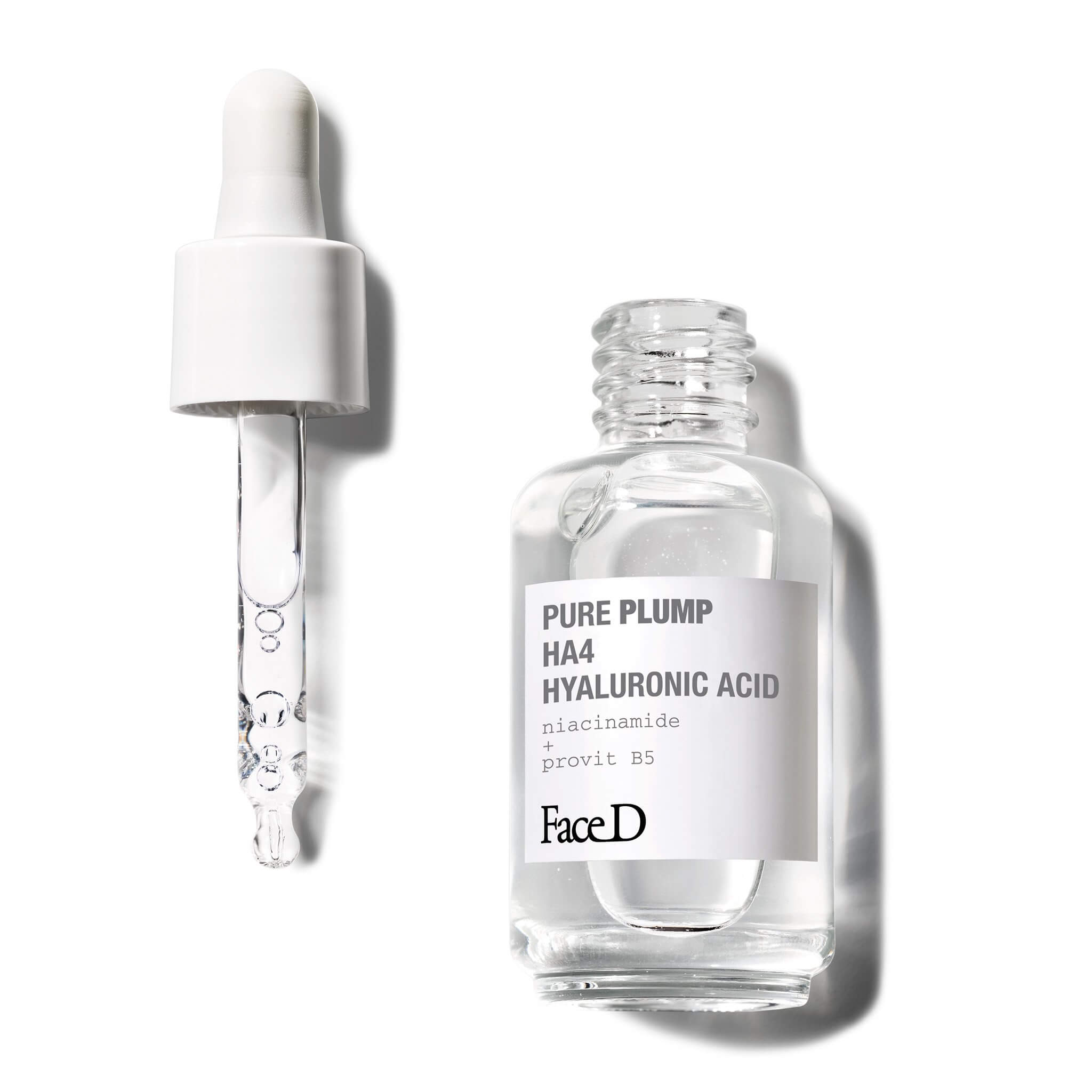 Retinol – The Best Skincare Ingredients For Winter
Retinol is one of those ingredients that should be used more in winter, due to its photosensitizing nature. In the cold seasons, when the sun is often covered by clouds, the Retinol returns triumphant in our skincare routines. It is known for its ability to prevent skin aging and wrinkles + fight free radicals and sun damages caused by exposure to UV rays, but what you may not know is that it is also ideal for dry skin types because it favors the synthesis of collagen helping to regain elasticity and density. P.s. Since retinol increases the sensitivity of the skin to sunlight (and yes, even in winter), use SPF!
Dr. Dennis Gross Skincare: Advanced Retinol + Ferulic Overnight Wrinkle Treatment
Phyto-Retinol Blend, Ferulic Acid, Niacinamide, and Enotera extract combine in order to smooth lines and wrinkles, improve the elasticity of the skin and increase hydration and, finally, to help the process of cell renewal.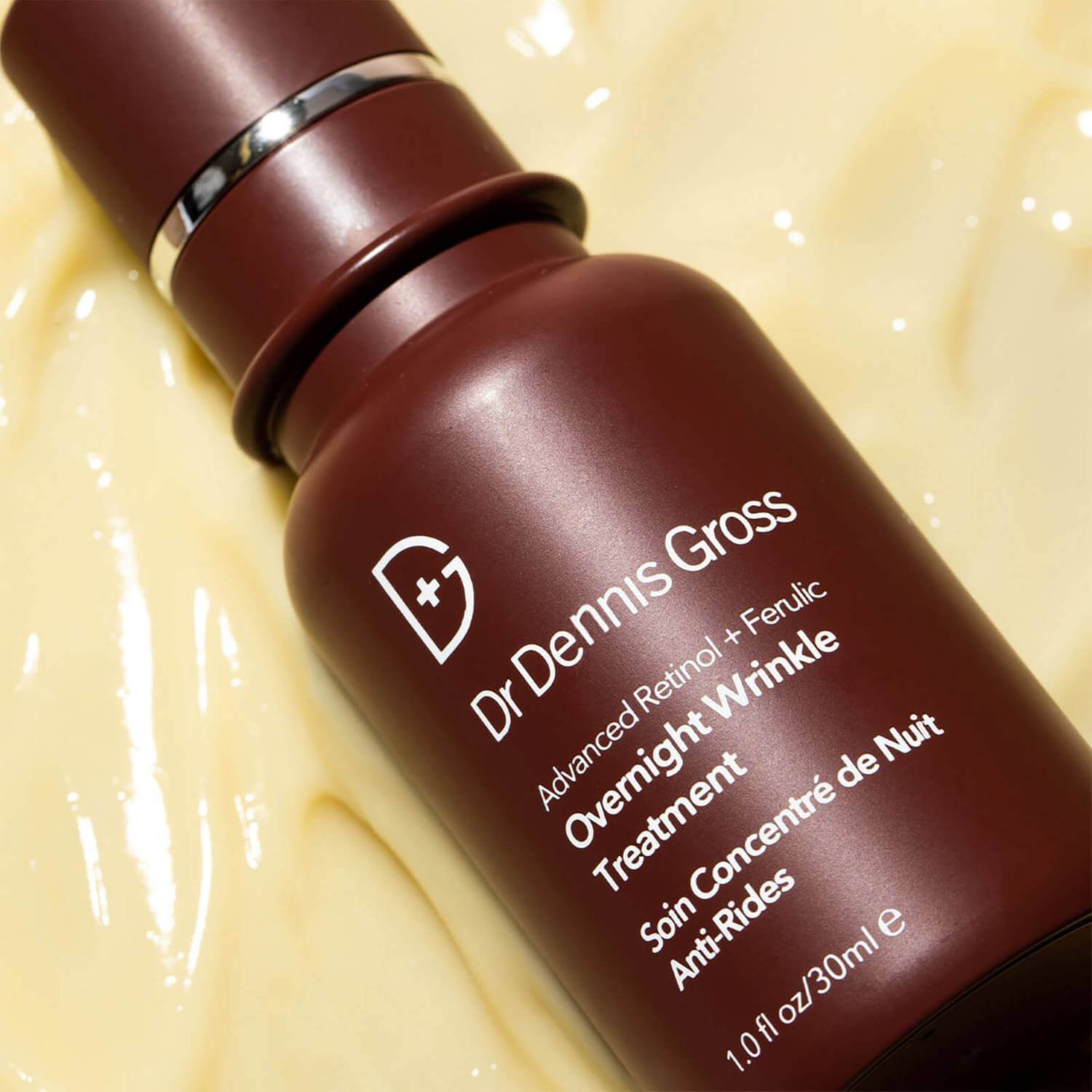 Ceramides – The Best Skincare Ingredients For Winter
Ceramides are restorative fat lipids naturally present in the skin and are very important for maintaining a high level of hydration since they retain water inside our skin and prevent external hydrophilic substances from entering inside. In addition to that, if the level of ceramides present in the skin is low, the skin barrier weakens (this happens more often in winter when our skin can be stressed by external environmental factors) and can cause irritation, dehydration, and redness: for this reason, they are perfect for relieving eczema, rosacea, psoriasis, but also skin dryness.
Dr.Jart+: Ceramidin Cream
The Ceramidin Cream by Dr.Jart+, from the famous Ceramidin line, is suitable for dry, irritated skin suffering from itching, rough texture, and discomfort; contains the patented complex 5-Cera Complex, which integrates the already existing ceramides in the skin and enhances the protective layer, offering long-lasting hydration and improving the conditions of the skin barrier even in extreme climates. In addition to that, Bifidobacteria lysates, beetroot, and hyaluronic acid keep a high moisture level in the skin – and work well in harsh climates – and soothing and regenerating agents such as adenosine, shea butter, and algae extract, nourish and soothe.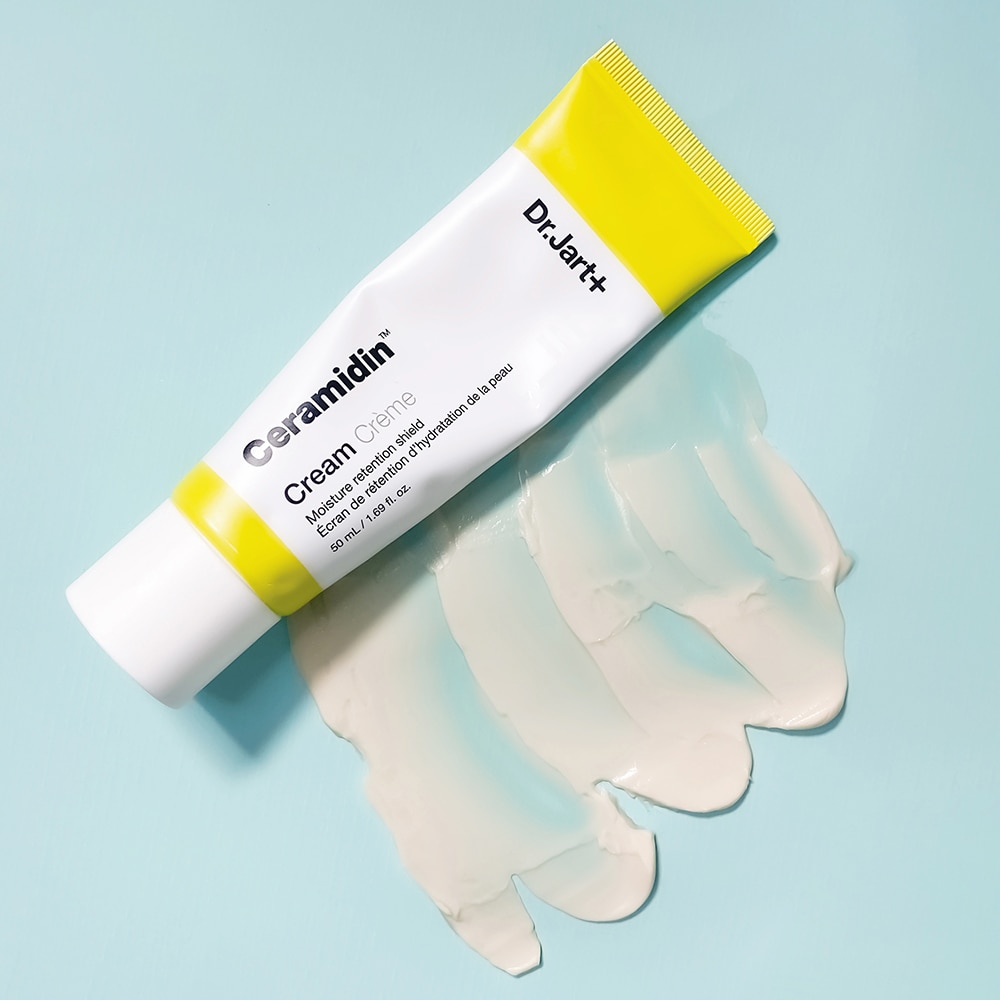 Centella Asiatica – The Best Skincare Ingredients For Winter
Centella Asiatica, which is known to us thanks to Korean skincare, is mainly known for its soothing, anti-redness, and scarring properties, in addition to its ability to restore the skin hydrolipidic film and to relieve irritation and inflammation. Moreover, thanks to its antioxidant components such as vitamins, niacin, and carotene, it helps the skin to repair and regenerate, reduces inflammation, stimulates the production of collagen and the formation of hyaluronic acid, normalizes the pH of the skin, and, last but not least, it prevents and mitigates acne scars and signs.
Cosrx: Centella Blemish Cream
Redness and irritation do not appear in winter only on dry skins: even acne-prone, oily and imperfect skins have to deal with the situation. The Centella Asiatica is, therefore, the perfect ingredient also to be used on this type of skin and our favorite product, recently, is the Centella Blemish Cream of Cosrx, an anti-imperfection treatment cream, formulated to counteract pimples and acne, redness, and imperfections, containing water leaves of Centella Asiatica, which acts on the microcirculation with anti-inflammatory action, and zinc oxide (super soothing). It should not be used as a normal moisturizer, be careful: it should be applied on individual pimples or on the spots to be treated with impurities and acne, and, as it is similar to a paste, it's better to use it in the evening.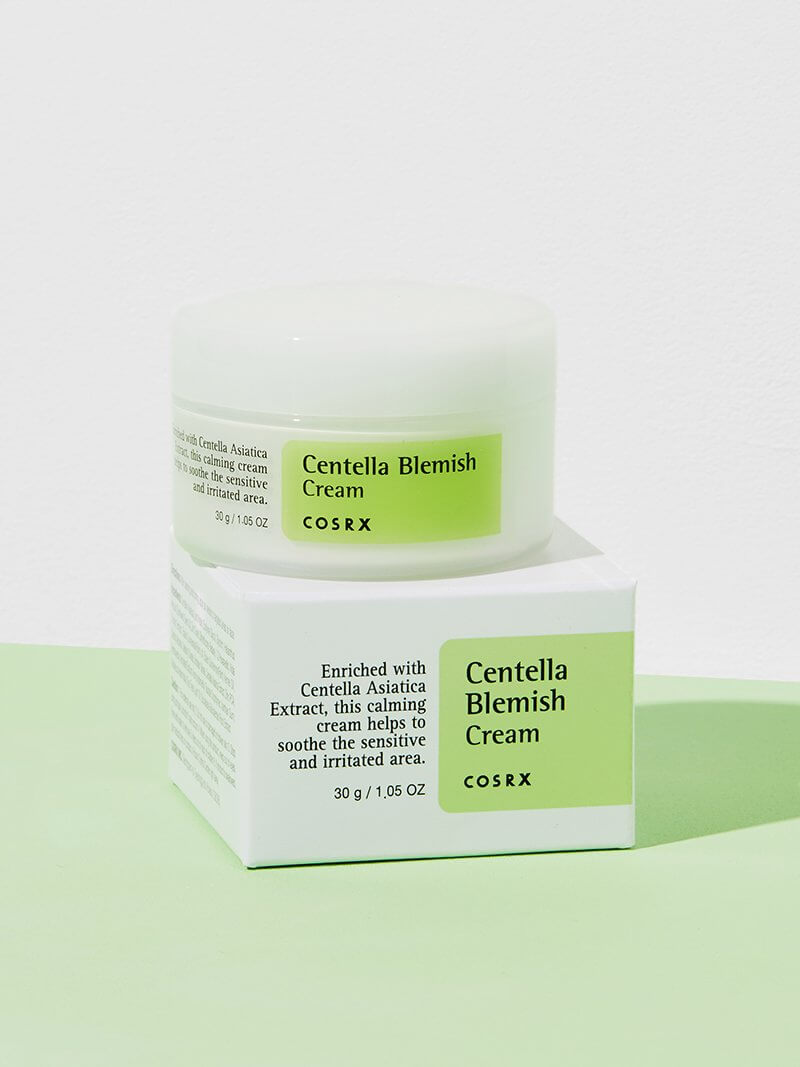 Vitamin E – The Best Skincare Ingredients For Winter
Vitamin E is a powerful antioxidant, particularly suitable for dry and sensitive skin, which needs an anti-aging effect. It eliminates oxidative and inflammatory processes that accelerate aging, restores the ability of the skin to retain water, repairs damage to collagen and elastin fibers, and strengthens the skin barrier against UV rays, limiting the appearance of spots and discolorations.
Alpha-H: Vitamin E With Macadamia Serum
Vitamin E is found as a component in many products, mainly "pure" in the form of oil to be mixed with the cream or used as a last step of the routine, but hardly found creams or serums of this type. What we like about this serum is the fact that it is – wait for it – an almost completely "pure" serum. In fact, it contains only two ingredients: our friend, vitamin E, and macadamia seed oil, which offers additional antioxidant protection, as well as superlative moisture, thanks to its rich content of fatty acids.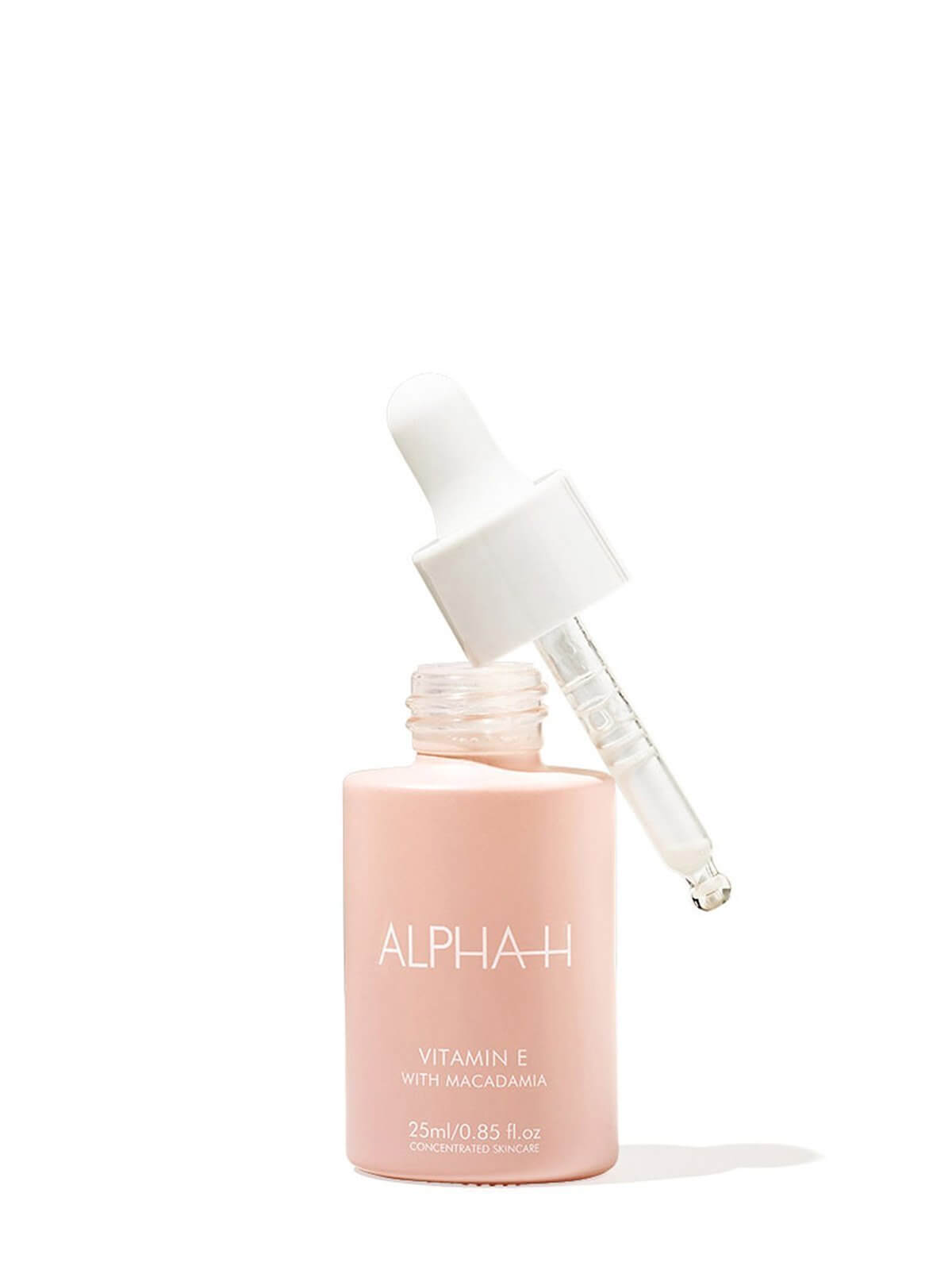 Avocado – The Best Skincare Ingredients For Winter
Avocado is a beloved ingredient thanks to its moisturizing, nourishing, and illuminating properties and it is rich in antioxidants that fight free radicals, vitamins A, D, and E, able to keep the protective barrier of the skin healtht, + Omega 3, vitamin E and phytosterols – essential for skin hydration and elasticity.
Pai Skincare: Love & Haight, Avocado & Jojoba Hydrating Moisturizer
Organic avocado and jojoba oil, together with omega 3 and 6 are mixed in this cream with the scent of jasmine and May chang. Its texture is so buttery but at the same time light, therefore suitable for both dry skin (maybe we recommend integrating it with an oil), but also to combination and oily skins that need to be soothed and moisturized but excessively heavy products.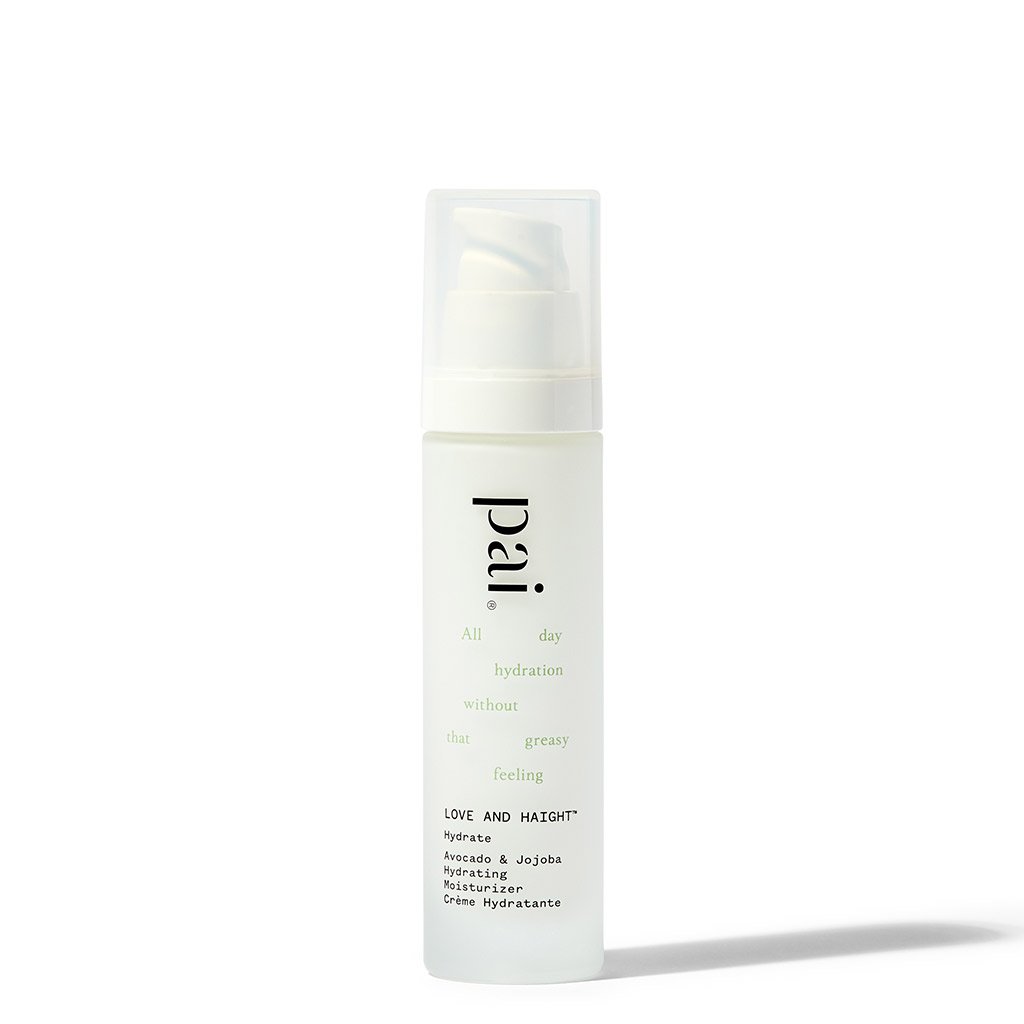 SPF – The Best Skincare Ingredients For Winter
Not a real "winter" moisturizing or anti-redness and dryness ingredient, but a fundamental step in any season and with any temperature: we do not want to hear excuses. Protecting yourself from the sun and UVB and UVA rays is no joke and although it may seem unnecessary on a cloudy or rainy day, our skin is exposed to sun damage all year round: if UVB rays cause sunburn and are stronger in summer, UVA rays, regardless of climate, cause photoaging, stains, and premature aging! Then, if you go to the mountains, high sun protection is even more necessary because the rays become stronger and the sun reverberates on the snow and the air more rarefied, allowing more solar radiation to pass through!
Vichy: Capital Soleil Uv-Age Daily
Someone called it one of the best SPFs for the city for its ultra-fluid and highly breathable, and especially not sticky texture, but it is perfect for any "altitude" given the 50 anti-UVA and UVB protection factor, which acts on the existing signs of photo-aging and at the same time prevents them. It contains 4% Peptides, 2% Niacinamide, probiotic fractions, 10% Vichy volcanic water, and NETLOCK, a multi-patented technology that causes UV filters to be "trapped" in microcrystals creating an ultra-thin and ultra-resistant film.
Zinc – The Best Skincare Ingredients For Winter
Have you heard at least once in your life that a small percentage of zinc is used in children's pasta, haven't you? Known as an extremely soothing ingredient, it is contained in the skin in a relatively high amount and is appreciated for its ability to protect it from environmental stress factors, from stress, from premature aging (in fact it plays an important role in the synthesis of collagen) and by inflammation and redness. It is also particularly appreciated in the treatment of rosacea, eczema, and psoriasis.
Avene: Cicalfate+ Restructuring Protective Cream
A cream that soothes, protects, and helps to restructure fragile skin, forming a protective film on the superficial layers of the epidermis. Its formula contains a combination of thermal water by Avène, [C+-Restore] a postbiotic active ingredient that helps to accelerate the process of epidermal restructuring, copper sulfate, and zinc sulfate. Perfect to soothe small daily irritations, it applies directly to the affected area (the sides of our nose are very often irritated) according to the need!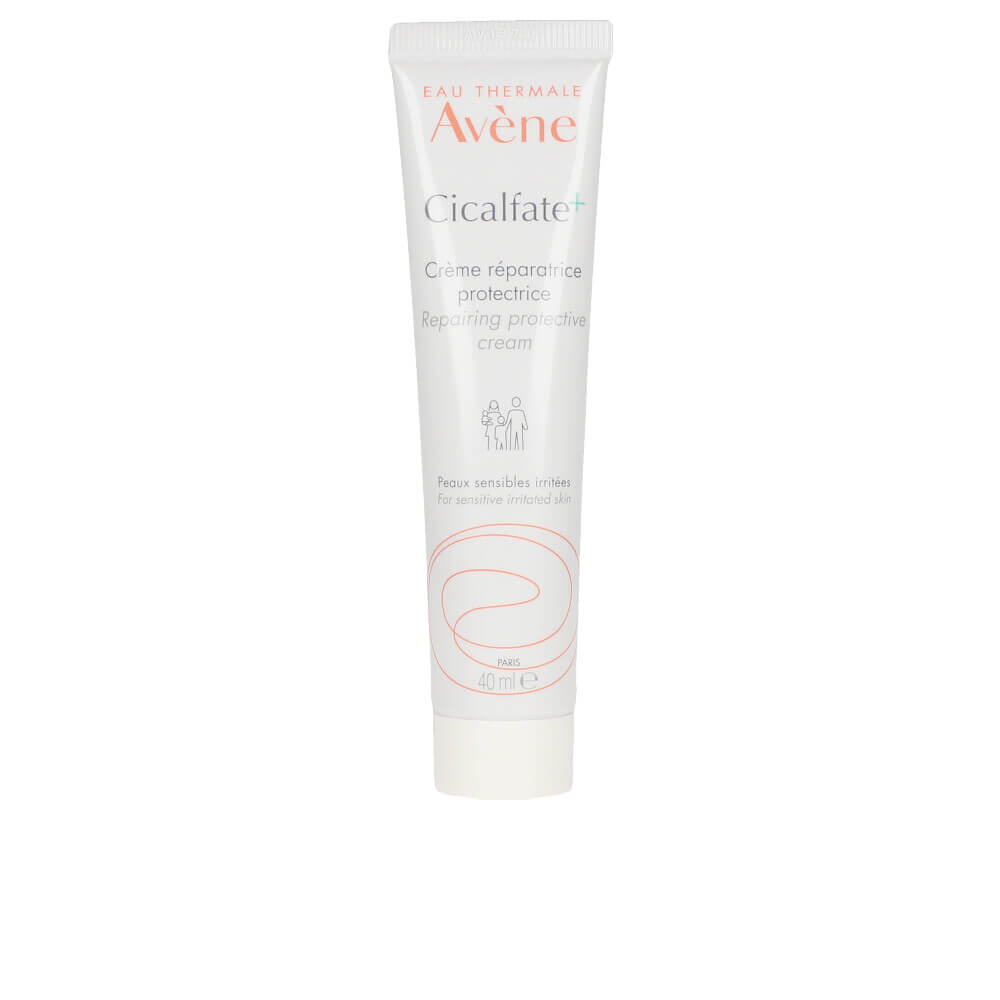 Peptides – The Best Skincare Ingredients For Winter
Peptides are also found naturally within the skin and are small chains of amino acids that act in the construction of proteins such as collagen, elastin, and keratin and stimulate skin cells to perform specific functions, such as the ability to "repair" or to produce, for example, collagen or regenerate. Not only that: they strengthen the skin barrier, improve tone and texture and make the skin more elastic.
Paula's Choice: Peptide Booster
A booster (even more concentrated than a serum), which contains a mix of eight peptides, each of which is inserted into the formula to fight against a specific anti-age problem: from loss of skin radiance to uneven skin tone, up to fine lines and wrinkles. In addition to that, it also contains moisturizing amino acids, the constituent elements of peptides and proteins + Adenosine, a derivative of the soothing yeast. Mix it with your favorite cream or serum or apply it alone during the skincare and enjoy its texture similar to a gel, but once applied, skin becomes soft and silky!