As you know very well from our "The Skincare Talk," we love Gita Bass. She is an amazing, talented makeup artist, with a list of clients (and glowing skins) that always surprises us. Gita is also a big supporter of natural products in general and, while some time ago we brought you to her bathroom to get to know her own skincare routine and her great love for clean ingredients, today we'll take you to an even more "magical" place: her Beauty Room. This is where Gita organizes all her makeup (and more skincare, of course), the items she receives from brands, the ones she collects, the products she uses to create her makeup kit for her clients, and also those she uses on herself. An expanse of perfectly organized drawers, with colors and patterns that meet each other. It was precisely in those drawers that we were able to admire some discoveries such as products from Ilia or Kosas and its eyeshadow palettes which, as she herself says, are too beautiful to be used. If you want to peek into the drawers of the New York makeup artist who is transforming everyone's skin, if you want to know what her path has been, and her must-have products, and if you wish to learn about her philosophy on the world of beauty, as well as her favorite detox bath, then you are in the right place (and wait to see the eyelash drawer).
What's your earliest beauty memory?
I fell in love with makeup when I went to Japan and I walked into a Shu Uemura store. In those days it was just a simple, clean, beautiful display with every color under the sun and I became obsessed. I wanted to try every single thing in the store and see what every color looked like on every different face, that kind of sparked my real love. At that time I was 18 or so, I was going to law school and dropped out because I just could not handle it. I wanted to do something more fun and exciting so I went to Japan and walked into this Shu Uemura store and that was it.
What's the first thing you do when you wake up, and the last one before you go to sleep?
The first thing I do is cleanse my face with a True Botanicals cleanser. The last thing I do is usually applying an overnight moisture mask that kind of seals everything that I've done.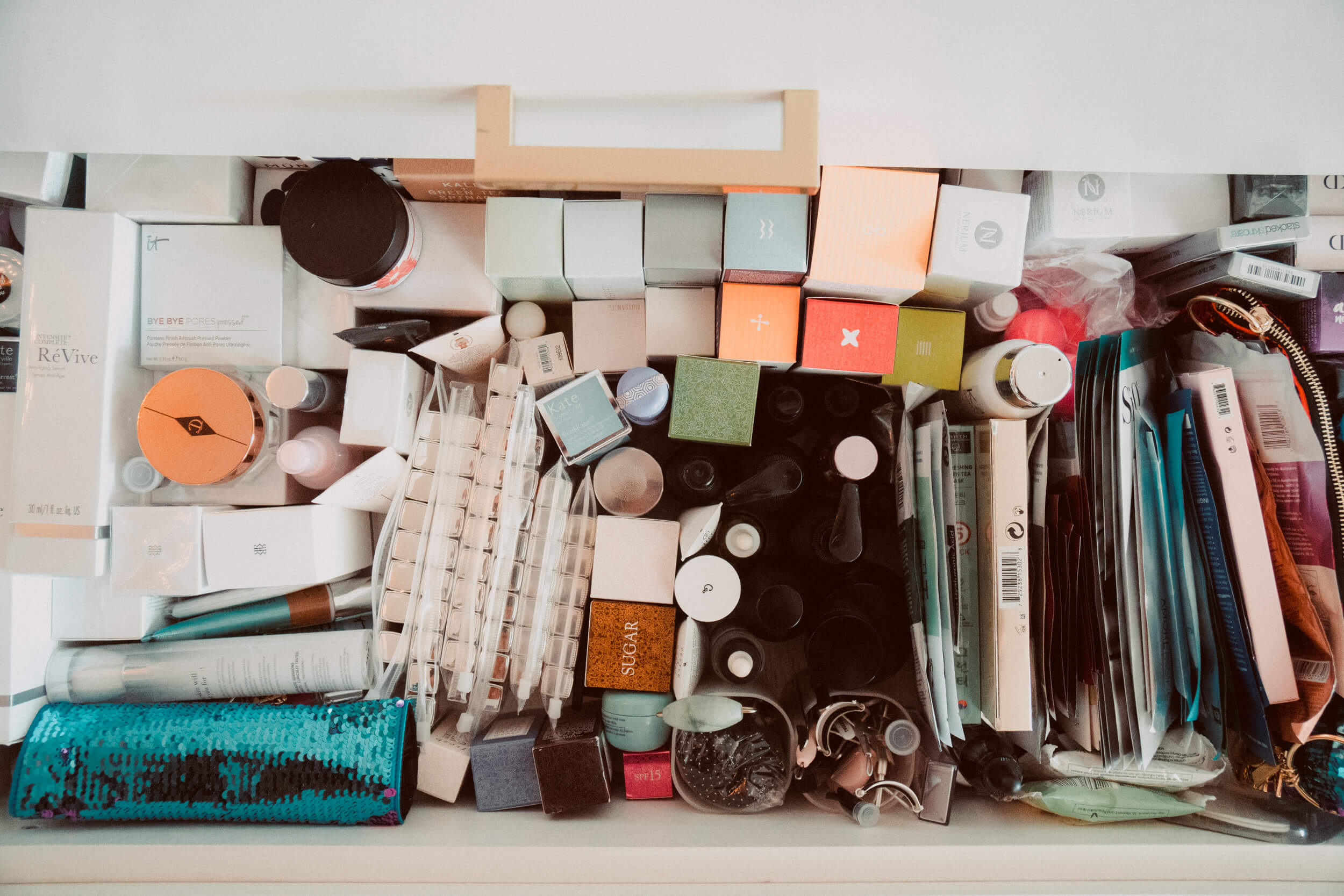 "…I walked into this Shu Uemura store and that was it."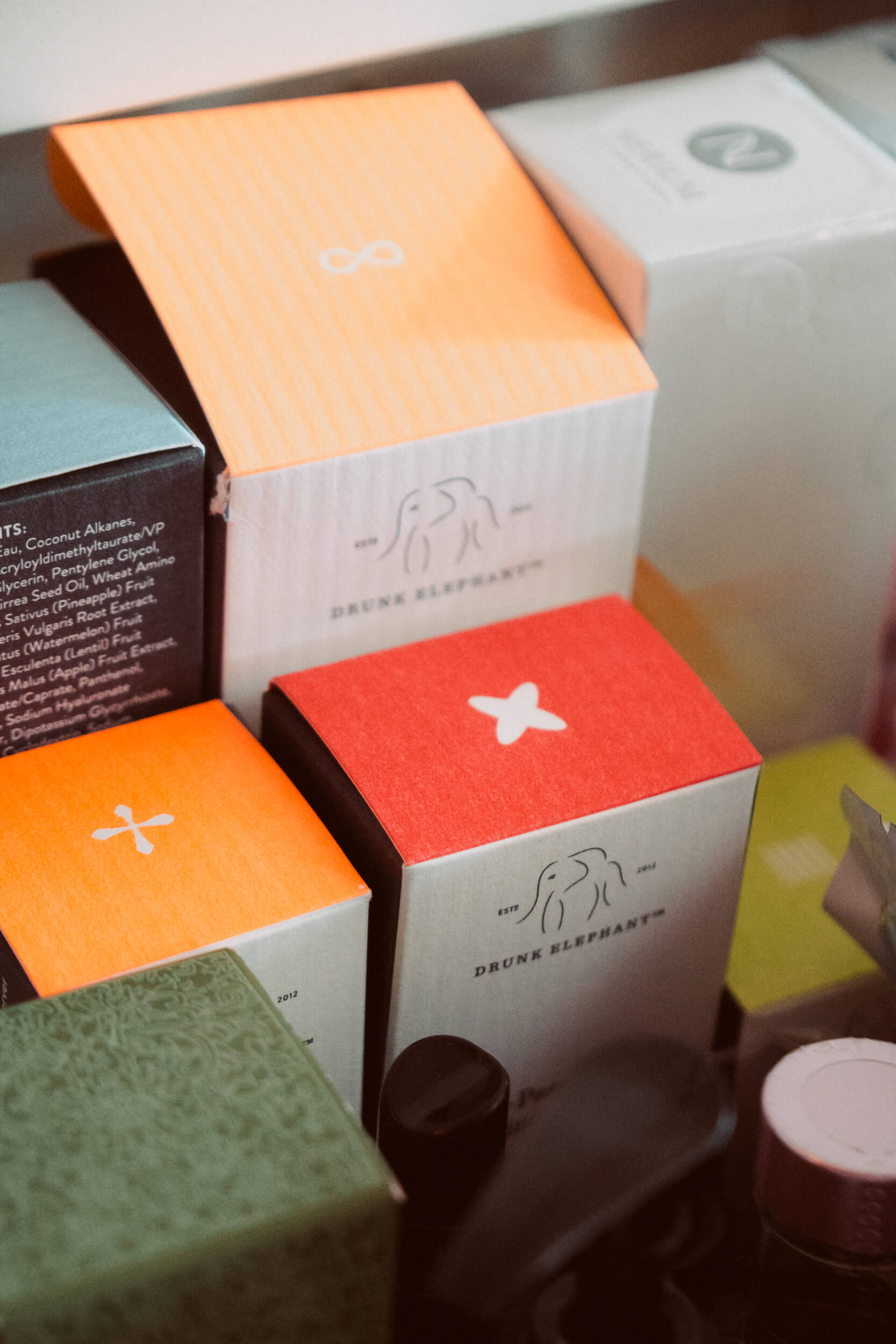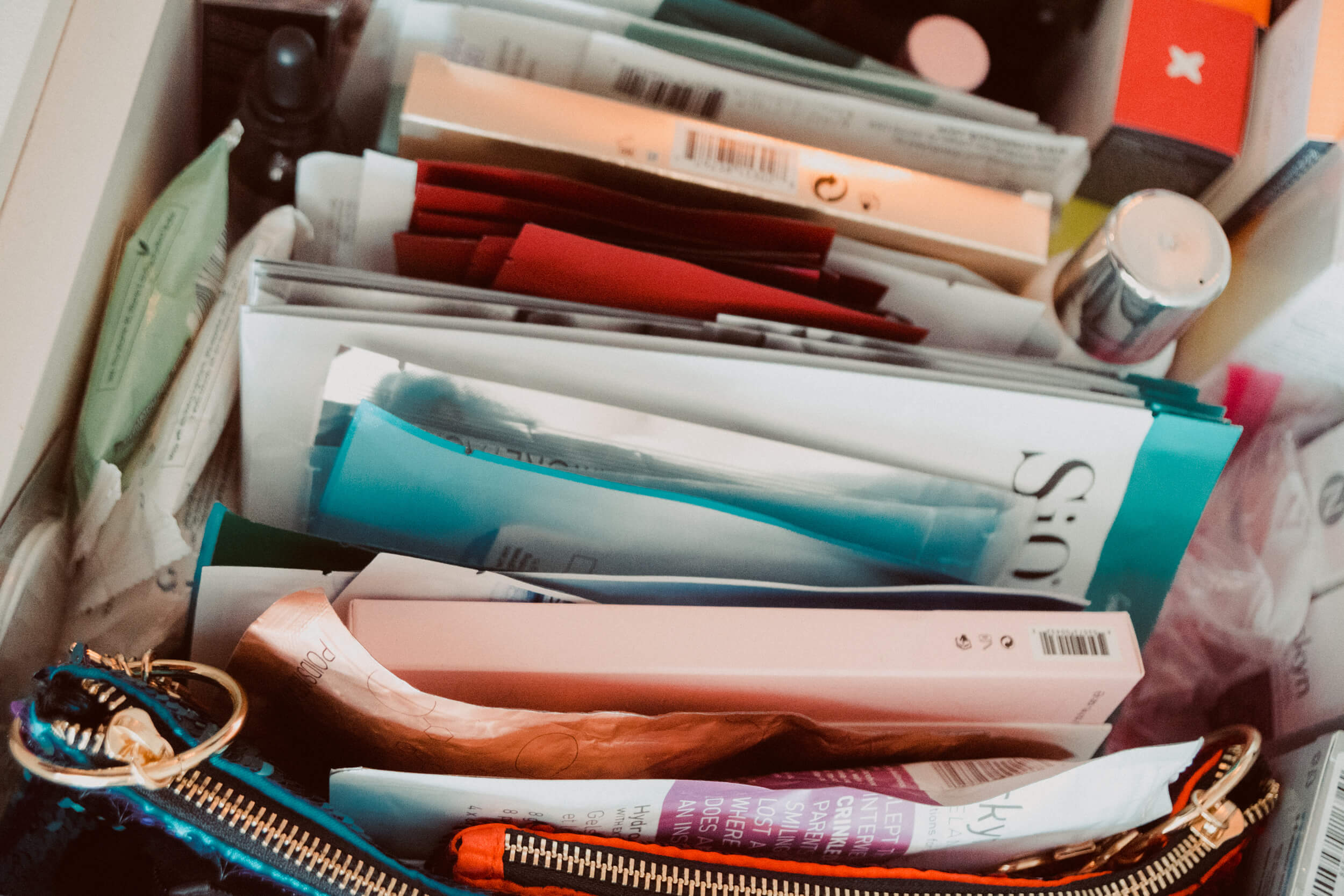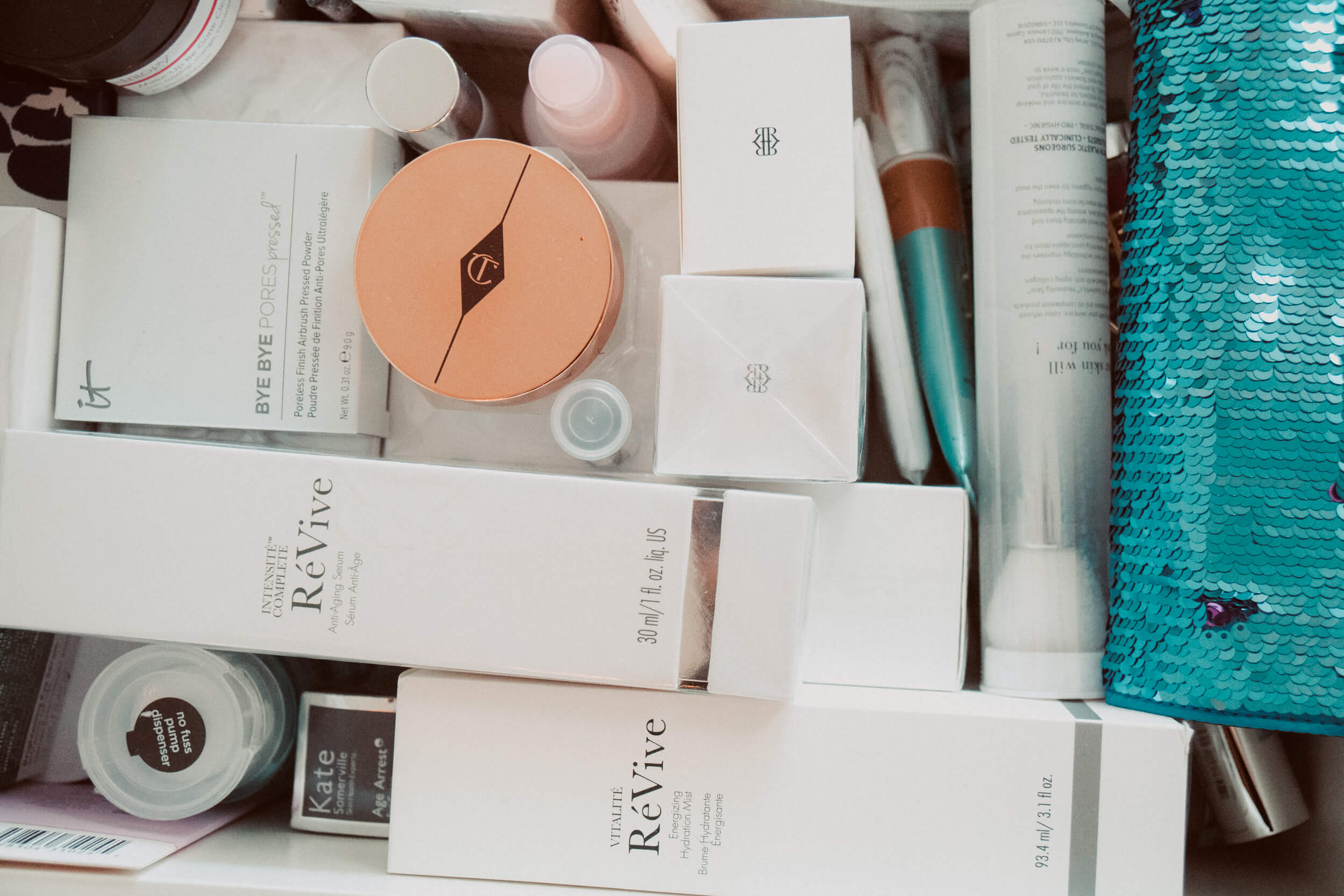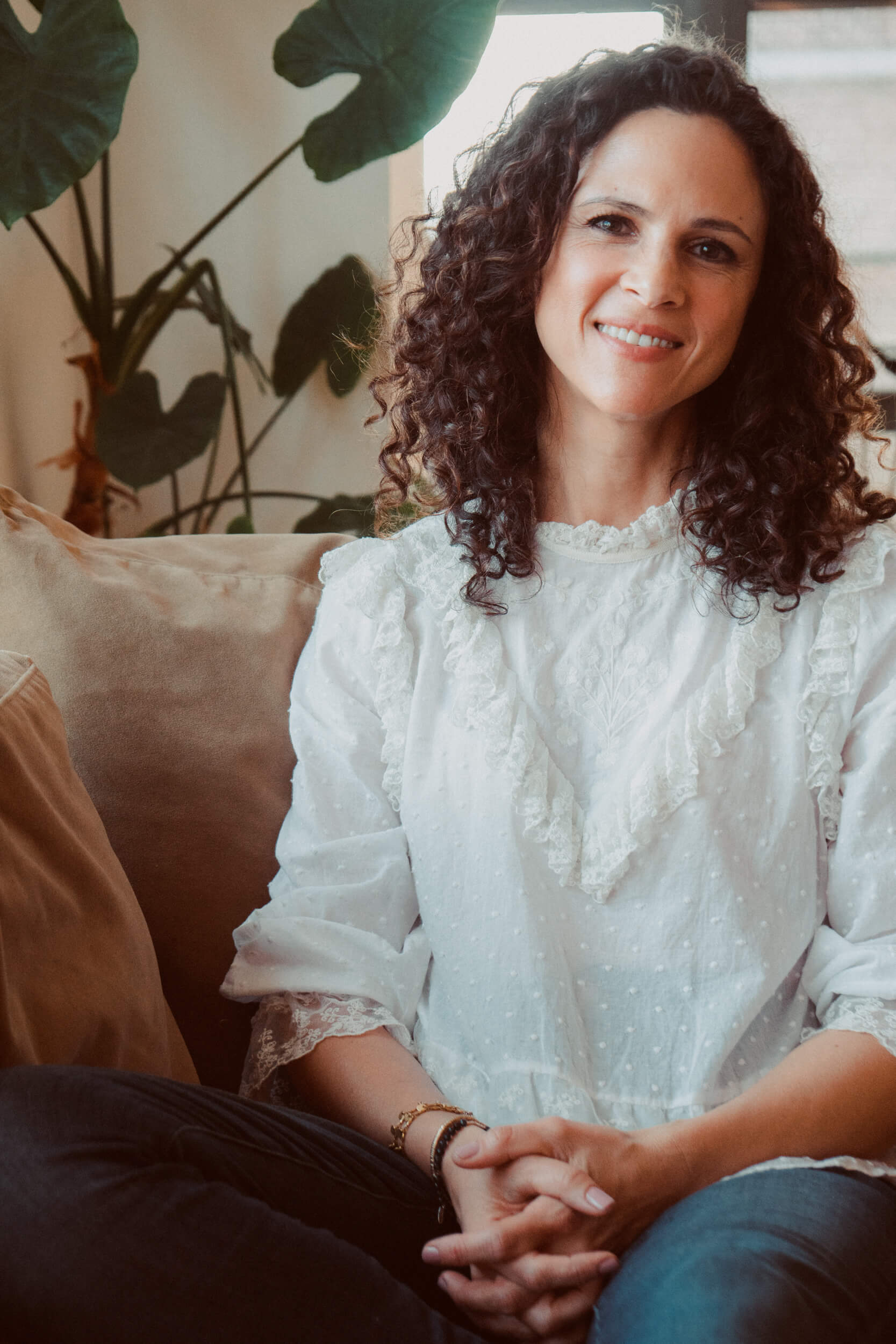 What's your favorite facial?
Gua Sha facial is my favorite, which I recently had at True Botanicals and that was what made me fall in love with that stone. It is a very gentle facial, she uses the rose quartz Gua Sha stone. I have a lot of things that you put on your face that vibrate, but there was something about this stone, it felt magical and almost primal. It moves your circulation, it encourages lymphatic drainage, so it reduces any inflammation you have in your body, and increases collagen production. I have a lot of tension in my face, I grind my teeth, I haven't used any Botox and I don't want to, so I have a lot of frown lines and so on. I think the tension in your face can make you look older and this facial really helps to relieve it from your face and make you look younger. That's my philosophy for beauty: if you feel good, you feel relaxed, you feel healthy then you look beautiful and that's where your beauty should come from rather than poisons, no offense or judgement to anyone who wants to do it, but for me, that's where it should come from.
What does it mean for you to feel comfortable in your skin? 
It's funny because as you get older, you become more and more comfortable in your skin which is another thing I like about being in my forties. I feel like people can't mess with me as much because I'm in my forties. To be comfortable in my own skin, I just want to feel my most healthy self and feel like I'm doing the best things for my body and my skin: I'm exercising, I'm eating well, I'm using clean products on my face, clean makeup. I know that I'm doing everything I can to be healthy, I think that's when your skin looks the best and where your beauty should come from. That's when I feel the most comfortable, when I'm being authentic.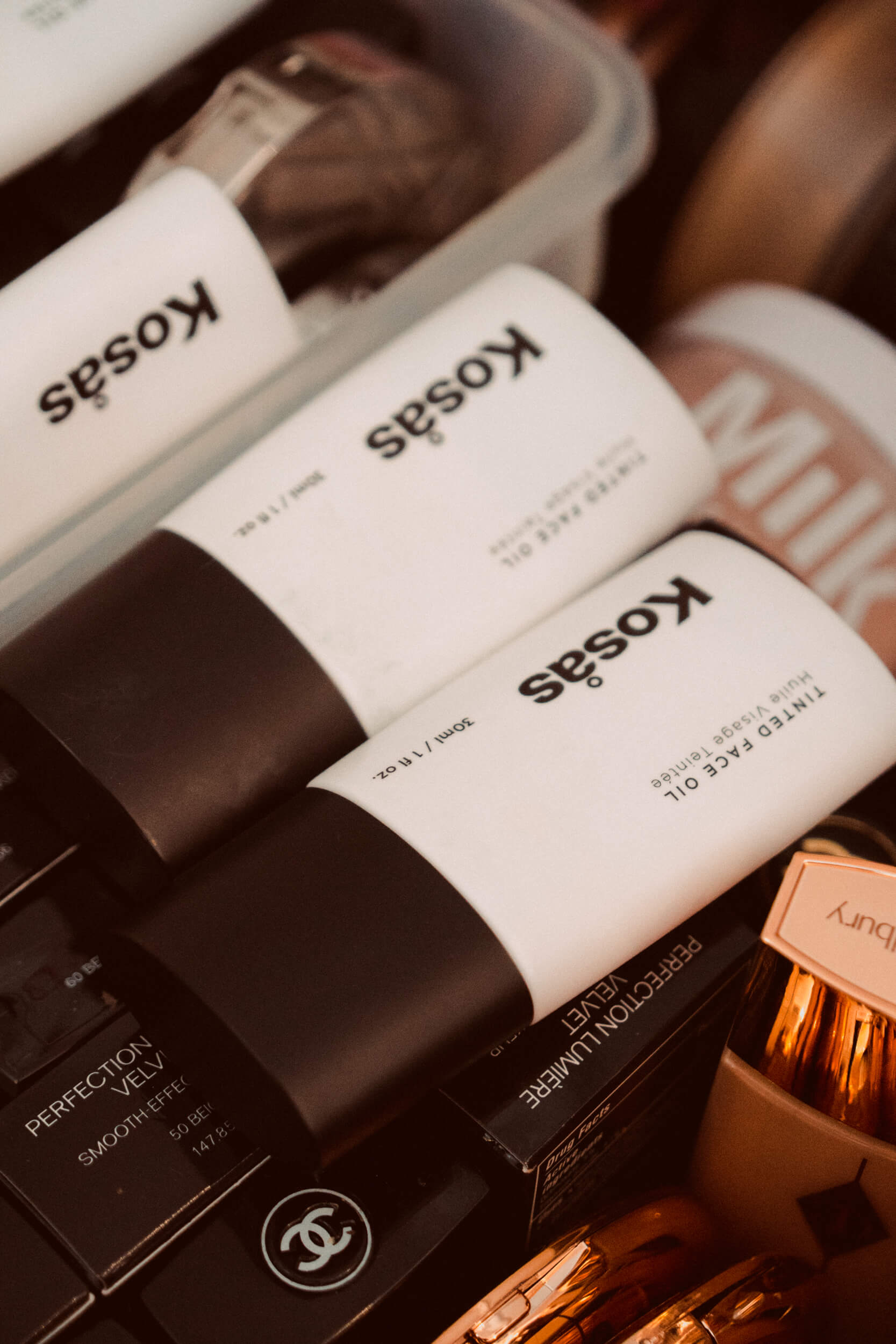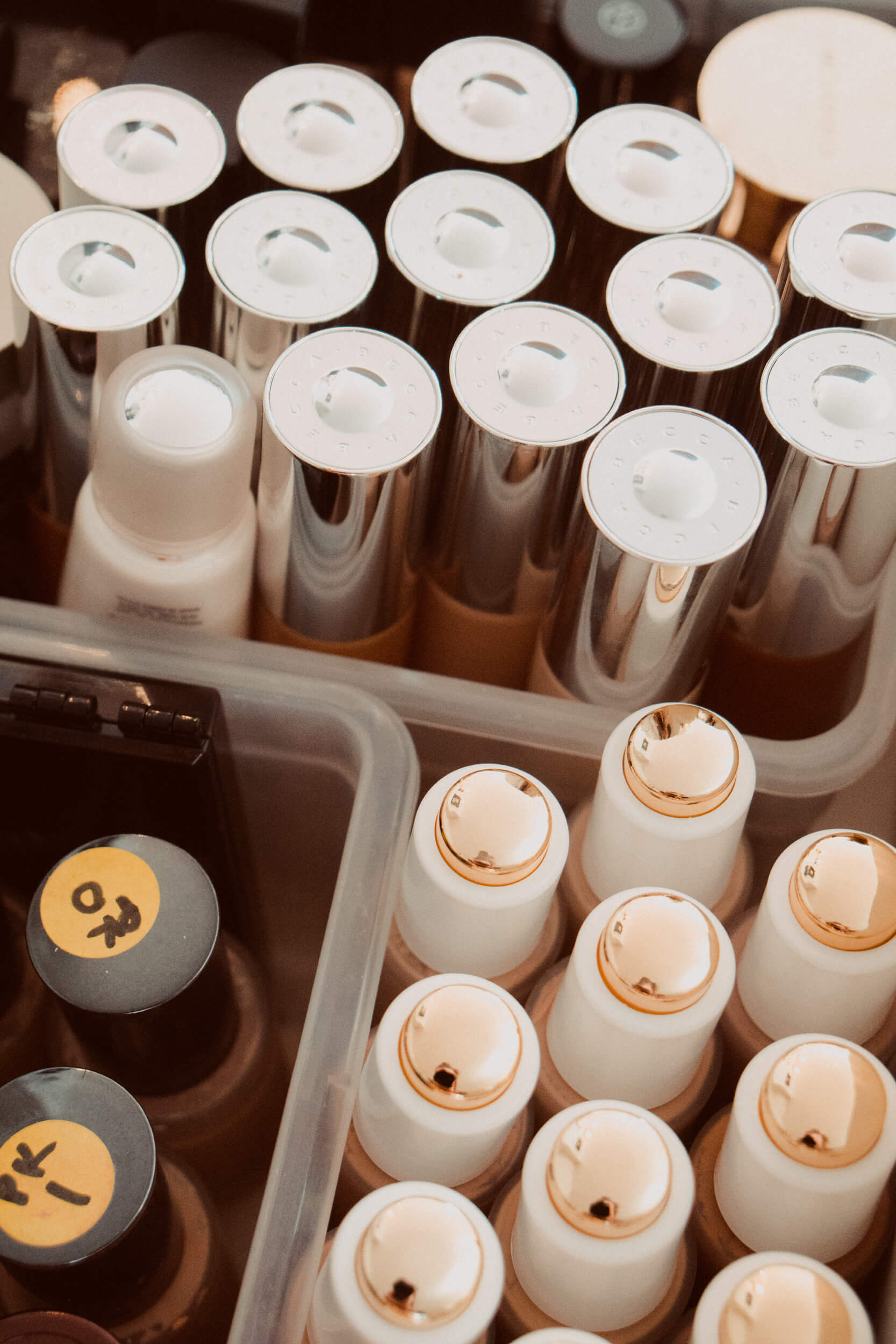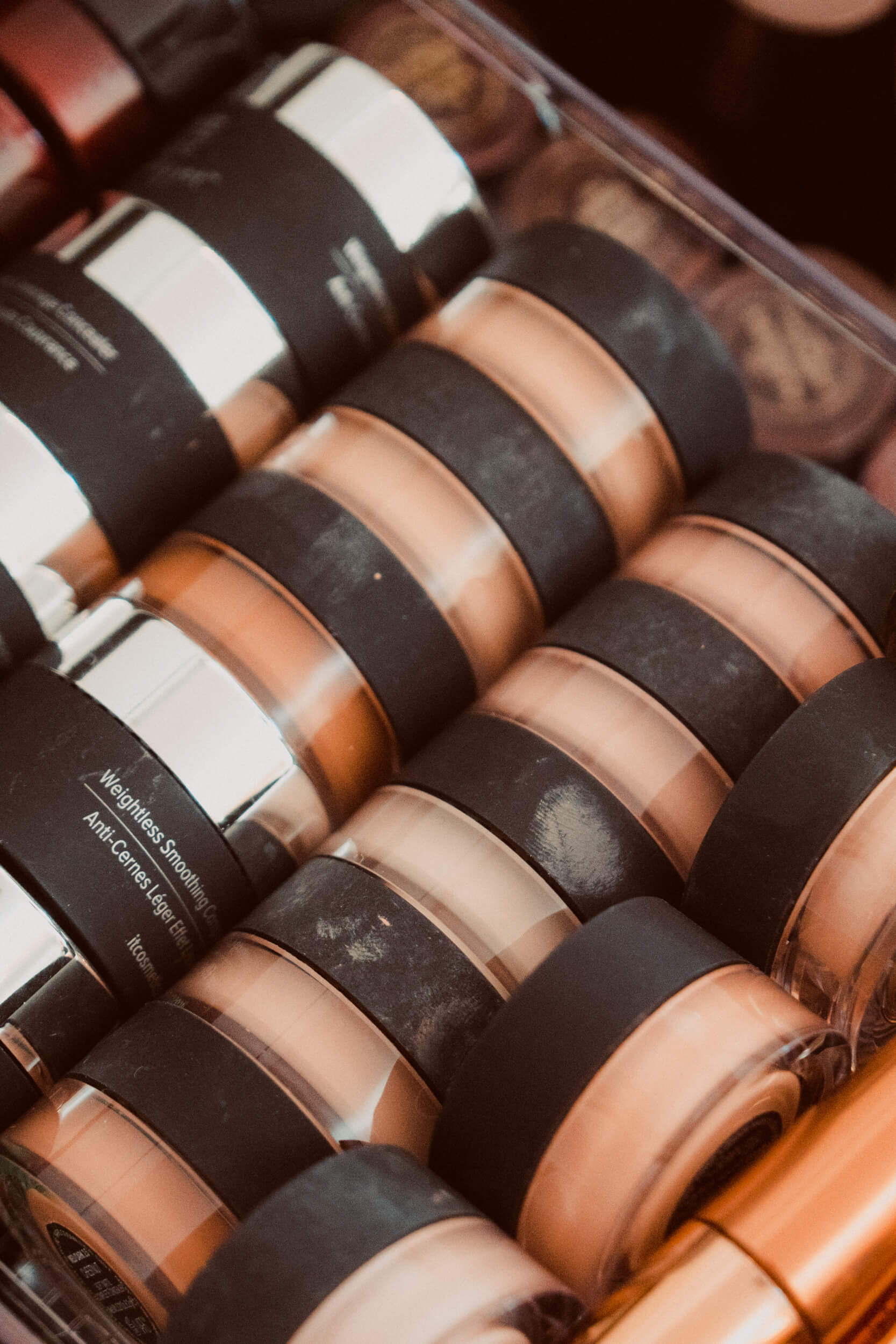 "That's my philosophy for beauty: if you feel good, you feel relaxed, you feel healthy then you look beautiful and that's the way your beauty should come from rather than poisons…"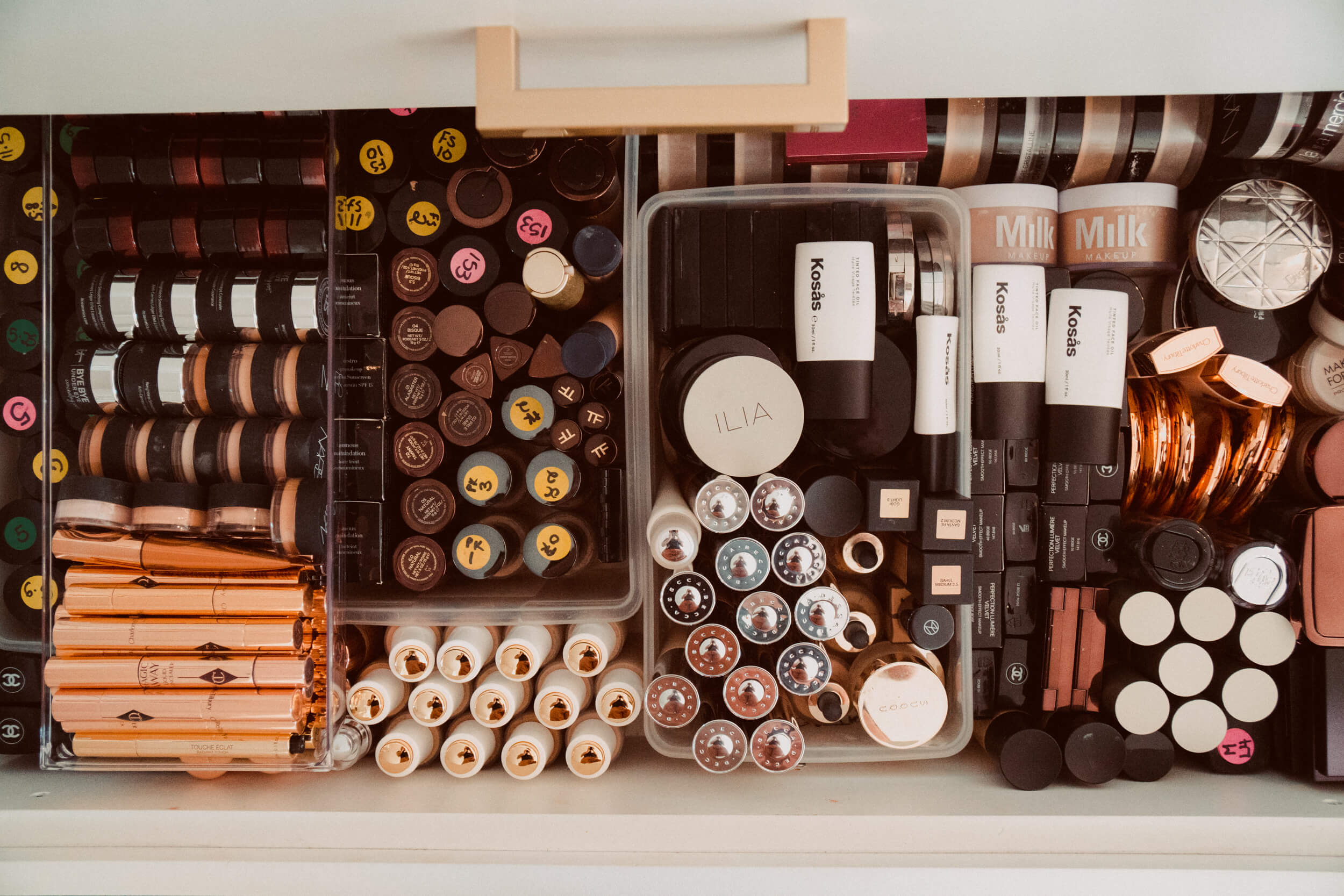 As we see also from your Instagram, you always share the products you use. Now clean products have become a thing finally.
Exactly, I have a lot of clients that still aren't convinced, to whom I would say, "this is a natural line" and they say, "I don't know, does it work?"
A few years ago, natural products weren't as good, not all of them, but now there is such aselection. I don't have everything clean, but I'm going in that direction. I use clean when I can and I won't compromise. I don't think you have to compromise anymore, the clean beauty has just exploded and it's fantastic, now people are realizing what these toxins can do to you and how we absorb them. In Europe, there are over 100 banned ingredients and in the United States there are 11 which is just crazy. It drives me insane, so you have to be careful with products that are made in the USA that are supposedly clean and you need to look at the ingredients. The consumer has to be very savvy these days because there is no one protecting us in the United States.
I started my campaign to switch over when I read all the research and found out about toxins, how much of them we are absorbing, what are they doing to the endocrine system, to your liver and so on.
You do of course a lot of red carpet looks, do you have a preference, for instance the eyes, the lips, how do you work also with your creative process?
It always varies, my clients are very collaborative so we consider the outfit and often hair and makeup will discuss with the client and stylist to come up with a concept together. I don't have a preference as long as it's a look that is beautiful. I'm not the girl that's going to paint like 4 red squares on the side of your face or make weird blue eyebrows, it's not really my thing, I love looking at it on other people, and that's their art, but it's not mine. I want you to look and feel as beautiful as you can and not to hide your face. I'm not going to overly contour you, change the shape of your nose or anything like that. I just want to bring out your beauty, so if that means an eye or a lip or even a cheek it doesn't matter. But the most important thing for me is the skin, if your skin looks healthy than your makeup is halfway done.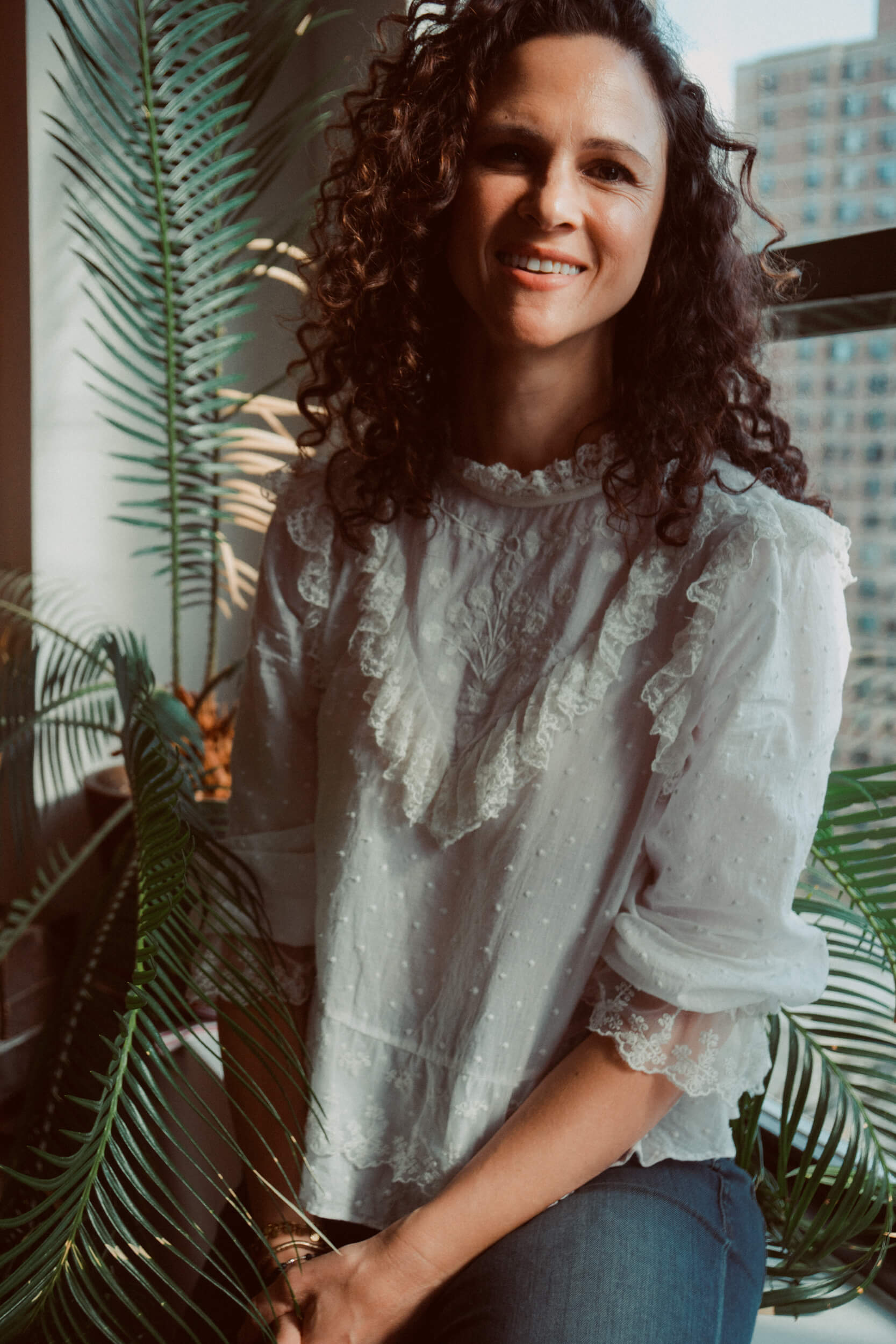 Sometimes I'll just look at a person, I'll look at the outfit and it just happens in my brain, the look would just kind of come to me. That's my instinct and I go with it. Other times, it's not so easy, so I'll ask, "what do you want to do?" or some of the girls I work with are so beautiful that I think "Oh my god, a smokey eye would look amazing, but so would a bright lip". So, you know, it's a discussion and a collaboration that I love. That's my favorite part when the girl has ideas as well and we come to an agreement together.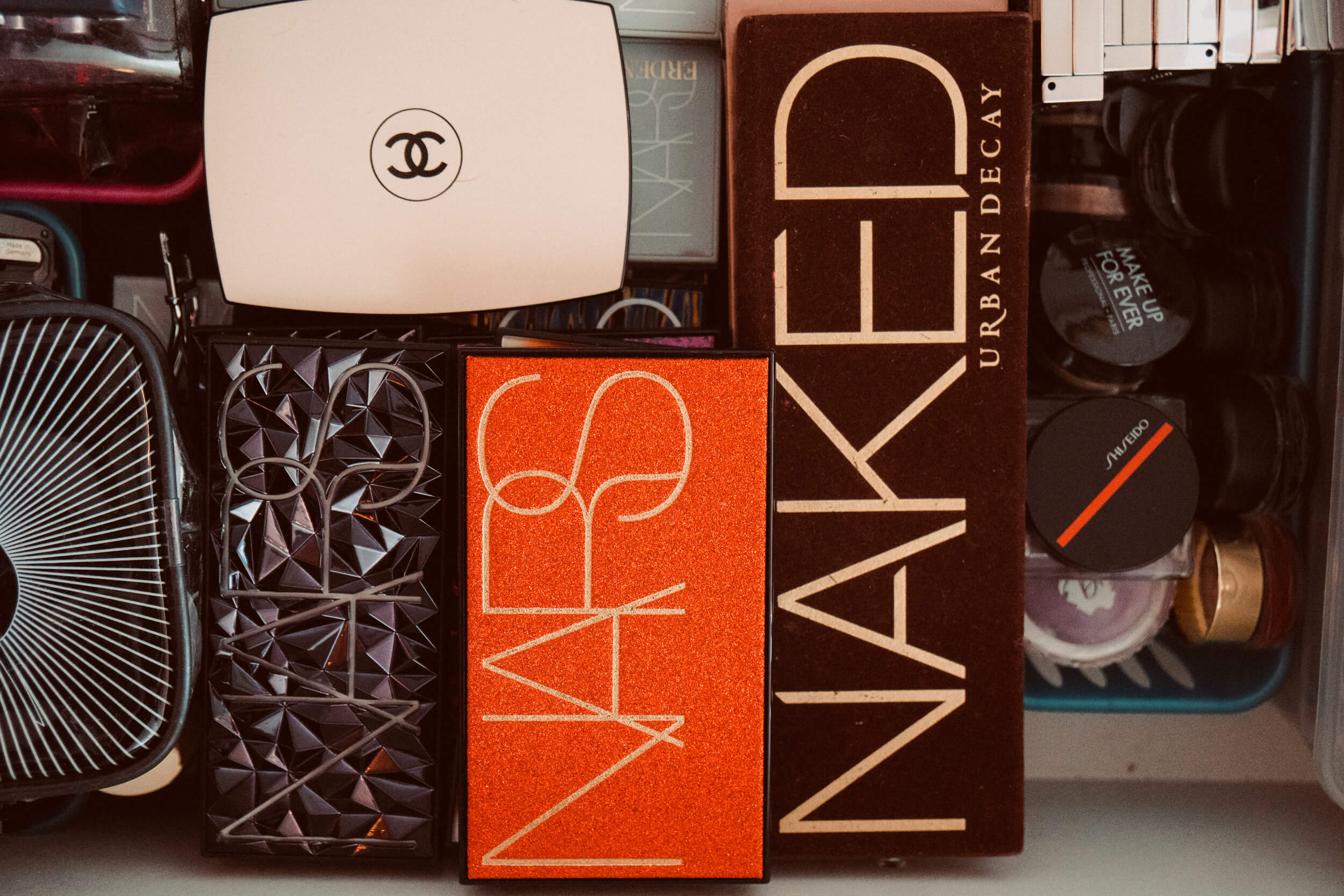 As you were saying, I think naturally glowing skin is your signature whether it is Elizabeth Olsen or Thomasin Mckenzie, everyone has this amazing, luminous skin, is there a secret?
Yes. I use the True Botanicals Radiance Oil on everyone. If someone comes and sits on my chair and they have congested skin then I might use the Resurfacing Moisture mask by True Botanicals. I'll just do a little exfoliation, it's very gentle because if your skin is clogged you can't get the luminous look, you need a smooth surface for skin to reflect light in a way that will make your skin glow so that's very important as well. Sometimes I'll do a little exfoliation, I'll use the Gua Sha stone with oil, or I'll even use the gold bar by Jillian Dempsey that vibrates and that's another good thing that promotes circulation. So, I use both of them and it's really relaxing for a client.
Usually, the Radiance Oil is enough and I'll often mix a drop of it in my foundation or tinted moisturizer as well because it's a non-oily oil. It just gives you a glow but it doesn't sit on the skin so you can layer it.
That's very rare to find. I've tried tons of oils because I have really dry skin, but I haven't found the one just yet. Because my skin doesn't like oils, even if I have dry skin. 
Sometimes when you are used to using a heavy moisturizer, that's waxy and heavy, you put that on and you are used to that feeling of just something sitting on your skin and then when you use a light oil, you don't get that feeling, you think, "this is not hydrating" but then you use it for a few days and suddenly your skin gets softer and softer. The waxiness of these creams tends to sit on the surface, blocking the pores and making you break out a little bit and they don't penetrate as deeply, whereas oil is attracted to oil, they are lipophilic, which is a weird scientific word, that means that oils are attracted to oils thus they absorb more deeply into the layers of the skin. You have to use them for a little bit and then you start to see the benefits in a few days and then suddenly you are like, "wow, my skin is soft" and it gets better and better. So that's my little philosophy on oils.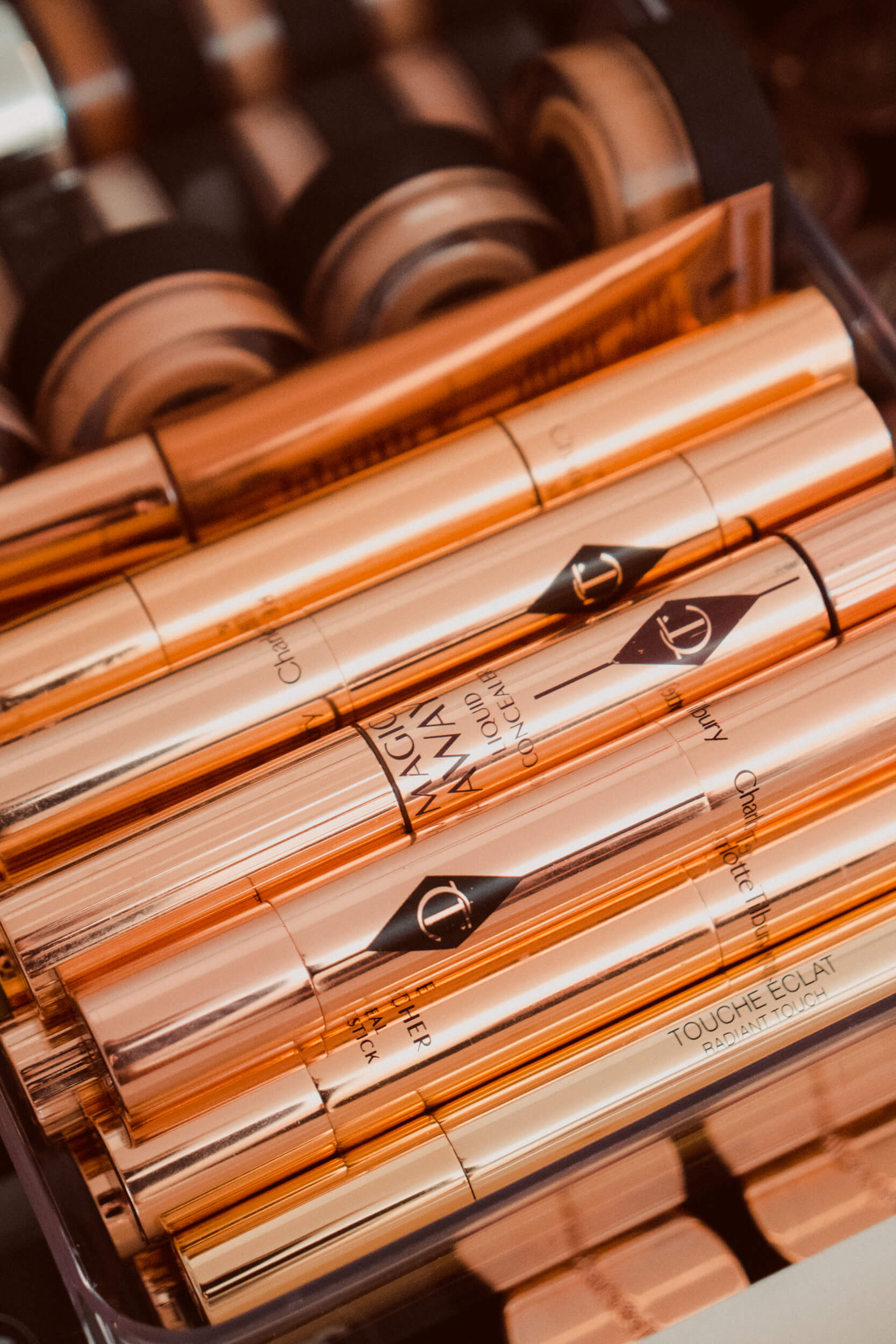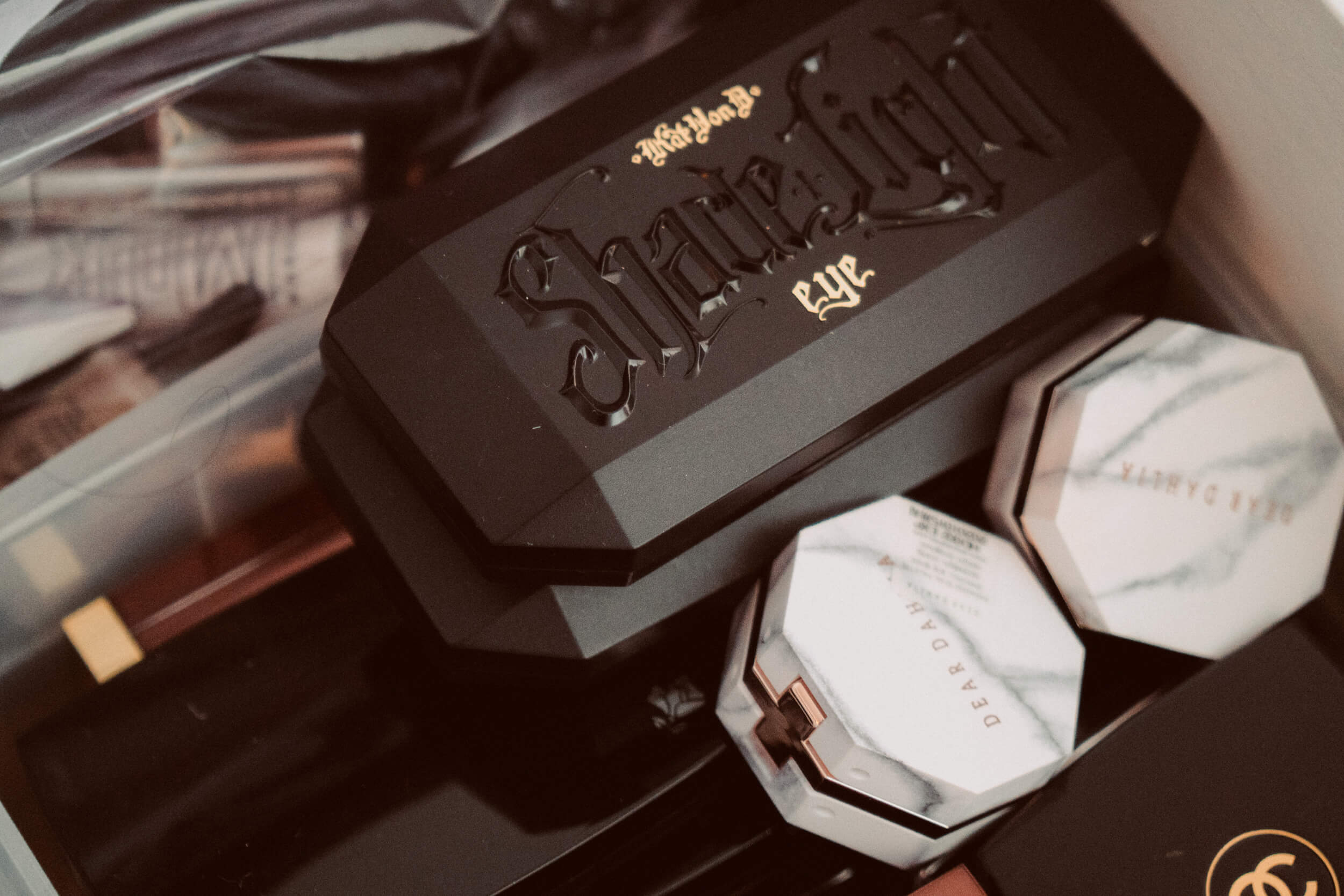 "I'll do a little exfoliation, or I'll use the Gua Sha stone with oil, or I'll even use the gold bar by Jillian Dempsey."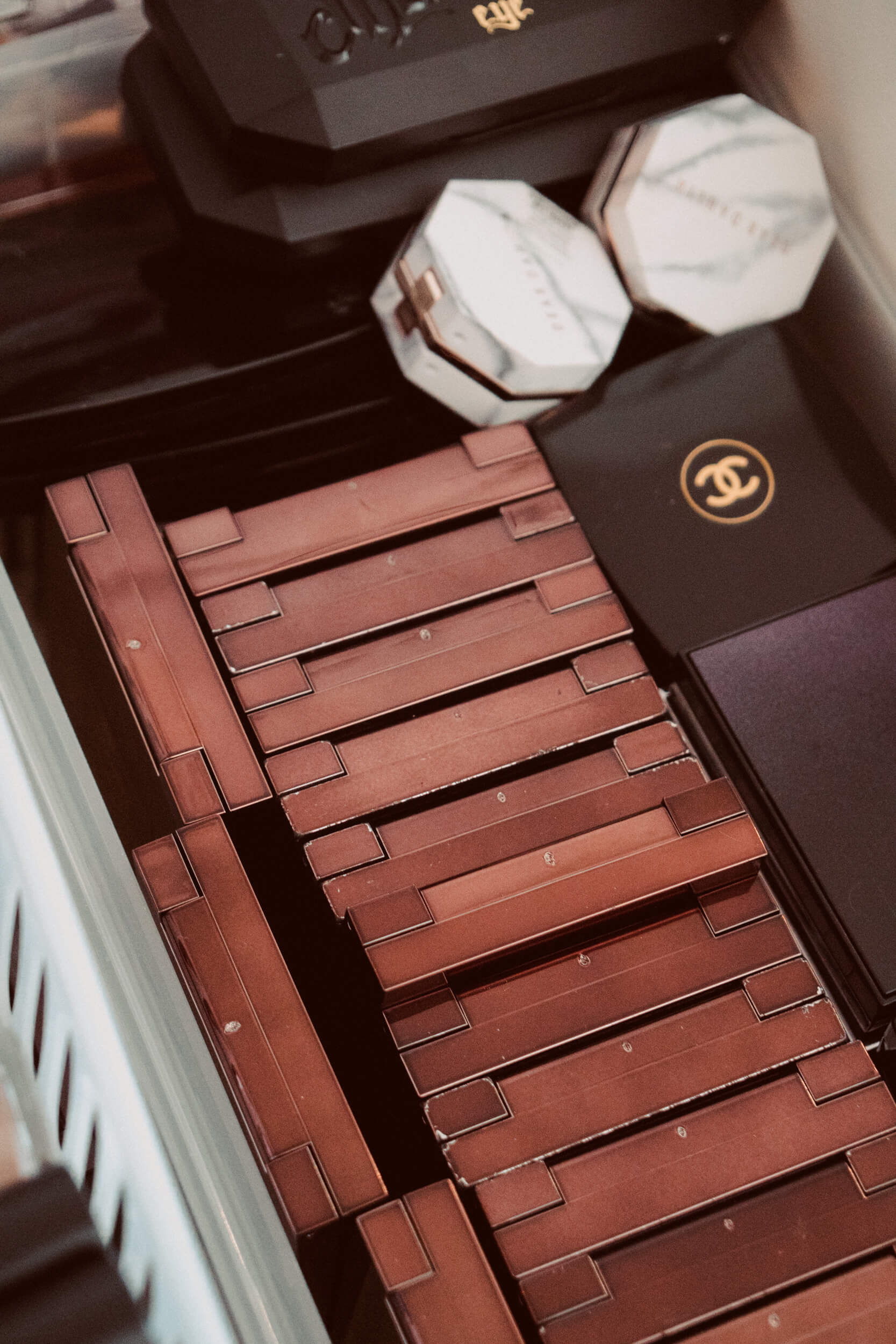 What are your 5 go-to makeup products right now?
The True Botanicals Radiance Oil and the Nutrient Mist (this is another thing I would say for skin, I always spray the face after makeup, so that gives it a nice glow); I also love the Ilia Tinted Face Oil and the Ilia cream blush which I'm obsessed with; I always use the Charlotte Tilbury cream eyeshadows, Eyes to Mesmerise; The Troy Surratt eyelash curler that is incredible, and the Pat McGrath eyeshadows. As a makeup artist, I don't think you cannot be obsessed with them. The color and pigment are vibrant and beautiful, so I've been using those.
Bath or shower?
I love the bath, I mean I usually have a shower because I have no time, but I do these crazy detox baths. I'm seeing a very interesting naturopath, she makes me do these weird detox baths which I love. One of them is with salt and baking soda, and then one of them is with tiny bit of Clorox and I know that sounds weird and not clean and against everything I'm saying, but it removes the toxins from your body, you have to stay in the bath for 20 minutes or so and the water must be really hot and you wait for it to go to room temperature and then it brings out the toxins in your body and heavy metals and things like that.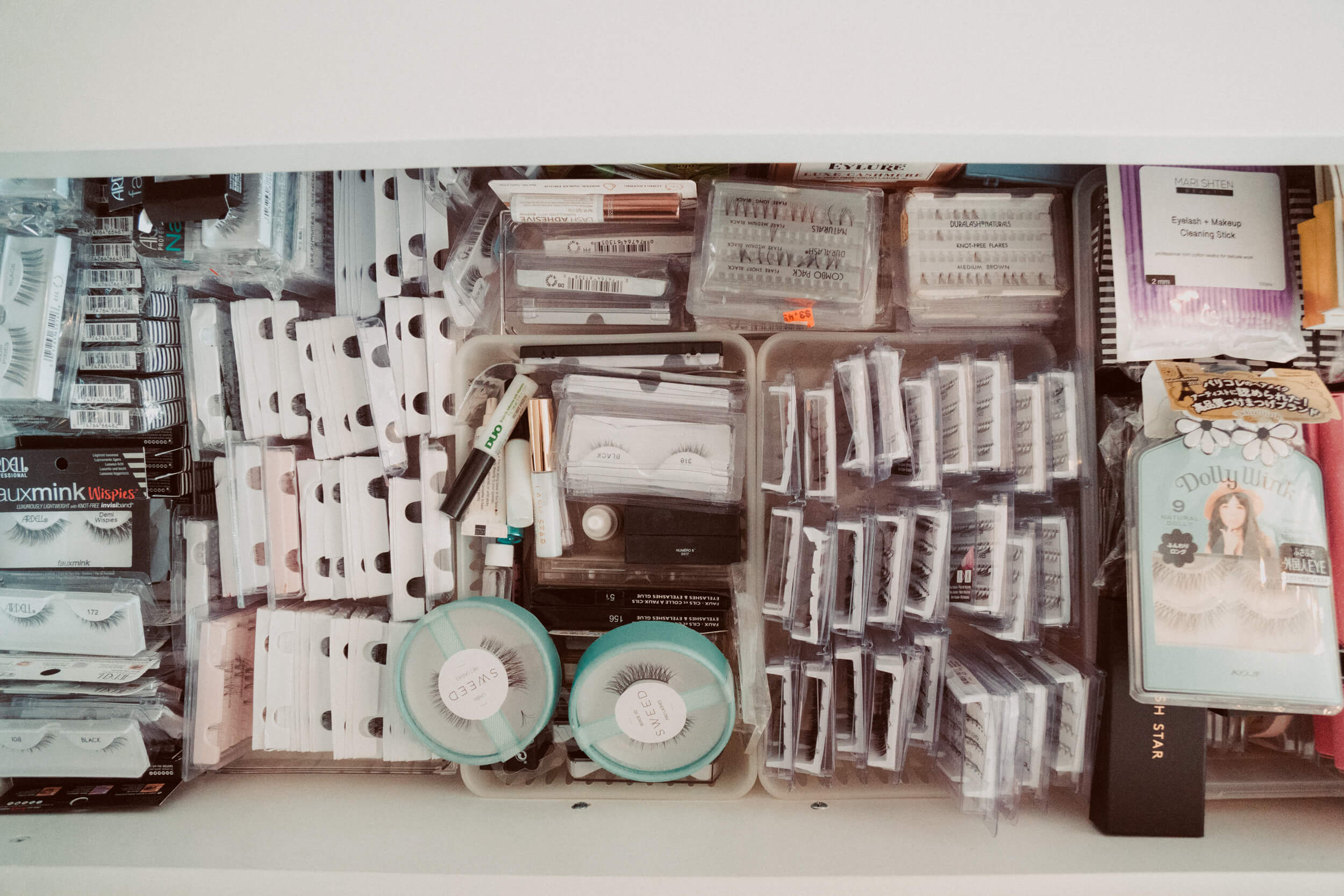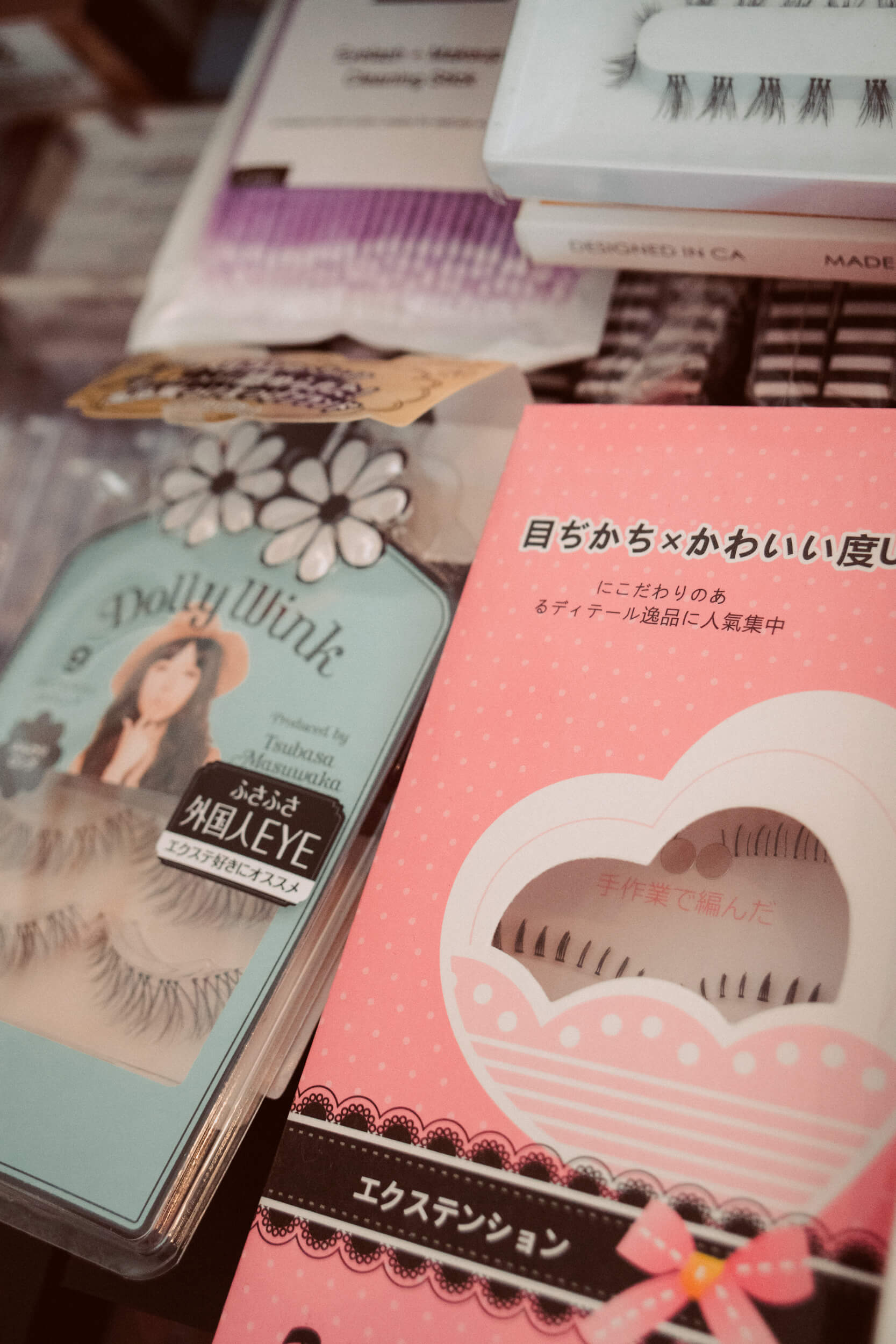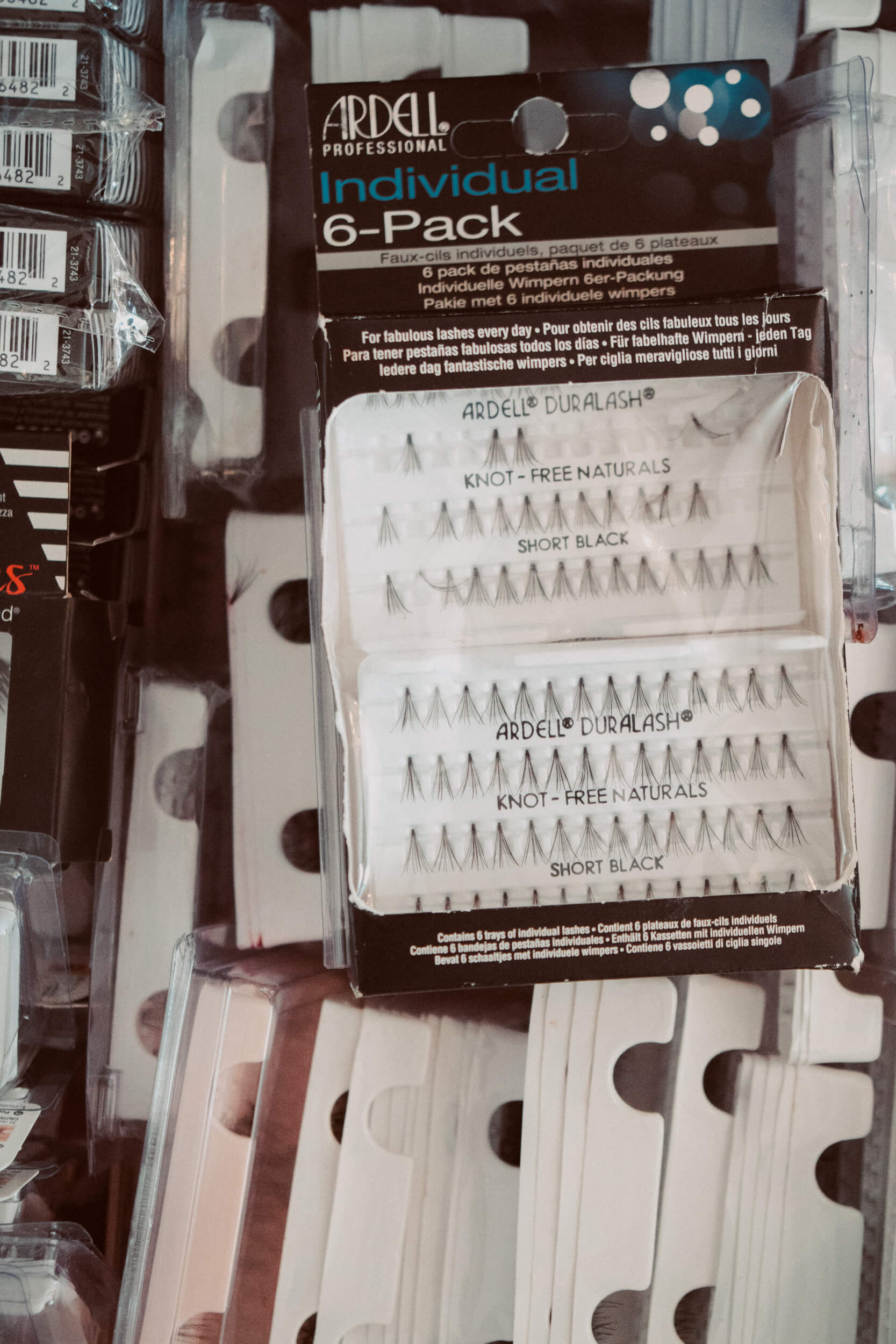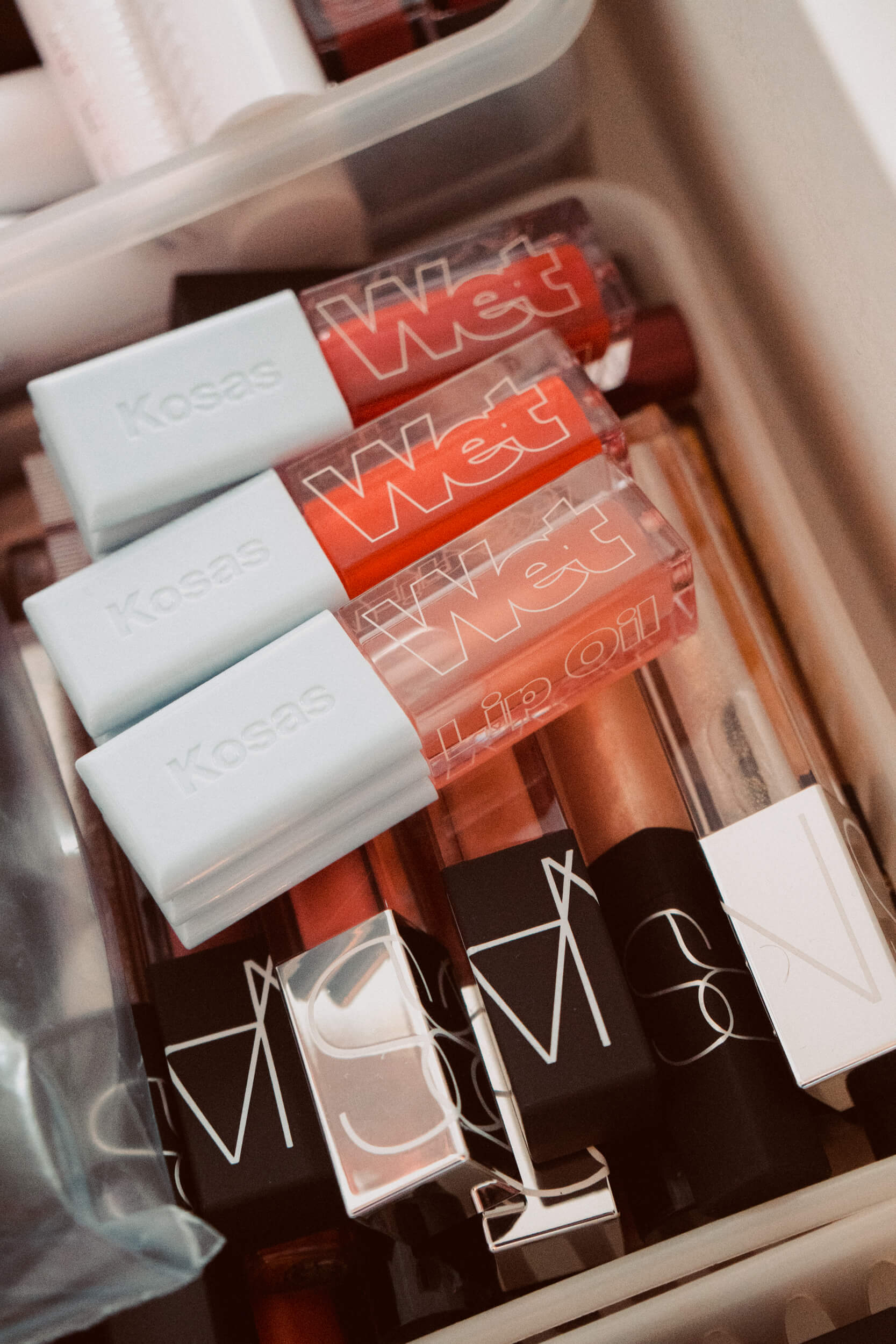 Your favorite hairstyling product?
I'm desperately trying to find a clean product that will work for this crazy hair that I have, I've yet to find it. I love DevaCurl, they have an amazing light defining gel and a styling cream. Another product that has completely changed my hair is Living Proof and they have something called In-Shower Styler, you put on the shower when your hair is wet, then you rinse it off a little bit later. I also use a lot of different oils, I have many in my bathroom for scalp treatments. I'll use castor oil, tea tree oil, peppermint oil, pumpkin seed oil and so on.
Your favorite body-lotion?
True Botanicals. They have two: a lotion and an oil that I love.
What was your first beauty product obsession?
I think the Shu Uemura eyeshadows was my first one. I was obsessed with getting every single eyeshadow. They also used to have back in the day, this little square cream foundation that slid together and you could have all the skin colors in this little container. I think any makeup artist that has been doing makeup for 20 plus years, as I have, would remember those.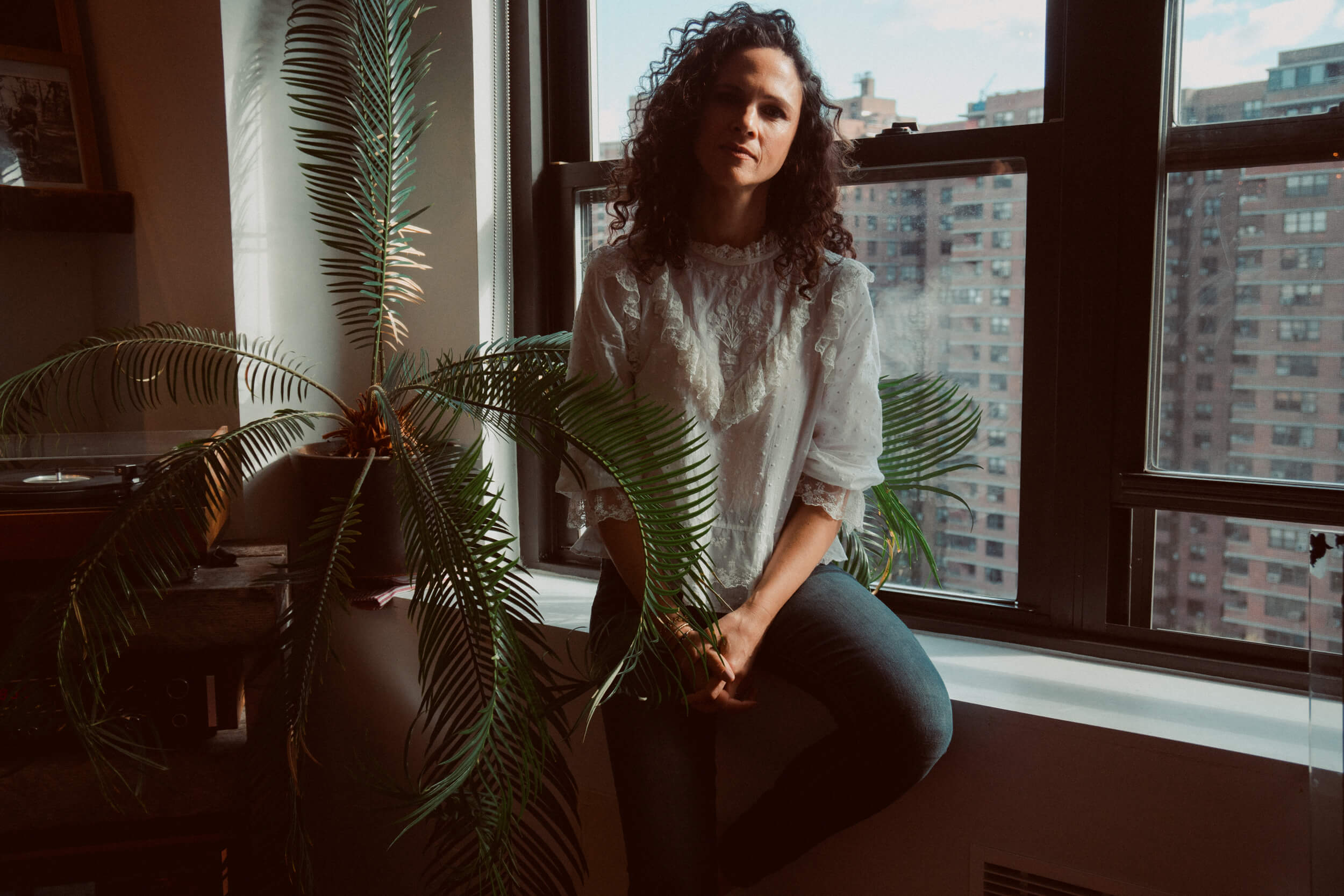 "I love DevaCurl, they have an amazing light defining gel and a styling cream."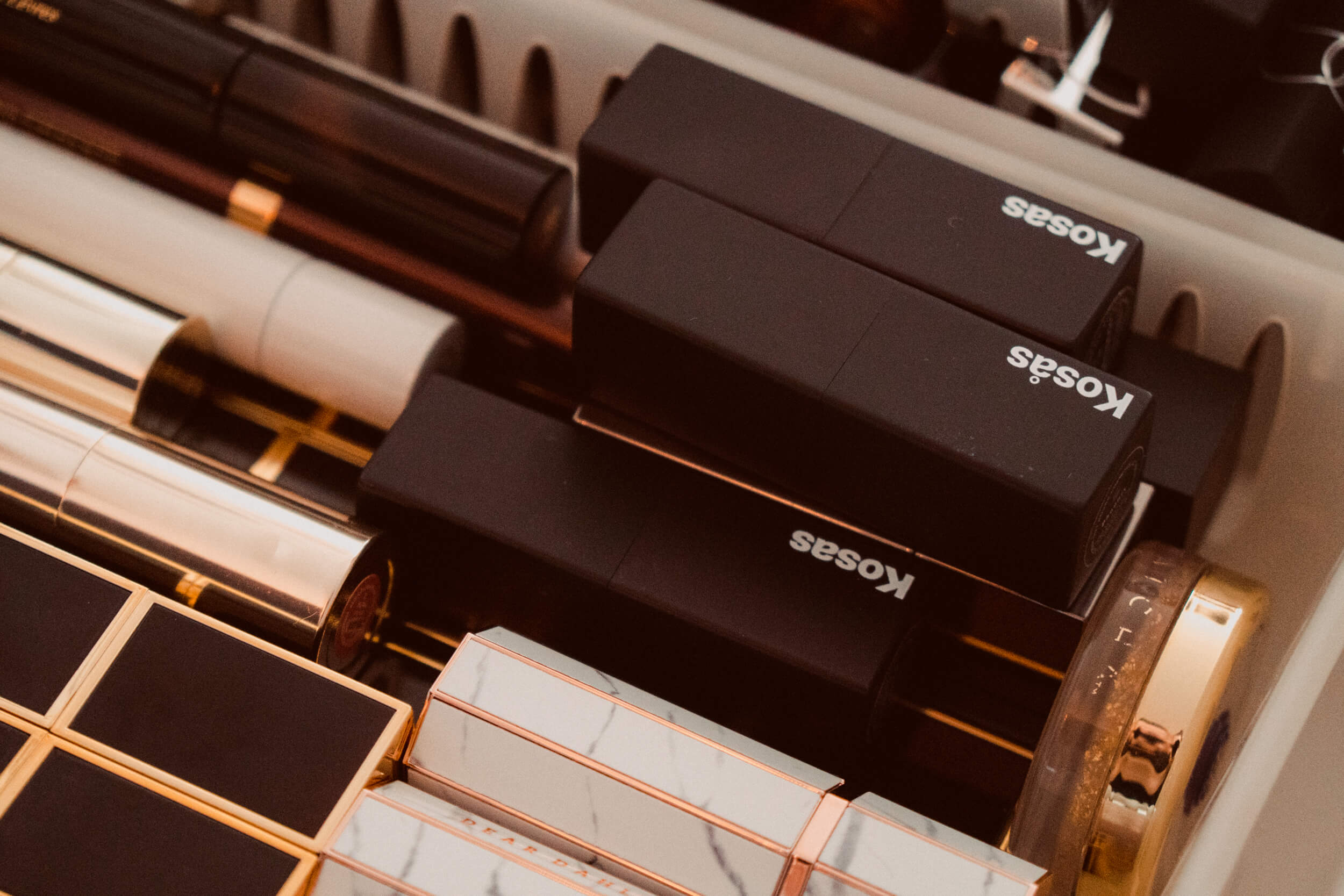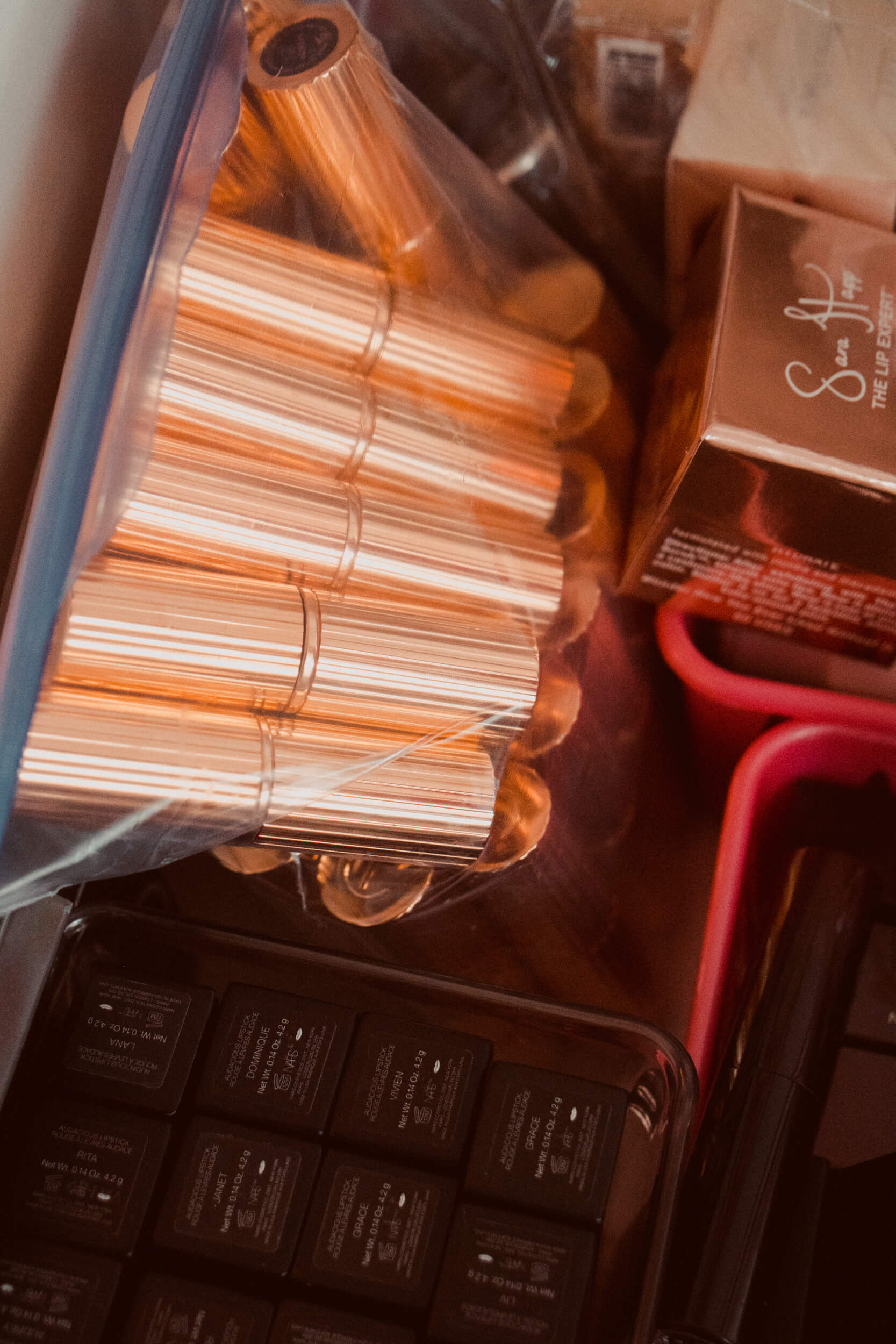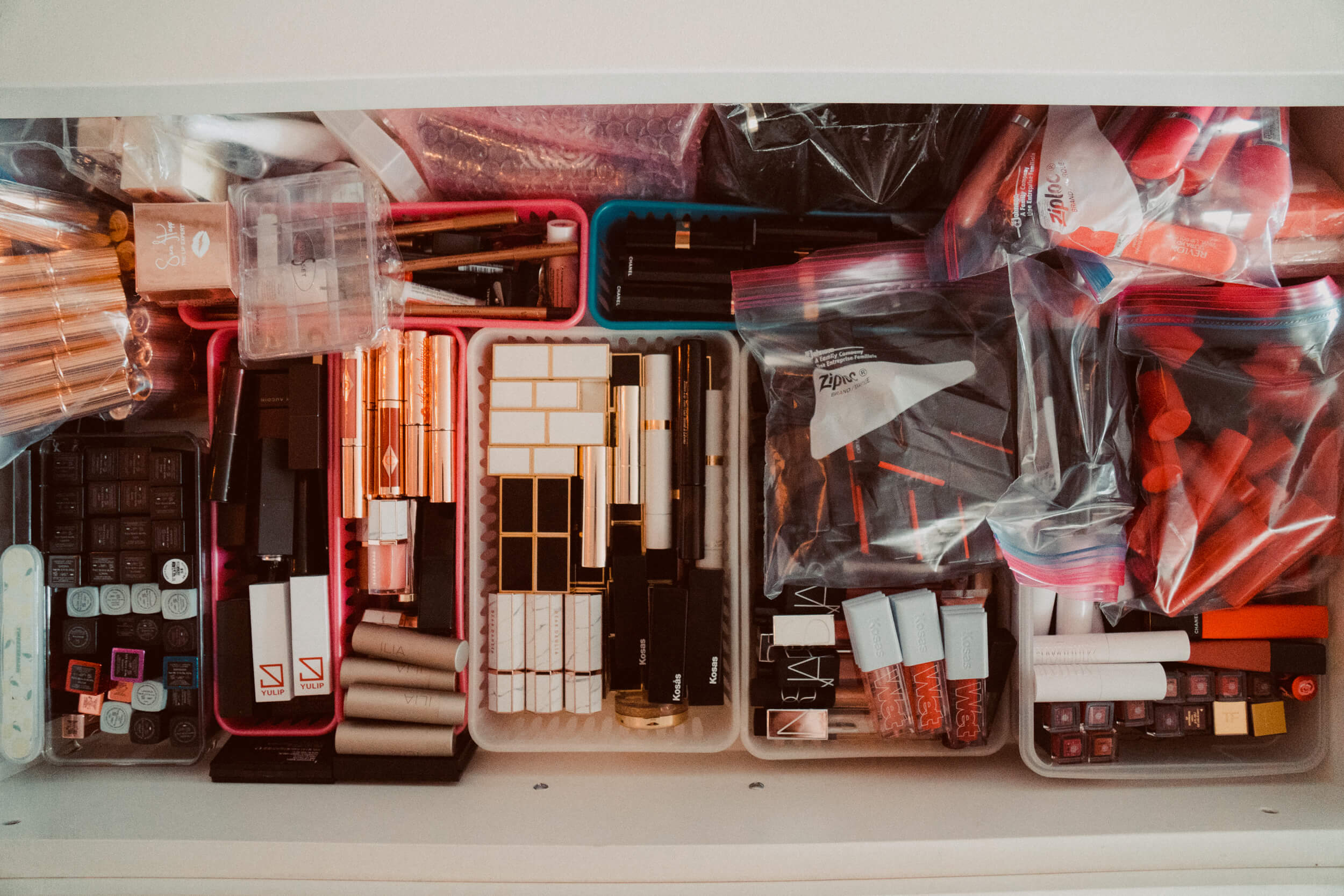 What do you have too many of?
Everything. Everything. It's a constant struggle, I will sit here for 4 hours and try to get rid of everything, donate a lot of makeup to women shelters and things like that. I'll do this, be so happy then the doorbell rings and 4 more boxes will arrive.
Your jet lag beauty cure?
I like to fly with a moisture mask, I find it really helps my skin. Lumify eye drops, you trick your eyes into thinking they are not exhausted when they actually are and then the True Botanicals Radiance spray.
What's the bravest thing you have ever done?
Moving to New York, I dropped out of Law School and I decided that I had to come live in New York. I just made it happen. I had a really lovely life in Australia, but I just needed to move here, it was the strongest feeling I've ever had. I moved here when I was 22 and I'm still here.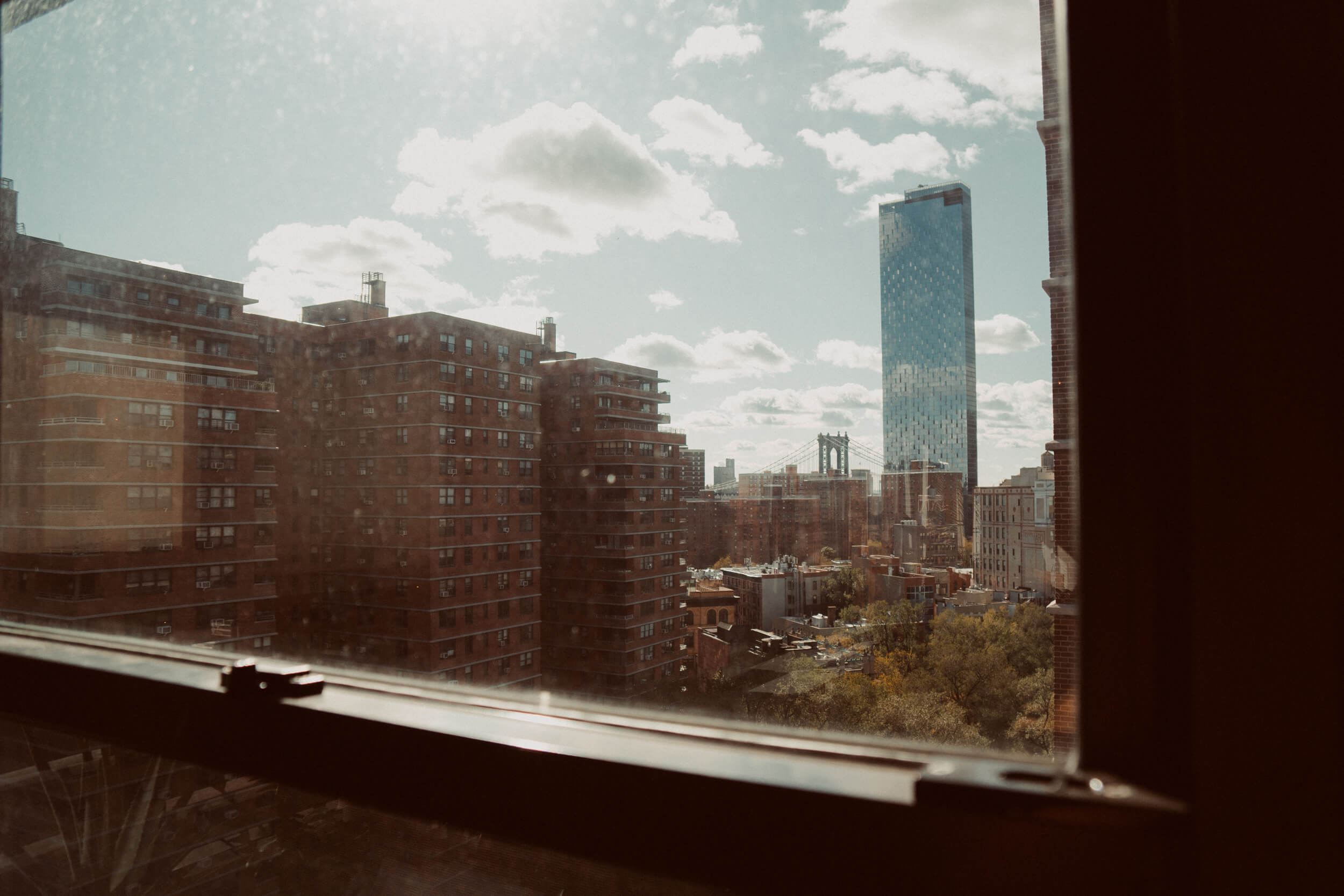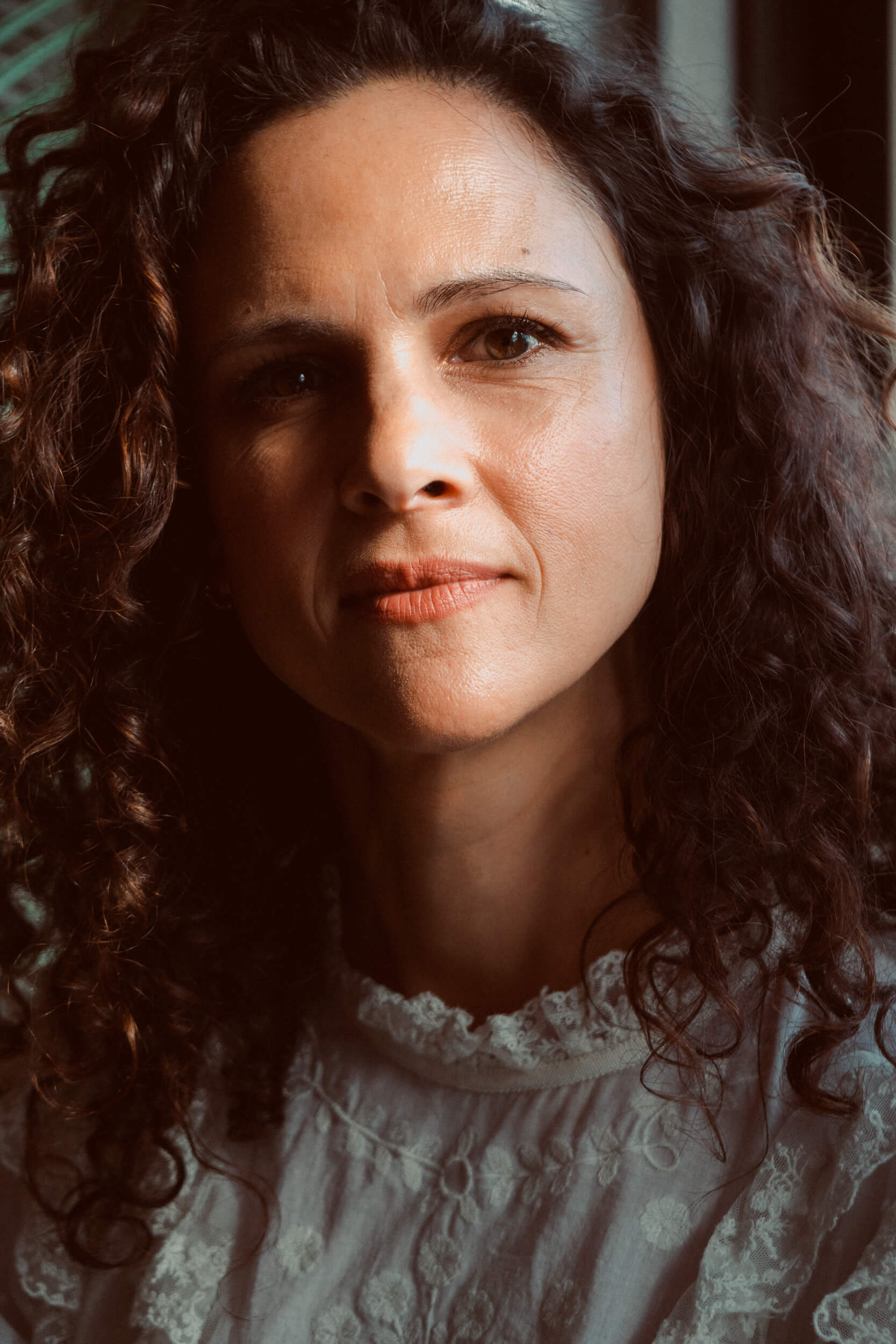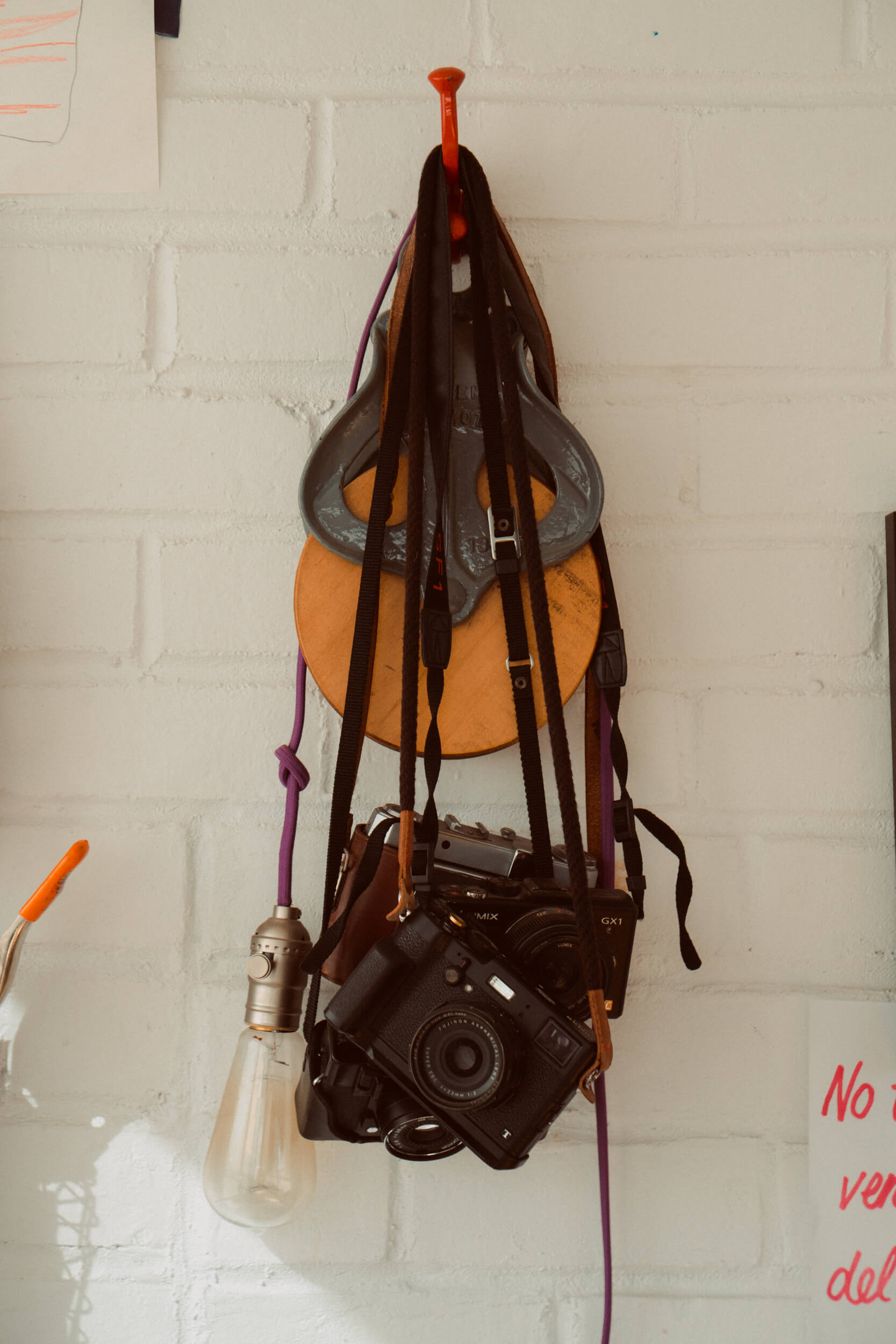 What would you love to see more and more these days in the beauty industry?
I'd love to see more brands being more open with their ingredients and becoming cleaner.
I would love to see the United States ban tons of ingredients. I'd like the beauty industry to be more regulated because it's not.
And then, as far as makeup, I'd like people to stop living and thinking they are on Instagram 24/7, I'd like people to live in real-life, of course, tons of contouring and highlighting looks amazing on an Instagram photo that has been filtered, but when you are walking around in the daylight with all this highlighter and suffocating your skin and all this makeup…I think we are heading into the wrong direction as a society. We should just let our natural beauty shine through and then for special occasions we can transform ourselves if we want and make it fun, but I think beauty needs to become a little bit more authentic. I believe that with this overly photoshopped crazy photos, we are sending the wrong message to younger girls like, "that's what you have to look like" and who cares? Why do we have to look like that? Who wants to spend that much time being so narcissistic, worrying so much? We need to tone it down a little bit and if your thing is tons of makeup, go for it, but I don't think we should hide behind this much makeup all the time.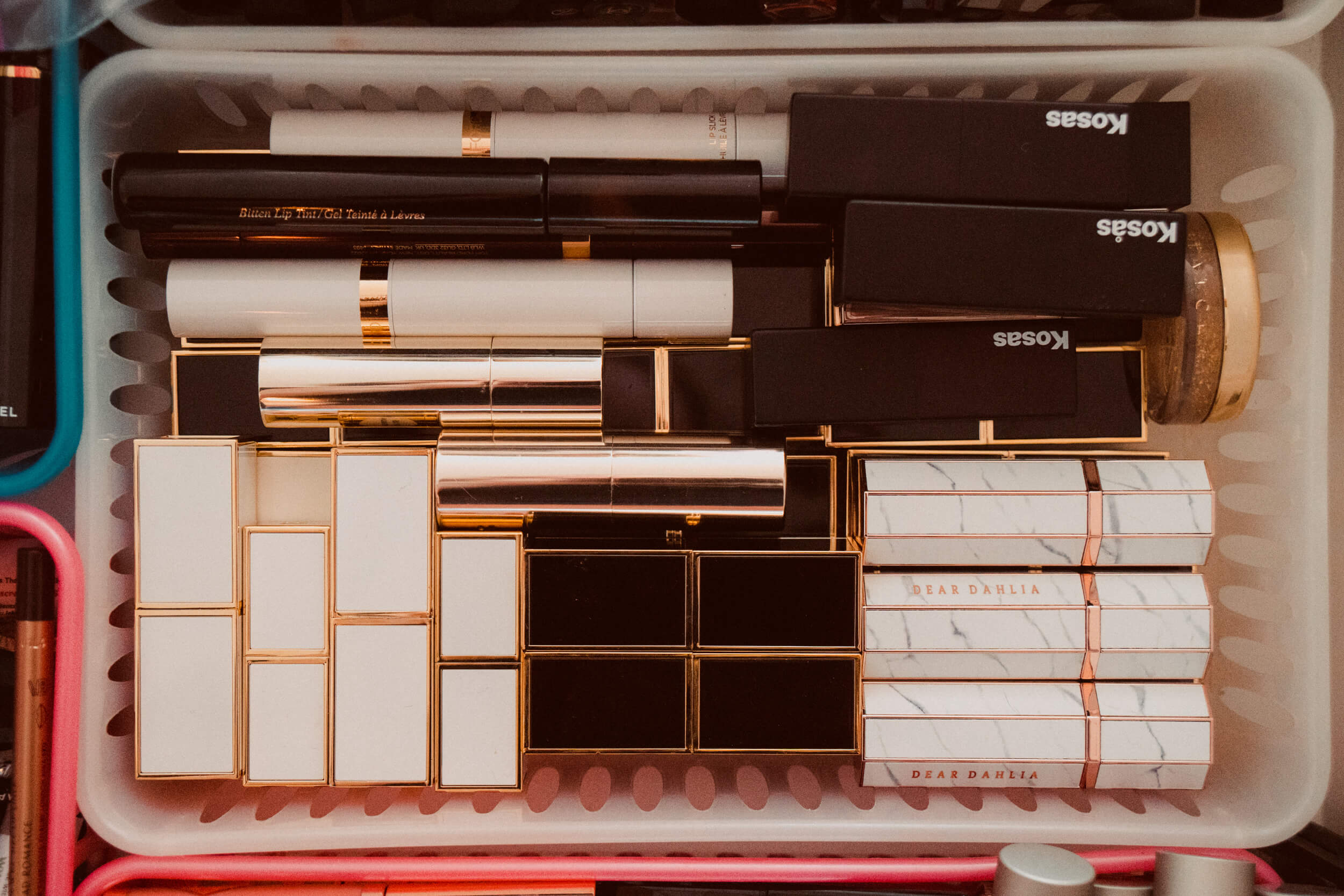 "Why do we have to look like that? Who wants to spend that much time being so narcissistic, worrying so much?"
What's your epic fail on the job?
I've so many. [laugh] I remember doing this girl for her wedding and we were in the Caribbean, it was really hot and she wanted all the eyelashes, but it was so humid and nothing would stick. The glue was coming off and as she was getting married, he was saying his vows, he just leaned over and flipped off a couple of individual eyelashes that had fallen down onto her cheek. Being a man he just thought they were her lashes and that maybe she was crying and she was, that was not so attractive.
Another one: just recently I tried out this beautiful new lip product and the girl was doing an interview and right when she started I looked at her I saw some lipstick on her teeth, I got rid of it and that was fine, then she's talking and in the middle of the interview I get a tap and the producer comes in and she's like "We've gotta stop. She's got more lipstick on her teeth." Whatever this product was, just traveled onto her teeth, so she's talking and it's an amazing interview and there is this big red lipstick thing on her teeth. It happens.
Years and years ago, I had an HD powder, I had given it to a girl who was going to a TV show. I wasn't going to be there, so I gave it to her to touch up with because on video the powder looks great, you would never see it on video even if you use too much of it, but I forgot that they would take a lot of photos outside when you are entering the studio and she had powdered herself a lot and not done it properly, so there were these pictures with white powder on her nose. I was horrified, but you learn your lesson.
The best part about what I do is that it's only hair and makeup, so what's the worst it can happen?