If like me, you are big enthusiasts of beauty, makeup, with a little obsession for skincare, you cannot but know who Mi-Anne Chan is, or even better, now you can no longer do without. As Beauty Director and Founder of The Italian Rêve, there are many things that pushed me to do what I do, and many are the inspirations that have also given me the creative drive and interest in discovering the "magic" of the beauty world. One of the people I've been following constantly for 4/5 years is Mi-Anne, a creative and brilliant mind who, on Refinery29 in the last 5 years and then now as Video Director of Condé Nast Entertainment, has shown that makeup and skincare are not only colors and ingredients but research, intelligence and a great desire to test yourself, always.
With Refinery29 for 5 years she created the video column "Beauty With Mi," in which she tried all kinds of facial, face (but not only) masks and massages, she tested products and got her makeup done by the most famous and recognized makeup artists: Daniel Martin, Katie Jane Hughes, Priscilla Ono, Patrick Ta, Sarah and Nicola Chapman, and many others. Furthermore, we have also seen videos in which she researched the lives and beauty routines of famous icons such as Marylin Monroe, bringing those to half a million views.
In my mind, however, Mi-Anne is also a great color creative, not only with of course the color her hair, but with her makeup looks that vary from Korean inspirations with small clouds of face paint, rainbows, flowers and, above all, graphic eyeliner of all the colors you can imagine. A true source of inspiration and an important face in the world of beauty, not only for the obvious reasons listed above but also for her commitment to sustainability, cruelty-free makeup and a constant search for products that are in line with her life philosophy. Without ever forgetting sunscreen.
We could not but go and visit her in New York, Brooklyn, and discover her beauty room, some of her beauty secrets and her skincare routine.
What is your earliest beauty memory?
I don't know if this is the earliest but it's definitely the thing that comes to mind most. I think everybody says this, but my grandmother always wore the same red lipstick every single day. She had like a very Anna Wintour style black bob and she was very consistent with her beauty, I think most grandmothers are. I always said that when I grow up I want to be like how my grandmother was: she always wore the same lipstick, she always had like a little handkerchief in her bag that she sprayed with perfume. She was a sophisticated lady.
What the first thing you do when you wake up and the last one when you go to bed? 
It's bad: the first thing I do when I wake up is to take my phone and go on Instagram. I shouldn't do it, I'm always talking to my friend Michelle about how we should not have technology in the morning for the first 20 minutes. After scrolling for a bit, I then start doing my routine, washing my teeth and doing my makeup. I eat breakfast at work.
Usually, I get in bed with a giant glass of water and I turn on the TV and I watch "Frasier" right now, it's an old person show. I'm the kind of person that needs to watch at least two episodes of something to feel like I'm relaxed enough to go to bed. I take my makeup off as soon as I get home, just because I feel like I want to lie down, and I want not to get makeup on my stuff.
So, my morning and my night begin and end with technology. Which may or may not be a bad thing.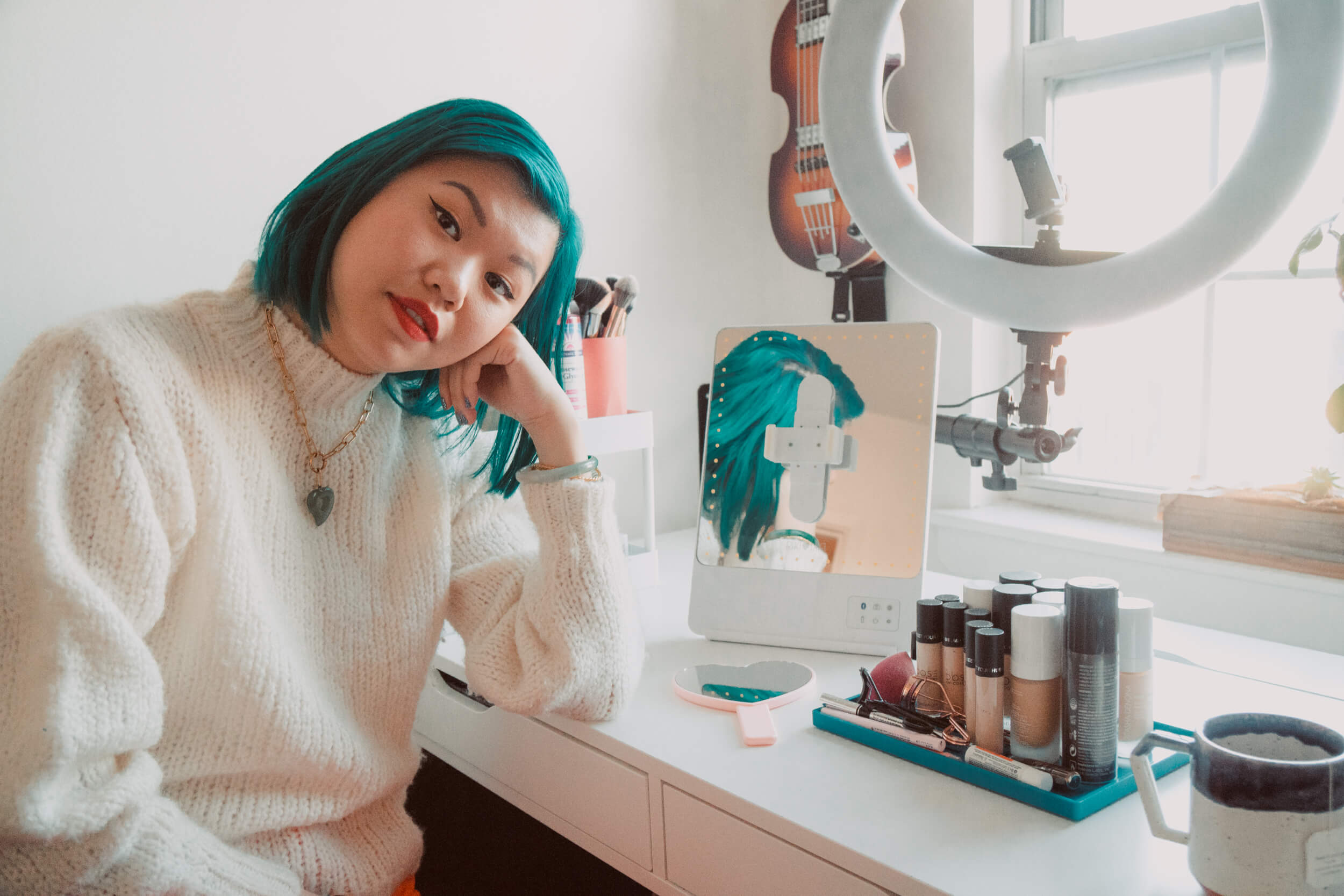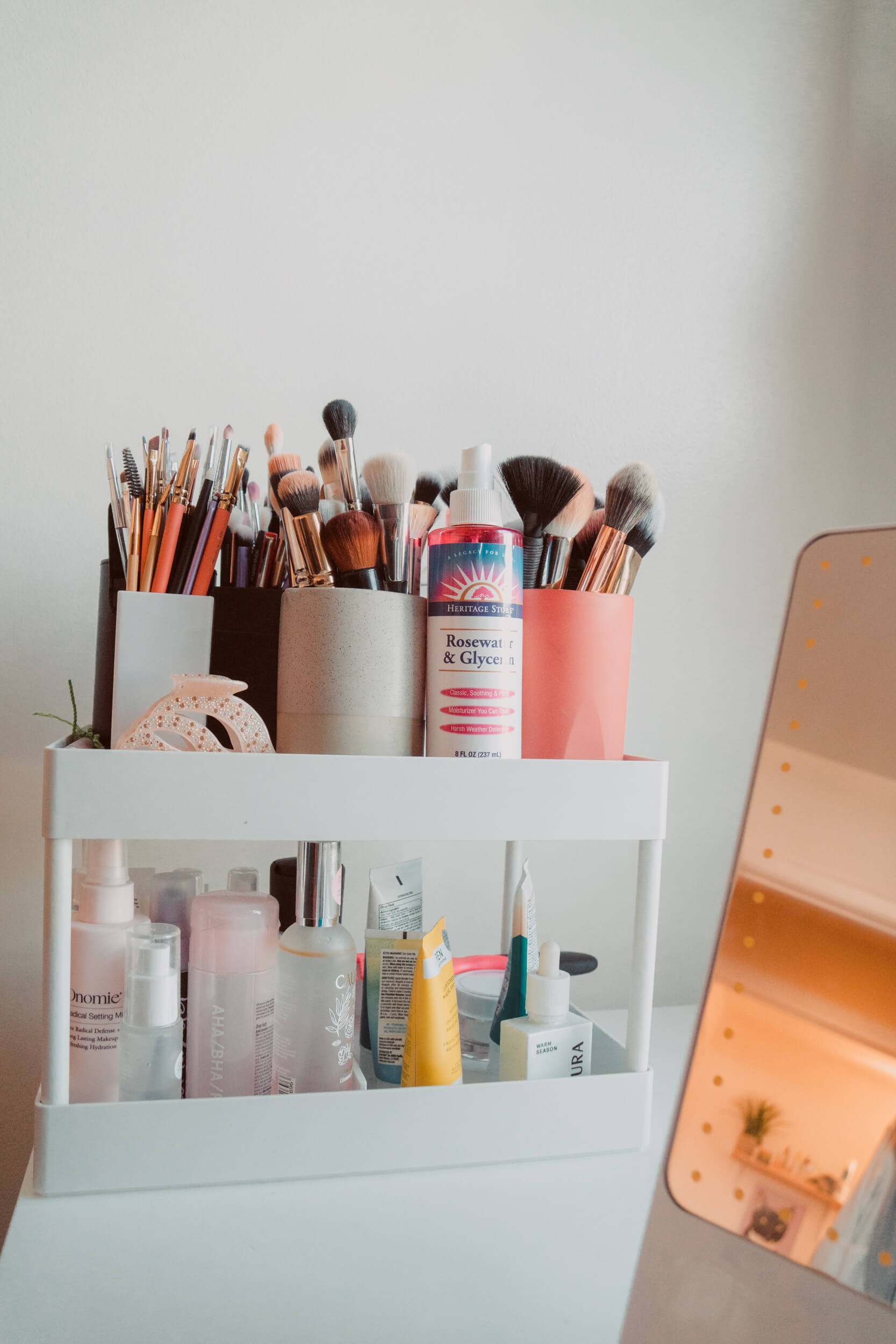 "…my grand-mother always wore the same red lipstick every single day."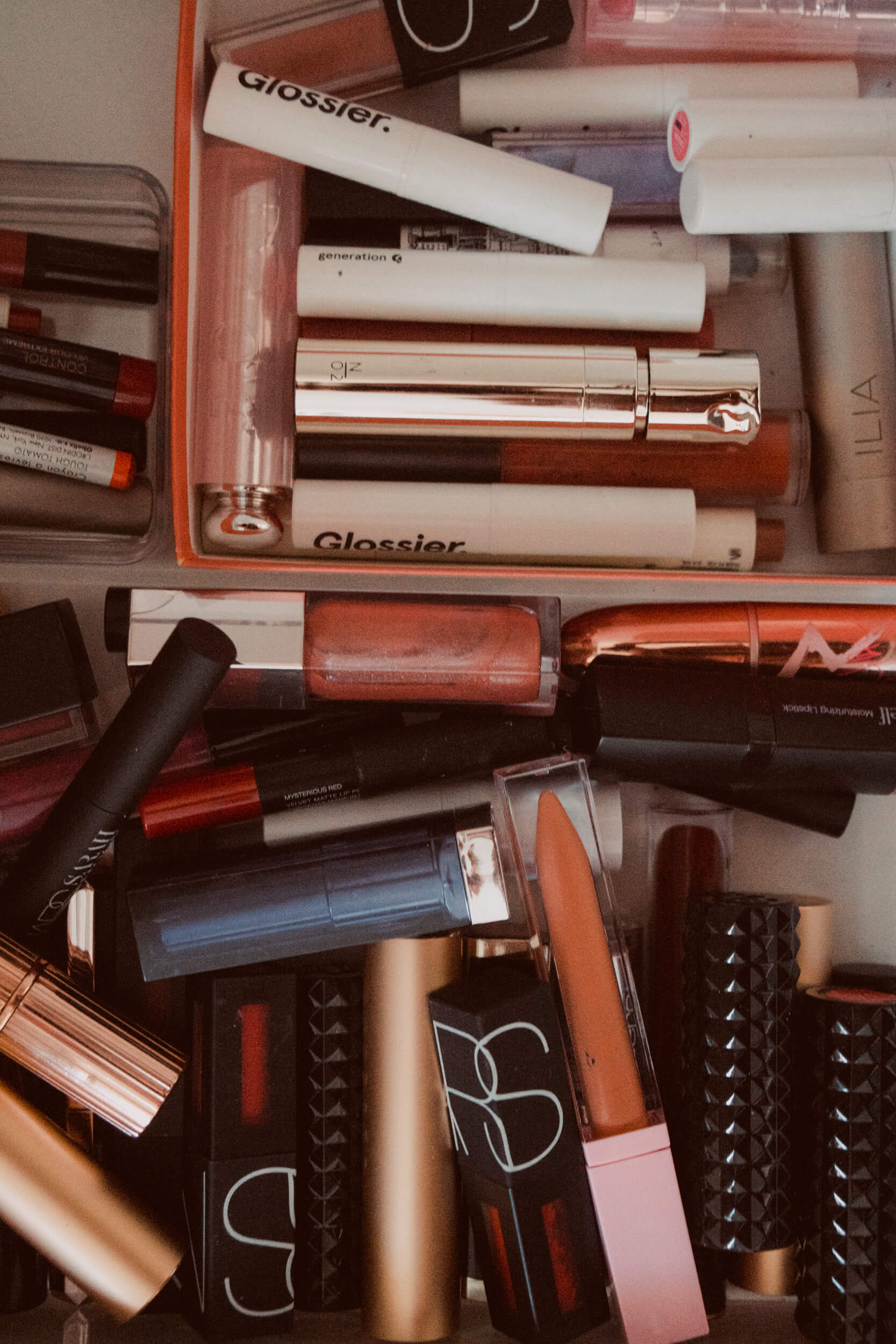 In the video you talk to us about your skincare routine, but is there an ingredient you look for the most? 
I think that if anyone is going to ask me one thing they should do, apart from sunscreen, it's retinol. There are a lot of studies on retinol, there are a lot of skincare ingredients out there that don't have a clinical study to back them up, but retinol does. When I was in high school I had very congested skin and the only thing that worked when I went to a dermatologist was a prescription for Retin-A which is a retinol, it basically encourages cellular turnover. It's also really good for wrinkles, fine lines because again it's making your skin regenerate, so I think it's an ingredient that it's good across the board for a lot of issues so I think it's a really amazing ingredient to invest in.
One retinol that is not prescription that I really like is by Biossance and it's the Squalane Phyto-Retinol Serum, but then I think the next thing would definitely be sunscreen and wearing it every single day. I take sunscreen very seriously.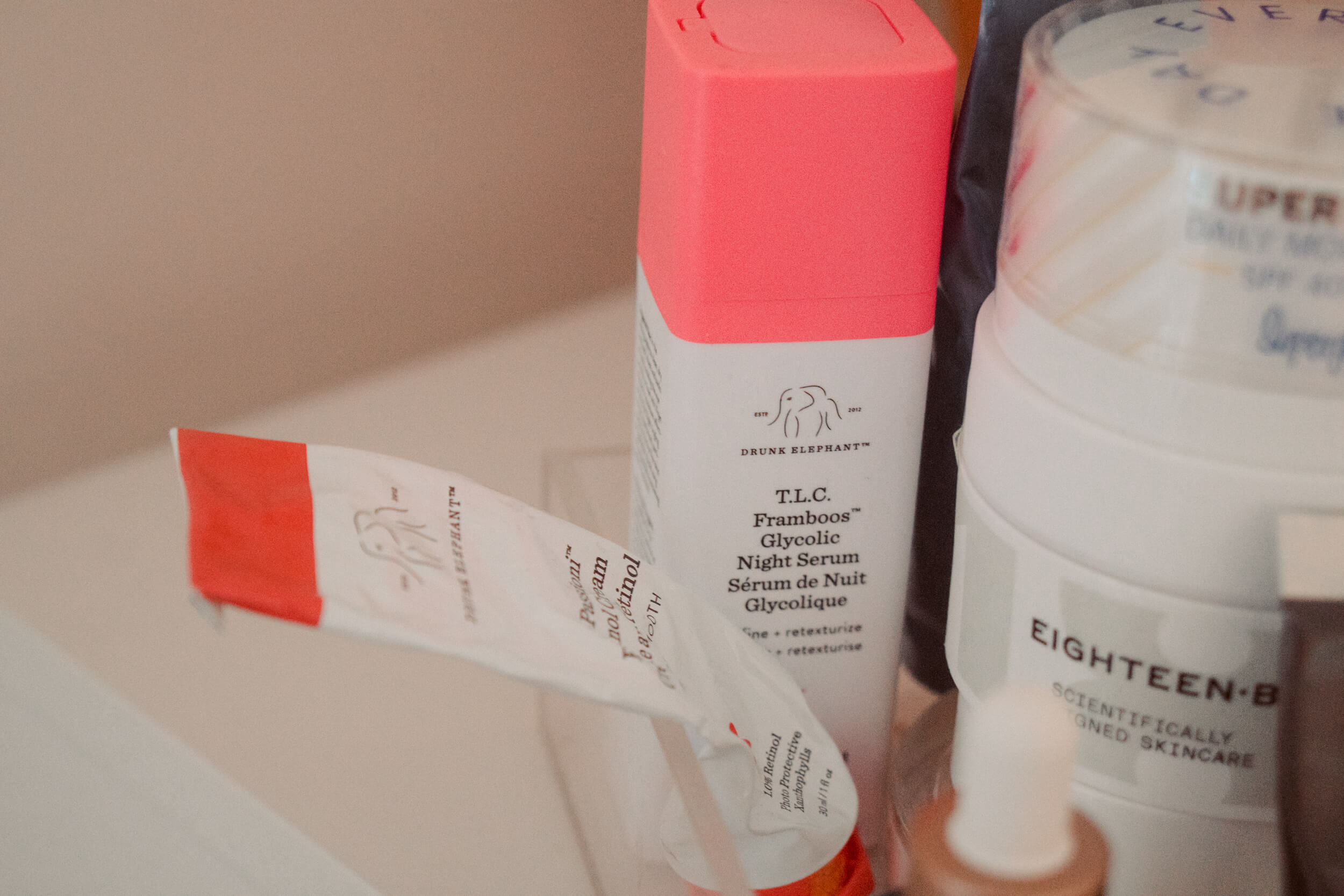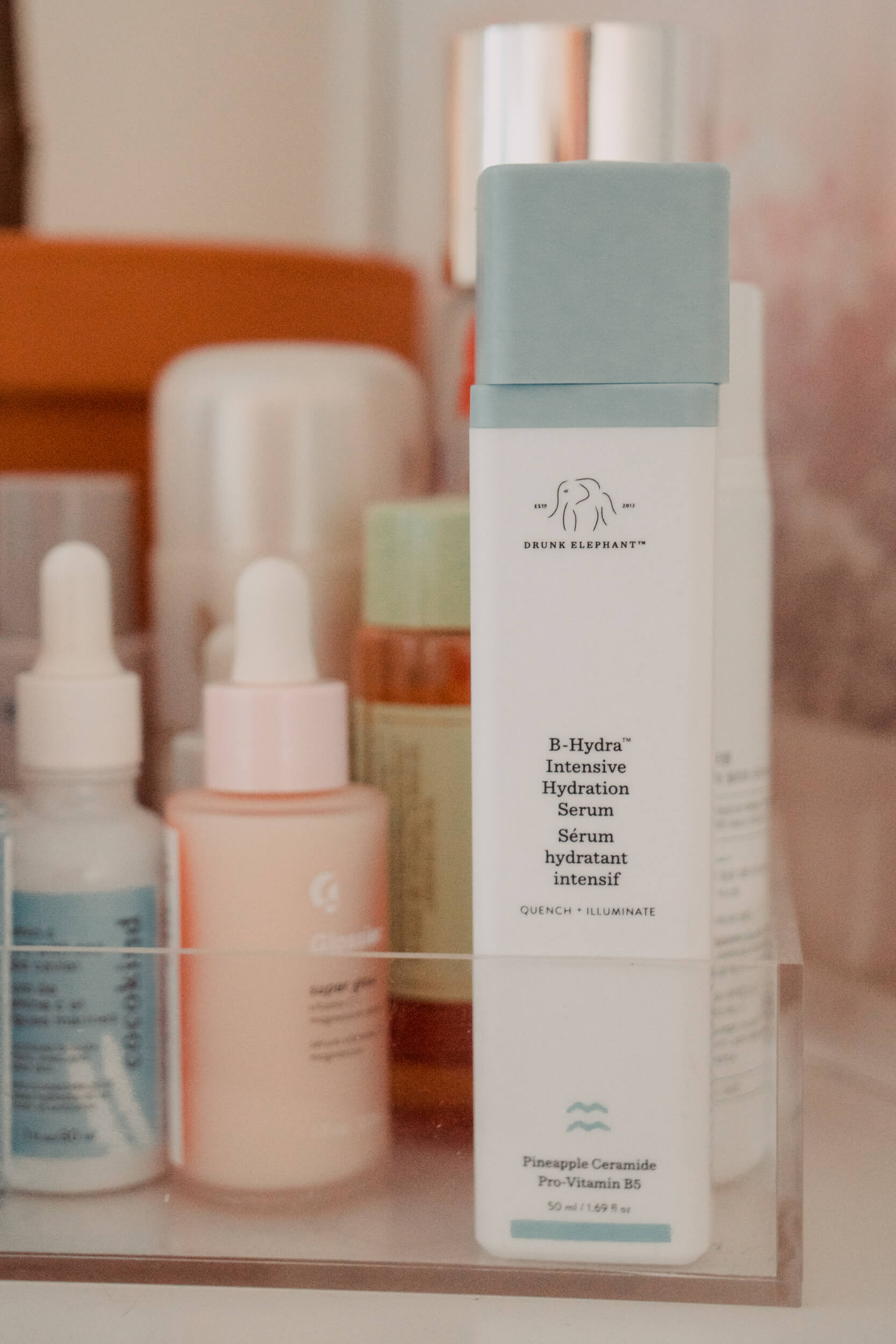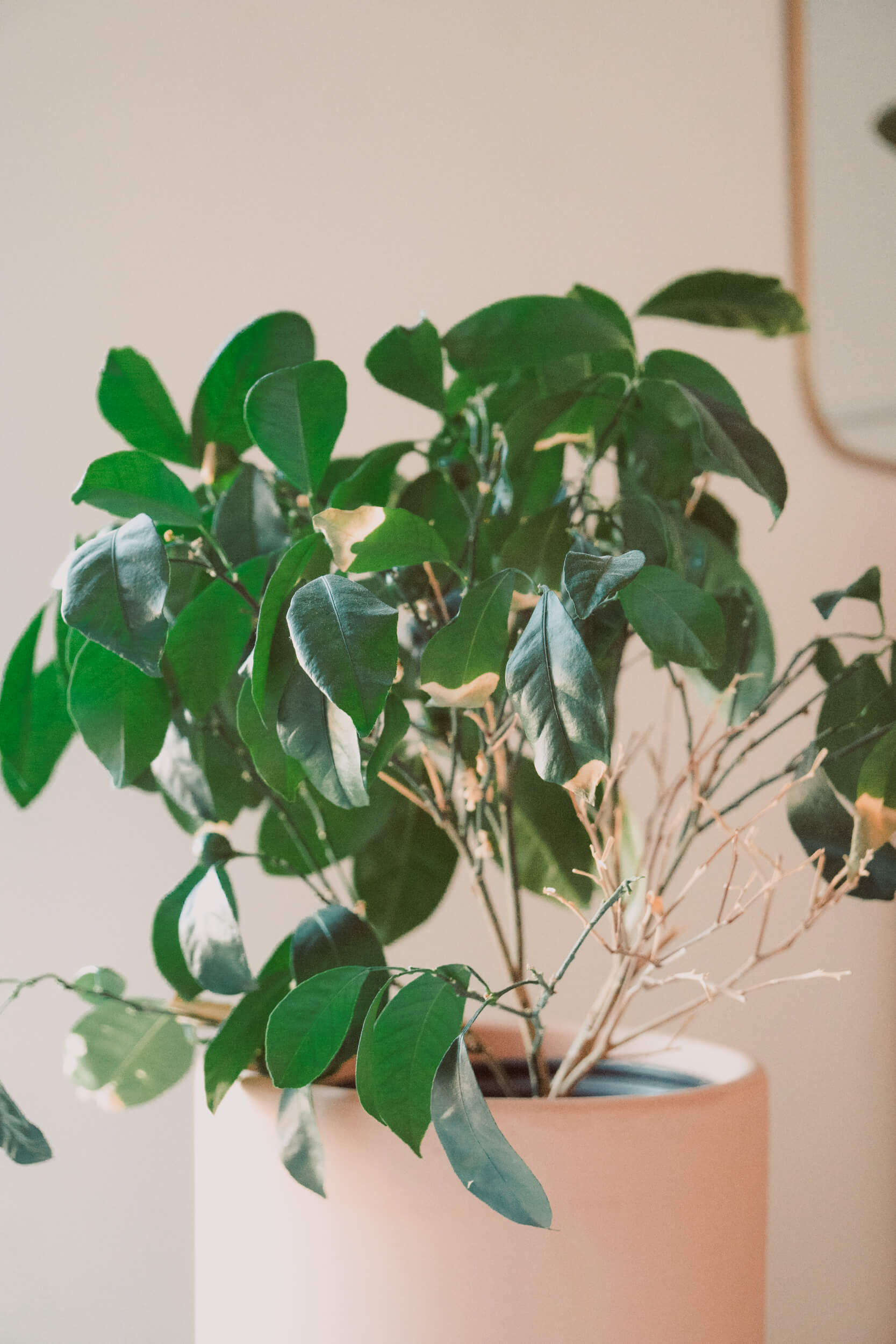 You spend so much time on set making videos, your makeup has been done by a lot of famous makeup artists, do you have any beauty secrets you can spill out to us that you learned so far? 
Yes, I've got my makeup done by a lot of different celebrity makeup artists. I think I've done Daniel Martin who does Megan Markle, Patrick Ta who does Gigi Hadid and he's amazing and he does a lot more makeup than I would normally wear, he made my lips look so big, definitely, I've learned from him how to overline my lips very slightly and then putting gloss on top just kind of like "seal the deal." I've got my makeup done by Katie Jane Hughes, who does Ashley Graham…
She's one of my favorites!
I love her, and we are friends. She was actually the makeup artist that, 4 or 5 years ago, before I started doing video at Refinery29, my very first editorial photoshoot ever, she was the makeup artist for that shoot, so that's how we became friends. And something that I learned from her, apart from making your skin super dewy, which is her thing, she has a lot of brush techniques that are very interesting. I find that when I put bronzer sometimes, it gets really patchy right away, and what she will do is to sweep it up and down instead of doing side to side motions and it kind of gives a nice diffused effect.
Something that I learned that it might be interesting is what I learned from Black Pink, the K-pop group, I had my make done by their makeup up artist and she does this thing when she lights a wooden toothpick on fire and lets it cool down and she used it to curl eyelashes, almost like those heated eyelash curlers, but she does it with lighter and a piece of wood, and it makes your lashes stay up really nice and pointy. It was a really cool trick!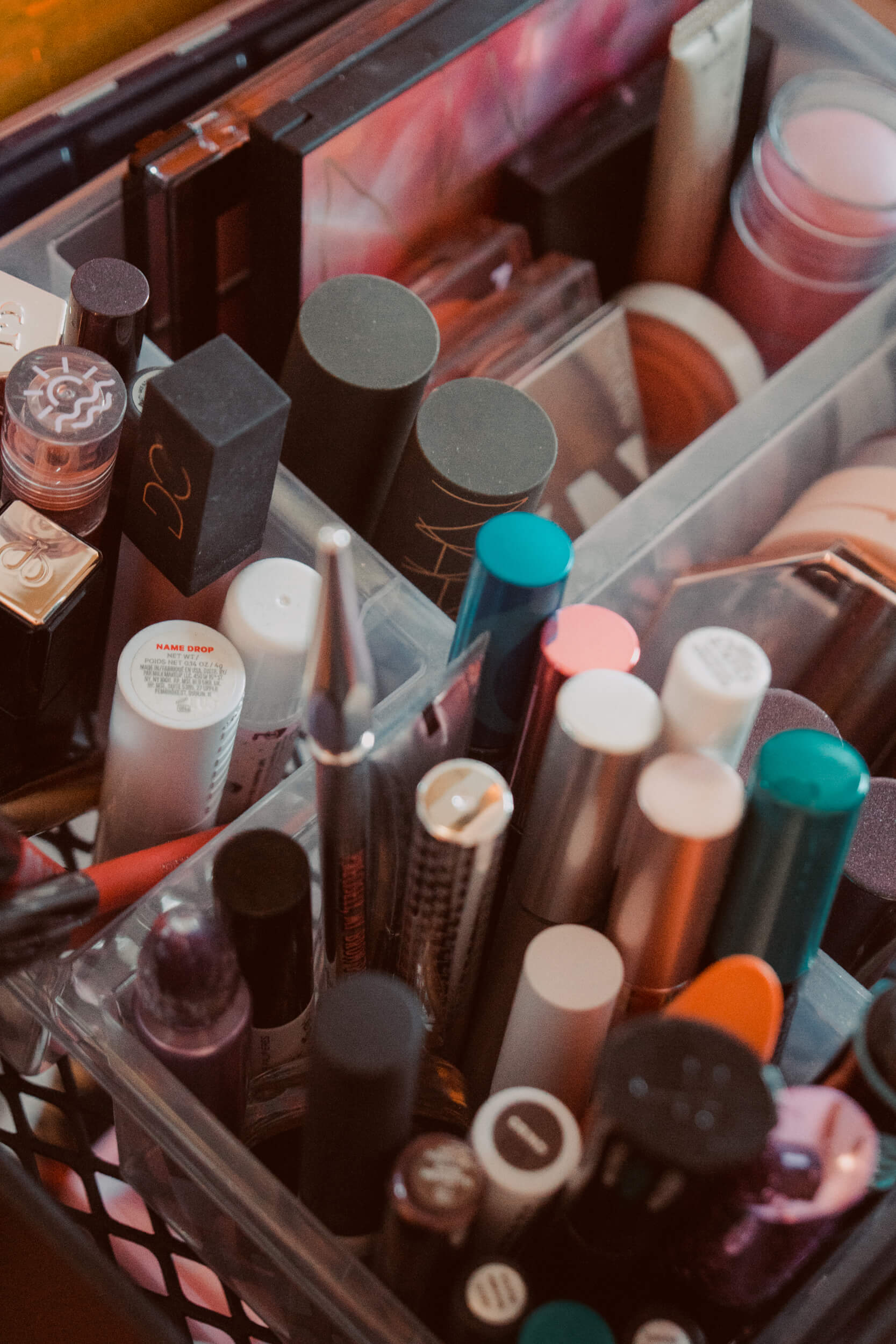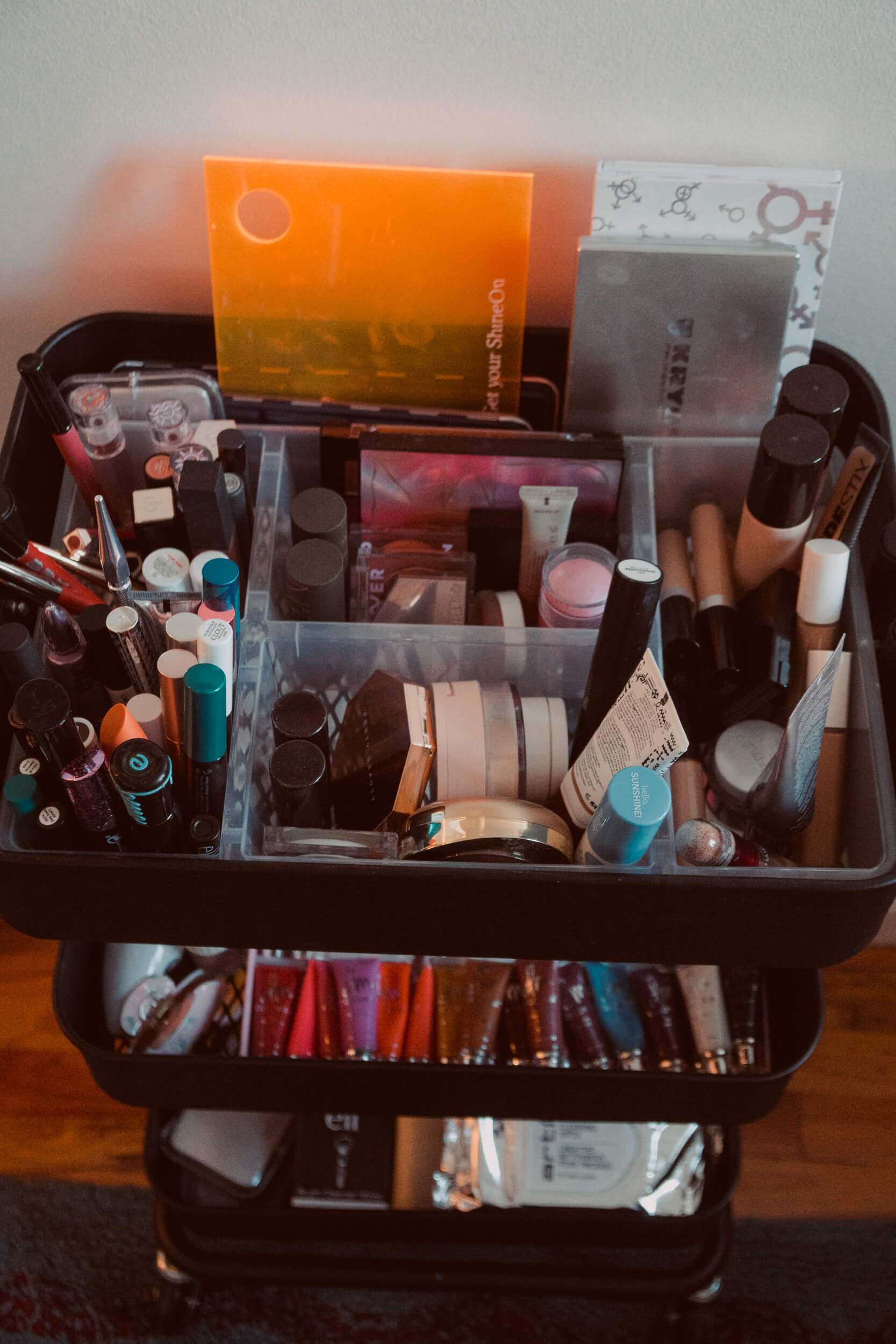 "I find that when I put bronzer sometimes, it gets really patchy right away, and what she will do is to sweep it up and down instead of doing side to side motions and it kind of gives a nice diffused effect."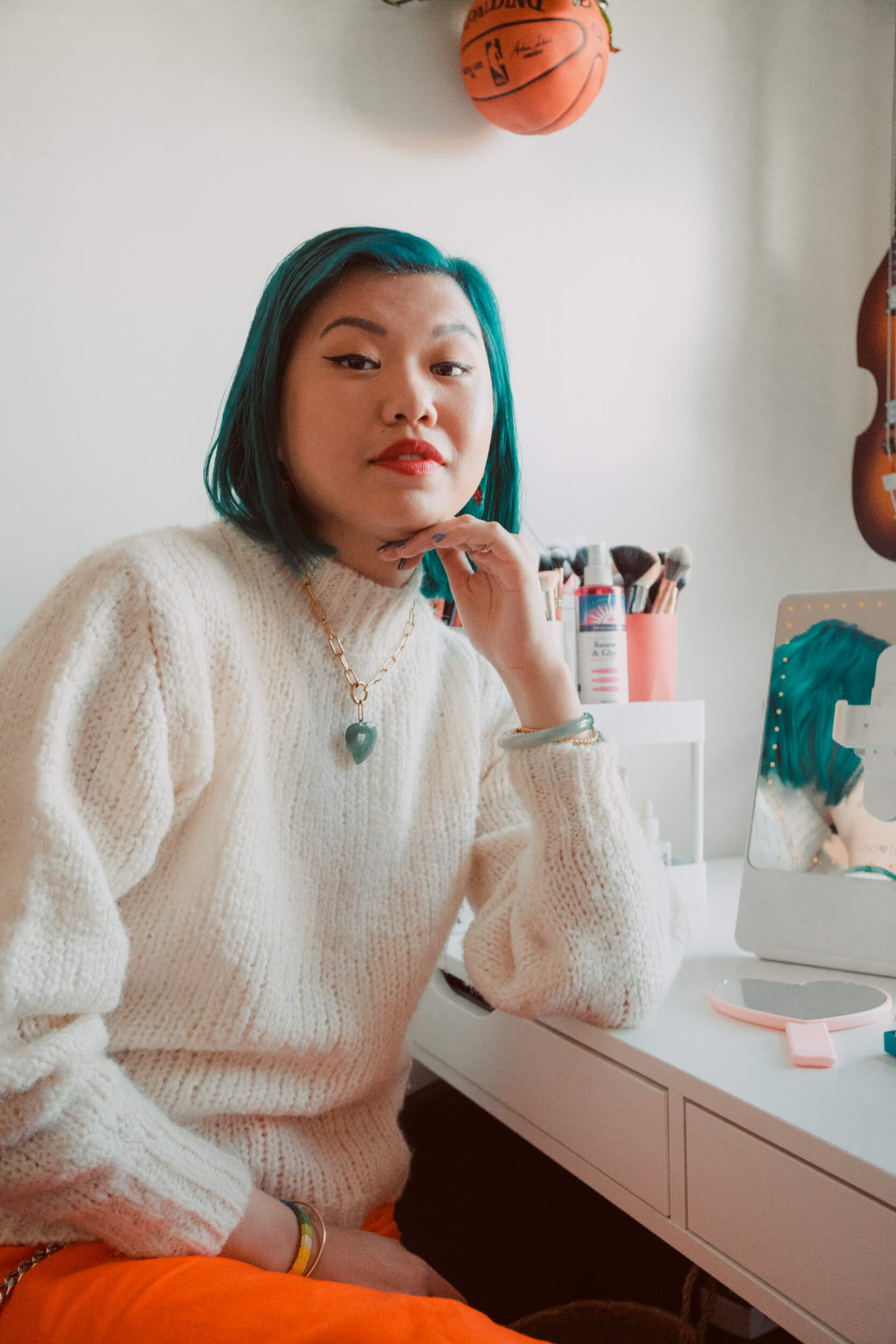 You have tried a lot of facials too. What was the craziest one you have ever tried and the one you liked the most?
The craziest was probably the vagina facial, but I actually think that's one of the most practical facials I've ever got because essentially it's for your vulva for the skin around your vagina, and your esthetician basically takes your ingrown hairs out and I think that A, it's something everyone gets, everyone gets ingrown hairs and B you aren't supposed to operate on ingrown yourself so it's nice to have someone working on you with sterile tools to take out the hairs for you. It's not for everyone: if you're not comfortable with being naked in front of someone (which makes complete sense), you may not like it. But it's a very practical facial.
I'm kind of the opinion that facials are not necessary, they are a luxury that you can have when you want to indulge, you want to have a pick me up. I would never prescribe someone to have a facial once a month, I think having a good skincare routine is a lot more important. But if you want to reset your skin, it's a good way to treat yourself. But in general, any facial that has extractions I really like, I like the very basics ones.
A technology that I really like is LED technology, and a lot of facials have it. This treatment is not invasive, you don't feel anything, but the different colors of light can do different things: the blue light can help kill bacteria, great for acne, red light is good for boosting collagen… So I like facials that include a little bit of that at the end, for 15 minutes.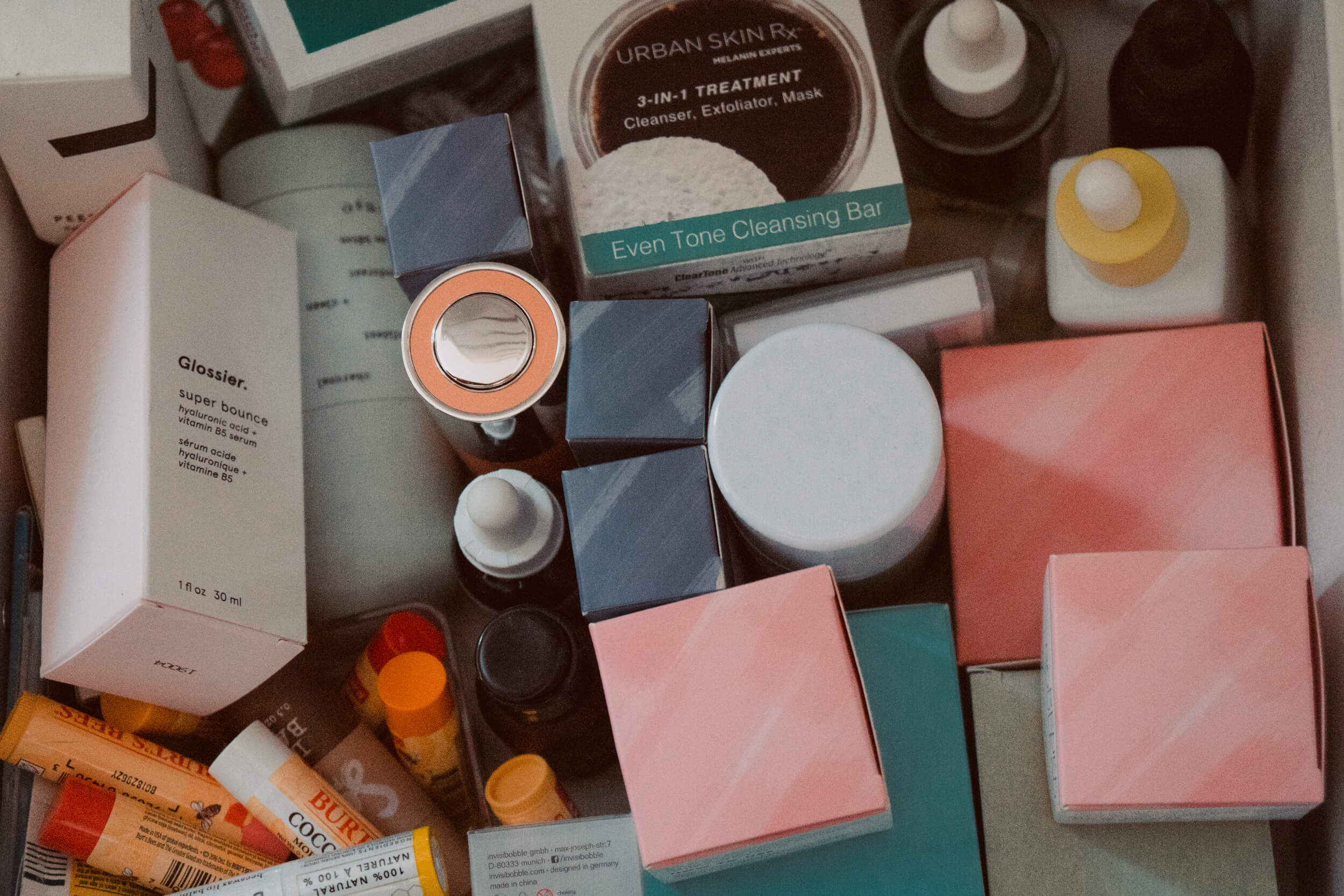 "The craziest was probably the vagina facial, but I actually think that's one of the most practical facials I've ever got…"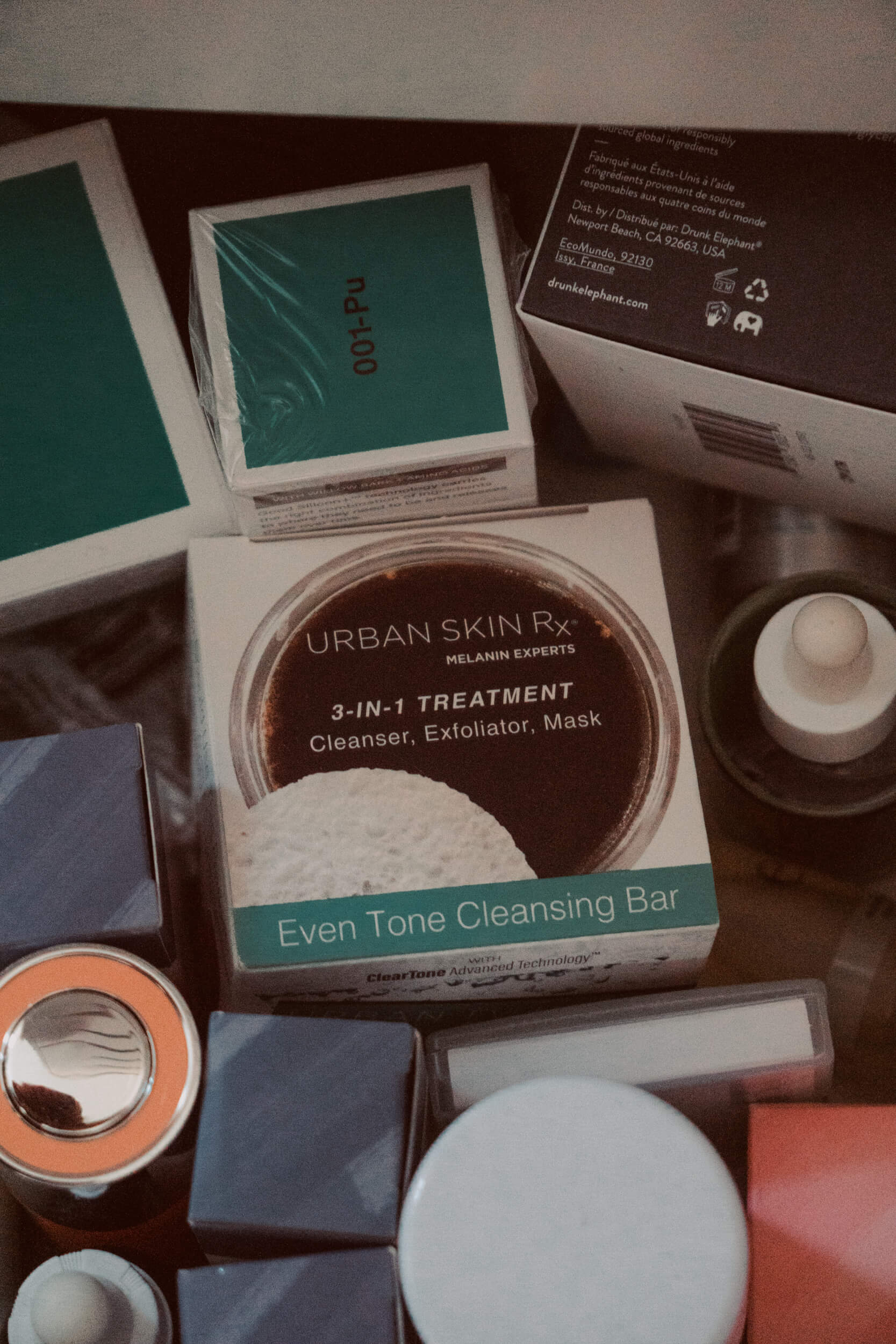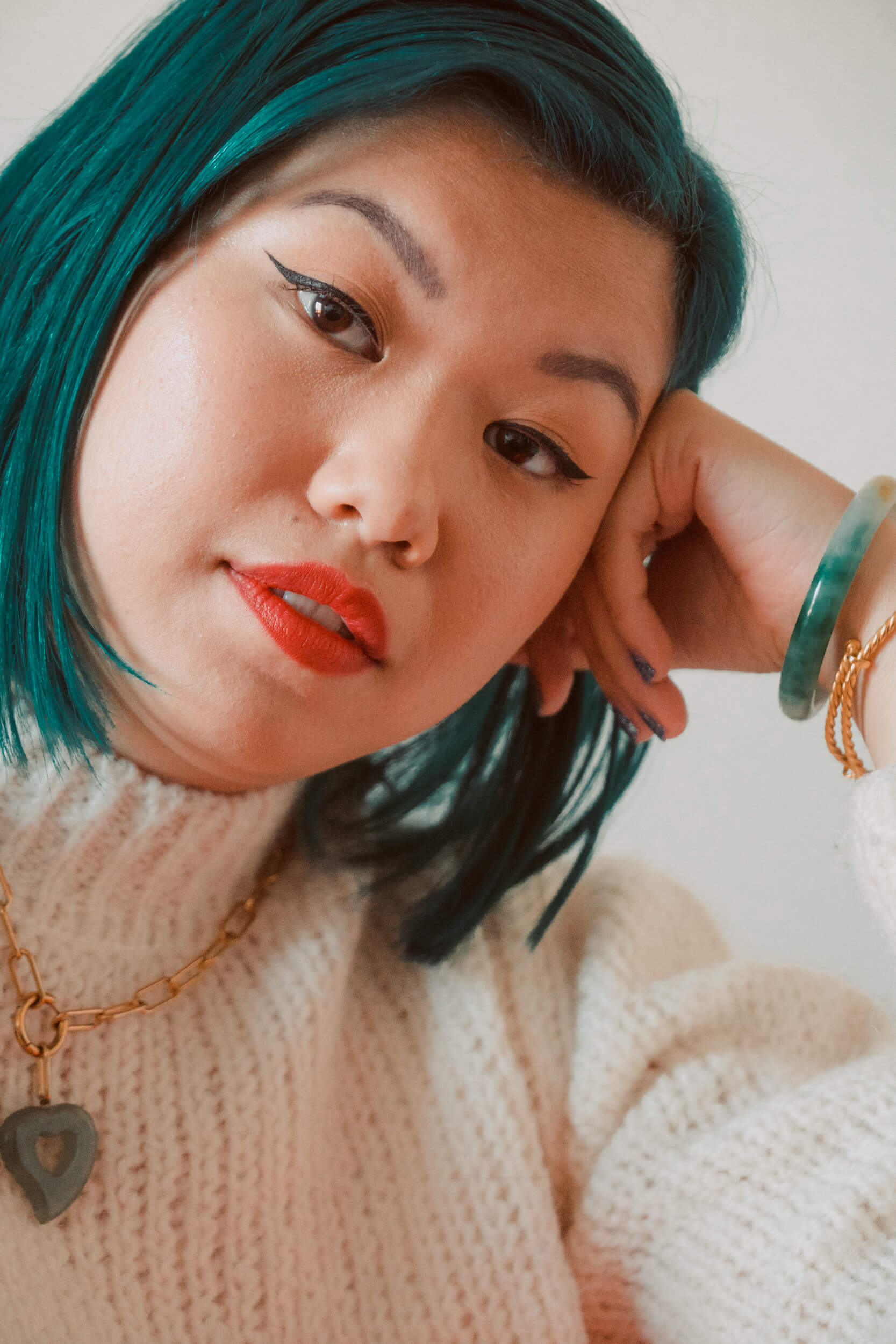 What's the book on your nightstand?
Right now, I'm reading "Pachinko." It's a really long book that spans multiple generations in Korea, so it starts off kind of following one family but in three multiple generations of their life, it's really interesting so far. It's actually pretty sad, but I like it.
I just finished "Educated" by Tara Westover, it's a biography. It's about a girl who grew up in a survivalist Mormon family and it's about her life, it's so interesting.
What's the thing that makes you laugh the most? 
When my cat does something stupid. When she thinks she's been sloothy and she falls off something.
I like Comedy Central TV shows, kind of sketch comedy things.
My friends make me laugh, but probably I laugh most of my cat, she's really clumsy.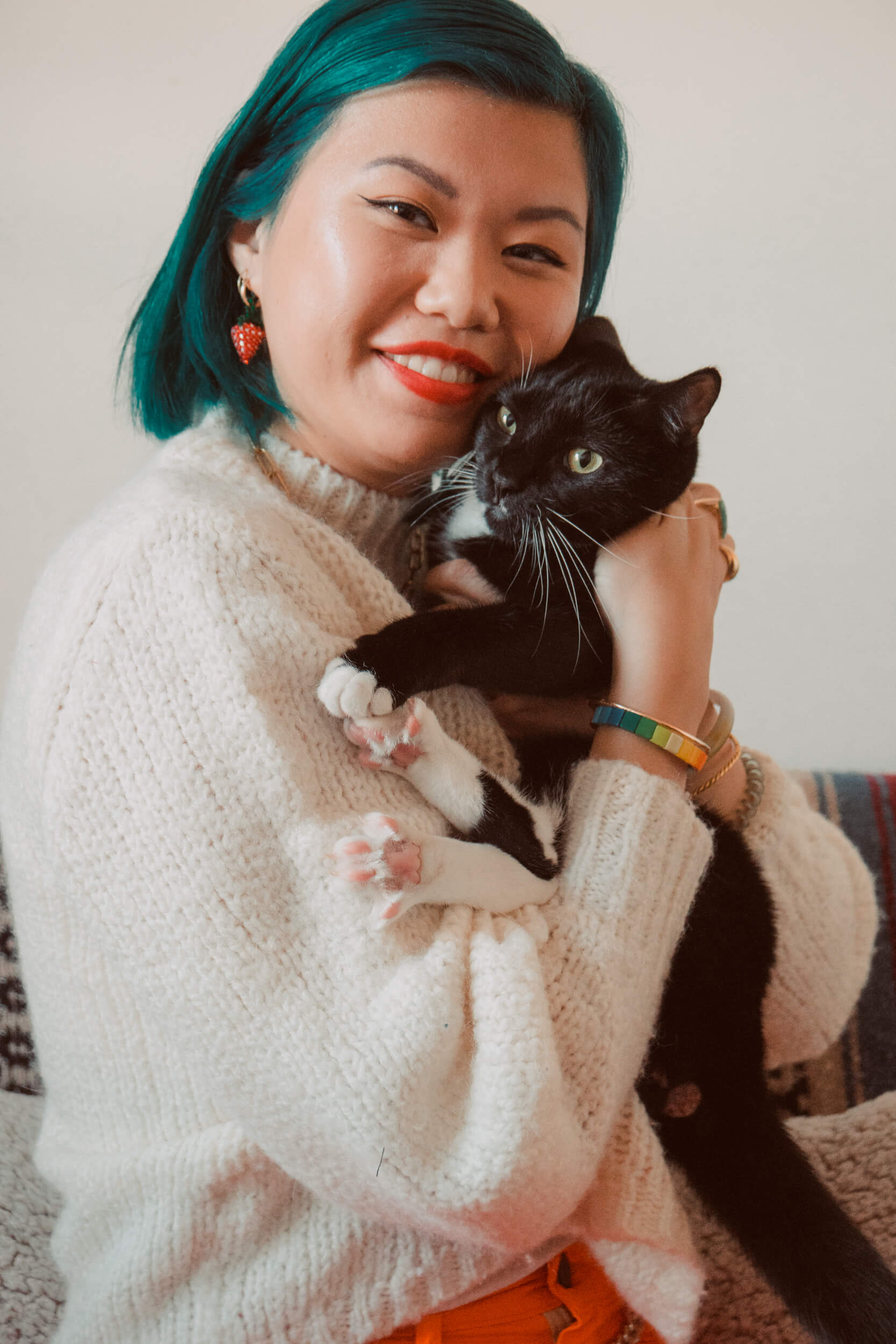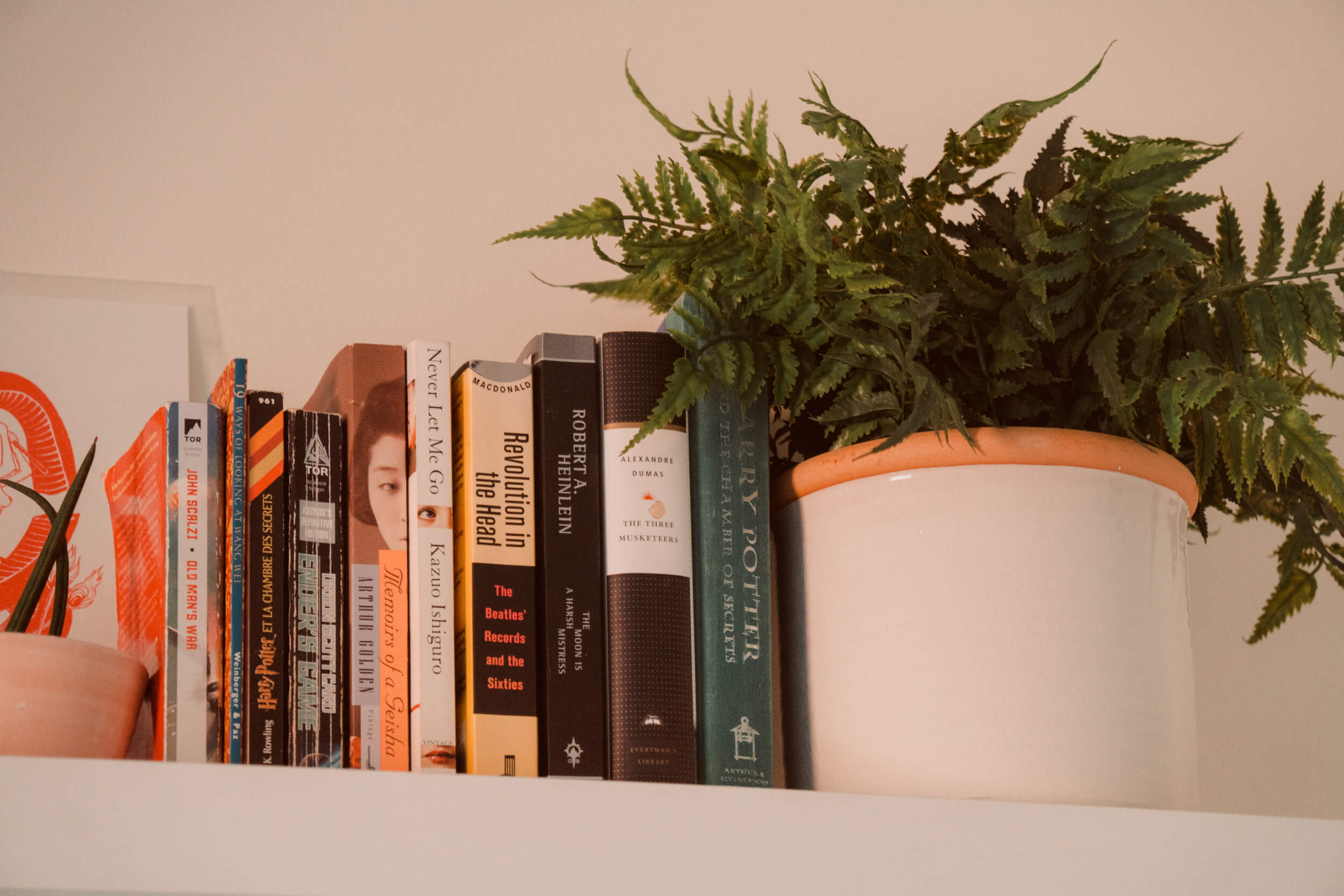 What's your go-to look?
A cat-eye, concealer, I don't wear foundation really often actually, I just wear concealer all over the face, just because I'm lazy and I don't want to do two steps and also when I'm traveling just bring concealer is great because you can put all over. Then I do blush, I don't contour every day, I do a little bit of highlighter, then I put some eye primer on and then I do a cat-eye. I do colored cat-eye all the time: blue, orange, green… Then mascara, eyebrow gel and lipstick, but usually I prefer a tinted lip balm, I really like the Fresh ones. That's usually my go-to look when I don't want to have to be creative.
You are very creative. You do a lot of colored makeup looks! Is there one you did that you said, "yes, this is very good!"?
My favorite one is my cloud look. And it's so easy: it's just like blue and you can literally just take white cream face paint on a small brush, but you can take a cue tip and dip in it and do three little dots and then you make clouds. It was inspired by nails that I got in Korea.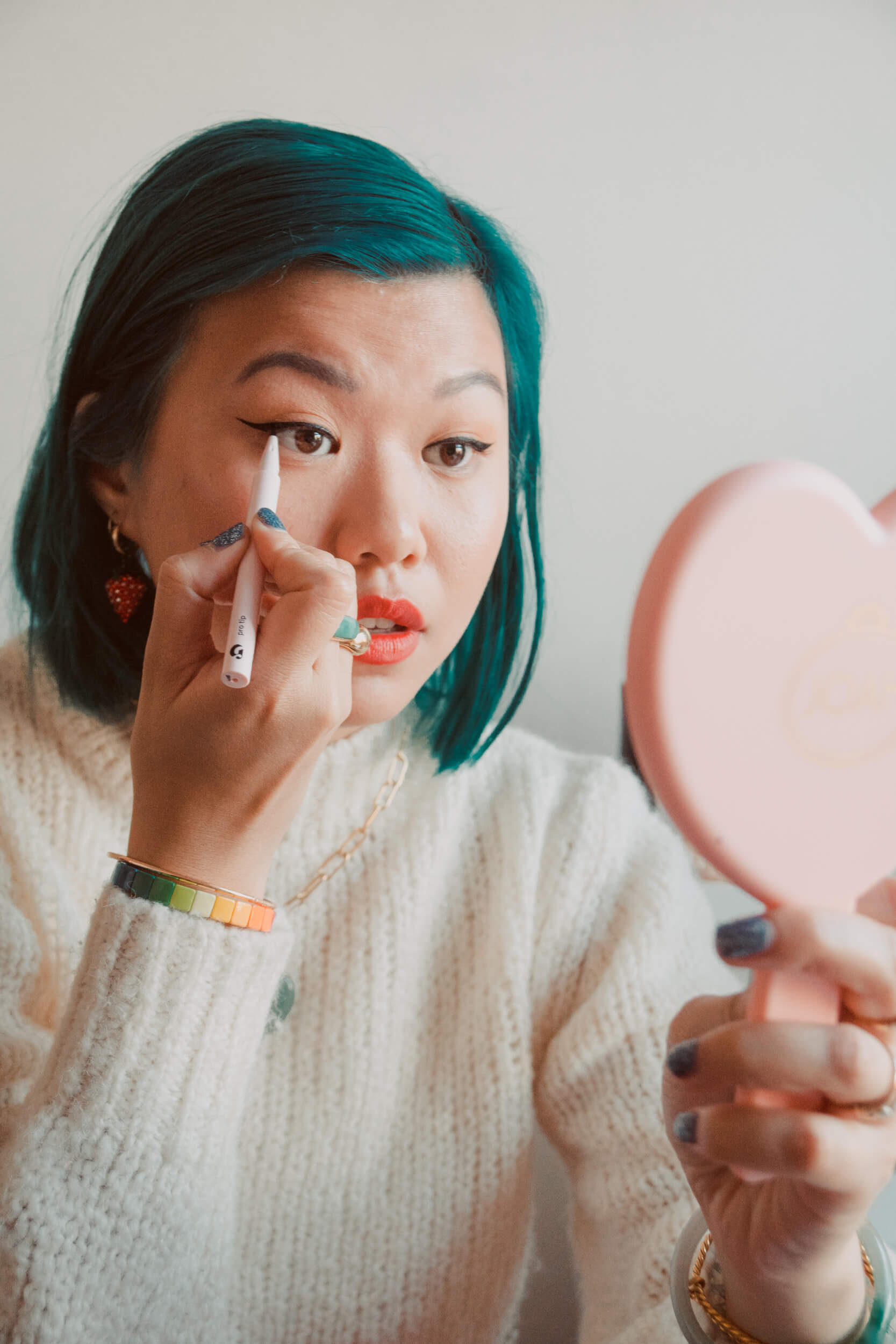 "I do colored cat-eye all the time: blue, orange, green…"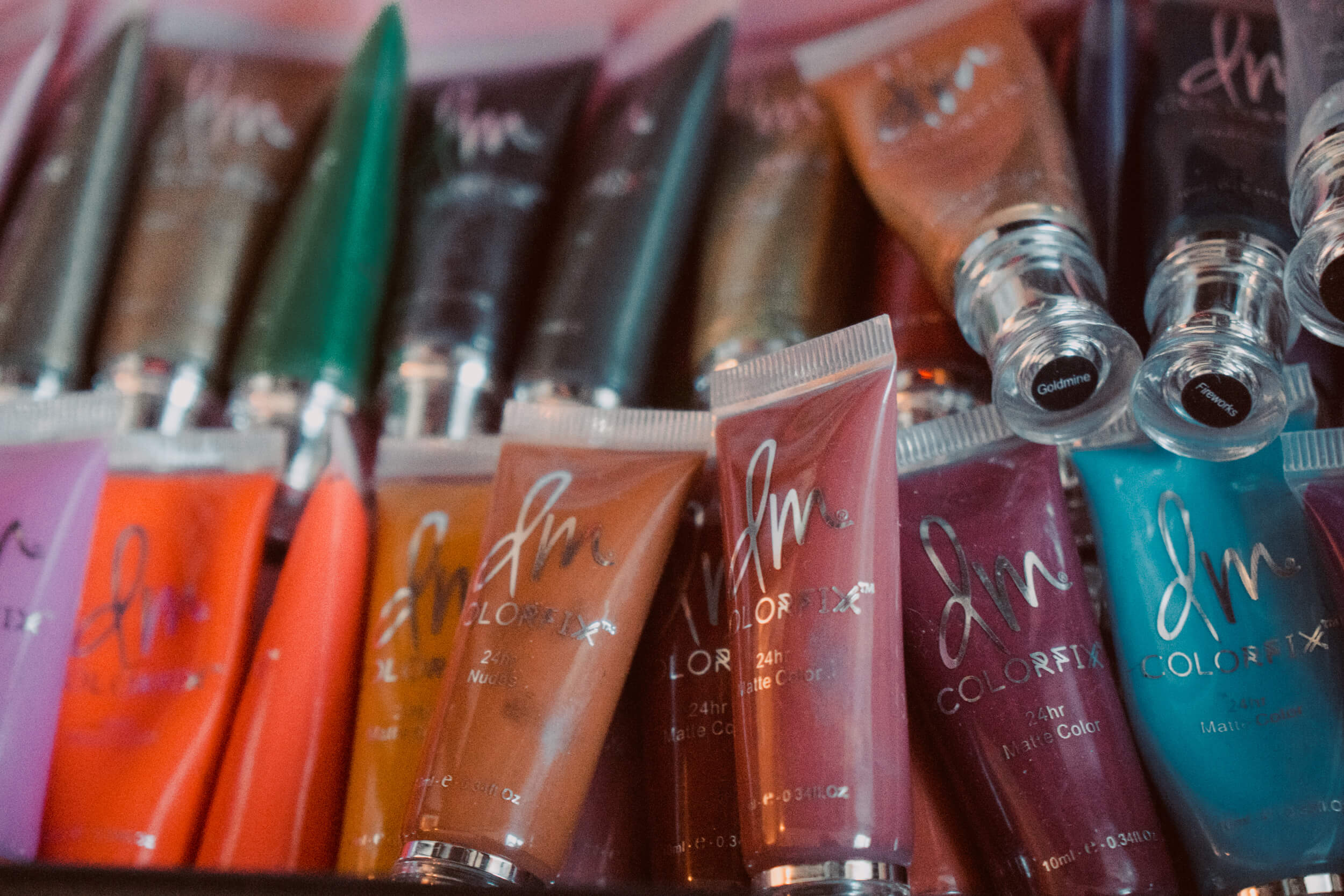 Your favorite hairstyling product or tool? 
I really love the Bio Ionic vibrating straightener, it gets your hair super smooth and straight.
Then I love Olaplex n.3, it's an amazing hair mask, it makes your hair super soft and it's really good if you have color-treated hair. Then I also really like Seed Phytonutrients, it's an awesome brand, they are doing a lot of innovations in the sustainable beauty space. They work with this manufacturer called Ecologic and together made the first shower safe cardboard bottle for their shampoos. You can recycle it or compost it and it uses 60% less plastic. They also have an anti-frizz cream that comes in an aluminum case that when you're done you can recycle it and that's a very good anti-frizz cream. I use it every day.
Talking about hair, you change a lot of colors, do you have a favorite one? 
So, I've been pink, purple, dark blue, light blue and then teal. In general, I like the blue category the most because it lasts the longest. The pink fades so fast and patchy and also the lavender, but blue just hangs in your hair a lot longer, it's the most consistent. I get my hair re-done every 6-8 weeks and the blue stays looking good for the entire time. My favorite is probably this one, the teal.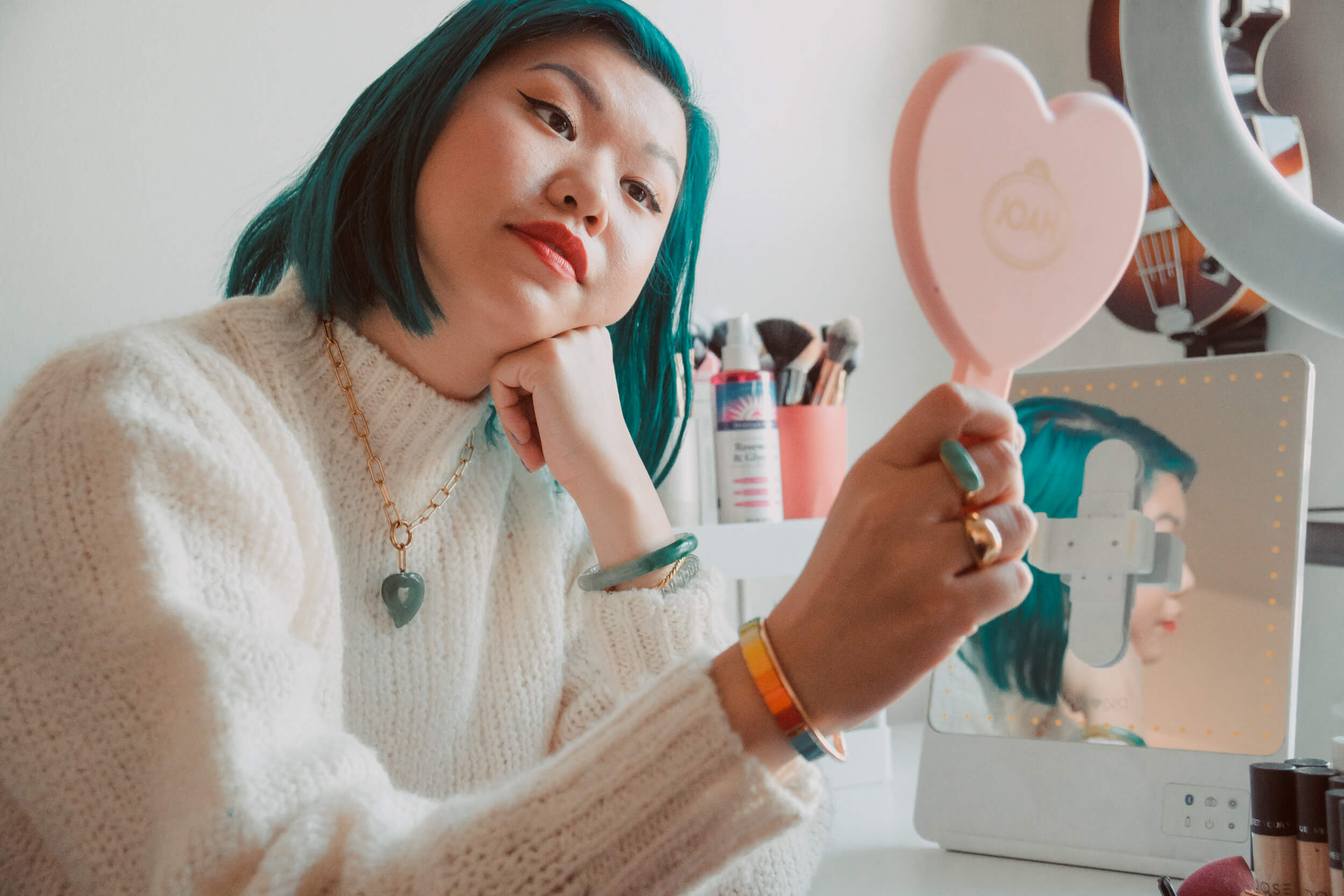 Your favorite body lotion? 
I don't use body lotion a lot, I should! I should moisturize my body more and I should wear sunscreen on my body more. Ren has a body serum, it's basically a body lotion but it has acids in it, I'm obsessed with acids, it lightly exfoliates. I have, in the back of my arms, this thing called keratosis pilaris, it's very common and it makes the back of your arms kind of bumpy. So I put that in the back of my arms and it smooths things out.
Your favorite fragrance? 
It changes a lot. I'm actually one of those people who can't wear a lot of fragrance because it gives me a headache, but I love the Byredo Rose Oil, fragrance oil last longer than fragrance. My second favorite is Nest, which makes a perfume called Cocoa Woods, it doesn't smell sweet or cakey, it has a kind of a floral/warm cocoa sent.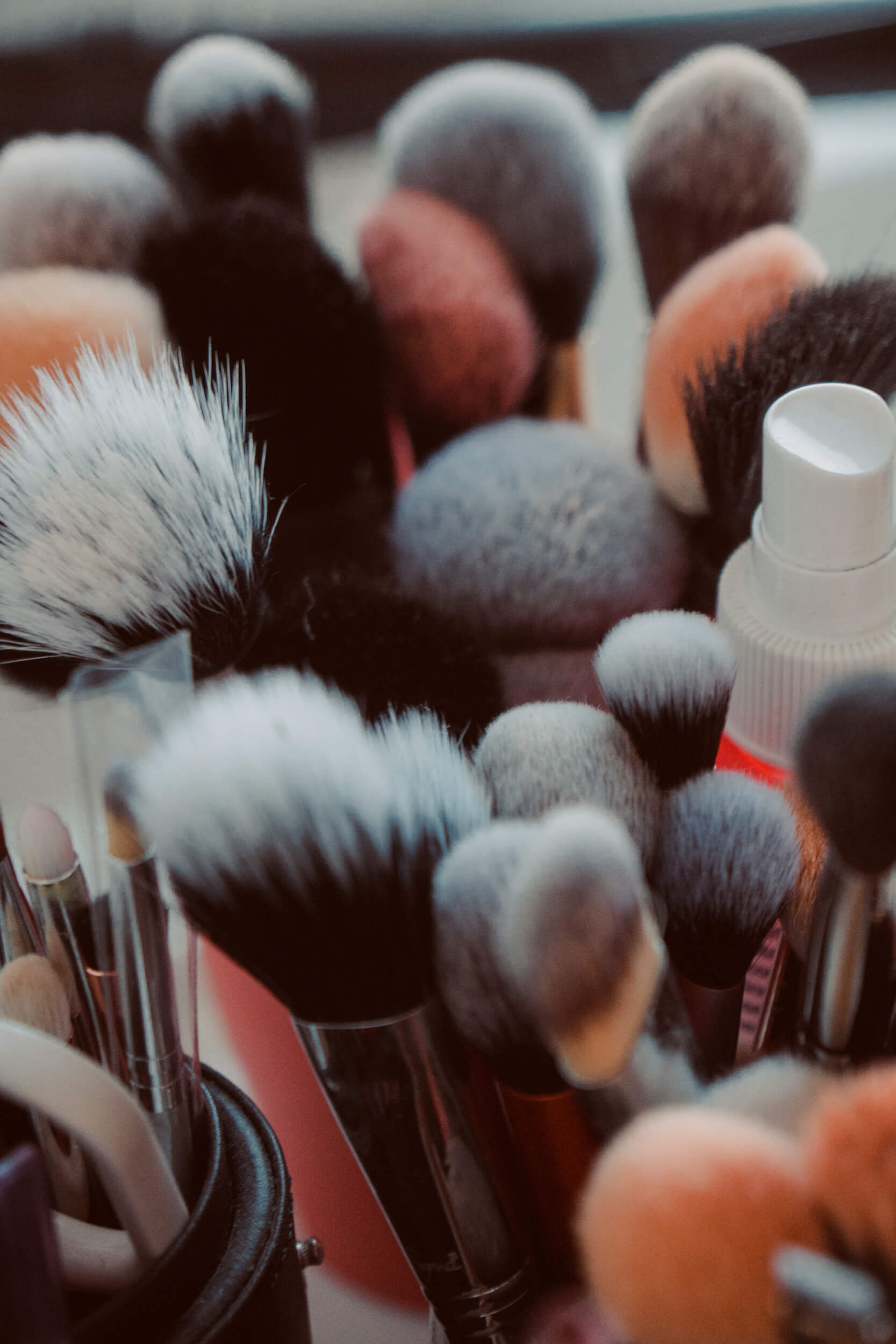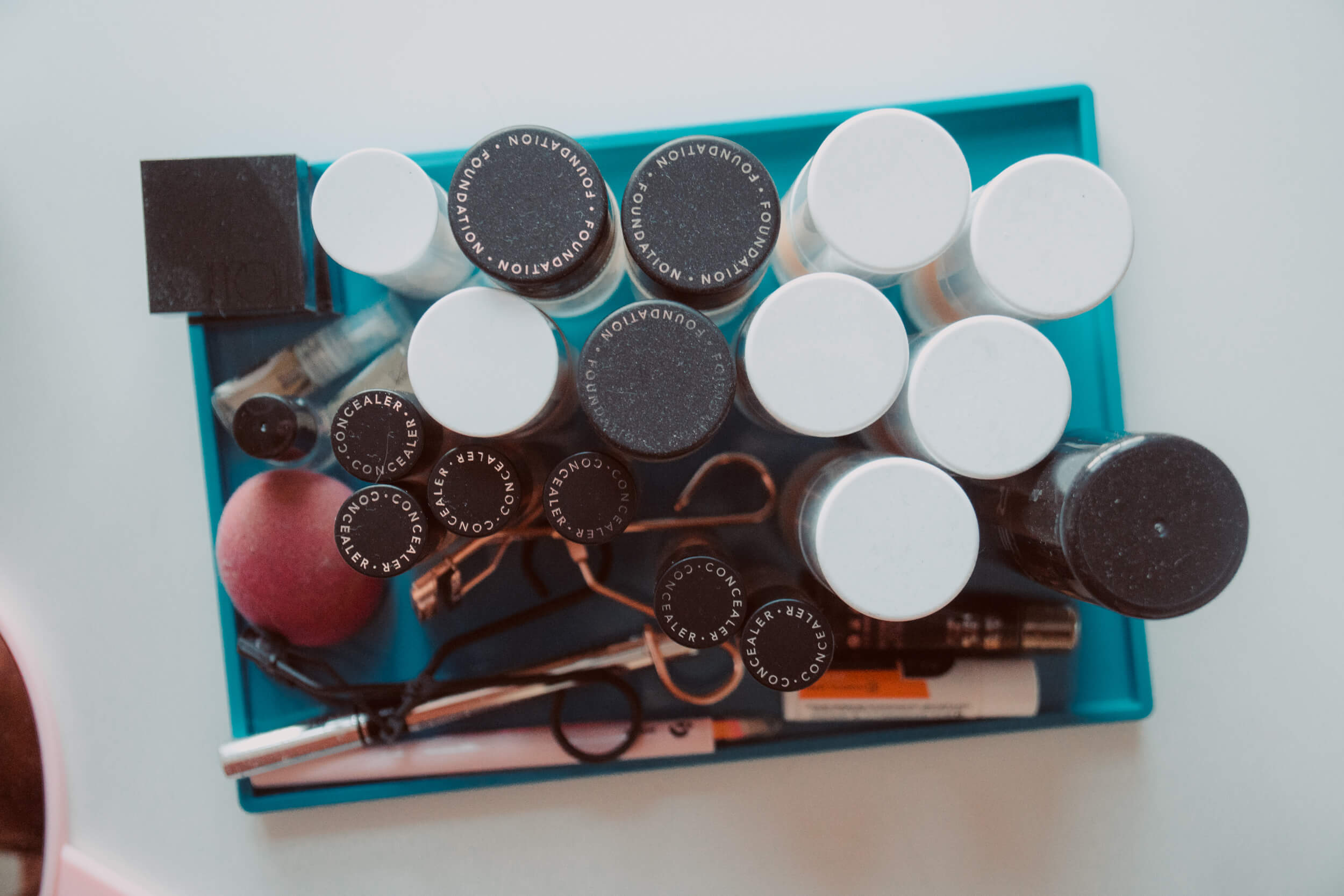 What was your first beauty product obsession? 
I didn't get into makeup until pretty late, I got into makeup in my senior year of high school, because my friend introduced me to Youtube, when I started watching Ingrid Nilsen, Tanya Burr, Fleur de Force and all those, they all taught me a lot of things. And because I started to really get into makeup then, the things that were really popular were the Real Techniques Expert Face Brush, Maybelline Bad to the Bronze and Revlon's Lip Butters.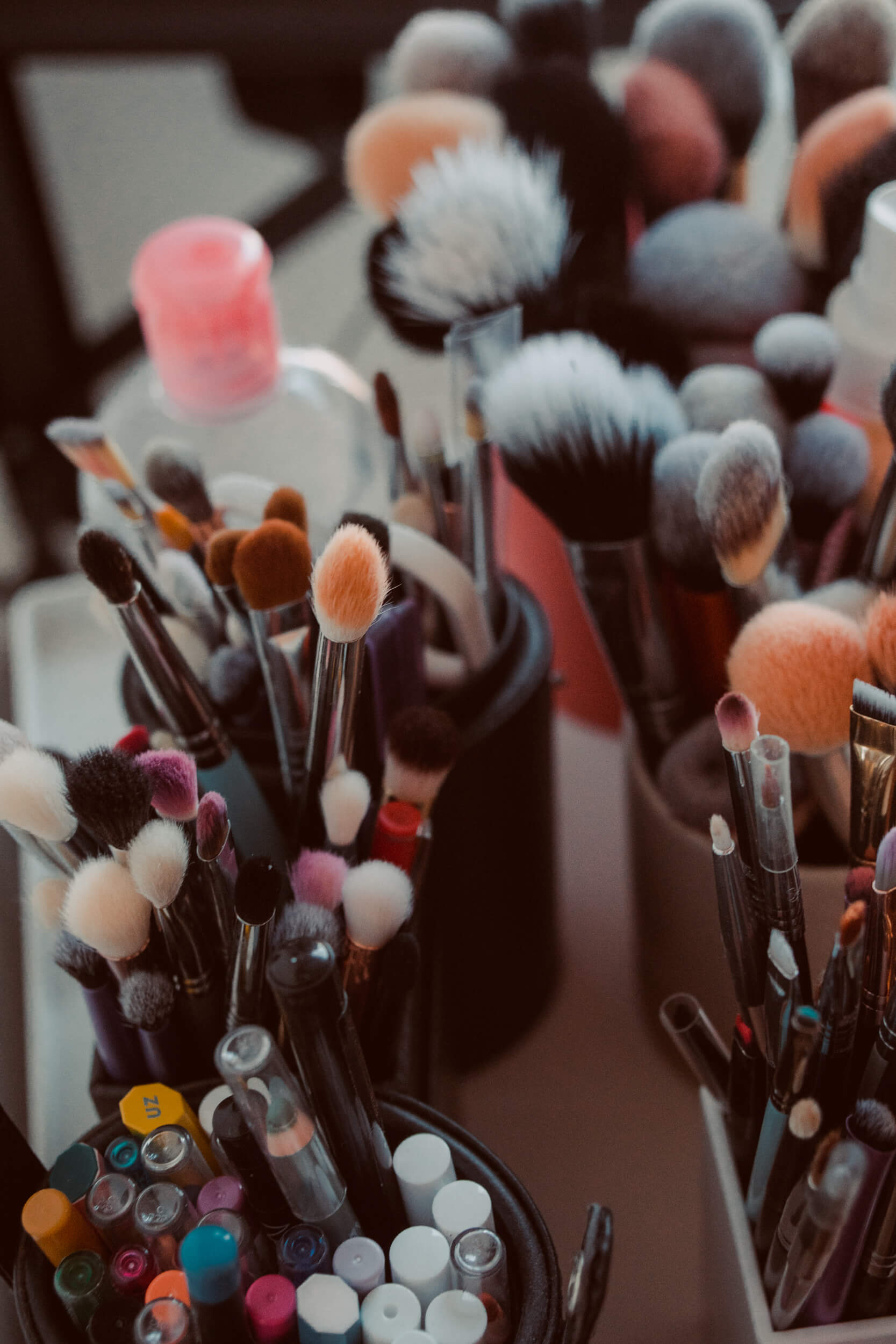 The item that is currently at the top of your beauty wish list? 
I would not say no to the Anastasia Beverly Hills Norvina Pro Pigment Palettes, huge palettes. I get excited about skincare and I love Drunk Elephant, Farmacy, Skin Fix which is a really good brand for sensitive skin. Maybe I would like to buy a face paint palette, I'm looking for a really good face paint palette, that you can just mix with water and that's really pigmented. And also, the Suva Beauty Liner, I want every single color.
You also travel a lot. Have you ever tried foreign products, and do you have a favorite? 
Most of the foreign beauty products are French and Asian products. My dad is French from Madagascar, and we have family in Paris, so I go there and to the Farmacy called Citypharma and it has all this discounted Pharmacy stuff and I like Nuxe Rêve De Miel and Embryolisse. As Asian products, I really like this mascara from a brand called Kiss Me, it holds the curl so well. Korean and Japanese eye products are really great, also eyeliners are amazing, super waterproof, they are really good.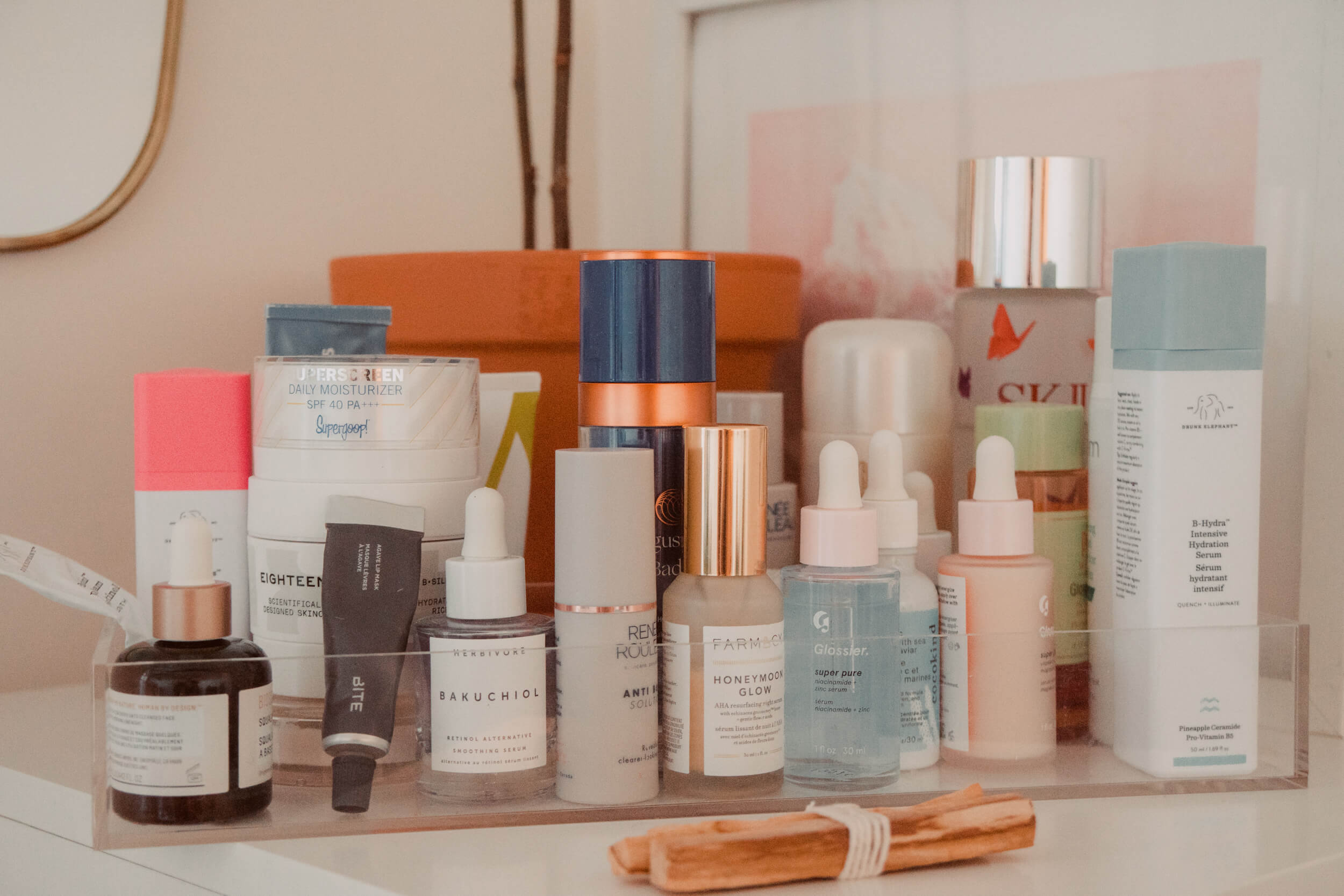 "I get excited about skincare and I love Drunk Elephant, Farmacy, Skin Fix…"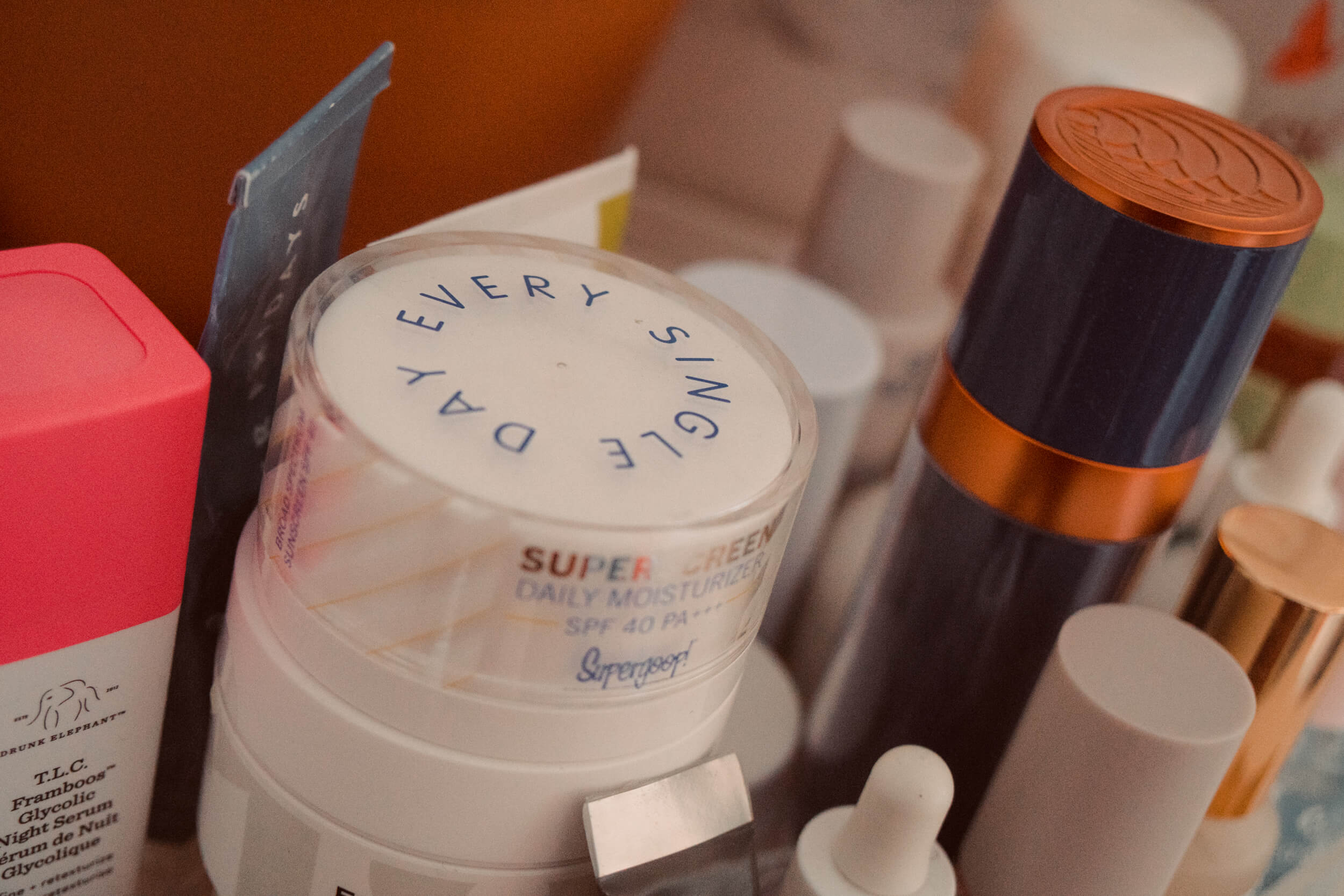 Since we are talking about travel, what's your jet lag beauty cure? 
I actually don't get jetlagged anymore. But, if my skin looks bad, I'll do a cocktail of masks: an acids mask, the Renée Rouleau Triple Berry Smoothing Peel, or the Naturopathica Sweet Cherry Brightening Enzyme Peel. I always like to exfoliate first, so to get rid of the dead skin and then I put on either a clay or a detox mask. And then, after I do my regular skincare, I'll do more moisturizer, I'll do my moisturizer and then I'll seal everything with an oil. I don't use it every day but if my skin it's very dry I'll use it.
What's the bravest thing you have ever done?
I'm not a very brave person on the regular. I don't know if it's brave but something that I do is trying to only promote cruelty-free brands, especially if they're going to pay me, I want them to be cruelty-free. So, I've said no to a lot of work because of that. I'm not a very brave person on the regular. I don't know if it's brave but something that I do is trying to only promote cruelty-free brands, especially if they're going to pay me, I want them to be cruelty-free. So, I've said no to a lot of work because of that. I'm in the process of trying to use up a lot of my non-cruelty-free makeup so I can replace them with cruelty free brands which is why you see some non-cruelty-free products in my collection.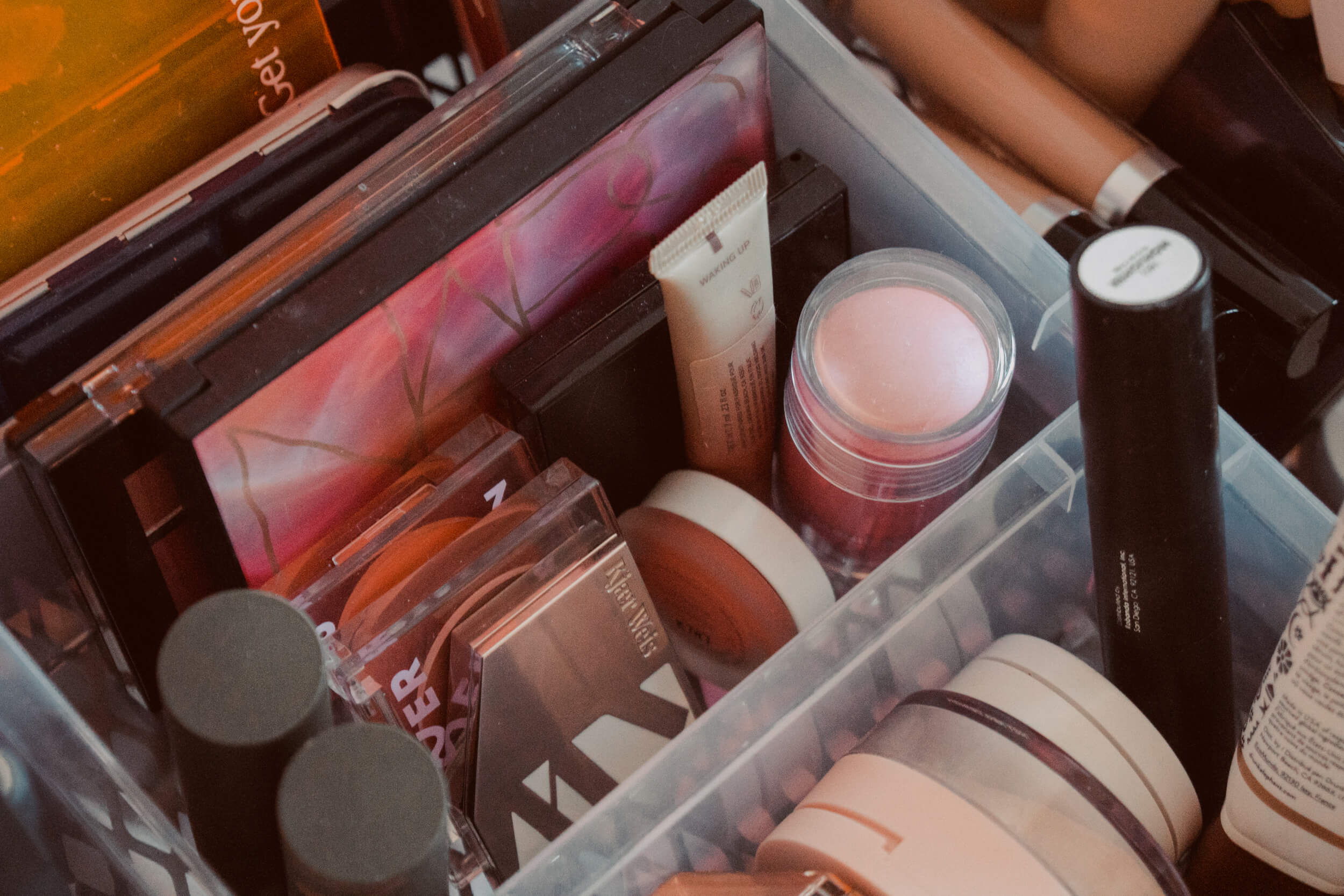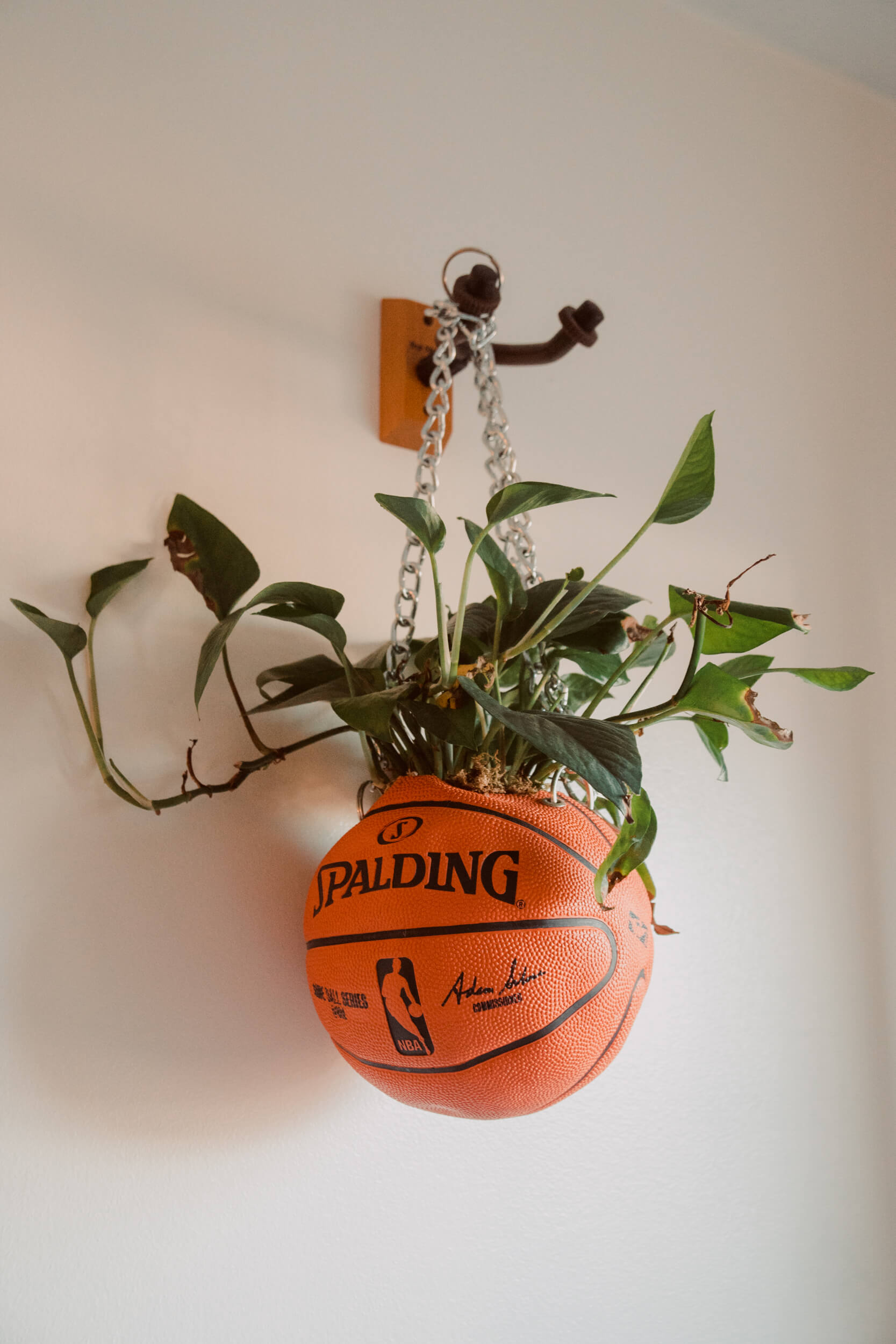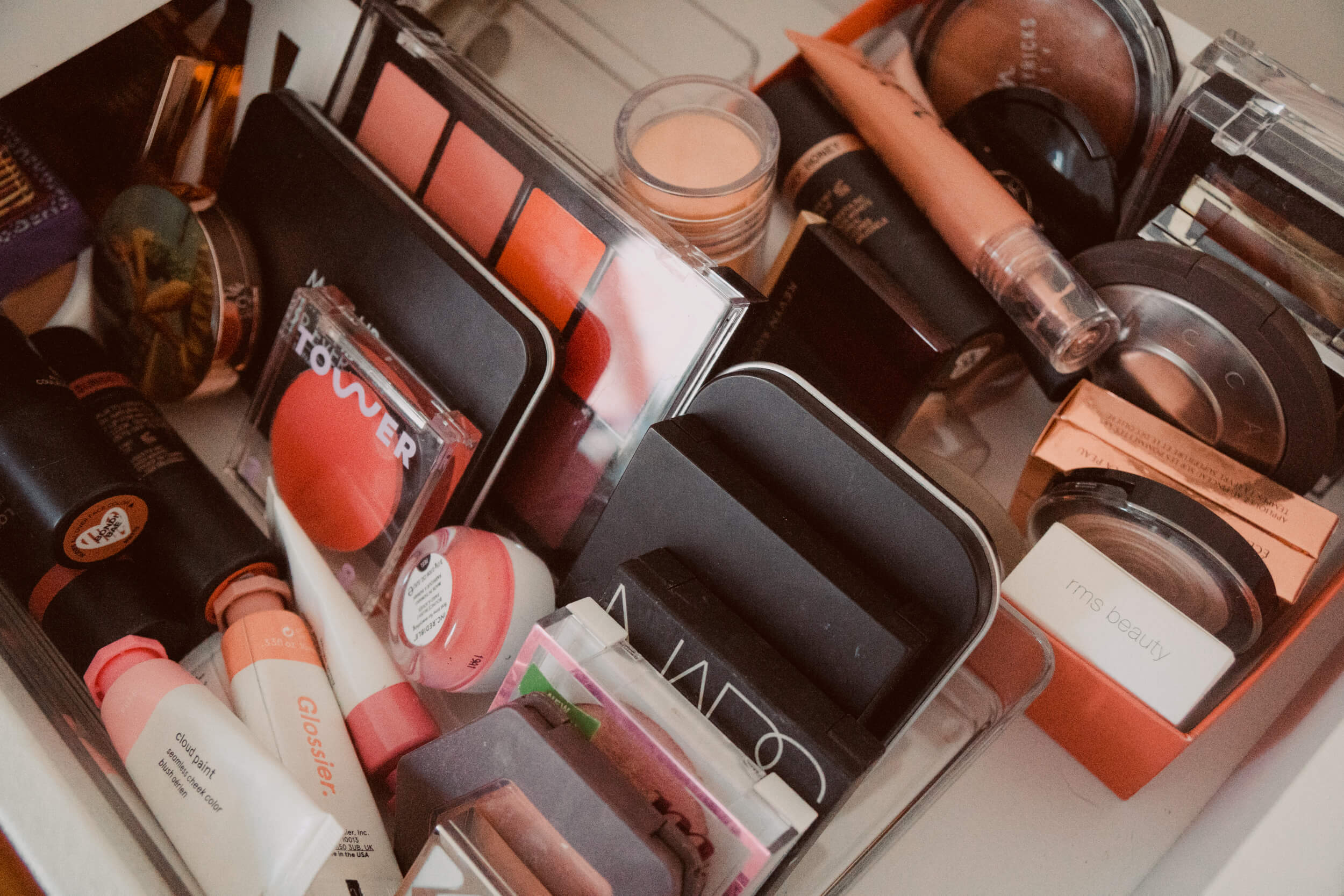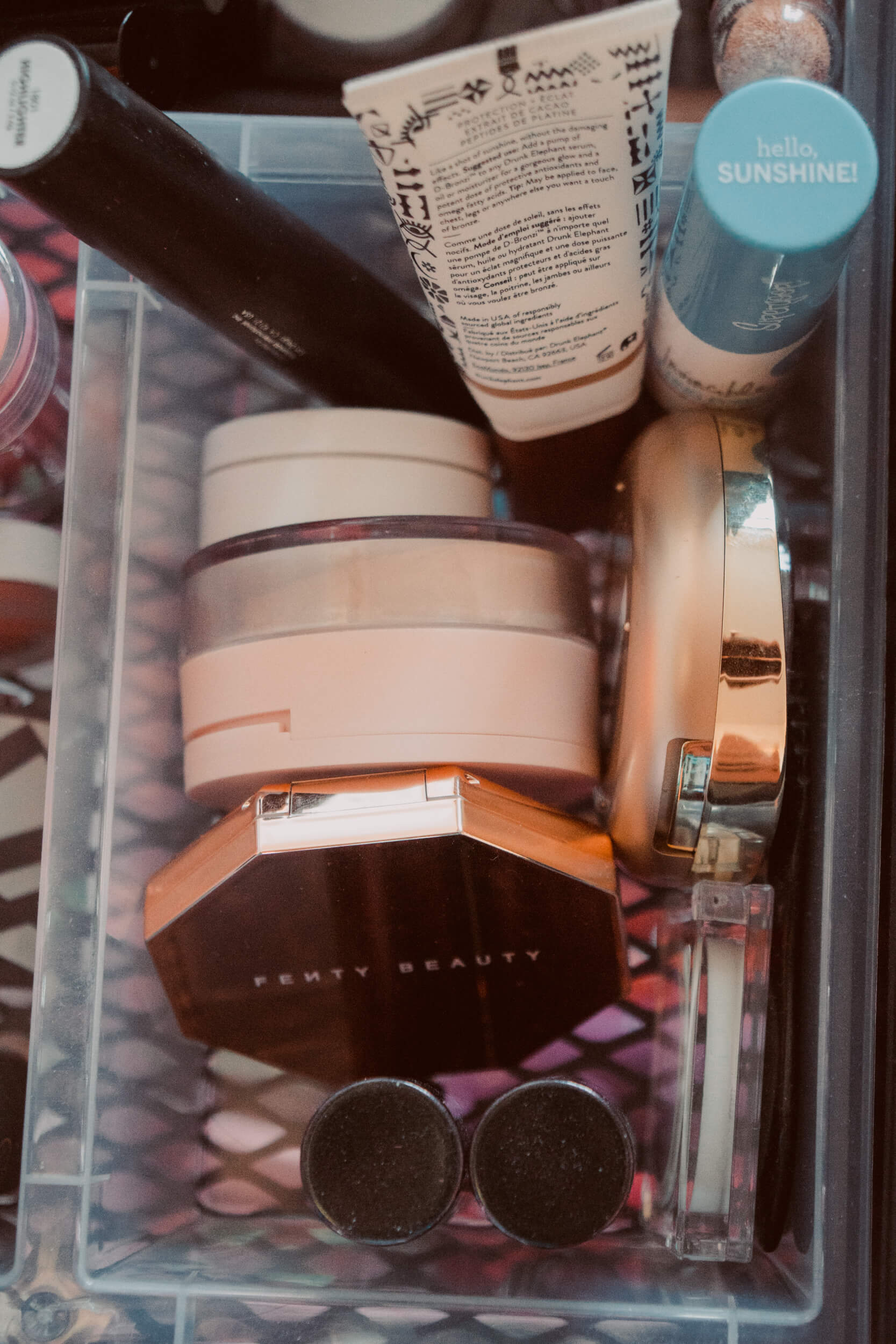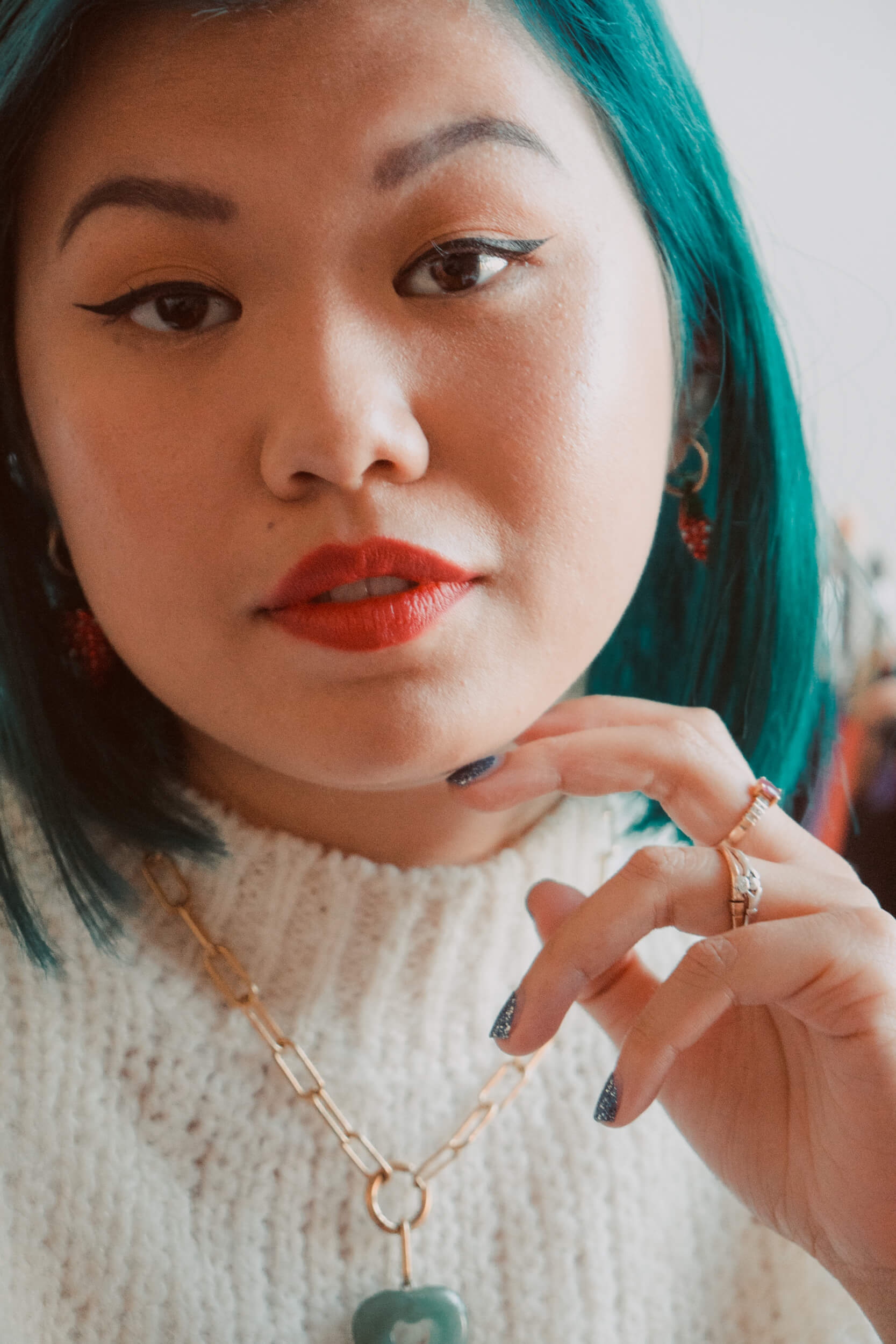 What would you love to see more and more in the beauty industry? 
I think that the beauty industry has a lot of room to grow in terms of sustainability and I think that now that sustainability is such a topic that everyone is talking about and a lot of brands are jumping on it. I think that more brands should be thinking at the end of life of their products: is your packaging something that you are mixing materials that people can recycle on the regular recycling system? Are you working with a third-party organization like TerraCycle, for example, that allows your consumer to send their products back, so they can be recycled?
You shouldn't be sacrificing your love for beauty or fashion to live a more sustainable life. The industry has a lot of catching up to do.
A beauty epic fail? 
I've done shoots before where I had to do makeup that looked really awful, for a shoot a put a foundation that didn't match me, but I realized it after watching the video. Every singles comment was about the foundation not matching my skin tone.
A fail I do on a regular basis is to pinch my eyelashes when I'm curling them.
You live in New York: do you find the city to be an inspiration for you? 
Not necessarily the architecture of the city or the nature of the city, I think that just being in the city you are so exposed to a lot of art and I'm inspired by clothing a lot. I think I'm inspired a lot by the modern art that's here, we have so many museums in New York, that I pull out like color palette inspiration for those things.