Christmas is coming and this means only one thing: the beauty holiday season has arrived! We are flooded with news, sets that tease our curiosity and also make us save money with our favorite brands, advent calendars that allow us to try all at once – or rather, if you don't cheat, in a 24-day span of time – lots of products that maybe we would have never decided to buy one by one otherwise and, in short, a bunch of gift ideas for yourself or for others. Between velvety and moisturizing textures, scents that will transport you to the most Christmasy and wonderful places in the world, and sparkling makeup worthy of the brightest lights of the city, The Italian Rêve has selected the most interesting and cool offers for a non-stop Christmas cuddle-proof holiday season.
BEAUTY CHRISTMAS GUIDE – FOR THE OBSESSED TRAVEL FRIEND WHO ALWAYS NEEDS MINI SIZE AND PRACTICAL SKINCARE SETS TO CARRY IN HER SUITCASE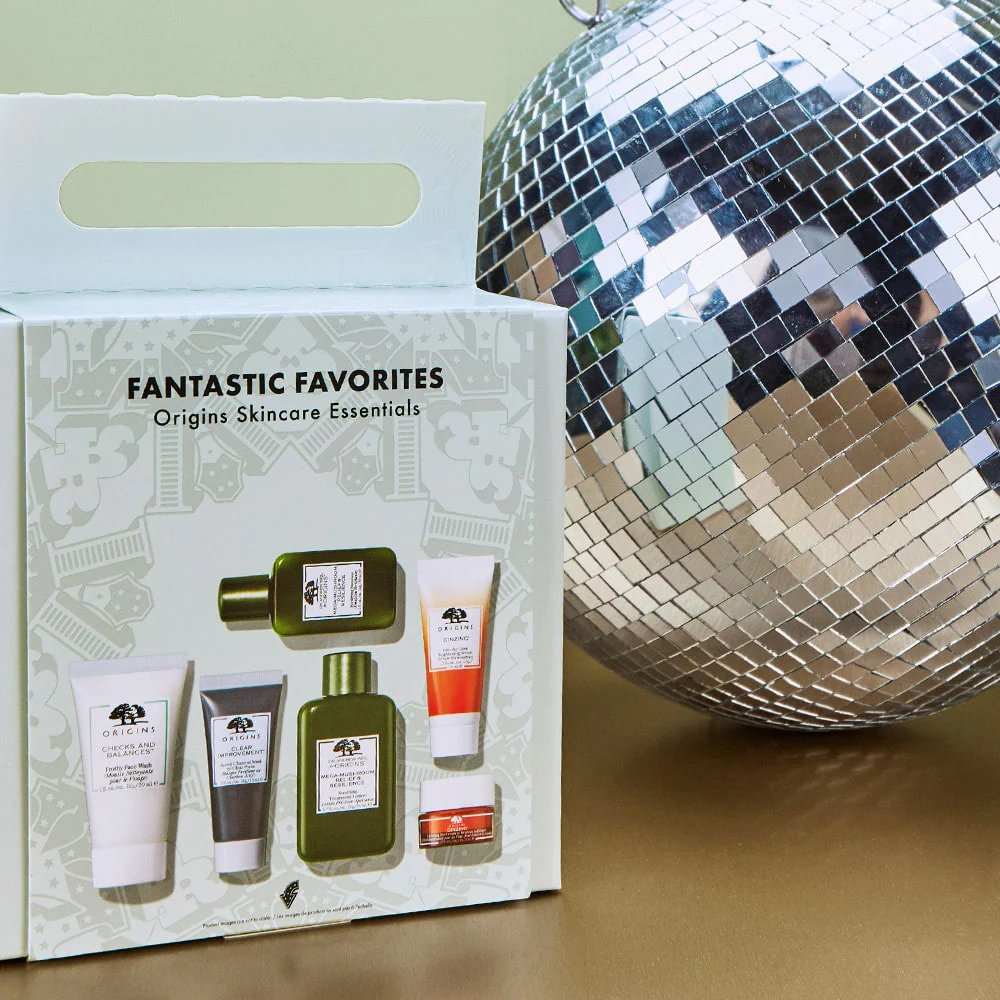 Jump on the Origins Joyride during the holidays with a selection of exclusive skincare gift sets with the most famous Origins products ever: with active natural ingredients, vegetarian (free of animal ingredients except honey and cruelty-free beeswax), holiday gift boxes are made responsibly, free of plastic and recyclable! Let's take a closer look at some of the collections of the most iconic Origins products:
Drink Up Skin-Nourishing Mask & Lip Butter: the perfect set for avo-lovers! It contains Origin's two historic avocado-based products – the Drink Up Intensive Overnight Hydrating Mask with Avocado & Glacier Water and the recently-released Drink Up Nourishing Lip Butter lip treatment – plus a lip spatula to spread the product.
Origins Skincare Essentials: discover the 6 best-seller products – from cleansers to moisturizers – to take with you during these Christmas holidays! A complete routine that includes the Checks and Balances Frothy Face Wash cleanser; the Clear Improvement Active Charcoal Mask that purifies the pores; the Dr. Andrew Weil for Origins Mega-Mushroom Relief & Resilience Soothing Treatment Lotion that calms the redness; the GinZing Into the Glow Brightening Serum that illuminates thanks to Vitamin C; the Dr. Andrew Weil for Origins Mega-Mushroom Relief & Resilience Fortifying Emulsion that moisturizes intensely without weighing it down and finally the GinZing Refreshing Eye Cream to Brighten and Depuff that refreshes the eye contour.
For those who want to discover in one move the whole world of Origins masks, we recommend the Mask This Way – 5-Mask Starter Kit. Five best-selling masks such as Drink Up Intensive for 72 hours of non-stop hydration; Original Skin which re-texturizes and minimizes pores; Out of Trouble which absorbs excess sebum and prevents imperfections; Active Charcoal Mask that purifies deep and Charcoal Honey and simultaneously purifies and nourishes skin.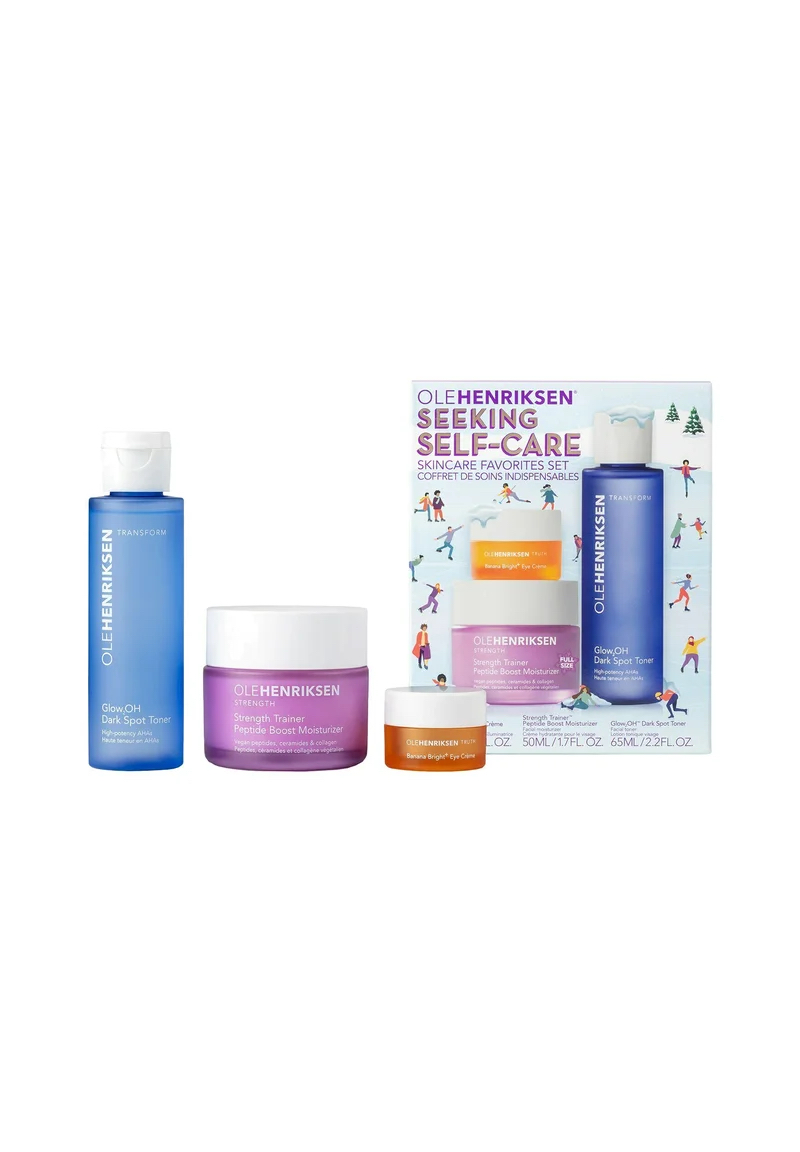 Gift the #OleGlow magic! Olehenriksen this Christmas surprises customers with 4 different skincare sets: from best-sellers rich in Vitamin C up to anti-cold allies. 
The Find Your Glow set focuses on illuminating skincare and consists of 4 best-sellers rich in Vitamin C – Banana Bright Vitamin C Serum, Banana Bright+ Eye Crème, C-Rush Brightening Gel Crème and Truth Juice Daily Cleanser.
Seeking Selfcare contains in a single set all the skincare favorites by Olehenriksen! 
Contrast skin spots with Glow2OH Dark Spot Toner, illuminate the eye contour with Banana Bright+ Eye Crème and moisturize skin with Strength Trainer Peptide Boost Moisturizer!
Hunt For Hydration contains a magical duo consisting of a moisturizer and a mini-size eye contour. With Banana Bright+ Eye Crème you can fight against bags and dark circles, while with Strength Trainer Peptide Boost Moisturizer you will double the hydration of the skin improving the appearance of fine lines and wrinkles. 
The latest set is Jumbo Glow2Oh, containing the tonic Glow2OH Dark Spot Toner in jumbo format (and limited edition). Apply it after cleansing to reduce brown spots and fine lines and then proceed with your usual skincare routine. P.S.: Its fragrance of sugar and lemon and its slight pinch effect are the extra touch that makes this product a must-have.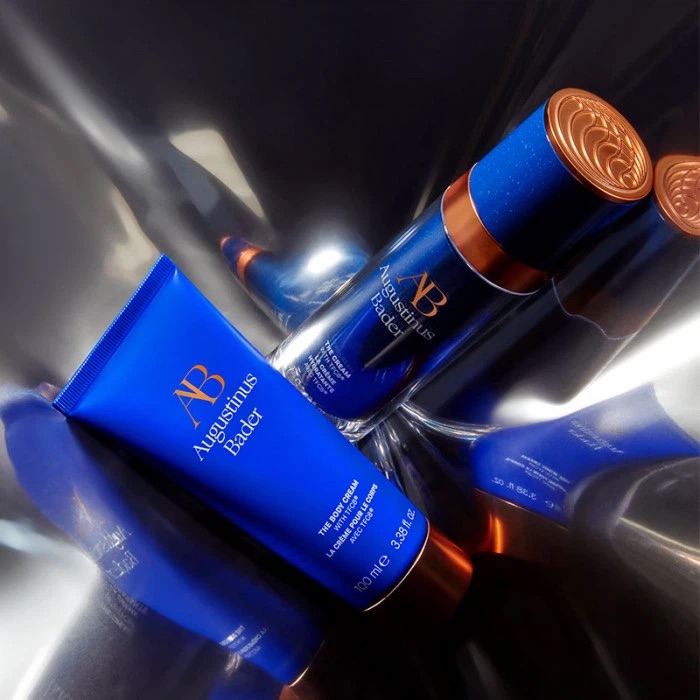 Augustinus Bader delights us with his Holiday Kits, including new products and heroes housed in luxurious Blu Bader boxes. For the uninitiated, all Augustinus Bader products contain the TFC8 complex composed of natural amino acids, vitamins, and synthetic molecules which are naturally present in the skin, helping to convey key ingredients and nutrients to cells, determining the optimal environment so that self-repair and renewal processes can take place at their best. The kits range from The Winter Recovery Kit specifically designed for the face with a routine consisting of serum, eye contour cream, rich cream, and lip balm, to body kits such as The Body Rejuvenation Duo consisting of cream and oil, up to set for haircare – The Revolutionary Haircare Trio – with inside shampoo, conditioner and leave in hair treatment. In short, there's a thing for everybody!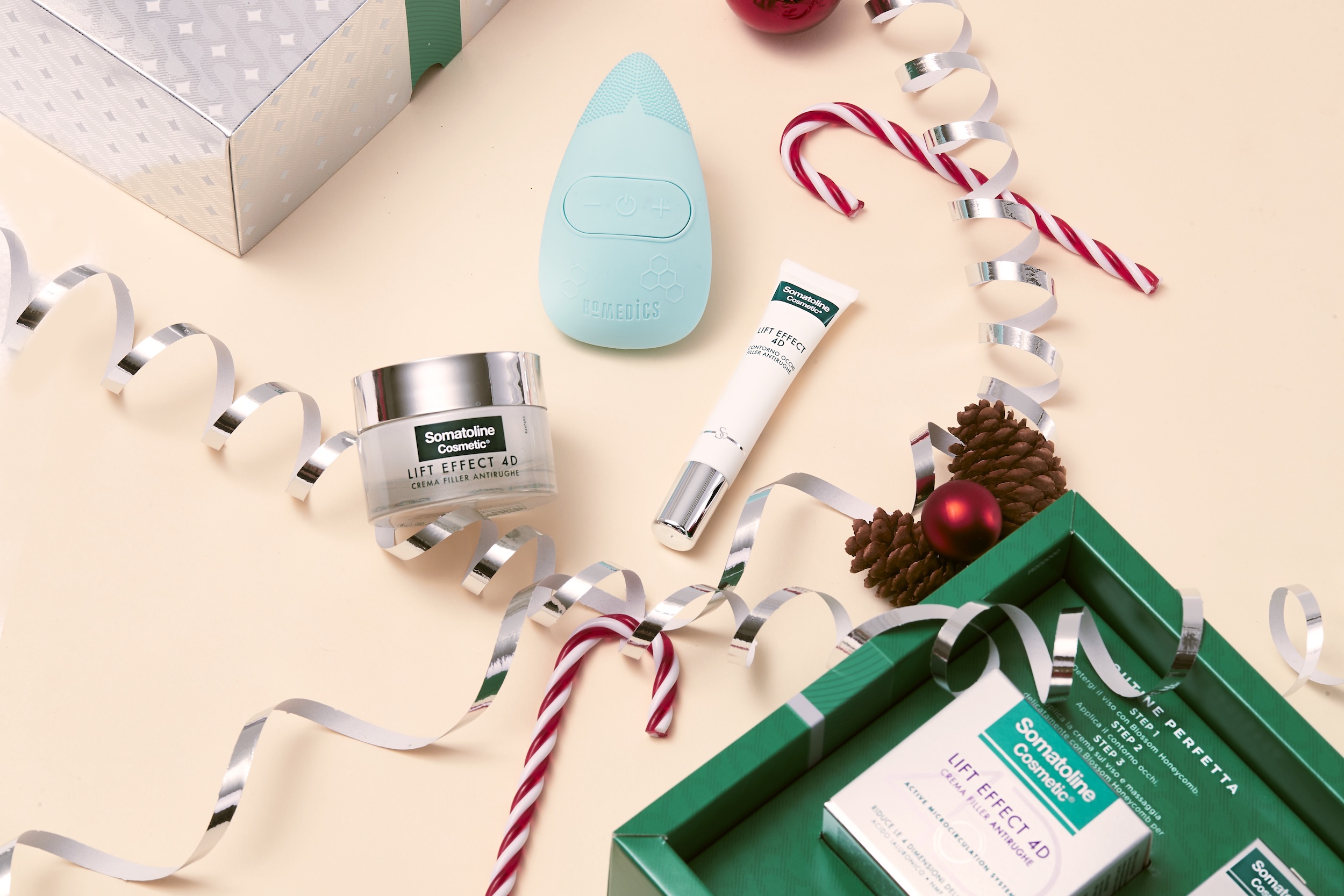 Somatoline Skinexpert presents the new face sets in collaboration with Homedics – Leader in Health & Wellbeing and the new Blossom Honeycomb brushes, massage tools that have an exclusive honeycomb texture that stimulates the microcirculation thanks to their sonic vibration. 
The Facial Routine Premium Anti-wrinkle Lift Effect 4D is designed to give an immediate filler effect and to act on the reduction of the 4 dimensions of wrinkles – depth, width, quantity and dryness – thanks to its enhanced action. It consists of Lift Effect 4D Wrinkle Filler Cream, Lift Effect 4D Eye Contour Wrinkle Filler and is completed and perfected by the new Blossom Honeycomb. 
The Premium Anti-Age Facial Routine Global Volume Effect is perfect for emphasizing the beauty of mature skin, acting on the cellular biorepair process by filling volumes and redefining the oval of the face, and it consists of Volume Effect Cream Restructuring Anti-Age and Volume Effect Contour Eyes and Lips Smoothing + Blossom Honeycomb.
The Face Routine Anti-wrinkle Night Lift Effect 4D is an intensive anti-aging night routine, combined with a concentrated treatment based on pure Hyaluronic Acid 2% – Skincure Booster Anti-wrinkle – and a cream mask effect – Cream Chrono Filler Night Lift Effect 4D.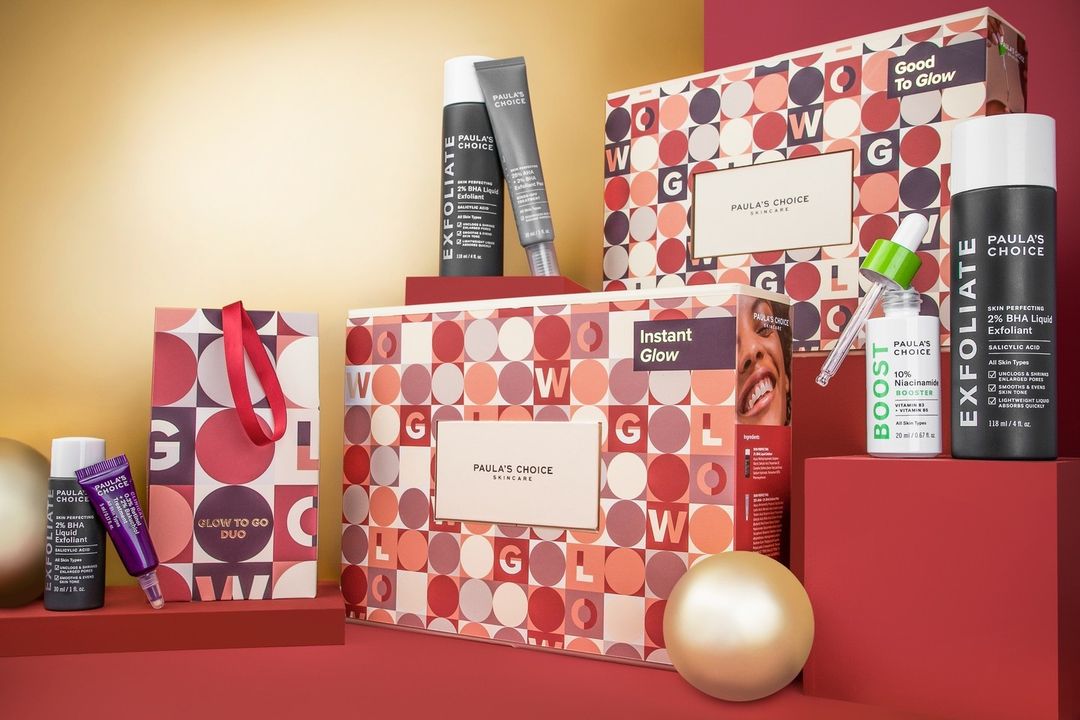 Still speaking of glow, which is never enough, Paula's Choice transforms our skin with its gift sets: among our favorites, of course, there is the Good to glow set, containing the Skin Perfecting 2% BHA Liquid Exfoliant and the 10% Niacinamide Booster, perfect to get a smooth and uniform skin, free from blemishes and blackheads; the Instant Glow Set that makes us shine under the Christmas lights thanks to the Skin Perfecting 2% BHA Liquid Exfoliant and the Skin Perfecting 25% AHA + 2% BHA Exfoliant Peel that, used once a week, renews skin by smoothing out wrinkles, reducing sun damage and refining skin texture in just 10 minutes. Finally, the Duo Glow to Go combines the award-winning exfoliant with the Clinical Treatment 0.3% Retinol + 2% Bakuchiol, which contains a triple action anti-age complex, consisting of a high concentration of bakuchiol of plant origin and retinol.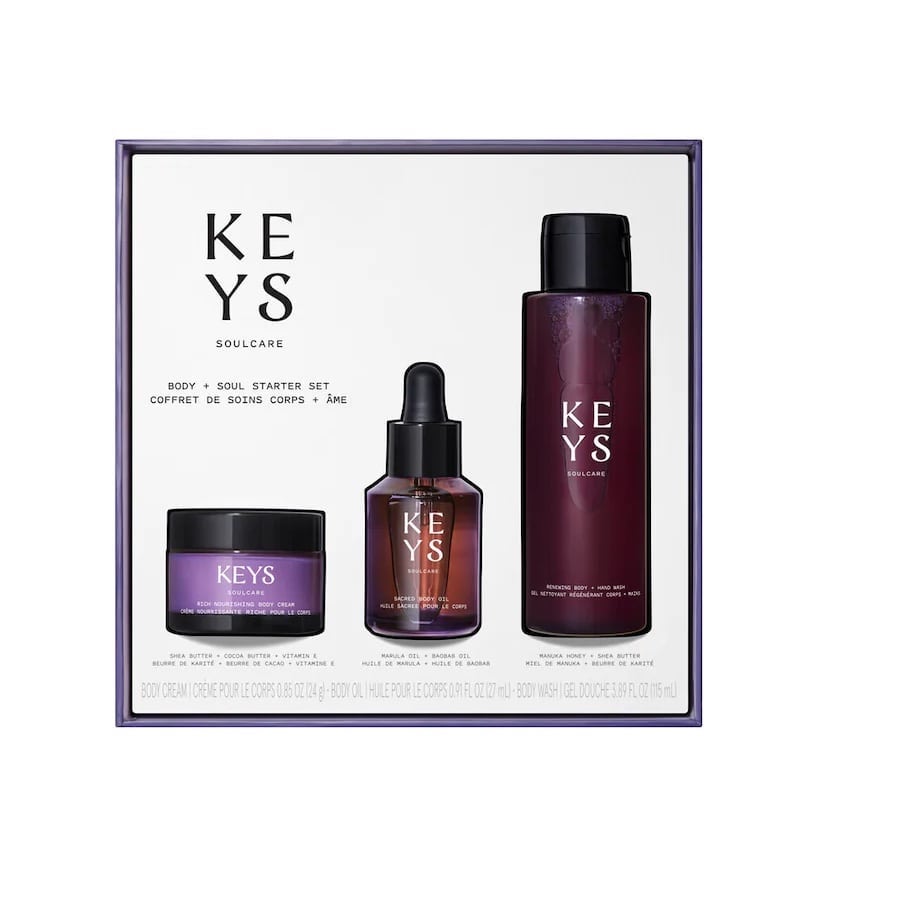 The Body + Soul Starter Set is a body care kit that includes Renewing Body + Hand Wash, Sacred Body Oil and Rich Nourishing Body Cream. Moisturizing the skin has never been easier, all with maximum relax: Renewing Body + Hand Wash, in fact, eliminates impurities, refreshes and cleans the skin, Sacred Body Oil relaxes and gives the skin a radiant and firm finish, while Rich Nourishing Body Cream nourishes the kin and also deeply hydrates.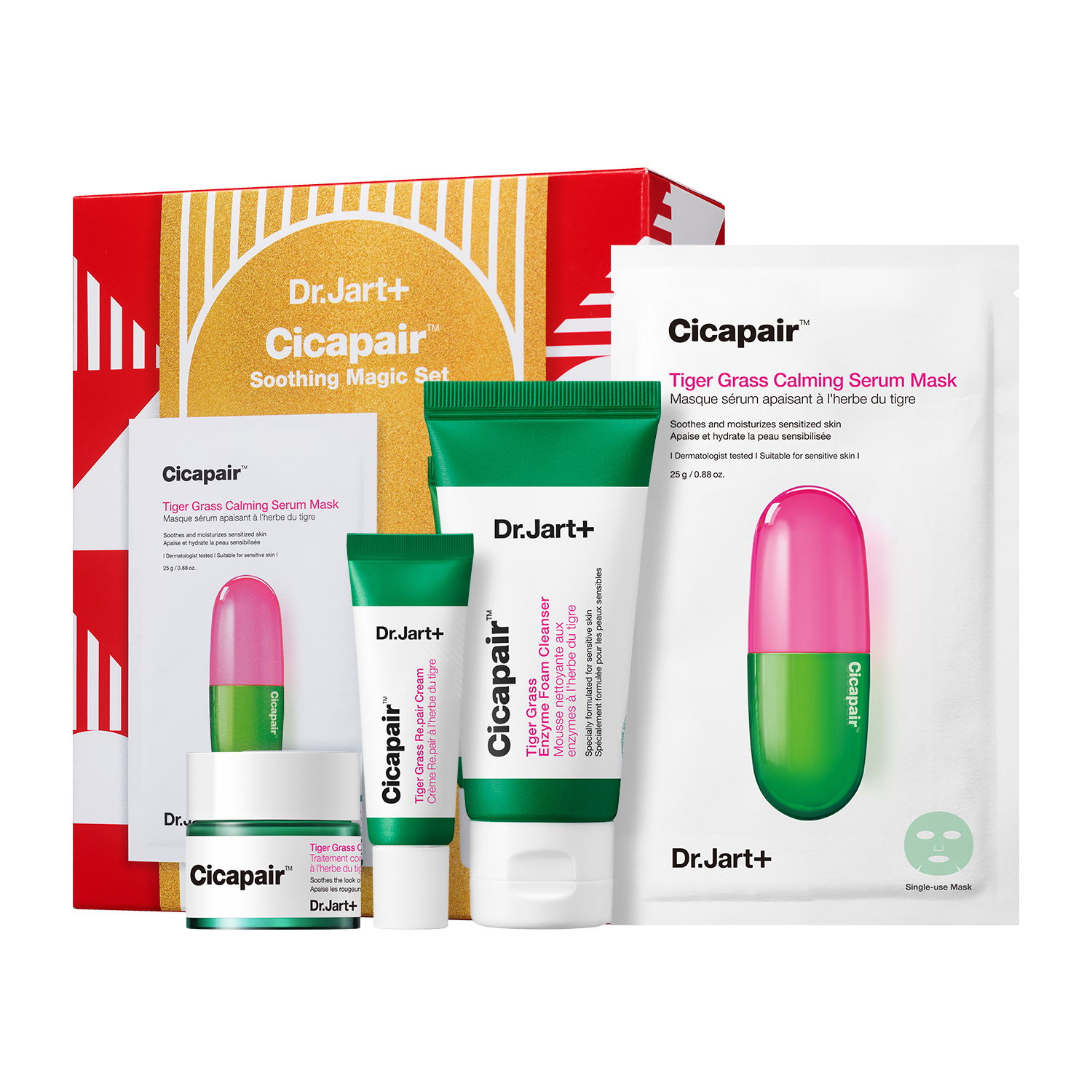 The Cicapair Tiger Grass Line is suitable to fight the redness of the skin and nourish and soothe those skins that very often have red spots and couperose caused by cold temperature and dryness. For this Christmas Dr.Jart+ presents the Dr.Jart+ Cicapair Soothing Magic Set, which contains the +Cicapair Tiger Grass Color Correcting Treatment, a cream that from green becomes beige to adapt to the natural color of the complexion, which neutralizes redness and discoloration, the +Cicapair Tiger Grass Enzyme Foam Cleanser, a delicate foam formulated with glycerin that removes impurities, the +Cicapair Tiger Grass Re.Pair Cream, a cream with a velvety texture with a light lavender fragrance to soothe and moisturize irritated skin and the +Cicapair Tiger Grass Calming Serum Mask, the new serum mask made in fabric and formulated with centella asiatica.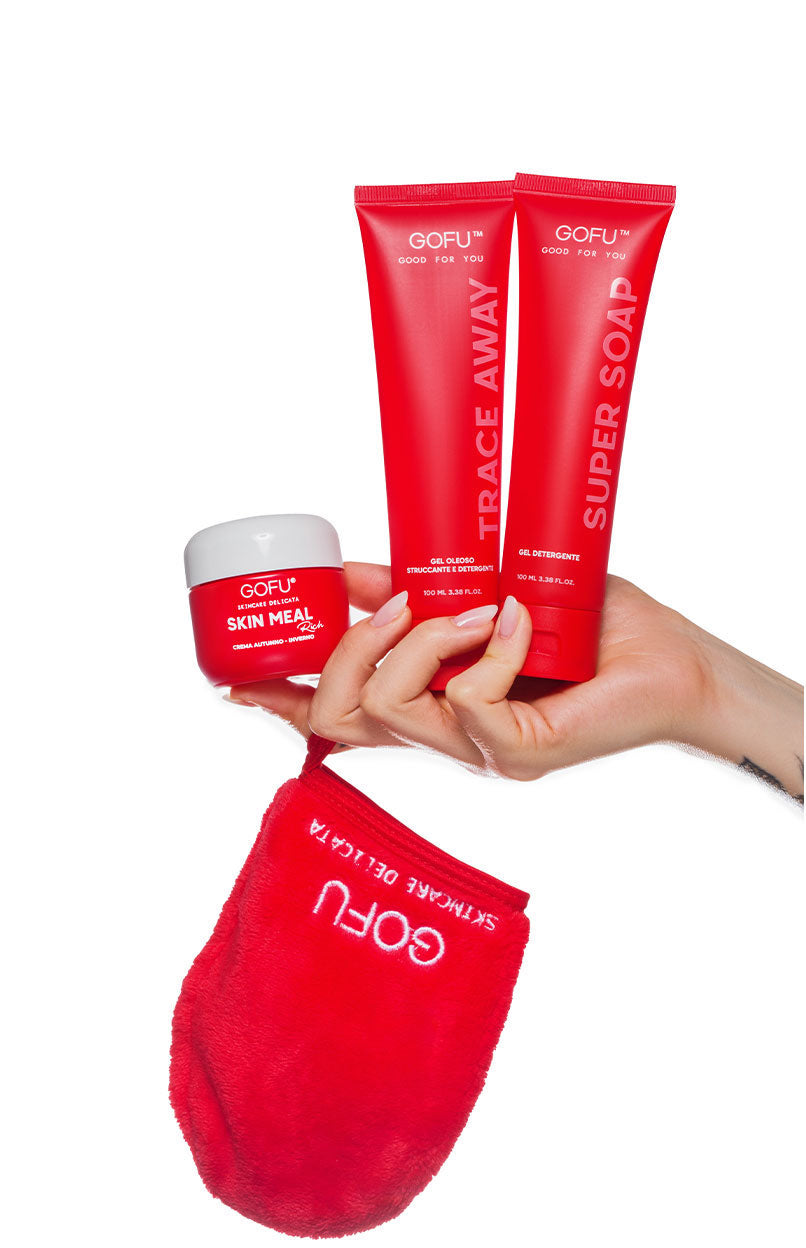 Gofu's complete beauty routine is under the tree! This Christmas, Giulia Sinesi, the founder of the brand, proposes 4 kits as the ideal cadeau for him and her: Essential Kit, Essential Kit Rich – also in a mini-size – and Complete Kit and Complete Kit Rich.
The Essential Kit contains Trace Away, an oily gel cleanser and make-up remover; Super Soap, a foaming detergent to be used as a second step, to complete the cleansing routine and Skin Meal, a moisturizing cream with a light and fresh texture, that can be quickly absorbed. The Essential Kit is also available in the Rich version, which in addition to the two cleansers contains the Skin Meal Rich cream, with a more full-bodied texture, with the addition of nutritional and soothing active ingredients to support the skin exposed to the stress of low temperatures. Both are also available in mini-size.
Gofu completes everything with the Complete Kit, also available in the Rich version – in the Regular version – which in addition to the two cleansers and moisturizers, includes the stuffed glove called Frame Cleanser that, with simply a little bit of water, can remove any type of impurities in the perimeter area of the face.
BEAUTY CHRISTMAS GUIDE – FOR THOSE WHO DO NOT WANT TO GIVE UP ON OLD AND HISTORIC CHRISTMAS TRADITIONS WITH A BEAUTIFUL ADVENT CALENDAR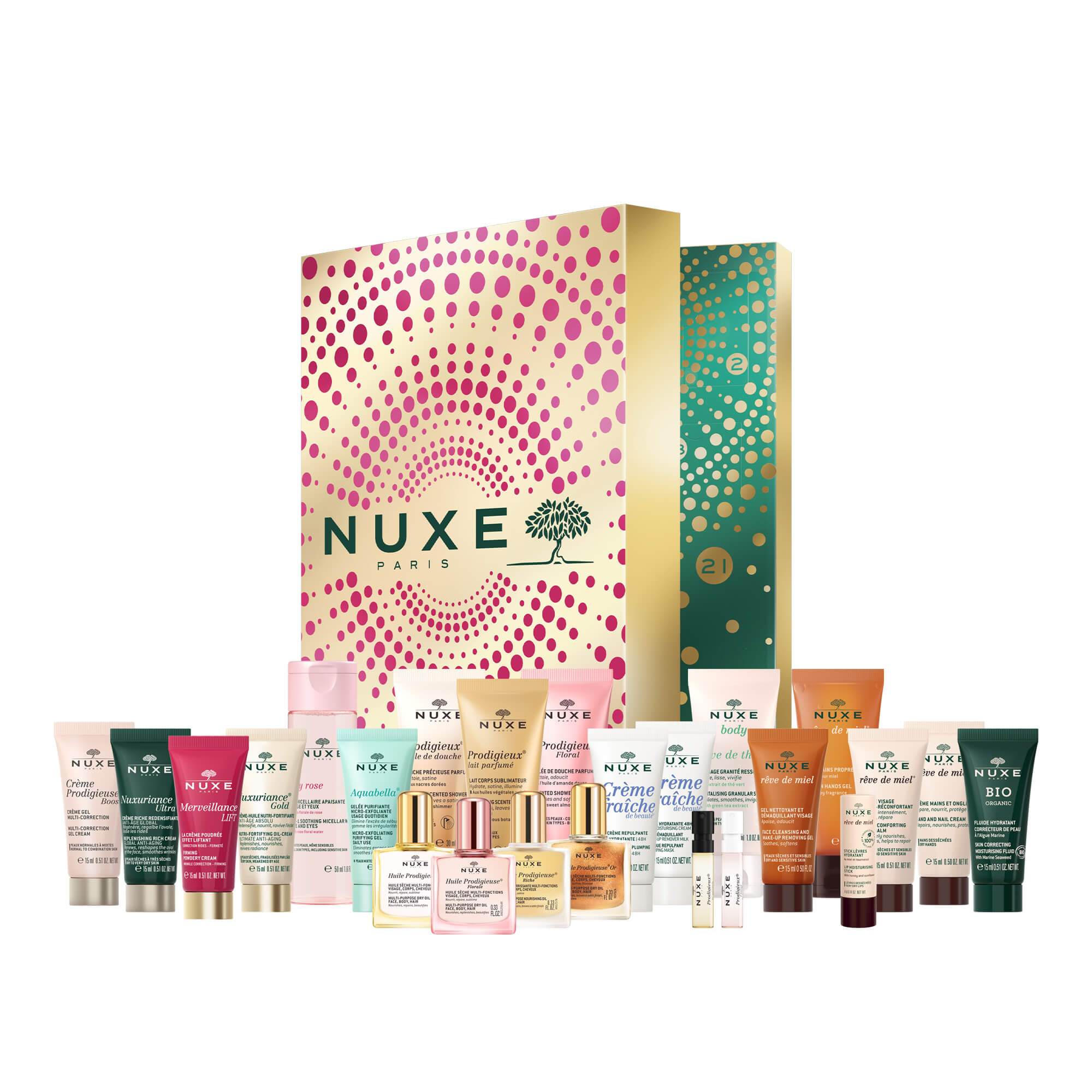 For 24 days, Nuxe will keep you company with a series of irresistible surprises! The long-awaited advent calendar returns in a limited edition, richer and brighter than ever, beautiful even just to be looked at, and with an eye to sustainability thanks to the box of recyclable cardboard. Its 24 boxes hide innovations and iconic Nuxe products for a journey to discover the magic of Christmas among 24 mini-size skincare products and fragrances.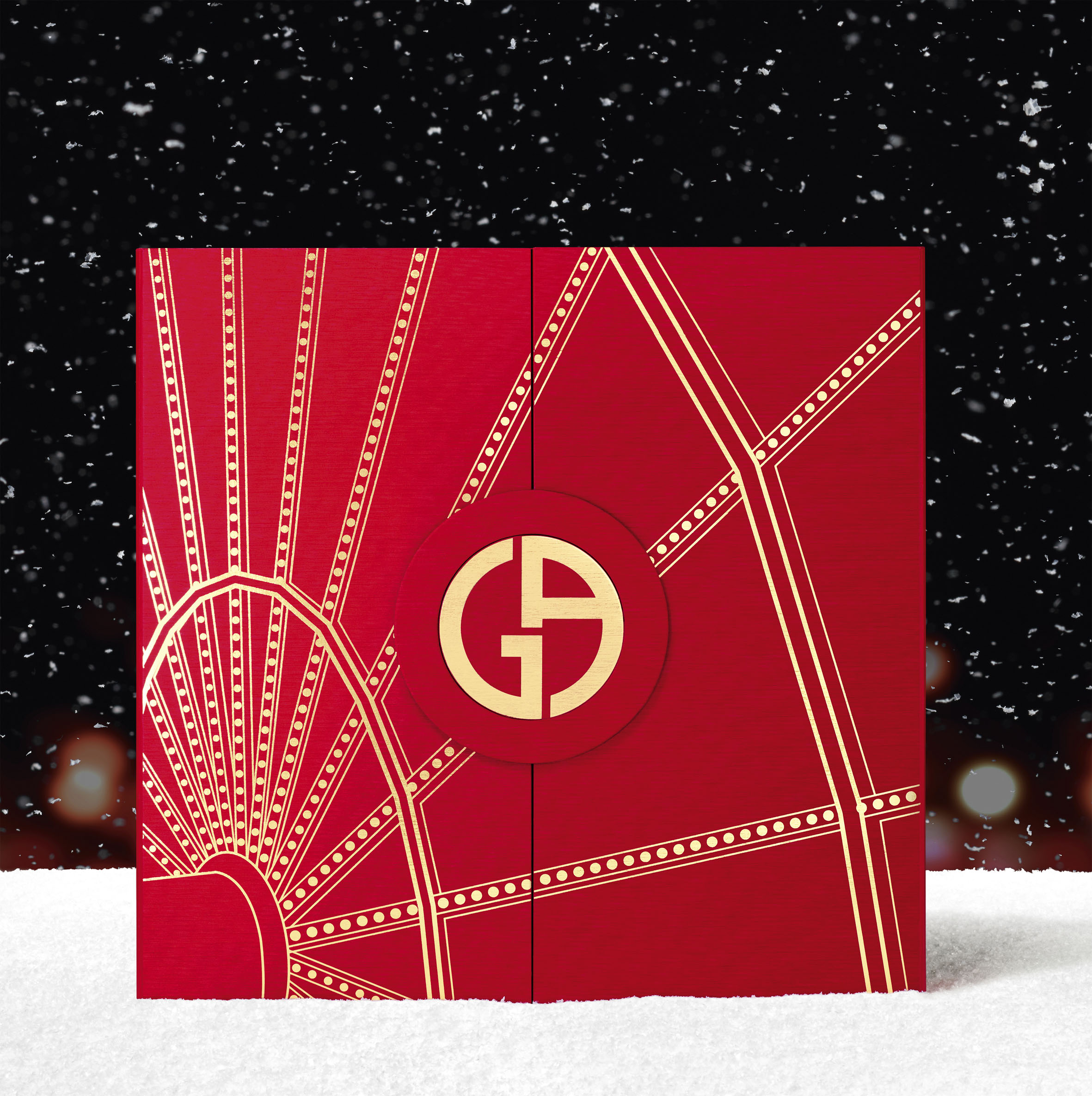 If you are looking for a calendar that not only satisfies your desire for skincare and perfumes but also makeup, Giorgio Armani is here for you. Waiting for Christmas, Armani Beauty invites you to discover its iconic products, including the Lip Power lipstick in the universal nuance #400 and the fragrance Sì in different variations: from the classic Sì Eau De Parfum to the new Sì Passione Éclat. The Armani Beauty 2022 Advent Calendar includes 9 products in full size and 15 products in mini format.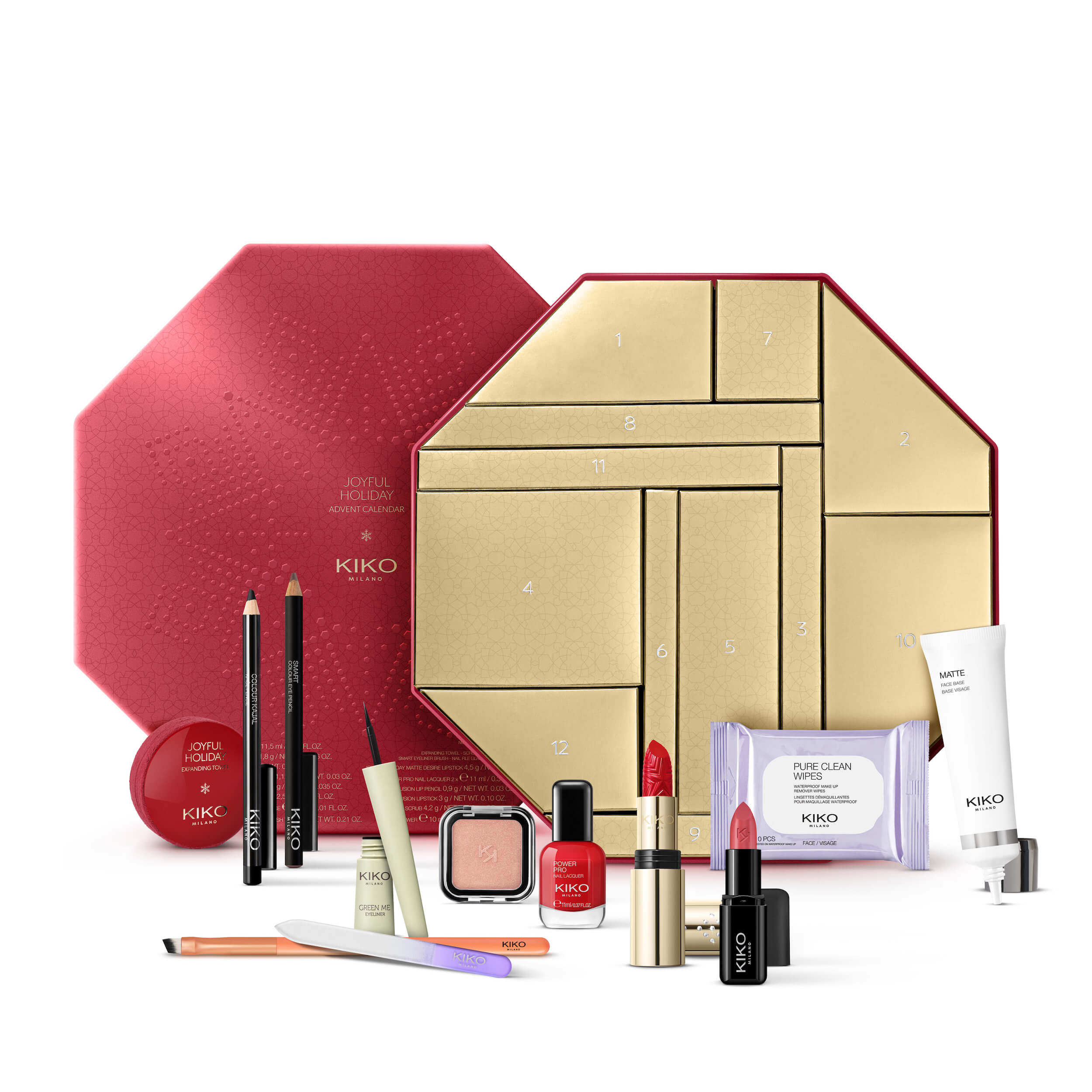 The Joyful Holiday Advent Calendar of Kiko is waiting for you! Consisting of 24 makeup and skincare products in regular or mini format and unmissable accessories, it ranges from tricks, such as the Joyful Holiday Matte Desire Lipstick and Standout Volume Mascara, nail polishes and nail files, personal care products such as tweezers for eyebrows, or body products such as the Body Shower, up to the skincare lines.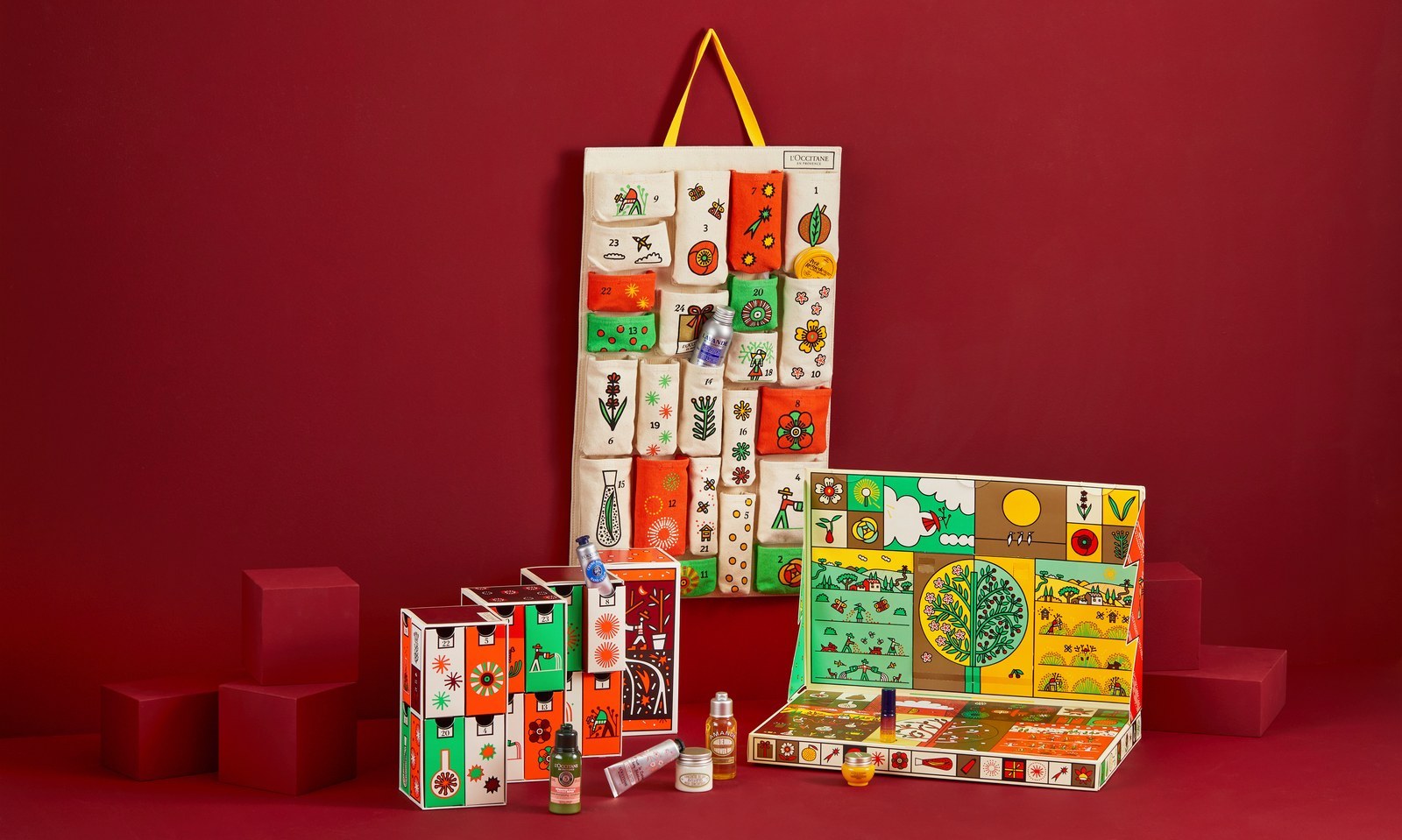 Just one advent calendar is not enough for L'Occitane: the brand offers us 3 different versions to choose from, also according to your chosen budget: the first one is the traditional Calendario Dell'avvento Le 4 Stagioni, containing 24 fantastic surprises to discover each day;  the second option has a slightly higher price and is the Calendario dell'Avvento Premium 2022 I Tesori Incantati, made of 100% recyclable cardboard and plastic-free. Finally, as the third and final choice, we get to the Calendario dell'Avvento Riutilizzabile 2022 Provenza Infinita, a beautiful calendar made of recycled cotton and reusable year after year! A real design object, covered in a fabric printed with the adorable motifs designed by Eva Offredo, also containing a selection of premium products.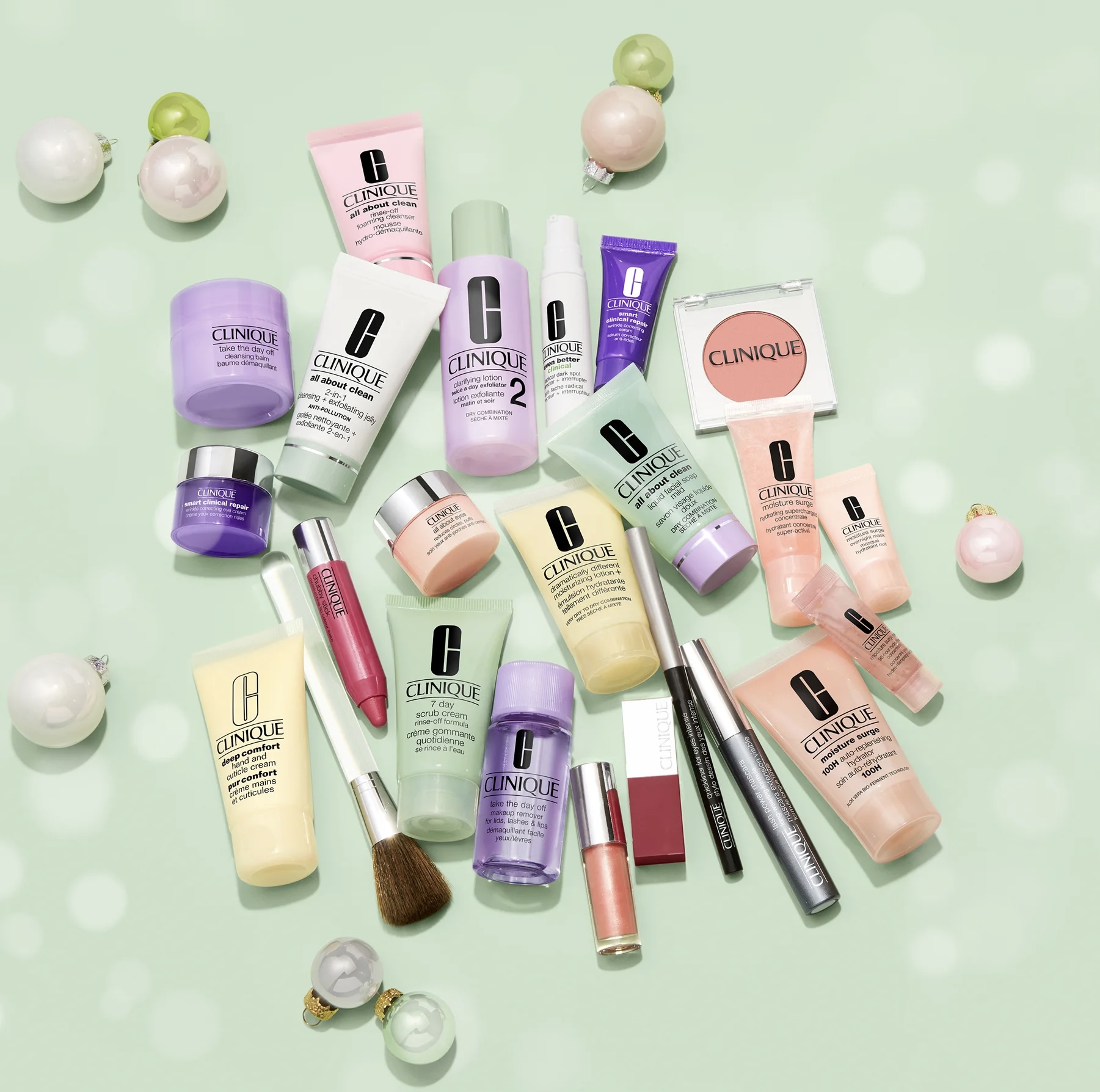 24 mini surprises to discard day after day while waiting for the magical Christmas Day. In the company of the most famous Clinique products: from All About Clean Liquid Facial Soap Mild to the EBC Radical Dark Spot Corrector + Interrupter and the Take The Day Off Cleansing Balm.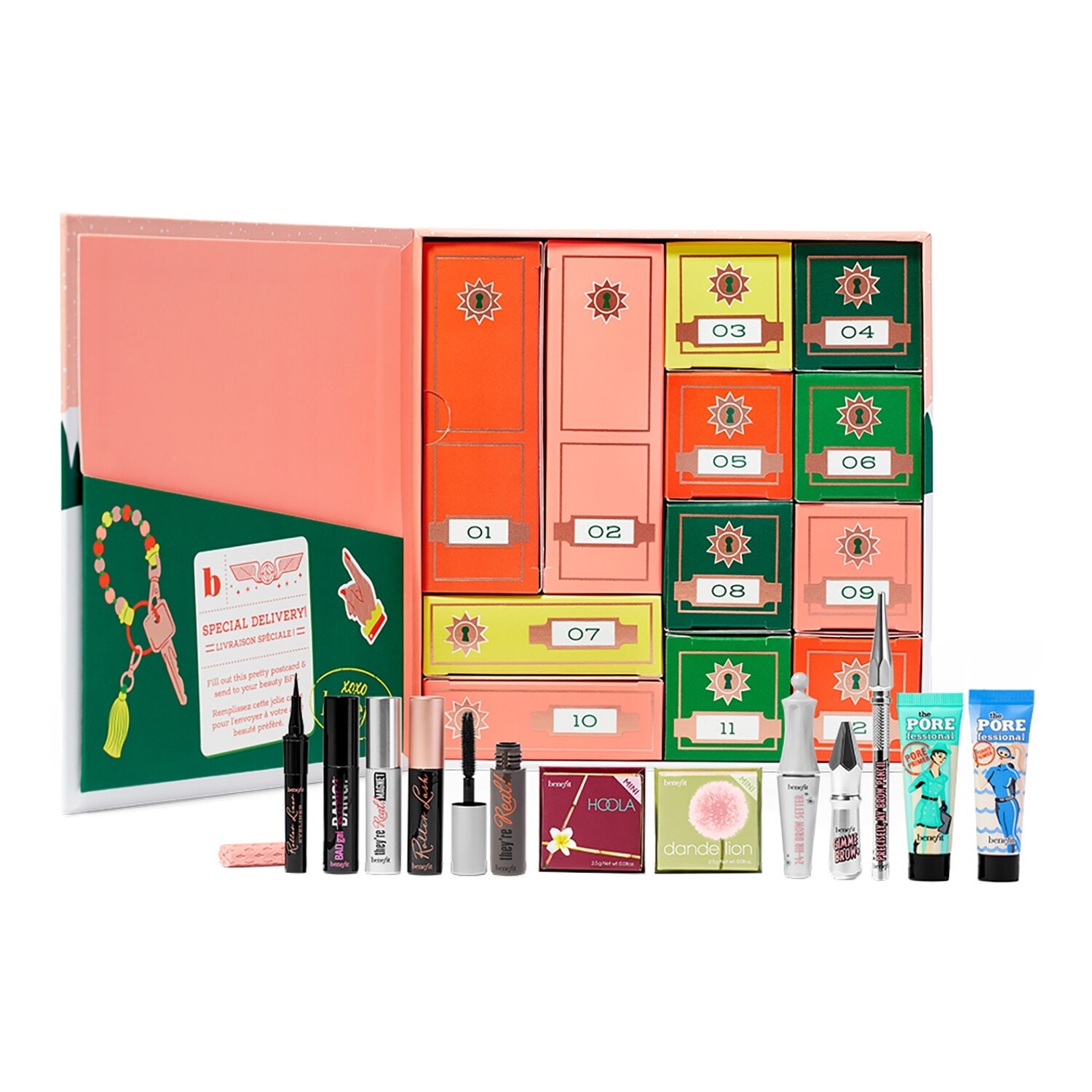 A makeup calendar with 12 mini sizes among best sellers, most beloved products, and novelties that will accompany you in the countdown to the Christmas of Benefit, such as the BADgal BANG, Volumizing Mascara, the Gimme Brow+ Mascara Eyebrows and the Hoola bronzer.
Are you ready for it*?
BEAUTY CHRISTMAS GUIDE – FOR MOMS ACCORDING TO WHOM "WITHOUT SOME CANDLE LIT IN THE HOUSE IT'S NOT REALLY CHRISTMAS"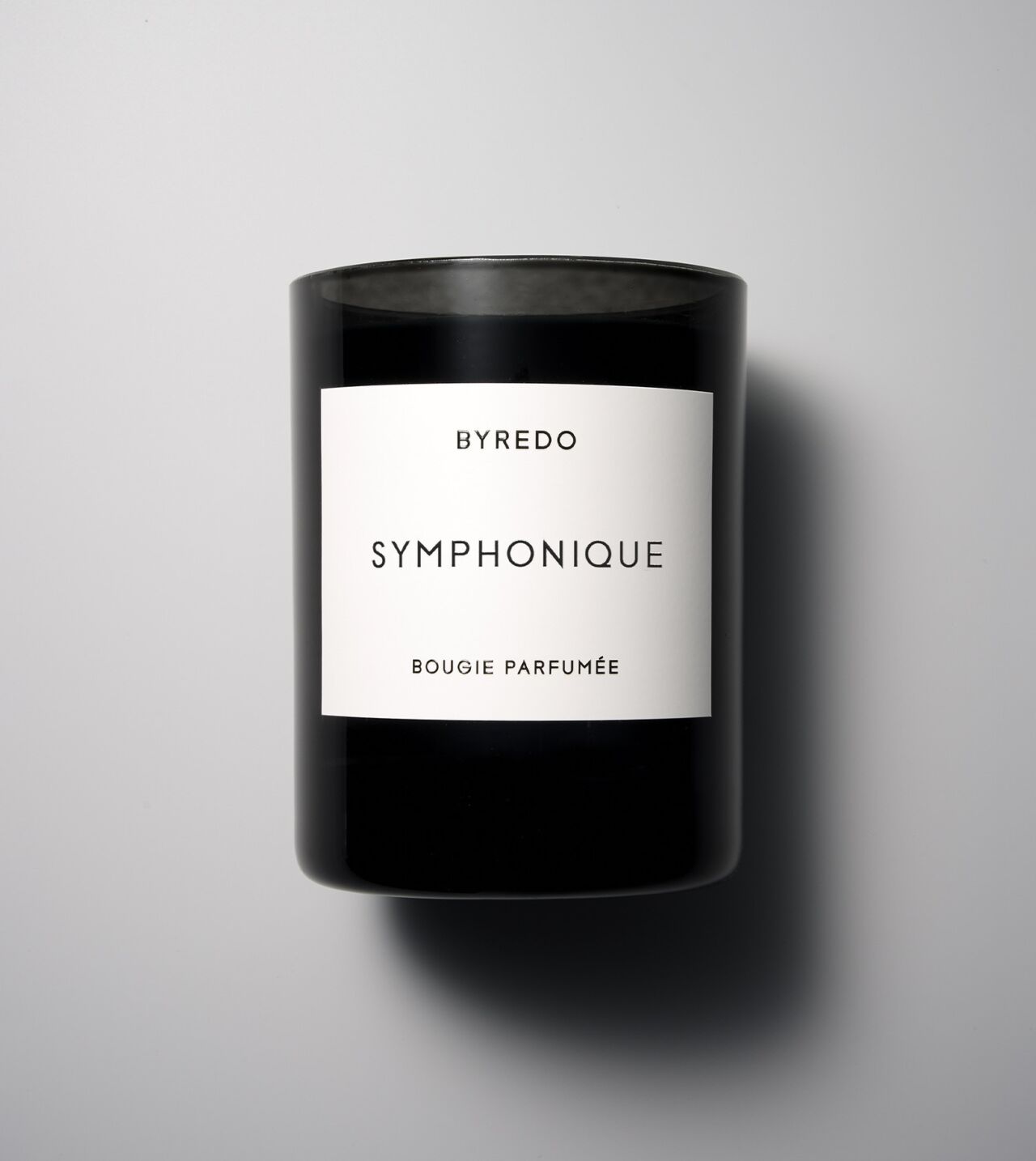 If at Christmas time we can hear Michael Bublé and Mariah Carey everywhere, what better gift than a candle inspired by a musical symphony to keep up with it? Byredo's Symphonique is the latest addition to Byredo's iconic black glass candle silhouette for the 2022 holiday season and it joins the brand's portfolio as a permanent edition candle. The penetrating top notes of bitter orange and anise create an uplifting arc of citrus and relaxing spices, over a warm heart harmony of beeswax, ginger, and cloves, while the texture base of bran and cedar wood leaves a lasting trace.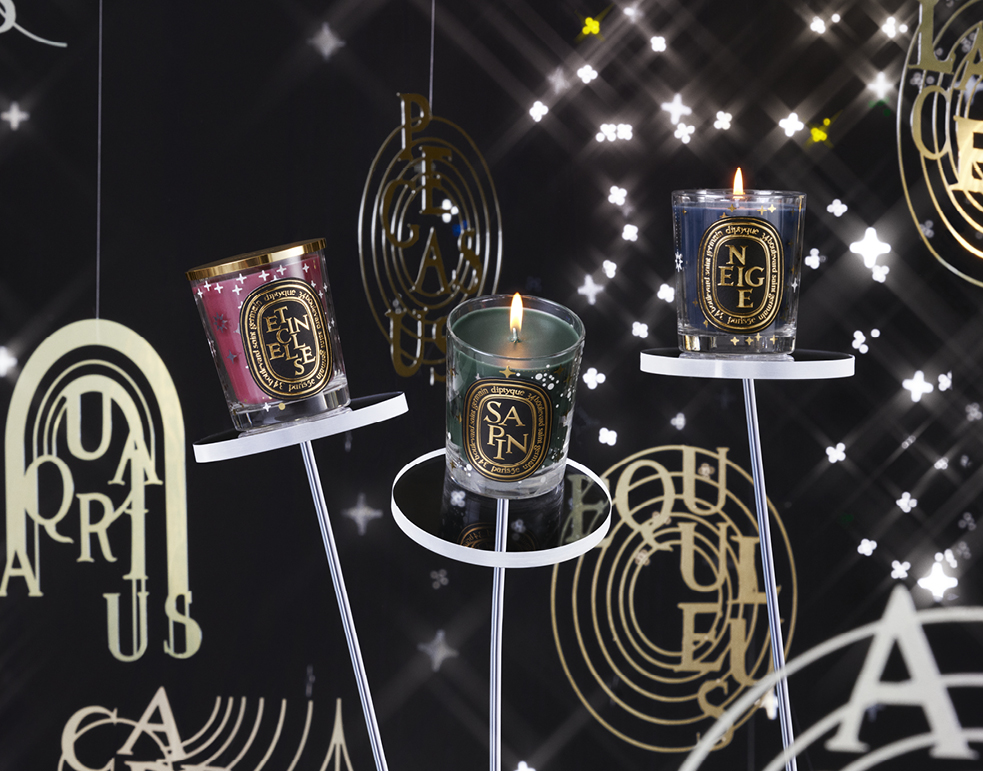 Diptyque launches the Holiday Collection for a Christmas to discover the starry vault and between the sets and the boxes, we find two scented options that are perfect for us: the Scented Candles in limited edition and the Baies Candle extra large.
White, golden, and silver stars have landed on each of the three Diptyque-scented candles in a limited edition. Of a deep green, the Sapin (Fir) candle emanates woody notes, combined with accents of honeyed and soft as stardust mimosa. Soft as a velvet night, the Neige (Snow) candle spreads a delicate harmonious scent of heliotrope flowers and white musks, and, last but not least, the Étincelles (Sparks) candle, a warm dark red, reminiscent of the reassuring scent of a fire of wood, sweetened by the delicious notes of coffee and cocoa. Finally, brighter than ever, the stars also decorate the new exclusive extra-large Baies (Berries) candle vase: handmade by the French manufacturer Virebent, it is mottled in authentic gold on black enamel.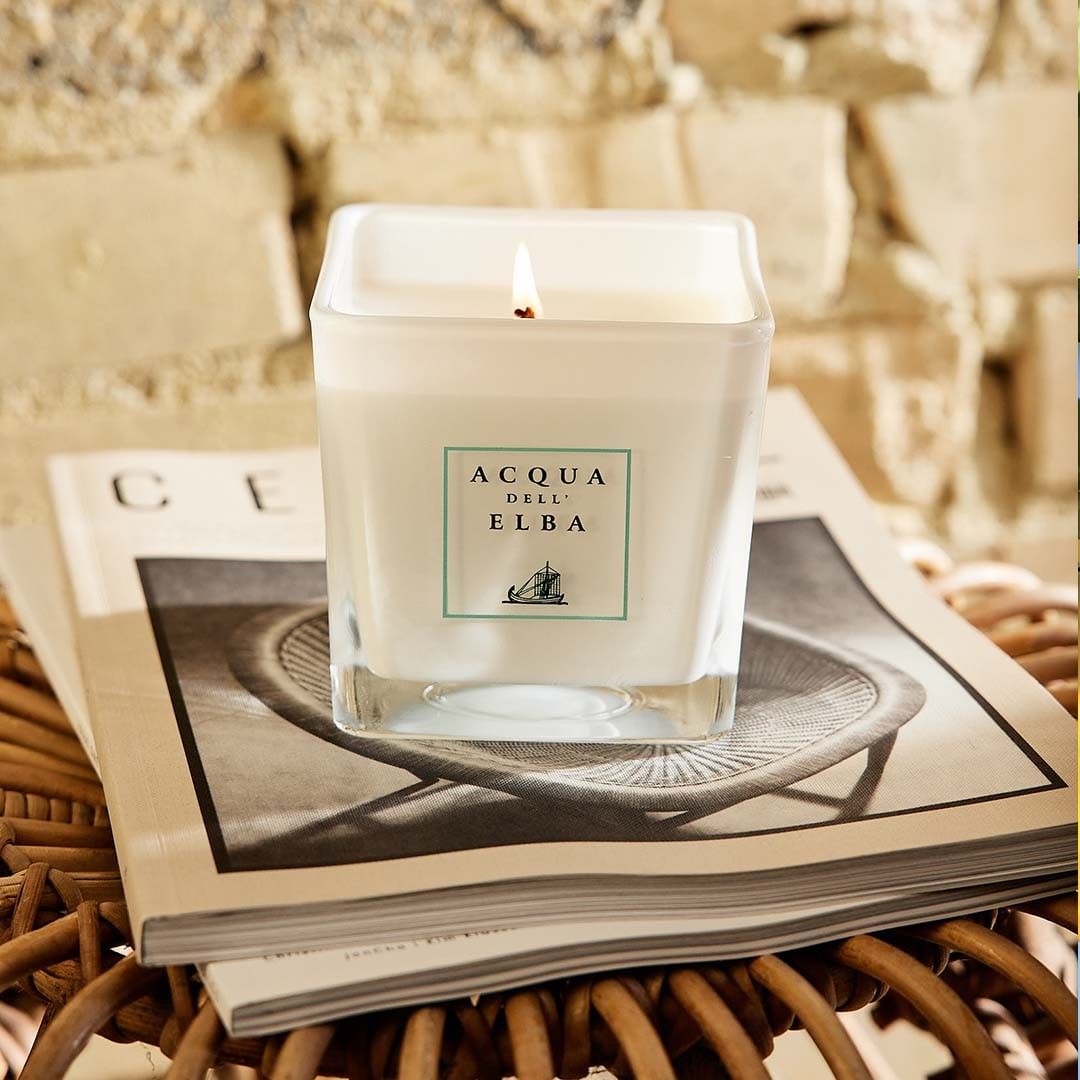 Acqua Dell'Elba presents the new Christmas 2022 collection and with it, the scented candle Note Di Natale, a fragrance characterized by notes of orange and tangerine, reminiscent of the Mediterranean and childhood, and honeyed and warm notes typical of broom, which gives a sense of comfort and serenity.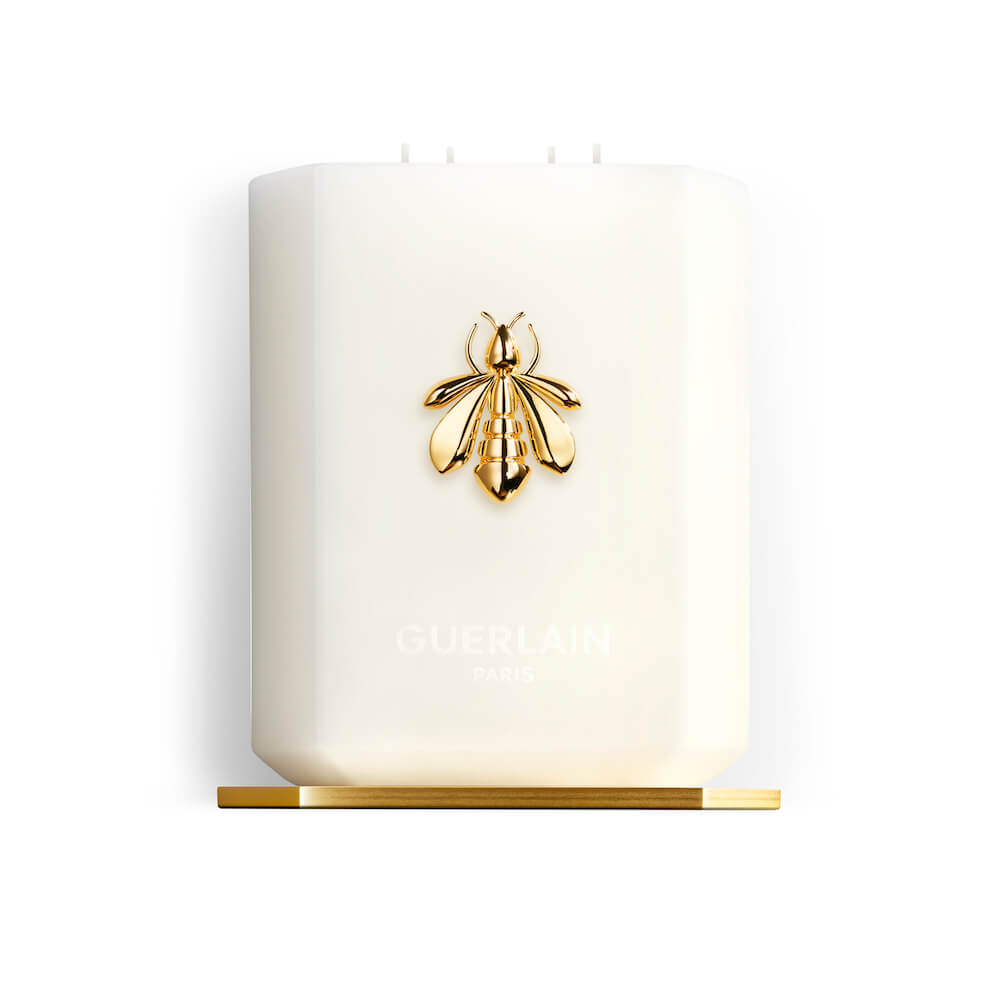 Also this year Guerlain invites us to discover all its Christmas wonders, among which stands out a candle with the characteristic fragrance of Encens d'Hiver. Melting precious notes of incense, smoked tea, and cedar wood, the trail of Encens d'Hiver will transport you to the snowy plains and the absolute silence of the far north. As a result of meticulous craftsmanship, this creation is melted without a jar and faceted by hand according to ancient know-how so that its magical and mysterious fragrance can stick around for 150 hours.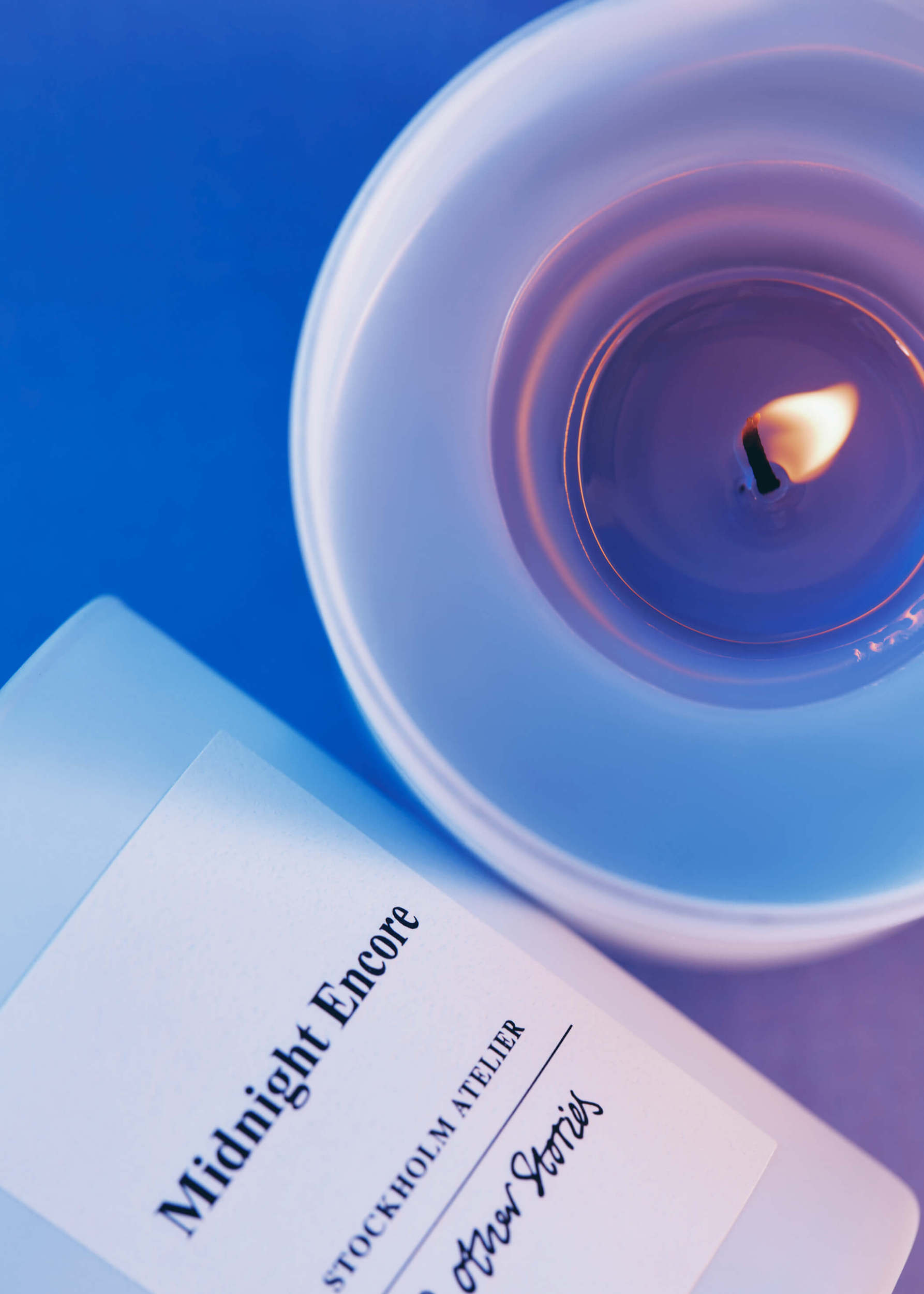 & Other Stories presents, on the occasion of Christmas 2022, the Midnight Encore Scented Candle, a candle with a voluptuous and special fragrance. Black pepper and coconut water serve as top notes and then, jasmine petals, and fig leaves reside in the heart and cashmere wood, musk, and ambroxan are released as background notes.
BEAUTY CHRISTMAS GUIDE – FOR A FRIEND WHO LOVES CHRISTMAS PARTIES AND WANTS TO ATTRACT ATTENTION WITH A FABULOUS MAKEUP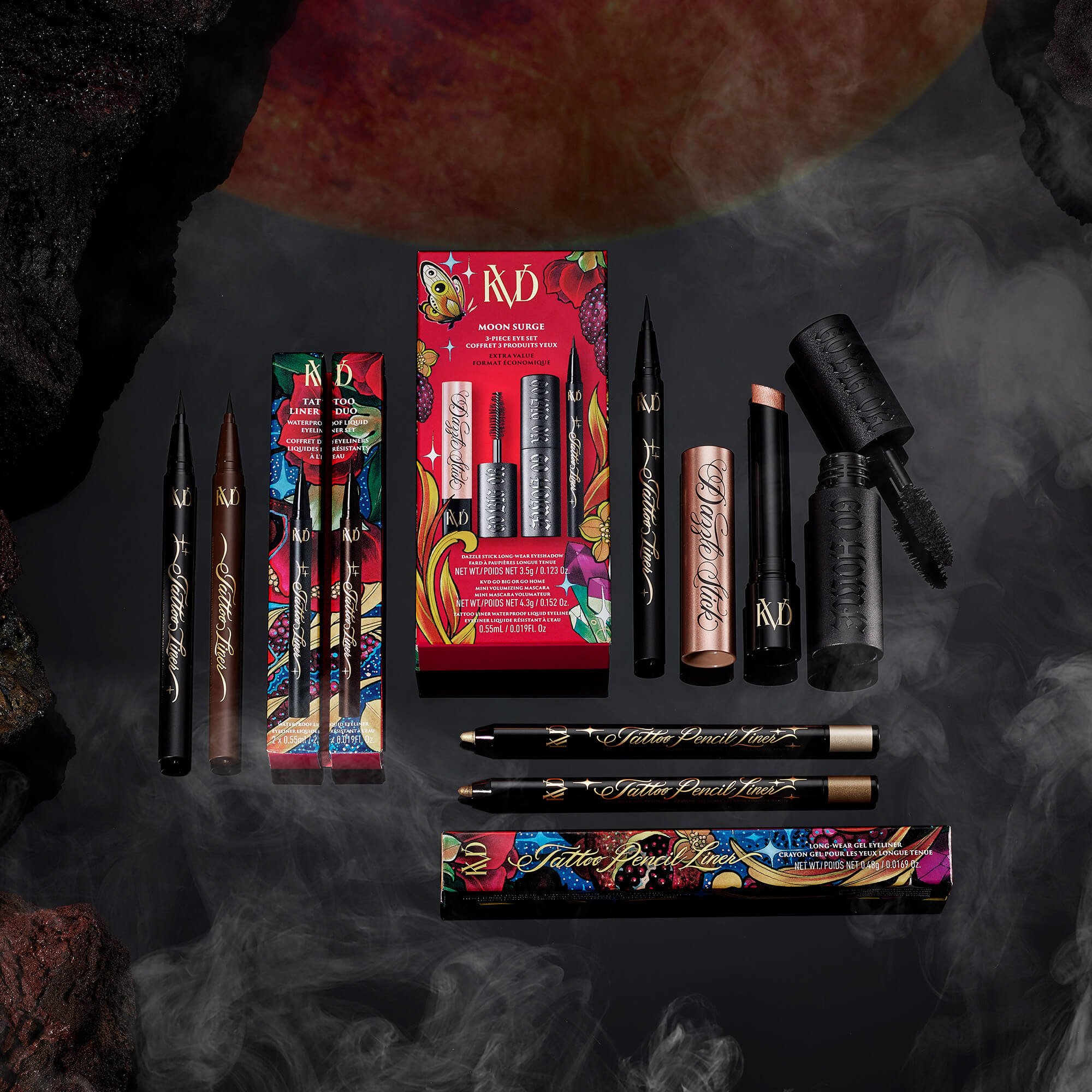 KVD Beauty presents its new Christmas 2022 sets – an iconic collection inspired by Moongarden with brand-new limited edition shades and inimitable kits. With every product in the collection in an exclusive hand-painted pack by Miryam Lumpini, KVD Beauty Global Director of Tattoo Artistry, these 4 must-haves will take makeup to the next level. 
The KVD Beauty Tattoo Pencil Liner is available in two new exclusive shades: Electrum Gold and Bronzite Gold. These ultra-sliding and no-transfer gel pencils have an iconic all-day hold, now available in two sparkling eye formulas as shiny as moon rays; the KVD Beauty Tattoo Liner Duo contains two full-size multi-use award-winning Tattoo Liner in Trooper Black and Mad Max Brown shades; the KVD Beauty Moon Surge 3-Piece Eye Set is a limited edition vegan eye set that includes Dazzle Eyeshadow Stick in Hail Surge and Tattoo Liner in Black Trooper in full-size and Go Big or Go Home Mascara in Trooper Black in mini-size.
Finally, the KVD Beauty Dazzle Vegan Eyeshadow Sticks are back with two limited edition shades: Heat Burst and Green Flash. Formulated with the brilliant Reflections of vegan pearls, these must-have eyeshadows in stick give a multidimensional effect and shimmer in a single touch.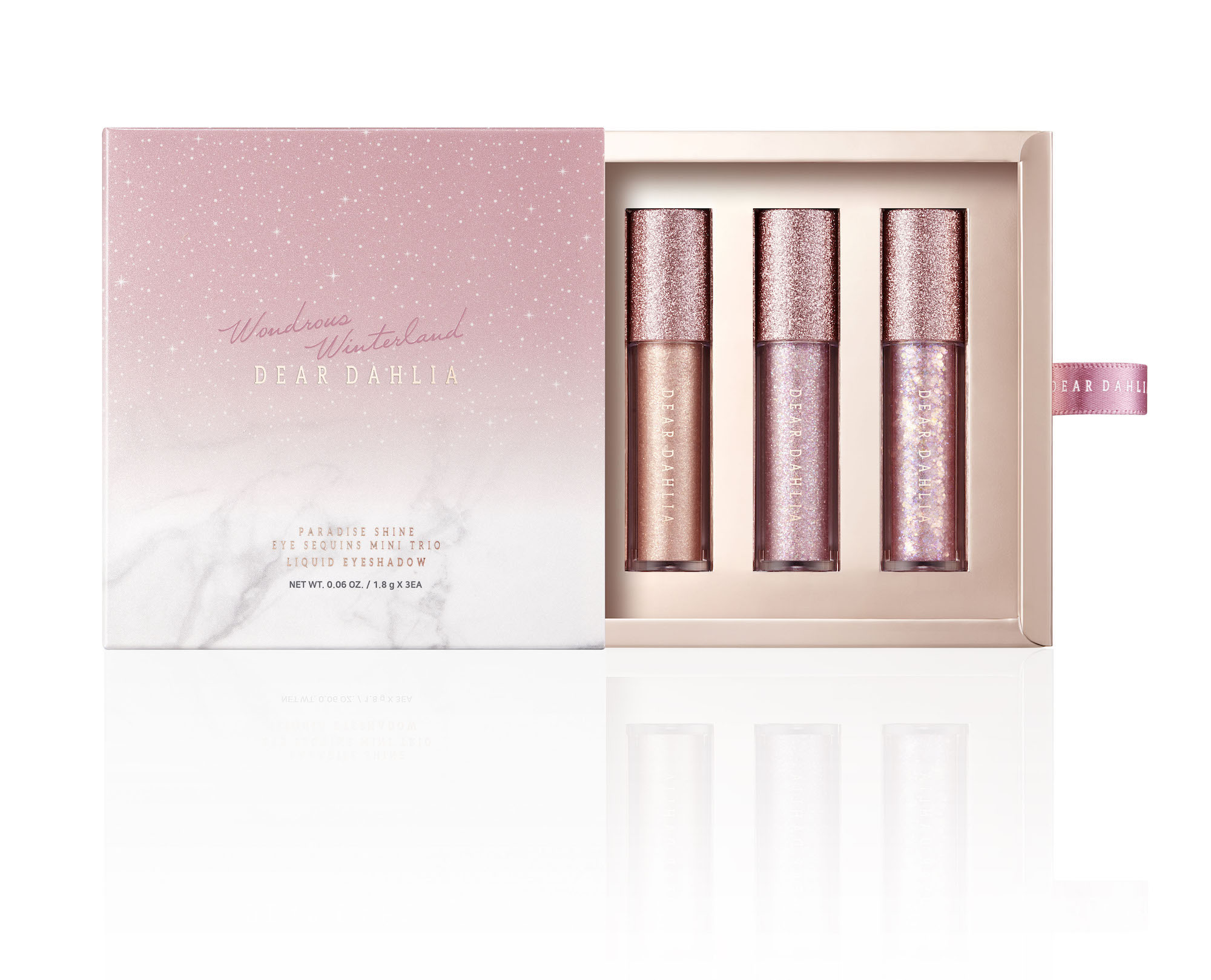 Inspired by the magic that evokes a silent snowy landscape, the new Wondrous Winterland Collection by Dear Dahlia features new shades and distinctive limited-edition Christmas packaging. All products are also characterized by the exclusive patented formula based on an extract of Dalia variabilis and organic ingredients EcoCert certified. 
Let's check them out:
The Dear Dahlia Lip Paradise Sheer Dew Lipstick is a lipstick with a creamy and soft formula that gives a brilliant finish thanks to the right mix of glitter and pigments that characterizes the transparent texture.
The Dear Dahlia Paradise Shine Eye Sequins is a liquid eye shadow with a mousse and water-based formula that combines shiny pearls and glitter and gives a hypnotic look.

 

The Dear Dahlia Paradise Shine Eye Sequins Mini Trio is a set ready to be gifted that contains the three best-selling shades of Paradise Shine Eye Sequins in mini size, from pink gold to lavender purple.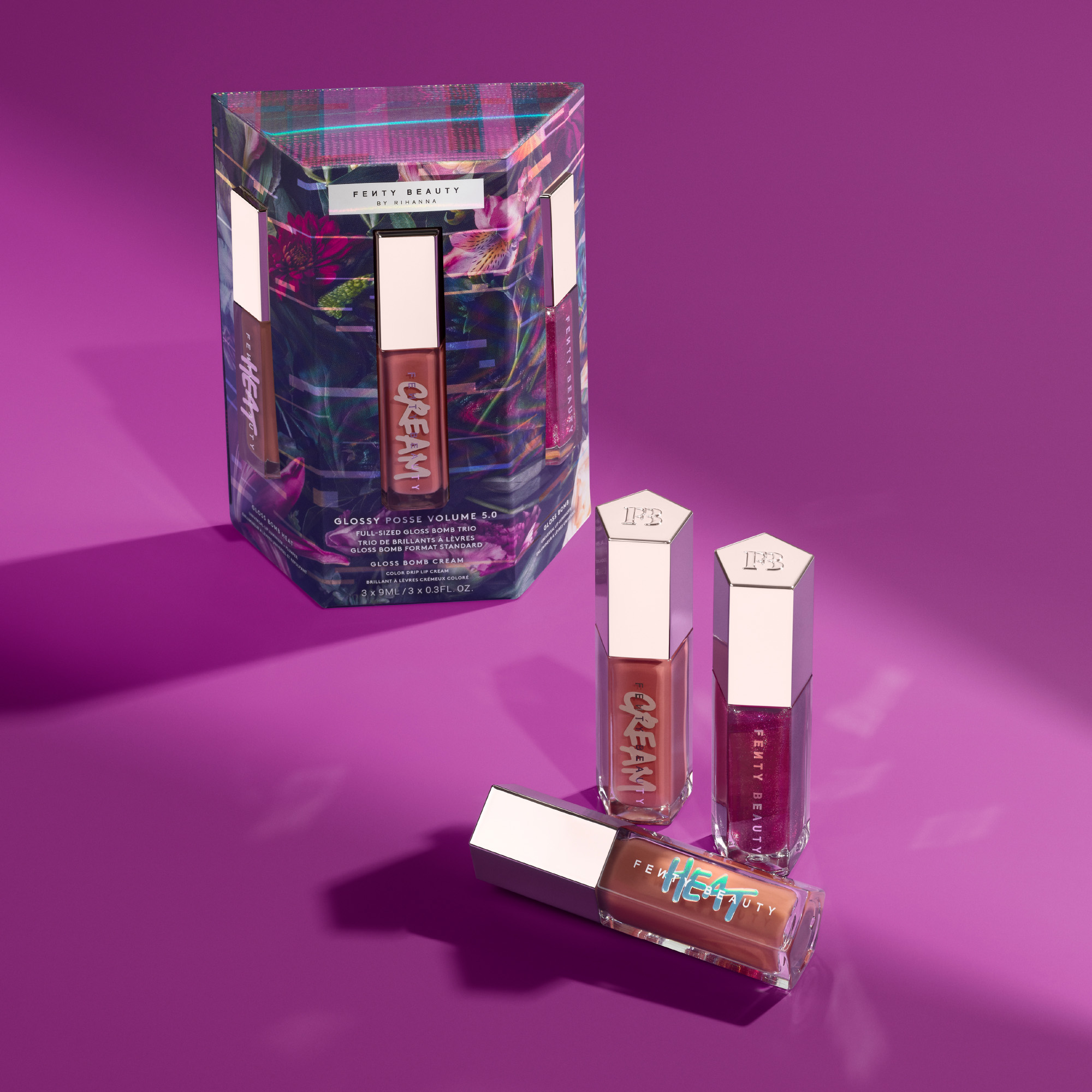 The Fenty Beauty Holiday Collection is here! Here are some of the most intriguing news:
Fenty Icon The Case – Berry Edition, to expand the Fenty Icon Lipstick range with a new Fenty Icon case that makes the Berry shade even more iconic.

 

Fenty Icon The Fill – Berry Holiday Edition, a triple choice of refillable shades dedicated to the beloved Fenty Icon Semi-Matte Refillable Lipstick. Inspired by the iconic shape of Rihanna's Cupid's Arch, each Fenty Icon fill allows precise application, high pigmentation color, and a lightweight feel. In addition to that, the creamy and semi-matte formula wraps the lips with a soft and luxurious texture and a long-lasting seal thanks to the moisturizing and plumping Hyaluronic Acid, Vitamin C & Vitamin E nutrients, and Amino-Acid Technology.
Lil Icons Mini semi-matte Lipstick Duo: the red and nude shades, now together in an iconic holiday set, where the bestselling shades of Fenty Icon Lipstick – Scholar Sista (nude roses) and The MVP (blue red) – give life to a "wow effect" gift set.
Glossy Posse Volume 5.0: the limited edition Gloss Bomb trio containing the cult product in all three formulas – Original, Heat and Cream.
BEAUTY CHRISTMAS GUIDE – IF THAT FRIEND IS YOU AND YOU NEED A RELAXING BREAK BETWEEN TUB, ME TIME AND HOMEMADE SPA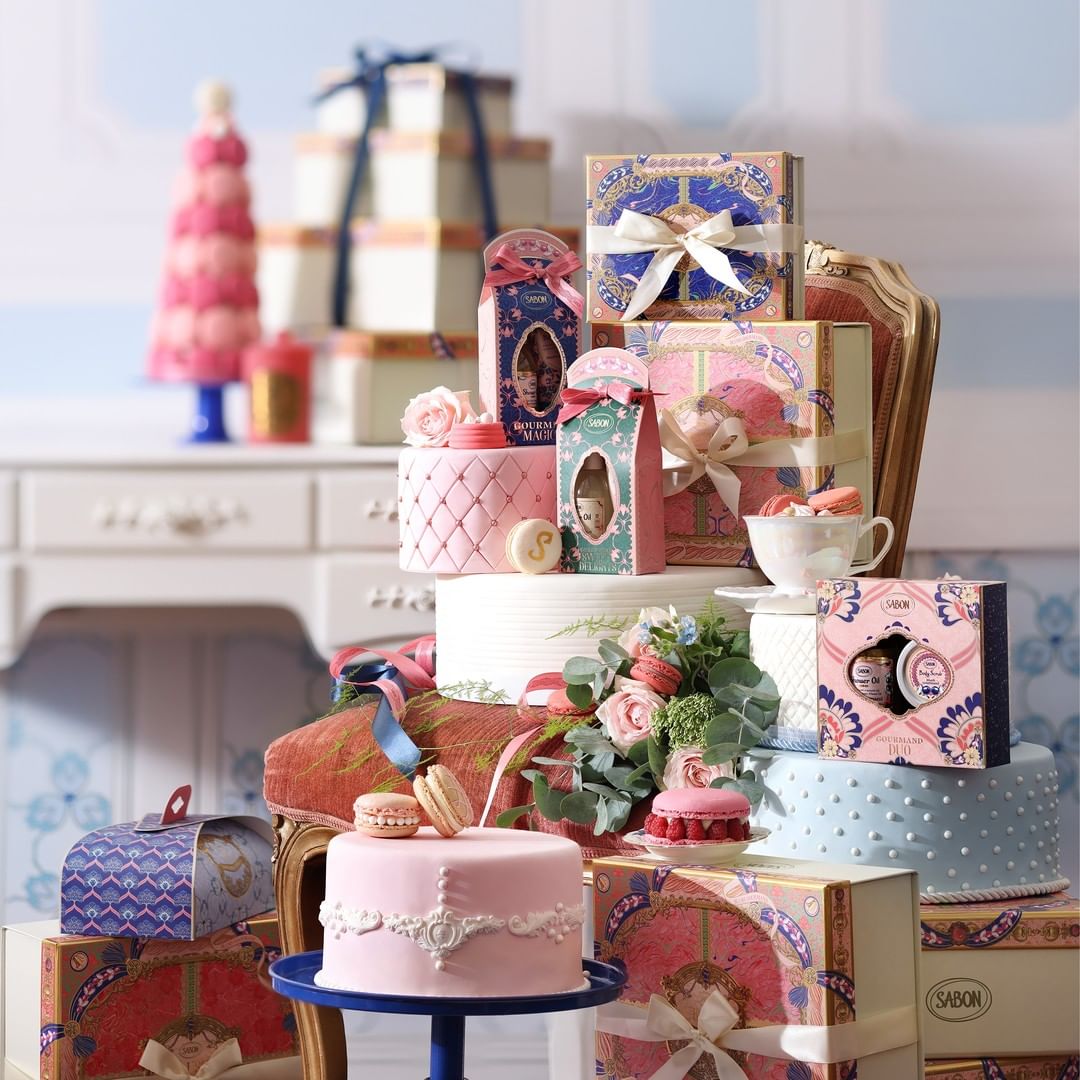 Sabon, on the occasion of Christmas, between sets for body and face care, presents the Blush Gourmand Body care box & Aroma, which contains all the essential treatments for a homemade spa: from nourishing hand balm, a limited-edition shower oil – with the addition of emollient sweet almond oil up to the beloved cleansing formula + the botanical soothing oils of olive, avocado, jojoba, and wheat germ that perfume the skin in a dreamlike foam – to the body lotion and the scrub. But not only that: to make the experience even more enjoyable, here is an aromatherapy bath ball to relax while filling the tub with essential minerals of the Dead Sea and a diffuser of aromas with the captivating fragrance Blush Gourmand, inspired by delicious gourmet delicacies.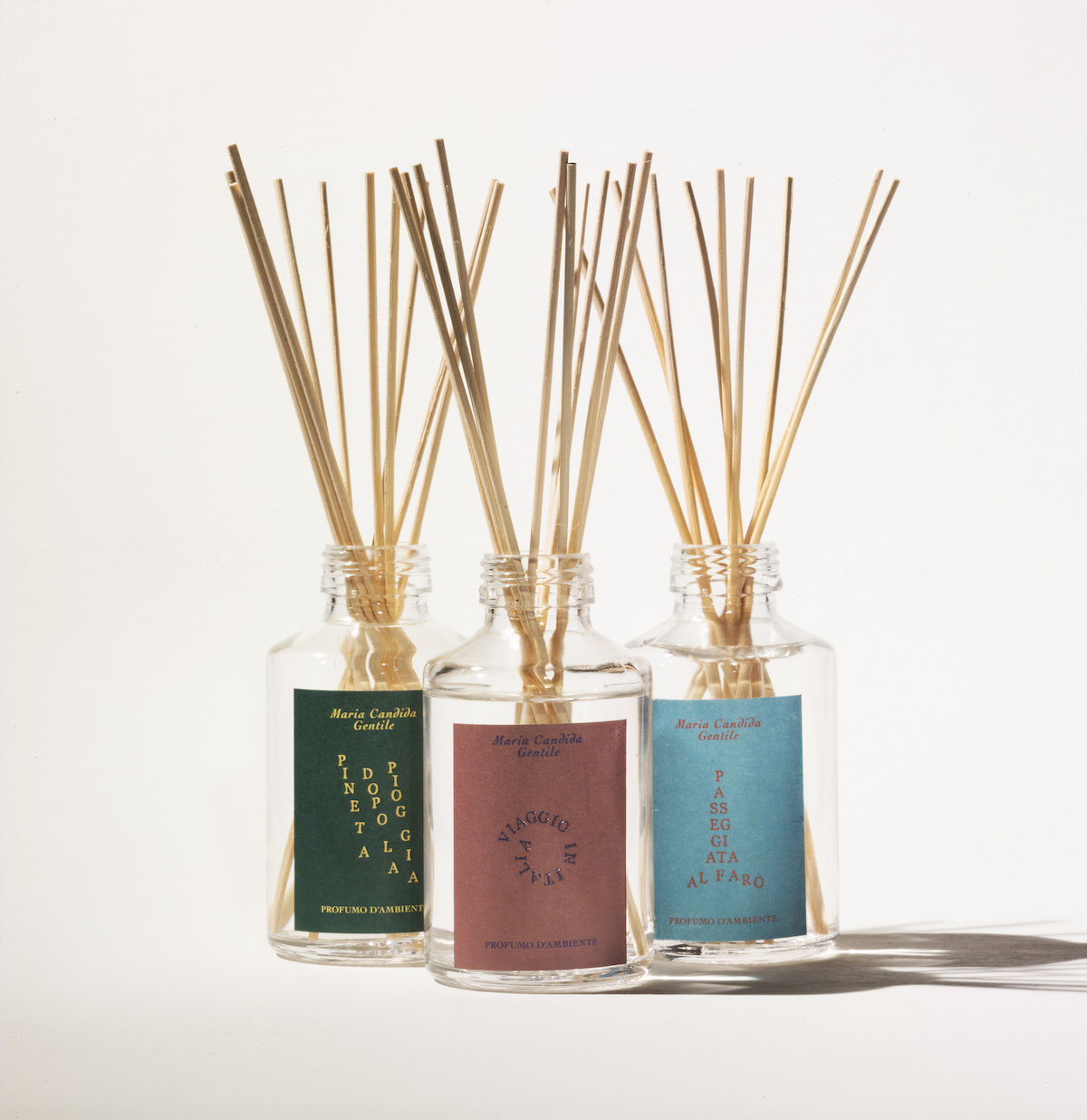 Imagine yourself among the bubbles, in the tub, with a glass of wine in hand and a beautiful book to read: what's missing? Of course! The olfactory experience. A good perfume is able to make every experience unforgettable. To this proposal, Maria Candida Gentile, in addition to the essences, also signs references for the home, as diffusers for environments with exclusive scents. What are our favorites? 
Pineta dopo la pioggia, which brings us to Corsica, between myrtle and cistus and the essence of maritime pine – which unifies the composition and offers an open, balsamic, wild everyday environment: an olfactory memory of a summer walk in the Corsican nature, after a sudden rainfall – and Passeggiata al faro. If you are a warm Christmas person, the memory of the tides, wet woods, and the bittersweet scent of sea fennel will transport you among the most familiar scents of Mediterranean nature, bathing them with the notes of seaweed and signing them in the note of helichrysum, to design a well-known, intimate, open and boundless environment.