We've all come down from the glittery trend of the holidays, but that doesn't mean you should stop experimenting with beauty trends throughout all the New Year.
Not every new trend is going to float your beauty boat, but we can guarantee a couple most certainly will. And what's so brilliant about beauty is that you can take a trend and wear it your way.
Love the idea of orange eye shadow but don't want to resemble the '90s? Then try re-creating the rust incarnation at Topshop instead.
Trends are there to be played with, and rules are most definitely made to be broken.
Keep scrolling for spring/summer 2017's biggest beauty trends that you can totally start wearing now.
________
1) BOLD LIPS
________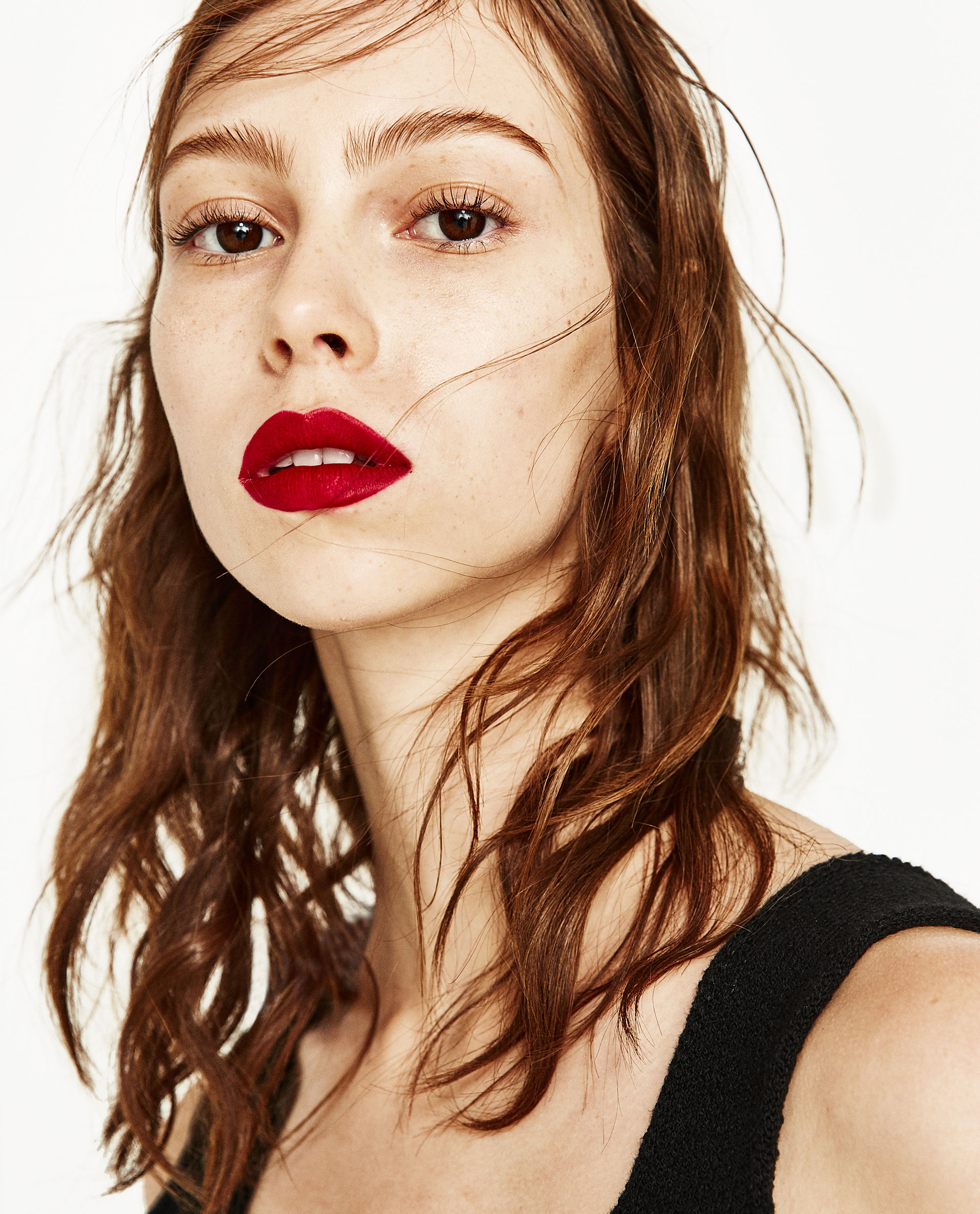 The key to rocking these lips without having them looking too excessive? Balance them out with minimal makeup elsewhere. That keeps things crisp and modern!
________
2) BRIGHT BLUSH
________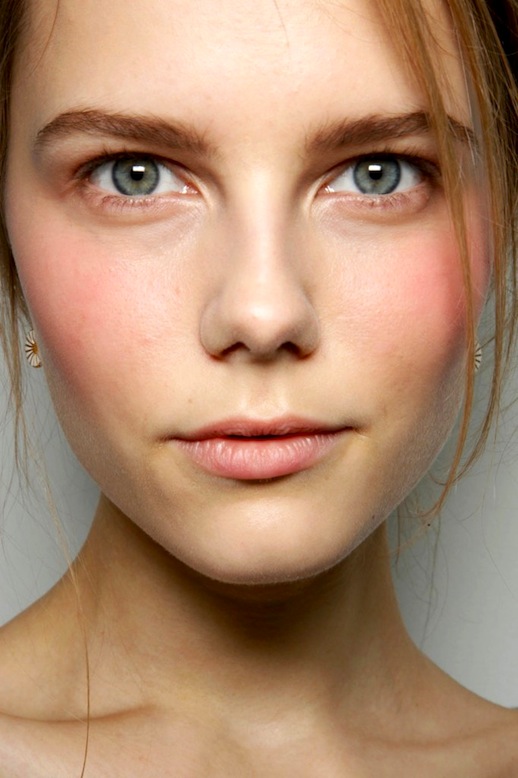 Also known as "draping," this technique relies on blush (no more contouring) to enhance your facial features. Stick to poppy pinks or vivid corals and concentrate the color along the temples and tops of your cheeks to keep things light and lifted.
Bold blush will be big in 2017. Whether applied with a heavy-hand and a nod to disco or subtly blended from cheek to temple, blush is meant to be seen.
________
3) THE ACCENT BRAID
________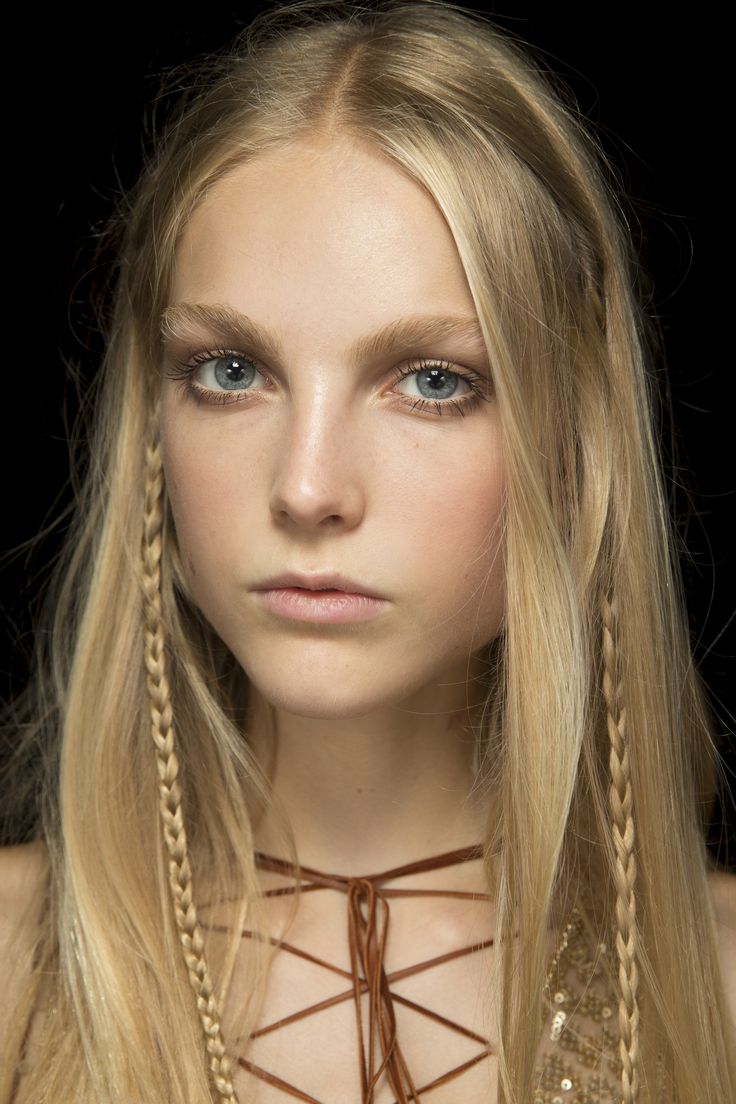 Braids can look young, there's no denying that, but one way to incorporate one into your look is to use it as an accent. Essentially this is a small braid placed with into a ponytail or bun, or subtly peeking out from under your hair like at Roberto Cavalli.
________
4) "SUMMER" SMOKY EYE UPDATES
________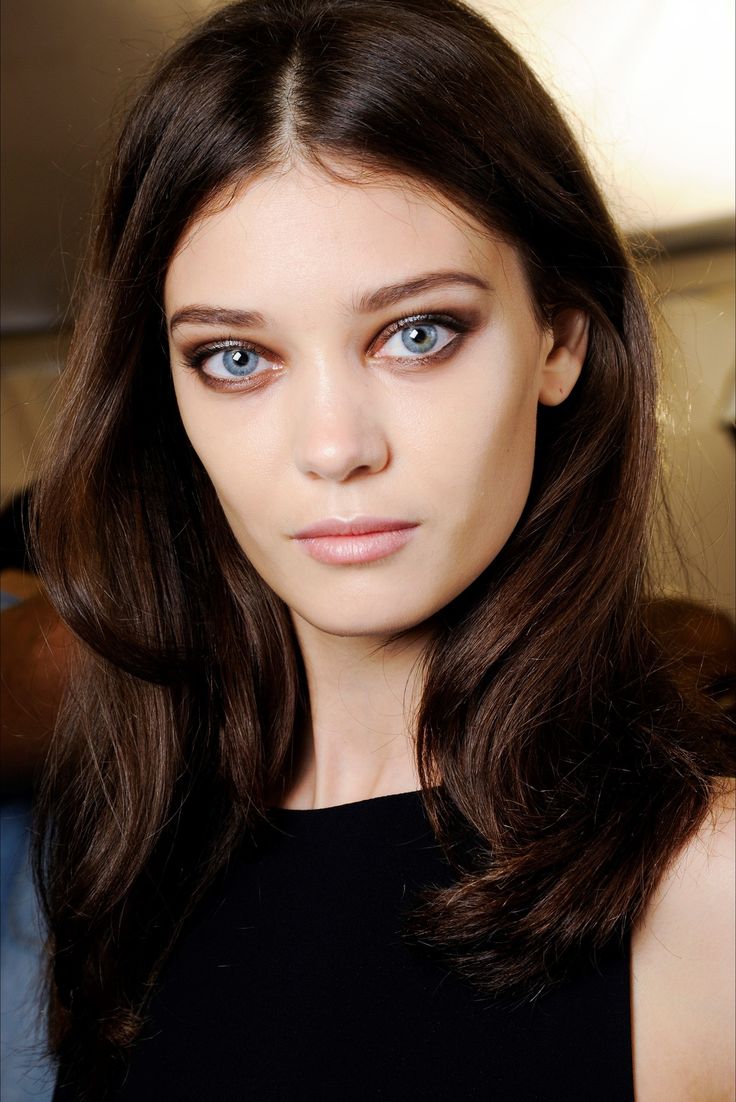 If the smoky eye look is your go-to, then this is the S/S 17 beauty trend for you. Whether you love graphite black, slate grey or chocolate brown, simply take a crayon or creamy eye shadow and work it along the upper and lower lash lines. Use a brush or your fingers to blend out. How far you smudge this look is up to you.
And try to think beyond the neutrals, or simply add a new hue to the mix. For example a pop of blue liner can make all the difference.
Darker greens and rich plums have a similarly striking effect.
________
5) OXBLOOD EVERYTHING
________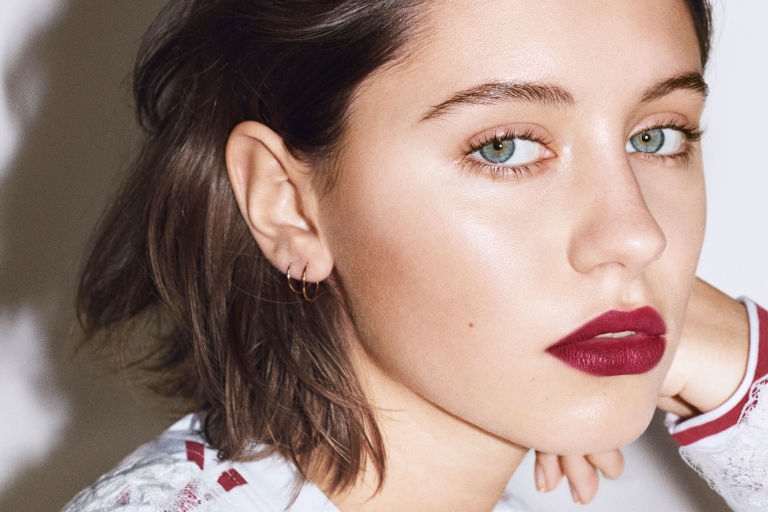 Consider the shade your new neutral. And you can wear it from your lids and lips to your fingertips.
It's just a slightly edgy update to your evening makeup.
________
6) ASH-BLONDE HAIR COLOR
________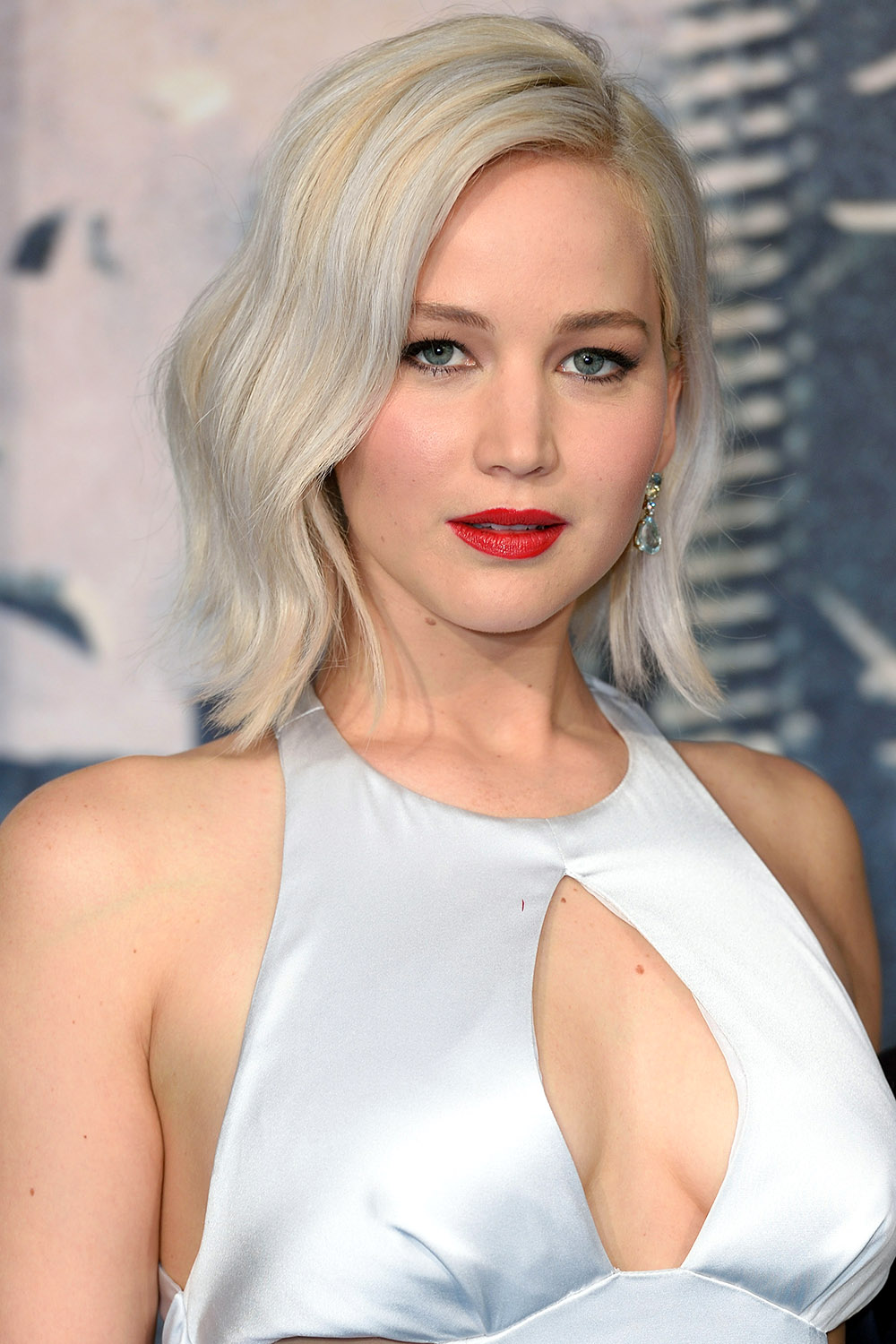 Cool, ashy, bordering-gray locks have supplanted buttery blondes and golden highlights. One (rather compelling) reason to try the look?
Dark roots are actually encouraged because they add dimension to the look, and to your face.
________
7) "SWEATY" SKIN
________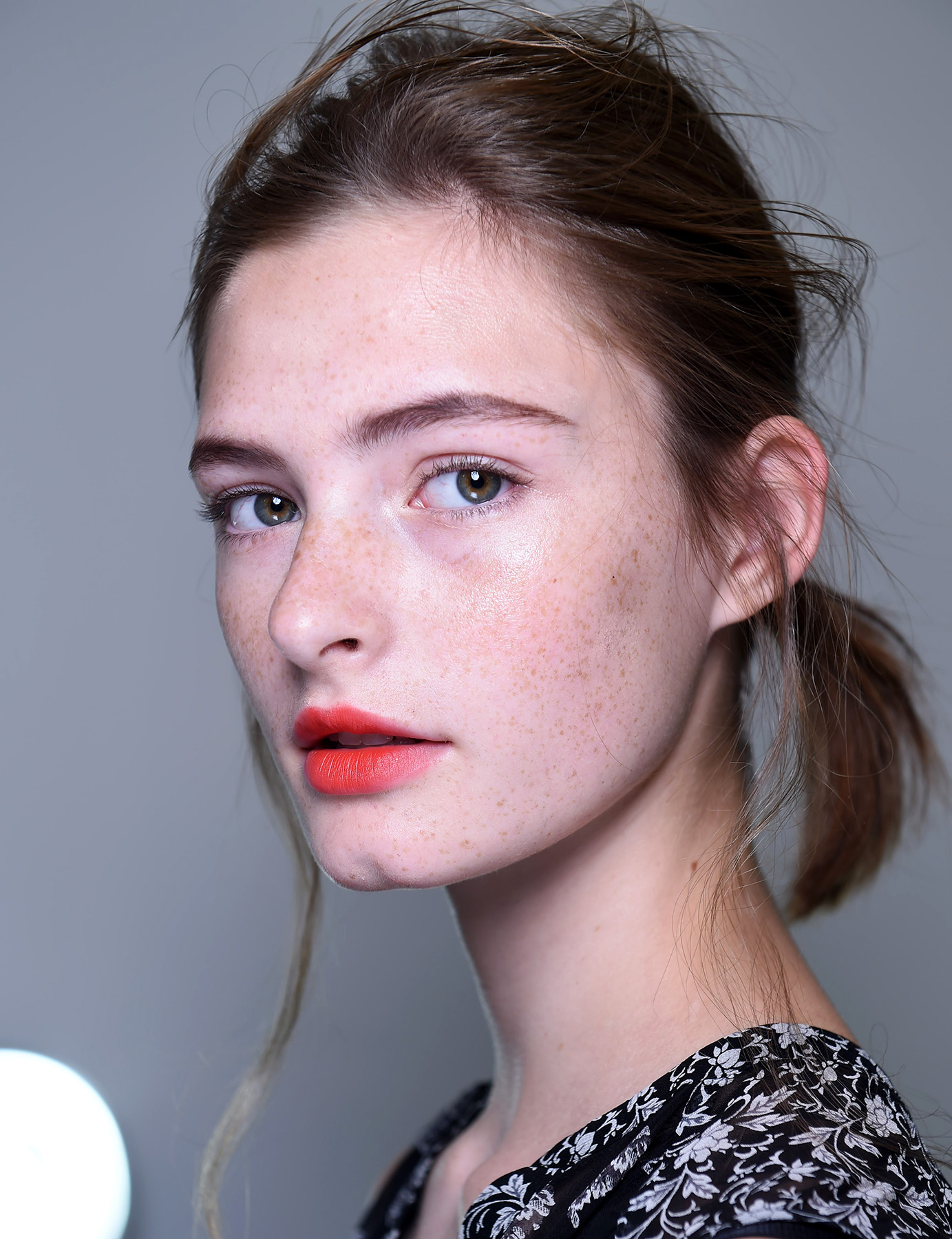 As it was referred to backstage at some shows, sweaty skin is the complexion for next season. But how does a sweaty complexion translate into real life? Because no one wants to look like they've just finished a gym session. But this season it's all about matte, sheeny, sweaty-looking skin.
We're talking a matte, velvet complexion with a powdery highlight. And that's the key: You should use powder highlighter not liquid or cream to re-create this finish. Buff into the high points of the face: cheekbones, Cupid's bow, bridge of the nose and a little on the chin and forehead.
It will make you look like you've had a facial, or run around the block a couple of times and have that exerciser's high.
________
8) CLUB TROPICANA
________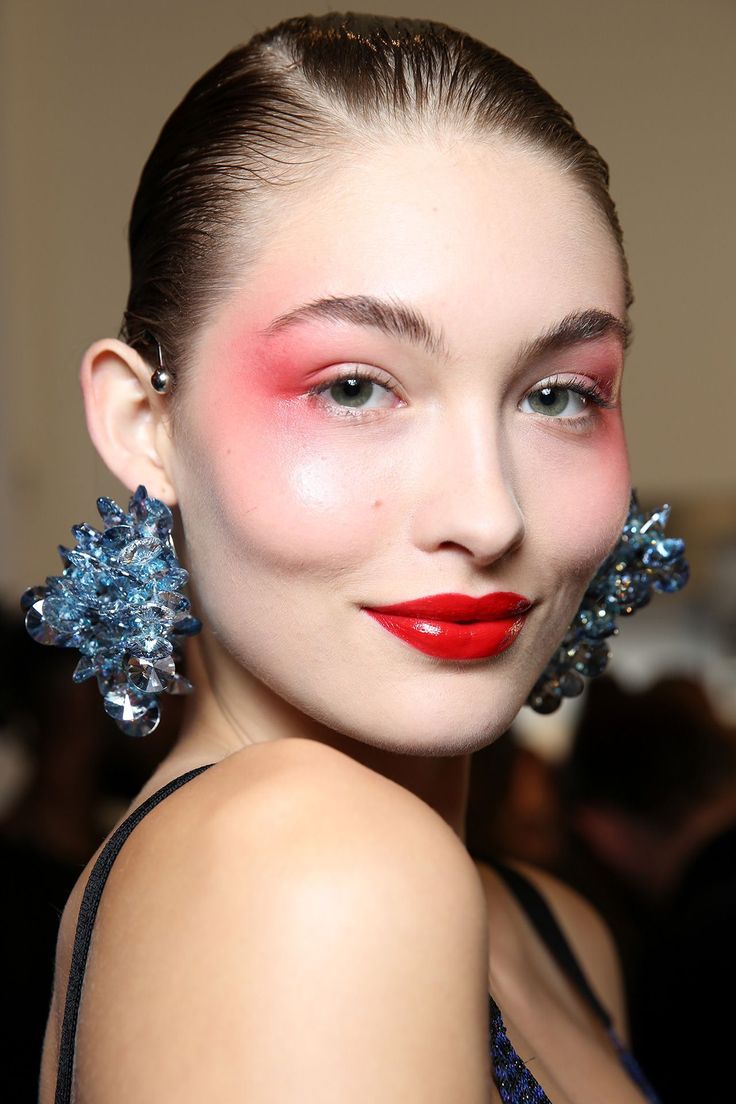 Ease yourself into the look by mimicking the warm copper eyes at Topshop Unique or the most recent Armani Privé (click here to see the look).
The key to keep it looking effortless is to really blend and buff the edges and keep the rest of your face clean: just a little mascara to add definition to your eyes.
________
9) MERMAID EYES
________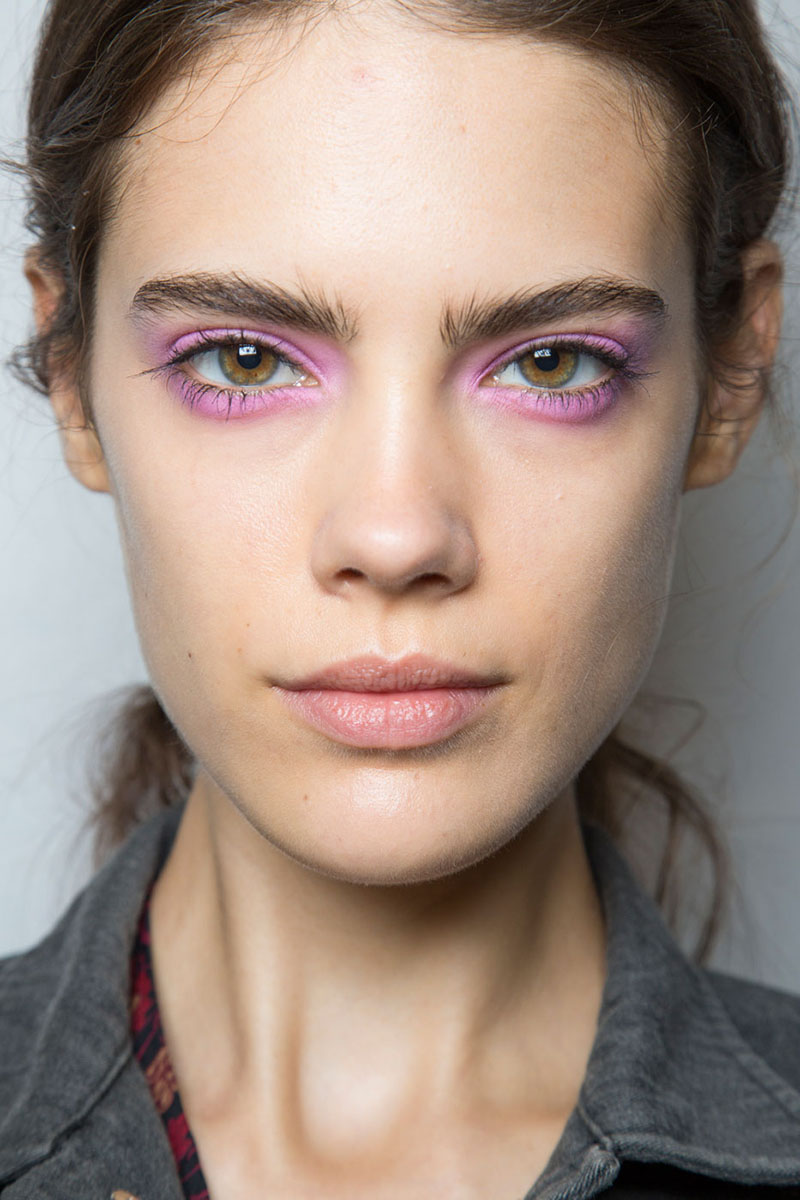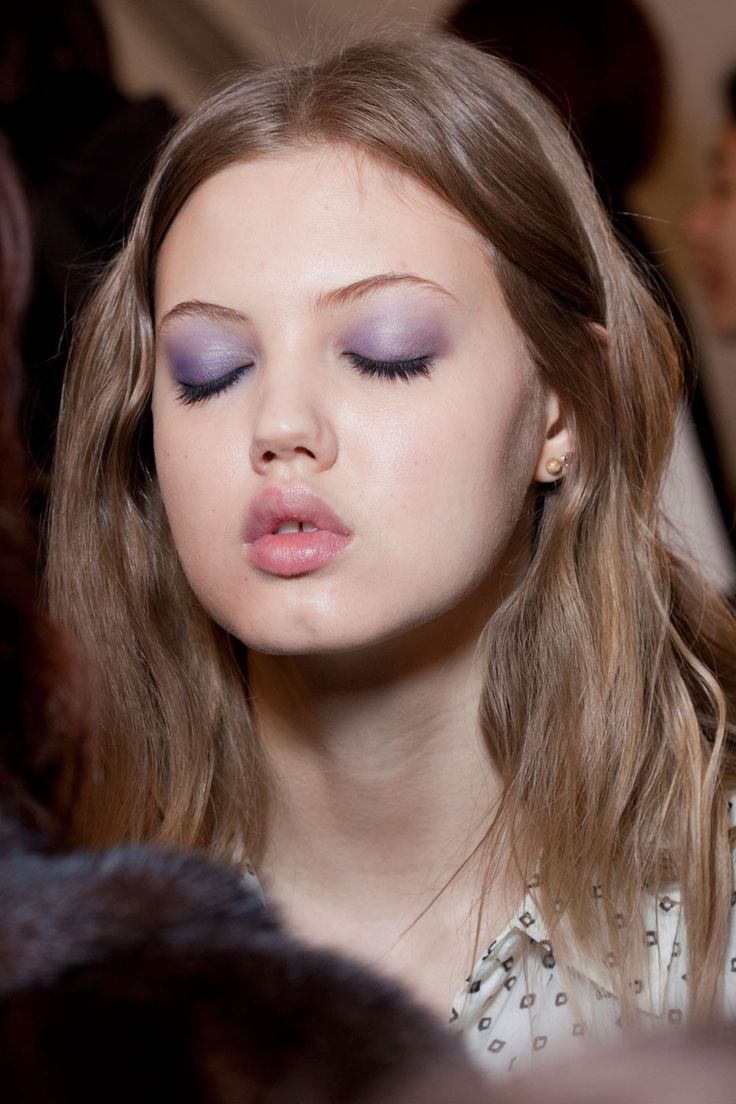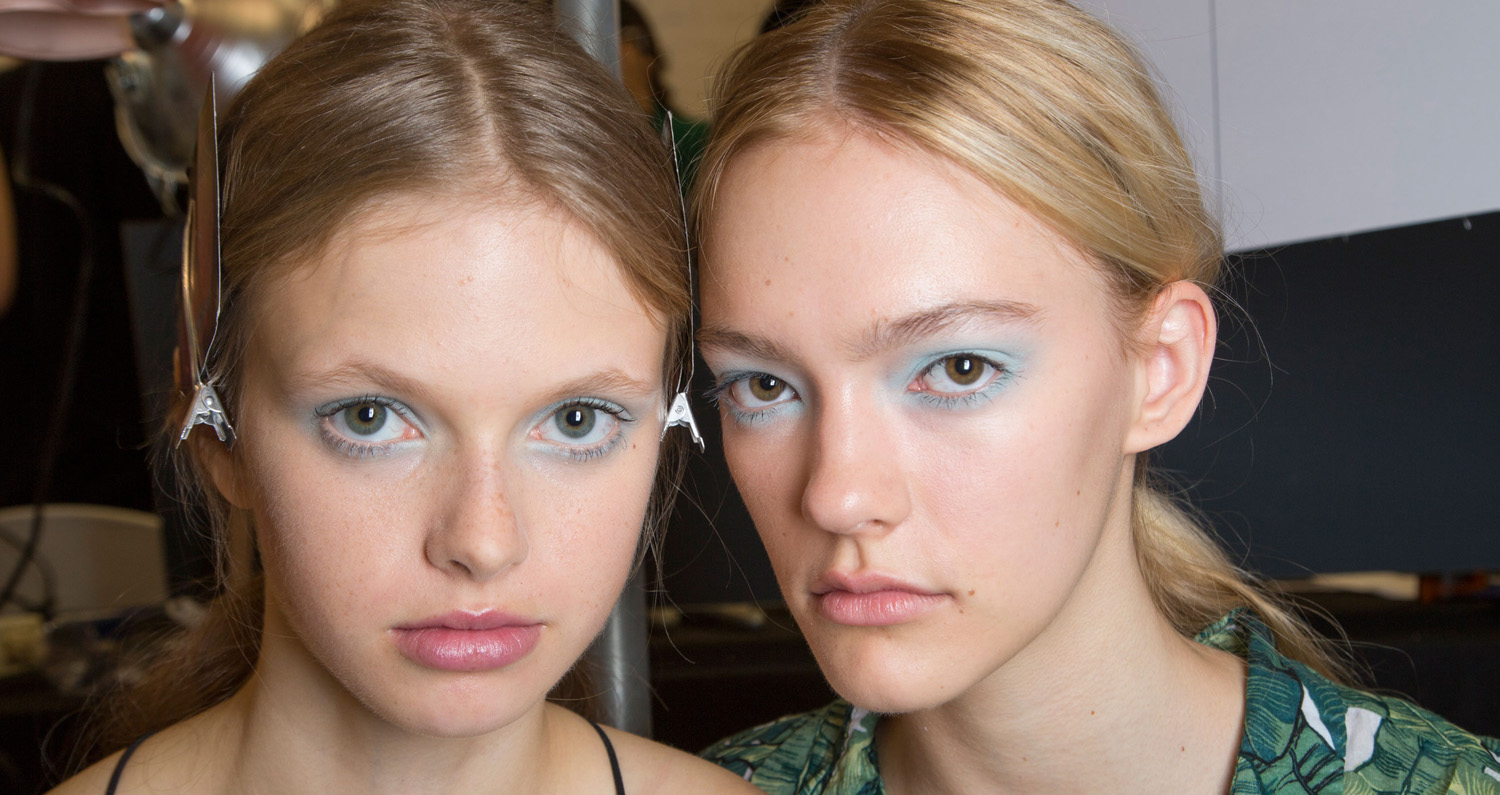 The mesmerizingly pretty looks on the fashion runway at Marc Jacobs, Rachel Comey, and Jill Stuart are a brighter, dreamier take on the dark and smoky standard. Here's how we're pulling it off: apply shimmery purple on the inner halves of lids, blue on the outer halves, green just below the eyes, and gold at the inner corners (Eye primer helps). Blend with a fluffy shadow brush; liner and mascara optional.
________
10) THE BELTED PONYTAIL
________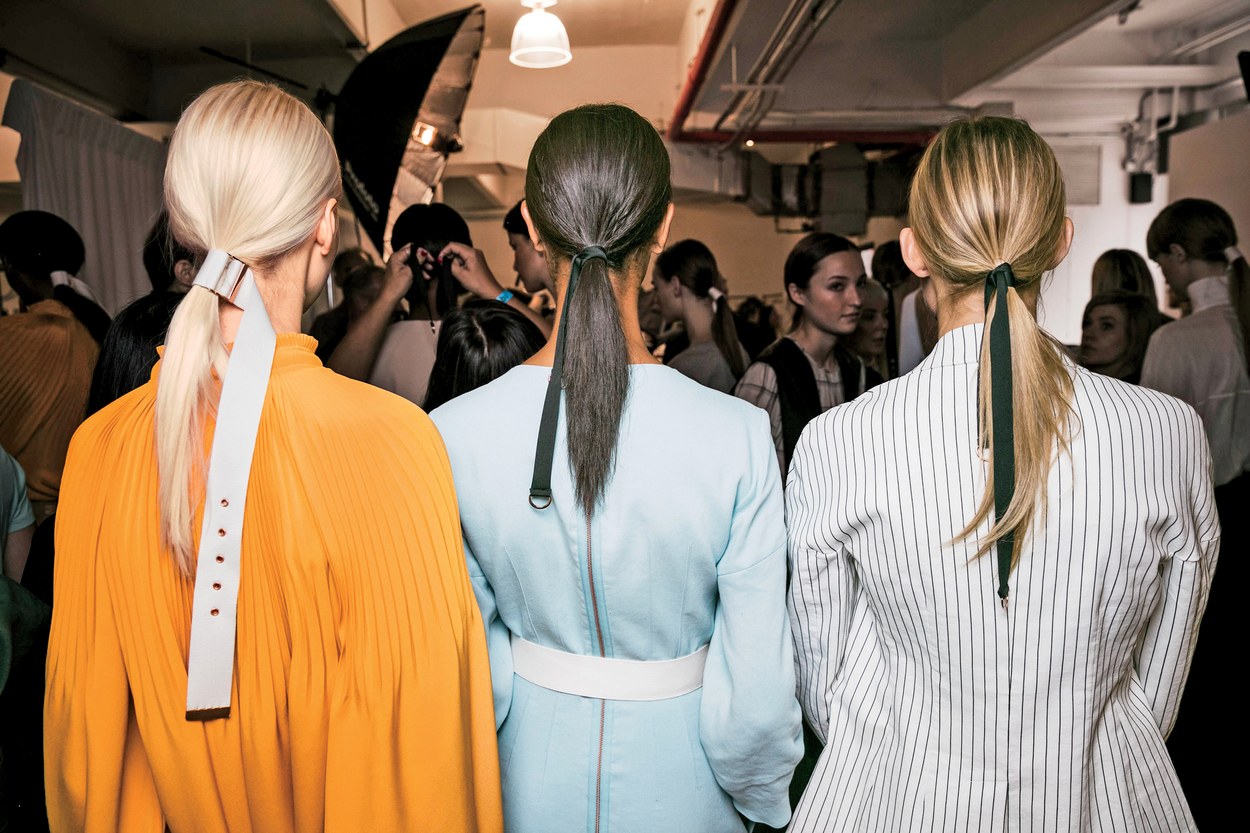 At the last backstage at Tibi, it looked at first as if they were doing just another low-slung ponytail. Then we noticed hairstylist Frank Rizzieri fastening this long fabric over the base (over an elastic); it fell to the same length as the pony's end. And then we saw the buckle.
________
11) OMBRÉ LIPS
________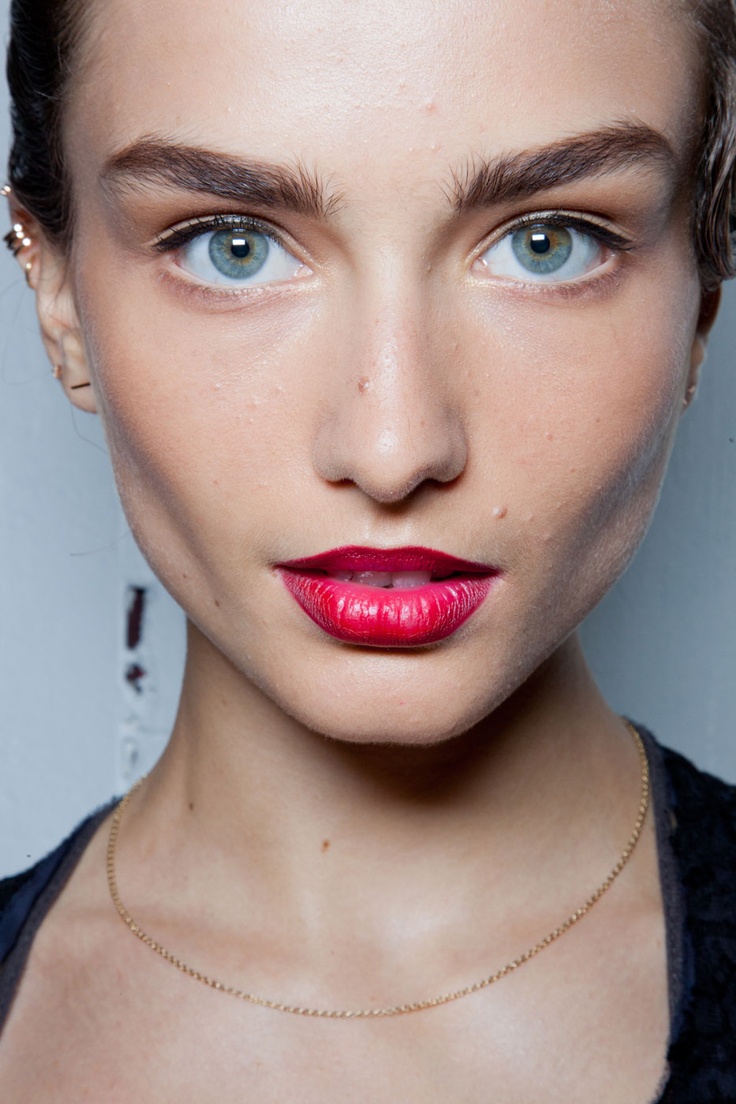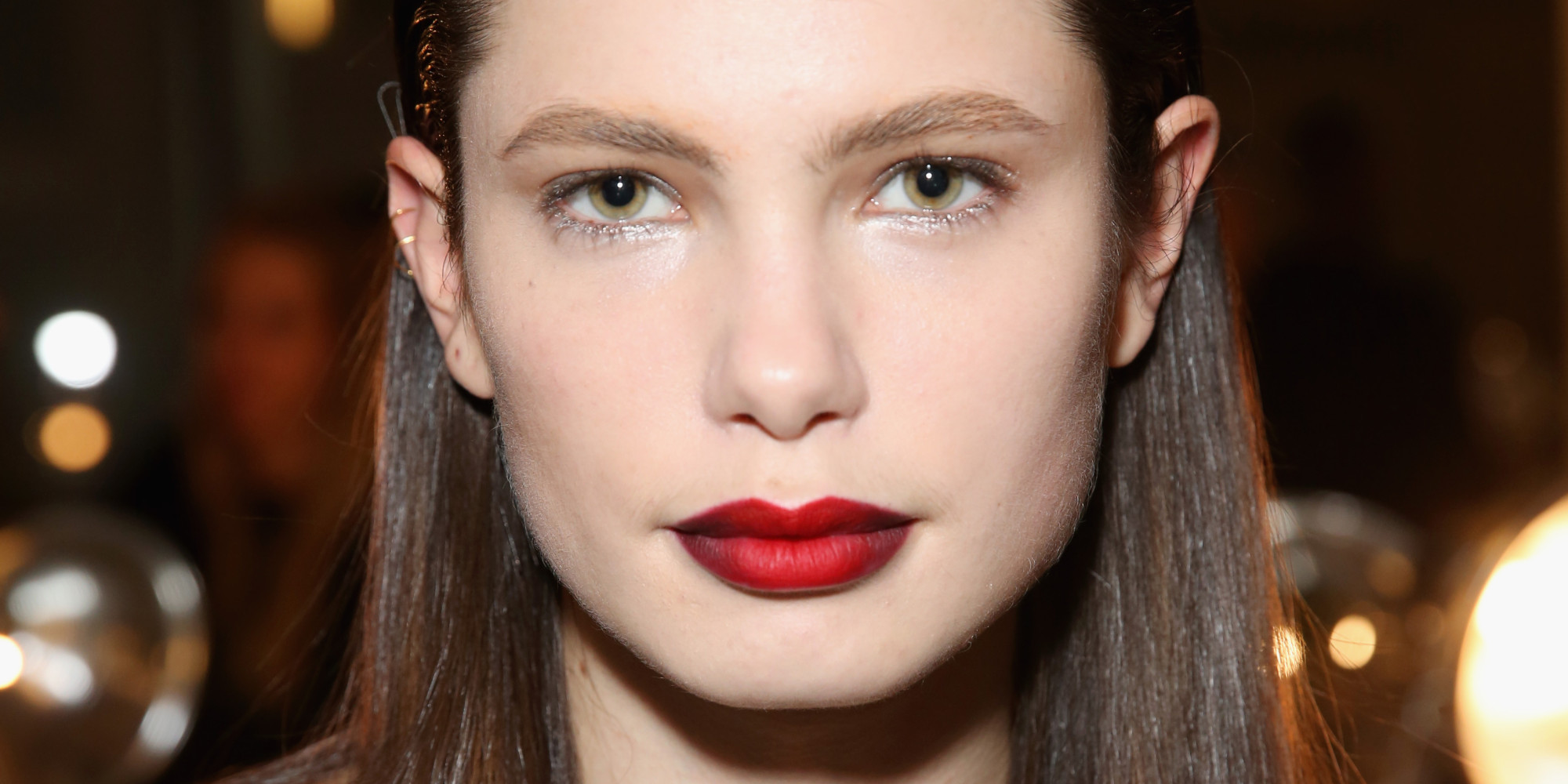 The red lip it's a classic. But this year we're all about stepping things up. And we found the perfect inspo backstage at Jason Wu: ombré and a wearable ombré lip at that, not the extreme made-for-Instagram-only variety.
________
12) NO BLACK LINER
________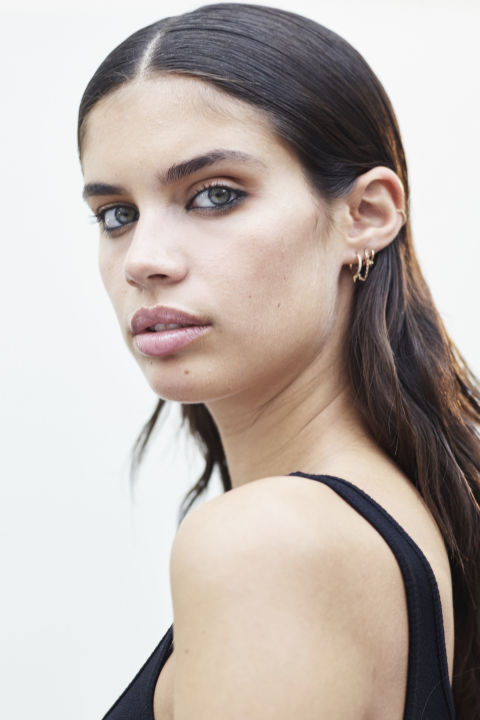 It may have taken you months to master, but consider leaving your black cat-eye liner behind in 2016. This year's go-to liner look is all about black pencil liner traced along your inner waterlines. Yes, it's basically the look you wore all throughout middle school—but this time you have the edge to actually pull it off.
Credits Images: Zara.