One of my favorite quotes from a very popular TV show of recent times sums up pretty well the vague, but solid idea I have of friendship and its declinations and values. The show I'm talking about is the American teen drama "13 Reasons Why." In season 1, Tape 1, Side B, the protagonist, Hannah, records her memories of a friendship of hers, calling it "a hot chocolate friendship: good for cold months but maybe not for all seasons;" however, the interesting bit in her reasoning is what she says next:
"You need friends. Even just hot chocolate friends. Especially when your life goes to shit. Day after day, drink after drink, we lifted our mugs and we lifted each other."
That's it, that's the way it is when it comes to friendship, I believe: there are so many types of friends we can make in a lifetime, each with its own features and side effects, but you need all of them in life, even the bad ones.
Someone – a very dear friend of mine – once told me we should all learn to regularly take a moment for ourselves and visualize the roles people have in our lives, and we should do this at least once a year, which is more or less the average expiry of human beings' personalities, in my experience: all non-basic aspects of our personality last for one, or maybe two years, to then turn into some whole other, more or less new thing. That's why we often happen to suddenly find ourselves despising the clothes we bought the year before, the song we once used to listen non-stop to, the food we used to call our favorite just one summer apart: we change, as well as the people around us, whether we like it or not, and for that very reason, I think it makes sense to believe that friends are like seasons, they come and go.
Anyway, as for everything in life, exceptional cases are to be pointed out, like the Friends Who Stay Forever.
They're an extremely rare species, but if you can find even just one specimen in your life, then you could call yourself the luckiest person on Earth. As for those "hot chocolate friends," the temporary friendships we all experience during our human existence, the people in our lives who play the role of "friends" just for a couple of seasons, they were all cast for a reason, if we think about it – we let people in our lives according to the stage we're at in every specific moment of our journey, and depending on what we need and want during each specific moment. It's with temporary friends that we live experiences – unforgettable trips, bad hangovers, first kisses – and it's with everlasting friends that we live life. Both kinds are important, both are necessary, both leave us with significant memories.
Friendship, as vital as it is in the life of all society members, from the most introverted to the loudest, has been portrayed in all forms of art, probably since the dawn of time, but especially in cinema and television: movies and TV shows, as a matter of fact, have now become the most accessible media, the one best capable of reaching the hearts (and houses) of the vast majority of people. Like in all artistic fields, some products give better portraits than others, especially when it comes to friendship, whose substance is extremely hard to catch. The list you will find below is our personal selection of some of the top movies and TV shows that capture the essence of friendship. Please, enjoy and empathize, maybe with a friend or two!
MOVIES
"The Hate U Give"
Starr + Khalil: black friends' lives matter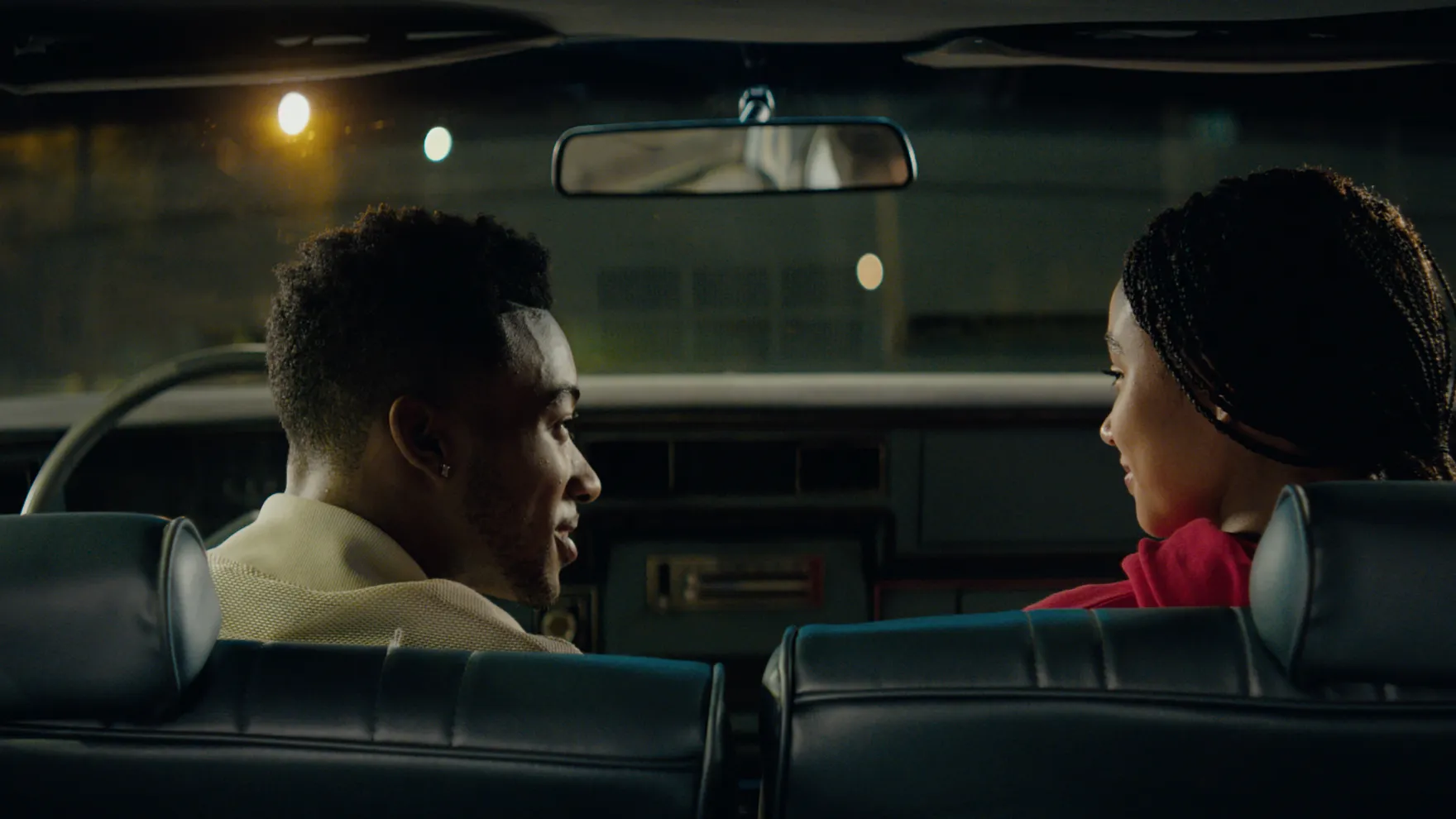 Starr and Khalil used to be each other's best friends as kids. As it often happens, growing up, they lost touch, only to find themselves later, at 17, with much news to catch up on: Starr's white boyfriend and seemingly anti-racist private high school, Khalil's involvement in drug trafficking on behalf of the neighborhood's criminal gang. The 2019 movie directed by George Tillman Jr. tells the sadly resonating story of a policeman's racial prejudice and a trigger pulled for no reason becoming the cause for the premature end of a young life and friendship. The power of shock, grief, and outrage bring young Starr to raise her voice against the racial inequities rooted in society and render justice to her late best friend at the cost of life.
"Little Women"
Meg + Amy + Jo + Beth: more than a sisterly friendship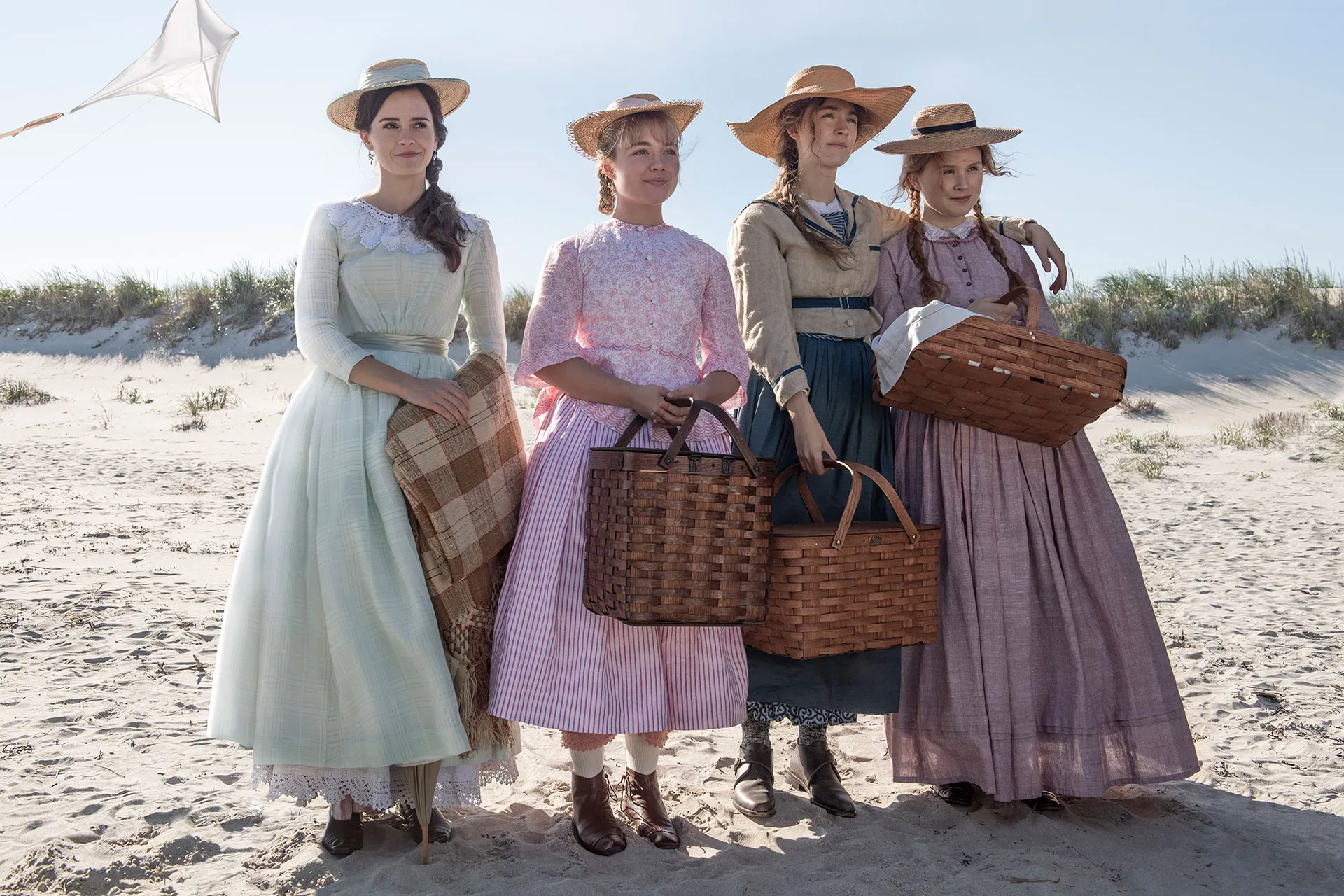 Whether it is the 1994 or the 2019 cinema adaptation of Louisa May Alcott's novel of the same name, the substance remains unchanged: both Gillian Armstrong and Greta Gerwig direct the story of a strong and exemplary sisterly bond, between moments of recreation, adventures, sicknesses, jealousies, and growth. The relationship between the March sisters – each with her own personality, aspirations, and inclinations – evolves throughout the story, dangerously bending to one-sided loves and unexpected deaths, but it never breaks; on the contrary, the emotional bond between Meg, Amy, Jo, and Beth is strengthened by the unpredictability of life, as an emblem of a sisterhood escalating into an unbreakable friendship.
"Booksmart"
Amy + Molly: friends beyond (legal) limits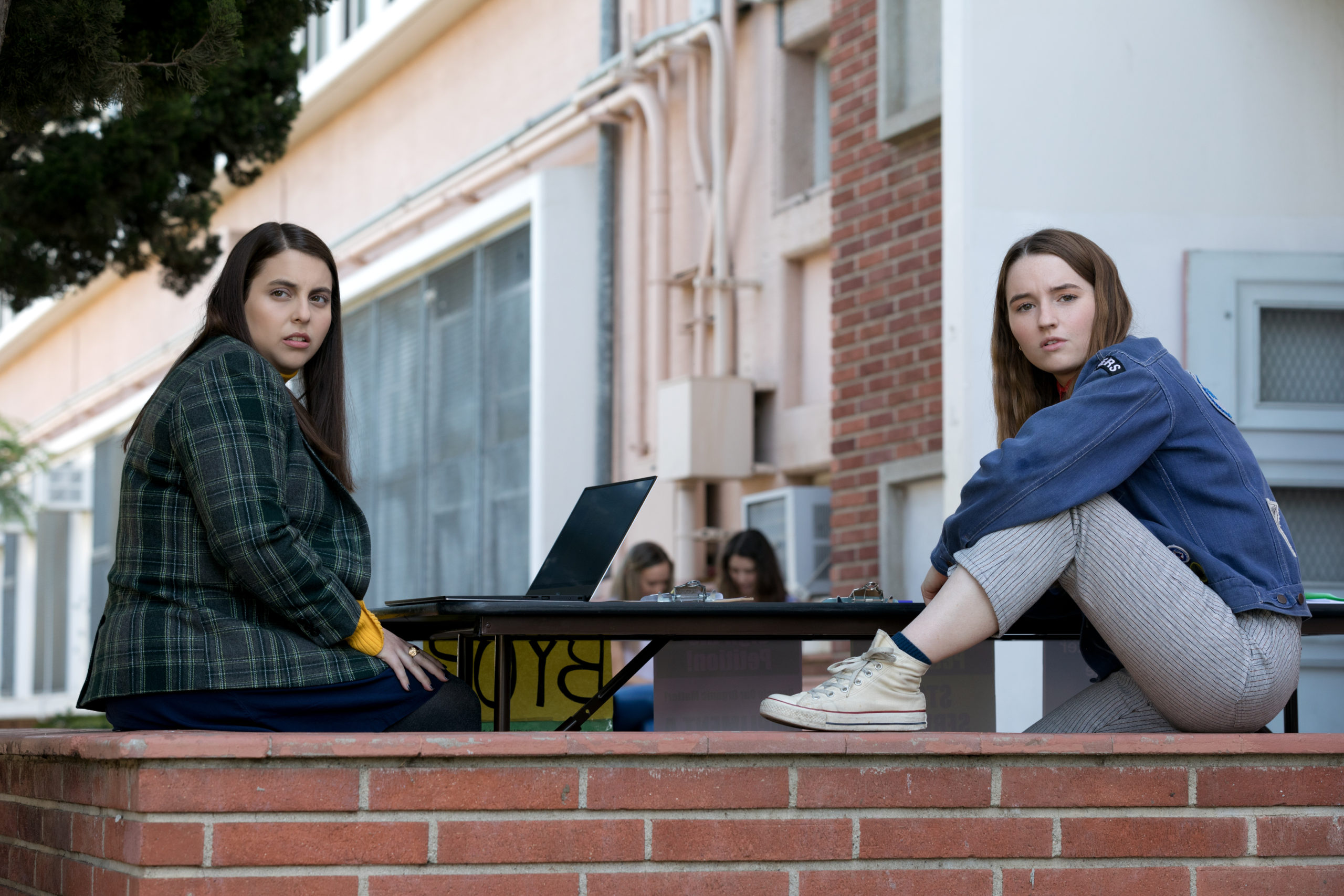 Amy and Molly are sacredly bonded by their mutual love of books, science fiction, rules: in other words, all things nerdy and anti-social kids devote their high school lives to instead of enjoying and exploiting the typically teenage energy and hormonal peaks they'll never get back in their adult lives. Or at least, that's what they convince themselves of after overhearing a couple of schoolmates talking trash about them and making fun of their dorkiness. Olivia Wilde directs the story of two best friends trying to make up for all the teenage stereotypical experiences they missed, and live them all by the day of their graduation ceremony: in other words, one night of crazy adventures and a severe test of their friendship is what they get from social anxiety.
"Promising Young Woman"
Cassie + Nina: how far can a bond of friendship go?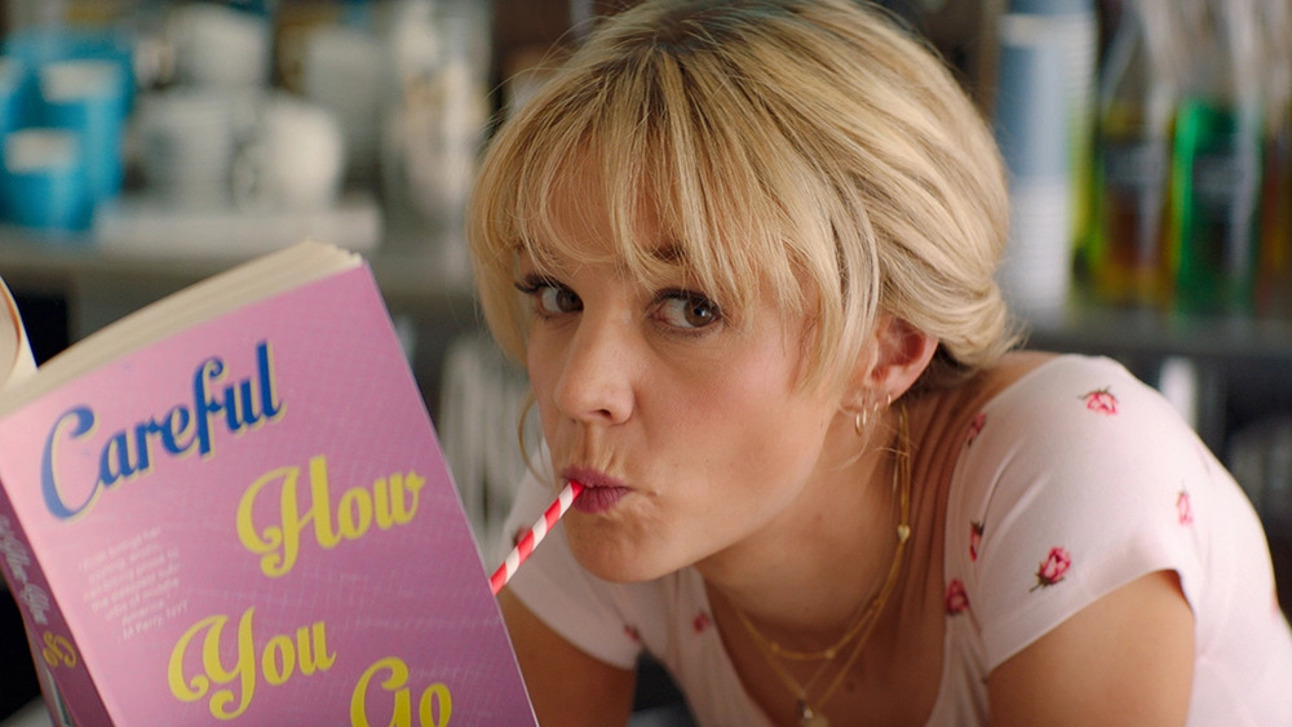 This 2021 feminist manifesto directed by Emerald Fennell translates into film the revolutionary power of a relationship of friendship and what it's capable of when it comes to watching each other's backs. More than a story of sisterhood and female solidarity, this is a story of revenge: Cassie is determined to avenge her college best friend Nina, who committed suicide after having been raped by a boy from their faculty in front of his group of friends. She's determined to do whatever it takes to accomplish her goal, even humiliate herself and give up on important people and things in her life. All of this in the name of friendship and female dignity.
#HONORABLEMENTIONS
"Thelma and Louise"
"50/50"
"Girl, Interrupted"
"Frances Ha"
TV SERIES
"Friends"
Ross + Rachel + Monica + Chandler + Joey + Phoebe: the absolute emblem of friendship…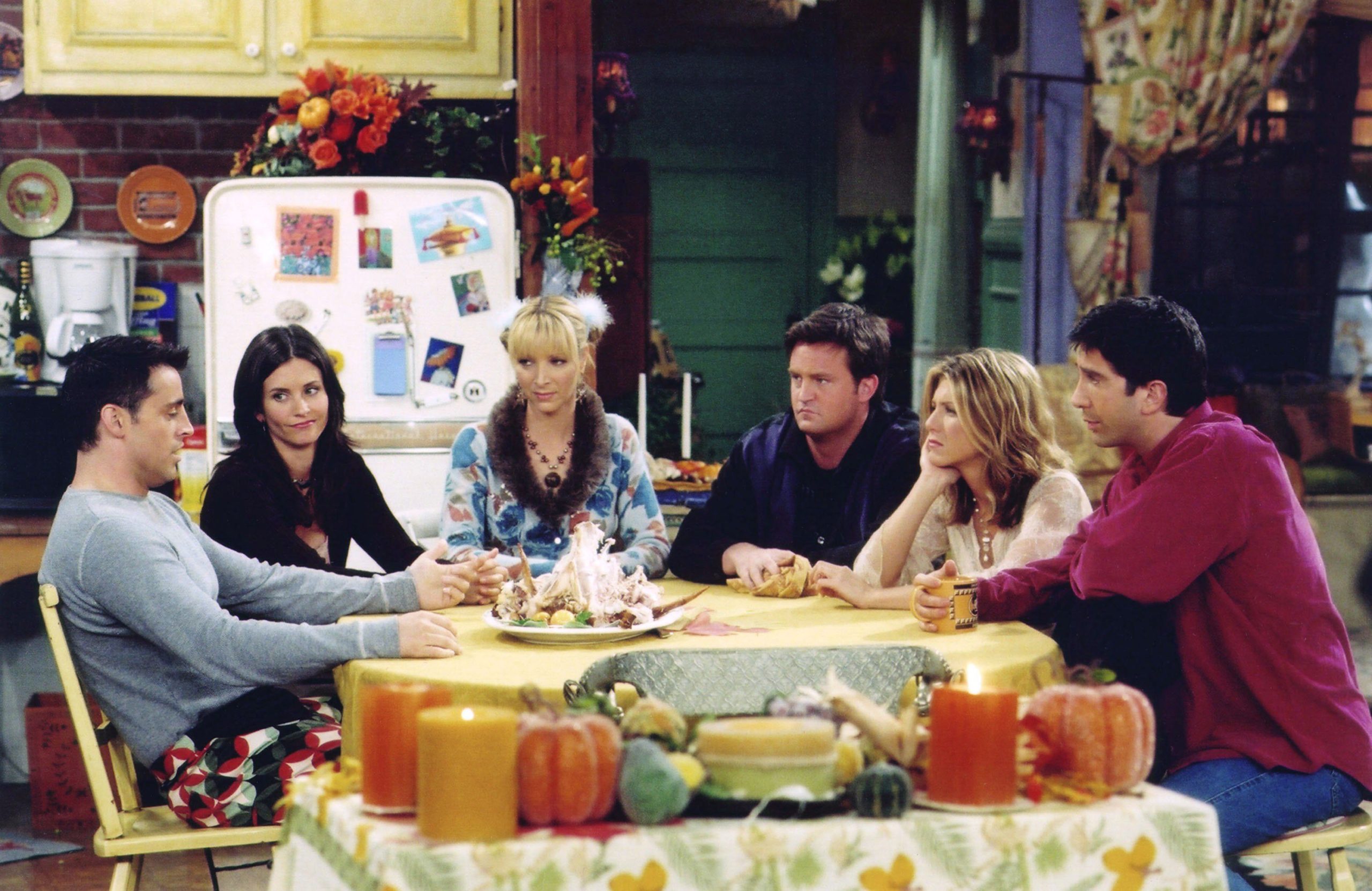 …AKA the people everyone turns their minds to when they think about friendship. The worldwide famous American sitcom first aired in 1994 and hasn't stopped being a fan-favorite ever since, with a much-anticipated, very soon-to-be-shot cast reunion, 17 years after the airing of the last episode. The 10-season show portrays friendship in all its facets and teaches how some friends can be forever if you're lucky enough to get to meet and keep them. Things are not always sunshine and rainbows for the gang of friends from New York: sometimes they fight, sometimes they fall for each other, some give birth, others move into new apartments; some things change, but others, the essentials, remain unchanged, in a perfect mirroring of non-fictional life.
"Scrubs"
J.D. + Turk: a non-sugarcoated (therefore relatable) friendship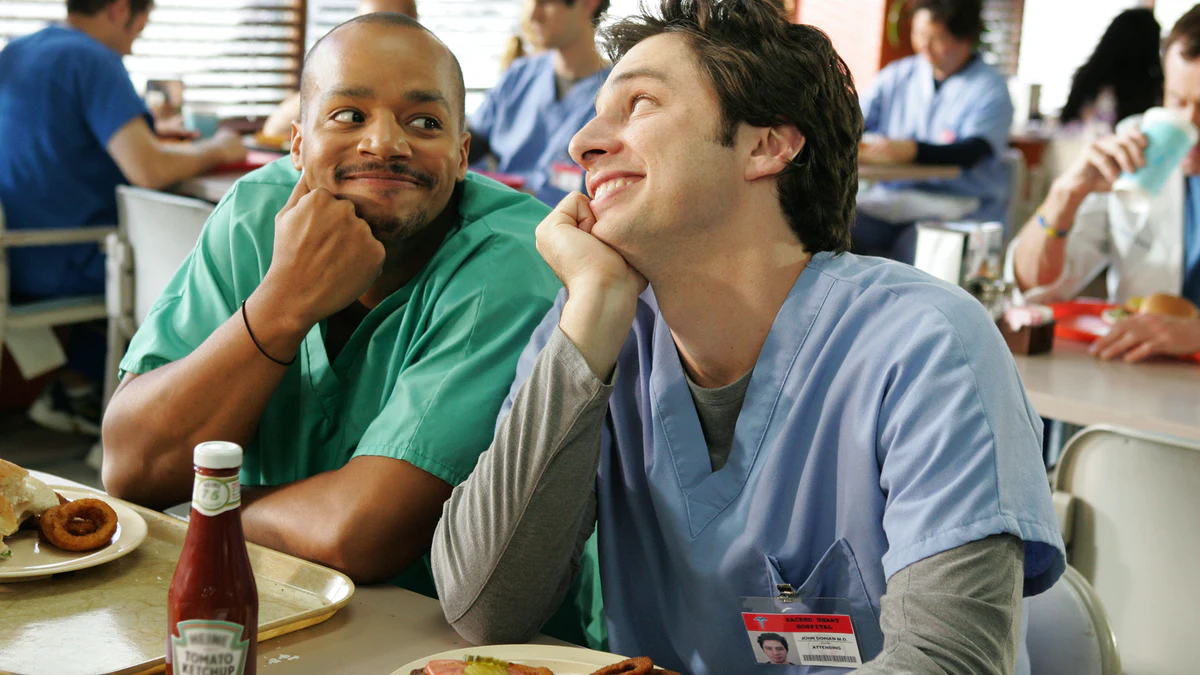 Everything started when J.D. and Turk met in college, became roommates, and built an extremely close friendship over their years in medical school, a relationship officially consecrated the day they set foot in Sacred Heart hospital. The two young interns – who will rise the ranks of the hospital over the seasons – are inseparable, despite their completely different personalities: J.D. is a shy, nerdy, clumsy guy, a lover of alternative music and warm hugs, while Turk is a fiery, highly driven and competitive man, a much-needed proactive sidekick to J.D.'s life and career adventures. As an exemplary best friend duo, they will never give up on each other, no matter what affairs they find themselves involved in, both in and out of the hospital. Aired between 2001 and 2010, the hit TV show is still currently going strong, as proven by the successful weekly comedy podcast "Fake Doctors, Real Friends" where Zach Braff and Donald Faison (J.D. and Turk in person!) relive their on-screen and real-life friendship, one episode at a time.
"Big Little Lies"
Madeline + Celeste + Jane + Bonnie + Renata: united in disgrace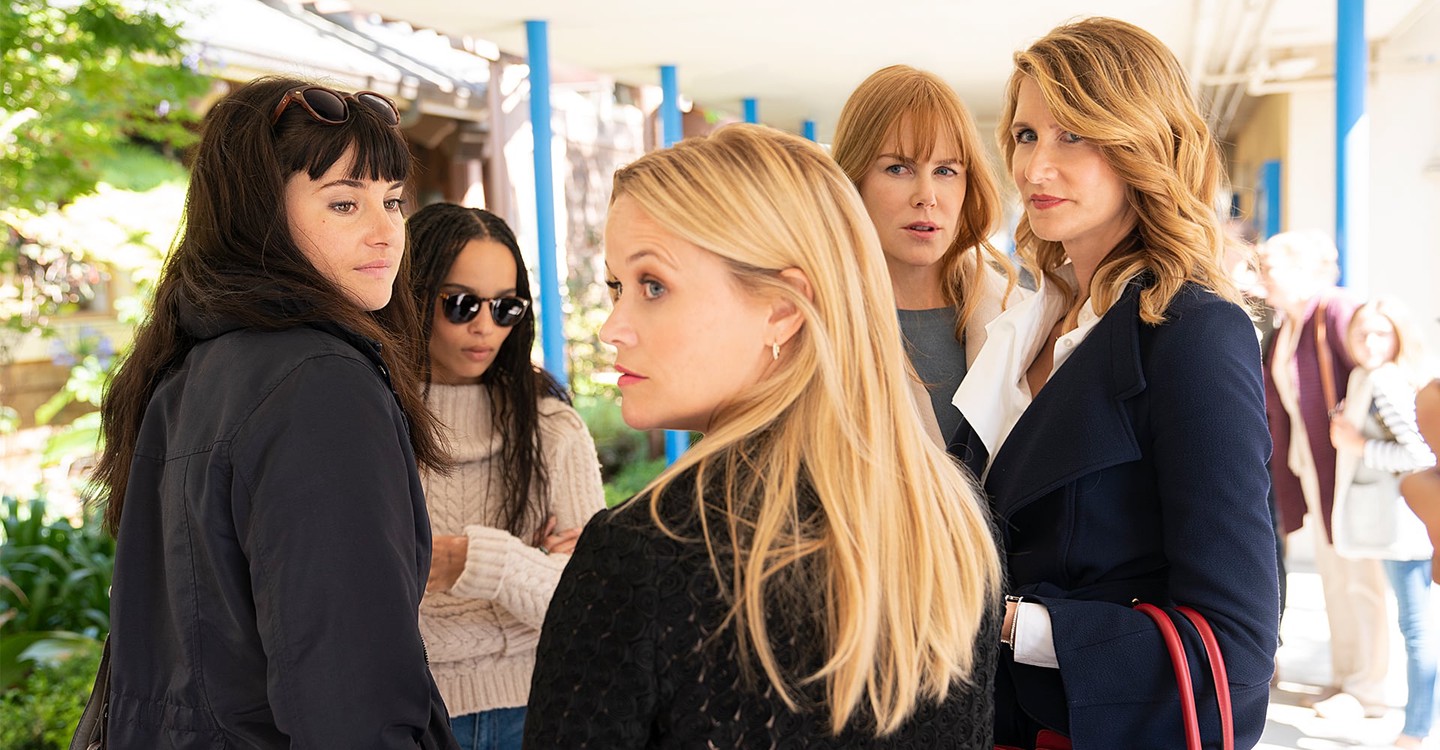 The American drama TV show created by David E. Kelley adapts from the novel into series the story of a female friendship dangerously put to test by a sequence of tragic events. The misadventures in which attentive mother Madeline, former lawyer Celeste, yogaholic Bonnie, capitalist Renata, and newcomer Jane – the five women from Monterey – find themselves involved in, between murders, betrayals, and poised family dynamics, prove how inconvenient it can be to keep secrets from your best friends; on the other hand, they're also proof of how convenient it could be to always surround yourself with people you can always lean on, no matter what.
"Sex Education"
Otis + Eric: friends through the thick and the thin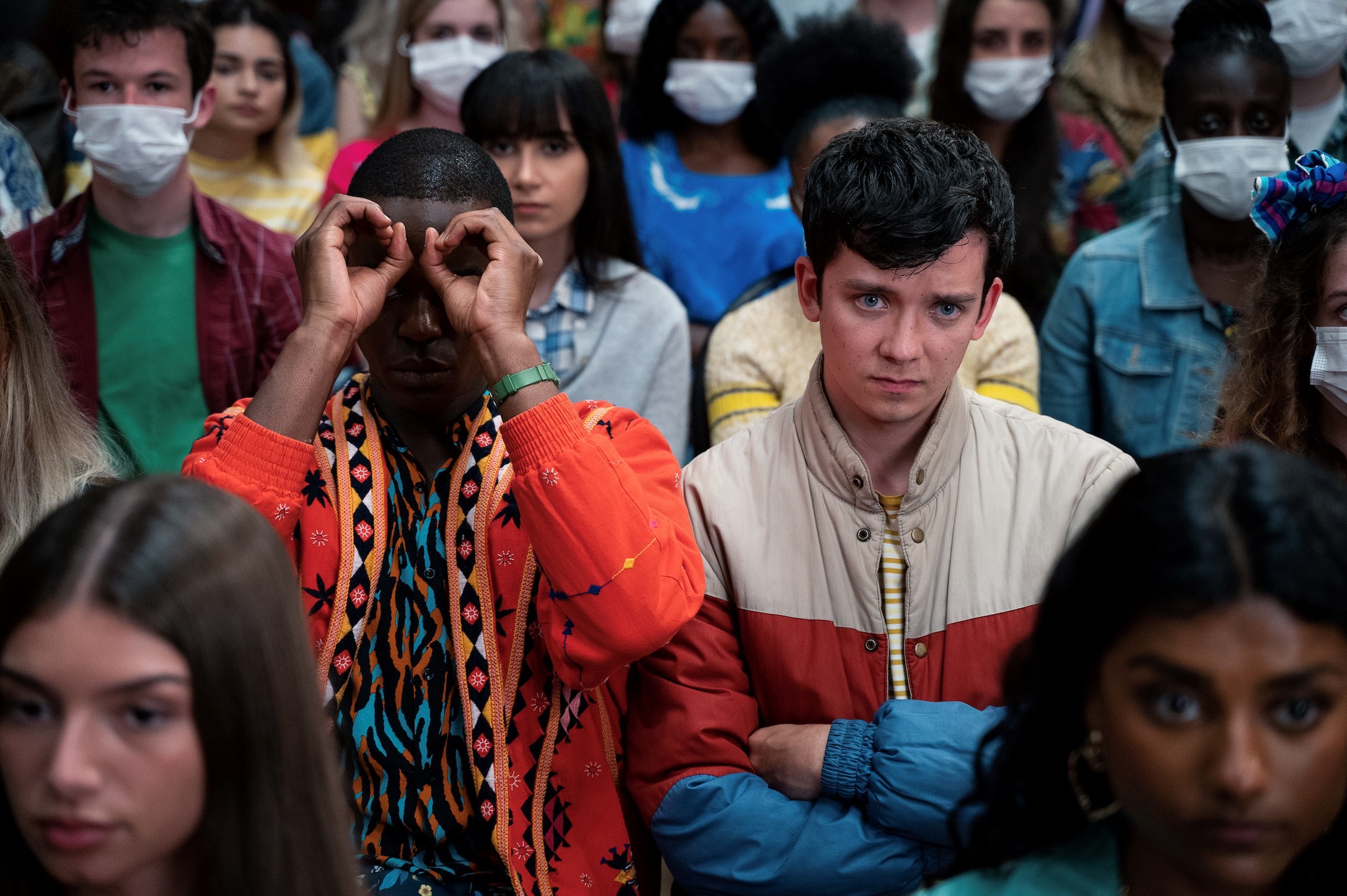 Insecure Otis and eccentric Eric, the two misfit teenage protagonists of the 2019-2020 show, are long-time best friends for a reason: they both represent social minorities in and out of their high school. Otis is an introverted, extremely intelligent, boy, suffering from severe sexual performance anxiety, even though (or maybe because) his own mother is a sex therapist; on the other hand, Eric is a queer guy coming from a very religious Ghanaian-Nigerian family, therefore openly gay everywhere but at home. Between bullying in out of school, weird sexual encounters, and new, life-changing acquaintances, Otis and Eric grow up together, learning to face their fears and paranoia, feeling every day more grateful to have each other in their respective lives.
#HONORABLEMENTIONS
"Grace & Frankie"
"Stranger Things"
"Girls"
"Will and Grace"