November Beauty News
Darphin: The New Stimulskin Plus and Massage Tool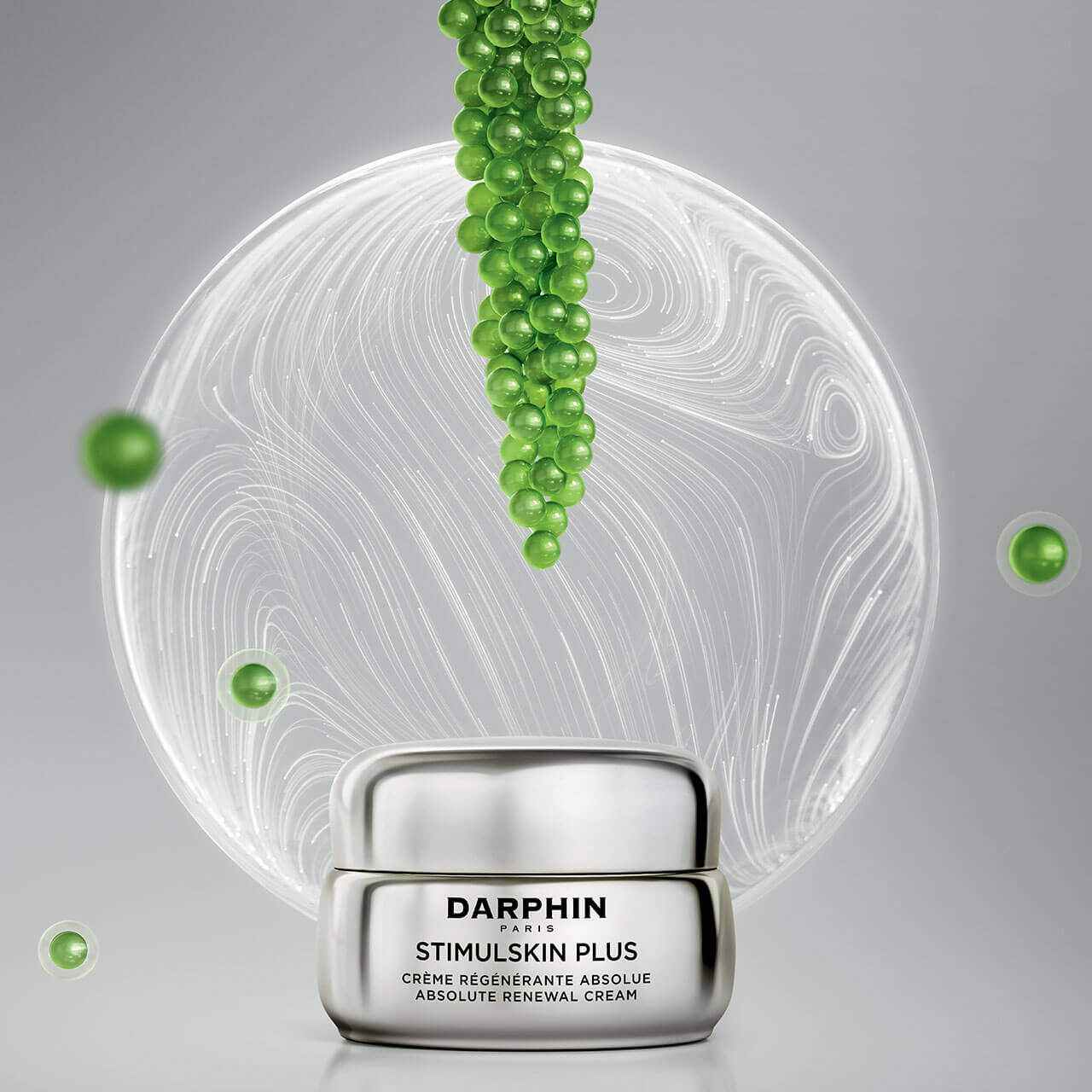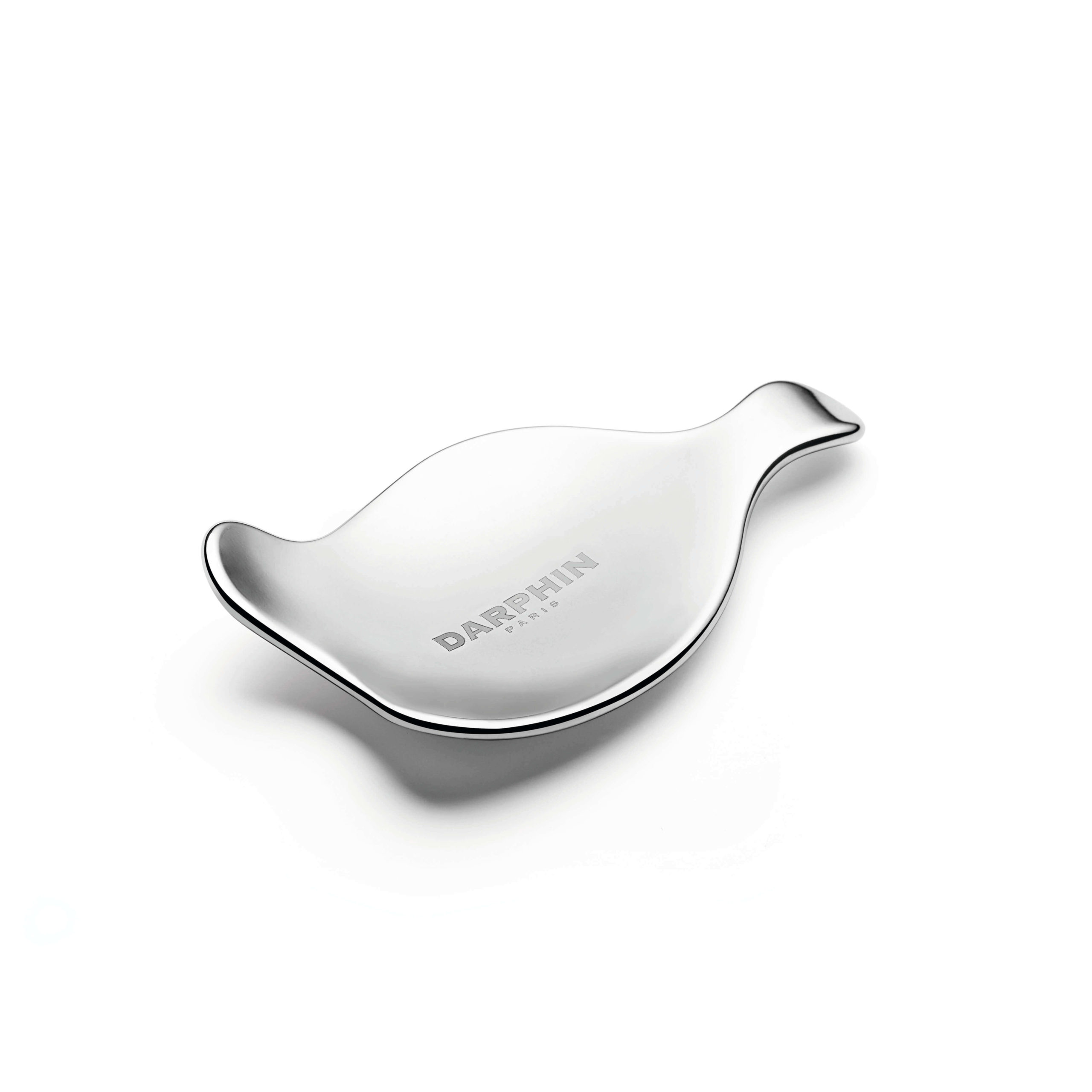 This autumn Darphin presents a new formula of the iconic Stimulskin Plus: the new Stimulskin Plus Absolute Renewal Cream by Darphin.
Formulated with 95% of ingredients of natural origin and a new complex of powerful active ingredients, designed and studied by the Darphin skincare experts that acts on the skin proteins for a remodeling, sculpting, and lifting effect, this new jewel is also equipped with a particular carrier technology with botanical oils, the Deep-Infusion Oil Technology. This technology allows these ingredients to deeply penetrate the skin by acting directly on the cells responsible for aging, preserving the active ingredients inside the cream, and guaranteeing an effective diffusion within the cream so that the active ingredients will reach their destination with greater intensity and power.
The extra kick of this new formula? Sea Emerald, an alga cultivated only under specific conditions and picked in limited quantities to protect the natural environment, is known for its ability to stimulate the natural production of collagen to support the extra-cellular matrix of the skin.
To maximize the performance of the product, the brand also presents The Absolute Renewal Massage Tool, an exclusive massage tool in stainless steel to reconstruct the volume of our skin and for a sculpting effect that, thanks to the heat-conducting reactive material, gives a feeling of warmth and coolness according to the different areas.
November Beauty News
KVD Vegan Beauty: The New Edge of Reality Eyeshadow
Are you ready to bring a little imagination into everyday life? Here comes the new eyeshadow palette with 100% recyclable packaging from KVD Vegan Beauty, the vegan, and cruelty-free international cosmetics brand.
Perfect for both a nude and simple look by day, and for a more sophisticated make-up for the evening, the Edge of Reality Eyeshadow is versatile and eclectic, thanks to 14 different shades (6 matte eyeshadows and 8 shimmers) ranging from minimalist neutrals to irresistible colors that can be applied both dry and wet.
The result? So many fabulous looks with just one palette!
November Beauty News
Astra Make Up: The New Pure Beauty Collection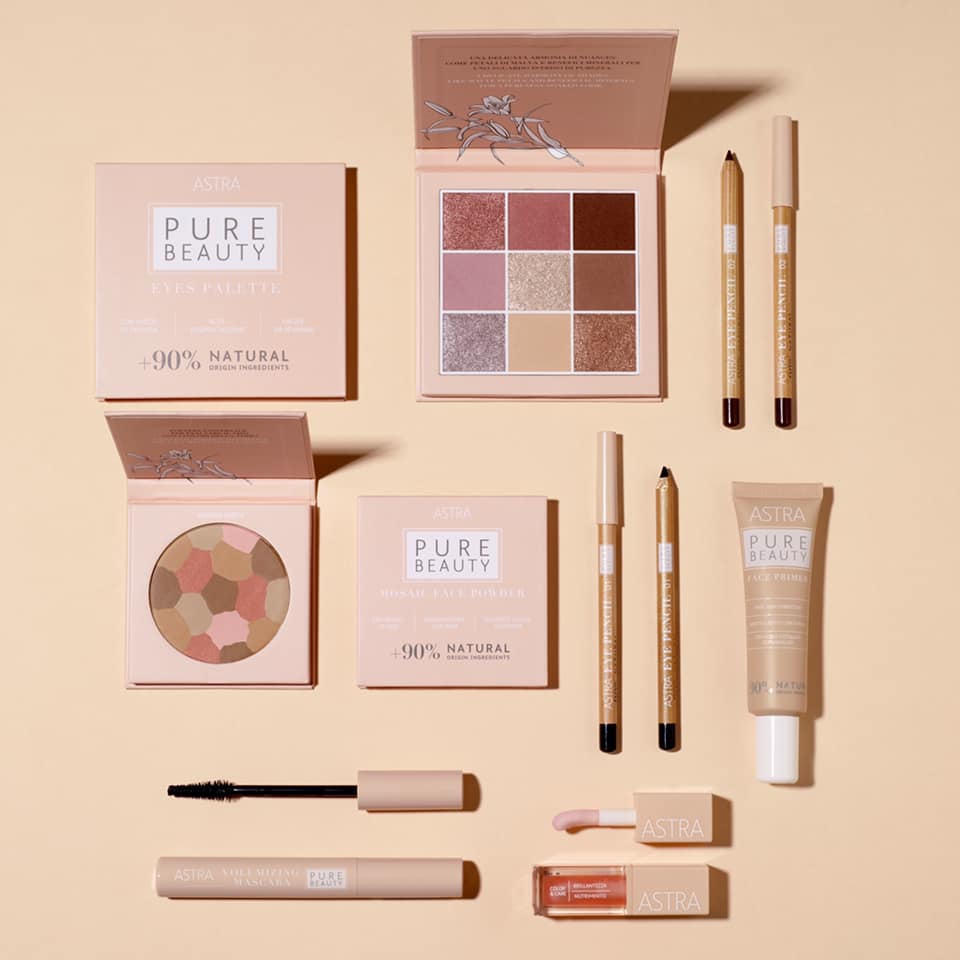 This month sees Astra Make Up enriched with the new Pure Beauty collection, a range of eco-friendly and sustainable products, with more than 90% of ingredients of natural origin, designed to represent a genuine and timeless beauty, which expresses the values ​​in which the brand believes, such as the integration of research and innovation with company know-how, attention to production processes that give life to trendy products that marry a Social Responsibility based on high quality, performance, safety, and environment. Astra Make Up has always been attentive to the issue of environmental impact: for this reason, the new collection interprets sustainability with green and innovative references.
The novelties begin with the Volumizing Mascara, a volumizing and strengthening mascara which, thanks to natural sunflower, rice, and chamomile waxes and the contribution of lm formers derived from sugar, hydrates and multiplies our lashes; the Eyes Palette, a palette composed of nine eyeshadows with a creamy texture, divided in matte and shimmer finish, and the Juicy Lip Oil – a moisturizing oil with a slightly colored luminous finish that leaves a delicate vinyl reflection on the lips, perfect for plumping + moisturizing and protecting our lips from external weather thanks to the jojoba oil and emollient oils in the formula.
News is not over: the Eye Pencil, available in black and brown colors, is enriched with a very high percentage of organic coconut oil. In addition to that, it is made of wood from sustainable forest management and treated with a water-based bio paint formulated with products from recycled raw materials. Besides the eye look, there's the Mosaic Face Powder, a mosaic bronzer which comes in different colors, containing corn starch, known for its sebum-absorbing and soothing power, and the illuminating and moisturizing tapioca starch, for a naturally tanned effect at any time of the year.
Last but not least: the brand new Face Primer, a totalized face base, with a light green color which, with its matcha green tea scent, will take you into a whole new sensory world. Its formula contains distilled gold-infused water with hyaluronic acid, perfect for eliminating redness, chromatically camouflaging discoloration, and signs of aging.
November Beauty News
Fenty Beauty: The New Diamond Bomb All-Over Diamond Veil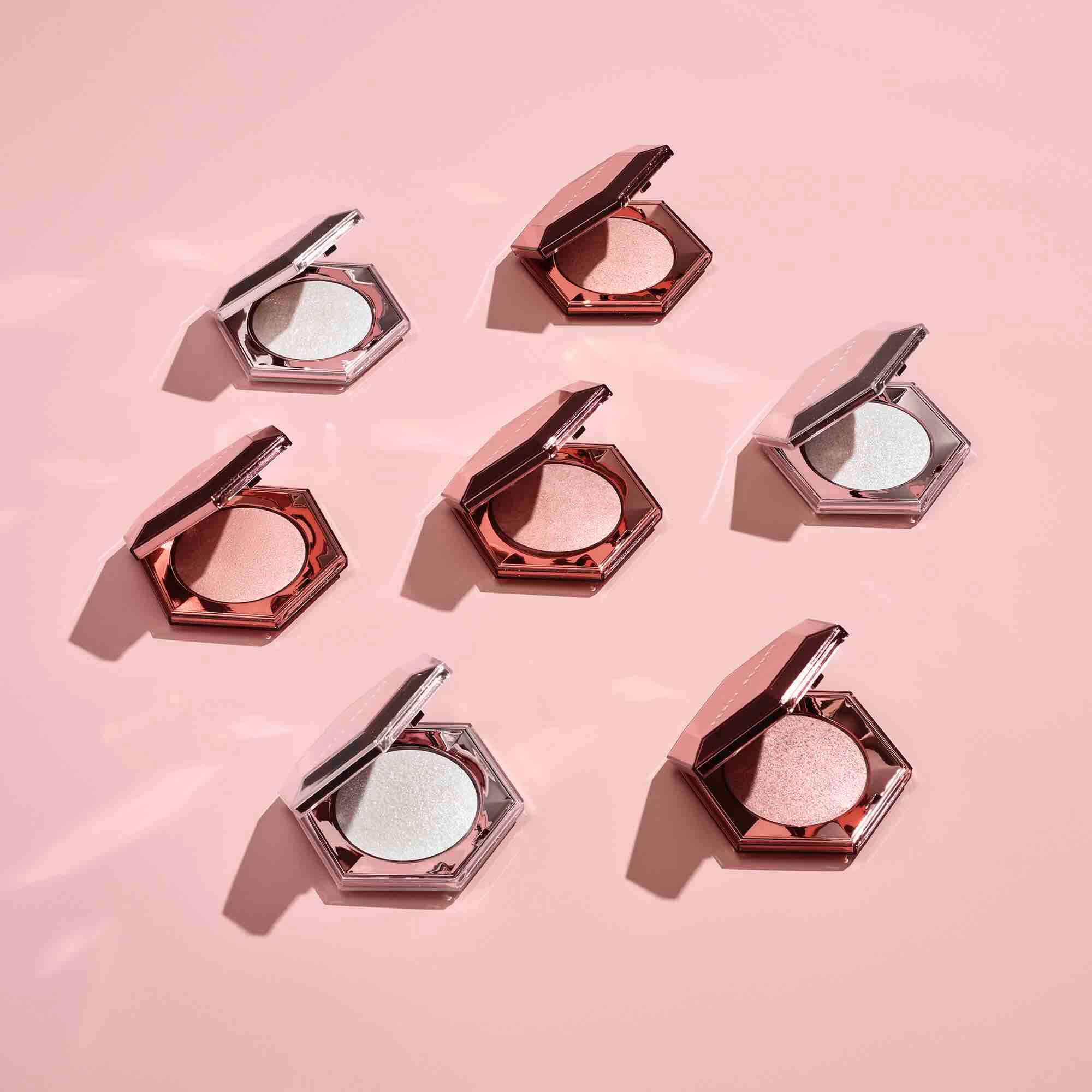 Are you ready to shine? Diamond Bomb All-Over Diamond Veil by Fenty Beauty is back in two new shades that we absolutely cannot miss. The two new Rosé Rave colors, a combination of pink + bright gold and Royal Icing, a bright champagne gold, maintain the usual gel-powder formula with a luminous finish that perfectly blends with all skin tones, providing an all-over shine. New thanks to an innovative 3D formula, created to give a 100% brilliant glow finish for a wow result.
Beauty News November
Aveda: The New NutriplenishTM Daily Moisturizing Treatment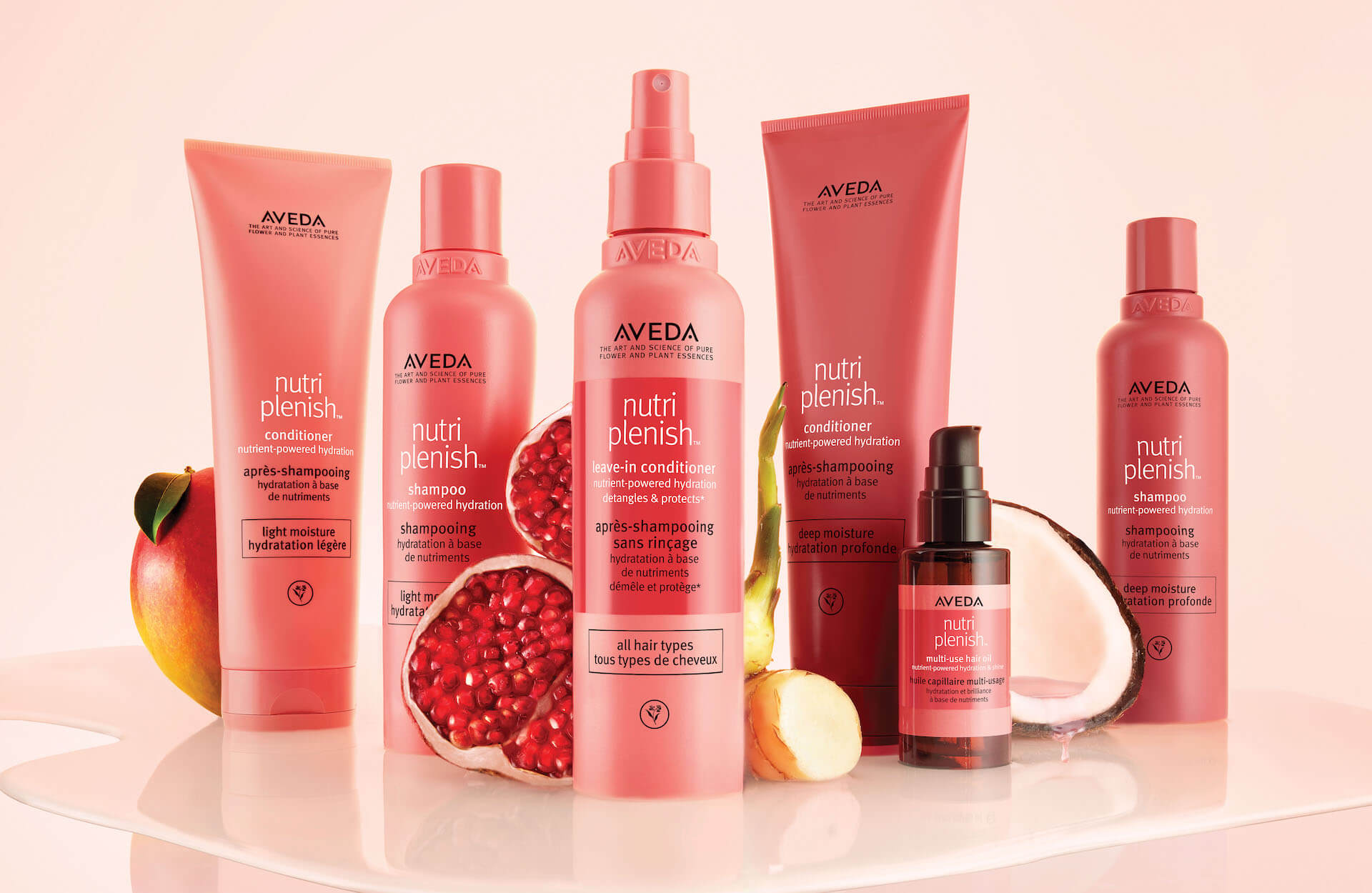 Dull, dry, and unhappy hair? This January Aveda launches the new NutriplenishTM product, the NutriplenishTM Daily Moisturizing Treatment, a moisturizing primer inspired by the skincare creams of the daily routine, to be applied to damp hair before styling or to dry hair for a hydration boost that lasts all day.
Thanks to the combination of organic pomegranate oil, organic coconut oil, and mango butter – the same superfood complex characteristic of the entire NutriplenishTM line – this product hydrates and nourishes dehydrated hair for 72 hours, absorbing quickly without greasing or weighing it down and fighting the frizz effect due to humidity. Its formula is also 99% naturally derived, cruelty-free, vegan and silicone-free.
November Beauty News
La Mer: The New The Concentrated Night Balm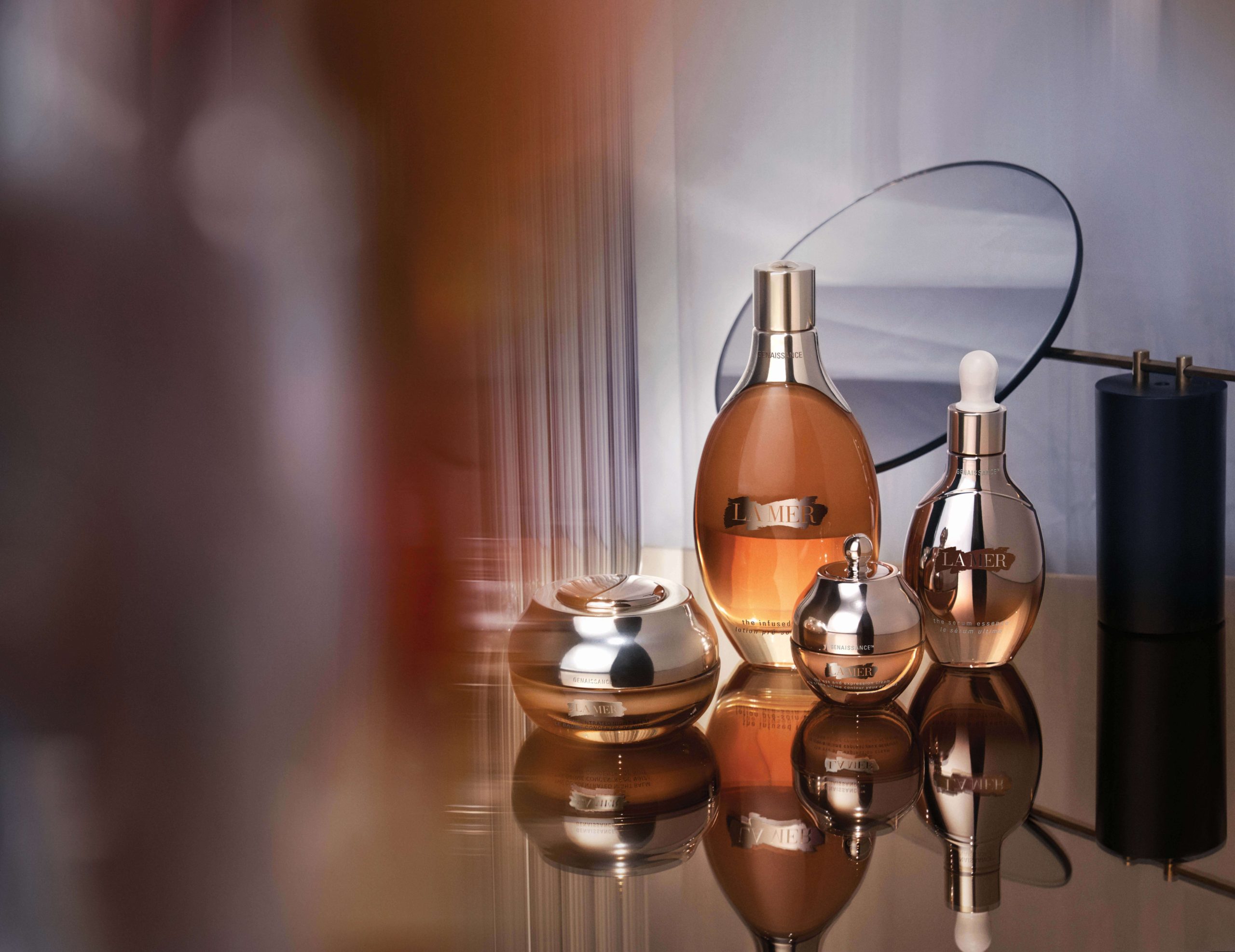 Genaissance de La Mer, the extra luxury and most elegant collection in the La Mer range was born from the inspiration of a scientist from the research laboratories Max Huber who discovered the crystals formed in a glass of Miracle Broth. The novelty of the brand this season is undoubtedly the Concentrated Night Balm, the new night balm made to regenerate our skin while we sleep, to moisturize, and to minimize pores and age spots by stimulating collagen production.
In its innovative formula, the Concentrated Night Balm boasts ingredients such as the Crystal Miracle Broth, created with a rare red alga that is associated with the wavelengths of natural light and infused with 24-carat gold, the Genaissance Ferment, the Essential Amino Acid Ferment, which helps boost elastin, and Lime Tea Concentrate, a powerful antioxidant against the damage caused by pollution.
November Beauty News
Rimmel: The New Lasting Finish 25HR Foundation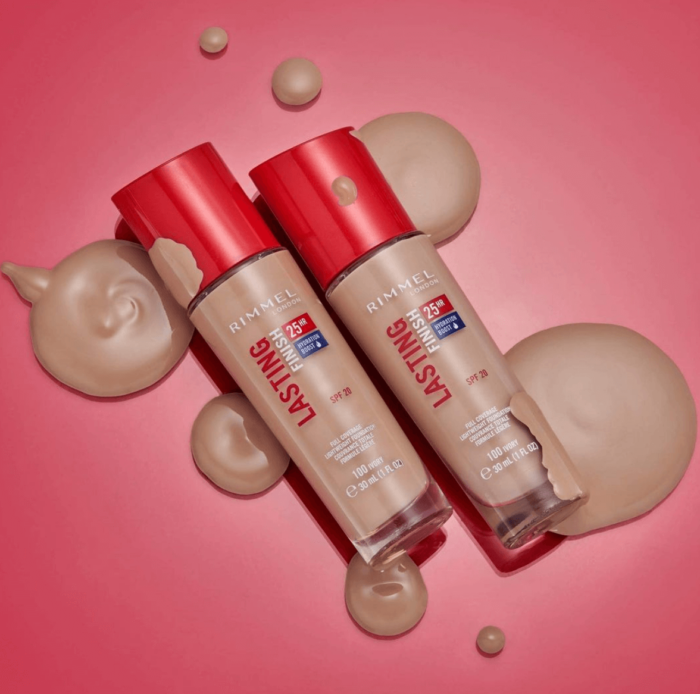 Rimmel presents their best-selling foundation in a whole new formula: greater hold and hydration that lasts up to 25 hours (for those never-ending days) with SPF 20, now available in a new shade, including up to 6 additional shades.
The only rule? No compromise: the foundation Lasting Finish 25HR is enriched with hyaluronic acid and Vitamin E as a hydration boost, ensuring a long-lasting formula with absolute opacity without creating a caked-on effect and a resistance to sweat and moisture for smooth and fleshed out skin!
November Beauty News
OleHenriksen: The New Banana Bright Vitamin C Serum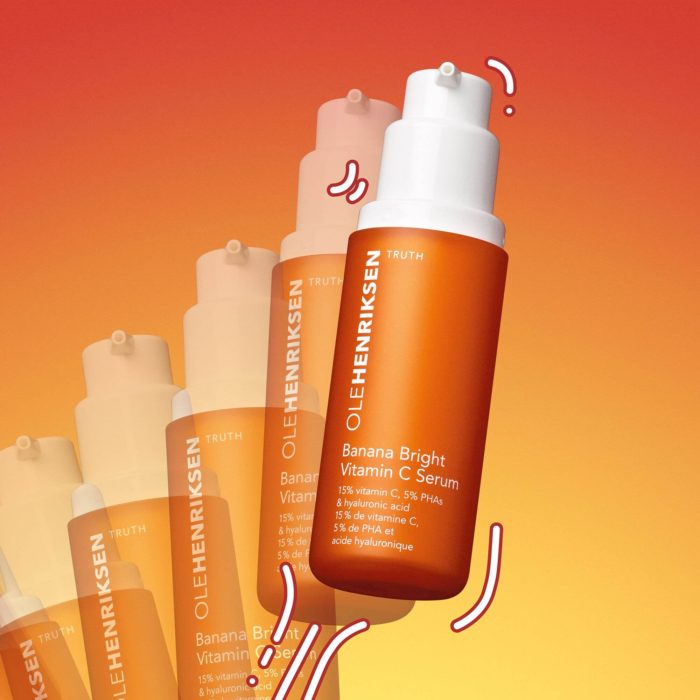 Dreaming of a winter dedicated to vitamin C? OleHenriksen launches the new Banana Bright Vitamin C Serum, a serum created to counteract the signs of premature aging, discoloration, spots, and fine wrinkles thanks to its formula made of 15% Vitamin C, 5% PHA, hyaluronic acid, and special pigments inspired by the "banana powder" (just like those of the famous Banana Bright Eye Crème eye contour). A serum with a soft, clean, vegan, and cruelty-free texture with no harmful ingredients, with the scent of a freshly peeled orange. A must-try product for an instant glow effect and brighter skin in only 7 days!
November Beauty News
Dr.Jart +: The New Cicapair Tiger's Know-How For Your Redness and All Thanks to Cera Set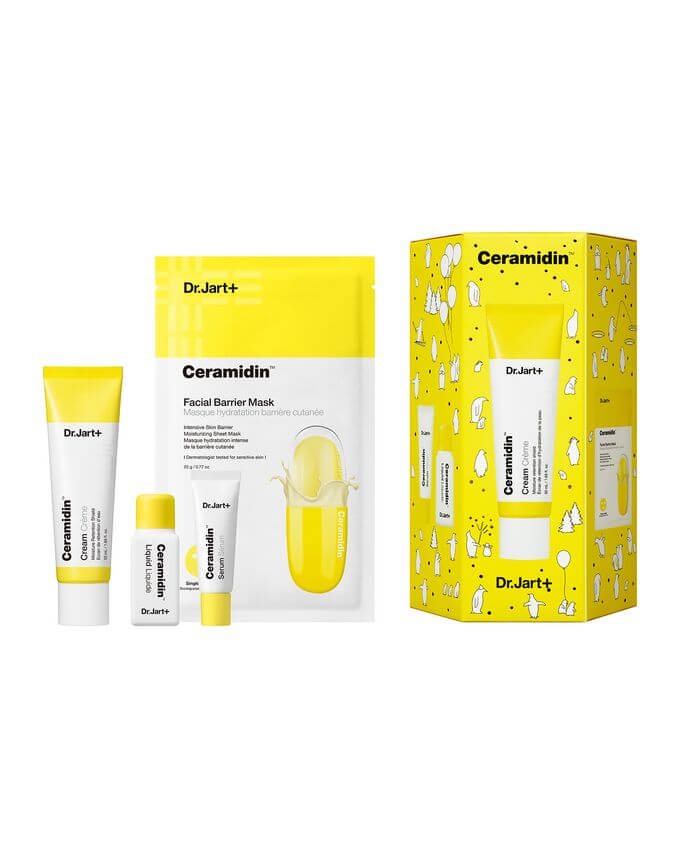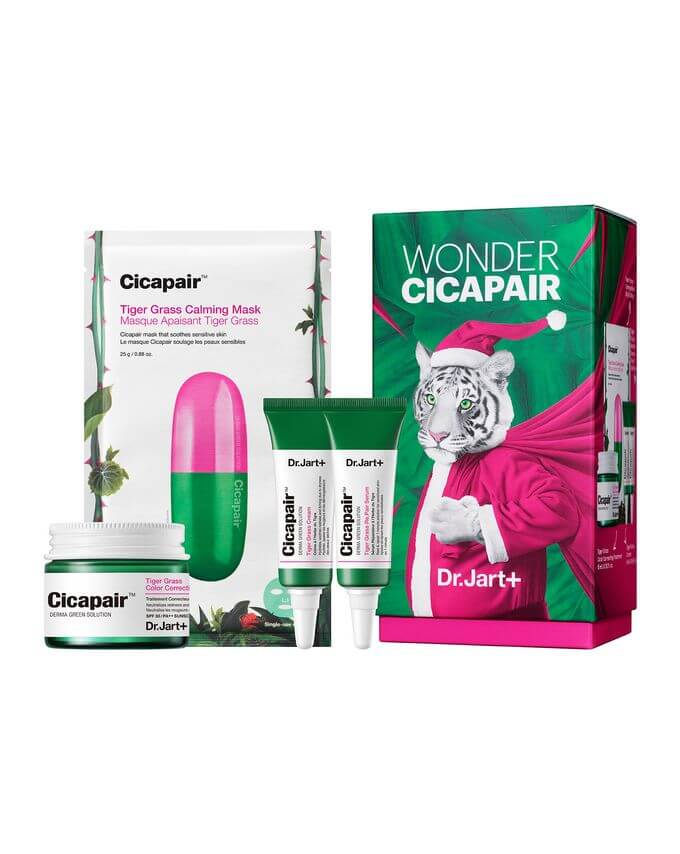 The first news that Dr.Jart+ presents to us for the holidays is the new set dedicated to the bestselling Cicapair line, the Cicapair Tiger's Know-how, perfect for those with sensitive skin who want to reduce redness and soothe irritation.
The line is based on the Asian Centella Asiatica herbaceous plant, (also called Tiger Grass, hence the name of the collection) known for its soothing and calming properties, Centella Asiatica stem cells that protect and repair the skin, and Essential Minerals, known for their moisturizing properties. Let's find out more about the new features of the collection!
Cicapair Tiger's Know-how For your Redness includes Cicapair Tiger Grass Re.Pair Serum, Cicapair Tiger Grass Cream – an infallible duo of serum and cream to be used in the morning after cleansing – and Cicapair Tiger Grass Color Correcting Treatment, a cream that changes its color from green to beige to hide imperfections.
For real extra redness emergencies, on the other hand, there is the Cicapair Tiger Grass Calming Mask, a soothing and decongestant mask. A tip from Dr. Jart+? After the mask, finish the treatment with Cicapair Tiger Grass Calming Mist for some extra pampering. Finally, Dr.Jart+ presents the new All Thanks to Cera Set, a skincare kit for dry skin perfect for all seasons (not just for winter!).
The kit includes the entire CeramidinTM range, the moisturizing line of Dr. Jart+ based on the famous 5 Ceramides Complex: Ceramide NP strengthens the skin barrier, Ceramide AS calms irritation, Ceramide NS moisturizes, Ceramide EOP protects and Ceramide AP strengthens the skin barrier.
The set includes the full-size Ceramidin Cream, a cream that acts as a protective barrier to defend our skin from external agents, the Ceramidin Liquid, ideal to prep the skin for subsequent treatments, the Creamin Serum, a serum with a plumping action inhibiting the evaporation of the active ingredients (also in travel size) and the Ceramidin Facial Barrier Mask for all skins that need some SOS hydration.
November Beauty News
Humanrace: The New Skincare Line by Pharrell Williams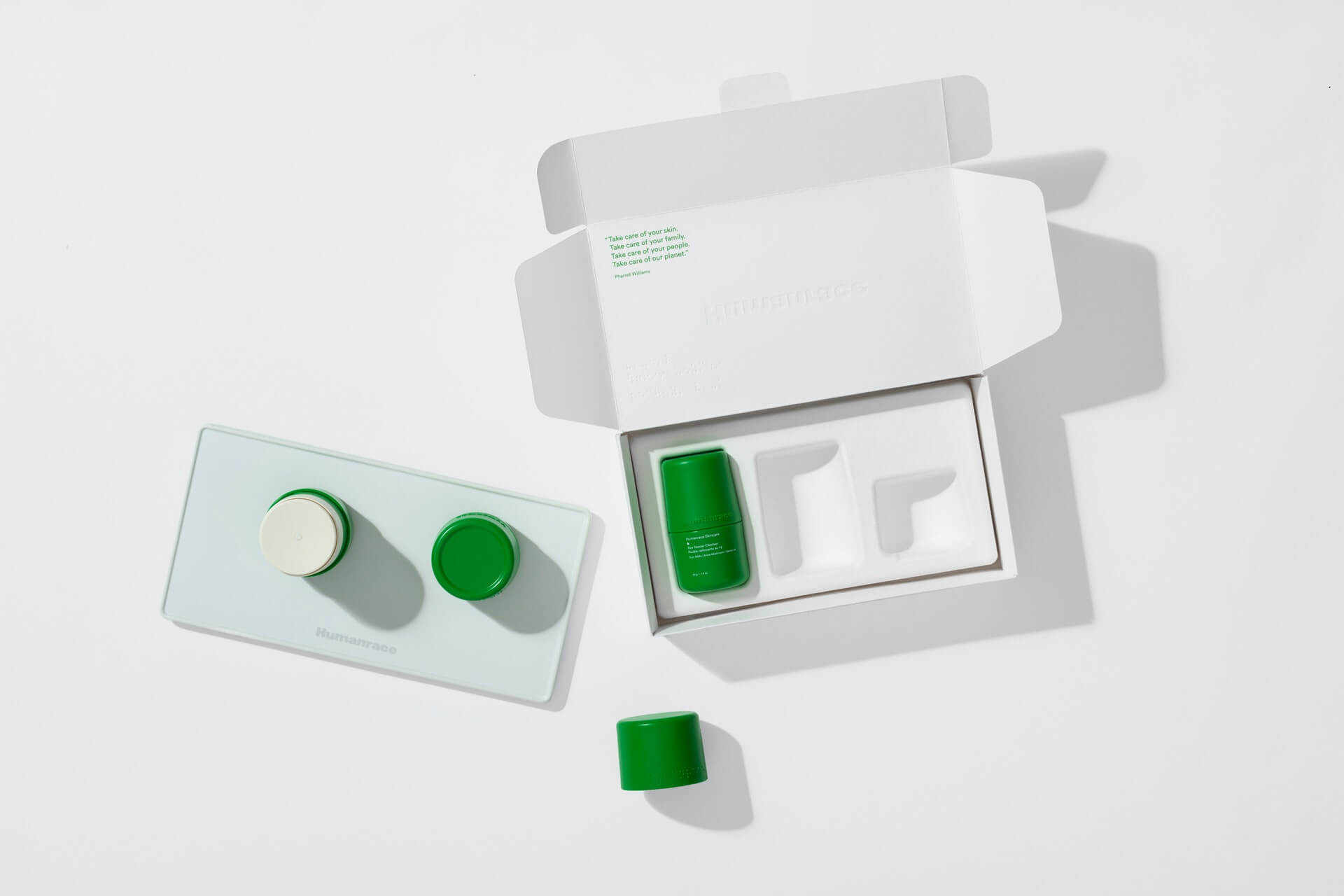 From November 25th, the new Humanrace products will be available for purchase. The new sustainable and inclusive skincare line created by Pharrell Williams, whose main motto is "Humanrace Skincare doesn't differentiate by race or gender. We're creating for humans; we are all born in the same skin," includes products suitable for all skin types, both male and female of any ethnic origin, also paying attention to environmental protection: all containers are created with 50% recycled plastic and, once finished, they can be refilled to better safeguard our Planet. The most interesting bit? Everything that's written on the product (from the method of application to the composition of the product) is also in Braille for a skincare line truly accessible to anyone.
The line consists of only three products: the Humidifying Cream, a moisturizing-cushioning cream that mimics the benefits of moisture on the skin, created with extracts of snow fungus and squalane that retain moisture for visibly more nourished skin, the Rice Powder Cleanser, a powder-to-foam cleanser that, thanks to micronized rice powder and fruit AHAs, performs a delicate exfoliation while eliminating impurities by dissolving excess sebum, and finally the Lotus Enzyme Exfoliator, a creamy exfoliant with triple action, combining 8% glycolic acid, enzymatic and physical exfoliants with antioxidant lotus leaf and moisturizing apple extract, for a revitalizing and rejuvenating action.
Are you ready to fill the cart? We will do it for sure!